The Mystery Monolith in Romania: Alien Invasion or Hoax?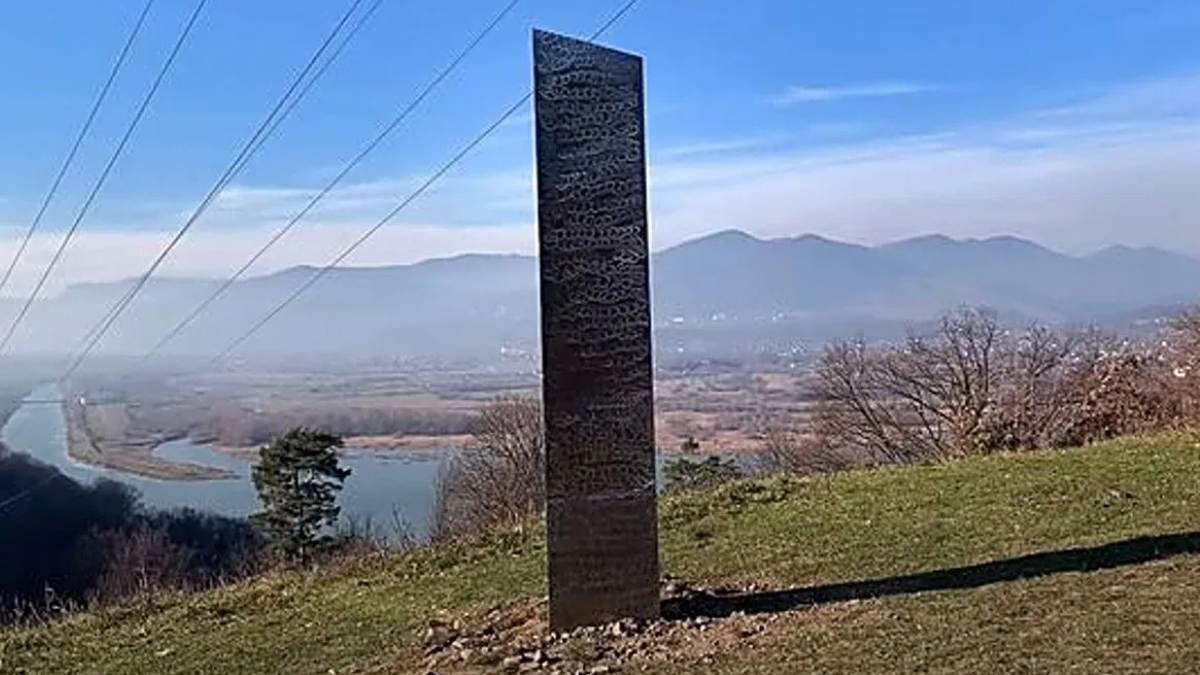 In Romania, citizens in the mountainous county of Neamt spotted a mysterious monolith structure near the ancient Petrodava Dacian fortress on November 27. Four days after, it disappeared, leaving the locals baffled. Could it be an actual alien invasion or a plain local prank?
The structure, a shiny, steel monolith, seemed very similar to one found two weeks ago in a desert in Utah in the United States. Its sudden disappearance stirred science-fiction fans into a frenzy. They claim that the monolith was reminiscent of the movie 2001: A Space Odyssey, a 1968 film by Stanley Kubrick which is based on an Arthur C. Clarke novel.
According to the movie, a pillar that looks like it came from alien life cropped up all over the land. It was seen as a symbol of alien invasion and alluded to its role in human evolution.
Reporter Debunking Monolith Sighting
However, reporter Robert Iosub from the local Neamt newspaper, Ziar Piatra, rejected the idea of an alien-erected structure. Even more so, the concept of an alien invasion through the erection of these monoliths. People reported similar structures in different places across the globe with no explanation yet of their origins.
The journalist has seen the structure himself, saying that the monolith was about 9 feet tall (2.8 meters). He thinks that it was probably the handiwork of a newbie welder because of the poor design. The sheet metal structure had a join that seems to be badly welded, Iosub said.
According to him, even the other local reporters believe that an unidentified person made it and installed it in the middle of nowhere. He claims that the monolith vanished as quietly as it appeared. Today, the only trace they can find is a small hole that looks hastily covered with soil.
While the Utah monolith stayed in its place for years, the one in Romania lived there for only four days. Also, the Utah version had a smooth surface while the Romanian had interconnected circles on it. But witnesses see a resemblance of both structures to those in the Kubrick film.
Monolith Investigation
Georgiana Mosu, the spokesperson for the Neamt police, confirmed that officers are now conducting an investigation on the installation of the mysterious structure. The area where it was erected is a protected archaeological site, making its building illegal.
The metal monolith was discovered in the northern Romanian city of Piatra Neamt, on the Batca Doamnei Hill, to be precise. Mayor Andrei Carabelea welcomed the structure in a Facebook post:
"The universe chose:
These days our city is once again in the world's attention, and this time it's nothing scary, nothing scary. Or at least, there is no reason to panic for those who believe that there is still life in the universe."
While Google Earth satellite imagery can confirm that Utah's monolith has been there since 2015, there is no data available for the one in Romania. There was also no indication as to who the builders and erectors were of both monoliths.
My Experience With Penji (+25% Promo code) Unlimited Graphic Design Service
The graphic designer hiring process comes in many forms. Within the past 5 years, unlimited graphic design services became a desirable alternative, offering graphic design work on a monthly subscription. Penji is a Philadelphia-based startup that offers this unique business model.
You can submit as many design projects as you want via their online portal, and they'll complete your requests one at a time until your queue is complete. This type of service promises to be a great added resource for teams to improve productivity.
Does it sound too good to be true? We thought so too. So, we signed up to see for ourselves.
Quick Summary
As with any service, there are pros and cons. To help with your graphic design hiring decision, we decided to condense what we found in a bulleted list below. Here's a quick summary of our review of Penji's unlimited graphic design service.
Pros
Easy and quick to create design projects
Storage for all my requested designs
VERY fast turnaround on most projects. I expected just 1 draft in 24 hours but instead received 3 drafts. Revisions were sometimes completed the same day I submitted them.
Helpful features such as a revision tool, ability to invite team members, brand profile, and more
Upbeat and direct communication from everyone I interact with
A dedicated and responsive account manager who replies within a few hours
Cons
Can't call or talk to designers
Best if you have design projects ready to submit
Not available as an app
Overall Experience
Penji's "unlimited" design model is a great choice if you have the right expectations going in. The service is affordable for growing businesses and their output is reliable. However, if you're expecting to be on-call or face-to-face with your designer, this type of service is not for you.
Compared to designing yourself, hiring freelancers, or using Fiverr, Penji is a much better service and value by a long shot. Their team of designers lived up to the promise and exceeded my expectations.
Thinking of trying Penji out for yourself? Here's a special promo code for Owner's Mag readers:
Use the Penji promo code "OWNER25" to get 25% off your 1st month.
Disclaimer: we receive a commission when you use the code.
---
PENJI FULL REVIEW

We put Penji to the test by signing up, requesting a designs, and examining the results. Here's how it went.
Signing Up For Penji
Signing up for Penji was a relatively quick and painless process. All of my questions were answered in less than 5 minutes by customer support via Intercom and another 2 minutes to complete the checkout process.
Communication with Penji's Support Team
How fast and reliable a company's support team is before you are an active customer is a reflection of what's to come. If they're unresponsive now, it will only get worse once I'm a customer. I reached out to Penji's customer support team via their Intercom chat popup and got a response within 30 seconds, which is pretty good. I asked basic questions and the agent seemed knowledgeable.
Communication as a Customer
All communication is done online through Penji's proprietary online portal. That includes revisions, feedback, and answering any questions my designers may have.
Communication with Your Designers
Penji assigned me 1 designer, Billie, and communication with her was easy. If you have used any messaging platforms like Slack, Facebook Messenger, or Discord, you'd be familiar with this form of communication.
Billie was responsive, attentive, and always seemed to have a positive attitude no matter how demanding my requests were. She had many questions about the projects, which I tried my best to answer as a customer. Though the back and forth took longer than I wanted, I realized she was just being thorough to get the design done right, which I appreciate.
Communication with Your Account Managers
They assigned me an Account Manager, Charmaine, who was very quick whenever I needed something. It usually takes just a few hours for me to get a reply via email from her. When I had an issue with one of the projects, she quickly stepped in and helped resolve the situation.
1. Choose the Right Package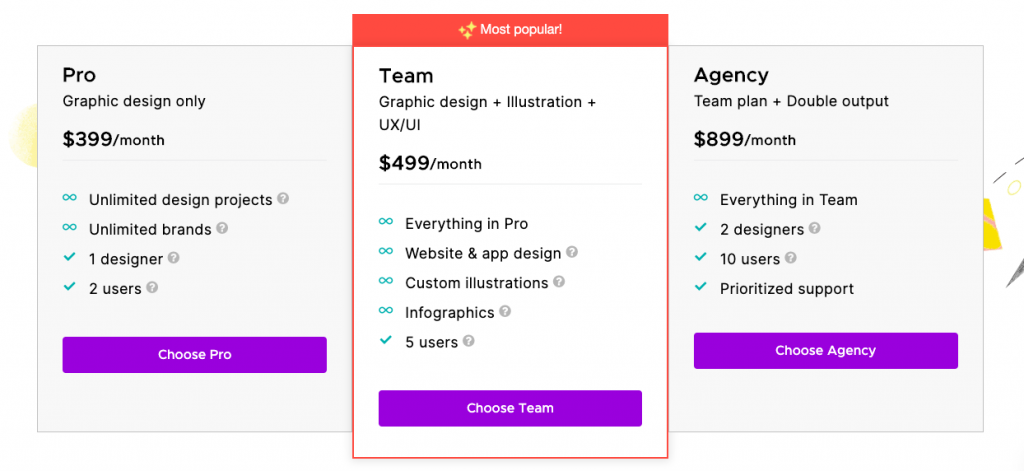 All the packages are laid out with monthly, quarterly, and yearly pricing. Starting at $399 per month for the Pro plan, you'll be able to make unlimited graphic design requests with a 24-48 hour turnaround. As your design needs grow, you'll have the Team and Agency packages to choose from.
2. Checkout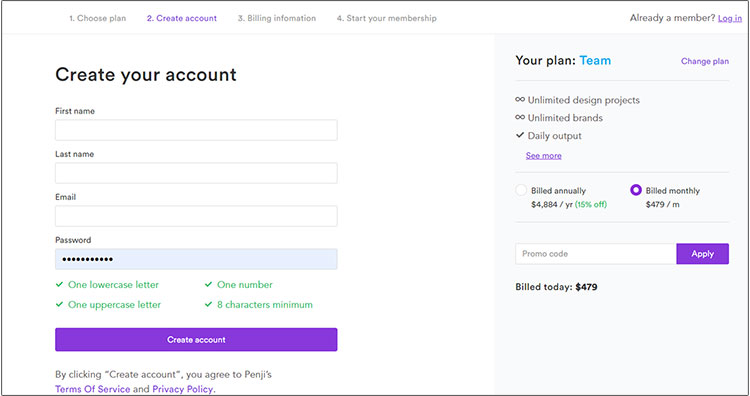 The form is straightforward and easy to fill out. Checking out was a breeze and took about 2 minutes.
---
3. Submit a Design Project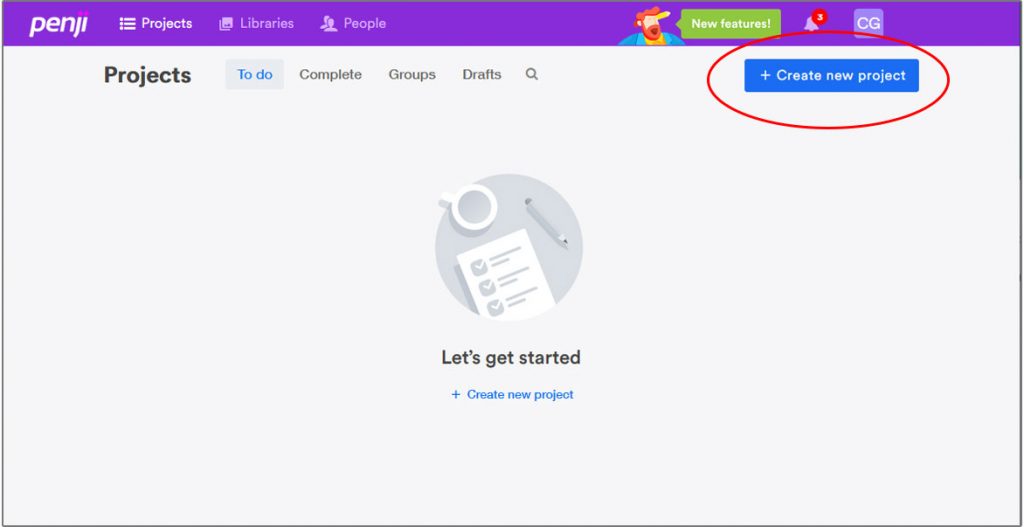 Clicking on the "+ Create new project" button, I'm presented with a visual chart of all the design categories they offer. They offer an extensive selection of options and even the ability to request a custom project.
4. Fill Out the Request Form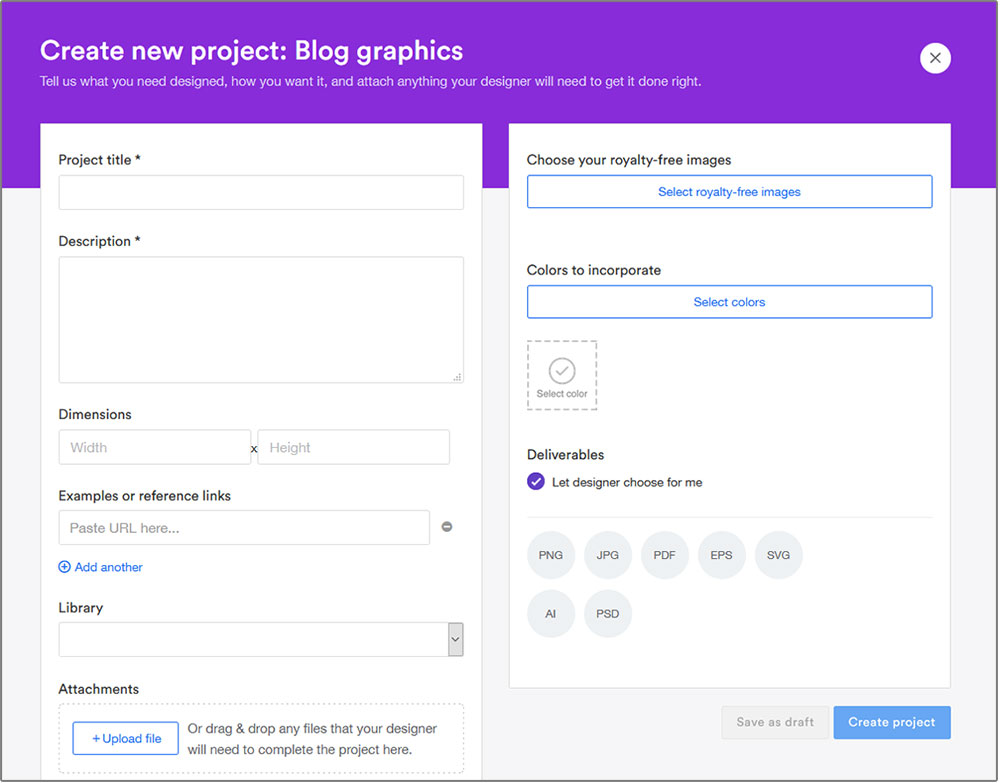 Next, I filled out a short form detailing what I wanted them to design. For those of you who hate long forms, this one from Penji is easy to follow and doesn't ask too many questions. Most of the questions are actually optional so you can be as descriptive or non-descriptive as you like.
My test projects
As a digital publisher, we produce content on a daily basis and always have a need for on-brand graphic design. I created several projects to test how well-rounded Penji is and how they handle both simple and complex requests. A simple banner should be difficult, but can they handle a complex infographic with lots of texts and imagery?
Here are my test projects:
Blog Graphic: Best DSLR Camera Equipment For Beginners
Custom Illustration: Best Vacuum Cleaner Money Can Buy
Facebook Post: Isometric Tech Gadget Graphic
Magazine Print Cover (Owner's Magazine's 2020 May Edition
Despite creating four projects, the entire process was quick and smooth. It only took a few minutes to create them and their internal platform was lightning fast. At this pace, I can see myself submitting multiple projects on their platform with ease.
---
Turnaround Time
I expected at least one draft the next day. What I didn't expect were three drafts ready for review. To give you a comparison, most freelancers and design firms we've hired take several days to submit just one draft.
The designs were surprisingly good considering that it's the first draft AND they had a 24-hour turnaround. After reviewing, I realized how they did it. Every project had a different designer. I wasn't assigned just one designer. It was like having my very own virtual design team.
4. Requesting Revisions
Though the designs were good, I still needed a few revisions. The drafts were turned around usually the same day or by the next day. Their support agent actually told me it will take 24 hours to turn around revisions. The revisions that took 24 hours were typically much more involved.
Overall, revisions were quick. Most came back within a few hours after I submitted them.
My one gripe would be that I prefer to have some sort of real-time chat with my designer or at least have a Zoom call. That's one thing I like about working with my freelancers. Whenever they were online, we could just have a back and forth conversation to get the revisions across. I can't do that with Penji.
Built-in Revision Tool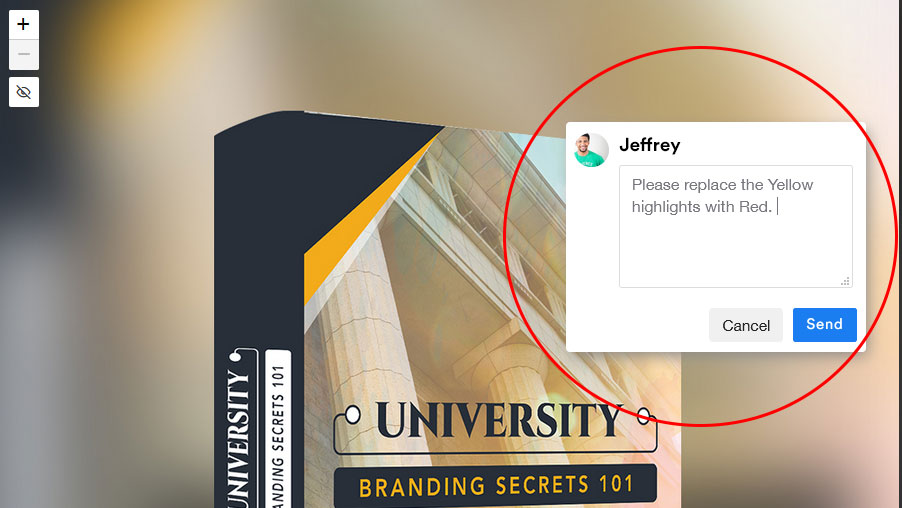 Penji has a built-in revision tool that lets me click anywhere on the design to leave a revision. I found this incredibly useful as it enables me to pin-point what I want to change.
---
The Results
It took about 1 week to go back and forth with revisions and edits for all 4 design projects. At the end of the week, I received the final drafts for all three. Here are the results of the three test projects.
1. Blog Graphic: Best DSLR Camera Equipment For Beginners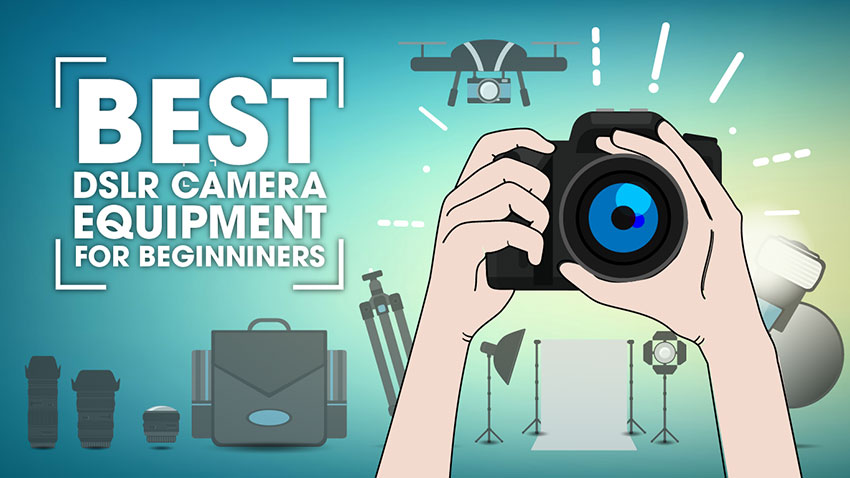 This far exceeded my expectations and will more than do for the blog I'm writing about DSLR camera equipment. I think most designers would probably just stop with 1-2 icons and graphics for this design. My designer decided to add the tripod, three lenses, drone, backpack, and a whole entire stage lighting kit.
I didn't ask for those, but I'm impressed with the quality of the design. No revisions needed. I approved this project on the first try.
2. Custom Illustration: Best Vacuum Cleaner Money Can Buy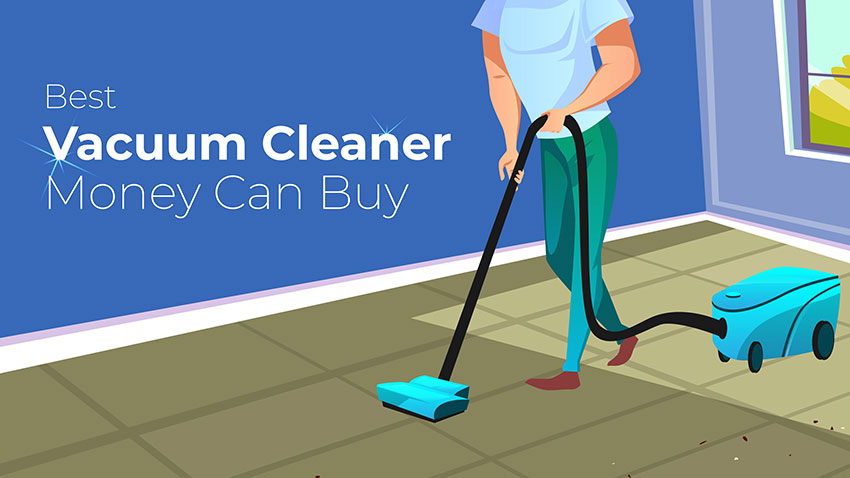 For this project, I asked my designer Kei to do a custom illustration of a man vacuuming his floor. He actually drew it up and sent me a rough sketch first before he started coloring it in. That was an extra layer of care and attention to detail I wasn't expecting. Needless to say, I approved of his drawing and he delivered this draft the next day.
Revision
Everything in this graphic was hand-drawn and then colored digitally. Like the first project, I couldn't think of any revisions except asking him to put the texts "Best Vacuum Cleaner Money Can Buy" on the graphic.
He went the extra mile and designed the text to fit the graphics. See for yourself above. It's details like these that I would have had to harass my freelancer and he would try to nickel and dime me for every revision. Great work Kei!
3. Facebook Post: Isometric Tech Gadget Graphic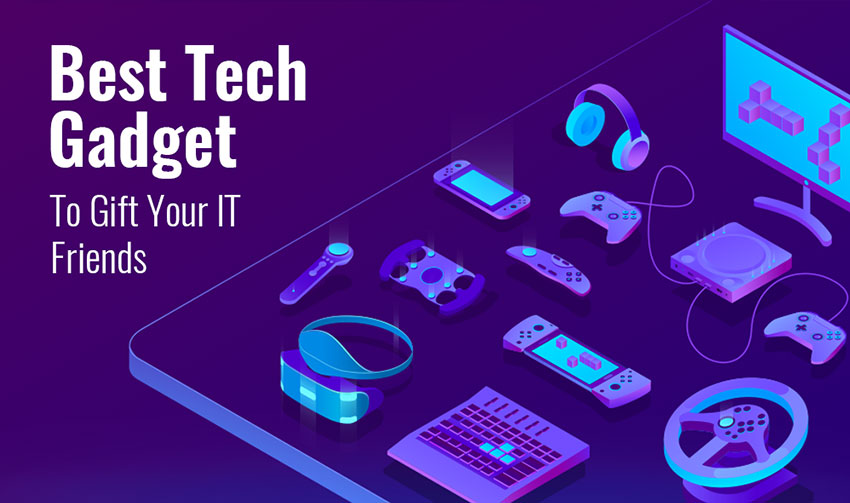 My designer Jave's first draft amazed me because of how much detail he put into this project. I had asked for an isometric graphic with various tech products laid out on an isometric glass plane. I honestly thought my description may have been a bit too vague, but he understood my vision even better than I did.
4. Magazine Print Cover (Owner's Magazine's 2020 May Edition)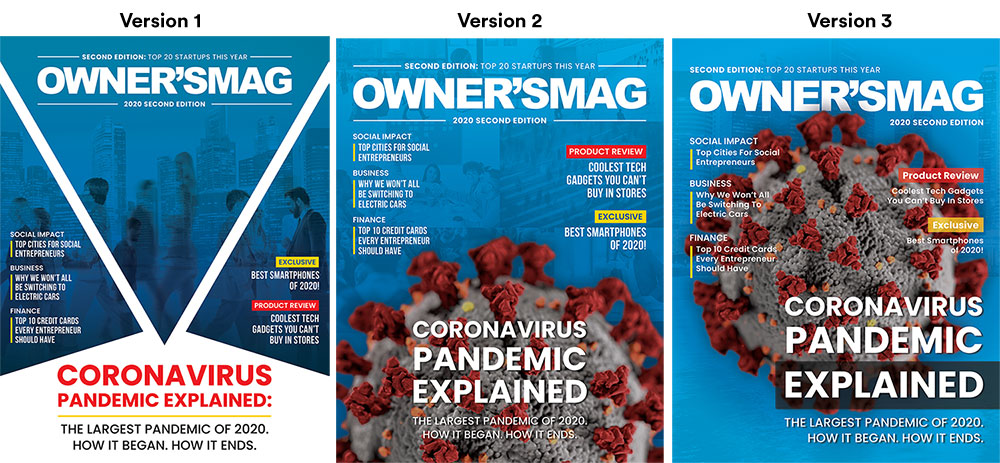 My designer Billie gave me 3 versions of the magazine cover. I don't like version 1 at all. It looks too templated. I personally like version 2 and 3 and left revision notes accordingly. The coronavirus image was entirely her idea and I love it.
Revision
This project took a bit longer than the others because my designer Billie had questions and we had a lot of back and forth. I didn't mind at all since she was asking good questions that I should've included in my design request. Overall, I appreciated the extra time she took to understand me and the project better.
About three days later, I received another draft which blew everything before it out of the water.
---
Final Verdict
All four projects were completed within two weeks and I was impressed with how they all turned out. If I had paid hourly or per project, these would've easily cost me well above $1200+ to get done, and probably taken weeks.
With Penji, it took just a few days and I paid a fraction of what I would've paid elsewhere. Definitely impressed with both the turnaround, quality, communication, and value this startup has to offer.
But Penji isn't without its flaws. The service definitely isn't for everybody.
Who would benefit:
business owners
marketers
agencies
creatives with consistent design needs
If you don't have a consistent need, the bill will start racking up after a couple of months and you won't see the value in the subscription.
However, if you do happen to fit their target demographic, then there's no better alternative out there. The speed and quality of their work easily rival other services I'd ever used. For $399 per month, this is an absolute steal.
Twitter Shop Button: Keeping up With the eCommerce Boom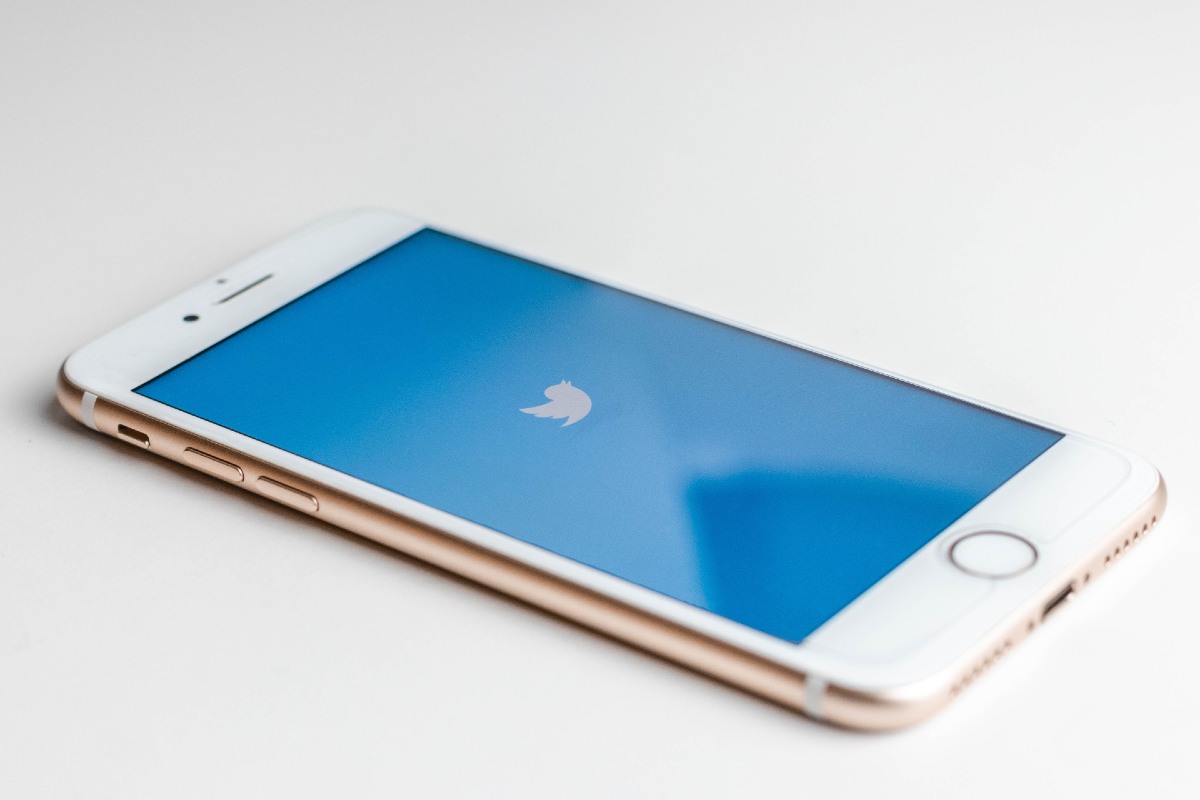 In the eCommerce industry, it's inevitable that every social media will become "shoppable." Take Instagram, TikTok, and Facebook, for instance. Each has its features that allow its users for immediate purchase with just a few clicks or swipe.
Of course, Twitter is also looking for an opportunity to ride the eCommerce wave. According to Twitter's Analyst Day presentation, representatives revealed they are developing various commerce options. Recently, Twitter began to test its new commerce layouts with at least one Android app user in Qatar. 
As spotted by UK-based social media consultant Matt Navarra, he cited the following changes:
Product name
Shop name
Product price
Twitter Shop button
The new layout leans into a more formal look as it features a blue Twitter shop button. By the time of its official release, let's hope the button is customizable to help businesses stay "on-brand." Also, it would help brands if other features are also customizable. For now, all we can do is cross our fingers and hope for the best.
Twitter confirmed that it's testing new eCommerce-friendly features. Furthermore, the company aims to include a new feature for organic tweets that would link an eCommerce product page. According to the company, they conducted the first test among many experiments for their Commerce space.
The company plans to expand feature and format options for different types of users other than the Twitter shop button. It also plans to introduce Facebook-like business profile features such as integrated maps and Super Follow. By doing this, Twitter will allow professional Twitter users to charge followers for exclusive content. It's a great way to expand Twitter's monetization options.
The Twitter Shop Button: Why It's Taking Long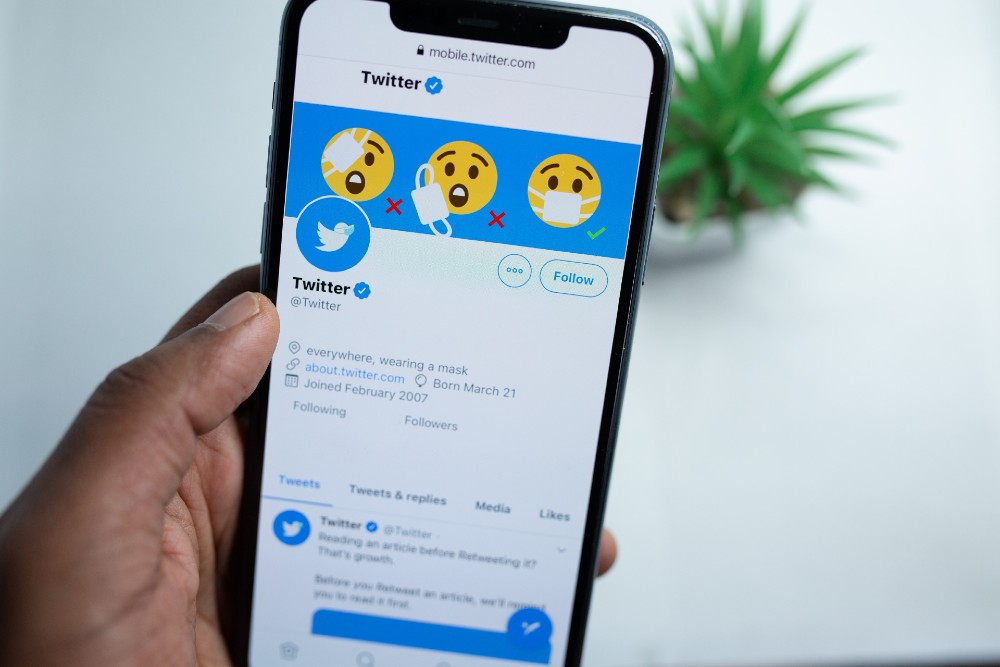 According to Twitter's Revenue Product Lead Bruce Falck, the team gets many questions regarding their eCommerce additions. Most inquiries ask why it's taking them so long to develop eCommerce support on the platform. However, Mr. Falck pointed out that sequencing is crucial.
The team firmly believes that it's important to polish the performance of Twitter's ads business. He further explained that starting with MAP towards click and conversions involves a critical process. Also, it's an essential prerequisite to launching their eCommerce features.
About MAP, it relates to re-building Twitter's Mobile Application Promotion system. In 2019, Twitter identified issues with its MAP process that led to a massive impact on its data capacity and targeting. As a result, Twitter wants to focus on its MAP system and further refine it before moving onto eCommerce. Currently, Twitter is working on the next stage for its eCommerce features and tools, starting with its Twitter shop button.
Meanwhile, as the company pushes forward various Commerce innovations to their platform, an edit button is still nowhere to be found. Let's hope that someday, Twitter will add that edit button to its new upgrades. Besides, it's more convenient to edit a post instead of deleting it to make a new one. Well, we can only dream.
Final Note
Some might say that Twitter's eCommerce tools and features are long overdue. However, if we consider the rigorous process of developing a smooth transaction for us users, let's patiently wait.
Half a million dollar Playstation 5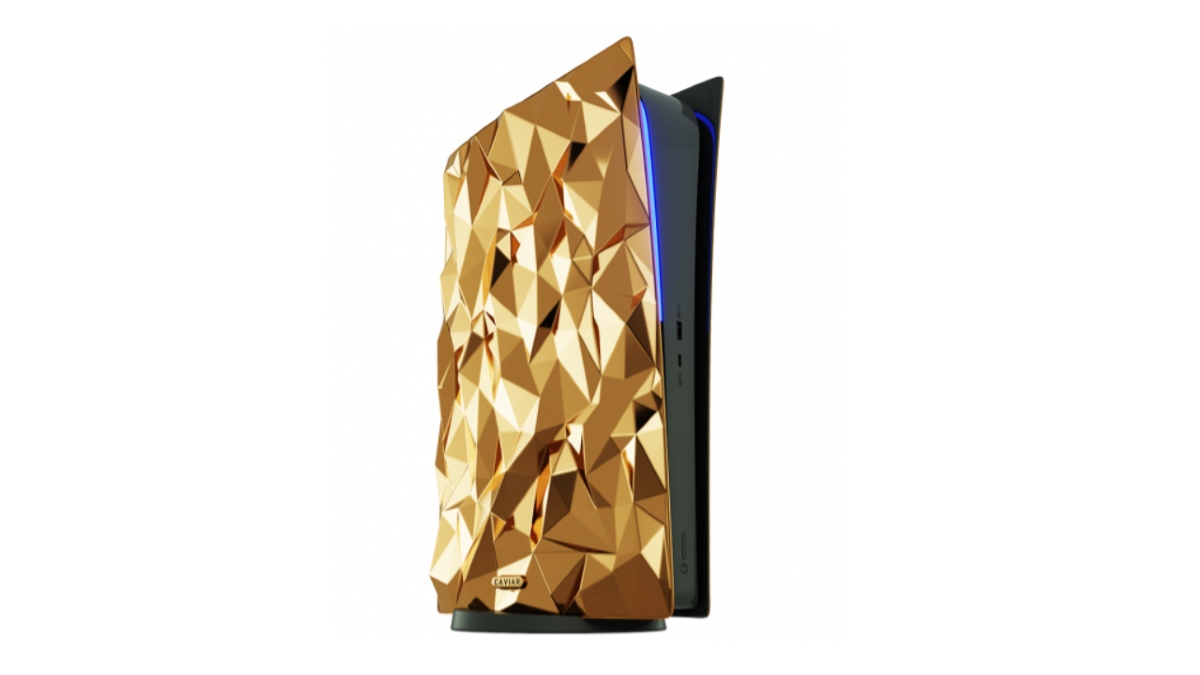 A solid gold-plated PlayStation 5? Wow, that sure sounds expensive. Caviar, the same company that released a pure gold iPhone, extended its 'Midas' touch to the world of gaming. According to Caviar jewelers, they can't pass the opportunity to give the most advanced PlayStation a luxurious makeover. 
Golden Rock
Caviar's console has an embossed, playful geometric design as if cut from a boulder of gold. It makes perfect sense to call the PS5 collection "Golden Rock." 
At first, Caviar's website did not announce a price list for the 18-karat solid gold-plated console.
It certainly builds anticipation, as the price itself deserves a grand reveal. However, no one expected the price to be as high as $499,999. Yikes, that's a hefty amount for a shiny game console.
Currently, the golden console is available on Caviar's website. But unless you have half a million on your account, you probably don't want to add this PlayStation 5 to cart.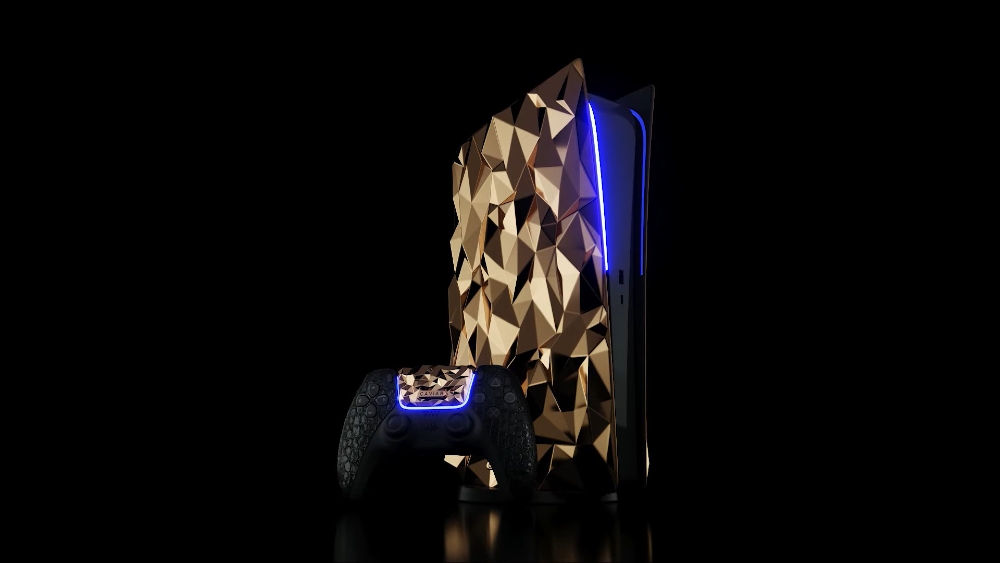 Console Specifications
Overall, the solid gold plate's total weight around the console and gamepad weighs about 3.8 kilograms. The designer paid close attention to details by applying an original technique to add volume and texture to the console. Aside from mimicking the outlines of a rock, the designer wanted buyers to experience a "real tactile pleasure" using the gamepad. Caviar's designer used genuine crocodile leather to clad the controller set included in the Golden Rock collection.
According to Caviar's press release, each console takes at least four months to create. Also, the company announced their collaboration with a contractor specializing in gold jewelry to develop a test sample. The brand stressed that this collection is a limited edition and will only release nine Golden Rock PS5.
Meanwhile, if a luxurious console sounds overwhelming, a non-gold PS5 that's worth $499 presumably functions just the same. Of course, minus the golden Midas touch.
Public's Reaction
Sure, "Golden Rock" is probably the last thing our world needs now, but there's anticipation for some. Ever since the announcement last December 28, the company has received more than 1,300 applications for the new product. According to Caviar's Youtube channel, famous basketball player LeBron James is one of those who showed interest as a buyer.
Other interested buyers are well-known Russian businessmen and equally famous American businessmen in the IT field. However, the names of the potential buyers are not disclosed for privacy reasons.
Due to the high demand, the brand decided to release a single piece but decided on a small series. After seeing the positive response, Caviar announced that it would release nine sets of Golden Rock. However, that's still not enough to satiate more than a thousand interested buyers. Now, I'm wondering who's on the very top list of the buyers.
Other than a solid gold console, the luxurious gadget customization company offers other editions for Sony PlayStation 5.
Conclusion
In the end, Golden Rock is the most expensive PlayStation 5 customization in the market to date. If you're interested in buying the gold console, Golden Rock is still available on Caviar's website.
For other gaming and technology-related articles, you can read more here at Owner's Mag!