Review: Jurassic World Dominion
Is it the worst movie of 2022?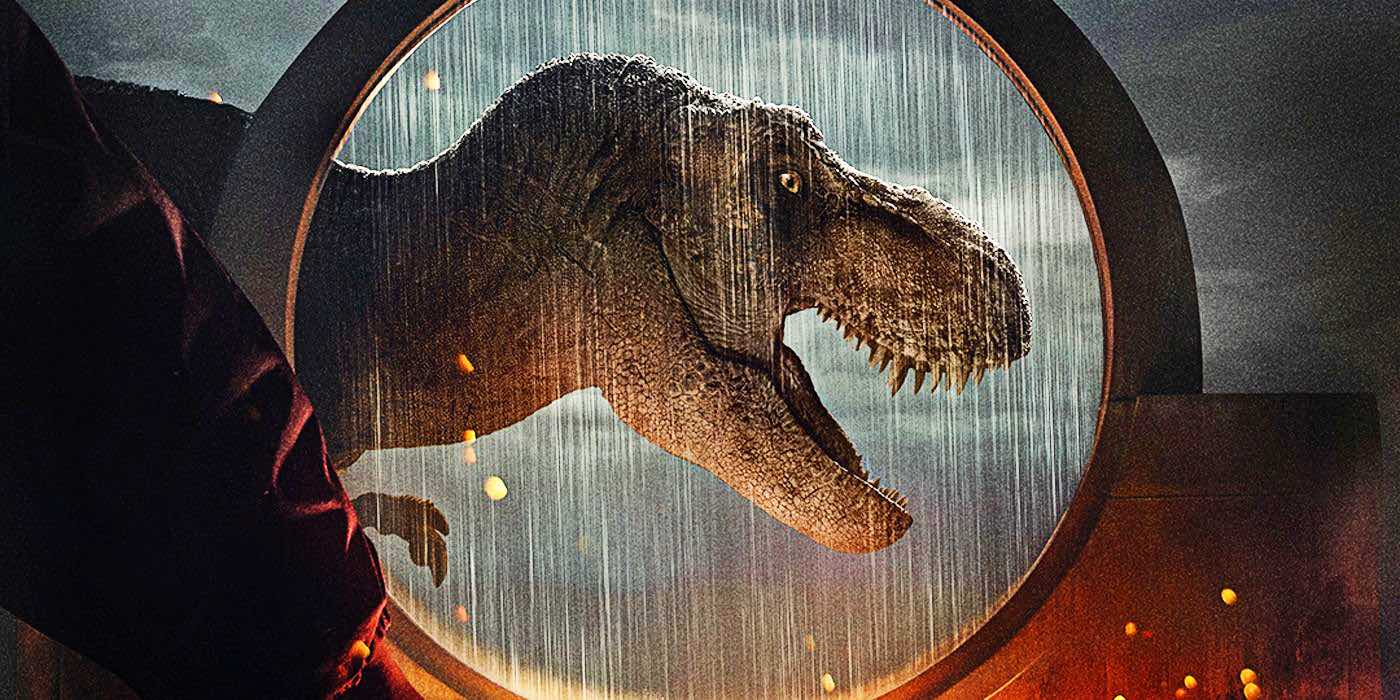 The Jurassic World trilogy makes little effort to hide the fact that it follows the blueprint of the Star Wars sequels.
Sure, Jurassic World preceded The Force Awakens by a few months, but the bones are all there. Start with a reintroduction that rehashes the original story, go left with a new director on the sequel, then bring it all home with a big legacy finale.
There's just three problems:
While I appreciate Jurassic World's cynical subtext, it's no The Force Awakens.
Interesting foray into small-scale horror aside, Fallen Kingdom doesn't come close to The Last Jedi as a piece of cinema.
As irreparably bad as The Rise of Skywalker is, it's no Jurassic World Dominion.
It could definitely be said that Dominion takes notes from the sort of roller coaster filmmaking attempted by Rise of Skywalker and fine-tuned by Spider-Man: No Way Home. Story beats come and go, with instant emotional gratification at the forefront. References to the classic movies supersede plot, characters, even action.
But as many head-scratching decisions as there are in Rise of Skywalker, they generally become clear once you apply this framework. Jurassic World Dominion, on the other hand, undermines its very premise almost instantly. This sets up a carnival of disappointment where literal dinosaurs are a light seasoning and metaphorical dinosaurs roam the Earth.
This popular tweet opines that the Jurassic Park franchise has consistently bungled an inherently winning premise. Before seeing the new film, I was ready to argue that "dinosaur chomp chomp human" is actually not much of a movie once the novelty of dinosaurs wears off.
Whether or not you feel the same, it's hard not to argue that Dominion is wasteful on the dinosaur front. Fallen Kingdom ended with the promise of dinosaurs set loose on human society. This movie's opening newsreel lets us know that the problem is now 80% under control. The animals wreaking havoc in this film are not lifesize dinosaurs, but squirrel-sized locusts.
Truly, only the mind behind The Book of Henry could bring you a Jurassic Park movie where the primary enemy is locusts. Director Colin Trevorrow teased the new Giganotosaurus character as the dinosaur equivalent of the Joker. As insane as that already sounds, the truth is even more absurd: the Giga appears in all of two scenes before her climactic showdown with the T-rex.
This is the film's main issue: in a film meant to deliver on the promise of a Jurassic world, the dinosaurs are never more than set dressing. Instead, we follow the anemic adventures of Jurassic World's new protagonists alongside Jurassic Park's iconic trio. The latter have somehow all turned into Mr. Bean since we last saw them.
Goldblum gives Goldblum, Dern gives Dern, but you'd swear that Sam Neill hasn't acted since 1993. The only person who looks less happy to be here is Chris Pratt. He's gotten so miserably bored of being the biggest star in the world that he's now exclusively interested in voice work and streaming shows that don't exist.
It's almost not worth talking about Bryce Dallas Howard, who's played a completely different character in each of these movies. The movie gets a bit of juice out of Campbell Scott, who replaces disgraced actor Cameron Thor as the weaselly Dr. Dodgson.
If it seems like there's too many cooks in the kitchen, you don't know the half of it. I haven't even gotten to the cloned child from the previous movie (now a jaded teen played by Isabella Sermon) or the helpful rogue agent of BioSyn (Mamoudou Athie). There's a sliding scale of importance, but Dominion certainly has no fewer than six protagonists.
There are fleeting moments of joy in this movie, but nothing to write home about. All told, this Jurassic World trilogy has amounted to a multi-billion-dollar wash. Part of it is the lack of a Spielberg at the helm. Part of it is the groundbreaking visual effects of the original, which no follow-up could ever match.
Still, there's more to it than that. Story, character, dialogue, pacing, every element of this series seems out of whack. On a level, Jurassic World was a cynical commentary on reboot culture. But they always knew they'd have to try to bring it all home with this finale. The premise is flawed, but the ideas are truly rotten.
Will a torrent of bad reviews have an effect on this movie's numbers? Maybe, maybe not. The last two made a billion each, and our current choked-out film market leaves it with less competition.
One can't help but wonder if new streaming releases like Fire Island and Hustle could've eaten away at Jurassic's returns with a wide theatrical release. Instead, its only competition are indie releases like Neptune Frost (an Afrofuturist musical that's much more worth your time).
Jurassic World Dominion is poorly-written, poorly-acted, and even poorly-lit. But above all, it's poorly-conceived, a perfunctory sequel to a franchise of obligation. Jurassic World: Fallen Kingdom made a billion dollars four years ago, and most of us would be hard-pressed to even remember the title. The two kids who were the main characters of Jurassic World don't even appear in this one!
Even fans of Jurassic World and its iconic characters like Owen Grady, Claire Dearing, and Maisie Lockwood (100 points if you can remember who that is) will struggle to enjoy Dominion. Worst movie of 2022? Maybe, but definitely the least worth your money. F
Jurassic World Dominion is now playing in theaters.
Top Free AI Music Generators for Aspiring Artists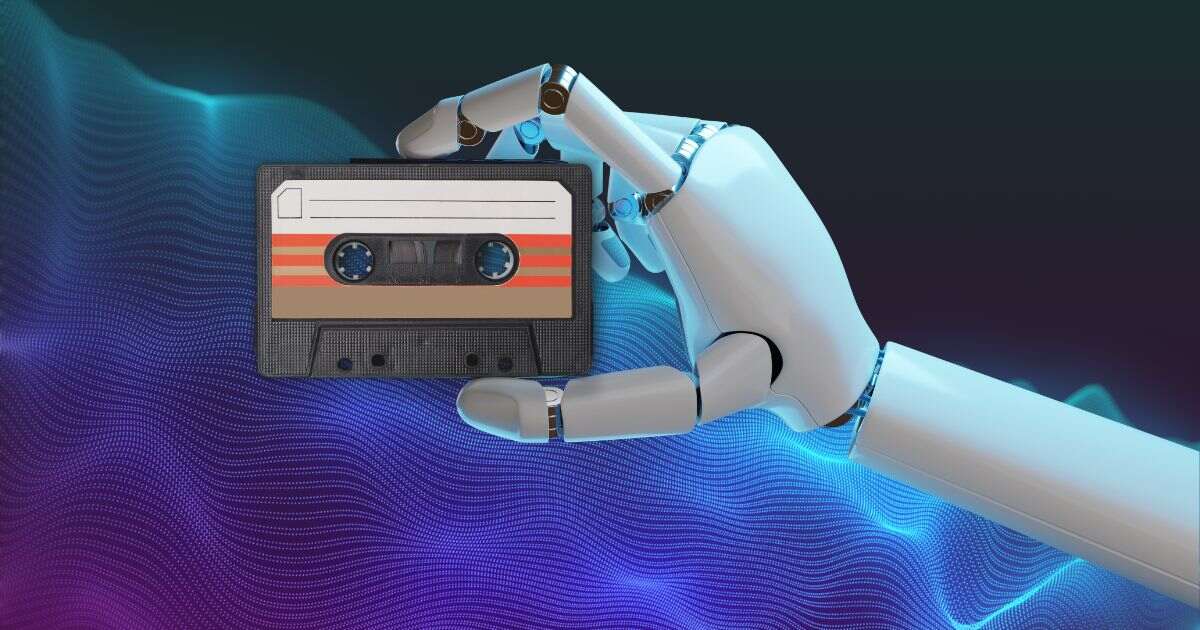 For aspiring artists, Artificial Intelligence (AI) music generators have emerged as invaluable tools to spark innovation. That said, an AI music generator free of charge offers an incredible tool for limitless musical possibilities without costing a penny.
This article explores the top free AI music generators that promise to unleash your artistic potential. Whether you're a budding songwriter, a curious producer, or an experimental musician, each AI music generator online platform on this list offers an inspiring blend of technology and artistry to fuel your creative journey.
1. Soundful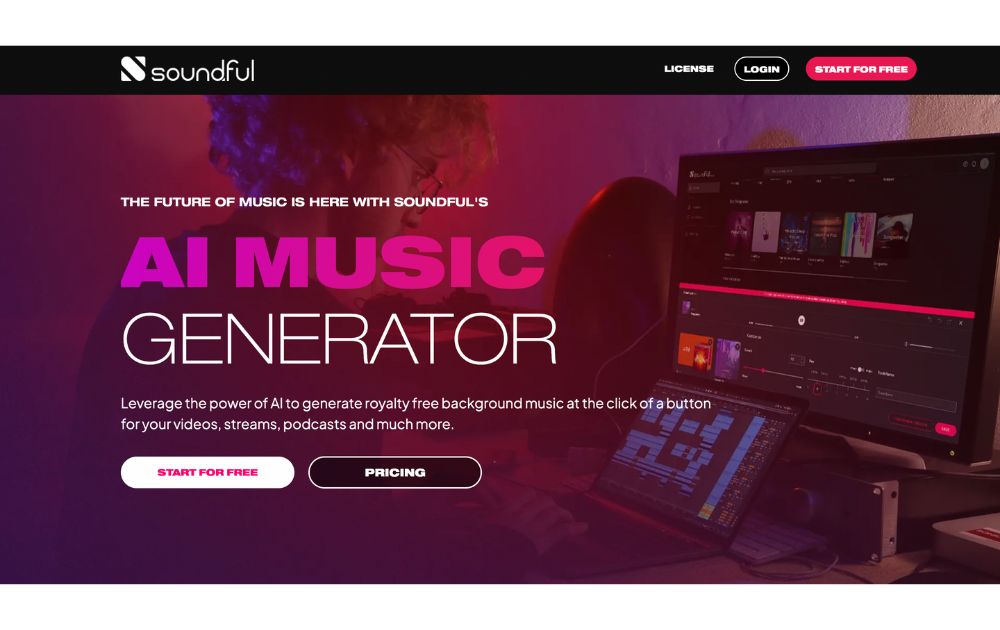 First on our list of AI music generator free tools is Soundful. This AI-powered platform creates royalty-free background music for videos, streams, podcasts, and more. Users can easily choose a genre, customize inputs, and generate tracks until they find the perfect match. The music is unique and won't replicate existing songs or tracks from the platform itself, as the algorithms are trained note-by-note with the help of industry producers and sound engineers. 
This AI music generator has a free forever plan, with ten monthly downloads and access to over 25 deadlines. The plan is designed for personal use and non-profits.
2. Amper Music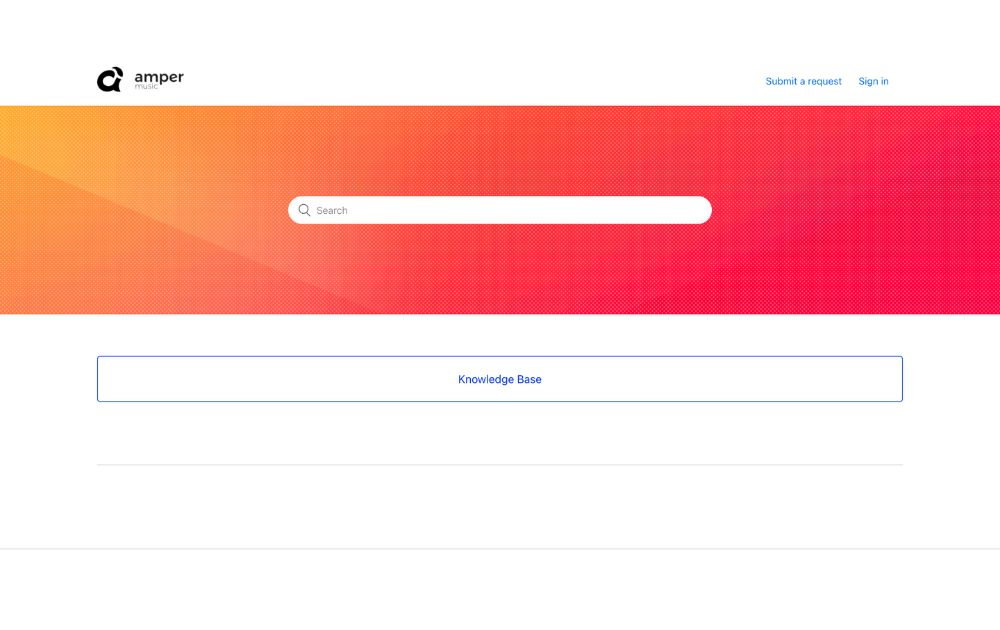 Amper Music is known for its user-friendly interface, making it ideal for beginners in AI-generated music. It doesn't require extensive knowledge of music theory or composition as it uses pre-recorded samples to create musical tracks. These tracks can be modified with different music keys, tempos, individual instruments, and more, allowing users to tailor the music to their desired mood or vibe.
This platform offers an AI music generator free account, but you'll need to pay track licenses to download and use the music.
3. Mubert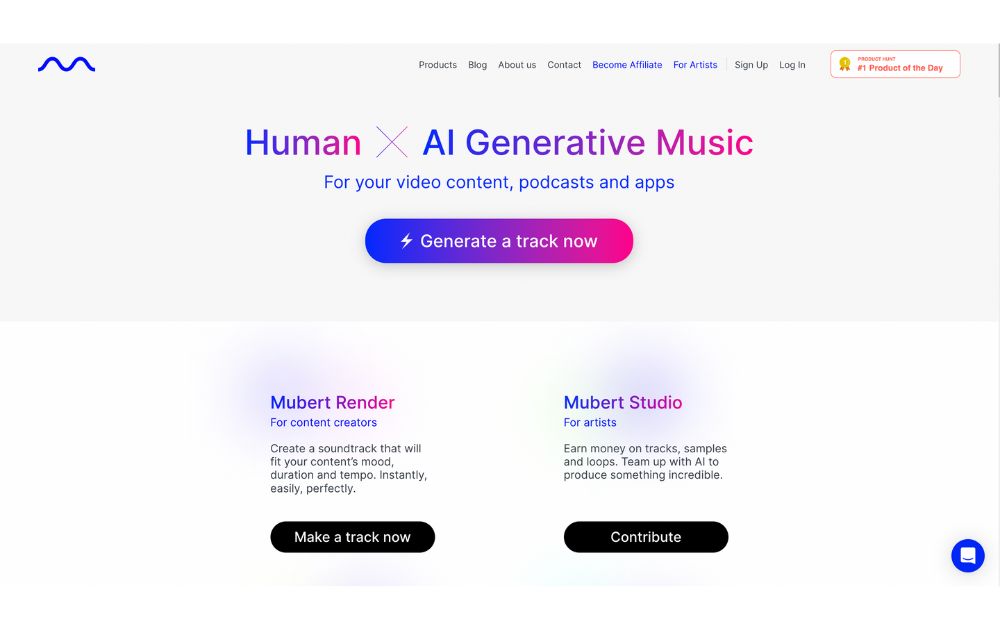 Mubert is an advanced AI music generator that stands out in the industry due to its blend of technology and creativity. It offers a unique approach to music production, enabling users to break traditional boundaries and generate custom soundscapes. The platform provides several advantages, including an API for creating personalized music experiences in apps and games. It also has a marketplace where users can sell AI-generated tracks.
This AI music creator offers a free Ambassador Plan for personal projects without monetization and ad spend.
4. Aiva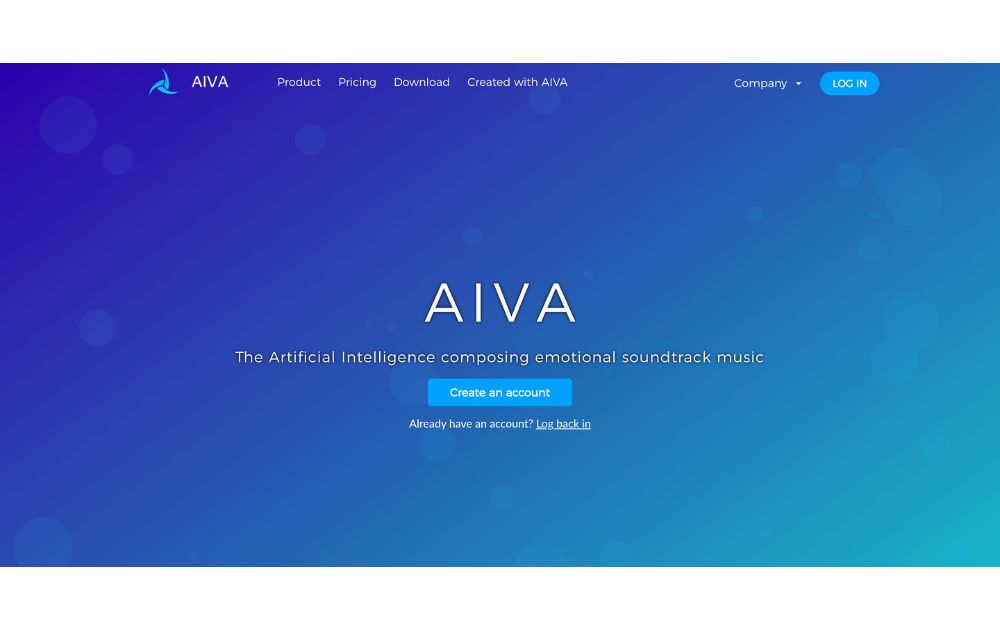 Aiva, an AI music generator established in 2016, specializes in composing soundtracks for diverse media like ads, video games, and movies. Its tool allows users to create original music or produce variations of existing songs, bypassing the complexities of music licensing. The platform offers a wide range of presets, specific music formats, and the flexibility to edit soundtracks, making it a favored choice among professionals and amateurs.
Key features of Aiva include a variety of presets and music formats. It offers a functional free version with limited features and the ability to edit and modify existing tracks. Users can select a template, key signatures, music length, and the number of AI-generated compositions.
5. Soundraw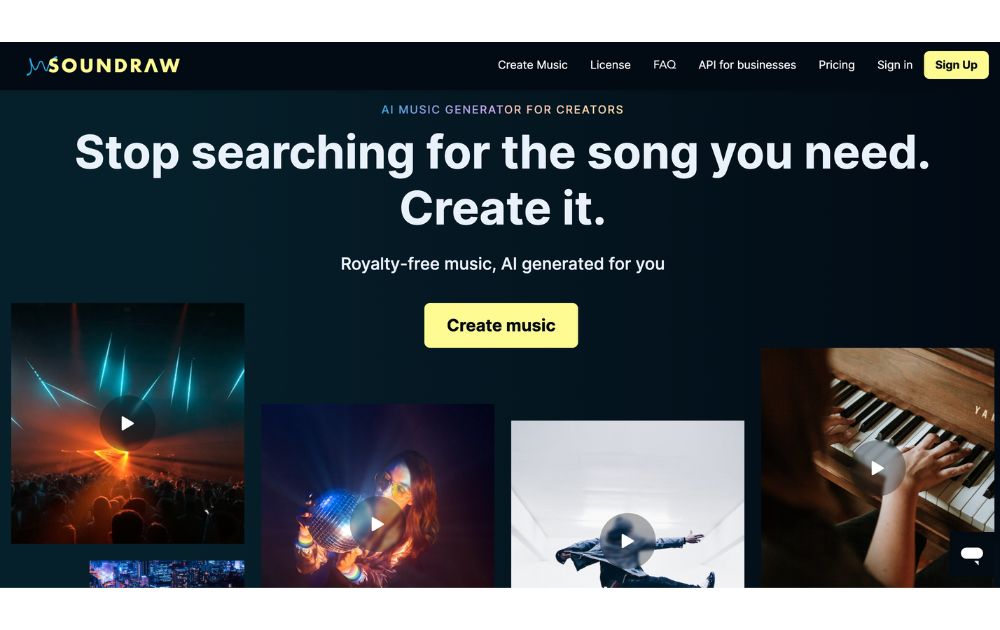 Soundraw is another excellent AI music generator that offers various features, including the customization of songs with AI-created phrases. The tool utilizes a combination of AI and manual tools to make music effortless.
The platform is easy to use, making it accessible for beginners and experienced musicians. It's also compatible with Google Chrome and Premiere Pro, making for seamless integration. There's a free plan for users who want to create music, but you'll need to subscribe for unlimited downloads.
6. Beatbot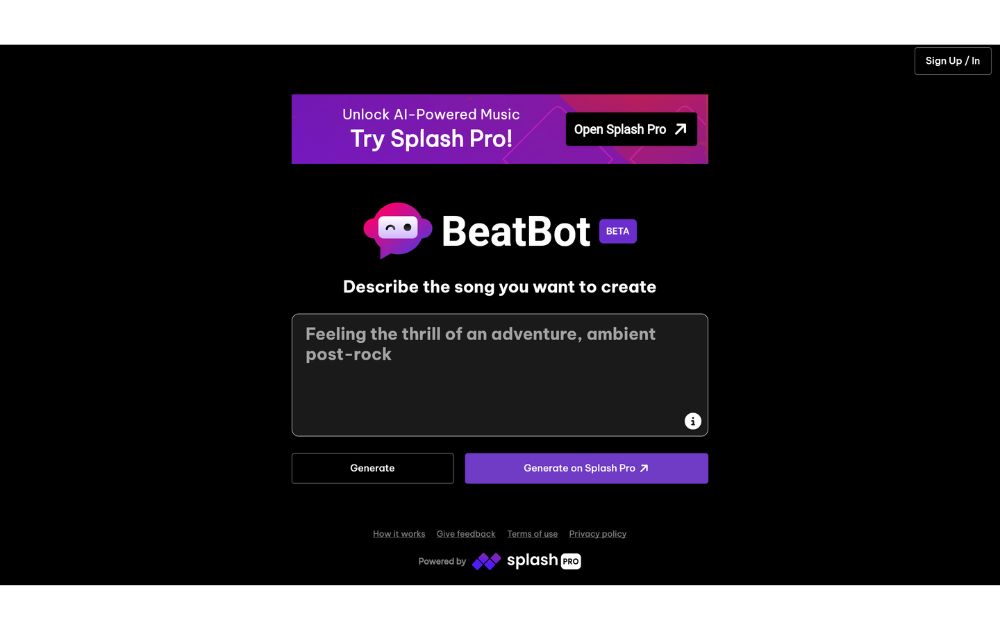 Beatbot is an innovative AI music generator with vocals that composes short songs based on user-provided text prompts. It uses Splash sound loops for music and vocals while ChatGPT writes the lyrics. Currently in its Beta phase, Beatbot is free to use, but pricing may be introduced in the future.
You can use the platform to experiment with different prompts and lyrics. And if you're not fully satisfied with the result, you can click "Retry" to regenerate the music. Beatbot is free to use.
7. Boomy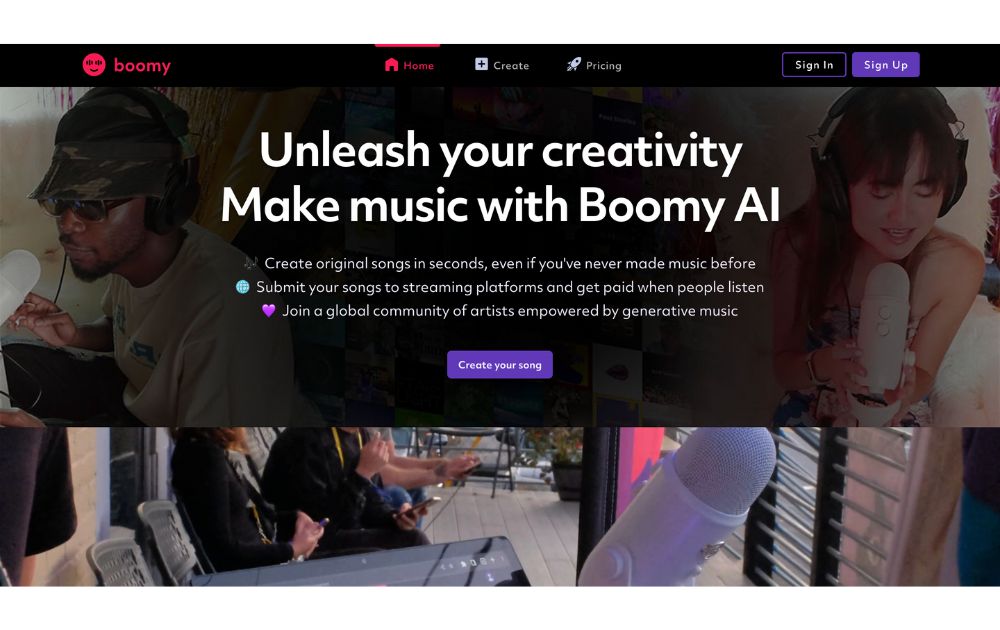 Some users name Boomy as the best AI music generator that simplifies music production. It allows users to create original songs within seconds and provides the opportunity to submit these songs for potential streaming revenues from various services, making it a highly distinctive platform.
The platform offers both free and subscription versions. You can create and edit songs with the free plan and save up to 25 songs. However, you'll need a paid plan to download songs and use them for non-commercial or commercial use.
8. Loudly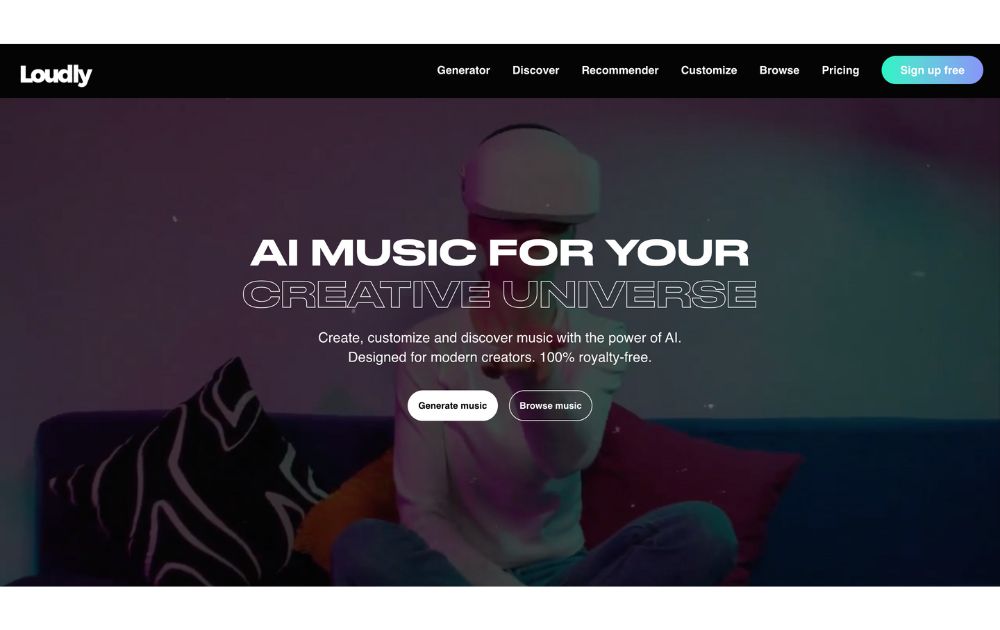 Loudly is an AI-powered music tool with a vast library of over 170,000 curated audio loops. Its advanced playback engine combines and warps loops while following chord progressions in real-time, ensuring musically meaningful compositions. Loudly's unique approach combines expert systems and generative adversarial networks, supported by collaboration between their music team and machine learning experts.
Loudly offers multiple subscription plans, including a free one, making it a viable option for those looking for a free music generator.
9. Beatoven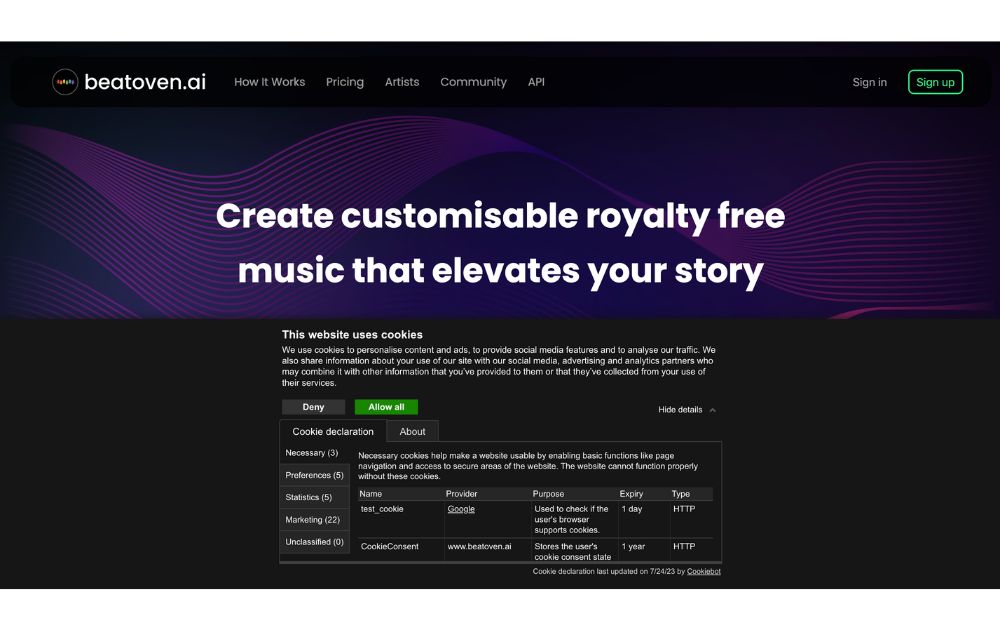 Beatoven is specifically designed to compose original soundtracks for videos or podcasts effortlessly. Without music theory expertise or production experience, users can create unique, mood-based music, ensuring an enjoyable and inclusive creation process.
This AI music generator is ideal for content creators seeking unique, mood-based music for their videos or podcasts. It is also a valuable tool for individuals interested in music creation but lack technical knowledge or resources.
There's a free plan for individuals wanting to start with the platform. This plan comes with five minutes of free monthly downloads and access to features like instrument selection and volume dynamics.
10. MuseNet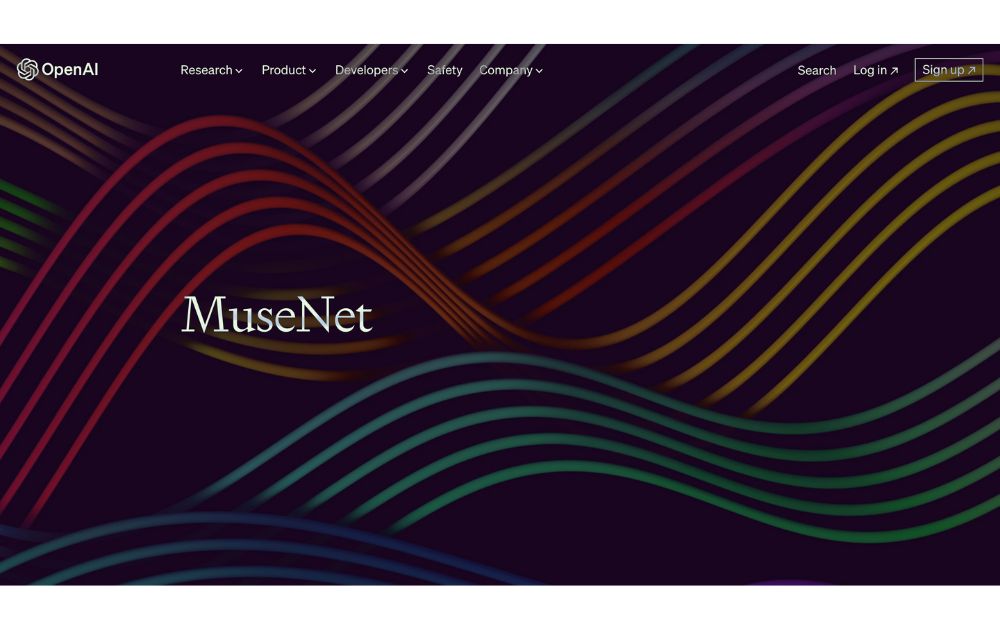 OpenAI's MuseNet can produce songs with up to ten instruments in 15 different styles. A unique feature of MuseNet is its ability to mimic famous composers like Mozart and contemporary artists like The Beatles. The tool relies on a deep neural network trained on internet data, enabling it to evaluate music over extended periods.
While MuseNet offers numerous music samples on Soundcloud, it currently does not allow users to generate their own music using the tool.
You can use the AI music generator free of charge from their website.
From Algorithms to Harmonies: Generated Music and Its Creative Potential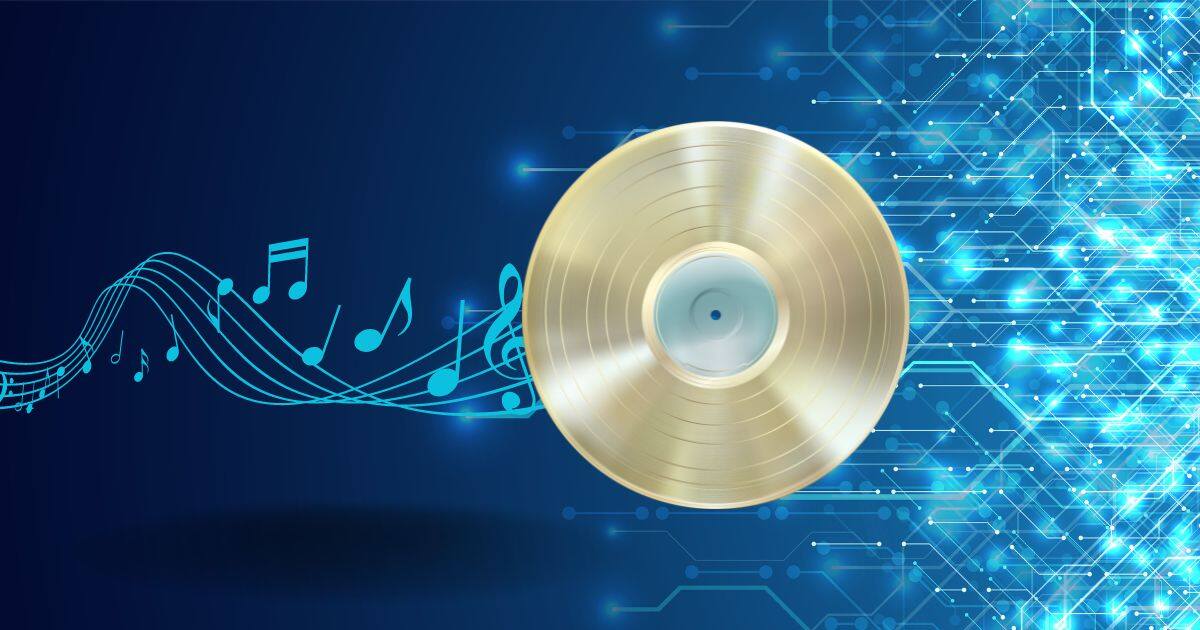 Music has always been an expression of human emotions and ingenuity. Recently, however, a new force has emerged in musical creation: generated music, which offers the marriage of technology and artistry.
In this article, we'll explore the fascinating world of generated music and check out the top AI music composer tools today. We'll also tackle how algorithms can potentially reshape the creative landscape and the social issues that come with it.
What is generated music?
Before we dive deep into the topic of AI music generator from text tools and other related apps, let's answer a crucial question – what is AI-generated music?
AI-generated music refers to musical compositions and melodies created using artificial intelligence algorithms and machine learning techniques.
These algorithms are programmed to analyze vast amounts of existing musical data, learn patterns, structures, and styles, and then use this knowledge to generate new musical pieces autonomously, without direct human intervention.
What are the Uses of AI-Generated Music?
AI-generated music has various uses across various industries and creative endeavors. Some of the key uses of AI-generated music include:
Streaming Platforms. AI-generated music can be used on streaming platforms to provide users with a continuous stream of music tailored to their preferences and mood. It allows for personalized playlists and radio stations.
Music Production. AI-generated music can assist musicians and composers in the creative process. It can be used as a starting point for inspiration or to generate new ideas and melodies.
Royalty-Free Music. AI-generated music offers a vast library of royalty-free music, allowing content creators, businesses, and individuals to use music without worrying about copyright issues.
Music Education. AI-generated music can be used as a tool for music education and learning. It can help students practice and understand different musical concepts and styles.
Personal Listening Experience. AI-generated music can create personalized music tracks tailored to an individual's preferences, making it an enjoyable and unique listening experience.
Top AI Music Generator Tools
Here are some available AI music generator tools to create generated music.
1. Amadeus Code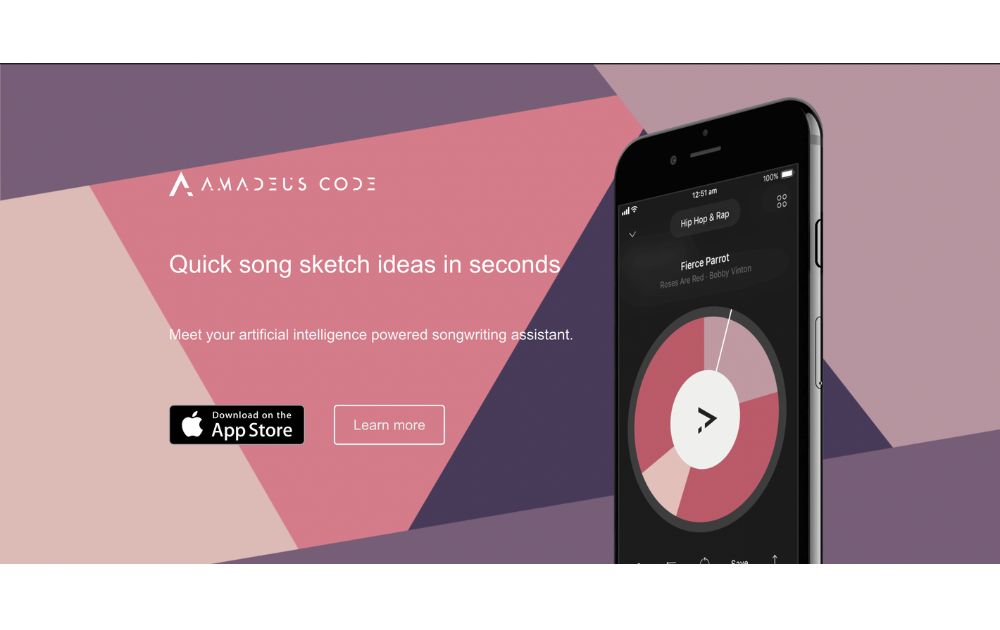 Amadeus Code is an AI music generator designed for music enthusiasts and available as an IOS-based app. It enables users to create new melodies within minutes. The tool's AI engine contains chord progressions from famous songs worldwide, empowering users to construct fresh music compositions. With the ability to use gestures, users can craft entirely new songs or recreate them from existing ones, making it ideal for those looking for an AI song cover generator. 
2. Soundful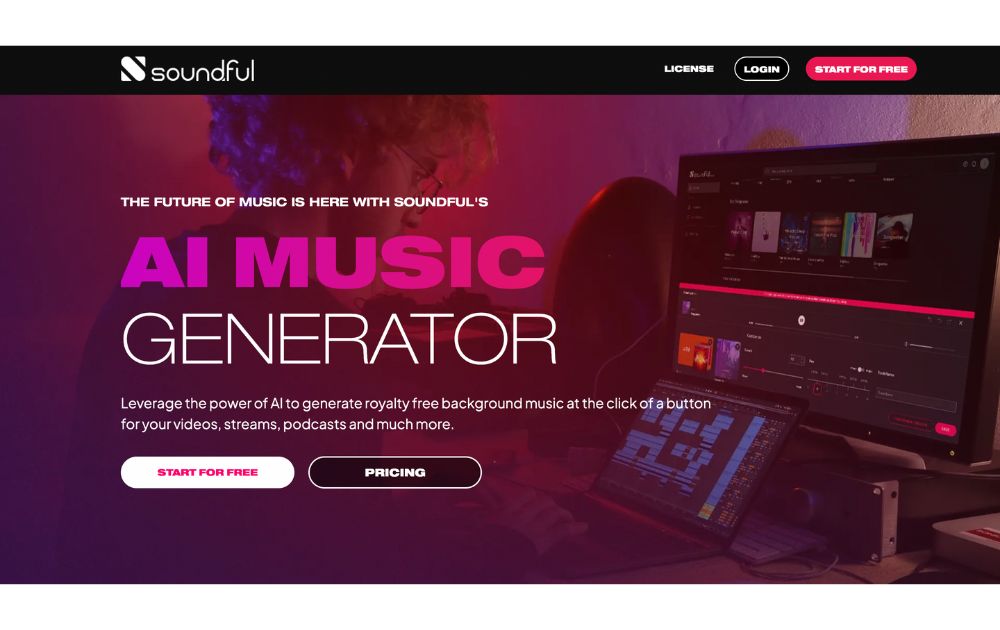 Soundful produces royalty-free AI-powered music for various media like videos, podcasts, and streams. It offers a user-friendly experience where users can select a genre, customize inputs, and generate tracks until they find the perfect fit. The music created is unique and will not replicate existing songs or tracks on the platform. Soundful's algorithms are trained note-by-note with the guidance of industry producers and sound engineers.
3. Soundraw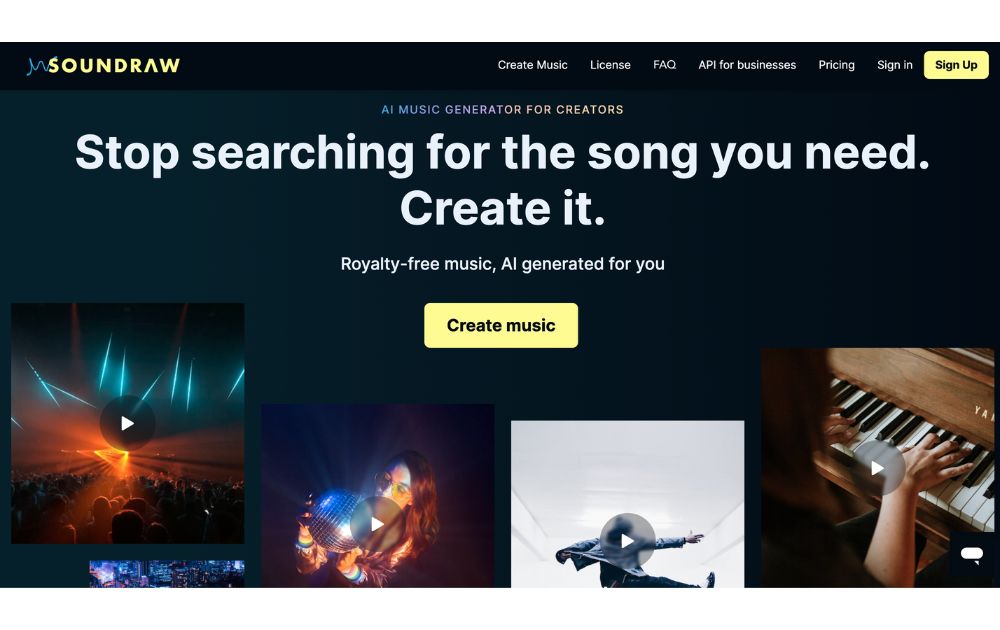 Soundraw is a top-notch AI music generator that offers a range of features, including text to song generator tool. The platform provides a customization feature that allows users to improvise and fine-tune individual pieces of music. While free users can create music using the platform, you'll need a subscription to download up to 50 songs daily.
4. Mubert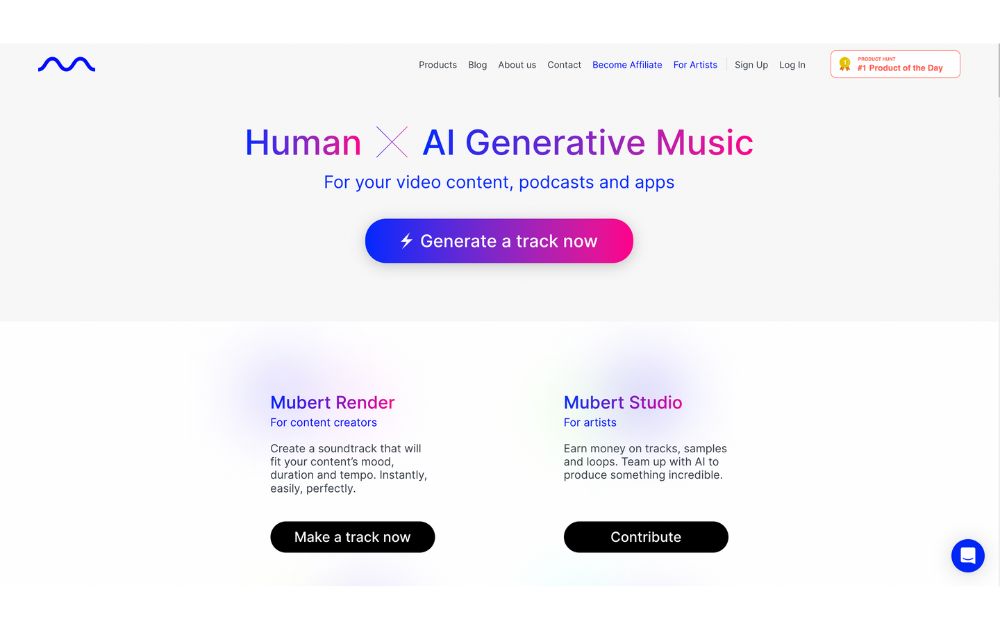 Mubert sets itself apart by combining technology and creativity, offering a novel approach to generated music production. The platform offers an API for personalized music experiences in apps and games and the ability to curate existing music into personalized playlists. It also features a marketplace called Mubert Studio, where you can sell AI-generated tracks. 
5. Boomy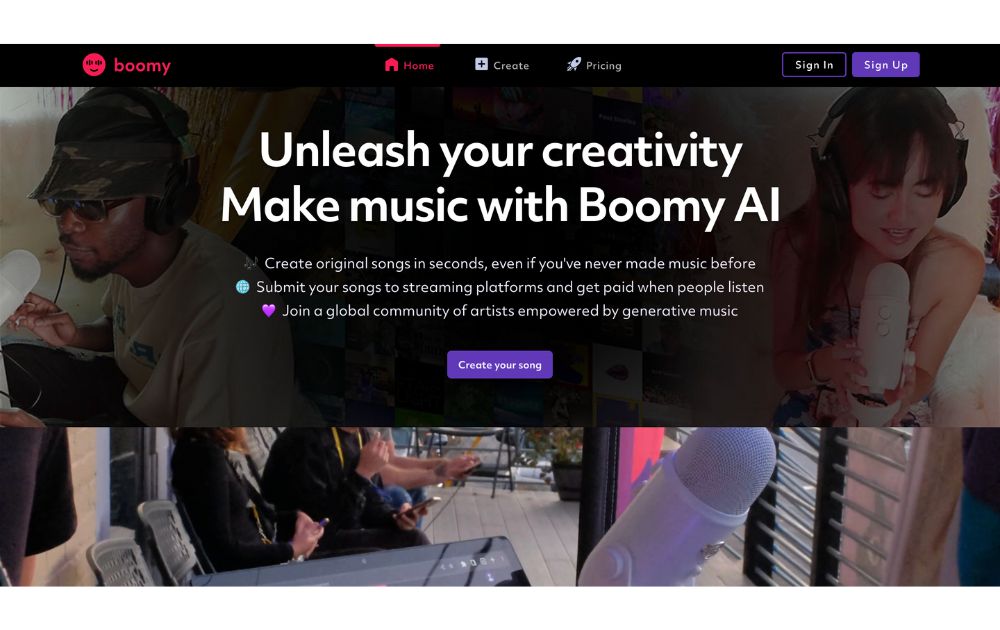 Boomy is a popular tool that helps democratize music generation and streamline music production. It empowers users to create original songs in a matter of seconds and even submit them for potential streaming revenues from various services, making it stand out as a highly distinctive platform. As users engage with the platform, Boomy's AI develops a personalized profile to assist in creating the best music tailored to their preferences.
Frequently Asked Questions (FAQs)
What is the most famous AI-generated music?
Though there are many popular generated music, one recent song that made waves was "Heart on My Sleeve," produced by TikTok user ghostwriter977. The vocals for the song were AI-generated, made to sound like Drake and The Weeknd. It was released in April 2023 but was taken down by rightsholder Universal Music Group, sparking debates about AI copyright.
What is the best AI music generator?
It is difficult to definitively determine the "best" AI music creator, as the effectiveness and preference can vary based on individual needs and preferences. Additionally, AI music generators are rapidly evolving, and new tools and advancements continue to emerge. It's best to test out a few to see which one works best for your creative process.
Who owns music created by AI?
In general, the ownership of AI-generated music depends on several factors, including the jurisdiction, the specific terms of use of the AI music generator platform, and whether an individual or a company used the AI. However, the ownership of music created by AI can be a complex and contentious legal issue.
AI Music and Copyright Issues
It's vital to be aware of copyright issues when using AI-generated content, including music, for content creation. Here are some tips on how to use AI music responsibly:
When using AI music generation platforms or tools, carefully read and understand their terms and conditions. Some platforms may retain rights to the content generated, while others may have specific usage restrictions.
Consider creating original music to avoid copyright issues altogether. Many AI tools can help you generate unique compositions that are entirely original and free from copyright concerns.
Some AI-generated music may be based on public-domain compositions or samples. Public domain works are not protected by copyright and can be used freely without permission. However, ensure that the AI-generated music is indeed based on public domain works before using them.
Always err on the side of caution and respect copyright laws to avoid legal issues. If in doubt about the copyright status of AI-generated music or any other content, consult legal professionals to ensure compliance with applicable laws and regulations.
The Game-Changing Features of Spotify Artificial Intelligence (AI) DJ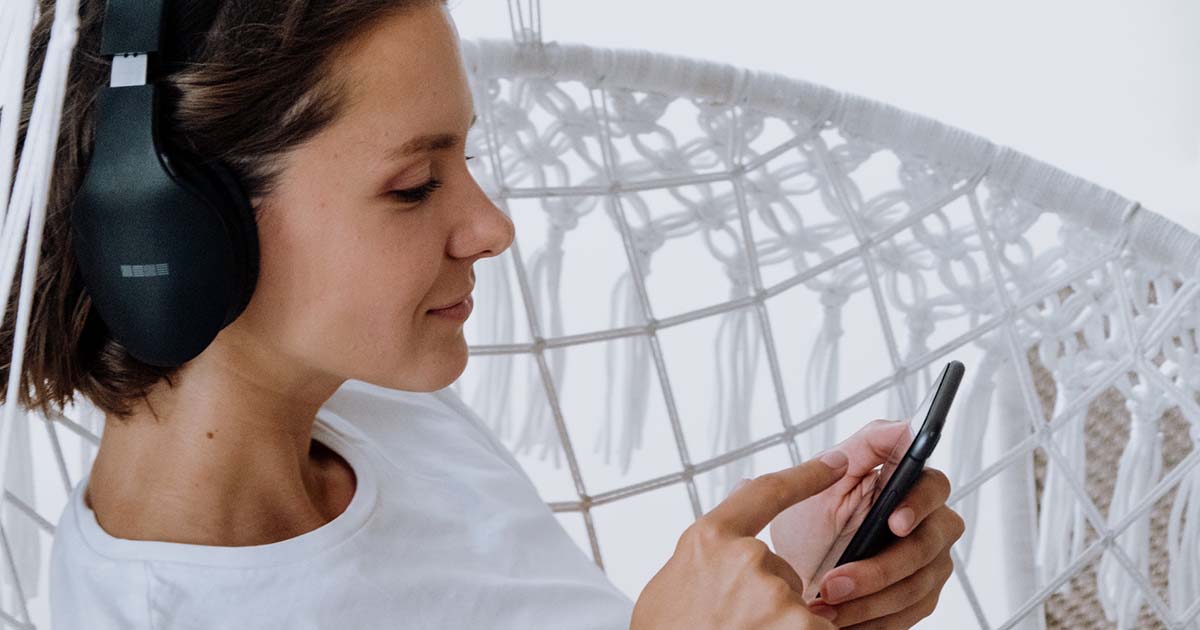 As Spotify continues to top the list of music streaming services, it unveils a DJ powered by artificial intelligence and a TikTok-like user interface. Spotify redesigned its home screen to help users find new music. Similarly, the AI DJ is now a prominent part of Spotify's functionalities. Introduced to the app's Premium subscribers in the U.S. and Canada in late February, the DJ gets to know users so well. It could play whatever you want to hear with a press of a button. Find out more below about Spotify's artificial intelligence breakthrough.
Meet Your Personalized AI DJ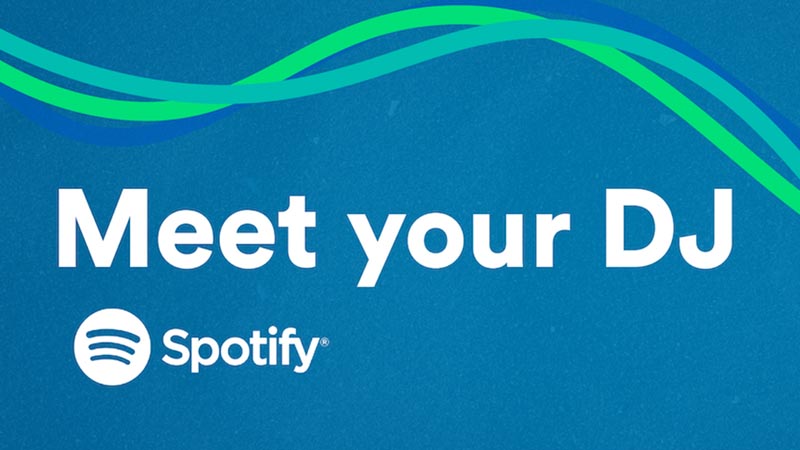 Image credit: Spotify
This cutting-edge AI DJ goes beyond just playing music. The new feature provides insightful facts about the music, artists, and genres you enjoy.
Spotify's integration of AI continues beyond there. The company has been leveraging AI and machine learning for years to curate custom playlists, resulting in highly personalized song and playlist recommendations adorning the app's home screen. According to Tony Jebara, Spotify's VP of Engineering, AI and machine learning have played an integral role in the company's success. Get ready to immerse yourself in a music journey like never before with your personalized AI DJ at the helm!
How AI DJ Works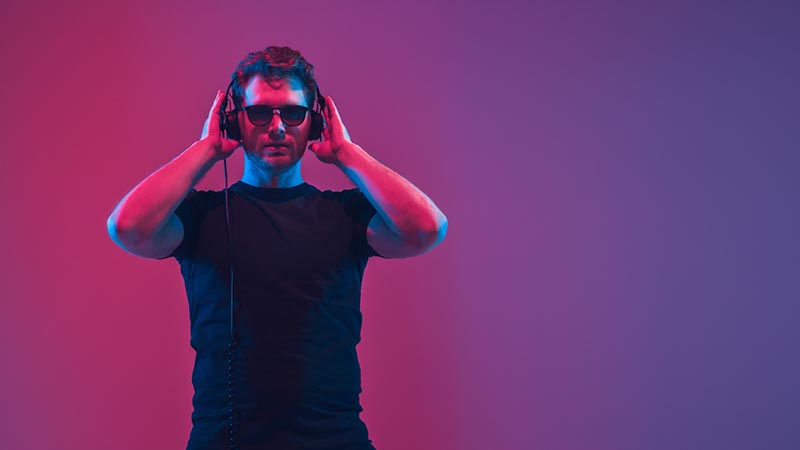 Spotify was able to scale its recommendations for each user through OpenAI's generative AI technology. Here's how it typically works:
1. Data Collection: Spotify collects data from its users, including their listening history, liked songs, playlists, skip tracks and other interactions within the app. This data is crucial in understanding individual preferences and tastes.
2. Machine Learning Algorithms: Spotify employs advanced machine learning algorithms that analyze the collected data. These algorithms identify patterns, trends, and correlations between user behavior and the music they enjoy.
3. User Profiling: Based on the insights gained from the data analysis, Spotify creates individual user profiles. These profiles represent the unique musical preferences and characteristics of each user.
4, Music Feature Analysis: Spotify artificial intelligence examines the musical features of songs, such as tempo, mood, genre, instrumentation, and more. This analysis helps the AI understand the attributes contributing to a user's liking or disliking of a particular track.
5. Collaborative Filtering: The AI also uses collaborative filtering, which compares a user's profile with those of other users with similar musical tastes. Then, it identifies songs that users with similar preferences enjoy but that the current user still needs to discover.
6. Content-Based Filtering: Besides collaborative filtering, the AI utilizes content-based filtering. This approach recommends songs with similar characteristics to those the user has already shown interest in.
7. Real-Time Adaptation: The AI DJ continuously adapts and learns from user interactions. It refines its recommendations based on the latest actions and user feedback to offer increasingly accurate and personalized suggestions.
10. Natural Language Processing: Spotify's AI also employs natural language processing to interpret and understand users' search queries more effectively. This allows users to discover songs, artists, playlists, and podcasts without knowing the exact titles.
Meanwhile, the AI DJ's Voice was created using the technology Spotify acquired from Sonantic in 2022. This project enables a stunningly realistic voice based on texts. Spotify partnered with Xavier "X" Jernigan, our esteemed Head of Cultural Partnerships. X's prior experience as a host on Spotify's morning show, The Get Up, earned him a devoted fan base. Recognizing his resonance with the listeners, Spotify selected his voice as the initial model for the AI DJ.
How to Access the AI DJ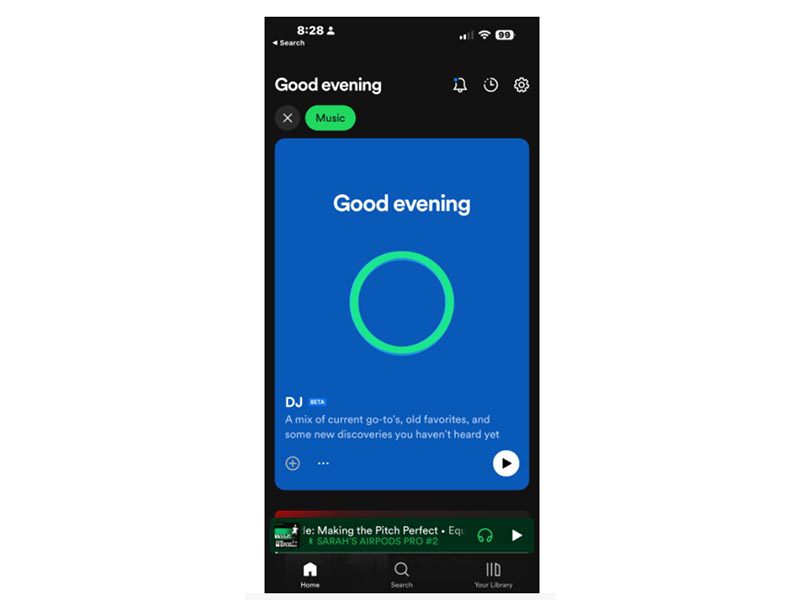 Since its initial launch, the new AI-enabled Spotify features have been available for Spotify Premium users in the U.S. and Canada. And, on May 16, 2023, DJ introduced AI DJ in the UK and Ireland.
Here's how to access Spotify's AI DJ:
1. Go to your "Music Feed" on Home in the Spotify mobile app on your iOS or Android device.
3. Tap Play on the DJ card.
3 Let Spotify do the rest! The DJ will serve a music lineup alongside short commentary on the songs and artists picked just for you.
4. If you're still not feeling the vibe, just hit the DJ button at the bottom right of the screen to be taken to a different genre, artist, or mood.
The Future of AI with Spotify
Spotify will continue to expand its AI usage to highlight and enhance music streaming service quality. The aim of the brand has stayed the same. It still wants to support artists' creative endeavors and make music accessible to the global audience. Its adoption of AI resources helps upgrade the user experience in the current digital age.
Spotify will continue humanizing the data insights to understand user behavior and provide suitable benefits to them. Also, the company adjusted its privacy policies to listen to the wants of its users. It emphasizes that Spotify did not utilize individual user data without permission when the question was raised.
It is still being determined what exactly Spotify intends to do in the future, as no new information is available on its subsequent updates. However, the company is expected to rely on artificial intelligence, Spotify algorithms, machine learning, and big data.
Final Thoughts
The AI DJ is available to Spotify Premium users in the U.S., Canada, the UK, and Ireland. As Spotify moves forward, AI will play a significant role in shaping the future of music streaming. And Spotify's artificial intelligence algorithms, machine learning, and big data analysis pave the way. Likewise, It is best to note that privacy should remain a priority, with user data being treated responsibly. With this dedication to innovation and user-centric experiences, Spotify is poised to stay at the forefront of the music streaming industry, offering users an unparalleled journey into the world of music.
Stay updated with other tech news and stories here at Owner's Mag!