Why People Give Up On Their Goals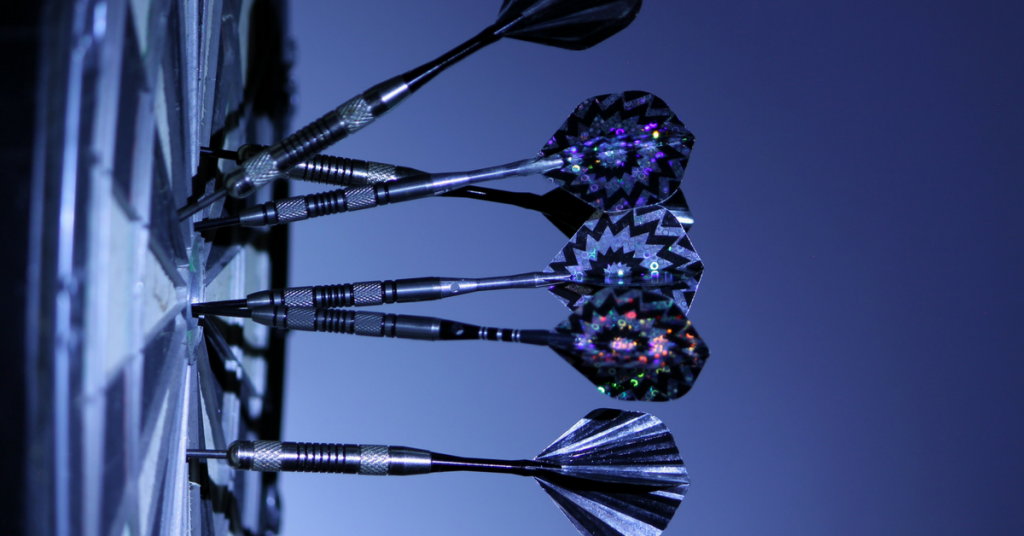 Some people think that success can be achieved overnight. Not only is this false, it's also unrealistic. Goals, no matter how big or small take time to achieve. Even if a person was labeled an "overnight" success, it took time before they were able to pull-off this feat. One of the most common reasons why people give up on their dreams easily is the thinking that success comes instantly. They get discouraged because they the path to success is not straight in clear. Here are other reasons why people give up on their goals too soon.
1. They Want Outcome More Than The Skill
How many people out there speak of how successful they want to be but don't do anything about it. Many people fall in love with the idea of being grand and famous but very few actually do something about it. Famous entrepreneurs put in a lot of hard work not only to learn the necessary skills but also to master it.
2. Personal Sabotage
It is natural to fear rejection. But what do you do when you come across the first stumbling block? In order to reach a goal, you have to be relentless. You have to want it bad enough to overcome your fear of rejection or failure. By fearing rejection and failure, you are sabotaging yourself; making it easier for you to give up and quit.
3. Their Life Is Already Good
Some successful people wanted to improve their life which made them persistent to reach their goals. Having a good life makes it easy to quit your goals because you already feel comfortable. You're not wanting anymore and feel that life does not need improvement.
4. Lack of Focus
Persistence takes a lot of focus. Some successful people achieved their goals because they became obsessed with it. People who lack focus cannot achieve their goals because they have too many things on the burner. They end up with half-cooked ideas because they were not able to give their attention to 1 project.
5. No Motivation
It's easy to stay motivated at the start of a project. This is because you're excited, enthusiastic and you can still see your goal clearly. However, the road to success is challenging and often strewn with risks and failure. This makes it hard to stay motivated and goals become harder to see.
6. Vague Goals
"I want to lose weight" is a very common goal, but if you don't know where you're going, it can be hard to get there.  Remedy this by setting specific goals and making sure that they are achievable, measurable and most of all realistic. Make your goal "I want to lose 10 pounds in 7 weeks" instead of just wanting to lose weight.
7. Procrastinate
One of the best reasons why goals are not achieved is procrastination. The "I'll do it tomorrow" attitude is very deceiving because you actually fool yourself into thinking that you're going to do it tomorrow and that you have endless tomorrows. The best time to start on reaching your goals is not tomorrow or even next week, it is always right now.
8. Listening To Other People Who Discourage You
When you go for the big goals, especially if it is one of those life-altering ones, it is inevitable that some people will try to discourage you from pursuing it. There are different reasons for this like jealousy or ignorance, but this is not important. You can fix this by ignoring naysayers, staying focused and keeping motivated.
9. Starting Too Many Projects
Having too many projects on the burner can actually lead to a burn out. Too many projects also divide your focus and time. Starting too many projects stem from the fear of missing out. Know that you don't have unlimited time or attention. Realize that by not finishing a specific project you are actually missing out on its possible positive results.
10. Surrounding Yourself With The Wrong People
If you surround yourself with people who do not realize their goals, you become one of them too. This can be hard to understand for some people because we actually want to belong to a group and be accepted. Achieve your goals by associating with people who can help you do it.
Top 10 Android Phones Under $500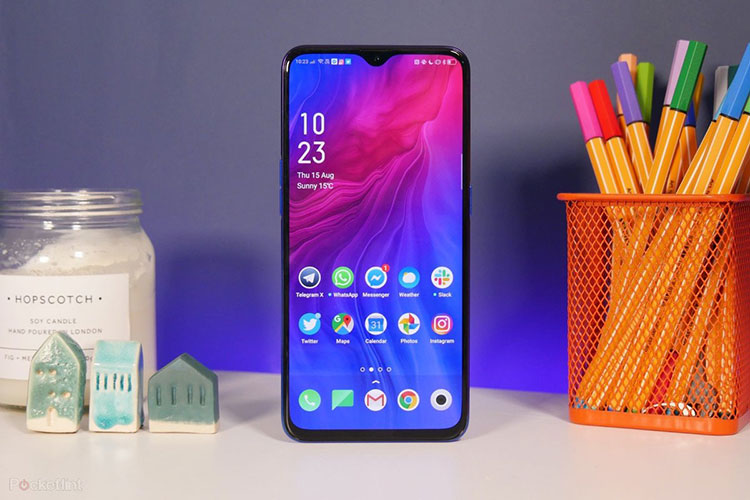 If you are scouting for quality Android phones under 500, look no further.
We all know that smartphones are almost a necessity nowadays. But some models are just too expensive to obtain. And that is why we are here to help you.
Here are the best Android phones under 500. Our list was based on overall performance, display, features, and price.
1. Oppo Reno Z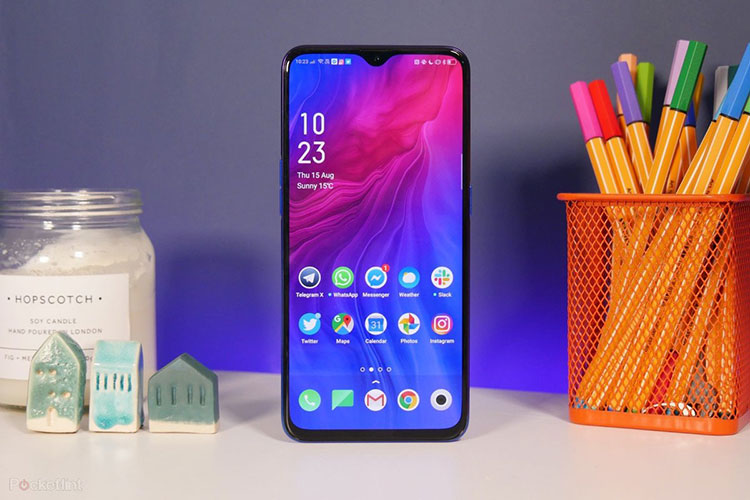 A quality smartphone doesn't have to be expensive. And that's what Oppo Reno Z shows us all. One of the best things we love about this Oppo model is its sleek and stylish design. You will also enjoy the gadget's AMOLED display.
Now, if you are a fan of bigger devices, this should do you good. However, if your hands are quite small, it could be a challenge to use. While it isn't readily available in the US, you can get yours from other regions.
Price: $499
2. Sony Xperia 10 Plus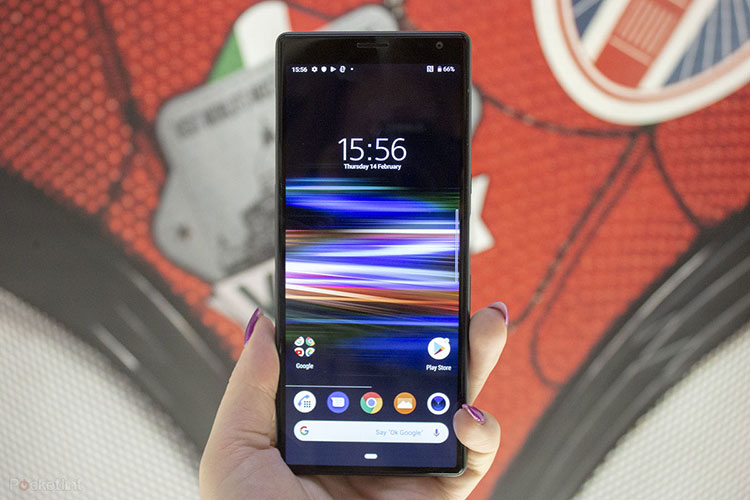 With Sony Xperia 10 Plus, you can enjoy watching videos for hours because of its decent-sized screen. There are different colors to choose from. They have black, silver, gold, and navy. As for its fingerprint sensor, left-handed users might find it a bit hard to use.
Price:$345
3. Google Pixel 3A XL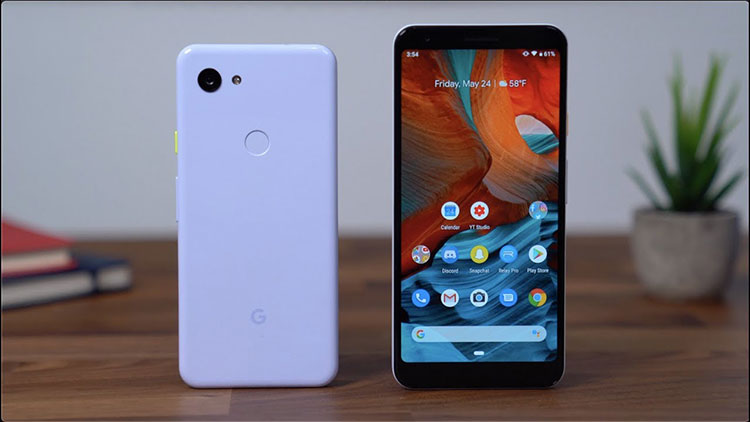 Google Pixel 3A XL has an amazing camera so you can enjoy immortalizing memories. It also has good battery life. Couple that with a great display, and you have the perfect device for watching videos. The performance is one of the best in its tier. We have to say, the software build is also commendable. For its price, we honestly think that you get more. It is indeed worthy of your investment.
Price: $479
4. Nokia 7.2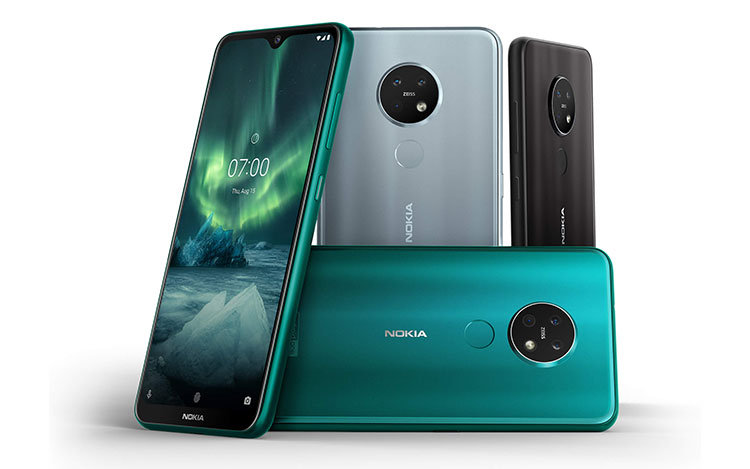 Here's another smartphone that boasts strong performance. Nokia 7.2 is one of the best devices in its category. You will be pleased with its design and the camera is fairly decent as well. The display is not the best, but it isn't too bad either. 
Price: $371
5. Samsung Galaxy S9
Even if this model was released last year, we can still say that it's an outstanding smartphone. It has great hardware, impeccable performance, and a quality camera that can take decent photos and videos.
You might want to get yours in coral blue. Other choices are lilac purple, titanium gray, and midnight black. The battery is phenomenal as well. This is ideal if you are traveling for long hours and you forgot your charger or portable power banks. And lastly, the speaker gives a clear sound which is perfect if you are streaming videos.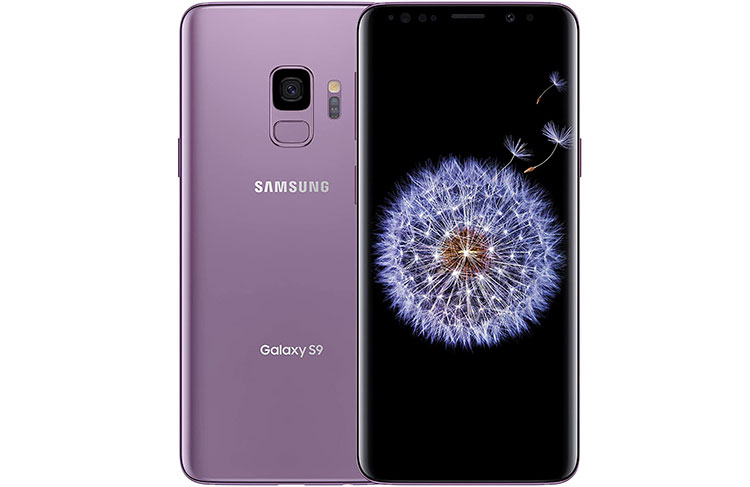 Price: $399.77
6. Xiaomi Mi 9T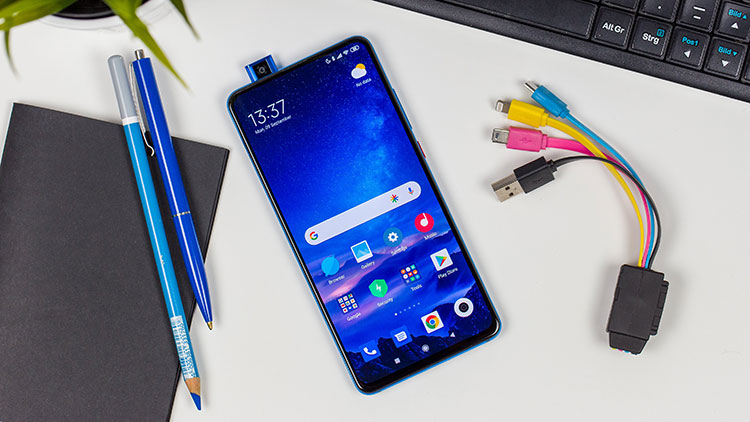 Xiaomi Mi 9T has a 6.39-inch full display and uses an outstanding screen technology. You will enjoy vivid colors when you look at the photos and watch videos. The fingerprint sensor works seamlessly as well.
One downside though is that the screen tends to be slippery. You better get a separate silicone case if you are to choose this. The pop-up selfie camera is interesting and the mechanism is said to be good for 300,000 cycles.
Price: $245
7. OnePlus 7T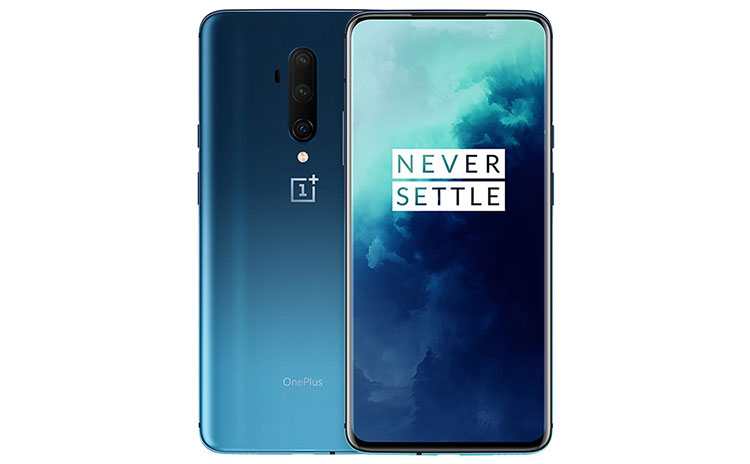 We've heard a lot of raves about OnePlus 7T and that's why we were so excited to test it out for ourselves. Indeed, this smartphone has quality software, top-notch performance, good build, and a fast-charging feature. There's one thing that we didn't like about it though. The camera bump isn't too appealing and can be distracting. But overall, it's a great buy.
Price: $499
8. Huawei P30 Lite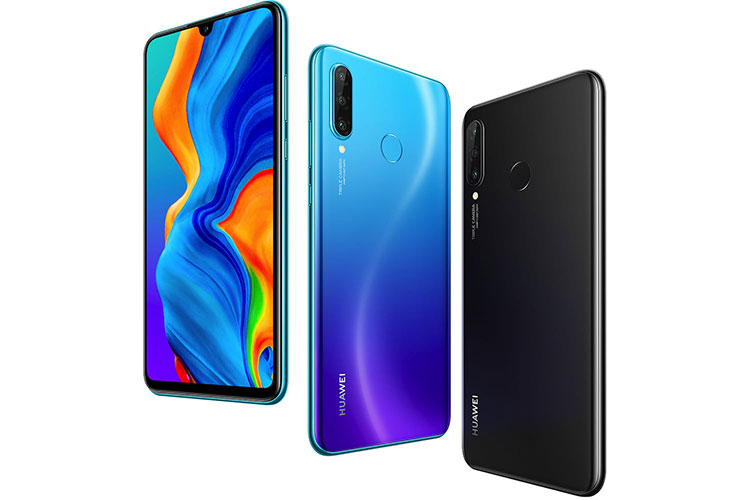 Huawei P30 Lite looks fancy which is why you won't think that it's a smartphone below $500. The design is also eye-candy. While the display is not top quality, it's not mediocre too. You can still enjoy videos with ease using this model from Huawei.
And if you want amazing photos that you can post online or even possibly print, this phone will surely deliver. It honestly deserves a spot in our list of Top 10 Android Phones Under 500.
Price: $250
9. Moto G8 Plus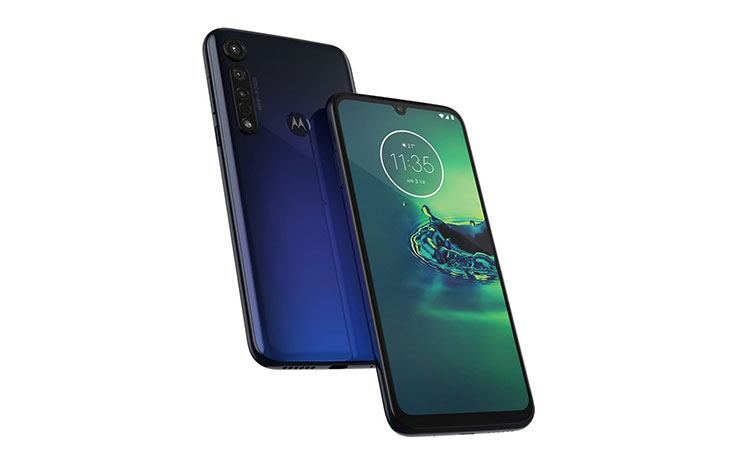 Motorola has been creating quality budget-friendly smartphones and we expect nothing less from Moto G8 Plus. First of all, it has a decent battery life that can last for longer hours. They also made the model more user-friendly so that's another reason to get your hands on this unit. Although, this is not the best smartphone if you love to take photos.
Price: $205
10. Samsung Galaxy A50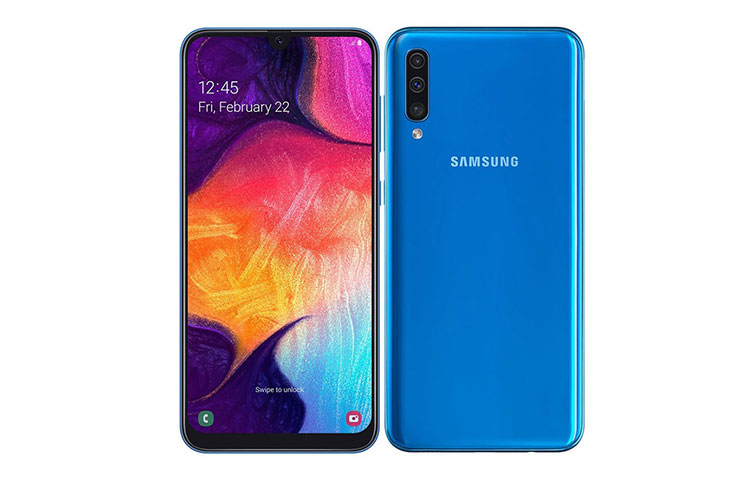 And the last one from our top Android phones under 500 is from Samsung. The best things about the smartphone are the camera, battery, and its in-screen fingerprint feature. The build is strong and the design is pretty straightforward. Some areas of improvement could be on the speakers. But for the price, we should expect minor shortcomings.
Price: $349
Conclusion
Affordable phones do not mean that you have to compromise the quality. That has been proven with our Top 10 Android Phones Under 500 list. But personally, our team recommends OnePlus 7T. It is one of the high-tiered models on the list, but you get to enjoy more than what you have paid for.
Hedgehog Umbrella: The Umbrella For All Seasons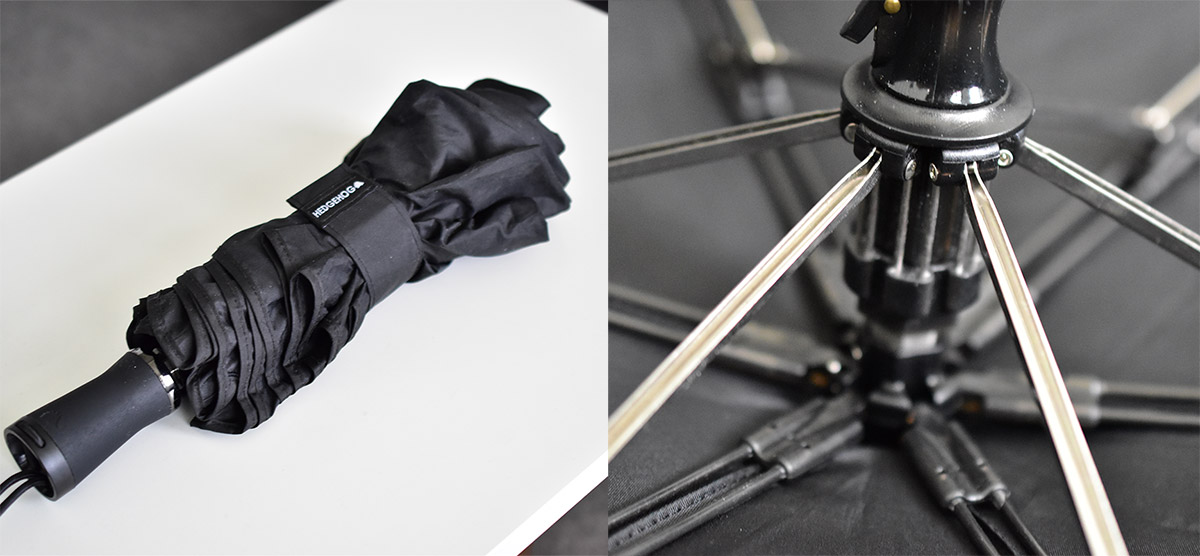 With the stormy season just over the horizon, what better time to invest in a high-quality umbrella other than now?
Introducing the Hedgehog Umbrella; a compact umbrella that is able to withstand strong winds up to 70mph without breaking. Yes, 70 miles per hour winds, that's a category 1 hurricane.
The structure was inspired by automobile technology. Its WINDFlex system can confidently withstand anything nature has to offer. Its carbon fiber construction, a sturdy stainless steel frame, and polycarbonate joints makes it feel indestructible.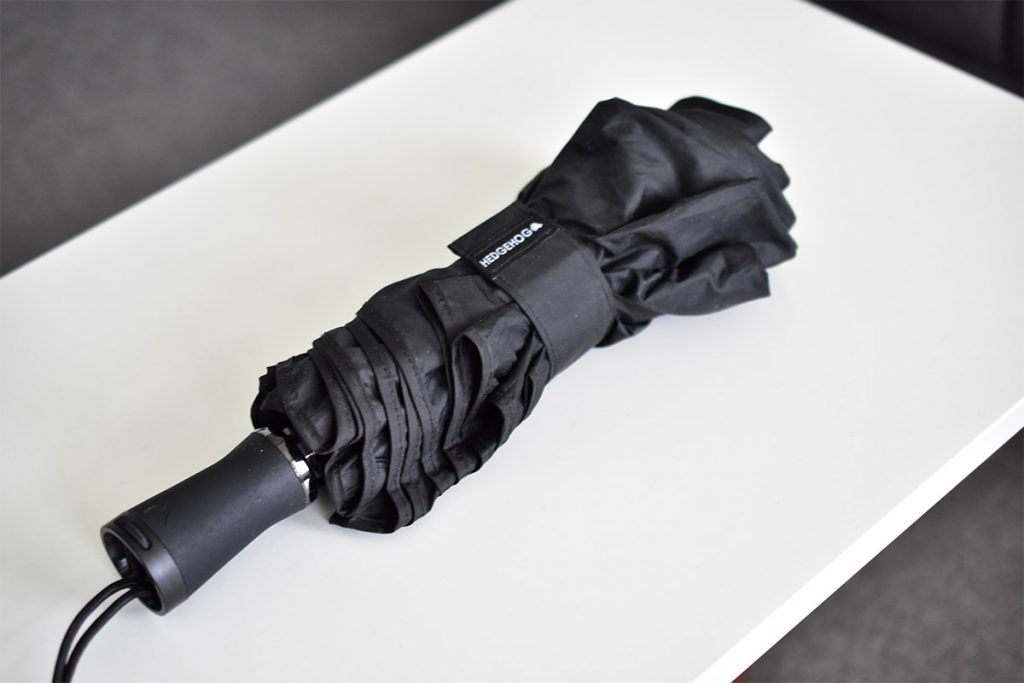 You might be wondering, why in the world would someone need an umbrella that can hold up or withstand hurricane-level winds? Why not? I can't even count how many umbrellas I've gone through these past few years. Not many can survive an entire year of normal wear and tear. And if ever given the opportunity to go Mary Poppins in a Category 1 hurricane, count me in!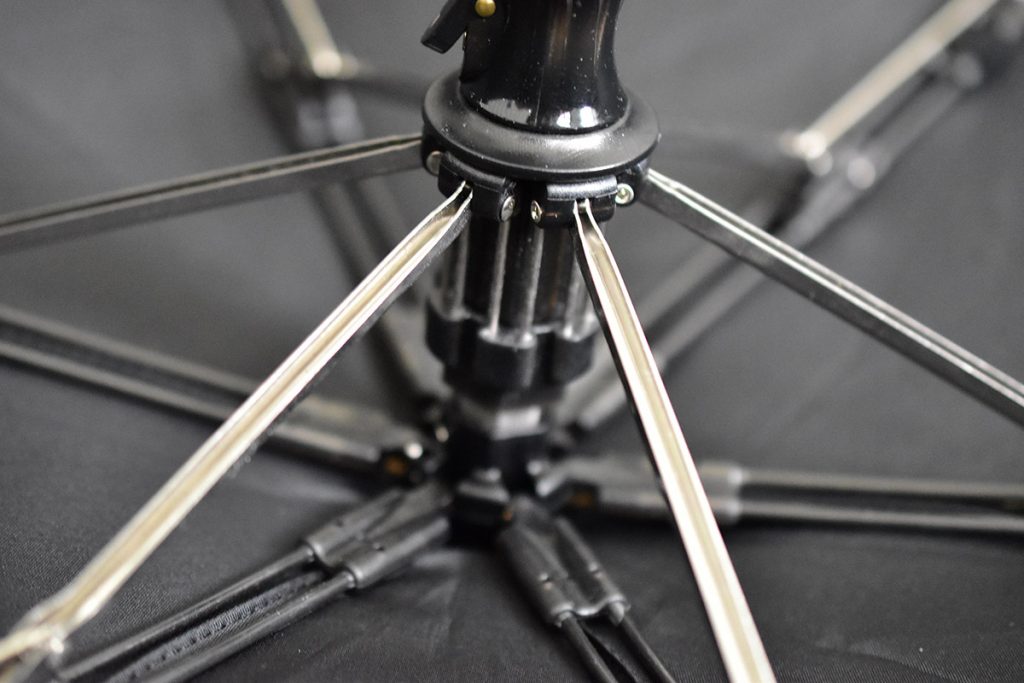 But the hedgehog umbrella provides a solution to a problem we always tend to sometimes overlook. As its company has boldly stated, "the hedgehog umbrella is engineered to be unbreakable, tested to the extreme, and backed by a global lifetime warranty."
To understand this statement, let's have a look at the different aspects of what makes the hedgehog umbrella amazing.
Fashionable and Customizable Canopies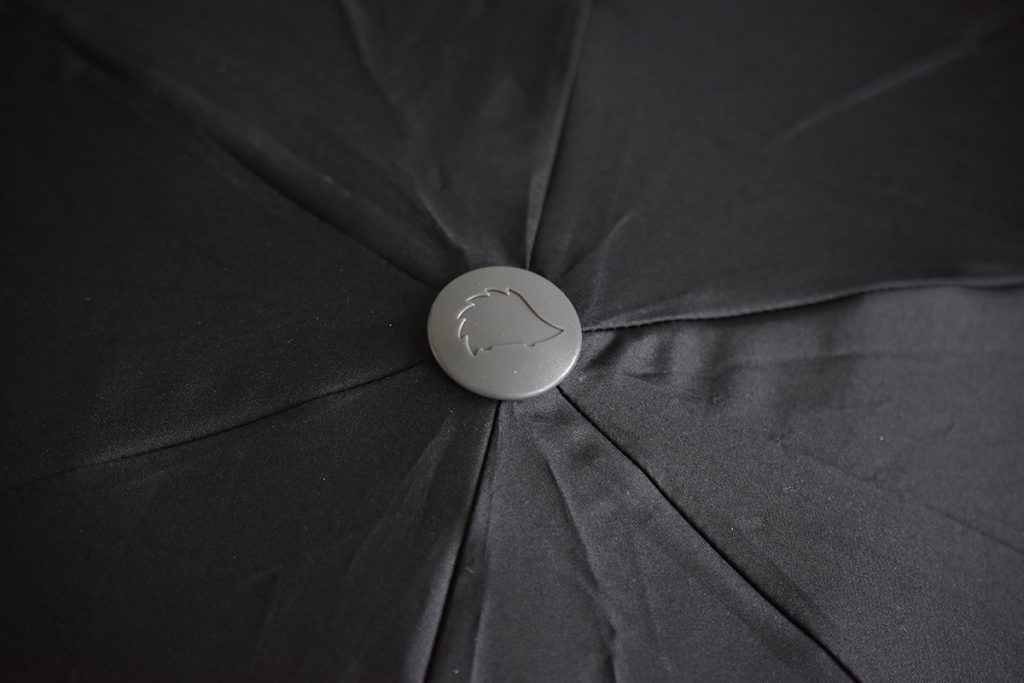 With the hedgehog umbrella, you can choose from a variety of colors. The canopy is comprised of a 210 thread count Pongee fabric that is water repellent – which is thin sturdy. It is also built in a way that you can easily switch out canopies if the need arises.
The hedgehog umbrella will also be releasing an option in the near future to customize your own canopy via uploading an image. Now your dream of having an umbrella with your dog's face on it can come true- or not.
Short and Practical Umbrella Shaft and Handle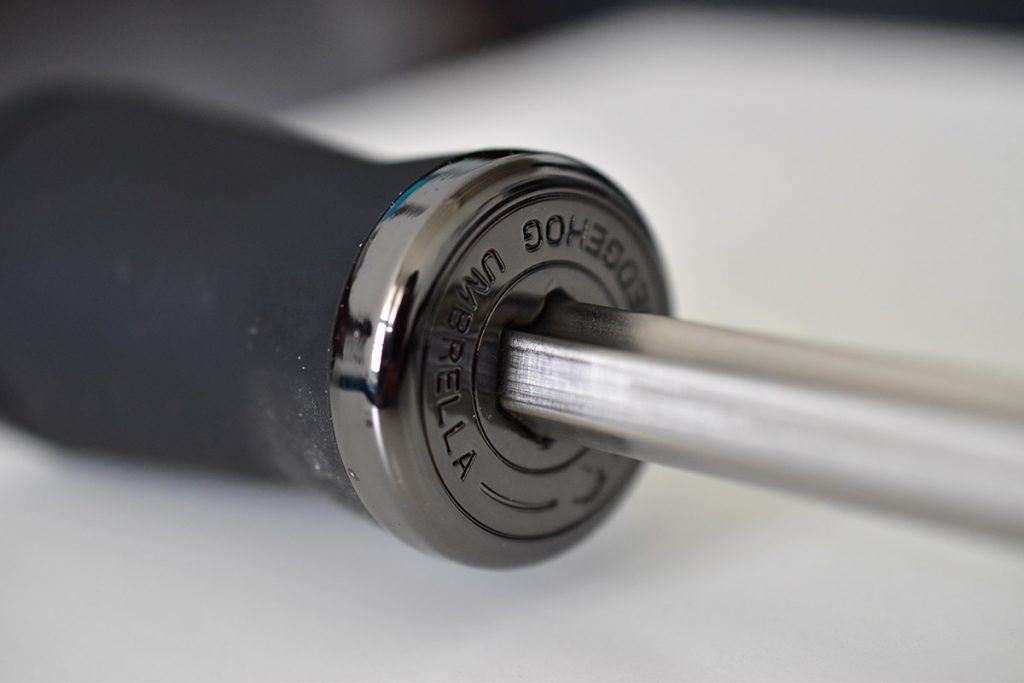 The hedgehog umbrella also comes with a nylon slip-on cover so you can easily store it all tight and snug like. Once collapsed and ready for storage, the umbrella is only 13 inches long and weighs 1 lb, making it easy and practical to bring along with you anywhere.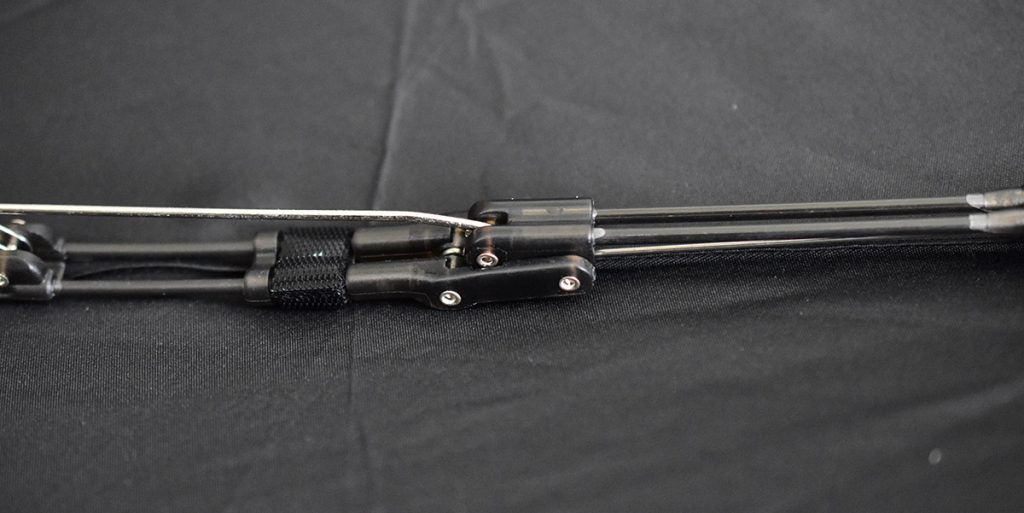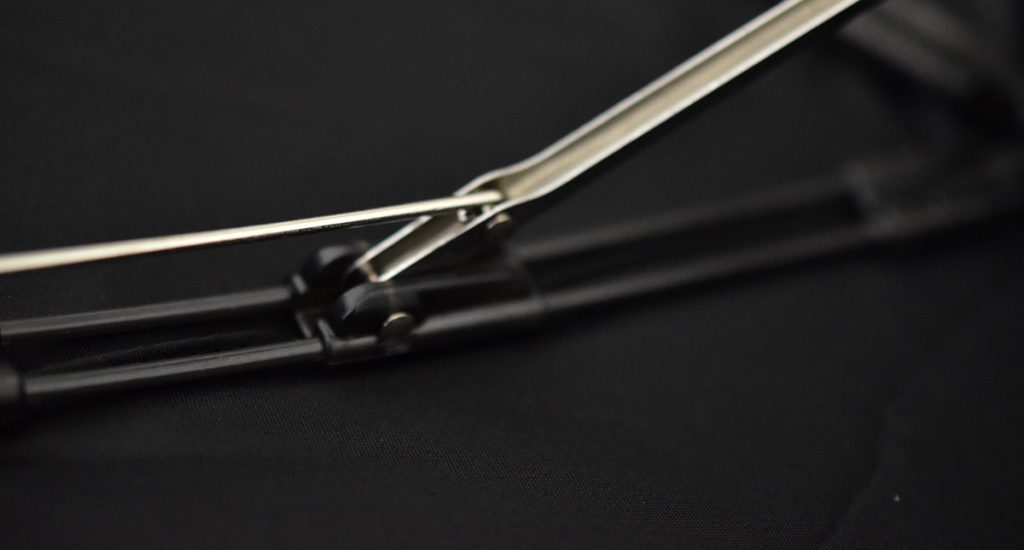 Unfortunately, the hedgehog umbrella does not come with an automatic button for deployment. Though priced at $99, it is a fully manual umbrella. But at the same time, the automatic machinations are what makes umbrellas weak, so though the hedgehog umbrella sacrifices a little bit of luxury, it makes up with emphasizing its bold statement of being "unbreakable".
On that note, to deploy the umbrella, one just needs to hold the handle and use the other hand to push the frame up towards the lock at the top. To close it, one just needs to press the button at the center to unlock the lock mechanism.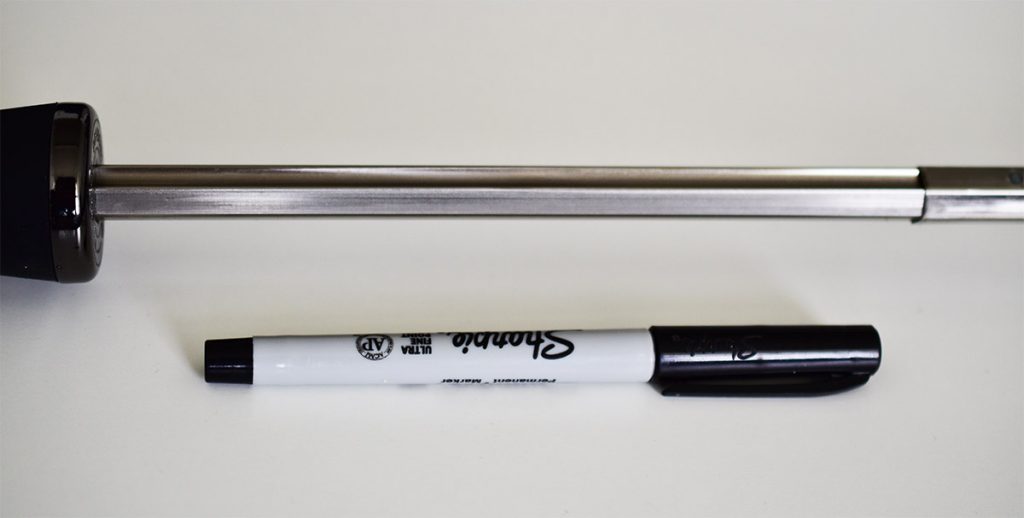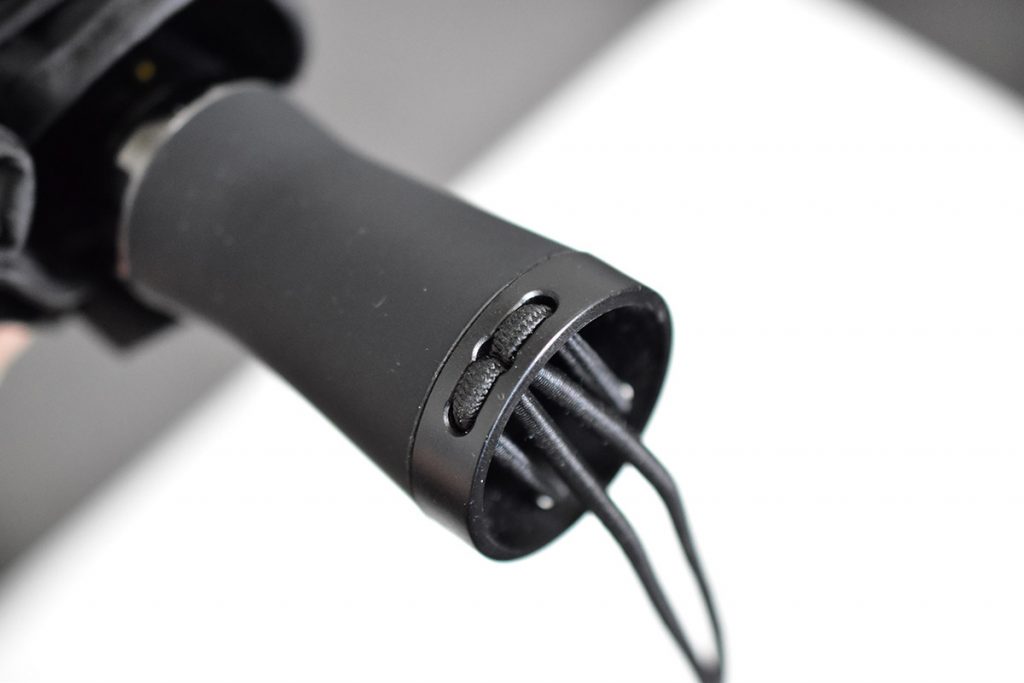 The handle is thick, making it easy to grasp giving out a feeling of sturdiness and dependability. The overall feel of the hedgehog umbrella gives out a sense of comfort. Even though it's made of high-grade materials able to withstand hurricane-level winds- it's petite structure and design can sometimes make you forget.
Width Capacity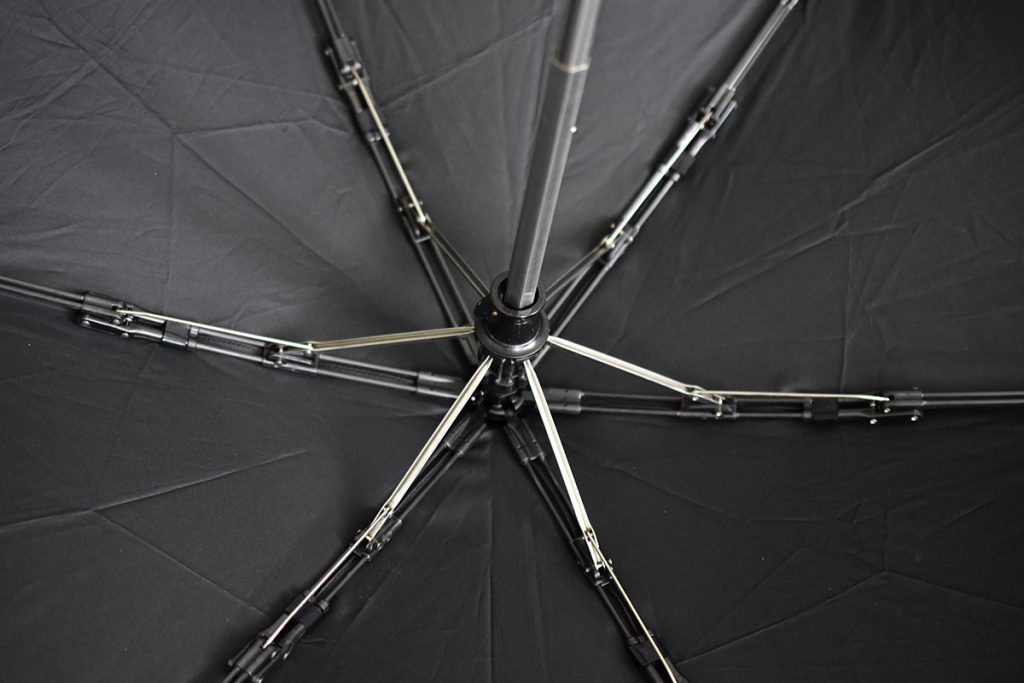 When fully deployed, the hedgehog umbrella can comfortably fit two people within its canopy span. So you don't have to worry if this umbrella can fit you and your significant other because yes, it can.
To summarize, the hedgehog umbrella has the ability to:
Be unaffected by 70MPH winds
Interchange canopy
Design your own canopy (for the fashionista inside all of us)
Provide lifetime warranty
Ensure practicality and be built using high-grade materials
Wrap Up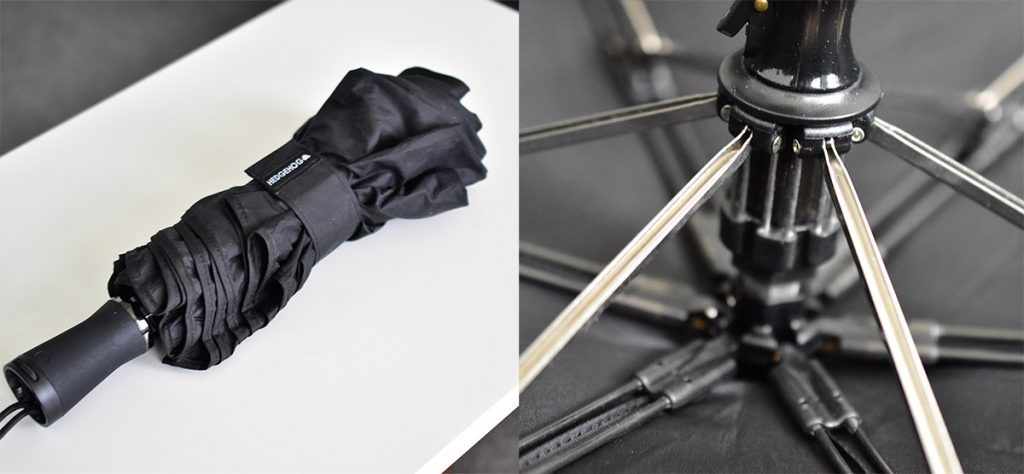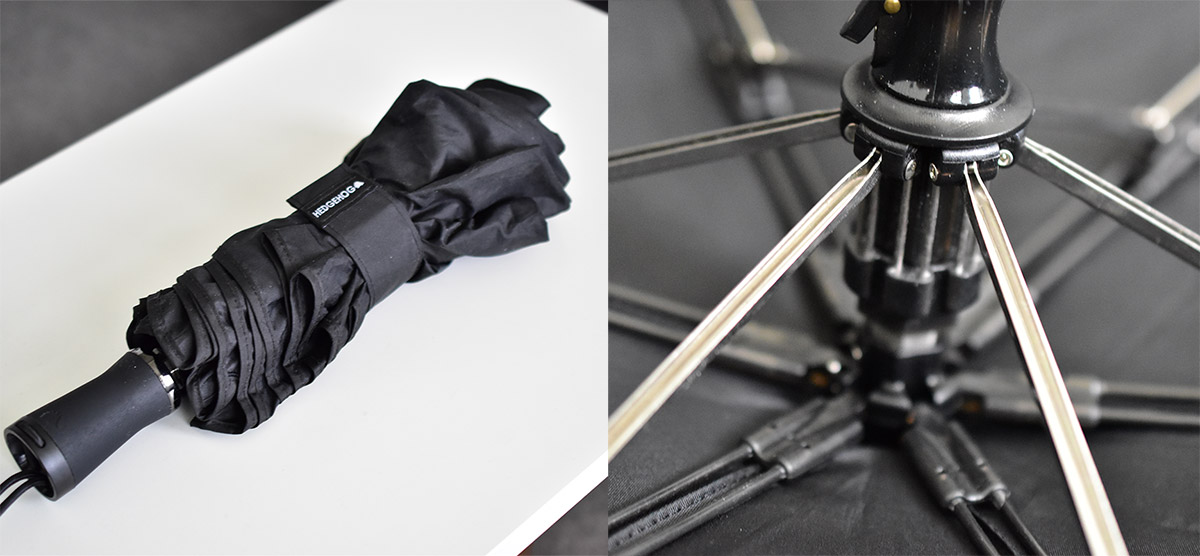 Gone are the days when you have to lower your umbrella or to make sure you're walking downwind just so your umbrella won't break. Gone are the days where you have different separate umbrellas for different occasions; be it windy, rainy, or sunny – the hedgehog umbrella is a star for all seasons. The hedgehog umbrella can be the best friend you never knew you needed. Be it rain or shine, it will be there for you – protecting you. 

At $99, the Hedgehog umbrella is an investment. Given the solid and unbreakable construction, elegant design, and life-time warranty, it's well worth it. There aren't many premium umbrellas at this price range that can compete with the Hedgehog in terms of sheer value and utility.
Moto 360: Owner's Mag Review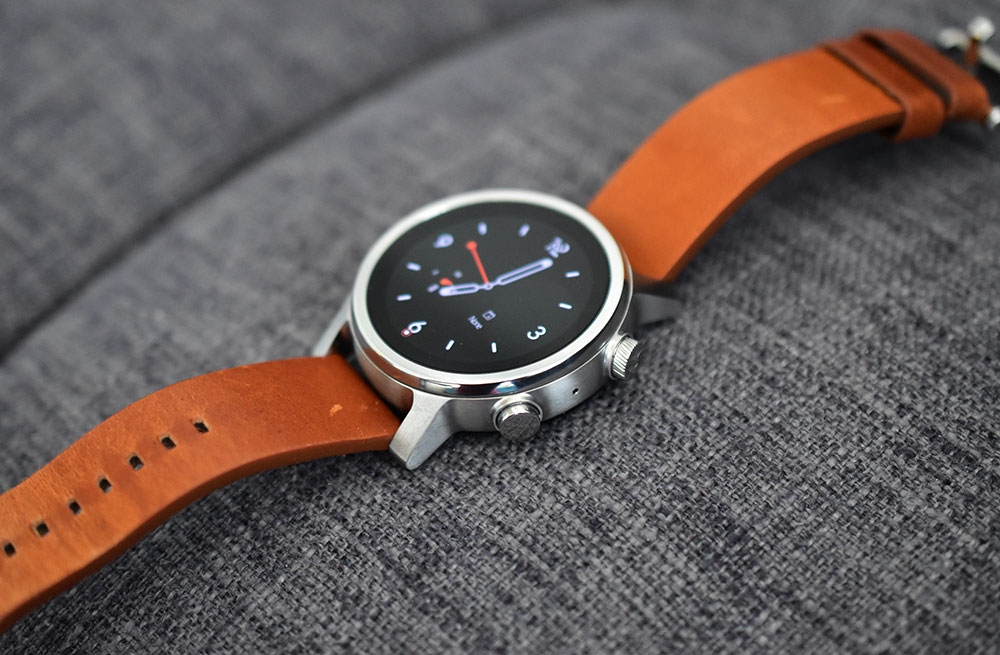 The Moto 360 is the 3rd watch to debut in series of Android smartwatches by the company. Motorola has made significant improvements to the watch's design, battery life, and sensors. Standing at $299, it's quite expensive compared to other Android smartwatches. However, unlike other products on the market that justifies the price on the spec sheet, the Moto 360's true value comes from its more refined, polished, design that actually looks and feels like a $299 smartwatch.
Stainless Steel Design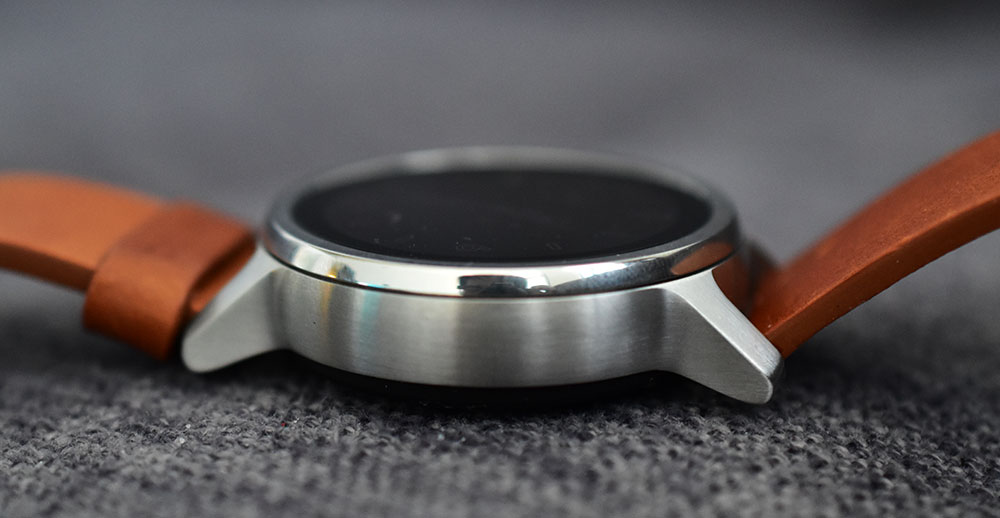 The one major thing that sets the Moto 360 apart from any other smartwatch on the market today is its design. Even if firmware stops updating, you might still wear your Moto 360 years later because it actually looks like a watch. The stainless steel design looks classy and timeless. Sized at 42.8mm wide with a thickness of 11.68mm, this is a beefy watch. However, it still looks good even on thinner wrists.
You get a few color selections to choose from. The watch comes in steel grey, rose gold, or phantom black. The outside has a layer of PVD/DLC coating to give it a bit more scratch-resistant.
First Impression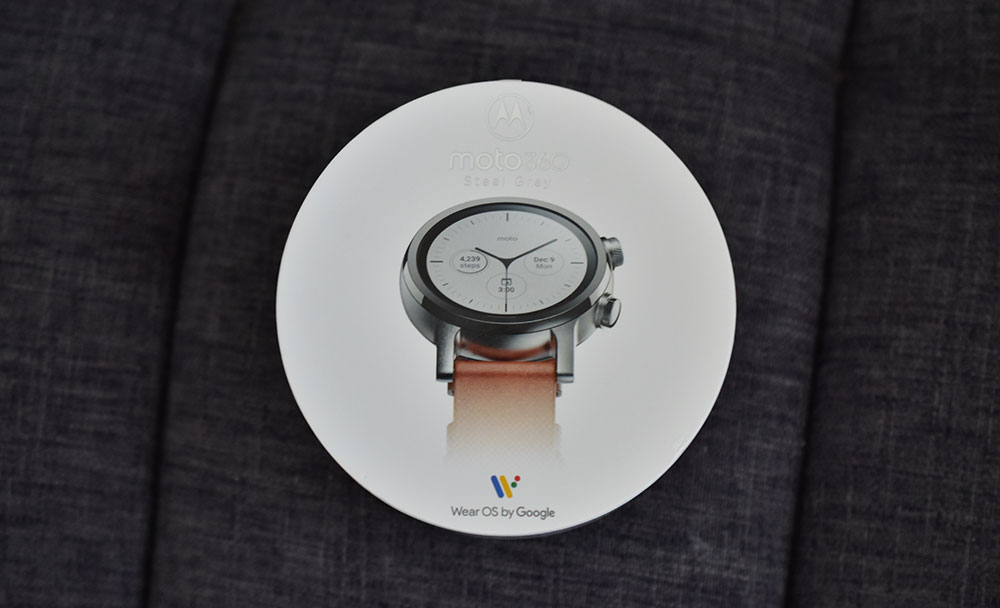 The first impression is important for a watch. And the Moto 360 looks striking at first. The always-on watch dial display mimics the look and feels of a luxury watch while perfectly disguising that it's a smartwatch. This is a major bonus for those who want the functionality of a smartwatch, but don't want to be labeled as a techie for wearing one.
When given the choice, the timeless elegance of a mechanical watch will always outlast smartwatches. And Motorola made a smart decision to engineer this watch to be visually more comparable to Omega than to Samsung.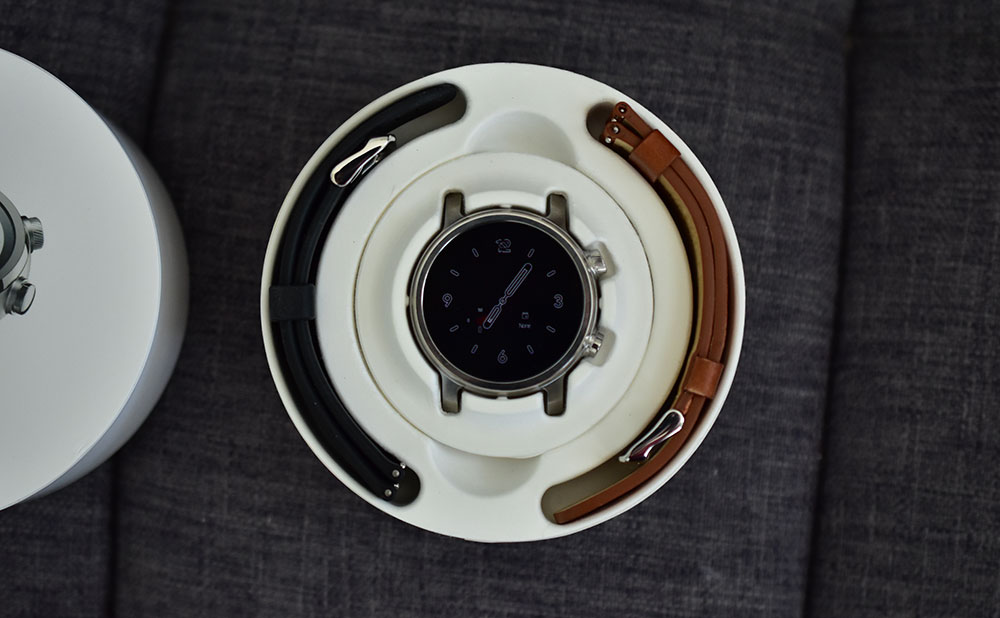 One extra thing to note. This watch comes with both a brown leather strap and a black rubber strap. This is a nice touch, saving you the time to buy extra straps for different occasions or outfits.
Performance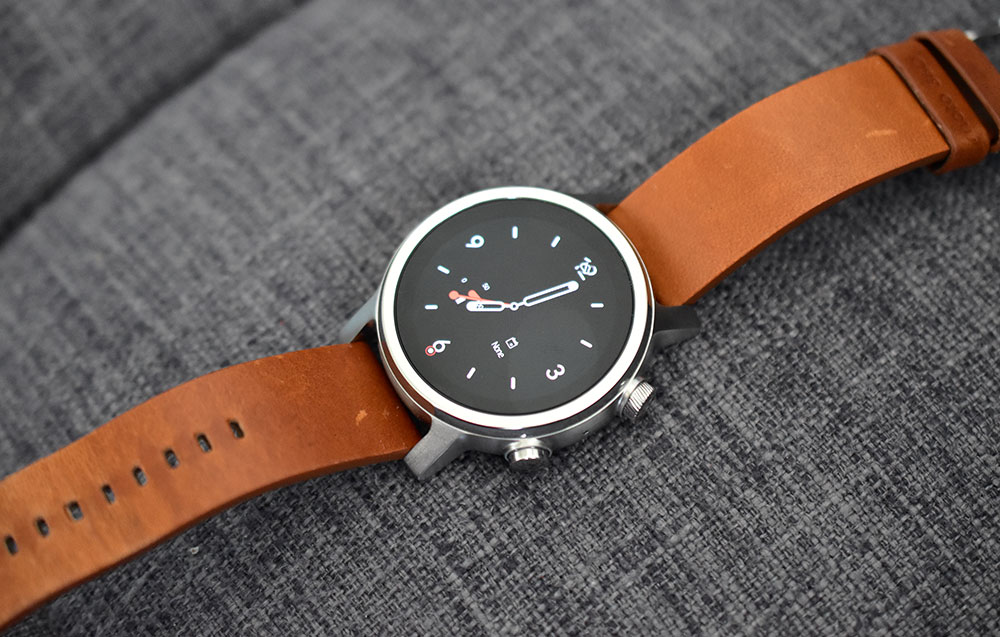 Looks aren't everything. This is a "smart" watch after all. Powered by a Snapdragon 3100 chip, 1GB of Ram, 8GB of internal storage, and running on Watch OS, the watch is responsive and lightning fast. It feels and navigates like a Samsung Watch Active, which is a good thing.
Swipe gestures work as you'd expect just like any other smartwatches on the market. Swipe up for your notifications. Swipe left for your quick apps. And swiping down gives you the status display. Everything on the software front works exactly as you'd expect from a Watch OS experience.
And I'm glad they didn't try to do anything gimmicky or add their own "flavor" to the user native user experience. I've seen other smartwatch makers attempt to do this to be "unique" the result is often a confusing interface that doesn't add value to the overall purchase.
The Screen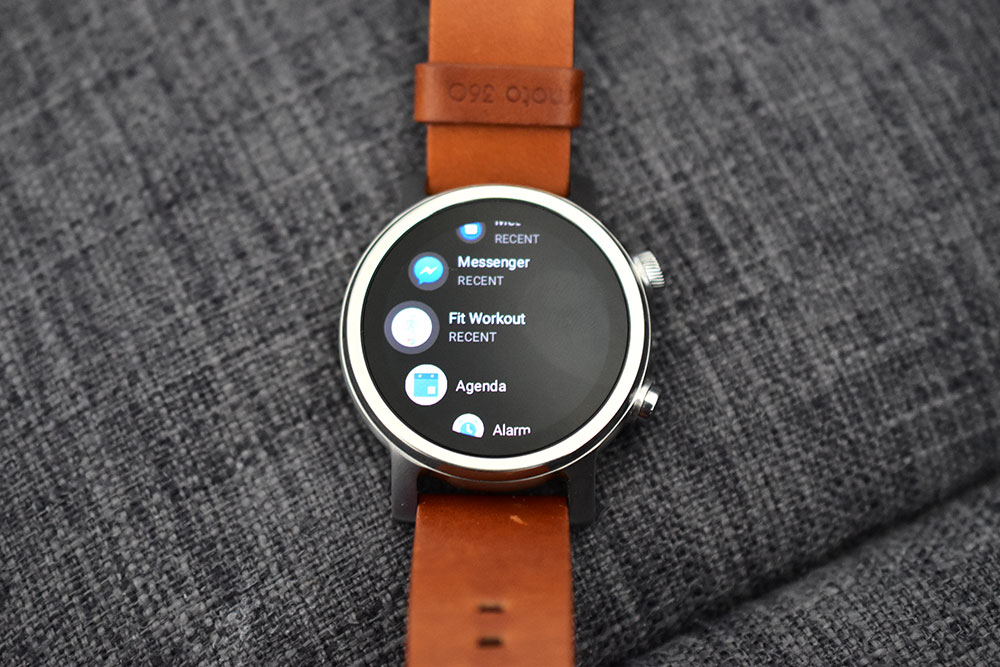 Coming in at 1.2″, the 390×390 AMOLED display is bright with saturated colors. It's not as pixel-dense or vibrant as its other competitors, but it gets the job done. The black border around the screen is thick and noticeable. Had they taken advantage of this real-estate and made the face even larger, that would've added significantly to its appeal. I'm sure there must be some sort of technical challenge preventing that.
Fitness & Tracking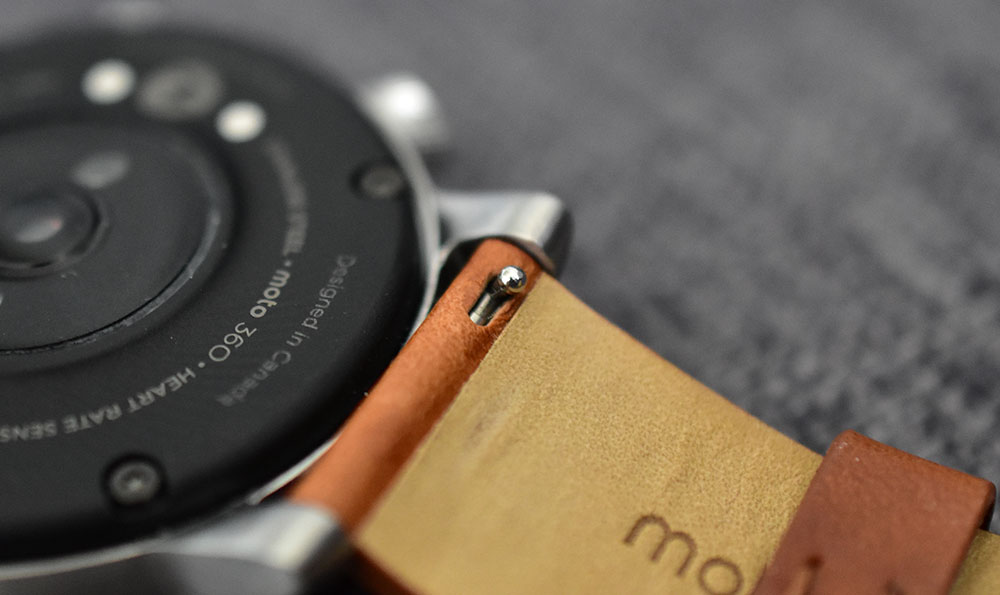 The Moto 360 comes with all the basic steps tracking and heart-rate monitor you'd expect. You won't find advanced sensors here, and that's okay for me. Because the company didn't pitch this as an advanced athlete-performance inspired device.
The sensors are accurate and gave a consistent reading on my workout performance. While it's not replacing my phone, the GPS on the Moto 360 was surprisingly accurate and proved more reliable than I'd thought. There were times where I didn't want to bring my phone with me along for a jog and depended on the watch for guidance – it didn't disappoint.
Battery & Charging
The 355mAh battery performed well under regular daily usage. It was able to last about 10 hours worth of use managing to still have about 30 – 35% juice left before needing to recharge at the end of my workday. Now when I attempt to use it as a regular watch (turned off al notifications and enabled only the clock dial) the battery lasts much longer.
One major gripe I have with this watch is the charging station. Everything about the watch was well designed, engineered, and thought out…except the charging bay. It's ugly, doesn't stay in place, and it's hard to find a place for it on any desk. It just seemed like this was an afterthought. I was also disappointed it didn't have wireless charging. That would've solved this problem completely and I could've just stowed the charger away.
This also made charging at the office or on-the-go impossible since carrying that bulky charger around was out of the question.
One thing I do love about this watch is when the battery dies, it still manages to save a little bit of juice to keep the watch dial on. So even when the battery is empty, you can still use it to tell time. It's impressive how long the "always-on" watch dial actually stays on. I don't think I've seen it powered off during the entire week of testing.
The buttons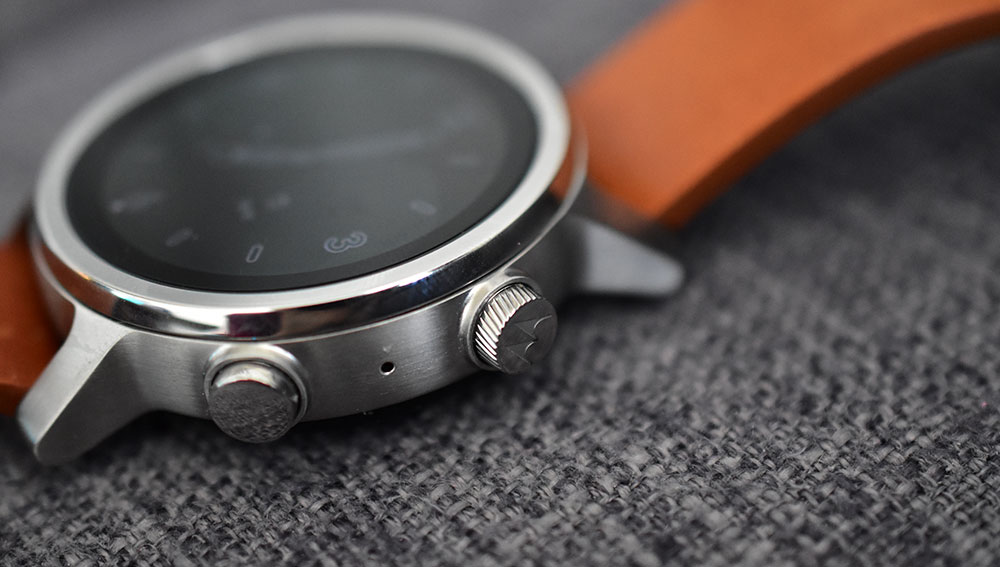 This is a level of detail that often gets overlooked – the buttons. Most of the design emphasis on smartwatches are on the display, the bezel, and often very little thought goes into the buttons. The engineers who worked on Moto 360 3rd generation thought otherwise. The tactile feel of clicking and the smooth dialing on these buttons are some of the best I'd ever experience on a smartwatch. It's expected of a mechanical watch to have well-tuned buttons, but not for a smartwatch, which added to my surprise.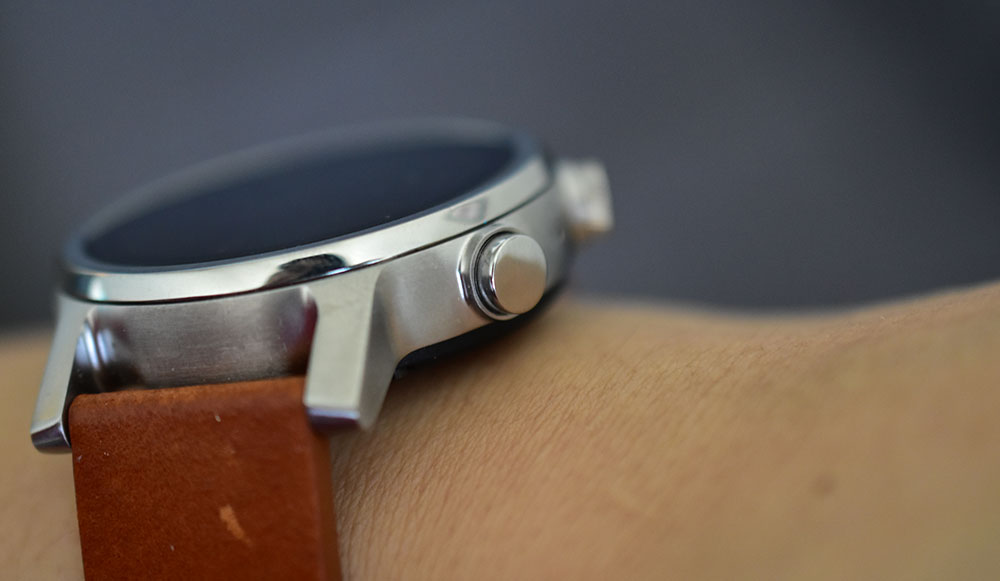 Everything about them screams luxury. The buttons have just the right amount of spring and travel to provide feedback when pressed. And the dialing feels smooth yet accurate. I was able to navigate through apps and settings easily without over-scrolling too often.
Final Verdict
Overall, the Moto 360 is a great value at $299. It's everything you'd want out of a smartwatch and a little more. The design is tasteful but not over-the-top. It's versatile and acceptable in just about any occasion. I can wear this on a jog or with a suit. That kind of flexibility is hard to find, especially in the vastly growing competitive smartwatch market.