Master & Dynamic MW07 Review: Beauty & Performance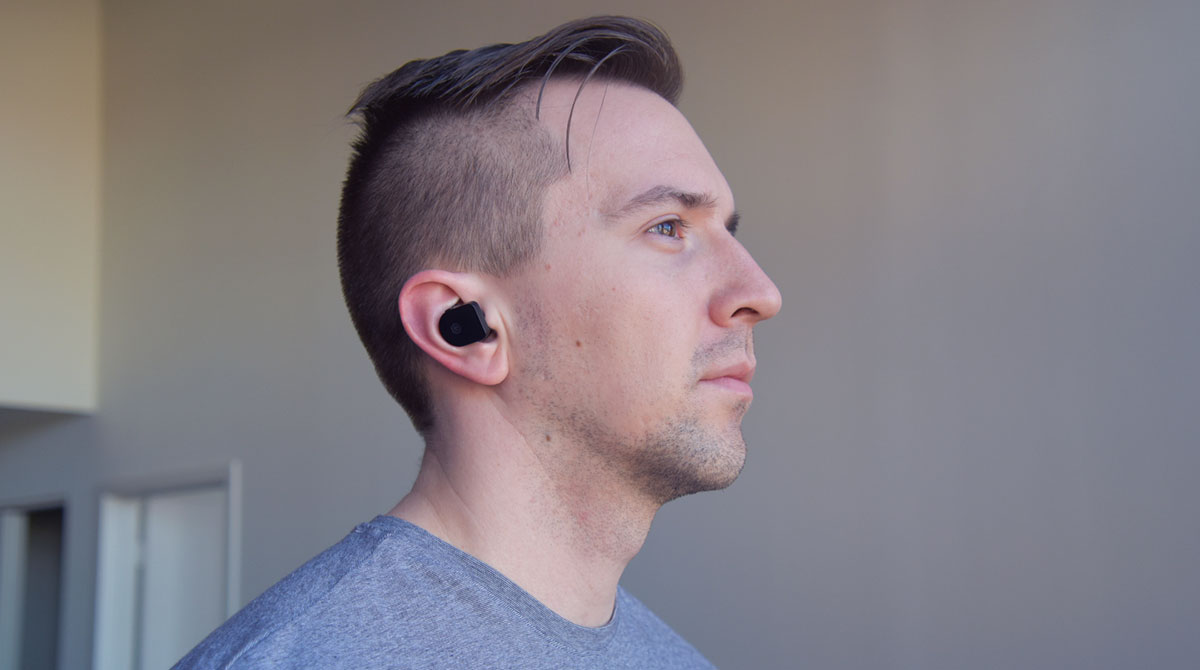 True wireless earbud has been the hottest tech wearable trend in 2018 and will likely remain the case heading into 2019. The competitive space is packed with heavy hitters like Sennheiser, Apple, Samsung, Nike, and Jabre each with their unique product claiming their fair share of the market. Enter Master & Dynamic MW07, a true wireless earbud that debut in the later quarter of 2018. With a price tag of $299 and a laundry list of features rivaling every other major player on the market, Masters & Dynamic MW07 is a serious contender in the space.
Master & Dynamic is a New York-based company that launched in 2014 and have since made a name for themselves among the creative community. The company is founded on the belief that their products should be beautiful and built to last without compromising sound quality. And every bit of that philosophy can be seen and felt when unboxing the MW07 for the first time.
Unboxing the MW07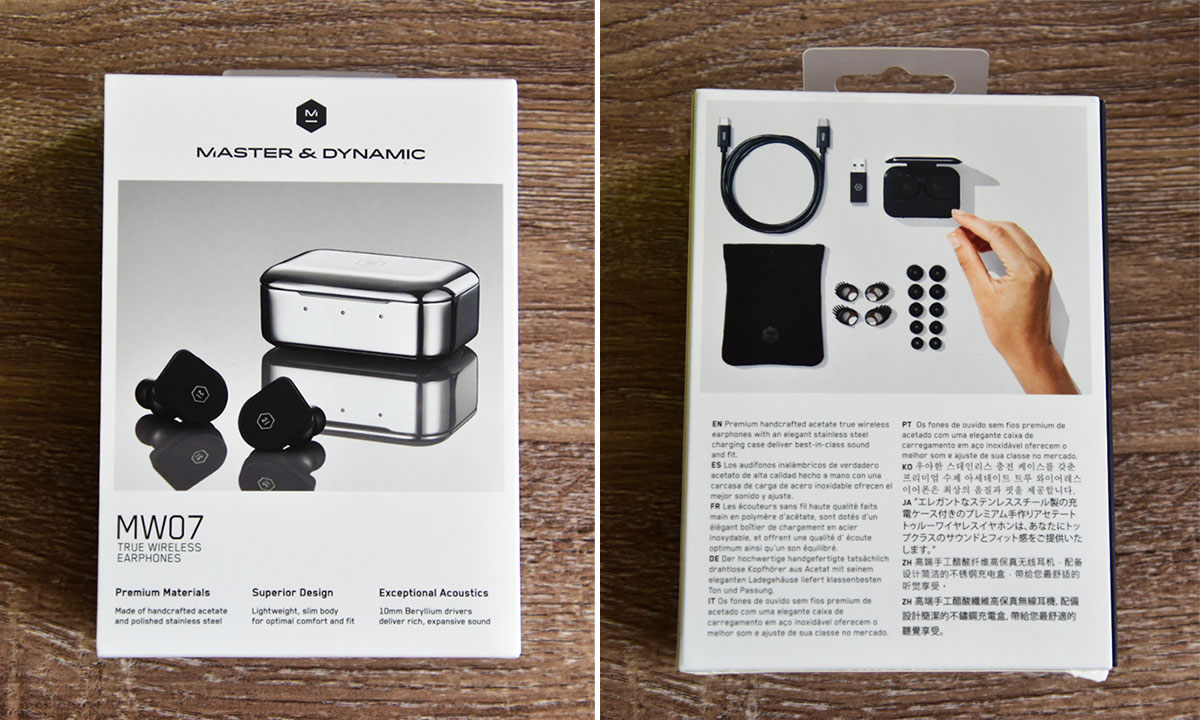 The box is well designed and looks simple, it has almost an Apple feel to it. Upon unboxing, you're greeted to the usual wires, different silicon ear-wing sizes, manual, and interestingly – a USB-C charger. Not many wireless earbuds come with USB-C charging ports, so it was a surprise to see it on the MW07. They also included an adapter to regular USB for your convenience.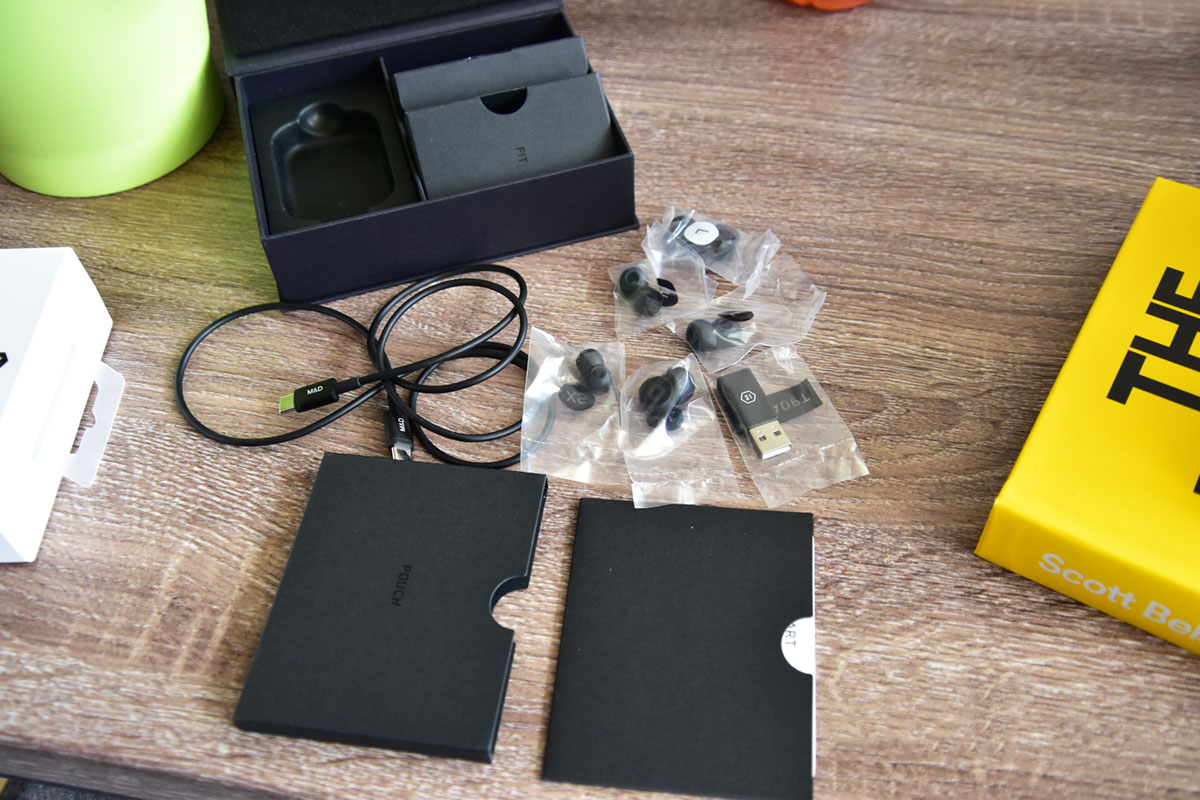 And of course, there's the unmistakable shiny box that's housing the earbuds. Its polished steel construction gives both a beautiful yet sturdy feel in your hand. It doesn't feel flimsy or cheaply made, simply because it wasn't.
The polished steel case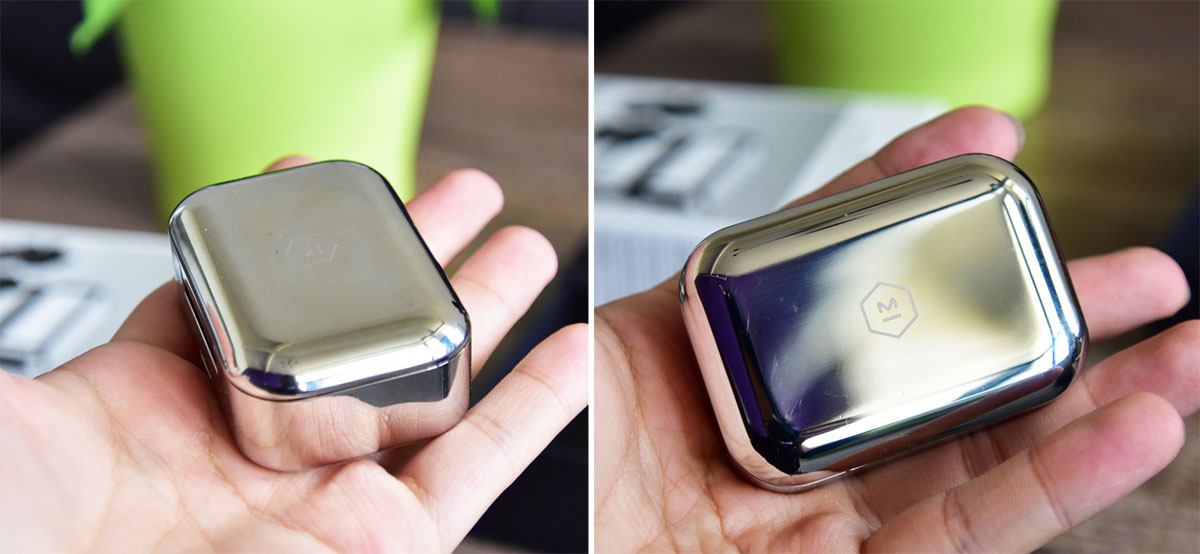 The polished steel casing deserves some attention. Given the casing is 50% of the product and something you need to carry around all the time, it needs to be well designed and well thought out. And Master & Dynamic absolutely nails the design of the case. It's easily one of the most beautiful tech gadgets you'll see this year and easily mistaken as a jewelry case.
It's polished steel all-around. No complicated buttons, dials, exposed hinges, obnoxious branding, or anything that would distract you. On top, you'll find the Master & Dynamic logo subtly laser engraved. Other than that, you won't find MW07 or any branding on the case. After all, why would they need to? The case is already distinctive and unique compared to anything else on the market. There's no need to shout when your presence is already known.
One downside to the case is that it's heavy. And that can be a good or bad thing depending on how you look at it. It's heavy enough to assure you it was built to protect your $299 earbuds, but the weight can be distracting if you plan to carry it out for a jog.
The Case's Features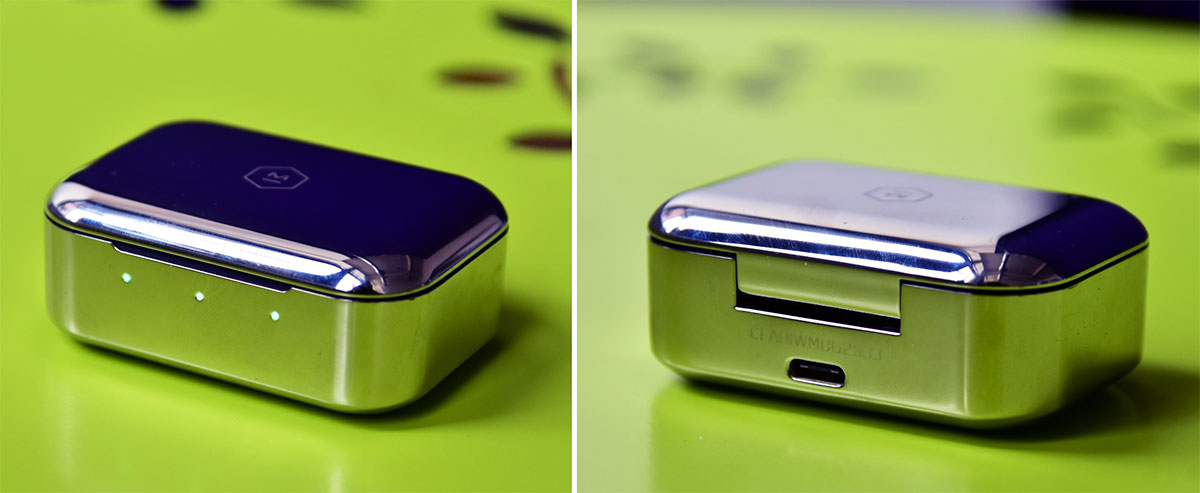 The MW07 isn't flashy, and it isn't intended to be. That design philosophy can be seen on how the case indicates battery level of the case and of the left and right earpieces. The power indicator is presented by 3 tiny lights on the front of the case. The left and right lights indicate the left and right earbuds. The center light indicates battery level of the case itself.
Opening and closing the case is secured via a solid hinge that doesn't have much wiggle room and feels sturdy. The magnetic clasp for opening and closing is strong and satisfyingly tight. It's strong enough to keep everything secure, but not strong enough to be annoying to open with one hand.
On the back is a USB-C port for charging. The MW07 also comes with a regular USB adapter for convenience, a nice touch.
The Earbuds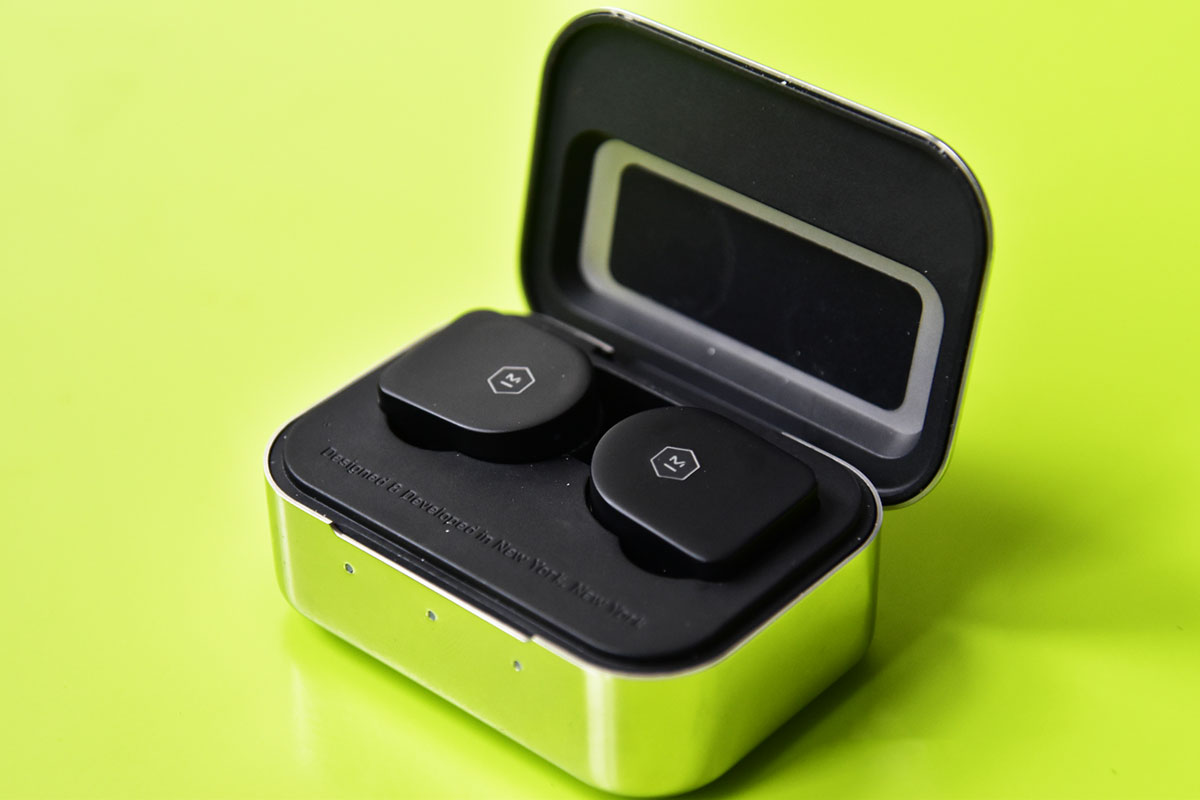 One thing I appreciate about Master & Dynamic is their subtle branding. The piece feels very personal and the branding is kept to a minimal. The top lid has a minimalistic laser engraving of their logo. Opening the case, you're greeted to the same subtlety. The earbuds don't feature any eccentric edges, sharp corners, or exotic flairs. It's a simple and minimalistic design that's elegant and stays true to the maker's design philosophy.

The right earpiece has one button on top. Double click to skip a song and triple click to go back to the previous song. Left earpiece has seesaw buttons for adjusting the sound. There's no touch sensitive feature or gesture controls. At this price point, I was expecting some level of gesture control or more functionality that their competitors offer.
The Fit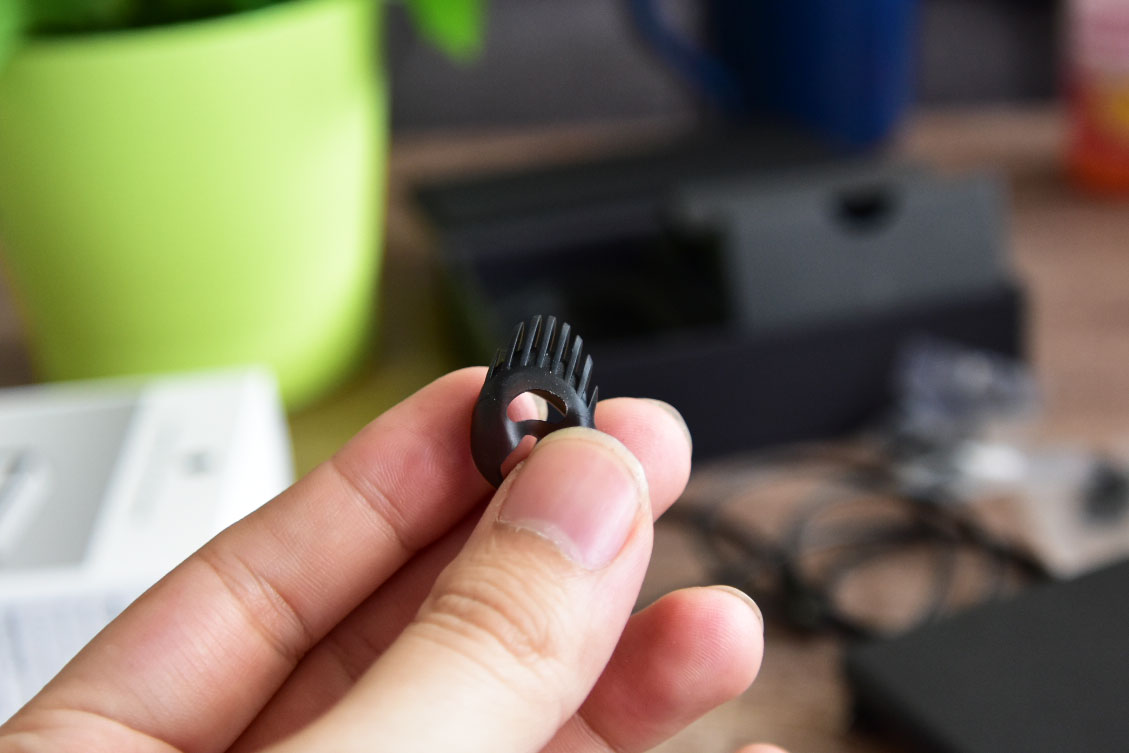 The ribbed wingtip looks weird at first, but it does provide a secure and comfortable fit even while jogging. The MW07 also comes with several other sizes of tips for you to try on. Our tester was able to get a secure and snug fit with the medium size. During jogging sessions, long walks, and a casual day in the city, the Master & Dynamic MW07 managed to stay secure all day. There were a few occasions where it loosen up a bit but never fell out.
The Looks & Performance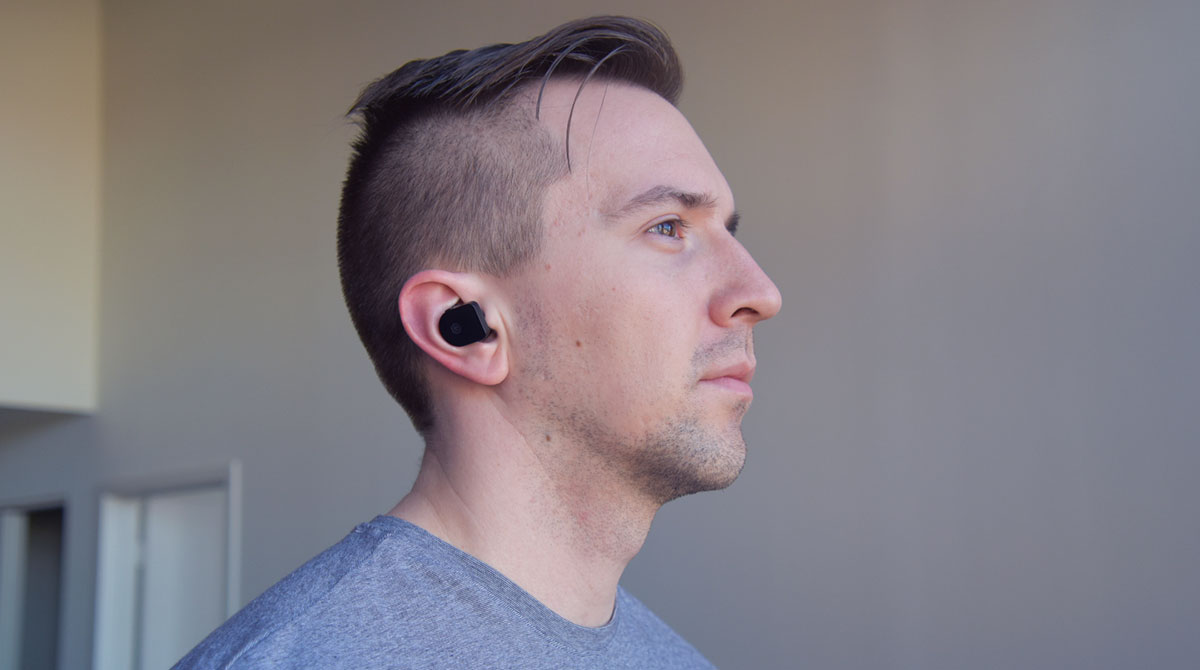 Although it fits well, it is highly visible and not something that will go unnoticed. But it does have a simplistic and functional look. There aren't protruding buttons, weird angles, or ridiculous air vent designs to make it look futuristic or "advanced". And that choice of design can work for a more sophisticated audience.
And when it comes to sound…my goodness. It absolutely performs as promised and more. The bass is deep, rich, and gives you a nice surround experience without being too overwhelming. Voices and instruments are crystal clear. And the MW07 is surprisingly louder than many other wireless earbuds on the market. There's plenty of sound to be had and you'll rarely need to crank the volume to the max just to bypass pedestrian noises on the street.
The 4.2 Bluetooth connection was solid. We never once lost connection, although there were some skipping every now and then when we're moving and the phone is inside a jacket.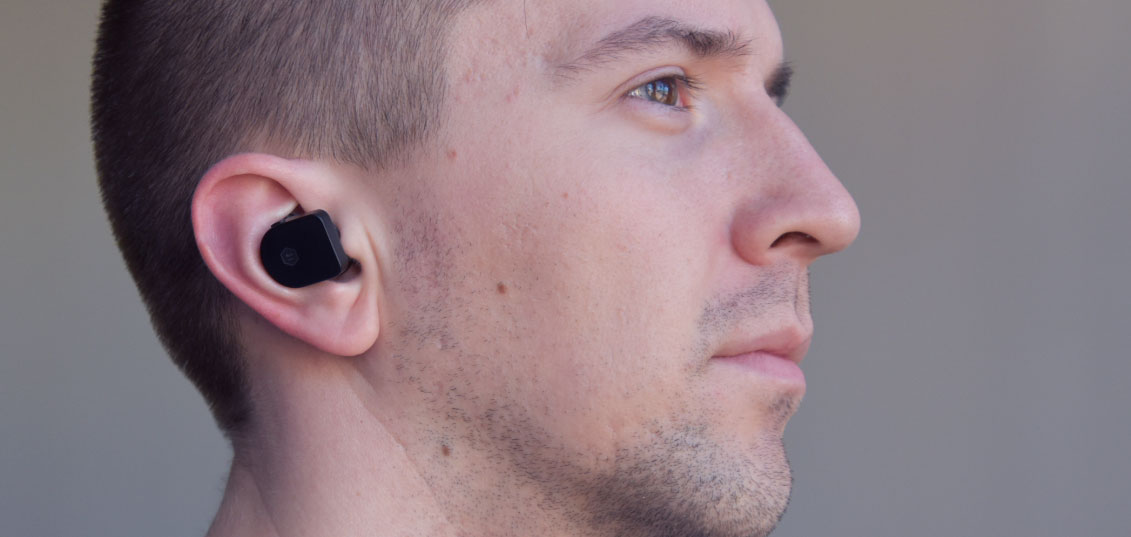 Similar to the Apple Airpods, it auto-detects when you put it on. As soon as you put it on, it auto-connects to your phone (or whichever device you paired it with). That is one thing I personally appreciated about the MW07, was that there was always a seamless connection. I never had to worry about whether it was going to connect. Didn't have to unpaired and repair in my phone settings. The connection always works, and that's a major win for a wireless device.
The Battery Life
Battery life is about 3.5hrs and the case can give you 3x charge before it needs to be recharged. Overall, not the best in class in terms of battery life, but during real life testing, we didn't experience any issues with the battery life.
Final Verdict
The MW07 was made for a very specific audience. It wasn't designed to impress anyone except those who demand artistic design, elegant engineering, and won't compromise either for performance. The Master & Dynamic MW07 is a rare species of wireless earbud that's able to accomplish all 3. From the over-engineered stainless steel case to the beautiful sound it generates, the MW07 is an original and unique animal in it's own right. It's not trying to compete with the Apple Airpods or out-feature Jabra or Sennheiser. It's a beautifully designed, well engineered, reliable, and high performing wireless experience that knows who it's target is, and priced accordingly. At $299, it's certainly not cheap. But it's worth every single penny.
Things You Should Never Say During A Presentation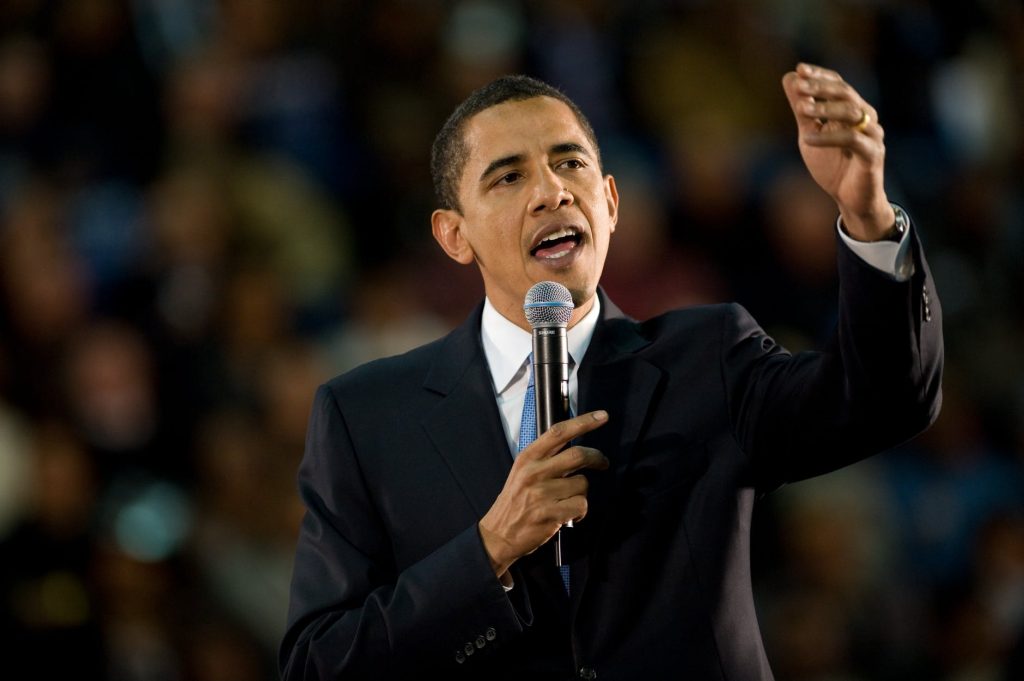 Many people have cold feet when they are asked to present something in front of a live audience. A sales presentation is a make or break situation for the companies. An excellent presentation can bring in a lot of new prospects for the company. Similarly, a bad presentation can also sour the relationship with an eager prospect. Public speaking is intimidating, but you can avoid the common mistakes and make a mark as a public speaker. You should be calm, confident and organized during the presentation. Here are some points you should remember during a presentation
"Hello! Can everyone hear me?"
You can feel very nervous before your presentation, but do not begin with this question. It is your responsibility to check the audio, but try to arrive early to check everything. When you are speaking at a large conference hall, the chances are high that someone has already checked the audio-visual facilities. Take a deep breath and smile at the audience. Begin with full confidence.
"I've got a lot of information to cover, so let me get started."
This statement can make your audience lose all interest in your presentation. People believe that longer presentations are boring. Starting with this statement assumes that it's going to be a long boring lecture instead of a captivating presentation. If your presentation happens to be long, do the work to shorten it in advanced, and come prepared to give a more condensed presentation without losing the overall message. 
"I'll keep it short"
This is a promise no one keeps. You should not use this statement before the presentation. Your audience comes to hear something promising and get inspired. It does not matter if your speech is long or short. When you say "I'll keep it short", you're also underselling your ability to maintain your audience's attention. 
"I did not have much time to prepare"
You should not begin your speech with an excuse. People in the audience look forward that the presentation will be a well-prepared one. They invest their time and money to be prepared for your presentation. It's only fair that you should be prepared to present. 
Fillers
Never use the words like "Umm", "you know" or "like" in your presentation. Your audience will assume that you are not confident about what you are saying. The fillers in your speech can distract them from the main point of the presentation. If you need to think about something, you can take a short pause in between.
"In Future, we plan to…"
Never reveal anything about the products that is still under production. Make public announcements of your new products and offers. Your audience expects detailed information of your new and ready products. If you have something exciting on the way, wait for it to actually be ready to start talking about it. 
"Avoid reading through the pages"
Do not just read aloud the pages or slides. This can turn the session dull for your audience. Try to present your points in an interesting way. You can begin with a small story or show some examples.
"I'll get back to that later"
The audience is always eager to interact with you. They can ask many questions after your presentation. Do not avoid their questions. It leaves a bad impression on your audience. Try to answer their questions politely.
"I guess that's it"
You should not end your presentation with this statement. Prepare your speech in such a way that it becomes obvious it is the end. Your transition to your next point should come naturally.
Make your speech fit in the given time-slot. Do not come underprepared and prolong your speech. You should not completely depend on the prepared write-ups or slides. Try to conclude it with some interesting information. Keep some time to interact with the audience, but do not get stuck with irrelevant points or questions.
Beating The Post Holiday Blues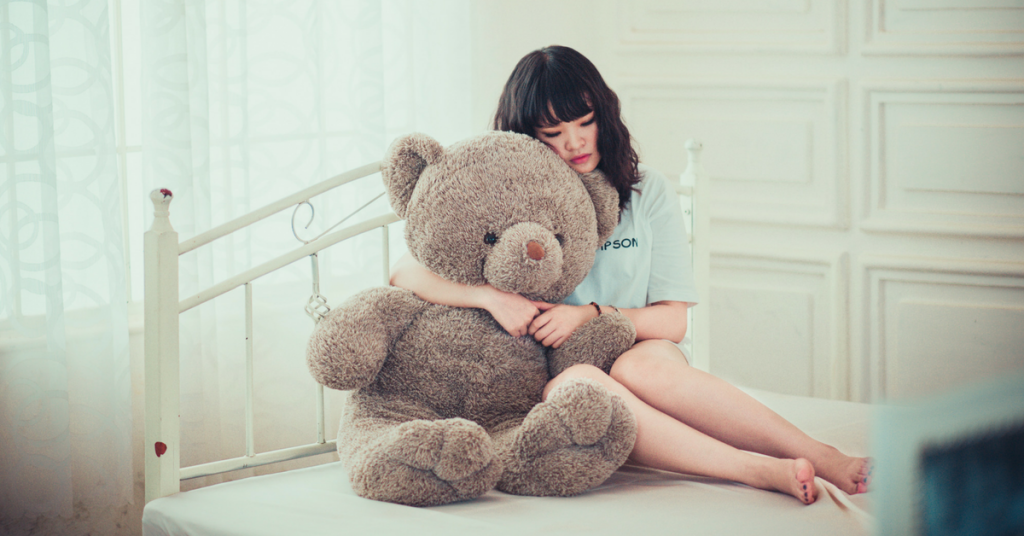 The Holidays are always a rush of gift giving and food. We usually ride the season with a lot of adrenalin to help us get through the parties, vacations, and coming home to mom and dad's. But, after you've opened all your presents and uploaded your holiday pics to social media sites, the adrenalin wears off and you start to feel down in the dumps. It is no surprise that holiday blues usually take place after the trimmings are taken down and the festivities have ended. During the crash, fatigue sets in, we don't want to go to the gym and postpone opening and reading emails. All we feel is laziness usually due to over indulgence of food. But it does not have to be this way. Here are ways to kick the post holiday blues.
Stay Connected
Just because you've said goodbye to friends and family does not mean that you can't communicate with them until the next holiday season. Drive away the doldrums by keeping in constant contact. Continue to update them on social media or send them emails from time to time. Call mom and dad on the phone even just to say hi. When you stay connected with the important people in your life, you feel less lonely and won't miss them as much.
Exercise
Did you know that exercise is a good way to get rid of depression? Working out can actually make you feel better. Exercise releases dopamine into the bloodstream so you feel happier and content. As a bonus, you get to melt off pounds that you probably put on indulging in turkey and dessert during the holidays.
Plan Your Next Holiday
Nothing can get you more fired up than thinking about your next trip. Why wait for Christmas when you can plan another getaway during Valentine's Day or any holiday? It can be something simple as a budgeted long weekend or even an overseas trip. Whatever your plan is, it will make returning to work easier and help you avoid thinking about the holidays. Cultivating something positive and forward thinking is also a good way to reset your brain.
Schedule Fun Activities
Drinking alcohol will only make you more depressed, so switch to scheduling fun activities instead. Research tells us that having things to look forward to makes us happy. You can host a President's Day party with friends or a small tea party to catch up with friends you weren't able to visit during Christmas. If you want to keep it simple, you can engage in movie night with your siblings, dinner with the family, or a relaxing massage.
Spend Time Outdoors
This might not be possible for some people but spend time outdoors every day. According to a meta-analysis of 10 studies, spending as little as 5 minutes outside everyday can help improve mood and self-esteem. Spending time outside is also recommended for people who suffer from Seasonal Affective Disorder (SAD) or winter depression.
Keeping these strategies in mind can help you beat post-holiday depression. The holidays have to end, but it does not mean to say that the fun has to stop. Think of these suggestions every time you're battling post-holiday misery.
Meal Prep Ideas for Your Busy Work Week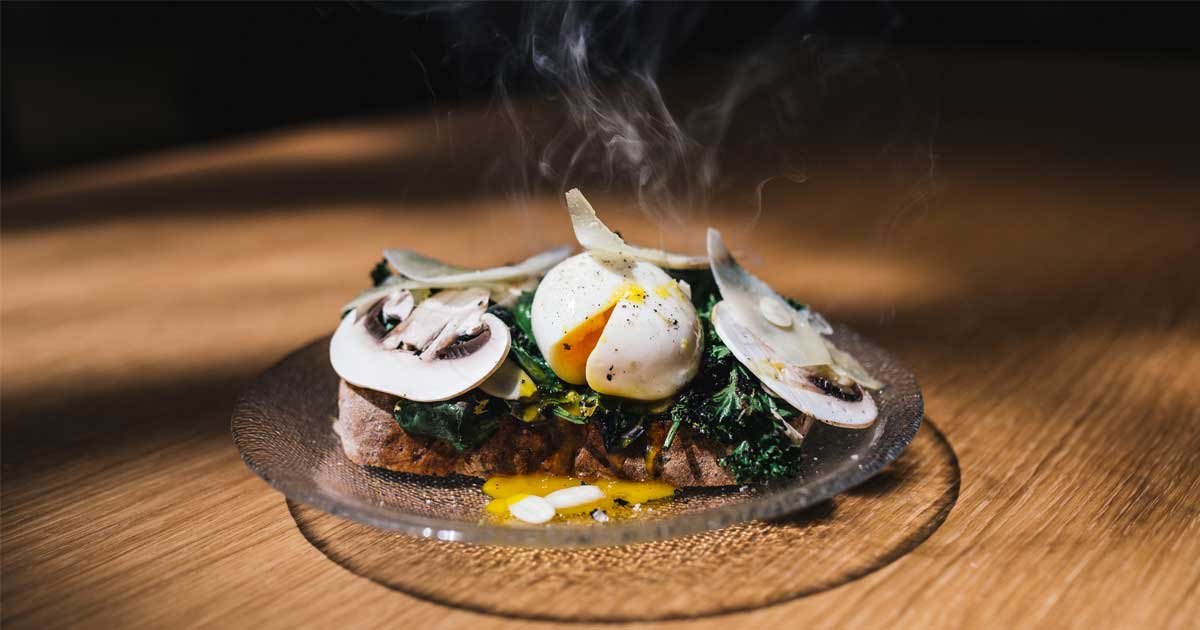 Here are some meal prep ideas for your busy work week. If you're busy, then you may not feel like coming home and investing energy in cooking complicated meal prep ideas. However, with proper planning and doing the meal prep on weekends, this task can become easy and fast. If you prepare a menu for the week, you can buy all the ingredients at once and preserve them. Here are few steps to ensure that you get nutritious homemade food even during a busy work week.
Planning in Advance
Plan in advance for the meal prep ideas that you are going to prepare for the coming week – just pen it down. You should create a menu either for the week (preferable) or the month, and make sure that you have a list of the ingredients that you need for every meal. Make sure that you have a list for every meal that you will be preparing at home, including breakfast, lunch, and dinner. Make sure to have snacks available.
Preparation
Another way to save time is putting meals together, especially those that you'll be baking or slow cooking. You can do this for as many meal prep ideas as you want, and store them in your freezer to pull out whenever you are going to cook them. Make sure you have all ingredients. Put all ingredients into the slow cooker and leave it to cook.  Set the timer correctly to avoid the food getting burnt.
Easy meal prep ideas
Prepare easy meal prep ideas such as salads, soups, sandwiches, and pasta. There are also other items that you can find in stores that are "ready to make" packs. Have them on the menu and leave the most complicated recipes for the weekend. Simpler meals will often suffice as long as you put some love into it. Just ensure that whatever you eat is healthy and nutritious.
Shop intelligently. You can have your menu ready and do the shopping all at once on a weekly or monthly basis. This saves time and money as well. Also, you can make it easier for yourself if you just plan in advance and ensure that nothing is left for the last minute. Here's also some healthy ideas you could try with super foods.