Influencer Marketing Statistics To Boost Your Brand's Popularity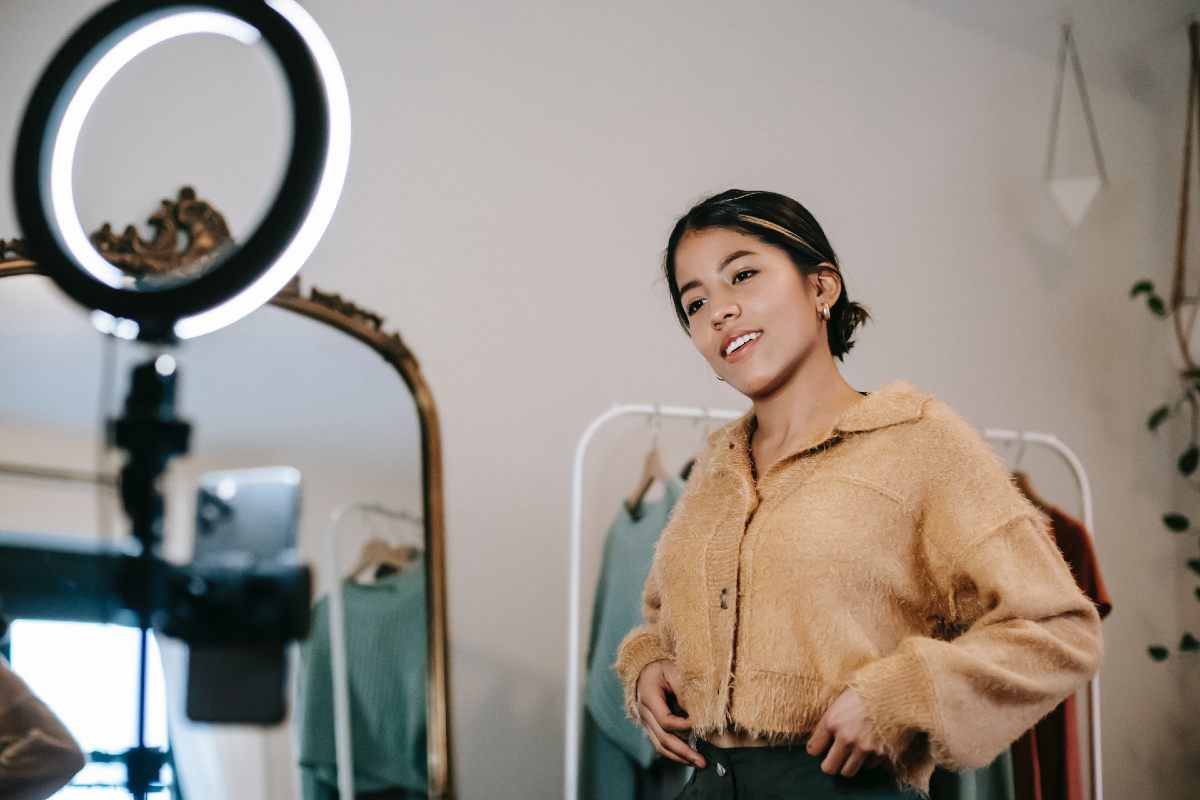 As social media influencers grow more prominent, businesses are on the lookout for influencers that would best represent their brands. In our digital generation, social media holds power in guiding the consumer's attention to your brand. According to Chief Marketer, 86% of respondents hire influencers to improve their brand awareness. Here are 80 influencer marketing statistics to help your brand.
Mega, Macro, Micro, Nano
Before we proceed to our influencer marketing statistics, let's define the influencer categories that have taken shape throughout the years:
Mega-Influencer
Amongst social media influencers, this type of category holds the top spot. Typically, mega-influencers have more than one million social media followers.
Follower Type: Diverse
Influencer Example: A-list or B-list celebrities
Macro-Influencer
The key identifier for macro-influencers is their follower count. Typically, their number of followers ranges from 100,000 to 1 million.
Follower Type: Targets specific demographics (young females, etc.)
Influencer Example: Vloggers, Internet Famous Users, Content Creators
Micro-Influencer
This influencer category has followers between 1,000 to 100,000 followers. On average, micro-influencers have a specific niche target. Compared to macro and mega, micro-influencers have a stronger relationship with their followers.
Follower Type: Uniform or same interest followers. (Vegan living, business moms, etc.)
Influencer Example: Topic specialist, industry expert
Nano-Influencer
Nano-influencers have 1000 followers or less. This category of influencers is considered a new breed. On a positive note, it generates the highest level of engagement. However, the downside of nano-influencers is the limited reach of audiences.
Follower Type: Community, local neighborhood
Influencer Example: Local pastor, Community leader, etc.
Influencer Marketing Statistics: Categories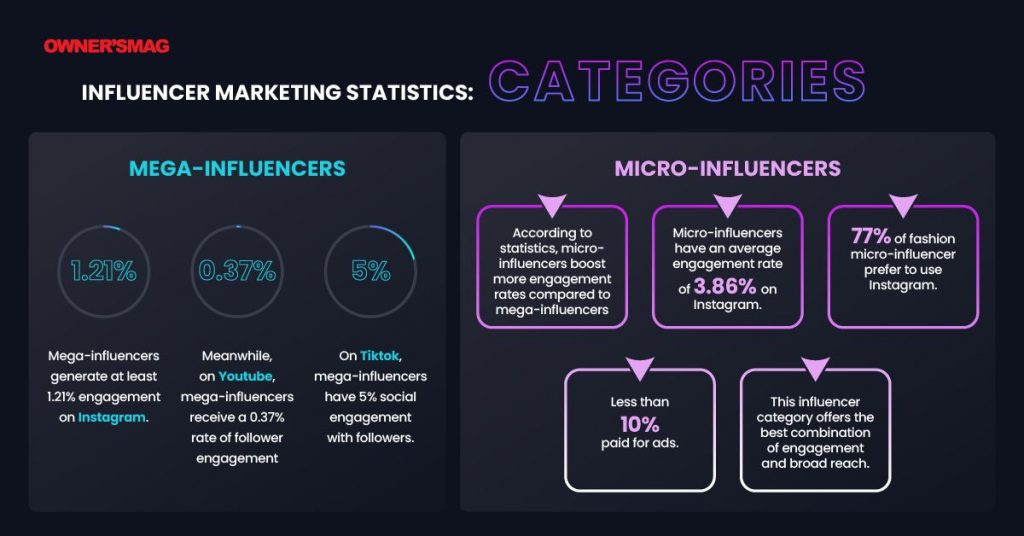 Now, we're aware of the different categories of social media influencers and their audience reach. It's time to dive into the essential statistics that will help your brand's decision:
Mega-Influencers
According to Influencer Marketing Hub's research:
Mega-influencers generate at least 1.21% engagement on Instagram.
Meanwhile, on Youtube, mega-influencers receive a 0.37% rate of follower engagement.
On TikTok, mega-influencers have 5% social engagement with followers.
Micro-Influencers
According to Influencer Marketing Hub's research:
According to statistics, micro-influencers boost more engagement rates compared to mega-influencers.
Micro-influencers have an average engagement rate of 3.86 percent on Instagram.
77% of fashion micro-influencer prefer to use Instagram.
Less than 10% paid for ads.
This influencer category offers the best combination of engagement and broad reach.
Meanwhile, according to other sources:
Compared to an average consumer, micro-influencers have at least 22.2x more conversations weekly about great purchase recommendations (The Keller Fay Group).
At least 53% of micro-influencer never paid for post-promotion (Bloglovin).
Influencer Marketing Statistics: Industry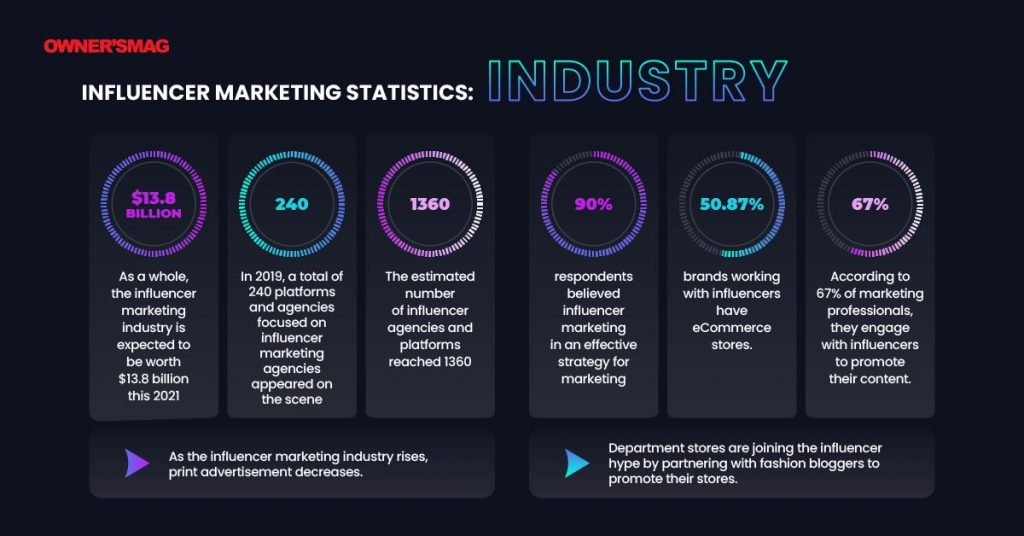 As the influencer marketing industry rises, print advertisement decreases.
As a whole, the influencer marketing industry is expected to be worth $13.8 billion this 2021 (Influencer Marketing Hub).
In 2019, a total of 240 platforms and agencies focused on influencer marketing agencies appeared on the scene (Influencer Marketing Hub).
The estimated number of influencer agencies and platforms reached 1360 (Influencer Marketing Hub).
90% of respondents believed influencer marketing is an effective strategy for marketing (Influencer Marketing Hub).
50.87% of brands working with influencers have eCommerce stores.
Department stores are joining the influencer hype by partnering with fashion bloggers to promote their stores.
According to 67% of marketing professionals, they engage with influencers to promote their content.
Influencer's Opinions
According to 69.4% of influencers, they chose this type of job to earn revenue.
Meanwhile, 54% of influencers are willing to work with a brand that respects them.
In choosing which brand to partner with, content creators admit they determine which opportunities to choose depending on their audiences. Although earning revenue is essential, influencers value and curate what they show to their audiences.
ROI, Conversion, and Sales
Surprisingly, 33% of brands don't measure their influencer marketing ROI (Influencer Marketing Hub).
On the other hand, 67% measures the ROI from their influencer campaigns.
38.5% of brands based their influencer marketing success on sales and conversion.
Meanwhile, 32.5% of brands measure influencer success based on engagement and clicks.
For every $1 spent on influencers, businesses gain $5.20.
Most marketing professionals (75%) say verified web traffic is the essential criteria in choosing an influencer.
According to 89% of respondents, the ROI from influencer marketing is better than other strategies (MediaKix).
For some brands, working with influencers is not always smooth sailing. Here are some common problems brands always point out:
Measuring ROI and campaign results pose a problem.
Managing deadlines for campaigns and contracts have significant challenges.
Some payments to influencers encounter processing difficulty.
Other issues involve time restraints or bandwidth.
Influencer Marketing Risks
38% of brands claim to be a victim of influencer fraud (Influencer Marketing Hub).
Meanwhile, as influencer marketing's popularity increases, 67% of brands are concerned about influencer fraud (Influencer Marketing Hub).
Influencer Marketing Statistics: Budget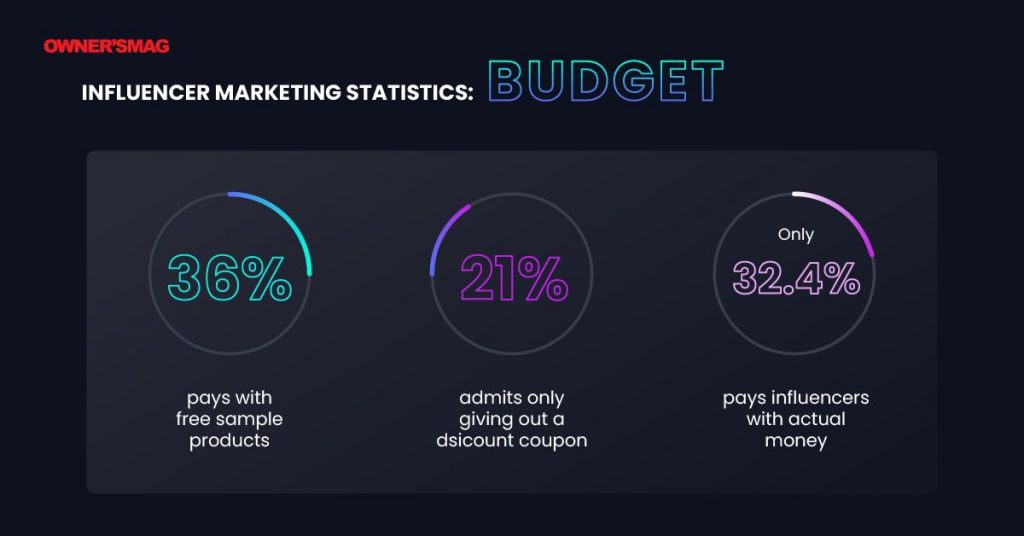 Despite the growing popularity of social media influencer marketing, some brands do not pay actual money. Here are different mode of payments by brands to influencers:
36% pays with free sample products
21% admits only giving out a discount coupon
Only 32.4% pays influencers with actual money
Brand's Budget for Influencer Marketing
This 2021, 75% of brands intend to dedicate a budget to influencer marketing (HubSpot).
As influencer marketing's popularity rises, 83% of brands decided to take their influencer spending budget from their marketing budget (Influencer Marketing Hub).
In the following year, 63% of brands intend to increase their influencer marketing funds.
17% of brands are prepared to spend $500,000 or more on influencer marketing (Mediakix).
Influencer Marketing Statistics: Social Media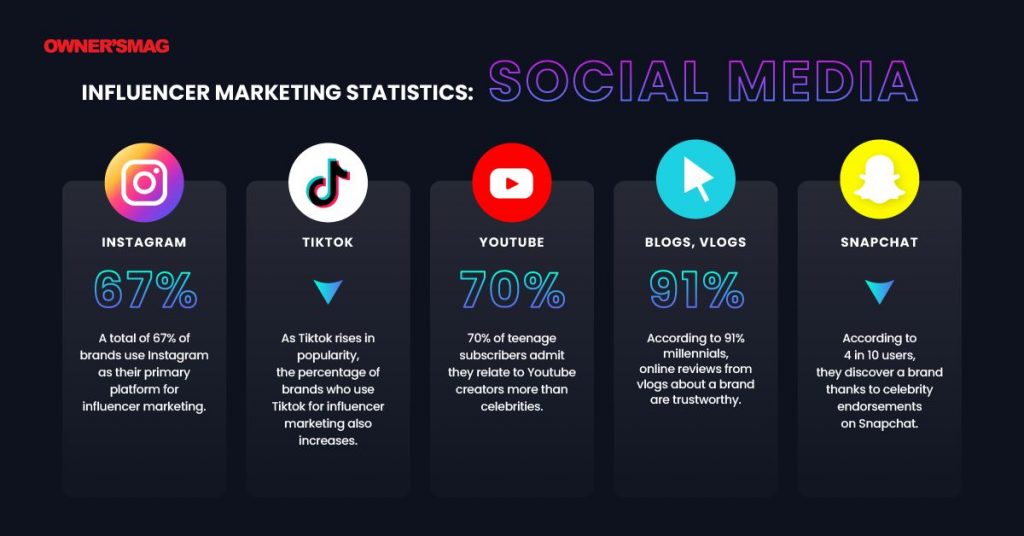 Currently, a total of 42.7% of internet users installed ad blockers on devices. Most people hate ads as it tends to interrupt what they're reading or watching, hence ad blocker use. This is a massive disadvantage for marketers as their content is blocked by at least half of the online population.
It is one of the reasons why influencer marketing is growing in popularity. For successful influencer marketing, it's vital to generate an organic engagement that does not look like ads. Besides, more than half of the younger generation uses social media as soon as they wake up each day.
Internet users mostly encounter the content their favorite influencer posted rather than an ad. The best part? Consumers pay attention to the influencer's content rather than a paid advertisement.
Instagram
A total of 67% of brands use Instagram as their primary platform for influencer marketing. It's understandable as the platform has more than 1 billion active monthly users. Also, Instagram stories became a vital tool for the success of influencer marketing. This platform gives a considerable advantage and high engagement to aesthetic fashion brands and accessories.
TikTok
As TikTok rises in popularity, the percentage of brands who use TikTok for influencer marketing also increases.
Youtube
As the world's second most visited platform, successful content creators on YouTube can earn millions from their videos. 70% of teenage subscribers admit they relate to Youtube creators more than celebrities. Meanwhile, 6 in 10 YouTube subscribers would follow purchase advice and trust reviews from their favorite content creator rather than a TV personality.
Twitter
According to 40% of Twitter users, a Tweet from an influencer resulted in their purchase.
Blogs, Vlogs
According to 91% of millennials, online reviews from blogs or vlogs about a brand are trustworthy. After reading a positive review, 50% of consumers will likely take some action. In most cases, positive reviews encourage a purchase. Also, according to 98% of buyers, software reviews from blogs or vlogs influence their purchase.
Other than that, most bloggers (68%) prefer to work with a brand instead of a network or agency.
Snapchat
According to 4 in 10 users, they discover a brand thanks to celebrity endorsements on Snapchat.
Campaigns
2020 marked the increase of influencer-related marketing campaigns. This significant growth is a result of the initial impact of COVID-19.
Across different campaigns, it turns out 56% of brands use the same influencers.
67% of brands prefer a campaign-based relationship with influencer marketing.
Meanwhile, 80% of brands admit to increasing their production of content.
Searching for Relevant Influencers
For brands that run in-house ad campaigns, 34% of respondents admit that finding influencers is challenging.
61% of brands admit searching for relevant influencers is complicated and difficult (Mediakix).
Conclusion
In the end, influencer marketing is indeed a powerful strategy for niche-specific brands. If you want to reach a more comprehensive set of audiences, you should consider searching for an influencer relevant to your brand.
Billionaires Be Warned: Organized Labor on the Rise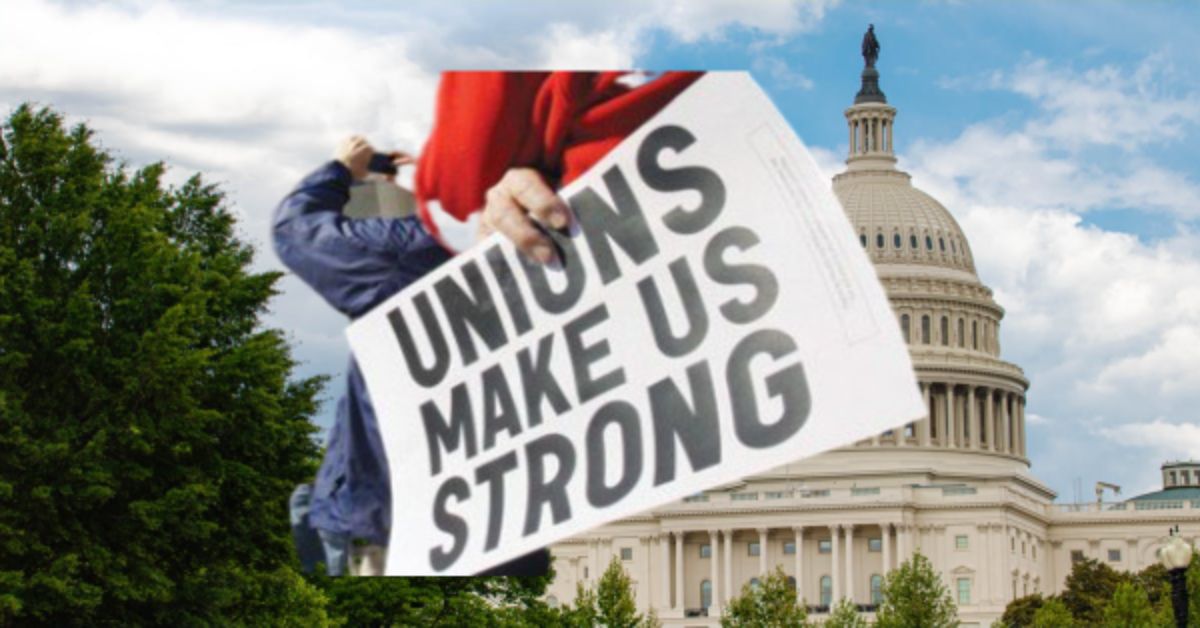 Last week, Apple retail workers in Towson, Maryland, voted 65-33 to seek entry into the International Association of Machinists and Aerospace Workers trade union. It's a story that's consistent with a promising trend.
In the last several months, a number of victories have been tallied for worker's rights around the country.
In December, a Starbucks in Buffalo became the first of its company-owned U.S. locations to form a union. Since then, at least 150 of the 9,000 company-run U.S. stores have voted to unionize, with 10 stores rejecting the union. 
In January, engineers and other Google workers announced that they had formed a union—the Alphabet Workers Union— named after Google's parent company, Alphabet. It represents about 800 Google employees.
April saw Amazon workers in Staten Island, New York vote to unionize, marking a first for the retail giant.
In May, video game workers at a division of game publisher Activision Blizzard voted to unionize, making them the first to create a labor union at a large U.S. videogame company.
Per a 2021 Gallup Poll: at least 68% of Americans approve of labor unions, the highest since Gallup found a 71% approval in 1965.
A resurgence of unions after years of decline.

President Biden has been vocal about his support for the decision.
"I am proud of them,"
Biden said in a statement to reporters.
"Workers have a right to determine under what condition they are going to work or not work."
This is a far cry from the days of President Reagan publicly firing striking air traffic controllers, a move that signaled to the weakening labor movement that times were changing. Of course, labor rights weren't always such a contentious topic.
In the mid-1950s, approximately one out of every three non-farm workers were unionized. This was, of course, the peak of labor's power in the US.
In subsequent decades, the ranks of unionized workers would shrink. By the 80s and 90s, due to a combination of economic and political developments, the decline in unions accelerated.
The opening of overseas markets and the emergence of outsourcing put organized labor at a severe disadvantage.
Around this same period, U.S. employers developed a set of legal— and illegal—practices that could effectively rid establishments of existing unions and prevent new unions from organizing.
These practices included: threatening union sympathizers with firings and holding a mandatory meeting wherein workers would be subject to anti-union propaganda. Additionally, many employers hired permanent replacements for striking workers.
But Biden has been relatively labor-friendly. In February, a Biden administration task force issued a set of recommendations aimed at making it easier for federal workers and contractors to unionize.
The report argues that the trend of declining union membership has coincided with a rising share of income going to the top 10% of earners.
Youth movement gives labor unions a new hope.
After decades of decline, U.S. unions are finding hope in a growing movement among the youth. Union approval is high— and growing—with the youngest workers. This is reflected by membership levels, which are trending upwards for workers between the ages of 25 and 34. Even as they decline among other age groups.
According to the Federal Bureau of Labor Statistics, the percentage of union members among workers aged 25-34 rose from 8.8% to 9.4%
The aforementioned Alphabet Workers Union, for example, is run by five people under the age of 35.
This is consistent with a greater political trend among young people: the youth is less susceptible to the anti-socialist boogeyman rhetoric that successfully fleeced previous generations of working people's rights.
It's important to remember that many of the things we take for granted today are the products of union involvement. The eight-hour work day? Labor unions. Job safety laws? Labor unions. Overtime pay? Labor Unions. Weekends? Labor unions. Worker's Comp? Labor unions. Employer-based health coverage? Labor unions.
And the list goes on.
Who Does Tori Dunlap Think She Is?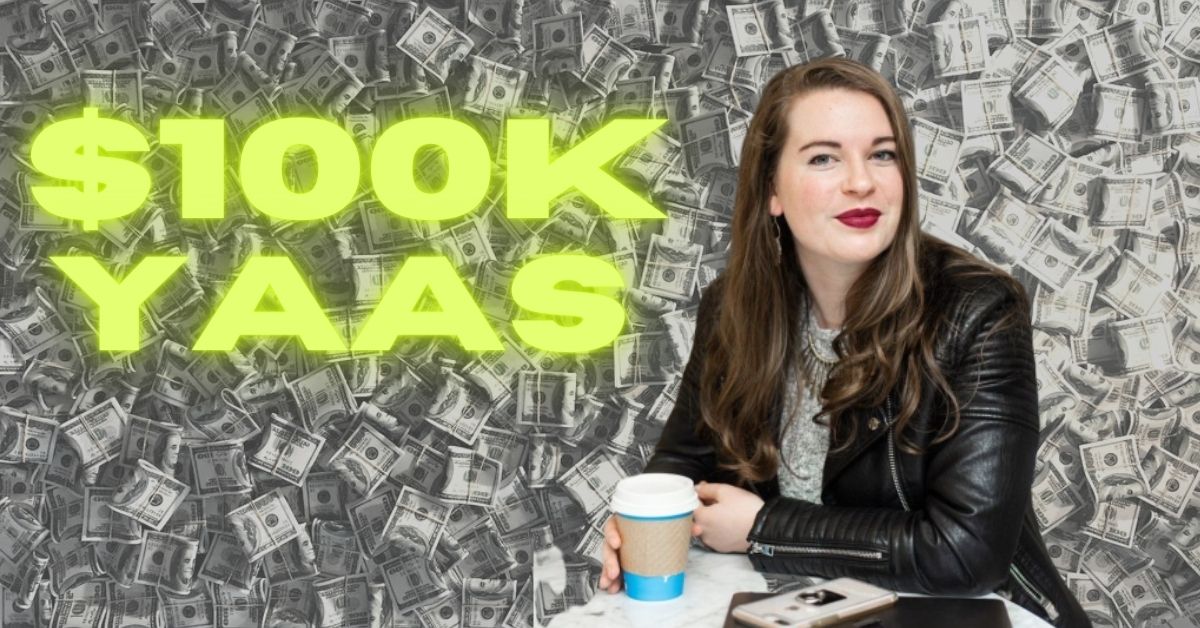 If you haven't heard of Tori Dunlap, you're probably not seeking financial advice. If you are seeking financial advice, you can do a lot better than Tori Dunlap.
Tori Dunlap is an entrepreneur who claims to have saved $100,000 by the age of 25. After achieving such astonishing success so early in life, she simply had to quit her corporate job so she could devote her energy to helping women learn their financial independence and unassumed dominance in our white cis male-run society.
Her mission? To create the brand HerFirst100K and…
Idk man… seems kinda gimmicky.
Disclaimer: I am a cis white male with no financial expertise to speak of criticizing a cis white female financial pundit. I have zero doubts that Dunlap could balance a checkbook better than I ever could. I am not here to offer any financial advice. Rather, I am criticizing Dunlap's approach to fiscal responsibility and her overall authenticity.
In short: We're not buying it and neither should you.
How Did She *Really* Get $100K by 25?
At 25, I was working as a barback in a local gay bar and on the cusp of starting my first professional writing job. I had maybe $600 to my name and very poor financial instincts – you could call me a 'spendthrift.'
My peers around the same age were all fairly financially inept or carefree. Sure, we would meet our responsibilities but we sure as hell weren't saving – and not for lack of trying. We all worked incredibly hard, dirty, thankless jobs for very little money and could be fired on a whim. None of us would have been able to save up to $100K by 25.
By 25, I had been working steady jobs for 10 years. Even if I didn't spend a single cent over those 10 years I don't think the number would have ever reached $100K. Pardon my doubts, but how is a 25-year-old, any 25-year-old, able to save up to $100,000 all by themselves? After some digging, it turns out she did it with a lot of discipline and a lot of luck.
She graduated college with zero debt, landed a job in digital marketing with a salary of $55K/year, and put a disciplined percentage of her take-home into saving and an investment fund. These are all great, very privileged ways to save $100,000 in three years.
I'm curious to know how a 22-year-old snagged an investment fund and knew which investments would pay off and how much they earned but… I digress.
I don't sneeze at this kind of discipline. Many people would benefit from a financial discipline such as that. I do sneeze a little by using this as a marketing tactic. While she qualifies this by admitting her privilege, she makes her achievement the main marketing point of Her First $100K.
"I did this and so can you!" the sentiment screams. Except most people can't. And I think Ms. Dunlap knows that.
Tori Dunlap Is Not Qualified To Give Anyone Financial Advice
The only thing I trust Tori Dunlap to do is market and brand herself effectively. She's cool, she's hip, she can play along with the broader trends, she TikToks with the best of 'em, and it all feels so desperately empty and deeply phony. 
I think Tori Dunlap has a keen eye for self-promotion that masquerades as "woke financial advice." This would be fine if it wasn't potentially f*cking with people's money. There are people out there with some serious financial issues and concerns. If they trust Tori Dunlap, they could be misled because she doesn't know what she's talking about.
I don't mean she doesn't know how to assert her value and practice financial discipline. I mean she doesn't have the financial authority to be profiting off the advice she gives. It's like getting medical advice from a sickly friend – they've got experience but no expertise.
TikTok Advice Isn't Real Advice
If you take a look at Dunlap's TikTok, it looks pretty much like every other TikToker out there. On her page, the financial advice is few and far between. It appears that TikTok is the space where she promotes her brand, podcast, and book – with a whole lot of cookie-cutter trends you will find on any account. 
When you finally do get to her financial advice, it's no different than if you were to ask your fiscally savvy friend. For example, "know your worth and advocate for it" is a great bit of advice, it's one I tell my peers at work – but it's not expertise. It's a good ol' fashioned, "you can do it!" Which is nice, but it's not practically helpful. What you're getting from Dunlap are educated tips from someone who is being nice to you.
When you present yourself as an authority figure you have a responsibility that comes with it. Telling people you are the savior from the patriarchy if you pay for her course doesn't exactly scream "hero."
There's nothing wrong with providing a service and charging for it. There is, however, something really gross about masquerading as a feminist hero when you're actually an unqualified financial nobody with no serious credentials to speak of.
Tori Dunlap is not qualified to be giving financial advice to anyone. She says so on her site:
"LEGAL STUFF: I am not a licensed financial advisor. I offer education, not prescriptive advice. The information that is found here are my opinions and the opinions of other readers/contributors and should be taken as such." 
"Legal stuff." Cute, so relatable.
All of Dunlap's success stories are social media posts, texts, and emails. Hardly a case study.
Dunlap claims to be "leading a movement of financial feminists," but a quick Google search on female financial advisors yields no results for Ms. Dunlap. What exactly is she leading? You cannot be a leader when you don't show up on the first 12 pages of Google.
Here's What An Actual Financial Expert Says
We spoke to Danetha Doe, an economist with over 10 years of experience in the financial industry. She has worked as an accountant and a CFO. She also created Money & Mimosas, a financial education resource for ambitious folks.
In short, Ms. Doe knows her sh*t.
We asked Ms. Doe about how the average person could save up to $100K by the age of 25.
"I don't think it's reasonable to believe the average person can save $100K by 25. 
"In order to do that, they would either need to be born into wealth, have zero student loans, work for a startup that goes public or gets acquired, or start a business that is financially successful. 
"All of those scenarios do not apply to the average person.
"The median salary for an individual is under $40,000. Therefore, the average person earns about $40,000. In order to reach $100K in savings on an average salary could take decades in the United States."
Ms. Doe has a lot of excellent financial advice without being patronizing or weaponizing oppression for profit. She has a professional and personal background that makes her an effective authority when it comes to fiscal responsibility.
"My two grandmothers [are the financial experts I admire most]. 
"They came to the United States as immigrants and became real estate investors during a time when Black women were systematically shut out of wealth-building opportunities in this country. 
"Their lasting legacy guides my financial decisions."
If you want to learn finance tips from someone who can relate to or understand your experience fully, Danetha Doe is the way to go.
Besides, who doesn't love a mimosa?
What In The Hell Is 'Feminist Financial Advice?'
What is it about financial advice that needs to be tailored specifically for women? Let's take a super casual and lazy glance at successful women, shall we?
Suze Orman is a trusted financial authority and has been around for a minute.
Madonna has built herself an entertainment empire by being unapologetically female.
Rihanna became a billionaire through her music and some super-savvy business moves.
Laverne Cox bulldozed expectations and helped establish a foundation for trans artists.
Sheryl Sandburg is the most powerful woman in Big Tech – did you see what happened when she resigned from Meta?
There is no shortage of female financial advisors. What kind of niche does Dunlap think she's tapping into? Dunlap says on her site:
"I watched female friends get paid less than they were worth. I read stories about women being denied career opportunities because they were seen as 'less.' 
"Male colleagues said sexist, negative comments to me at work. I learned that women hold the majority of debt in America and that they invest less of their money than men, yet live for seven years longer. 
"So I knew that I had to fight back."
Sure, Jan.
Fighting Sexism By Leaning Into Sexism
I don't think anybody disagrees (save for a few members of the Republican Party) that women have a tougher go of it than men. To be honest, it's a bit of a stretch to connect general sexism with financial education. I learned how to budget from my mother, a woman who has had to fight her own battles with sexism and misogyny as the only female partner at her law firm. 
Frankly, I think the assumption that women need help from an unlicensed non-expert in order to learn fiscal responsibility is teetering on sexism. At the very least, it's grossly condescending and certainly inauthentic.
If you're in a position where you need financial advice, you want it from someone who is a serious advisor, not a trending influencer with no qualifications. With inflation at a 40-year high and an underpaid workforce fighting for its value, we cannot afford to take financial advice from someone clearly more interested in self-promotion and branding.
Dunlap appears to be less focused on offering genuine financial advice and far more focused on hitting woke buzzwords in an effort to patronize marginalized communities for profit. If you want to find a female-focused financial authority, try Ellevest instead.
Tori Dunlap's Communications Lead declined to comment.
Vince McMahon Stepped Down From WWE. Or Did He?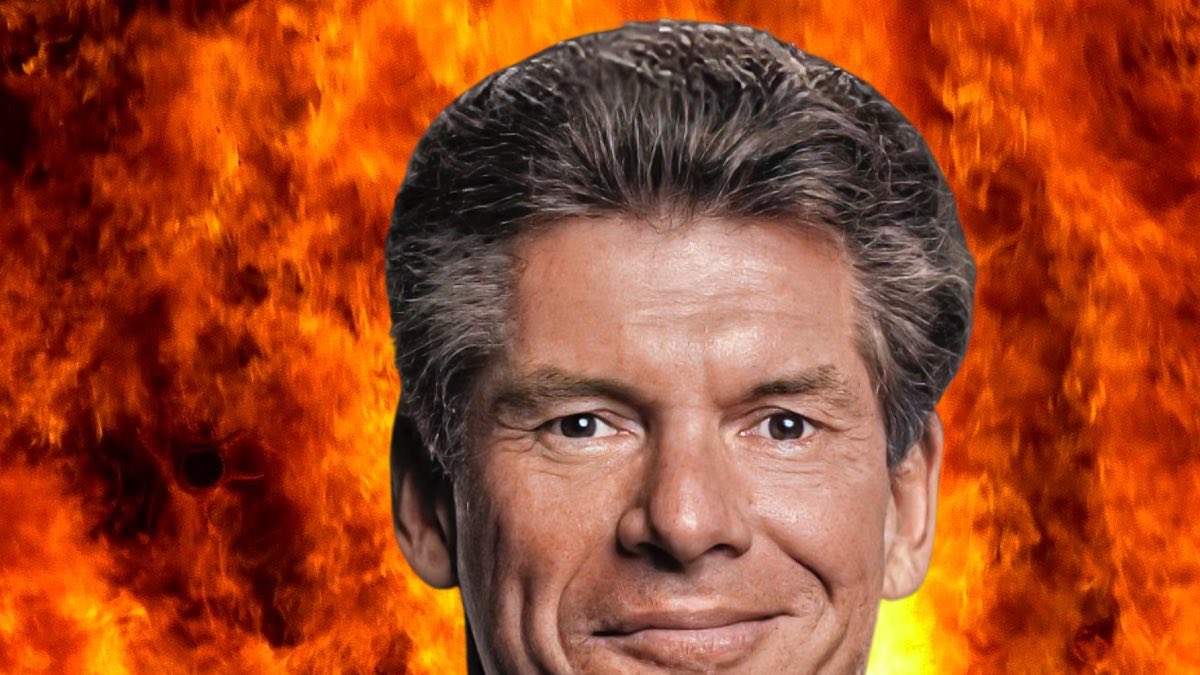 The news rang out around the world on Friday.
Vince McMahon, father and face of the modern WWE, is voluntarily stepping down from his CEO position. The news came amid allegations of misconduct, affairs, and hush money.
And then, the strangest thing happened. Moments later, WWE announced that McMahon would make an appearance during Smackdown. Many speculated that McMahon would take the opportunity to admit remorse, address the new path, or prepare a last goodbye for fans.
Instead, he did this.
"It is a privilege, as always, to stand before you here tonight, the WWE Universe. Especially a privilege to stand here in this ring in Minnesota.

I'm here simply to remind you of the four words we just saw in what we call the WWE signature. Those four words are then, now, forever, and the most important word is together.

Welcome to SmackDown!"
"Bizarre spectacle" is a phrase that could appear under the dictionary definition for World Wrestling Entertainment.. But even fans were left scratching their heads by this appearance, with one caught on camera appearing to ask "That's it?"
What really happened to Vince McMahon
If you didn't read past headlines about stepping down amid misconduct allegations, you might be stunned that McMahon would appear on TV at all. The truth, as is often the case, is a bit more complicated.
Per The Wall Street Journal, an inquiry began in April concerning a secret payout of $3 million that a WWE paralegal received in January. McMahon allegedly had an affair with the employee. The investigation opened up other, older NDAs relating to sexual misconduct by McMahon and talent relations chair John Laurinaitis.
The misconception at hand comes from WWE's announcement. While it's true that McMahon is stepping down from his chief position while the investigation continues, that's not the whole picture.
McMahon is maintaining creative control of the WWE. For an entertainment company, the creative aspect is a pretty massive slice of the pie. As evidenced by Friday's appearance—and another appearance on Monday—he's not stepping down from the public eye either.
McMahon's WWE character, "Mr. McMahon," it seems, is not under the same scrutiny as his actor. There are no signs that his exaggerated persona will cease making appearances on SmackDown and at other WWE events.
In a way, it's a delicate PR chess move. The headline, "Vince McMahon Steps Down Amidst Investigation," reads like a victory. The sticky truth, that he's not really exiting at all, will have little impact on the general public.
Wrestling fans, on the other hand, are seeing both sides play out, and it's leaving some confused. It's an interesting twist on "kayfabe," the suspension of disbelief at the root of the WWE community. In reality, Vince has stepped down, but in kayfabe, Mr. McMahon hasn't gone anywhere.
This bizarre in-and-out response might reflect the inherent flaws in wrestling's mesh of fantasy and reality. In pursuit of kayfabe, what happens if McMahon is fully ousted? Will an attachment to his fictional persona keep justice from being served? At this point, it's hard to say.