Influencer Marketing Statistics To Boost Your Brand's Popularity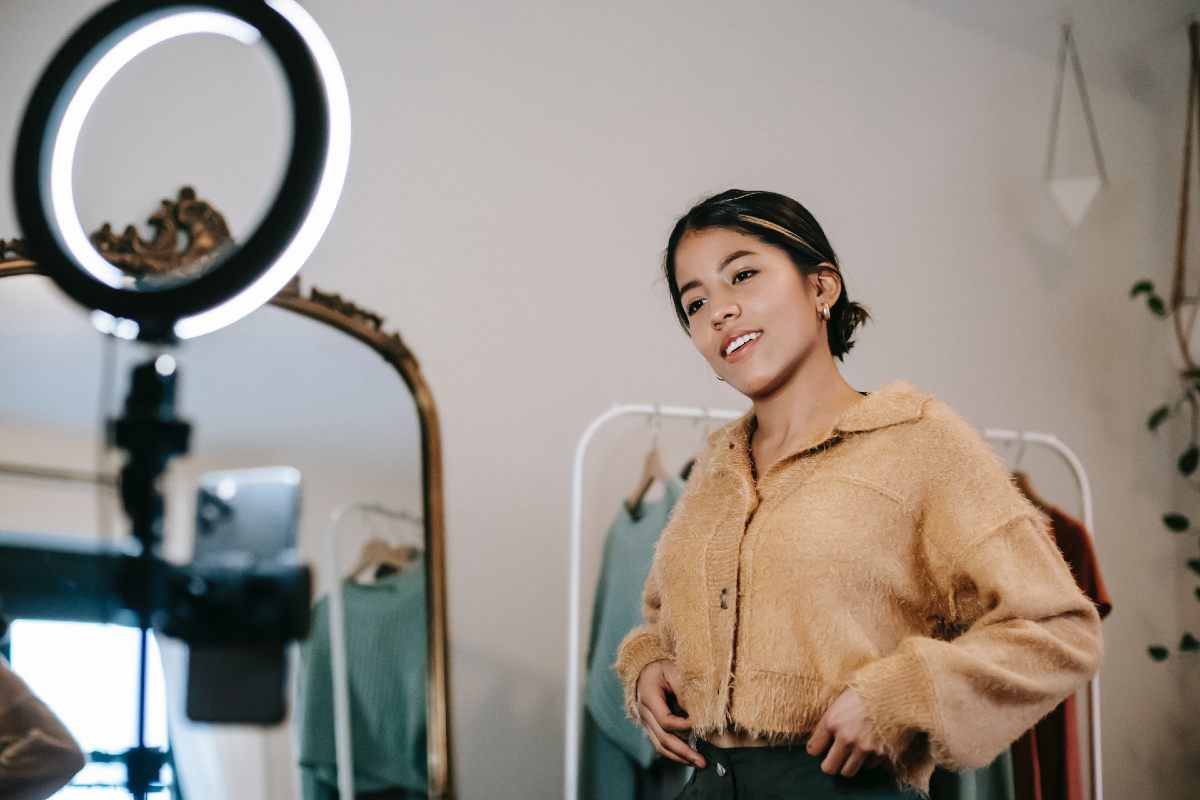 As social media influencers grow more prominent, businesses are on the lookout for influencers that would best represent their brands. In our digital generation, social media holds power in guiding the consumer's attention to your brand. According to Chief Marketer, 86% of respondents hire influencers to improve their brand awareness. Here are 80 influencer marketing statistics to help your brand.
Mega, Macro, Micro, Nano
Before we proceed to our influencer marketing statistics, let's define the influencer categories that have taken shape throughout the years:
Mega-Influencer
Amongst social media influencers, this type of category holds the top spot. Typically, mega-influencers have more than one million social media followers.
Follower Type: Diverse
Influencer Example: A-list or B-list celebrities
Macro-Influencer
The key identifier for macro-influencers is their follower count. Typically, their number of followers ranges from 100,000 to 1 million.
Follower Type: Targets specific demographics (young females, etc.)
Influencer Example: Vloggers, Internet Famous Users, Content Creators
Micro-Influencer
This influencer category has followers between 1,000 to 100,000 followers. On average, micro-influencers have a specific niche target. Compared to macro and mega, micro-influencers have a stronger relationship with their followers.
Follower Type: Uniform or same interest followers. (Vegan living, business moms, etc.)
Influencer Example: Topic specialist, industry expert
Nano-Influencer
Nano-influencers have 1000 followers or less. This category of influencers is considered a new breed. On a positive note, it generates the highest level of engagement. However, the downside of nano-influencers is the limited reach of audiences.
Follower Type: Community, local neighborhood
Influencer Example: Local pastor, Community leader, etc.
Influencer Marketing Statistics: Categories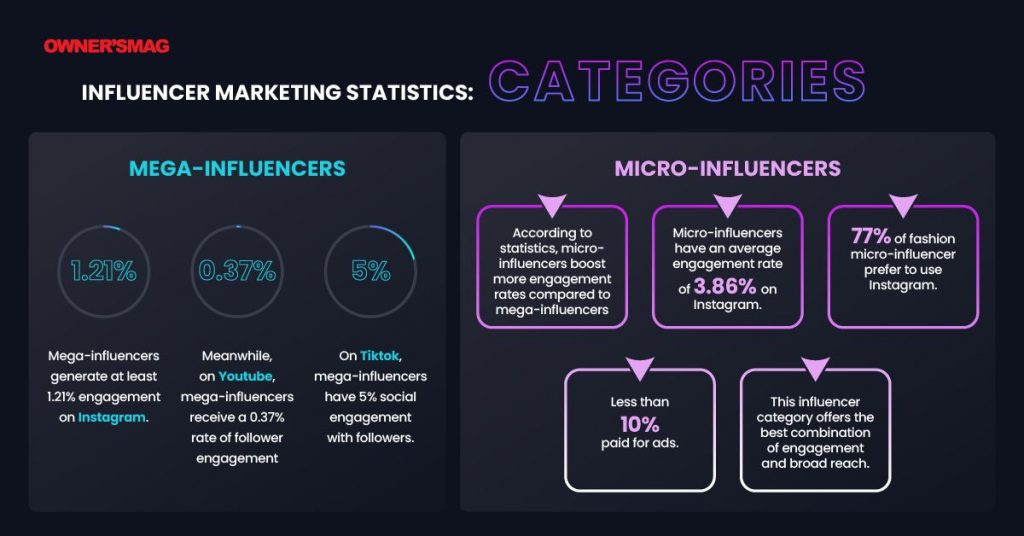 Now, we're aware of the different categories of social media influencers and their audience reach. It's time to dive into the essential statistics that will help your brand's decision:
Mega-Influencers
According to Influencer Marketing Hub's research:
Mega-influencers generate at least 1.21% engagement on Instagram.
Meanwhile, on Youtube, mega-influencers receive a 0.37% rate of follower engagement.
On TikTok, mega-influencers have 5% social engagement with followers.
Micro-Influencers
According to Influencer Marketing Hub's research:
According to statistics, micro-influencers boost more engagement rates compared to mega-influencers.
Micro-influencers have an average engagement rate of 3.86 percent on Instagram.
77% of fashion micro-influencer prefer to use Instagram.
Less than 10% paid for ads.
This influencer category offers the best combination of engagement and broad reach.
Meanwhile, according to other sources:
Compared to an average consumer, micro-influencers have at least 22.2x more conversations weekly about great purchase recommendations (The Keller Fay Group).
At least 53% of micro-influencer never paid for post-promotion (Bloglovin).
Influencer Marketing Statistics: Industry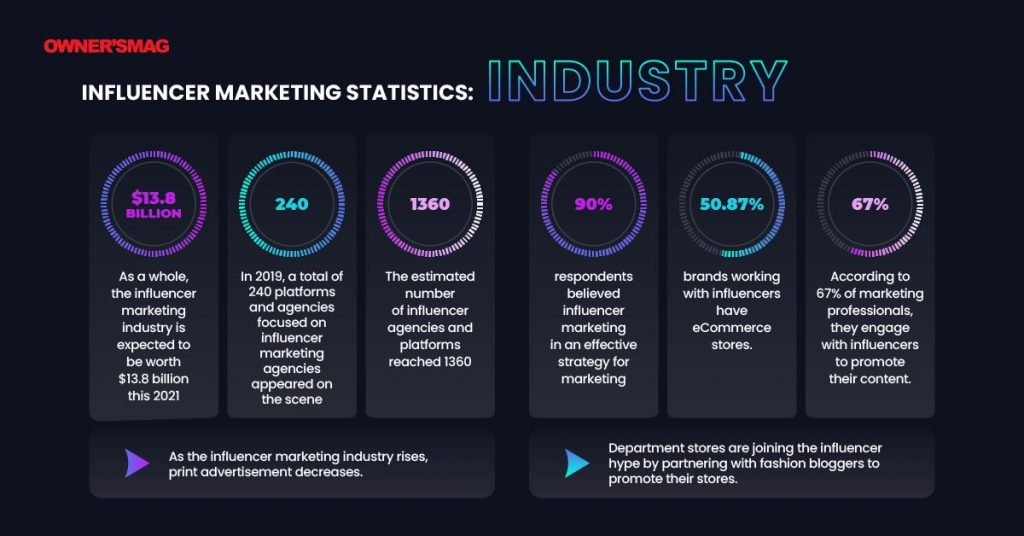 As the influencer marketing industry rises, print advertisement decreases.
As a whole, the influencer marketing industry is expected to be worth $13.8 billion this 2021 (Influencer Marketing Hub).
In 2019, a total of 240 platforms and agencies focused on influencer marketing agencies appeared on the scene (Influencer Marketing Hub).
The estimated number of influencer agencies and platforms reached 1360 (Influencer Marketing Hub).
90% of respondents believed influencer marketing is an effective strategy for marketing (Influencer Marketing Hub).
50.87% of brands working with influencers have eCommerce stores.
Department stores are joining the influencer hype by partnering with fashion bloggers to promote their stores.
According to 67% of marketing professionals, they engage with influencers to promote their content.
Influencer's Opinions
According to 69.4% of influencers, they chose this type of job to earn revenue.
Meanwhile, 54% of influencers are willing to work with a brand that respects them.
In choosing which brand to partner with, content creators admit they determine which opportunities to choose depending on their audiences. Although earning revenue is essential, influencers value and curate what they show to their audiences.
ROI, Conversion, and Sales
Surprisingly, 33% of brands don't measure their influencer marketing ROI (Influencer Marketing Hub).
On the other hand, 67% measures the ROI from their influencer campaigns.
38.5% of brands based their influencer marketing success on sales and conversion.
Meanwhile, 32.5% of brands measure influencer success based on engagement and clicks.
For every $1 spent on influencers, businesses gain $5.20.
Most marketing professionals (75%) say verified web traffic is the essential criteria in choosing an influencer.
According to 89% of respondents, the ROI from influencer marketing is better than other strategies (MediaKix).
For some brands, working with influencers is not always smooth sailing. Here are some common problems brands always point out:
Measuring ROI and campaign results pose a problem.
Managing deadlines for campaigns and contracts have significant challenges.
Some payments to influencers encounter processing difficulty.
Other issues involve time restraints or bandwidth.
Influencer Marketing Risks
38% of brands claim to be a victim of influencer fraud (Influencer Marketing Hub).
Meanwhile, as influencer marketing's popularity increases, 67% of brands are concerned about influencer fraud (Influencer Marketing Hub).
Influencer Marketing Statistics: Budget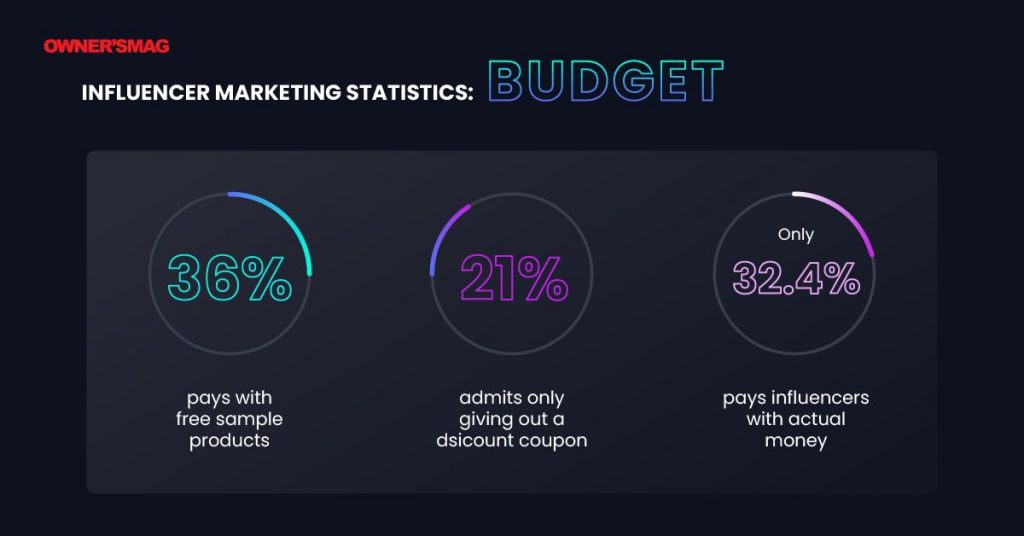 Despite the growing popularity of social media influencer marketing, some brands do not pay actual money. Here are different mode of payments by brands to influencers:
36% pays with free sample products
21% admits only giving out a discount coupon
Only 32.4% pays influencers with actual money
Brand's Budget for Influencer Marketing
This 2021, 75% of brands intend to dedicate a budget to influencer marketing (HubSpot).
As influencer marketing's popularity rises, 83% of brands decided to take their influencer spending budget from their marketing budget (Influencer Marketing Hub).
In the following year, 63% of brands intend to increase their influencer marketing funds.
17% of brands are prepared to spend $500,000 or more on influencer marketing (Mediakix).
Influencer Marketing Statistics: Social Media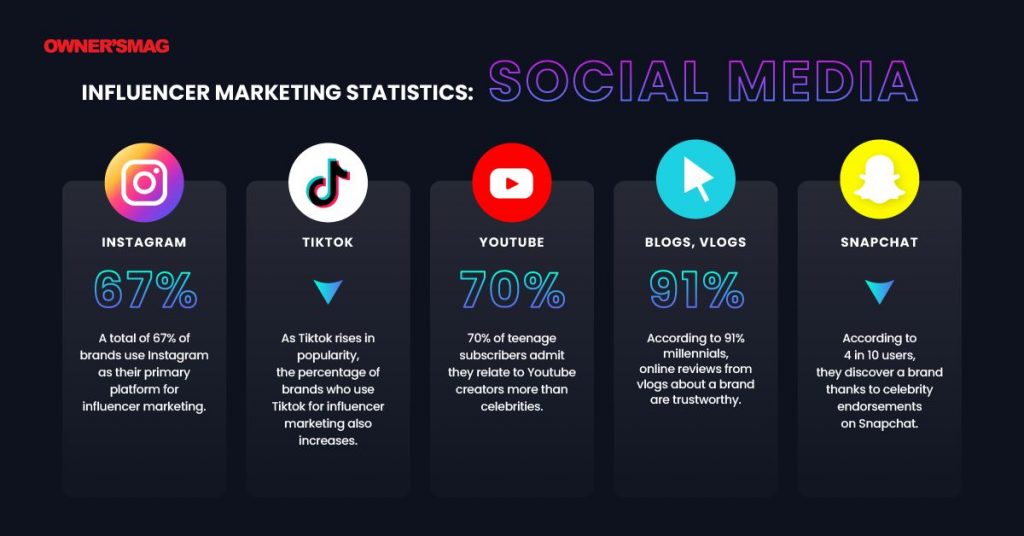 Currently, a total of 42.7% of internet users installed ad blockers on devices. Most people hate ads as it tends to interrupt what they're reading or watching, hence ad blocker use. This is a massive disadvantage for marketers as their content is blocked by at least half of the online population.
It is one of the reasons why influencer marketing is growing in popularity. For successful influencer marketing, it's vital to generate an organic engagement that does not look like ads. Besides, more than half of the younger generation uses social media as soon as they wake up each day.
Internet users mostly encounter the content their favorite influencer posted rather than an ad. The best part? Consumers pay attention to the influencer's content rather than a paid advertisement.
Instagram
A total of 67% of brands use Instagram as their primary platform for influencer marketing. It's understandable as the platform has more than 1 billion active monthly users. Also, Instagram stories became a vital tool for the success of influencer marketing. This platform gives a considerable advantage and high engagement to aesthetic fashion brands and accessories.
TikTok
As TikTok rises in popularity, the percentage of brands who use TikTok for influencer marketing also increases.
Youtube
As the world's second most visited platform, successful content creators on YouTube can earn millions from their videos. 70% of teenage subscribers admit they relate to Youtube creators more than celebrities. Meanwhile, 6 in 10 YouTube subscribers would follow purchase advice and trust reviews from their favorite content creator rather than a TV personality.
Twitter
According to 40% of Twitter users, a Tweet from an influencer resulted in their purchase.
Blogs, Vlogs
According to 91% of millennials, online reviews from blogs or vlogs about a brand are trustworthy. After reading a positive review, 50% of consumers will likely take some action. In most cases, positive reviews encourage a purchase. Also, according to 98% of buyers, software reviews from blogs or vlogs influence their purchase.
Other than that, most bloggers (68%) prefer to work with a brand instead of a network or agency.
Snapchat
According to 4 in 10 users, they discover a brand thanks to celebrity endorsements on Snapchat.
Campaigns
2020 marked the increase of influencer-related marketing campaigns. This significant growth is a result of the initial impact of COVID-19.
Across different campaigns, it turns out 56% of brands use the same influencers.
67% of brands prefer a campaign-based relationship with influencer marketing.
Meanwhile, 80% of brands admit to increasing their production of content.
Searching for Relevant Influencers
For brands that run in-house ad campaigns, 34% of respondents admit that finding influencers is challenging.
61% of brands admit searching for relevant influencers is complicated and difficult (Mediakix).
Conclusion
In the end, influencer marketing is indeed a powerful strategy for niche-specific brands. If you want to reach a more comprehensive set of audiences, you should consider searching for an influencer relevant to your brand.
Top 10 Video Marketing Agencies You Must Check Out in 2023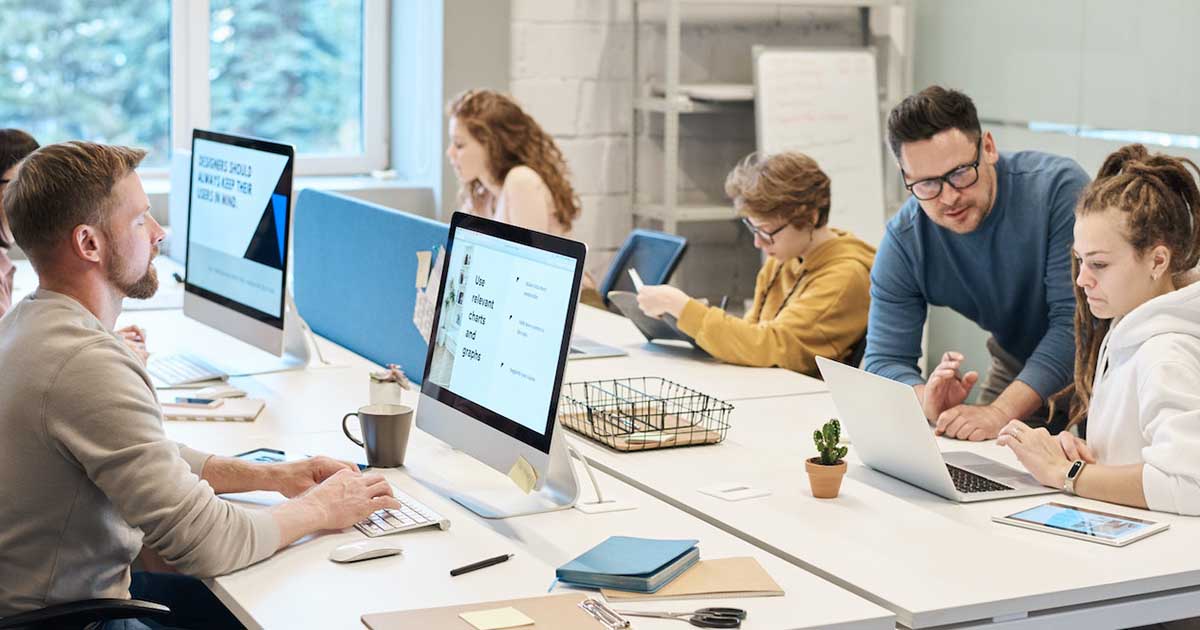 If you've been following the latest marketing trends, you would know that video marketing is popular. Factors like lower costs, the availability of video platforms, and the rise of social media influencers helped change how consumers interact with video content. Read on to learn the best video marketing agency to help you leverage the power of video.
1. Vireo Video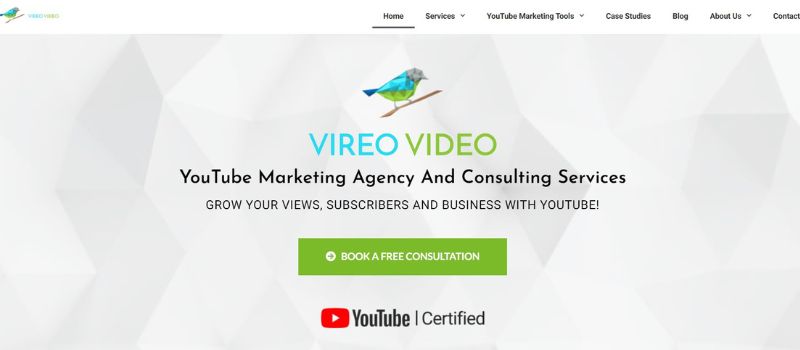 If you need an expert in Youtube marketing, be sure to check the features of Vireo Video. The platform specializes in Youtube marketing and offers various video-related services, such as Youtube content strategy, SEO, and advertising. Vireo Video is trusted by brands like Eckhart Tolle and Ripley's Believe It or Not. For Eckhart Tolle, Vireo assisted in the optimization of his videos and helped grow his Youtube channel. As a result, his channel has more than 45 million new views or an increase of more than 260% compared with the previous period. 
Key Services:
Influencer marketing
Video optimization
Targeted YouTube advertising placements
Strategy development
2. NinjaPromo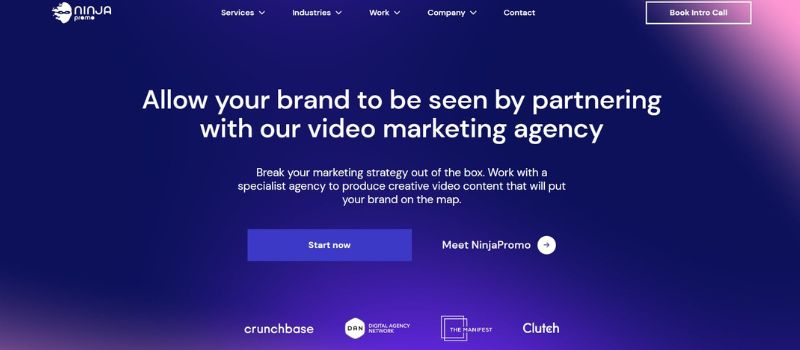 Video marketing is one of the many services offered by the digital marketing agency NinjaPromo. If you're looking for a perfect partner to assist you in reaching your desired audience quickly, NinjaPromo is one of the best agencies to work with. The company can help you create creative, engaging, and practical videos to promote your brand and increase your online presence. 
Key Services:
Video Production
Consultation
SEO optimization
Explainer videos
Event and product videos
Tutorials
3. Moburst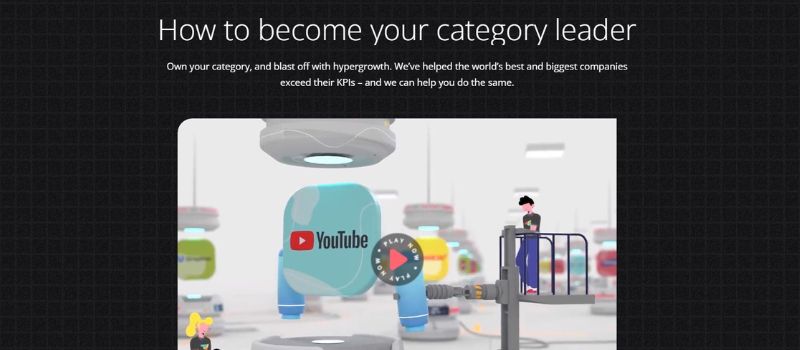 Moburst is a mobile and digital marketing agency that specializes in helping businesses grow their mobile apps. They offer different services to enable enterprises to improve their mobile app performance and increase user engagement. Moburst has created over 1,500 videos that generated 900+ million views. 
Key Services:
App Store Optimization
Video production
Mobile User Acquisition
Mobile App Analytics
Mobile App Design and Development
Mobile App Retargeting
4. Voy Media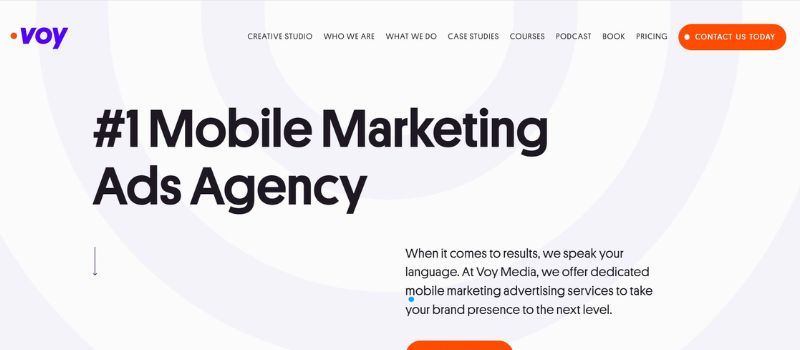 Trusted by big brands like Lacoste, Voy Media is a full-service agency offering various marketing and creative services. Their services are designed to help businesses grow their brand. Likewise, the agency helps them generate leads and increase conversions through social media platforms. Voy Media also ensures its clients receive the necessary support by assigning a dedicated account manager. 
Key Services:
Video editing and production
Product and lifestyle photography
Graphic design and illustration
Full studio production with talent and script
5. Pop Video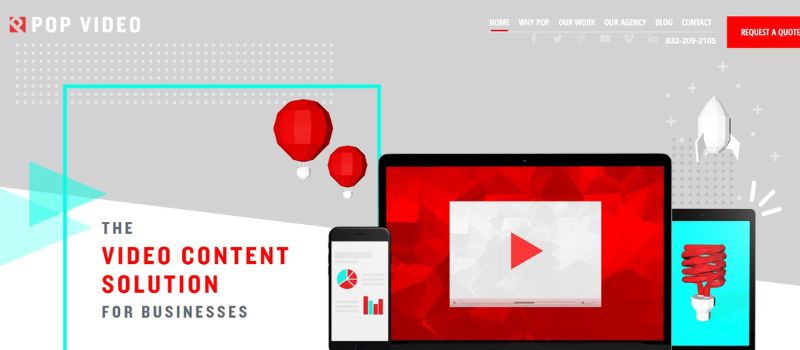 Pop Video was established in 2010 in Houston, Texas. They describe themselves as a business-first solution for a video-first world. Pop Video has a team of visual content creators with a specialization in video production and visual content marketing.
The agency has worked with various clients across different industries, including healthcare, technology, retail, and finance. Some of its notable clients include Microsoft, Adidas, and Coca-Cola.
In addition to its core video production services, Pop Video provides consulting and training services to help businesses develop their video marketing strategies and produce their video content in-house.
Key Services:
Video Marketing
Video production
Animation
Content creation
Social media optimization
6. Epipheo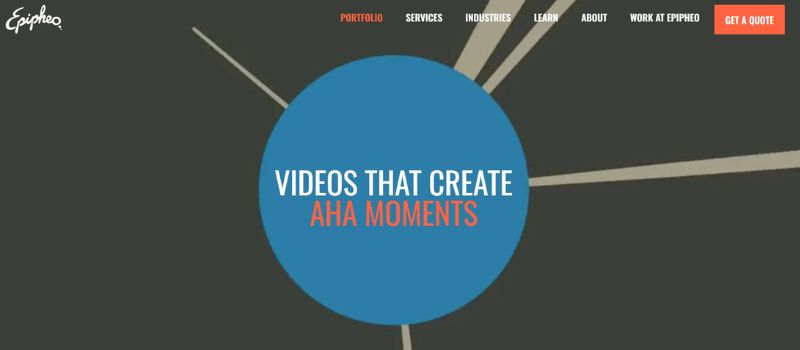 If you need help with educational videos, explore the services of Epipheo. Epipheo is a video marketing agency that creates animated explainer videos and other visual contents to assist companies, organizations, and individuals in connecting with their audience effectively. 
Key Services:
Social video ads
Storytelling testimonial videos
Animated explainer videos
Live action videos
Strategy and consulting
7. Early Light Media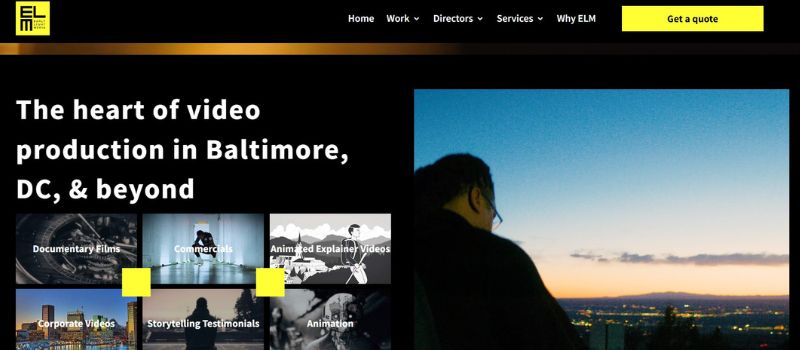 Early Light Video is a full-service video production company that creates high-quality video content for businesses, nonprofits, and individuals. The agency is known for delivering top-notch video content that meets its clients' needs. It was founded in 2013 by a team of Emmy Award-winning creative directors, With offices in Baltimore and Washington, DC.
Key Services:
Video production
Post-production
Animation
Voice-over casting
Music Licensing
8. Indigo Productions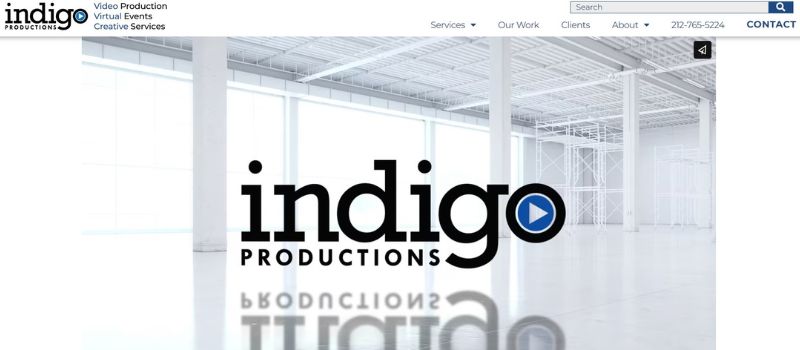 Indigo Productions is a full-service video production company based in New York City. They specialize in creating high-quality videos for corporate clients, advertising agencies, and individuals. Their team of scriptwriters, directors, producers, hair and make-up artists, and location scouts will handle all the logistics.
Key Services:
Promo videos
Web commercials
Music videos
Movie trailers
Documentaries
9. LAI Video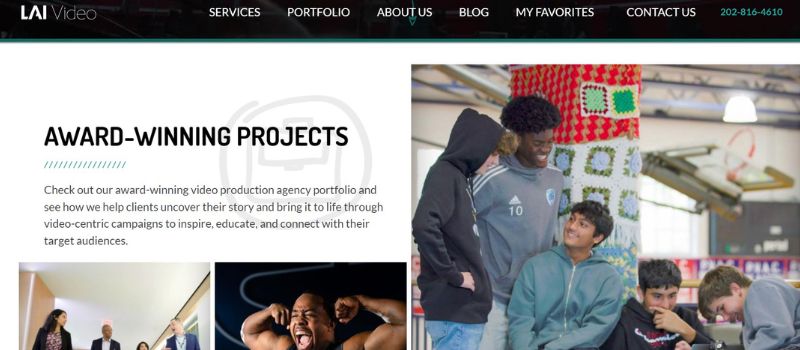 LAI Video is a Washington, DC-based boutique video production company specializing in creating visual stories that inspire and engage audiences. The company was established in 2013 and has become a leading video production agency in the DC metro area.
LAI Video has worked with various clients, including National Geographic, The World Bank, Georgetown University, and The Smithsonian Institution. Their skilled team of filmmakers, animators, editors and producers work closely with clients to ensure that each video project meets their specific goals and objectives.
Key Services:
Corporate videos and commercials
Video communication campaigns
Branding
Video animation
Marketing storytelling
10. SparkHouse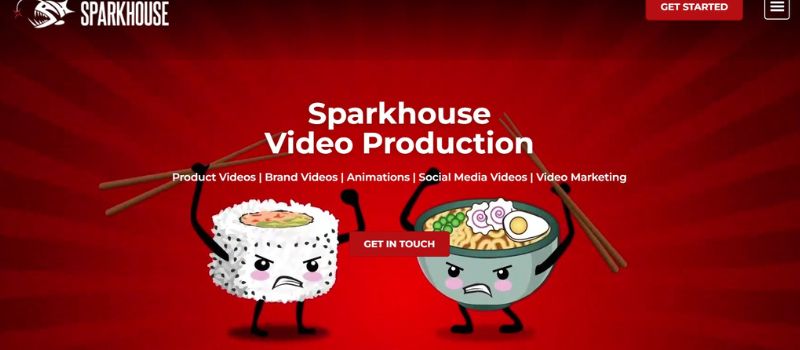 SparkHouse is a video production company based in Minneapolis, Minnesota, specializing in creating high-quality video content for businesses and organizations. The company was founded in 2013 by filmmakers and storytellers passionate about creating visually stunning and emotionally compelling videos.
SparkHouse has worked with various clients, including Target, 3M, Best Buy, and General Mills. Their talented filmmakers, animators, writers, and producers work closely with clients to ensure each video project is customized to their unique needs and objectives.
Key Services:
Brand Videos
Corporate Videos
Animation
Event Videos
Social Media Videos
Documentary Films
Which Types of Videos Do You Get from a Video Marketing Agency?
A video marketing agency typically provides various video types, each with a specific purpose and target audience. Below are the common types of videos you can request from a video marketing agency.
Brand videos
Explainer videos
Corporate videos
Testimonial videos
Social media videos
Live stream videos
Case studies
Reviews
Tutorials
Conclusion
Video marketing is essential for businesses looking to engage their audience, build brand awareness, and drive conversions. As we look ahead to 2023, the competition will only continue to grow, making working with a reliable video marketing agency more critical than ever.
Top 10 Video Marketing Campaign Examples You'll Enjoy Watching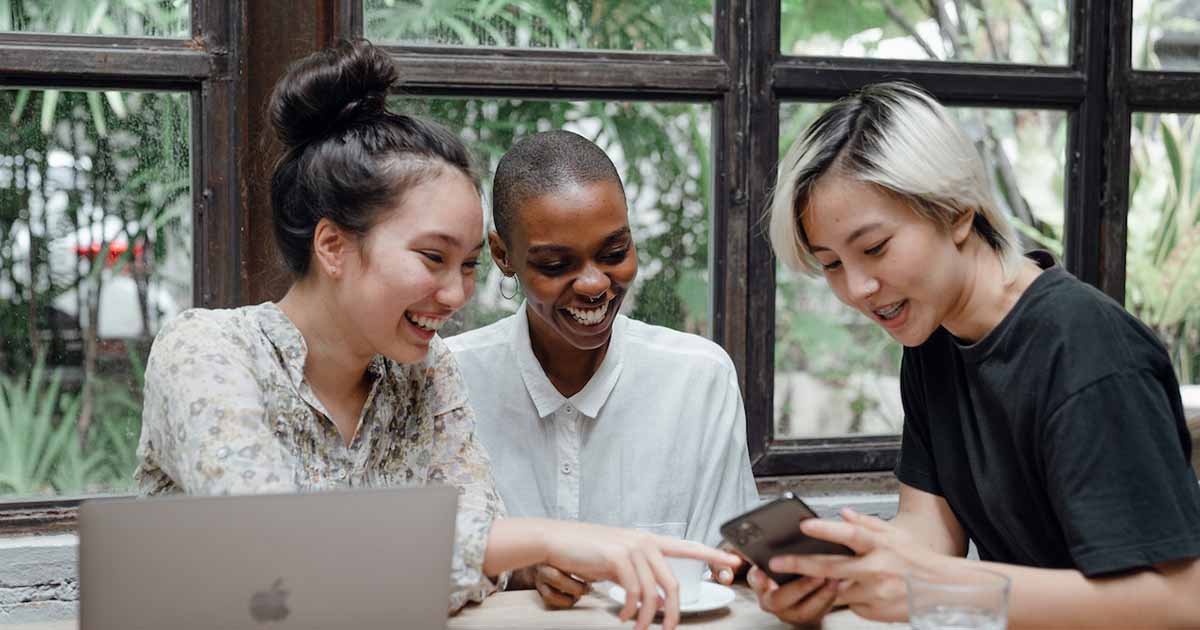 A video is an effective form of content, and its increasing popularity has gone together with the rise of social media. However, many marketing professionals still need a video for their digital marketing strategy. In other instances, some have already integrated video into their campaigns but need to see the best results. We've compiled some video marketing campaign examples that could inspire you to get the best possible ROI.
1. Google Android: Friends Furever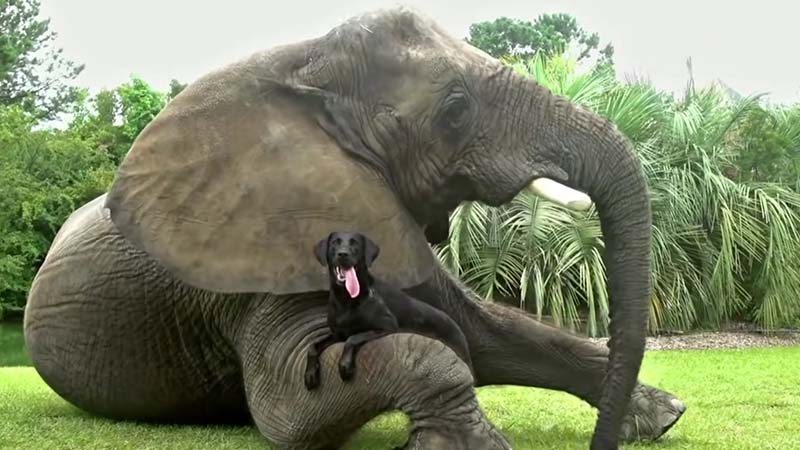 Android's "Friends Furever" video is a simple and cute marketing campaign. The video was shared over 6.4 million times, according to video ad tech company Unruly. Google produced a quirky video showcasing animals forming unexpected friendships. Each clip in the montage features great pairs of animals: dogs and elephants, chimps and horses, and tigers and bears.
The campaign proves that even the most uncomplicated videos can be super shareable with the proper subject matter.
Watch the video here. 
2. Jeni's Splendid Ice Cream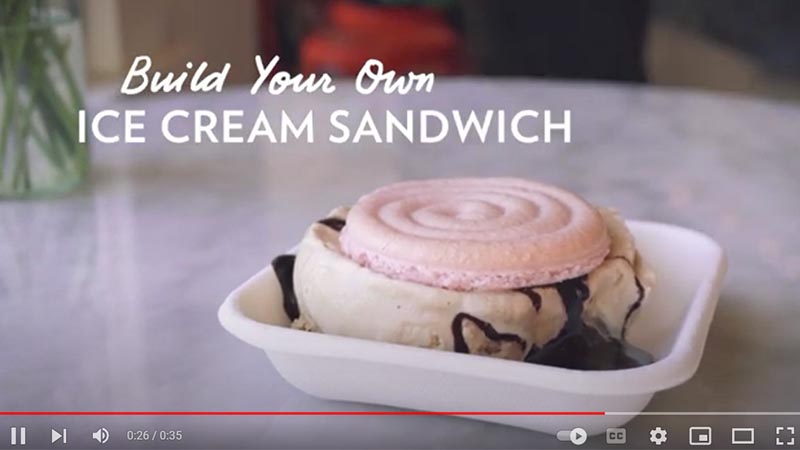 We encourage you to watch from the 20-second mark to see how it goes. Jeni's Splendid Ice Cream is a small ice cream shop from Columbus, Ohio, and its YouTube channel proves you don't need hi-tech equipment to make lovable videos. This is a remarkable small business video marketing campaign.
Watch the video here. 
3. Reebok: 25,915 Days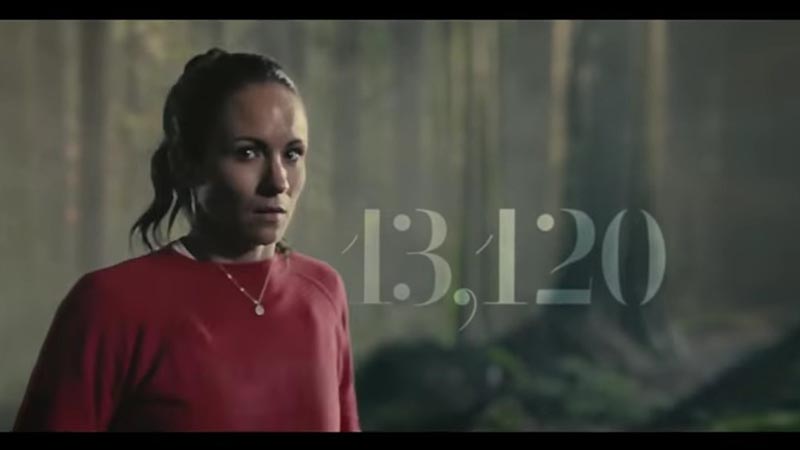 The video features one woman's relationship with running in reverse, from running the Reebok-sponsored Spartan Race as a middle-aged woman to birth. It's a great way for Reebok to promote its brand mission of changing how people perceive and experience fitness at every age.
And at the end of the video, a compelling CTA reads, "Calculate your days." After all, adding a well-curated Call to Action is one of the secrets of a successful video marketing campaign.
Watch the video here. 
4. Alibaba: To the Greatness of Small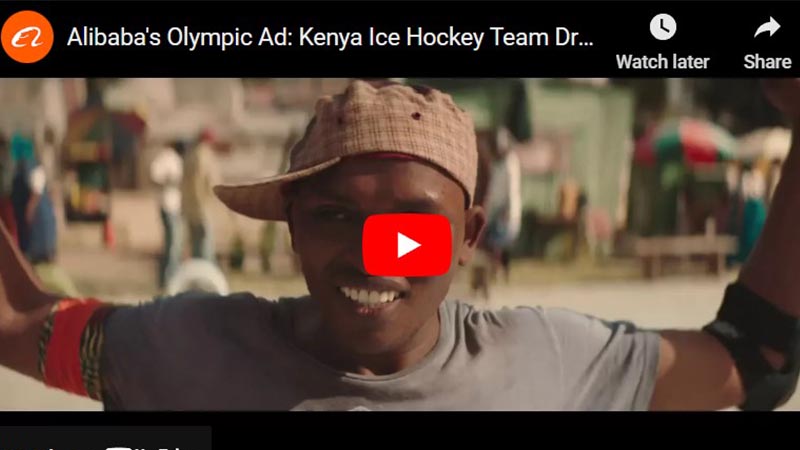 Sometimes, the most powerful messages resonate with the smallest audiences. This global marketing video is from the China-based ecommerce platform Alibaba. Alibaba's global customers are almost as big as Amazon's. The campaign was a powerful tribute to the role of SMBs in the global economy. Similar to a young athlete with Olympic dreams, all great brands start with an ambitious founder.
Watch the video here. 
5. Coca-Cola: The Last Customer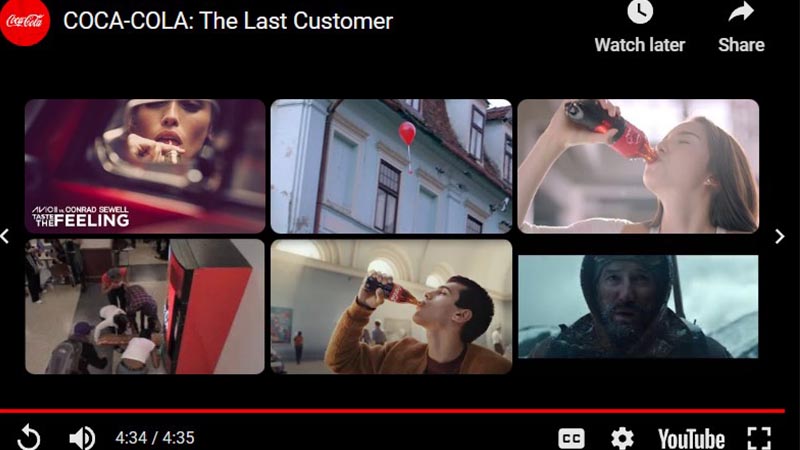 Coca-Cola is known for heartwarming holiday videos, and this is one of the best! The Last Customer is a video campaign launched by Coca-Cola in 2020. The campaign was designed to promote small businesses' importance and their role in their communities.
The campaign consisted of a short film about a small convenience store owner preparing to close his shop for the last time. The owner reflects on his memories of running the store and the relationships he has built with his customers over the years. As he closes shop for the last time, he is surprised by his loyal customers who have gathered to say goodbye and express their appreciation for all he has done for their community.
Watch the video here. 
6. GoPro: Fireman Saves Kitten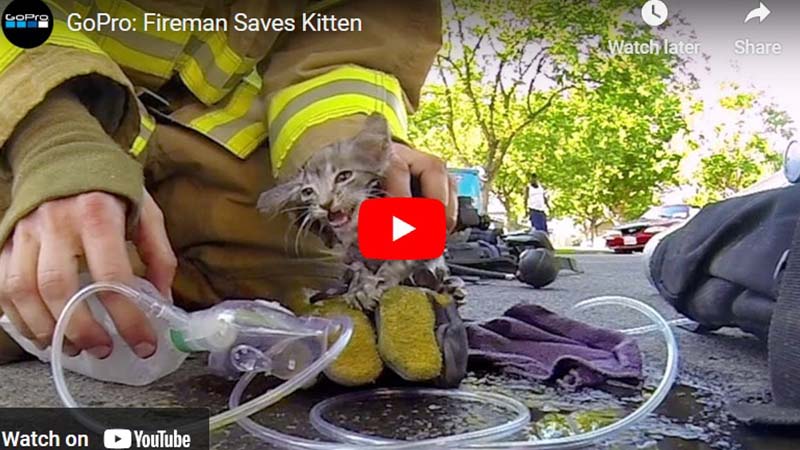 "Fireman Saves Kitten" is a video campaign launched by GoPro in 2013. The campaign was designed to showcase the power and versatility of GoPro cameras in capturing dramatic and inspiring moments.
GoPro shows a powerful example of how brands can use their products to tell compelling stories and promote meaningful social causes. It was a testament to the power of video content to engage and inspire audiences. Moreover, it helped to cement GoPro's reputation as a leader in the action camera industry.
Watch the video here. 
7. Nike Women: Better For It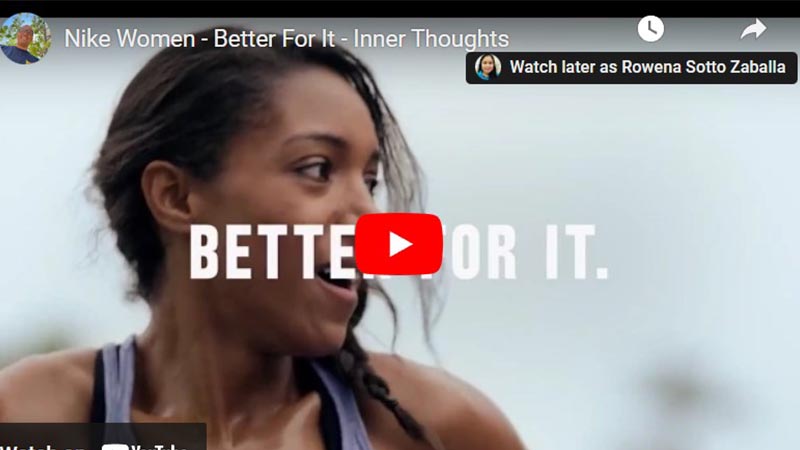 Suppose your campaign is a powerful message of encouragement and empowerment for women. In that case, The "Better For It" campaign encourages women to embrace their imperfections and to push themselves beyond their comfort zones. The campaign's tagline, "If you're not failing, you're not trying," aims to motivate women to take risks and persevere through challenges.
The campaign also includes a digital community where women can connect and share their stories of progress and inspiration. The community features a range of resources, including workout routines, training tips, and motivational messages.
Overall, the Nike Women "Better For It" campaign is a powerful message of encouragement and empowerment for women of all ages and backgrounds. It seeks to inspire women to push themselves to be their best physically and mentally and celebrate their achievements along the way.
Watch the video here. 
8. BuzzFeed for Purina: Puppyhood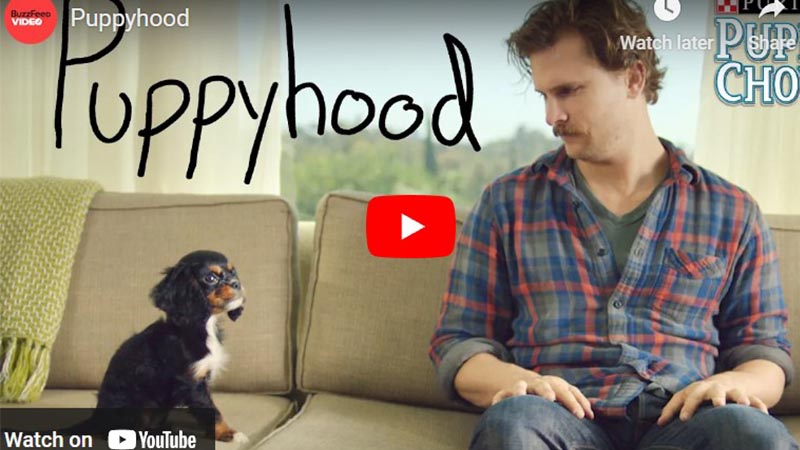 BuzzFeed did a great job writing a script that takes all the classic puppy stories you've heard and turns them into a delightful tale of a man and his dog spending time together.
Although it's evident to today's trained consumer that Purina's Puppy Chow brand is behind the video, the product placement is so subtle that it's not bothersome. Video marketers, take note.
Watch the video here. 
9. Intel: 'Meet the Makers' Series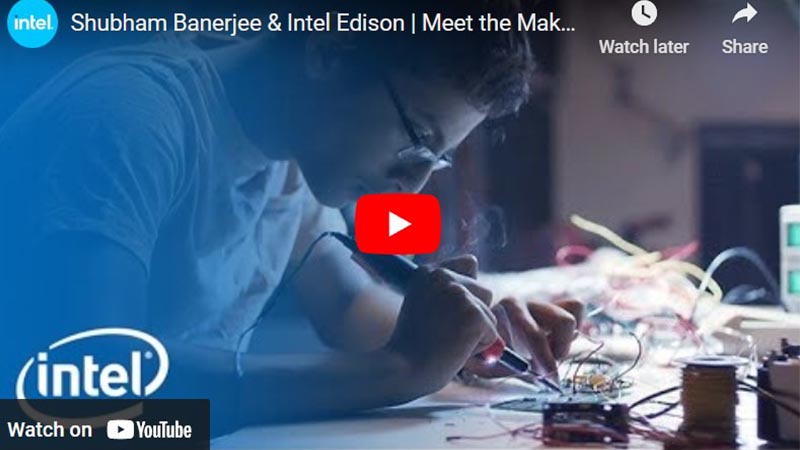 Intel's five-part "Meet the Makers" series aims to highlight the stories and innovations of people who are using Intel technology to create new and exciting products. It features videos showcasing different makers and their projects, from artists to scientists to entrepreneurs. So, if you're looking for an effective and engaging way to advertise your product or service through video, the video ad is a good inspiration.
Watch the video here.
10. Google Earth: Homeward Bound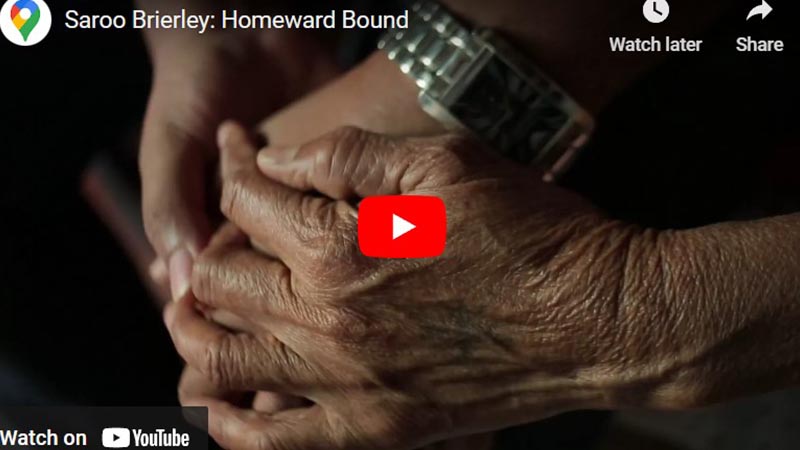 The Google Earth: Homeward Bound campaign is a marketing campaign that aims to raise awareness about the impact of climate change on the planet. It is also meant to promote the work of Homeward Bound, a global leadership initiative for women in science.
By inserting their product into a story of loss, love, and restoration, Google Earth successfully positioned its capabilities as life-changing — but it doesn't feel too showy. The video makes you think that Google Earth isn't out to make money, but rather, they're out to build a service to improve the lives of their users.
Watch the video here.
Conclusion
Based on the examples above, the best video marketing content is engaging, informative, and resonates with its target audience. It should tell a story, evoke emotions, and offer a unique perspective or solution to a problem. Businesses and brands can build brand awareness and loyalty by creating high-quality video marketing content that connects with their audience. It ultimately drives sales and revenue.
Now it's your turn. Video can do wonders to increase content engagement and clickthrough rates. Use these marketing videos as inspiration, and create fantastic visual content. These video editing tools can make your video content creation easier.
Why Use Video Marketing: 8 Compelling Reasons to Convince You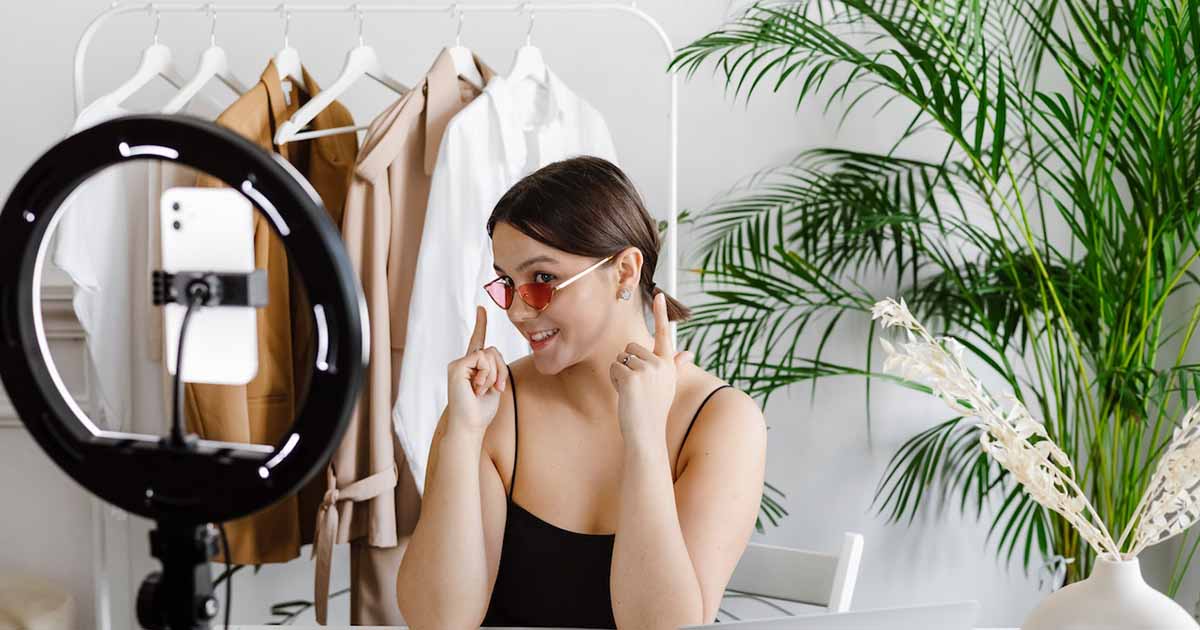 Video marketing is one of the latest trends in business strategy. As it progresses rapidly, 83% of businesses believe that adding videos to their advertising and marketing strategy gives them good ROI. Do you still have doubts? Why use video marketing for promoting your business? The answer is simple. Adding video to your promotion checklist is worth it. Not only because everyone is doing it but because the video is an excellent digital marketing tool. Here are eight reasons to convince you to start working on your video marketing efforts. 
1. Video Increases Conversions and Sales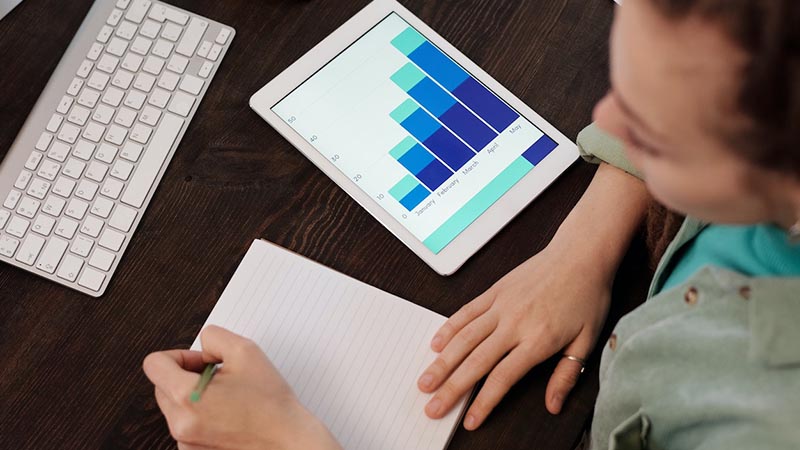 Videos are crucial to the online customer journey and can make you serious money. Consider adding a product video on your landing page and increase conversions by 80%. The percentage shows that people who watch your videos are more likely to purchase your product or service. Wyzowl's November 2022 survey shows that 89% of people say watching a video has convinced them to buy.
2. Video Builds Trust
Trust is the cornerstone of conversions and revenues. However, building trust should be the ultimate goal. The idea of content marketing relies on trust and creating long-term relationships. That's why video content is likely to engage and convince the audience.
YouTubers have become the most influential social media personality when discussing audience segmentation to help you promote your product or service. So, if you decide to invest in content marketing, you must also be serious about video marketing. 
Promotional videos can foster trust as well. Some consumers are still skeptical about buying online products and services because they fear fraud and cheating. But compelling marketing videos present your products in a conversational form.
Overall, video content is an effective way to build trust with your audience. It allows you to communicate authentically, transparently, and credible, create an emotional connection and establish consistency with your brand.
3. Video Ranks Better in Google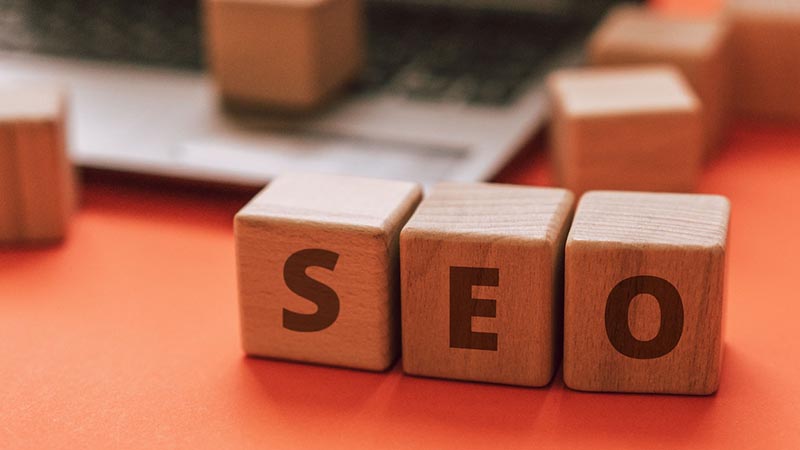 Video content can rank better on Google due to higher engagement rates, improved user experience, diversified content, social signals, and video SEO. You should create and optimize video content for a higher ranking in Google search results.
One of the factors of Google's algorithm for search rankings is "dwell time," or how long visitors stay on your website. This may also be called "long clicks vs. short clicks." If people spend a lot of time on your website, it must have quality content. A short, compelling video is a great way to capture viewers' attention.
4. Video Shows Higher Return on Investment (ROI)
Statistics show that 83% of companies believe video provides a good return on investment. Even though video production is yet to be the easiest task, it can generate more revenue. Plus, online video editing tools are constantly evolving and have become accessible. Even your smartphone can make decent videos already.
Another good news is that your videos can be imperfect. It's the content that matters! The latest research shows that users are mostly put off by videos that need to explain the product or service more. Low quality and poor design only matter a little. So the video is like pizza. Even if it tastes terrible, it still looks pretty good.
5. Video Marketing is Versatile
Video marketing is a versatile tool that can be used to achieve different marketing goals. Video can work well when launching a new product or service. More businesses using video marketing said they have an explainer video on their homepage.
You can create animated videos if you're trying to explain a difficult concept to your audience. Animation can bring ideas to life that no text or live video can. Besides, more than boring talking heads are needed to break through the clutter. Animated videos give a perfect mix of entertainment, education, and simplicity. And they work.
6. Mobile Users Love Videos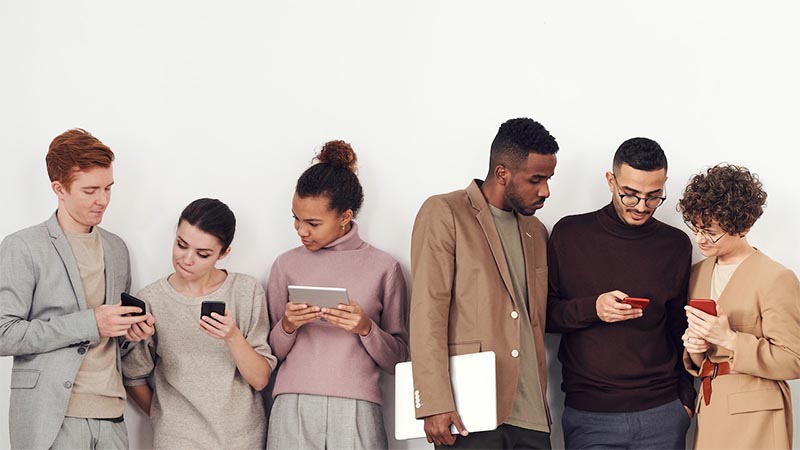 Video and mobile go hand in hand because people enjoy watching videos on the go. And as the number of smartphone users continues to increase, the video audience keeps getting bigger and bigger.
Google says smartphone users are twice as likely to watch videos as TV viewers. Likewise, mobile phones are more accessible than desktops, where viewers can easily connect to brands that show video content or ads.
The keyword here is convenience. Videos are easy to consume on mobile devices, requiring minimal effort, and can be viewed on the go. With the increasing number of mobile users, video content has become a popular and convenient way to consume information.
7. Video Marketing Captures a Wider Audience
Video content is an excellent tool for learning, but it's also super easy to consume. In today's fast-paced world, people don't have enough time to read long product descriptions or service manuals. The modern customer wants to see the product in action. This trend has become one of the most fundamental driving forces in video content marketing.
Video marketing can capture a broad target audience and works on many levels, even the laziest ones. Ensure you target not only the eyes but also the ears of the potential client. Your competitive advantage gets double power!
8. A video is an Effective Tool for Social Media Marketing.
Social media channels also encourage video content with their new features. Plus, YouTube is the second most popular social network in the world. Video content is more likely to be shared on social media than text or static images. This means that videos have the potential to reach a larger audience than other types of content.
Conclusion
Video advertising is becoming more and more affordable and widespread. It's an excellent way for marketers to reach people. It is easier than ever for businesses to create and share high-quality video content. We believe this article helped wipe out your doubts and answered the question, "why use video marketing."