Influencer Marketing Statistics To Boost Your Brand's Popularity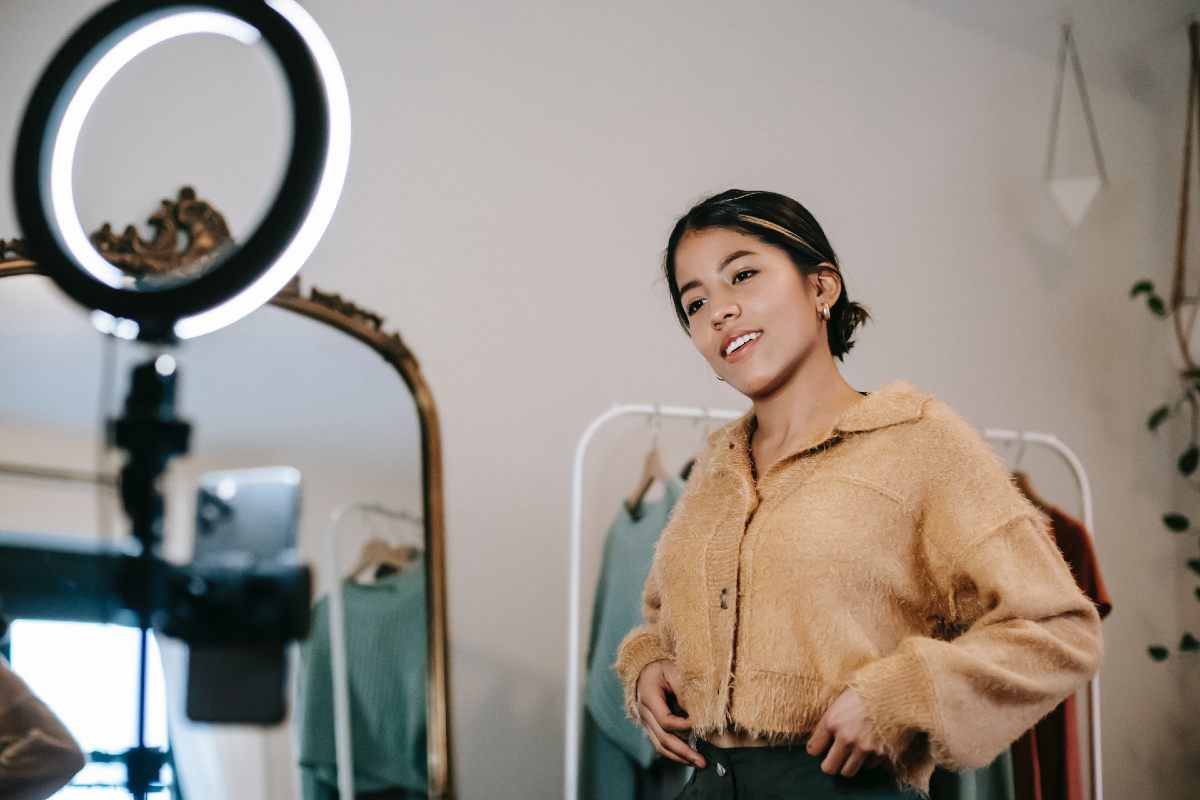 As social media influencers grow more prominent, businesses are on the lookout for influencers that would best represent their brands. In our digital generation, social media holds power in guiding the consumer's attention to your brand. According to Chief Marketer, 86% of respondents hire influencers to improve their brand awareness. Here are 80 influencer marketing statistics to help your brand.
Mega, Macro, Micro, Nano
Before we proceed to our influencer marketing statistics, let's define the influencer categories that have taken shape throughout the years:
Mega-Influencer
Amongst social media influencers, this type of category holds the top spot. Typically, mega-influencers have more than one million social media followers.
Follower Type: Diverse
Influencer Example: A-list or B-list celebrities
Macro-Influencer
The key identifier for macro-influencers is their follower count. Typically, their number of followers ranges from 100,000 to 1 million.
Follower Type: Targets specific demographics (young females, etc.)
Influencer Example: Vloggers, Internet Famous Users, Content Creators
Micro-Influencer
This influencer category has followers between 1,000 to 100,000 followers. On average, micro-influencers have a specific niche target. Compared to macro and mega, micro-influencers have a stronger relationship with their followers.
Follower Type: Uniform or same interest followers. (Vegan living, business moms, etc.)
Influencer Example: Topic specialist, industry expert
Nano-Influencer
Nano-influencers have 1000 followers or less. This category of influencers is considered a new breed. On a positive note, it generates the highest level of engagement. However, the downside of nano-influencers is the limited reach of audiences.
Follower Type: Community, local neighborhood
Influencer Example: Local pastor, Community leader, etc.
Influencer Marketing Statistics: Categories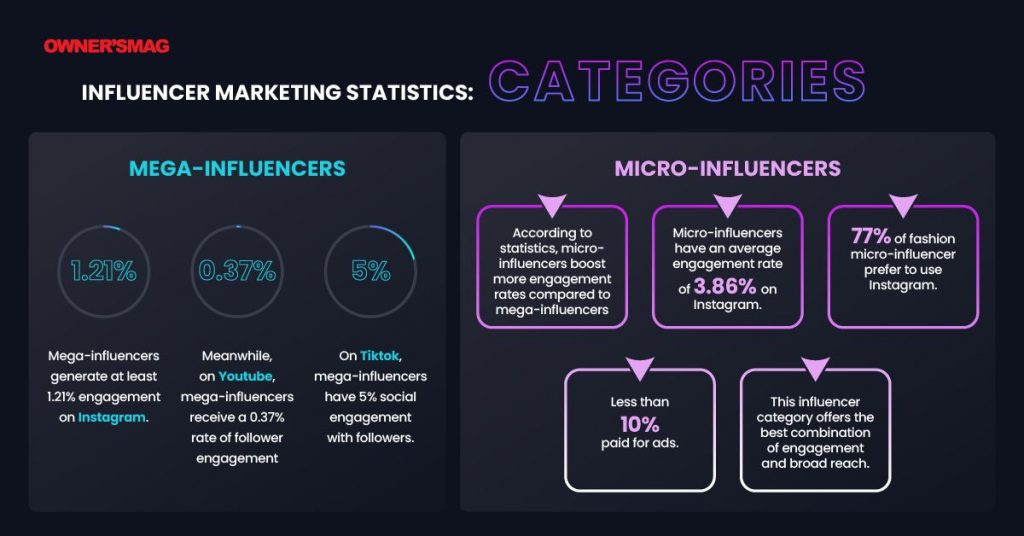 Now, we're aware of the different categories of social media influencers and their audience reach. It's time to dive into the essential statistics that will help your brand's decision:
Mega-Influencers
According to Influencer Marketing Hub's research:
Mega-influencers generate at least 1.21% engagement on Instagram.
Meanwhile, on Youtube, mega-influencers receive a 0.37% rate of follower engagement.
On TikTok, mega-influencers have 5% social engagement with followers.
Micro-Influencers
According to Influencer Marketing Hub's research:
According to statistics, micro-influencers boost more engagement rates compared to mega-influencers.
Micro-influencers have an average engagement rate of 3.86 percent on Instagram.
77% of fashion micro-influencer prefer to use Instagram.
Less than 10% paid for ads.
This influencer category offers the best combination of engagement and broad reach.
Meanwhile, according to other sources:
Compared to an average consumer, micro-influencers have at least 22.2x more conversations weekly about great purchase recommendations (The Keller Fay Group).
At least 53% of micro-influencer never paid for post-promotion (Bloglovin).
Influencer Marketing Statistics: Industry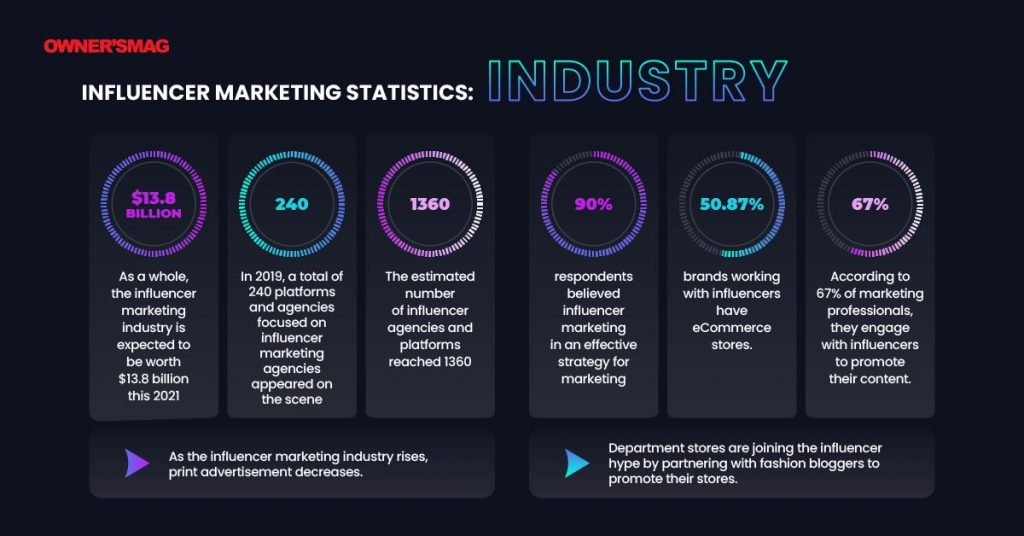 As the influencer marketing industry rises, print advertisement decreases.
As a whole, the influencer marketing industry is expected to be worth $13.8 billion this 2021 (Influencer Marketing Hub).
In 2019, a total of 240 platforms and agencies focused on influencer marketing agencies appeared on the scene (Influencer Marketing Hub).
The estimated number of influencer agencies and platforms reached 1360 (Influencer Marketing Hub).
90% of respondents believed influencer marketing is an effective strategy for marketing (Influencer Marketing Hub).
50.87% of brands working with influencers have eCommerce stores.
Department stores are joining the influencer hype by partnering with fashion bloggers to promote their stores.
According to 67% of marketing professionals, they engage with influencers to promote their content.
Influencer's Opinions
According to 69.4% of influencers, they chose this type of job to earn revenue.
Meanwhile, 54% of influencers are willing to work with a brand that respects them.
In choosing which brand to partner with, content creators admit they determine which opportunities to choose depending on their audiences. Although earning revenue is essential, influencers value and curate what they show to their audiences.
ROI, Conversion, and Sales
Surprisingly, 33% of brands don't measure their influencer marketing ROI (Influencer Marketing Hub).
On the other hand, 67% measures the ROI from their influencer campaigns.
38.5% of brands based their influencer marketing success on sales and conversion.
Meanwhile, 32.5% of brands measure influencer success based on engagement and clicks.
For every $1 spent on influencers, businesses gain $5.20.
Most marketing professionals (75%) say verified web traffic is the essential criteria in choosing an influencer.
According to 89% of respondents, the ROI from influencer marketing is better than other strategies (MediaKix).
For some brands, working with influencers is not always smooth sailing. Here are some common problems brands always point out:
Measuring ROI and campaign results pose a problem.
Managing deadlines for campaigns and contracts have significant challenges.
Some payments to influencers encounter processing difficulty.
Other issues involve time restraints or bandwidth.
Influencer Marketing Risks
38% of brands claim to be a victim of influencer fraud (Influencer Marketing Hub).
Meanwhile, as influencer marketing's popularity increases, 67% of brands are concerned about influencer fraud (Influencer Marketing Hub).
Influencer Marketing Statistics: Budget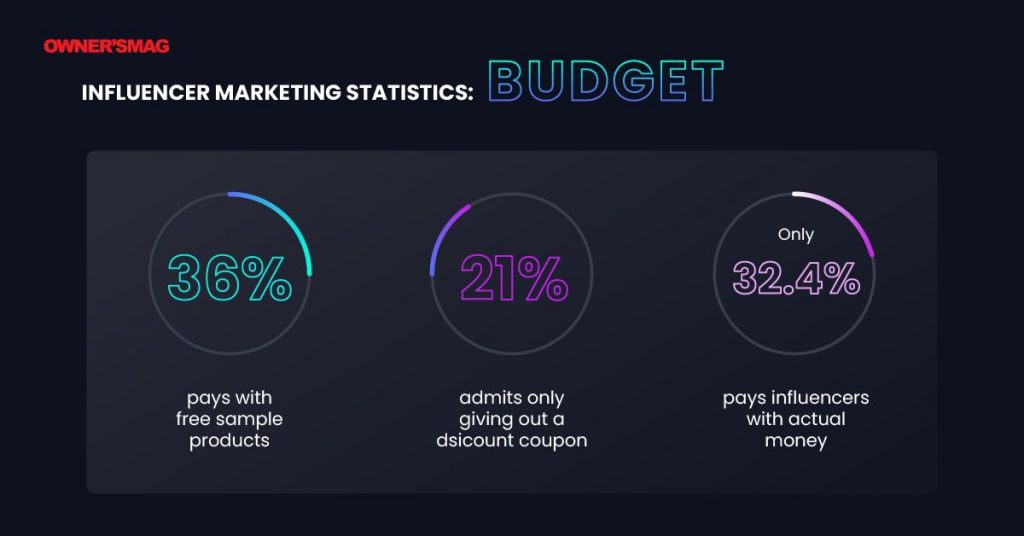 Despite the growing popularity of social media influencer marketing, some brands do not pay actual money. Here are different mode of payments by brands to influencers:
36% pays with free sample products
21% admits only giving out a discount coupon
Only 32.4% pays influencers with actual money
Brand's Budget for Influencer Marketing
This 2021, 75% of brands intend to dedicate a budget to influencer marketing (HubSpot).
As influencer marketing's popularity rises, 83% of brands decided to take their influencer spending budget from their marketing budget (Influencer Marketing Hub).
In the following year, 63% of brands intend to increase their influencer marketing funds.
17% of brands are prepared to spend $500,000 or more on influencer marketing (Mediakix).
Influencer Marketing Statistics: Social Media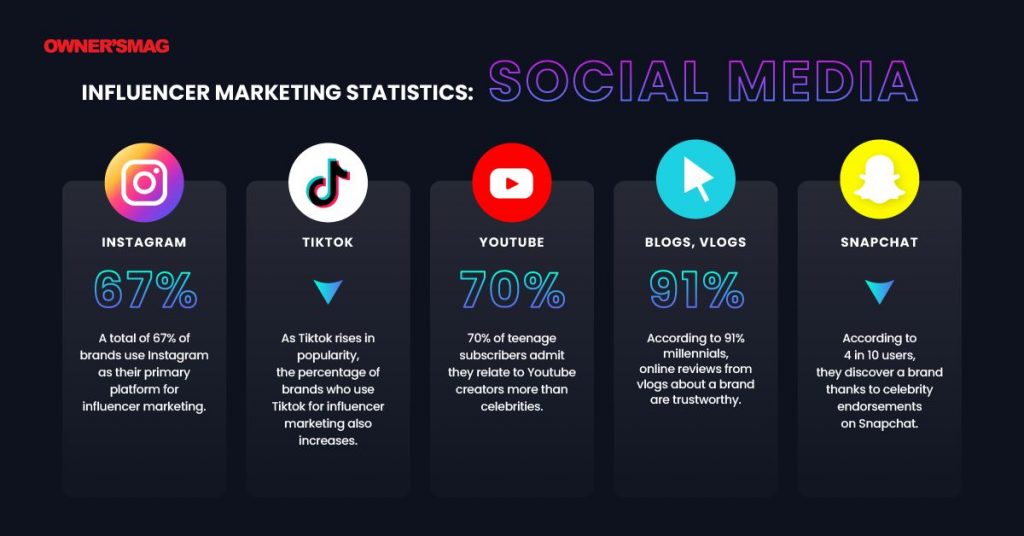 Currently, a total of 42.7% of internet users installed ad blockers on devices. Most people hate ads as it tends to interrupt what they're reading or watching, hence ad blocker use. This is a massive disadvantage for marketers as their content is blocked by at least half of the online population.
It is one of the reasons why influencer marketing is growing in popularity. For successful influencer marketing, it's vital to generate an organic engagement that does not look like ads. Besides, more than half of the younger generation uses social media as soon as they wake up each day.
Internet users mostly encounter the content their favorite influencer posted rather than an ad. The best part? Consumers pay attention to the influencer's content rather than a paid advertisement.
Instagram
A total of 67% of brands use Instagram as their primary platform for influencer marketing. It's understandable as the platform has more than 1 billion active monthly users. Also, Instagram stories became a vital tool for the success of influencer marketing. This platform gives a considerable advantage and high engagement to aesthetic fashion brands and accessories.
TikTok
As TikTok rises in popularity, the percentage of brands who use TikTok for influencer marketing also increases.
Youtube
As the world's second most visited platform, successful content creators on YouTube can earn millions from their videos. 70% of teenage subscribers admit they relate to Youtube creators more than celebrities. Meanwhile, 6 in 10 YouTube subscribers would follow purchase advice and trust reviews from their favorite content creator rather than a TV personality.
Twitter
According to 40% of Twitter users, a Tweet from an influencer resulted in their purchase.
Blogs, Vlogs
According to 91% of millennials, online reviews from blogs or vlogs about a brand are trustworthy. After reading a positive review, 50% of consumers will likely take some action. In most cases, positive reviews encourage a purchase. Also, according to 98% of buyers, software reviews from blogs or vlogs influence their purchase.
Other than that, most bloggers (68%) prefer to work with a brand instead of a network or agency.
Snapchat
According to 4 in 10 users, they discover a brand thanks to celebrity endorsements on Snapchat.
Campaigns
2020 marked the increase of influencer-related marketing campaigns. This significant growth is a result of the initial impact of COVID-19.
Across different campaigns, it turns out 56% of brands use the same influencers.
67% of brands prefer a campaign-based relationship with influencer marketing.
Meanwhile, 80% of brands admit to increasing their production of content.
Searching for Relevant Influencers
For brands that run in-house ad campaigns, 34% of respondents admit that finding influencers is challenging.
61% of brands admit searching for relevant influencers is complicated and difficult (Mediakix).
Conclusion
In the end, influencer marketing is indeed a powerful strategy for niche-specific brands. If you want to reach a more comprehensive set of audiences, you should consider searching for an influencer relevant to your brand.
Sony Stocks Plummet After Microsoft-Activision Deal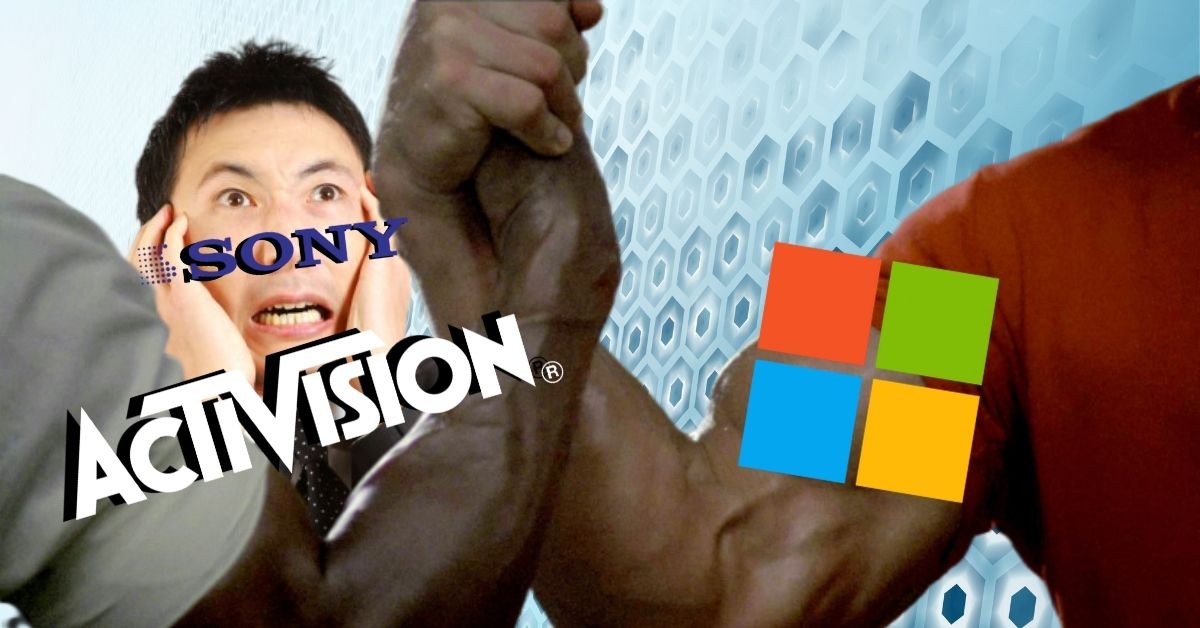 Sony shares fell by more than after a Microsoft-Activision deal was announced. 
"There is no doubt that this deal weakens Sony's position in the market."
"Whether or not Activison Blizzard's content is progressively made exclusive to Xbox platforms and services, inclusion of new releases into Xbox Game Pass for several major games franchises, including Call of Duty, will undermine Sony's third-party business." 
Piers Harding-Rolls, games research director at Ampere Analysis, explains the situation.
"Sony has benefitted from the ability to negotiate timed exclusive content for Call of Duty but this is now under threat." 
Shots fired in the never-ending console war.
Did The Market Overreact?
Serkan Toto, CEO of Kantan Games, thinks so:
"I think the market has totally overreacted in Japan today."
See?
"Sony will continue to push out blockbusters, there can be no doubt about that."
Those PlayStation exclusives are pretty sweet. Spider-Man, The Last Of Us, Ghost of Tsushima? Come on now.
"Sony can, of course, fight back: they still have their own top in-house studios spread around the world, PlayStation remains a powerful brand in gaming, and acquisitions are in the cards for Sony as well." 
PlayStation isn't going down without a fight.
The Console Wars Continue
For some time, Sony has been ahead of Microsoft. But the $68.7 billion Microsoft-Activision deal raises the stakes the highest they've been since the Black Friday Battle of 2013. Franchises like Call of Duty and World of Warcraft could become exclusive.
How will Sony respond? We shall see what happens next in the seemingly never-ending console wars.
Silicon Valley Blue-Collar Workers Hope To Return To Their Posts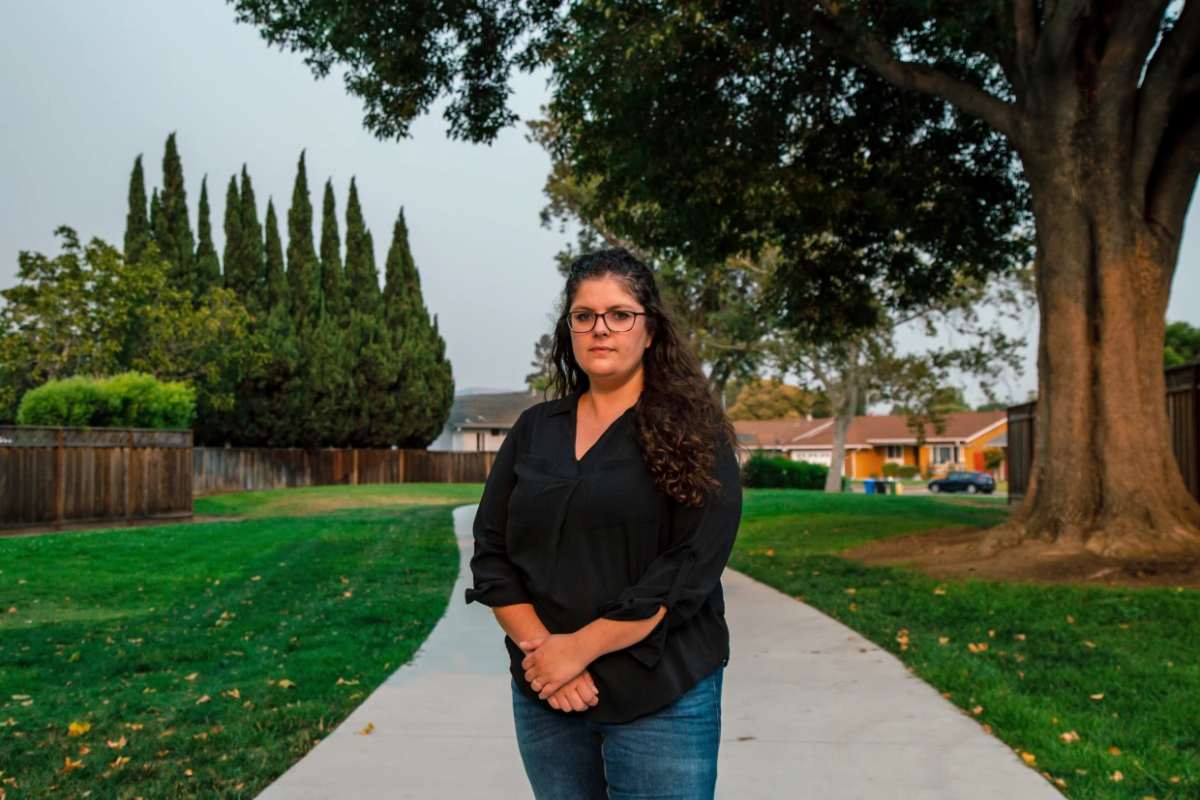 While big tech companies are delaying return to offices, Silicon Valley Blue-Collar workers anticipate full return in the coming months. 
Despite the economic disruption experienced due to the COVID-19 outbreak, businesses tried their best to ensure business continuity. Big tech companies were the first to allow their white-collar employees to work from home when the pandemic hit. However, not everyone can work remotely, like in the case of service workers.
Madeleine Rivera, 33, is a contractual food service worker at Google's campus. Rivera is holding on to the slightest signs that workers will return to the company in the future. Recently, she handed out free peach ice pops to Google employees who have returned to work already. She's trying not to overthink about the rising COVID cases in the country. According to her, being optimistic and happy matters.
As the Delta variant enters a new troubling phase, more tech companies like Lyft and Facebook delay re-opening their workplaces early next year. Because of this, the companies' contracted cafeteria workers, cleaners, and shuttle drivers are becoming more anxious.
Most Silicon Valley blue-collar workers are not sure whether the Delta variant will delay their returns even longer or, worse, risk their jobs entirely if in-office work becomes less significant than it was before. As many white-collar employees have settled into work from home, blue-collar workers are struggling even more because of the unpredictable situation.
"My kids don't want me to go back to work, but I said I have to do it," said Liliana Morales, 37, a food service staff at Facebook. Morales recently returned to work after having been on paid vacation since the pandemic started. Everyone needs to go back to their everyday routines, and it has been months that she has been out of work, Morales said.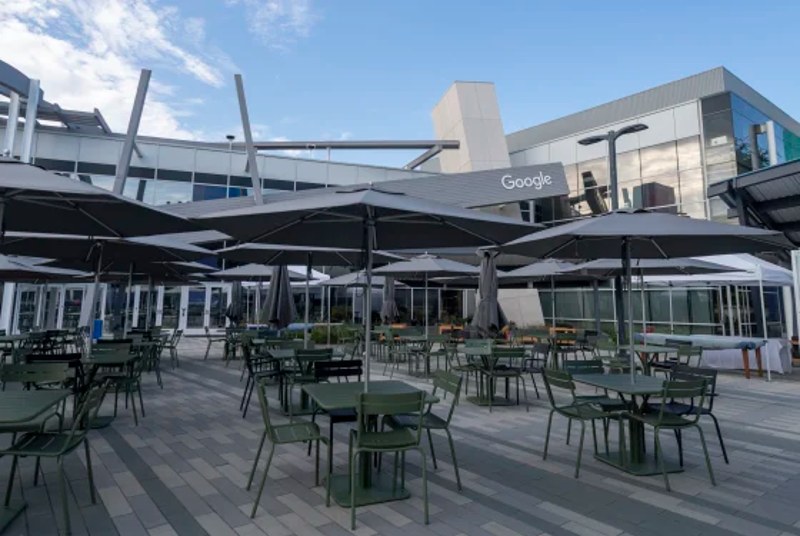 Country-wide Concerns
While some Silicon Valley blue-collar workers are in better condition, they still have the same concerns as many fellow workers across the country. UCLA Labor Center director, Kent Wong, co-authored a book about the late Mike Garcia, a janitorial labor organizer who led strikes at Oracle and Apple. Wong said that because Morales and Rivera are members of a labor union, they are likely to be doing better than their non-union member counterparts. 
Previously, on a website Amazon created this year to convince workers in Alabama to vote against unionization, the company announced that they provided them with excellent hourly rates, attractive healthcare benefits, and career advancement. There is so much more than the workers can do with their career and family without paying premiums, Amazon said. 
But Wong said all blue-collar workers face problems, whether or not they have union membership. The bottom line is, they are still very vulnerable.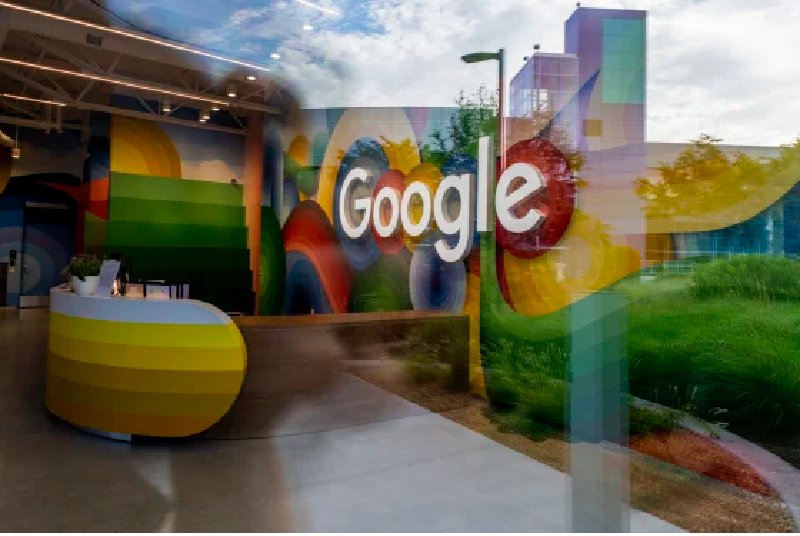 Looking Ahead
In interviews, Silicon Valley blue-collar workers said that big tech companies primarily supported them throughout the pandemic. Others said the companies tried to find them other jobs when their original work was gone. Take, for example, the experience of Rivera, a former kitchen staff across Google's campus in Mountain View, California. She was temporarily assigned to work as a receptionist in almost empty office buildings.
Some companies like Google are already starting to upgrade their headquarters. It's to return to a sense of normalcy in Santa Clara County, the geographic heart of Silicon Valley.
Facebook is starting to recall their contractors. On the other hand, drivers are being asked to do training and practice driving empty buses, said Stacy Murphy, the representative for Teamsters Local 853 – the union of some Silicon Valley bus and shuttle drivers. 
Morales said that whatever her company orders, they will abide by it. If they say return to work, they will return to work.
Murphy believed that it had been a mixed bag for Silicon Valley firms needing shuttle drivers. Facebook continues to let its drivers make practice trips. While, Netflix and Amazon have been back to 100% capacity since June 2021. Tesla even expanded their service during the pandemic. On the contrary, Apple, LinkedIn, Twitter, and Salesforce never returned. 
Elon Musk To Launch A Humanoid Robot Prototype Called "Tesla Bot"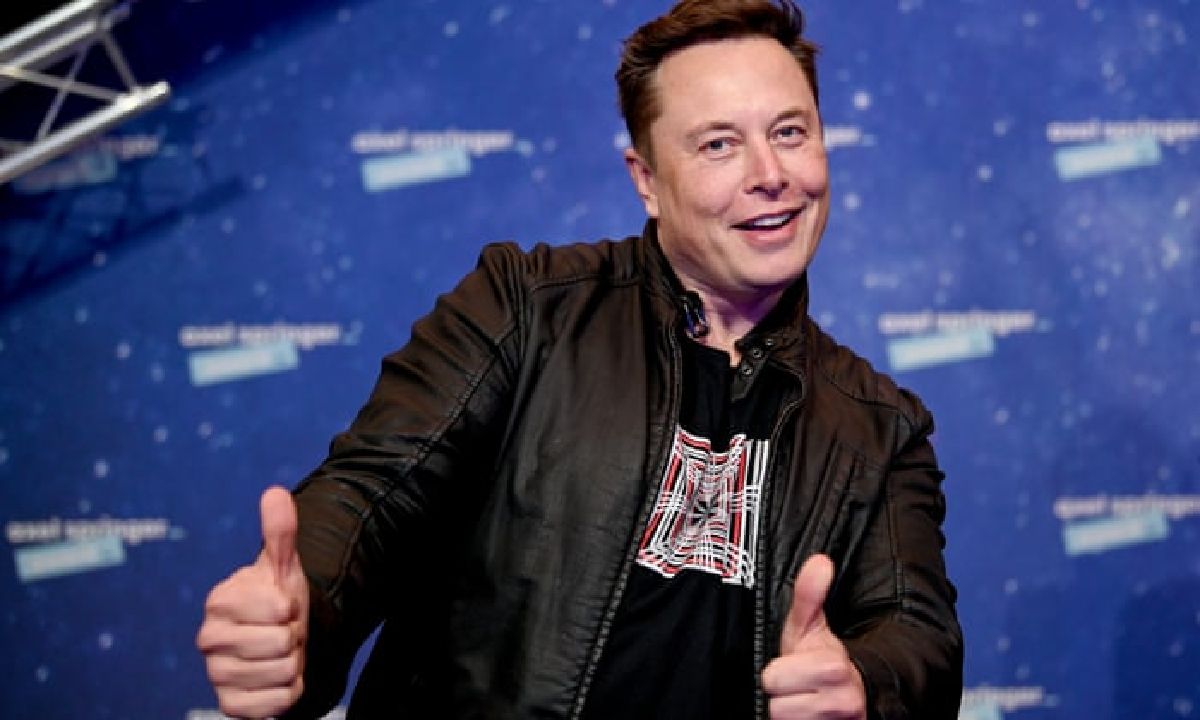 Apparently, Tesla is not busy creating electric cars and self-driving cars with enough waitlists for new customers. Or, anyone might be wondering where the Cybertruck is? CEO Elon Musk has announced a new baby: Tesla Bot. 
Elon Musk Tesla robot will probably be unveiled this year. It would be a humanoid robot dubbed as "Tesla Bot," designed to perform tedious, repetitious, and dangerous work, Musk said. 
The billionaire CEO of Tesla disclosed the robot would be about 5 feet 8 inches (1.7 meters) tall and weigh 125 pounds (56 kilograms). In addition, the robot would be able to handle tasks such as attaching bolts to cars using a spanner or picking groceries at the supermarket.
Elon Musk Tesla Robot First Appearance
Speaking at Tesla's AI Day activity, the CEO said the robot could have "great implications for the economy" by addressing the gaps in the workforce due to labor shortages. He said the new machine need not be that expensive. The Elon Musk Tesla robot is described as an extension of the company's work on self-driving cars. Similarly, the robot will use the same computer chip and navigation system with eight cameras.
Companies into robotics, such as Boston Dynamics, have produced bipedal robots. But the bulky, heavy machines they have demonstrated bear little similarity to the slim designs of the Elon Musk Tesla robot.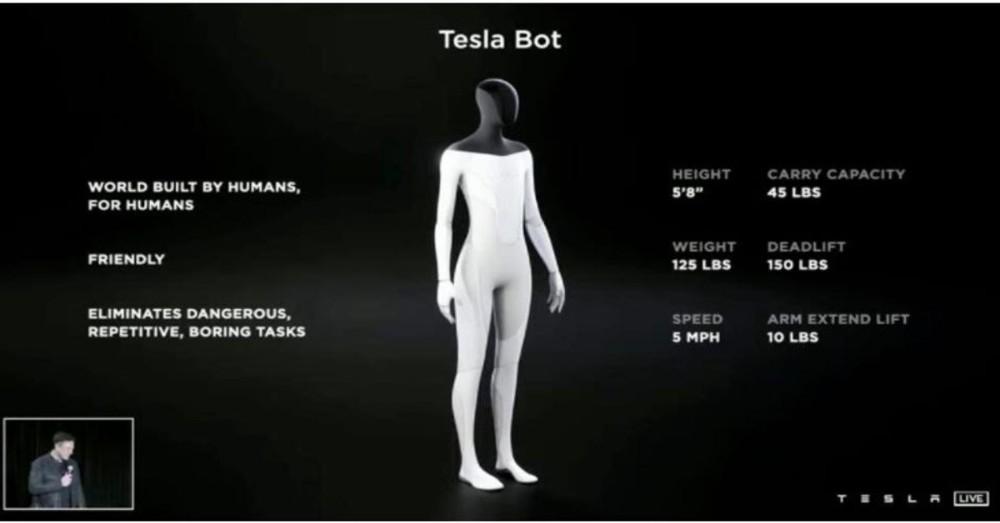 The robot's first appearance came after a 90-minute PowerPoint presentation about the artificial intelligence upgrades on Tesla's electric vehicles. The presentation also includes the Dojo supercomputer, a device that helps train cars to navigate city streets without a driver. That's when Musk said that it makes sense to have a humanoid robot.
Three slides showed Elon Musk Tesla robot specifications, and Musk pointed out that it is possible to outrun the Tesla Bot or overpower it. He has been questioning the use of robots as weapons in the past and warned about the risks artificial intelligence may cause. He also called it the most significant risk society is facing today.
Fears About AI in the Future
During the question and answer session after the presentation, Musk reiterated that we should be worried about AI. He clarified that Tesla makes useful AI that people love and is explicitly good. One slide showed that Tesla Bot would eliminate dangerous, repetitive, and monotonous tasks. Musk provided an example, suggesting that the Tesla robot could "go to the store and get groceries". It may not be dangerous, but people might find it repetitive and boring. However, Musk did not reveal the concrete progress of building a humanoid robot. 
Companies building robotics, such as former Google subsidiary Boston Dynamics, have produced bipedal robots. But the bulky and heavy machines they have demonstrated bear little resemblance to the slim designs of the Elon Musk Tesla robot.
Elon Musk is famous for his bold statements about the future, jamming a little on how he envisions his Tesla Bot transforming the future of work, too. He said that, in the future, physical work would still be a personal choice. He added that it is possible if you want to do it, but you won't need to do it. For him, it is difficult to predict the future. However, this is a vast difference between discussing a few PowerPoint slides and delivering the actual and functioning humanoid robot. Musk assured the public that a prototype would likely be available this year.