Here's How to Get a Career in Robotics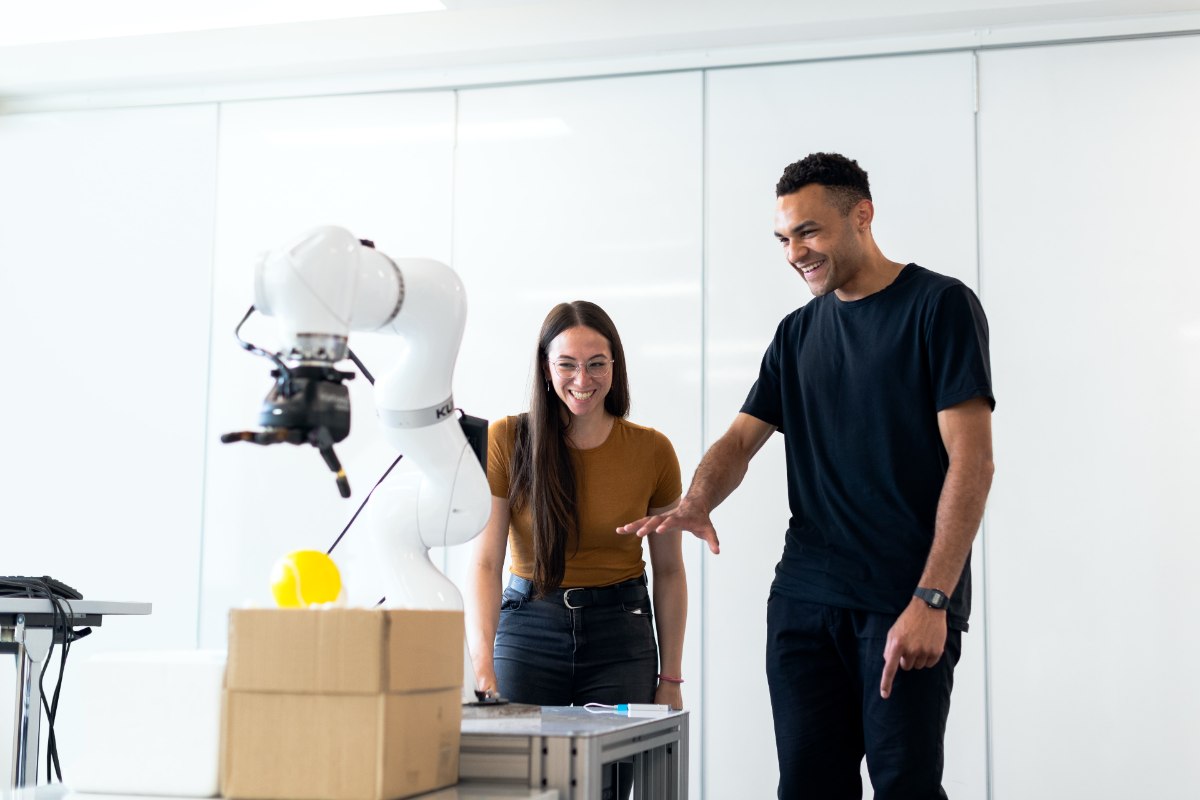 Robotics have been in demand since industries like healthcare and manufacturing have found it easier to perform tasks with robots. That said, these industries also have a need to hire robotics engineers. If you have any interest in the field of robotics, here's how to get a career in robotics.
What Degree Should You Finish to Become a Robotics Engineer?
One thing's for certain, you need to finish an engineering degree to start your robotics career. Some universities do offer robotics engineering as undergraduate courses or classes. In some instances, you can also sign up for boot camps to get more experience in robotics. However, you can still study robotics in these fields:
Mechanical
Electrical
Computer science
Mathematics
Industrial
Currently, being in robotics requires graduating in these fields. Robotics is a complex and technical field, and accomplishing degrees in these specializations can help you move forward in your career in robotics.
Getting a PhD in Robotics
If you're seeking to add a doctorate to your name, getting a PhD in Robotics is the same as getting PhDs in most fields. You'll need some experience working in the robotics industry. It's not required to have a Master's Degree to get the coveted PhD. However, it's a must that you have a high undergraduate GPA and a strong command of English (for most universities). Other universities MAY require you to have published prior research to become qualified as a PhD student.
What To Expect When Studying to Get a Doctorate in Robotics?
Although it's not required to get a PhD to get a career in robotics, having a PhD gives you a leg up among your peers. And if you want to pursue robotics and gain more knowledge and experience on the topic, here's what to expect when studying for a doctorate in robotics.
Coursework
There would be coursework in getting your PhD in robotics, no matter which university you'll apply to. In some cases, coursework blends with research work, allowing you to study and learn concepts for practical application.
For example, at Georgia Tech, you need 36 hours worth of coursework to complete. You will get introduced to robotics if you haven't yet, and some elective courses relating to robotics.
Laboratories
Hands-on work is necessary for a career in robotics. After all, you need to know the robot inside out and other technologies in operating the robot. For example, the Worcester Polytechnic Institute has different lab classes, with some focusing on healthcare, intelligence, and communications.
Thesis
If you want to get that PhD, a thesis is necessary to pass. You should have your thesis prepared and approved by instructors or professors before you push through with your thesis.
For example, if you were to enroll in the The Robotics Institute Carnegie Mellon University, you need to dedicate your time to finishing your thesis. They estimate you will spend around two to four semesters.
How Much Will I Spend on My PhD?
Well, for starters, PhDs are expensive. According to the Education Data Initiative, the average cost for a PhD (in most private universities) can go upward of $127,000. For robotics, that number can be even higher, but funding is available for some universities. The University of Michigan has guaranteed funding options for robotics students seeking to get their PhD in the field.
Robotics Careers
Here are some well-known careers in robotics to pursue:
Robotics engineer
Manufacturing engineer
Mechanical engineer
Electrical engineer
Aerospace engineer
Controls engineer
Applications engineer
Sales engineer
Software or hardware engineer
Computer scientist
Salary of Robotics Engineers
According to the World Scholarship Forum, if you want to become a robotics expert and have a career in it, expect that you will get paid at least $50,000.  Meanwhile, Recruiter says that a general robotics engineer could get up to $100,000++ a year.
A Future Without Passwords: A Forecast From Tech Experts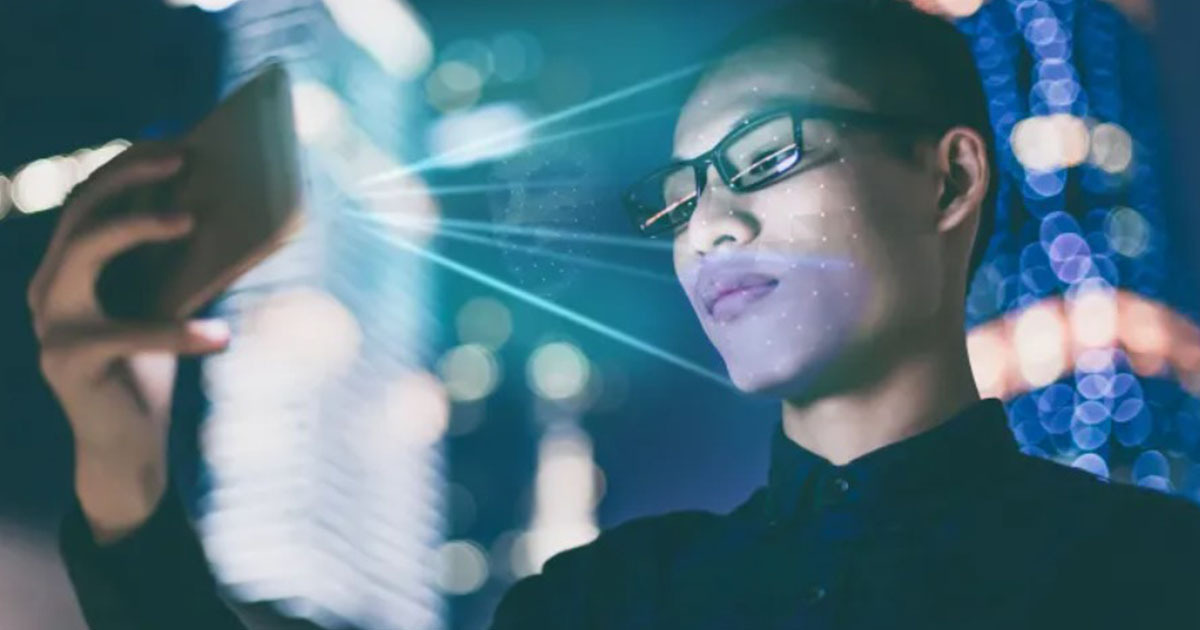 Creating many complicated passwords to deter cyber-criminals from a dozen online accounts can be burdensome. While managing it is quite a chore since the number of data breaches is alarming. It is exciting to dream about the future where nobody has to worry about online password management. It's a future that should require constant effort to change online passwords to avoid hackers and keep your data safe.
Here's the good news. The biggest names in technology say that the dream of a password-less internet is close to becoming a reality. Apple, Microsoft, and Google are among those trying to achieve it. You would still have to prove your identity to log in to your accounts in the future. But at least you wouldn't have to memorize endless strings of unique eight-character (or longer) passwords. The answer is still pretty complicated.
What Online Password Management Method Already Exists?
Removing passwords from your cybersecurity equation disregards what former Secretary of Homeland Security Michael Chertoff has called "the weakest link in cybersecurity." According to Verizon, over 80% of data breaches were due to weak or compromised passwords.
Online Password Management: Microsoft
In September 2021, Microsoft announced that its users could go entirely password-less to access their Windows, Microsoft 365, and Xbox services. Instead, users can use options like the Windows Hello or Microsoft Authenticator apps, which allow fingerprints or facial recognition tools to log in securely.
In addition, Microsoft allows users to log in using a verification code sent to their phone or email. Physically, you can also do it via a security key —similar to a USB drive — that plugs into your computer and features encryption unique to you and your device.
"In recent years, tools like two-factor authentication have helped improve users' account security.But hackers can still find ways to violate those security measures. As long as passwords are still part of the equation, they are vulnerable. "- Joy Chik, Microsoft's Vice President of Identity.
Google
In addition, Google sells physical security keys, and its Smart Lock app enables you to tap a button on your Android or iOS device to log into your Google account on the web. In May 2021, the firm announced these tools were part of Google's projects to create a future where you won't need a password.
Likewise, Apple's devices have been using Touch ID and Face ID features for several years. The tech firm is also developing its Passkeys feature to allow you to use those same fingerprints or facial recognition tools to create password-less logins for apps and accounts on your iOS devices.
So, in a way, password-less online password management is slowly becoming a reality. Microsoft says "nearly 100%" of its employees use password-less options to log into their corporate accounts. But getting every company to offer password-less options to employees and customers will surely take some time. It might be a long journey before everyone feels secure enough to dump passwords in favor of something new.
How Secure Are They?
Removing passwords altogether is not totally safe. First, verification codes sent via email or text messages can be intercepted by hackers. Hackers have shown the ability to trick fingerprint and facial recognition systems, sometimes by stealing your biometric data. And it's much harder to change your face or fingerprints.
Second, some of today's password-less options still ask you to create a PIN or security questions to back up your account. That's not much different from having a password. In short, tech companies haven't yet perfected the technology.
And lastly, there's an issue of widespread adoption. As Wired said last year, most password-less features require you to own a smartphone or some other type of relatively new device. And while the great majority of Americans do own a smartphone, those devices range dramatically in terms of age and internal hardware.
Also, tech companies still need to make online accounts accessible across several platforms, not just on smartphones. The same goes for the people who don't own smartphones, which is approximately 15% of the US population.
So, it will likely still be some time before enjoying hassle-free online password management. For now, continue typing and remembering your long, complex strings of characters into login boxes.
And for other tech news, read more here!
The 8 Sexiest SaaS Companies of 2022 (So Far…)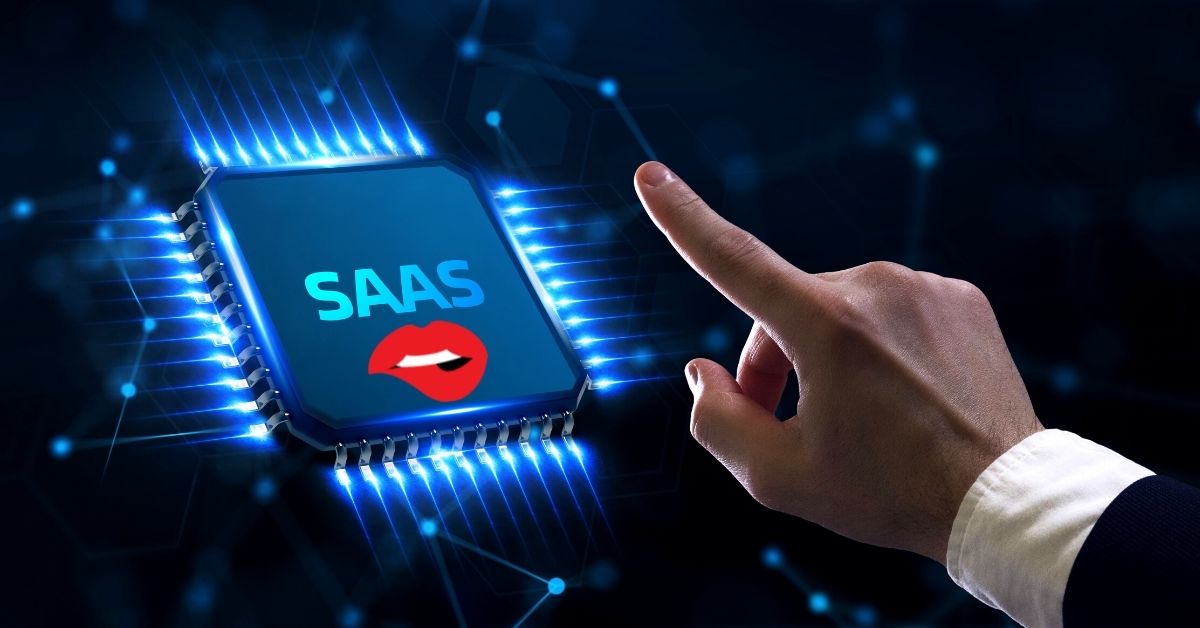 Did someone say, Sexy as a Service? No? Too bad. Because here at Owners' Magazine, we think SaaS are some of the sexiest services out there right now. The deeper society dives into the online world, the hotter SaaS gets. You can think of SaaS as a new kind of infrastructure, like roads and power, but on the internet.
Companies that are developing their own SaaS technology are building our future one digital brick at a time. To celebrate some of these companies, here is our list of the 8 Sexiest SaaS Companies of 2022.
So far… 😉
Nothing is sexier than quality VPN. This VPN service was founded in 2016 by the Swiss company Proton Technologies (the company behind ProtonMail). They tout a heightened focus on security, a free, no-ad version of their VPN, and a much faster speed as differentiators. In a September 2019 TechRadar review:
"ProtonVPN's network is small, and we had some performance issues during testing. Still, speeds are generally better than average, the apps are well-designed and we have to applaud any genuine VPN which offers a free, unlimited bandwidth plan."
ProtonVPN currently has 1,529 servers in 61 countries. They are available for Windows, MacOS, Android, and iOS.
You know what's not sexy? Not having all of your social media links in one place. Thanks to Linktree, that's no longer an annoyance. This freemium social media reference landing page was inspired by that very annoyance. It was reportedly created in six hours and had 3,000 users overnight.
In 2019, Linktree was included on CNBC's 'Upstart 100' list of "brightest, most intriguing, young startups promising to become the great companies of tomorrow."
You ever have a sexy tshirt idea but don't know where you can get it printed? Worry no more. Printify, founded in 2015, is a freemium printing platform for artists, entrepreneurs, and more who need to produce their designs on any material – apparel, wall art, home decor, accessories, tshirts, even tablecloths.
Tablecloths? That's ridiculous. Sign me up.
Sexy as it is, traveling is a real pain in the ass, no? Tripactions is a software-based solution to those ever-so-troublesome travel management issues. It's a cloud-based, one-stop-shop for business travel that allows companies to book hotels, flights, and accommodations with zero hassle.
Book trips, file receipts, modify reservations, track travel itineraries, chat with travel support agents, and reconcile expenses. Only thing that's missing is a selfie for the haters.
The feeling of designing the perfect design is one of the sexiest feelings out there. Shapr3D is a modeling app for iPad Pro that's way hotter than the competition. It's a free app – all modeling tools are included within the app itself. It's perfect for engineers, industrial designers, jewelry makers, 3D hobbyists, architects, and doodlers regardless of their experience in design.
The Computer-aided design (CAD) industry is expected to blow up in the next few years. So, might want to hop on the Shapr3D train.
If you want your work team to be at their sexiest, you might want to get ahold of Lokalise. This cloud-based localization and translation management system was designed primarily "for tech-driven teams managing iOS, Android apps, web, games, IoT or digital content, and software in general."
Lokalise is recognized for its "web-based collaborative editor, cross-platform projects and localization options, and plugins." This hot little app streamlines the translation and localization process and collaboration among developers, designers, translators, and project managers.
Zoom may be overdoing it, but Hopin is making video teleconferencing sexy again. Hopin has hosted over 80K events, working with organizers like United Nations, NATO, and Unilever.
There are customizable rooms and user experiences. That means that hosts can create a number of creative programming. You can hop from room to room like one would at a live exposition.
Not only that, but hosts will have access to a full suite of analytics to understand which events worked and which did not.
You can't get much sexier than some serious security, right? Recorded Future is an intelligence platform designed to provide active recommendations around security. They specialize in the collection, processing, analysis, and dissemination of threat intelligence.
By using their special patented machine learning and natural language processing methods to continuously collect and organize data from open web, dark web, and technical sources. These are the security kids you want on your side.
What do you think are the sexiest SaaS companies of 2022? Is there anyone we didn't include that you think you should have? Comment below and tell who you think should be included in our list of the Sexiest SaaS Companies of 2022.
Understanding the Concept and Future of Web3 Domains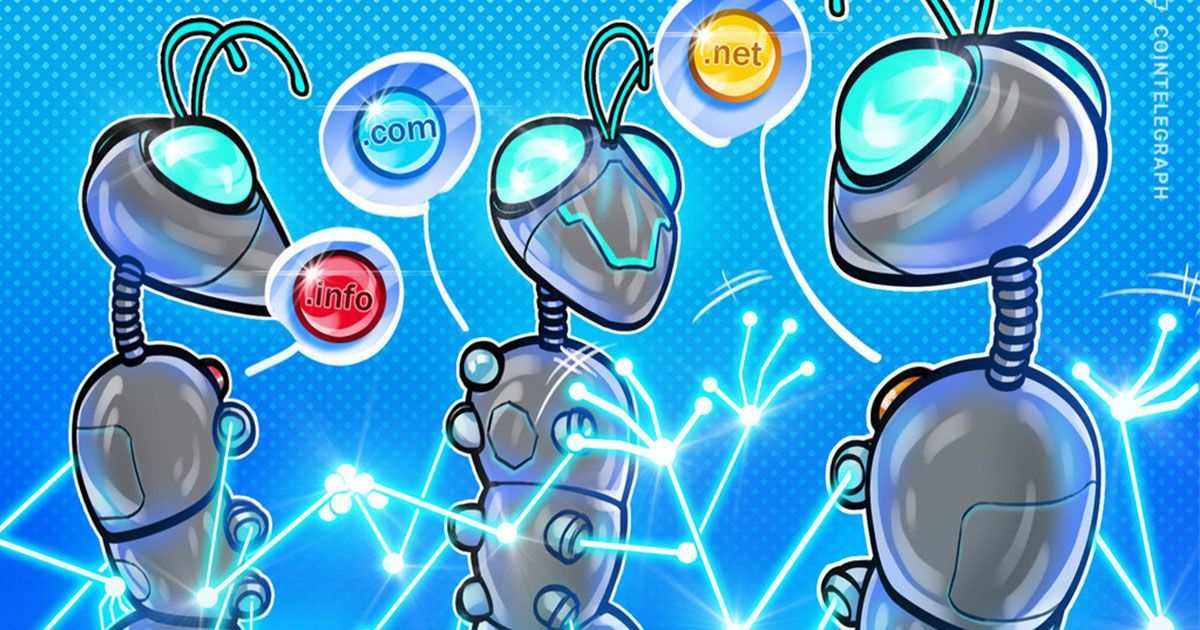 What are Web3 domains? How is it different from DNS? Web3 domain name systems are unconnected from traditional domain name systems (DNS) like ownersmag.com or penji.co. Instead of providing a human-readable set of characters as a substitute for an IP address, a Web3 domain is a human-readable address that represents your cryptocurrency wallet.
What are Web3 domains?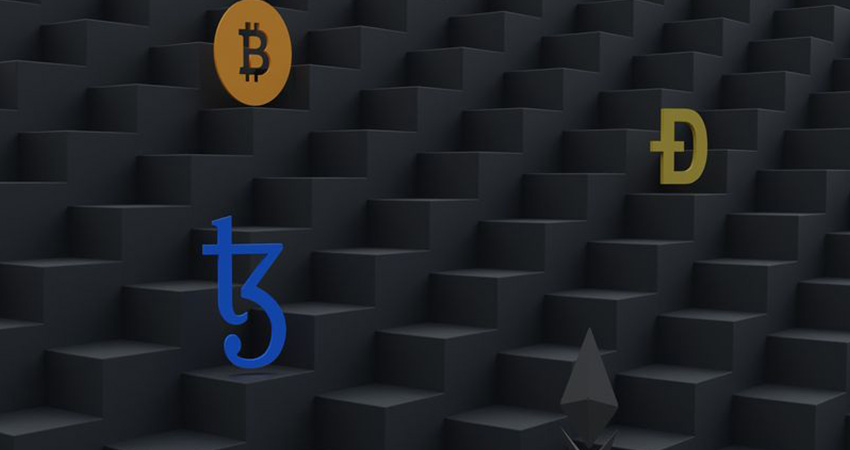 Web3 domains differ from standard DNS addresses. Since DNS is like a telephone directory, it only indexes public websites, and their accompanying internet protocol (IP) addresses to enable the directory. 
Thenewslack.crypto is the effect of a 42-character hex string. In Web3 blockchain domain names, a person can remember a shorter phrase. Web3 is the next generation of the web's legal, technical and monetary architecture. It includes smart contracts, blockchain, and cryptocurrencies. In addition, Web3 projects fall into several categories like digital services, decentralized finance or Defi, and collectibles.
These Web3 domain names are non-fungible tokens (NFTs) that may be traded on platforms like Solsea or OpenSea. Further, Web3 domains have Web3 domain extensions like .crypto, .dao and .eth.
The power of a Web3 domain name is straightforward. For example, "Send the salary to bob.eth," instead of saying some hard-to-remember 42-character crypto wallet address, is easier for the sender to remember.
What is an ENS?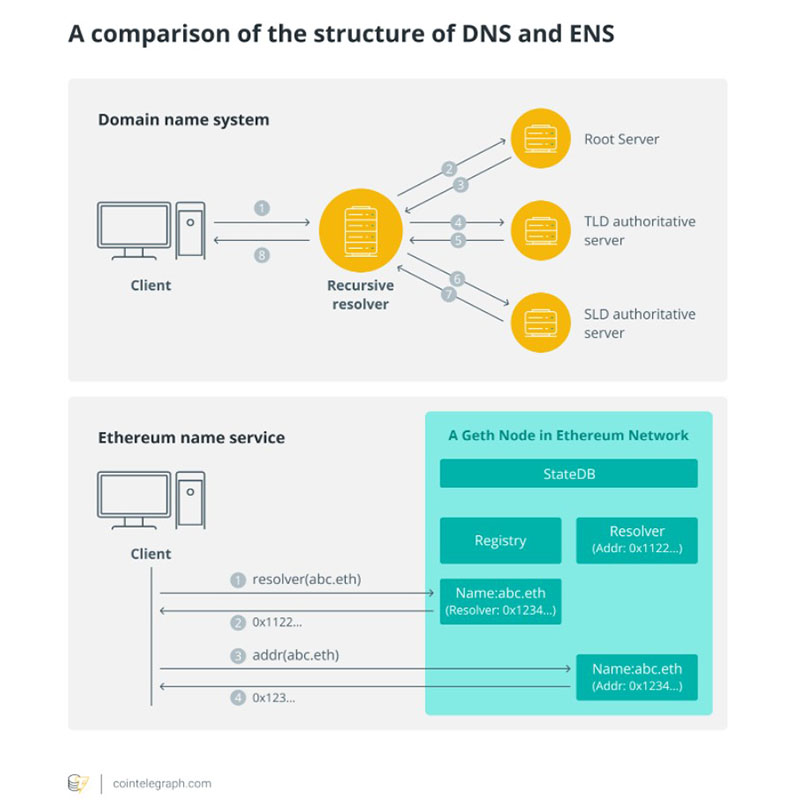 The primary function of the Ethereum name service (ENS) is to convert machine-readable descriptors such as Ethereum addresses to human-readable identifiers. The web started as a decentralized system based on DNS. With DNS, nobody can buy, own and manage their domain name and move it from one host to another as needed, But how does a decentralized Web3 name service work?
The community has been very much interested in ENS. The Ethereum Name Service is a Web3 blockchain system that helps users establish their own unique and easy-to-remember usernames. So, ENS intends to provide a complementary solution to DNS by utilizing Ethereum smart contracts to govern domain name registration and resolution.
A user can provide a single name to all of your wallet addresses and decentralized websites (DWebs) through the service. "alex.eth," for example, makes you recognize and quickly locate wallet addresses in a distributed environment. 
Here's a comparison of DNS and ENS structures as illustrated by the Cointelegraph.
What Are The Uses of .eth Domain Names?
A long set of numbers can be converted into easy-to-remember words using ENS. This provides a more direct experience with fewer chances for mistakes or confusion. The owner of an ENS domain can also construct subdomains to which they can allocate other data. But, it doesn't have to be a wallet address all of the time. Instead, it could point to a smart contract, metadata, or a transaction.
The ENS.eth domain names are in the middle of two highly impressive markets: traditional domain name investors and blockchain entrepreneurs. Sadly, only a few hundred thousand blockchain domain names have been registered even though millions of blockchain users worldwide.
There is an increasing demand for domains as blockchain users have learned that choosing a blockchain domain name makes using their applications easier. You can also rent out your blockchain domains to create brand value on your property while leaving your options open, just like conventional domains.
How To Register a .Eth ENS Domain?
If you are a crypto enthusiast and interested to learn how to get a Web3 domain name, below are the steps to register:
Sign into an Ethereum-enabled browser
Navigate to the ENS manager to get your desired .eth name
Select the time interval and start the registration method
Finish the registration process
The Future of Web3 Domain Names
Now that you've found the answer to the question "what are Web3 domains?" you might be curious about the future of Web3. The Ethereum Name Service hopes to make cryptocurrency transactions hassle-free and accessible, similar to how PayPal can be conveniently used to pay a friend for an item in crypto.
ENS is a step closer to making blockchain interaction more accessible. But due to its purpose and growing popularity, we may see an increase in ENS names, just as we no longer use IP addresses to access the web.
Additionally, businesses will become more transparent and user-friendly due to Web3 hostings. It opens the opportunity for blockchain, and soon, individuals, apps, and websites will use blockchain-based domains to allow individuals to access the decentralized web.