The Future of Good Posture: UpRight Go Review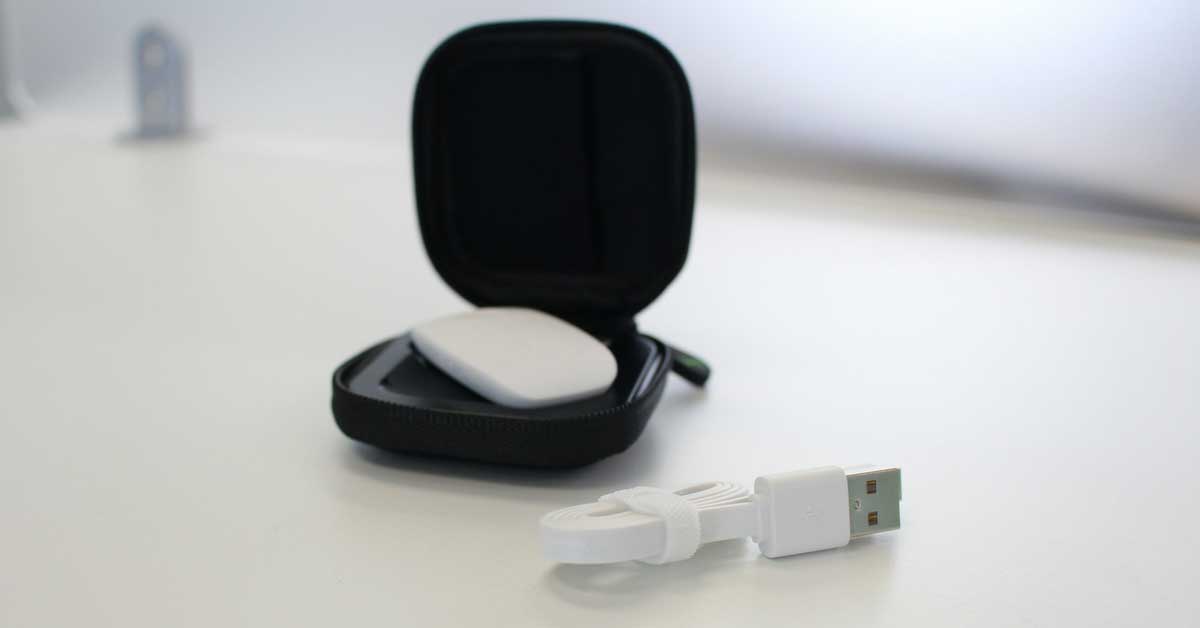 Presentation is everything. Our overall persona can be damaged by a simple mess up in bad posture. The new wearable technology device, Upright Posture Trainer is designed to correct your posture. To function properly, the Upright wearable is put discreetly on the skin of your back and under your clothes. The moment you slouch, the device lightly vibrates to condition you away from the bad habit. From an UpRight Go review, the only escape from the irritable vibration is to maintain an upright posture.
The device is about 4.25' long, 1.5' wide, and 1' thick. The product is of silicone rubber material and can be used up to 10 days a single charge. Upright is also connected to your iOS or Android smartphone app, with individual training plan for gradual change.
The wearable device is ultimately inspired by BF Skinner's operant conditioning theory, in the belief that behavior can be changed through sequences of actions and consequences. From an UpRight Go review, the strict reinforcements in Upright's gentle vibration delivers a cue to help you remember to sit up.
Barbara Corcoran is best recognized as a Shark tank investor and businesswoman. She has met a lot of Entrepreneurs and can explain what specifically turns her off. "There's some basic things that I think mothers use to teach. I'm not sure who's teaching them anymore. You've got to have good posture. Underestimated. When I see someone walk on the "Shark Tank" set and they're hunched over, I interpret that, rightly or wrongly, that they lack confidence". In being an advocate for the perfect first impression, Barbara explains the significance of good posture. "Good posture. First impression. Looking someone straight in the eye. Creates trust. Some politicians are very practiced at looking someone in the eye, and yet they still can't be trusted. But if someone's not looking you in the eye, believe me, you're not trusting them. You don't even sometimes even register, it's just an intuitive thing. "Hm, I wonder what this guy or gal is up to?"
Entrepreneurs are hard workers by nature but fail to neglect the simple cues to making a good first impression. Subconsciously, our looks do make a factor in the workplace. A strong image of a leader influences confidence in the workplace. Good posture defined by Harvard Health is to keep your chin paralleled to the floor, with your shoulders even, spine neutral, in natural position, and arms at your sides with straight, even elbows. Hips are also enforced to be even, creating it very difficult to obtain proper posture. Seeing that it's more comfortable to slouch, many fall into the category of health damage, poor physical outlook, and more. Upright posture is capable of gradually fixing the habit of slouching.
How you pick to represent yourself will ultimately reflect on people's opinions of you after, whether or not it's true or false. There are two more benefits on maintaining a good posture:
Increased Productivity
Approximately more than 13% of startup entrepreneurs fail to produce decent work due to common postural distortion patterns. The cause of poor posture results in blood vessel and nerve constriction, back pain and discomfort, and ongoing problems with your muscles, discs, and joints. The effects forces entrepreneurs to lose a minimum of 6 hours a week from work. The most common symptoms experienced are headaches, back pain, and a loss in concentration. Lost productive time from common pain conditions result in an estimated loss of $61.2 billion per year. 76.6% of the lost productive time was justified by the pain. By maintaining proper posture, this can all be avoided.
Influence Motivation
To look good is to feel good. Confidence is grown heavily when in good health. As Barbara Corcoran explained, when someone is hunched over, the immediate assumption is that they lack confidence. When your nonverbal cues are executed confidently, you look more trustworthy. Confidence is the ultimate motivation.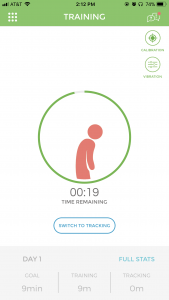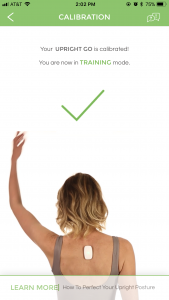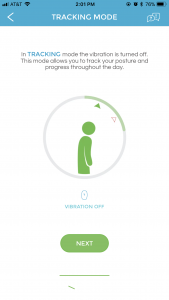 Product Review
Overall, the product was a joy to try. Set up was relatively easy and was a true "plug and play" experience.
Upon opening the box, I initially became nervous as soon as I saw the charging cables. I thought to myself, "ugh, another product to charge" but after settling and opening the incredible high quality packaging, I noticed that the product was ready to use. Before beginning the UpRight Go review, first, you have to download the app. You can find the app by searching for "UpRight Go" on your app store. Downloading the app was as simple as… downloading an app? Relatively simple. Quick download and an even faster set up option.
Upon loading, you are met with an option to sign up or sign in. Add the appropriate information as expected, and you're all set! Setting up the app is easy as well. Just read the screens and follow the instructions. The interesting part comes in when you have to add the device onto your back. I read this and thought to myself, "this is going to be annoying!", but it wasn't at all. I placed the product into my right hand and placed it as best as I could in the middle of my back. (spine region) I can say that when I first wore the product, I felt like an intergalactic alien with a device sticking out of my body, but after moving around and using it for several hours, it was a joy to have and a great product to maintain good posture.
I completed initial training and even completed overtime. I then began to work and maybe my thoughts on my posture aren't as bad as I once that. For me, I sit about 10 hours a day and although that can be challenging, I only set the device off four times in the first day. All in which were purposefully set up by myself. I wanted to see the vibration. I wore the device for a total of five straight days, each day for 9 hours. I can say in full confidence that each day I wore the device, I was cognizant of my posture and wanted to make sure that I was sitting up in a healthy manner. Although this is a huge pro for the UpRight Go team, I do not see myself using this product on a routine basis. Great posture is important to my daily life, but from the UpRight Go review, it's not important enough to get a tool like this.
What Entrepreneurs Do On Their Day Off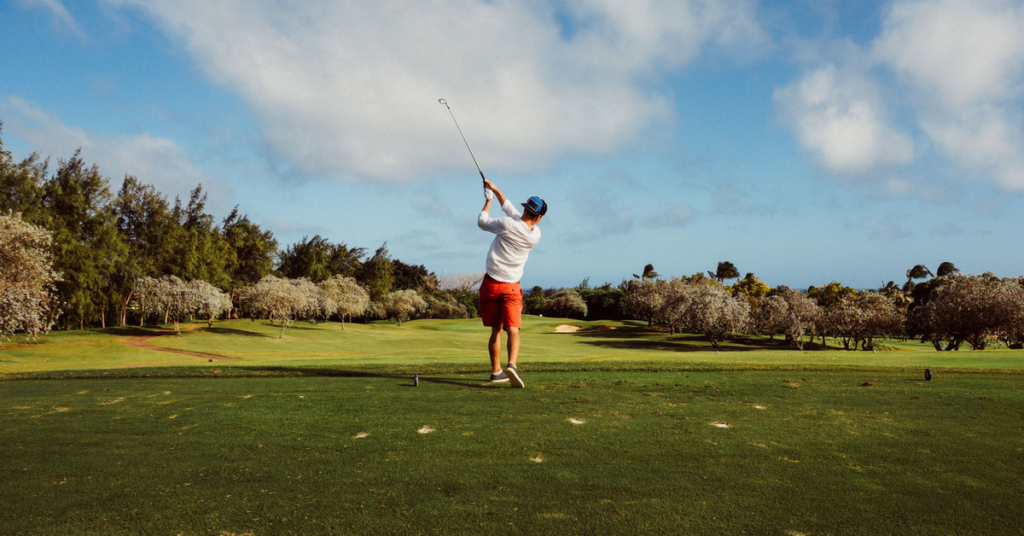 What do Entrepreneurs do when they're not working? When you think about your weekends, you think about waking up late, meeting friends and spending hours before the TV watching movies and sports. However, entrepreneurs are different and have their unique ways of making the weekend productive. They strive for success and are always willing to walk an extra mile for the benefit of their business. So, if you want to be in their league, follow their industrious way of life. Here are things successful entrepreneurs do to balance their leisure and work:
They do not break their routine
No day is off is the mantra for successful entrepreneurs. The average people follow a routine only on weekdays, but those striving to rise high never slack their routine. They continue to be productive and efficient even on weekends. They rise early, go for a run, eat a healthy breakfast, and read all the important business news. Savvy entrepreneurs know that time is money. So, if they waste their valuable time by lazing around, they eventually lose out good opportunities.
Stay up-to-date with the news
Reading the newspaper or keeping an eye on news channels on TV, keep the entrepreneurs updated about the latest happenings of the world. When the CEOs remain updated about the world economy, the positive impact is reflected in the decisions made by him for the greater benefit of the company.
Pursue a healthy hobby
Leisure time is precious for successful executives. They pursue creativity to maintain a healthy mind. Writing a biography, a salsa session with their spouse, enrolling for baking classes, tinkering old cars, or pottery relieve them from all work-related stress and offer them a fresh perspective on life. Pursuing a healthy hobby is always beneficial, because it boosts your patience and innovative thoughts.
Socialize and network
Recreation and networking go hand-in-hand for the immensely successful people. They schedule some of the important business appointments at tennis courts or golf clubs. Sometimes they also catch up with their overseas clients over weekend brunches. The successful entrepreneurs also try to catch up with influential people from different fields. They always seek to grow their connections and grab every opportunity to forward their purpose. They try to finish an extra project by meeting colleagues over coffee. But before you go out and hit up your Networking game, make sure to read this article to learn how to get yourself noticed at an event.

Relax and Rejuvenate
A healthy body is a home for a healthy and productive mind. Working 24/7 cannot bring out the best from the mind, so everyone needs to wind up and relax for some time. Entrepreneurs also understand the importance of a relaxed mind and body. On the days when the entrepreneurs are not working, they try to interact with friends and family. Healthy and happy personal relationships are vital for mental peace. They dedicate their much-earned break to meditation, yoga, and refreshing pool sessions. Check out this article for some 8 ways to beat stress.
Prepare for the week ahead
Successful entrepreneurs are not perturbed by the Monday blues. They properly chalk out their week before that dreadful Monday arrives. They take out a couple of hours from their weekend to look at their upcoming meetings and appointments. The better people organize their tasks, the more successful they are.
To reach the pinnacle of success, entrepreneurs work 24/7, but it is also important to balance work with life. They too need to disengage themselves from business for a short while to come back refreshed to work more efficiently.
Habits Of A Successful Entrepreneur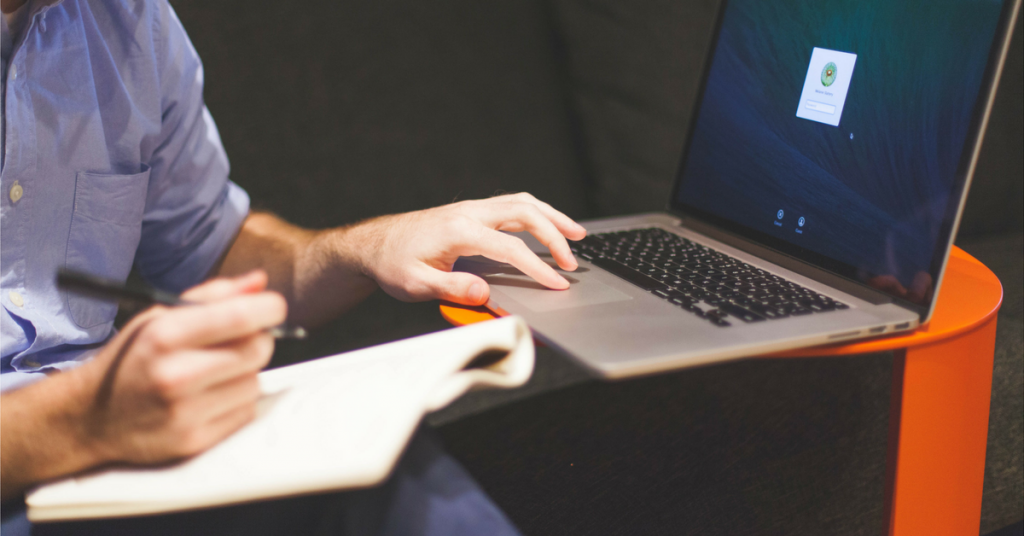 Every entrepreneur is different, and there is no fixed rule to survive in the world of business. Entrepreneurs need to survive unprecedented challenges to achieve success. Entrepreneurs can transform themselves into a new person by adopting strict discipline and a willingness to turn every defeat into success.
Positive attitude
The determination and the positive attitude of the entrepreneur are pillars of long-term success. Whether you head a startup or an established enterprise, unprecedented challenges crop up from time to time. There can be significant financial difficulties too, but the entrepreneur should not give up.
Learn from mistakes
Every founder can face a major setback while taking risks for the troupe. He should admit the mistakes and take responsibility for the losses. After a setback, the entrepreneur should not give up and must learn from the mistakes. It is his responsibility to initiate correction strategy and try to put everything in order.
Measure your progress
It is very important to set some achievable goals for the company. The proprietor should keep track of these short-term and long-term goals regularly. The entrepreneur should also invest some quality time in studying the evolution of other similar businesses. If the business is going on the right track, you should implement other improvement plans accordingly. Remember, beating the competition is vital to becoming the market leader.
Plan your day
An entrepreneur has to focus on every aspect of his business and it is very common to miss out something vital and then regret later. Hence, it is important to plan your day in advance. An entrepreneur may have several interviews, meetings, engagements and other important tasks planned in a work day and it can get really hectic. However, you should also attempt to maintain some flexibility and keep some time aside to address urgent issues.
Effective networking skills
To attain success as an entrepreneur, one needs to be a great communicator. Networking is one of the least expensive ways to get your company noticed. Meet experts and gain knowledge about the latest trends in the industry you operate. As you meet other businesspersons, you can also find some apt solutions to the problems faced in your business. Attend networking events and speak about the goals and ambitions of your company.
Acquire and manage talent
Running a venture successfully is not a one-man show. You need to hire people who will contribute to the growth of your firm. When you hire people for your start-up, their collective goals, experience, and knowledge boost up the performance of the company. It's also vital to retain the best talent and reward and recognize contributions.
Work harder and longer
Successful entrepreneurs are extremely focused and very composed to take the pressure. They have a vision and are known to tirelessly work to achieve success. They are always willing to learn and walk a step further for the growth of the company. So, the lifestyle of an entrepreneur should complement this demand. He must always be ready to accept challenges. As he is the flag-bearer of his company, he should keep track of all the departments of the business.
Investors always observe the knowledge and capability of the entrepreneur before they invest. The hunger for success and the willingness to grow continuously are the necessary qualities of a successful entrepreneur.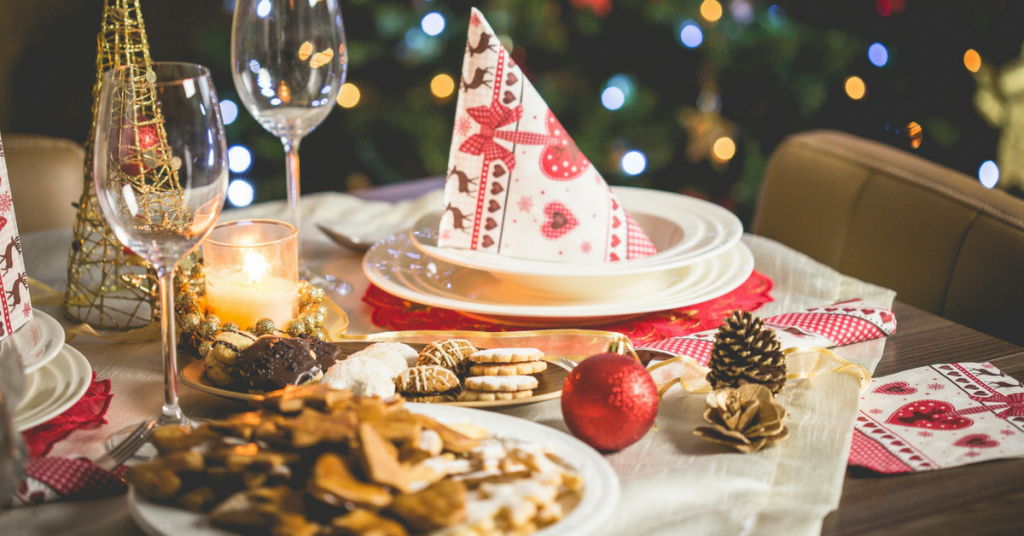 We love the holidays but it can tear your willpower and diet to shreds. Temptation is everywhere and calories can add up causing you to gain weight during the holiday season. But, don't let the potential weight gain curb merriment. There are actually healthy foods hiding behind those calorie bombs. Here are some foods that are good for you and foods you will want to avoid during this holiday season.
Eat: Sweet Potatoes
They taste like French fries but without the fat. The sweet in the potato comes from an enzyme that converts the starch into sugar as it matures. Sweet potatoes are rich in beta carotene, vitamin C, fiber, and potassium. We love sweet potatoes because aside from being healthy they also taste like dessert since it gets sweeter the longer it is stored or when it is cooked. Sweet potatoes are a good addition to your holiday meal. Cut into fries and bake in the oven for a healthy version of French Fries. You can also search the web for healthy recipes for sweet potato casserole.
Avoid: Eggnog
Did you know that an 8 ounce serving of eggnog has over 250 calories and 5g of saturated fat? Instead of eggnog, sip a glass of red wine.
Eat: Cranberries
According to legend, Native Americans shared cranberries with Pilgrims during the first Thanksgiving. There is evidence that the Native Americans were aware of the health benefits of eating cranberries, and they are right. They are rich in antioxidants, fiber, and potassium. As a bonus, they also contain unique compounds and antibacterial properties that can help prevent urinary tract infection.
Avoid: Dips
Dips are delicious but double as calorie bombs. Some dips like spinach dip sounds healthy, but some recipes call for massive amounts of cheese. Aside from being calorie-rich, dips also contain saturated fat and sodium. Choose salsa and hummus in lieu of dip.
Eat: Cocoa
Chocoholics rejoice! Cocoa in moderation is a healthy treat. Studies show that eating a small amount of chocolate (around 30g) can help lower systolic blood pressure which in turn can lower your risk of stroke and heart disease. Choose dark chocolate that contains at least 70% cocoa solids. These contain the higher levels of antioxidants and flavonoids that are responsible for health benefits.
Avoid: Creamy Soup
Soup that use heavy milk or whole cream as a base are artery clogging and rich in saturated fat. Stick to broth-based soup instead.
Eat: Turkey
Turkey contains high quality protein that triggers satiety. The earlier you feel full, the less food you are going to eat. Turkey – white or dark meat – is one of the lowest calorie holiday foods you can eat. A 3 ounce serving of skinless turkey breast is around 120 calories and 1 gram fat. Make sure to trim off the skin before eating because that's where the fat is lurking.
Avoid: Mashed Potatoes
Potatoes in their natural state are rich in vitamin c, potassium and other nutrients. However, when you add butter, milk, and salt, mashed potatoes becomes an unhealthy calorie bomb. If you really want mashed potatoes, make a light version that uses a small amount of a buttery cream cheese.