Cancel Culture: The Double-Edged Sword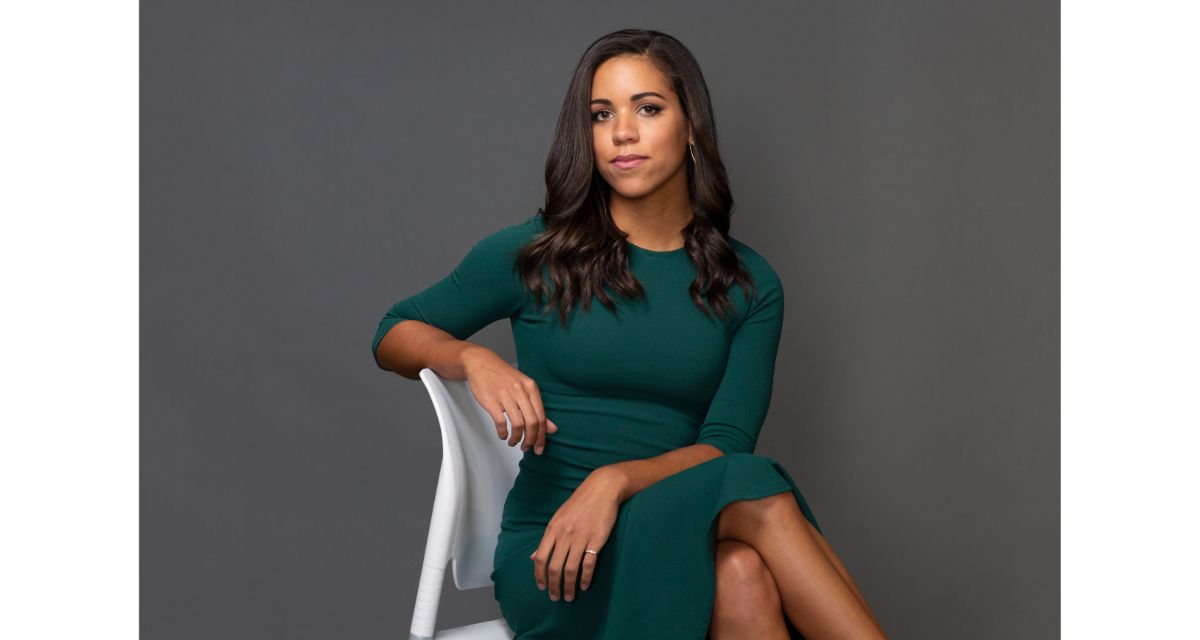 In 2021, topics like racism, social justice, and equality are never far from the forefront. It seems like we only got a few days without a new controversy to spark the debate. Police brutality, transgenderism -these human rights issues have been major political topics and have polarized America.
The question is often asked: Has America come as far along as it should? If there is a war for social justice, then Cancel Culture is a Panzer. Activists have wielded Cancel Culture to isolate and punish personalities that conflict with their values. The typical victim loses their job and has trouble finding a new one. But like any weapon, Cancel Culture can have adverse effects when in the wrong hands. Sometimes, weapons backfire.
The Case of Alexi McCammond
Last week, Alexi McCammond should have started her job as the Editor in Chief at Teen Vogue. Instead, McCammond resigned before assuming the role due to racist and homophobic tweets that resurfaced from when she was a teenager. She has since deleted the tweets. The tweets, which included derogatory comments about Asian people as well as homophobic slurs, caused a recent stir but were not completely buried since she posted them ten years ago. McCammond publicly addressed them in an apology in 2019. McCammond addressed these tweets again in her vetting process with Teen Vogue. At Conde Nast, Teen Vogue's parent company, executives felt satisfied with her apology and growth since the tweets and decided to hire her.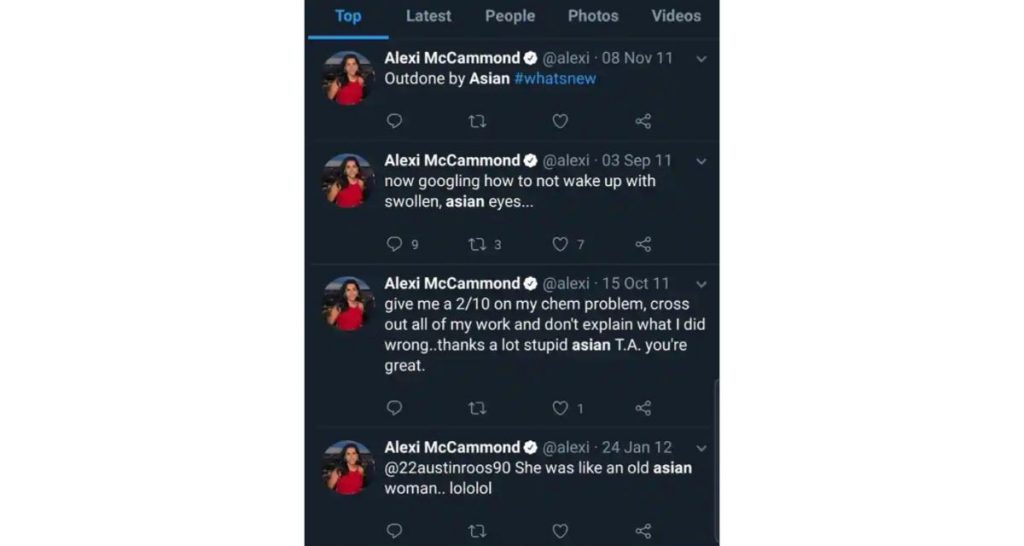 After the announcement, critics of McCammond spoke up in protest of her hiring. Among them was Christine Davitt, the senior social media manager at Teen Vogue. Davitt posted to social media the open letter from the Teen Vogue staff in opposition to McCammond's hiring. Amidst the outrage that Davitt, in large part, fueled, McCammond resigned from Teen Vogue. But more links in the chain followed.
Before the dust had even settled on Alexi McCammond, some old tweets of Christine Davitt surfaced. Similarly scandalous tweets surfaced from Christine Davitt. Davitt, of Irish and Filipino descent, used the 'N-word' in three separate tweets. In two tweets, she referred to an associate as the 'N-word,' and in another tweet, she uses the word in an observational joke. She has since deleted the tweets. Now, the internet calls for Davitt's termination or resignation as some sort of karmic justice.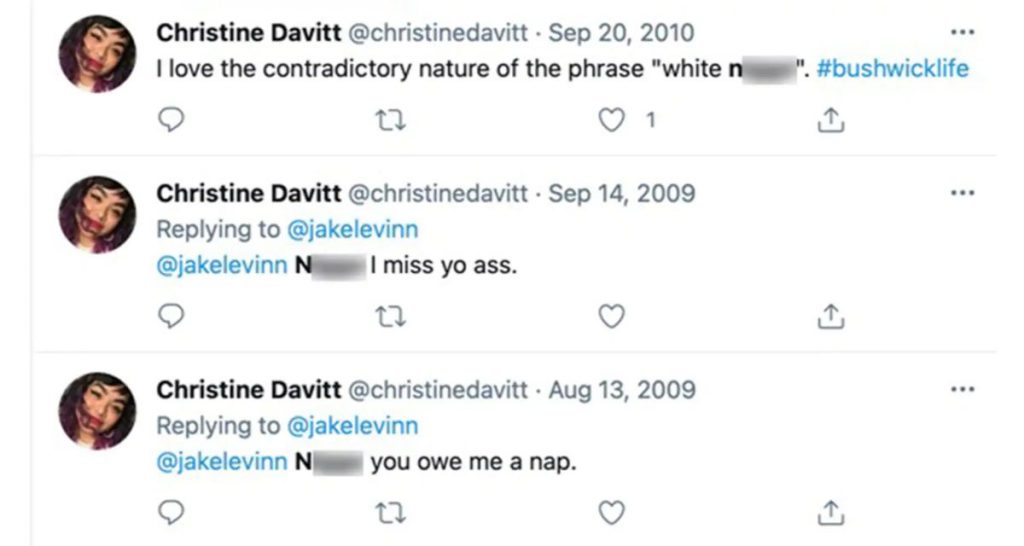 The Jokes on Her
During the recent spate of anti-Asian attacks, another instance of someone trying to make an example of another's misdeeds was backfired. On March 17th, author and comedian Ellory Smith took to Twitter to call out another comedian:
"remember when someone had their SNL offer revoked after using an anti-Asian slur, and so many people thought it was an overreaction? Hateful language begets violence. Hateful jokes beget violence. They minimize and they dehumanize, and they allow for the normalization of terror."
The person Smith is referring to is Shane Gillis. Saturday Night Live offered Gillis a role in 2019 but then pulled the offer from the table when some old racist jokes he told on a radio show had surfaced. Her tweets suggest that she supports Gillis losing his job over his offensive jokes. Shortly after that tweet, Mike Recine posted a screenshot of that tweet with an older one.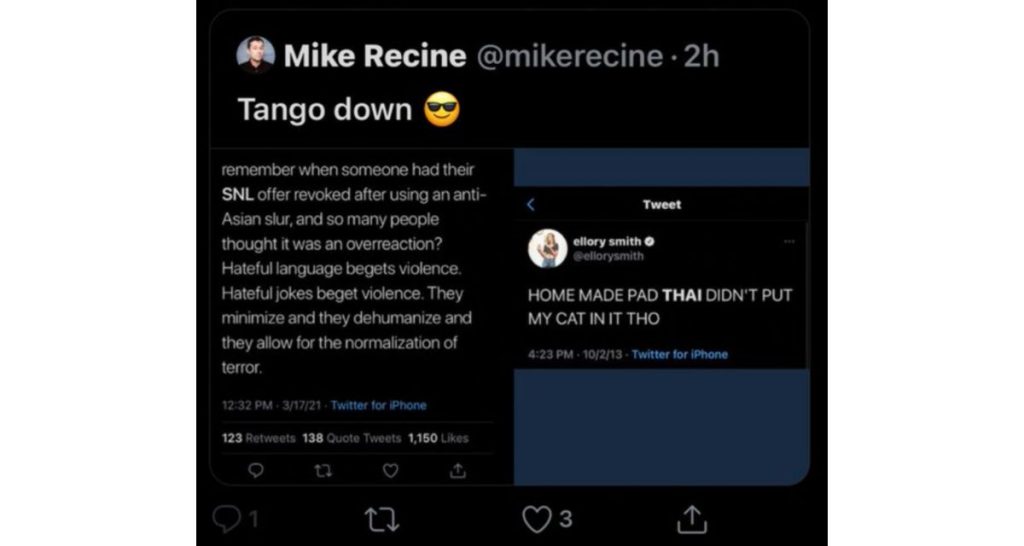 People were quick to point out Smith's hypocrisy: supporting the cancellation of a comedian who made anti-Asian jokes in the past when she fits the same description. She has since deleted the tweet. Smith took to Twitter, once again, to issue an apology.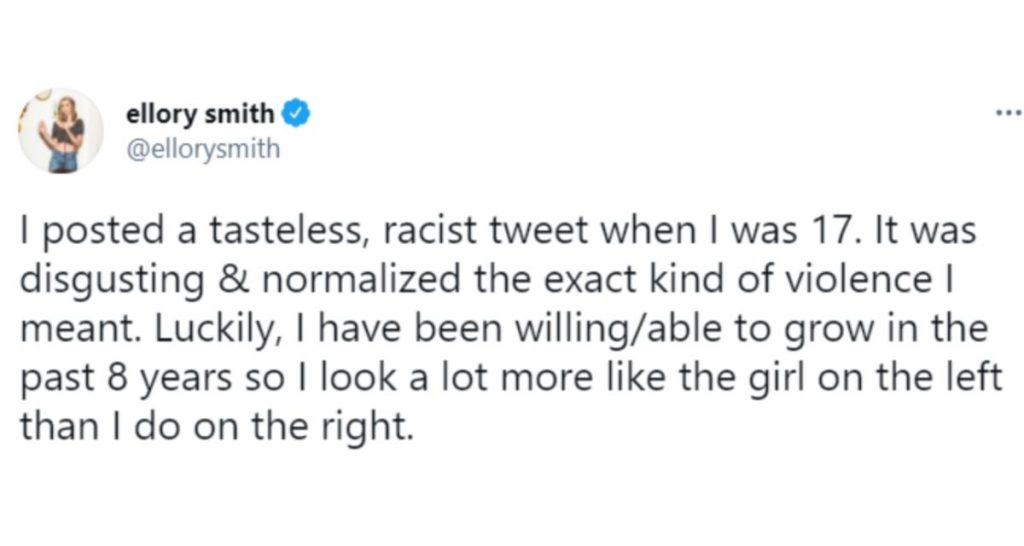 Beer Money
Canceled Cancellers is not an entirely new phenomenon. Readers may remember the case of Carson King. In September of 2019, the 24-year-old got on TV, holding a sign during ESPN Game Day filming at the Cy-Hawk football game. The sign read "Busch Light Supply Needs Replenished," with his Venmo account listed underneath. His poster gained much attention – King ultimately collected $1 million. But instead of using the funds for beer money, King donated it to the University of Iowa Stead Family Children's Hospital.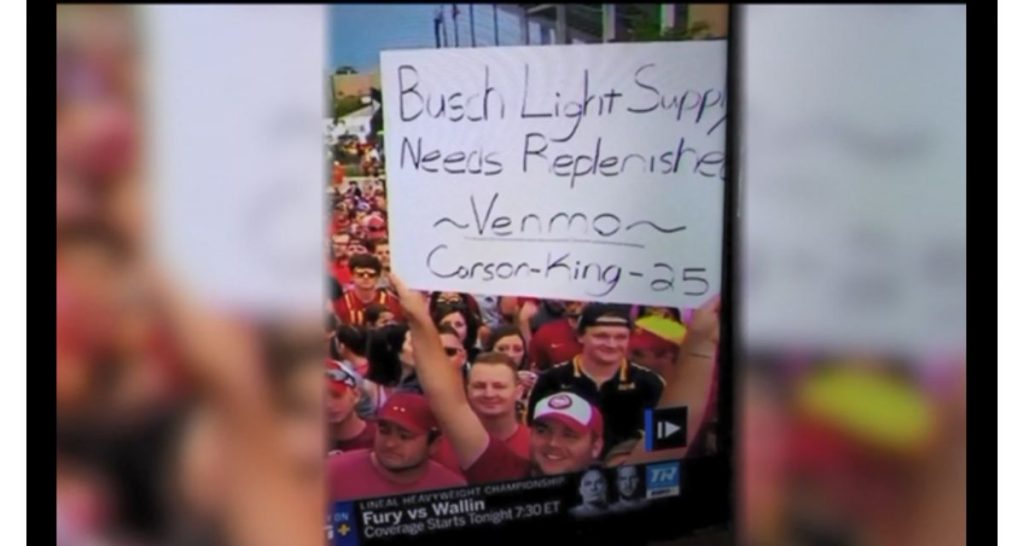 Anheuser-Busch, making of Busch Light, tweeted that they would match King's donations and send him a year's supply of beer with his picture on the cans. And then tweets resurfaced. Aaron Calvin, a reporter for the Iowa Register, profiled Carson and found some offensive tweets that King posted in 2012 when he was 16 years old. The tweets, quoting comedian Daniel Tosh, were racist in nature. Shortly after, Anheuser-Busch announced they were ending their partnership with King.
"Carson King had multiple social media posts that do not align with our values as a brand or as a company, and we will have no further association with him."
You may know where this is going. Not long after Aaron Calvin published the profile on King, problematic tweets of his own surfaced.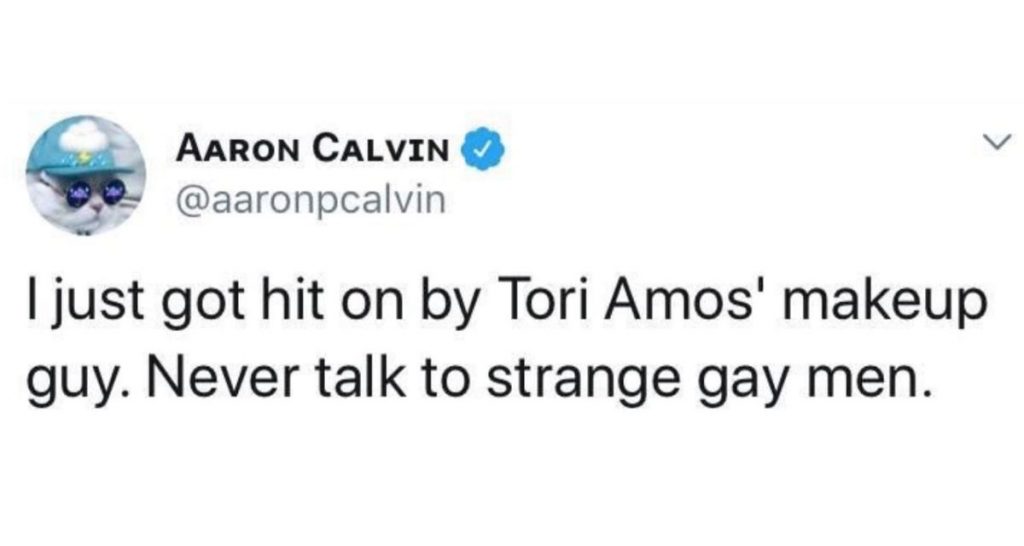 Numerous tweets of Calvin's surfaced with the 'N-word' and others with Calvin criticizing gay. Calvin no longer works for the Iowa Register.
Those in Glass Houses…
When it comes to social justice, thoughts on what's considered racist and hateful can vary. Some believe that the media takes things too seriously and that Cancel Culture ruins innocent lives. Others advocate that there is no time like the present to call out behavior that should no longer be acceptable – no matter the sacrificial lamb. In either case, it seems that in the case of Cancel Culture, it's as the old saying goes: live by the sword, die by the sword.
Could it just be a coincidence that those that are pushing for certain cancellations are being canceled themselves? Or is there more to it? It is increasingly less common to be free of guilt in a society with ever-changing standards for acceptable behavior. It may be that those who call for cancellation are looking for some merit in this social justice war. But as we are learning, neither the accuser nor the canceled are ever remembered fondly.
My Experience With Penji (+25% Promo code) Unlimited Graphic Design Service
The graphic designer hiring process comes in many forms. Within the past 5 years, unlimited graphic design services became a desirable alternative, offering graphic design work on a monthly subscription. Penji is a Philadelphia-based startup that offers this unique business model.
You can submit as many design projects as you want via their online portal, and they'll complete your requests one at a time until your queue is complete. This type of service promises to be a great added resource for teams to improve productivity.
Does it sound too good to be true? We thought so too. So, we signed up to see for ourselves.
Quick Summary
As with any service, there are pros and cons. To help with your graphic design hiring decision, we decided to condense what we found in a bulleted list below. Here's a quick summary of our review of Penji's unlimited graphic design service.
Pros
Easy and quick to create design projects
Storage for all my requested designs
VERY fast turnaround on most projects. I expected just 1 draft in 24 hours but instead received 3 drafts. Revisions were sometimes completed the same day I submitted them.
Helpful features such as a revision tool, ability to invite team members, brand profile, and more
Upbeat and direct communication from everyone I interact with
A dedicated and responsive account manager who replies within a few hours
Cons
Can't call or talk to designers
Best if you have design projects ready to submit
Not available as an app
Overall Experience
Penji's "unlimited" design model is a great choice if you have the right expectations going in. The service is affordable for growing businesses and their output is reliable. However, if you're expecting to be on-call or face-to-face with your designer, this type of service is not for you.
Compared to designing yourself, hiring freelancers, or using Fiverr, Penji is a much better service and value by a long shot. Their team of designers lived up to the promise and exceeded my expectations.
Thinking of trying Penji out for yourself? Here's a special promo code for Owner's Mag readers:
Use the Penji promo code "OWNER25" to get 25% off your 1st month.
Disclaimer: we receive a commission when you use the code.
---
PENJI FULL REVIEW

We put Penji to the test by signing up, requesting a designs, and examining the results. Here's how it went.
Signing Up For Penji
Signing up for Penji was a relatively quick and painless process. All of my questions were answered in less than 5 minutes by customer support via Intercom and another 2 minutes to complete the checkout process.
Communication with Penji's Support Team
How fast and reliable a company's support team is before you are an active customer is a reflection of what's to come. If they're unresponsive now, it will only get worse once I'm a customer. I reached out to Penji's customer support team via their Intercom chat popup and got a response within 30 seconds, which is pretty good. I asked basic questions and the agent seemed knowledgeable.
Communication as a Customer
All communication is done online through Penji's proprietary online portal. That includes revisions, feedback, and answering any questions my designers may have.
Communication with Your Designers
Penji assigned me 1 designer, Billie, and communication with her was easy. If you have used any messaging platforms like Slack, Facebook Messenger, or Discord, you'd be familiar with this form of communication.
Billie was responsive, attentive, and always seemed to have a positive attitude no matter how demanding my requests were. She had many questions about the projects, which I tried my best to answer as a customer. Though the back and forth took longer than I wanted, I realized she was just being thorough to get the design done right, which I appreciate.
Communication with Your Account Managers
They assigned me an Account Manager, Charmaine, who was very quick whenever I needed something. It usually takes just a few hours for me to get a reply via email from her. When I had an issue with one of the projects, she quickly stepped in and helped resolve the situation.
1. Choose the Right Package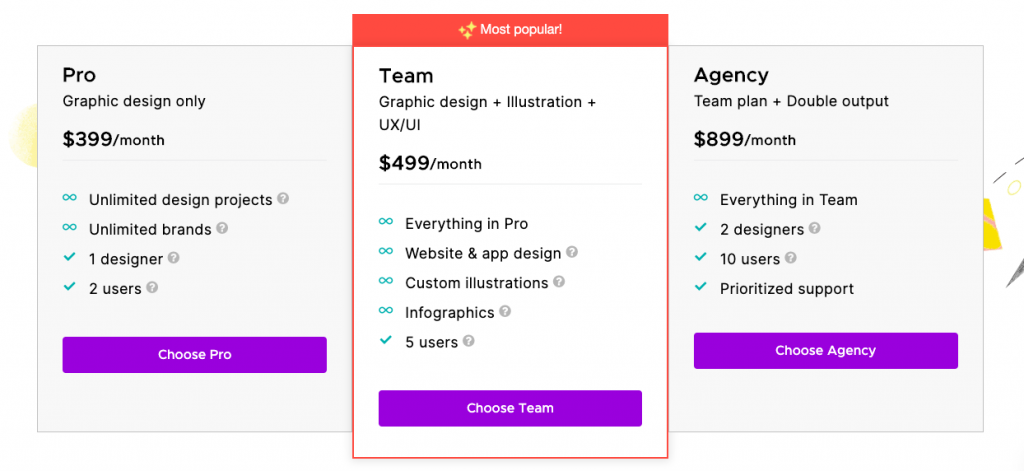 All the packages are laid out with monthly, quarterly, and yearly pricing. Starting at $399 per month for the Pro plan, you'll be able to make unlimited graphic design requests with a 24-48 hour turnaround. As your design needs grow, you'll have the Team and Agency packages to choose from.
2. Checkout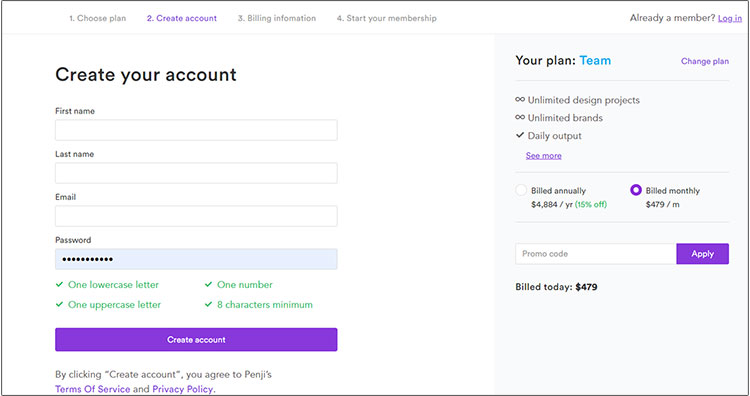 The form is straightforward and easy to fill out. Checking out was a breeze and took about 2 minutes.
---
3. Submit a Design Project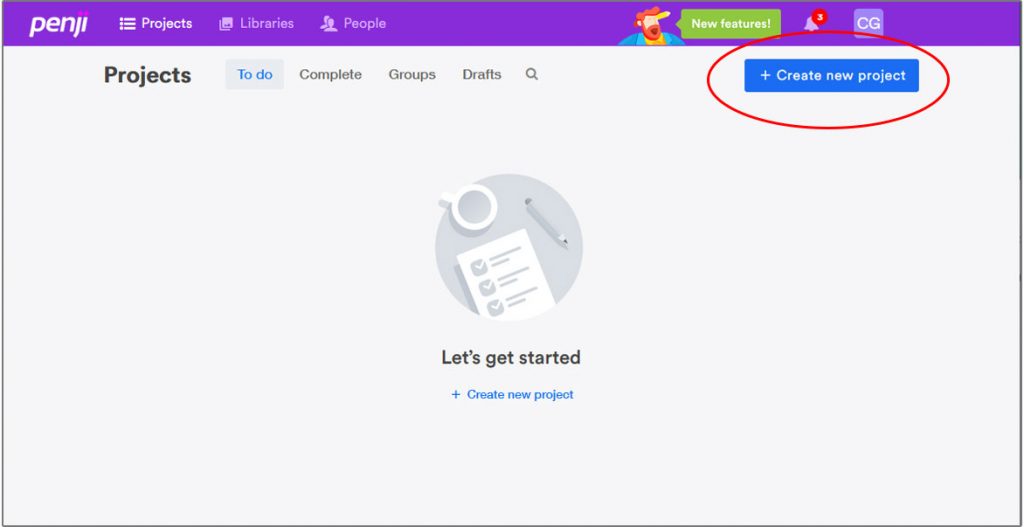 Clicking on the "+ Create new project" button, I'm presented with a visual chart of all the design categories they offer. They offer an extensive selection of options and even the ability to request a custom project.
4. Fill Out the Request Form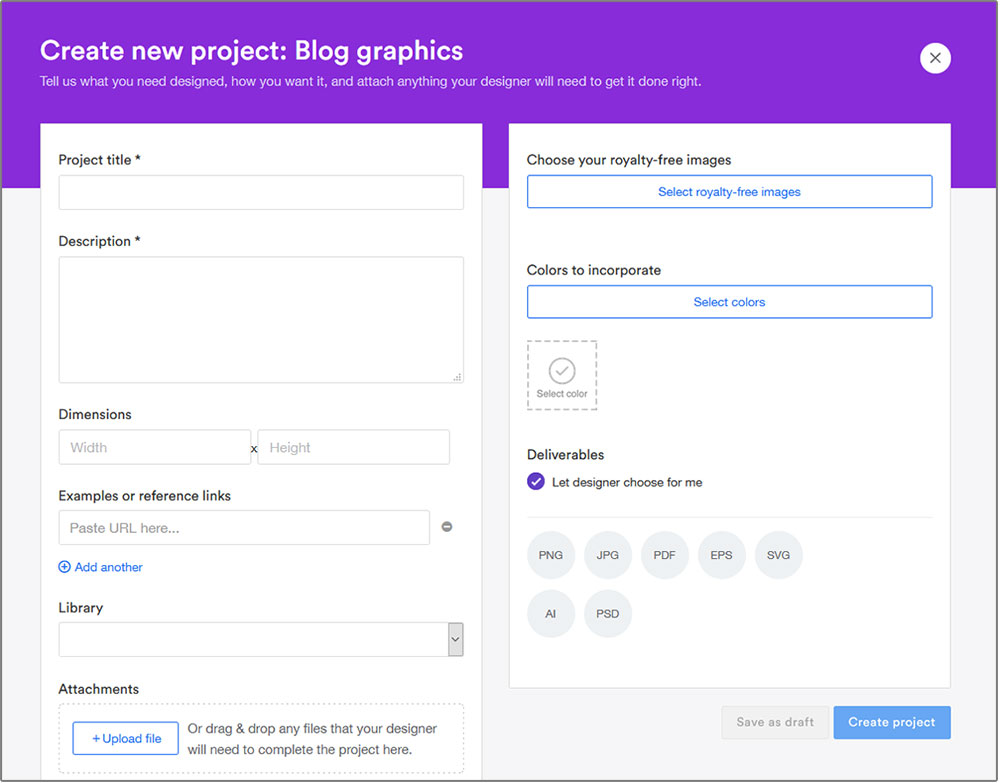 Next, I filled out a short form detailing what I wanted them to design. For those of you who hate long forms, this one from Penji is easy to follow and doesn't ask too many questions. Most of the questions are actually optional so you can be as descriptive or non-descriptive as you like.
My test projects
As a digital publisher, we produce content on a daily basis and always have a need for on-brand graphic design. I created several projects to test how well-rounded Penji is and how they handle both simple and complex requests. A simple banner should be difficult, but can they handle a complex infographic with lots of texts and imagery?
Here are my test projects:
Blog Graphic: Best DSLR Camera Equipment For Beginners
Custom Illustration: Best Vacuum Cleaner Money Can Buy
Facebook Post: Isometric Tech Gadget Graphic
Magazine Print Cover (Owner's Magazine's 2020 May Edition
Despite creating four projects, the entire process was quick and smooth. It only took a few minutes to create them and their internal platform was lightning fast. At this pace, I can see myself submitting multiple projects on their platform with ease.
---
Turnaround Time
I expected at least one draft the next day. What I didn't expect were three drafts ready for review. To give you a comparison, most freelancers and design firms we've hired take several days to submit just one draft.
The designs were surprisingly good considering that it's the first draft AND they had a 24-hour turnaround. After reviewing, I realized how they did it. Every project had a different designer. I wasn't assigned just one designer. It was like having my very own virtual design team.
4. Requesting Revisions
Though the designs were good, I still needed a few revisions. The drafts were turned around usually the same day or by the next day. Their support agent actually told me it will take 24 hours to turn around revisions. The revisions that took 24 hours were typically much more involved.
Overall, revisions were quick. Most came back within a few hours after I submitted them.
My one gripe would be that I prefer to have some sort of real-time chat with my designer or at least have a Zoom call. That's one thing I like about working with my freelancers. Whenever they were online, we could just have a back and forth conversation to get the revisions across. I can't do that with Penji.
Built-in Revision Tool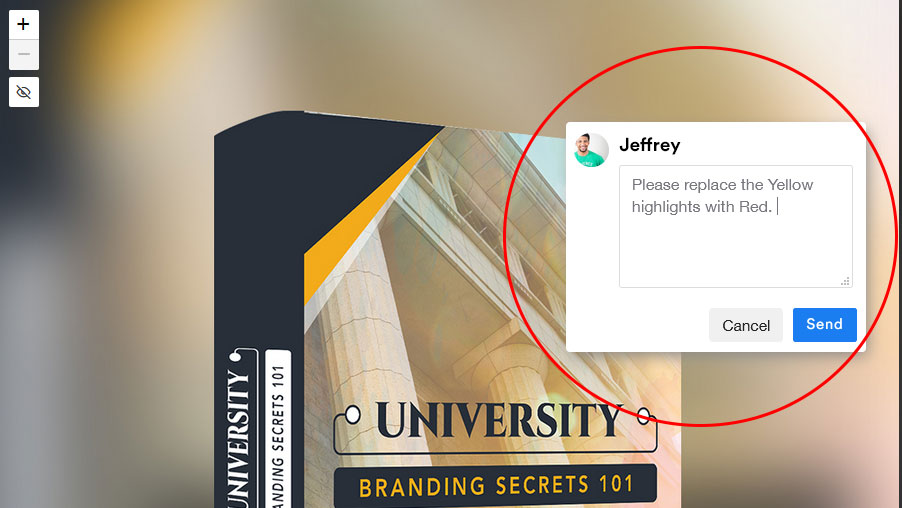 Penji has a built-in revision tool that lets me click anywhere on the design to leave a revision. I found this incredibly useful as it enables me to pin-point what I want to change.
---
The Results
It took about 1 week to go back and forth with revisions and edits for all 4 design projects. At the end of the week, I received the final drafts for all three. Here are the results of the three test projects.
1. Blog Graphic: Best DSLR Camera Equipment For Beginners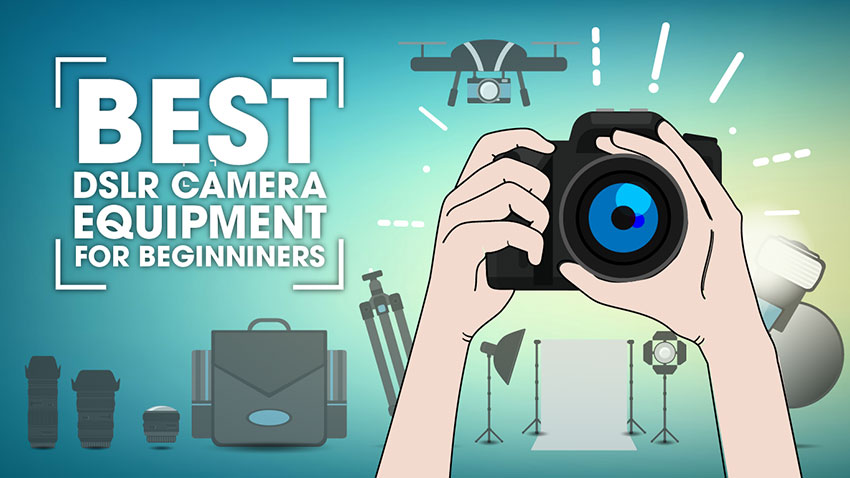 This far exceeded my expectations and will more than do for the blog I'm writing about DSLR camera equipment. I think most designers would probably just stop with 1-2 icons and graphics for this design. My designer decided to add the tripod, three lenses, drone, backpack, and a whole entire stage lighting kit.
I didn't ask for those, but I'm impressed with the quality of the design. No revisions needed. I approved this project on the first try.
2. Custom Illustration: Best Vacuum Cleaner Money Can Buy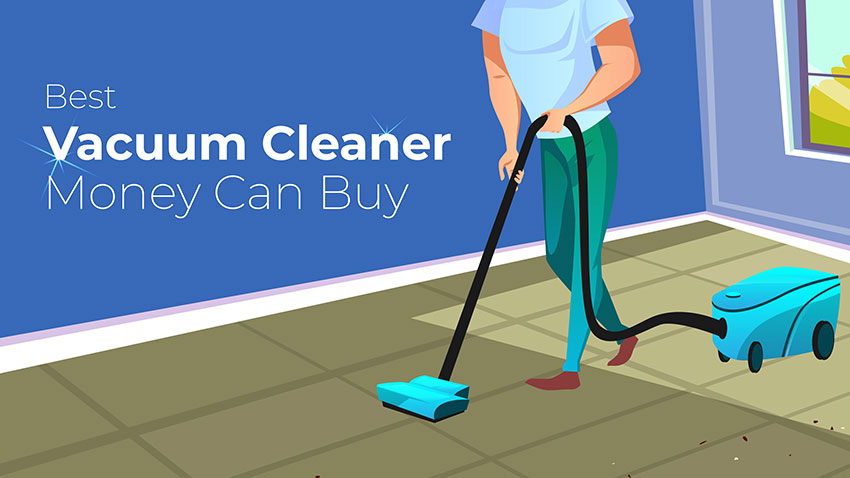 For this project, I asked my designer Kei to do a custom illustration of a man vacuuming his floor. He actually drew it up and sent me a rough sketch first before he started coloring it in. That was an extra layer of care and attention to detail I wasn't expecting. Needless to say, I approved of his drawing and he delivered this draft the next day.
Revision
Everything in this graphic was hand-drawn and then colored digitally. Like the first project, I couldn't think of any revisions except asking him to put the texts "Best Vacuum Cleaner Money Can Buy" on the graphic.
He went the extra mile and designed the text to fit the graphics. See for yourself above. It's details like these that I would have had to harass my freelancer and he would try to nickel and dime me for every revision. Great work Kei!
3. Facebook Post: Isometric Tech Gadget Graphic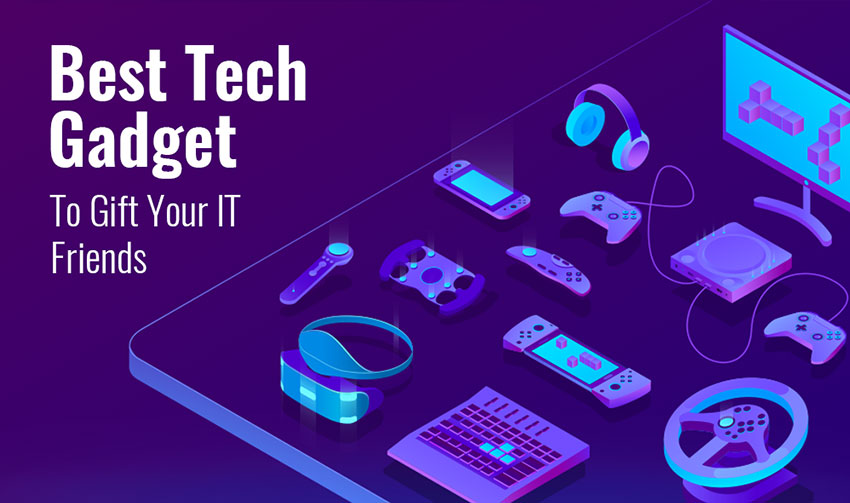 My designer Jave's first draft amazed me because of how much detail he put into this project. I had asked for an isometric graphic with various tech products laid out on an isometric glass plane. I honestly thought my description may have been a bit too vague, but he understood my vision even better than I did.
4. Magazine Print Cover (Owner's Magazine's 2020 May Edition)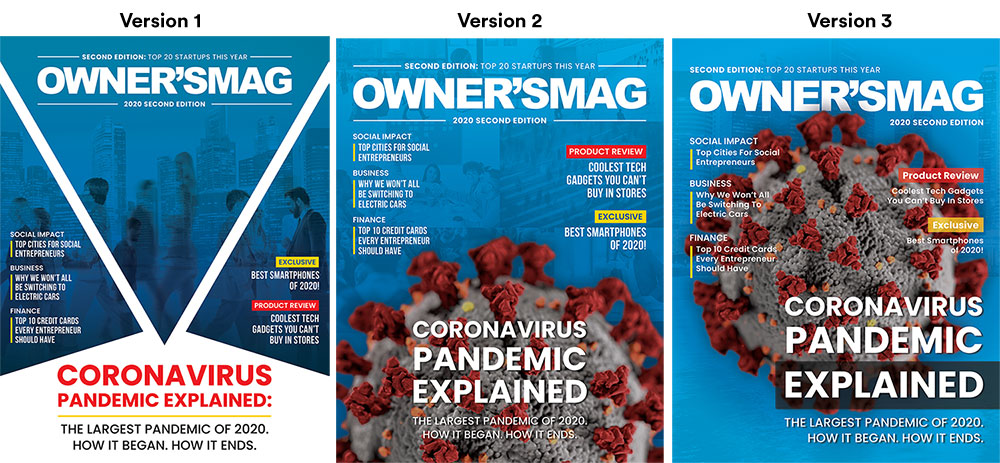 My designer Billie gave me 3 versions of the magazine cover. I don't like version 1 at all. It looks too templated. I personally like version 2 and 3 and left revision notes accordingly. The coronavirus image was entirely her idea and I love it.
Revision
This project took a bit longer than the others because my designer Billie had questions and we had a lot of back and forth. I didn't mind at all since she was asking good questions that I should've included in my design request. Overall, I appreciated the extra time she took to understand me and the project better.
About three days later, I received another draft which blew everything before it out of the water.
---
Final Verdict
All four projects were completed within two weeks and I was impressed with how they all turned out. If I had paid hourly or per project, these would've easily cost me well above $1200+ to get done, and probably taken weeks.
With Penji, it took just a few days and I paid a fraction of what I would've paid elsewhere. Definitely impressed with both the turnaround, quality, communication, and value this startup has to offer.
But Penji isn't without its flaws. The service definitely isn't for everybody.
Who would benefit:
business owners
marketers
agencies
creatives with consistent design needs
If you don't have a consistent need, the bill will start racking up after a couple of months and you won't see the value in the subscription.
However, if you do happen to fit their target demographic, then there's no better alternative out there. The speed and quality of their work easily rival other services I'd ever used. For $399 per month, this is an absolute steal.
Best Unlimited Graphic Design Companies Of 2021 (+25% Promo)

Looking for an alternative to a freelance graphic designer? Are you trying to scale your business using your existing team? A new wave of companies who call themselves "Unlimited Graphic Design Services" are disrupting the creative industry, providing a solution to what is usually an expensive and unpredictable task. Here's what their offerings have in common:
Monthly subscription model
24-48 hour turnaround time
Work with their vetted team of designers
Unlimited design requests
Cancel anytime
Which Provider Should You Choose?
We've done the homework and curated a list of Unlimited Graphic Design providers for you and also negotiated special deals on your behalf. You can see them all below and decide which one fits your business based on your needs.
---
Unlimited Graphic Design Providers
What Does Unlimited Graphic Design Mean?
These unlimited graphic design services have a monthly subscription business model. That means you can sign up and cancel whenever you like. What sets them apart from your typical freelancer, agency, or in-house designer is you gain access to a workflow that is designed to be quick and to the point.
You'll communicate with their team through Trello, email, or an online platform. The option given is dependent on the company you choose. For example, only a small selection of services provide a custom built online platform for their customers.
Once you're connected to their workflow, you can begin submitting as many design requests as you want. Although they all claim "unlimited", it generally means you can "create" unlimited design requests. It doesn't necessarily mean they'll work on them all at once. Usually, they just work on one design at a time. When one completes, they start the next design.
The usual turnaround time is between 1 – 2 days, and that's just for the first draft. It doesn't mean your entire request is complete. If you don't like it, you can request as many revisions as you want, and that will take more time. So it can take up to a week to actually get the design complete if you have a lot of revisions.
Another thing to keep in mind is content. You need to be able to have everything ready and provide all the content needed in order for their designers to get started.
Are they worth it?
If you have a lot of design needs, they're definitely worth it. Being that it's a monthly recurring investment, you'll need to make sure that you have the need for an ongoing graphic design service. This graphic design service model is comparable to outsourcing a designer yourself, except much of all the management work is done by the company. The quality of designs and turnaround time also tends to be significantly better when outsourcing a designer yourself.
New Jersey Loosens Up on Magic Mushrooms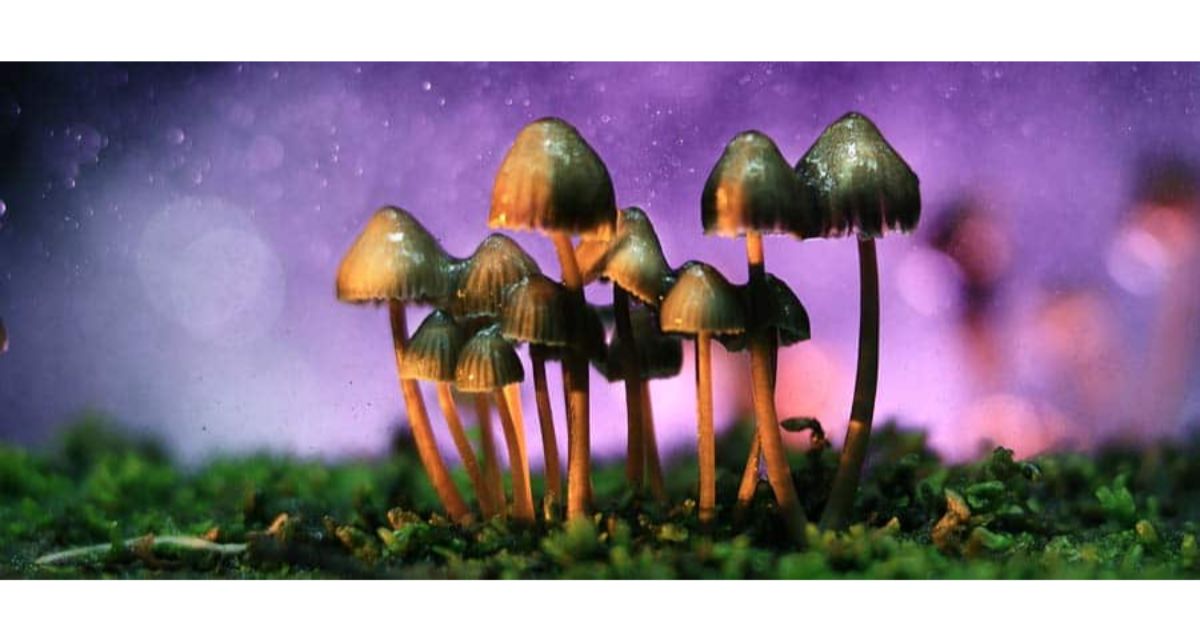 New Jersey becomes the recent state to declassify possession of magic mushrooms. Lawmakers added the provision to lessen penalties for psilocybin, the active chemical, to a marijuana bill in November at the last minute. The provision was removed from the bill but would be voted on separately later. New Jersey Governor Phil Murphy signed the bill in early February, reducing the classification of the drug.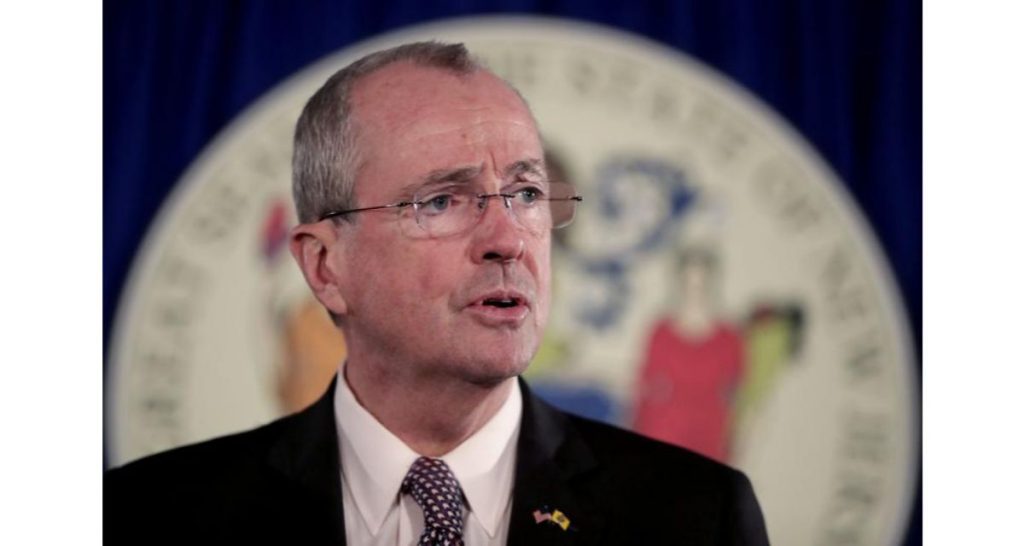 Magic mushrooms have been illegal on the federal level since 1970. The Controlled Substance Act lists magic mushrooms as a Schedule 1 narcotic. This is the most criminal category of drugs due to their high potential for abuse. Psilocybin lists along with heroin, cocaine, and methamphetamine.
The bill declassifies possession of up to an ounce of mushrooms from a third-degree crime to a disorderly persons offense. It reduced penalties from up to 6 years in prison to a maximum fine of $1,000 or six months in prison. This is not to be confused with decriminalization. Decriminalization removes the potential for jail time.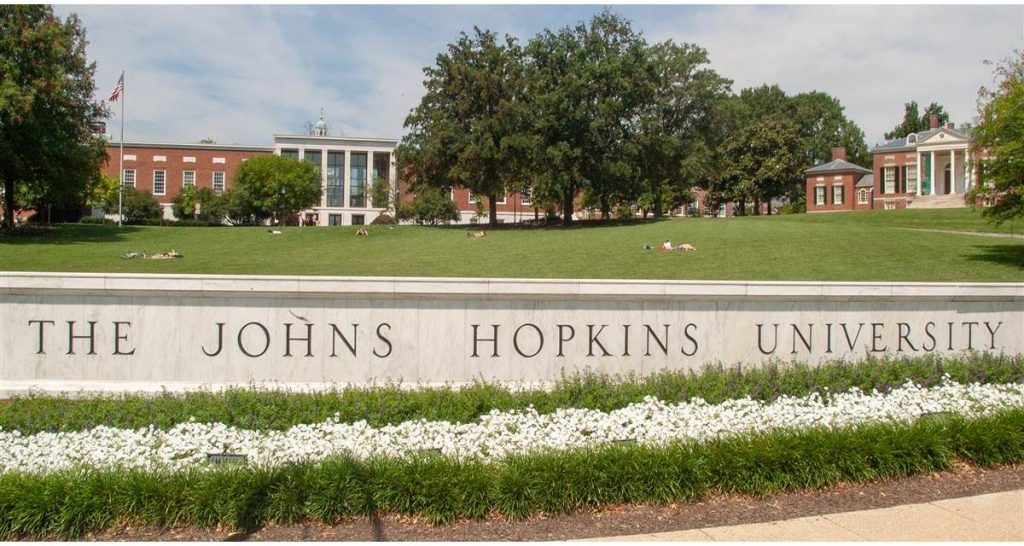 Advocates cite studies that claim that psilocybin may have helpful applications for cancer and HIV patients. It can also treat depression. Researchers at Johns Hopkins University posted findings from synthetic psilocybin trials. The trials show that 71% of their patients experienced a clinically significant response to the treatment. 54% of the patients recorded a total remission. Doctors also cite that there is no risk of overdose or addiction.
"What is different about psilocybin, compared to other mood-altering drugs or pharmaceuticals, is the enduring meaning and belief changes that can occur. People feel 'reorganized' in a way they don't with other drugs," says Roland Griffiths, a Neuropharmacologist at Johns Hopkins
New Jersey lawmakers first saw legislation for psilocybin only months ago and quickly passed a bill. The same cannot be said for marijuana. The state has been grappling with the issue since 2014. The State Senate moved to legalize recreational marijuana use for adults, but Governor Murphy has yet to sign the bill. Disagreements over the penalties of people under 21 put off the signing.
Of the crawling nature of the issue, Gov. Murphy says, "This hasn't been an easy fight, nor has it happened as quickly as I would have liked, but we are in a better place, a smarter place, and a more just place than ever before."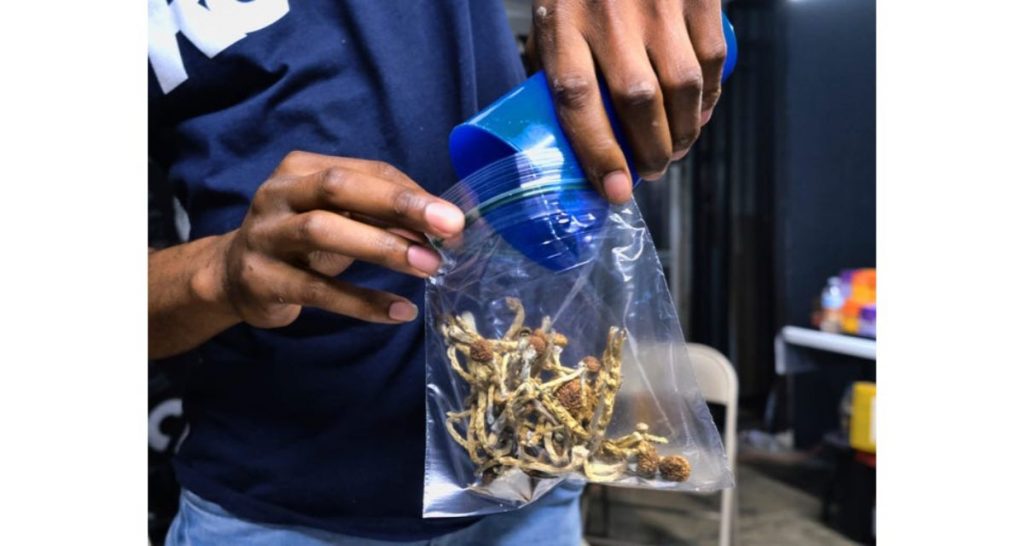 New Jersey is only the latest state to put forth legislation for psilocybin. Colorado was the first to loosen restrictions back in 2019. Oregon passed legislation in 2020, as well as some major cities such as Washington D.C. and Somerville, Massachusetts.