How To Build Relationships At Your New Job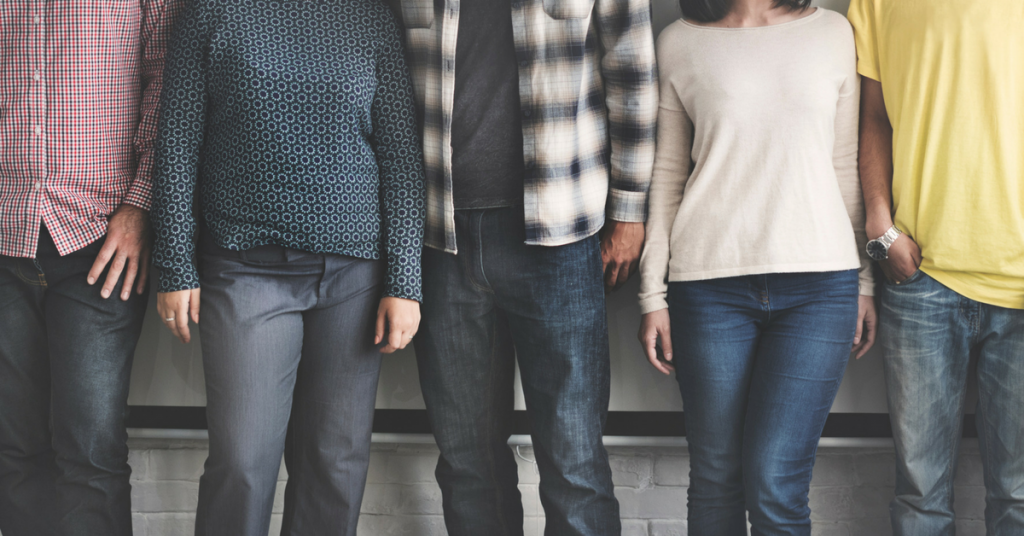 Human beings are social animals. They crave for friendship, relationships and emotional support in every phase of their lives. Positive and healthy interactions give food to man's intellect. Healthy relationships boost creativity and flexibility. Good work relationships are very important to stay focused on your job. You also get space to nurture your skills and better opportunities for career growth. You need to work on building a good working relationship with your boss, teammates, customers, suppliers and key stakeholders.

After finding a suitable job for yourself, you should concentrate on building a positive working relationship with your colleagues. Your relationship with your professional circle should be based on the following characteristics:
Basic Courtesy
On your first day, greet people warmly. Maintain eye contact and refer to people by their name. A simple 'Hi' is the stepping stone of a good professional relationship.
Trust
Trust is the foundation of all healthy relationships. You and your teammates should support each other to complete any project. Once you and your team start bonding, communication becomes easy and effective. Both sides should be able to express their thoughts and opinions openly.
Mutual respect
You should respect the people of your team. As a new employee, you should patiently hear their inputs and ideas. When you show respect for your colleagues, they openly accept you. Teaming up becomes easy. They also ask about your inputs and insights. In this way, you and your co-workers can find better solutions for a project.
Appreciate others
As a new employee, you should show your willingness to learn from your seniors. Initially, you can face many challenges and difficulties in a different work atmosphere. Appreciate the efforts of the coworkers who come forward to help you and give you valuable inputs about the work culture. If someone is performing very well, compliment him genuinely. These gestures can open many doors to a solid relationship with your colleagues.
Respect other's time
You face many challenges in your new role. First few days you may need the guidance and support of other teammates, but remember they also have some other work on their shoulders. Do not depend too much on them. Do not hang around their cubicles when they are busy with some other person. Wait till they finish their phone conversation. Ask only what you need. Do not ask casual or personal questions, while in office. You should maintain a line between personal and professional life.
Be flexible
You should be able to accept different opinions within your office. Many times, there can be differences of opinion with your colleagues, but you should not challenge it aggressively. Be patient and consider all pros and cons of the proposals. You should also accept the diversity of culture in your workplace.
Avoid gossiping
Stay out of office politics. It can hamper your growth as a professional. If you are having any conflict or difficulty with any person, do not crib or complain about it inside your office. It can ruin your impression as a person in the workplace. Your colleagues will not trust you.

Before you join a new company, improve your EI (emotional intelligence). It will help you understand the emotions and needs of your seniors and co-workers. Always be positive. Your positive vibe can make you a winner in your new job.
How Millennials Are Changing The Workplace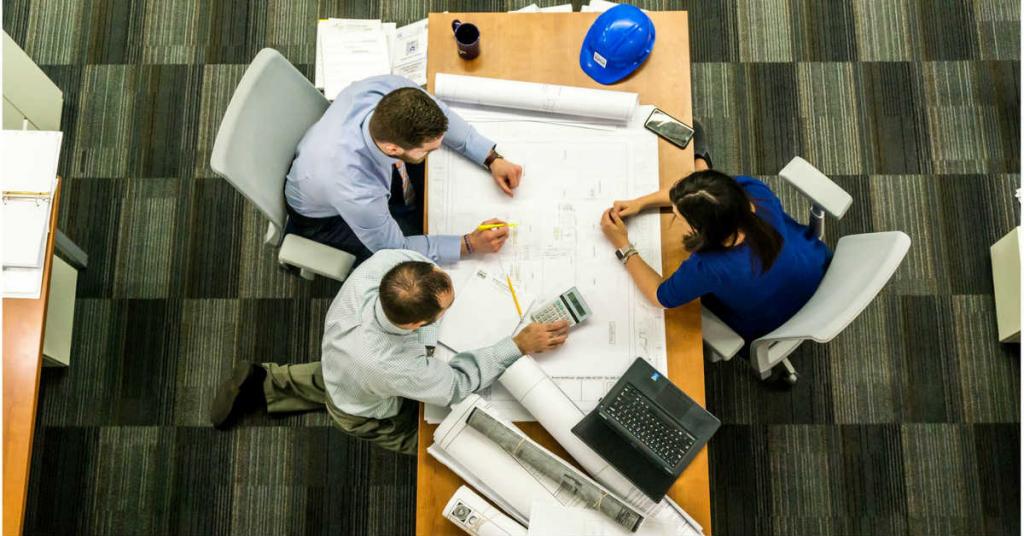 Millennials are reshaping the traditional corporate structure. With new CEOs entering the workforce, more companies have been adapting new tactics for managing, motivating, and improving. Millennial entrepreneurs have set the new standards to doing business, focusing on collaboration and efficiency. Soon by 2025, millennials will accommodate 75% of the workforce. This will replace the baby boomers, who have been recorded as the largest generation in the workforce. This instant switch leaves other generations questioning their management. These are 4 ways millennials are changing the workplace:
Emphasizing Technology
Millennials are the generation born after year 1982 and before 2004. This was essentially the era of technology beginnings. To be raised in the ever changing state of development, this generation foresees big things for the digital future. This need for rapid growth has created various platforms for creators, entrepreneurs, and more. Millennials have a profound belief that technology is the future, and so we should precisely use it to our advantage. Networking has been perfected with Linkedin, while Youtube is colonized by content creators, and Slack has better connected employees.
Open To Change
Millennials were born to alternate between innovation and tradition. To be raised in the era of constant development, generation Y has cultivated the skill to be open to change. Arguably, change is intended for growth, so that is how Millennials greet it. The digital age has disrupted traditional systems for the better, a concept that was impossible in the past. Due to the inconsistency they've experienced growing up, millennials have subdue their harsh conditions by advocating innovation. Although innovation is a new idea, generation Y strictly believes this is an optimal lifestyle.This generation does not believe in a constant, that everything has potential. Camden embodies that figure of high potential. Organizations are racing into the city of Camden, for it is the next startup hub for Millennial entrepreneurs. With the economy's rapid growth and welcoming nature, businesses are rushing in to secure their space. Just outside of Philadelphia, the city of Camden possess hope, just what entrepreneurs need.
Work With Purpose
Millennials differ from baby boomers in one drastic motive. The new generation seek a sense of control and innovation that past generations seem to lack. Millennials deeply value purpose, to even go the extra mile in changing jobs for content. Perhaps it's due to their entitlement, but Millennials are stubborn to the belief of following your inclination. 60% of employees confess that it is critical to allow them the capacity to do what they do best. Many Millennials will settle in the lower paying job, as long as it allows them the ability to express their talents.As observed in the city of Camden, non-profit organizations scatter throughout in order to rebuild the city of hope. Devoted organizations and passionate millennial entrepreneurs in the city are growing and giving back to the community.
Work Flexibility
The typical 9-5 business hour job is declining as Millennials continue to enter the workforce. The Census Bureau estimated that 13.4 million Americans work from home. The data will only increase when more Millennials start to work. This new career outlook stems from the disfavored opinion against office confinement. In the strong devotion for both work and freedom, Millennials compromised with the issue by creating careers from the comfort of their own home. Freelance work has been the popular option for Millennials, since it allows independency.  
Adventure Assist Travel Journal Is A Must Have For Trips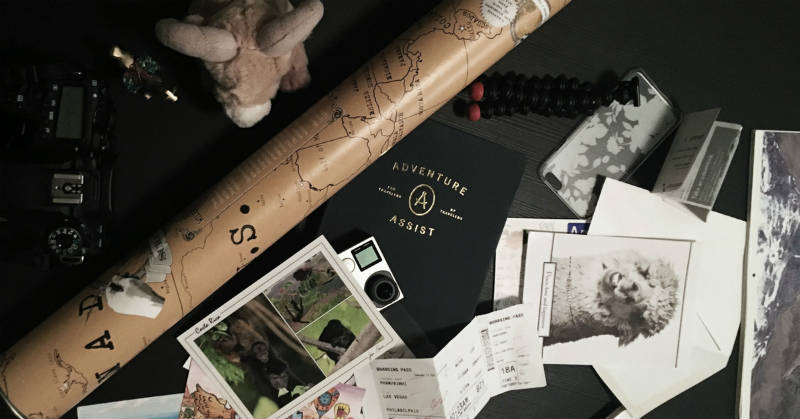 A twist to the classic notebook, Adventure Assist is a modern travel journal perfect for the before and afters of your trip. Mapping out your trip and keeping memories the old school way. Jot down the most important details of the trip as you are planning so you are ready once the time comes. Create a list of things to remember or missions to complete. Be ready for the accomplished feeling you get when you physically cross these things off your list. Keep quotes of silly things that happened along the way. Relive doodles of the funny dog you saw or the breathtaking view from the end of your hike.

The notebook was created by two adventure seekers, Jake Pritchard and April Onebane. Both studied abroad and have a passion for traveling with a purpose. Their mission is to " better connect travelers to their destinations by inspiring authentic and purposeful travel experiences through streamlining planning and organization." With that mission in mind, the Adventure Assist notebook was created. A heavy duty notebook with strong covers and thick sheets made to withstand the suitcases, backpacks and adventures it will be a part of.Broken down into seven section, the notebook helps travelers organize and keep track of the basic necessities when traveling. The sections starts with "packing" and moves onto "to-do", "transportation", "accommodations", "calendar", "contacts" and "journal" with journal being the largest section. Each section is divided as an easily identifiable tab to quickly navigate to the section.
Packing
The first tab in Adventure Assist, Packing, tells you to "list adventure gear, regional specific clothing, travel documents and entertainment essentials for your journey." With four pages to list what you are packing, you definitely won't miss a thing or over pack. A couple of things we would recommend: S-hooks, ziplock bags, mini-tripod.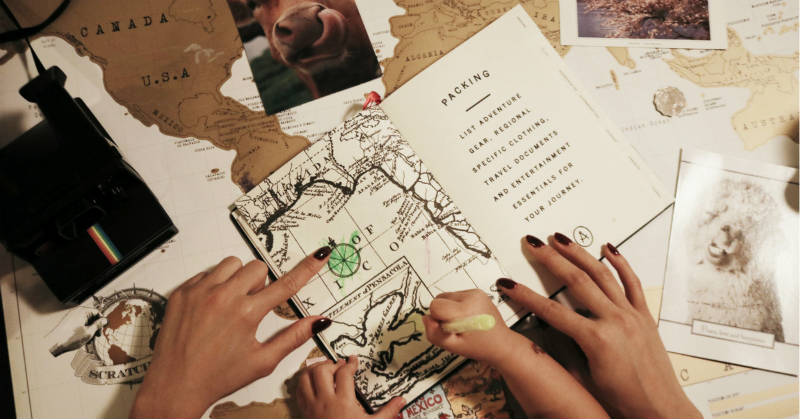 To-Do
Next, To-Do, is 10 pages, each page broken down into two sections. Each section is broken down into boxes: destination, attractions, activities, food and drinks. What are some things you want to do, see and eat at the destination? You will have an endless list of things you want to do on your next adventure but writing down the top 10 will help you keep track of the most important. Keep a smaller list for a higher chance of accomplishment while pulling from your bigger list when you run out. Nothing digital will ever replace the satisfying feeling of physically crossing something off of your Do-To list.
Transportation and Accomodations
Where are you staying each night? When time do you have to get there, get out and who do contact if you have a question. Necessary, if not the most important, information of every trip. Now that you know where you are staying, how are you getting there? Getting around in big cities is easy if the language is one you speak and the technology available is similar back home. The difficult but somewhat exciting times when you are visiting somewhere completely different than what you are used to, transportation will not be so easy. You may need to catch a ferry, jitney...donkey?! Keep track of what time departure and arrival is and any additional notes like how many stops until your destination.
Calendar and Contacts
The calendar section provides blank monthly calendar views for you to see your month at a glance. There is a column for notes where you could draw a map key, like emojis, and add the keys to your calendar. Contacts - great for noting who the people from each destination to call in case of emergencies. We have so many contacts in our phones we don't remember. When a panic situation happens, you have the information you need. In a more likely situation, you lose your phone or it runs out of battery. Now you have the contact information and can borrow someone's phone.
Journal
This is where you log your memories and experiences. The reason you are traveling in the first place. Write, draw, sketch, whatever you want in this section. Anything that will bring back the best memories from your journey when you discover this notebook on your shelf when you are 80. Instax or Polaroid would be perfect for this section. The two envelopes on each end of the notebook are great for storing tickets, airport stamp tickets, napkins with doodles on them or anything else relatively flat.We will have our digital photos, videos, social media accounts to look back at. But the feeling from something handwritten or hand drawn is much more powerful and memory provoking than anything digital. Adventure Assist is personal and once you start writing, you won't want to stop.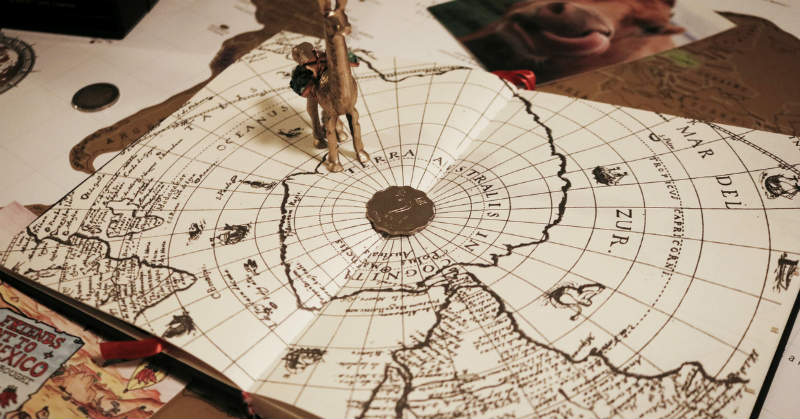 How To Choose The Right MicroSD For Your SmartPhone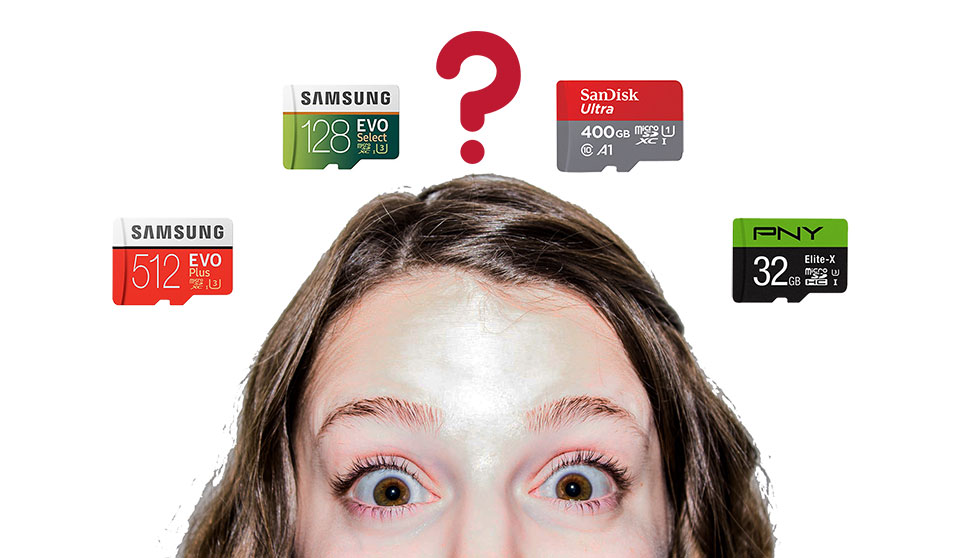 What does "SDHX", "Rated A2", "100MB/s", "Class 10", and "V30" even mean?! Choosing the right MicroSD to extend the storage capacity of your smartphone can be complicated especially if you don't know what all the industry jargon means. There's a lot of variables to consider in addition to the storage capacity (32GB or 512GB) and price point. Most of the listings on Ebay, Amazon, and even Bestbuy simply just list things out like "SDHX", "Rated A2", "100MB/s", "Class 10", and "V30" as if you're suppose to know what they mean. We decided to make a quick tutorial to give you, the educated consumer, a crash course in what these terminologies all mean, so that you can make a better decision on which microSD is right for you.
SDHC vs SDXC
SDHC is short for Secure Digital High Capacity. Meanwhile SDXC is short for Secure Digital Extended Capacity. There's no real discernible differences between them except that SDHC usually caps off at about 32GB. Meanwhile SDXC can go up to 1TB. SDXC tends to be a bit more expensive the higher the capacity. In terms of image/video quality, they are identicle. A
Read/Write Speed
The Read and Write speed designates the relative performance of the card. Generally, if it has a fast Read speed, your media will load faster and it will be quicker for you to accessing them. If your Write speed is fast, then recording or transfering files to the card will be seamless. A good performing microSD card will have an average Read speed of about 95 - 100MB/s and a Write speed between 80 - 90MB/s.  The higher these numbers, the better.
Class and UHS ratings
Each microSD will have a "Class" rating attached to it. The Class rating just means the minimum transfer speed it allows for. UHS is short for Ultra High Speed, and cards classified as UHS will usually have higher minimum transfer speeds. V Classes are relatively new and more widely available today. You'll mostly need to worry about V classes if you plan to record a lot of HD/1080/4K videos and want fast transfer speeds. Below is a quick chart to give you an idea of the different classes and what their minimum transfer speeds are.Also, don't be confused by the minimum speed. This isn't the same as their read/write speed.
| Class | Minimum Speed |
| --- | --- |
| 2 | 2 MB/s |
| 4 | 4 MB/s |
| 6 | 6 MB/s |
| 8 | 8 MB/s |
| 10 | 10 MB/s |
| UHS 1 | 10 MB/s |
| UHS 3 | 30 MB/s |
| V6 | 6 MB/s |
| V10 | 10 MB/s |
| V30 | 30 MB/s |
| V60 | 60 MB/s |
| V90 | 90 MB/s |
Application Performance Class
This is a feature specific for smart phones and tablets and something you should pay close attention to. For those who plan to save applications onto their microSD cards, the Application Performance Class (either A1 or A2) determines the random random read input-output access per second, IOPS for short. A1 typically has a read IOPS of 1500 and write IOPS of 500. Meanwhile A2 has a read IOPS of 4000 and write IOPS of 2000, making it A2 significantly better at running apps. You'll notice a performance boost when using apps saved to your microSD if it has either A1 or A2.In short, if a microSD is rated either A1 or A2, it's going to be great for smartphones and tablets. And if it's rated A2, it's REALLY good.
Video Quality
Make sure to check to see if the card offers 4K or not. If it doesn't, chances are you won't be able to record/save in 4K. Most modern smartphones will have 4K video recording as an option, so if you're using the microSD for a smartphone, this may be an important criteria.
Durability And Protection
MicroSD cards are built fairly enough nowadays. Most offer the standard protection such as being temperature proof, shockproof, waterproof, dust-proof, and x-ray proof. Be sure to check to see if the one you're planning to buy has the protection you need. The level of protection can be important if you're using the microSD in an outdoor security camera or if your device will be subjected to harsh conditions.
Price
And of course you want to make sure the microSD card you're choosing fits within your budget. Their price can range drastically depending on the brand, capacity, and features. We've compiled a
list of the best microSD cards here
.And there you have it, everything you need to know in order to make an educated decision on which microSD card to purchase for your newest Android smartphone. We've also curated a
list of best microSD cards for Samsung galaxy phones here
, so if you have the latest Samsung, be sure to check out this article first before committing.