Best Electric Scooters of 2022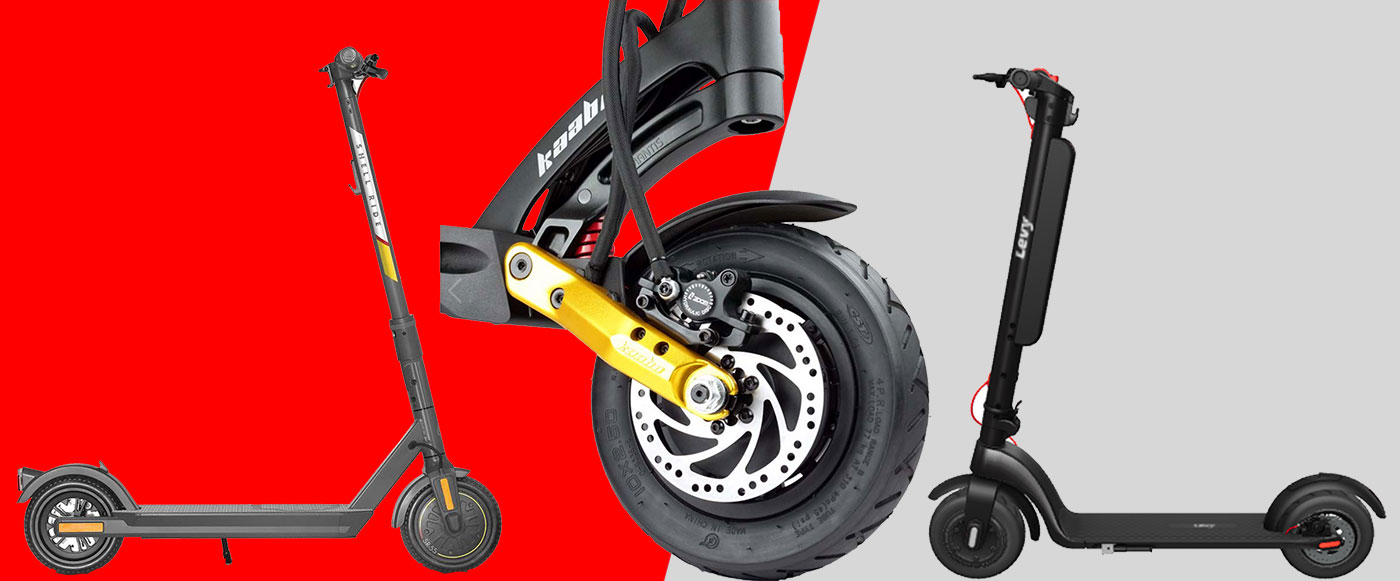 2021 was when we all returned to work, hoping everything would return to normal. Everything did return to normal as expected – including outrageous prices at the pump. Driving doesn't have the same appeal as it used to, especially for those returning to city life. I haven't owned a car since 2019 and have been patiently waiting for Elon to debut flying cars to make my city commute more bearable.
Well, disappointingly, 2021 did not bring us flying cars. But it did get us an onslaught of electric scooters. Traffic jams, rotating the block for parking, and expensive maintenance are things of the past. Electric scooters are replacing cars in cities, and there's no better time to get one than now. What are you waiting for, gas prices to go down?
Unfortunately, the world of electric scooters is still a relative niche market, and you might not be able to tell a cheap Chinese knock-off brand from a reputable manufacturer. That's why we decided to put together a list of the best electric and reputable scooters on the market today. We've tested about 20 electric scooters ourselves and have narrowed the list down to a few that we can confidently recommend. Enjoy!
Let's start with the biggest bang for your bucks electric scooter, the Kaabo Mantis Pro SE. SE stands for a special edition made in collaboration with Voro Motors. You can tell it's an SE edition by the unique gold trims.
This scooter was designed for enthusiasts; however, it's an easy one to recommend to anyone at this price range. Whatever you're looking for in a scooter, whether it's impressive build quality, craftsmanship, performance, portability (for its class), or value, the Kaabo Mantis Pro SE edition from Voro Motors has it all.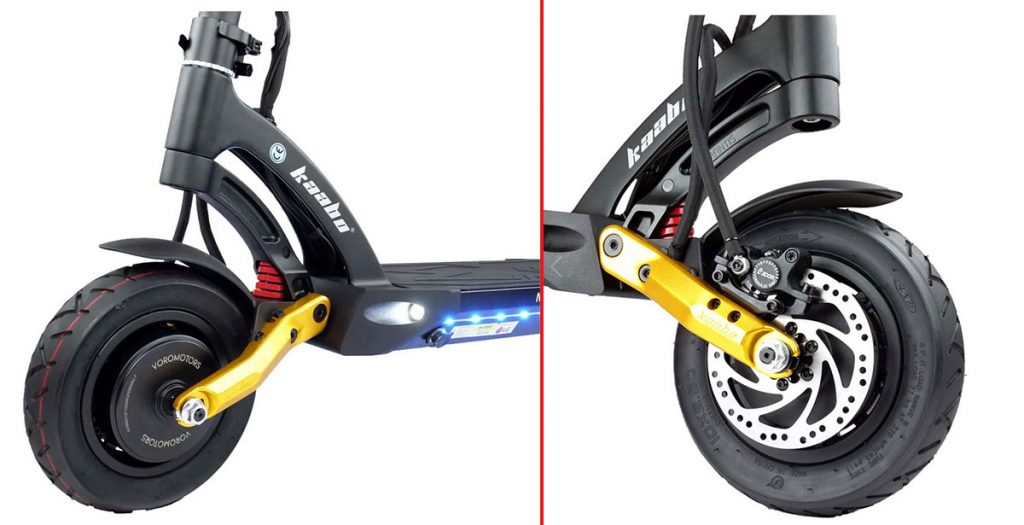 Packed with dual 1000W motors (combined 2000W), it's the fastest and most powerful scooter on this list. The sheer power combined with world-class engineering lets you go from 0 – 15 miles in less than 2 seconds and max out at 45 miles per hour. That was not a typo. Yes…45 miles per hour. That's twice the speed limit of most city roads.
Quick specs:
Price: $2299 (for 2022 24AH version)
Top speed: 45mph
Battery range: 40 miles
Scooter weight: 65lbs
Tires: 10″ tubed tires. 3″ wide
Max load: 330lbs
Motor: Dual 1000W Motors (2000W total)
Brakes: Zoom Hydraulic brakes
The Kaabo Mantis' battery can last up to 45 miles, making it the longest-lasting scooter on this list. You can probably see why we put this one first.
The one downside would be the weight. At 65 lbs, it's the heaviest scooter on this list. However, compared to most scooters in its class, this is one of the lightest high-performance scooters on the market.
You are getting something for all of that extra weight. The Kaabo Mantis is exceptionally well built and can handle up to 330lbs.
(Full review coming soon)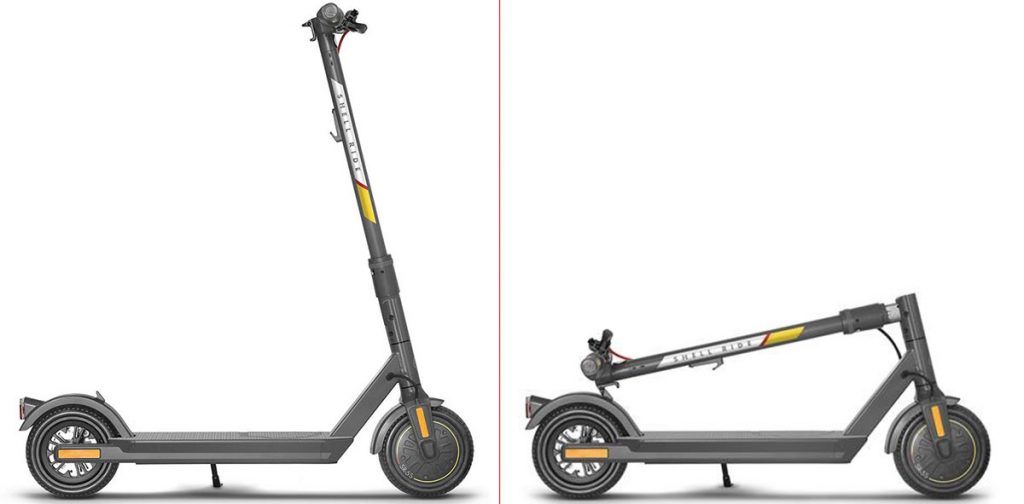 For those who don't have $2299 to drop on a scooter, the Shell Ride SR-5S is the perfect alternative.
The Shell Ride SR-5S is a compact, fast, and reliable scooter with one of the best build qualities on a scooter at this price range. It's hard to tell from pictures, but this scooter is exceptionally well built with a wobble-proof solid steel folding stem.
Everything about the SR-5S screams quality. Riding it around the city, we've never heard a single rattle or felt anything come loose. The handlebar is wide with a firm spatula grip. The bell is an actual bell instead of a spring-action mechanism used by cheaper scooters.
Quick specs:
Price: $629
Top speed: 15.5 – 20mph
Battery range: 18-20 miles
Scooter weight: 30.4lbs
Tires: 8.5″ semi-pneumatic
Max load: 220lbs
Motor: Front 350W Motor
Brakes: Rear disc brake & electric front brake
It has a range of 20 miles and a top speed of about 20 miles. These numbers will vary depending on your weight, road condition, and other environmental factors.
Three features separate the SR-5S from most other scooters. First is how secure and easy it is to fold and unfold the scooter. The stem uses a unique sheath sliding mechanism that lets you fold/unfold the scooter in less than 5 seconds. The locking mechanism is also secure, making it easier to carry around than most.
The second feature is how quickly the scooter starts up. Pressing the power button brings the scooter to life within 1 second, and you're ready to go. The built-in display is simple, functional, and visible even on bright sunny days.
The third feature is the Shell Ride App. The SR-5S is one of few scooters with robust App integration. I was skeptical at first and thought the App may have been an after-thought. To my surprise, it's an exceptionally well-designed interface that connects seamlessly with the scooter. You don't need an App for any scooter, but it's nice to see your average speed, total mileage, etc.
The one downside is the small 8.5 semi-pneumatic wheels. They're a bit small for the speed this scooter can handle. At 12-15mph, you'll be fine. However, at 18-20 mph, it can get risky on uneven roads.
If you're looking for a lightweight and high-quality scooter to make short commutes in the city, you can't go wrong with the Shell Ride SR-5S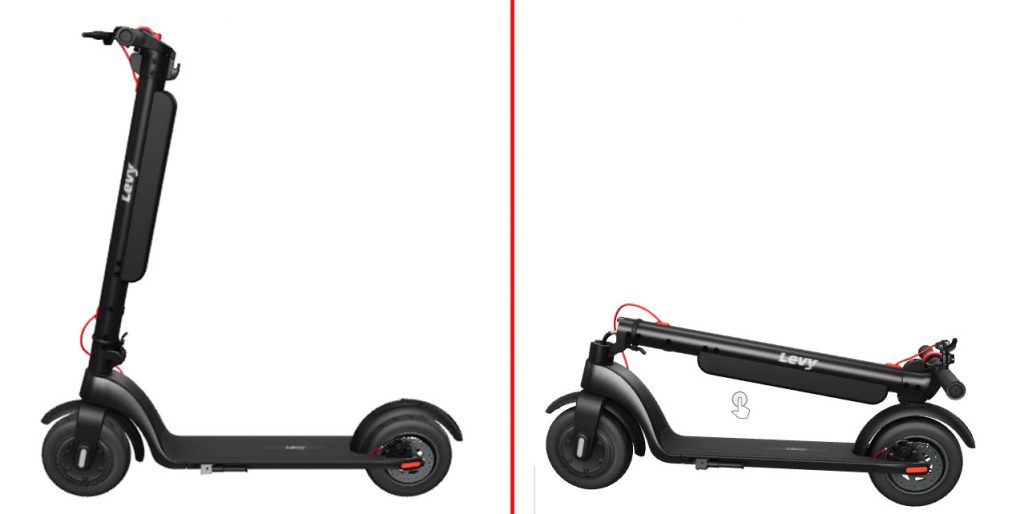 The Levy Plus is one of the lightest and most portable scooters on this list. Despite weighing only 30 lbs, it's capable of 18 mph with a range of 20 miles on cushy 10″ pneumatic tires.
Quick specs:
Price: $629
Top speed: 18 mph
Battery range: 20 miles
Scooter weight: 30lbs
Tires: 10″ pneumatic tires
Max load: 220lbs
Motor: Front 350W Motor
Brakes: Rear disc brake & electric front brake
The battery is removable, however we didn't feel like this was a very useful feature. Given the scooter doesn't come with an extra battery. That will be an added cost. So most of the time, you're just plugging directly into the scooter to charge.
The 1-step latching mechanism to fold and unfold is quick, easy, and offers wobble-free operation. The Levy Plus is one of the most accessible and most convenient electric scooters. Using the Levy Plus, I could get to work, board public transit, and bring the scooter into Starbucks with ease.
My one complaint would be the lack of app integration. Given that Levy does have an App for their Fleet products, I felt one should've been published for their scooters.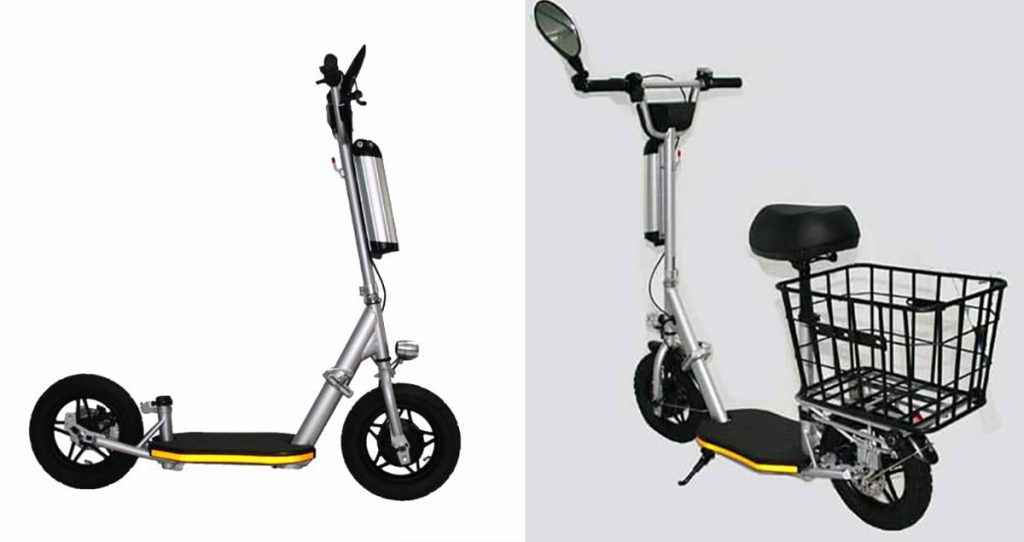 The Balto is already such a unique scooter that's differentiating itself from anything on the market. We like that the team at Glion didn't just use a copy/paste design and instead re-imagined what functionality would look like—introducing the Glion Balto, the only scooter that comes standard with a removable seat and grocery rack AND a high-torque 750W motor.
Quick specs:
Price: $799
Top speed: 17 mph
Battery range: 20 miles
Scooter weight: 38lbs
Tires: 12″ pneumatic tires
Max load: 255lbs
Motor: Front 750W Motor
Brakes: Rear disc brake & electric front brake
It has a top speed of about 17mph, a range of 20 miles, and a maximum load capacity of 255lbs. The removable 500W battery pack also doubles as a portable power station to charge your devices. However, you'll need to buy a $139 inverted from Glion, sold separately, to use that feature. That may or may not be your favorite thing about the Balto.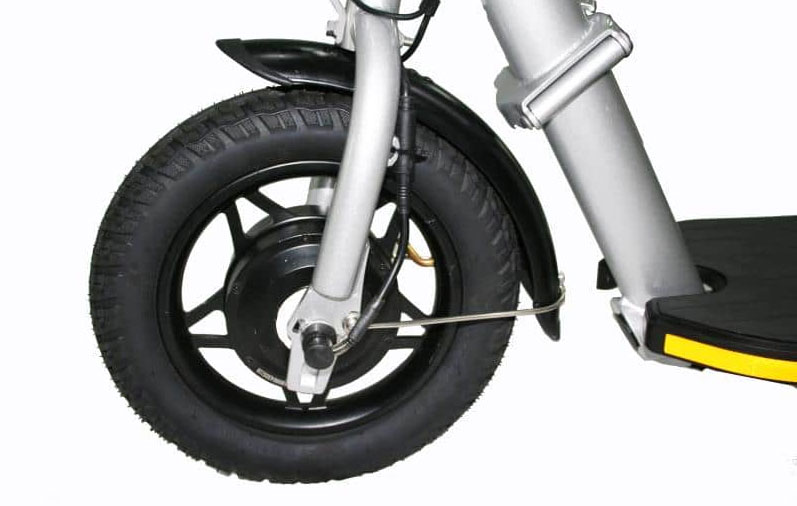 What WILL be your favorite thing about the Balto are the massive 12″ pneumatic tires. These are the most oversized tires to have ever been fitted on a scooter. These tires are ready to take on poorly serviced city roads and potholes.
The one major downside with the Balto is portability. At 38lbs, the weight is manageable. However, it's far too big even when folded to bring into public spaces. You'll likely want to lock this outside on a bike rack.
I have to admit, the grocery rack in the back was not a selling point for me. However, I've grown to love it, especially when I need to make a quick trip to Aldi's every week. If you're looking to pick up girls on your scooter, look elsewhere (actually, don't look at scooters altogether). But if you're looking for an all-in-one scooter that's great for commuting and grocery trips, there's nothing better. The Glion Balto is screaming your name.
Mummers Parade 2022 Will Be Omicron-Themed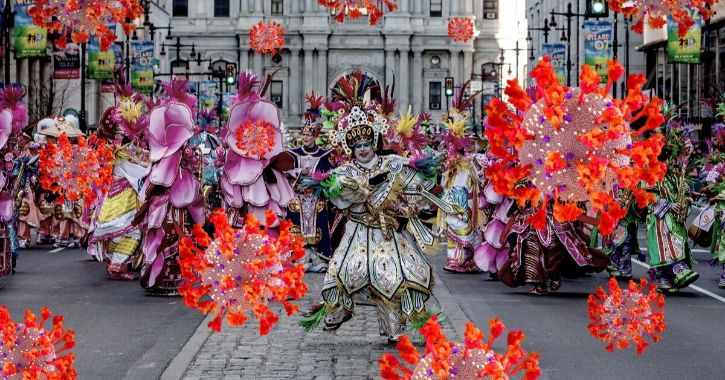 Last year, the world and city of Philadelphia were gifted with the cancellation of the Mummers 2021 parade. This year, however, during the height of the rapidly increasing infection rates thanks to the omicron variant, the Mummers have decided, "let's spread it some more."
Yes, Philadelphia's oldest and most obnoxious "folk" parade is once again infecting our streets with their special brand of mediocrity. Philadelphians will once again be forced to navigate road closures while these colorful idiots do their bizarre dances, a bigoted form of what they call satire, and spread a virus that has killed over 800K people.
Happy New Year.
Who The Hell Are The Mummers?
If you're lucky enough to live in a city as great as Philadelphia, you're also equally unlucky to be familiar with those weird, racist, drunk clump of tribalist idiots that call themselves Mummers.
The Mummers are made up of local clubs – the Comic and Wench Brigades, the String Bands, and the Fancy Brigades. The Comic and Wench Brigades attempt to satirize but really just perform lazy racism and bigotry. The String Bands play instruments, I guess. And the Fancy Brigades performs a very strange dance that I can only describe as "bouncy umbrella foxtrot."
What's really odd is that these people spend all year working on this only for it to be so… mediocre.
The Audacity Of Mediocrity
Sure, the Mummers bigotry has been well-documented. They have said they're making efforts to cut it out (Sure, Jan). Their long history of bigotry is certainly offensive, no question. But what I find particularly offensive is how lazy, mediocre, and entitled the Mummers are. They spend all year working on … that?
They have the audacity to carry themselves like cultural gifts to Philadelphia and New Years. The Mummers spend hours upon hours building stage pieces that look like they belong in a low-rent middle school play. Their costumes are unoriginal, tacky, and obnoxious. The music is really annoying.
And they have the unabashed gall to think they are bringing joy, culture, and celebration to the new year.
Why Hasn't Mummers Parade 2022 Been Cancelled?
I don't know. Omicron is running rampant and the Mummers think that their special brand of mediocrity is necessary. 800K+ people are dying, but sure, let's have the Mummers come and do their silly umbrella dance all over Broad Street while they spread the virus.
It'Ll Be GrEaT fOr MoRaLe
If you have the luxury to stay far, far away from this unimpressive, bigoted, obnoxious group of cultural wannabes please do so with haste. This group of people cares more about their mediocrity than the health and safety of other people. The Mummers care more about being that guy than reducing the spread of a virus that has killed 800K+ people.
Here's how Philly's "beloved" Mummers have responded to criticism: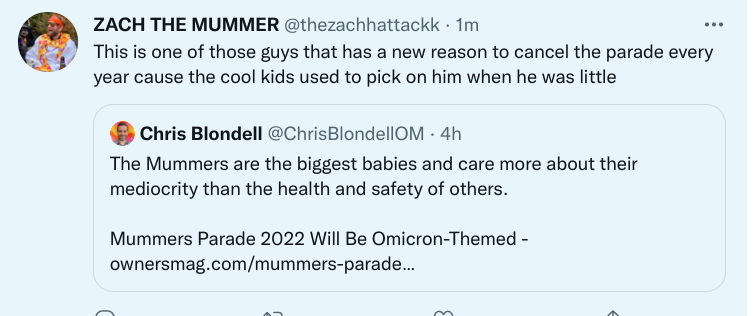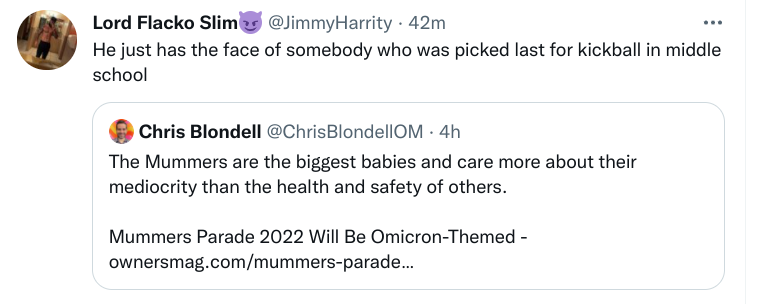 One of them even decided to private message me on my personal Instagram: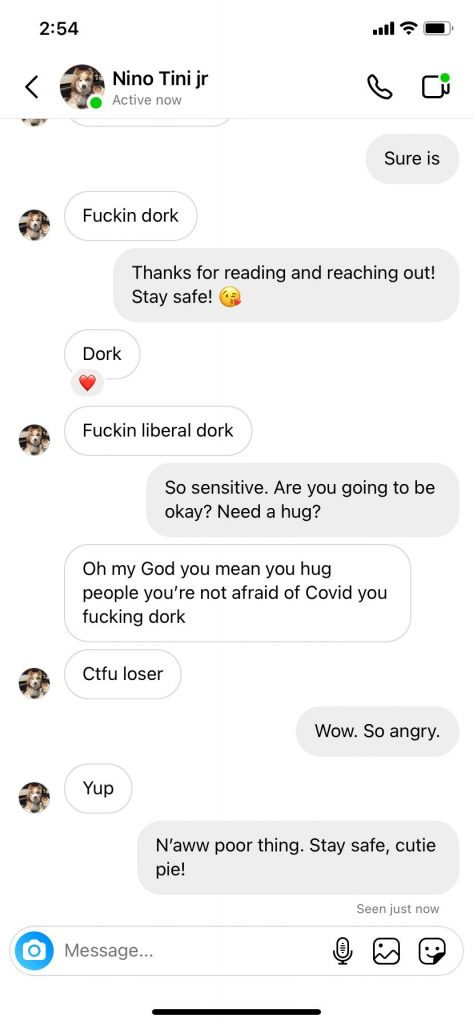 And they won't stop here either. These are the people Philly chooses to support?
The "Best Ever" Canva Tutorial For Beginners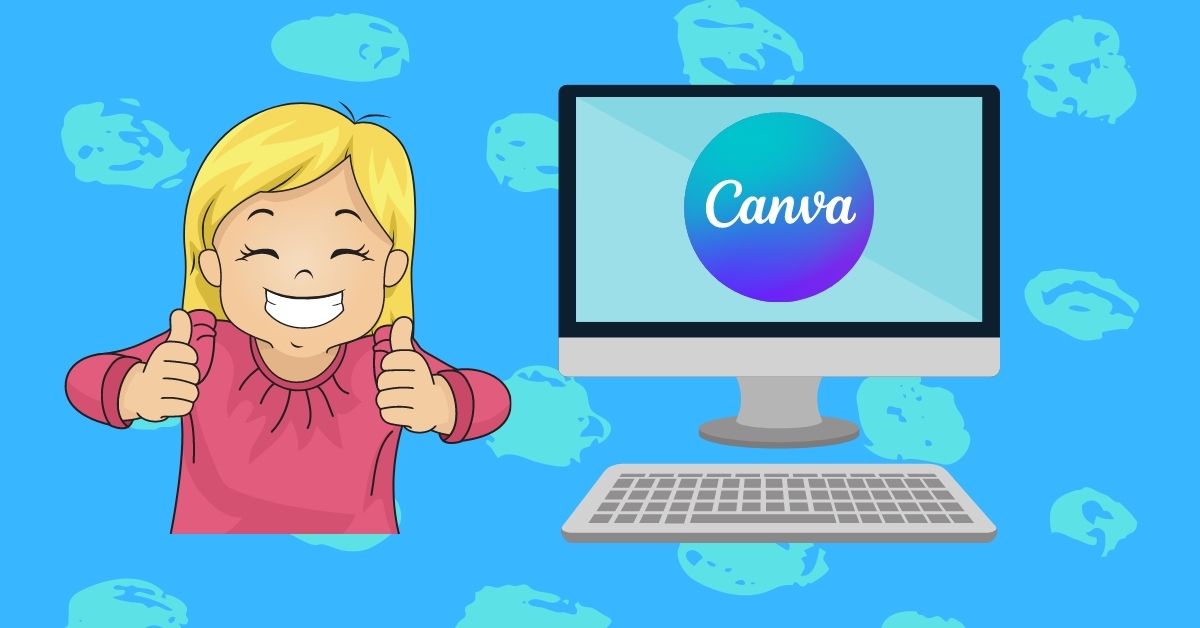 If you haven't tried Canva yet, you really should. It's a DIY playground for all things design. Canva is so simple to use that all you need going in is an idea and a little creative talent. However, as a new user, you may find its many features a tad intimidating. Thankfully, we're here to give you the best ever Canva tutorial for beginners.
Getting Started
First, there's the obvious. Go to Canva.com. You'll notice that my account is a Pro account. But since this is a beginner's tutorial, I will only be using features available to new folks.
On the top right corner, you'll see "Create a design." Click that and make your choice. You'll see a wide selection of options for you to choose from.
For our purposes, let's select "Logo."
A new window will open and you are officially ready to begin your project.
Selecting A Template
There are plenty of templates to choose from. Under logos, you'll find templates for Hospitals, Bands, Events, Fashion, Food/Drink, and so on.
Pick the one best suited to your project. Let's pick DJ Logo.
Oh, and you should definitely name your project. It's located in the top right corner.
It doesn't matter what you name it. I picked a nice boring identifier.
Now, pick the template. There's a lot to pick from. I chose this one.
Beginning Your Design
Now, DJs are certified non-geniuses, so they need all the help they can get. Let's call our entertainer "DJ Oopsy Daisy." Because why not? Who's going to stop me?
You don't want to end there. Templates are there to make it easier for you as a beginner. You don't want to stick with the template because then you'll appear lazy and uninspired. Let's start by changing the graphic at the top of the design.
Now, we're going to dive into elements. This is a fun part.
Using The Elements
On the left-hand side of the page, you'll see 'Elements.' Click that.
You'll see quite a few options to pick from. Let's find a DJ-related graphic. Click on the search bar, type in "DJ" and hit graphics to narrow your search.
Find the graphic you like best and select it. I chose this one. Don't forget to remove the template graphic!
I then made the graphic larger using a simple click-and-drag.
Editing Text
Let's update the text a little and make it our own. You can select it from the "Text" option on the left-hand side of the page.
Personally, I like the text options from the left-hand side of the page. They have a wide variety of text options that will really help your design pop. I chose this one.
I type out "DJ Oopsy Daisy" in the new text and boom.
Is it a particularly good design? No. But, for our purposes, it doesn't need to be, does it? This is a "Canva tutorial for beginners," not a "Canva Here's How To Make The Perfect DJ Logo."
Adding Texture
Kind of a boring design, right? Let's add some background texture. When I'm searching for background text, I search in the Elements under "graphics." "textured background" should be sufficient.
I chose this one.
But, as we can see, it covered the DJ graphic. How do we fix that? Right-click, "send backward."
There. Now we have a design as pitiful as the name of our made-up DJ. In fact, I think my final design is worse than the original template. But, not really the point, ya know?
If you choose to use a photo for your background, you can do so by clicking "Uploads" on the left-hand side of the screen.
Download, Export, and Share
Once you've finished your design. Simply go to the top right corner, hit download, and select the file type you want to download. It offers PNG, JPG, PDF, GIF, and so on.
Download the file type you want and you have yourself a genuine DIY design!
Final Words
There you have it. There is your basic, step-by-step Canva tutorial for beginners. Hopefully, this is helpful in getting you started. But the best way to really understand how to use Canva is to simply dive in and play around!
If DIY design is too intimidating here are some graphic design services to check out. Let someone else do it!
The 3 Best Chicago Hot Dogs You Can Eat In 3 Hours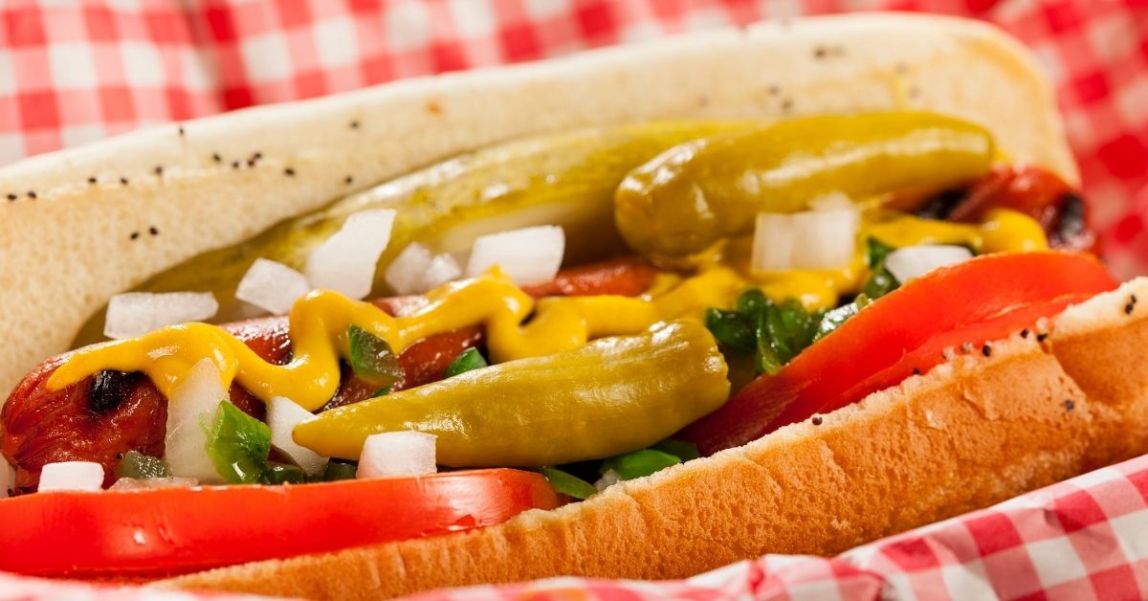 Anyone who tells you that you need to try Chicago deep-dish pizza is wrong and needs to be avoided at all costs. Chicago is a hot dog town. You don't realize how much you've missed out on life until you've tasted the glory that is Chicago hot dogs.
A Chicago hot dog is very particular. And for good reason. First, they use real casing, giving it a signature snap when you bite into it. Second, it's loaded with onions, tomato slices, neon-green relish, a pickle slice, sport peppers, and mustard on a poppy seed bun. Third, NO KETCHUP.
Seriously, you won't make any friends in Chicago if you ask for ketchup on your dog.
There is no shortage of quality dogs in Chicago. Wherever you go, chances are you'll be happy. I went to these three spots and rated them accordingly. Prior to Chicago hot dogs, my dog experience was pretty limited to whatever looked "freshest" at 7/11.
Here are the three best Chicago hot dogs I ate in three hours. 
Our first stop was at Dog Haus on Lincoln Ave. It wasn't very busy but it was very clean and the staff was super nice. Excited for my very first Chicago hot dog, I wolfed it down in a matter of moments.
The bun was fluffy and perfectly crispy on the edges with a generous helping of all the toppings that make up the iconic dog. The dog itself was the single most delicious hot dog I have ever tasted in my life. All in all, I was pretty satisfied. 10/10.
I have dreamed of visiting The Wieners Circle ever since they were featured on Conan. For those who don't know, The Wieners Circle is known not just for its dogs but for how the staff berates and insults their customers as aggressively and brutally as you can imagine.
Being a vulgar person with a deep affection for greasy food, I knew this was the spot for me.
The staff is only vulgar and insulting after 9 pm (can't be cussing at the kids, ya dig?). So, while we didn't get the full experience that makes this spot famous, you could smell it in their air. All it would take was one snarky comment and you could imagine the wonderful abuse you'd endure. But this is a business trip, so best behave.
I got the cheddar char dog – a classic Chicago-style with cheese charred on the grill. And good golly miss molly was it the single most delicious hot dog I have ever tasted in my entire life – but better.
The dog was not huge, but the poppy seed bun perfectly cradled it and the toppings beautifully and gently. The char – my goodness ya'll – THE CHAR! You could taste all the grease of years past with that perfectly smoky, blackened taste that makes every hot dog the best hot dog.
It was everything I dreamed it would be. 12 – no – 15!/10.
Next was Flub A Dub Chub's (LOVE the name). It feels like an event when you descend down the grimy stairs into what is, without question, the winner in terms of atmosphere.
The fairly small space's walls were covered with customer-made hot-dog-themed drawings that varied from a hot dog beating up a ketchup bottle (I wasn't kidding about the ketchup thing – don't do it) to a Thor holding Mjölnir in triumph while yelling something about hot dogs (missed opportunity to hold a dog-themed Mjölnir, imho).
The staff was cool and non-judgmental (for those of you brave enough to add ketchup), and the dog was the single most delicious hot dog I have ever tasted in my entire life – only I'm full now.
Three Chicago hot dogs in three hours add up, alright?
The Verdict
For me, it was The Wieners Circle. The others never stood a chance. Call it bias, call it favoritism, call it what you want. But you're not the one writing right now, are you?
The Wieners Circle is without question the most superior of all Chicago hot dogs. It doesn't pretend to be anything it's not except for a great place to get a delicious dog and some humbling verbal abuse.
Dog Haus was a great first Chicago hot dog experience, but ultimately chains are inherently a little lame. Flub A Dub Chub's was super fun, but I was getting full by that time, so it's not totally fair.
If you're going to have any hot dog in Chicago, make sure it's The Wieners Circle – and make sure you leave a tip.