Best Electric Scooters of 2022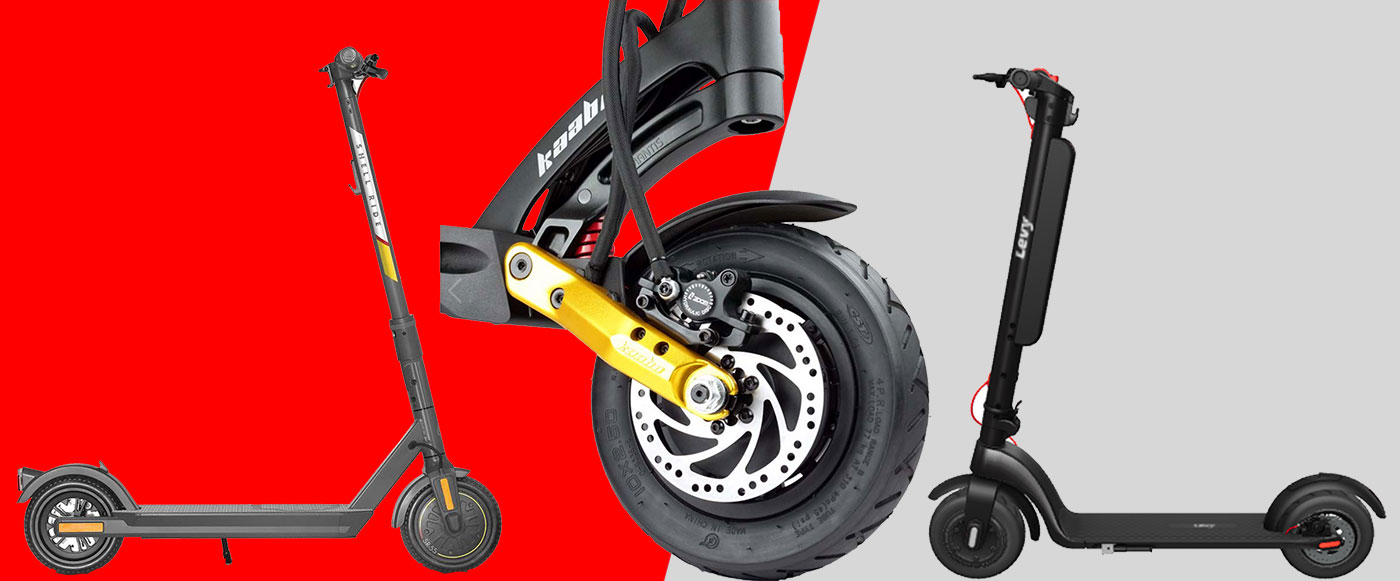 2021 was when we all returned to work, hoping everything would return to normal. Everything did return to normal as expected – including outrageous prices at the pump. Driving doesn't have the same appeal as it used to, especially for those returning to city life. I haven't owned a car since 2019 and have been patiently waiting for Elon to debut flying cars to make my city commute more bearable.
Well, disappointingly, 2021 did not bring us flying cars. But it did get us an onslaught of electric scooters. Traffic jams, rotating the block for parking, and expensive maintenance are things of the past. Electric scooters are replacing cars in cities, and there's no better time to get one than now. What are you waiting for, gas prices to go down?
Unfortunately, the world of electric scooters is still a relative niche market, and you might not be able to tell a cheap Chinese knock-off brand from a reputable manufacturer. That's why we decided to put together a list of the best electric and reputable scooters on the market today. We've tested about 20 electric scooters ourselves and have narrowed the list down to a few that we can confidently recommend. Enjoy!
Let's start with the biggest bang for your bucks electric scooter, the Kaabo Mantis Pro SE. SE stands for a special edition made in collaboration with Voro Motors. You can tell it's an SE edition by the unique gold trims.
This scooter was designed for enthusiasts; however, it's an easy one to recommend to anyone at this price range. Whatever you're looking for in a scooter, whether it's impressive build quality, craftsmanship, performance, portability (for its class), or value, the Kaabo Mantis Pro SE edition from Voro Motors has it all.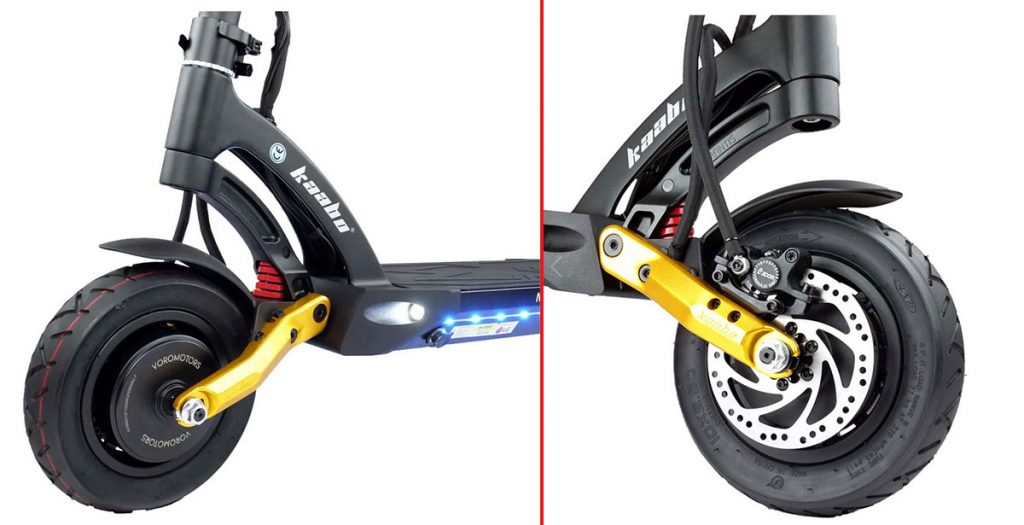 Packed with dual 1000W motors (combined 2000W), it's the fastest and most powerful scooter on this list. The sheer power combined with world-class engineering lets you go from 0 – 15 miles in less than 2 seconds and max out at 45 miles per hour. That was not a typo. Yes…45 miles per hour. That's twice the speed limit of most city roads.
Quick specs:
Price: $2299 (for 2022 24AH version)
Top speed: 45mph
Battery range: 40 miles
Scooter weight: 65lbs
Tires: 10″ tubed tires. 3″ wide
Max load: 330lbs
Motor: Dual 1000W Motors (2000W total)
Brakes: Zoom Hydraulic brakes
The Kaabo Mantis' battery can last up to 45 miles, making it the longest-lasting scooter on this list. You can probably see why we put this one first.
The one downside would be the weight. At 65 lbs, it's the heaviest scooter on this list. However, compared to most scooters in its class, this is one of the lightest high-performance scooters on the market.
You are getting something for all of that extra weight. The Kaabo Mantis is exceptionally well built and can handle up to 330lbs.
(Full review coming soon)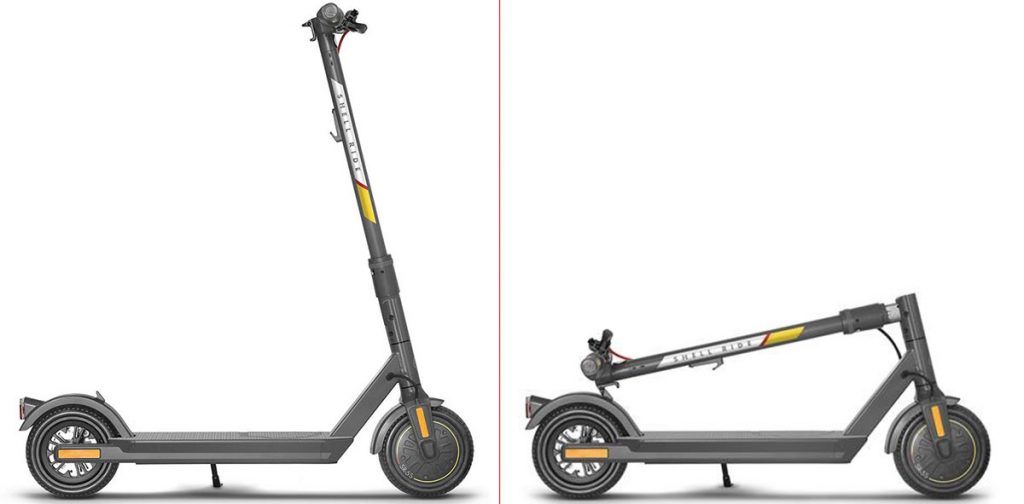 For those who don't have $2299 to drop on a scooter, the Shell Ride SR-5S is the perfect alternative.
The Shell Ride SR-5S is a compact, fast, and reliable scooter with one of the best build qualities on a scooter at this price range. It's hard to tell from pictures, but this scooter is exceptionally well built with a wobble-proof solid steel folding stem.
Everything about the SR-5S screams quality. Riding it around the city, we've never heard a single rattle or felt anything come loose. The handlebar is wide with a firm spatula grip. The bell is an actual bell instead of a spring-action mechanism used by cheaper scooters.
Quick specs:
Price: $629
Top speed: 15.5 – 20mph
Battery range: 18-20 miles
Scooter weight: 30.4lbs
Tires: 8.5″ semi-pneumatic
Max load: 220lbs
Motor: Front 350W Motor
Brakes: Rear disc brake & electric front brake
It has a range of 20 miles and a top speed of about 20 miles. These numbers will vary depending on your weight, road condition, and other environmental factors.
Three features separate the SR-5S from most other scooters. First is how secure and easy it is to fold and unfold the scooter. The stem uses a unique sheath sliding mechanism that lets you fold/unfold the scooter in less than 5 seconds. The locking mechanism is also secure, making it easier to carry around than most.
The second feature is how quickly the scooter starts up. Pressing the power button brings the scooter to life within 1 second, and you're ready to go. The built-in display is simple, functional, and visible even on bright sunny days.
The third feature is the Shell Ride App. The SR-5S is one of few scooters with robust App integration. I was skeptical at first and thought the App may have been an after-thought. To my surprise, it's an exceptionally well-designed interface that connects seamlessly with the scooter. You don't need an App for any scooter, but it's nice to see your average speed, total mileage, etc.
The one downside is the small 8.5 semi-pneumatic wheels. They're a bit small for the speed this scooter can handle. At 12-15mph, you'll be fine. However, at 18-20 mph, it can get risky on uneven roads.
If you're looking for a lightweight and high-quality scooter to make short commutes in the city, you can't go wrong with the Shell Ride SR-5S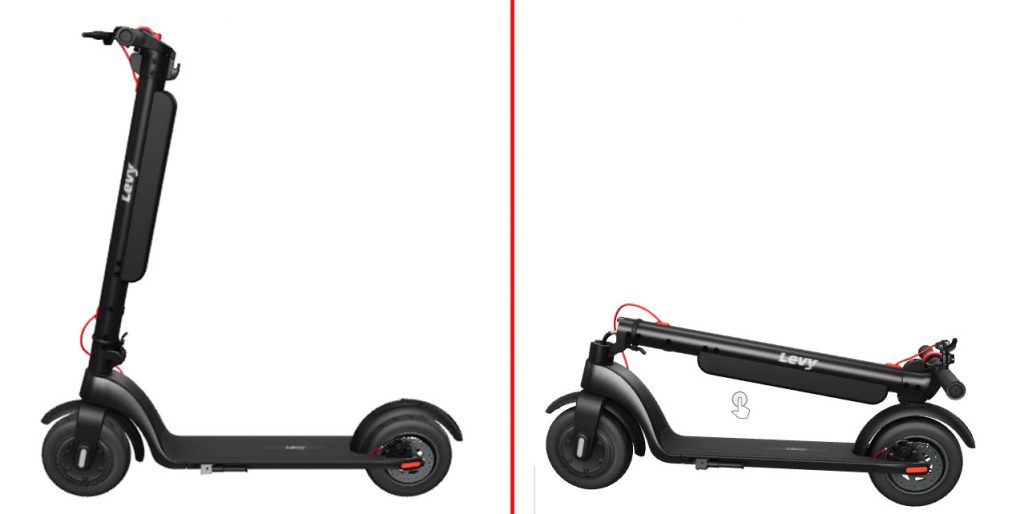 The Levy Plus is one of the lightest and most portable scooters on this list. Despite weighing only 30 lbs, it's capable of 18 mph with a range of 20 miles on cushy 10″ pneumatic tires.
Quick specs:
Price: $629
Top speed: 18 mph
Battery range: 20 miles
Scooter weight: 30lbs
Tires: 10″ pneumatic tires
Max load: 220lbs
Motor: Front 350W Motor
Brakes: Rear disc brake & electric front brake
The battery is removable, however we didn't feel like this was a very useful feature. Given the scooter doesn't come with an extra battery. That will be an added cost. So most of the time, you're just plugging directly into the scooter to charge.
The 1-step latching mechanism to fold and unfold is quick, easy, and offers wobble-free operation. The Levy Plus is one of the most accessible and most convenient electric scooters. Using the Levy Plus, I could get to work, board public transit, and bring the scooter into Starbucks with ease.
My one complaint would be the lack of app integration. Given that Levy does have an App for their Fleet products, I felt one should've been published for their scooters.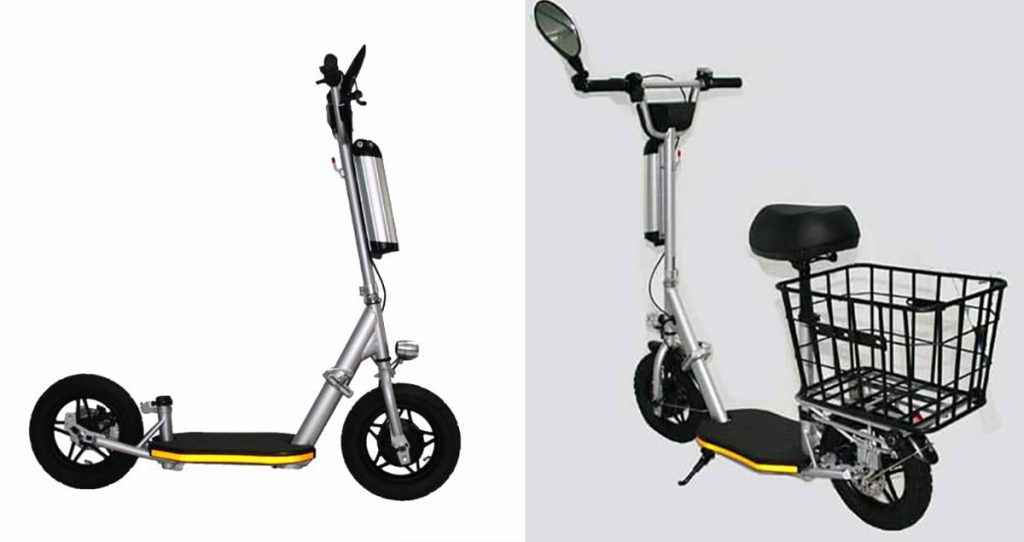 The Balto is already such a unique scooter that's differentiating itself from anything on the market. We like that the team at Glion didn't just use a copy/paste design and instead re-imagined what functionality would look like—introducing the Glion Balto, the only scooter that comes standard with a removable seat and grocery rack AND a high-torque 750W motor.
Quick specs:
Price: $799
Top speed: 17 mph
Battery range: 20 miles
Scooter weight: 38lbs
Tires: 12″ pneumatic tires
Max load: 255lbs
Motor: Front 750W Motor
Brakes: Rear disc brake & electric front brake
It has a top speed of about 17mph, a range of 20 miles, and a maximum load capacity of 255lbs. The removable 500W battery pack also doubles as a portable power station to charge your devices. However, you'll need to buy a $139 inverted from Glion, sold separately, to use that feature. That may or may not be your favorite thing about the Balto.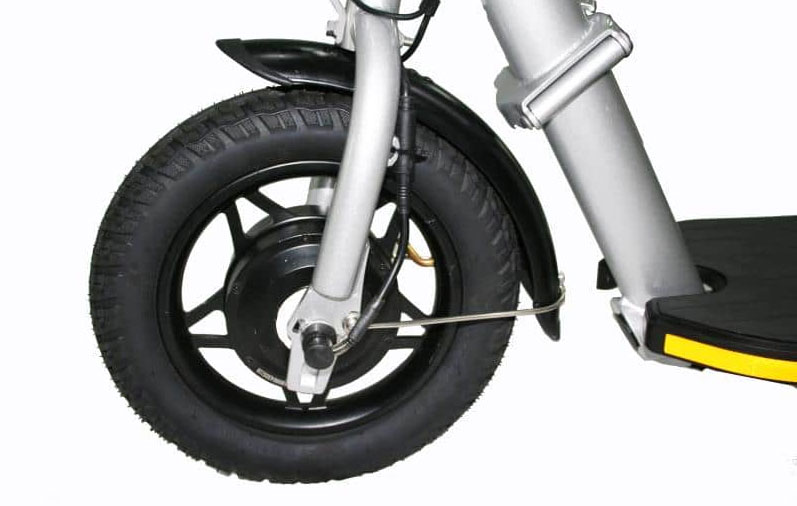 What WILL be your favorite thing about the Balto are the massive 12″ pneumatic tires. These are the most oversized tires to have ever been fitted on a scooter. These tires are ready to take on poorly serviced city roads and potholes.
The one major downside with the Balto is portability. At 38lbs, the weight is manageable. However, it's far too big even when folded to bring into public spaces. You'll likely want to lock this outside on a bike rack.
I have to admit, the grocery rack in the back was not a selling point for me. However, I've grown to love it, especially when I need to make a quick trip to Aldi's every week. If you're looking to pick up girls on your scooter, look elsewhere (actually, don't look at scooters altogether). But if you're looking for an all-in-one scooter that's great for commuting and grocery trips, there's nothing better. The Glion Balto is screaming your name.
Hotjar Review 2023: Is Hotjar worth it?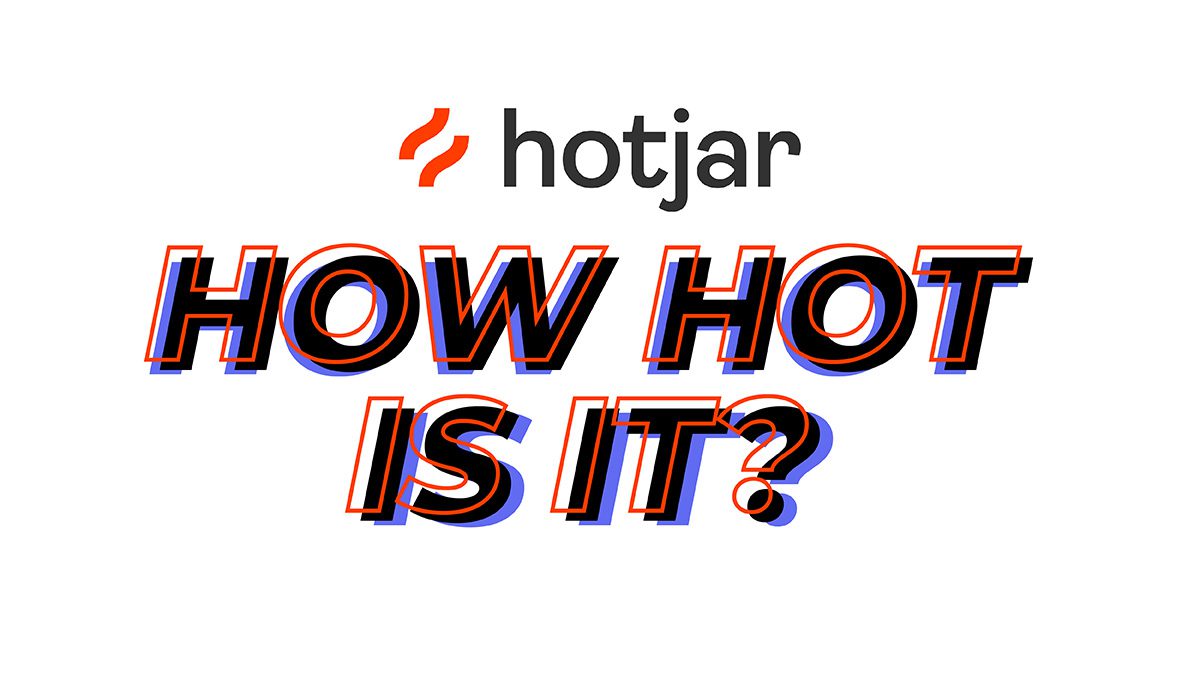 You just paid a buttload for a great website design. With a good rollout and some SEO wizardry, your traffic is through the roof. There's just one problem: it's not turning into revenue.
Hotjar claims to offer the solution to this classic problem. It tracks user engagement with heatmaps so you can see exactly what visitors are doing when they use your site.
But is Hotjar the real deal? We decided to give it a spin. Here's our Hotjar review.
What is Hotjar?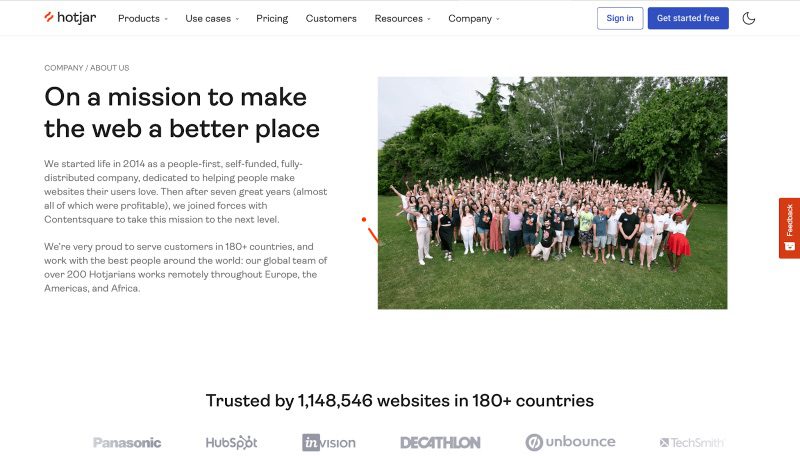 Hotjar was founded back in 2014 by entrepreneur and consultant David Darmanin. The way Darmanin tells it, the company started after a string of failures.
"In both cases we built a product for months before we took it to market and started 'selling' it at scale. We thought that a well planned and complete user experience together with a top notch design were critical requirements before launch."
With Hotjar, they made the simplest functional version of the product, released it in beta, and fine-tuned it for nearly a year before the final launch in 2015.
The strategy paid off, as Hotjar is now used by millions of websites around the world, including Nintendo, Adobe, and Microsoft. They were bought out by Contentsquare in 2021.
What does Hotjar do?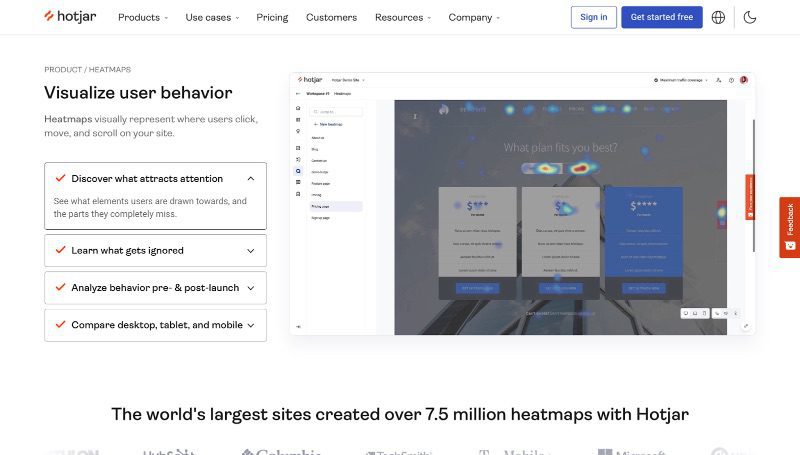 Hotjar's most prominent feature is its heatmaps. These offer a handy visual to showcase how people typically use your website. Other than that, they offer tools for direct customer feedback, while also helping you recruit the right people for interviews and testimonials.
Hotjar review: Pricing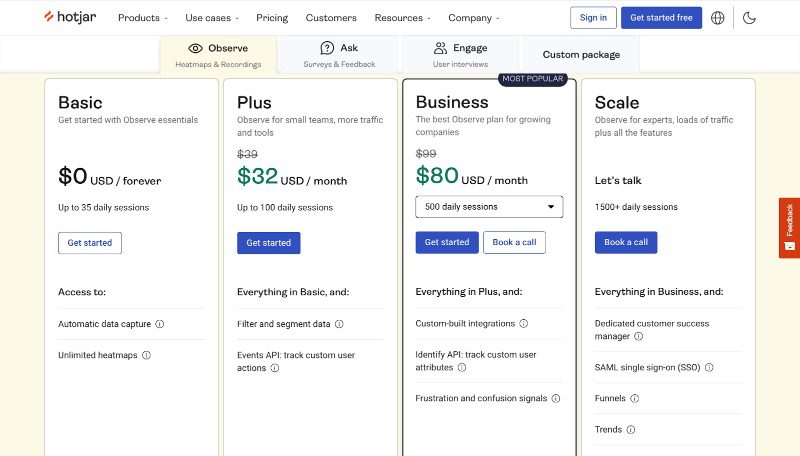 How much does Hotjar cost? For the standard "Observe" feature, they have 3 pricing plans:
Basic: $0/mo. Unlimited heatmaps, continuous data capture, captures up to 35 user sessions a day.
Plus: $39/mo. Includes additional filtering and API tools for tracking, captures up to 100 user sessions a day.
Business: $99/mo (starting price). Includes custom integrations, user attribute tracking, captures up to 500 sessions a day. Can capture more sessions at higher prices, up to 270k.
In addition, they offer more robust business tools with bespoke pricing. To find out more about these packages, pricing for Ask and Engage tools, and custom packages, check out their pricing page.
Observe, Ask, and Engage all have free Basic packages. For the purposes of this Hotjar review, we'll be focused on those.
Hotjar review: How to sign up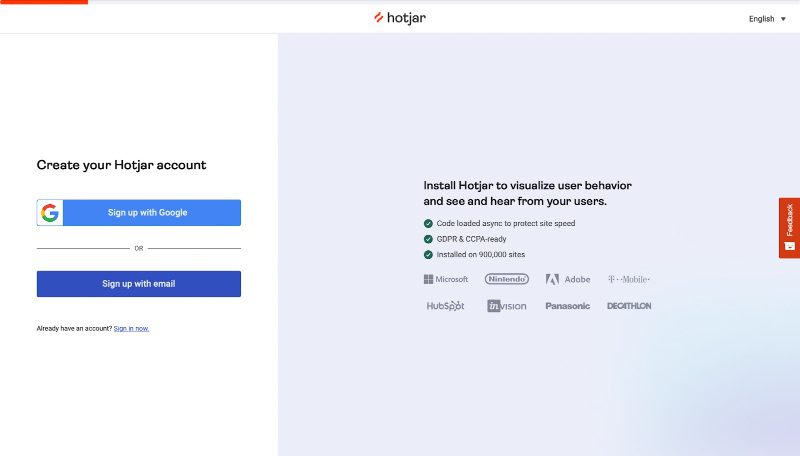 Hotjar has a simple sign-up process. All it takes is a few simple steps:
Sign up with your email or Google account.
Input your company's name, how many employees you have, and your role.
Select which feature you want to explore first.
Input your company's website for Hotjar installation
Once you've done all that, you get walked through the steps for adding Hotjar to your website.
How do you add Hotjar to your website?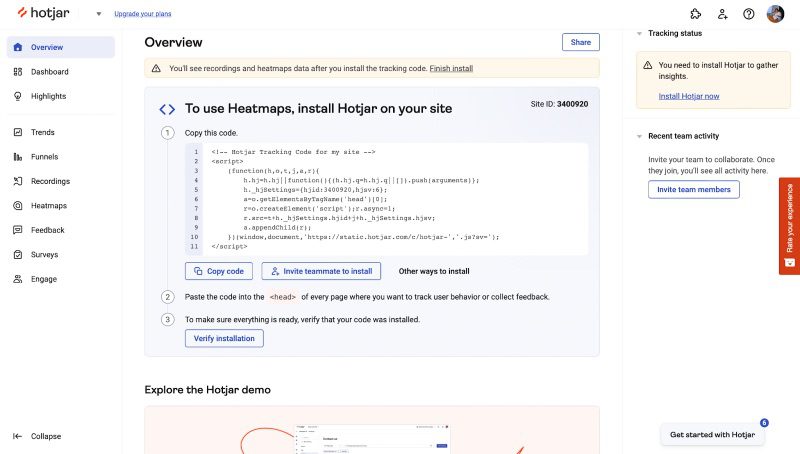 In order to use Hotjar's heatmaps, you'll have to add a tracking code to your website. You can paste the code directly or use Google Tag Manager or another tracking manager tool to set up.
Hotjar also offers integration with:
WordPress
Wix
Squarespace
Drupal
Shopify
WooCommerce
And many more.
Hotjar review: Features
Luckily for new users, Hotjar offers an in-depth demo of their offerings, so you can get a feel for the dashboard and see all the data it collects.
An important thing to remember, however, is that this demo includes unlimited coverage that you won't actually have on the free plan—or even most paid plans.
The Hotjar web app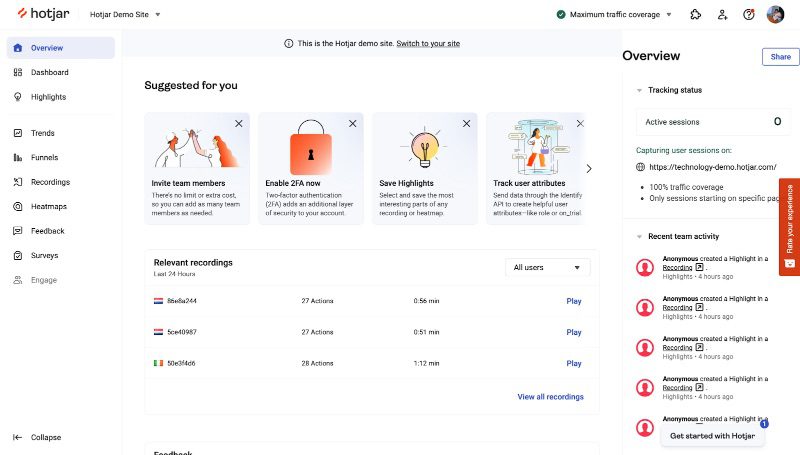 The web app is fairly busy, but once you get past the initial whiplash, there's plenty of neat features to explore.
Front and center in the Overview tab, you'll find suggestions for new ways to use your account, as well as relevant recordings captured in the past day. This tab also features other recent activity, including feedback, heatmaps, and activity from your team.
The web app has 9 total tabs:
Overview
Dashboard
Highlights
Trends
Funnels
Recordings
Heatmaps
Feedback
Surveys
Engage
We'll explore the features offered in each of these tabs.
Dashboard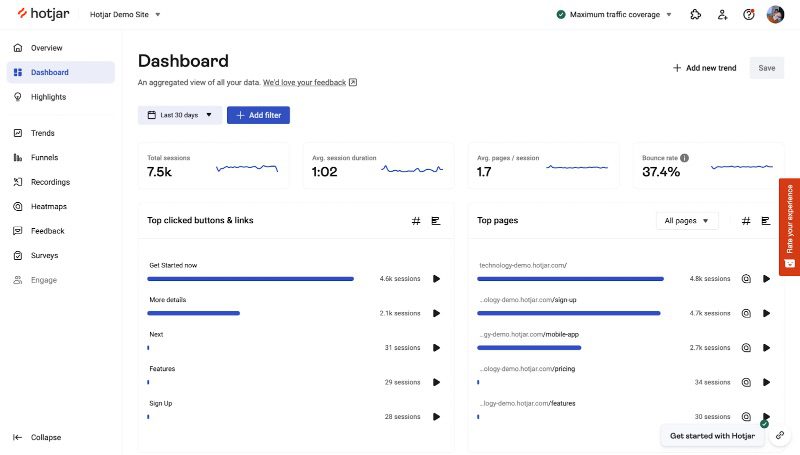 This classic dashboard offers an aggregated view of how people are using your site. It's got standard metrics like bounce rate, average session duration, and top clicked links. But it also offers unique data that gives you a well-rounded view of your site's success.
For instance, one chart keeps track of rage clicks—where a user clicked the same area over and over—and U-turns—where they clicked on a link and quickly went back to the previous page.
Data filters aren't available for free users; custom trends are only available on bespoke Scale plans. But for everyone else, these extra in-depth charts do make a big difference.
Highlights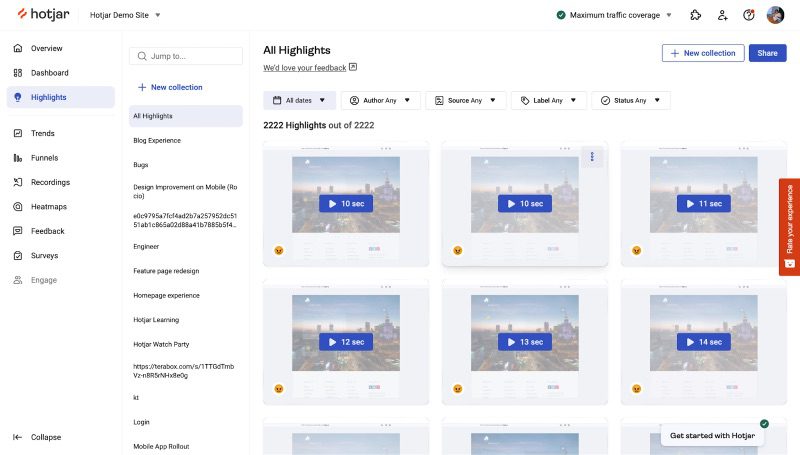 Users on any plan can create highlights. This technology lets you save snippets of specific customer experiences you want to keep. You can mark these for bugs, signs of frustration, UI/UX issues, and more, and access them at any time in this tab.
Recordings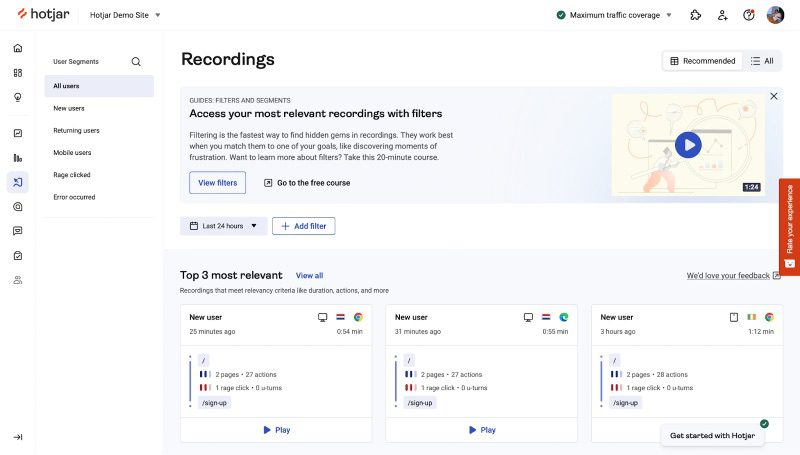 Trends and funnels are only available for Scale customers, so we'll skip straight to recordings. The Recordings dashboard lets you view recent and relevant recordings, or comb through the whole archive.
Business and Scale users can filter their recordings to see new users, returning users, rage clicks, and more. These recordings show you a user's entire journey, including where their cursor goes, what they click on, and even what operating system they use.
Heatmaps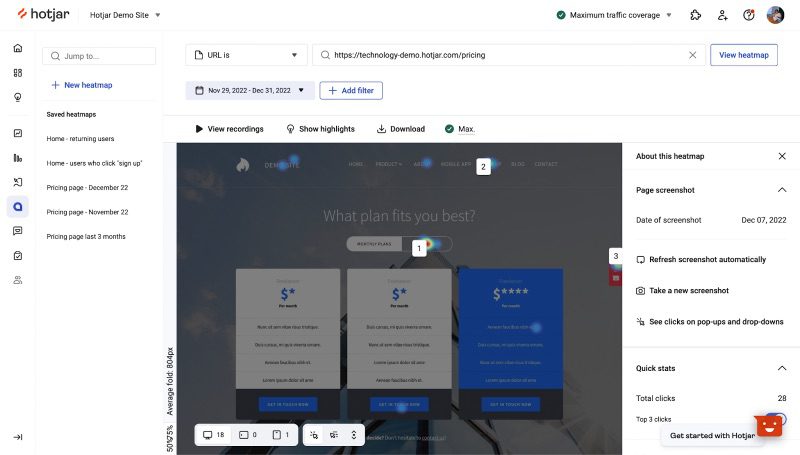 Hotjar's flagship feature, heatmaps keep track of where people are clicking the most—and the least.
Surprisingly, this feature was a bit tricky to figure out for me. As intuitive as a heatmap is as a concept, the section is a little harder to navigate on the demo site. Creating a new heatmap from scratch is much simpler, but I'm a little surprised that this, of all sections, feels the most convoluted.
Feedback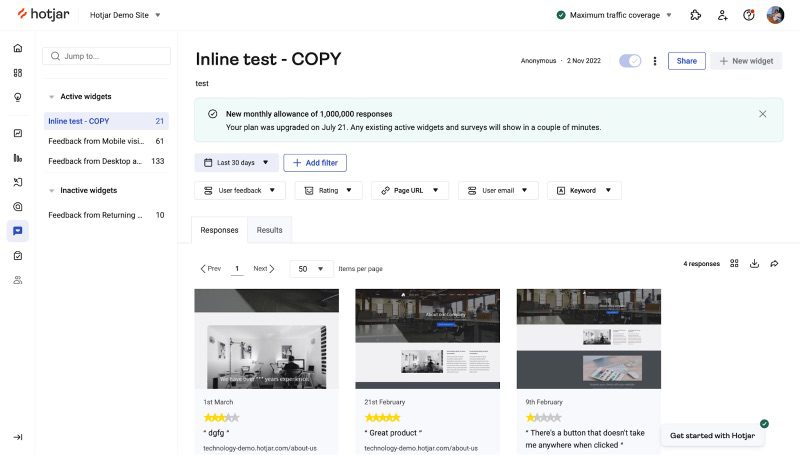 That little red sidebar you'll often see on the right-hand side of Hotjar's page is a feedback widget. It's a relatively unobtrusive tool for collecting user insights. On the other hand, many sites make the fatal mistake of cluttering their page with widgets and pop-ups.
Surveys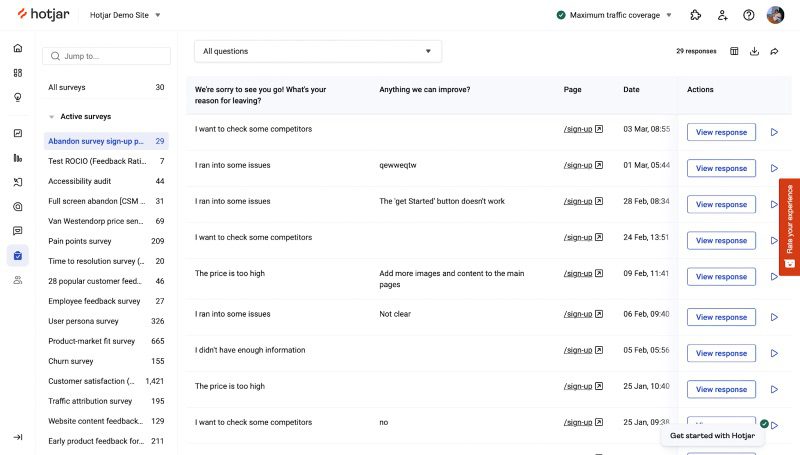 Free Hotjar users can create up to 3 surveys and 3 feedback widgets at a time. There are classic survey templates asking users to rate your service from 1-5, share how likely they are to recommend it, or explain their reason for leaving.
You can also create custom surveys, and add an unlimited number of questions to them. These surveys can either appear directly on your site or be accessed through a link.
Other features
For free users, Engage lets you set up interviews with up to 2 users each month, with built-in video calling software.
Scale users get access to Funnels and Trends, two additional tracking tools that let you keep track of users' journeys as they use your site.
Hotjar review: final verdict
Hotjar offers some really useful insights for how people are using your website. It can be helpful for marketing teams and UX designers, and the insights you gain can lead to greater success down the road.
However, it's not perfect. Consumers are concerned about their privacy, and Hotjar's direct surveillance of users—including tracking their browser and OS—is a tough pill to swallow.
Hotjar pros and cons
Pros:
Useful insights
Solid free features
Clever design
Quick and effective
Cons:
Expensive paid tiers
Cluttered web app
Privacy concerns
Final rating: 7.0/10 ♨️
Prowly Review: The Best Way to Boost Your Media Relations Game?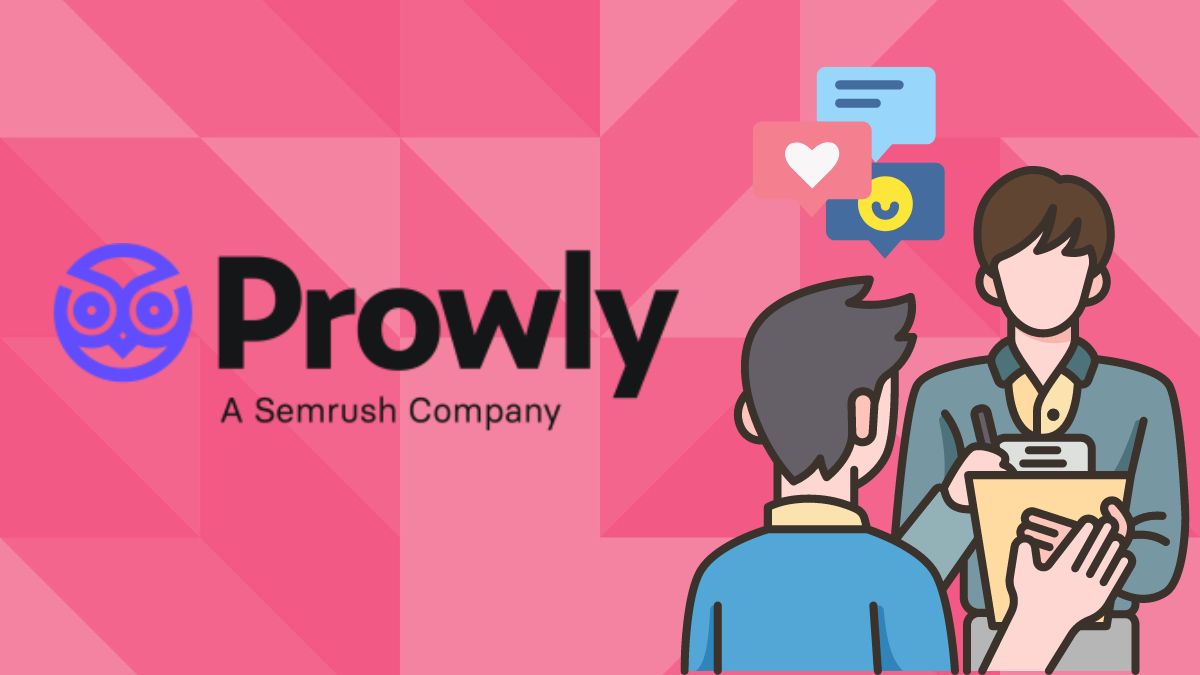 Looking to get a boost on PR? Help OM out by signing up for Prowly with this link.
Starting a business is only half the battle. The secret to success is reputation.
There are many ways to build your reputation. The first step is providing a great experience for your customers. Still, to build a high profile, you inevitably need to get into the social media game.
Prowly promises to help with that. This SaaS tool by SEMrush lets you manage media contacts, shape your narrative, and create winning press releases.
Is Prowly the real deal? Let's break it down.
Getting started with Prowly
As mentioned in my Demio review, the convenience of SaaS allows you to quickly use software through your browser. Signing up for Prowly is as simple as clicking the "Try it for free" button in the upper right corner of the site.
Prowly pricing
Prowly offers a 7-day free trial so users can try before they buy. Beyond that, they offer an Essential plan for smaller-scale users and a Professional plan for agencies.
The most basic form of the Essential plan starts at $119/mo, while the Professional plan starts at $189/mo. You can add features to your plan—including media monitoring and access to Prowly's media contact database—for an additional cost.
What can Prowly do?
Remember that thing I said about customer experience? Prowly clearly got the memo, because as soon as you sign up, they invite you to schedule a meeting with them. This shows a real dedication to customer support that you don't see every day. But since I'm only trying out the product for a review, I opted out.
Dashboard
Prowly's dashboard maintains a simple, inviting design. This is especially helpful since the choices you're presented with are a bit overwhelming. As someone with limited PR experience, the very idea of starting a press release feels daunting.
Still, front and center on your home page is a simple timeline you can use to wrap your head around Prowly. It breaks it down into four easy steps: creating press releases, finding media contacts, setting up a newsroom, and sending email pitches.
Let's take a look at each of those features.
Making press releases with Prowly
Prowly has a wide array of options for crafting press releases. You can upload a .docx file, start from scratch, or choose from various templates like event announcements and new hires.
These templates are designed to get your mind jogging, rather than filling in the blanks Mad Libs-style. The text editor is fairly simple with limited font and formatting options. Still, you generally don't want to get too wild with a press release.
Make sure not to hit "Publish" before it's fully done, as you can't go back and change it.
Finding media contacts
Like with the press release tool, there are a few ways to get started with finding media contacts. You can import or manually add your existing contact list, but you can also peruse Prowly's extensive database.
Media contacts range from entertainment to politics, business to beauty. They include some of the biggest names and publications in journalism. Just keep in mind, you'll have to buy an upgraded plan to get access to the contact database.
If you just want to get started, importing existing contacts makes for much less hassle. At the bare minimum, you can put in a few emails and move on to the next step…
Creating a Prowly newsroom
A Prowly newsroom is a custom webpage designed to compile your brand's content, press releases, and other news. While it's less customizable than your own website, it allows your media contacts to easily find all of your content in one place.
This can be a useful tool for shaping your narrative. You can organize your PR output into tabs and categories, and customize the design to suit your brand. Still, I'd argue you could probably do better making a media tab on your own website.
Sending an email pitch
Finally, the main event. You've made your press release, your newsroom, and compiled all your contacts. Time to pitch!
You can choose to select certain recipients or email your whole contact list. Prowly gives you the tools you need to create an engaging email, with a dozen professional fonts and a bevy of text options.
Where the newsroom layout is fairly one-size-fits-all, you have much more customization options with your pitches. This makes sense since the email pitch is the thing that gets your media contacts hooked.
You can add images, tables, files, and links to your pitch, as well as additional press releases and a call-to-action button.
Like many CRMs, Prowly includes personalization tokens. These are variable text elements that can be tailored to specific recipients. For example, you can add a Greeting token that inputs different greetings for different recipients. Then, by applying values to people in your contact list, you can ensure they each get a greeting that's specific to them.
After that, simply review your email and send it off! Prowly recommends you sort your emails into campaigns, which makes it easier to keep track of different releases and review their success.
Monitoring and reports
One of Prowly's more impressive features is its media monitoring dashboard. Above and beyond keyword research, this tool includes widgets to track sentiment, reach, domain authority, and much more.
While easily sending out and keeping track of pitches is great, this tool makes Prowly worth your while. Every tool at your disposal from WordPress to Google Ads has some flavor of monitoring, but this is the rare dashboard that synthesizes every metric a PR agency needs. Just as important, the custom widgets also let you exclude the data you don't need.
Prowly is teasing a forthcoming feature that lets you view stats on your campaigns through PR reports. As advertised, these reports go above and beyond, compiling data to show the complete picture of your PR work.
As it currently stands, the lack of specific stats on a campaign's success is one area where Prowly could improve. For PR workers, the ability to compile deliverables makes a big difference, so I hope this feature gets rolled out sooner rather than later.
Is Prowly worth it?
For companies, agencies, and entrepreneurs working in PR, Prowly (wait a sec… PR owly!) promises an easier way. It highlights the ability to easily create, release, and track press releases online.
Prowly's most impressive features are its media monitoring tools and contact database. I was somewhat less impressed with the press release tools themselves, but I acknowledge the utility of having a simple online dashboard to keep track of them.
Prowly is definitely a strong PR tool; the contacts and monitoring tools alone are enough to make it worthwhile. Still, it faces a common SaaS problem: how much ownership will you give up for convenience?
For that purpose, I like the fact that Prowly also lets you import releases, contact lists, and more. You can choose whether you want a convenient experience or a custom one, which is an attitude more SaaS programs should have.
Prowly is sort of the Canva of PR software. It's shiny, accessible, and gets the job done, with a few impressive tools that put it over the top. But if you want something fully custom, you'll still have to make it yourself.
Final rating: 7.9/10 ✅
Like what you see? Sign up for Prowly today.
DaVinci Resolve Review: King of Video Editing Software?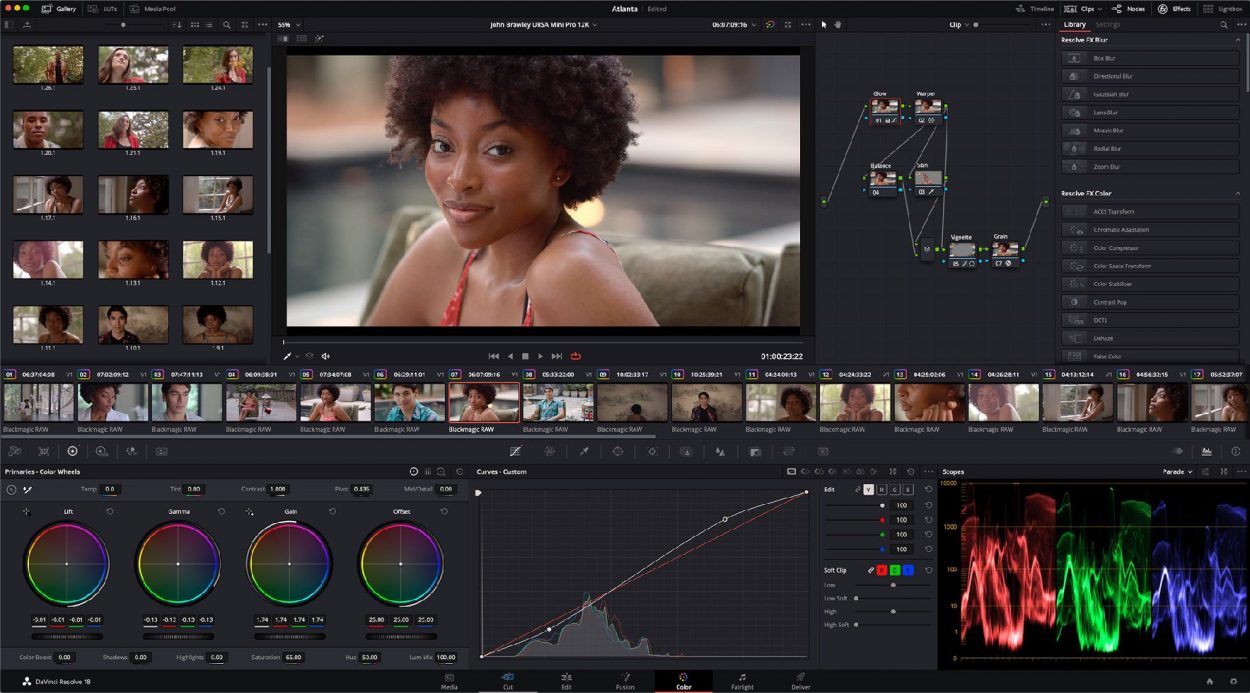 Since the inception of DaVinci Resolve in 2004, word made its way around the internet that a new sheriff was in town. While yes, there is plenty of competition for editing software, few are free and even fewer are as remarkable as DaVinci Resolve. The software has undergone many iterations over the years, and in July 2022, the much-anticipated version 18 was released. In this DaVinci Resolve review, we'll lay out the capabilities of this free video editing software and tell you how to get your hands on it.
DaVinci Resolve Review: Features
Did you know you could have the same video editing software used in post-production for famous movies, shows, commercials, and music videos? It's true. DaVinci Resolve is one of a select few tools known for its use in Hollywood editing – Everything Everywhere All At Once, Black Widow, and Love and Monsters are just a few examples.
For basic video editing, DaVinci Resolve 18 has more than enough power behind it. The software allows you to add text, create smooth transitions, sync audio to your visuals, create intros/outros, and much more.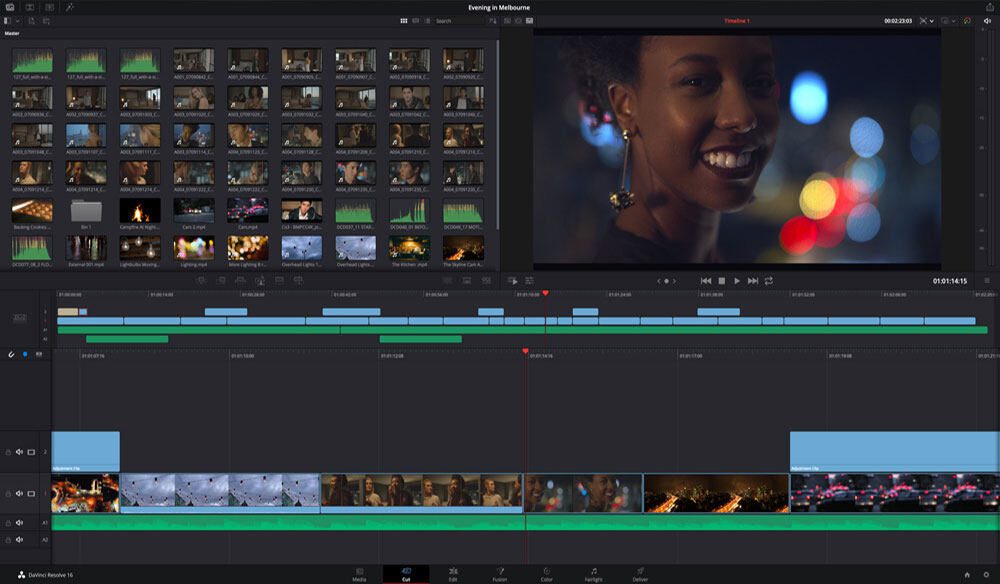 Some other features include:
automatic mask
HDR grading
super resolution
automatic depth map
subtitles
YouTube chapters
Another new feature of DaVinci Resolve 18 is multi-user collaboration. You can have several people working on a video edit together with the help of BlackMagic Cloud. This removes the tedious hassle of translating projects, exporting files, and trying to keep track of changes.
When rendering videos, you won't have to worry about watermarks. Users can edit any 8‑bit video formats up to 60 frames per second. Resolutions may be as high as ultra HD 3840 x 2160.
Here's a full list of DaVinci Resolve 18's new features.
Minimum Requirements for DaVinci Resolve
Perhaps the only catch to using this free video editing software is the system requirements. Needless to say, this is a huge download that uses a lot of RAM. Most sources recommend you have 16 GB (a Mac could squeeze by with 8) along with a 64-bit operating system and at least a quad-core CPU. You'll know you don't have the system requirements if the application lags, freezes, or playback continuously skips.
DaVinci Resolve Review: Basics
Assuming you've never used editing software in your life, how easy is it to get started? If you're willing to learn by doing and look up a few quick tutorials, it's very easy to get started on your first video.
Once you've gone through the entire installation process, click the icon to open the software. Across the bottom of the screen, you'll see viewing options. For beginners, the best place to start is in the "Edit" view.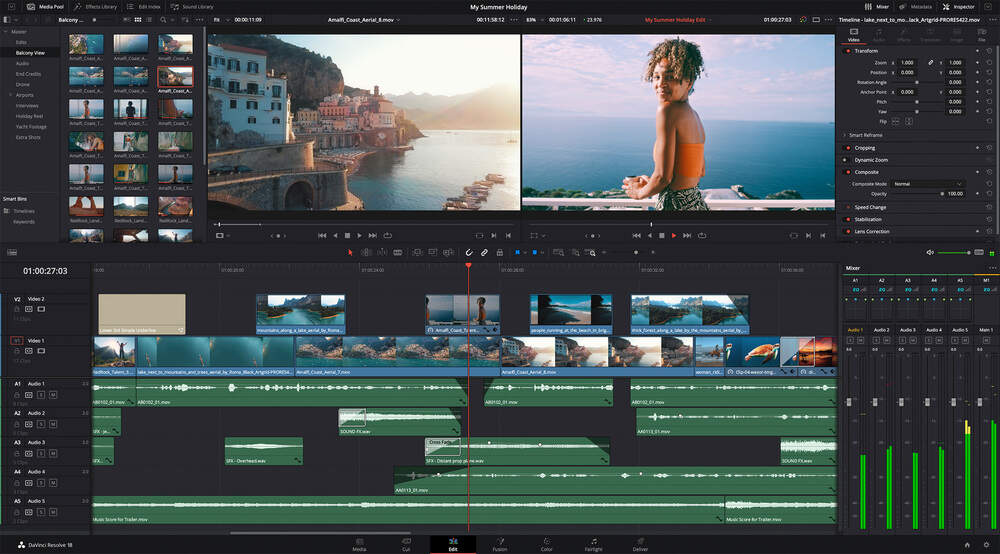 In the top left section, you'll see all the media clips you're using in a given project – audio, video, and pictures. To add media, simply drag and drop computer files into the media section. In the center, you'll see the playback screen where you can review your progress. The bottom half of the screen is where you'll do the actual editing. You can drag and drop video and audio files from the media section into the editing section and get to work.

From here, you can play with the toolbar across the middle of the screen to make cuts and begin editing your media files. Right clicking a video clip also gives you a plethora of options like linking/unlinking audio and video together. In the top right section, you'll see tools to zoom, crop, change the position of text and images, rotate, and more.
Again, there's a lot to do in DaVinci Resolve and professional editors can go much deeper than this. But the Black Magic team does a great job of bridging the gap and making the basic tools accessible to beginners.
How to Get DaVinci Resolve for Free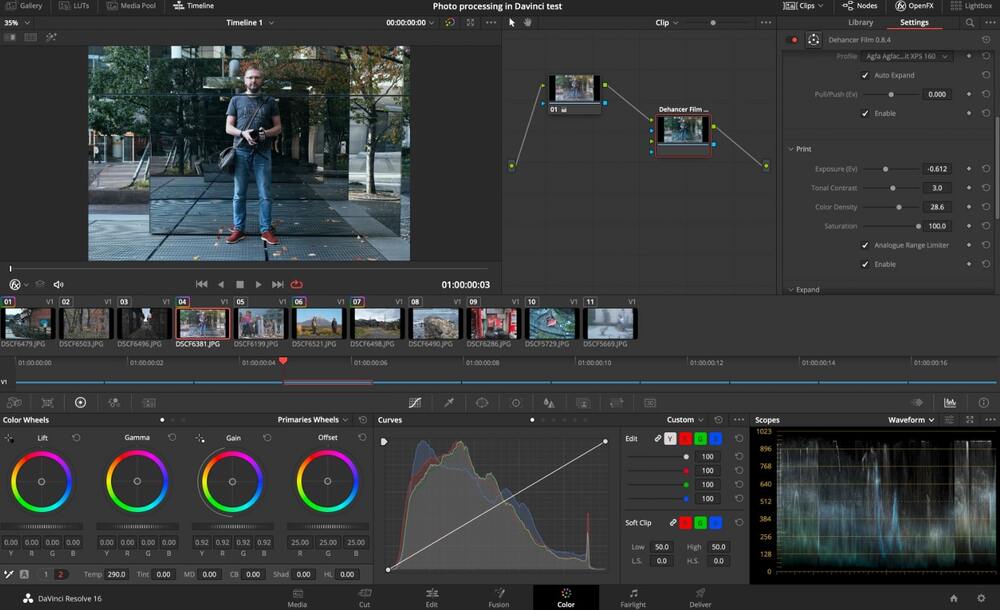 You might think it's too good to be true that such a sophisticated tool could be free. But alas, DaVinci Resolve is available for download right from the Black Magic Design website. Both Mac and Windows versions are up for grabs – Simply fill out the form and download whatever version you need. Linux users will be happy to know there's a version for them too.
Once you get comfortable with the basics of video editing, there's no shortage of DaVinci Resolve plugins to play with. You can up the quality of your motion graphics, mimic classic film stock, and remove video or audio noise. Watch your production value improve in myriad ways.
DaVinci Resolve Studio vs Free
If you think free DaVinci Resolve has a lot of features, you'll be thoroughly impressed if you opt for the paid version. It includes:
GPU accelerations
30+ Resolve FX
DaVinci Neural Engine
Supports 32k at up to 120 frames per second
Play more formats (AVCHD, AVC-Intra, and popular 10-bit formats)
If you're unsure whether or not to upgrade, there's not much to lose. The paid version (DaVinci Resolve Studio) is only $295 for a lifetime license. With that said, the vast majority of video editing projects can be done in the free DaVinci Resolve, especially if you're not skilled with editing software.
Hopefully this DaVinci Resolve review gave you a little more information so you can make an informed decision. And if you're wildly overwhelmed by all the features, spend some time browsing these DaVinci Resolve tutorials. Happy editing!