Will 'Green Finance' Save Our Climate? – Interview with Danetha Doe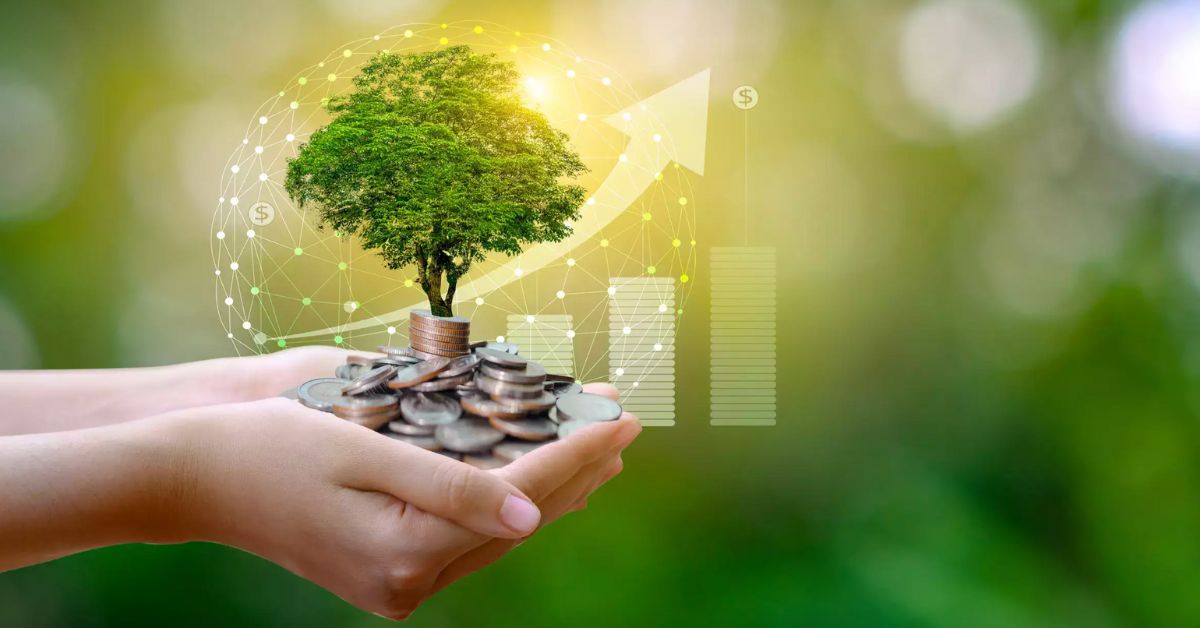 If you've been paying attention for the last 10 to 100 years, you'll clearly see that humanity has had a devastatingly negative effect on our climate. Wildfires are raging across forests, floods are enveloping entire communities, and politicians can't agree on what to do about it – despite the many solutions from scientists.
One such issue would be investing in climate change or 'green finance.' While some in the higher echelons of the financial world think investing in climate change would be a 'waste of time,' there are others who are absolutely certain of its need.
Our friend Danetha Doe, financial expert and creator of Money & Mimosas, took the time to answer our questions about green finance and its critical importance when coming to protecting our climate and our future.
Do you believe that green finance is necessary for our future?
Investing in climate change infrastructure is absolutely necessary. According to the 2021 Banking on Climate Chaos report, we have under 10 years to cut global climate pollution in half in order to accomplish what the UN's Intergovernmental Panel on Climate Change says is necessary to avoid the catastrophic consequences of exceeding 1.5°C of warming.
That means fewer than 10 years to transform almost every aspect of our industrial economies. Therefore, it is critical that we prioritize investments in climate change infrastructure.
What role can financial institutions play in protecting our climate?
Financial institutions play a huge role in climate change infrastructure efforts. They can choose to be a positive form by investing in green solutions or a negative force by investing in fossil fuels.
According to the 2021 Banking on Climate Chaos report, 60% of the world's largest private sector banks financed fossil fuels to the tune of $3.8 trillion. If that money had instead gone towards climate change infrastructure, we would be on a much better trajectory as a globe.
How can the average person make a difference if they wanted to invest in green finance?
I am a big fan of investing in transparent solutions such as Steward and Carbon Collective's Green 401(k) plan.
Steward gives the average person the opportunity to build wealth by supporting regenerative agriculture by being a lender to local, sustainable farmers.
Carbon Collective conducts extensive research to determine if a company is genuinely green and meets its ESG standards, before adding it to your 401K options. Most 401K plans invest in fossil fuels or companies that are not genuinely green.
How can we help keep these large financial institutions accountable?
Media can help play a role. Journalists like you and Owner's Mag can do research on financial institutions, ask executives tough questions and report back to the public. Raising the public's awareness will help hold financial institutions accountable.
The United States just passed the Inflation Reduction Act, which addresses climate change in a big way, how do you think this will help the fight to protect our climate?
The passing of the Inflation Reduction Act is a monumental moment in our history. While there is still a lot of work to be done, this is moving us in the right direction regarding climate change.
I believe the average person in the United States will be able to benefit from the Act personally. The bill contains many tax incentives to encourage the average American consumer to switch to renewable energy in the home.
I'm disappointed in the fact that there are certain hedge fund companies that will not be subject to the 15% corporate tax. I would also like to see more penalties assessed against corporations that do not switch from fossil fuels to renewable energy.
We send a big, big thank you to our friend Danetha Doe. Remember to check out Money & Mimosas for more personal finance advice.
Top 10 Instant Messaging Apps for Businesses (Free and Paid)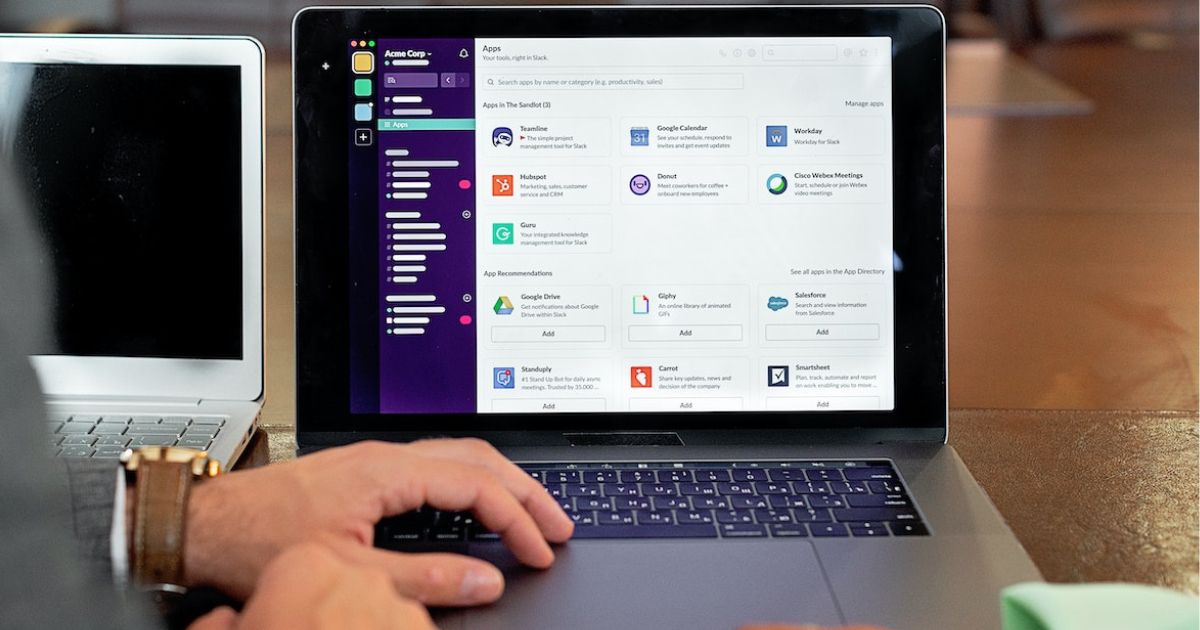 The popularity of instant messaging (IM) has skyrocketed in recent years. A study shows that the number of instant messaging accounts worldwide will reach eight billion in 2022. Team messaging apps help people accomplish their tasks either in person or remotely. But the real question is whether you are maximizing the benefits of instant messaging. Check out the top instant messaging apps for businesses to use for efficient internal and external communications. 
1. WhatsApp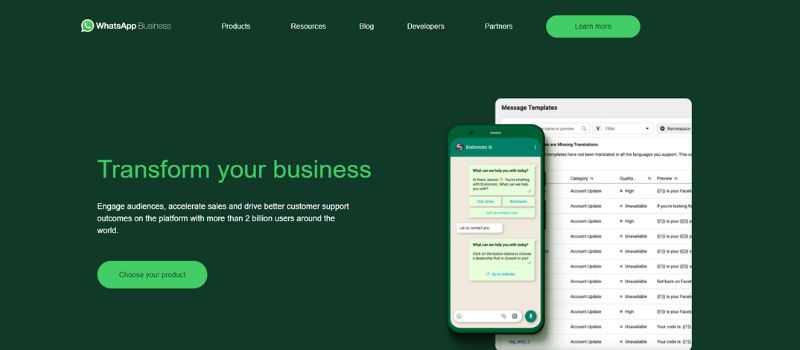 WhatsApp is the most common instant messenger app around. With more than 2 billion users, there's a good chance your customers are using its texting, group chats, file sharing, and voice and video calls features. There's a group chat feature allowing only admins to send instant messages.
WhatsApp has an exclusive business tool to connect small enterprises with their customers. WhatsApp for Business offers a business profile, a greeting message, a quick reply, and an away reply.
2. Facebook Messenger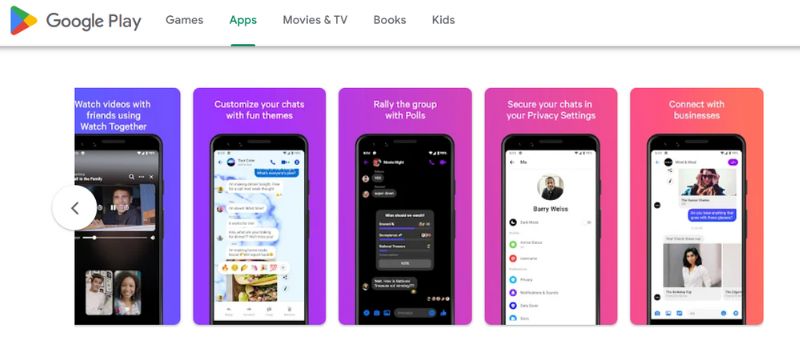 Facebook Messenger is on WhatsApp's heels as a step to boost your business's external communication capabilities. It is available in almost every country except China. Your company's Facebook page comes with a Messenger app that can be reached by customers who don't have Facebook accounts.
3. Skype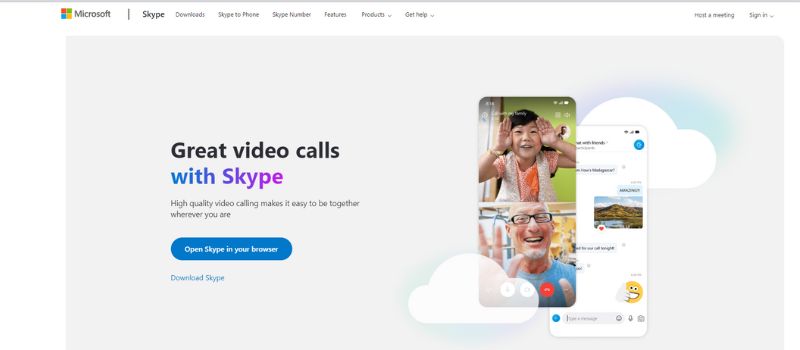 Skype is a famous communication platform that allows users to make voice and video calls, send instant messages, and share files with other Skype users. It has evolved into a comprehensive tool for online communication. Particularly, it's one of the widely-used instant messaging apps for businesses.
Skype provides real-time translation of voice and text conversations between users speaking different languages. Users can also make landline and mobile calls to non-Skype users at a low cost. Overall, Skype offers a variety of features to enhance online communication and collaboration.
4. WeChat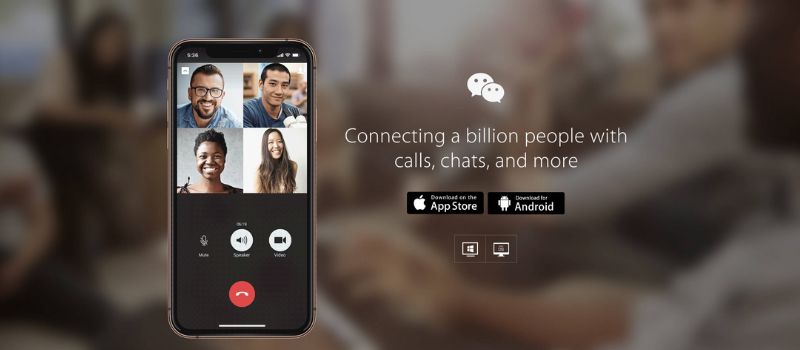 WeChat is a multi-purpose social media app developed by Tencent in China. It is one of China's most popular messaging apps, with over 1 billion monthly active users. On top of instant messaging, this app offers other features for comprehensive communication and lifestyle platforms. 
For example, users can make voice and video calls, send text messages, photos, and emoticons, and share their location with others. WeChat also includes a feature called "Moments," which allows users to share their life events and experiences with friends and followers in a social media-style feed.
5. Telegram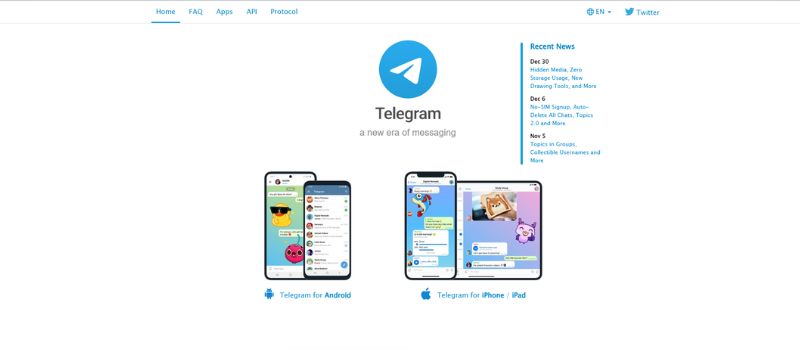 Telegram's user base is lower than other instant messaging services on this list. The messaging app is gaining popularity among businesses because of the features like supergroups, bots, and secret chats. Telegram also allows users to send files up to 1.5 GB, especially in countries with tight restrictions on messaging apps. However, several unique features can boost your lead generation. This instant man, like public channels, groups, and supergroups, allows up to 100,000 users per group.
6. Slack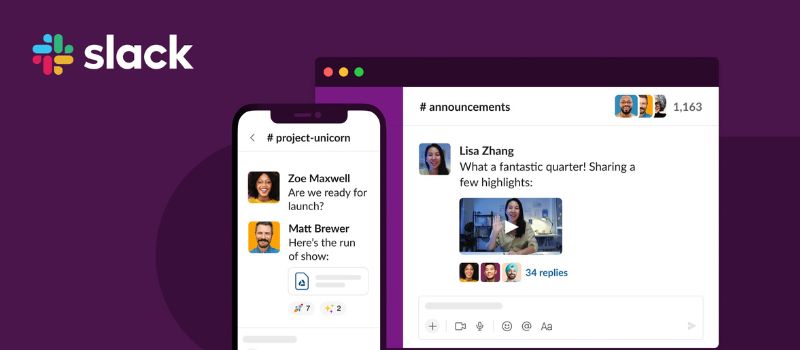 Slack is a team collaboration platform that provides a central hub for communication, organization, and project management. It was founded in 2013 and has become one of the most popular instant messaging apps for businesses.
With Slack, users can send direct messages to individuals or groups and participate in public or private channels for specific topics or projects. The platform integrates with many other tools, like Google Drive and Dropbox. Slack also has a searchable archive of all messages for easy searching and access to information. It is popular among remote teams for being s a comprehensive communication, collaboration, and project management platform.
7. Discord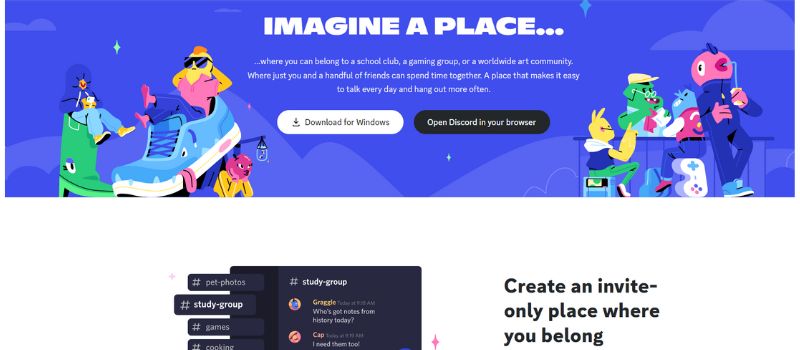 Discord is a communication platform established in 2015 for online communities and gamers. It provides various tools for text, voice, and video communication, as well as file sharing and collaboration. 
The platform includes voice and video calling, direct messaging, server-based text channels, and file sharing capabilities. Discord also offers a range of customization options, including creating custom emotes and adding integrations from other tools, such as Trello and Spotify. Discord is a versatile platform for communication and collaboration, making it a popular choice for online communities and gamers.
8. Microsoft Teams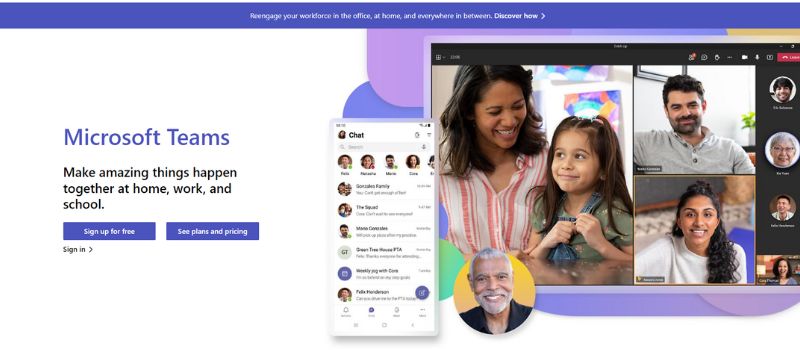 The Microsoft Teams features a few key selling points, one being its in-messaging word-like formatting. You can change font styles and create bulleted lists within each IM. Then there's Teams's deep integration with Office 365. Collaboration within the entire Microsoft Office toolkit without leaving the app makes it great for the corporate environment.
9. Brosix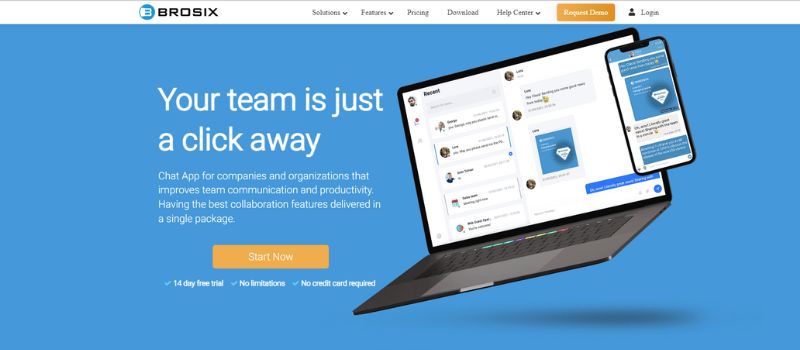 Brosix has been providing an all-in-one business instant messaging app for enterprises of all types and sizes since 2006. It is a versatile business solution with dynamic productivity tools, robust security, and comprehensive administrative control.
Voice and video capabilities, screen sharing, and a native whiteboard solution streamline communication and collaboration. Broadcast messages let you target your message to a handpicked audience.
Unlike other instant messengers for business, Brosix's unlimited-size file transfer never restricts file transfers, neither by size nor volume. Companies looking to boost customer support can quickly deploy the engaging live chat solution.
10. Fleep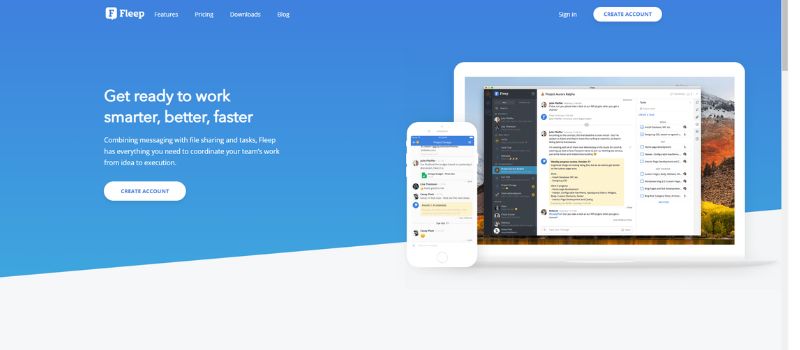 Fleep is an excellent tool for inter-business communication. With Fleep, you can chat with other Fleep users and teams outside your organization. The app delivers the core messaging capabilities you'd expect from an instant messaging app. There's also unlimited messaging history, native task management, and the ability to send emails through the app. The disadvantage, however, is that Fleep doesn't have collaboration tools. Moreover, you don't get native voice and video calling.
Conclusion
The rapid growth of messaging apps as a communication channel for billions, not to mention the enhanced security and productivity of business instant messengers, make IM technology an essential business tool. When choosing the right messaging app for your business, examine your internal and external communication needs.
Top 10 Public Relations Tools Every Entrepreneur Should Check Out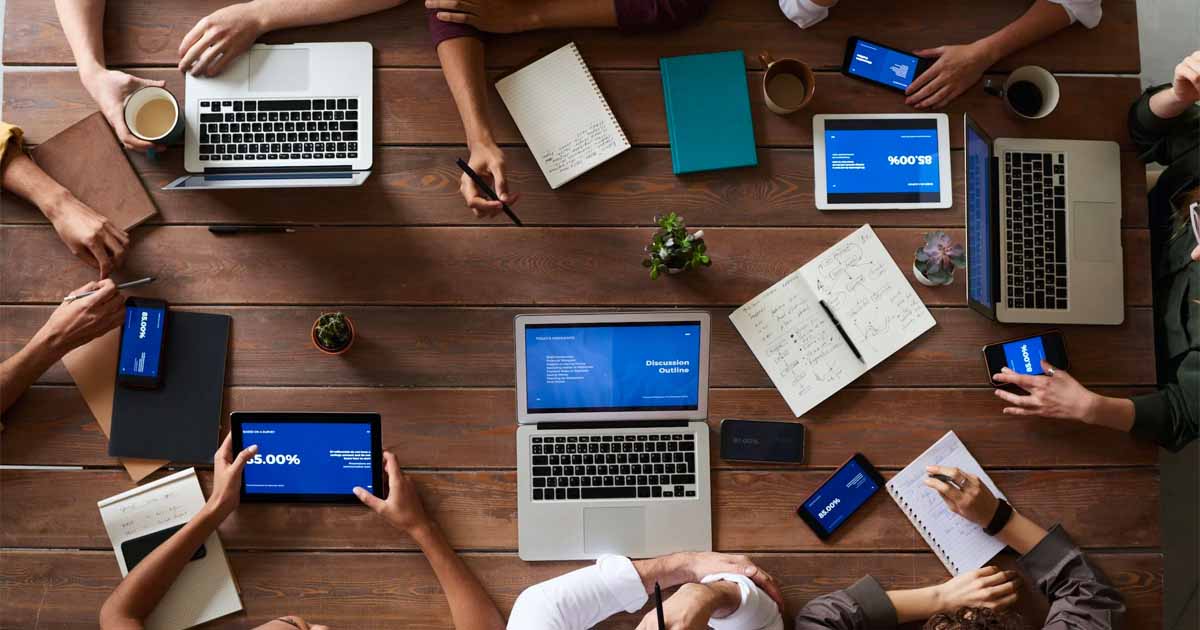 Public relations is crucial to any business, as it helps build and maintain a positive image and reputation. In today's digital age, there are a plethora of tools available to help entrepreneurs with their PR efforts. Continue reading as we explore the top 10 public relations tools every entrepreneur should check out to help them effectively reach their target audience and enhance their brand's visibility.
1. HARO (Help a Reporter Out)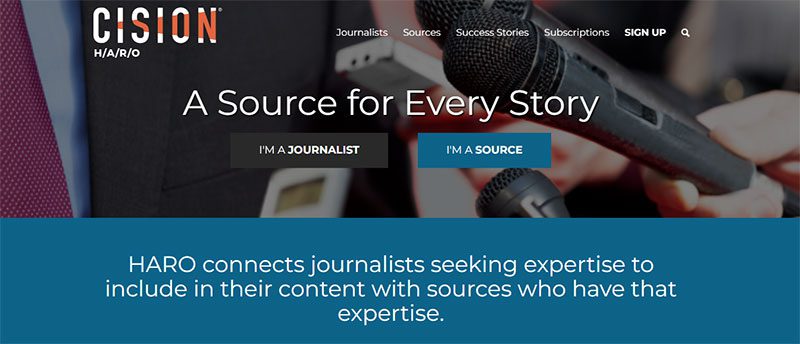 As its name suggests, Help a Reporter Out (HARO) is a platform connecting journalists with their stories' sources. It also allows businesses, organizations, and individuals to share their expertise and insights. They can get in front of a wider audience by offering quotes, facts, and other information to journalists looking for sources for their articles. 
By using HARO, entrepreneurs and PR professionals can get their brands in front of a large audience and improve their visibility, credibility, and reputation. It has a free plan aside from its paid ones, with subscriptions that start at $19 per month.
2. Ahrefs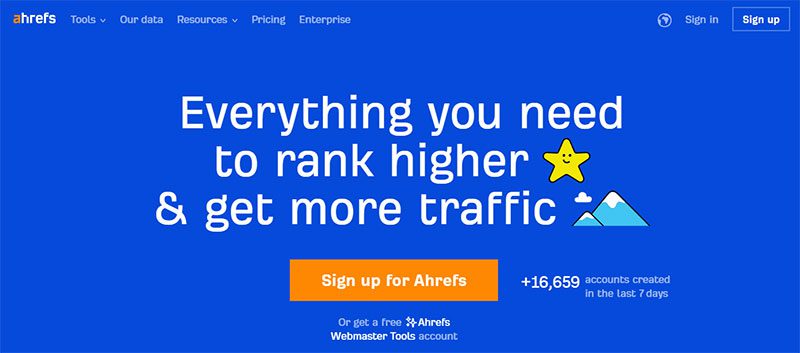 Primarily known as an SEO tool, Ahrefs can also be used as a public relations tool. It provides a comprehensive analysis of a website's backlink profile. It enables PR professionals and entrepreneurs to see who is linking to their websites. Plus, you'll know what content is attracting the most links. Through Ahrefs, PR professionals can identify key influencers and potential media contacts in their industry and reach out to them for possible coverage. 
Ahrefs can also be used to monitor competitors' PR and marketing activities. This will provide valuable insights into successful PR strategies. The platform offers four premium plans with pricing that starts at $99 per month.
3. Google Alerts

A free, web-based tool, Google Alerts allows you to monitor mentions of specific keywords or phrases on the internet. This tool can be helpful for PR professionals and entrepreneurs as a way to keep track of their online reputation and brand mentions. By setting up Google Alerts for your brand, products, industry keywords, or even your competitors, you can receive email notifications whenever your specified keywords are mentioned online. 
This helps PR professionals stay informed and promptly respond to negative mentions, track positive coverage, and share it with their audience.
4. BuzzSumo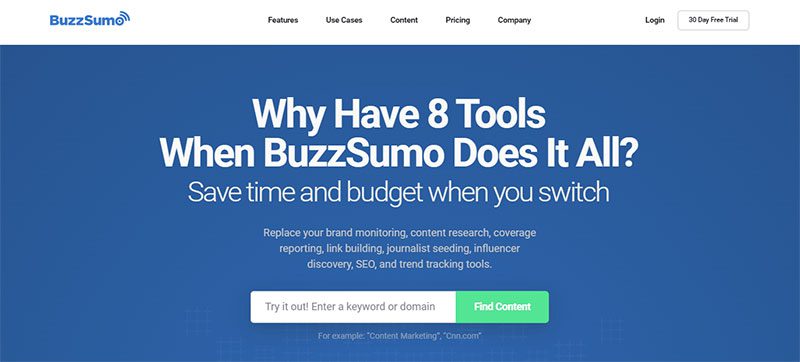 If you need to get insights on what's popular, viral, and being shared across the web, BuzzSumo is one of the public relations tools you need. It is a content analysis tool that helps PR professionals and entrepreneurs monitor their online presence. And they can reach their target audience effectively. It provides insights into viral content, competitor analysis, influencer identification, and performance metrics. 
Its ability to track and measure the impact of PR and content efforts makes it a valuable tool for businesses looking to stay ahead of the competition. It offers a free plan, but its paid ones have pricing that starts at $99 per month.
5. PRWeb

Another valuable tool for PR professionals and entrepreneurs looking to promote their brands, products, and services is PRWeb. It is a PR distribution service that helps businesses and organizations reach their target audience and improve their online visibility. 
PRWeb offers a wide range of distribution options, including national and local media outlets, social media, and industry-specific websites, ensuring that press releases reach the intended audience. You can choose from PRWeb's four plans with subscription fees that start at $105 per month.
6. Respona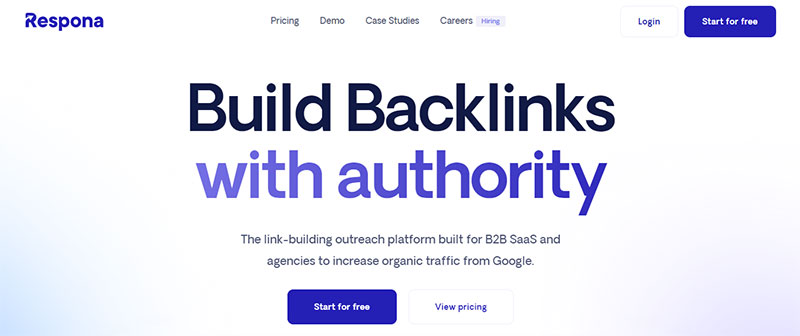 One of the most underutilized public relations tools you need to check out is Respona. It effectively helps organizations manage their media and public relations efforts. It provides a centralized platform for monitoring media mentions, conducting outreach to journalists, and measuring the impact of PR campaigns. 
The tool includes email automation, press release distribution, and real-time media monitoring to help PR professionals streamline their work and communicate more effectively with their audience. It offers a free trial, but if you want to continue using it, pricing starts at $99 per month.
7. Coverage Book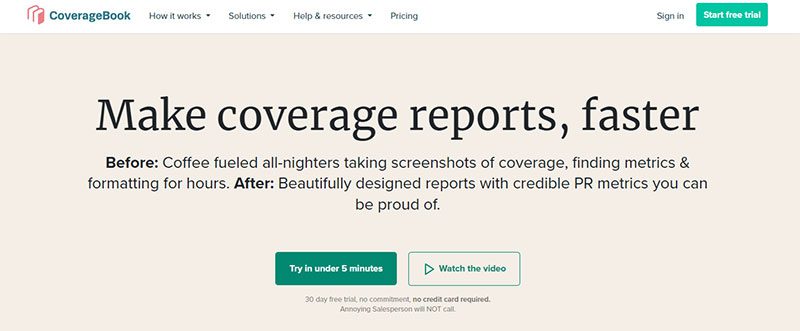 If tracking and showcasing your media coverage is a priority, Coverage Book is the public relations tool for you. It provides a platform for organizing and presenting media coverage from online and offline sources, including press releases, articles, and social media mentions. It also includes analytics to measure the impact of PR campaigns and provide insights into the performance of media outreach efforts. 
Coverage Book is designed to help PR teams demonstrate the value of their work to internal stakeholders and clients. This is a good investment, with prices ranging from $99 to $599.
8. Business Wire

A news distribution service and PR tool, Business Wire is used by organizations to distribute press releases and other news content to media outlets and stakeholders. It provides a platform for organizations to reach a global audience through distribution to a vast network of media outlets and websites, including major search engines, news databases, and social media platforms. 
Business Wire is a paid service with varying costs based on distribution and features needed. It offers different packages available to meet the needs of various organizations.
9. NinjaOutreach

A public relations tool that offers a platform for simplifying your outreach efforts and building relationships with journalists, bloggers, and other influencers. NinjaOutreach provides email outreach automation, influencer database search, and analytics to track PR campaigns. It saves time and effort by automating repetitive tasks and providing insights into effective audience outreach. 
The tool is designed to help organizations improve their media coverage and build relationships with key influencers. Pricing ranges between $389 and $849 per month.
10. SourceBottle

A journalism tool that doubles as a public relations tool is SourceBottle. It connects journalists and bloggers with experts, sources, and content for their stories. It provides a platform for experts, organizations, and individuals to offer their expertise and resources to journalists looking for references and information. 
SourceBottle also offers analytics to track the success of PR campaigns and provide insights into media outreach efforts. The service fee is based on the desired features and the number of journalists and bloggers to be reached. But for starters, you need to create an expert profile for a monthly cost of $25.
Final Thoughts
The world of public relations is constantly evolving. Entrepreneurs must stay up-to-date with the latest tools and technologies to get their messages and stories in front of their target audience. The public relations tools discussed in this list are some of the best in the industry and offer a range of features and capabilities to meet the needs of different types and sizes of organizations.
Bit.ai Review for Business [2023]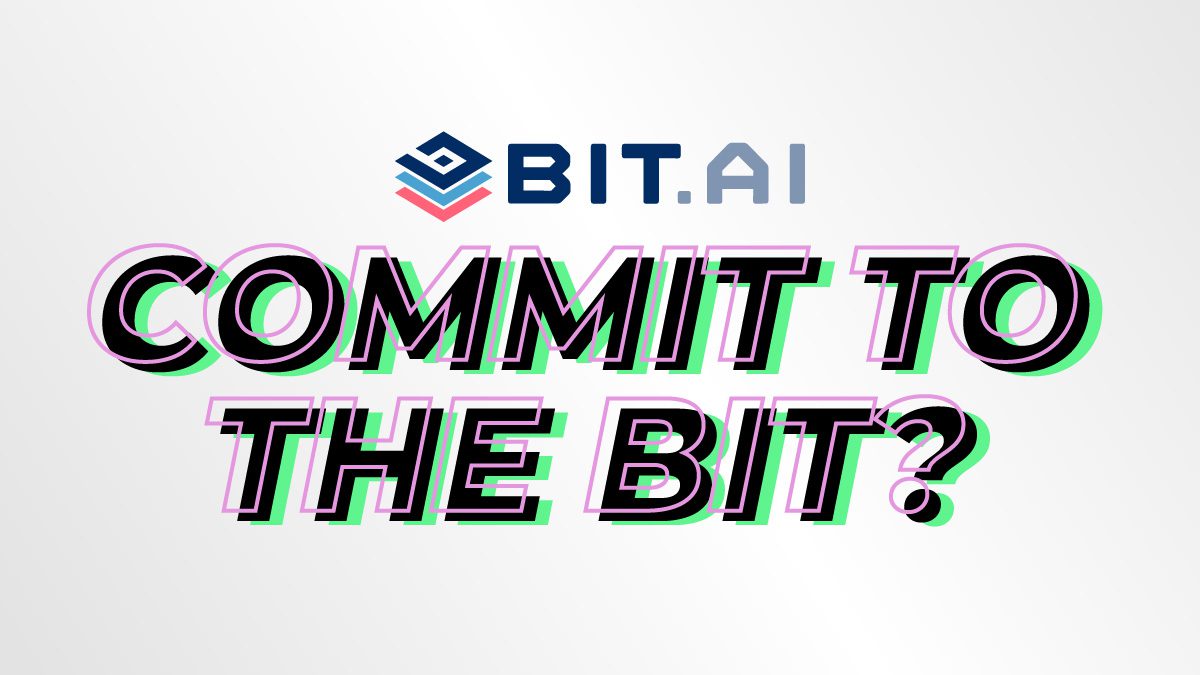 When you're collaborating on documents with other writers or co-workers, how do you keep everyone on the same page?
Truth be told, for most of you, the answer is probably Google Docs. It's quick, efficient, and easy to share. But what if there was a better way?
Bit.ai professes to be "the world's most powerful workplace and document collaboration platform." In this Bit.ai review, we'll put that claim to the test.
Bit.ai Review: What is Bit.ai?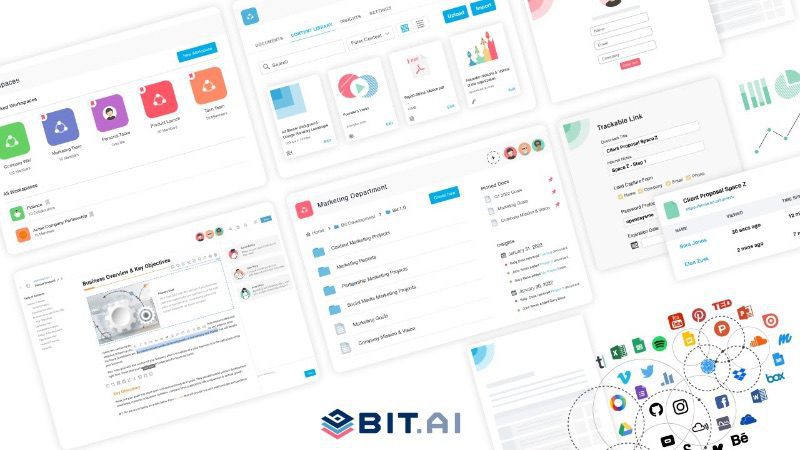 Co-founded by Raj and Saje Sandhu, Bit.ai has been offering document collaboration to companies like Canon and Harvard University since 2007. The company employs a global team with headquarters in San Francisco.
What does Bit.ai offer?
Bit offers a lot of custom features depending on your business' workflow. Some of their offerings include:
Collaborative document editor
Content library
Cloud integration
100+ file types
Automated formatting, themes, templates
End-to-end document sharing
Branded documents
Customizable workspaces
We'll explore some of the key features in the next section.
How much does Bit.ai cost?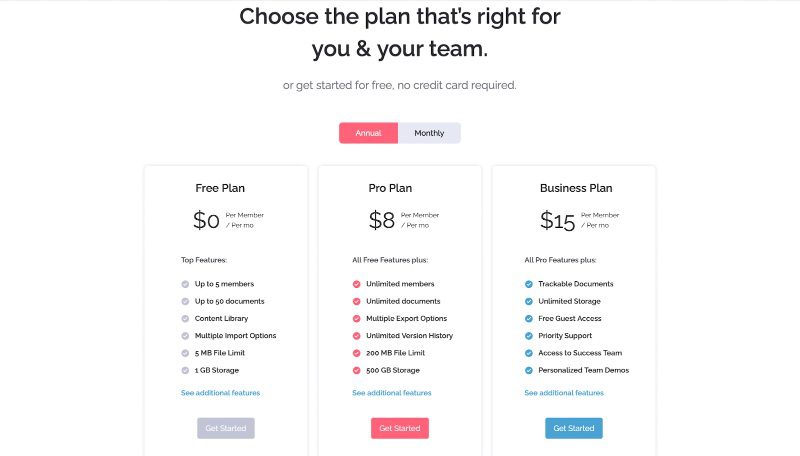 Individual users and small teams can use Bit.ai for free. Here's a breakdown of their three pricing plans:
Free plan: $0/mo. Up to 5 members, 50 documents, 5MB file limit, 1GB storage.
Pro plan: $12/mo or $96/yr. Unlimited members and documents, 200MB file limit, 500GB storage.
Business plan: $20/mo or $180/yr. Unlimited storage, document tracking tools, dedicated support, free guest access.
They also offer bespoke plans for enterprise customers, as well as discounted pricing for education, startups, nonprofits, and businesses involved in the COVID-19 response.
Bit.ai Review: How to sign up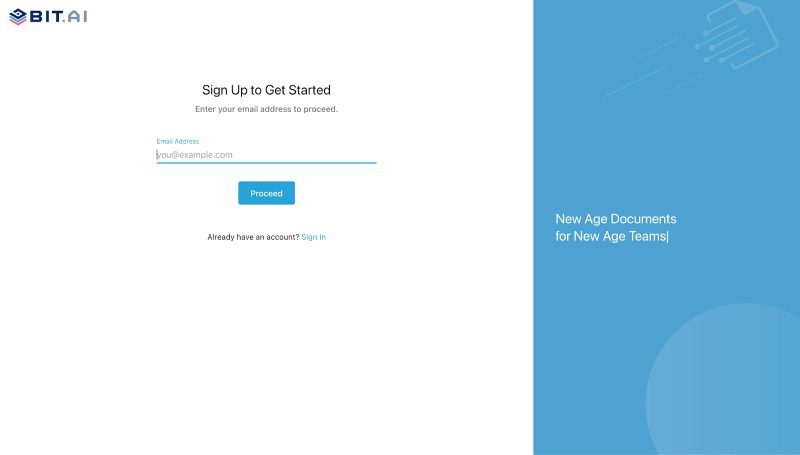 Getting started with Bit.ai is as simple as inputting your email and receiving a six-digit verification code.
After that, you're asked to fill out information like your name, your job title, and your department at your company, as well as create a password. Right off the bat, Bit puts businesses first, setting itself apart from Google Docs before you even log in.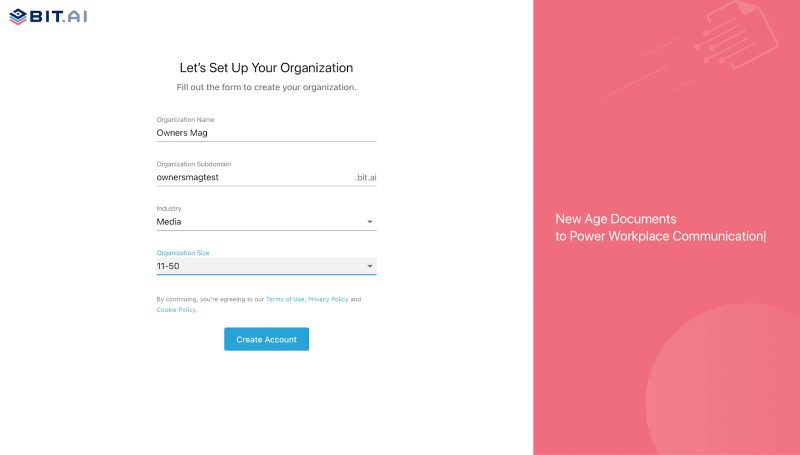 But it doesn't stop there. When you sign up, you create a profile for your whole company, getting a custom subdomain for your team to access your library.
And there you have it! Once you're logged in, you have the option to see a tutorial. If you want to upgrade to a paid plan, use the handy "Upgrade" button in the lower left corner of your dashboard.
Bit.ai Review: Features
The Bit.ai web app includes tabs for your dashboard, a list of all your workspaces, and a link tracking tab for Business and Enterprise users.
The Bit.ai dashboard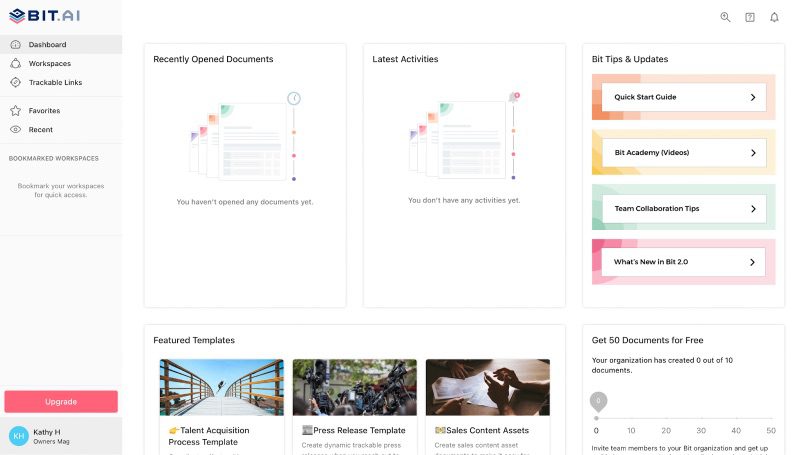 Your Bit.ai homepage allows you to view recent activity, featured templates, tutorials and updates, as well as see how close you are to your document limit if you're a free user.
With this limit, Bit.ai offers almost all of their features to free users. I prefer this model for free versions rather than arbitrarily limiting features.
You can open documents directly from the dashboard, but only using a featured template or a recently-opened one. To create something from scratch, you'll have to head over to Workspaces.
The Workspaces tab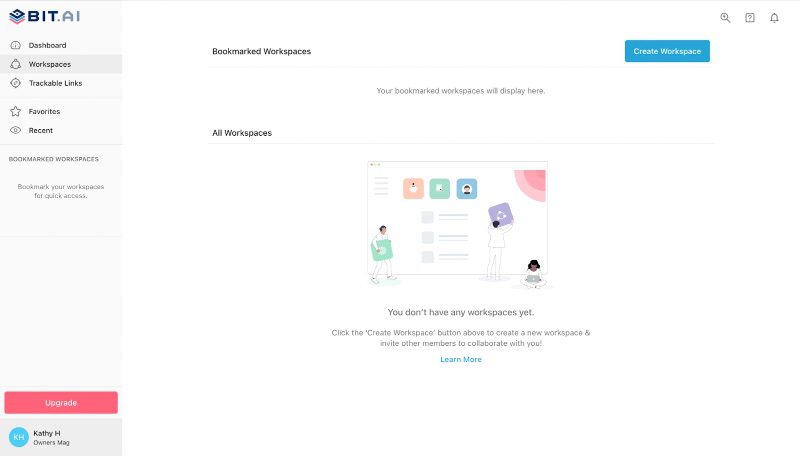 First thing's first: create a workspace. Workspaces are where your documents are created, saved, and shared. Once you've made one, you can create a new document, either by using a template, importing an existing document, or starting from scratch.
Creating a document with Bit.ai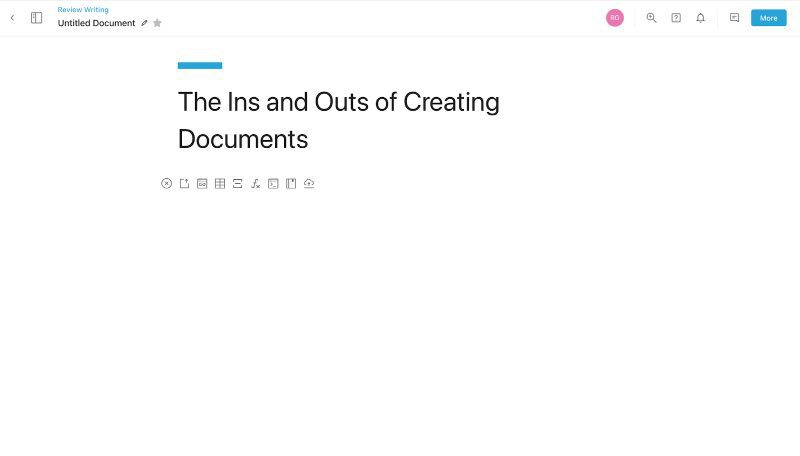 When you create a new document in Bit.ai, you're taken to a bare-bones writing editor similar to Notion. I always find it hard to start writing when you don't have anything visual to guide you, but once you get the hang of it, it's fairly intuitive.
I think the reason for this no-frills approach is to make it easier to take meeting notes and write down quick thoughts about a project. For more in-depth functions, however, you can highlight your text after you've written it to change the formatting. There's also a + icon next to your cursor that lets you add links, embeds, files, code blocks, and more.
One neat feature of this text editor is the ability to link directly to other documents and content in your Bit.ai library. It makes it much easier to cross-reference documents than it is in Google Docs, Word, Notes, etc., another great benefit for businesses.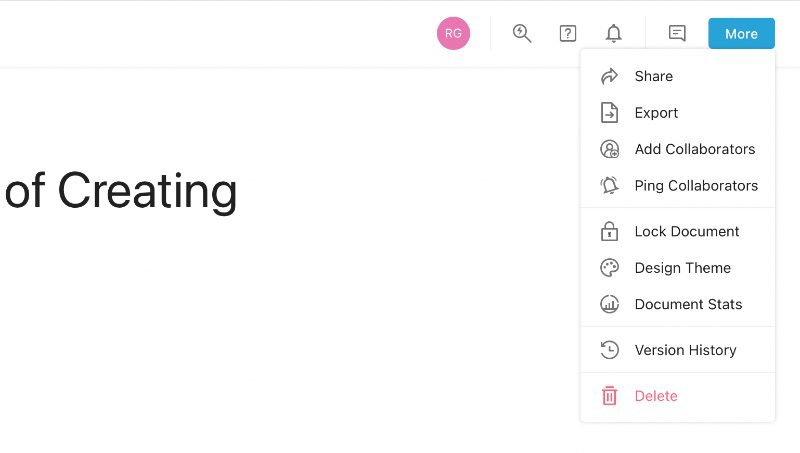 There's no need to save your documents in Bit.ai—that happens automatically. When you're done, however, you can share it with collaborators and others, lock it to prevent further edits, change its associated colors, view stats and version history. Note: exporting is only available for paid users.
Bit.ai writing templates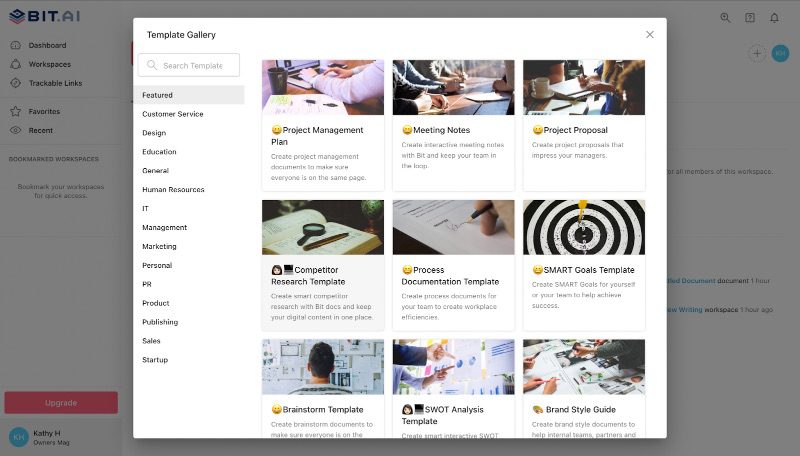 Bit offers a huge range of templates, with themes geared towards managers, marketers, designers, educators, and much more. Some of these are designed to function as static documents, such as thesis papers. Others can be hubs for entire business processes, like the video production template.
After trying out a few of these templates, they're great at showing off all of Bit.ai's functionality, but they're useful even if you don't use Bit for everything. They offer great templates for outlining your processes, making it easier to set a roadmap and including things you might not have thought of.
Importing documents into Bit.ai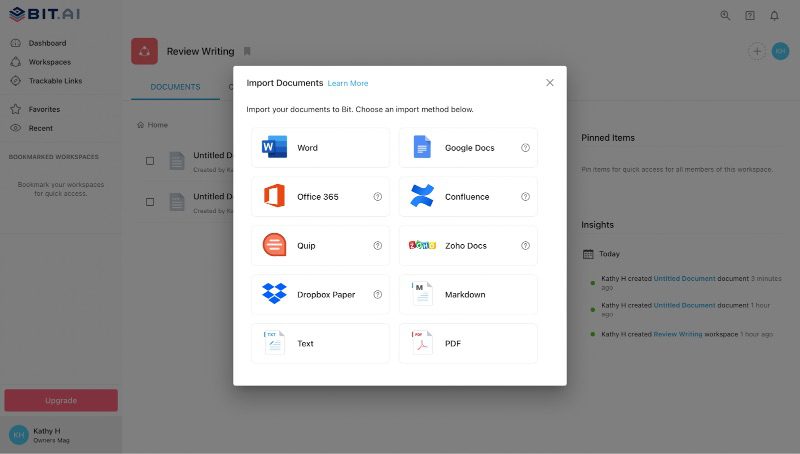 While Bit.ai professes to support a massive range of file types, their import menu is a little peculiar. You can choose to import from "Word" (which just allows you to import .docx files from your computer), from a number of cloud-based sources, or Markdown, .txt, and .pdf files.
The strange thing is, you can't click on "Word" and then upload a .txt file, nor can you click on "PDF" and upload a Word doc. I have no idea why it's formatted like this, but it made my upload attempts very confusing.
Not to mention, formatting isn't included when you upload, and the first two uncommon file types I tried (Pages and Final Draft) were both incompatible.
Bit.ai Review: Final thoughts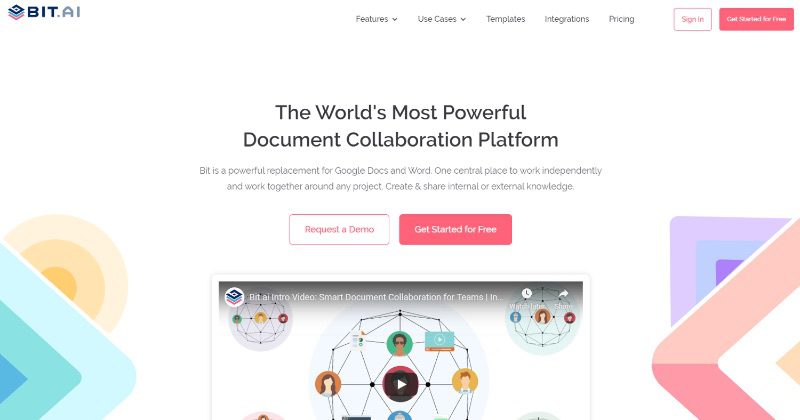 So, how does Bit.ai live up to its thesis statement? Is it really "the world's most powerful document collaboration platform?"
Eh, I don't know about powerful. It's mighty useful, and certainly more business-oriented than any of its major competitors. But it's actually a little lacking as a writing tool. You can't choose a font, there's no toolbar, and there's limited formatting options.
There are some good resources here for content management. The templates are stellar, and it has some of the easiest tools for cross-referencing other documents that I've ever seen. However, I've definitely seen tools that make it easier to organize documents and upload from your device.
Final grade: 6/10 😐