Is A Digital Detox Worth It? This Study Says No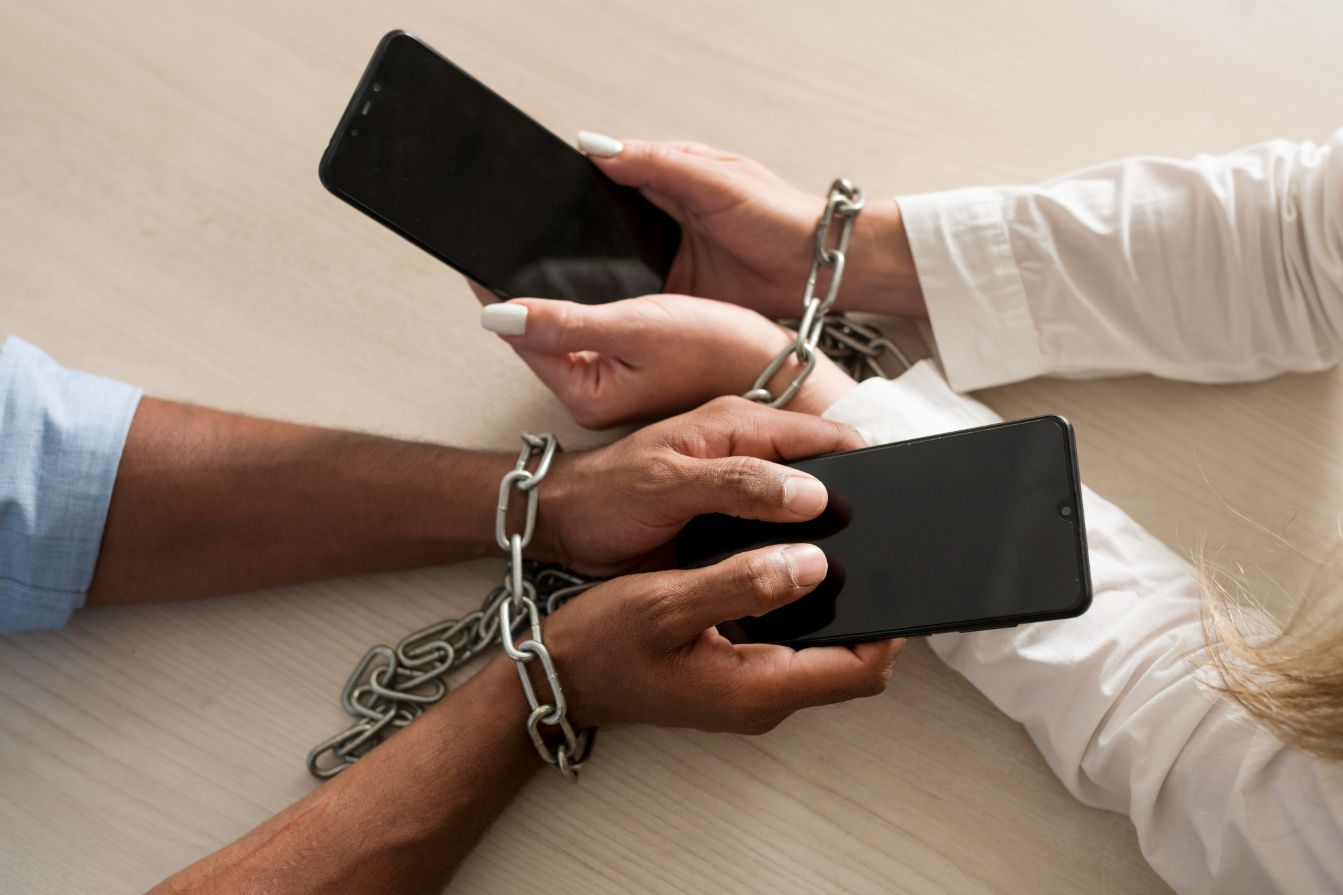 According to a 2019 study by Loughborough University in Britain, 24 hours of smartphone abstinence had no effect on mood and anxiety. This data flies in the face of all those lifestyle blogs encouraging people to go on a "digital detox." If someone tries to tell you the first step to solving life's problems is to simply log out and look around…
…they may be full of it.
Put the Phone Down
This is not to say that you shouldn't take a break from the screen. The study doesn't say, "Keep your eyes glued to your device, you sheep!" Rather, it comes to the conclusion that there's way more to detox than just putting the phone down.
"It is very likely nonsense to say that one simple trick like switching off your phone can lead you to live a happier life," says Andrew Prybylski, experimental psychologist at Oxford Internet Institute.
"As human beings, we're always trying to fit together all kinds of things, like being a father, being a husband, being a professor … there's always a balance that you have to strike."
There's no question that it's a good idea to look away from the screen occasionally. Anyone whose job requires them to stare at a laptop all day knows the physical pain that can occur right at the back of the eyes.
You know what I'm talking about.
We Crave Our Smartphones
The 2019 study, led by Dr. Thom Wilcockson, asked participants to place their phones in a sealed bag and leave it there for 24 hours. Psychologists then measured three variables: mood, anxiety, and craving.
The only variable that had any effect was craving.
"The craving results indicate that, as expected, people enjoy using their smartphones and miss them when they are unavailable. However, our results indicate that it may be inappropriate to consider smartphones in the same framework as behavioral addictions as we found little evidence that they meet important behavioral addiction data," says Dr. Wilcockson.
There are plenty of blogs that compare an addiction to smartphones or social media as the same as, say, an addiction to alcohol or heroin. That may not only be an unfair comparison, it may be irresponsible.
"The growing popularity of 'digital detoxes' has been encouraged by claims that removing oneself from technology can help reduce stress and improve well-being. However, our results suggest that a short-term digital detox from your smartphone is unlikely to provide any health benefits," adds Dr. David Ellis.
There's More To Detox Than Your Phone
There was a time when reading newspapers was seen as harmful to one's personal health and damaging to society as a whole. Before that, books. Before that? I don't know… rocks?
There will always be voices yelling that the shiny, new thing is dangerous. That it should be cast aside for tried and true methods. In fifty years there will probably be people yelling about how we should log out of our brain chips and return to our smartphones for "good ol' fashioned reading." 
Moderation is key in every aspect of life. You don't want too much of anything, or too little. Tap into your inner Goldilocks… minus the breaking and entering.
If you have a habit you want to break, here are a few methods you can try.
Are digital detoxes worth it? Short answer, probably not. It's always a good idea to put the phone down once in a while. But if you're counting on that minor lifestyle change to be the first step in a wellness adventure, you may want to try a little harder.
Go ahead and put the phone down. Log out and look around. It'll be good for you. But don't pretend that lifestyle coaches know what they're talking about.
Don't forget, these lifestyle coaches trying to get you away from the screen are counting on you to look at their screen.
4 Best Time Management Courses on Udemy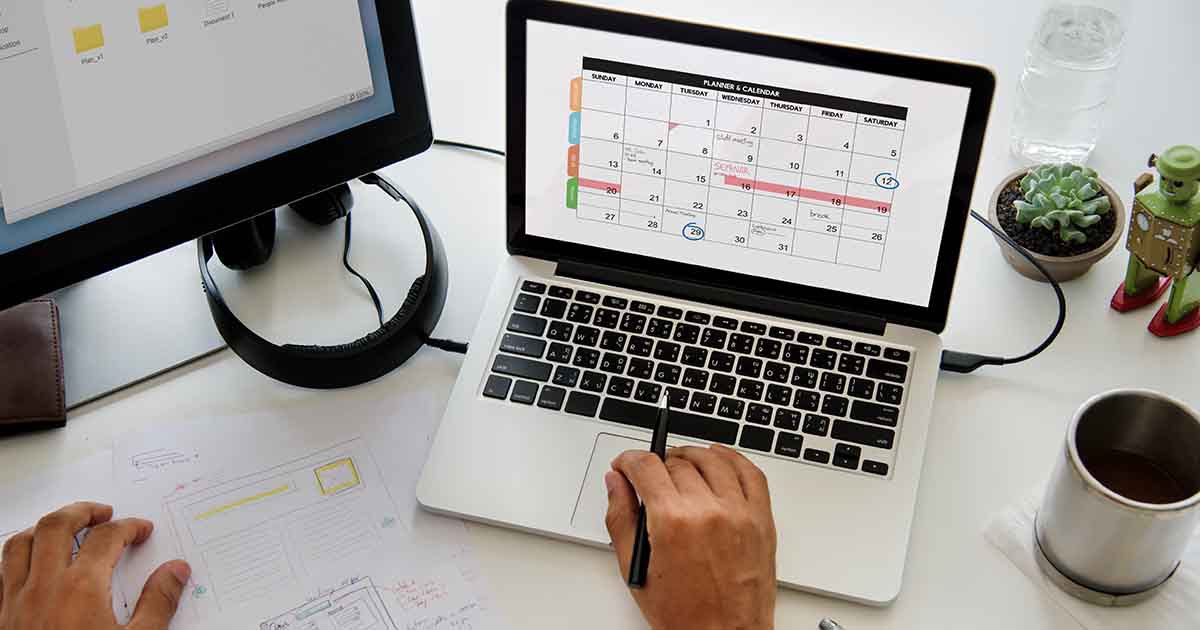 Time management is quintessential for being productive and achieving your goals. If you struggle to stay on top of things or feel like you're constantly running behind, you should consider taking time management courses to learn strategies for staying organized and on track.
These courses are an awesome way to learn new skills without the commitment of a lengthy degree program or the expense of hiring a personal time management coach. To help you choose which time management courses are worth your time, we've listed our top four picks below:
1. Focus Mastery Course by Claudia Simonetto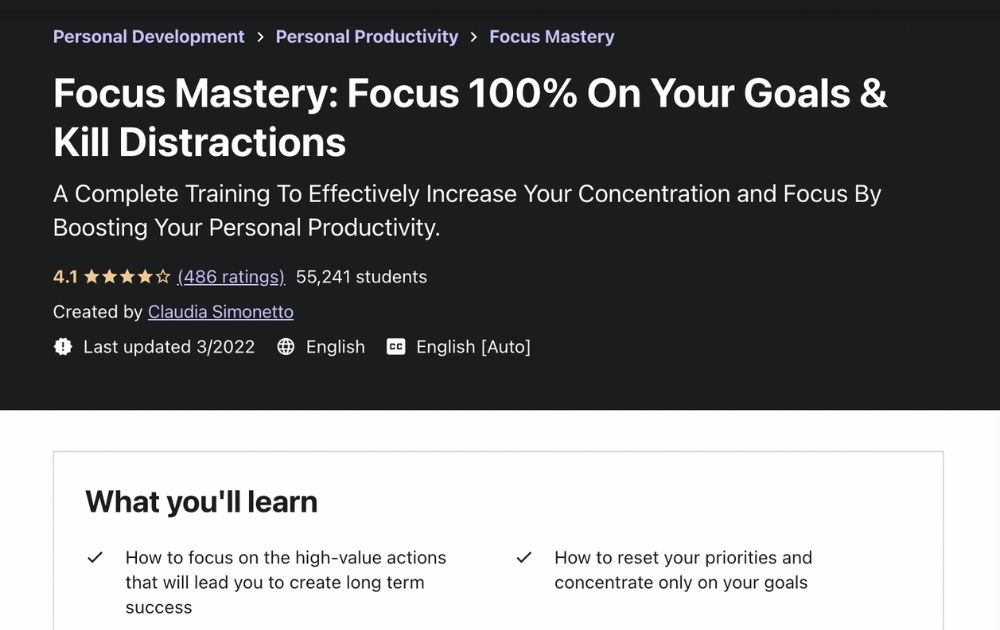 First on our list of time management courses is the Focus Mastery Course by Claudia Simonetto. In this course, you'll learn how to build good habits to improve your focus, how to attain deep focus and improve your work performance, and more.
This course is a great option for anyone looking to improve their time management skills and become more productive. The Focus Course by Udemy has a rating of 4.1 out of 5 stars, and more than 55,241 students have enrolled in the course.
The course includes a one-hour on-demand video, one article, 16 downloadable resources, and a certificate of completion.
2. Time Management Mastery by Alexis Haselberger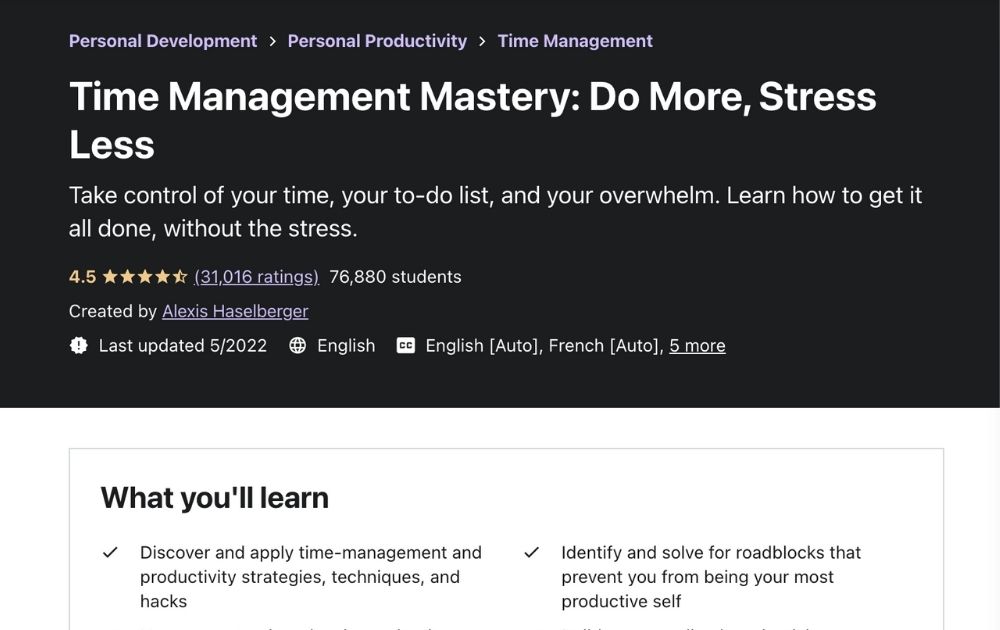 Time Management Mastery by Alexis Haselberger is next on our list of time management courses. This course teaches you how to use your natural tendencies and traits to your advantage to optimize your time and productivity. Moreover, it also tackles how to prioritize effectively to make sure you're working on the right things, at the right time.
The course has a rating of 4.5 out of 5 stars and more than 76,800 students have enrolled. It includes a two-hour on-demand video, 31 downloadable resources, one practice test and a certificate of completion.
3. Morning Routine Masterclass by Leon Chaudhari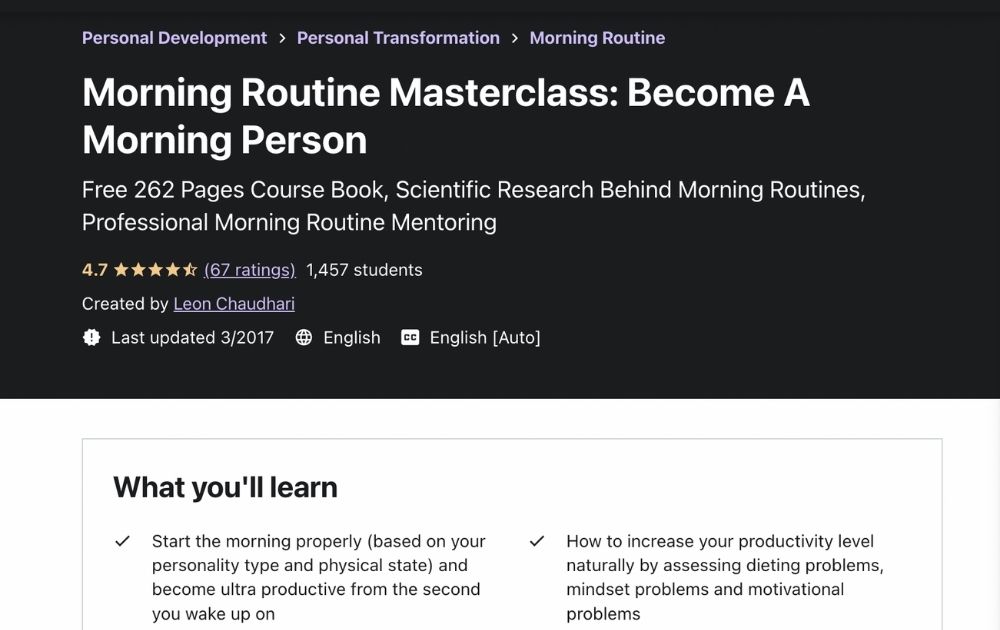 Morning Routine Masterclass by Leon Chaudhari is another excellent time management course on Udemy. This course teaches how to use meditation to help you become more relaxed but overall more productive and internally balanced. Also, it also tackles the concept of mapping and why successful people often use it to increase their productivity.
Though only 1,457 students have enrolled in this course as of writing, it has a high rating – 4.7 out of 5 stars. The package includes 3.5 hours of on-demand video, one downloadable resource, and a certificate of completion.
4. How to Master Your Morning Routine by Chris Oparanozie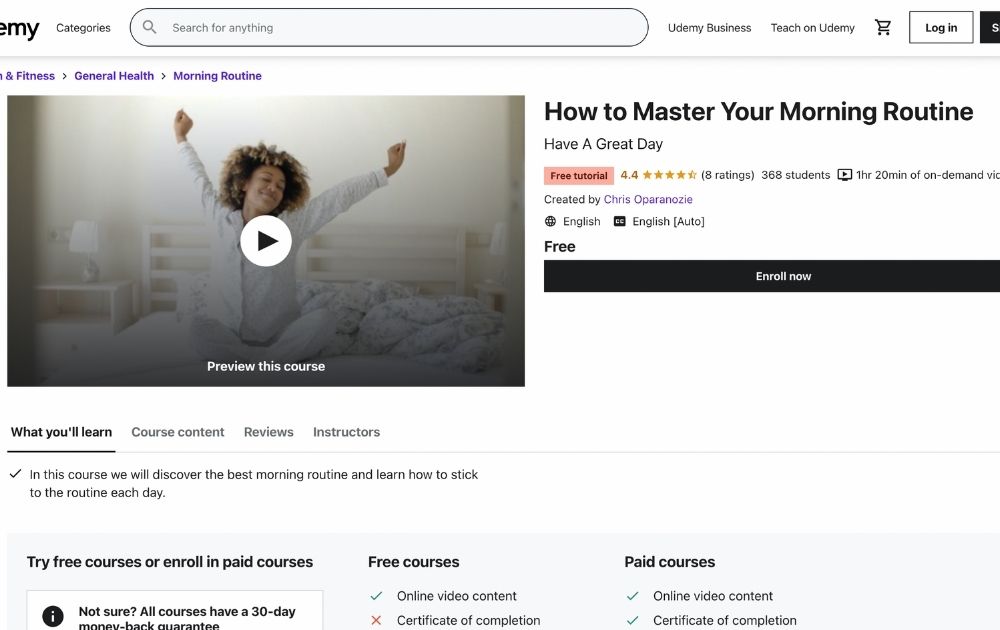 If you're looking for the best time management courses free of charge, then check out How to Master Your Morning Routine by Chris Oparanozie. You know what's the best part of this course? It's a free tutorial. That means you can access one hour and 20 minutes of on-demand video without spending a penny.
The course is for people who are "serious about having great days and learning to start every day with peace and purpose." Aside from learning a great morning routine, you'll also learn how to stick to it and start the day off right. Though this is a free course, it offers sound advice and you'll surely get a tip or two about how to improve your a.m.
The Bottom Line
These time management courses are a great place to start if you're looking to get more organized. These courses cover a wide range of topics – from managing tasks to using to-do lists effectively.
If you're ready to improve your time management skills and are eager to begin, don't waste another second. Check out the links above and research for more courses to suit your needs. After all, there is no time like the present to begin improving your time management skills.
Advocate for Yourself in The Workplace: What is It and How to Do It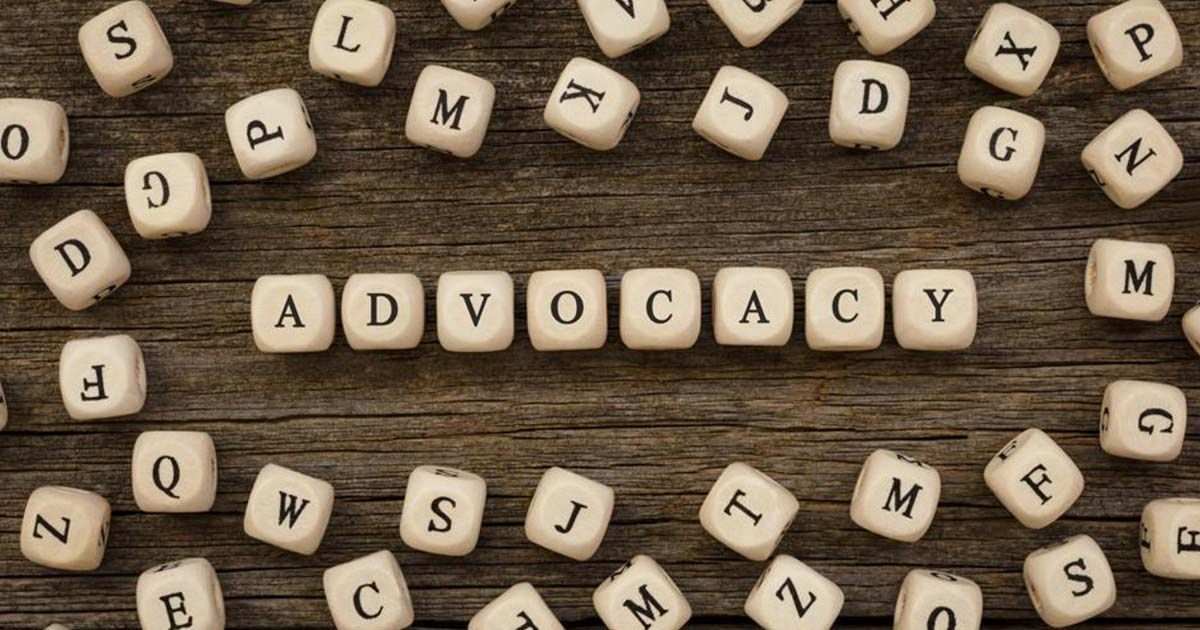 While we frequently hear the term self-advocacy, the practical tools to get there are rarely discussed. Self-advocacy is essential for healthy relationships, long-term success, and happiness. One of the many advantages of self-advocacy that help build these three pillars of overall well-being is when you feel comfortable advocating for yourself. Then, eventually, you can get what you deserve out of your negotiations. Zabeen Mirza, founder of Jobs.mom and host of Mom's At Work podcast, discusses how to advocate for yourself in the workplace and apply it in your daily life. 
What Exactly is Self-Advocacy?
Mirza explains that self-advocacy is teaching other people how to treat you by:
Setting boundaries and expectations
Helping others understand what you need
Asking the kind of support do you need to perform effectively at work
Self-advocacy means communicating those things and helping others understand how they can best support you. A common misconception is that it is merely about speaking out or standing up for yourself. Others believe that only good communicators or extroverts would be good self-advocates. In contrast, you don't need to be outspoken, assertive, or confident to be able to advocate for yourself.
One of the great ways to advocate for yourself in the workplace is by asking your employers to help you grow professionally. For example, ask them for more training, take up a professional development course, or more tasks or responsibilities.
You can also advocate for yourself is by asking your higher-ups their priorities. If you have many tasks to complete and your manager asks you to handle even more jobs, take this opportunity to practice self-advocacy. In this situation, ask your manager something like this – Can you please help me understand the priority? Or What is the deadline? and so on.
Doing this allows you to advocate for yourself in the workplace without being assertive. You are just asking a question for clarification. Likewise, it shows that you're organized. Asking them to prioritize shows that you care about your job enough to monitor your tasks. In addition, it also tells that you're making sure you complete those assignments to the highest level of quality and on schedule.
Sometimes, it can be intimidating to have this kind of conversation with the higher-ups, but remember, lack of self-advocacy triggers more problems like burnout, severe stress, anxiety, etc. All of these can negatively impact employee productivity and performance. 
Remind yourself that you have leverage.
What Are the Barriers to Advocating for Yourself in The Workplace?
The sad reality is that there will be barriers to advocating for yourself, both internally and externally. According to Mirza, implicit bias can play a significant role in self-advocating.
When we picture ourselves through a biased lens, we may feel compelled to advocate for ourselves. And if we are biased toward others, we may ignore critical aspects of a person's identity that maybe they need more support. Each of us should reflect internally and notice our behaviors to recognize these biases.
Once done with the reflections, you can start working on identifying, learning from, and correcting that bias in future interactions.
Mirza said the phrase "easier said than done" perfectly suits self-advocacy. So, if advocating for yourself doesn't come naturally, it will take some time to achieve it. But that's fine, be patient with yourself and trust the process.
In the meantime, Mirza recommends taking a "fake it till you make it" approach. Self-advocacy is like a muscle. It would be best if you exercised it consistently to develop self-esteem.
Practice internal monologue. Instead of saying, I can't, I am not good enough, or they won't appreciate this, say these phrases positively to I can, I will, I am good enough, or they will like this or that.
Again, this will not happen naturally but strive to catch yourself in the act of doubting yourself and your skills.
How To Spot Financial Influencer Red Flags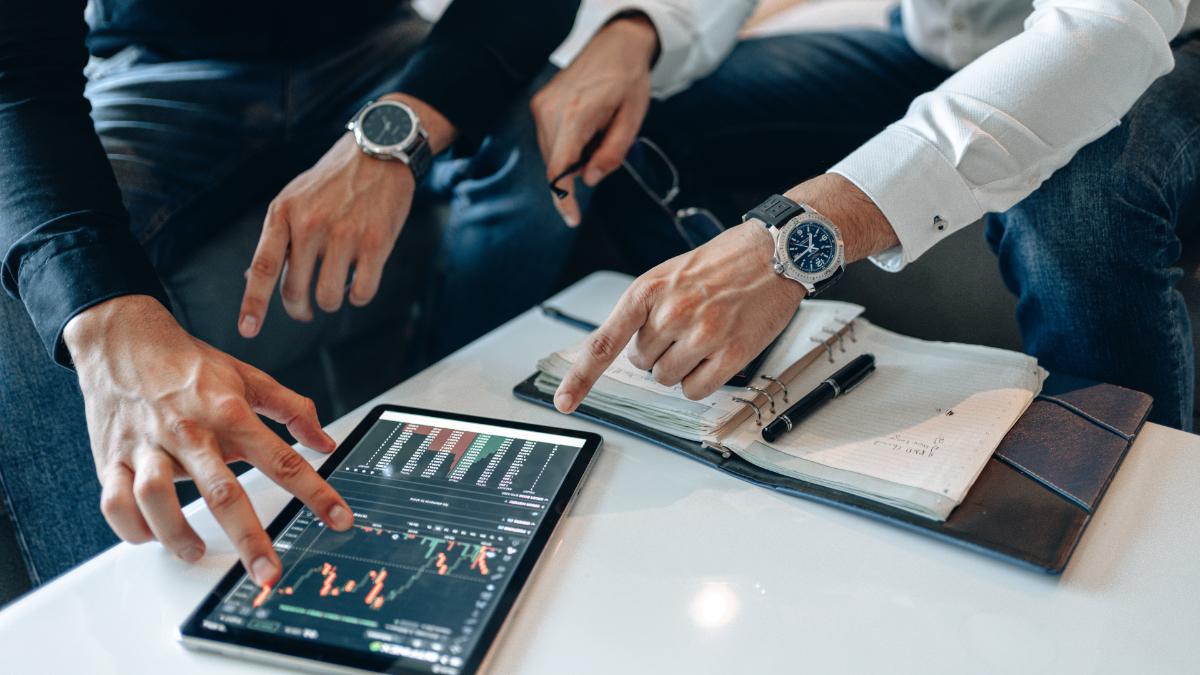 Nowadays, it's pretty easy to gather all types of information from the internet. One click and you can learn about almost anything online. That includes personal finance. And if people want to learn about personal finance, they look up to personal finance influencers.
Since personal finance is a serious and important issue, finding legitimate personal finance influencers is crucial so you don't fall prey to fake ones. So it's best to look out for financial influencer red flags. 
In this article, we'll dig deeper into what financial influencers do and the red flags to keep an eye on.
What do financial influencers do?
Financial influencers provide strategies and tips about how to handle money, investing, and other monetary-related topics. A financial influencer doesn't have to undertake official courses to become one. More often than not, they share tips and strategies based on the experiences they gain throughout the years of investing, trading, or dealing with finances.
A financial influencer may even share their personal experience in terms of growing their financial assets. As long as you have a proven track record of how you grew your finances, you can be classified as a financial influencer.
Financial influencers earn money in various ways. But to become an influencer, you have to earn considerable followership to attain trustworthiness. Moreover, credibility is also an essential aspect of being a financial influencer. So one has to accumulate social proof such as testimonials from the people they've helped, ratings from authoritative sites, and reviews from followers.
These influencers create a website where they can typically distribute content on anything finance. In most cases, influencers earn money from ads on their sites, sponsors, or affiliate marketing. Furthermore, financial influencers also offer their services by conducting one-on-one consultation sessions with clients for a fee.
Do financial influencers give tips for free?
Yes. Financial influencers start out by giving tips and strategies to grow your money for free. This way, they can gain followers, listeners, or subscribers. They distribute finance-related content such as blogs, podcasts, videos, ebooks, guides, whitepapers, PDF files, or even hold webinars.
The most common platforms to distribute financial-related content are:
Facebook
Instagram
YouTube
Reddit
TikTok
Twitter
LinkedIn
You may also find financial influencers in their element in various groups and forum websites such as Quora. And you can gain many tips and strategies from other people who pitch into the conversation.
5 Financial Influencer Red Flags to Watch Out For
As mentioned, it's essential to find legitimate financial influencers to learn valuable insight about money. So here are the top financial influencer red flags to watch out for.
1. Unproportioned number of followers and engagement
Buying Instagram followers is a huge thing on the platform nowadays. So before following a financial influencer, check out if there is an imbalance between the number of followers and quantitative amount of engagement. If the influencer has a million followers with only 1,000 or fewer likes on every post, that's a red flag.
2. No social proof
You should always consider credibility when selecting which financial influencers to follow. If you can't find social proof on any of their platforms, then it means the influencer hasn't lifted a finger to help anyone.
3. Hard selling
If you find that the influencer is always pushing for selling services or merch, consider it a red flag. A passionate financial influencer will prioritize helping others grow their money first before theirs.
4. Asking for upfront fees
As mentioned, when they're hard selling their services and asking for fees upfront, get one foot out the door immediately. These people want money from you above anything else.
5. Too-good-to-be-true promises
Sometimes, we fall prey to fake or too-good-to-be-true promises. Because of this, terms such as "guaranteed," "get rich quick," or "no fail" tend to spike up interest. However, there is no guarantee in the world of finance, so keep on searching for a legit influencer if you read terms like these.