Financial Guru Says Asking This One Question Will Help You Make Smart Financial Choices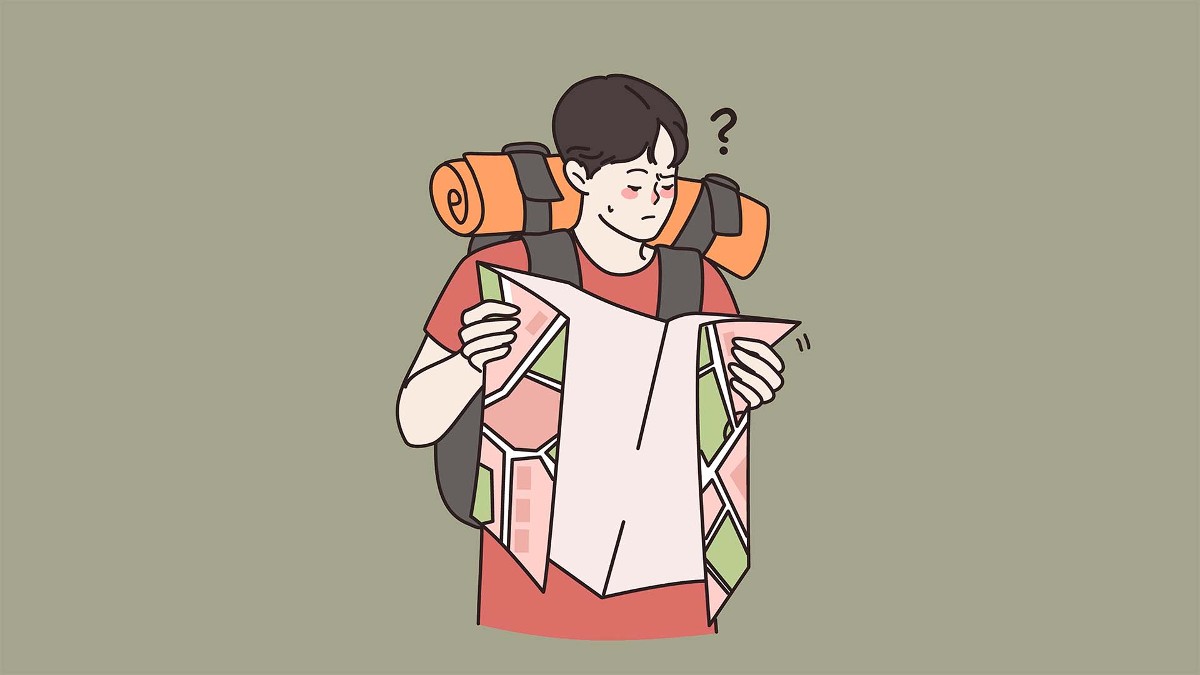 Financial guru Ramit Sethi explains doing this one essential thing before anything else to get your finances in check. He says you're not going anywhere if you don't map out and plan your journey. He teaches how to make smart financial choices that will keep your financial house in order. 
The era of technology has paved the way for fintech companies to help users transfer money conveniently and budget money properly. These days, there is no shortage of budgeting apps that range from free to premium services. Budgeting apps such as Mint, YNAB, PocketGuard, or Zeta could keep your finances in order.
Moreover, you can also find many resources about achieving long-term financial success and security. However, the author of I Will Teach You to Be Rich, Ramit Sethi, says that all these budget and financial apps won't work if you don't do one essential step. 
I Will Teach You to Be Rich explores the principles to manage your finances properly and gain control of your future. It details a six-week program that encourages people in their 20s and 30s to live a more fulfilling life with financial security. 
Getting your financial goals straight
The Cut's Charlotte Cowes interviews Ramit Sethi about financial planning. Sethi claims that people can get too confused about making money-related decisions. He says he gets more than 2,000 messages from people of various socioeconomic backgrounds and ages per day.
Most of these messages are queries about finances and how to gain control of it to live a comfortable life. Sethi says that most people don't know the definition of financial success. For example, when he asks clients what financial success is, they respond vaguely with no satisfying answers.
His clients' definition of financial success would often relate to being able to do whatever they want, getting out of debt, or having a million dollars. However, when pressed for reasons of how they came up with these, his clients couldn't answer.
More often than not, people think about taking control of their money after graduating from college, getting married, getting divorced, having children, or getting a new job. Sethi claims that this reckoning is due to external factors and never internal ones.
For instance, not many people wake up one day and say, "I want to regain control of my finances." Instead, it's always about these external events in one's life that pushes people to think about managing their money.
When this epiphany happens, most people who complain about personal finances probably have never read a book on personal finances. According to Sethi, the secret ingredient to achieving financial success is competence. You have to learn the ins and outs of the language of money. Unfortunately, money is talked about restrictively and unappealingly.
The ONLY one question to ask to improve personal finance
Sethi says that these vague answers might be for fear of not living a comfortable life or a sense of obligation. These answers don't motivate anyone from start to finish. But it's how you plan a creative vision that allows you to make smart financial choices. 
Let your dreams push you towards better money management. So before tackling the basics of financial planning, ask yourself this one question:
"What does the rich life look like to me?"
Sethi advises being more specific on your visions in life. The more detailed and sensory your responses are, the more precise the path to financial success.
Top Black Friday Clothing Deals of 2022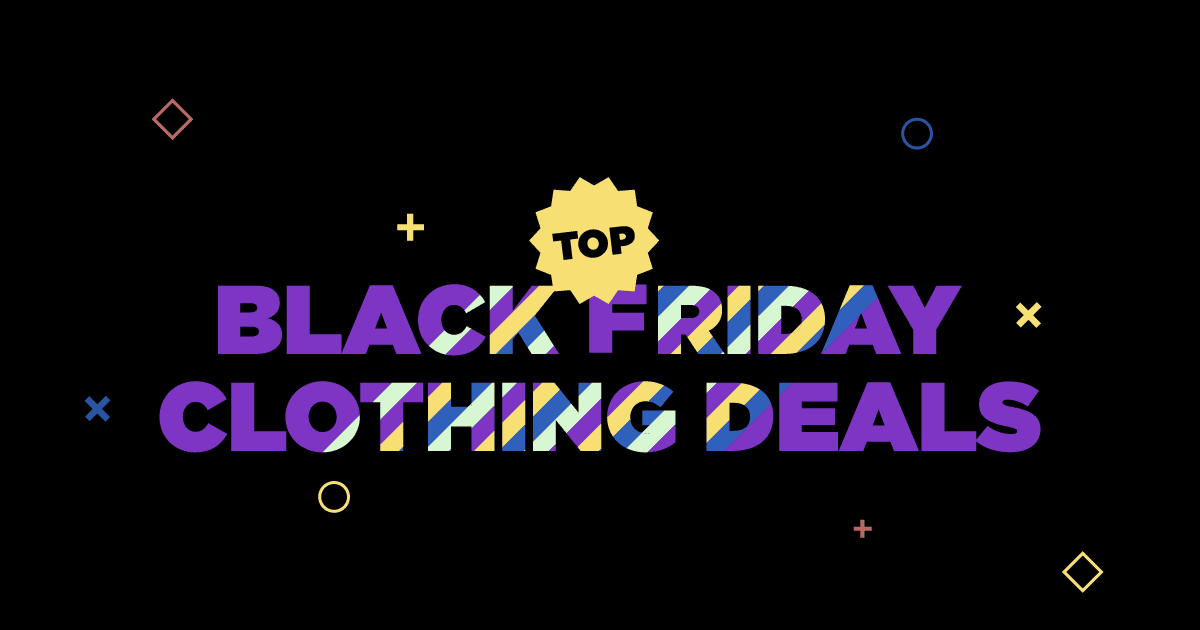 Are you counting the days before Black Friday? It's the best time to splurge because of the huge deals and discounts. And if you're looking for the best deals on clothes on Black Friday, don't fret! We have listed the top Black Friday clothing deals this year.
1. Kohl's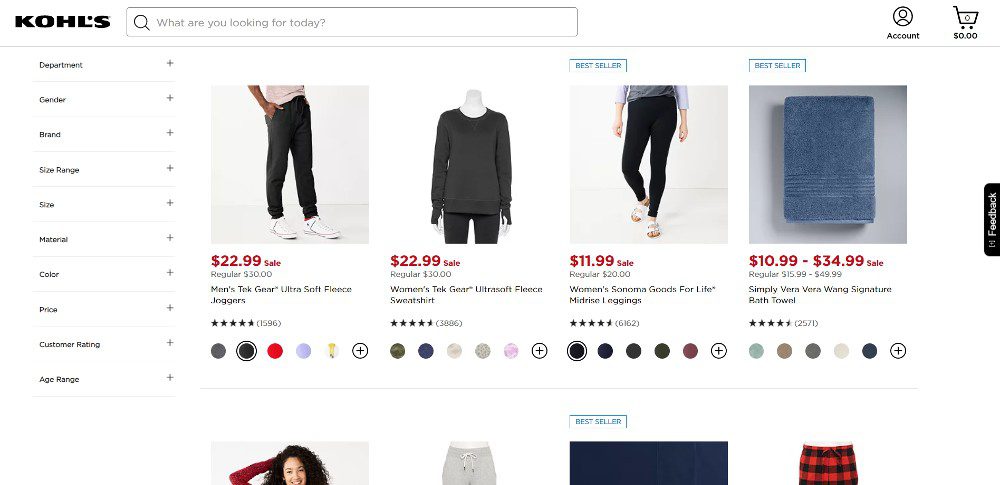 Kohl's has one of the biggest clothing deals for anyone looking for new apparel to wear in the coming year. You can get 20% off with their best sellers (add the code: YOUR20 at checkout). Plus, get more deals when you shop for other clothing items, such as pants, shirts, and jackets.
2. Macy's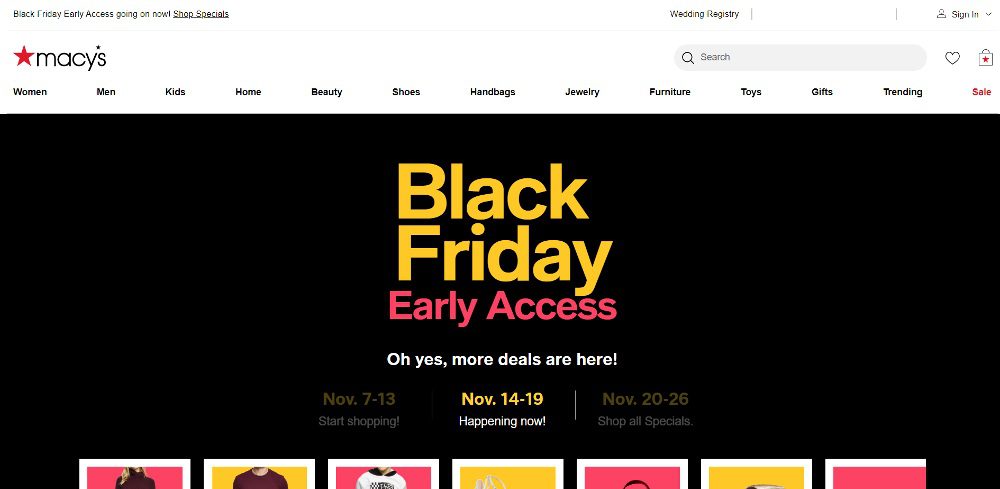 Do you want to shop for other looks? Macy's is another option to get the top Black Friday clothing deals in 2022. They actually started their Black Friday sale last Nov. 7 to 13 with an early access sale. Men will have loads to buy from Macy's to get their new looks since they have up to 70% off on designer suits, blazers, and pants.
3. Nike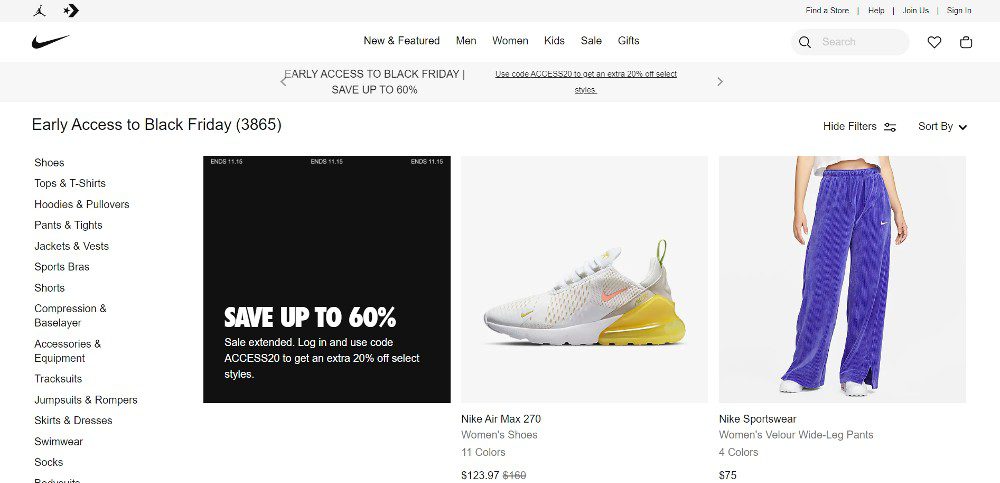 Nike is definitely making it fun for activewear and sports lovers this month, with sales of up to 60% on selected items! Items on sale include dri-fit tops and joggers, biker shorts, leggings, tops, and innerwear.
4. Adidas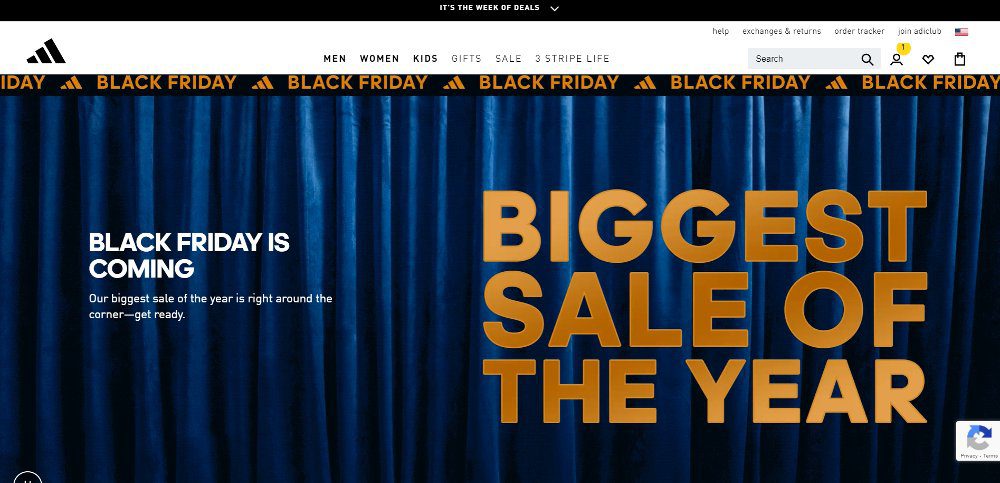 Nike's main competitor, Adidas, is also holding a Black Friday sale. Unlike Nike, Adidas has up to 50% off on many items. Although Nike has a higher discount, you can also count on Adidas for a Cyber Monday sale.
5. Alo Yoga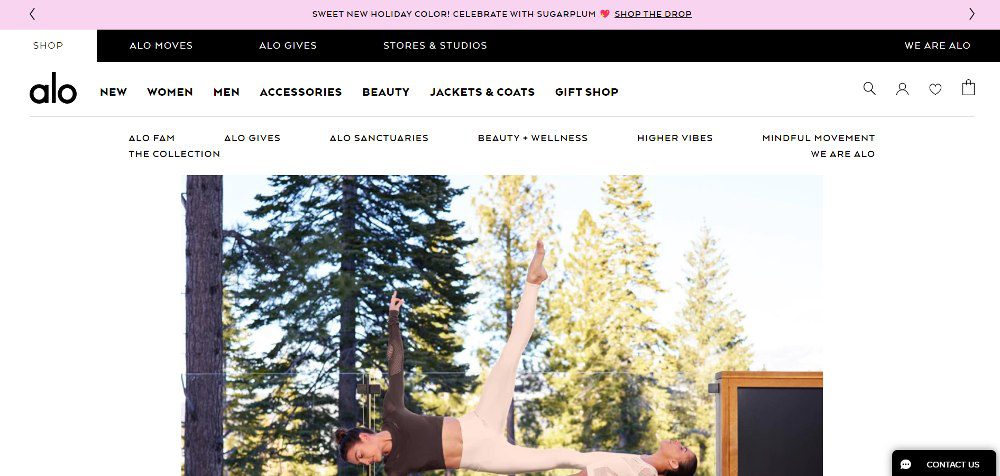 Although Alo Yoga doesn't have early access, they are opening their Black Friday a day early. They are offering a 30% discount on all full-priced items. Plus, they have discounts of up to 70%!
6. Girlfriend Collective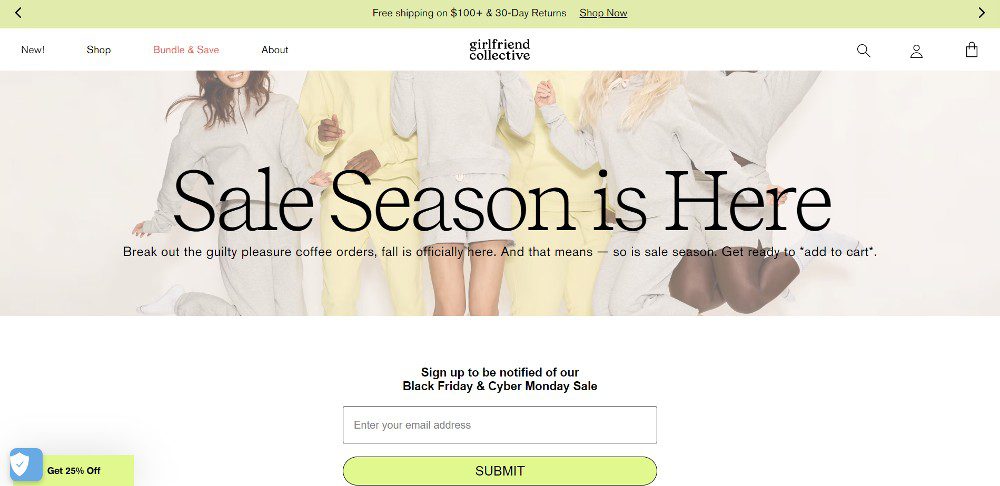 The Girlfriend Collective is another sustainable brand getting in on the Black Friday sales fun. But their sale started at the beginning of the month, and they are encouraging shoppers to buy ahead of time during Black Friday and Cyber Monday! They offer 60% off on most items, earning them a list on our Top Black Friday Clothing Deals!
7. Lululemon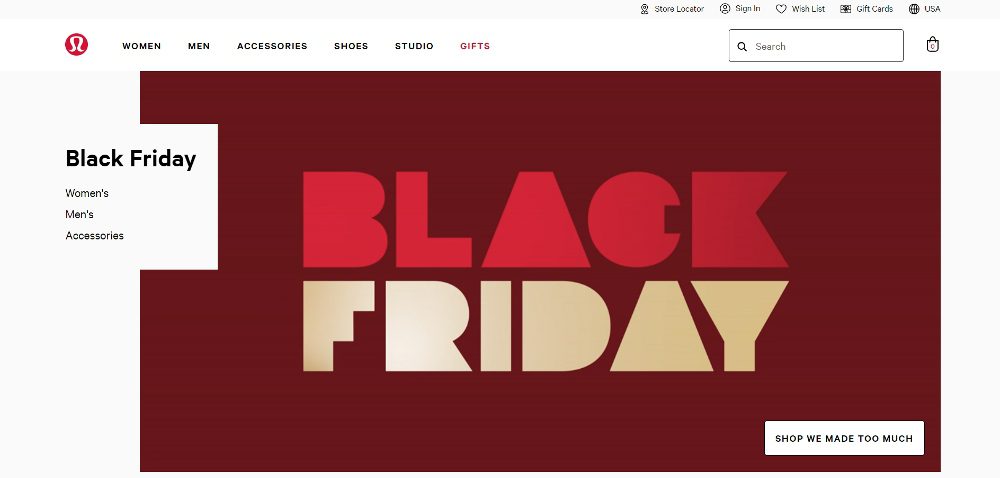 Black Friday also started early for Lululemon, giving men and women great deals on their activewear. Get deals of up to 40% on items, such as their joggers and running or training tees!
8. Levi's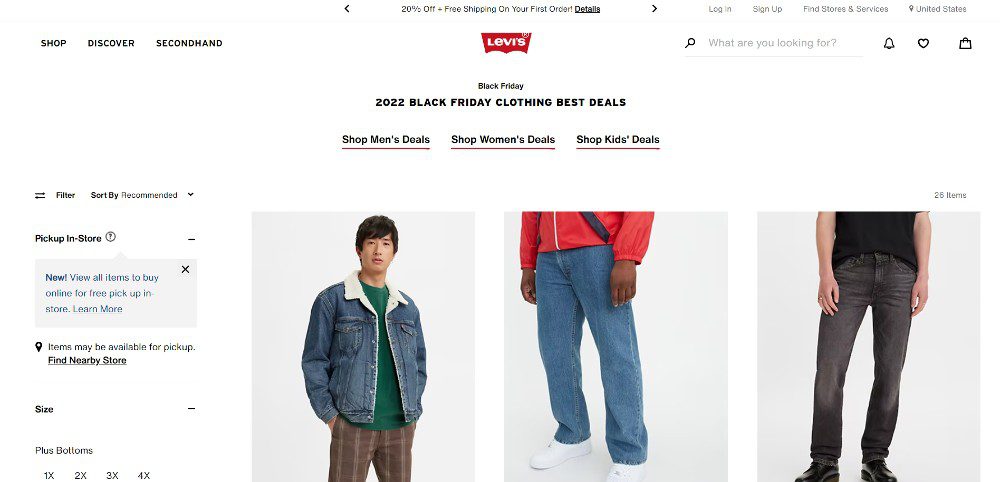 If you need new jeans, then Levi's is definitely the store you should visit during Black Friday. They are promoting a buy 2 get 30% off sale for some items. So far, they have limited items on sale, but you can snag their jeans or hoodies before anyone else can grab them.
9. Urban Outfitters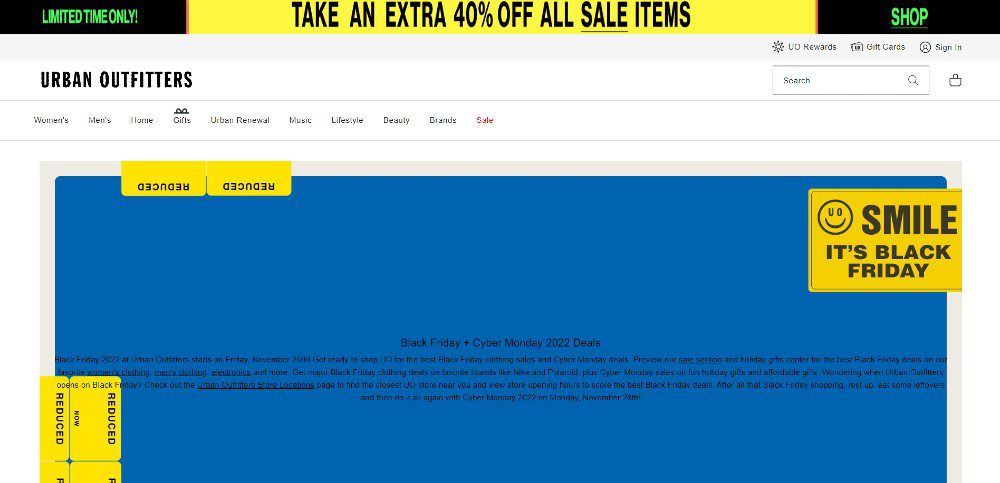 Urban Outfitters will have you shopping until Cyber Monday with their deals and discounts. Their Black Friday sale will start on Nov. 25, so mark your calendars until then. And they'll have a separate sale for Cyber Monday on Nov. 28. But they provided a preview of what's to come with some items on sale, such as pants and shirts.
10. Free People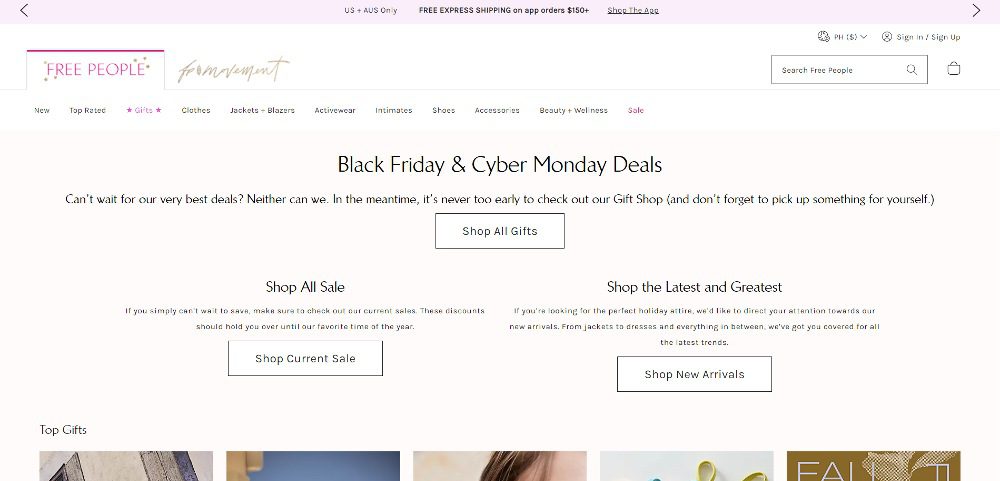 Similar to Urban Outfitters, you'll have to wait until Black Friday to get access to Free People's deals. Plus, they'll also have Cyber Monday deals ready for you! Plus, if you want free shipping from them, make sure to buy up to $100 of items to save on shipping costs.
11. Nordstrom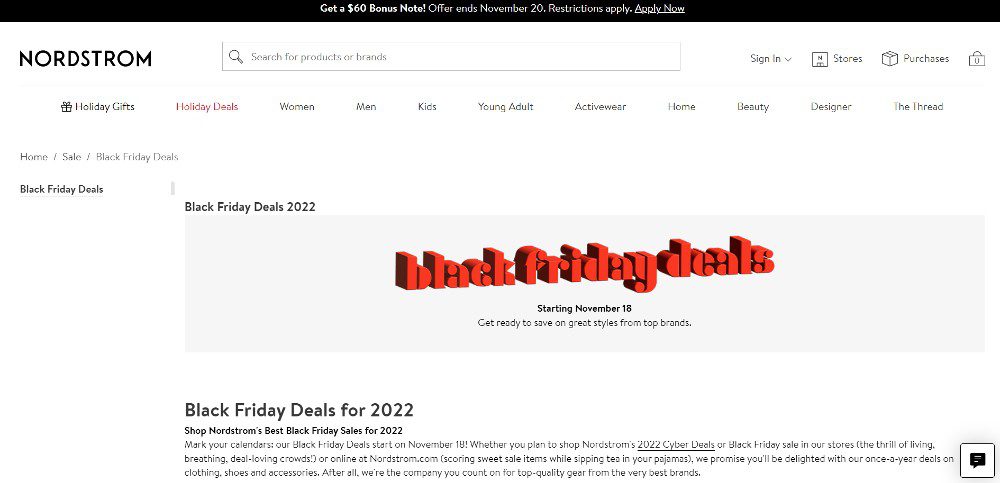 Nordstrom will start their Black Friday sale on Nov. 18, and customers can enjoy these Top Black Friday deals in-store or online! Keep an eye out for their upcoming sale. But you can enjoy sweet deals from AG and Nike with their limited-time sale.
12. Bloomingdale's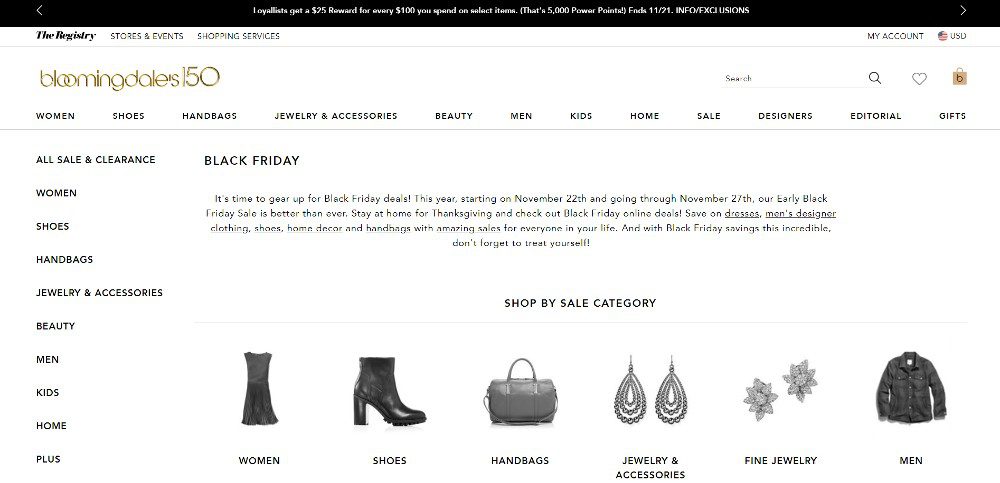 Bloomingdale's is another department store chain that will start Black Friday sale early on Nov. 22. But you can start shopping now with their current deals or shop until you drop on their last day on Nov. 27. You can enjoy discounts of up to 40% on Bloomingdale's!
13. Amazon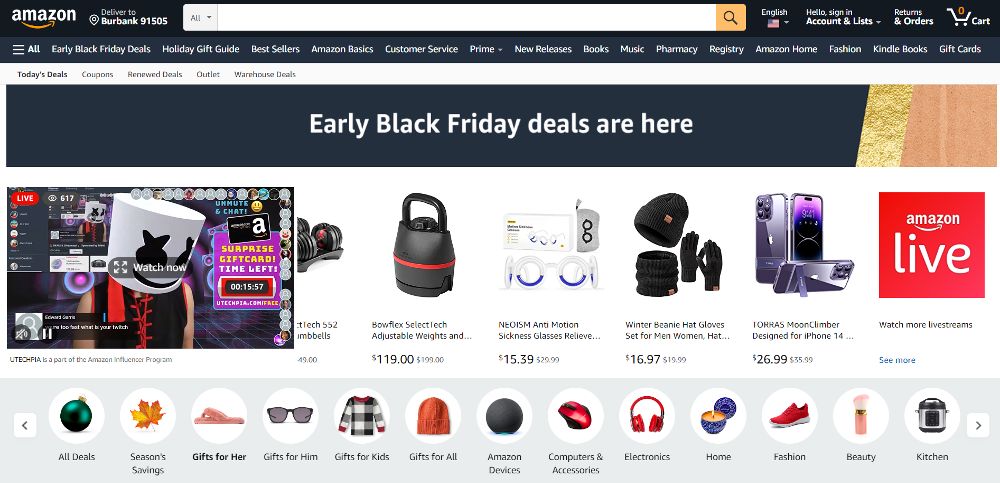 Amazon is also joining the fun of Black Friday by having early Black Friday deals on everything. And for clothing, they have deals of up to 30% off on casual wear and 15 to 50% off on winter wear.
14. Zappos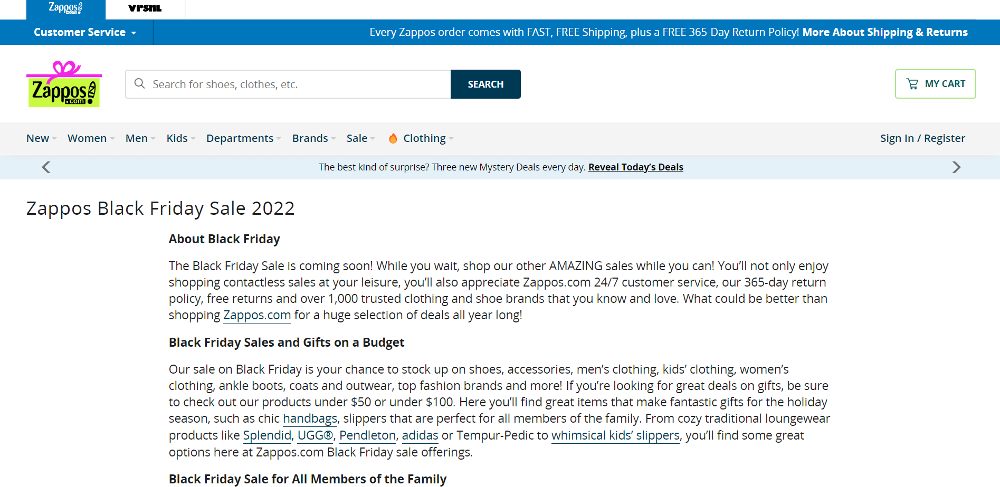 Zappos is another brand gearing for their Black Friday sale on the actual date. Even though their Black Friday sale is yet to happen, shoppers can still look for deals. Plus, customers can even shop for gifts while waiting for the biggest sale of the year.
15. Verishop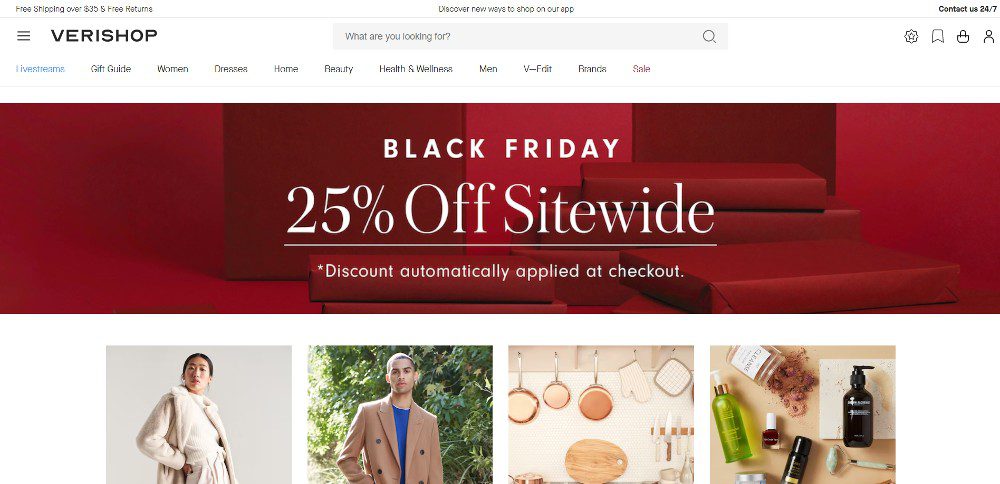 You can get Top Black Friday Clothing Deals from Verishop on Black Friday because they have a 25% discount sitewide. Now that's a good bargain. You can definitely shop for men's and women's clothes here. But you can also find great deals on skincare and home products.
16. Asos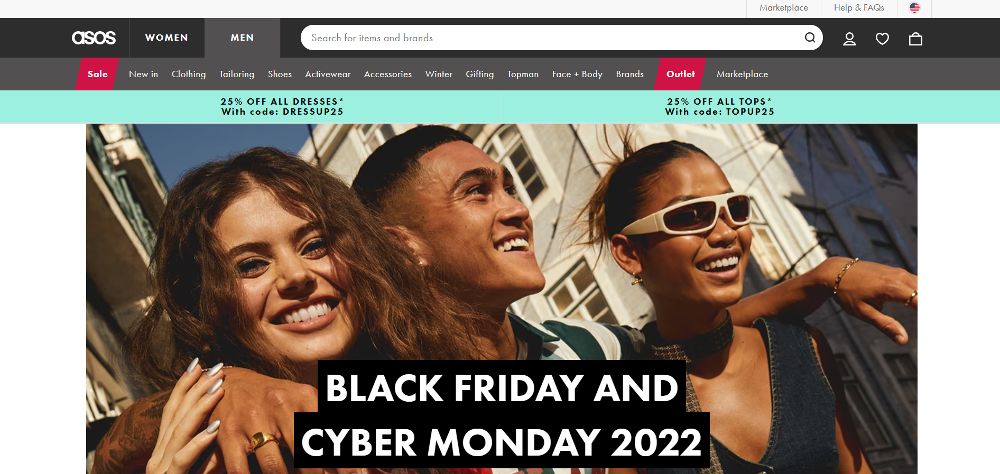 Do you love shopping at Asos? You'll love them even more on Black Friday and Cyber Monday when they finally start their holiday sale. They're already selling discounted items (use their promo code: TOPUP25), and they have up to 60% off on other items already, but rest assured, you'll get more amazing deals the day of!
17. H&M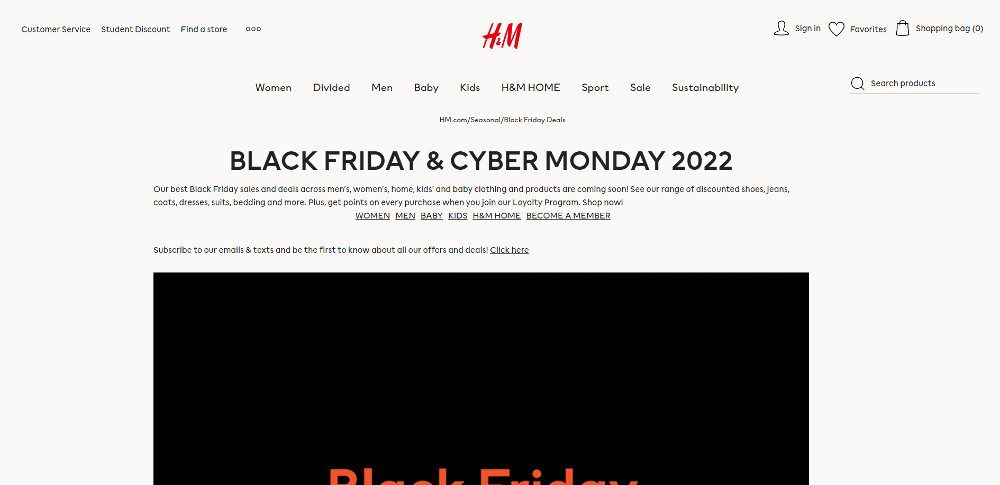 H&M is another brand holding off their biggest deals on the actual day. But they have started offering discounts on selected items. Plus, you can wait until Cyber Monday to buy all of your favorite H&M clothes. But if you're itching to buy new outfits, they have early access the day before Thanksgiving.
18. Scotch and Soda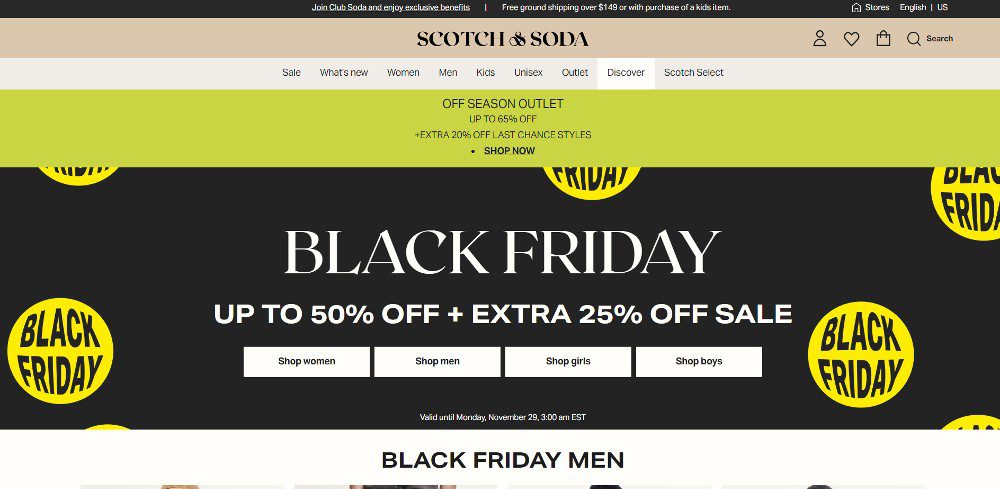 Scotch and Soda is another brand to check for your clothing needs. They have one of the best clothing deals since you can get up to 50% off and an extra 25% off. It's a great bargain! Men and women can shop for jeans, sweaters, blouses, and hoodies!
19. United by Blue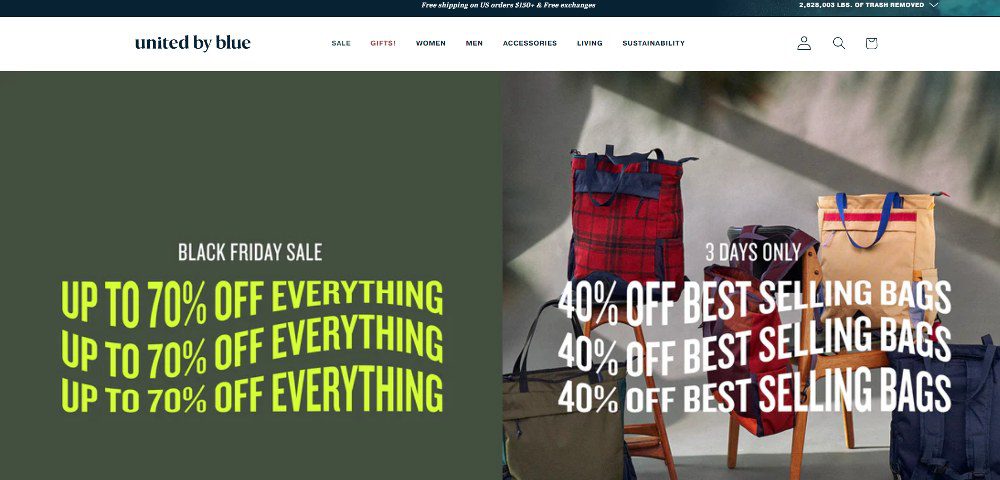 If Black Friday is stressful for you, United By Blue will make it easy for you to shop even after Black Friday since their sale will last until Dec. 4, 2022. Here you'll have deals of up to 70% off on jackets, jeans, and sweaters!
20. Twillory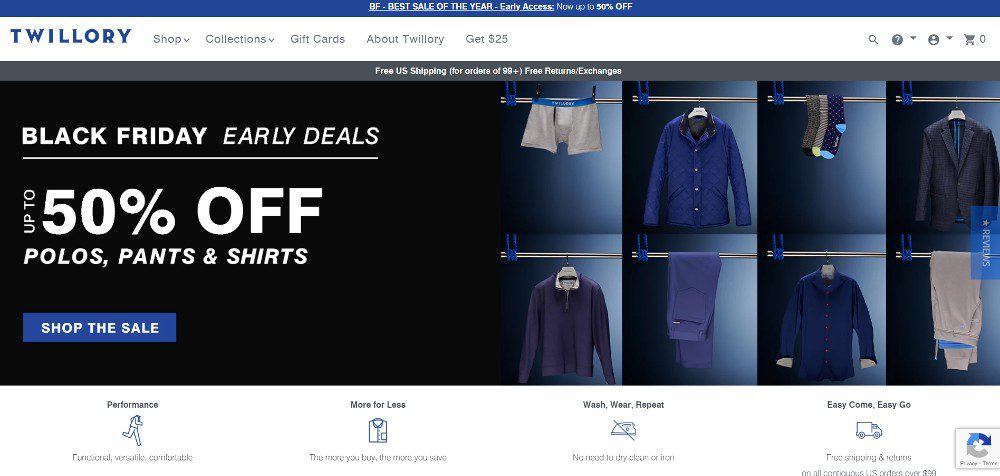 Twillory is another brand with the Top Black Friday Clothing Deals for this year. They have begun their Black Friday sale on selected items, and you can get up to 50% off on shirts, blazers, or pants.
Do you want to check out other Black Friday deals? Read more here at Owner's Mag!
Top 10 Fitness Apps For Every Workout Routine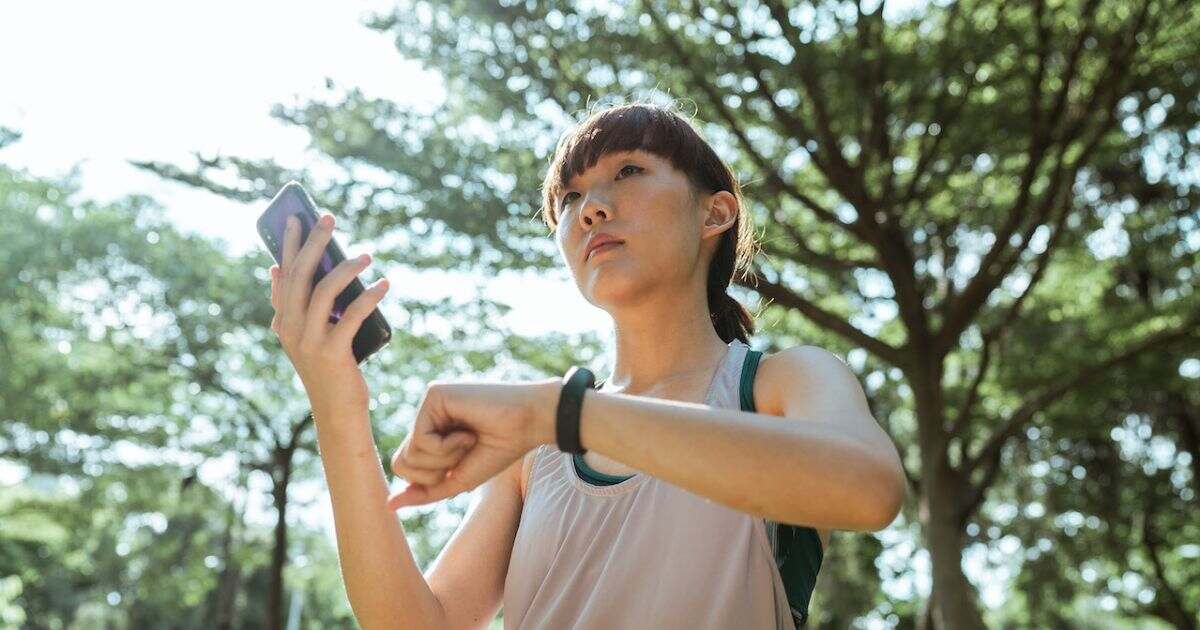 Your smartphone helps you make calls, text, or browse social media. But this pocket-size gadget is also excellent for tracking your fitness goals. You can download a fitness app to guide and motivate you whatever your workout routine is. Here are our top ten recommendations for the best fitness apps to download.
1. Nike Training Club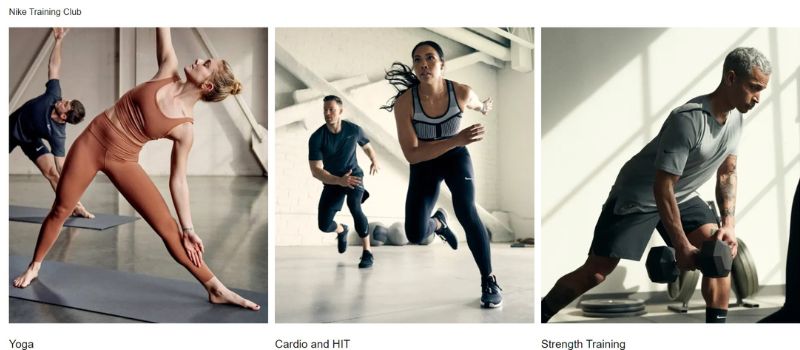 Get customized workout suggestions by taking a quick quiz at the Nike Training Club app. The app offers a variety of exercise styles, such as yoga, cardio, high-intensity interval training (HIIT), and strength training workouts. You can also categorize your search by muscle group, equipment, and workout focus to find the class you want. 
Pros
Wide range of workouts.
Multiple search categories, including muscle group, equipment, and duration.
Warmups and cooldowns included.
Cons
It takes up a large amount of storage space on your phone.
You can't play your music while streaming classes.
Quick transitions and fast-paced moves may be challenging for beginners.
Platforms: Android and iOS
Price: Free
2. Peloton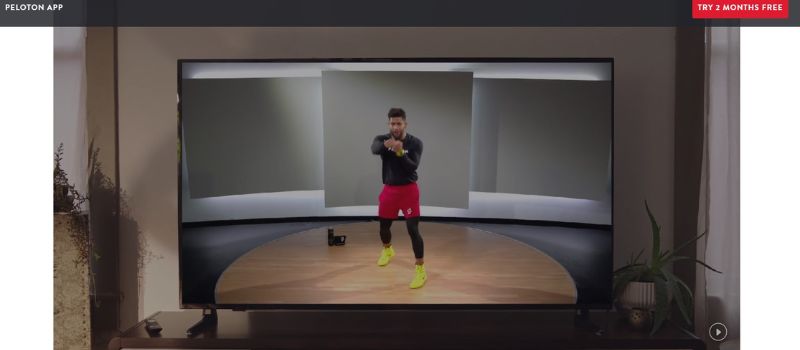 While Peloton is famous for its cycling classes, the Peloton digital app also allows you to access various workouts, including HIIT, strength training, outdoor running, and yoga. You can enjoy working out in real time with expert fitness instructors and other members worldwide. 
Pros
Curated music playlists included.
Classes range from 5–75 minutes long.
Modifications are provided during workouts.
Cycling and treadmill classes are included.
Cons
Peloton lingo for cycling and treadmill workouts is incompatible with non-Peloton cardio machines' resistance levels.
Time elapsed should be displayed during classes.
Some classes may be too difficult for beginners.
Platforms: Android and iOS
Price: $12.99/month. Offers a 2-months free trial.
3. TRX Training Club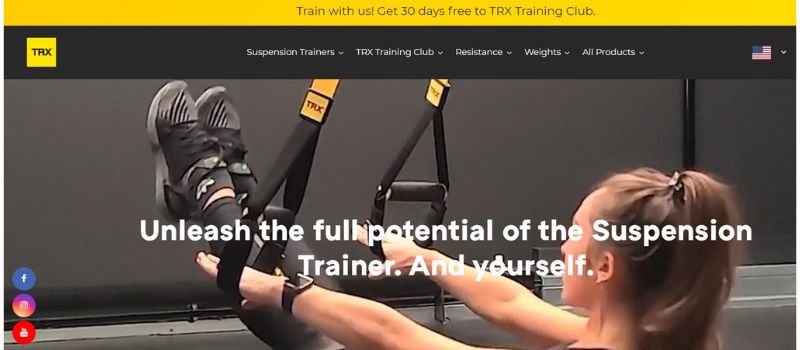 TRX Training Club assists you in doing suspension training workouts with live daily classes. You can also use a fun replay feature where you can add your own music. In addition, there is a complete library of on-demand classes, which you can access via On Demand or All Access membership. 
Pros
Availability of over 500 workouts across 15 programs.
Allows you to use your music.
Offer good training for more advanced athletes.
Cons
Requires TRX suspension straps.
Limited workout styles.
Android users say that the app is difficult to navigate.
Platforms: Android and iOS
Price: One Demand: $5.99/month, All Access: $19.99/month.
Offers a 30-day free trial.
4. Fit Body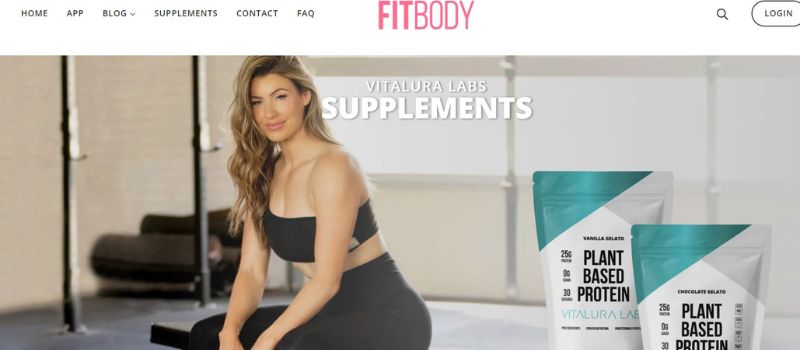 Fit Body features 12 programs handled by four expert trainers to help you achieve your fitness goals. Fit Body classes are designed to be 30 minutes or less. Likewise, the app offers 72 weeks of meal plans and access to over 300 recipes to create your own meal plan. A community function also allows you to connect with others on your wellness journey.
Pros
Offers nutrition tips and meal plans.
Tracks workouts and mental/emotional wellness.
Includes alternative move suggestions during activities.
Cons
It may be more challenging for some users.
Platforms: Android and iOS
Price: $19.99 per month, 7-day free trial
5. Centr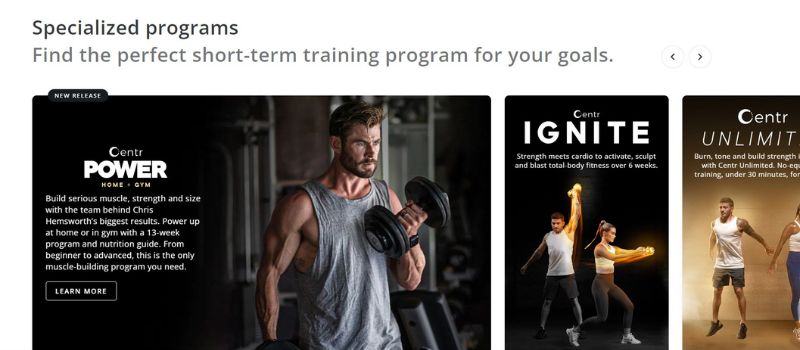 The Centr app was developed by actor Chris Hemsworth, known for his muscular physique. Centr offers daily workouts, meal plans, recipes, and a mindfulness feature, all done through a handy weekly planner.
Pros
Weekly planner for meals and workouts.
Workouts include warm ups and cool down included in workouts.
Wide range of training methods and styles.
Cons
Not beginner-friendly.
Suggested recipes and ingredients are expensive to purchase.
Limited progress tracking options.
Platforms: Android and iOS
Price: $19.99 per month, 7-day free trial
6. MyFitnessPal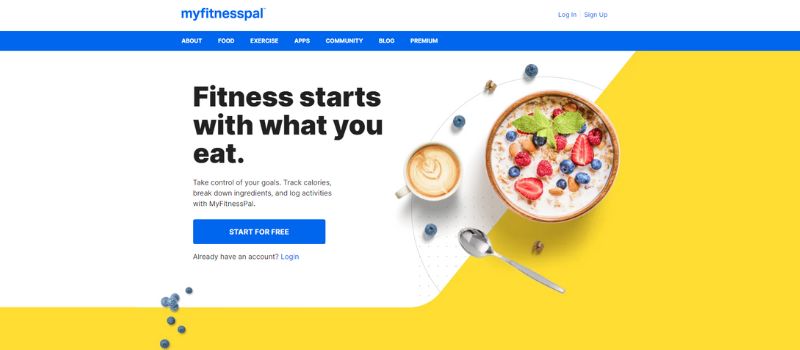 MyFitnessPal is one of the top fitness apps on the list. It is perfect for people who want to track almost everything. It logs exercise stats, records calories, helps develop healthy habits, and offers unparalleled customization for each component. 
Pros
It has a library of over 11 million foods.
Compatible with other apps and devices.
Logs your food intake and physical activity.
Can be customized based on health goals.
Over 350 workouts included.
Cons
Requires you to subscribe to a premium package to access the complete services.
Platforms: iOS and Android
Price: With free version. The subscription costs $10 per month.
7. Jefit Workout Planner Gym Log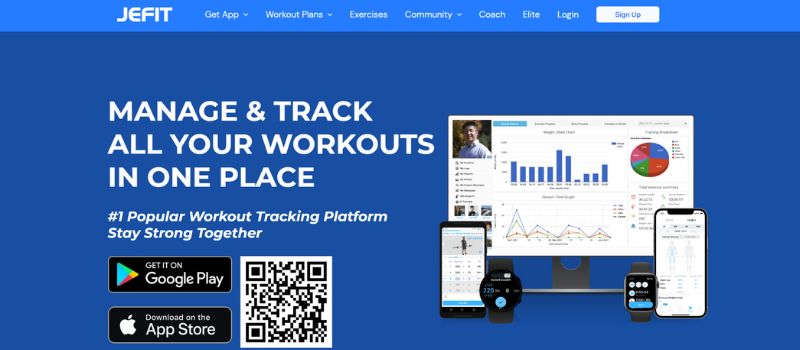 The Jefit app helps you to create personalized weight training routines. It has over 1,400 activities, post-workout analytics, and community features.
Pros
Customizable workouts.
Allows stats sharing among members.
It has 1,400+ exercises, even with the free version.
Cons
Limited focus on non-strength-training activities.
A subscription is required to access advanced features.
Platforms: iOS and Android
Price: with a free version, otherwise $6.99 per month with a 4-week free trial
8. Glo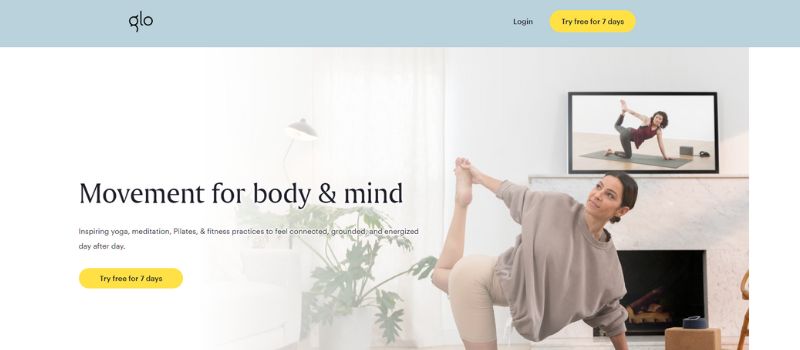 Whether yoga is part of your routine or new to the practice, there's something available on the Glo fitness app. It has over 4,000 on-demand classes and daily live workouts. You can also download classes to take with you wherever you go. 
Pros
Causes suitable for all skill levels.
Integrates with the Apple Watch.
Cons
Limited variety of workout styles.
Platforms: iOS and Android
Price: $24 per month, 7-day free trial
9. Strava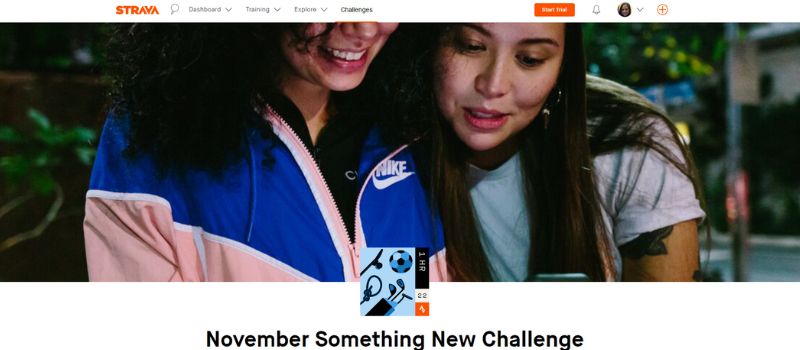 Strava is one of the best fitness apps for cyclists. So, if you love running or cycling outside, Strava is the perfect app for you. Aside from mapping your routes, Strava also monitors your progress, suggests challenges, and shares your location with friends for safety. The free version of Strava is quite simple. It allows you to record your activity and share your site with three designated safety contacts.
Pros
A strong community of fitness enthusiasts.
Extensive tracking and performance metric features.
Cons
A monthly subscription is required to use most data analytics features.
Lacks strength training and studio-style classes.
Platforms: iOS and Android
Price: With the free option. Otherwise $7.99 per month with a 30-day free trial.
10. Sworkit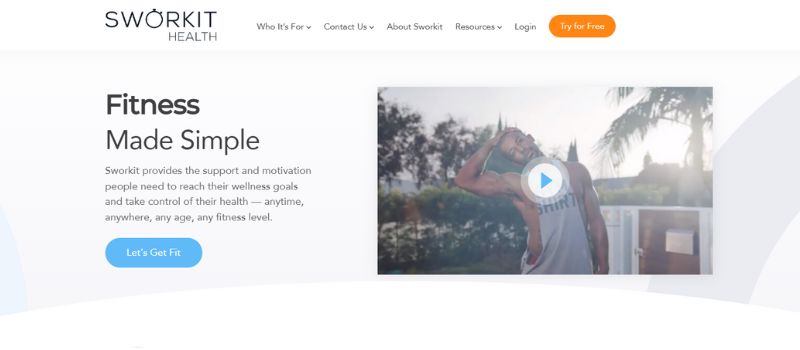 Sworkit is one of the most popular fitness apps because of its flexible features. It allows you to select cardio, yoga, stretching, or strength training goals. You can also choose from curated classes for monthly challenges, different skill levels, and specific trainers), and punch in the amount of time you have to work out. 
Pros
Cardio, strength, yoga, and stretching workouts are customizable.
Flexible focus based on personalized goals.
Integration with other apps and devices.
No gym or equipment required.
Customized trainers are available for one-on-one coaching.
Suitable for beginner to advanced users.
Cons
No food tracking or nutritional guidance.
Platforms: iOS and Android
Price: Free to download and use; costs about $10 per month for a premium subscription
Conclusion
These fitness apps benefit those who want a regular workout routine. Using an app during workouts can help you stay accountable and get optimum results. Regardless of your fitness goals, there's an app available just for you. Refer to this list and start your daily workout today!
Gift Guide: 25 Best Gift For Entrepreneurs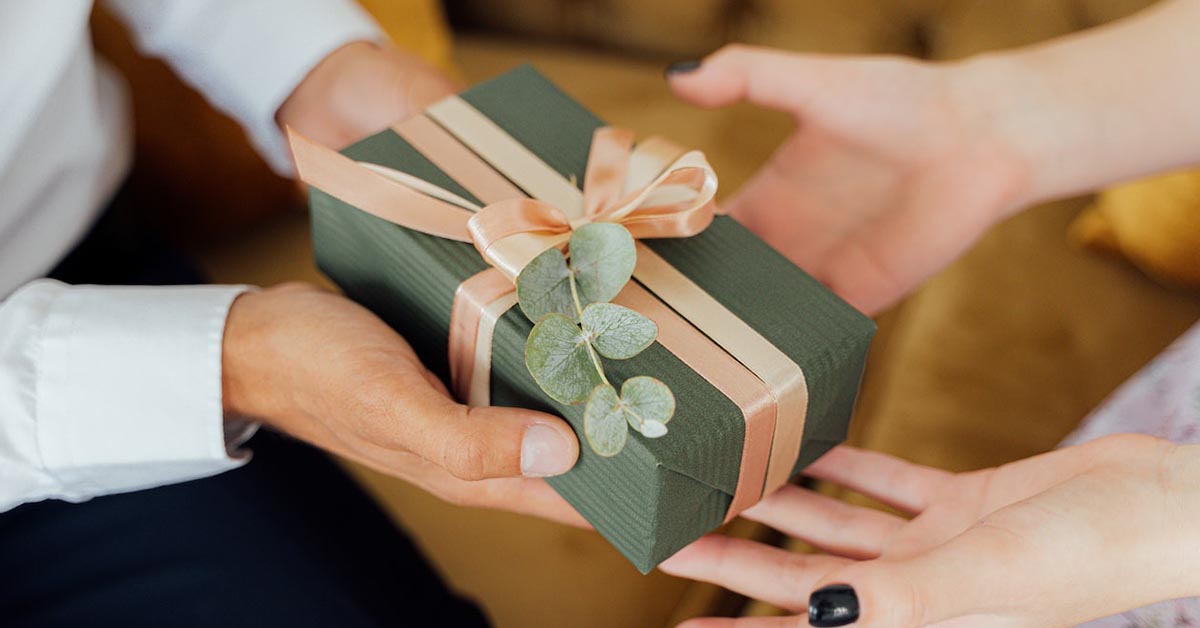 Every entrepreneur needs something that will make their life easier. If you're still feeling at a loss, check out this entrepreneur gift guide so you can get that hardworking person a helpful present.
1. Moleskine Classic Notebook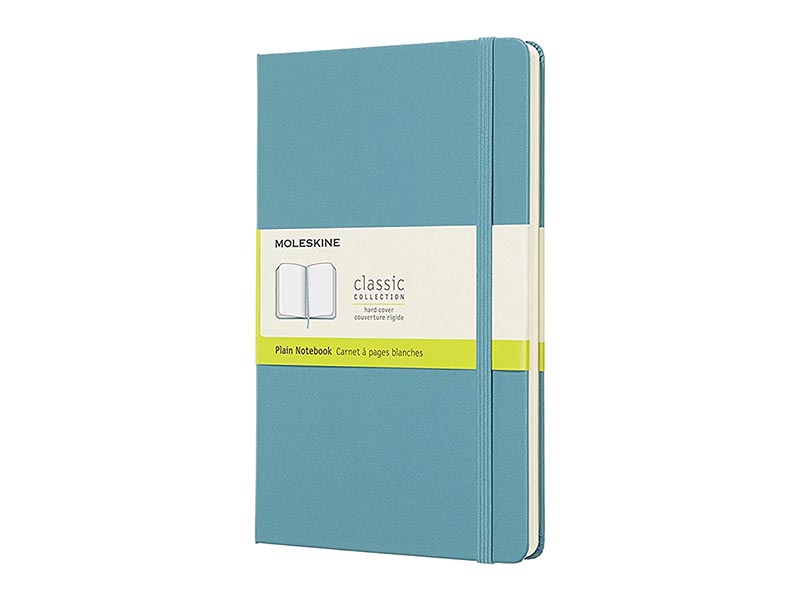 When you're a businessman, sometimes ideas come in the most unexpected places. It would be nice to have a durable notebook for them to carry everywhere. Moleskine classic notebooks come in hardcover or softcover and have a durable finish perfect for daily journaling, writing, and sketching.
2. Blank Dry-Erase Magnetic Whiteboard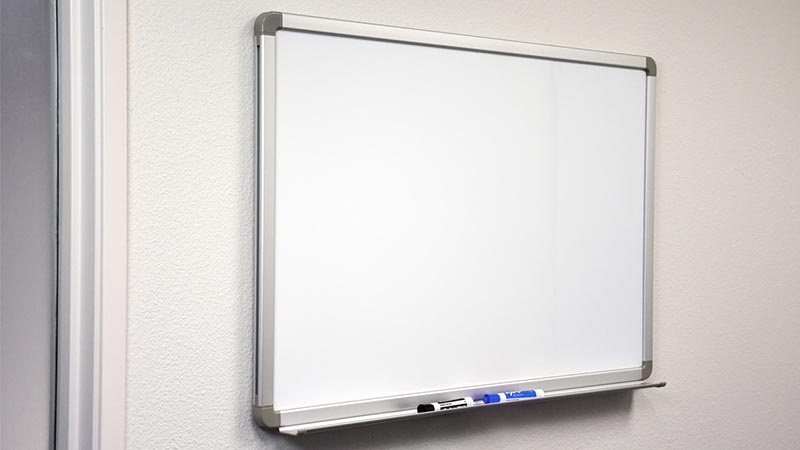 A big magnetic whiteboard is a must for those who still prefer writing on a whiteboard instead of jotting down discussion notes on a laptop. Get this blank whiteboard with a dry-erase surface and mounting brackets for easy installation.
3. Sony Noise-Canceling Headphones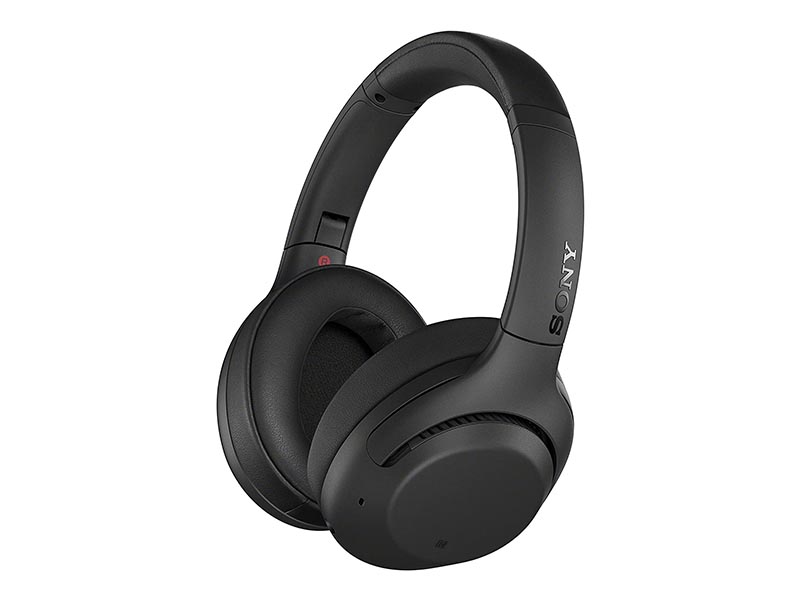 Let your entrepreneur best buddy enjoy the convenience of hands-free calling and effortless presentation during an online meeting. Thanks to the integrated microphone and Bluetooth connectivity of Sony WH-XB910N Extra Bass Noise Canceling Headphones.
4. Bodum Chambord French Press Coffee and Tea Maker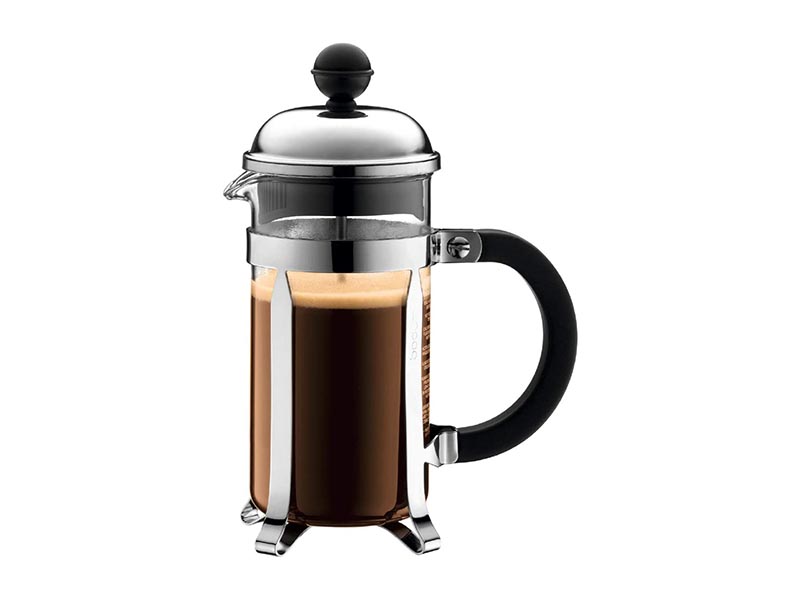 A handy French Press coffee and tea maker is a must for those who work early mornings or late nights. Don't forget to add this valuable item to your holiday gift shopping list if you have coffee-loving entrepreneur friends.
5. Idoker Coffee Mug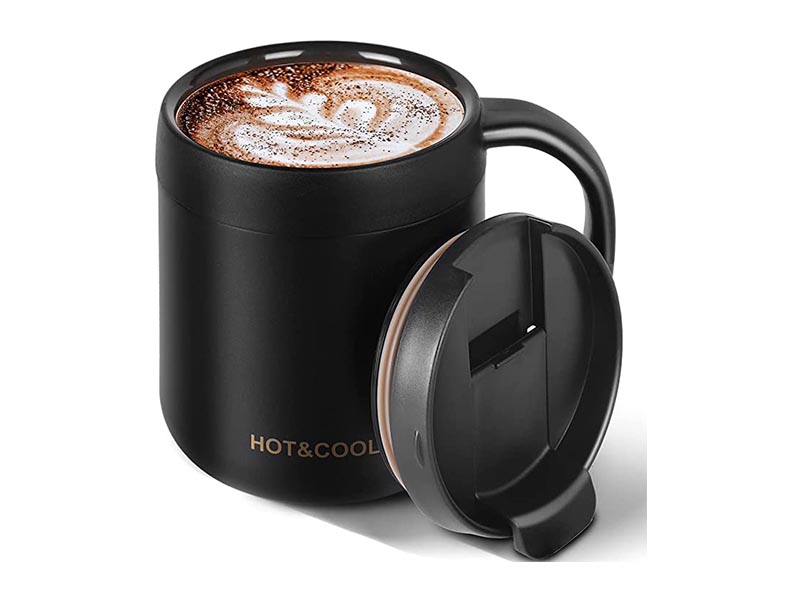 This oversized coffee mug features double wall insulation to ensure your drink stays cold or hot. It retains heat for up to 3 hours and lasts cold for up to 6 hours. Let them enjoy coffee, cold brew, or tea with an Idoker coffee mug.
6. Anker Portable Charger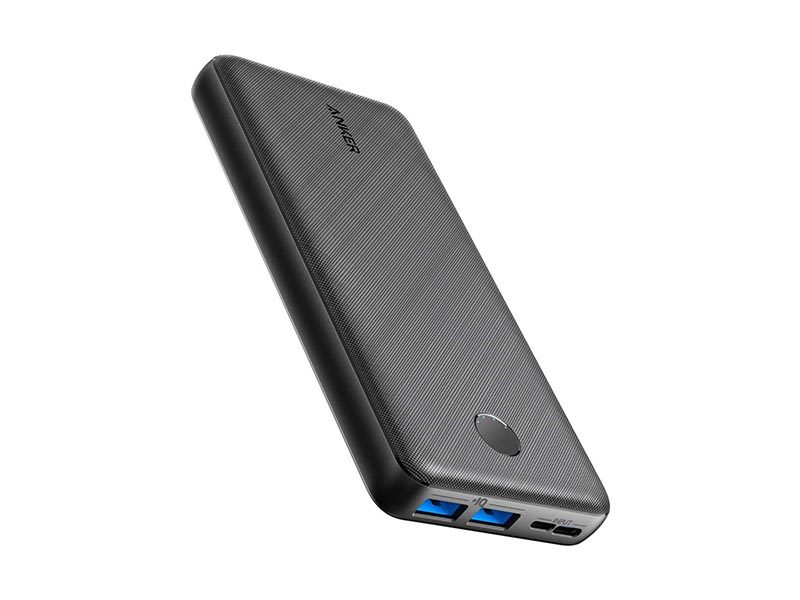 For an entrepreneur, long flights and conferences are common. Whatever the case, portable charges are lifesavers when their Bluetooth headphones or phone's battery are running low. If you're looking for a power bank, use a versatile recharging gadget like Anker Portable Charger.
7. Fitbit Smart Watch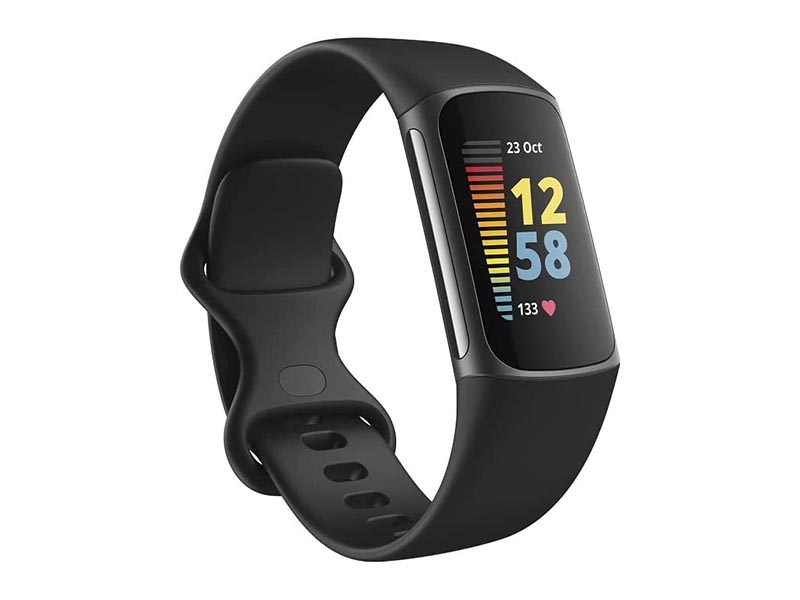 A smartwatch is also a great gift idea. If you care about your entrepreneur friend's health, get them a Fitbit Charge 5 Advanced Fitness & Health Tracker!
8. USB Adapter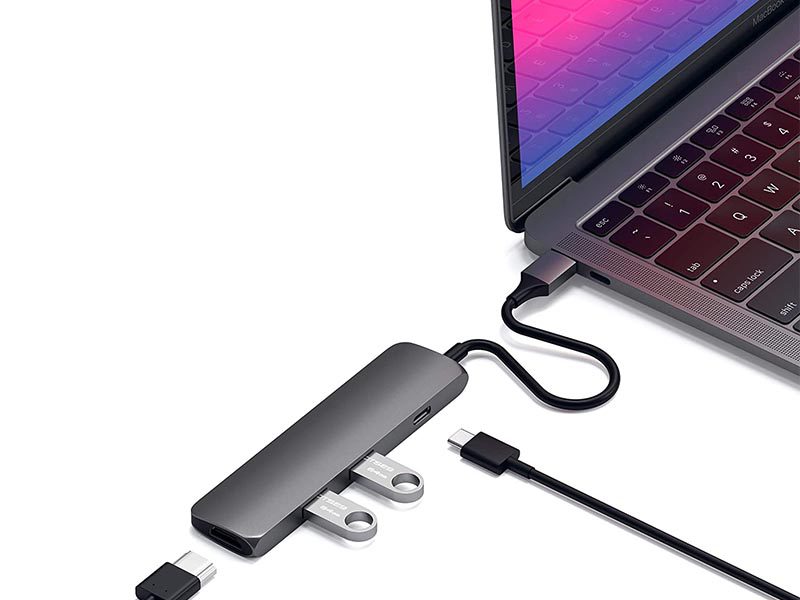 Some new laptops nowadays have limited to no USB ports, making it a hassle for workaholic individuals. This sleek USB adapter, for example, complements Apple accessories for a timeless and modern desk setup.
9. Shark Robot Vacuum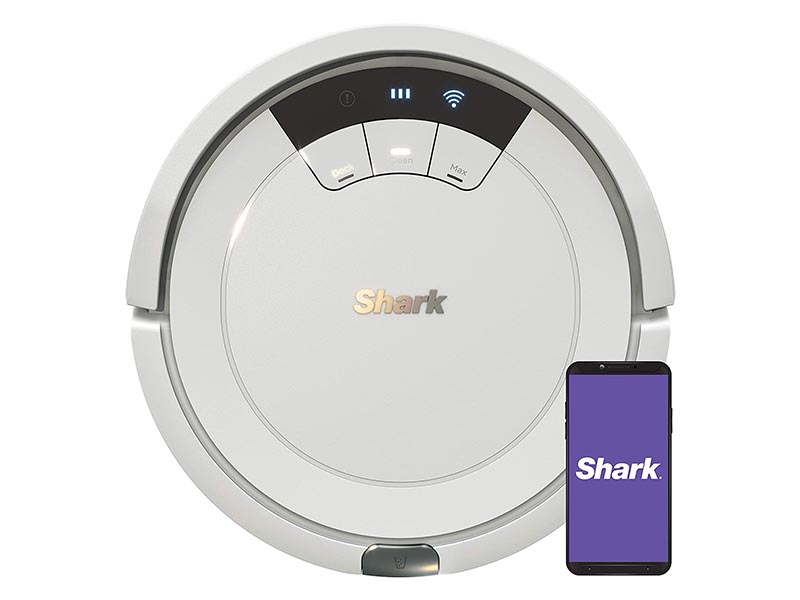 For someone with dogs at home, keeping his hair from the floor is physically impossible. So, it's a mental relief to own a robot vacuum cleaner for efficient vacuum cleaning.
10. Ergonomic Laptop Stand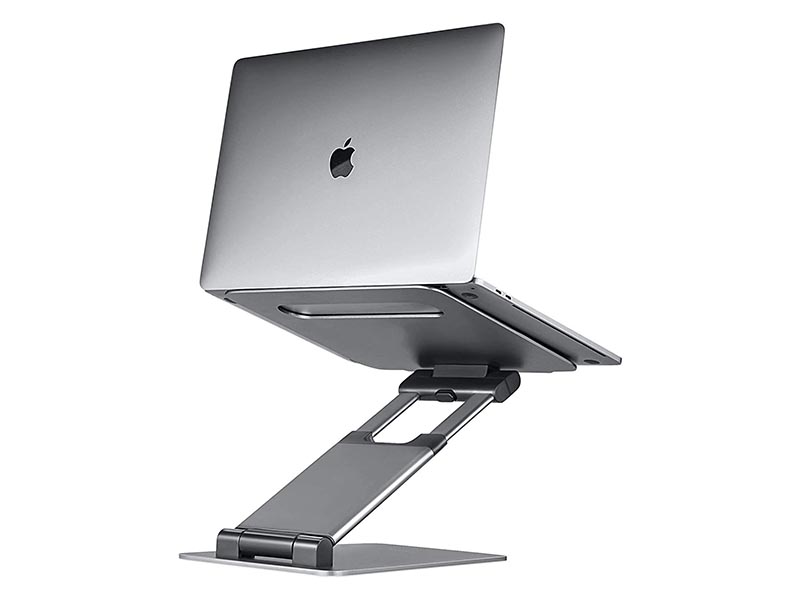 Upryze Ergonomic Laptop Stand is compatible with all Macbooks and laptops of all sizes. Use it while sitting or standing during conferences and meetings. This product is one of the top items in our entrepreneur gift guide.
11. Aerogarden Indoor Garden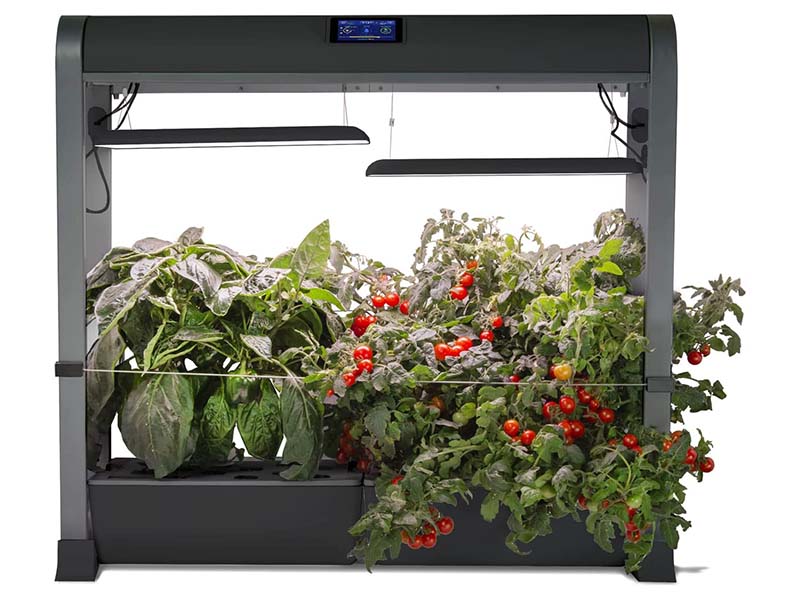 Even if you have a self-proclaimed "black thumb," you can keep an Aerogarden alive. Use this hydroponic garden to grow 24 different herb, veggie, or flower varieties simultaneously and year-round.
12. Sharpie Fine Point Pens, Pack of 12's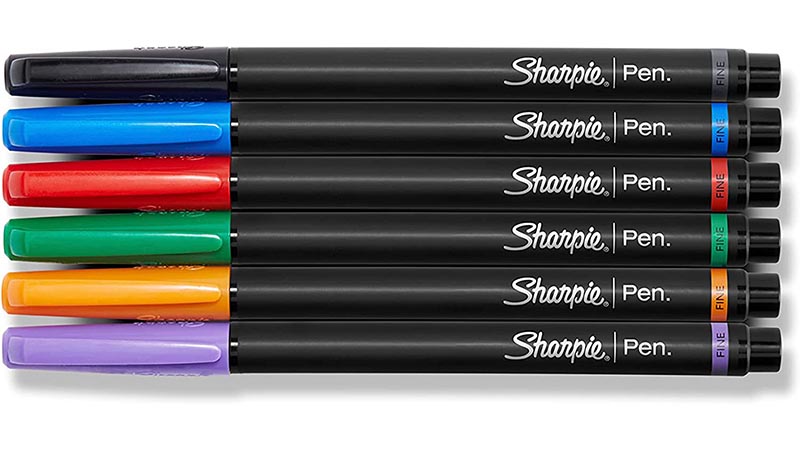 Ink won't bleed through paper and is acid-free and archival quality. Its Quick-drying ink is both water- and fade-resistant, making note-taking effortless.
13. Rand Fishkin's Book For Entrepreneurs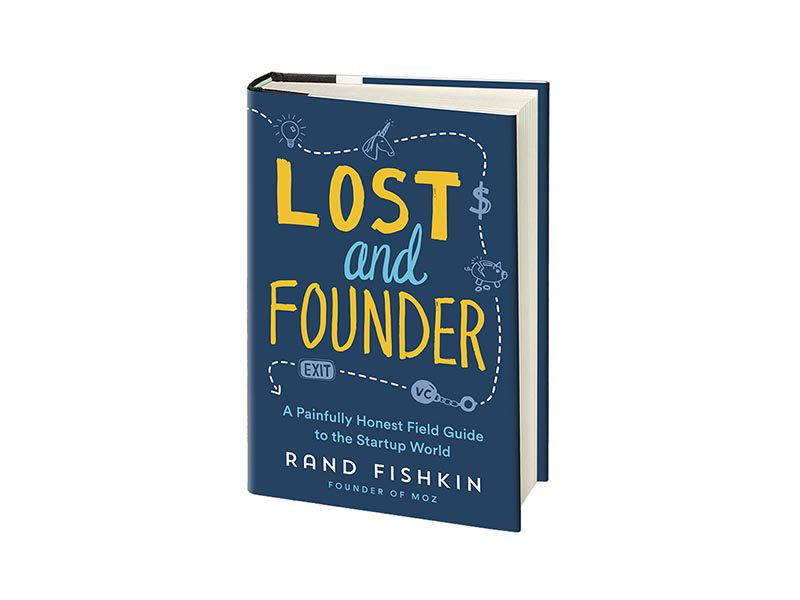 An excellent book is a perfect gift for entrepreneurs who want to learn more. This book from Rand Fishkin, the founder of Moz, reveals how traditional Silicon Valley "wisdom" resulted in many startups that went astray. The book is a compilation of fun articles that his blog readers love.
14. HeadSpace App Subscription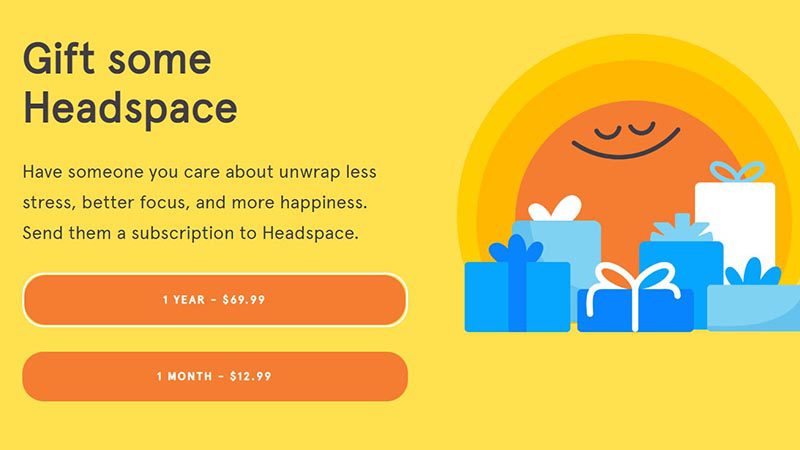 For entrepreneurs that need to relax, a meditation app can be just enough reminder to take time out and breathe in the new year. Stress can result in burnout and can lead to challenges in business operations. A few moments of calm each day can help.
15. Timbuk2 Laptop Bag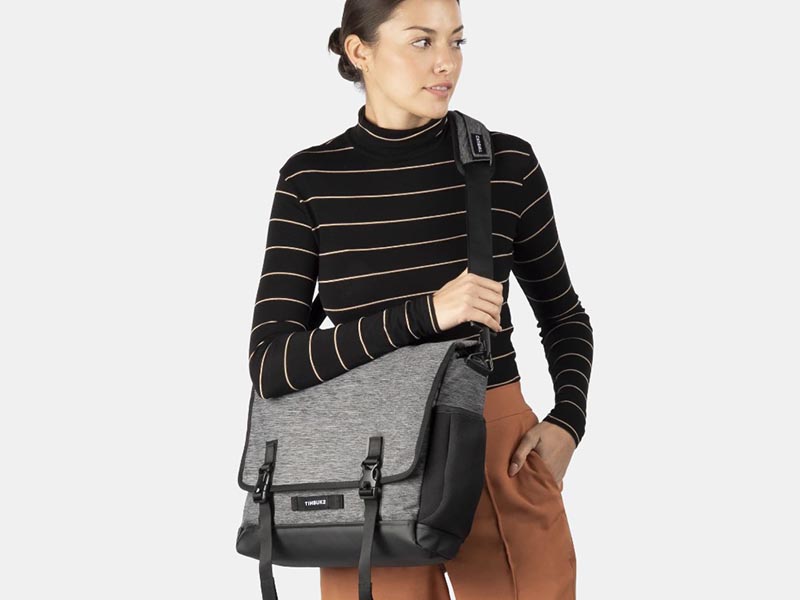 Make travel to and from work and meetings easy. A sturdy, professional-looking laptop bag is a must-have for active business people. Timbuk2 messenger bags are always classic and sporty, ready to roll day and night.
16. Bamboo Charging Station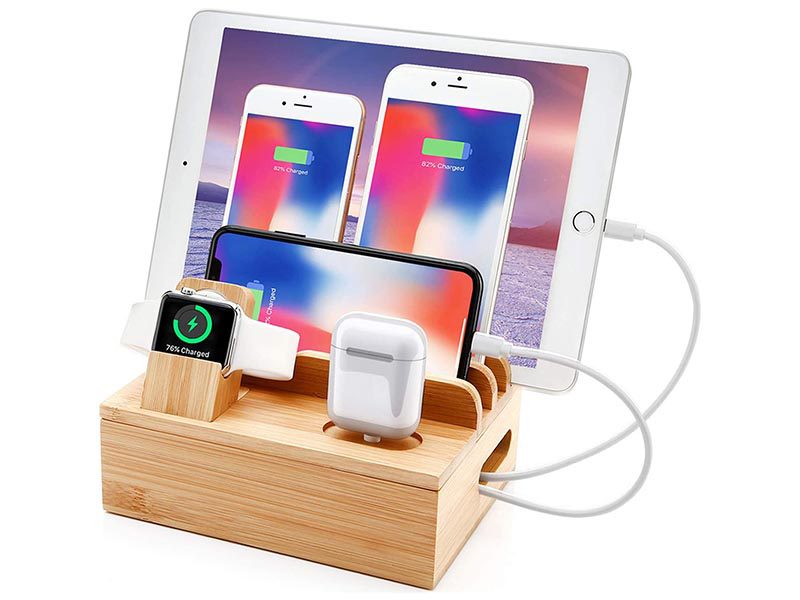 Modern-age entrepreneurs have plenty of devices that run out of juice relatively quickly. Help your friend to always stay on track with each gadget's battery life by gifting an easy-to-use charging station like this. That's why this made our list of our entrepreneur gift guide.
17. Starbucks Gift Card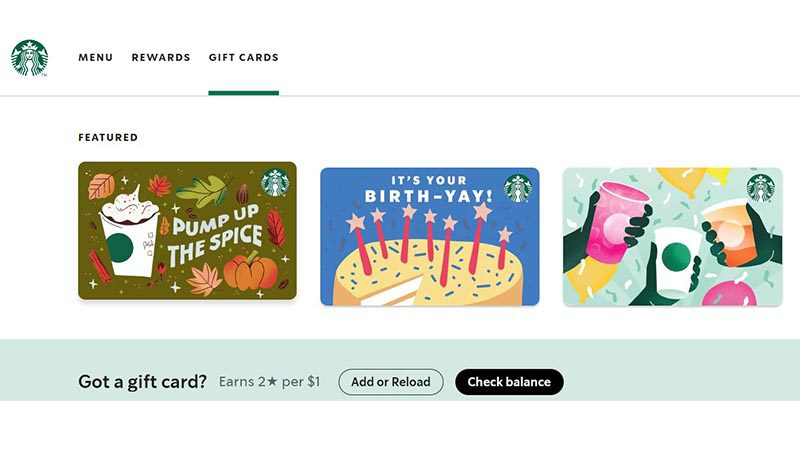 There's nothing sweeter than a simple cup of coffee for coffee lovers. Please go out and buy some gift cards and give them to your best friends this holiday season.
18. Meal Kit Subscription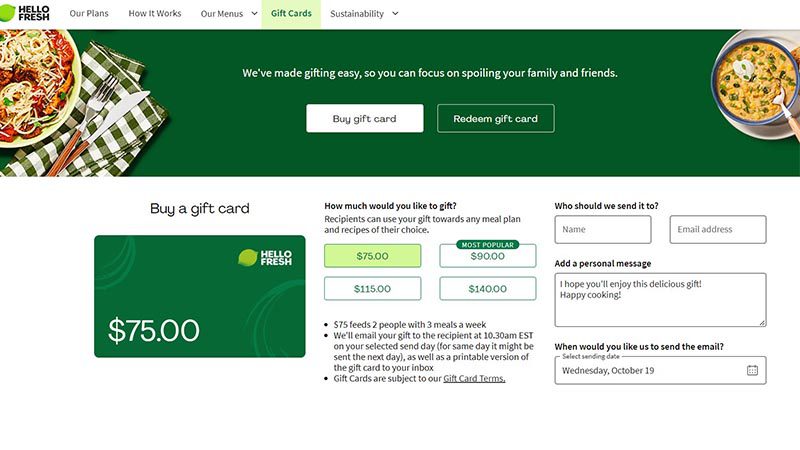 Give the gift of some delicious home-cooked meal with a meal subscription service from Hello Fresh. It's perfect for entrepreneurs who want to eat healthy but are too busy to prepare food by themselves. 
19. Desk Organizer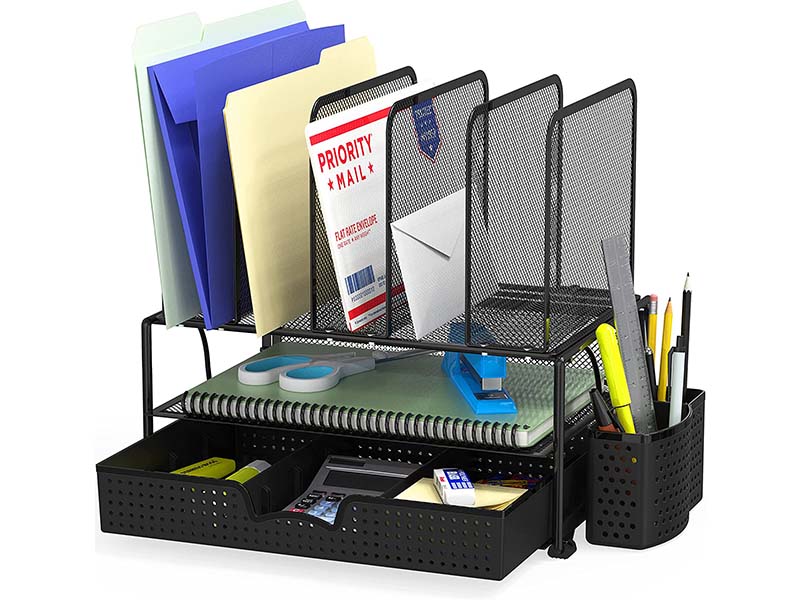 If your entrepreneur friend is not very organized, you can help them by giving something practical to their office desk. A simple mesh organizer keeps all the files and stationery in one spot instead of all over the place. There is even a drawer to hide a bunch of rarely-used items that clutter the surface!
20. Asakuki Smart Wi-Fi Essential Oil Diffuser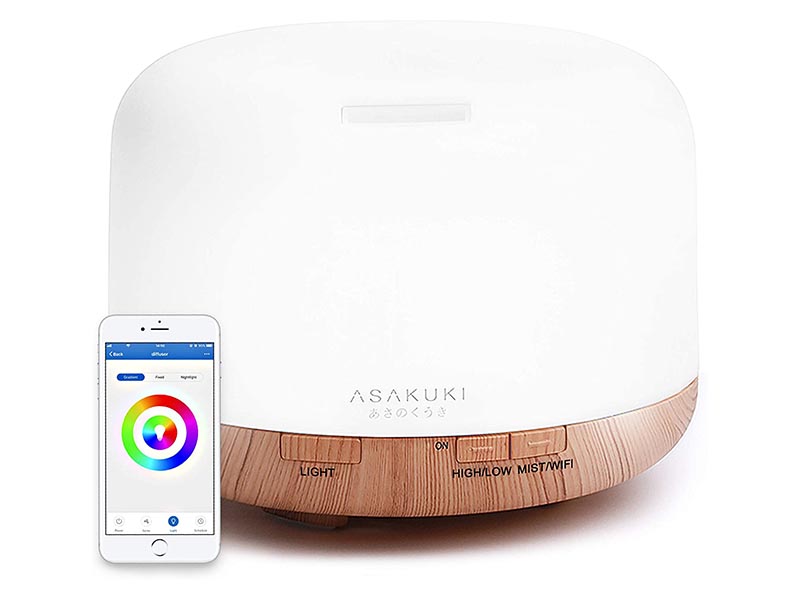 An excellent essential oil diffuser gives you all the perks of aromatherapy. You can play with different oils to find the perfect scent for your home office, and it humidifies the dry air for easier breathing.
21. Adjustable Dumbbells and Stand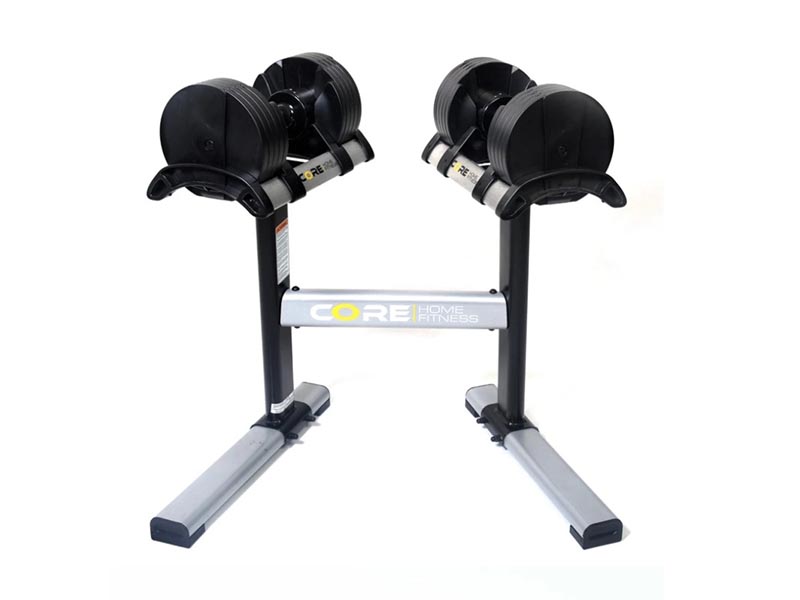 If you're feeling generous, these adjustable dumbbells and stands from Core Home Fitness are the best personal gym equipment to get your gym-loving friend.
22. Brother Portable Scanner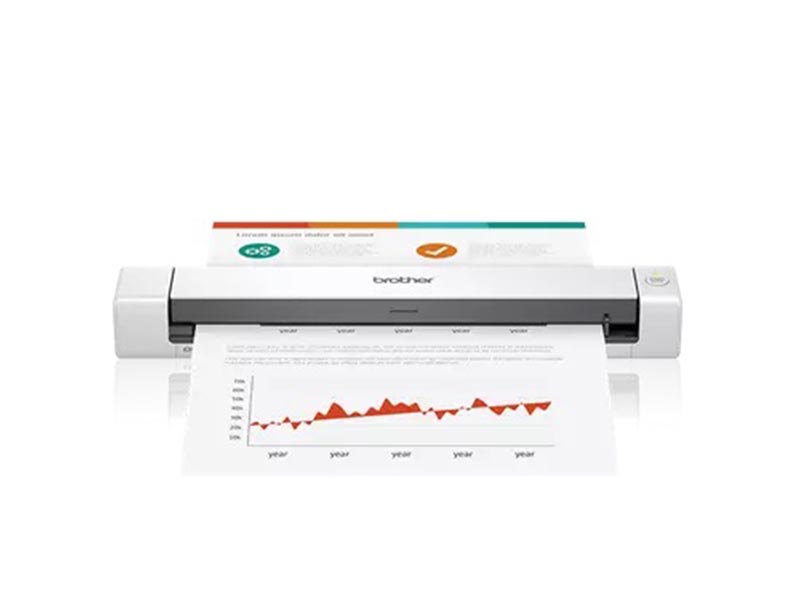 The Brother DS-640 mobile scanner is ideally suited for on-the-go/small office/home office professionals with its compact, portable design and simple workflow applications.
23. LED Desk Lamp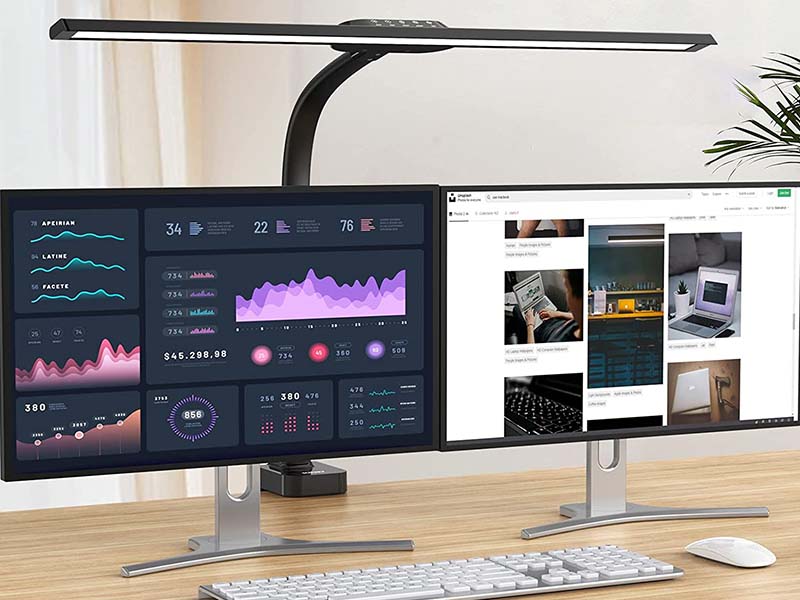 This Ultra-Wide LED Desk Lamp is 31.5 inches wide, has 800 LM brightness, and has a 24W high-quality LED light bar. It's a tall and large overhead desk lamp with a clamp with varied uses. It is suitable for a large workbench, drawing table, crafting table, painting, and reading nook.
24. Business Tools Subscription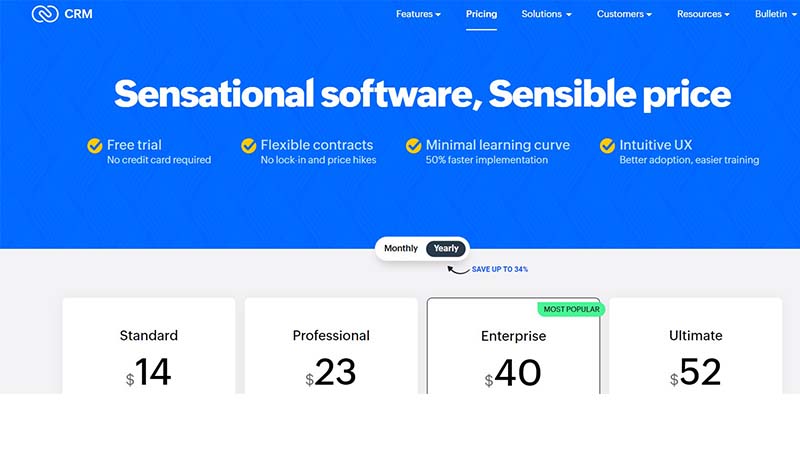 As entrepreneurs build their business strategy, a reliable business tool covers them. Softwares like Zoho CRM or Hubspot got almost everything to pitch, plan, track and collaborate anywhere on the planet. Feel free to read our blogs about subscription-based services and manufacturing software to get some ideas.
Prices vary depending on the plan.
25. Spa Visit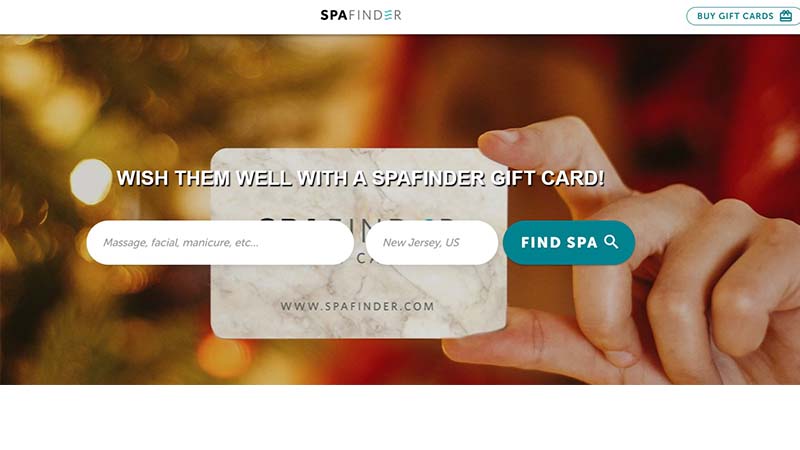 Busy bees need to take care of their body, too. So, book your entrepreneur buddy for a spa visit to relax and recharge.
Prices vary at spafinder.com.
We hope that we've got everything covered for your holiday shopping list. Select the best products you love from our entrepreneur gift guide.