How To Be Financially Fit In Your 20's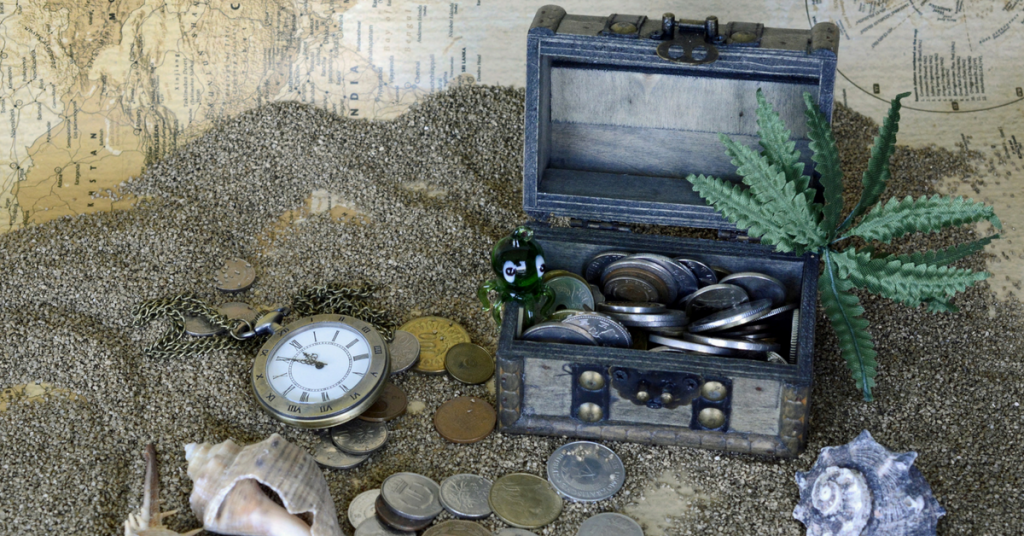 When you're young it seems like you have forever, but what you don't realize is that your 20's are the best time of your life to begin your journey of being financially fit. You have the compounding power of time in your 20's. You can invest more aggressively and take more risks in order to get better returns. The problem for many people at this age is that they see the time after they graduate as a time to slack off or start a rock band. However, your 20's is a crucial time because you have more control over your cash flow. These are some ways you can use this decade to set yourself up for a financially secure future. Here are reasons why you should begin financial fitness early:
Save Money
20's is a great time to get into the habit of saving money. In this time of your life, time is your ally and you can use the power of compounding to help you grow your cash in a way that cannot be repeated again.
Let's assume that you will save $1200 or per year ($100/month) from the age of 25 to 65. By the age of 65, you will have around $185,700 (assuming a 6% return). Delay this by just 1 decade and you end up with $94,800 or nearly 50% less.
Get into the habit of saving as much as you can every month.
Don't Skip Loan Payments
Pay off those school loans as soon as possible or you might ruin your chances of being financially fit. Yes, you have to be frugal for a long time but delaying or skipping payments could lead to accrued interest and ruin your goal of being financially fit. Many young adults don't realize the importance of paying off student loans ASAP because federal interest rates are low. Skipping payments could lead to forbearance which could end up costing you more.
Understand The Basics Of Finance
When you've just graduated, terms like 401(k), Roth, IRA, TSP are confusing and scary. However, being financially ignorant could leave you in the dark. Know and understand what those terms mean and use them to your advantage. There are institutions that can help you understand if you're willing to reach out to them
Start Investing
With time on your side, your 20's is a good time to start investing your hard earned cash. You can start small by looking into putting your money into an index fund that mirrors the stock market. If index fund is not available in your 401(k), use a low cost target date fund. If you're unemployed, open a Roth or traditional IRA. The key is to start investing or to open a retirement account and regularly transfer money to it to be financially fit in your future.
Be Aggressive
According to studies, 2 out of 10 adults in their 20's have money in a money market or stable value fund. Putting money in these types of investment won't keep up with inflation so it's like putting money in the freezer and it entails more risk. However, it also provides you with more growth at a time in your life when you can handle the risk.  When you are conservative you risk losing out on market gains and jeopardizing your savings.
Your 20's is a good time to start on the path of financial security. At this point in your life, you have the power of time without the responsibility of children or child care. Most people in their 20's are paying their student loans, however it is also the best time to start planning for retirement or setting our sights to buying your first home.  
4 Best Time Management Courses on Udemy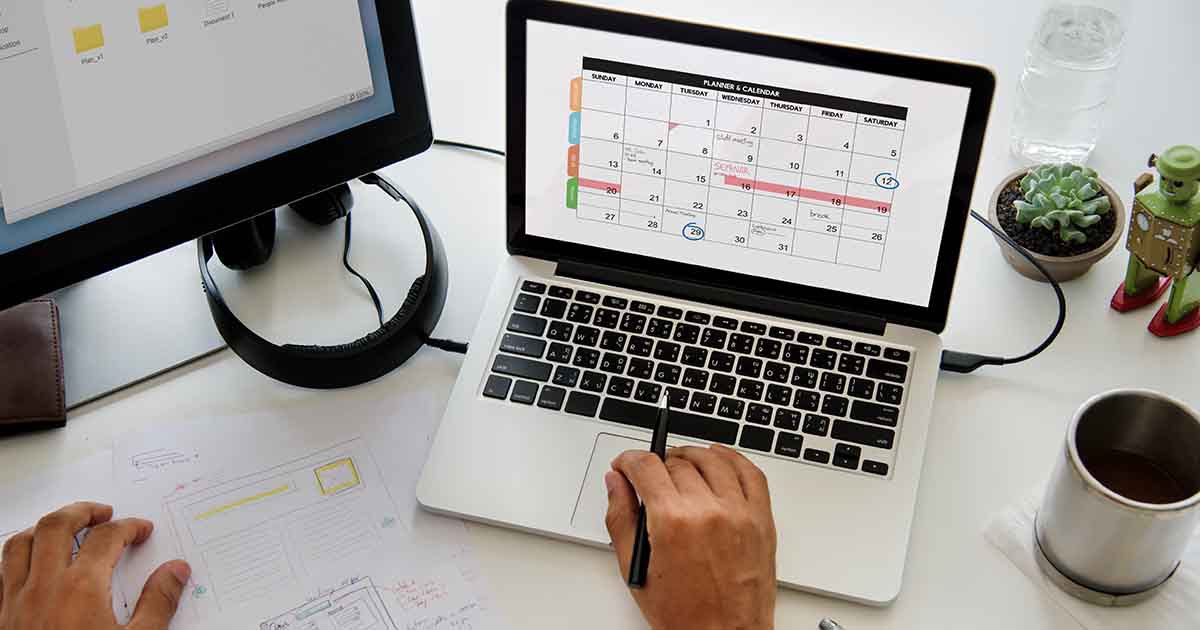 Time management is quintessential for being productive and achieving your goals. If you struggle to stay on top of things or feel like you're constantly running behind, you should consider taking time management courses to learn strategies for staying organized and on track.
These courses are an awesome way to learn new skills without the commitment of a lengthy degree program or the expense of hiring a personal time management coach. To help you choose which time management courses are worth your time, we've listed our top four picks below:
1. Focus Mastery Course by Claudia Simonetto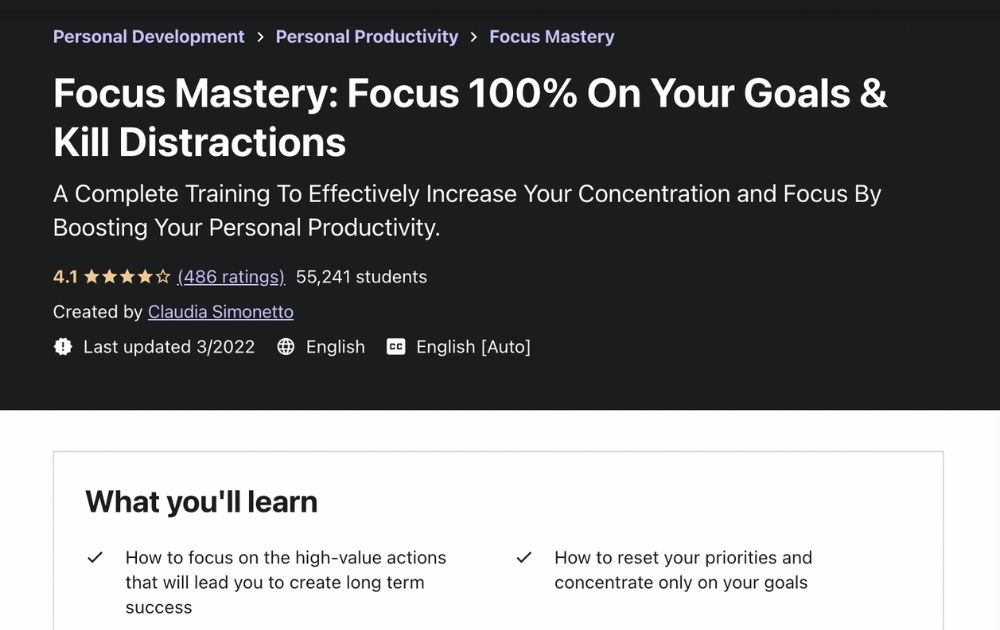 First on our list of time management courses is the Focus Mastery Course by Claudia Simonetto. In this course, you'll learn how to build good habits to improve your focus, how to attain deep focus and improve your work performance, and more.
This course is a great option for anyone looking to improve their time management skills and become more productive. The Focus Course by Udemy has a rating of 4.1 out of 5 stars, and more than 55,241 students have enrolled in the course.
The course includes a one-hour on-demand video, one article, 16 downloadable resources, and a certificate of completion.
2. Time Management Mastery by Alexis Haselberger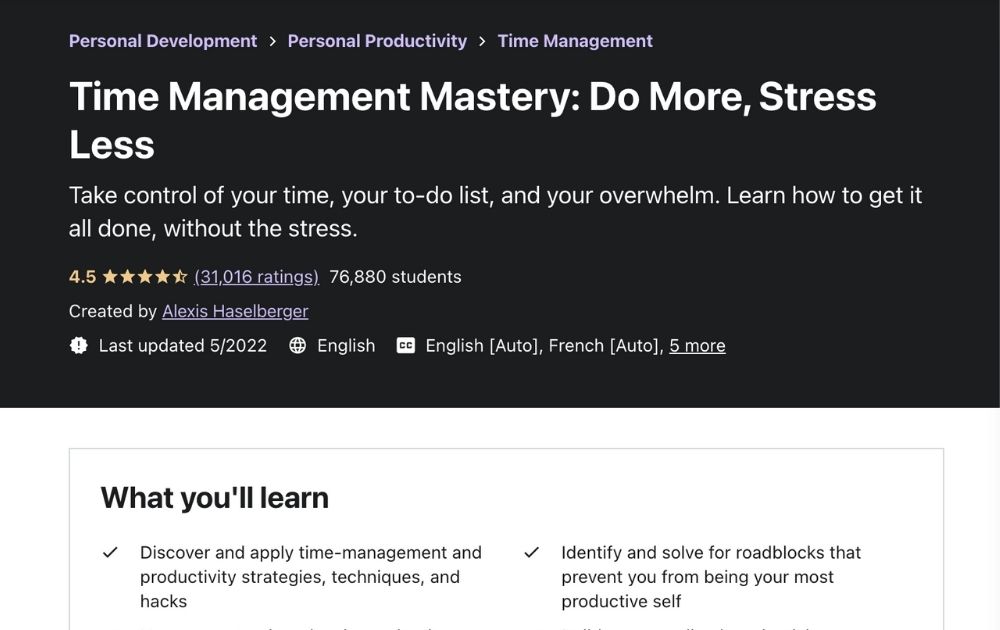 Time Management Mastery by Alexis Haselberger is next on our list of time management courses. This course teaches you how to use your natural tendencies and traits to your advantage to optimize your time and productivity. Moreover, it also tackles how to prioritize effectively to make sure you're working on the right things, at the right time.
The course has a rating of 4.5 out of 5 stars and more than 76,800 students have enrolled. It includes a two-hour on-demand video, 31 downloadable resources, one practice test and a certificate of completion.
3. Morning Routine Masterclass by Leon Chaudhari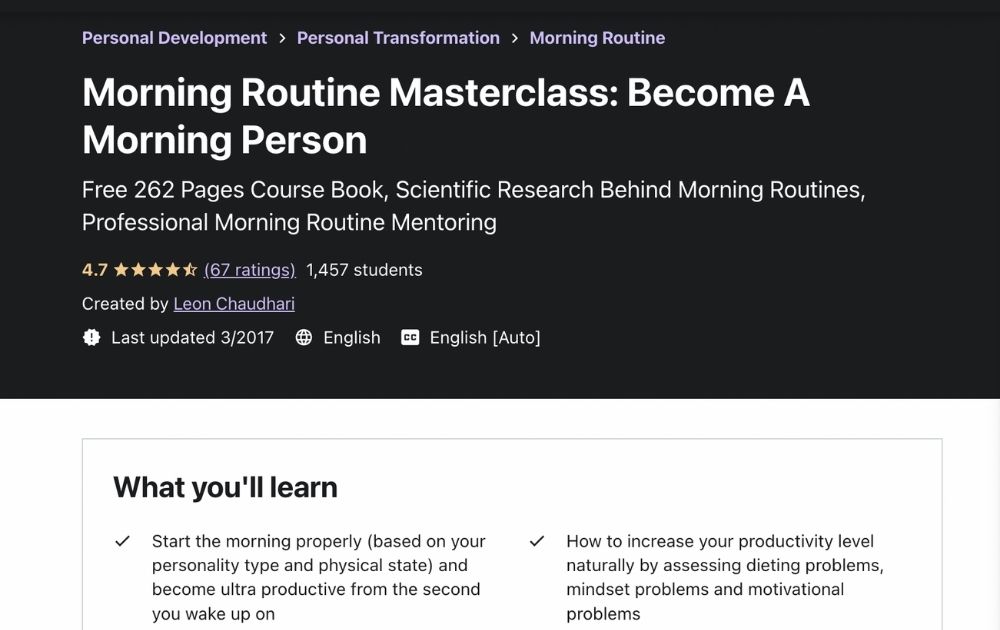 Morning Routine Masterclass by Leon Chaudhari is another excellent time management course on Udemy. This course teaches how to use meditation to help you become more relaxed but overall more productive and internally balanced. Also, it also tackles the concept of mapping and why successful people often use it to increase their productivity.
Though only 1,457 students have enrolled in this course as of writing, it has a high rating – 4.7 out of 5 stars. The package includes 3.5 hours of on-demand video, one downloadable resource, and a certificate of completion.
4. How to Master Your Morning Routine by Chris Oparanozie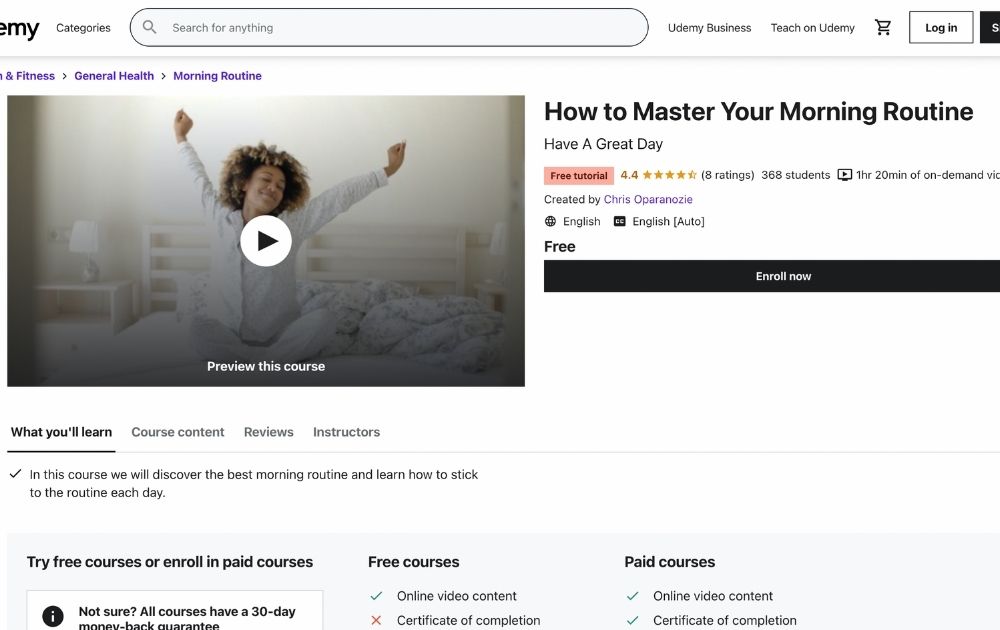 If you're looking for the best time management courses free of charge, then check out How to Master Your Morning Routine by Chris Oparanozie. You know what's the best part of this course? It's a free tutorial. That means you can access one hour and 20 minutes of on-demand video without spending a penny.
The course is for people who are "serious about having great days and learning to start every day with peace and purpose." Aside from learning a great morning routine, you'll also learn how to stick to it and start the day off right. Though this is a free course, it offers sound advice and you'll surely get a tip or two about how to improve your a.m.
The Bottom Line
These time management courses are a great place to start if you're looking to get more organized. These courses cover a wide range of topics – from managing tasks to using to-do lists effectively.
If you're ready to improve your time management skills and are eager to begin, don't waste another second. Check out the links above and research for more courses to suit your needs. After all, there is no time like the present to begin improving your time management skills.
Advocate for Yourself in The Workplace: What is It and How to Do It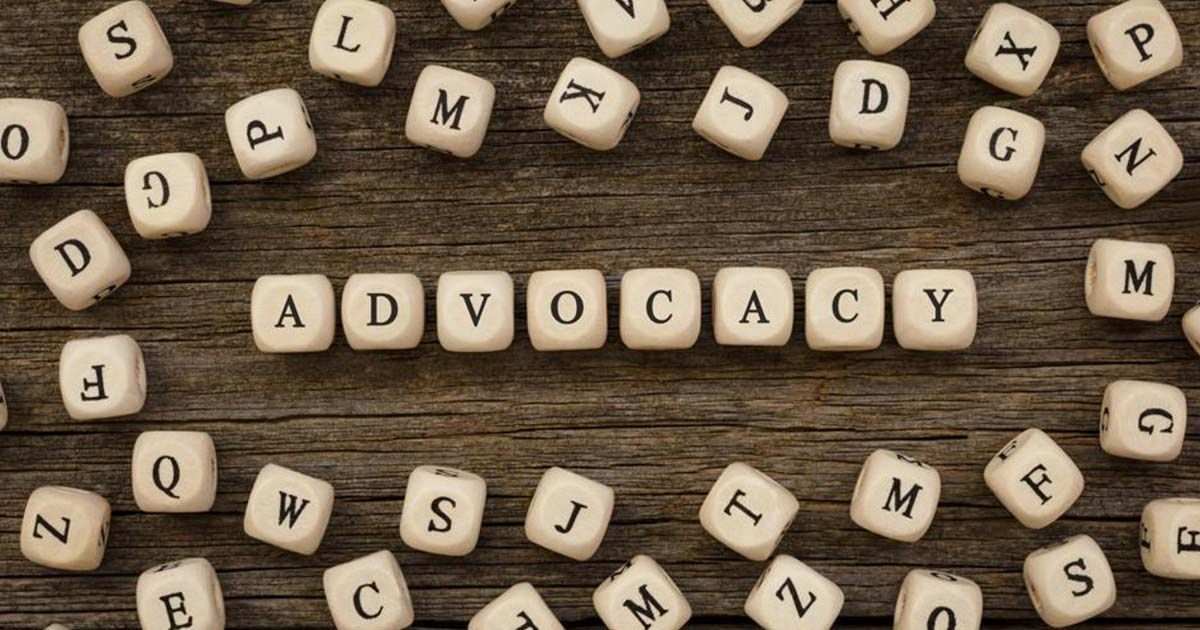 While we frequently hear the term self-advocacy, the practical tools to get there are rarely discussed. Self-advocacy is essential for healthy relationships, long-term success, and happiness. One of the many advantages of self-advocacy that help build these three pillars of overall well-being is when you feel comfortable advocating for yourself. Then, eventually, you can get what you deserve out of your negotiations. Zabeen Mirza, founder of Jobs.mom and host of Mom's At Work podcast, discusses how to advocate for yourself in the workplace and apply it in your daily life. 
What Exactly is Self-Advocacy?
Mirza explains that self-advocacy is teaching other people how to treat you by:
Setting boundaries and expectations
Helping others understand what you need
Asking the kind of support do you need to perform effectively at work
Self-advocacy means communicating those things and helping others understand how they can best support you. A common misconception is that it is merely about speaking out or standing up for yourself. Others believe that only good communicators or extroverts would be good self-advocates. In contrast, you don't need to be outspoken, assertive, or confident to be able to advocate for yourself.
One of the great ways to advocate for yourself in the workplace is by asking your employers to help you grow professionally. For example, ask them for more training, take up a professional development course, or more tasks or responsibilities.
You can also advocate for yourself is by asking your higher-ups their priorities. If you have many tasks to complete and your manager asks you to handle even more jobs, take this opportunity to practice self-advocacy. In this situation, ask your manager something like this – Can you please help me understand the priority? Or What is the deadline? and so on.
Doing this allows you to advocate for yourself in the workplace without being assertive. You are just asking a question for clarification. Likewise, it shows that you're organized. Asking them to prioritize shows that you care about your job enough to monitor your tasks. In addition, it also tells that you're making sure you complete those assignments to the highest level of quality and on schedule.
Sometimes, it can be intimidating to have this kind of conversation with the higher-ups, but remember, lack of self-advocacy triggers more problems like burnout, severe stress, anxiety, etc. All of these can negatively impact employee productivity and performance. 
Remind yourself that you have leverage.
What Are the Barriers to Advocating for Yourself in The Workplace?
The sad reality is that there will be barriers to advocating for yourself, both internally and externally. According to Mirza, implicit bias can play a significant role in self-advocating.
When we picture ourselves through a biased lens, we may feel compelled to advocate for ourselves. And if we are biased toward others, we may ignore critical aspects of a person's identity that maybe they need more support. Each of us should reflect internally and notice our behaviors to recognize these biases.
Once done with the reflections, you can start working on identifying, learning from, and correcting that bias in future interactions.
Mirza said the phrase "easier said than done" perfectly suits self-advocacy. So, if advocating for yourself doesn't come naturally, it will take some time to achieve it. But that's fine, be patient with yourself and trust the process.
In the meantime, Mirza recommends taking a "fake it till you make it" approach. Self-advocacy is like a muscle. It would be best if you exercised it consistently to develop self-esteem.
Practice internal monologue. Instead of saying, I can't, I am not good enough, or they won't appreciate this, say these phrases positively to I can, I will, I am good enough, or they will like this or that.
Again, this will not happen naturally but strive to catch yourself in the act of doubting yourself and your skills.
How To Spot Financial Influencer Red Flags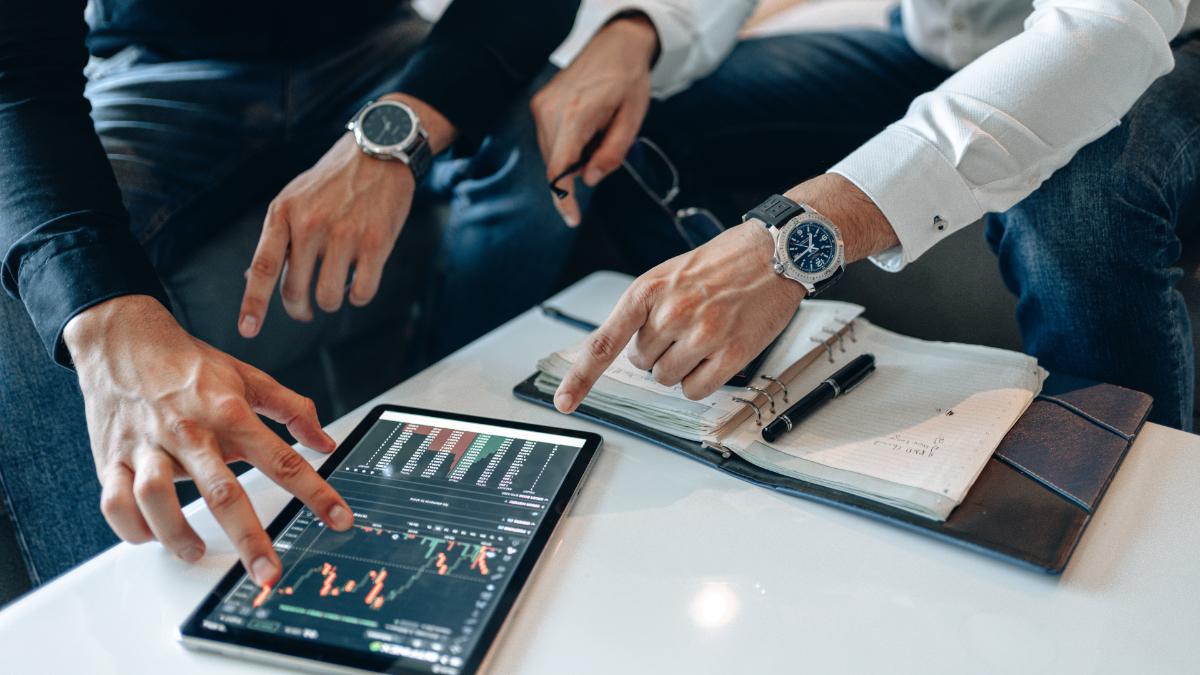 Nowadays, it's pretty easy to gather all types of information from the internet. One click and you can learn about almost anything online. That includes personal finance. And if people want to learn about personal finance, they look up to personal finance influencers.
Since personal finance is a serious and important issue, finding legitimate personal finance influencers is crucial so you don't fall prey to fake ones. So it's best to look out for financial influencer red flags. 
In this article, we'll dig deeper into what financial influencers do and the red flags to keep an eye on.
What do financial influencers do?
Financial influencers provide strategies and tips about how to handle money, investing, and other monetary-related topics. A financial influencer doesn't have to undertake official courses to become one. More often than not, they share tips and strategies based on the experiences they gain throughout the years of investing, trading, or dealing with finances.
A financial influencer may even share their personal experience in terms of growing their financial assets. As long as you have a proven track record of how you grew your finances, you can be classified as a financial influencer.
Financial influencers earn money in various ways. But to become an influencer, you have to earn considerable followership to attain trustworthiness. Moreover, credibility is also an essential aspect of being a financial influencer. So one has to accumulate social proof such as testimonials from the people they've helped, ratings from authoritative sites, and reviews from followers.
These influencers create a website where they can typically distribute content on anything finance. In most cases, influencers earn money from ads on their sites, sponsors, or affiliate marketing. Furthermore, financial influencers also offer their services by conducting one-on-one consultation sessions with clients for a fee.
Do financial influencers give tips for free?
Yes. Financial influencers start out by giving tips and strategies to grow your money for free. This way, they can gain followers, listeners, or subscribers. They distribute finance-related content such as blogs, podcasts, videos, ebooks, guides, whitepapers, PDF files, or even hold webinars.
The most common platforms to distribute financial-related content are:
Facebook
Instagram
YouTube
Reddit
TikTok
Twitter
LinkedIn
You may also find financial influencers in their element in various groups and forum websites such as Quora. And you can gain many tips and strategies from other people who pitch into the conversation.
5 Financial Influencer Red Flags to Watch Out For
As mentioned, it's essential to find legitimate financial influencers to learn valuable insight about money. So here are the top financial influencer red flags to watch out for.
1. Unproportioned number of followers and engagement
Buying Instagram followers is a huge thing on the platform nowadays. So before following a financial influencer, check out if there is an imbalance between the number of followers and quantitative amount of engagement. If the influencer has a million followers with only 1,000 or fewer likes on every post, that's a red flag.
2. No social proof
You should always consider credibility when selecting which financial influencers to follow. If you can't find social proof on any of their platforms, then it means the influencer hasn't lifted a finger to help anyone.
3. Hard selling
If you find that the influencer is always pushing for selling services or merch, consider it a red flag. A passionate financial influencer will prioritize helping others grow their money first before theirs.
4. Asking for upfront fees
As mentioned, when they're hard selling their services and asking for fees upfront, get one foot out the door immediately. These people want money from you above anything else.
5. Too-good-to-be-true promises
Sometimes, we fall prey to fake or too-good-to-be-true promises. Because of this, terms such as "guaranteed," "get rich quick," or "no fail" tend to spike up interest. However, there is no guarantee in the world of finance, so keep on searching for a legit influencer if you read terms like these.