Highlights from March for Science Philadelphia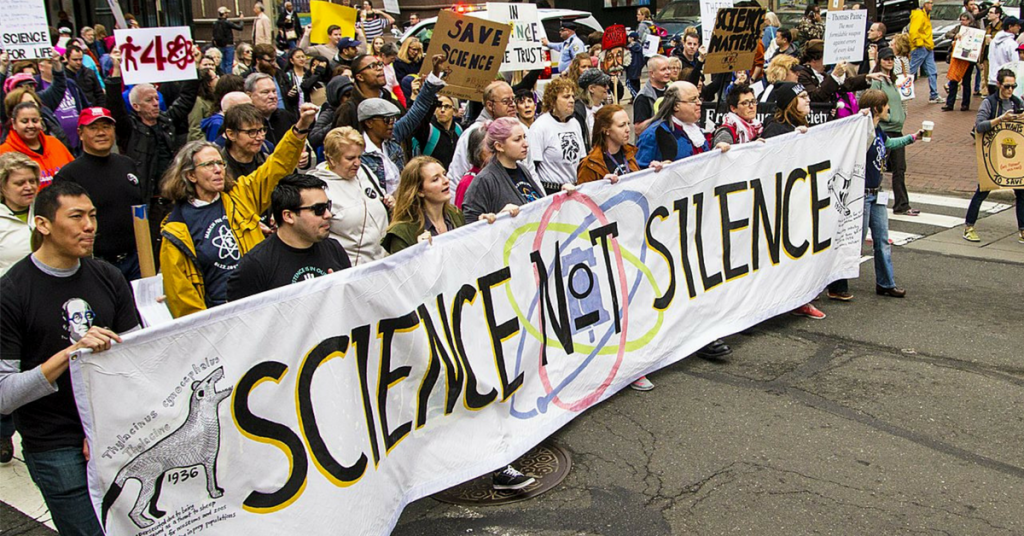 This past weekend was not only Earth Day but also the March for Science.  Over 600 countries participated in the march to include the influence science in the making of policy.  Marchers were armed with lab coats, brain hats and witty signs.  Despite the rain, Philadelphia was no exception to this.
The march was led (literally) by Ben Franklin.   At the beginning people gathered at city hall.  From there the march kicked-off promptly at 11:00am and went down Market Street to Front Street, Front Street to Chestnut Street and then over Chestnut Street to Penn's Landing – Great Plaza.  Entertainment began at 11:30am featuring local band, The Really Cooks, and the March for Science PHL speakers started speaking at 12noon. The event lasted until 2pm.
As stated on the March for Science Philadelphia website: "Philadelphia is home to more than 530,000 STEM jobs, a wealth of academic institutions that graduate more than 37,000 STEM majors annually and a research and development machine which was awarded more than $1 billion in NIH funding in the past 5 years. While many Philadelphians appreciate the vital role that science plays in our everyday lives, recent shifts in the public discourse have shown that we need to better communicate our methods and findings to our communities. That is why this year on Saturday, April 22, Philadelphia will join cities from across the world in a March for Science.
The nationwide March for Science movement has five overarching goals: humanize science, support the scientific process and scientists, advocate for accessible and inclusive science, partner with the public, and enable the use of science to improve society. Each of these values speaks to Philadelphia's own scientific community and highlights some unique challenges that our region faces."
An estimated 25,000 people in the Philly area participated.  Here's some snapshots of cool signs and costumes from the march, right here in the city of brotherly love: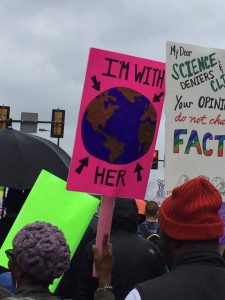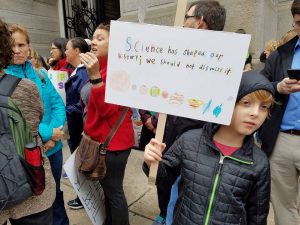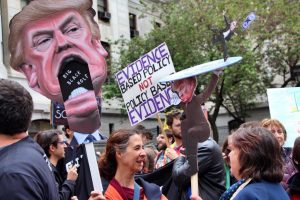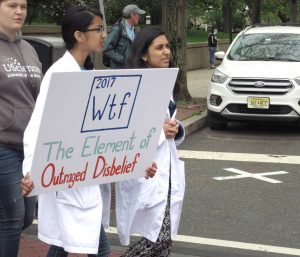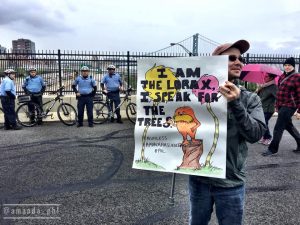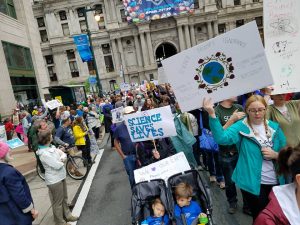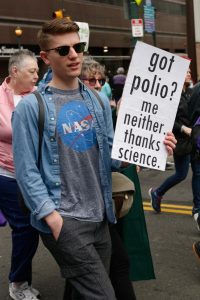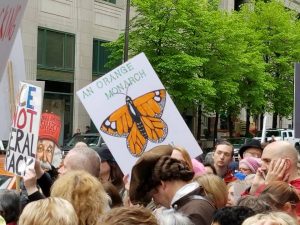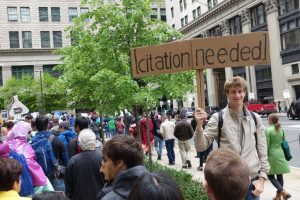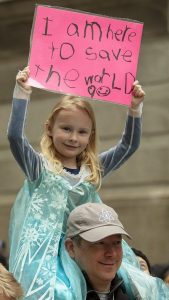 It was a beautiful turnout from a group of people who are typically considered introverted.  Marches like this prime the public into being more receptive to the influence of science in society.  With the March for science being such a clear success, who knows where the momentum of this march will bring us next?  It's amazing to see how many care so deeply about the Earth and it's future.
Snap Spectacles Drops Vending Machine In Philly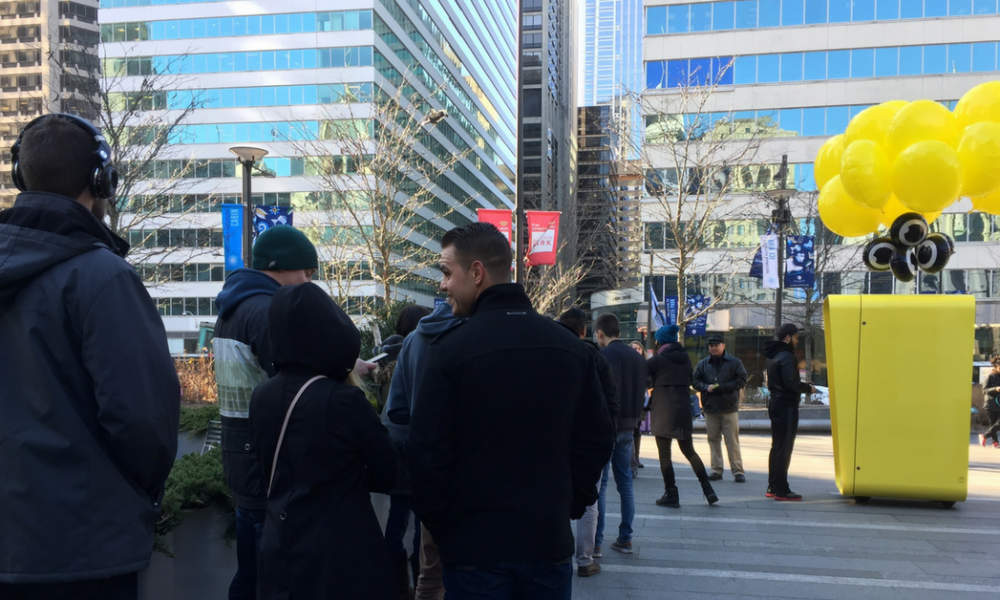 When you know Snapchat's Snapbot is going to pop up in your city, you go. That's exactly what happened today in Philadelphia, just in time for Valentine's Day! Local non-profit Visit Philly was a big player in getting Snap Spectacles into the City of Brotherly Love.
Driving into Center City and parking a block away from the destination, we hurried into Dilworth Park and got in line as a drone flew over us documenting the entire thing. Seeing the Snapbot in person is an experience in itself. The bright yellow box with one eye and a smile stood solo in front of the infamous LOVE statue in front of City Hall as eager customers waited patiently in line to get their hands on a pair or two of the Spectacles. Going for $129.99 per pair, the Snapchat glasses ran out in just a few hours. For those who weren't able to make it, see where they're popping up next!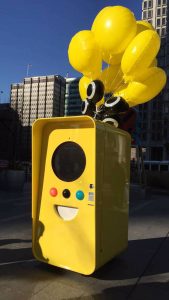 Everything You Need to Know About The Facebook Cambridge Analytica Scandal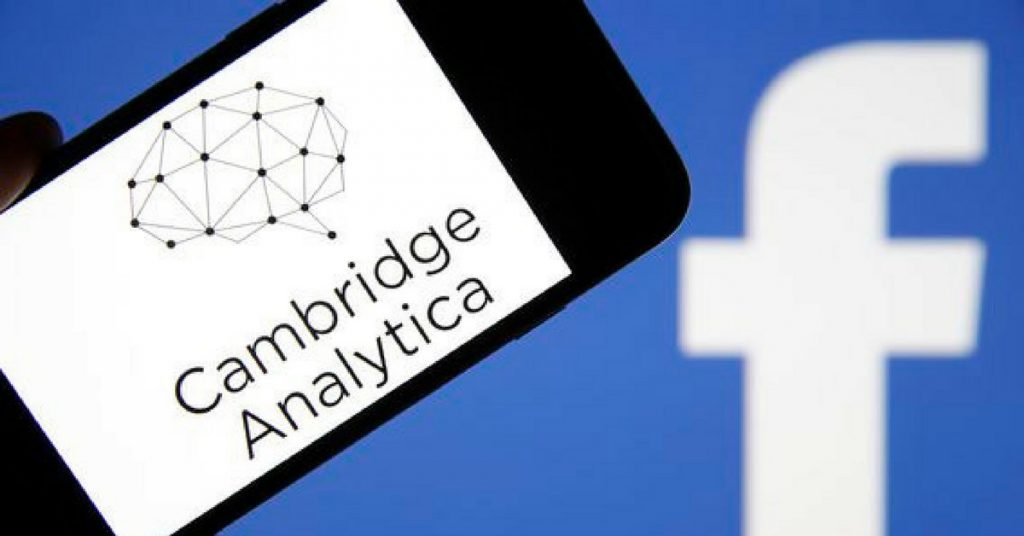 Facebook's Cambridge Analytica scandal is dominating the news. From Elon Musk to Keith Weed, experts in the industry have been keeping a close eye on the story's development around the globe. So, how did the scandal come to be and where is it going from here?
A Tale of Two Lawsuits
The giant scandal engulfing Facebook and user privacy has made lesser-known Cambridge Analytica a household name. Cambridge Analytica is a British, data-driven, political consulting company. Cambridge Analytica contracted Kogan GSR to harvest data from Facebook users via an application called This Is Your Digital Life.
The application was created in 2014 and banned in 2015 from Facebook when they realized that Kogan "lied" about the utilization of their harvested data. They reportedly ordered Kogan and all parties given access to that data to delete it.
There are two lawsuits raging against SCL Group (CA's parent company), Kogan GSR and Facebook in the UK and US. The lawsuit in the UK is by Jason McCue, who alleges that the defendants abused the human right to privacy.
The case aims to ensure that violation of privacy will not happen again in the future, specifically the extraction of names, phone numbers, mail and email addresses, religious and political affiliations and other data.
About 270,000 users installed Kogan's application to take a personality quiz, so why is the number 70 million affected? The permissions on the application allowed Kogan to collect data from friends of the 270,000 users who took the quiz.
While these users' willingly gave out personal information, Kogan claimed the information would have an academic application. The lawsuit asserts the information was, in fact, used for commercial and political services. The 70 million user figure only covers those affected in the US. worldwide, that number is estimated to be almost 87 million, with over 1 million in the UK alone.
The US-based lawsuit puts the pressure on Facebook. Lead Counsel for the case, Robert Ruyak places heavy blame on Facebook, stating that Facebook failed to secure the personal information of millions of its users, in addition to failing to take appropriate action even when aware of this failure.
The Current Pulse of Litigation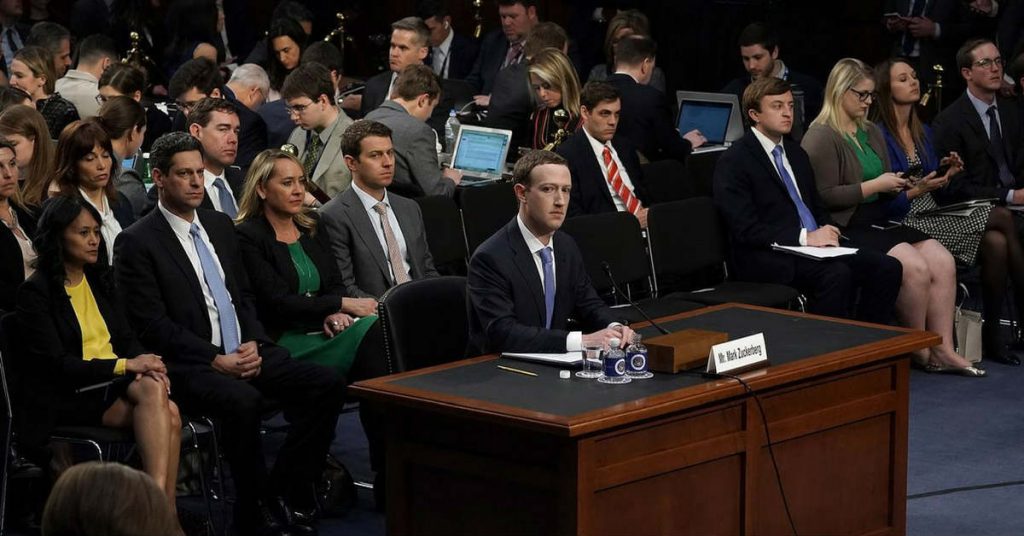 In the past few weeks, there has been an influx of memes associated with Mark Zuckerberg. Zuckerberg is testifying in the US lawsuit though refused the UK's request to interview for their lawsuit. The US lawsuit is still ongoing and continues to generate more questions than answers.
The affair also highlights how out of touch many in Congress are with current technologies, with videos of aging Congressmen struggling to understand some of Zuckerberg's tech-based answers and reply in kind. In the UK, the Cambridge Analytica and Kogan investigation is also ongoing.
An Uncertain Future for Facebook Stocks
Facebook saw its first downgrade since January this Wednesday. Stocks fell 1.7%. However, the company has seen an overall increase of 3.9% in its stock since the scandal broke in mid-March.
With a lack of consumer confidence, both companies are not as enticing to veteran investors as they once were.
A Leaderless Organization
News first broke about the scandal via the New York Times on March 17, 2018. A Channel 4 news video leaked the following Monday, adding further evidence to the claims asserted. The video produced footage of CA's CEO, Alexander Nix, seemingly engaging in illegal political techniques such as entrapment.
Nix was suspended the following day and recently stepped down from the CEO position. Alexander Taylor, CA's chief data officer, sat down as quickly as he stood up to take the CEO position, serving only a few days. It is unclear who will lead the company during this tumultuous time. Alexander Nix refused parliament's request to testify, showing additional distaste from the general public.
The Future of Digital Privacy
There is an aura of doubt clouding the general public's faith that Facebook will take preventative actions to ensure a data breach of this level does not occur again. Many wonder how Silicon Valley's brightest minds could let a mistake this large pervade its data for over a year. More importantly, Facebook did not alert authorities to the morally gray and illegal data collection.
With scandals like Equifax's 2017 data breach still fresh, the public sees an unwillingness for companies to take responsibility. The unspoken protocol of these breaches appears to err on the side of deception rather than transparency. Equifax was aware of their breach, which exposed nearly half of the US population's personal financial information, weeks ahead of the news breaking.
Additionally, the company sought to turn a profit by offering data-protection services after the incident. Even more frustrating, is that the only recourse for consumers affected was to freeze their credit and to unfreeze credit comes with fees.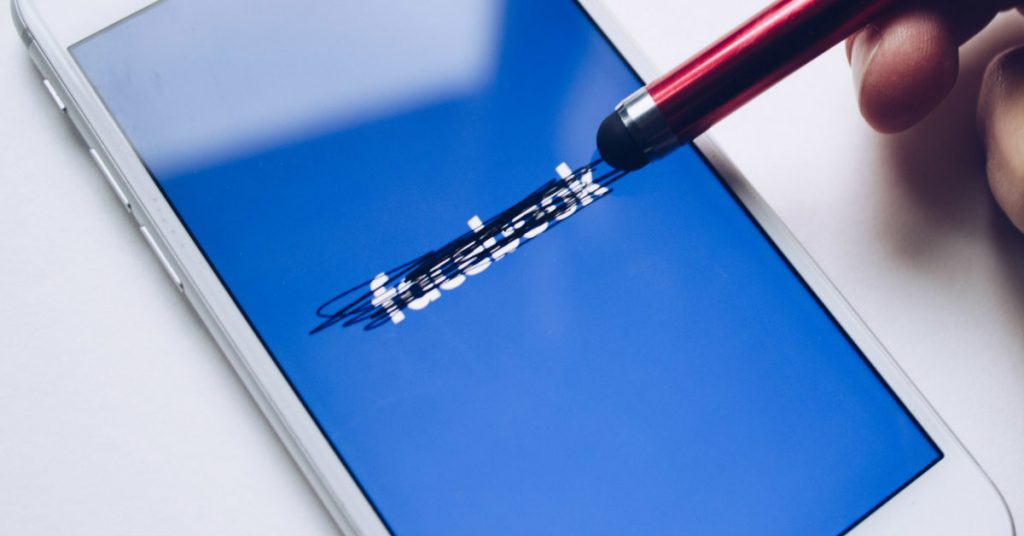 The lack of accountability and transparency means that these data breaches could simply be warning signs of far larger scandals to follow.
When companies are unwilling to make ethical decisions, it's ideal that laws enter the creation process to ensure the safety of the public. A bipartisan effort is on the way in the US to give power back to the consumer. In a country where regulation is a dirty word, it's unclear how this effort will be received.
On the tech, innovation side come solutions from a forgotten class of researchers: tech privacy experts. An unglamorous field is now finding itself at the center of fixing a growing problem.
A peer-to-peer decentralized internet (first introduced to the non-tech obsessed via the HBO show Silicon Valley), strong advertising blockers, information fiduciaries (whose purpose is to protect users' data) and better encryption techniques are all points of notable research. May their innovation spawn a new era of data privacy.
The on-demand economy continues to grow quickly and with it comes many avenues for illicit data collection. There is a struggle to balance convenience with privacy. Tech privacy experts are working to ensure their solutions mesh well with consumers' expectations for efficiency.
Flailing Confidence
Facebook's rise as a tech giant may be in jeopardy. Their business model is strongly based on consumer trust. Zuckerberg's decision not to alert authorities deny a request from parliament, his evasiveness in his testimony with Congress and his negative public image (he's frequently touted as overly robotic and was presented unfavorably in The Social Network) has generated contempt from many consumers.
The #deletefacebook hashtag also gained organic momentum. For a company dependent on users for profit, a tall order for their public relations team is in store.
Superbowl 2018 Results – Eagles Won!

Superbowl 2018 Results – Eagles Won! It was an incredible game played by both the Patriots and the Eagles. With a final score of 41 Eagles to 33 Patriots, the Eagles won their first ever Super Bowl bringing the championship home.
A genius offensive play
The Eagle's play tonight was purely offensive – and they had to win at all costs. LeGarret Blount rushed for 90 yards and scored a touchdown. Corey Clement could be seen throughout the game rushing for the 108 total yards of offense. And Nelson Agholor's perfect synchronization with Foles was able to catch 9 passes for a total of 84 yards throughout the game. And we can't forget Zach Ertz, who scored the final touchdown in the 4th quarter after diving over Devin McCourty. It was a tense moment as everyone in the stadium and at home watching held their breath while waiting for the verdict. Ertz made a brilliant leap of faith and landed just over the end zone, but the ball bounced. Did it hit the ground before bouncing? Were his feet both in the end zone at the time of landing? Was he in possession of the ball in the final seconds of the landing in the end zone? The crowd went wild and Philadelphia has never been more lit when the referees announced it was a touchdown.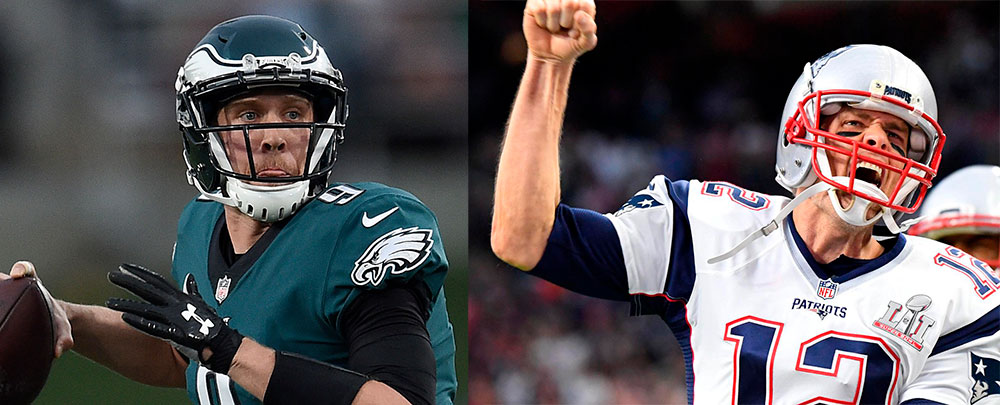 Rushing for the win
The Eagles were still behind. The Eagles kept pushing through yard by yard. Nick Foles made a daring move on 3rd-and-7 that ended with Foles completed a phenomenal 11 yard pass to Zach Ertz. Ertz made an olympic worthy leap over Devin McCourty and into the end zone. Ertz narrowly landed both feet in the end zone, but the ball bounced, and was caught again mid-air by Ertz. It was unclear if the ball made contact with the ground which caused the bouncing. It was a tense moment as everyone awaited the referees to review the footage to make the final call. It was determined that Ertz was in possession of the ball before landing on the ground and the touchdown ruling was upheld.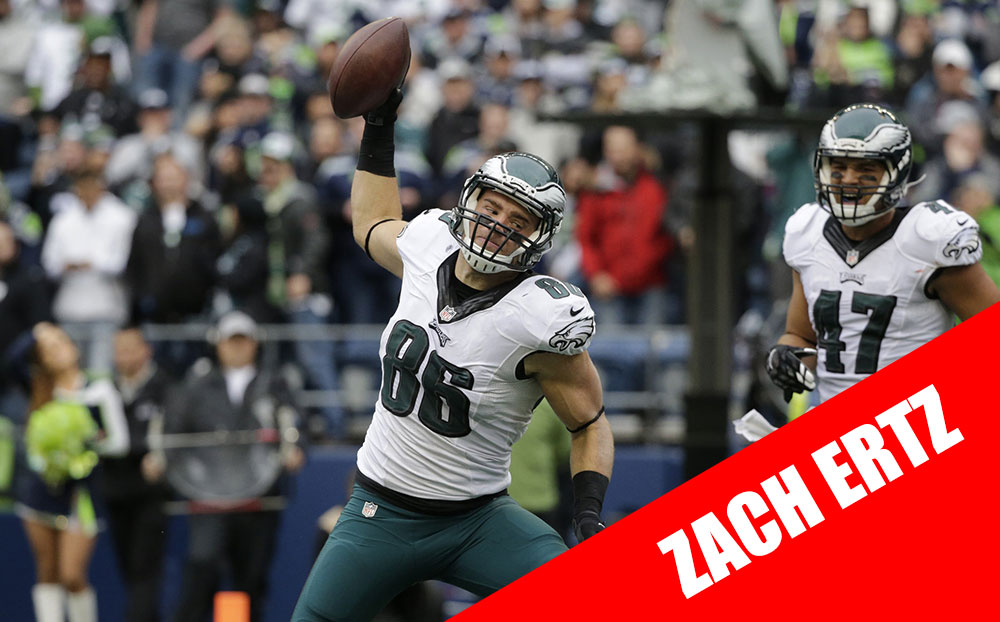 Brandon Graham and Derek Barnett – turning the tides
With 2 minutes and 21 seconds left on the timer and one timeout left, the Patriots were ahead and had everything lined up for the win. And that was when Brandon Graham decided to reveal himself. He's been hiding from the camera all game and decided it's now or never. Brandon Graham sacked Brady forcing a fumble which was picked up by Derek Barnett that decided the fate of the game. If it weren't for Brandon Graham's bravery and Derek Barnett's keen reflexes, the game could have been very different. Tom  Brady could be seen on TV sitting on the field not getting up. He knew it was over at that moment. The Eagles had won decisively.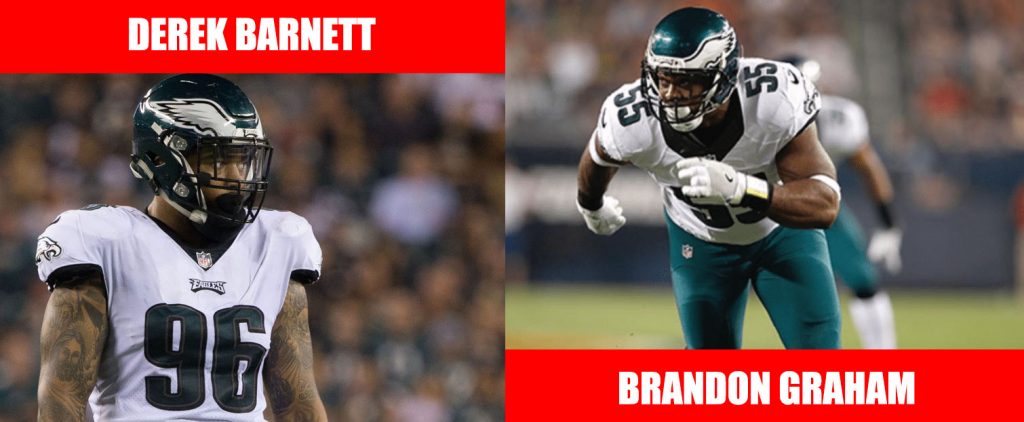 The underdogs and their Foles
Who would ever thought that the backup quarterback for the Philadelphia Eagles only took on the role of starting quarterback after Carson Wentz got injured on week 14 of the season. Foles completed 28 of 43 passes with a total 373 yards and scored 3 touchdowns. Foles even CAUGHT a touchdown in a last minute offensive play where Brady actually failed to catch the ball when attempting a similar play.
Foles was able to consistently convert those 3rd and 4th downs into game changing opportunities the entire game. If you doubted Foles before, he's proven you and everybody wrong. If you've doubted the Eagles before, after tonight's game, there's not a doubt in anyone's mind that these underdogs played their heart out and earned their world title as the winner of the 52nd Super Bowl Championship.