Groom 'Smiles in Pain': An Awkward Favor from the Wife-To-Be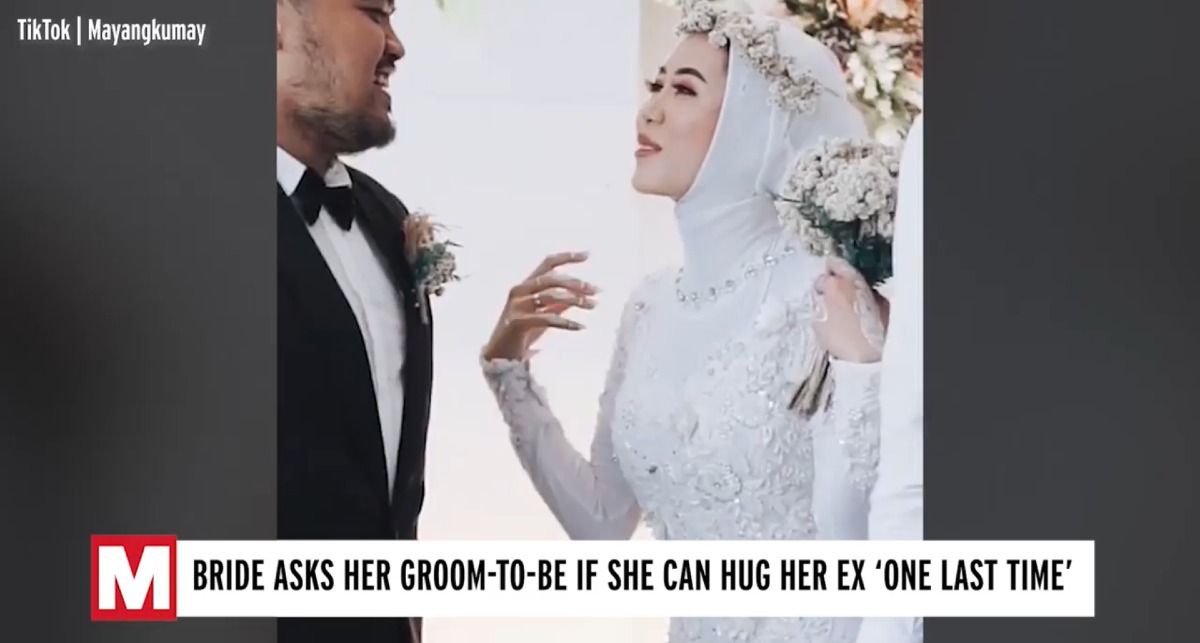 A viral wedding video was posted on TikTok by the bride. However, in contrast to the wife's expectations, the public's response mostly sides with the groom. The users mostly commented that the groom deserves better.
What Happened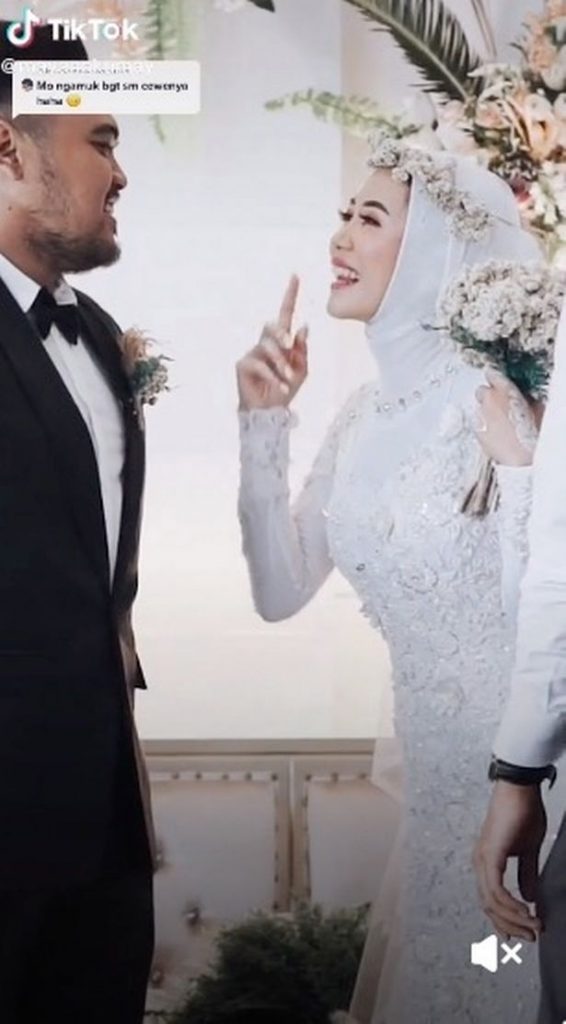 The bride, known as @mayangkumay on the platform, shared a video from her wedding that a guest captured. At first glance, the situation looks like any other wedding day where the guests congratulate the newlyweds. Although, it turns out that the guest was the bride's ex-boyfriend.
In the video, the bride and groom are seen with a man congratulating the two on their marriage. It looks like the guy was offering to shake the bride's hand, but it appears she wants more than a handshake.
Turning to her groom, she asked permission to hug the man "one last time" as she gestures with her hand. Smiling, the groom nodded his head, allowing this favor from his wife. After getting permission, the bride approached the guest and hugged him. The groom is left to the side as he watches his bride tenderly stroking the guest's back with her bouquet still in hand.
After the heartwarming hug, the ex was grateful for the groom's favor as he went to shake the husband's hand in thanks. However, the groom pulls the ex for a hug instead.
The Public's Reaction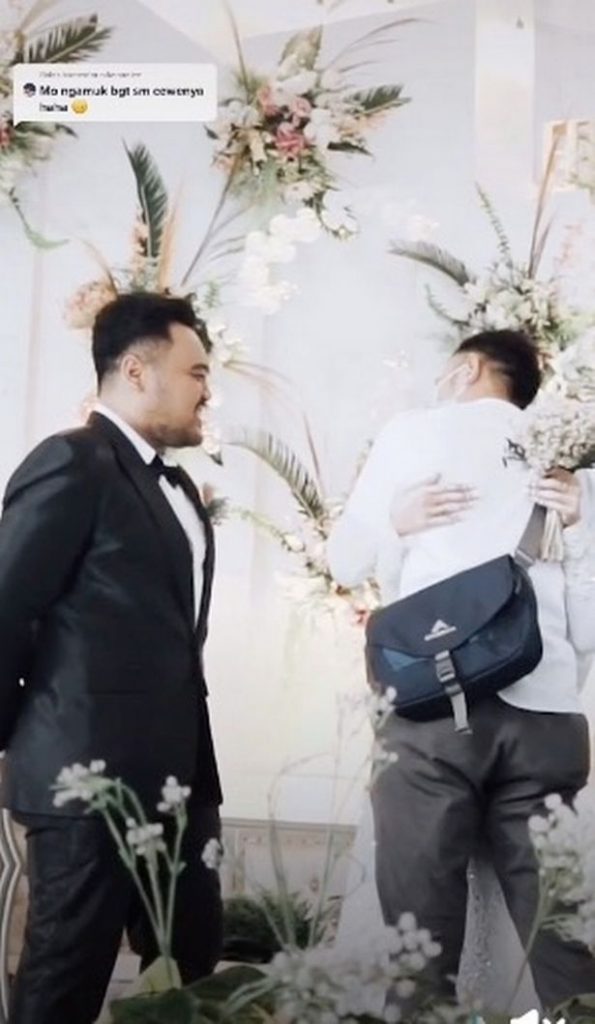 Mayangkumay, the bride in the video, always posts stories about her friendships, relationship, and life as a wife on TikTok. Currently, her profile has more than 12,000 followers. Throughout her TikTok profile, we can see that she loves sharing moments taken from her wedding. 
One clip surely caught the prying eyes of the public. The clip that she posted accumulated more than 5.5 million views on TikTok with 409k likes and 19k comments. Rather than being touched by the three's exchange, the public voiced their sentiments that the groom deserves better. The comments point out that although the groom seems to be smiling, his expression looks hurt from their point of view.
One user points out that the husband immediately looks down as he sees his wife hugging her ex. One user also voiced concerns on how the groom's family perceived the wife's intimate contact with her ex. Another user joined in by saying that the groom's face can't lie, saying that it hurts, but that's okay. However, one user used their humor to view the situation, saying, "at least she's asking for permission."
Most of the comments voice out their dissatisfaction with the exchange. They kept saying that the husband deserves better, and the bride should learn to let go of the past. Some also point out that the groom kept smiling through the "pain."
From a stranger's point of view, this exchange between the three looks awkward. However, the bride might have intended it to be a wholesome end to a chapter of her life. It can be seen as a final goodbye.
On a Final Note
Despite the publics' comment saying the groom deserves better, they are still married at the end of the day. Some might negatively see this exchange and think that the groom did not deserve that on his wedding day. We have to admit it, none of us likes the idea of having our partner interact with their ex. Of course, that is an uncomfortable sight to see.
However, by the end of the video, the groom deserves a pat on the back for agreeing. He even hugged the ex himself, longer even. To wrap it all up, it ended as a pleasant exchange between the three. Indeed, the wife doesn't deserve to be judged by the public just because of this one viral clip. That's the internet for you.
On the post, she even added a caption saying, "all forms of opinions from the netizens are welcomed." We need to be always reminded that it's not great to judge a person's whole being without knowing the whole story. In this generation, everyone is quick to judge. Let's all take one step back before leaving hurtful comments. Besides, think about how you would react if you put yourself in the wife's situation.
If you loved this article, explore Owner's Mag for more awesome content.
The Chappelle Show Returns to Netflix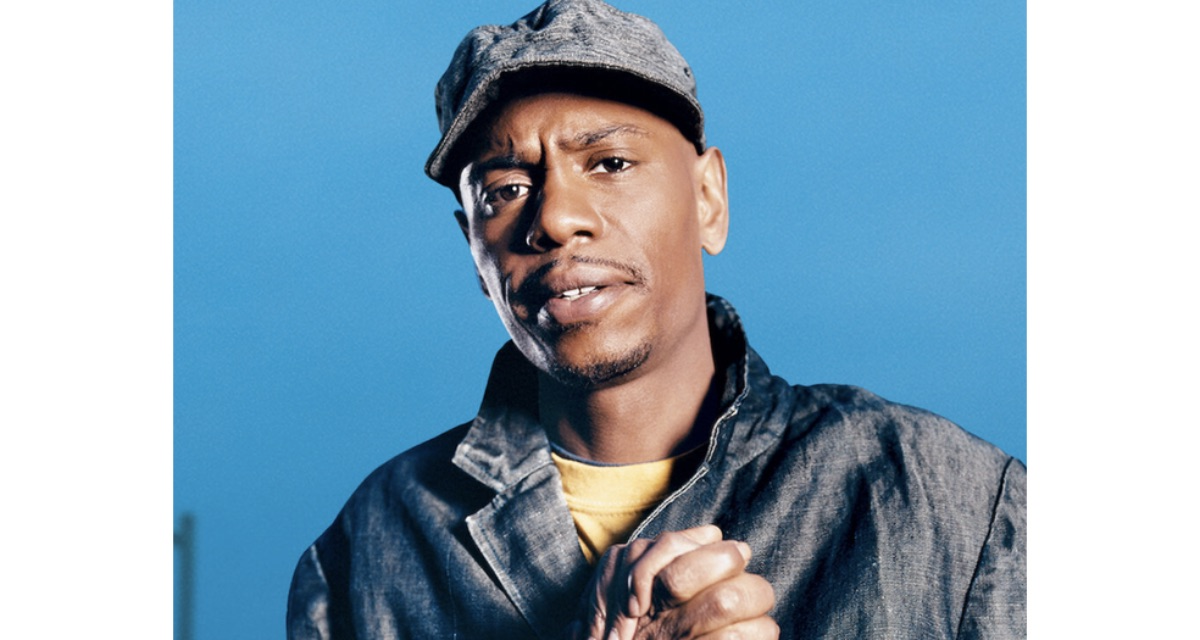 The Chappelle Show has officially returned to streaming on Netflix, ending a turbulent saga between Dave Chappelle, Comedy Central, and its parent company, CBS Viacom.
Netflix began streaming The Chappelle Show on February 12th, once again after being pulled from its streaming service in November of last year. Netflix originally acquired the rights form CBS Viacom to stream the show in October. In November, Chappelle hosted Saturday Night Live, just after the election. He used his monologue to touch on his payment and licensing dispute with Comedy Central, while also poking fun at Trump, COVID, and the state of the country.
Days later, he released a video on Instagram titled Unforgiven in which he discusses the details of his argument with Viacom.
"These contracts are crazy. You should hear the terminology they say in these contracts. '…to use your name and likeness in perpetuity throughout the universe.' Who the [expletive] could possibly know what that means?"
The contract wasn't all that it was cracked up to be, according to Chappelle. "People think I made a lot of money from Chappelle Show. When I left that show, I never got paid. They didn't have to pay because I signed the contract, but is that right? I found out that these people were streaming my work and they never had to ask me, and they never had to tell me. Perfectly legal, because I signed the contract. But is that right?"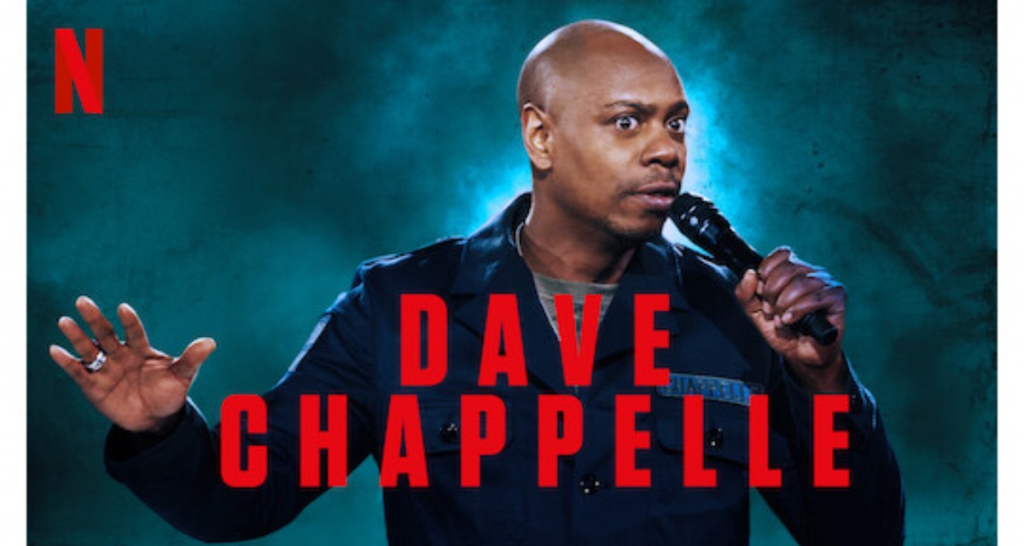 Chappelle, who already had a working relationship with Netflix, spoke highly of the streaming service. "That's why I like working for Netflix. I like working for Netflix because when all those bad things happened to me that company didn't even exist, and when I found out they were streaming Chappelle show I was furious. How could they not know? You know what I did? I called them and I told them that this makes me feel bad. And you wanna know what they did? They agreed that they would take it off their platform just so I could feel better. That's why I fuck with Netflix."
After admitting there was nothing he could do legally to win his battle, Chappelle appealed to his fans. "I'm coming to my real boss. I'm coming to you. I'm begging you. If you ever liked me, if you ever thought there was something worthwhile about me, I'm begging you. Please don't watch that show. I'm not asking you to boycott any network. Boycott me. Boycott Chappelle Show. Do not watch it unless they pay me."
After months of silence on the subject Chappelle released a ten-minute-long video, "Redemption Song".
Chappelle thanks his fans for the boycott. "I asked you to stop watching the show and thank God almighty for you, you did. You made that show worthless, because without your eyes its nothing. And when you stopped watching it, they called me, and I got my name back and I got my license back and I got my show back and they paid me millions of dollars."
Dave announces that Comedy Central paid him and gave him the rights and licensing back on his show. He name checked the CEO of Netflix Ted Serandos for backing him. He also thanked Chris McCarthy of CBS Viacom for making things right.
The Chappelle Show along with three of his stand-up specials are available for streaming on Netflix.
Fail or Success: CEO Pays Equal Pay For ALL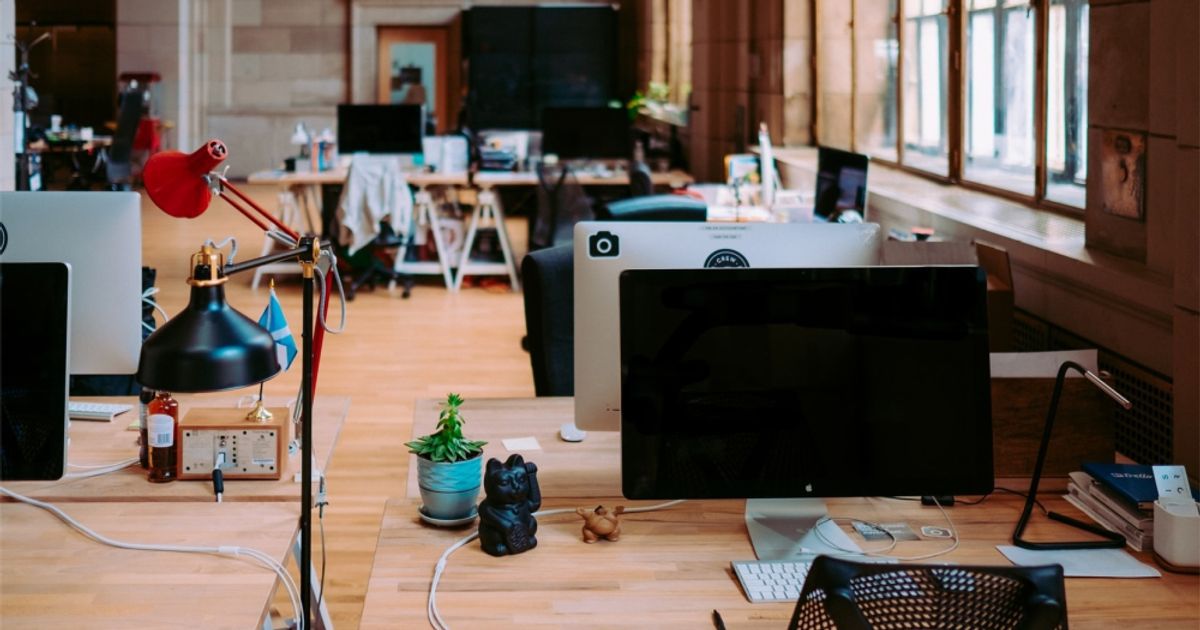 Have you ever experienced receiving the same amount of salary as the CEO? At first, this setup sounds excellent, especially for the employees. However, in the long run, it brings inevitable setbacks to the company. Calvin Benton, CEO of a British company called Spill, thought that the same pay equals a happy environment. Let's see if the idea turned out fine for him and his team.
Where it All Started
Calvin Benton is the CEO of Spill, a psychotherapy company that offers an all-in-one solution for employee's mental health. It provides counseling and therapy to employees over any platform like Zoom, Slack, etc.
When Calvin first founded the company, he decided to pay himself and his team an equal salary. At that time, there were only five people in the company, and everyone contributed the same amount of work. Hence, everyone in the team was paid the same amount regardless of the role and experience.
In the end, after calculating a decent wage enough to live in London, they decided on £36,000 a year. The agreement initially worked well and received positive feedback from the team. Furthermore, it doesn't matter who pays as everyone has the same salary rate during team outings. The overall team dynamics were more comfortable during those social situations.
However, the team harmony didn't last that long. The problems started as Spill's success took off. A growing company needs more staff. That's the first bump on the road for Calvin's equal-salary scheme.
A Bump Following Company's Expansion
As Spill expanded, the team needed to hire salespersons, clerical workers, and software developers. Calvin told BBC that usually, software developers are in-demand. It means that they have higher salaries than their company's salary model. As for salespeople, they're usually paid on commission.
Their initial salary model didn't suit the regular pay grade for the two industries. Calvin admitted that they struggled to attract a senior talent for the company's senior role. After three months in, the salesperson started asking to be paid according to their achieved commission. The salesperson further added that the fixed salary was not working out for them.
Furthermore, as their team grew, Calvin noted that the equal-pay system began causing inner conflict within members. Some members argued that they worked longer hours and felt they were contributing more than others. Simultaneously, Calvin and his team were overwhelmed with the number of applications they received for clerical jobs.
Unlike sales and software developers, the offer of £36,000-a-year for a clerical job was higher compared to the usual. Also, people wanted to apply for the role because of the high salary. Sadly, they did not apply for the position because they believed in Spill's mission and vision.
Equal Pay System Experiment: Failed
After a year of using the equal-pay experiment, Calvin decided to pull the plug following staff pressure. In the end, he decided to replace the system with the traditional pay grade structure. Like any other company, Spill followed a format based on company seniority and technical expertise. "Sometimes, traditional practices are there for a reason," Calvin Benton admitted.
One thing came out good after Spill's equal pay experiment— open salary policy. Calvin decided to make everyone's salary common knowledge for the whole staff. He commented that since they adopted an open approach, there were no rumors over who is being paid higher. It helped improve the harmony in the office. Besides, if you're working for a therapy business, then happy employees and harmony are essential in the workplace.
In Conclusion
After two and a half years in the business, Spill surged to success. Now, it has more than 100 UK companies in their books. Also, their team grew into 13 full-time employees and a number of part-time psychotherapists.
In the end, Spill eventually scrapped their equal-pay system and turned to traditional roots. Indeed, a conventional salary setting is there for a reason. This situation only explains why bonuses and commission pays are essential when running a company. It motivates the team's drive to deliver excellent results.
At first, equal salary might sound a bit tempting to the ears. However, in the long run, it's a recipe for disaster. Good thing the equal-salary experiment only lasted for a year.
Woman's Tinder profile went viral after embarrassed man's awkward question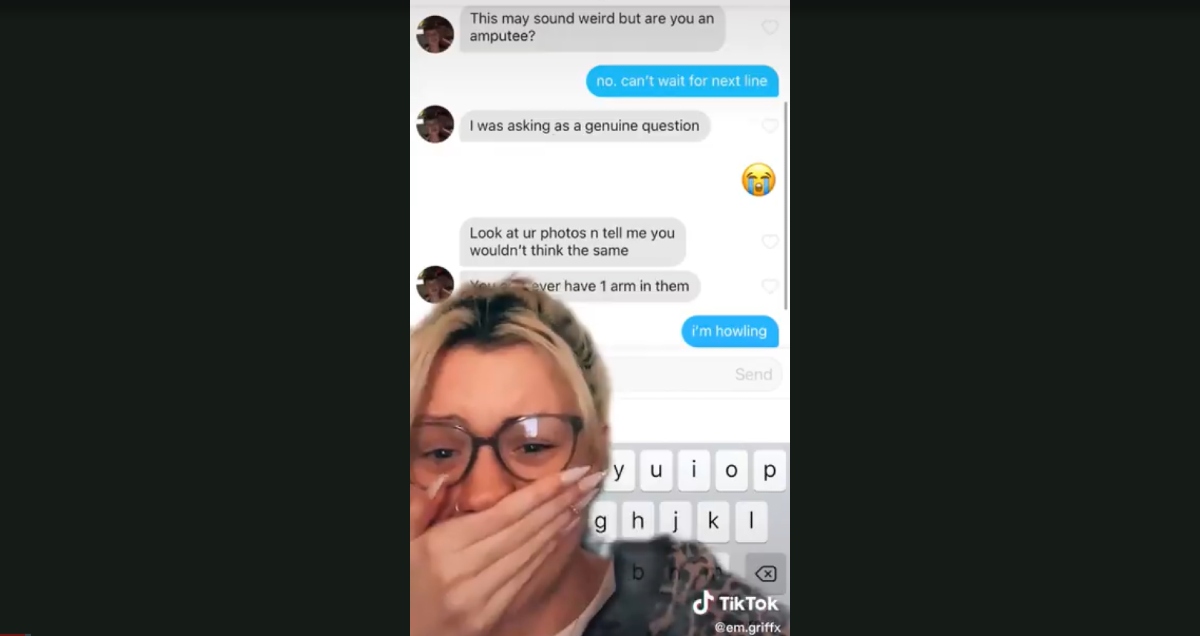 Birmingham singleton Emily was dumbfounded when a potential date asked a very puzzling question. "This may sound weird but are you an amputee?" Was the opening line of a guy who was a match on Tinder.
Once she realized why the embarrassing question, she went into fits of howling and laughter.
Emily, a 21-year-old student at Birmingham City University, shared her video on TikTok that was seen more than 700,000 times. With the caption, "I'm done." it has gone viral and peppered with hundreds of comments. Who could blame the guy? Her photos on the dating app seemed as if she had only one arm.
Dating Faux Pas?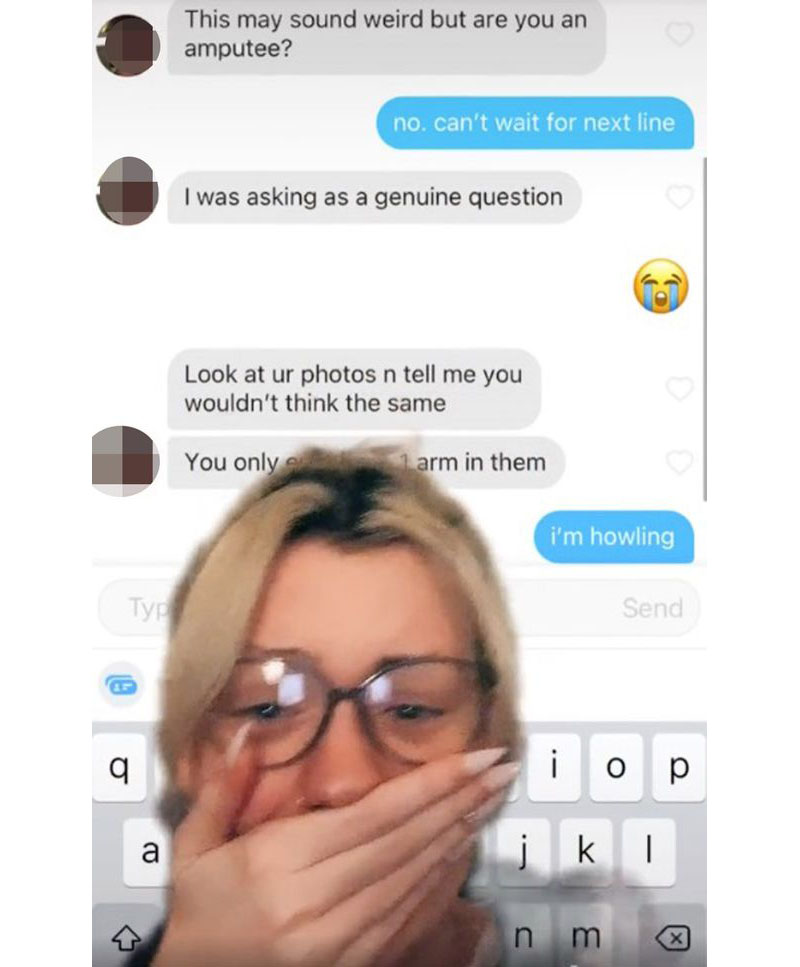 Thinking that the man made a blunder in dating etiquette, she replied no and said she can't wait for his next chat-up line. In their conversation, he maintained that his question was genuine. The guy then asked Emily to take a look back at all her photos.
She did and what happened next left her howling. Then, she saw that he did have a point. She never realized before that the photos she shared showed only her left arm. Indeed, the pics would make anyone think that she has no right arm.
Going Viral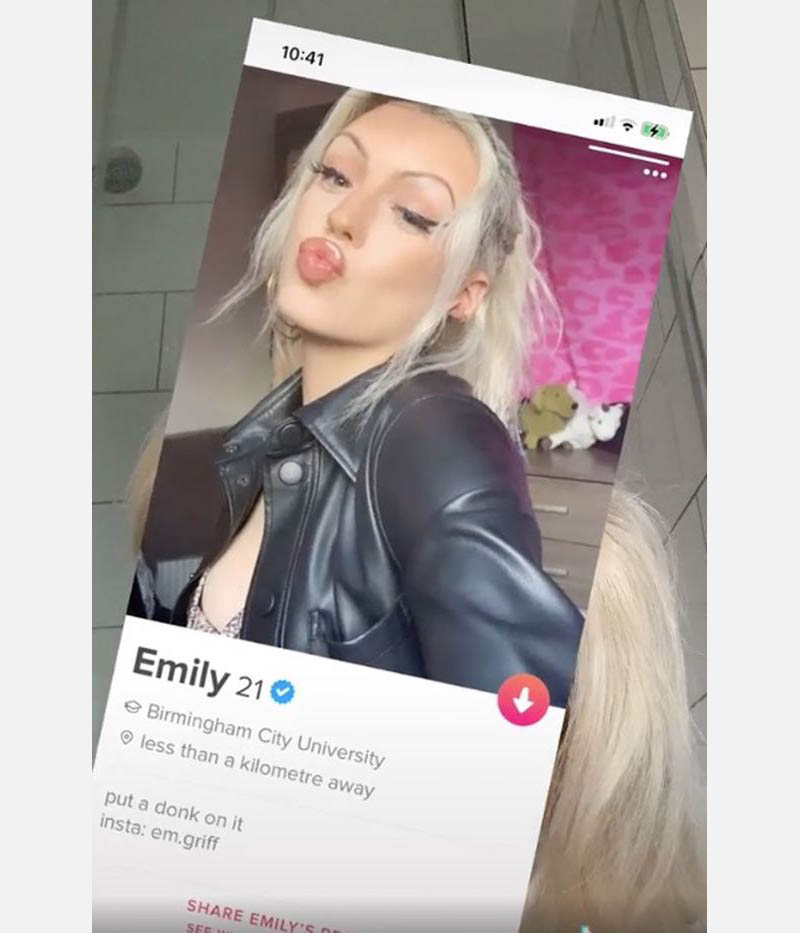 In a follow-up video, Emily admitted to seeing why the man would make that mistake. "You only ever have 1 arm in them." was his reply. She noticed how in all of her pics on the dating platform, she unknowingly hid the right side of her body.
Curiosity about the photos made her create a video about them. In it, she clarified that she does have two arms and shared the snaps which made one man think the opposite.
The video went viral and many commenters agreed with what her potential match saw, she did look like an amputee. People were left in stitches as they saw why anyone would get confused. Many comments told her about how funny and awkward they found the situation to be.
The Comments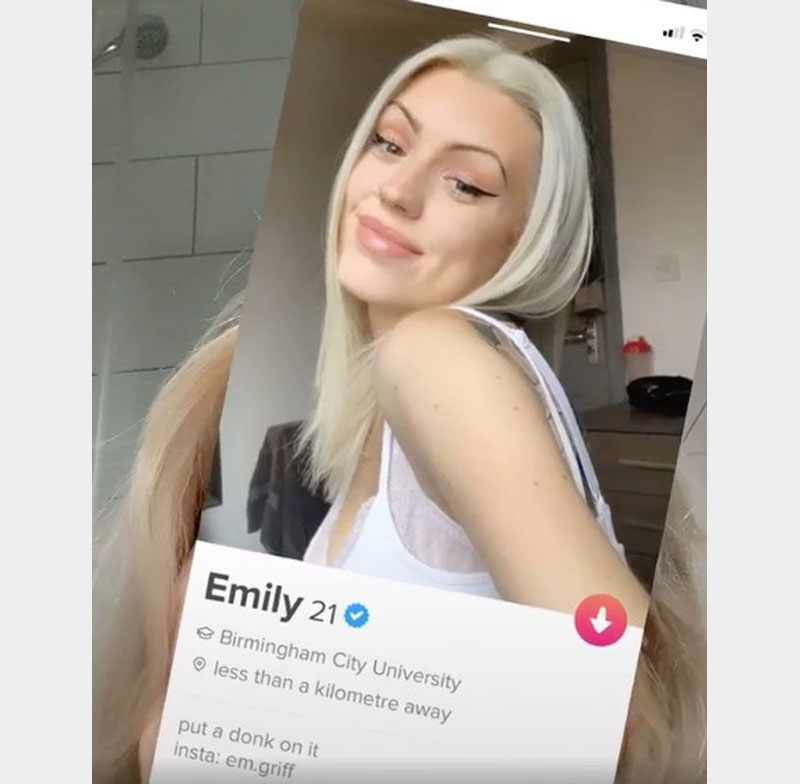 Hysterics then ensued as many viewers agreed with what the man saw in her appearance. Emily acknowledged that her photos did seem to back the poor guy's assessment of her body. As sultry and stunning her poses were, she unwittingly showed only one side.
Comments such as "He was totally right." and "This is probably the funniest TikTok I've ever seen, omg. I'm literally crying." Another wrote, "The fact that it's the same arm every time, too." and "He has good observational skills." All these comments show why the whole incident justifies the man's question as being mortifying.
You would think that asking if someone is an amputee is a bit off for a first-time dating chat. One viewer commented that the one with her wearing the Betty Boop shirt was probably what made the guy ask her the question.
Almost everyone who saw the exchange between them clearly sided with the man. With over 95,000 likes, the guy has good enough reasons to wonder and get baffled by it all.
Lesson Learned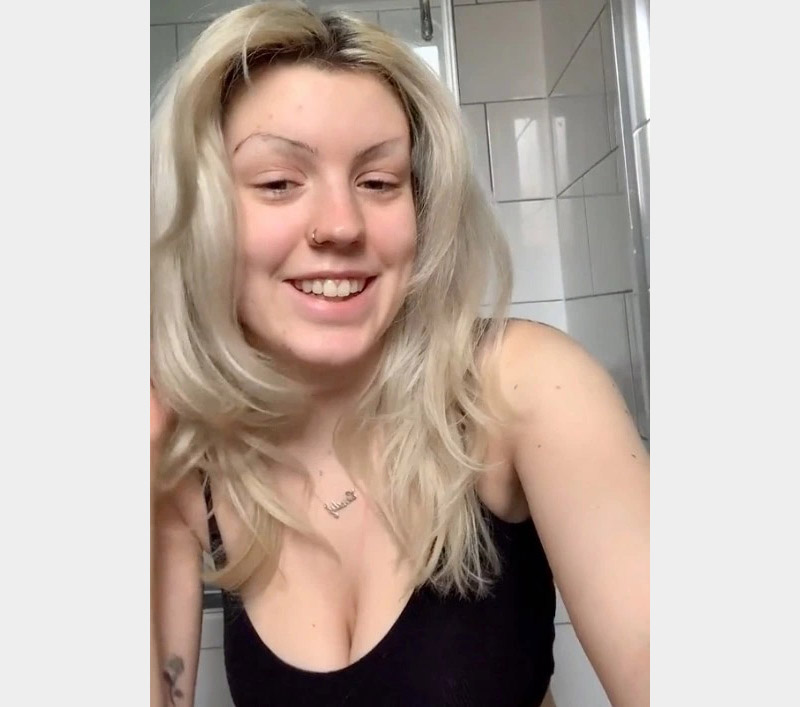 Thinking that the guy's probably trying hard to think of a unique way to chat with her, Emily now says that she learned her lesson. She now thinks he's right and will have to think about it every time she takes a selfie from now on.
As for the guy who asked her that question, there were no reports if he ever got to date her or anyone, for that matter.