How to Build Your Own Startup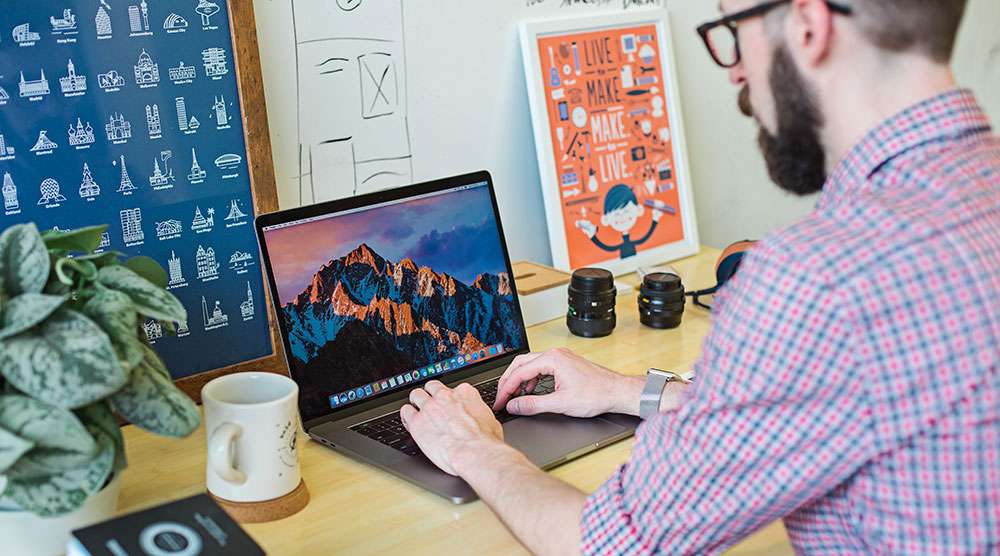 Ever wonder how to build your own startup? The startup world is full of entrepreneurs who want to take their dream business from Point A to point B. Getting your business off its feet can be hard because many people are not equipped with basic business skills. In the startup culture, getting your idea to become profitable is the dream, and it's always a race to set it up. If you're thinking about starting a business, here are some tips to consider to get yourself going.
Network to build your own startup
Look for people who have "been there and done that". These people know what they are doing and can provide you with practical tips and advice on how to start. Also ask about mistakes to avoid and things to watch out for so you don't have to learn the hard way.
Research Your Market
Market research can tell you if your idea is worth pursuing. Start your research by stating the problem and see if your business idea is the solution. Figure out how many people have this problem, and talk to them to see what they can say through a survey. Check out the competition to see how you are different and figure out how you can beat them.
Find A Mentor to help 
build your own startup
One of the best ways to start a startup is by finding a mentor that can guide you along the way.  Your mentor can be somebody whom you can bounce ideas off of. Mentors are some of the most important and valuable resource you can tap into. They can help you take your business from idea to success through their guidance and coaching.
Brand Your Business
Branding is not only about choosing a name for your business. It is about your business identity. Choose a name that conveys the idea of your startup or the problem it solves. By this time you should also have a domain name and have marketing materials ready.
Business Plan
A business plan is like a blueprint for your business that tells you what you are going to do and how you're going to do it. Your business plan should also have an "attack" on how you can "battle" the competition. Determine what you want to accomplish with your business and steps on how you can get there.
Your Workplace
Where you decide to work has an impact on your startup. Some people choose to work at home to save money, while others rent space or share an office with other businesses. Don't be afraid to experiment on locations for your workplace.
Accelerator Program to help 
build your own startup
Think about applying for an accelerator program. These are programs that provide startups with coaching, network or small investment to help the business take off quickly.  Take accelerator programs with a  grain of salt, because some of them will require you to part with equity.
Raise Capital
Capital for startups usually comes from the founders. Other startups get capital from venture capitalists, angel investors or loans. These investments can be a big help to startups. However, you should only take capital from sources that they understand. If you are raising capital from outside sources, figure out how much you need to raise and how it will affect your business.
Having an idea for a start up is easy. The hard part is in-between the idea and success. For startups, it is crucial that their idea become reality as quickly as possible, since delays can kill the idea. While there is no wrong or right way to start a startup, following the above steps can help save time.  
Hypage Review: Is It Better than Linktree?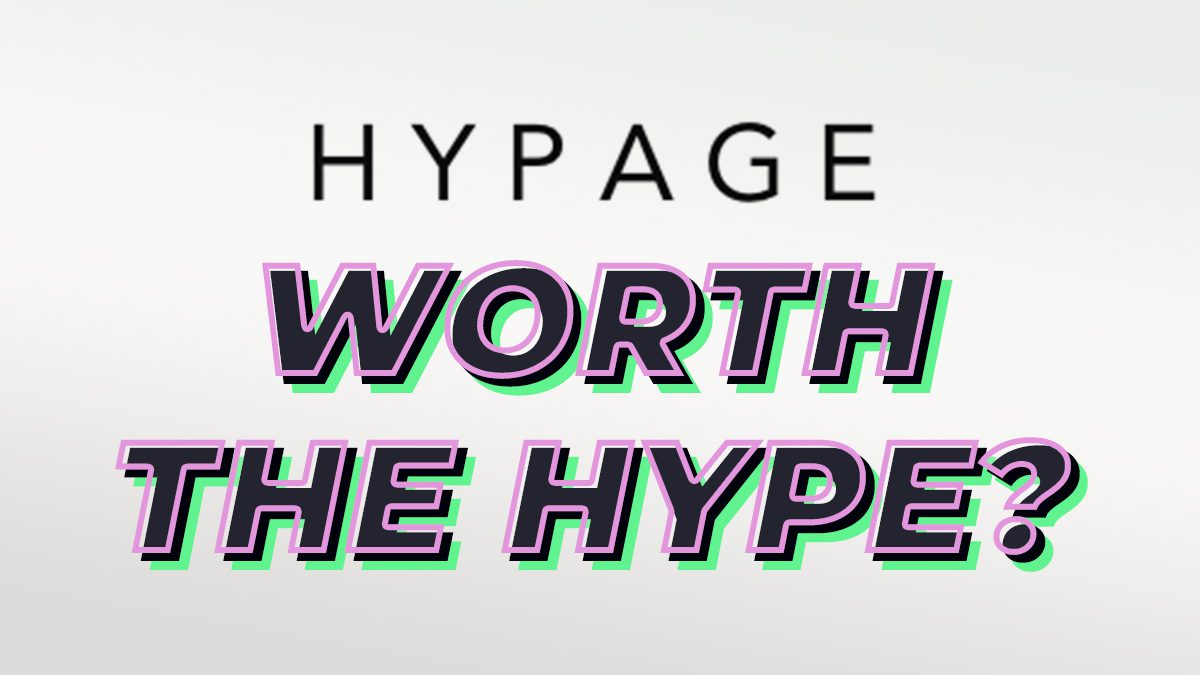 "Link in bio."
The phrase is so ubiquitous, it's almost lost its meaning. If you have a public-facing social media presence, you've had to think about what link you'll put in your bio.
Hypage offers a new solution. Like Linktree, it lets you put your socials, your work, and all your other important links in one place. But it also lets you sell merch, subscriptions, and other digital products.
Is this the next big thing for content creators and entrepreneurs? Here's our Hypage review.
What's Hypage?
Hypage is a product by Hyax, a broader platform for selling digital products. Hyax itself is part of Rgrowth, a product incubator that also created the giveaway tool Vyper.
But chances are, you don't care about all that. What can Hypage do for you?
First of all, chill. Second of all, Hypage claims it can cover your bases from all of the following services in one:
Linktree—Compile all your links in one place
Gumroad—Sell digital content to your fans
Patreon—Create your own membership
Ko-fi—Accept instant donations
Substack—Curate an email list
On top of everything else, Hypage takes zero transaction fees. They're a subscription-based service, so you pay a simple monthly fee and get to keep whatever you earn from your content.
Hypage pricing
Anyone can sign up for Hypage for free, but like I said, they make their money off of subscriptions. That means, as the old saying goes, you gotta spend money to make money.
Hypage offers three payment plans:
Free – An unlimited free tier that lets you create a fully custom bio link with a hy.page URL.
Pro – $19/mo. Allows you to sell products, accept donations, take fan requests, removes Hypage branding.
Enterprise – $39/mo. Allows you to sell subscriptions and memberships.
How to sign up for Hypage
You can either sign up for Hypage with a free account, or try a free trial of a Pro plan. Either way, your first step is creating a username, email and password.
Once you sign up, you'll be asked what industry you're in. The options include ecommerce, SaaS, music, digital marketing, and a few others. For the purpose of this review, I chose blogging.
Projects
On the next screen, you're asked to create a project; on the Pro plan, you can have up to three. Think of each project as a different brand, each with its own URL. Each project also has its own dashboard.
The Hypage dashboard
The homepage of your dashboard includes a summary of your page's activity: new people, orders, and revenue. Beyond that, there are sections dedicated to Hypage's main functions:
Your link page
Products
Membership
As well as sections to keep track of orders, users, and settings.
Setting up your link page
Before you get into page design, you're invited to add as many links as you'd like. With custom icons and unique link settings, you can really add and customize any link you can imagine. You even have the option to embed code, including video.
Next, you're taken to the design tab, where you can fully customize your text, colors, and backgrounds. The layout is stagnant, but in my opinion, it looks more stylish and functional than the default layout for Linktree.
Keep in mind, on a free plan, your page will include Hypage branding. Pro users can eliminate that branding, but you'll still have to use either a hy.page or links.page URL.
Another unique feature is uploading a custom thumbnail to appear on social media. For sellers, you can also add your own custom terms of service and privacy policy, and choose whether or not to require customers to check them.
Selling products and memberships
Hypage offers a great deal of free rein for selling products and services. It's a bit of a cheat, but you could really use this as an ecommerce tool. At the very least, ecommerce companies can easily use this platform to showcase their latest and most popular products.
You can create a description, add images, set an inventory, add digital files and links for deliverables, and choose from a range of pricing options. They seem to emphasize Stripe integration, but you can also set up through PayPal.
Memberships are where the industry you picked when you signed up comes into play. Since I signed up as a blogger, it orients my membership page as a blog.
The customization options are similar to those of your link page. It's not nearly as in-depth as a web design tool like WordPress, but it's fairly in line with other subscription blogging platforms like Medium, Substack, and Patreon.
The layout is slightly different for users in other industries. Still, you basically create separate outlines for the homepage and for each individual post. You can also choose whether each post is paywalled or free.
Final Hypage review: Is it the future?
Let's return to the question of Hypage vs. Linktree.
Linktree's Pro plan costs $9/mo, less than half of Hypage's. For that price, they offer extensive analytics, design options, martech, and yes, monetization tools. You can accept payments and sell ecommerce products directly through Linktree.
Still, Hypage certainly offers a few things that Linktree doesn't. Most notably, it allows you to create a Patreon-style subscription page embedded in your bio link. The analytics aren't all that impressive, but this feature certainly sets them apart.
You also have to consider the basic product. As a free, bare-bones bio link service, is Hypage better than Linktree? Honestly, yeah. It's just well designed, with a great array of custom options.
No, Hypage is not the only place to create a bio link and sell digital products on one site. With its high prices, it's not likely to shake the table, even though it lets you keep your revenue. Unless you have a huge audience, the cut you take from Substack or Patreon is probably a better deal.
For marketing, however, it's always great to cut out excess and try to keep everything in one place. In that regard, and as a more stylish option for simple, free bio links, Hypage does have something to offer.
Final grade: 6/10 🤷
The 10 Best Task Management Tools for 2023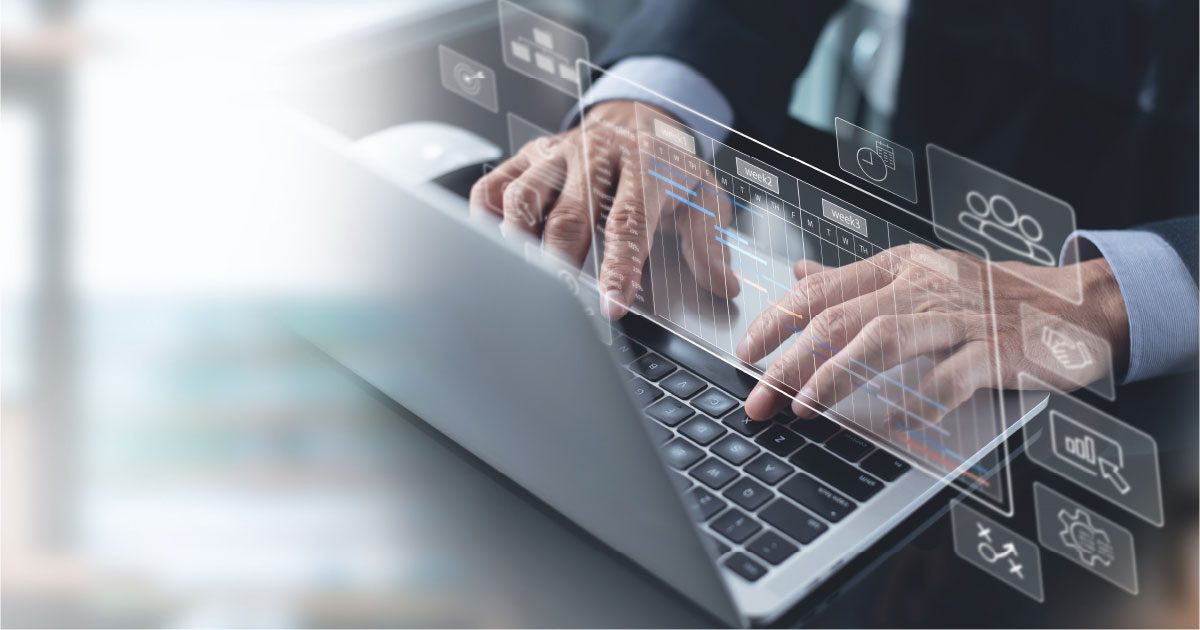 Managing a business can take a toll on you if you try to do everything yourself. Good thing there are numerous software available that can make your work easier and faster. Below are the ten best task management tools you can choose from.
What is a task management tool?
Before we get to the list, let's understand what task management tools are. As its name suggests, a task management software is a digital platform that helps business owners and their teams manage their tasks. They help plan, organize, and prioritize tasks to complete them efficiently and within the specified time frame—just the help you'll need in handling your business.
The 10 Best Task Management Software
The following is our list of the best task management tools that will have you ready for 2023.
1. ClickUp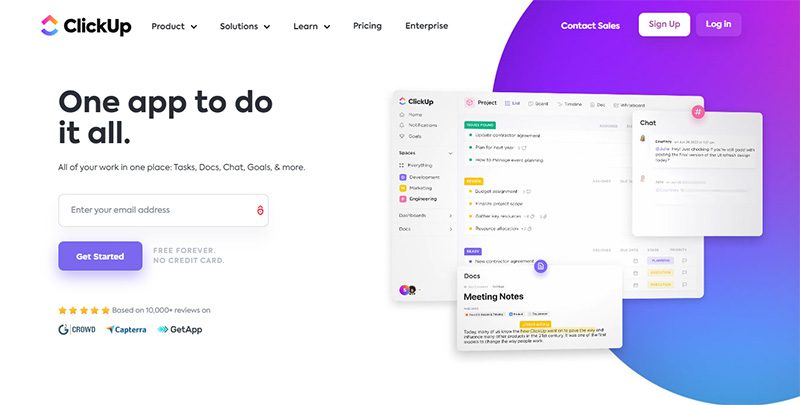 From your simple to-do lists to more complex tasks, ClickUp has got you covered. It allows you and your team to manage everything in one place—chat, tasks, documents, and goals. It provides access to a suite of practical and cost-effective productivity tools. It gives high customization capabilities and suitability for small and large businesses in various industries.
ClickUp has a forever free plan but to enjoy many of its amazing features, you may want to subscribe to their premium plans. Pricing starts at $5 per member per month and can go up to $19.
2. ProofHub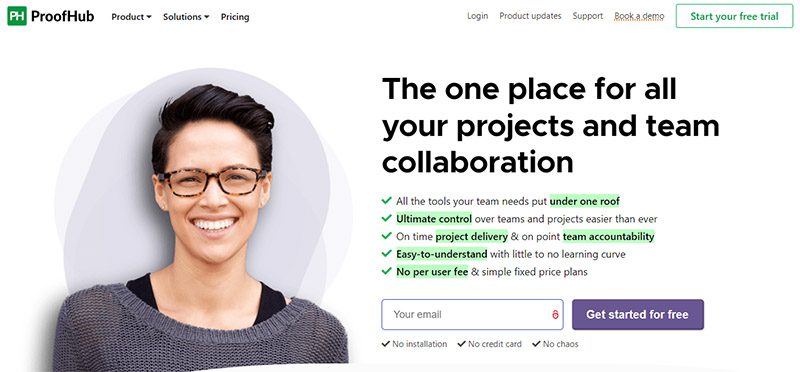 If your business requires you to have designs and other visual materials, ProofHub is the best task management tool for you. It can help you collaborate with your team members, especially when discussing visual assets. It is easy to use, thanks to its intuitive interface.
ProofHub has two plans you can choose from, the Essential and the Ultimate Control. Pricing starts at $45 and offers a free trial, so you can check out the app without making a considerable commitment.
3. Chanty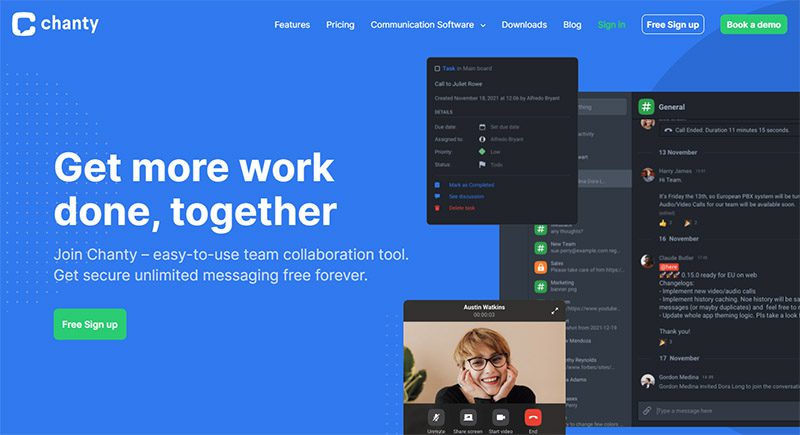 A team communication and collaboration software, Chanty enables businesses to communicate through instant messaging and voice or video calls. It is a cloud-based collaboration platform that uses AI to help with team communication, project management, and the automation of many tasks. Its unlimited group messaging feature lets you connect and collaborate with other teams.
Chanty has a forever-free plan suitable for businesses with up to 10 members. Alternatively, the business plan lets you do more for only $3 per user per month.
4. Basecamp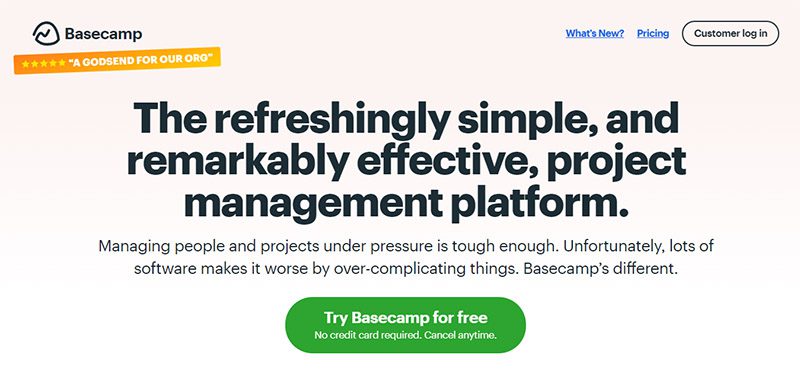 A reasonably priced task management tool, Basecamp has unique features you won't find in many similar applications. Real-time communication, client access, and automatic check-ins are some of these. You can easily find projects as it has a designated place for file storage and sharing, making it ideal for team collaborations.
Basecamp is affordable. At only $11 per month per user, you can get unlimited use of most of its tools and features. It has two plans you can choose from, the Business and Personal.
5. Bit.ai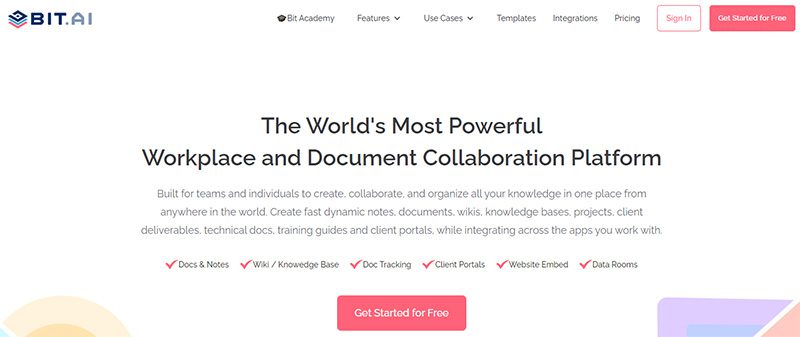 Create, store, organize, and collaborate anywhere you are in the world with Bit.ai. This task management software lets you create project documents, technical documentation, client deliverables, and training guides, among many others. Its simple and intuitive user interface makes it ideal for first-time business owners.
To get started with Bit.ai, you can use their free plan, but you need to subscribe to their Pro or Business plans for additional features. Pricing starts at $9 and goes up to $15 per user per month.
6. nTask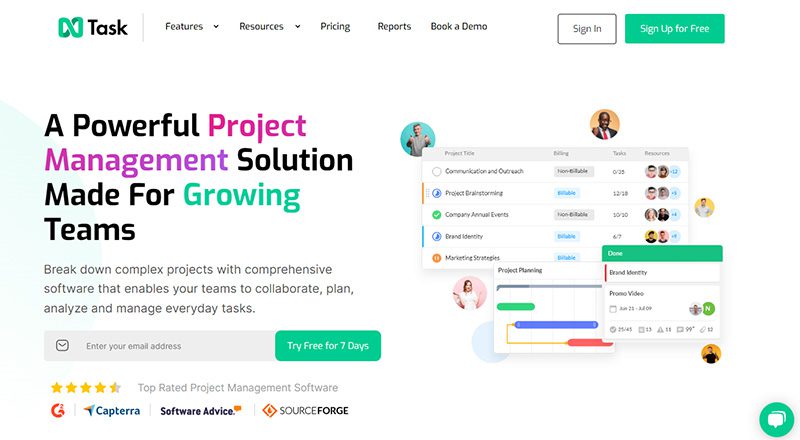 Whether you're managing small or big teams, nTask is an excellent task management tool. Its streamlining features will help you with project planning, financial summary, resource management, and many other tasks. In just a few clicks, you'll be able to share files and comments, assign tasks, and track time.
This task management tool lets you try it for seven days without the need for a credit card. nTask offers three subscription plans with prices that start at $3 per month for the premium plan.
7. Trello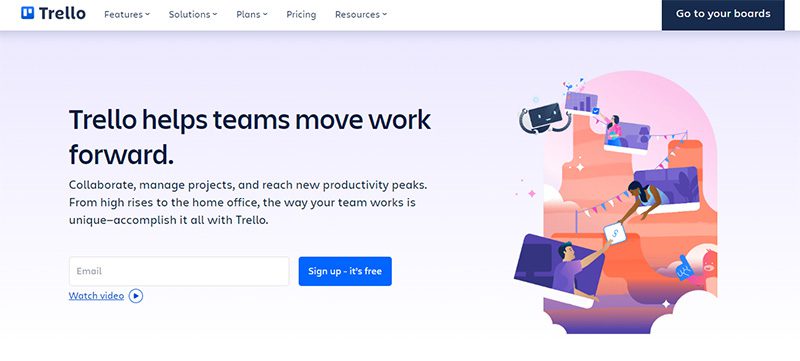 Task management is easy with Trello cards, boards, and lists. At a glance, you can easily see your tasks and who's handling them. It has a very low learning curve which lets your team get into action quickly. It offers many customization options and integrates with various third-party apps.
Like Chanty and ClickUp, Trello has a forever-free plan that you can use. But if you want to upgrade for more features, the three paid plans will suit your needs and budget quite well. Price starts at $5 per month if billed annually.
8. Wrike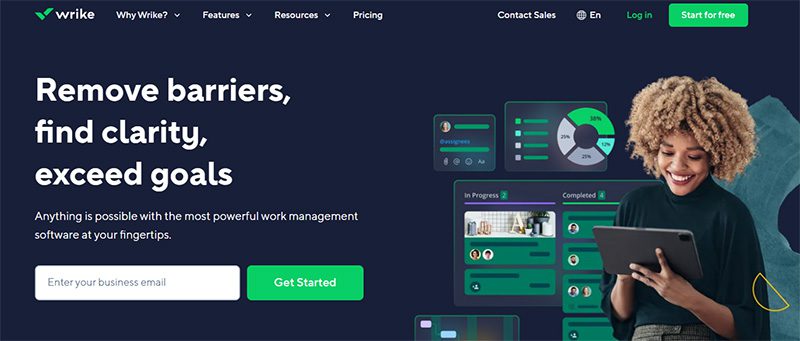 Get more done with a user-friendly task management tool such as Wrike. It has a fully-customizable dashboard, interactive Gantt charts, and real-time project reports, among many other vital features. It will give you complete project transparency, real-time updates, and insightful information that bring value to your business.
You can use Wrike for free, but for more features, its premium plans will let you do more. From $9.80 to $24.80 per month, you can manage tasks and many other processes easily and quickly.
9. Monday.com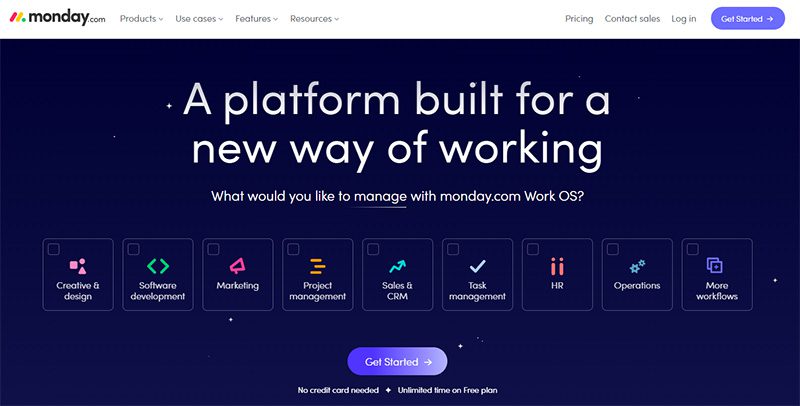 One of the most intuitive task management software, Monday.com is excellent for whatever size of business you have. Its straightforward and easily navigable interface lets you see the work ahead with just a glance. Collaborating is made easy as it enables you to upload and share files, tag members, and manage deadlines efficiently.
Monday.com is free to use forever, but a subscription plan is highly recommended to avail of its key features.
10. Proggio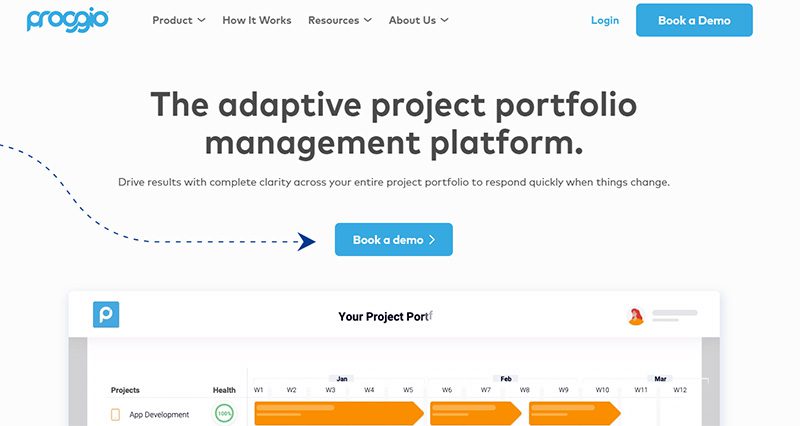 Track your business' progress in one place with Proggio. Its Kanban board view lets you effectively manage your team's tasks. It has customizable templates that help organize and manage everyone's work anywhere they are in the world. 
Proggio has four paid plans that will provide you with more task-managing features. Pricing starts at $250 per month and can go up to $1,500.
Final Thoughts
In today's competitive markets, businesses must manage project tasks as efficiently as possible. The responsibility to ensure that the team completes all assignments on time becomes effortless when you use a task management tool.
Top 10 Free and Paid eCommerce Tools for 2023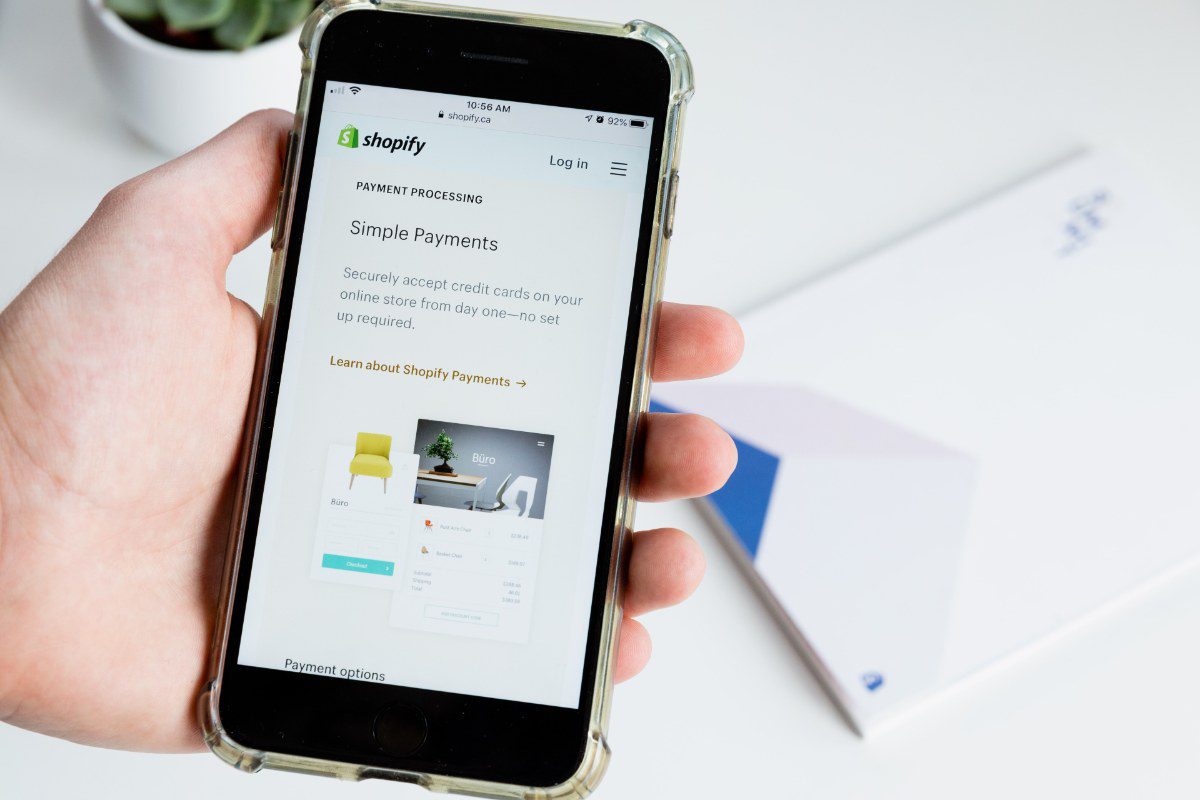 Starting an eCommerce business is no easy feat. You have to think about sales, marketing, customer service, invoicing, and inventory all at once. Some platforms may offer those, but you need other eCommerce tools to make life easier and automate your processes. But which are the best ones? I've compiled a list of the best ones here.
1. Shopify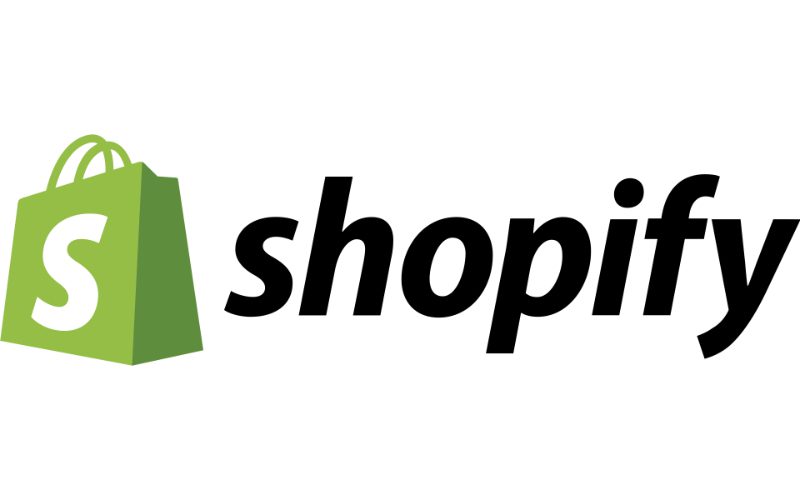 Type: eCommerce platform
Any eCommerce tools list would simply be incomplete without the mention of Shopify. After all, Shopify is one of the leading eCommerce platforms of all time. The eCommerce platform makes it easy for new eCommerce businesses to set up shop in no time. They have a bunch of tools to keep any eCommerce business around, such as branding, point of sales, email marketing, and payment tools. 
With Shopify, you don't have to create a website immediately if you don't need it yet. If you want to start small, Shopify has a Starter plan where you can reach customers via social media or messaging apps.
Pricing:
Starter (social and messaging apps only) – $5/mo
Basic – $29/mo
Shopify – $79/mo
Advanced – $299/mo
2. Veeqo

Type: Inventory and logistics
Even though Shopify has everything you need to get your business ready from launch to your first sale, you can integrate tools into the platform, such as Veeqo. Veeqo is a logistics company helping eCommerce businesses with inventory and shipping. 
You don't have to worry about keeping track of all your products manually. With Veeqo, you can rest easy knowing they automate your stock every time there's a sale. Plus, with shipping, you'll have lowered rates on known logistics businesses, such as DHL and UPS. In addition, you can automate shipping processes.
Pricing: Free
3. SurveyMonkey

Type: Survey
One eCommerce tool that you should use is a survey. This helps you get a pulse of what's going on with your customers, and one of the survey tools you should use for your eCommerce business is SurveyMonkey. 
With SurveyMonkey, you'll also know what your customers think of your products, aside from the reviews they give. Surveys will provide you with more input, and you'll learn how to improve your products and how you can interact with your customers better. But it's not just a tool for your customers. You can also ask your employees how they can improve your eCommerce business.
Pricing:
Team Advantage – $25/user/month
Team Premier – $75/user/month
Enterprise – Contact sales
4. Wave

Type: Accounting and Invoicing
Most eCommerce platforms will have their own payment portal. But if you want an all-around easy-to-use small business financial service software, Wave is one of the best eCommerce tools to use. They have these nifty features:
Invoicing
Payments
Accounting
Banking
Payroll
Advisors
With Wave, you don't need an accountant. Wave helps you with your taxes, bookkeeping, and billing. And if you still need financial help, advisors are ready to help you learn more about finance terms or concepts. Plus, Wave is free to use for their Invoicing, Accounting, and Bookkeeping features. Or, you can even hire a bookkeeper to do all the work for you. 
Here's the pricing for their Payments, Payroll, and Advisors features:
Payments: 2.9% + $0.60/ transaction (AMEX: $3.4% + $0.60/transaction)
Bank payments: 1%/transaction
Payroll: Tax service states – $40/mo; Self service – $20/mo
Advisors: Bookkeeping support – $149/mo; Coaching – $379/mo
5. Rewind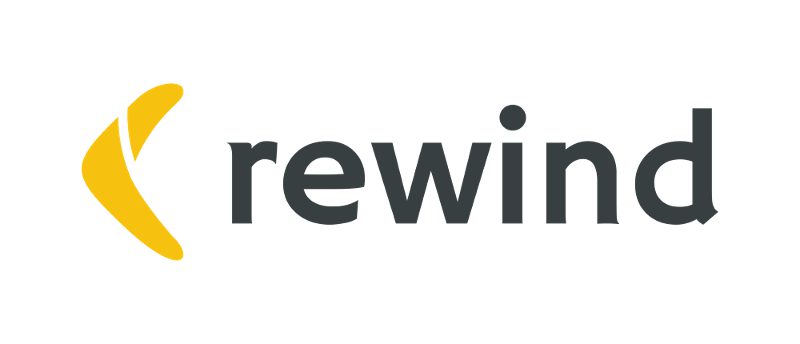 Type: Data protection
Any business with a website should know that they need to back up their data. After all, you can put it right back up anytime if outages or something unexpected happens to your website. And if you don't want to lose your data, Rewind is one of the best eCommerce tools out there. 
Rewind can help eCommerce businesses protect their business from any downtime with their daily backup. If you have integrated a 3rd party app into your website, but it's not doing you any good, you can just rewind and get back to the last time you didn't install it. Plus, they ensure your data is secure from any attacks.
Pricing:
Starts at $39/mo
6. Zendesk

Type: Customer service
Zendesk is one of the best customer service tools of all time, with more than 100,000 brands and users helping customers with their concerns. The customer service tool will help eCommerce businesses connect with customers through email, phone, or live chat.
Pricing:
Suite Team – $49/mo
Suite Growth – $79/mo
Suite Professional – $99/mo
7. Jungle Scout

Type: Marketing
If you need a marketing and keyword research tool made for online sellers, Jungle Scout is one of the best eCommerce tools to use. This tool is for Amazon sellers, but you can still use this for your online store anywhere. You can grow your traffic with their keyword research feature, optimize listings, and get more reviews for your site.
They also have an inventory management feature. Plus, Amazon sellers can get more out of the tool with their finances and ads features.
Pricing:
Basic – $49/mo
Suite – $69/mo
Professional – $129/mo
8. Copysmith

Type: SEO/Marketing
Are you having trouble creating product descriptions for all of your items? Don't fret, Copysmith is an AI writing tool to help you create a copy in minutes. It can be difficult trying to come up with persuasive copy that will get people to click add to cart. 
With Copysmith, you'll have an AI assistant giving suggestions from the keywords you provided. From there, you can choose from the best copy and add it to your website. Plus, they ensure that the copy is search engine optimized, so customers can visit your online store and get more traffic. In addition, you can also create bulk product descriptions for SKUs.
Pricing:
Starter – $19/mo
Professional – $59/mo
Enterprise – Contact Sales
9. MailChimp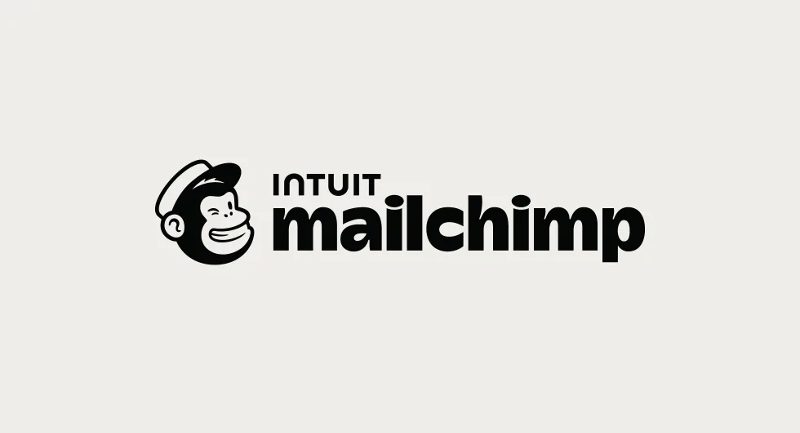 Type: Marketing
MailChimp is best known for email marketing. But it has grown into an all-around marketing platform for any business. They have a comprehensive email marketing platform, allowing businesses to segment their audience, reach more, and analyze open and conversion rates.
Aside from email marketing, MailChimp allows businesses to create optimized landing pages and social media ads and send printed postcards.
Pricing (Marketing platform – Starts at 500 contacts):
Free
Essentials – $11/mo
Standard – $17/mo
Premium – $299/mo
10. Google Analytics

Type: Analytics
Any entrepreneur or seller needs to keep track of their online business. And if you want to know how your online store ranks on one of the widely used search engines, you can use Google Analytics.
Most eCommerce platforms will have analytics, but Google Analytics can help you with your marketing, and you'll know how to reach more customers. Plus, you can run ads with their Google Ads and Search Ads 360 features and get access to the Google Search Console.
Pricing:
Start for Free
These eCommerce tools have proven their worth and helped other eCommerce businesses thrive in their own niche. Plus, they have also provided immense value and eased the minds of new and existing eCommerce businesses.