Best Monitors for Work From Home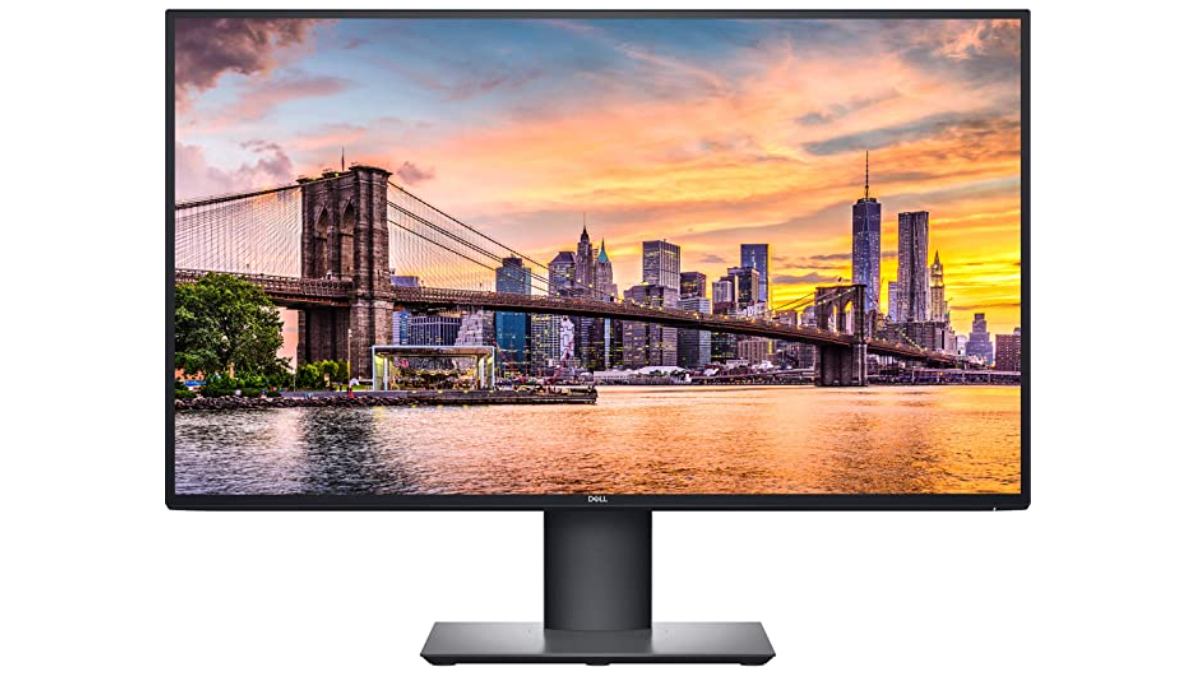 The coronavirus pandemic has forced a lot of people to work from home. That said, it's no surprise that home office setups have been getting more attention these days – from computers and lighting to storage and decor.
The computer monitor is one of the home office components that can make a huge difference in productivity. Getting the right one that fits your daily grind and unique requirements could allow you to get things done easier and faster.
Here are some of the best work monitors in the market if you feel the need to upgrade your work-from-home setup.
1. Acer Predator X27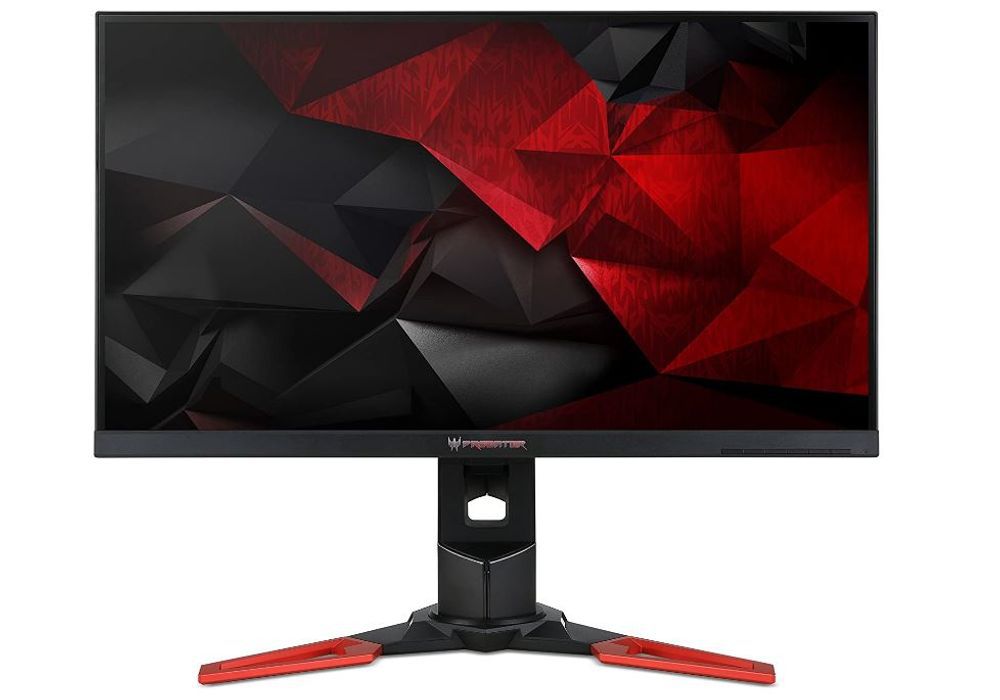 Acer Predator X27 has a 27-inch display, an aspect ratio of 16:9, and a screen resolution of 2560 x 1440. Since this is a gaming monitor, it's one of the best LED monitor options if you work hard in the day and play harder at night (or vice versa). It also has built-in eye protection, and it's ergonomically designed to help users fight fatigue.
Price: Acer Predator X27 sells for $572 on Amazon.
2. Lenovo ThinkVision M14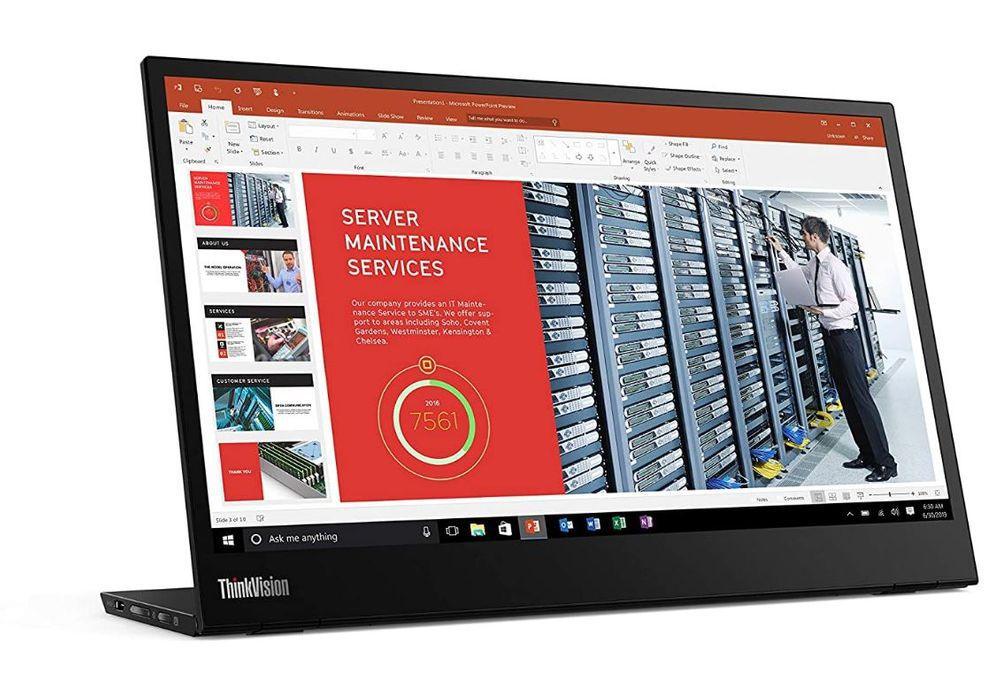 Lenovo ThinkVision M14 has a display size of 14 inches, so it could be the best external monitor for a laptop with just the right size. The LED display has a resolution of FHD 1080p, with 16.7 million colors. It's also tilt-adjustable and comes very light at 1.26 lbs. In addition to that, it has two USB Type-C ports, allowing you to connect your gadgets with ease.
Price: Lenovo ThinkVision M14 sells for $230.06 on Amazon, making it one of the best budget monitors on our list.
3. AOC U2879VF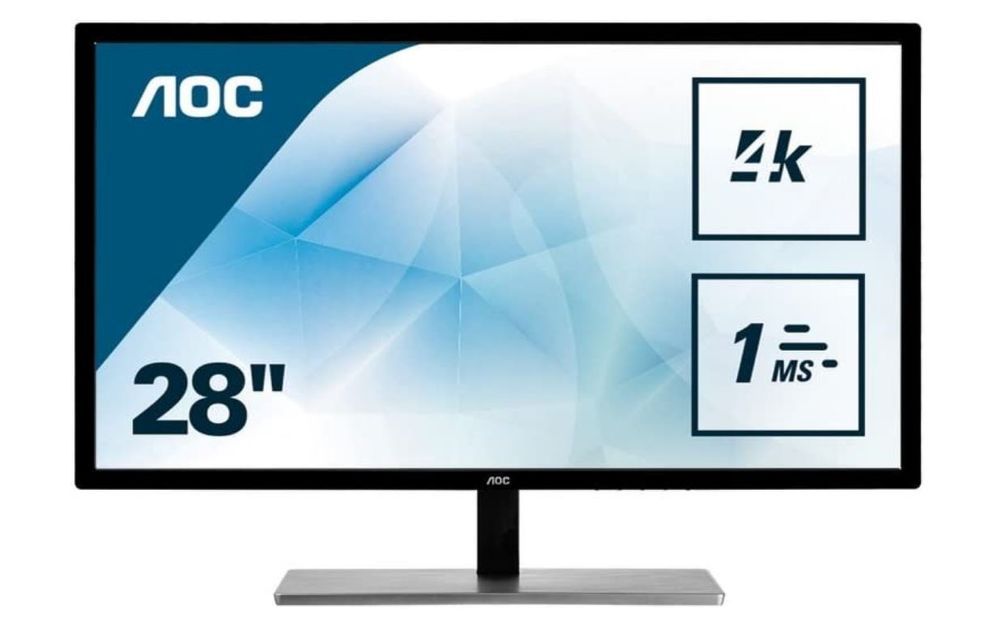 AOC U2879VF features a 28″ Class TN panel with a 3840 x 2160 resolution and a 16: 9 aspect ratio. If you hate monitor lag, this product's rapid 1ms response time will not disappoint. In addition to that, its 1 billion colors allow for rich details and surely make digital images come to life. AOC is an HD display technology leader, and they certainly showed their device design prowess with this one.
Price: You can buy AOC U2879VF on Amazon at $352.
4. Dell UltraSharp U2720Q 27 Inch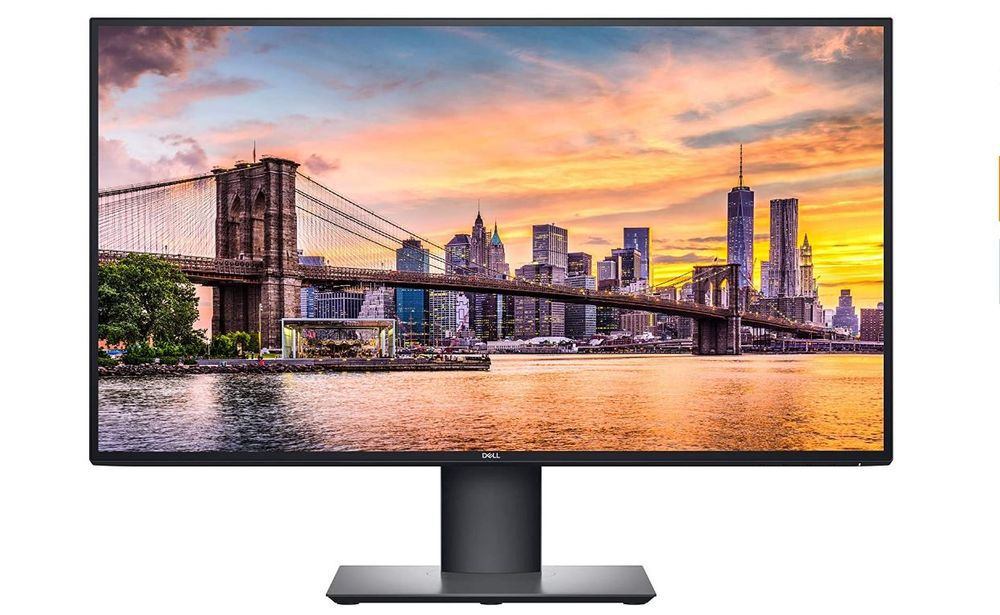 Dell UltraSharp U2720Q 27 Inch is one of the best Dell monitors to consider if you need crisp visuals for your job. This 27-inch monitor features a 4K UHD LED with 3840 x 2160 resolution. That said, it delivers exceptional visuals with consistent and vibrant colors. The monitor also has DisplayPort, HDMI, USB ports, and Audio Line out for connectivity.
Price: Dell UltraSharp U2720Q 27 sells for $570.36 on Amazon.
5. Philips Brilliance 499P9H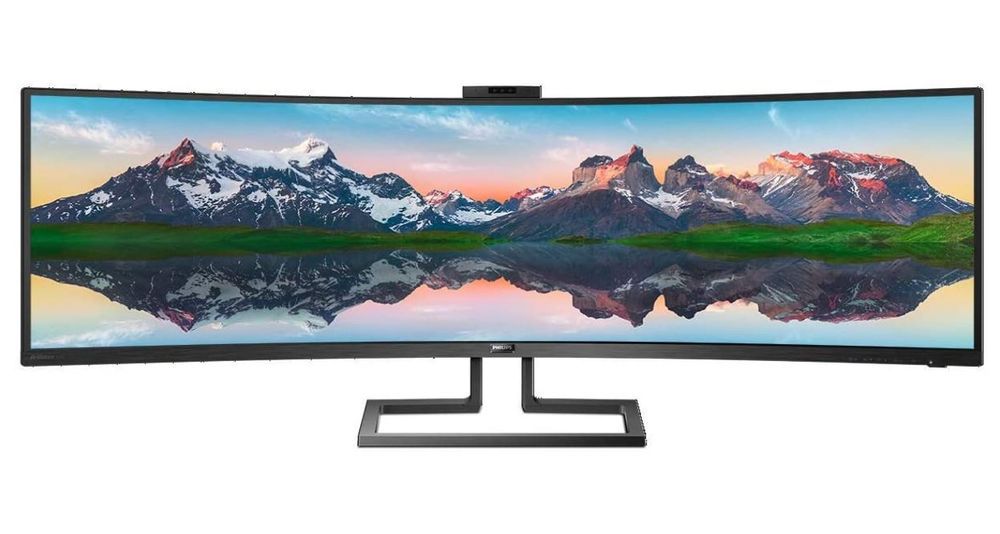 If you're looking for a curved monitor good for office work, check out Philips Brilliance 499P9H 49″ SuperWide Curved Monitor. This 48.8-inch viewable LED monitor offers a dual QHD and 5120 x 1440 resolution. In addition to that, the 1800R curved VA screen allows for an immersive field of view with outstanding color accuracy. It also has built-in speakers and Windows Hello pop-up webcam that's foldable for privacy.
Price: You can buy Philips Brilliance 499P9H for $1,323.98 on Amazon.
6. Acer V276HL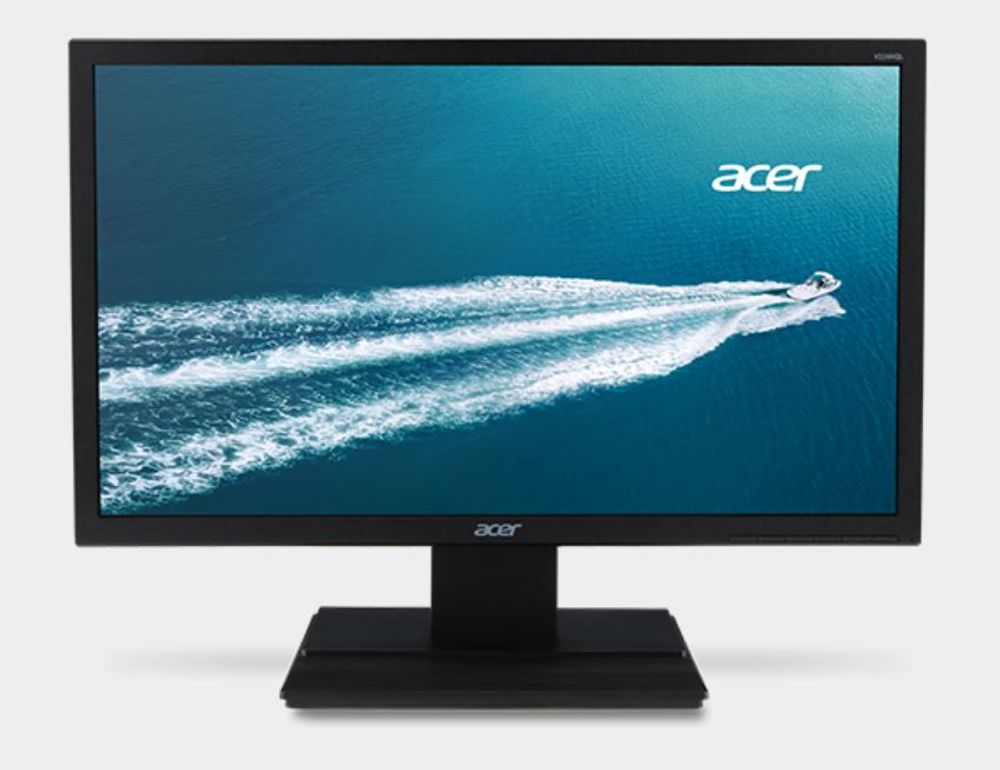 Acer V276HL is one of the best monitors you can use on your desk or mount on your wall. The brand's V6 Series monitors feature a screen that smoothly tilts, allowing for personalized use. If you don't like things scattered all around your table, this monitor has a magnetic stand that can keep things such as paper clips organized.
Price: Acer V276HL costs $349 on Acer's website.
7. ASUS Pro Art Display PA278QV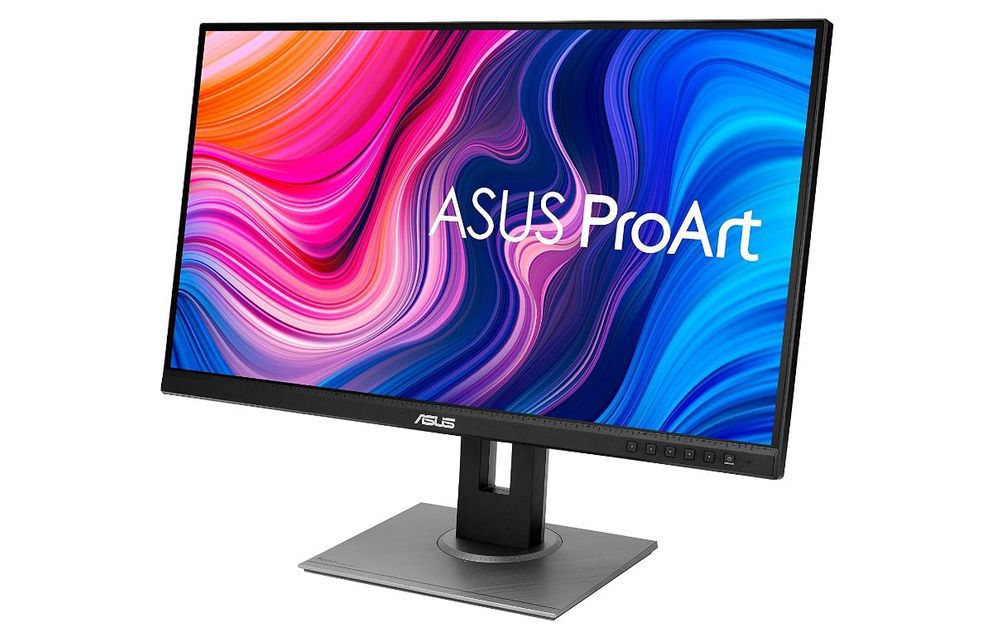 Next on our list of best work monitors is ASUS Pro Art Display PA278QV. This 27-inch WQHD monitor has a resolution of 2560 x 1440. In addition to that, the frameless design will give your home office a modern and minimalist look, whether you use it with the stand or mount it on the wall. As for connectivity, it has Mini DisplayPort, DisplayPort, HDMI, dual-link DVI-D, audio-in, earphone jack, plus four USB 3.0 ports, allowing for maximum flexibility.
Price: ASUS Pro Art Display PA278QV sells for $294.99 on Amazon.
8. LG 24 Inch UltraFine 4K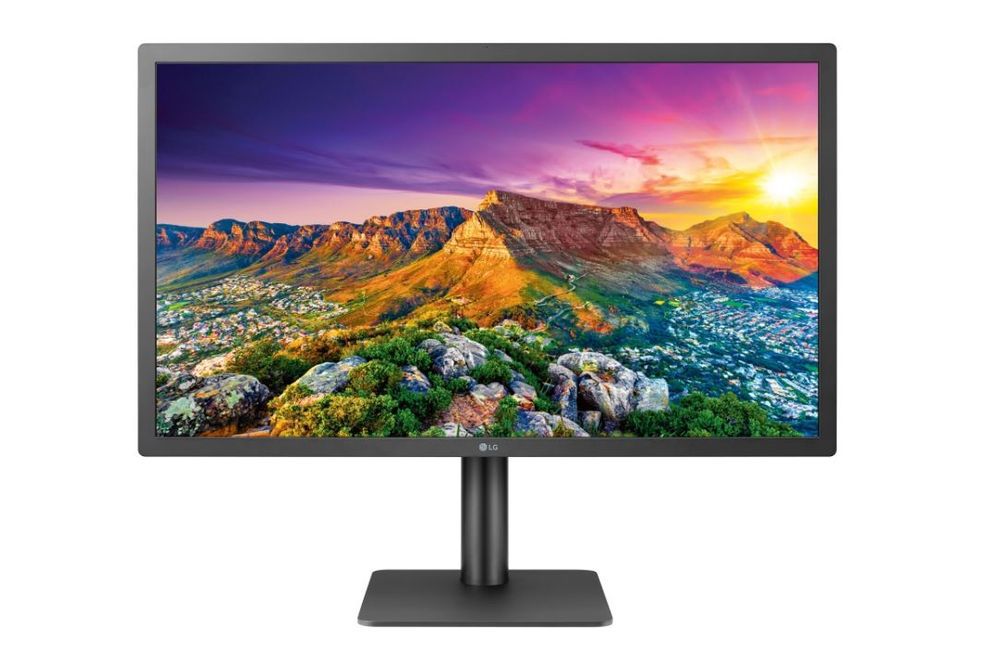 Next on our list of best work monitors is LG 24 Inch UltraFine 4K. If you want a stunning and high-quality UHD display with over 8 million pixels, check out this one. It supports an LG UltraFine™ 4K Display, resulting in life-like images and razor-sharp text.
Price: You can buy LG 24 Inch UltraFine 4K for $699.99 on LG's website.
9. BenQ PD3200U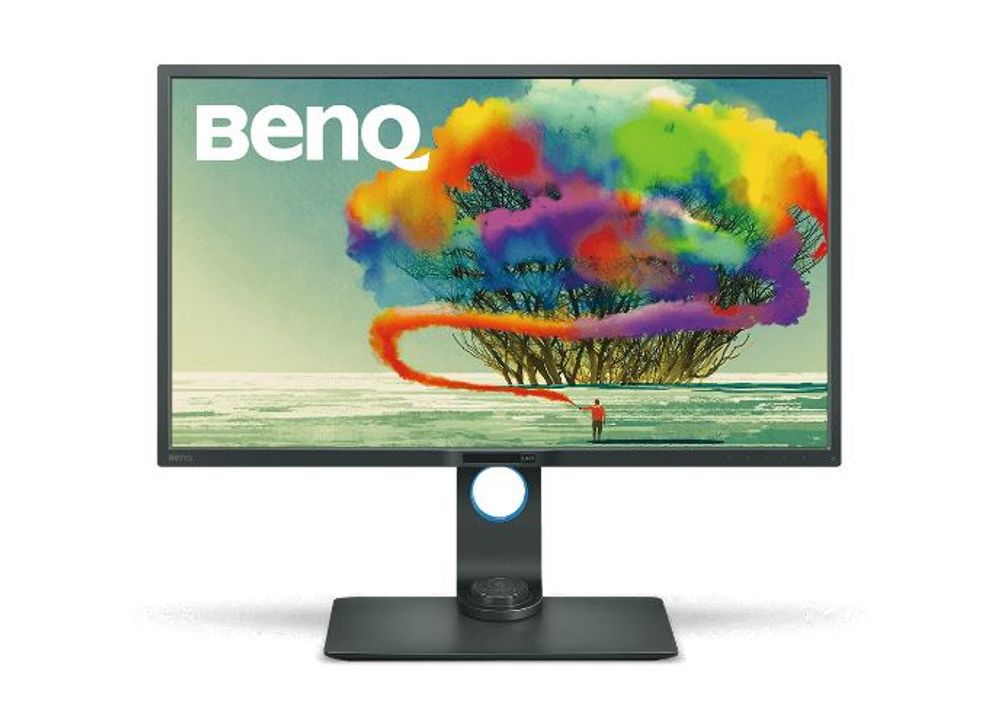 BenQ PD3200U has a 32-inch, 4K UHD LED monitor. It delivers absolute color precision as well as an ultra-detailed high resolution. As a result, it's not only in the running for the best monitor for reading documents but also for image-related tasks such as editing photos or videos.
Price: You can buy BenQ PD3200U on BenQ's website for $ 699.99.
10. HP Pavilion 32 QHD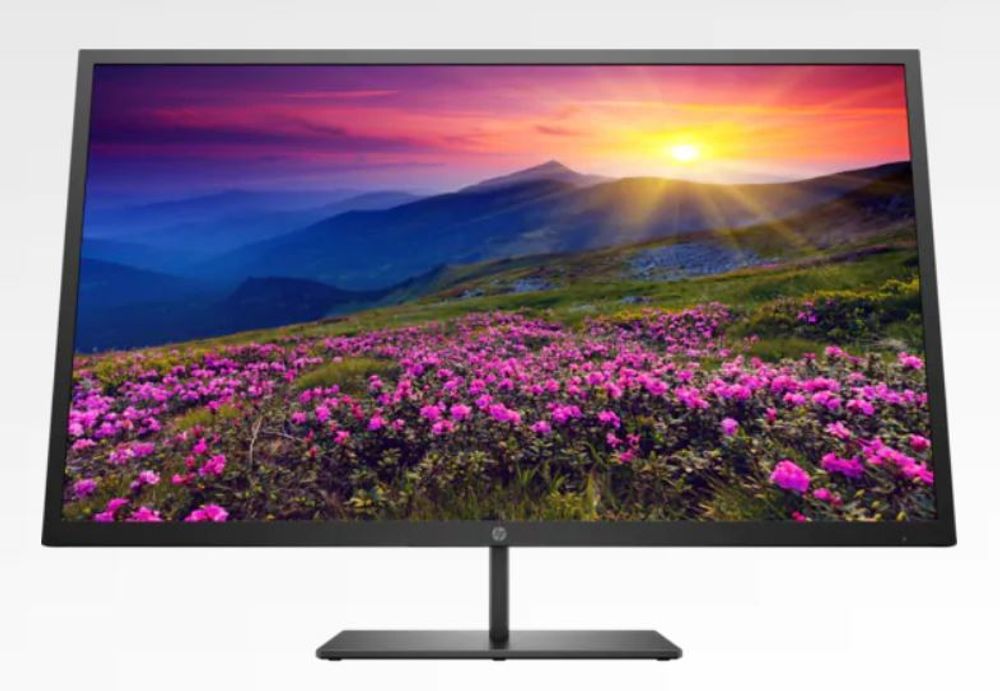 Last but not least on our list of best work monitors is HP Pavilion 32 QHD. This monitor features quad high definition (QHD) content. As a result, you can expect the images to appear bold, big, and immersive. In addition to that, this device makes it easy to connect your devices. With a dual HDMI and DisplayPort™, you can plug in your gadgets without using additional adapters.
Price: HP Pavilion 32 QHD retails for $339 on HP's website.
Penji Review: Unlimited Graphic Design Details, Pricing, and Features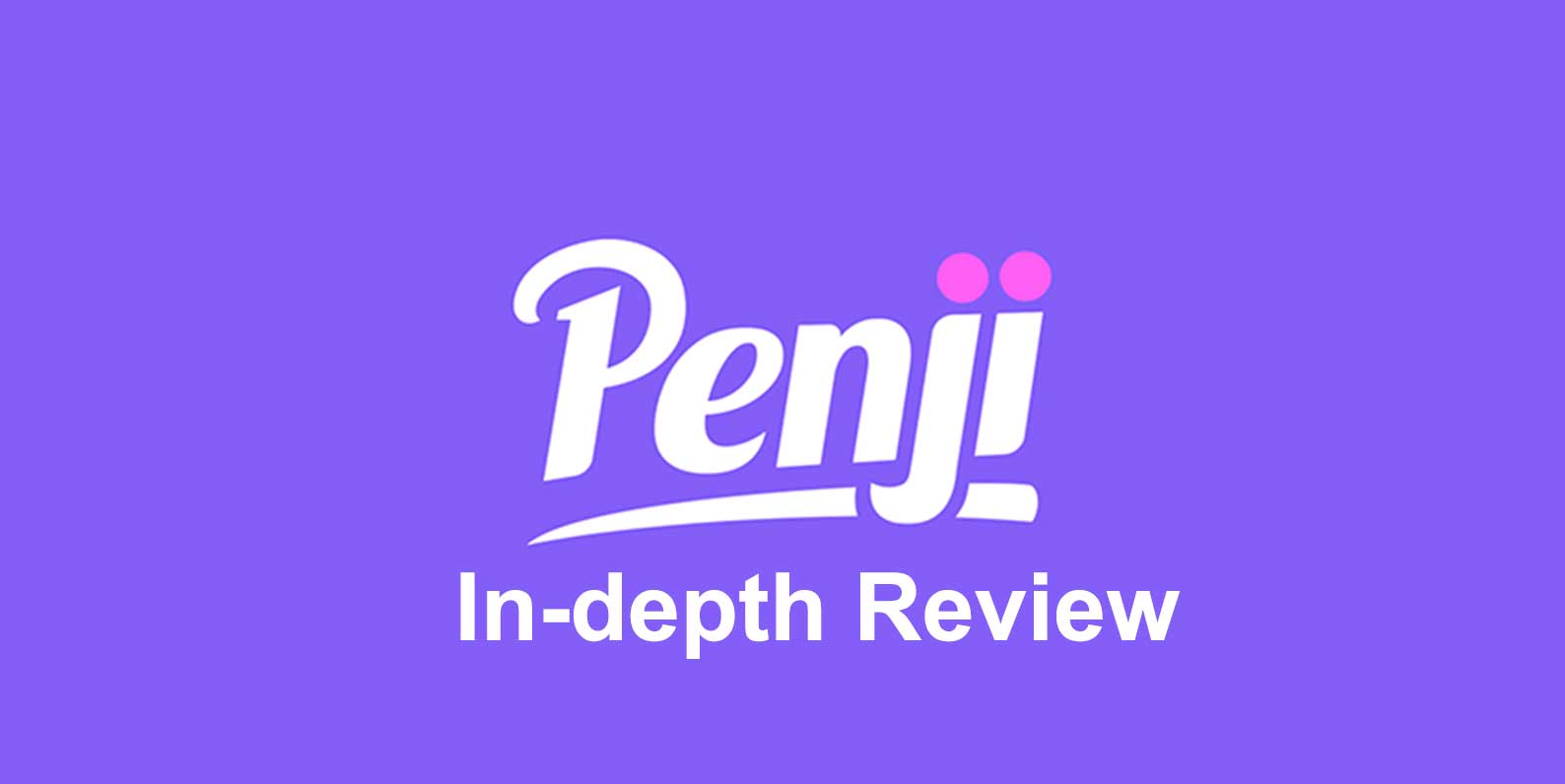 Move over Fiverr. Unlimited graphic design services are the newest alternative to hiring a graphic designer. But, these services bring up many questions. For example: How unlimited is unlimited graphic design?
We tried out one of the top services: Penji.
Like many of their counterparts, Penji offers graphic design work on a monthly subscription. We put their promise of fast turnaround, high-quality, and affordability to the test.
You can submit as many design projects as you want via their online portal, and they'll complete your requests one at a time until your queue is complete. This type of service promises to be a great added resource for teams to improve productivity.
Does it sound too good to be true? We thought so too. So, we signed up to see for ourselves.
This article was updated on August 24th, 2022.
Quick Summary
As with any service, there are pros and cons. To help with your graphic design hiring decision, we decided to condense what we found in a bulleted list below. Here's a quick summary of our review of Penji's unlimited graphic design service.
(Still wondering what "unlimited graphic design" is? We explain what it is here.)
Pros
Easy and quick to create design projects
Storage for all my requested designs
VERY fast turnaround on most projects. I expected just 1 draft in 24 hours but instead received 3 drafts. Revisions were sometimes completed the same day I submitted them.
Helpful features such as a revision tool, ability to invite team members, brand profile, and more
Upbeat and direct communication from everyone I interact with
A dedicated and responsive account manager who replies within a few hours
Cons
Can't call or talk to designers
Best if you have design projects ready to submit
Not available as an app
Overall Experience
Penji's "unlimited" design model is a great choice if you have the right expectations going in. The service is affordable for growing businesses and their output is reliable. However, if you're expecting to be on-call or face-to-face with your designer, this type of service is not for you.
Compared to designing yourself, hiring freelancers, or using Fiverr, Penji is a much better service and value by a long shot. Their team of designers lived up to the promise and exceeded my expectations.
Thinking of trying Penji out for yourself? Here's a special Penji promo code for Owner's Mag readers:

Use the Penji promo code "OMPNJ25" to get 25% off your 1st month.
---
PENJI FULL REVIEW

We created this Penji review by signing up, requesting a design, and examining the results. Here's how it went.
Final Verdict
We get it. You want to know how it went without reading all the mumbo jumbo.
All four projects were completed within two weeks and I was impressed with how they all turned out. If I had paid hourly or per project, these would've easily cost me well above $1200+ to get done, and probably taken weeks.
With Penji, it took just a few days and I paid a fraction of what I would've paid elsewhere. Definitely impressed with both the turnaround, quality, communication, and value this startup has to offer.
But Penji isn't without its flaws. The service definitely isn't for everybody.
Who would benefit:
business owners
marketers
agencies
print on demand sellers
creatives with consistent design needs
If you don't have a consistent need, the bill will start racking up after a couple of months and you won't see the value in the subscription.
However, if you do happen to fit their target demographic, then there's no better alternative out there. The speed and quality of their work easily rival other services I'd ever used. For $399 per month, this is an absolute steal.
What I Did Step by Step
Now, if you want to get into the meat of how it went, keep on reading for every detail of how I got from the sign-up screen to the final project.
Signing Up For Penji
Signing up for Penji was a relatively quick and painless process. All of my questions were answered in less than 5 minutes by customer support via Intercom and another 2 minutes to complete the checkout process.
Communication with Penji's Support Team
How fast and reliable a company's support team is before you are an active customer is a reflection of what's to come. If they're unresponsive now, it will only get worse once I'm a customer. I reached out to Penji's customer support team via their Intercom chat popup and got a response within 30 seconds, which is pretty good. I asked basic questions and the agent seemed knowledgeable.
Communication as a Customer
All communication is done online through Penji's proprietary online portal. That includes revisions, feedback, and answering any questions my designers may have.
Communication with Your Designers
Penji assigned me 1 designer, Billie, and communication with her was easy. If you have used any messaging platforms like Slack, Facebook Messenger, or Discord, you'd be familiar with this form of communication.
Billie was responsive, attentive, and always seemed to have a positive attitude no matter how demanding my requests were. She had many questions about the projects, which I tried my best to answer as a customer. Though the back and forth took longer than I wanted, I realized she was just being thorough to get the design done right, which I appreciate.
Communication with Your Account Managers
They assigned me an Account Manager, Charmaine, who was very quick whenever I needed something. It usually takes just a few hours for me to get a reply via email from her. When I had an issue with one of the projects, she quickly stepped in and helped resolve the situation.
1. Choose the Right Package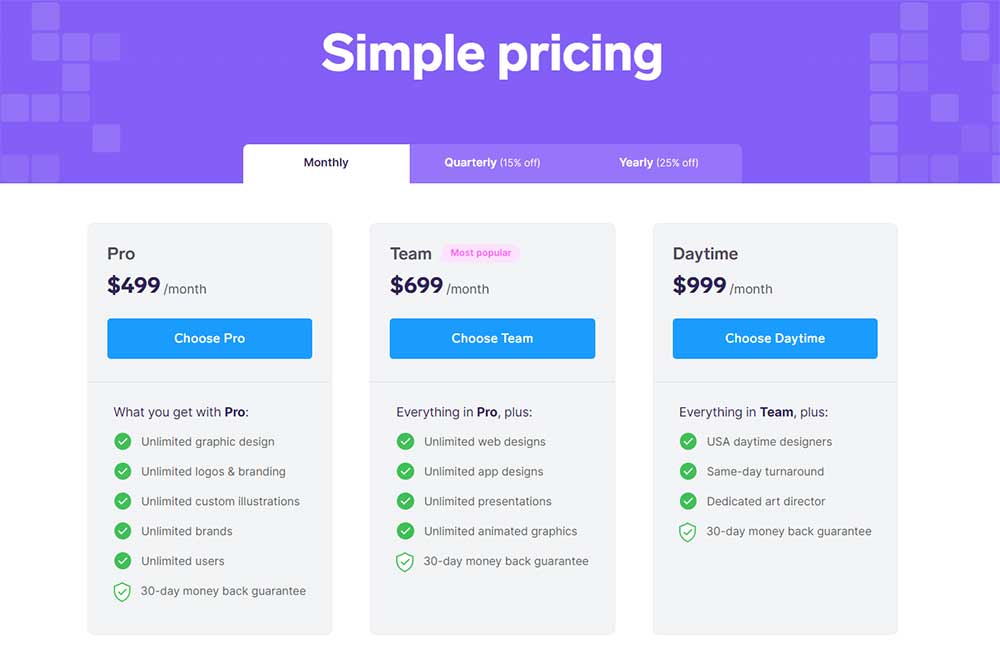 All the packages are laid out with monthly, quarterly, and yearly pricing. Starting at $499 per month for the Pro plan, you'll be able to make unlimited graphic design requests with a 24-48 hour turnaround. As your design needs grow, you'll have the Team and Daytime packages to choose from.
2. Checkout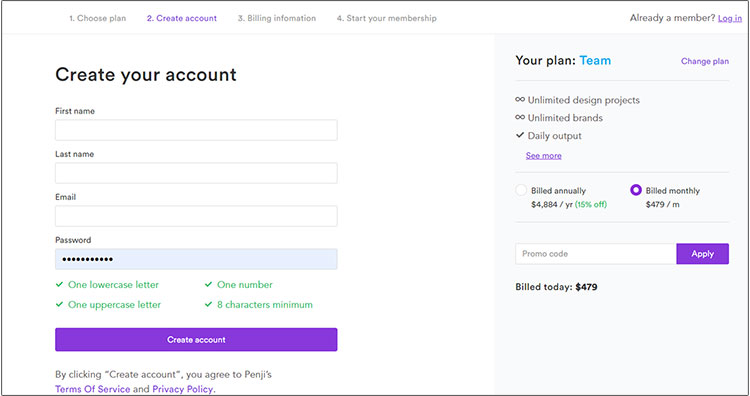 The form is straightforward and easy to fill out. Checking out was a breeze and took about 2 minutes.
---
3. Submit a Design Project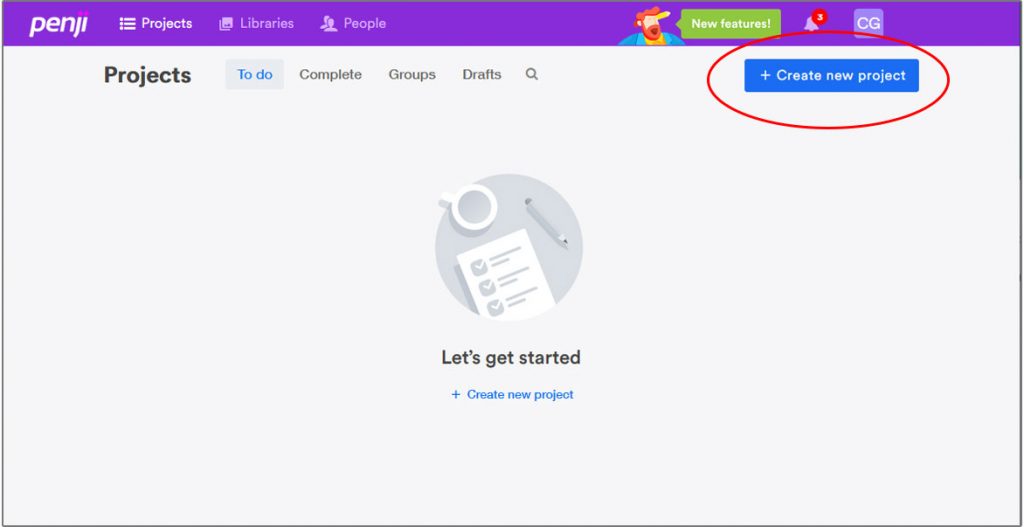 Clicking on the "+ Create new project" button, I'm presented with a visual chart of all the design categories they offer. They offer an extensive selection of options and even the ability to request a custom project.
4. Fill Out the Request Form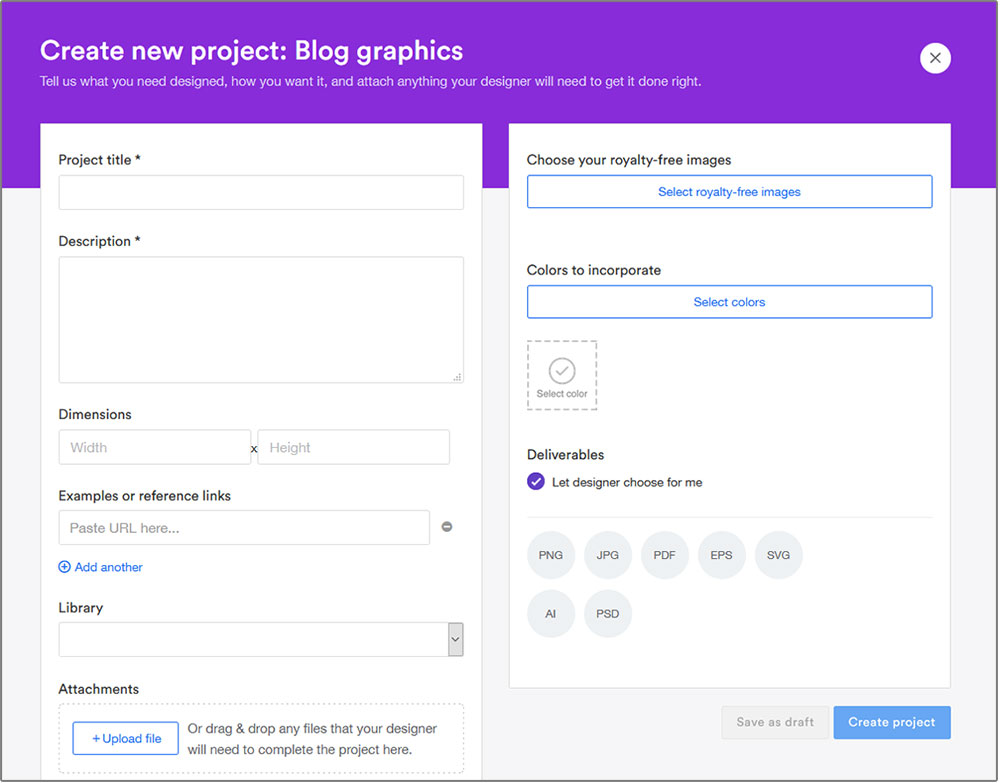 Next, I filled out a short form detailing what I wanted them to design. For those of you who hate long forms, this one from Penji is easy to follow and doesn't ask too many questions. Most of the questions are actually optional so you can be as descriptive or non-descriptive as you like.
My test projects
As a digital publisher, we produce content on a daily basis and always have a need for on-brand graphic design. I created several projects to test how well-rounded Penji is and how they handle both simple and complex requests. A simple banner should be difficult, but can they handle a complex infographic with lots of texts and imagery?
Here are my test projects:
Blog Graphic: Best DSLR Camera Equipment For Beginners
Custom Illustration: Best Vacuum Cleaner Money Can Buy
Facebook Post: Isometric Tech Gadget Graphic
Magazine Print Cover (Owner's Magazine's 2020 May Edition
Despite creating four projects, the entire process was quick and smooth. It only took a few minutes to create them and their internal platform was lightning fast. At this pace, I can see myself submitting multiple projects on their platform with ease.
---
Turnaround Time
I expected at least one draft the next day. What I didn't expect were three drafts ready for review. To give you a comparison, most freelancers and design firms we've hired take several days to submit just one draft.
The designs were surprisingly good considering that it's the first draft AND they had a 24-hour turnaround. After reviewing, I realized how they did it. Every project had a different designer. I wasn't assigned just one designer. It was like having my very own virtual design team.
4. Requesting Revisions
Though the designs were good, I still needed a few revisions. The drafts were turned around usually the same day or by the next day. Their support agent actually told me it will take 24 hours to turn around revisions. The revisions that took 24 hours were typically much more involved.
Overall, revisions were quick. Most came back within a few hours after I submitted them.
My one gripe would be that I prefer to have some sort of real-time chat with my designer or at least have a Zoom call. That's one thing I like about working with my freelancers. Whenever they were online, we could just have a back and forth conversation to get the revisions across. I can't do that with Penji.
Built-in Revision Tool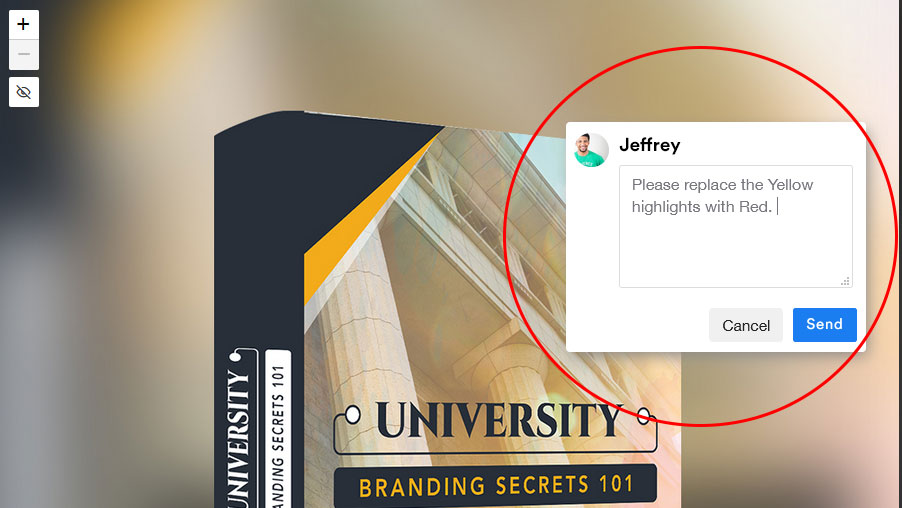 Penji has a built-in revision tool that lets me click anywhere on the design to leave a revision. I found this incredibly useful as it enables me to pin-point what I want to change.
---
The Results
It took about 1 week to go back and forth with revisions and edits for all 4 design projects. At the end of the week, I received the final drafts for all three. Here are the results of the three test projects.
1. Blog Graphic: Best DSLR Camera Equipment For Beginners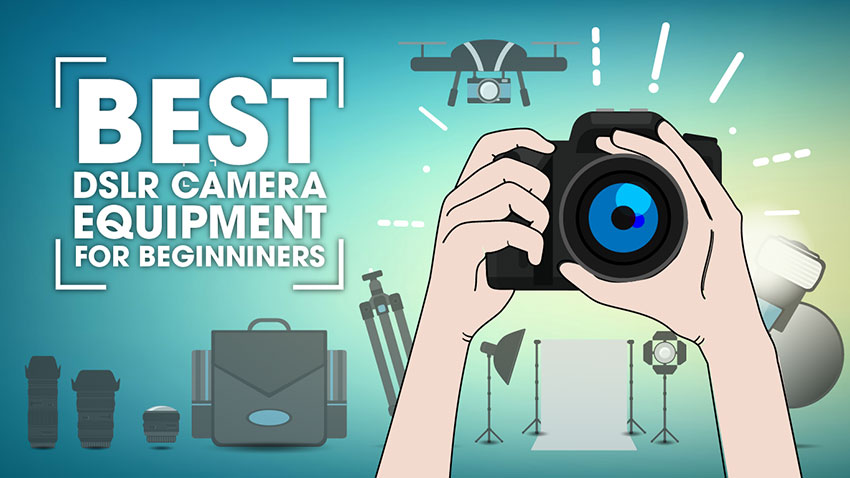 This far exceeded my expectations and will more than do for the blog I'm writing about DSLR camera equipment. I think most designers would probably just stop with 1-2 icons and graphics for this design. My designer decided to add the tripod, three lenses, drone, backpack, and a whole entire stage lighting kit.
I didn't ask for those, but I'm impressed with the quality of the design. No revisions needed. I approved this project on the first try.
2. Custom Illustration: Best Vacuum Cleaner Money Can Buy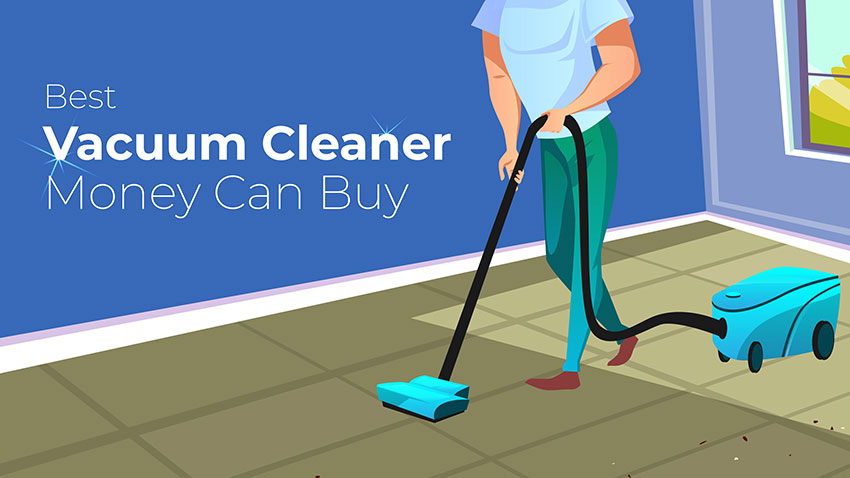 For this project, I asked my designer Kei to do a custom illustration of a man vacuuming his floor. He actually drew it up and sent me a rough sketch first before he started coloring it in. That was an extra layer of care and attention to detail I wasn't expecting. Needless to say, I approved of his drawing and he delivered this draft the next day.
Revision
Everything in this graphic was hand-drawn and then colored digitally. Like the first project, I couldn't think of any revisions except asking him to put the texts "Best Vacuum Cleaner Money Can Buy" on the graphic.
He went the extra mile and designed the text to fit the graphics. See for yourself above. It's details like these that I would have had to harass my freelancer and he would try to nickel and dime me for every revision. Great work Kei!
3. Facebook Post: Isometric Tech Gadget Graphic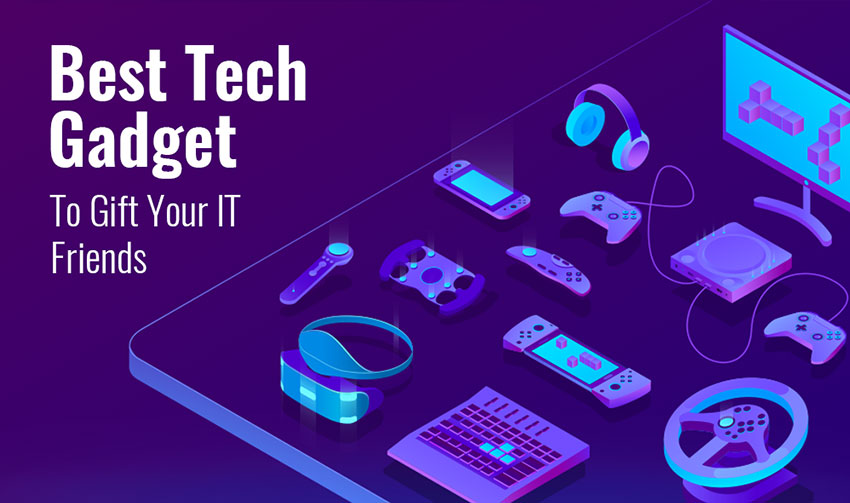 My designer Jave's first draft amazed me because of how much detail he put into this project. I had asked for an isometric graphic with various tech products laid out on an isometric glass plane. I honestly thought my description may have been a bit too vague, but he understood my vision even better than I did.
4. Magazine Print Cover (Owner's Magazine's 2020 May Edition)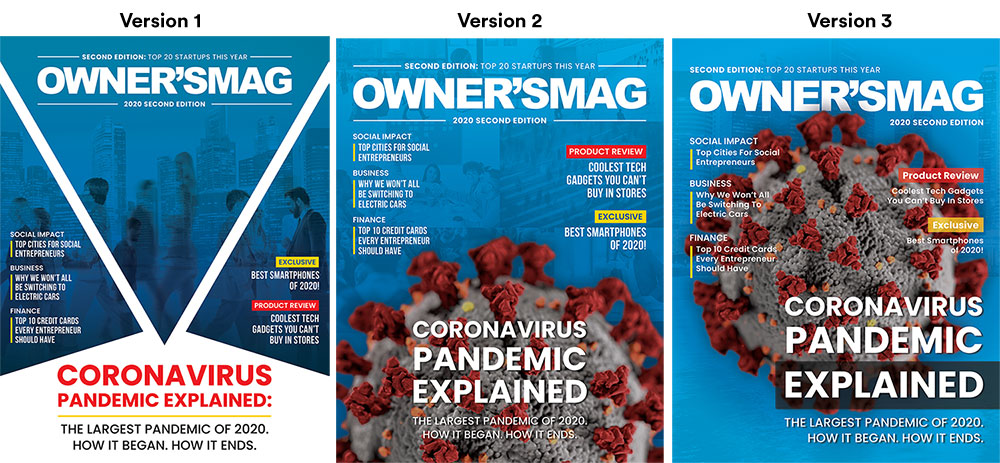 My designer Billie gave me 3 versions of the magazine cover. I don't like version 1 at all. It looks too templated. I personally like version 2 and 3 and left revision notes accordingly. The coronavirus image was entirely her idea and I love it.
Revision
This project took a bit longer than the others because my designer Billie had questions and we had a lot of back and forth. I didn't mind at all since she was asking good questions that I should've included in my design request. Overall, I appreciated the extra time she took to understand me and the project better.
About three days later, I received another draft which blew everything before it out of the water.
---
Reviews From Other Sources
Because you may not take our word for it, here are some of the most recent Penji reviews from other sources:
Jan Kartusek
Jorge Vila
IM Nights
Disclaimer: we receive an affiliate commission when the Penji promo code is used, however, the review is based on our experience.
Omnisend Review: A New Frontier in Ecommerce Marketing?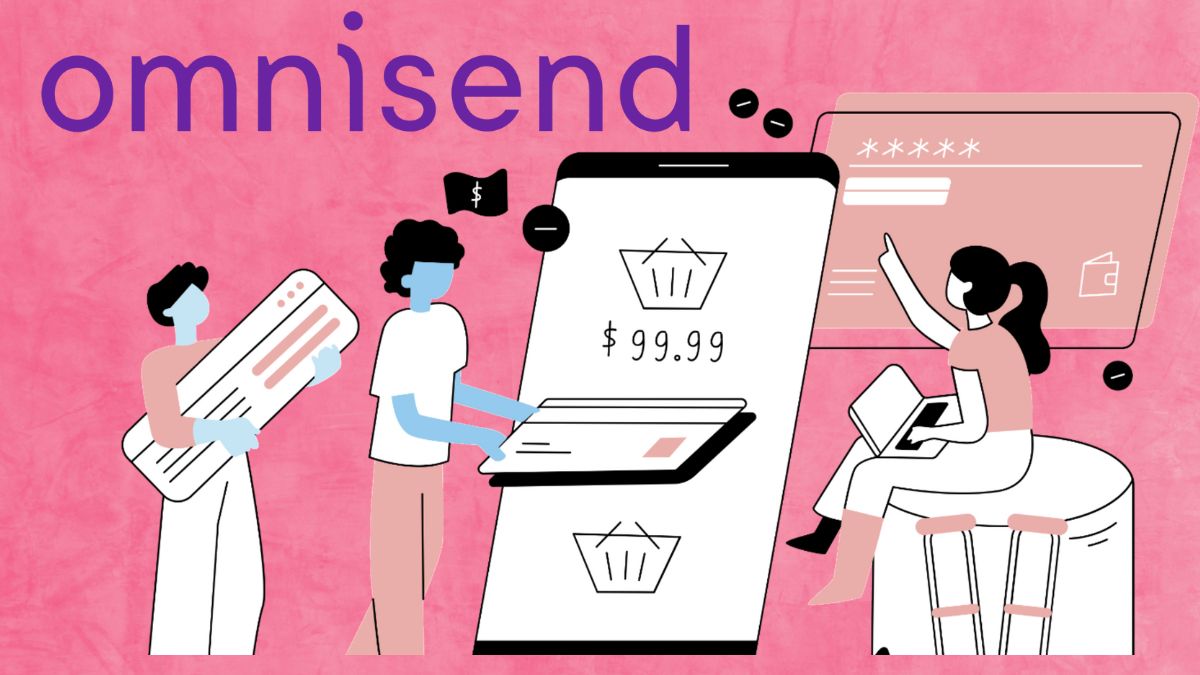 Interested in giving Omnisend a try? Help us out by signing up with this link.
Anyone in the ecommerce industry knows how hard it is to engage customers.
How do you turn one-time shoppers into a reliable relationship? There's a tricky balance between reaching a broad audience and creating a personal connection.
Omnisend is a marketing automation tool that specializes in ecommerce. With thousands of platform integrations, can they make the difference for your business? Here's a review of what they offer.
A brief history of Omnisend
Before Omnisend, there was Soundest. The email marketing platform was founded in 2014 by Rytis Lauris and Justas Kruikas. What started in Lithuania quickly expanded into the UK, and later around the world. They grew beyond email to become an omnichannel automation tool and worked with over 70,000 ecommerce brands.
What they offer
While email remains front and center for Omnisend, their marketing tools go much further. The all-in-one marketing platform provides:
SMS tools
Email templates
Drag-and-drop content and automation editors
Customer engagement and behavior data
Pop-ups
Landing pages
Campaign and automation data
Facebook and Google ad retargeting
And more.
Omnisend pricing
Anyone can reach up to 250 contacts at no cost with Omnisend's Free tier. Beyond that, pricing is based on how many contacts you plan to reach.
The Free tier is always free, but you can only reach 250 contacts, send 500 emails per month, and send 60 SMS messages.
The Standard tier starts at $16/mo for up to 500 contacts. It includes unlimited web push notifications and up to 6,000 emails per month.
The Pro tier starts at $59/mo for up to 500 contacts. It includes unlimited emails, unlimited web push, and free SMS credits equal to the cost of your monthly plan, starting at 3,933 per month.
For further details, check out their pricing page.
Getting started with Omnisend
You can sign up for Omnisend with your email address or directly through your Shopify account. Once you verify your accounts, you're asked to input your name, your business' name, your timezone, and your physical address. (A bit much, if you ask me.)
From there, you're taken straight to your dashboard, where you can explore the site and get started on your first campaign.
Marketing with Omnisend
The Omnisend web app includes six tabs:
Dashboard
Campaigns
Automation
Forms
Audience
Reports
Here's a breakdown of what you can do with these functions.
Dashboard
When you first sign up for Omnisend, your dashboard includes a welcome message and tips for getting started. Once you have campaigns running, your dashboard will contain stats on your overall performance and a live view of your store's sales.
To do any of that, you'll have to connect to your store. Omnisend integrates with ecommerce platforms including:
Shopify
BigCommerce
Magneto
PrestaShop
WooCommerce
Opencart
Zencart
Drupal Commerce
Übercart
OXID Esales
Wix
You can also integrate with any custom ecommerce platform using their API. The setup process takes only a few minutes.
Campaigns
Once you've connected your site, you're ready to set up your first email campaign. At the top of the campaign settings field, you'll see a safe sending volume. This volume indicates the ideal number of emails to send to optimize your reputation from ISPs and ensure the most engagement. For the standard plan, it starts at 20,000.
From there, you start by setting up how it'll look in people's inboxes. You can edit the sender name, subject line, add emojis and even personalization elements. These elements, such as name, date, and city, will appear differently for each recipient and can help drive engagement.
Next, you pick a template for the campaign. Omnisend has a small sampling of stylish templates to help you announce a product, offer a discount, or just send out a weekly newsletter. There are only 12 templates to choose from, but they get the job done.
From this window, you can also go straight to your brand settings through the "Manage your brand" button. Over there, you can input a logo, assets, and color schemes to be included in your campaigns.
Campaign editor
Once you've picked a template, you're brought to an editor to make it your own. It's more rigid than designing it yourself, but it has all the tools you need to make a captivating email. I especially like how easy it is to add layout elements and personalization tags. You can also send a test email before it goes live.
Automation
On top of building emails, you can also build automations to ensure you reach out to new and returning customers at just the right moment.
For instance, one template is the three-email "Abandoned Cart" workflow. This triggers when a customer adds items to their cart and doesn't check out. It sends an email 1 hour later, another one 11 hours later, and a final offer after 12 hours.
You can customize these workflows and add more using app integrations. Omnisend has a whole marketplace of apps to integrate with. This includes tools for advertising, automation, loyalty, logistics, customer support, email capture, and more.
Forms
The forms tab lets you create pop-ups, which are an effective way to turn visitors into email subscribers. This tool has a wider range of templates than the campaign editor, but it gives you less freedom to move things around.
Templates include a standard sign-up box as well as discounts, free shipping, and Black Friday deals. There are also different layouts related to image placement (and of course, you can change details in the editor).
Once you've completed the signup form, you're asked to set up its workflow. Ensure that customers get the right email, discount, or whatever else you intend to send them when they sign up.
Audience and reports
The audience tab lets you keep track of your customers, while the reports tab keeps up with campaigns. Using these two tools, you can easily gain insight into how your campaigns are doing and what you can do to improve them.
Omnisend's advanced reporting tools are one of its best features. They display everything from customer life cycles to sales data, with even more data for Pro subscribers.
To get even further insights, you can divide your customers into segments. These can be custom-made or taken from pre-built templates like "frequent store visitors" or "at risk of churn."
Is Omnisend right for your ecommerce business?
All in all, I was pretty impressed with what Omnisend had to offer. Their campaigns, automations, and data are perfectly geared for ecommerce and surprisingly thorough.
There are a few things I would fix. The email templates are lackluster, and marketing tools that go beyond email are fairly limited. Still, it's a robust tool for creating and keeping track of email campaigns.
If you're looking to build and maintain your audience as an ecommerce business, Omnisend is the tool for you. Get started today with this link.
Final rating: 9.1/10 ?
How Coupler.io Puts All Your Data in One Place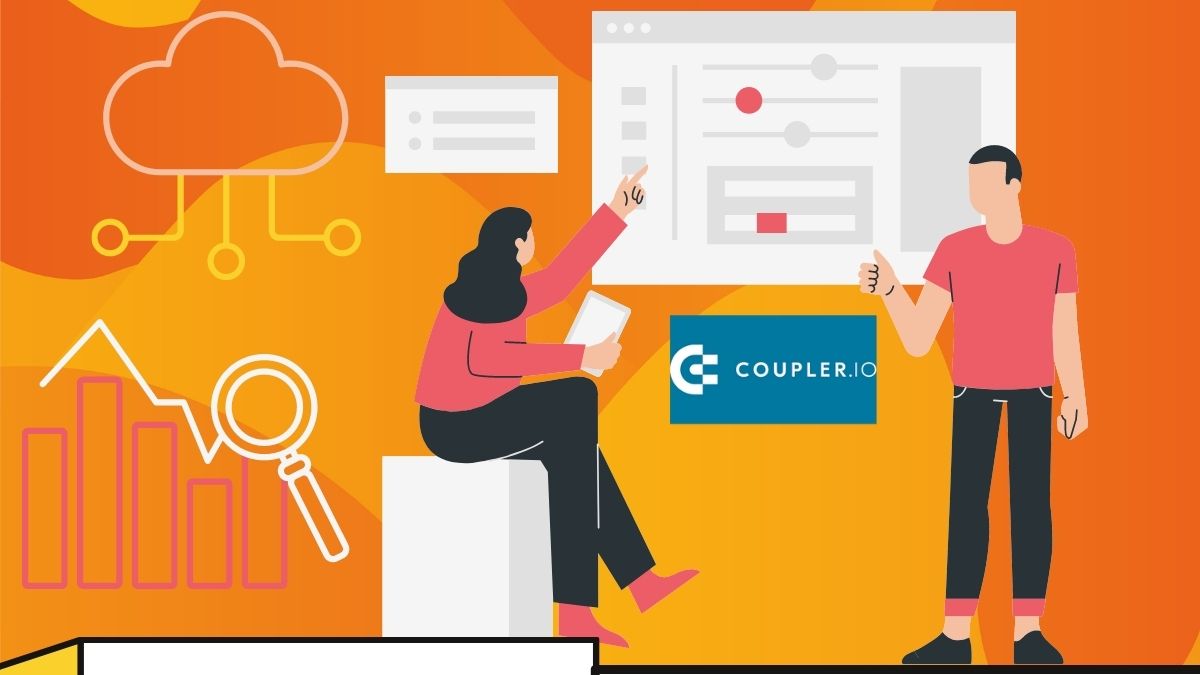 Want to sign up for Coupler? Help OM by registering through this link.
Data makes the world go 'round.
The more you grow your business, the more you'll find yourself swarmed by information. Different locations, departments, and services all send everything back to you, and you're expected to turn that data into results.
Luckily, businesses can count on automation tools to help keep things running smoothly. Coupler.io promises to help you compile and automate your data so you can focus on the future.
Can Coupler.io turbo-charge your business? Here's a rundown on what it can do and how to get started.
What does Coupler.io do?
In the simplest terms, Coupler.io takes all your data and puts it into one easy-to-manage place. That data can come from WordPress, Slack, Trello, Shopify, Hubspot, and dozens of other SaaS sources. Coupler.io lets you combine the data from those sources and visualize them with Google Sheets, Excel, and BI tools like BigQuery. 
It's basically a midpoint between data and intelligence. You supply the data and Coupler makes it digestible, letting your team analyze it and turn it into results.
How to get started with Coupler.io
Coupler.io is a fully web-based SaaS product, so all you need to use it is a browser and an email for signup.
Pricing
New users can check out Coupler's tools absolutely free. The free tier lasts forever and lets you make up to 100 transfers of up to 1000 rows of data each month. It's a great option for people with small-scale data needs; solopreneurs can get the whole Coupler.io experience without paying a dime.
The more data you need to transfer, the higher the price of your plan:
Professional: $24/mo. Allows up to 2,500 runs (transfers) of up to 10,000 rows each. Like the free tier, it automatically refreshes data every hour.
Squad: $49/mo. Up to 5,000 runs of 50,000 rows each. Automatic data refresh every 30 minutes.
Business: $99/mo. Up to 25,000 rows 100,000+ rows each. Data refresh every 15 minutes.
You can also save money by subscribing to an annual plan. Check out their pricing page for more details.
Coupler.io dashboard
Once you've completed the breezy 1-step signup process, you're greeted with a stylish dashboard. Along the left-hand side are seven menus:
Importers
Connections
Account Usage
Users
Billing
Settings
Help Center
They recommend a five-step process for getting started. This includes adding your first importer, importing your first data, enabling automatic refresh, inviting teammates to join, and adding additional importers.
Let's take a look at the Coupler.io process.
Coupler.io features
Importers
Importers take data from your source and output it into spreadsheets and visualizations. You can import data from a wide range of sources, including Slack, Google Drive, Hubspot, Mailchimp, and much more. You can also connect to additional sources using JSON API.
For destinations, your options are more limited. You can compile your data in Google Sheets, Excel, or BigQuery.
The process of setting up an importer is surprisingly simple. Just sign into your source/destination accounts, select which data you want to import/export from, and you're golden.
In the same menu, you can set up a regular schedule for data refresh. You can select preferred days and times and how often you want to refresh. Refresh options include monthly, daily, and hourly for free users, with additional 30-minute and 15-minute options for paid subscribers.
Results
To test the software, I exported data from a Trello board into a Google Sheets spreadsheet. I was genuinely surprised by the speed of the transfer, but the trouble with an automatic transfer is that you don't have much control over what data goes out.
Broadly speaking, it's probably better that it's thorough, but the data compilation can be a bit jarring at first glance.
Still, if I was looking to synthesize the data from my Trello board, this tool boils everything down and leaves you room to fine-tune it.
Just note, when you're setting it up with Sheets or Excel, you'll have to create the destination document before you set up the importer.
Other features
Returning to the handy-dandy dashboard, you can keep track of your account usage (remember those run/row limits?), your connected accounts, and your team.
In the "Users" tab, let members of your team access your Coupler account by inputting their email addresses.
Is Coupler.io worth it?
Coupler.io serves a very specific purpose. It compiles data into spreadsheets. If that's a service your business needs, they've got it, with extra automation tools to sweeten the deal.
It's a relatively new product, and there are things I think it could improve on. I wish it were easier to customize exactly what data gets imported. I also think additional analysis and visualization tools could make it that much more impressive.
Still, I was genuinely impressed with the speed and automation of Coupler.io. It's a useful service done well, and you can try it out free of charge. What's not to like?
Final rating: 7.7/10 ?
Ready to get started with Coupler.io? Sign up here.