Top 10 Web Design Tools for Non-Designers in 2023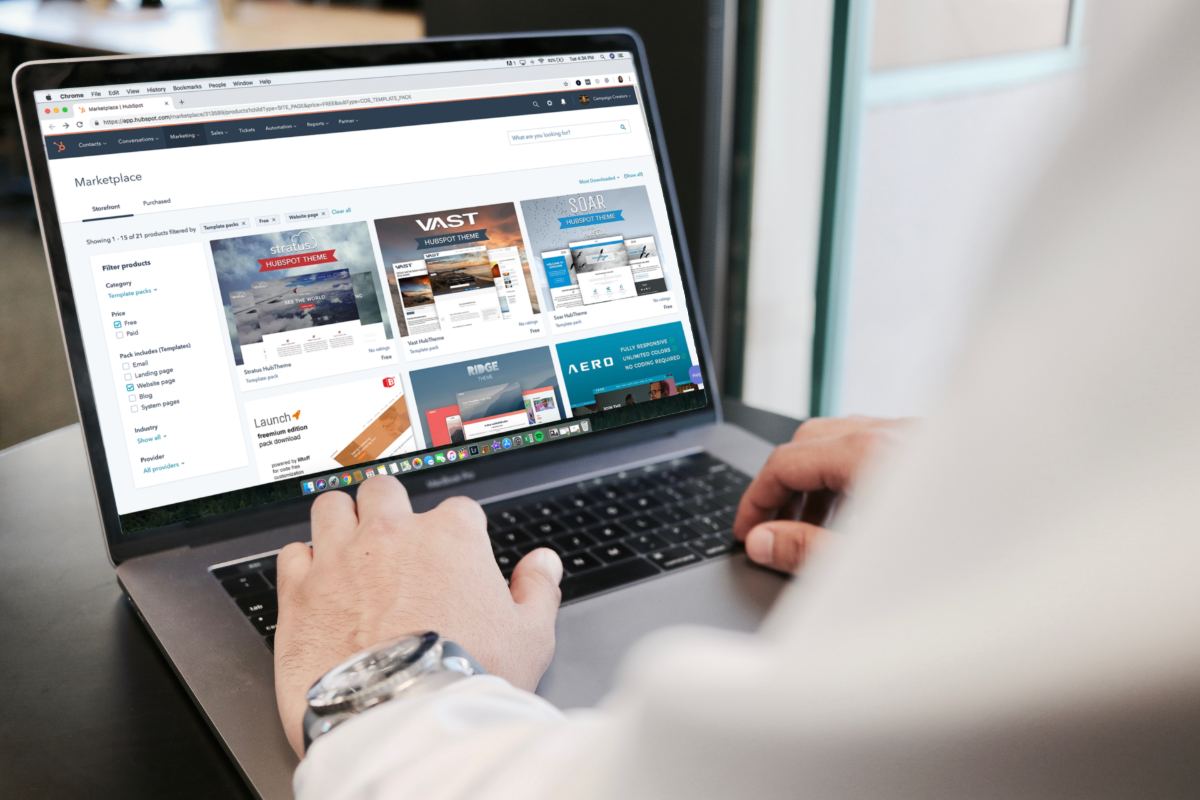 Designing a website is no longer complicated, thanks to tools that designers can use to provide their clients with a compelling website. But what if you can't afford to hire a web designer just yet and want to try your hand at designing a website? Don't fret. Here's a list of the top 10 web design tools that any non-designer or beginner can use!
1. UIZard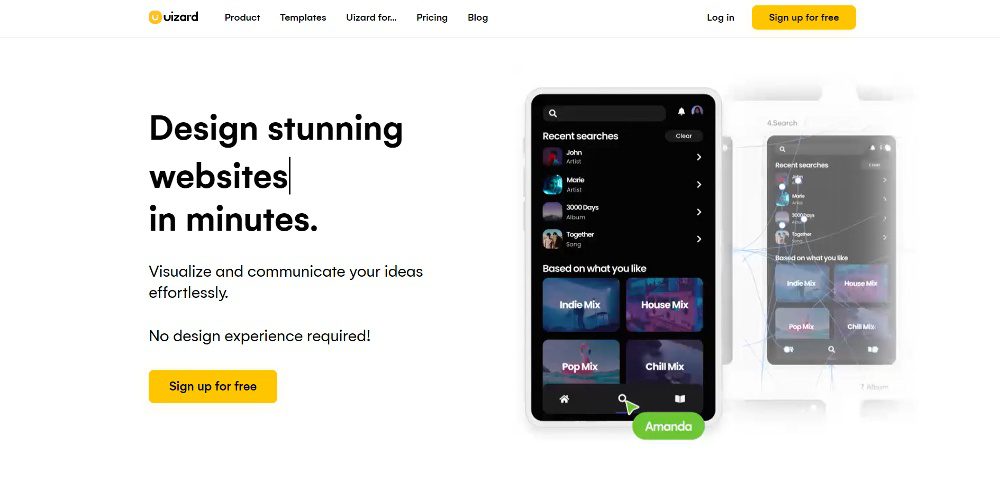 If you can't hire a web designer yet and need designs for your new website, UIZard is here to help you. You don't need experience in web designing to use UIZard. In fact, UIZard is one of the best web design tools for designers and non-designers. They have website templates you can use for just about any page. UIZard is also a plus for businesses that may need app design too.
Pricing:
Free
Pro – $12/mo
Business – $39/mo
2. Canva
Although they're a graphic design tool, you may need Canva for your website assets, such as the hero image for your landing page. Or you might need to post announcements on your website, you can use Canva for all your web graphics. 
But they also have a free one-page website builder. It's great for home pages or landing pages. It's like their graphic design tool, where you can drag-and-drop elements to make your website look compelling to visitors. And they ensure that your web page will be optimized on all devices, and you can collaborate with your team to work on it.
Pricing:
Free
Pro – $12.99/mo
Teams – $14.99/mo
3. PlaceIt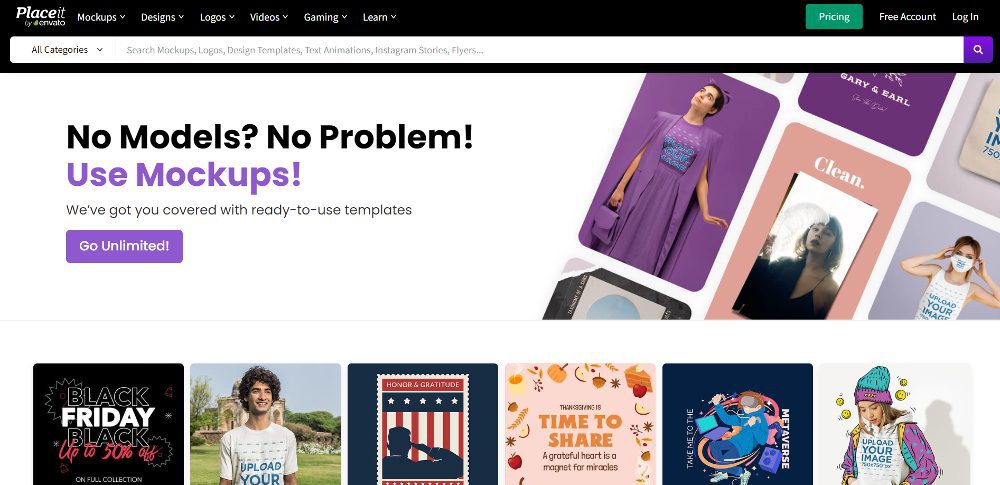 PlaceIt is one of the best web design tools for any eCommerce business owner because they provide mockups for products. You don't need to scour the internet to hire a model and show how a product would look when they wear it. Plus, you can also check how your designs or typography would appear on mugs, tumblers, frames, and tote bags. Then, you can post those mockups to your site!
Pricing: Unlimited subscription: $7.47/mo
4. Marvel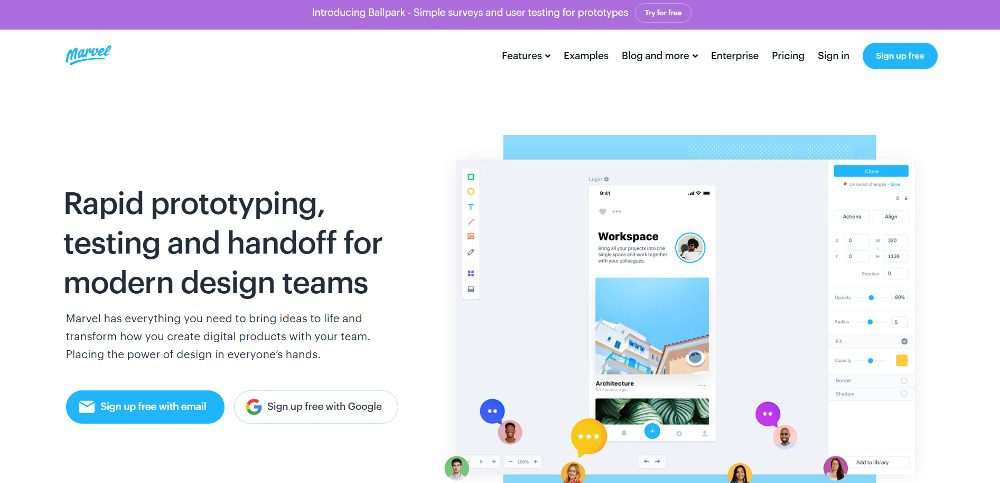 The Marvel app is one of the best web design tools to use since you don't need code to make your new website! They make it accessible and easy for non-designers to create websites and apps with their intuitive interface. 
Plus, you don't have to worry about going to stock image sites to find the best photos for each web page. You have access to millions of stock photos ready to use. In addition, you can also collaborate with other team members to communicate seamlessly, provide feedback, and make your website even more engaging to visit.
Pricing:
Free
Pro – $16/mo
Team – $48/mo
Enterprise – Request a quote
5. Elementor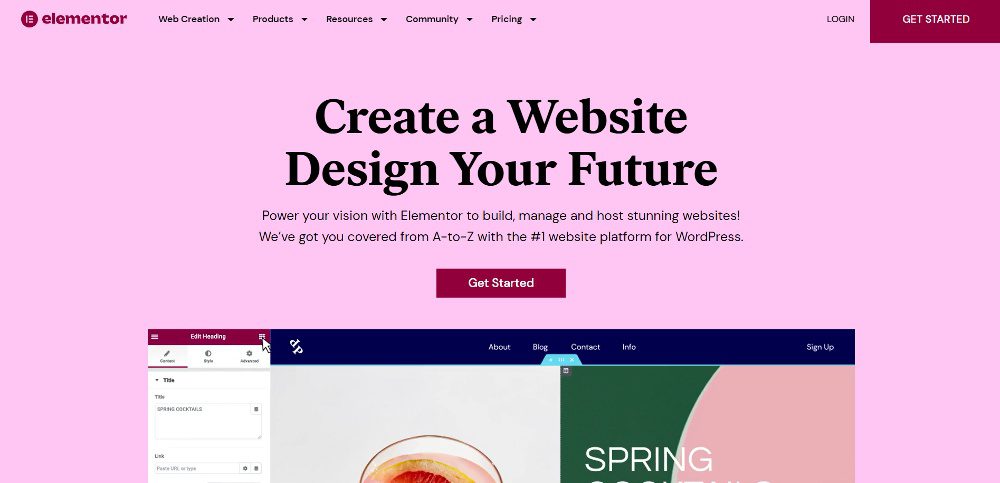 Elementor is a website builder helping users build the website of their dreams. You can drag and drop elements to your site without any difficulty and don't have to worry about losing any progress with your designs. Elementor has a built-in cloud storage to save your design. The website builder works great with WordPress and WooCommerce. 
Once you sign up for Elementor, you get access to their Hello theme, which you can customize to your brand. Plus, it's optimized and offers fast loading times.
Pricing:
Cloud Website Builder – $99/yr
6. BeFunky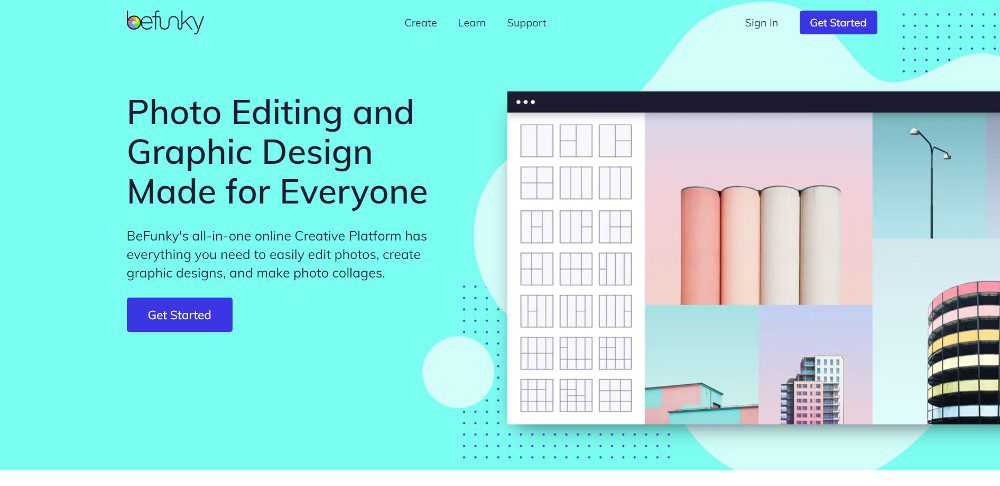 BeFunky is one design tool that will help you beautify and edit your assets. You don't need design experience with BeFunky. Here, you can crop and resize photos without losing the quality, edit photos, remove background photos, and access vectors and icons to add to your web pages. And if you're on the go, you can use BeFunky anywhere to edit your web photos.
Pricing:
Free
BeFunky Plus – $9.99/mo
7. Vectr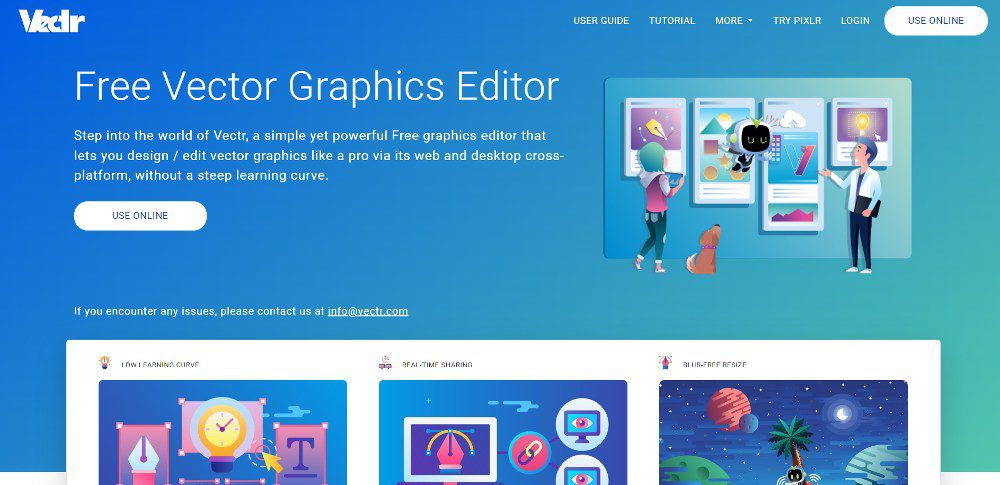 Many designers recommend using vector graphics because you can resize images without losing quality. You can use vector graphics for logos, marketing materials, and typography, which you might need to post on your website.
One beginner-friendly vector editor site is Vectr. Vectr will help you make graphics in no time because it has a low learning curve. Plus, Vectr is also AI-powered, helping you save time creating designs. In addition, they have a collaborative chat feature, allowing you to talk to your team in real time about any changes or modifications to the graphic.
Pricing: Free
8. SheCodes CSS Color Palette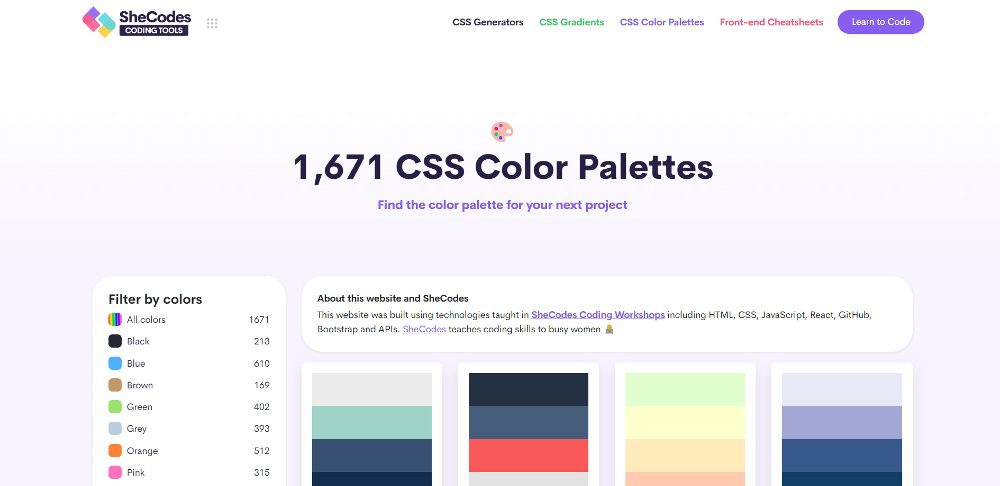 One web design tool that many beginners may need to use is a color palette or gradient tool. This can help non-designers figure out what colors go best together. But some web builders may complicate things for non-designers with CSS code. Don't fret, though! The SheCodes CSS Color Palette has different color palettes for you to choose from. 
You can filter the colors and choose the best palette for your site. Once you've selected a palette, you can copy the CSS code to your site, and you're all set with that new palette! It's that easy.
Pricing: Free
9. Blush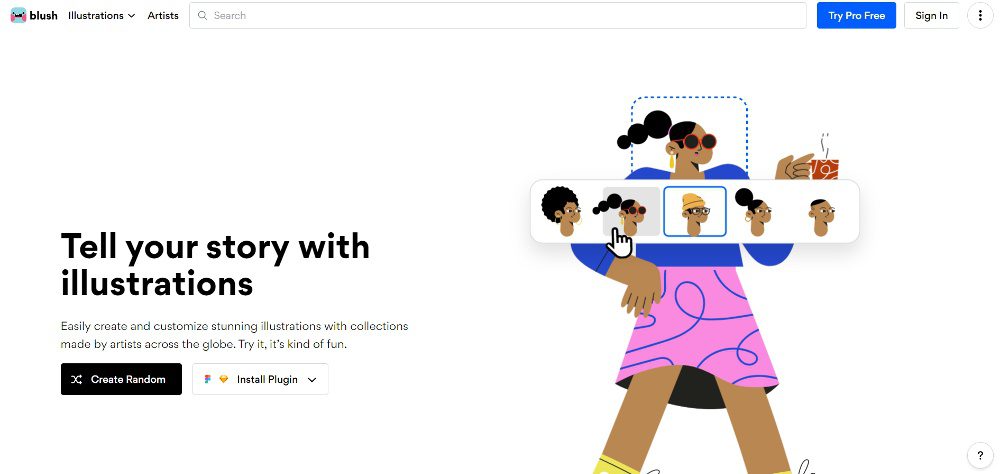 Illustrations are still a trend in web design. And if you need illustrations to post on your site and want to customize it to your brand, Blush is the best web design tool to use!
With Blush, you can choose the illustration that best suits your business. Then, you can modify the illustrations by trying out different elements. Once you have a design you love, you can download it as an SVG or PNG and post it to your website or app! If you want to try out Blush before making a commitment, you can randomize a design here.
Pricing:
10. Hubspot CMS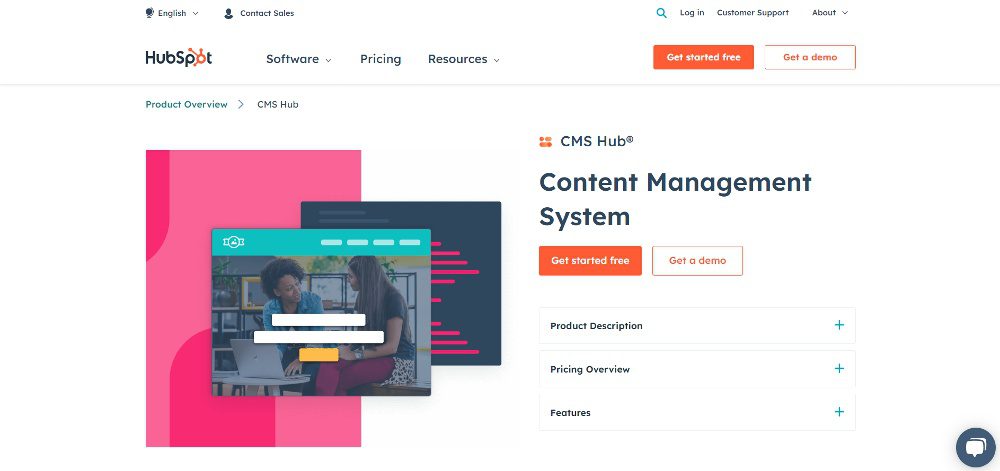 If you're using Hubspot for your marketing and sales needs, why not try their CMS tool? With Hubspot CMS, you can edit and design your websites. They have a drag-and-drop tool that doesn't need the help of a developer or web designer. But if designing will take too much of your time, Hubspot CMS has built-in templates to use, and you can have it customized with the help of a developer.
Pricing:
Free (tools are limited)
Starter – $23/mo
Professional – $400/mo
Enterprise – $1200/mo
Final Thoughts
Many web design tools are to aid web designers in creating the best websites for their clients. However, many DIY tools and resources have been popping up to help non-designers to create websites in a jiffy. Plus, these tools and resources won't leave too much of a dent in your wallet. And while these tools are beginner-friendly, you can always find help by looking for a web designer to make your website compelling to visitors.
The Best Robot Vacuum of 2023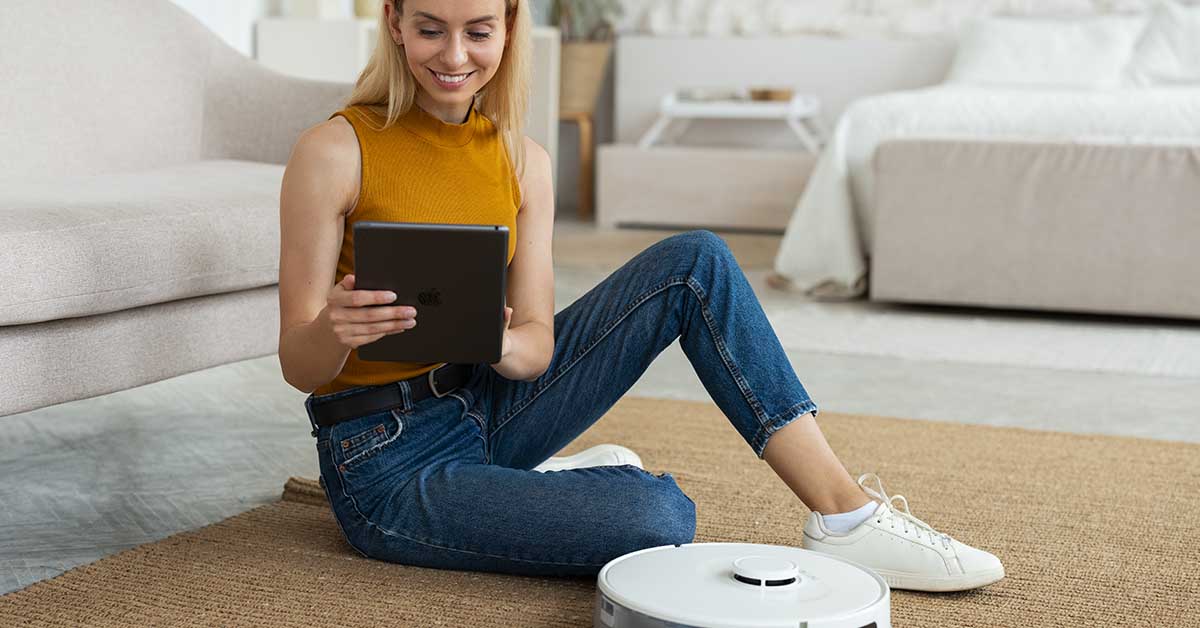 Are you looking to maintain spotless floors effortlessly? With robot vacuums becoming increasingly capable and budget-friendly, these top-tested models can ease your household maintenance task. However, finding the right robot vacuum is easier said than done. We've curated a list to help you choose the best robot vacuum of 2023.
1. Roborock S8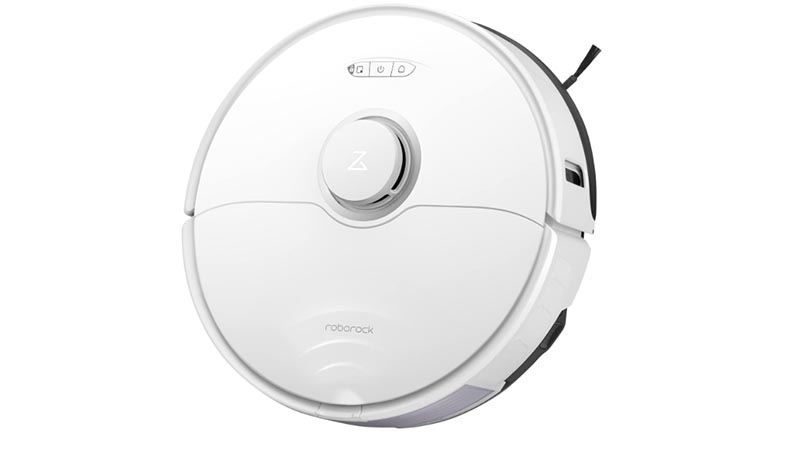 The Roborock S8 is our number one best robot vacuum of 2023. It is the top tier of Roborock's extensive collection of robot vacuums. This model is an upgraded version of the existing Roboroc S7 MaxV. Roborock has a dual-sensor mapping, hazard recognition system, and a more powerful suction motor. Likewise, its new cleaning head with twin rubber rollers is more resistant to hair wraps. The build quality is also excellent and easy to maintain, allowing a smart, effortless cleaning experience. 
Pros:
Excellent performance on bare floors
Relatively easy to maintain
A wide array of cleaning configuration options
Impressively effective mopping system
Cons:
Price: $999.99
2. Dreametech DreameBot D10 Plus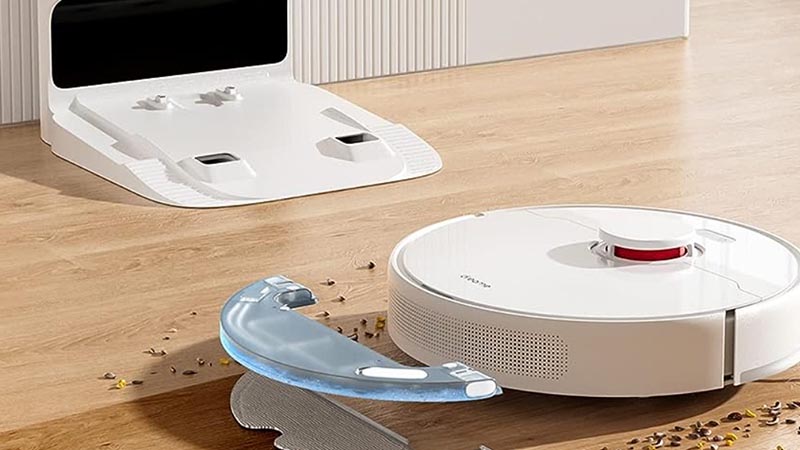 Here comes a mid-priced robot vacuum and mop with an auto-empty station. The Dreametech Dreame Bot D10 Plus two-in-one robot vacuum is an efficient workhorse of a robot vacuum that also has a mopping module for hard floors. It has an auto-empty station that will empty its onboard dustbin into a giant bag that can be emptied in 30 days.
For anyone wanting hands-free sweeping and mopping, the Dreame Bot D10 is a must-have. It will sweep your floor to the schedule you wish to daily or even multiple times per day. Just set the schedule and forget that it is there. If you have hard flooring, fill the 145ml water tank with clean water, which will mop your hard floors.
Pros:
Real-time smart tracking
Auto-empty
Voice notifications
Strong suction
Cons:
Large charging dock
App download required
Water-only mopping
Price: $399.99
3. Roborock S7 MaxV Ultra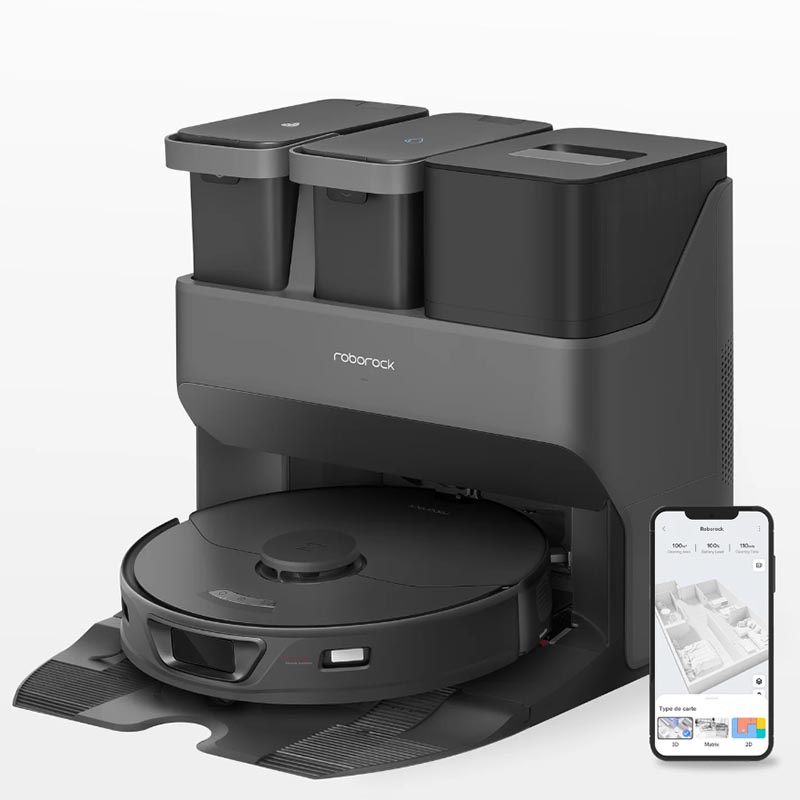 Our next featured item is one of today's most advanced robot vacuum cleaners. It can mop and vacuum floors simultaneously while requiring minimal human intervention. In addition, its built-in camera allows the robot to identify obstacles precisely. As one of the original models on the market with a self-cleaning dock, the Roborock S7 MaxV Ultra has two water tanks and can wash the robot's mop.
Pros:
Great cleaning performance
Efficient self-cleaning
Good navigation
Clever mop mechanism
Cons:
Bulky dock
Cable and small obstacle detection isn't great
Expensive
No consumables included in the box
Price: $1,086
4. Bob Sweep PetHair SLAM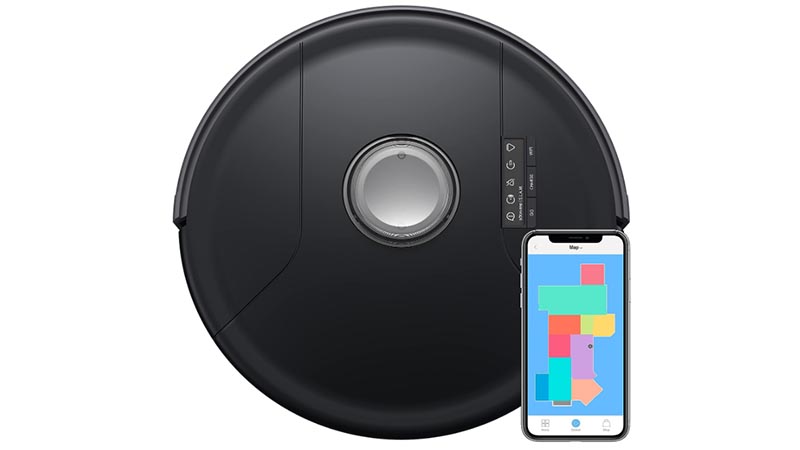 The Bob Sweep Pet Hair Slam robot vacuum is designed to tackle the challenge of pet hair and general debris on your floors. SLAM stands for Simultaneous Localization and Mapping. With laser vision and state-of-the-art mapping and localizing technology, Bob creates a map of his surroundings and plans the best cleaning path, providing full cleaning coverage of the entire house. Its advanced features make it stand out in the market of automated cleaning solutions. 
Pros:
Pet Hair Expertise
Powerful Suction
Advanced Navigation
App Control
HEPA Filtration
Cons:
It is relatively pricier compared to some other robot vacuum options on the market
Learning Curve
Price: $619.99
5. Shark AI Ultra™ 2-in-1 Robot Vacuum and Mop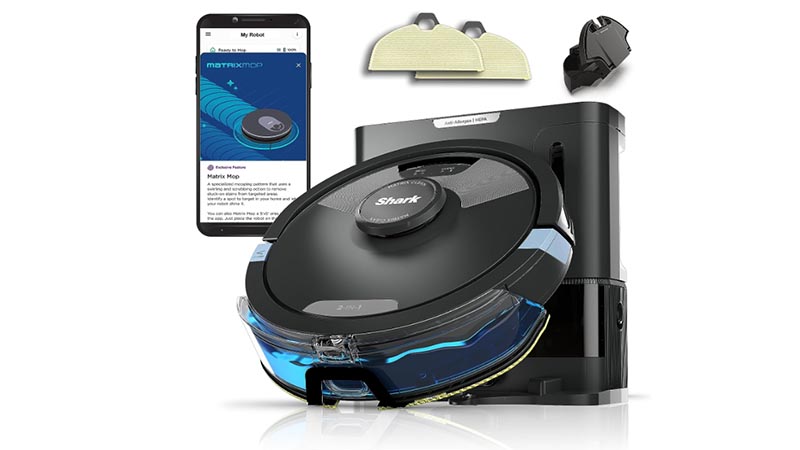 This model from Shark is similar to other vacuum-and-mop combos, effectively cleaning floors. It has an easy-to-use app for cleaning a room or a specific area. The app is used for turning on the robot vacuum to clean even when you're not home. 
Pros:
Excellent vacuuming and mopping power
The app is easy to use
It can be set to clean when you're not home
Cons:
Expensive
Battery life and charging speed are not comparable with other robot vacuums
Starter cleaning solution may not last a long time
Price: $699.99
6. iRobot Roomba 694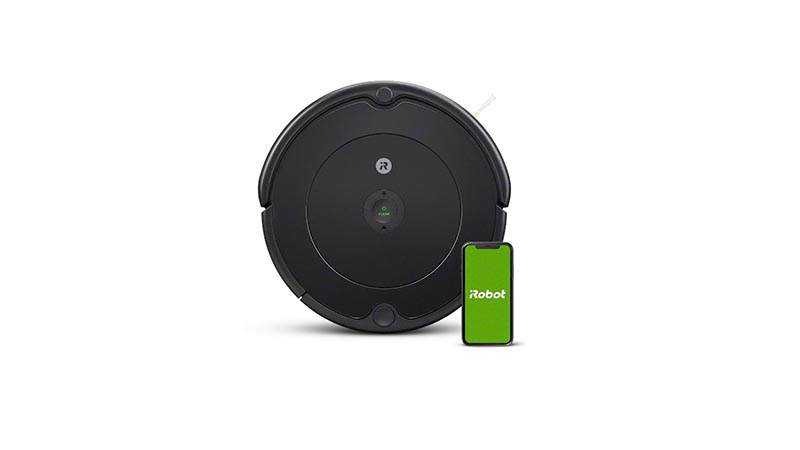 The iRobot Roomba 694 is the most affordable product on our list. Even without advanced navigation technology, it captured dust and pet hair. It offers slightly better battery life than its excellent predecessor, the Roomba 675. 
Pros:
Affordable
Rarely gets stuck
Seamless app setup
Supports Amazon Alexa, Google Assistant voice control
Allows for scheduled cleanings
Detects and focuses on heavily soiled areas
Cons:
Loud
Missed some debris on carpets in testing
Lacks smart navigation and mapping abilities
No carrying handle
Price: $179.00
7. Ecovacs Deebot Ozmo T8 AIVI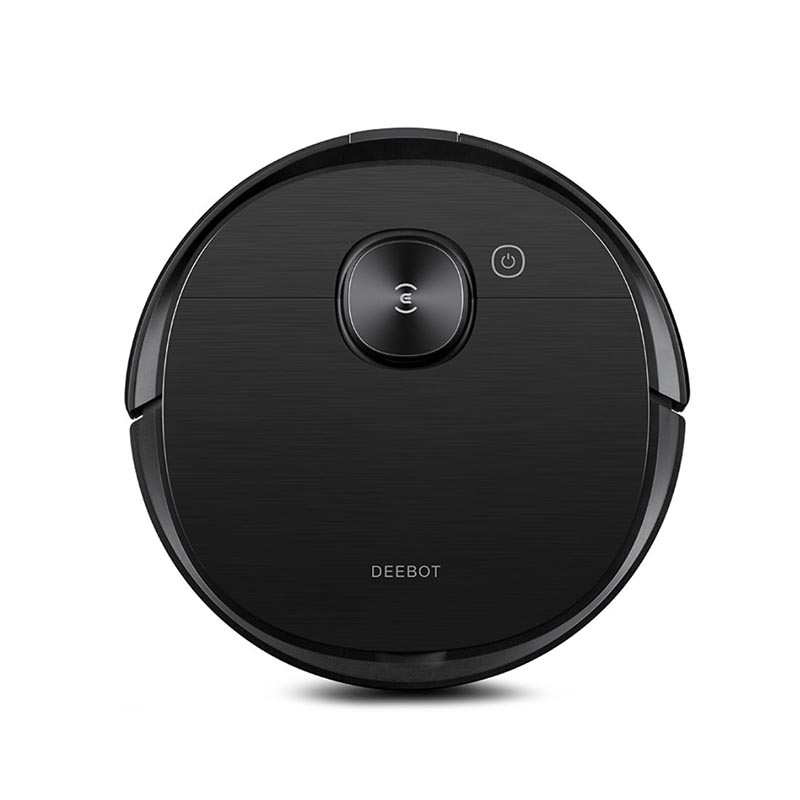 This feature-rich hybrid vacuum and mop uses artificial intelligence to detect and avoid many obstacles other robot vacuums wouldn't get.
The Ecovacs Deebot Ozmo T8 AIVI combines powerful cleaning capabilities with artificial intelligence and visual interpretation (AIVI) technology. This enables the robot to vacuum and mop different floor surfaces effectively and identify and avoid obstacles like shoes, cables, and pet waste.
Pros:
Automatically recognizes and avoids obstacles
Exceptional battery life
Allows for remote home monitoring with a built-in camera
Supports virtual boundaries
Amazon Alexa and Google Assistant voice support
Cons:
Expensive
Mops with water, not cleaning solution
Moderate learning curve
Price: $400.99
8. Eufy RoboVac G30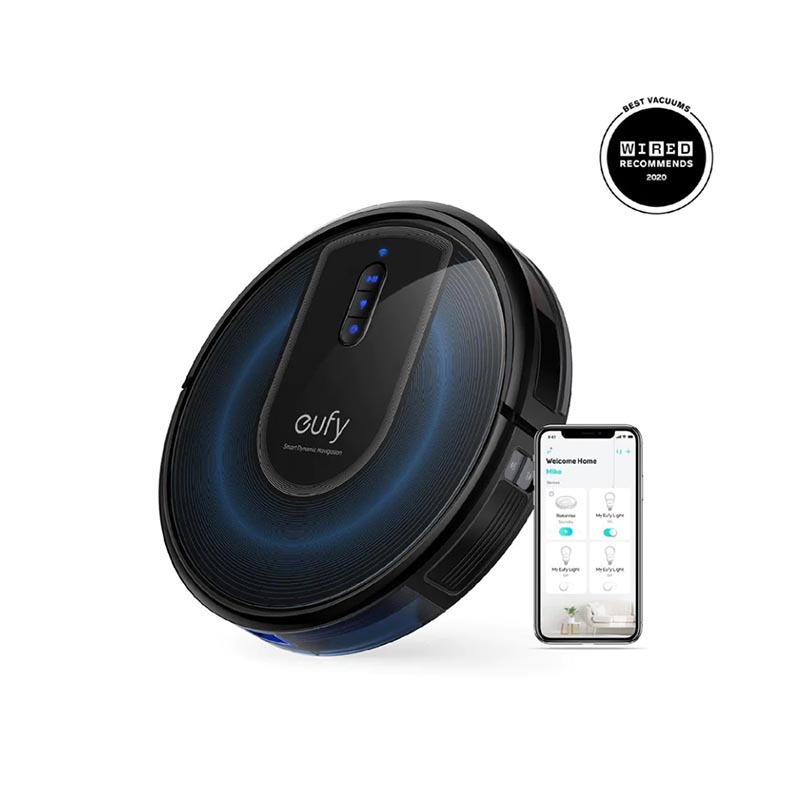 Measuring 12.8 inches in diameter, the Eufy RoboVac G30 is one of the smallest robot vacuums we've tested. It can clean where many other robot vacuums won't fit, like under couches. The RoboVac G30 smartly navigates your home, cleaning in orderly lines instead of randomly bouncing from wall to wall like some other affordable models.
Pros:
Compact, low-profile design
Strong suction power for its size
Well-designed app
Easy to set up and use
Works with Amazon Alexa and Google Assistant
Features smart navigation for systematic cleaning
Cons:
It doesn't support strips or virtual boundaries
Battery life is on the short side
Price: $400.99
Conclusion
Do you agree with our line-up and pick your own choice of the best robot vacuum of 2023? As mentioned earlier, these smart vacuums can clean different types of floors and even adapt to our schedules. They have cool features like maps of our homes and can be controlled with our phones. But remember, these advanced robots might be expensive, and setting them up could take some time. Still, they're a big step towards having homes that stay clean with less effort.
Explore Owner's Mag for more product and service reviews.
Preparing the Shift to Mobile eCommerce: Tips + Tools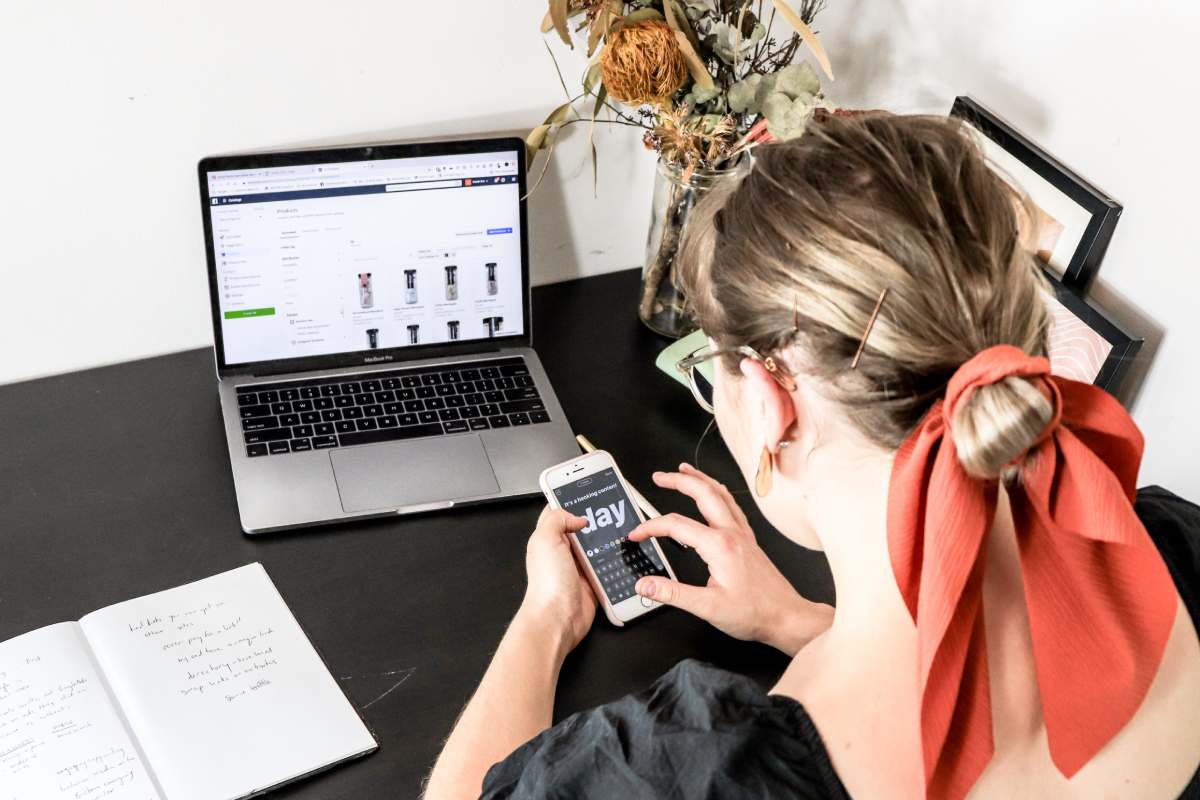 We Are Social reported that around 50% of the 16 to 64 demographic use their mobile to purchase something online weekly. With those in mind, your eCommerce business shouldn't be confined to one place. It's essential that you have a website and social media sites. Plus, don't be afraid to list your products other than those platforms. Here's how to make a successful shift towards mobile eCommerce.
1. Use Website Builders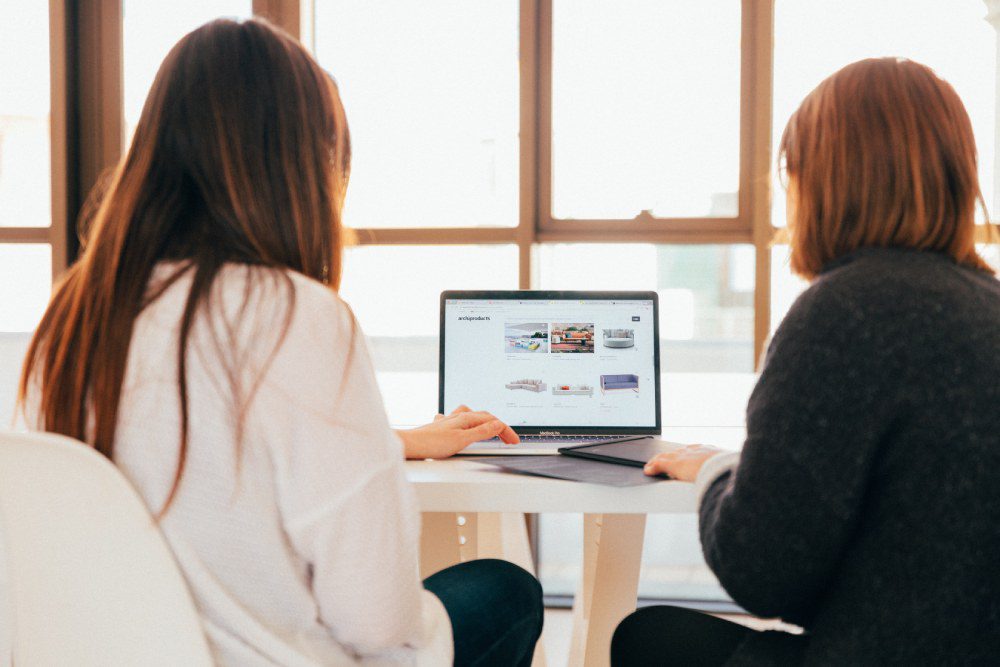 Most website builders nowadays can optimize your eCommerce site on the desktop or mobile. These tools help you design and layout your website and make tweaks before publishing it. Moreover, you can add pages, such as blogs, products, and contact pages, to make your eCommerce site operational.
You don't need to hire a web designer or developer immediately when creating your site on these builders. It's ideal for new eCommerce site owners, considering you want the business up and running from Day 1 without any hassle.
2. Set Up Secure Payment Methods
One way to enhance your customer's experience in your eCommerce site is setting up payment gateways. Although you install payment gateway plug-ins on your desktop, it's crucial that it's working on your mobile site, too. This way, your customers won't experience any mishaps or issues when paying via mobile.
3. Widen Reach with Social Commerce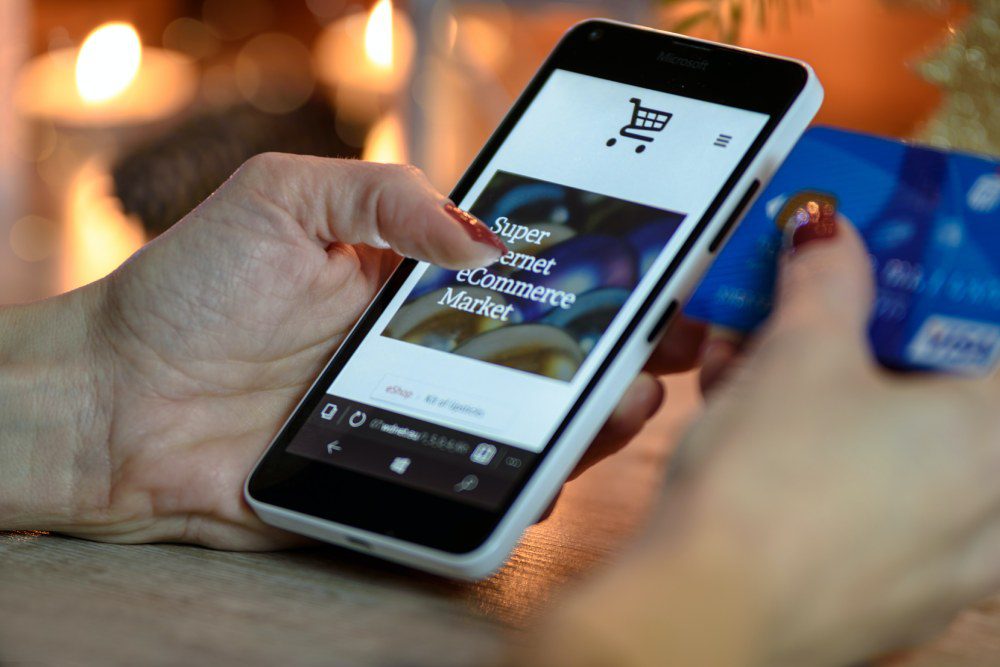 Mobile eCommerce isn't only about a mobile eCommerce app. After all, it's a catch-all term to describe all eCommerce-related strategies done on mobile. Facebook, Instagram, and TikTok have opened avenues for eCommerce sites to integrate their store into these platforms. Plus, social media sites are easily accessible on phones, allowing customers to browse anywhere.
You can promote your best-sellers and new products on these platforms. Then, ensure that you link to your website. This way, your customers can view other products, regardless of where they're browsing them.
4. List Products on Other Relevant eCommerce Marketplaces
Even though you have a website, you can reach more people when posting items on other eCommerce stores. This allows you to get more exposure. It's possible that your competitors are in the same marketplace. However, if you have the correct copy and high-quality images, your customers are likely to buy your products.
5. Develop an App or Hire an App Designer and Developer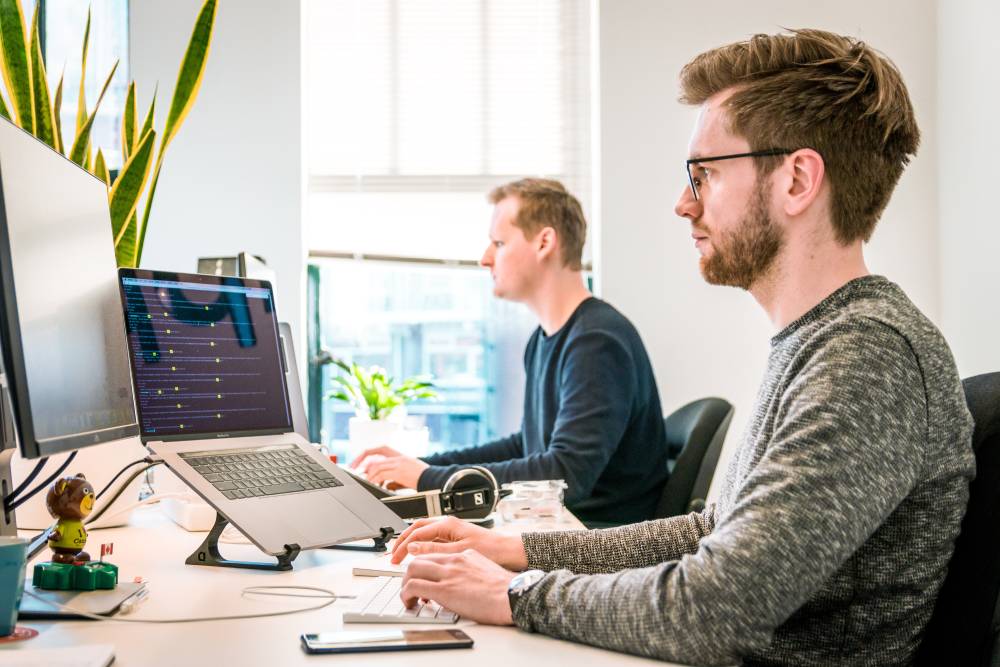 Not all eCommerce sites have an app for their eCommerce products. But you can change the game by having one for easier browsing and a smoother experience. However, app development is challenging for non-developers. There are no-code app makers to use for your new app.
Or, if creating an app is too tedious, hiring an app developer and designer is a much better alternative. They have the know-how to create an optimized app for your eCommerce site. You can find them on freelance sites like Fiverr or Upwork.
Mobile eCommerce Tools
1. Shopify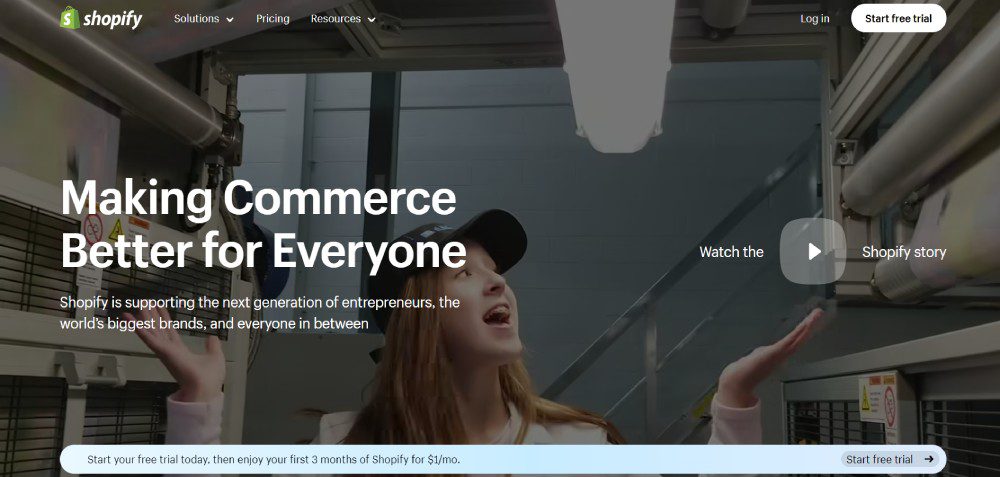 Shopify is one of the top eCommerce tools for all businesses. You can build a site, sell online, market your products, and manage your business. You don't need experience developing or designing a website on Shopify. The eCommerce platform has a no-code website builder, letting users create sites in minutes. Additionally, Shopify allows you to integrate apps into your online store, including payment gateways.
2. Wix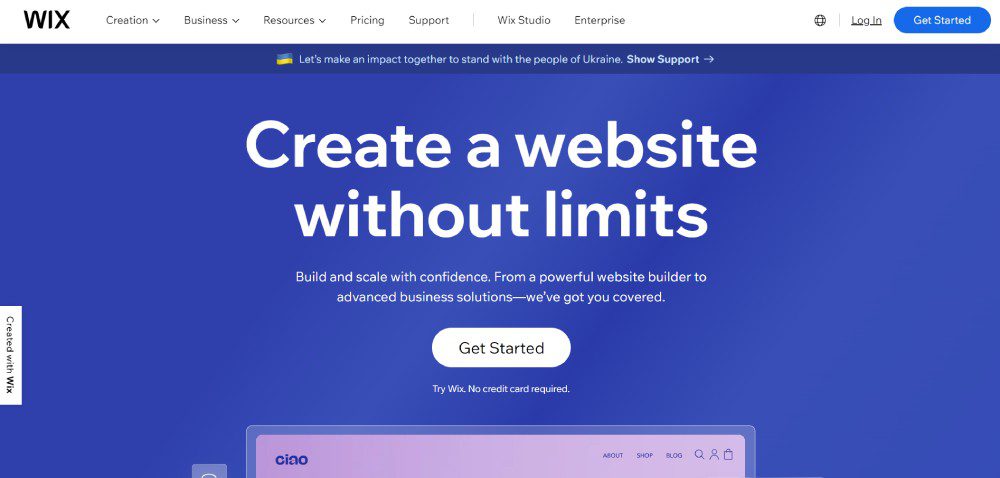 Another contender in website building is Wix. Like Shopify, it's fast, easy, and simple to create and design a website. Their web design feature, "Editor X," allows you to customize your site. Also, you can use their Wix Payments feature. It's their solution for all payments, allowing customers to pay via Apple Pay, credit card, and other payment methods.
3. Stripe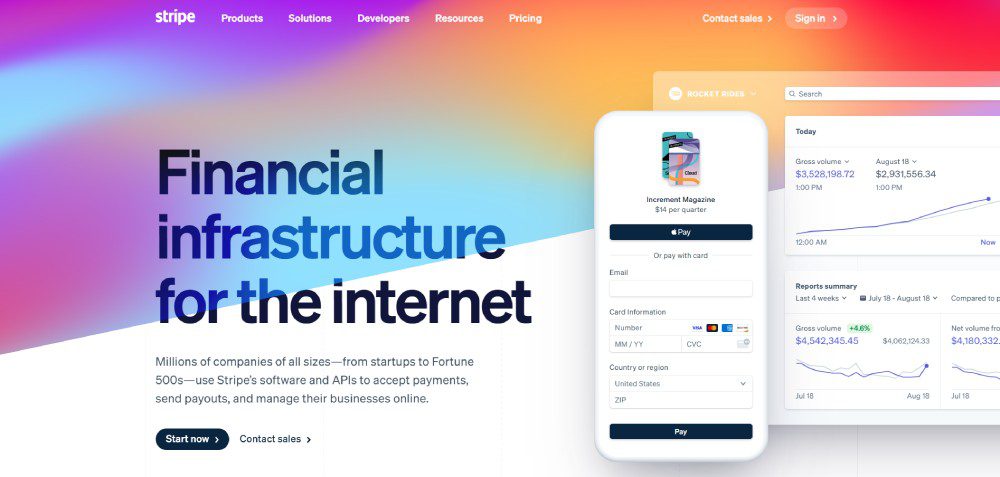 If you need a payment method solution, Stripe is one of the best eCommerce payment tools! You can accept payments globally. Plus, Apple Pay and Google Pay are two payment methods to integrate into your Stripe account. Stripe is also advanced because it can detect fraud and block it. Plus, you can increase conversions and launch subscriptions.
4. PayPal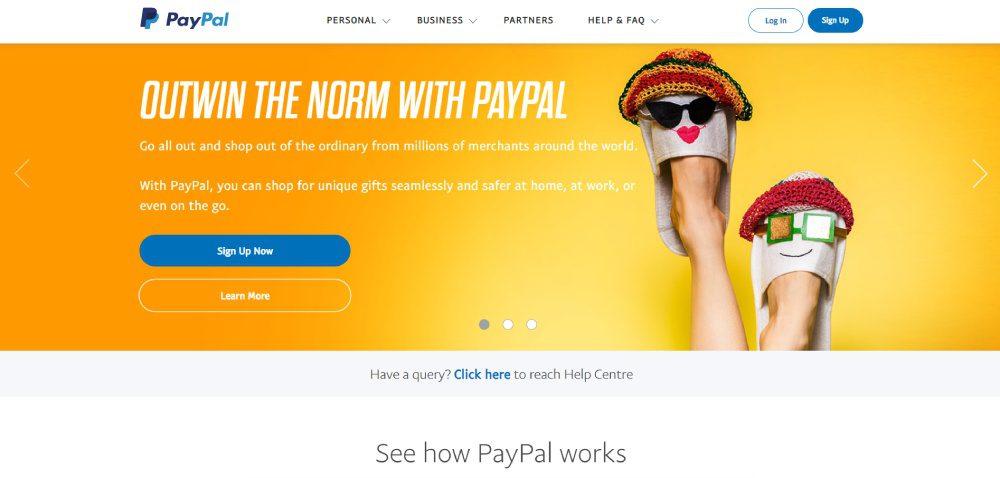 An alternative to Stripe payments is PayPal. As one of the oldest payment methods, you can trust this tool for easy payments. You can install PayPal for your checkout needs. Plus, you can even request payments! Additionally, PayPal accepts credit and debit card payments worldwide!
5. Sked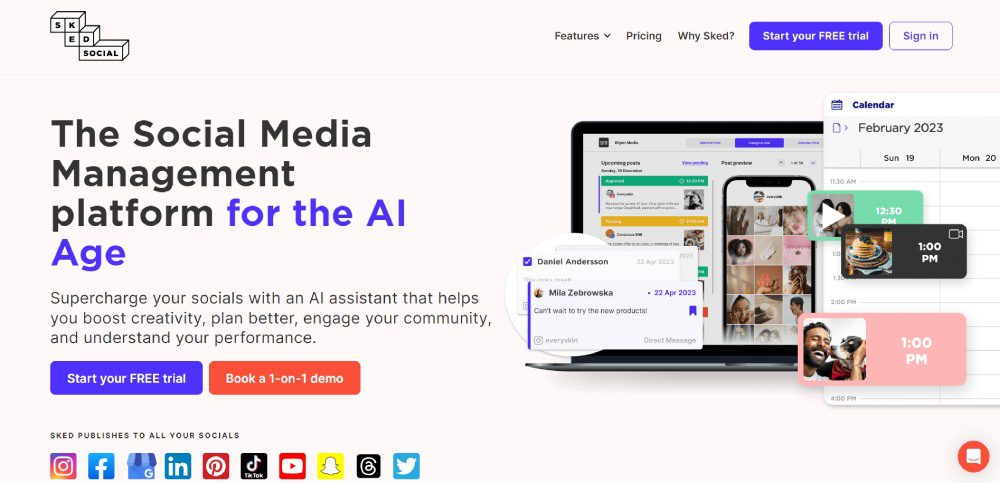 Don't have time to post all the time? Consider Sked as your social media management tool. You don't need to publish and tag your posts manually. Sked helps you tag posts directly on their dashboard. You don't have to worry about losing your product tags. Plus, Sked will add your shoppable posts in one gallery!
Post your products on these sites:
Instagram
Threads
Facebook
TikTok
Twitter
Pinterest
YouTube
6. Planoly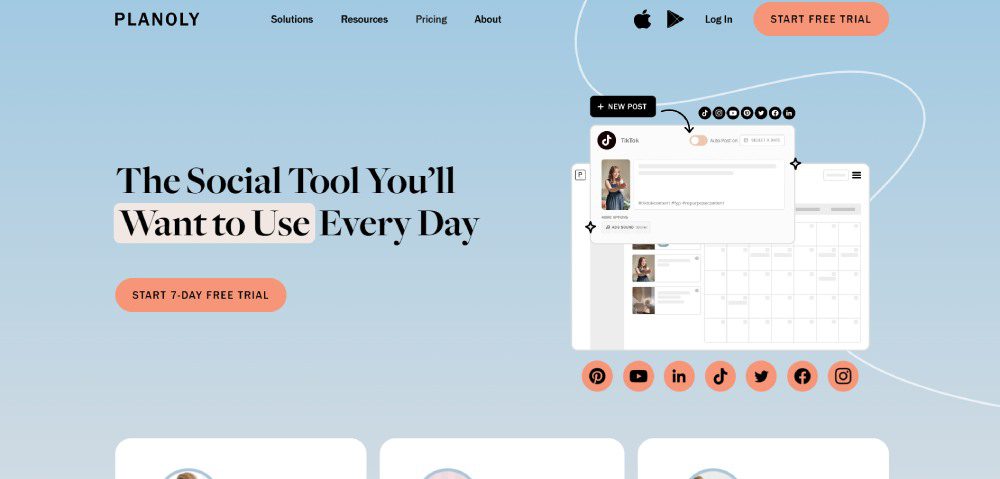 Another social media management platform to consider for your mobile eCommerce needs is Planoly. Like Sked, Planoly enables users to tag shoppable posts without leaving the social media management platform. You can post your products with Planoly:
Instagram
TikTok
Facebook
Twitter
Pinterest
YouTube
7. Canva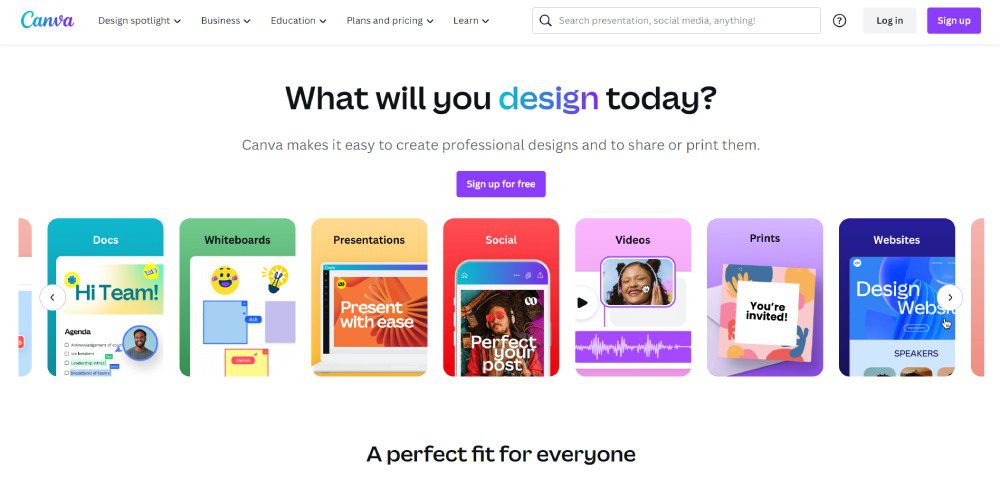 Content creation tools are necessary to make your mobile eCommerce strategies successful. Canva is one of these tools to promote your eCommerce site and products. You can use the abovementioned social media schedulers or other options. It's easy to create designs for your social media platforms. Or you can create custom designs for your website and post them on other eCommerce marketplaces.
8. Jotform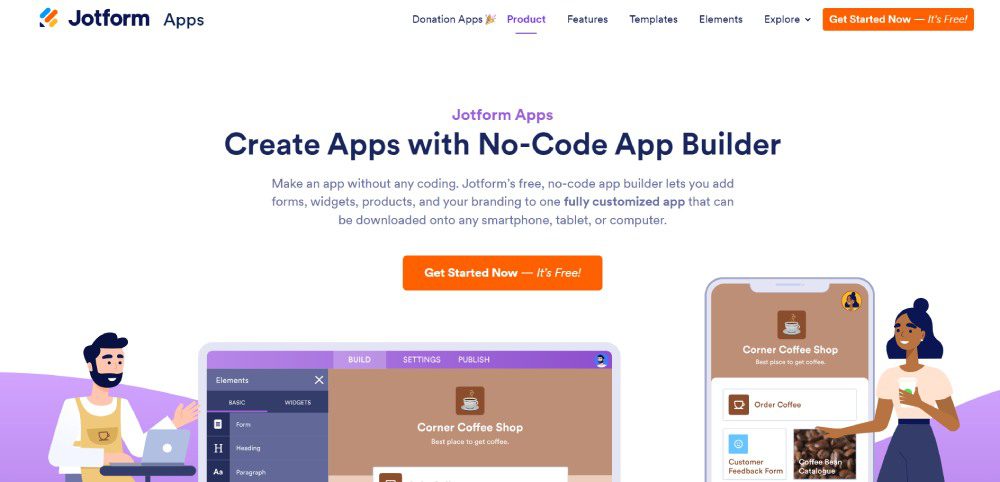 If you want a simple yet functional app, you can create one with Jotform! They use a drag-and-drop model when you build and design your app. Plus, you can use their templates to build your app in minutes. Finally, you can share your app with a QR, which will download the app to your customers' devices.
9. Glide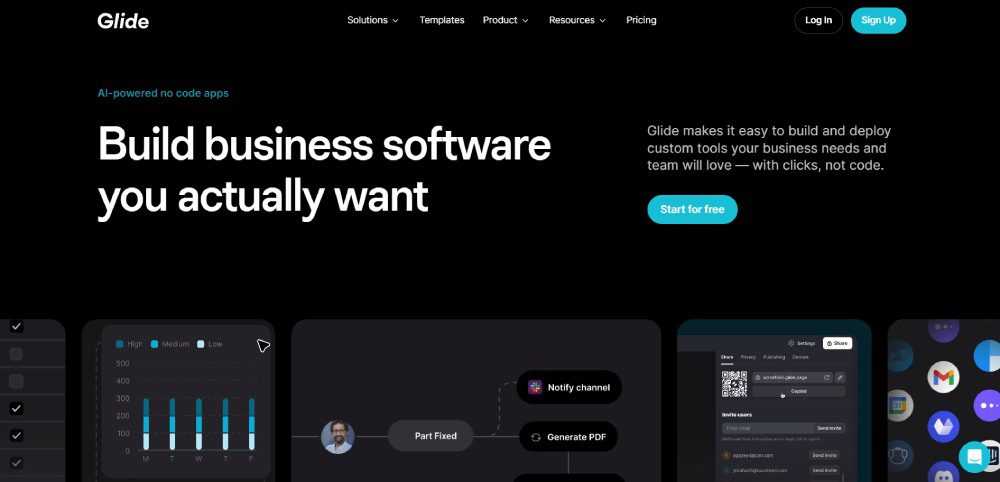 Glide is another no-code option to consider when building your app. Like Jotform, you can create using templates and customize your app design. Additionally, you can integrate productivity tools into creating your app and automate workflows!
10. Buildfire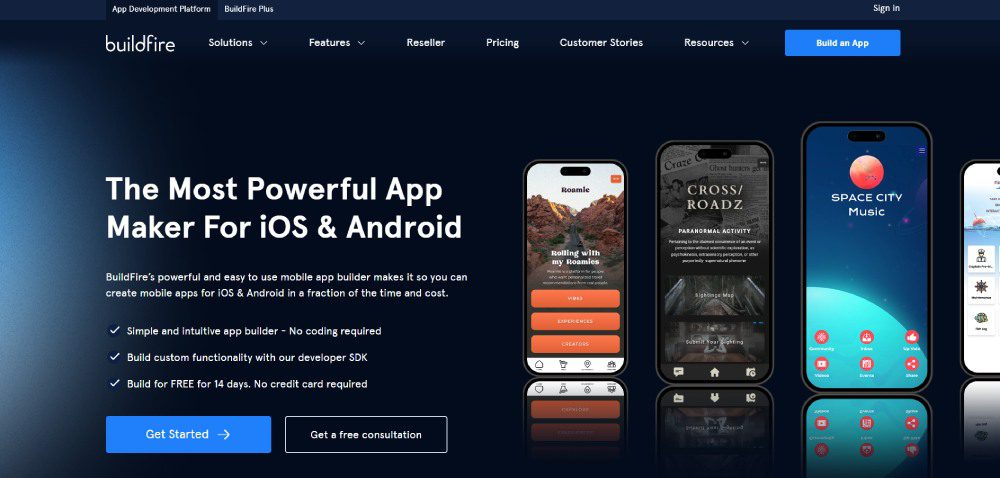 Our final mobile eCommerce tool is Buildfire! They have a dedicated eCommerce solution that allows you to sync your products and organize your inventory. You can even add a notification so users are informed when their products are in stock or when they need to complete checkout.
Threads: Elevating the Instagram Experience or Just a Glorified Feature?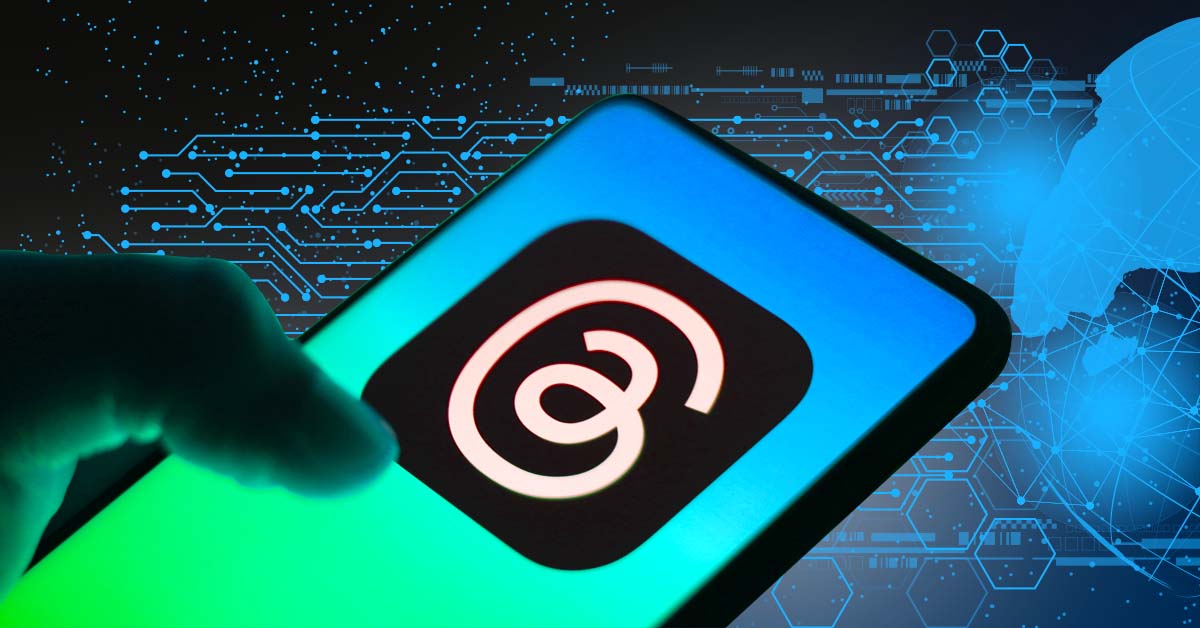 The newest app on the block, Threads, takes the social media world by storm. Developed by Instagram, it is a companion app designed to facilitate text sharing, posting updates, and engaging in public conversations. While some got excited about the idea, some dismissed it. They say that the app is just a glorified feature aiming to get the attention of a fleeting market. Let's find out.
What Exactly is Threads?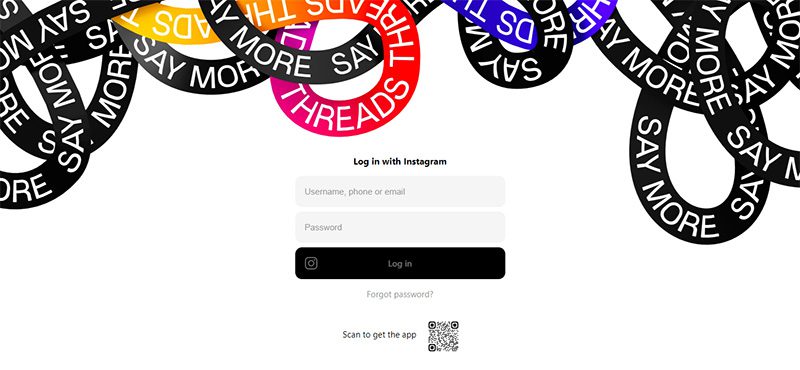 Launched on July 5, 2023, Threads is a text-based conversation application. It is often compared to Twitter as the two operate in the same way. It is a platform that offers a feed of text-based posts to let users get updated on what's happening around them.  
Opening an account on Threads will find you looking at feeds from accounts you follow. You'll also find suggested content from creators and influencers that the platform's algorithm thinks you will like. It is primarily a platform for communicating within your network and the whole world.
Threads allows you to write up to 500 characters and add photos, links, and videos. The name "Threads" came from the product Instagram launched in 2019. It was a "camera-first messaging app" to stay connected with friends.
What are Threads' Features?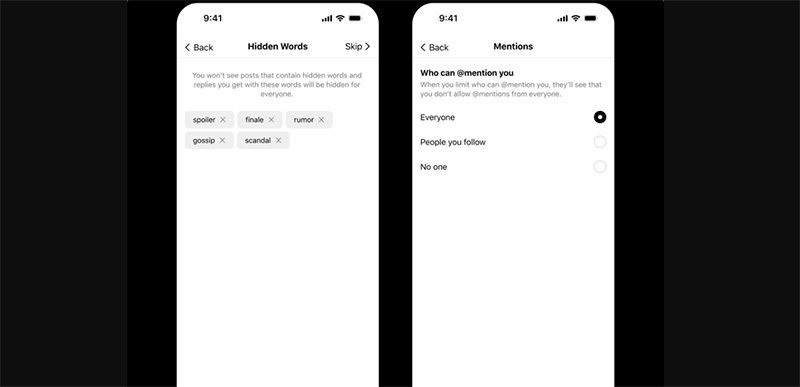 Instagram introduced Threads with the objective of providing a focused and dedicated platform for letting you connect with a select group of people. Its key features include:
Direct Messaging: it offers direct and seamless communication with your close friends. Threads puts your messages from select individuals in a dedicated inbox. This makes it easier to chat without distractions from other interactions on Instagram.
Integration with Instagram Stories: you can capture and share special moments as Threads incorporates Instagram's Stories. You can easily and quickly share your photos and videos with close connections.
Automatic Status Updates: you can set automatic status updates to give glimpses of your activities, moods, and locations.
Camera Access: Threads has a quick camera access button that lets you instantly capture photos and videos. This is perfect for sharing spontaneous moments with your close friends.
Close Friends List: you can create a list of close friends with whom you can share your more personal content. It is separate from Instagram's regular followers to let you select which groups of people will see your activities.
Status and Privacy Settings: the app lets you customize your status settings. It allows you to determine who can see your automatic updates, giving you the power to keep control of your privacy.
The Positive Perspective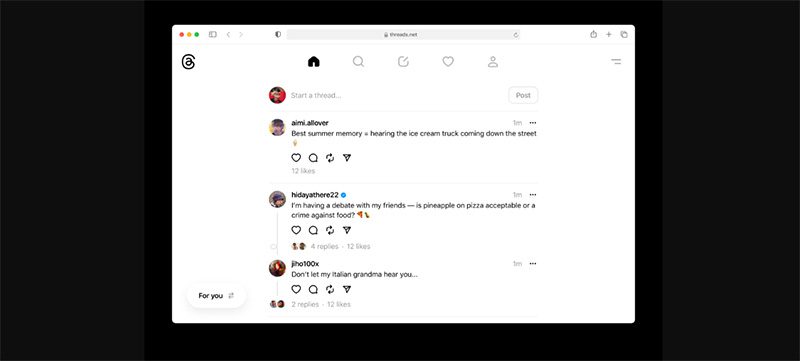 Many users consider Threads an app that elevates their social media experience. The following factors make it an app worth having:
1. It fosters genuine communication and interactions among close friends. Threads provides a change in the way you engage with your close contacts on social media. It enables you to curate a list of only your close and trusted friends, making more meaningful interactions. 
2. It offers a space that's free from distractions. The app has a dedicated space to communicate with close friends, separate from the main Instagram feed. This translates to a more focused and calm environment. A platform devoid of the distraction from viral posts, advertisements, and trending topics.
Threads has also gained the support of many users because of the following real-world use cases. These show the successful engagement made via Threads:
It provides a supportive network among friends. In instances where friends want to create a supportive network, they can do so in Threads. A great example is when a group of bikers want to share their rides, their struggles, the places they've been to, and many more.
It enables friends from across the globe to have a unique platform to connect. Maintaining relationships with friends from all over the world is easy in this globalized world. It provides a space for auto-updating and direct messaging.
It is an effective platform to share and cultivate various interests. Threads lets you communicate seamlessly with your niche communities. Book club members, video gamers, and cooking enthusiasts can converse with like-minded people.
It provides a platform to celebrate private wins and milestones. You and your friends can now celebrate milestones and life events more privately. You can celebrate birthdays, graduations, and job promotions more intimately and meaningfully.
Threads is a perfect example of a social media platform that prioritizes quality over quantity. Its capability to provide a platform for nurturing genuine relationships is the main reason users give it positive feedback.
The Skeptical Perspective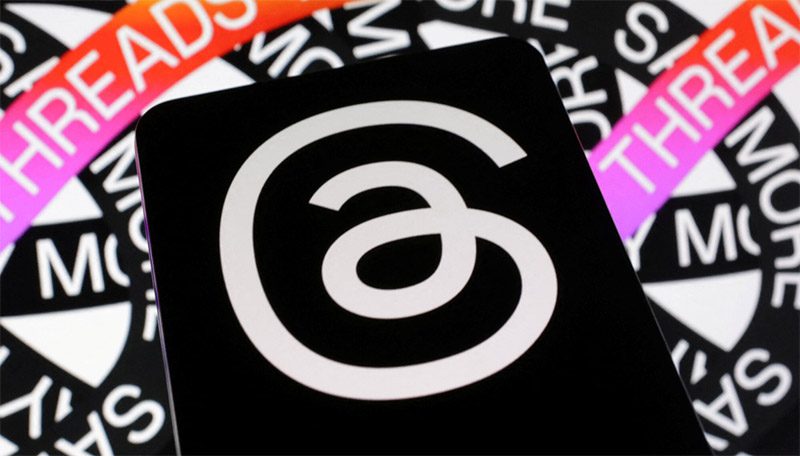 As there is plenty of good feedback for Threads, it also has its share of the negatives. Here's what the skeptics are saying about the app:
It duplicates features Instagram already has. They question the need for another app with the same direct messaging and close friends options as those of Instagram. Although Threads has automatic status updates, it does not compensate for its redundancy.
Skeptics believe that Threads does not address a distinct user demand. Existing platforms are already providing intimate updates with close friends. Hence, there is no longer a necessity for another one.
Many users are questioning Threads' long-term sustainability. When compared to Facebook Messenger or Snapchat's Bitmoji, it seems to them that Threads will find it difficult to establish itself.
In summary, skeptics are hesitant about Threads' uniqueness. Critics wonder if the app has enough distinctiveness to justify its separation from a huge platform or just be made as an extension of Instagram.
What the Users are Saying
In essence, user feedback on Threads is divided. While many see it as a valuable app for enhancing close connections, many see it as a redundant tool. The app's focus on privacy and intimacy may be lost as some think it offers nothing different from its parent app.
Conclusion
Designed to enhance intimate sharing among close friends, Threads has ignited debates about its existence. Users offer varying opinions about it, making us wonder if it's a worthy app or just another one to add to the clutter.