Moto 360: Owner's Mag Review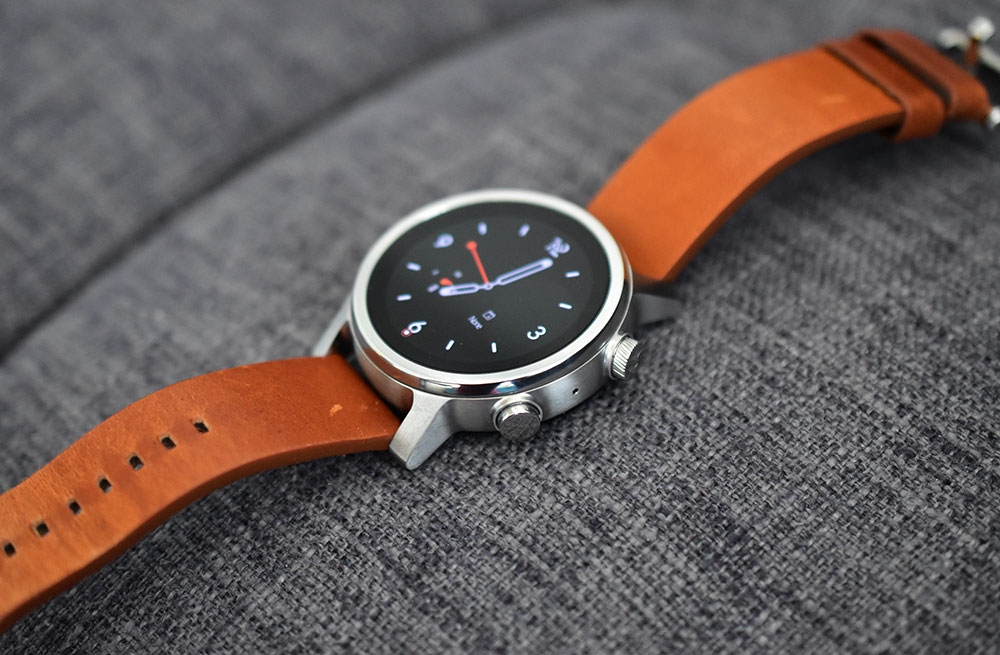 The Moto 360 is the 3rd watch to debut in series of Android smartwatches by the company. Motorola has made significant improvements to the watch's design, battery life, and sensors have been made by eBuyNow, who licensed Moto 360 to develop, manufacture, and sell the 3rd. Gen model of  the smartwatch. Standing at $299, it's quite expensive compared to other Android smartwatches. However, unlike other products on the market that justifies the price on the spec sheet, the Moto 360's true value comes from its more refined, polished, design that actually looks and feels like a $299 smartwatch.
Stainless Steel Design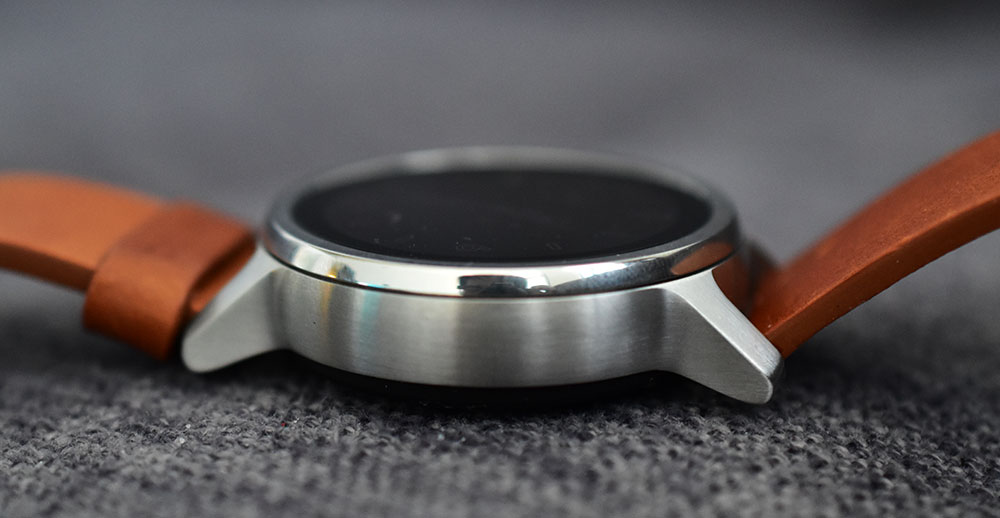 The one major thing that sets the Moto 360 apart from any other smartwatch on the market today is its design. Even if firmware stops updating, you might still wear your Moto 360 years later because it actually looks like a watch. The stainless steel design looks classy and timeless. Sized at 42.8mm wide with a thickness of 11.68mm, this is a beefy watch. However, it still looks good even on thinner wrists.
You get a few color selections to choose from. The watch comes in steel grey, rose gold, or phantom black. The outside has a layer of PVD/DLC coating to give it a bit more scratch-resistant.
First Impression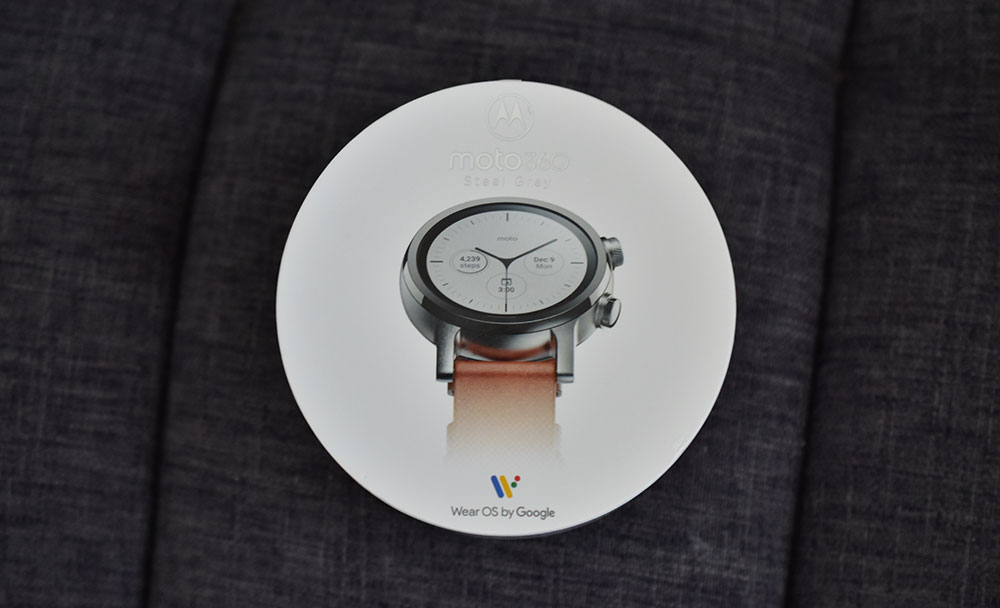 The first impression is important for a watch. And the Moto 360 looks striking at first. The always-on watch dial display mimics the look and feels of a luxury watch while perfectly disguising that it's a smartwatch. This is a major bonus for those who want the functionality of a smartwatch, but don't want to be labeled as a techie for wearing one.
When given the choice, the timeless elegance of a mechanical watch will always outlast smartwatches. And Motorola made a smart decision to engineer this watch to be visually more comparable to Omega than to Samsung.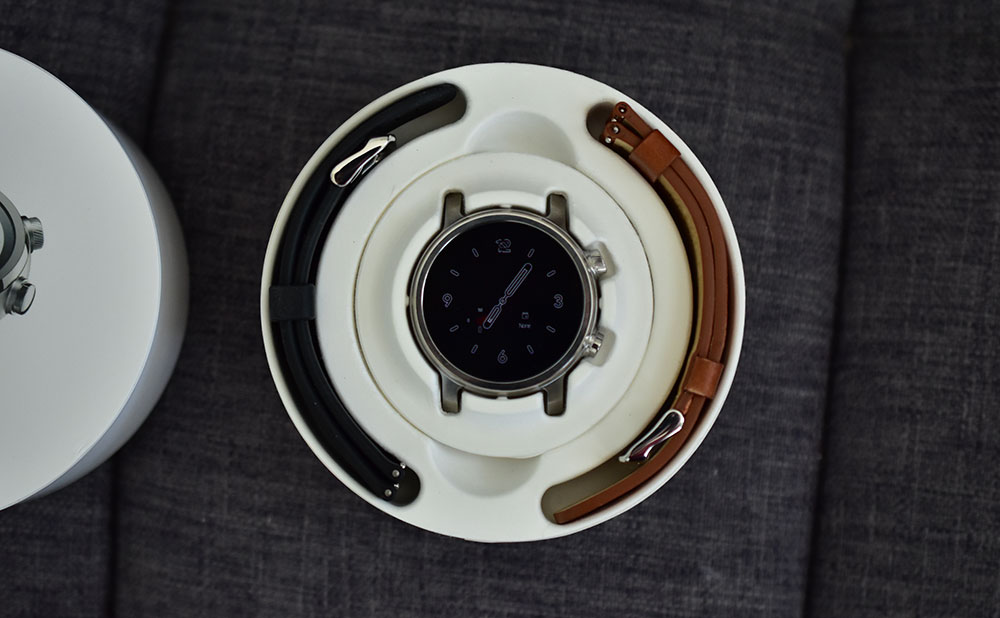 One extra thing to note. This watch comes with both a brown leather strap and a black rubber strap. This is a nice touch, saving you the time to buy extra straps for different occasions or outfits.
Performance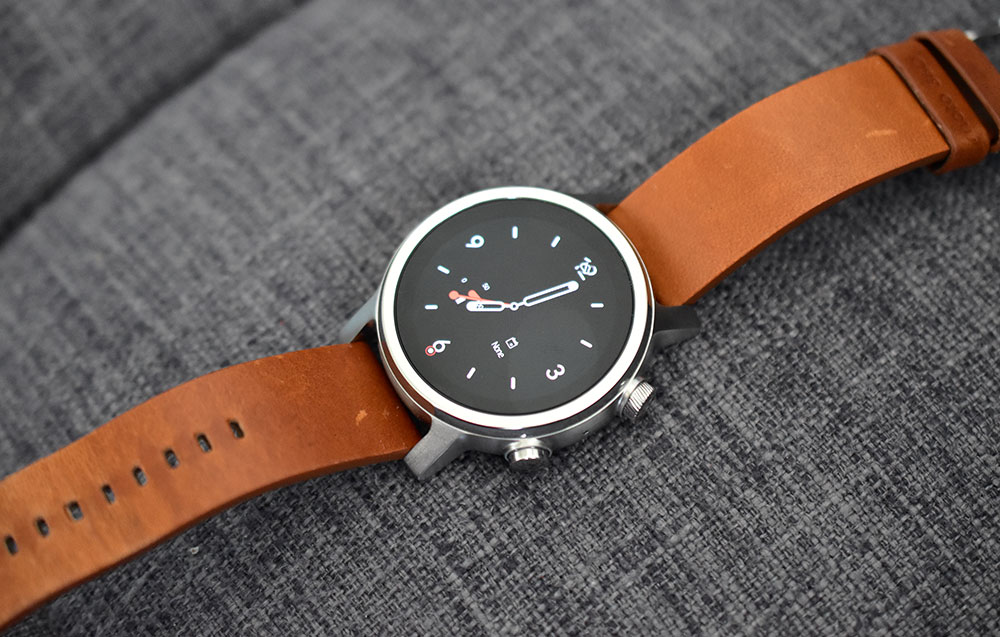 Looks aren't everything. This is a "smart" watch after all. Powered by a Snapdragon 3100 chip, 1GB of Ram, 8GB of internal storage, and running on Watch OS, the watch is responsive and lightning fast. It feels and navigates like a Samsung Watch Active, which is a good thing.
Swipe gestures work as you'd expect just like any other smartwatches on the market. Swipe up for your notifications. Swipe left for your quick apps. And swiping down gives you the status display. Everything on the software front works exactly as you'd expect from a Watch OS experience.
And I'm glad they didn't try to do anything gimmicky or add their own "flavor" to the user native user experience. I've seen other smartwatch makers attempt to do this to be "unique" the result is often a confusing interface that doesn't add value to the overall purchase.
The Screen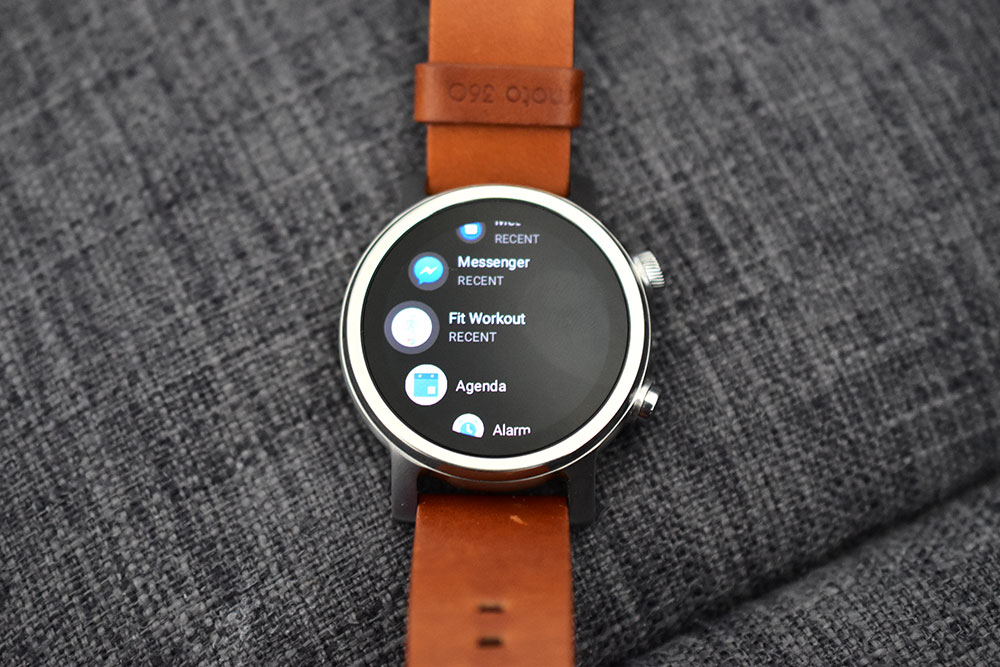 Coming in at 1.2″, the 390×390 AMOLED display is bright with saturated colors. It's not as pixel-dense or vibrant as its other competitors, but it gets the job done. The black border around the screen is thick and noticeable. Had they taken advantage of this real-estate and made the face even larger, that would've added significantly to its appeal. I'm sure there must be some sort of technical challenge preventing that.
Fitness & Tracking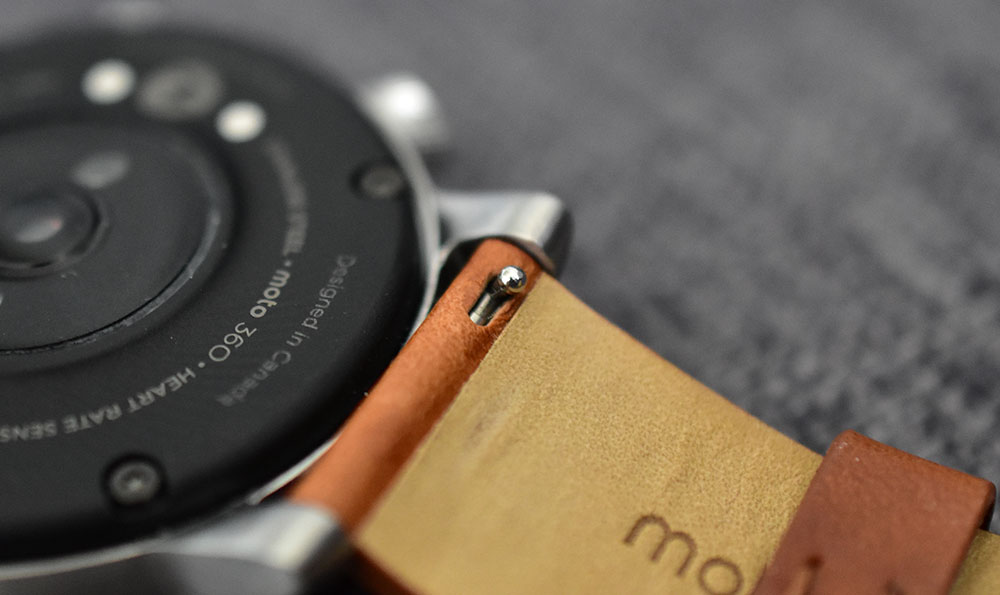 The Moto 360 comes with all the basic steps tracking and heart-rate monitor you'd expect. You won't find advanced sensors here, and that's okay for me. Because the company didn't pitch this as an advanced athlete-performance inspired device.
The sensors are accurate and gave a consistent reading on my workout performance. While it's not replacing my phone, the GPS on the Moto 360 was surprisingly accurate and proved more reliable than I'd thought. There were times where I didn't want to bring my phone with me along for a jog and depended on the watch for guidance – it didn't disappoint.
Battery & Charging
The 355mAh battery performed well under regular daily usage. It was able to last about 10 hours worth of use managing to still have about 30 – 35% juice left before needing to recharge at the end of my workday. Now when I attempt to use it as a regular watch (turned off al notifications and enabled only the clock dial) the battery lasts much longer.
One major gripe I have with this watch is the charging station. Everything about the watch was well designed, engineered, and thought out…except the charging bay. It's ugly, doesn't stay in place, and it's hard to find a place for it on any desk. It just seemed like this was an afterthought. I was also disappointed it didn't have wireless charging. That would've solved this problem completely and I could've just stowed the charger away.
This also made charging at the office or on-the-go impossible since carrying that bulky charger around was out of the question.
One thing I do love about this watch is when the battery dies, it still manages to save a little bit of juice to keep the watch dial on. So even when the battery is empty, you can still use it to tell time. It's impressive how long the "always-on" watch dial actually stays on. I don't think I've seen it powered off during the entire week of testing.
The buttons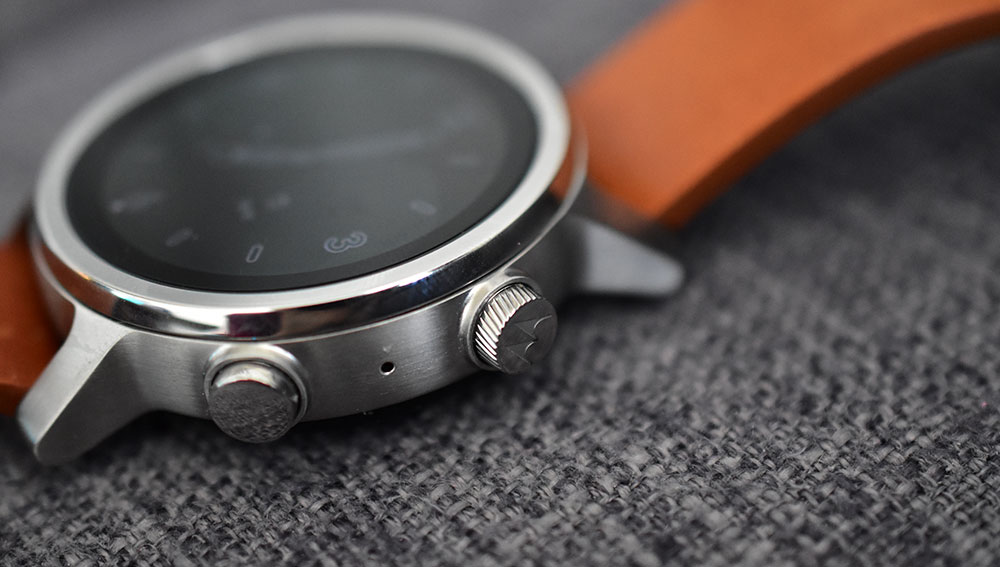 This is a level of detail that often gets overlooked – the buttons. Most of the design emphasis on smartwatches are on the display, the bezel, and often very little thought goes into the buttons. The engineers who worked on Moto 360 3rd generation thought otherwise. The tactile feel of clicking and the smooth dialing on these buttons are some of the best I'd ever experience on a smartwatch. It's expected of a mechanical watch to have well-tuned buttons, but not for a smartwatch, which added to my surprise.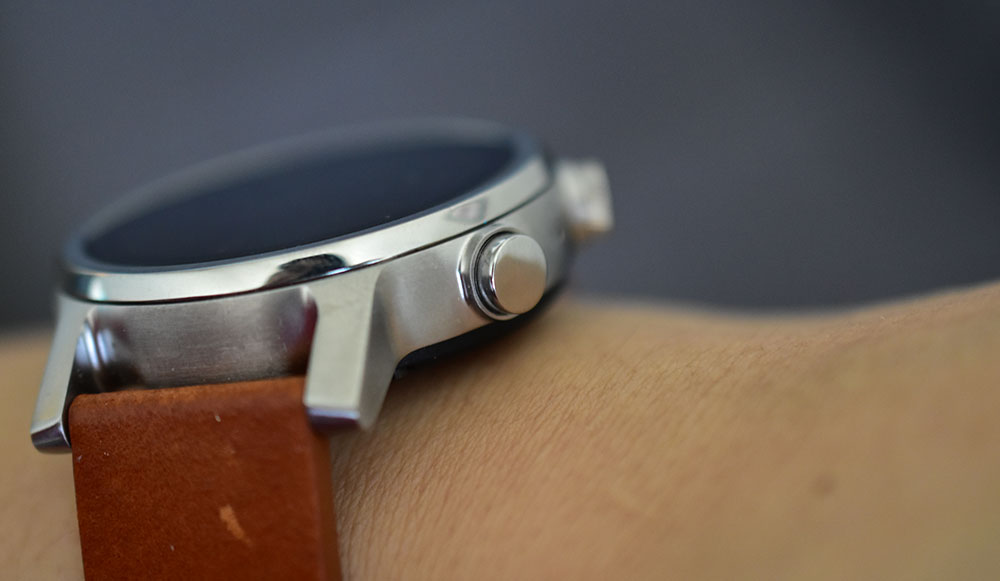 Everything about them screams luxury. The buttons have just the right amount of spring and travel to provide feedback when pressed. And the dialing feels smooth yet accurate. I was able to navigate through apps and settings easily without over-scrolling too often.
Final Verdict
Overall, the Moto 360 is a great value at $299. It's everything you'd want out of a smartwatch and a little more. The design is tasteful but not over-the-top. It's versatile and acceptable in just about any occasion. I can wear this on a jog or with a suit. That kind of flexibility is hard to find, especially in the vastly growing competitive smartwatch market.
COVID Scar Tissue: Exploring Life Post Pandemic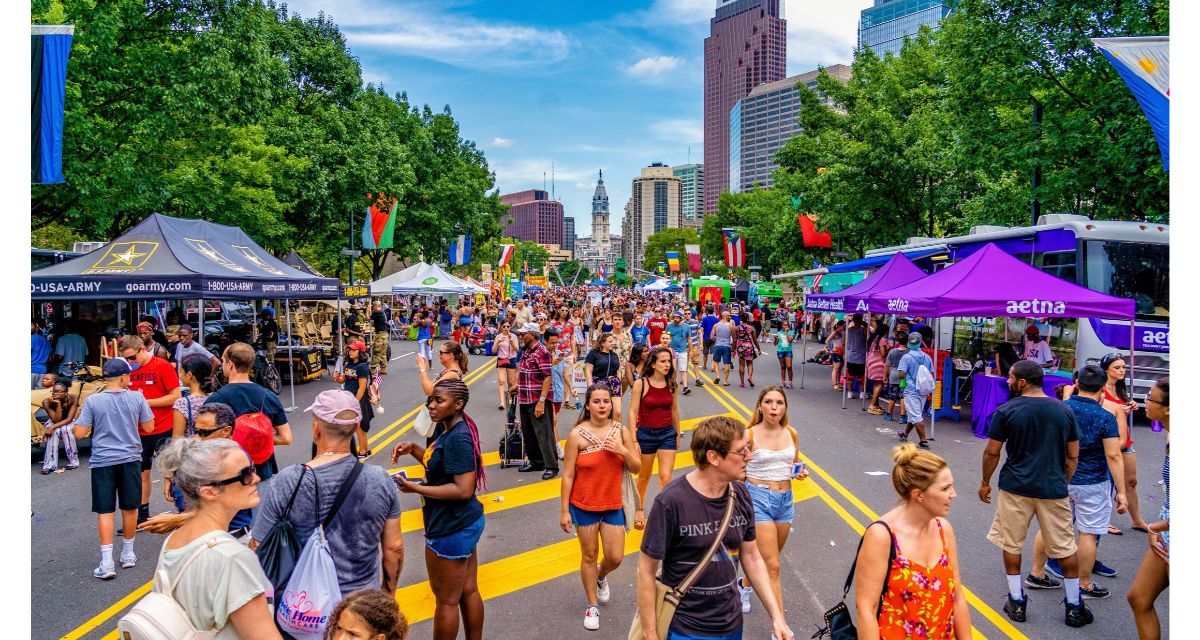 It's the question every household fantasizes about these days: what will you do after COVID 19 is in the rearview? Friends are anxious to get reacquainted. Sports fans cannot wait to go to a baseball game. Some can't wait to book a trip somewhere far away. It is fun to think of, for sure. But the more you think about that question, the more you must consider what life will truly be like on the other side of this pandemic.
Will there be sold-out concerts with thousands in attendance?
Will you want a big 4th of July party?
Experts say the ripples of COVID 19 will be felt long after the pandemic is over, suggesting that we will, in fact, be looking at a new normal.
The Great Depression was a defining moment in American history. Children born around this time would live to see America at its most prosperous. Like every other home on the block, their homes would eventually have televisions and microwaves – a car in every driveway. Traveling cross country and overseas was easier and cheaper than ever before. But still, they grew up knowing the value of a dollar. These children would grow up to be the grandparents who give 'a shiny quarter' to their eye-rolling grandkids. This was because they remembered a time when things weren't so good.
In the same way, the COVID-19 pandemic will be the defining moment of this generation. Its effects still haven't been fully realized, but they are seeping through our daily lives.
Did it feel strange to you when you last saw a large crowd in a movie or tv show?
Wave Goodbye to the Handshake
Many have surmised that the handshake should have gone out the door a long time ago. In a paper published in 2014, Dr. Mark Sklansky cites that the risks of spreading pathogens should supersede the urge to shake hands. His paper specifically dismantles the efficacy of handshaking between doctors and patients but speaks more broadly. "Hands are warm and wet, and we know they transmit disease very well," says Sklansky. "They're a phenomenal vector for disease."
"I don't think we should ever shake hands again, to be honest with you," Dr. Anthony Fauci.
The world after COVID may be one without social touching. Hugs, high fives, and pats on the back could be met with a cringe, but this could lead to further effects. Why do people shake hands and touch people in the first place?
Like speaking, body connection is a form of language dating back thousands of years. It's an evolutionary practice, even seen in other primates. "We know that nonhuman primates use social touch a lot through grooming," says Juulia Suvilehto, a researcher at Linköping University in Sweden. "It's a way of making allies and maintaining relationships.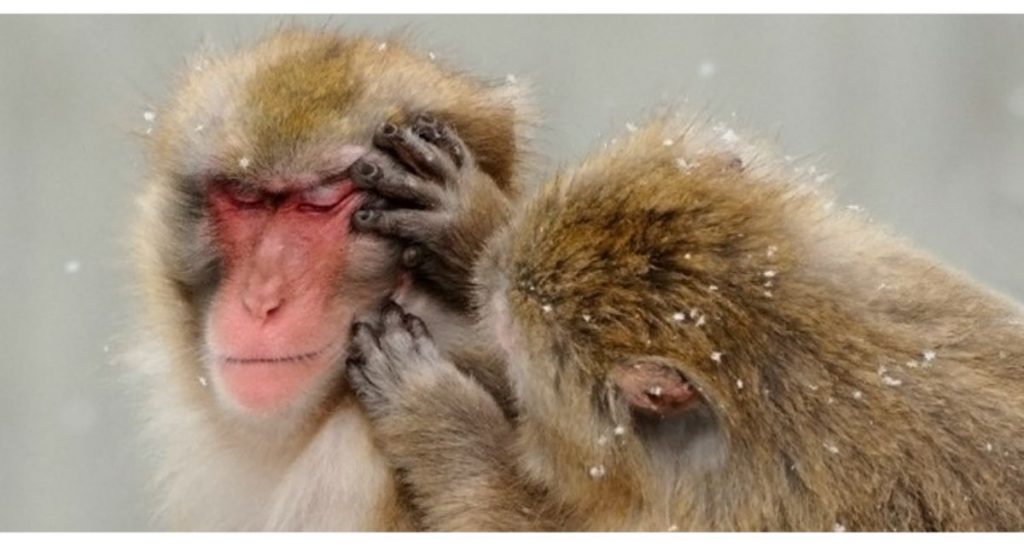 Tiffany Field is the director of touch research at the University of Miami School of Medicine. She explains that touch also reduces aggression. "When you're touching someone, it's very hard to be aggressive towards them." Field explains results from a study in which they separated monkeys between a wall of plexiglass. "If you separate two monkeys and they can see, hear, and smell each other, but they can't touch each other, once you remove the plexiglass, they practically kill each other." What does this mean for the future of human interaction? For one thing, that awkward moment when you shake someone's hand who offers a fist bump may be replaced by someone not knowing how to refuse a handshake politely.
More Prepared… Maybe
Software engineer turned philanthropist Bill Gates has been heavily involved in the COVID conversation. He suggests that our society will be more prepared for the next big disaster coming down the pike. "We'll have practiced," Gates said on the first episode of his new podcast, Bill Gates and Rashida Jones Ask Big Questions. "We'll have done disease games like war games, and almost every country will respond like South Korea, or Australia did where you're very quickly testing people and quarantining people. And our tools will be much better." Much like the grandmother who saves her quarters, we'll be ready if something similar comes back. But there's another side to that quarter.
Katherine Hirschfeld, a medical anthropologist at the University of Oklahoma isn't so optimistic. According to Hirschfeld, an increase in misinformation could lead to further political divide and future outbreaks. We will likely see "increased political division and economic inequality in the United States and elsewhere, with the basic science of epidemiology and public health attacked and undermined by conspiracy theories spread on social media," she explains. "If this sounds unusually grim, it may be due to my years of research exploring post-Soviet conflicts, when many multicultural countries fell apart in warring factions that triggered epidemics of easily preventable diseases." Grim indeed.
It's Not All Bad
Society has taken measures to adapt during COVID that may have some positive lasting results. More businesses than ever are benefiting from a work-from-home model. A Gartner survey reported that 80% of the company leaders they polled plan to allow their employees to continue to work at least part-time remotely. Why? Because it's good for business. According to Global Workplace Analytics, 94% of surveyed employers report has been the same or higher since allowing remote work.
The effects ripple on. With more remote work comes fewer cars on the road. Fewer cars mean less traffic and fewer carbon emissions. According to nature.com, after rising for decades, global carbon dioxide emissions dropped 6.4% during the pandemic. The United States wins the award for most improved with a 13% decrease. The average American household has 1.88 vehicles as of last year. Could a world without everyone commuting to work mean less of a need for multi-car homes?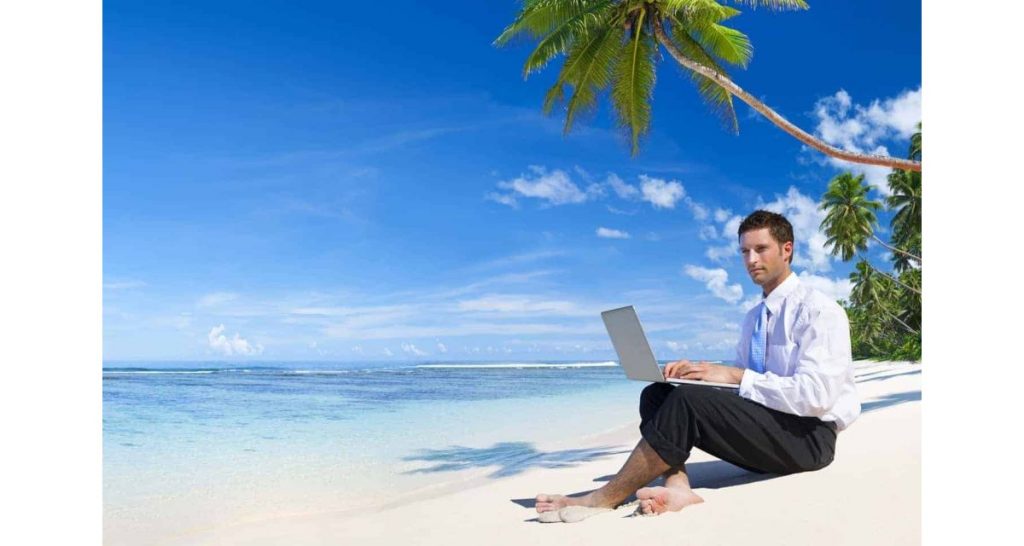 Bill Gates is thinking even bigger. If companies aren't making their employees come into the office, it won't matter where they are headquartered. The draw of the big cities will have less of a pull. Employees won't feel the need to stay close. "In the cities that are very successful… even for a person who's well paid, they're spending an insane amount of their money on rent." This could be no more.
Education Made Accessible
Among the employees working from home, teachers are also finding their footing in a changing landscape. And so are the students. The COVID lockdowns have been inconsistent and seemingly unpredictable in the last year. A student in Virginia had a very different go of it than a student in California. Schools across the country have endured some combination of class cancellations, remote learning, and learning on-premise. But while the education system has struggled to get its footing, some are seeing the silver lining.
Anna Mueller, a sociologist at Indiana University Bloomington, speaks about the upside. "The pandemic has shown us how online teaching can be a tool that makes the classroom more accessible, particularly for students with disabilities. In the past, I've had students who sometimes struggled to attend class because they were coping with anxiety or living with significant pain. They needed my empathy and flexibility with class attendance but still missed the classroom experience. I now realize how easy it is to turn on a camera and pop on a microphone so they can join from the comfort of their homes."
Mario Luis Small is a sociologist at Harvard. He suggests that secondary education may be in store for a radical makeover. "COVID-19 has shown that a lot, though by no means all, of higher instruction can happen online. Parents and students will likely ask how much of the on-campus experience is truly needed and demand alternatives."
A New Kind of Sport
In the months after the pandemic has dissipated, there will no doubt a surge in attendance at concerts in sporting events. Those who associate summer days with hot dogs and baseball and cold Sundays with tailgating a football game are anxious to spend too much money on a beer at a game. But while these traditional sports are awaiting a resurgence, another kind of sport has been getting bigger and bigger.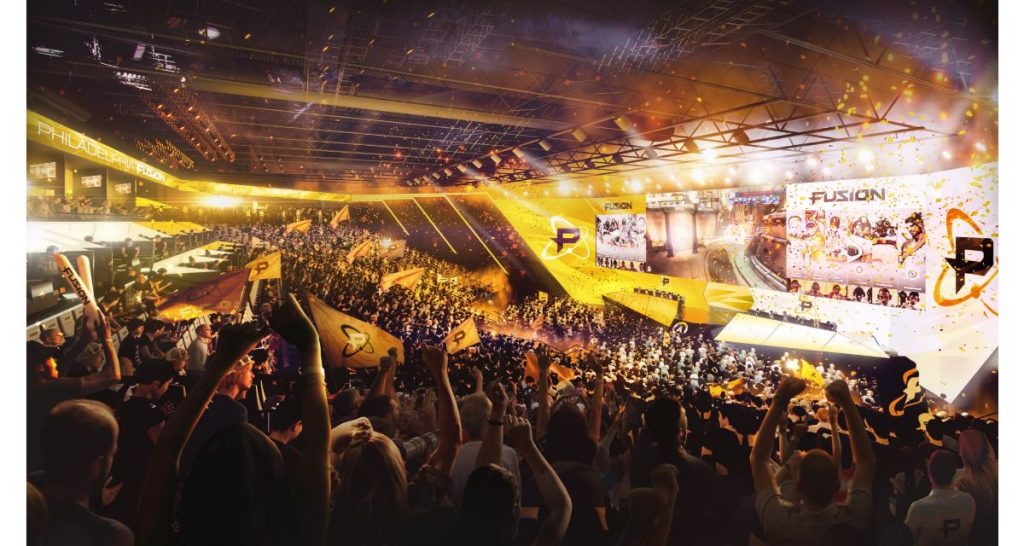 Esports have boomed during the pandemic. Video gaming enthusiasts have gathered online to watch the pros play video games like Call of Duty, Overwatch, Minecraft, and thousands of more games. Viewership skyrocketed during the pandemic. StreamHatchet reports a jump in esports from 4.8 billion hours viewed in the first quarter of 2020 to 7.6 billion. Philadelphia is currently building a $50 million esports arena right next to all of their other major sports venues. It seems esports are here to stay.
Turning the Page
While everyone is excited for this chapter of society to be over, no one truly knows what to expect. What will vacations be like? What about birthday parties? Things may never truly be the same. But while some muscles may atrophy, others will strengthen. Will we see a bigger emphasis on family life as we all spend more time at home? Maybe the creativity world gets a spark as more people rely on their own faculties to entertain themselves. As the saying goes, only time will tell.
Kate McKinnon roasted Marjorie Taylor Greene, SNL Cold Open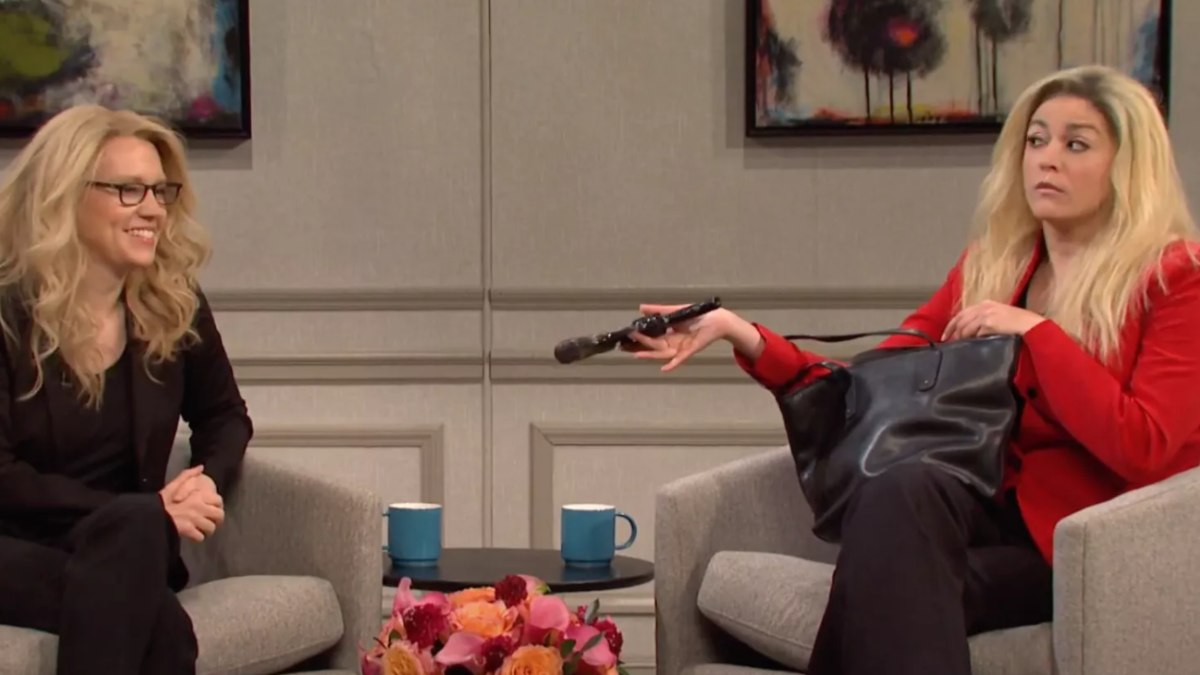 The first episode of Saturday Night Live this 2021 started with a question, 'What Still Works in America?' The show was hosted by Kate McKinnon, where she discussed which areas of American society are still working.
Kate McKinnon says that since America already has a new president, some things should work. But then she asked further, 'do they?'.
The first topic was the government. And right off the bat, McKinnon remarked that she already has doubts.
The host then brought out the controversial Republican congresswoman from Georgia, Marjorie Taylor Greene. She was the show's first target of the year.
If you must know, Greene is currently bombarded with criticisms after it was revealed that she liked and engaged in conspiracy theories in the past. She even called for violence against Democrats. 
Kate McKinnon Interviews Cecily Strong's Marjorie Taylor Greene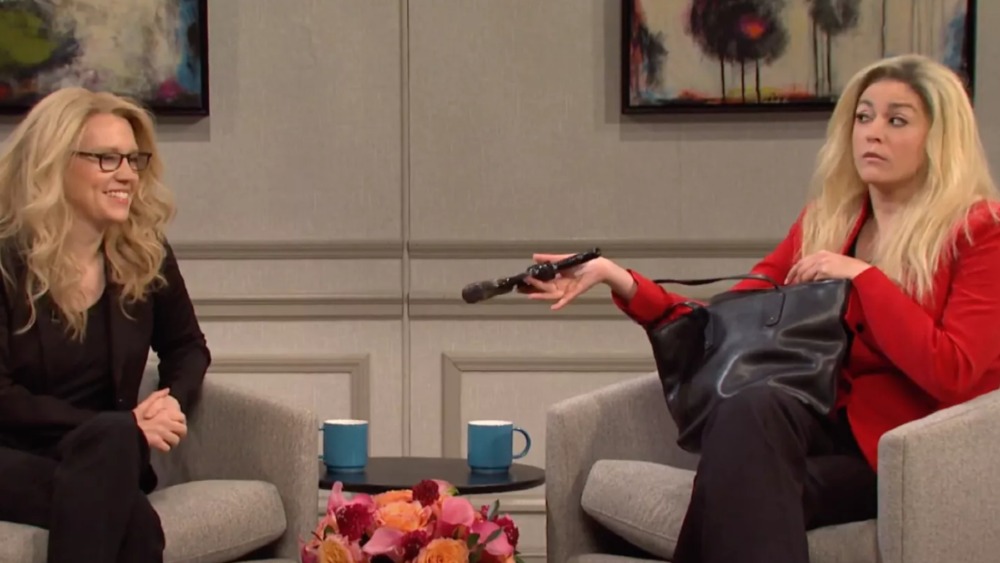 Cecily Strong portrayed Greene and went beside Kate McKinnon, where she handed her a gun right away – as if she was offering a gum.
Kate McKinnon started to ask Strong's Greene the theories which she believed in and was actively promoting. The character asked how much time she got, followed by saying that she thinks the Parkland shooting was a hoax and that the teachers were all actors and the kids were dolls.
In that particular incident though, we must remember that 17 persons were killed.
She also added that 9/11 was a hoax, sarcastically asking if anyone saw if it happened.
It doesn't stop there. Strong's Greene said that she told her supporters to physically murder Nancy Pelosi – a lady she works with.
And as if it wasn't enough, she added that there's another new conspiracy theory. The character played by Strong said that the Jewish space lasers caused the California wildfires.
The host, just to make sure, asked if the congresswoman believes the theories, in which the character responded with an 'Uh-huh.'
With a face hard to paint, McKinnon said that people could easily Google the congresswoman and see that she is a real US representative. Her tone shows apparent disbelief at what she was hearing.
Strong's Greene agreed that, yes, people could easily search for her online. But being a congresswoman might not be the first thing that will show up on Google. And we understand why.
During the conversation, Kate McKinnon asked what her colleagues did when they found out all the things that Greene said in the past.
Strong's Greene shared that she was promoted to the education committee.
It ended with Kate McKinnon saying that the government doesn't work, and she regrets not taking the gun. 
The Stock Market and the Super Bowl
Kate McKinnon proceeded to talk about the stock market and invited a 'major shareholder of Gamestop,' which she quickly figured out to know nothing about stocks. That means, this aspect no longer works too.
And then, she moved on to social media and vaccine rollout. For the vaccine rollout, she interviewed 'O.J Simpson' asking if he got vaccinated even before the teachers and those with health conditions. 'Guilty as charged – about the vaccine' was Simpson's response. This made McKinnon conclude that neither social media nor vaccine rollout works.
And finally, with a bit of hope, Kate McKinnon welcomed Tampa Bay Buccaneers quarterback Tom Brady. Brady was played by John Krasinski.
Kate McKinnon shared that this is Brady's 10th Super Bowl, and he kept on winning. From being in the worst franchise and taking them to the championship, McKinnon told him that he might be the only thing that works in America. She then added that everyone must be rooting for him.
Krasinski's character responded with, 'Almost no one.'
The host enthusiastically said that she will still be rooting for him because the country can still rely on the quarterback. She followed it by saying that he's not like he's a weird Trump guy or anything.
But the quarterback immediately said his thanks and left.
Kate McKinnon then turned to the camera and shared that she is slowly losing her mind. She reminded everyone to stay strong (or weak – because being weak is a great option too) before saying the show's signature farewell message, Live from New York, it's Saturday Night.
The entire skit was nothing short of hilarious and just tells us that things are still pretty bad in the US.
Which John Wick Theory Will Become The Real Ending to the Franchise?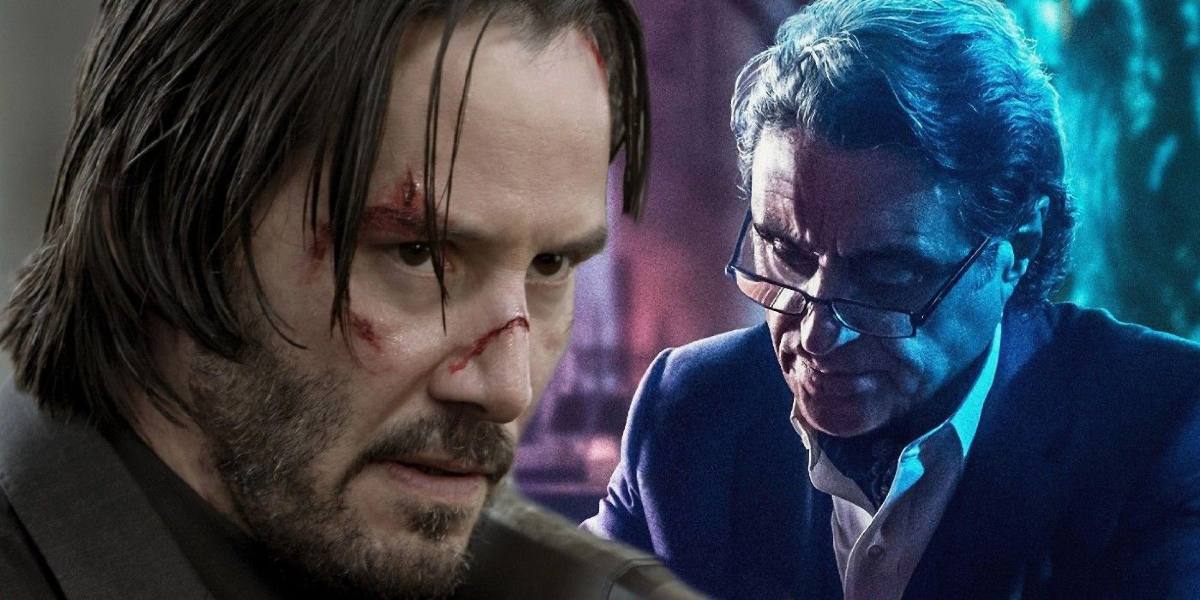 In 2014, avid action movie viewers got introduced to a new Keanu Reeves movie, John Wick. The first movie gives viewers a taste of the action sequences that will come in the next two films. The 2nd chapter, John Wick 2, explores the concept of the High Table and builds the world that the characters are part of. And in 2019, the latest, John Wick 3: Parabellum, we see an immediate continuation of John Wick's actions and consequences. It doesn't end there. It was also announced that two more sequels are coming: John Wick 4 and John Wick 5, with the fourth getting a 2022 release. But with John Wick (Keanu Reeves) still in the middle of his revenge plot against the High Table, how can the franchise end? Read more about each John Wick theory that fans have explored.
Warning: Potential spoilers ahead.
John Wick Theory 1: He Destroys the System and Finds a New Purpose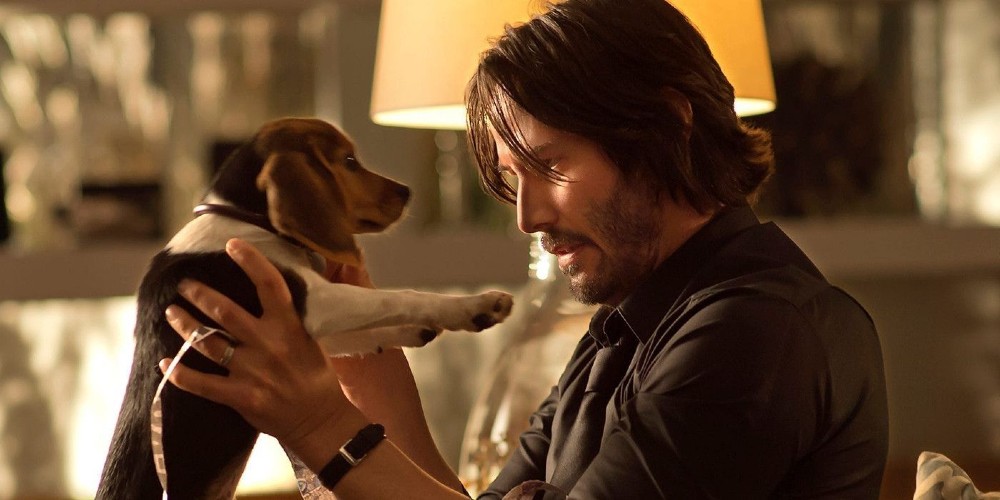 John Wick 3: Parabellum ends with John Wick falling off a building, suddenly disappearing from the street, and appearing bloody in front of the Bowery King (Laurence Fishburne). And with both characters having lost in different ways, it seems likely they'll have a team up to get revenge in the upcoming movie. With the treatment they both received from the High Table, they have no choice but to go against the system that has made them suffer.
This John Wick theory is a likely but predictable ending to the John Wick franchise. After all, Wick has had to endure endless beatings and shootings after coming out of "retirement." The Baba Yaga might even defeat the 12-seater High Table and end up with John Wick living peacefully. He could even adopt an orphan and help that orphan find a purpose alongside him and his unnamed dog. It will become a "happy ending" for Wick and those bound to the system.
Theory 2: He IS the New High Table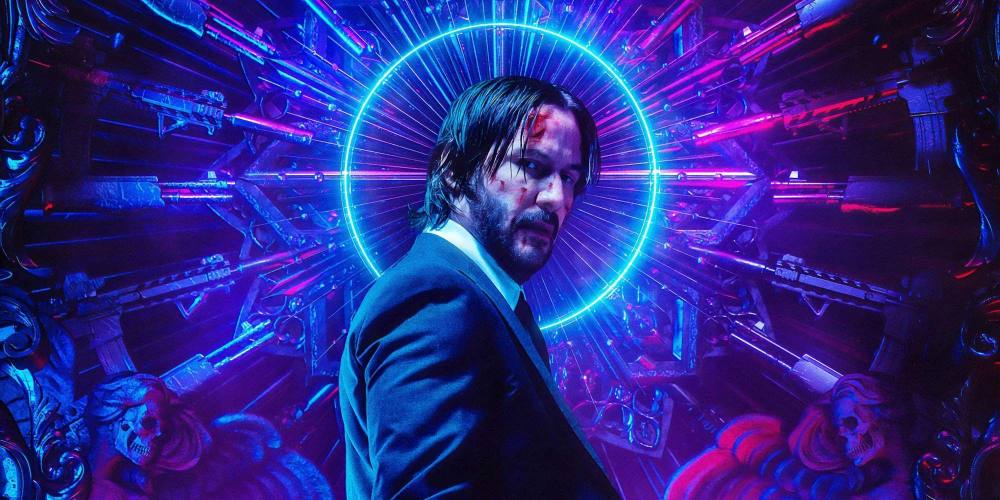 It seems that John Wick is impossible to kill, and his alliance with the Bowery King may further increase his strength. But once they defeat the High Table, what would happen next? This John Wick theory explores the idea that the protagonist will become the NEW High Table. The dreaded Baba Yaga may become the new High Table leader and have a new assassin following.
Once he and the Bowery King exterminates the High Table, John Wick could take the leadership role and create new standards. He might even allow assassins to leave a peaceful, everyday life and settle down. However, this theory may become unfortunate for John Wick. For someone who wants freedom from the High Table, taking the leadership position may become a fate worse than death for him.
Theory 3: He Knows He Can't Leave a Peaceful Life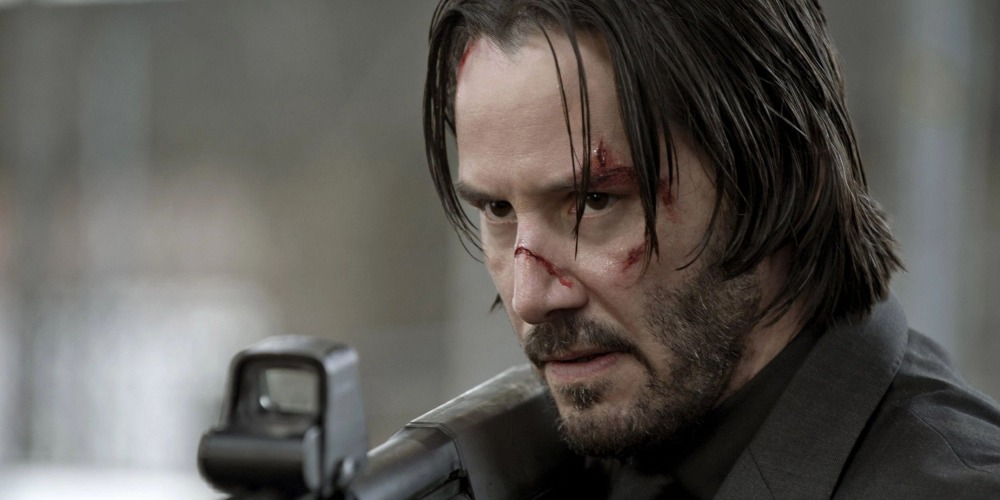 This John Wick theory explores the Kubler-Ross model– the five stages of grief. To refresh your memory, it's:
Denial (John Wick doesn't want his idyllic life to end)
Anger (John Wick goes on a rampage)
Bargaining (John Wick "bargains" with The Elder)
Depression
Acceptance
If the model were to follow the release of each John Wick movie, John Wick 4 might tackle depression. And with John Wick 5 announced, the protagonist may accept that he would no longer have a peaceful life.
In this case, John Wick will have to understand that he'll no longer go back to a life where he can live "normally" as he did with his late wife, Helen. Eventually, John Wick may realize that he might only achieve peace when he dies. And as an experienced assassin, John Wick knows that death would be his way out.
Theory 4: He Dies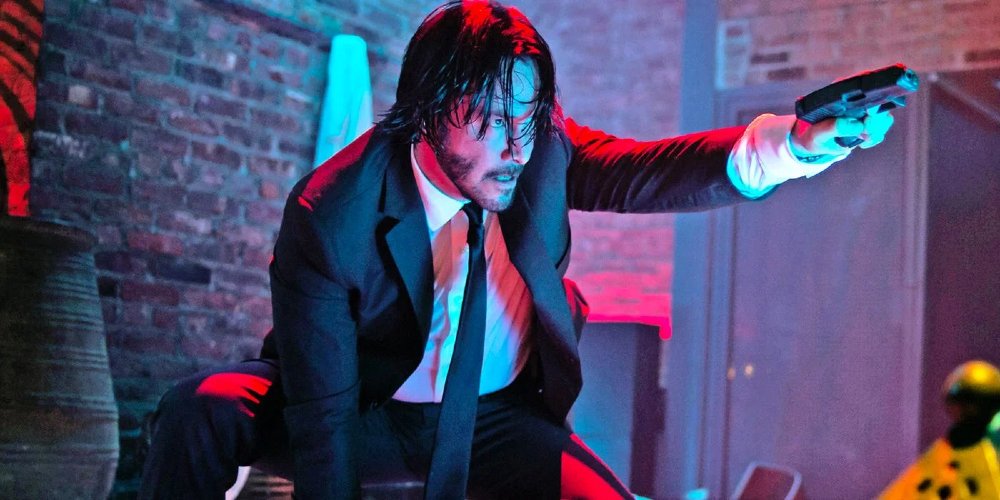 If peace seems impossible for John Wick, there's only one way for him to be "free" from the chains of the High Table: Death. He knows that dying is a better option than following the rules of the High Table blindly. Plus, having gone against crime families, it's likely that viewers will see John Wick at the end of his journey.
Once the High Table is gone, Winston (Ian McShane), the head of the New York Continental, may assume his position as head of the High Table. He would eventually create a fairer system for other assassins. Plus, he might even pay tribute to Wick once the Baba Yaga rests in peace. It's easier said than done to say that John Wick will die. Since the first movie, he's been fighting enemies, and it looks like he's nowhere near done.
Theory 5: A Longtime Ally is the REAL Villain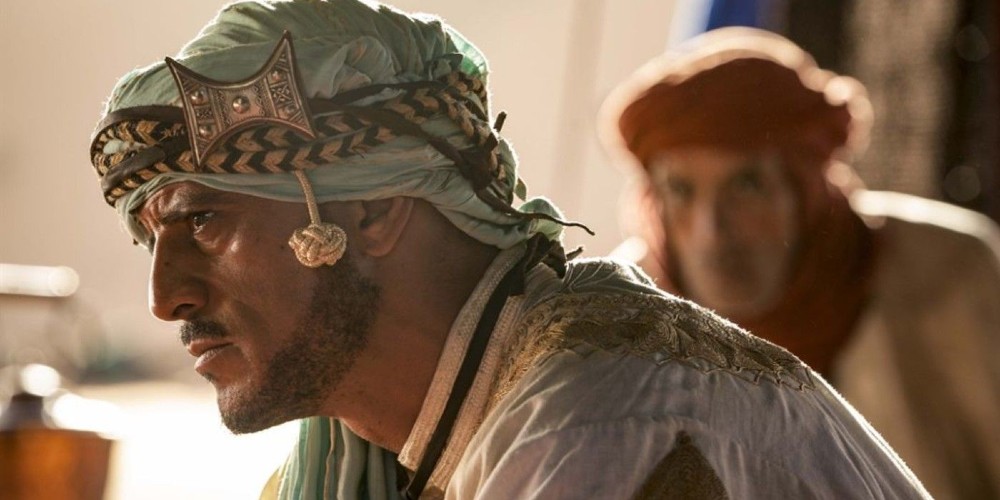 John Wick 3: Parabellum introduces its viewers to the antagonist of the franchise, the head of the High Table: The Elder. But, for someone who would be the antagonist, it doesn't seem too surprising. The Elder's past remains a mystery, especially his ascent to power and why people are quick to follow him. It may seem, however, the real villain set-up would be Winston, the possible actual leader of the High Table.
As manager of the New York Continental, Winston isn't one to falter. During the Continental siege, he was hiding inside his vault with John Wick's unnamed dog. He even helped supply John Wick and concierge Charon, weapons to wipe out the High Table's fighters. However, by the end of the movie, we saw him shooting John Wick off the Continental, seemingly killing the title character. And this ploy may only be the beginning of Winston's schemes, setting him up to become the likely villain in the upcoming movies.
For other interesting stories, check out more articles here in Owner's Mag.