Meta Launches An AI knowledge Tool Called "Sphere" Based On Open Web Content
Facebook says it wants to help fight misinformation rampant across the internet in recent years. But it's an issue it may have helped create in the first place. Facebook parent company Meta announced a new AI-powered tool on July 11 called Sphere. The Meta Sphere AI is intended to help detect and address misinformation, or "fake news," on the internet. The company claims it is the first AI model that can automatically scan numerous citations at once.
How It Works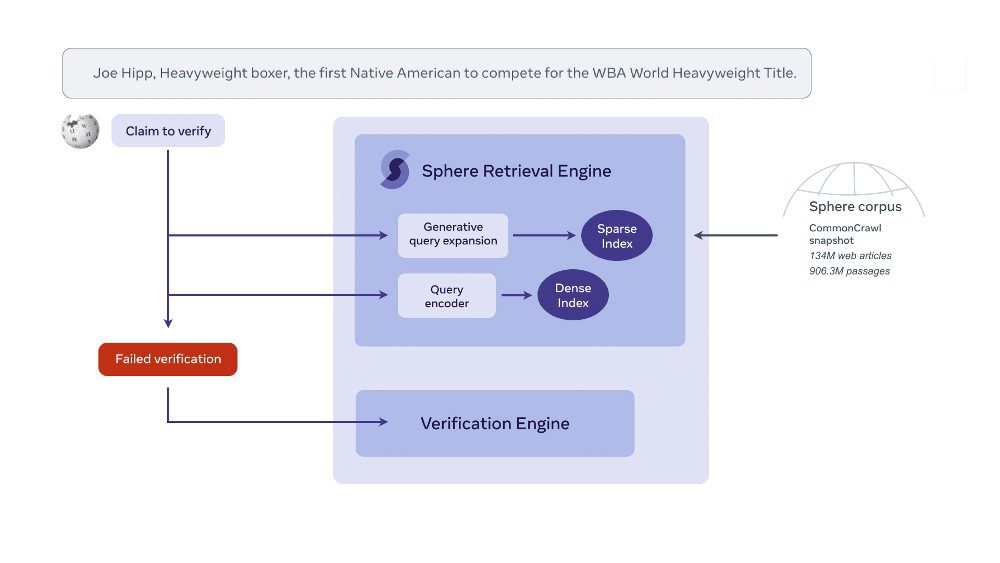 The idea behind applying Meta Sphere AI for Wikipedia is quite simple. The online encyclopedia contains 6.5 million entries. On average, it displays almost 17,000 articles added monthly. The wiki concept behind that means that adding and editing content is crowd-sourced. While there is an editorial team, it is still a tiring task that increases daily.
At the same time, the Wikimedia Foundation oversees Wikipedia and has been weighing up new ways of leveraging all that data. 
Meta's announcement regarding a partnership with Wikipedia does not reference Wikimedia Enterprise. Adding more tools for Wikipedia ensures that its content is verified and accurate. So, it will be something that target Enterprise service customers will want to know when considering paying for the service.
Meta has confirmed that there is no financial arrangement in this deal. However, the company notes that training the Meta Sphere AI model created "a new data set (WAFER) of 4 million Wikipedia citations.
What Can Happen in The Future
Based on the comments that TechCrunch got from Meta, here are the things that might happen soon. 
Meta believes that the Sphere's "white box" knowledge base has significantly more data than traditional "black box" knowledge sources. The 134 million documents at Meta used together to develop the Sphere AI were split into 906 million passages of 100 tokens each.
By open sourcing this tool, Meta argues it's a more solid foundation for AI training models and other work than any proprietary base. It concedes that the very foundations of the knowledge are potentially shaky, especially in these early days. What if a "truth" is not reported as widely as fake news? That's where Meta wants to focus its future efforts in Sphere. Meta intends to develop models to evaluate the quality of retrieved documents, detect potential errors and prioritize more credible sources.
Meta Sphere AIl raises some interesting questions on what Sphere's hierarchy of truth will be based on compared to other knowledge bases. Because it's open source, users may be able to tweak those algorithms in ways better suited to their own needs.
Meanwhile, Meta has confirmed that it is not using Sphere or a version of it on its platforms like Facebook, Instagram, and Messenger, which have long grappled with misinformation and toxicity from bad actors. (We have also asked whether other customers are in line for Sphere.) It has separate tools to manage its content and moderate it.
The development seems to be designed for mega scale. Wikipedia's current size has exceeded what any great team of humans could check for accuracy. The critical point is that Sphere is being used to automatically scan hundreds of thousands of citations simultaneously to spot when a citation doesn't have much support across the wider web.
While Meta Sphere AI is still in the production phase, it also seems like the editors might be selecting the content, which might need verifying for now. Eventually, Meta's goal is to build a platform to help Wikipedia editors systematically spot citation issues and quickly fix them or correct the content of the corresponding article at scale.
And for other news stories, read more here at Owner's Mag!
Why Climate Startups Will Takeover The World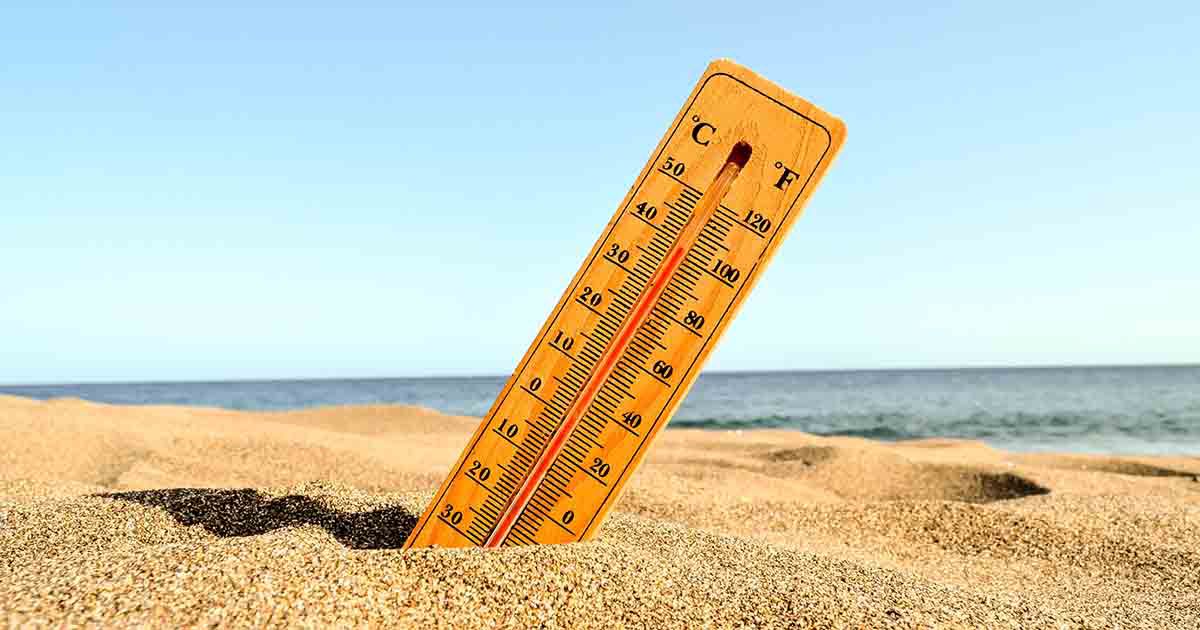 Climate change is a huge problem. But it's also a massive opportunity for some people, particularly climate startups.
The latest United Nations (UN) climate report predicts "unprecedented heatwaves, terrifying storms, widespread water shortages and the extinction of a million species of plants and animals." In a video message for International Mother Earth Day on April 22, 2022, UN Secretary-General António Guterres spoke about the Earth's current triple crisis: (1) climate disruption, (2) nature and biodiversity loss, and (3) pollution and waste.
So how can we survive this? Well, with some help from the climate startups of tomorrow—that's how. The world is already seeing a boom in these climate tech unicorns, focusing on everything from renewable energy sources to green transportation options. But they're not just trying to save the planet; they're also trying to protect people's health and livelihoods.
Climate change startups are a great place to get in on the ground floor of what could be one of the most relevant technological trends of the next decade.
Climate startups to Lookout for in 2022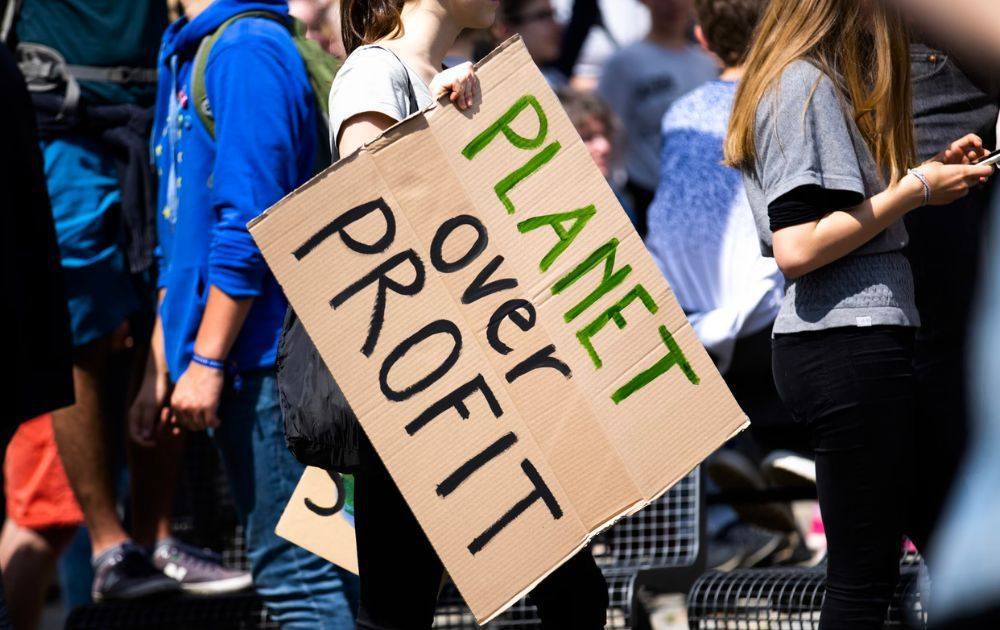 Let's look at a few of our favorite climate change startup ideas, which also made it to CB Insight's top 10 lists in Quarter 2.
A $750 million investment in Intersect Power was the biggest deal in climate startups in Q2. Intersect Power is a clean energy provider offering its clients cutting-edge, scalable low-carbon solutions in the retail and wholesale energy sectors.
They create and own some of the most incredible sustainable energy resources in the world, which they use to supply low-carbon fuels, power, and other goods to consumers in North America. They will use the money to eventually integrate the creation and storage of clean energy with the development of green hydrogen and direct air capture.
With a $535 million Series D funding, electric hypercar manufacturer Rimac Automobili is also making a mark on the top climate tech startups list. In recent years, governments and automakers have promoted electric vehicles as a crucial technology to reduce oil consumption and combat climate change worldwide. 
Funding for such technologies contributes significantly to ensuring that vehicle emissions will dramatically reduce once most of the world's population has access to clean-energy-powered transportation options.
Also on the climate tech VC list of promising climate tech startups 2022 is UK-based newcleo. Newcleo, a clean and secure nuclear technology business, is developing an innovative generation of lead-cooled reactors. In the second quarter of 2022, they were able to secure $316 million in Series A capital.
According to a press release published by newcleo on June 19, 2022, the funds they were able to raise "will be instrumental to accelerate newcleo's overall growth and its strategic expansion into manufacturing nuclear fuel for its new-generation reactors from existing waste produced by traditional reactors."
Solar, photovoltaic, and off-grid energy tech on the rise
Included in the list of best climate startups is Chinese solar manufacturer Gokin Solar who raised $251 million in a Series A round. Gokin Solar concentrates on the R&D and production of large-size silicon wafers with a high photovoltaic conversion efficiency. The business is situated in Zhuhai, China, and was founded in 2019.
On the other hand, German solar and heat pump installer 1Komma5 raised $218 million in Series A capital for its line of energy technologies that support CO2-neutral housing. They provide photovoltaic systems for producing clean electricity, solar power storage units for storing as much electricity as possible, heat pumps for producing sustainable heat, and solutions for charging electric vehicles.
Kenyan off-grid energy supplier, Sun King, closed a $216 million Series D deal. For the 1.8 billion people who today lack access to reliable energy, Sun King develops, distributes, delivers, and funds solar home energy products. The company has already served 82 million people, primarily in Asia and Africa.
It goes without saying that climate change requires us to think outside the box and find solutions before it's too late. Hopefully, the tech industry can keep offering ingenious solutions that will help us take better care of the planet we call home.
"Flying Ferry" Candela P-12: An Effort to Shape the Future of Water Transportation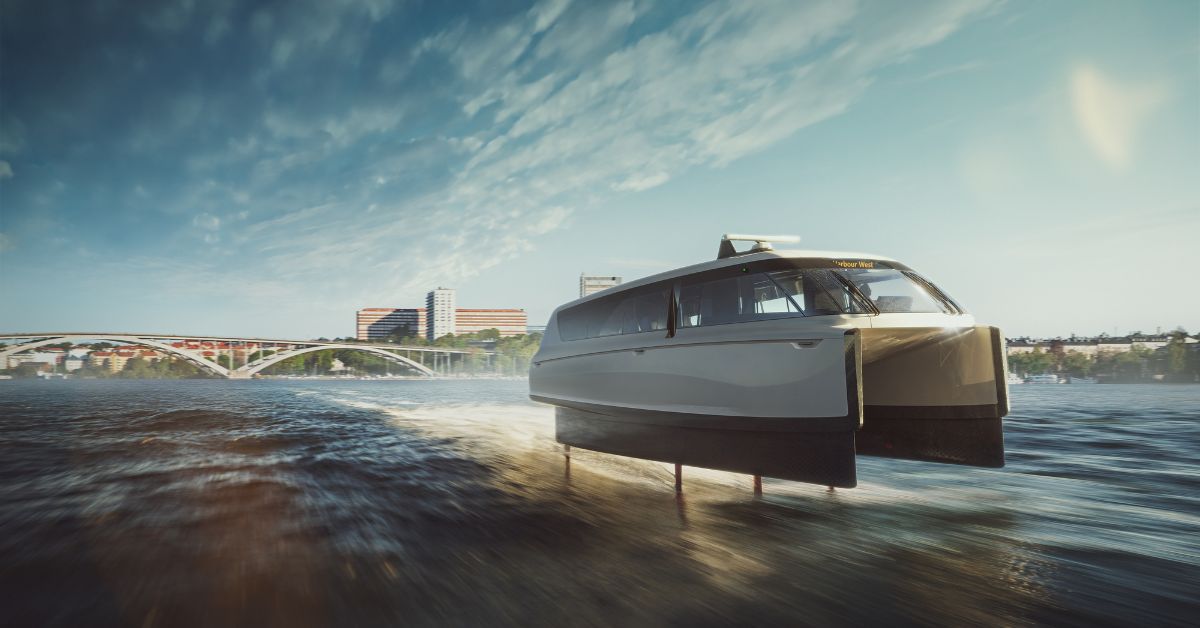 Stockholm is an archipelago of 14 islands and is connected by 57 bridges. The capital city of Sweden has long been home to marine transportation.
It's not a bird or a plane. It's a flying ferry! Three feet above the water, the Candela P-12 flies across Lake Mälaren near Stockholm, Sweden. With just the boat's hydrofoils cutting through the waves, it leaves virtually no noise or emissions. The revolutionary invention transforms the current marine transportation within the archipelago. 
The Flying Ferry: A Water-Bound Fantasy
While Sweden-based startup Candela is already manufacturing recreational versions of its electric flying vessels, the P-12 has not yet been built. Candela CEO Gustav Hasselskog reveals the boat is in the design for manufacturing phase ahead of a scheduled unveiling in November, followed by a trial in 2023. The goal is to have the flying boat be part of Stockholm's public transportation fleet.
Reducing carbon emissions from ferries is a priority of the Stockholm local government. The city's existing fleet of 60 ferries recorded an emission of 40,000 tons of carbon dioxide annually, which accounts for 8 percent of Sweden's total shipping emissions. Air pollution in cities raised public health concerns.
"Marine transportation has to stop using fossil fuel, fast. That is why electric ships can be a powerful solution for short journeys," says researcher Simon Bullock of the University of Manchester's Tyndall Center for Climate Change Research.
Efforts Towards Reducing Carbon Emissions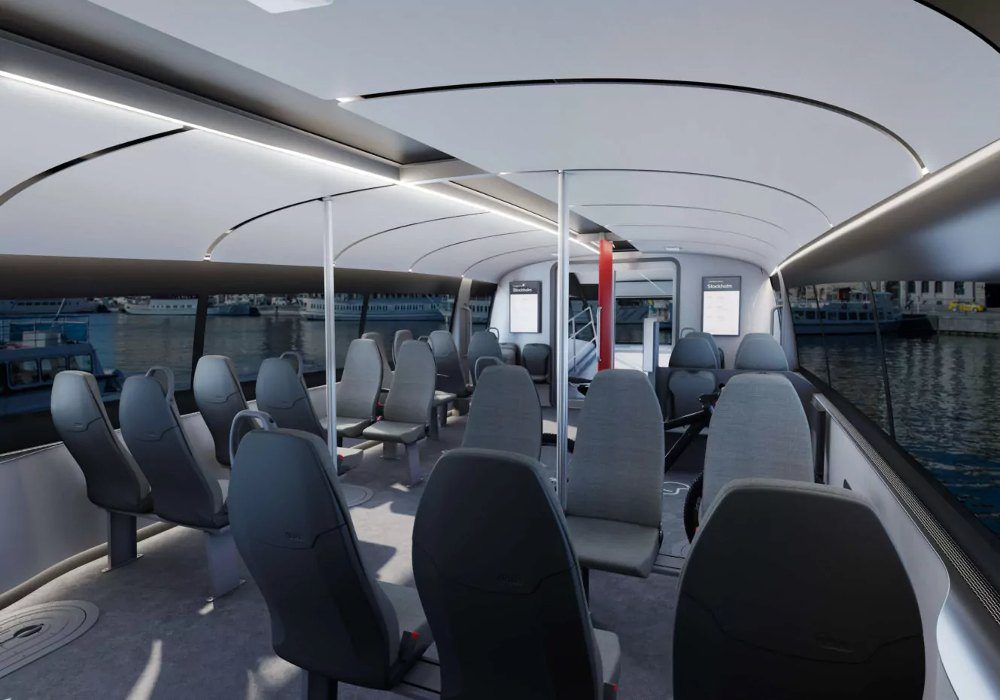 Stockholm is striving toward emissions-free ferries by 2025. Electric ferries have previously been tested in the Swedish capital, with local authorities testing another model from Green City Ferries and Candela's revolutionary P-12 ferry.
Norway has electric passenger ferries to tour its fjords. Belfast in Northern Ireland also tests a similar "flying" style boat. In addition, a project at the University of Plymouth (UK) is converting diesel ferries into electric models.
However, Candela thinks there is more to cleaning up Stockholm's commuter traffic than emissions-free energy. This can be done by making ferry operators quick enough to persuade more people to ditch cars. Hasselskog points out the following scenarios:
Traveling from Tappström to central Stockholm takes 50 minutes by car during rush hour. The P-12, on the other hand, can hit 30 mph and could navigate the waterways between the two in 25 minutes.
Waxholmsbolaget, the agency that operates public transport boats in Stockholm, carries 1.2 million passengers annually, compared with 780,000 commuting trips by other forms of public transport each day in the city. In short, there's room to get more Swedes in the sea.
Addressing the Challenges
The concern with powering any form of transport with electricity is it requires heavy batteries. That's a problem for boats, as they suffer drag in the water. To address this, Candela uses hydrofoils, legs extending down into the water and acting like wings, propelling the boat into the air as it picks up speed like an aircraft during takeoff.
"The foils are fully retracted in the harbor, so they're protected. "But then you lower the foils and move the throttle, then it flies. The control system allows the entire takeoff sequence. It works like an airplane, Hasselskog says.
A super fast flying ferry sounds like a surefire way to lose your breakfast on the morning commute. Still, the Candela has sensors that feed into an automated control system to adjust the height, roll, and pitch up to 100 times per second to ensure a smooth ride regardless of the weather. Hasselskog also said that a control system could eliminate any vertical movements of the boat.
The said features of Candela P-12 will utilize less energy per passenger than a hybrid electric bus and travel faster than a car. And in return, it could bring down fuel and maintenance costs by about 40 percent. P-12's ability to glide above the water makes it less disruptive to the local environment both above and beneath the water.
Not all cities can use waterways as highways like this. However, it could be a promising idea for coastal conurbations. Competitor flying ferry-maker Artemis has an ongoing trial for a version in Belfast. Meanwhile, Hasselskog has talked with authorities in Istanbul and the Middle East. Representatives from the Water Emergency Transportation Authority (WETA), which runs ferry services in the San Francisco Bay Area, have visited Stockholm to witness how the Candela P-12 works.
And for other stories, read more here at Owner's Mag!
Plants Appear to Be Self-Medicating by Producing Their Own Aspirin When Stressed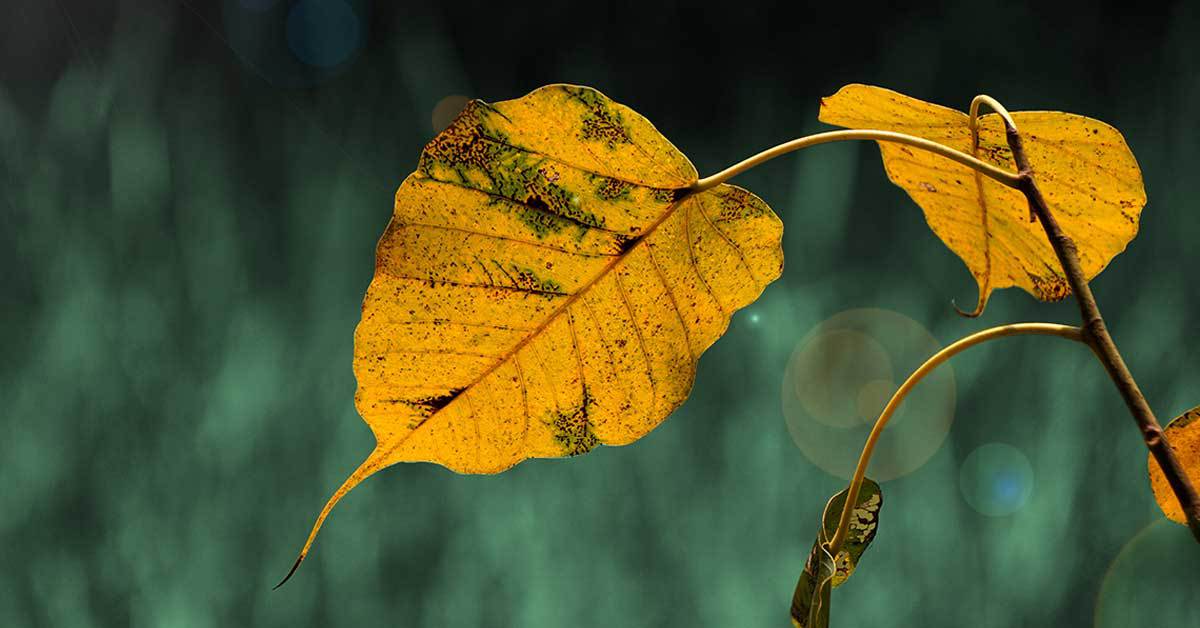 It appears that not only do humans get stressed, but plants also get stressed due to external factors. But like humans, they can't buy medications to relieve stress. Instead, plants self-medicate when stressed.
Whenever we experience minor pains and aches, we grab the nearest aspirin to relieve the pain. If we experience slight fevers, aspirin always seems to save the day. Aspirin relieves mild to moderate aches and pains like toothaches, headaches, muscle aches, or the common cold.
It's also used to alleviate swelling in certain conditions like arthritis because it's considered a nonsteroidal anti-inflammatory drug or NSAID. It's also known as a salicylate, the major component in aspirin and other pain-relievers.
But people don't know that salicylate is a natural plant component. It's a critical plant hormone vital in several plant functions such as seed germination, stomatal closure, floral induction, root initiation, thermogenesis, and biotic stress response.
A Plant Sciences study titled "Reciprocity between a retrograde signal and a putative metalloprotease reconfigures plastidial metabolic and structural states" shows the plants' self-defense mechanism that produces salicylic acid, the active metabolite of aspirin, and how it's regulated. 
It's created by photosynthesis via the plant's chloroplasts, the plant's tiny green organelles. A plant biologist from the University of California, Riverside, Wilhelmina van de Ven, says this process is similar to humans taking painkillers to relieve discomfort.
How do plants self-medicate when stressed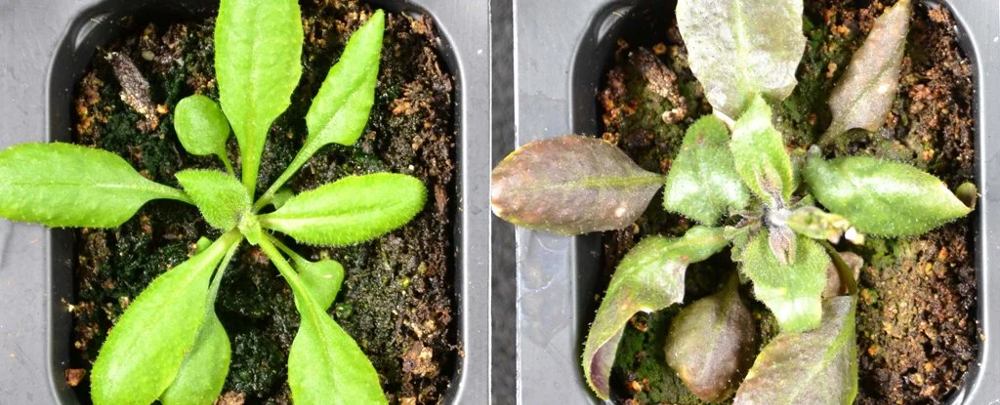 It might be astonishing that plants produce salicylic acid, a major ingredient in synthetic aspirin for humans. But Wilhelmina van de Ven explains how plants create their own painkillers by performing biochemical analyses on mutated plants blocking the effects of their primary stress signaling pathways.
Like humans who face stressors from external environments daily, plants also fight for their lives against these environmental stresses. ROS or reactive oxygen species are the by-product of environmental stresses that impact living organisms like plants.
These can include excessive heat, drought, or mean insects that suck the life out of the plants. While ROS in regulation is extremely useful in blocking the stress signaling pathways of plants, it is considered lethal at alarming levels. That said, regulation is key to producing aspiring to relieve plant stress.
The researchers used Arabidopsis or Rockcress as the plant guinea pig for the experiment. They focused on a component called MEcPP, an early warning molecule and a telltale sign that the plant is stressed.
Once the MEcPP accumulates in the plants, it stimulates a chemical reaction and creates a response: salicylic acid.
Jin-Zheng Wang, a plant geneticist from UCR, says, "At non-lethal levels, ROS are like an emergency call to action, enabling the production of protective hormones such as salicylic acid."
She also adds, "We'd like to be able to use the gained knowledge to improve crop resistance. That will be crucial for the food supply in our increasingly hot, bright world."
Although this study is still in its infancy, the researchers have considered this knowledge a huge benefit in plant modification, so plants are more resistant to environmental hazards.
And for other news or stories, read more here at Owner's Mag!