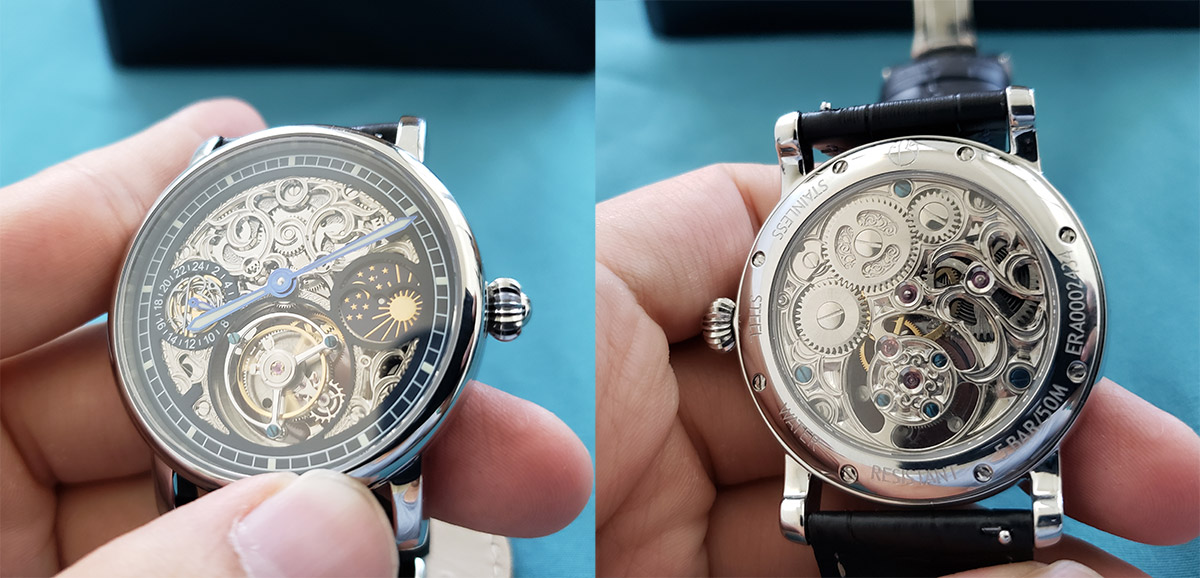 We used to rely on sundials to tell them. Although ridiculously cool, that's no longer practical. When Abraham Louis-Breguet engineered the very first wristwatch in 1810, it changed the world as we know it. For the first time – the time is literally in your hands. The introduction of a tourbillon in the early 1900's fascinated watch collectors all over the world. The elegance of the absurdly complicated movement that seems to defy gravity captivated the world. These watches weren't just beautiful, they were also expensive. A tourbillon wristwatch will set you back easily $100,000.
Tourbillon watches have been glamorized by celebrities such as Cristiano Ronaldo, Lionel Messi, and countless famous athletes. Needless to say, having a fortune simply isn't enough to own a tourbillon watch. You'd need several fortunes.
Then came Era Timepieces, a company that's offering a watch with a tourbillon movement for $1499. That's less than a fraction of what a Jacobs & Co. watch. Is it real? Does the watch actually have a tourbillon movement? We decided to reach out to Era Time Pieces for a review sample.
About The Founder
Michael Galarza, the founder, and CEO of Era Time Pieces had his first major success in 2018 after his Kickstarter campaign garnering over $700,000 in orders only after a month. That marked the beginning for Michael and proved that there is a market for affordable tourbillon luxuries. Soon after the success of his first watch, the Prometheus, his company moved ahead and produced a whole line of watches all sharing the same level of craftsmanship and attention to detail of his first success.
Redefining Attainable Luxury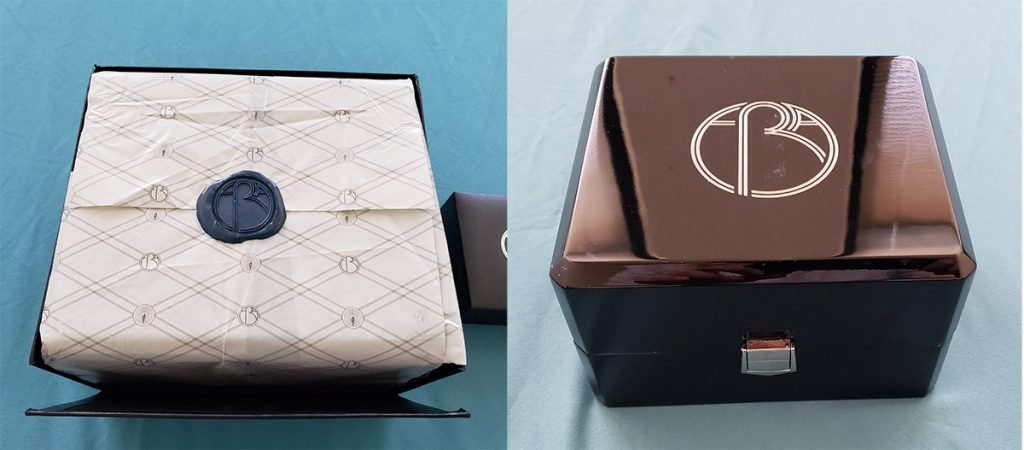 According to their website, Era Timepieces' goal is to make Haute Horlogerie accessible to the common man. Their prices range from $999 to $6,500, a long shot from other well-known brands. I have seen a Patek Philippe with a monstrous price tag of $1,423,028! Therefore it's understandable that most would be skeptical. How could a company possibly make a tourbillon for that cheap? At $1499, it certainly isn't cheap. However, for a tourbillon, it's a steal.
Upon opening the package we're greeted with a wax seal with the company's logo on it. We always appreciate it when companies go the extra mile for presentation. Unwrapping the tissue paper, you're greeted to a gorgeous piano black box that houses the $1499 Era Prometheus.
Unwrapping The Watch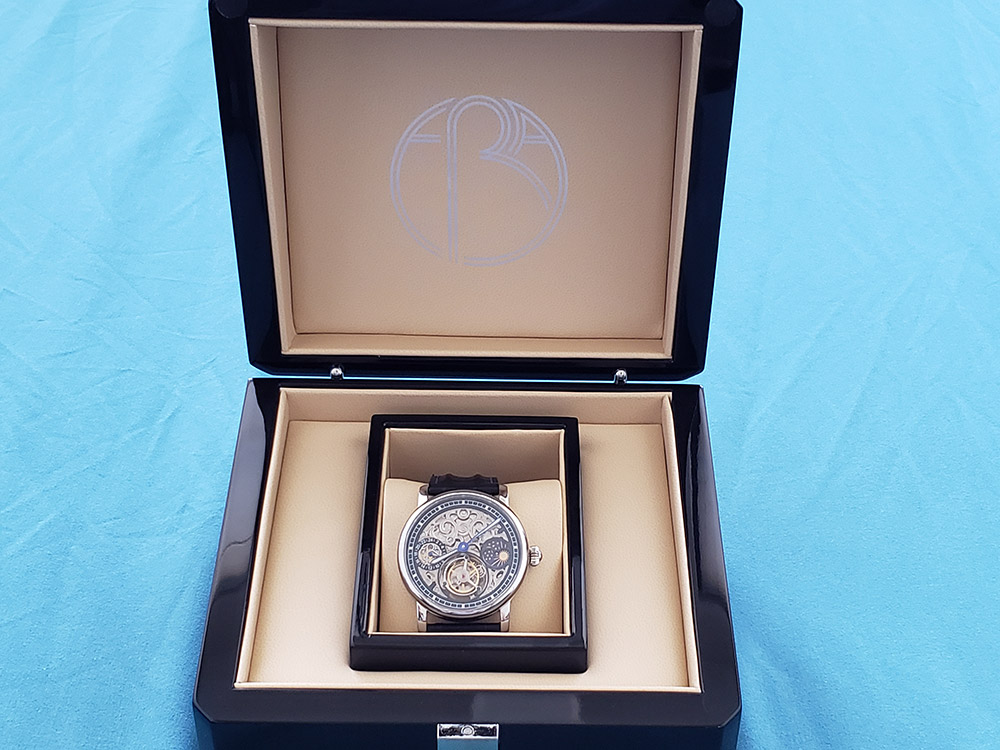 Opening the box for the first time, you're greeted to the sight of the Prometheus. Pictures don't do it justice. Seeing it in person has an entirely different effect.
Purposeful Design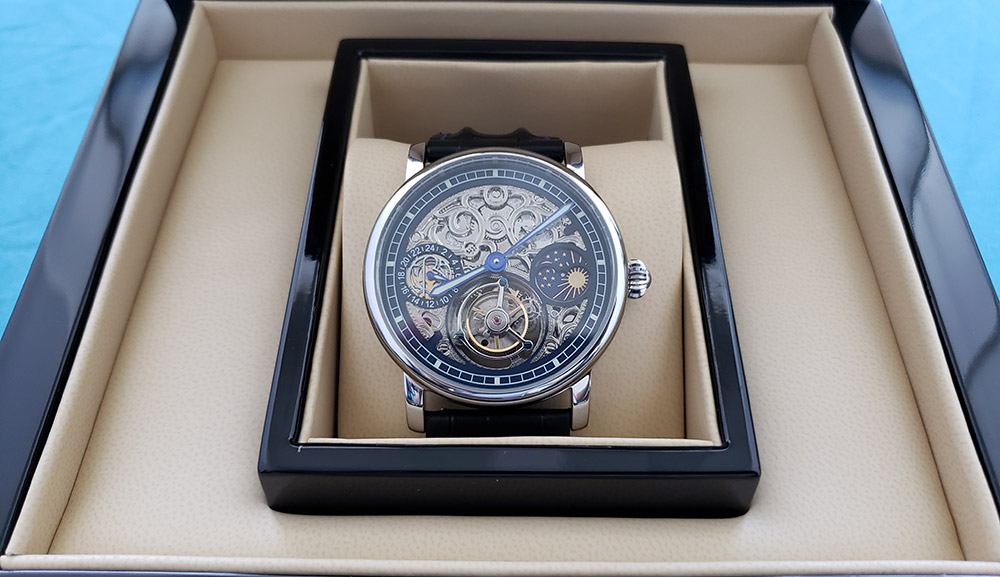 Here's a closer look at the Prometheus. It's a lot to take in. The watch has a single-axis tourbillon with automatic movement. On the left, there's a secondary GMT hour hand useful for keeping track of two timezones. This is a good feature if you're a frequent traveler who goes back and forth from the coasts and doesn't want to constantly adjust your watch.
On the right side, you have a Sun/Moon rotating disk. I don't see a real function to this, but then again you're not buying this watch for functionality. You're buying it because it's a tourbillon watch and you'll look like a boss wearing it. Regardless, the sun/moon indicator is a neat feature to have and adds to the styling of the watch.
The Size & Fit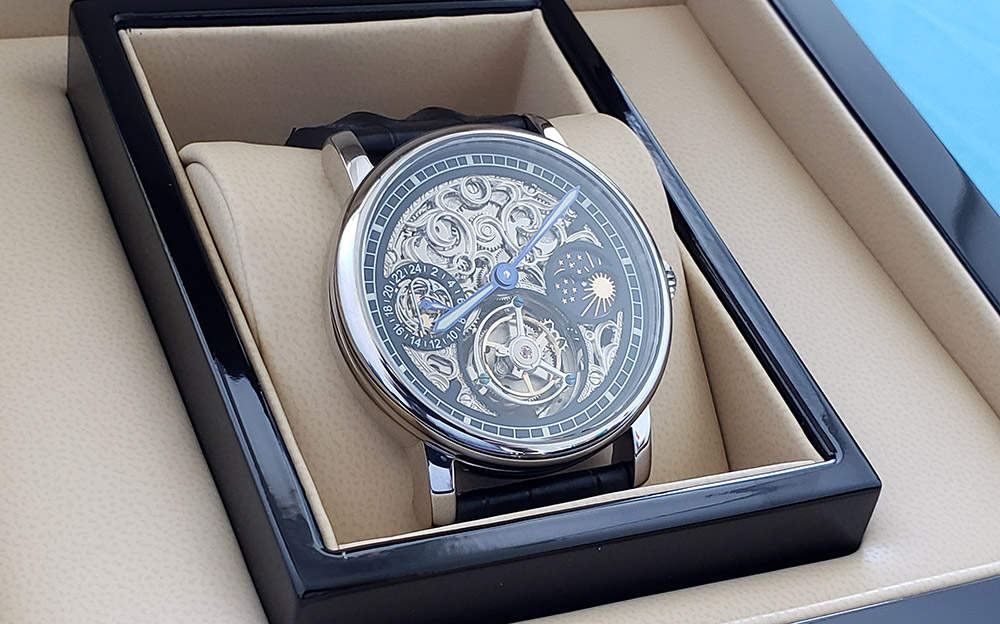 The Prometheus is surprisingly well balanced in terms of its size and weight. At 44mm wide, it's average in size. I have a fairly normal size wrist and the watch fits well without looking bulky. It's 12.72 thick, which is right up there with your typical Tag Huers and Omegas, but it's not thin like Movados.
It weighs about 125 grams which put it right there in the middle in terms of weight. It's not heavy and you won't feel its mass while wearing, but it's certainly not light. You won't "not" notice it.
Its water-resistant 5 ATM / 50 meters. Keep in mind this doesn't mean it's water-proof, just resistant. You'll be fine washing your hands and maybe swimming around in a pool with it. But definitely not a watch you'd go scuba diving with.
The Glass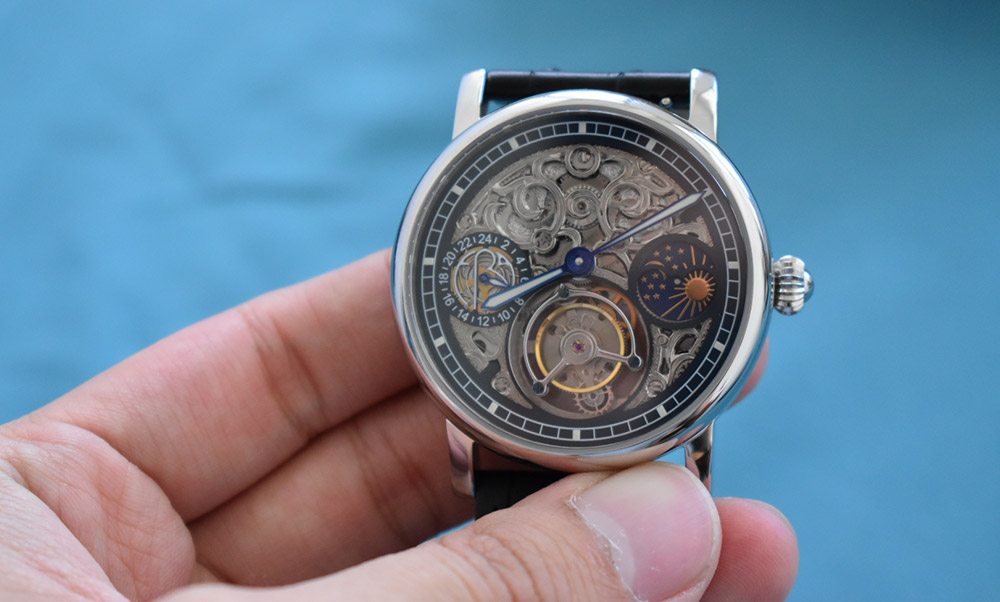 Michael and his crew didn't skimp out on the glass. The Prometheus features ultra scratch-resistant Sapphire glass. It's good glass and you shouldn't have to worry about scratching it from polishing. The anti-reflective coating on top of the glass is also a nice touch making it easy to see even outdoors.
The watch needs to be wound up in order to work. We carefully took it out of the leather-padded box and gave it a few turns to bring the tourbillon to life. And then it came to life. It's a beautiful and practically silent movement. We weren't sure how to adjust the secondary clock and the day/night phases. The manual gave simple instructions on how to make those adjustments, and within a few minutes, we were all set. The Era Prometheus is alive.
The Straps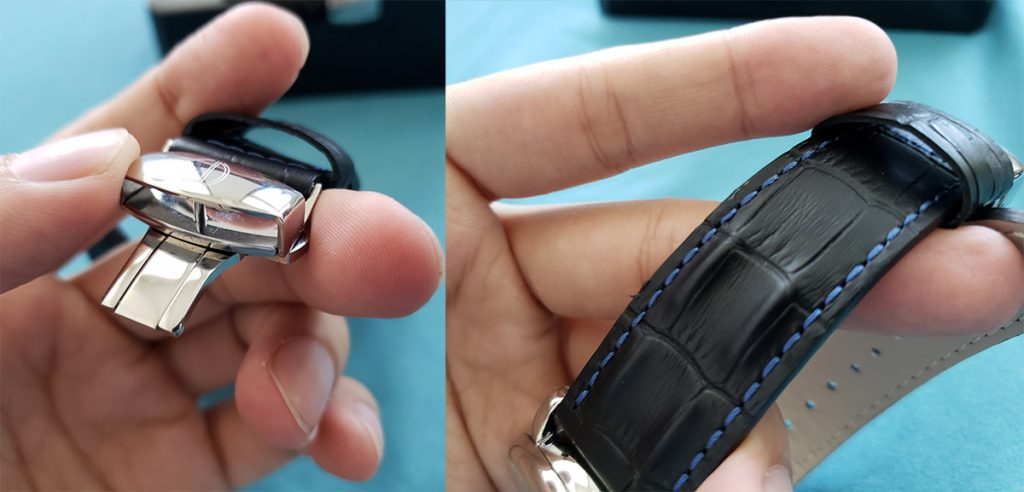 The Hornback style leather band has a 24mm width and feels comfortable on the wrist. It has an extendable butterfly clasp with blue stitching that stands out beautifully. One downside is that the mechanism to open and close the latch can be challenging with just one hand. This is something new owners will have to adjust to.
Different Models
The Prometheus comes in two models, the basic and the Titan versions. Besides the price difference, the Titan also comes embellished with 78 diamonds, totaling 2.3 carats, placed on the bezels and the lugs.
Look And Feel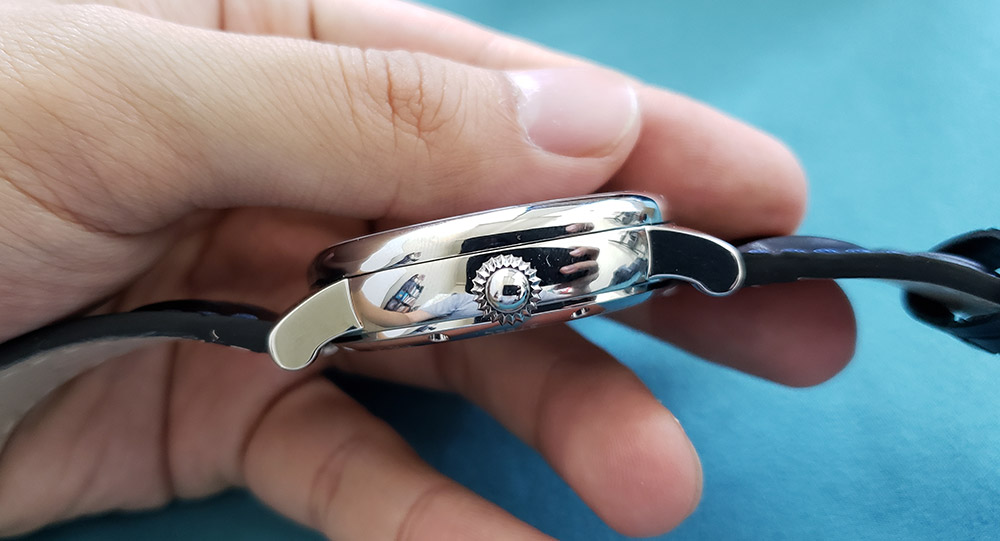 Unfortunately, we couldn't provide pictures of how it looks and feels wearing the Prometheus around in the friendly neighborhood of Philadelphia. During the few days that we wore the Prometheus, a handful of friends and coworkers commented and asked about my new watch. They were impressed with the mechanical movement of the tourbillon.
Just about everybody was curious about the sun and moon dial and how that works. The watch definitely gets attention. It was designed to be admired, that anyone who buys the Prometheus should have that understanding. It also isn't a watch you can casually wear. There's nothing casual about it. It will look a bit out of place if you don't at least dress in business casual.
How Much Does It "Look" Like It Cost?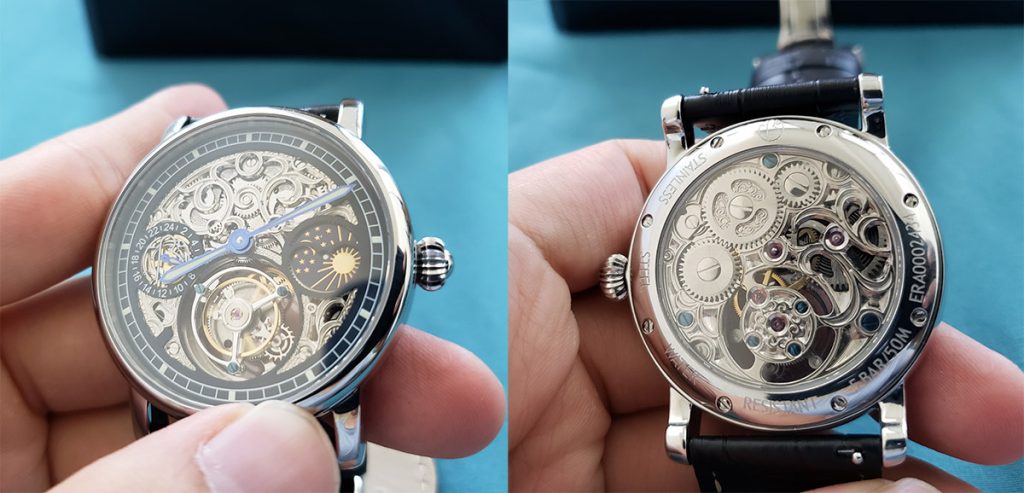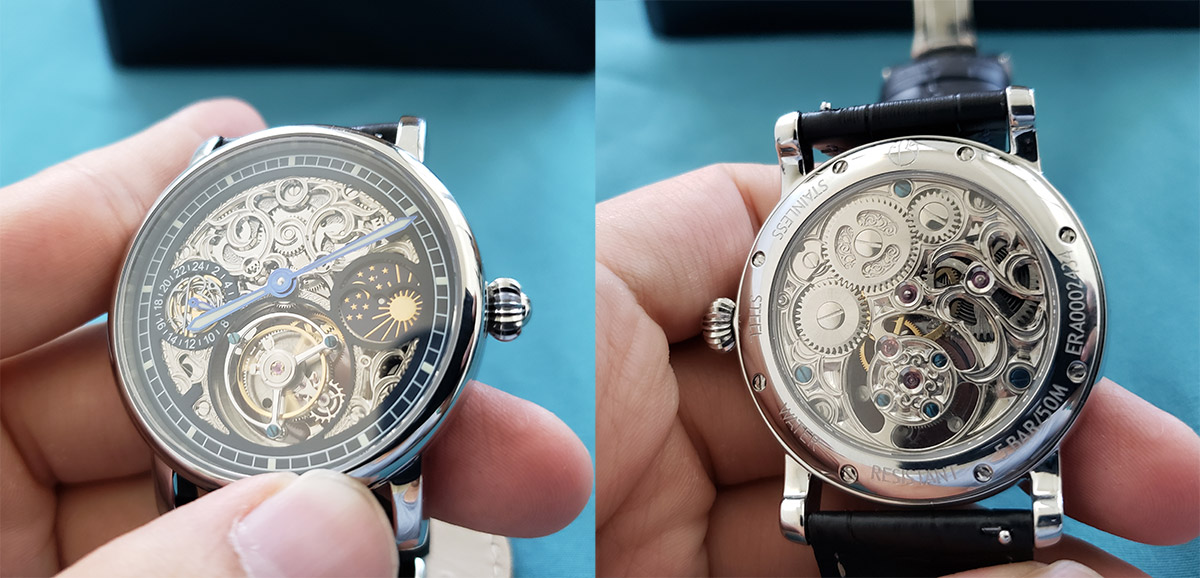 Throughout the week I've had at least a dozen people asking me how much it costs. I asked them to guess the price, to see how much they valued the watch at. Unfortunately, my coworkers and friends know how much I make and what I can't afford. But I had a few interesting guesses. Most guessed the watch to be between $5000 – $10,000. Several asserted that I stole the watch and should return it to its Ferrari owner.
The Verdict
Era Timepieces aren't Swiss made, as a matter of fact, Prometheus' movement is from Hangzhou from China. But you wouldn't be able to tell by looking at it. The craftsmanship is top-notch and every piece is engineered precisely with purpose. Most surprisingly, the tourbillon movement works and works quite well.
Era Timepieces delivers on its promise of bringing a $100,000 tourbillon watch to consumers at an affordable price. The Prometheus at $1499 looks, feels and works like any other high-end luxury watch on the market. If you've always wanted to own a millionaire's watch consider your prayers answered.
How My 7-Day, $7 GraphicsZoo Experience Went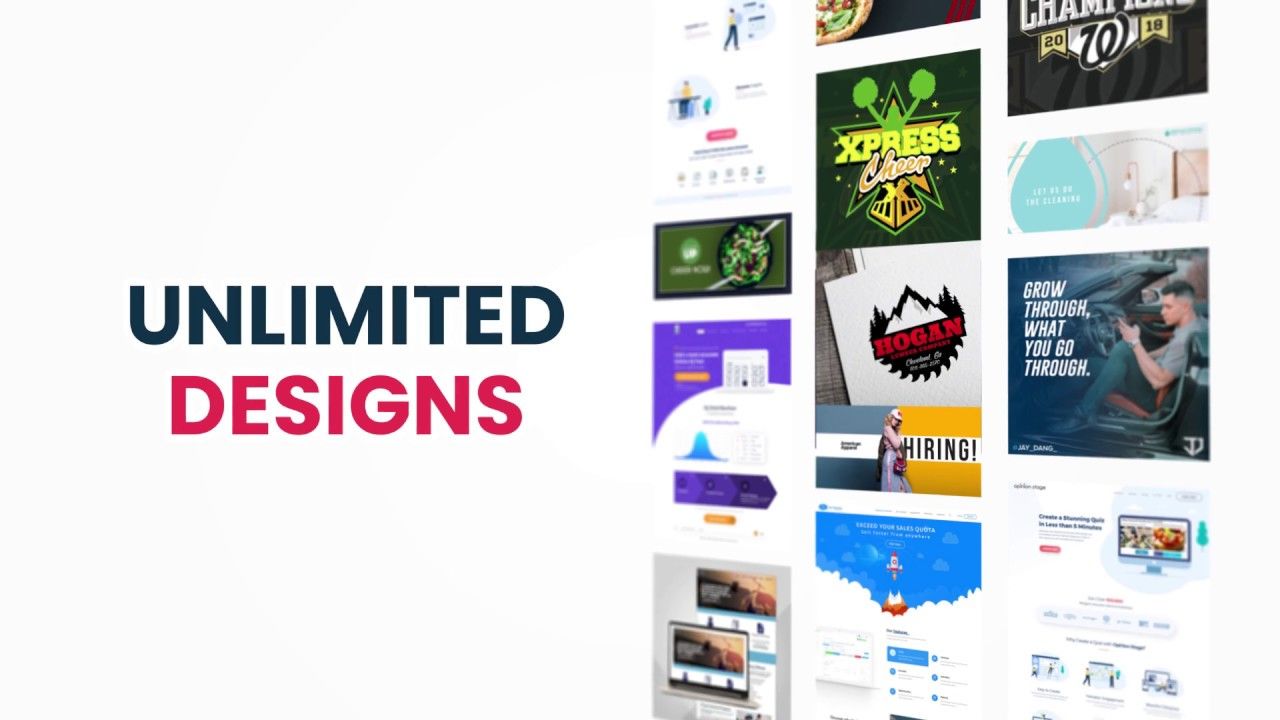 The luxury of an on-demand graphic designer is a recent one. Gone are the Mad Men days of walking into a glamorous, sexy office building to hire a firm to do design work for you. Now, if you need a design completed, all you have to do is log on. GraphicsZoo is one such on-demand graphic designer. 
For a flat, monthly rate you can have all the designs your mind could dream of. So, I decided to see what was up with them. I signed up for their 7 Day $7 Trial. Not a bad deal, right? Here's how my experience went.
Logging On, Part One
When I first signed up for GraphicsZoo, I didn't actually sign up. Not yet anyway. I had filled in and submitted the necessary log-in information. Next was the payment information. I paused on that for whatever reason, got distracted and closed the window. I would take care of it the next day when I had a moment.
GraphicsZoo, however, took the initiative. I received this email the following day:
I hadn't given them any money yet. Seems a little odd for a company to get the ball rolling when a customer has knowingly not handed over any kind of payment information. They sure seemed eager to get started, so, why not? Let's get to work.
Except, when I clicked on "Post a New Project," I was sent to this page:
You may be asking yourself, "what the hell is Laravel?" Because I sure did. Laravel is a free, open-source PHP web framework. It's a website programming tool. That's the best way I can explain something I don't fully understand in layman's terms.
Why was I sent to this page by an official GraphicsZoo email?
¯\_(ツ)_/¯
Logging On, Part Two – The Sandwich Shop of My Dreams
Now ready to hand over proper payment information, I signed up a second time. Again, GraphicsZoo sent me an email about starting a project before I had submitted the payment information. But this time, they didn't even give me time to walk away.
I get it, you're Eager McBeavers. Let's wait until I hand over payment information, yes?
Once I got settled in, I submitted my design request. Since high school, I've had a very silly dream about opening up a sandwich shop. So, to make a younger me excited, I decided to create a logo for this dream sandwich shop.
My nickname in high school was Blondie, so I decided to stick with the theme and name my dream shop "Blondie's Sammiches."
Now, I had plenty of ideas as to how I wanted a logo or a label to look for this dream shop. But I wanted to see what GraphicsZoo designers could do with minimal direction. I gave them the initial freedom to decide for me. Let's see what kind of raw talent they got.
I asked for a classic New York deli-style design, and the rest was up to them. At least to start.
Once submitted, I happened to notice the expected delivery date. September 6. That date would seem arbitrary, but I signed up on September 1. Kinda funny that the first expected delivery date is just under the 7-day mark, no? 
I see what you're doing, GraphicsZoo.
Design First Draft
To GraphicsZoo's credit, they delivered the first draft ahead of schedule. For minimal direction, they delivered a half-decent design.
I asked for a classic New York deli-style design. I think, despite the super-dated early 90's color scheme, they did pretty okay.
Now, I wanted to see how they would take direction. I preferred the first design with the text wrapped around the sandwich logo. I only wanted to change the color. I asked for a variety of text options (black, white, and colored) and that the sandwich be filled with "sandwich colors," for lack of a better description.
We all know what "sandwich colors" are, right?
Turns out, GraphicsZoo designers did.
The Waiting Is The Hardest Part
We were approaching the 7-day mark, so I was hoping to get a revision on the design before that mark. 
I would periodically check-in, but I would have a difficult time navigating the site. Upon checking in, I would see this page: 
If I were a less patient person, I would have been irritated. If I was paying regular, non-$7 prices, I would be furious. My inner Karen would be roaring.
After some digging and clicking, I would eventually find my project. But, frankly, I shouldn't have to do that no matter how little I'm paying. If I'm about to open my dream sandwich shop, I want to be able to find my potential logo with absolutely no issues.
Seeing empty folders on an initial log-in is, well, not good. 
Design Second Draft
Thankfully, one day before the end of the 7-day trial, I received a second draft. To my delight, they had followed my directions well. 
Sure looks like "sandwich colors" to me.
If I had more time to work on this, and if I were actually opening up my sandwich shop, I would have more revisions to make. But, considering the quality of design in the brief time allotted, I think this is a solid design.
What is "solid" in terms of an academic grade? A "B?" A "B-?" Either way, my mother would tell me to do better. 
Cancelling The Trial Before The Real Charges
I was now in a time crunch. Considering I don't want to pay over $300 for a service I won't be returning to anytime soon, I wanted out and fast. I mean, look at these prices.
Not exactly in my budget. So, it was time to cancel. I requested a cancellation and then… well, I waited.
But, I don't want to wait to see if my cancellation goes through or not. When you go to cancel your Netflix subscription, they cancel it. There's no suspense. And when there's that amount of money at stake, suspense is not the emotion I'd like to be feeling in the moment.
I reached out to GraphicsZoo's support team. I had asked for a confirmation of cancellation. But they had something else in mind, at first.
And so, our dance began.
There was a decent amount of back and forth. "How about this subscription plan?" No, just cancel, please. "Well, how about this one?" No. Just cancel, please. "Consider this plan!" I said NO. No means no! 
Eventually, my persistence and complete and total unwillingness to pay a single cent more won out. Grace, my support … person, finally conceded.
She was doing her job. Can't sneeze at that. I can sneeze at the practice of hounding someone not interested in paying a single cent more. If I were running a business, however, I'd insist on that policy.
I may have been mildly annoyed about that process, but ultimately no harm was done. The cancellation went through.
Conclusion
All in all, I would call my 7-day $7 trial experience with GraphicsZoo mediocre. I found the initial signing-up experience to be bizarre and unintentional. There's no way GraphicsZoo meant to send me to a web programming tool when asking me to start a project. 
That's the kind of whoopsie-daisy that really needs to be rectified, and immediately.
I was slightly irritated by the persistence of a support coordinator to get me to keep paying them, but that's the nature of business. There's nothing wrong with that.
I was mildly impressed with the designer's ability to deliver a decent design in a short amount of time with minimal direction. What they delivered was fine, but given the circumstances, I think it was solid.
Despite the decent work by the designers, I probably wouldn't recommend GraphicsZoo. The experience with the initial signing up, the difficulty navigating their site, and the over persistence by the support department left me with a bad taste. There are plenty of other services out there better organized with the same quality of design. 
If I could put my experience with GraphicsZoo in a single word, it would be "Meh."
Bearaby Tree Napper Review: Is It Worth $299?
Weighted blankets have gained popularity in recent years for their therapeutic benefits. What used to be therapy for those with anxiety and autism has now become widely available. Weighted blankets come in all shapes, sizes, and price ranges. However, most are the same. They're simply blankets – weighted with a heavy material, typically beads.
Bearaby introduces an entirely new concept, the Bearaby Tree Napper, a weighted knitted from eucalyptus trees. Like Bearaby's other weighted blankets, the Tree Napper gets its weight completely from the construction materials instead of relying on beads. It's a unique concept that's both innovative and socially responsible. However, is it worth the asking price?
What's a weighted blanket?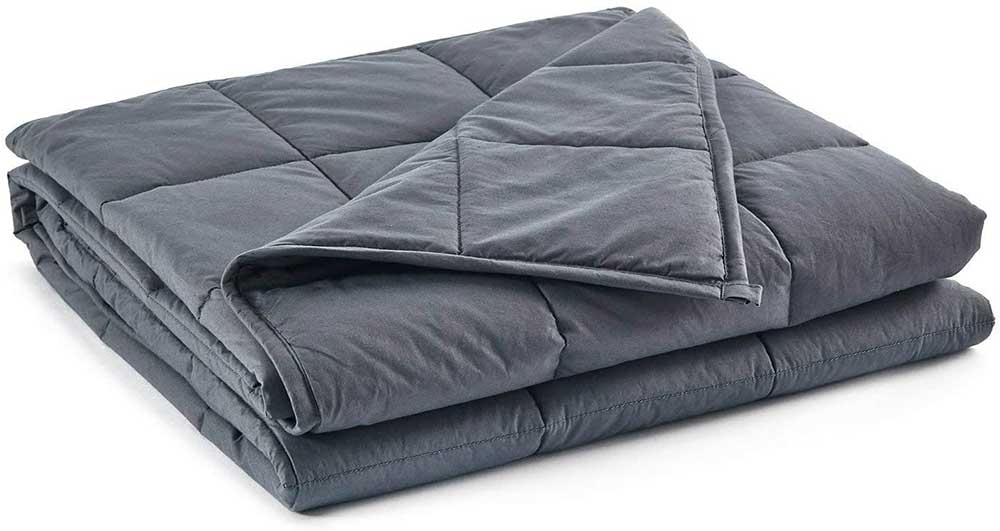 First, let's start by explaining what exactly a weighted blanket is. It's a blanket that uses either beads or dense materials to give it a weight between 15 – 30 lbs. The weight is often evenly distributed across the blanket, so the pressure is applied equally. Research has shown that deep pressure stimulation has shown to reduce anxiety and stress. Ever wonder why a massage feels so good afterward?
Weighted blankets offer similar therapeutic effects by wrapping you underneath a 15 – 30lbs blanket. Several studies have shown that frequent use of weighted blankets can also help with chronic pain, osteoarthritis, insomnia, and even ADHD.
What makes Bearaby unique?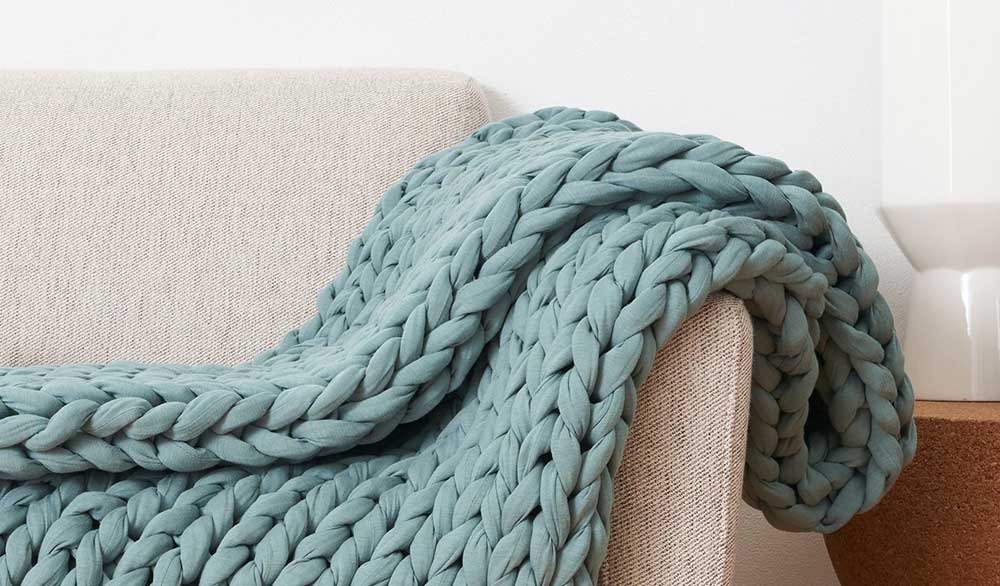 Most weighted blankets get their weight from tiny beads evenly quilted into the lining. This method certainly does work to give the blanket its weight, but you'll often feel like you're under a sandbag. The Bearaby Nappa is unlike any other weighted blanket. It gets its weight naturally from the dense cotton strands knitted together. This design choice gives the blanket a cohesive structure that's both flexible and durable. It can stretch and take a bit of abuse. However, it'll never lose its shape.
One significant advantage of Bearaby's unique design is that it doesn't sacrifice comfort for weight. Traditional weighted blankets rely on noisy beaded pockets, and that can often be uncomfortable. The Bearaby's soft tencel knits are comfortable, soft, and have a natural silk-like texture that makes them cool to the touch.
Are Bearaby Weighted Blankets Washable?
Yes, thanks to 100% of the weight coming from the fibers, all Bearaby blankets, including the Tree Napper, are machine washable. Traditional weighted blankets are much more complicated to wash due to the beads being interlocked in pockets. Machine washing and drying could cause damage to the covering or, worse, to the washing machine should the pockets rupture. 
What is Bearaby made of?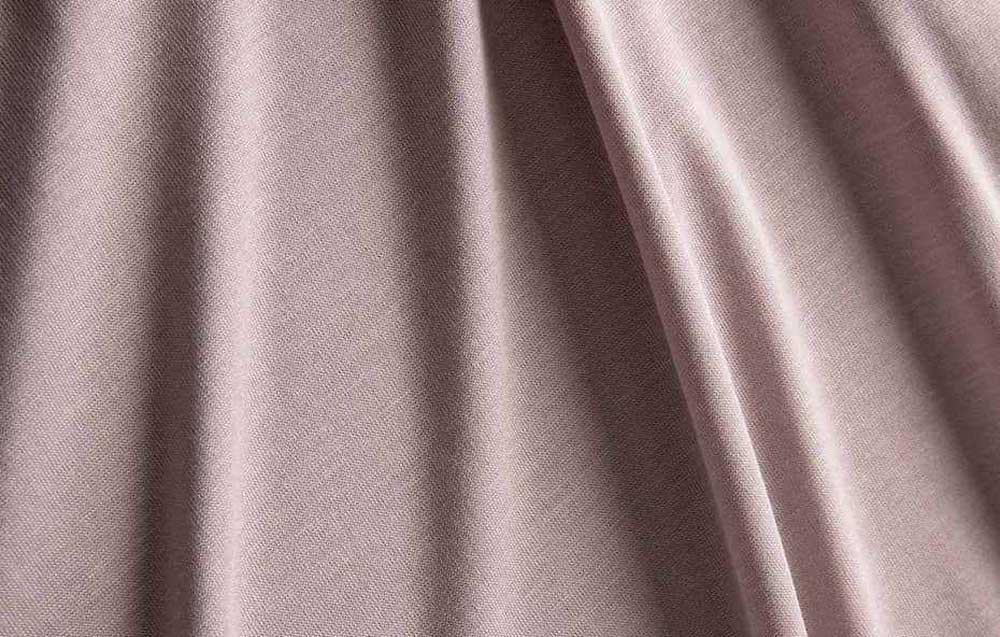 It never fails to draw attention. The Bearaby's unique look is both captivating and functional. Tencel is claimed to be softer than silk and more relaxed than linen. I can confirm its effectiveness by sleeping with the Bearaby for the past month in 80-90 degree weather. The knits allow me to sleep much cooler than a regular comforter.
Because 100% of the weight comes from the cotton itself, the distribution is more even across my body, giving me the feeling of being hugged rather than held down.
The look & feel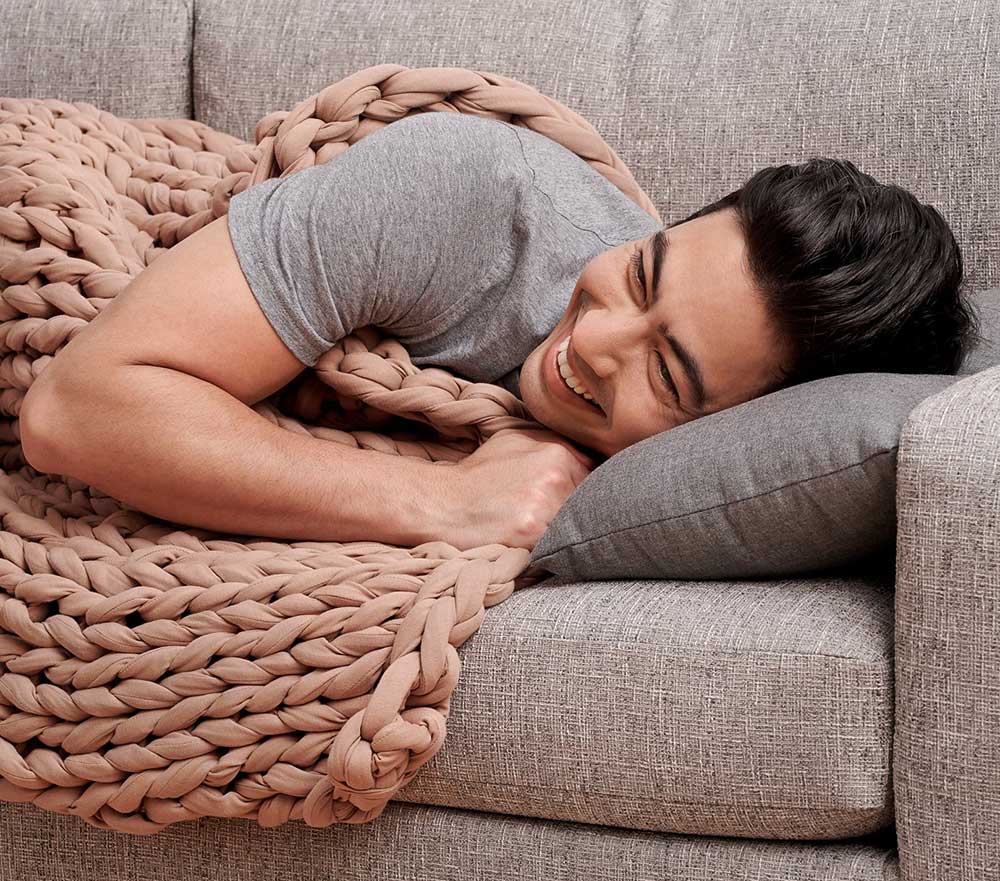 It never fails to draw attention. The Bearaby's unique look is both captivating and functional. Tencel is claimed to be softer than silk and cooler than linen. Sleeping with the Bearaby for the past month in 80-90 degree weather, I can confirm its effectiveness. The knits allow me to sleep much cooler than a regular comforter.
Because 100% of the weight comes from the cotton itself, the distribution is more even across my body, giving me the feeling of being hugged rather than being held down.
A socially responsible company
Bearaby promises all of its products are sourced responsibly in a closed-loop process that uses 90% less water than traditional fabrics. Their products, including the Tree Napper, are biodegradable and have received sustainability certifications to back up their claim.
It's easy for brands to claim their sustainability badge by promising to donate money for every purchase. Bearaby does something that few are willing to do – changing their manufacturing practice. It's not a flashy promise, but it's an expensive choice with the most significant impact on our environment. This practice alone more than justifies Bearaby's price tag.
Bearaby's price
We recommend any Bearaby weighted blankets because it's a fantastic health product that can add years to your life. Any benefits traditional weighted blankets offer, the Bearaby simply offers more.
The Bearaby Tree Napper starts at $269 for the 15lbs version and goes up to $299 for the 25lbs version. It's easily one of the most expensive weighted blankets on the market. However, considering the materials, sustainable practice, and fair wages they offer their staff, it's well worth the price. You're buying more than just a blanket. You're supporting a company that takes care of their people and environment.
The $5-Worth Nintendo Switch Deal: PowerA Joy Con Grip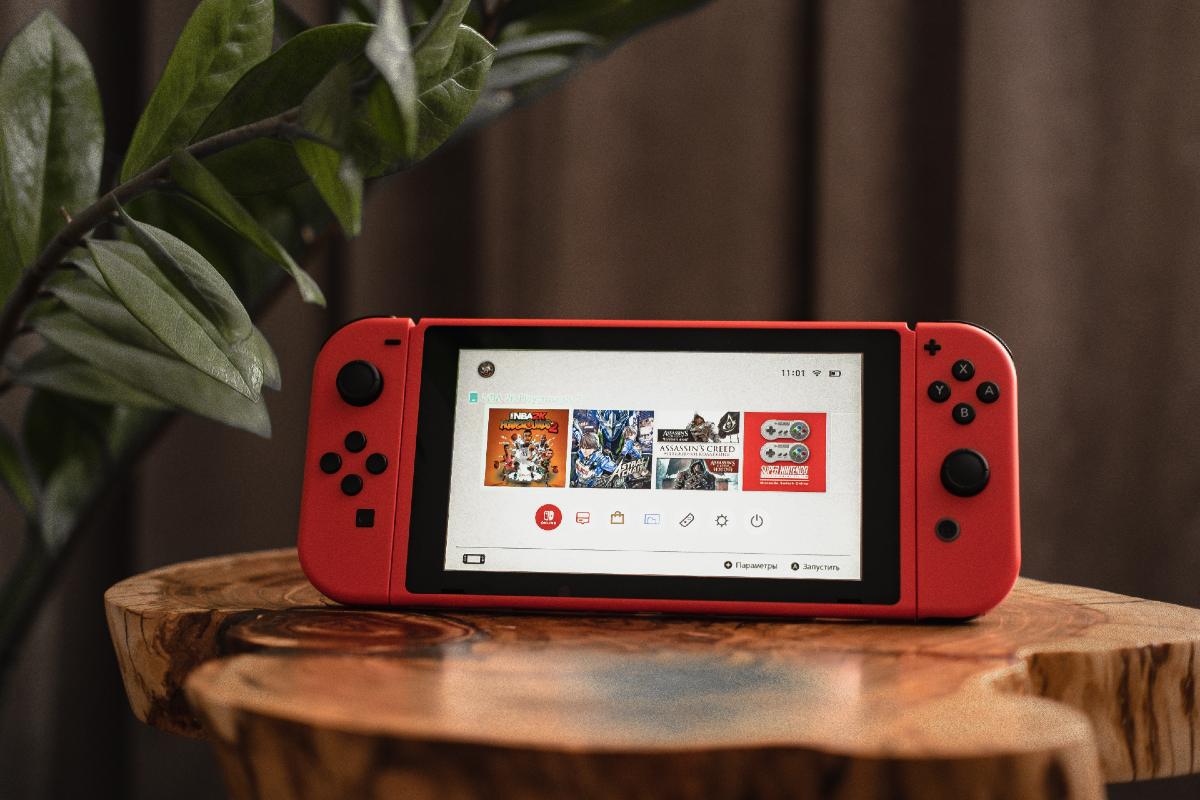 We all know $5 is a tough price to find for anything decent these days. But Amazon offered a Nintendo Switch accessory more than 50% off its original price! With a crisp Abe Lincoln, you can either have a PowerA Joy Con Comfort Grip or Celeste game. It doesn't sound like a losing deal, right?
Nintendo Switch PowerA Joy Con Comfort Grip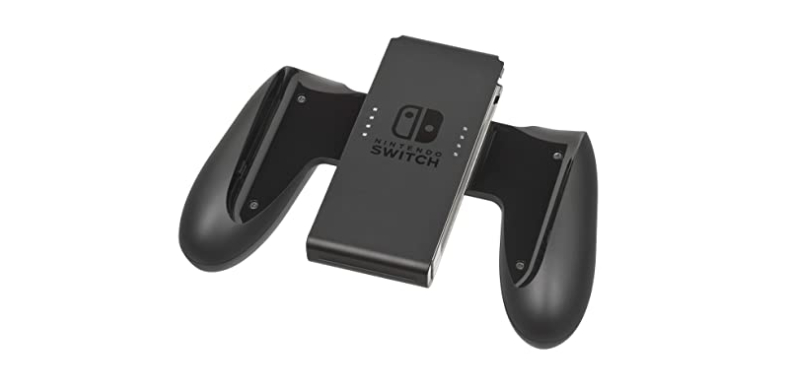 As a boost to your gaming experience, this Nintendo Switch accessory reached its lowest price last week. Alright, we know PowerA Joy Con Comfort Grip isn't the sleekest Nintendo Switch accessory. But we can admit it does the job. The best part? It's even a Nintendo-authorized clone for the original Joy Con grip for Switch.
Although, it's too bad for those who did not get a chance to buy this accessory for only $5. As they say, "you snooze, you lose." Compared to last week's 67% discount, Power-A currently costs $9.88. 
Product Features:
Lightweight and ergonomic for a satisfying gaming experience.
Enjoy the feel of double-injected rubber grips for your optimum comfort.
Keep your Joy Con snug and secure.
It keeps indicator lights visible.
Shock resistant
Review:
PowerA ranks in the Amazon's Choice section for the "joycon grip" search. It received a whopping 4.5 stars review with more than 20,000 ratings. This gaming accessory is officially licensed even though a third party makes it. So we can't expect it to have the same feel, design, and benefits that a JoyCon grip gives you.
It's important to remember that PowerA is cheaper, so it's safe to expect slightly lower quality.
At the same time, this Nintendo Switch accessory does not have a "charge and play" function. But still, if you're looking for a cheaper alternative that can provide you comfort while gaming, it can surely deliver.
Nintendo Switch Game: Celeste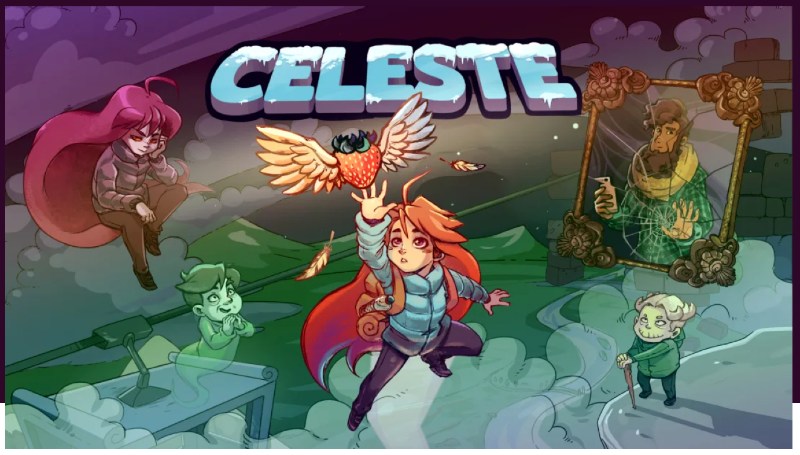 Celeste is the all-time favorite game for Nintendo Switch's platform. This indie game from 2018 was also available for 75% off its original price. However, like PowerA's $5 deal, Celeste's 75% off is a thing of the past. So if you're like me, who's living under a rock, you probably missed the sweet double-deal.
Currently, Celeste costs $19.99. It's a game that players and critics love because of its heartfelt plot and simplicity. Although it looks simple, it's a challenging game to play. Its difficulty level is through the roof, which makes some not fond of the game. 
Review:
Overall, Celeste has an overwhelmingly positive review and feedback for players. It can be frustrating, to the point where you want to pull your hair, especially if you keep dying. But it can surely keep you on your toes as you try to clear each chapter.
This indie game is created with great platforming, aesthetics, atmosphere and even the OST pulls you into game mode. It may look off if you're not a fan of pixelated visuals. But if you can move past that, the gaming experience will not disappoint. Each chapter has a story behind it. So it can completely immerse and motivate the gamer to move on to the next level.
It's the go-to game if you like challenging games and pixelated aesthetics. 
Final Thoughts
For those early birds who managed to grab a $5-worth of PowerA grip or Celeste game, great job for landing a low-priced Nintendo deal. However, not all are lucky enough to grab more than their money's worth.
On the other hand, both are still great products worth the price, especially if you love gaming. In the end, it's the gaming experience that's important. So if you're still planning to get your PowerA grip, go on while it's still at 34% off the original price. However, if you're more curious about Celeste, it's still worth the splurge!