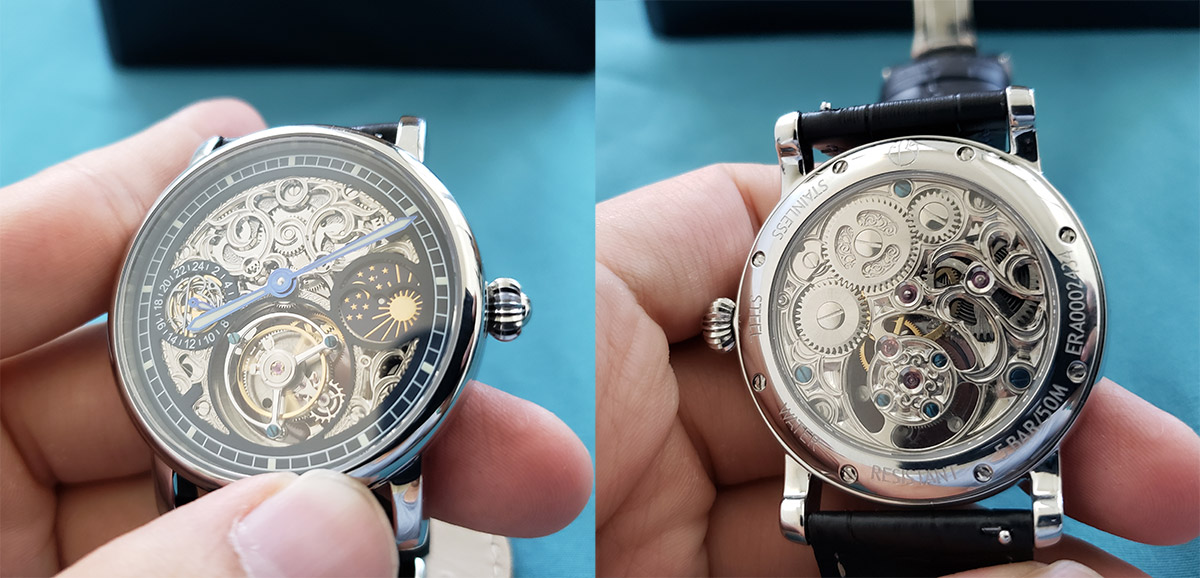 We used to rely on sundials to tell them. Although ridiculously cool, that's no longer practical. When Abraham Louis-Breguet engineered the very first wristwatch in 1810, it changed the world as we know it. For the first time – the time is literally in your hands. The introduction of a tourbillon in the early 1900's fascinated watch collectors all over the world. The elegance of the absurdly complicated movement that seems to defy gravity captivated the world. These watches weren't just beautiful, they were also expensive. A tourbillon wristwatch will set you back easily $100,000.
Tourbillon watches have been glamorized by celebrities such as Cristiano Ronaldo, Lionel Messi, and countless famous athletes. Needless to say, having a fortune simply isn't enough to own a tourbillon watch. You'd need several fortunes.
Then came Era Timepieces, a company that's offering a watch with a tourbillon movement for $1499. That's less than a fraction of what a Jacobs & Co. watch. Is it real? Does the watch actually have a tourbillon movement? We decided to reach out to Era Time Pieces for a review sample.
About The Founder
Michael Galarza, the founder, and CEO of Era Time Pieces had his first major success in 2018 after his Kickstarter campaign garnering over $700,000 in orders only after a month. That marked the beginning for Michael and proved that there is a market for affordable tourbillon luxuries. Soon after the success of his first watch, the Prometheus, his company moved ahead and produced a whole line of watches all sharing the same level of craftsmanship and attention to detail of his first success.
Redefining Attainable Luxury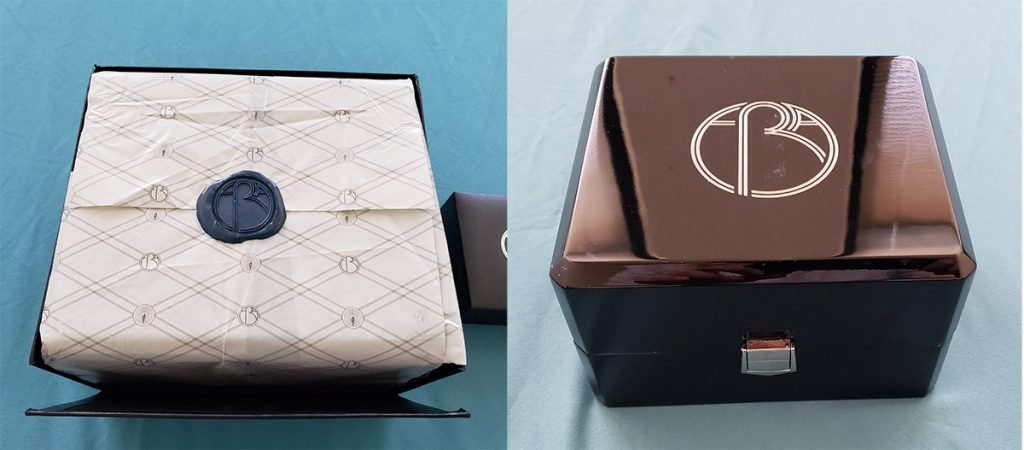 According to their website, Era Timepieces' goal is to make Haute Horlogerie accessible to the common man. Their prices range from $999 to $6,500, a long shot from other well-known brands. I have seen a Patek Philippe with a monstrous price tag of $1,423,028! Therefore it's understandable that most would be skeptical. How could a company possibly make a tourbillon for that cheap? At $1499, it certainly isn't cheap. However, for a tourbillon, it's a steal.
Upon opening the package we're greeted with a wax seal with the company's logo on it. We always appreciate it when companies go the extra mile for presentation. Unwrapping the tissue paper, you're greeted to a gorgeous piano black box that houses the $1499 Era Prometheus.
Unwrapping The Watch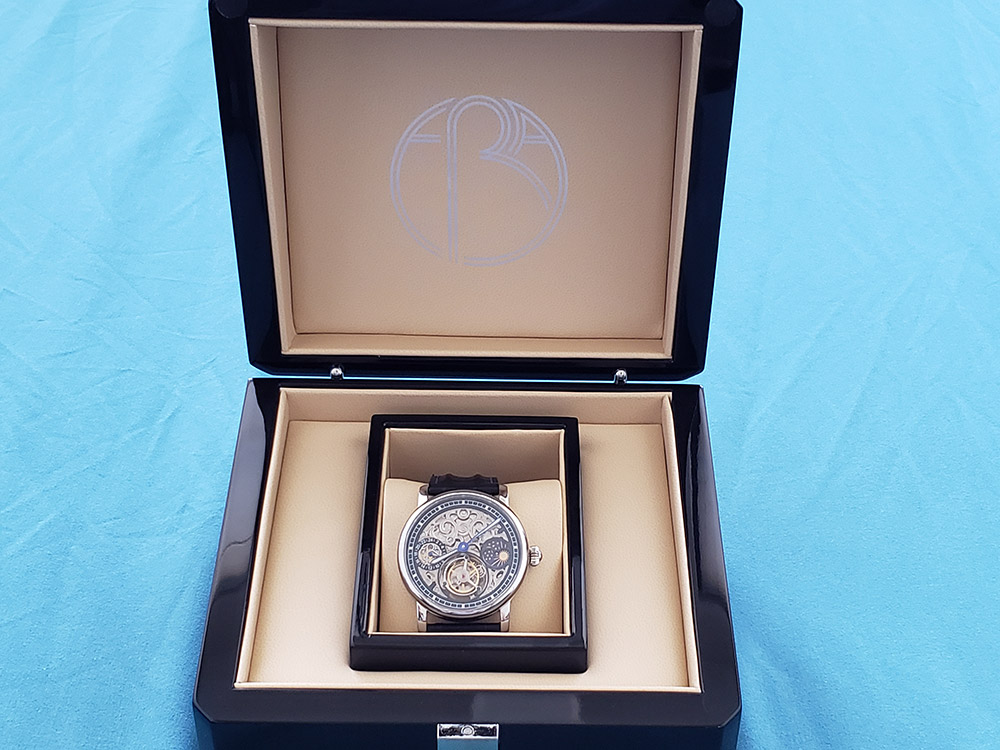 Opening the box for the first time, you're greeted to the sight of the Prometheus. Pictures don't do it justice. Seeing it in person has an entirely different effect.
Purposeful Design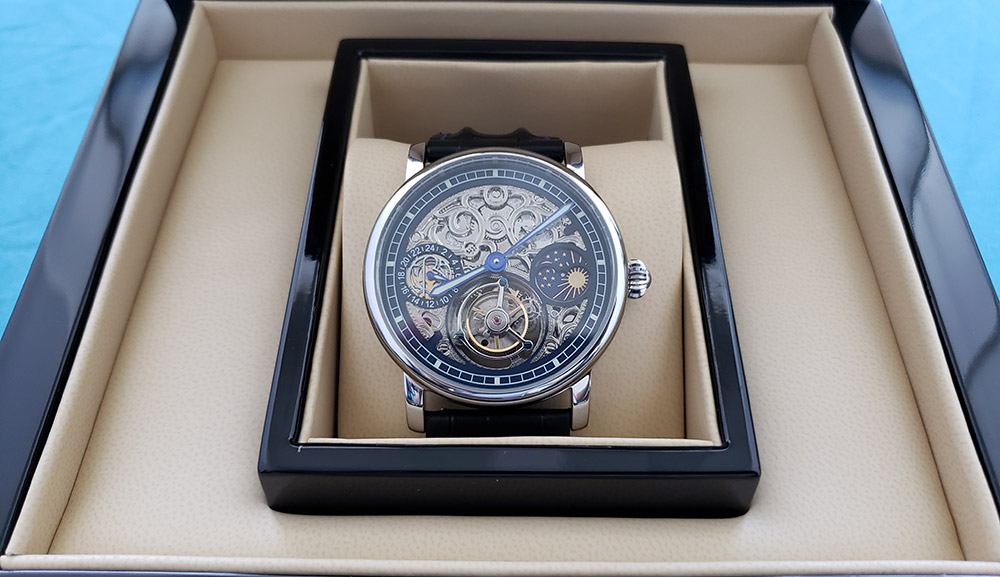 Here's a closer look at the Prometheus. It's a lot to take in. The watch has a single-axis tourbillon with automatic movement. On the left, there's a secondary GMT hour hand useful for keeping track of two timezones. This is a good feature if you're a frequent traveler who goes back and forth from the coasts and doesn't want to constantly adjust your watch.
On the right side, you have a Sun/Moon rotating disk. I don't see a real function to this, but then again you're not buying this watch for functionality. You're buying it because it's a tourbillon watch and you'll look like a boss wearing it. Regardless, the sun/moon indicator is a neat feature to have and adds to the styling of the watch.
The Size & Fit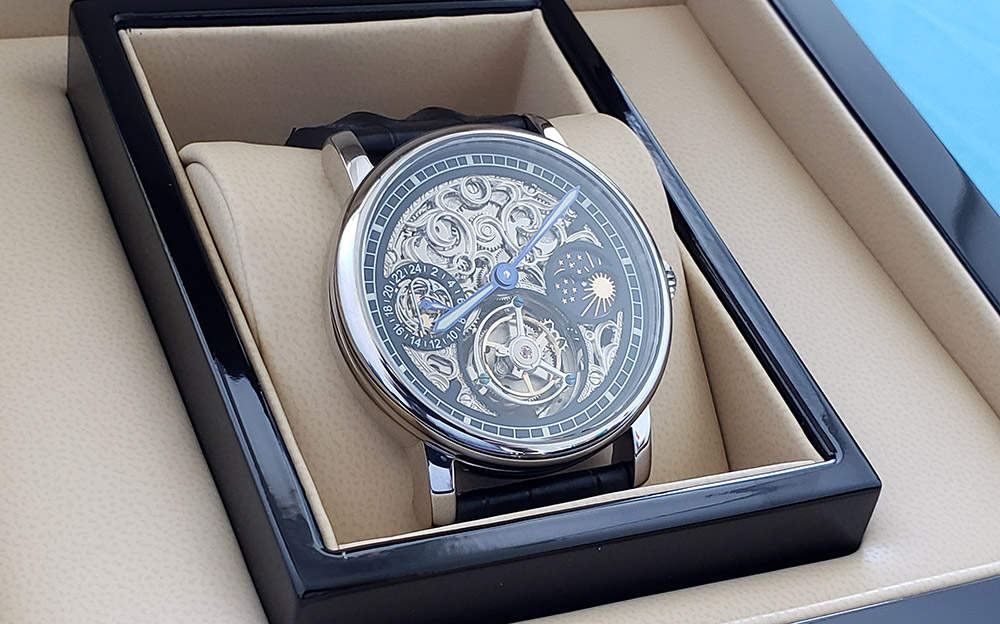 The Prometheus is surprisingly well balanced in terms of its size and weight. At 44mm wide, it's average in size. I have a fairly normal size wrist and the watch fits well without looking bulky. It's 12.72 thick, which is right up there with your typical Tag Huers and Omegas, but it's not thin like Movados.
It weighs about 125 grams which put it right there in the middle in terms of weight. It's not heavy and you won't feel its mass while wearing, but it's certainly not light. You won't "not" notice it.
Its water-resistant 5 ATM / 50 meters. Keep in mind this doesn't mean it's water-proof, just resistant. You'll be fine washing your hands and maybe swimming around in a pool with it. But definitely not a watch you'd go scuba diving with.
The Glass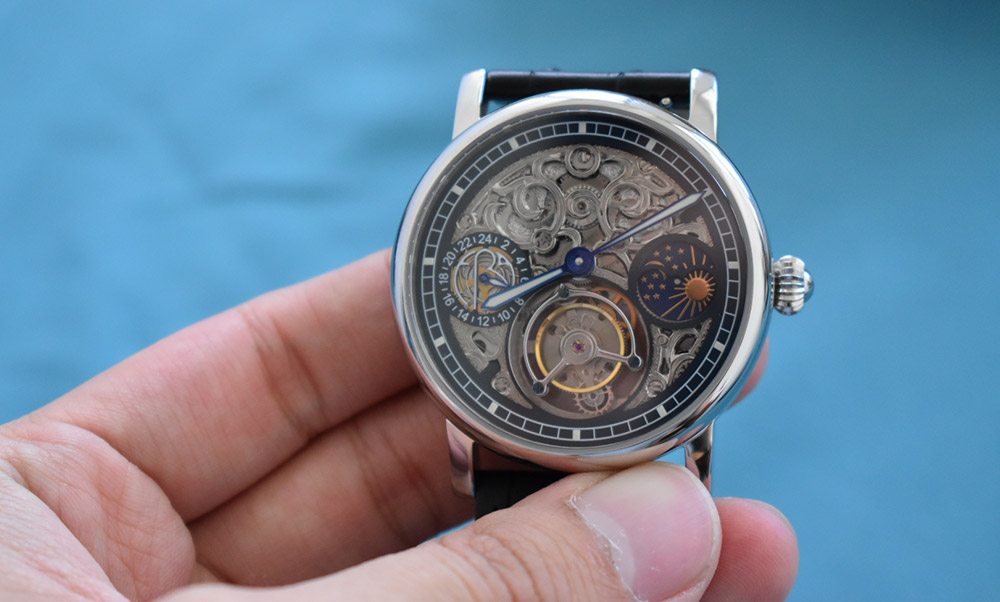 Michael and his crew didn't skimp out on the glass. The Prometheus features ultra scratch-resistant Sapphire glass. It's good glass and you shouldn't have to worry about scratching it from polishing. The anti-reflective coating on top of the glass is also a nice touch making it easy to see even outdoors.
The watch needs to be wound up in order to work. We carefully took it out of the leather-padded box and gave it a few turns to bring the tourbillon to life. And then it came to life. It's a beautiful and practically silent movement. We weren't sure how to adjust the secondary clock and the day/night phases. The manual gave simple instructions on how to make those adjustments, and within a few minutes, we were all set. The Era Prometheus is alive.
The Straps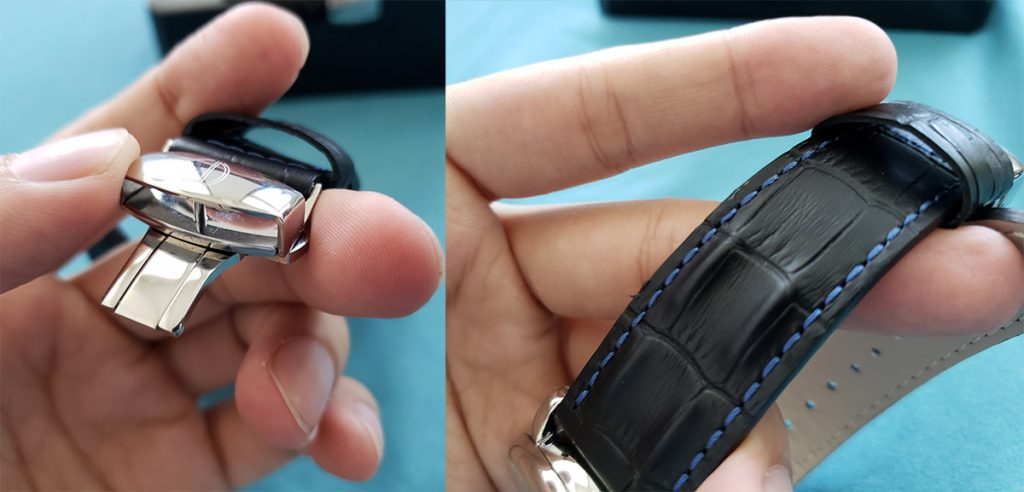 The Hornback style leather band has a 24mm width and feels comfortable on the wrist. It has an extendable butterfly clasp with blue stitching that stands out beautifully. One downside is that the mechanism to open and close the latch can be challenging with just one hand. This is something new owners will have to adjust to.
Different Models
The Prometheus comes in two models, the basic and the Titan versions. Besides the price difference, the Titan also comes embellished with 78 diamonds, totaling 2.3 carats, placed on the bezels and the lugs.
Look And Feel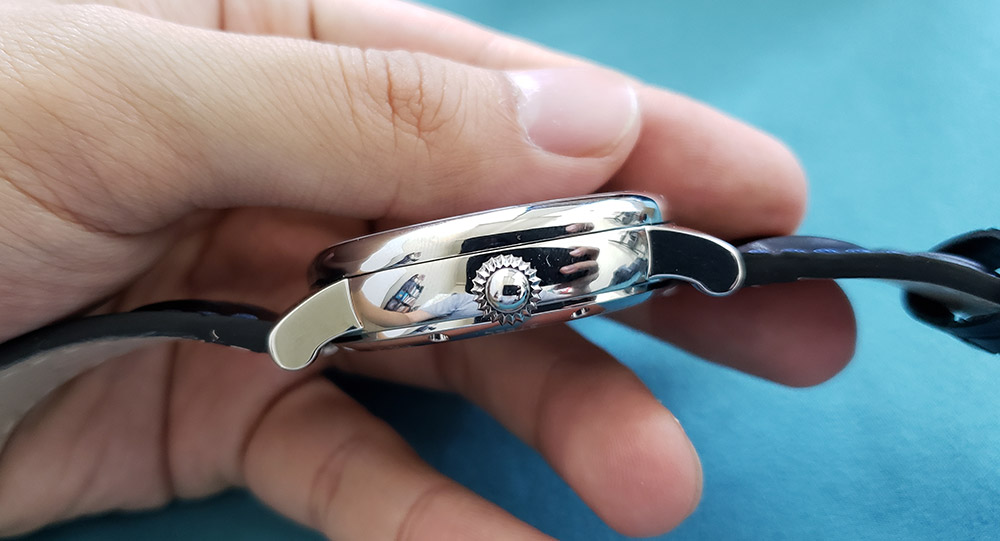 Unfortunately, we couldn't provide pictures of how it looks and feels wearing the Prometheus around in the friendly neighborhood of Philadelphia. During the few days that we wore the Prometheus, a handful of friends and coworkers commented and asked about my new watch. They were impressed with the mechanical movement of the tourbillon.
Just about everybody was curious about the sun and moon dial and how that works. The watch definitely gets attention. It was designed to be admired, that anyone who buys the Prometheus should have that understanding. It also isn't a watch you can casually wear. There's nothing casual about it. It will look a bit out of place if you don't at least dress in business casual.
How Much Does It "Look" Like It Cost?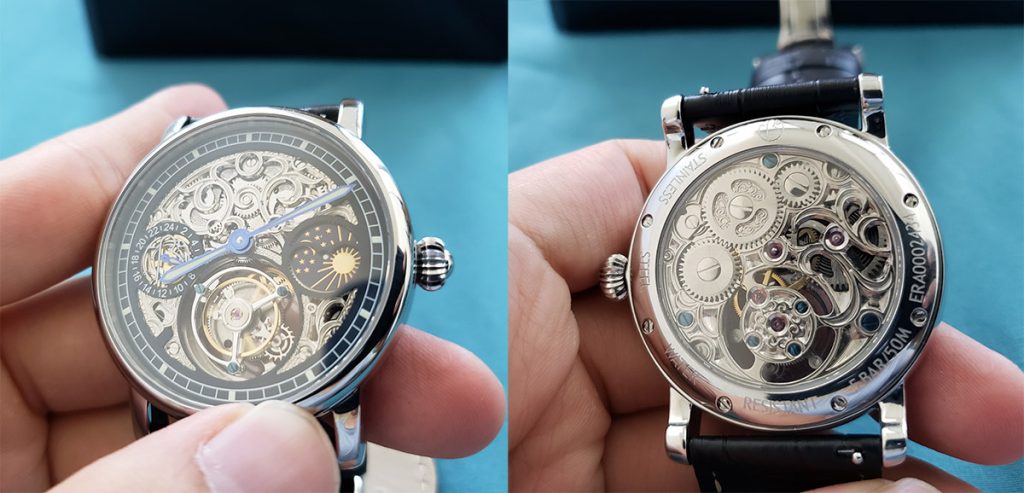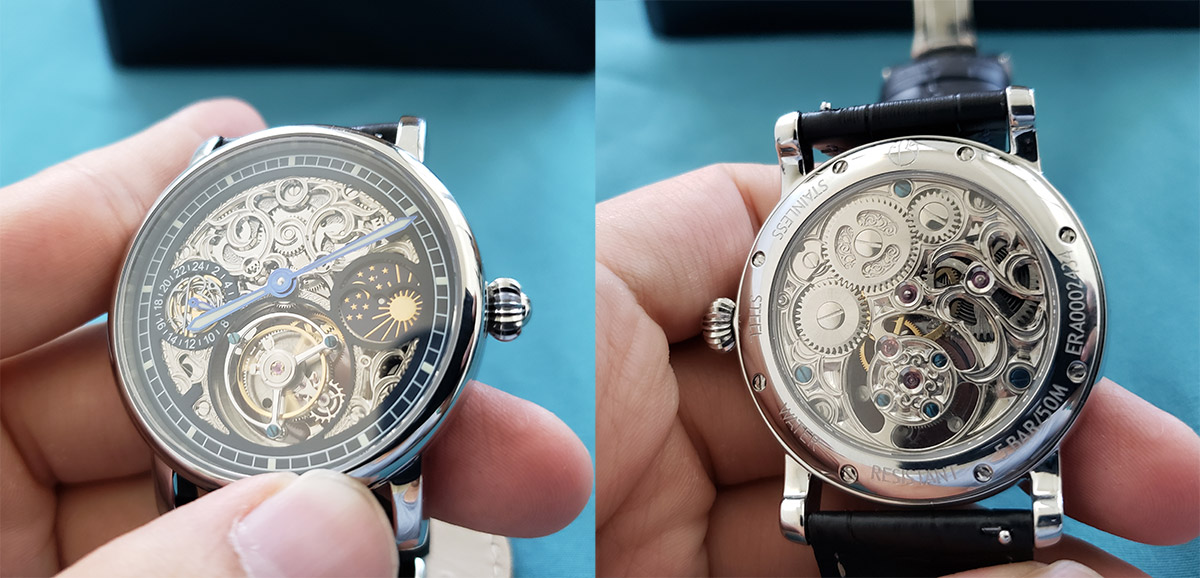 Throughout the week I've had at least a dozen people asking me how much it costs. I asked them to guess the price, to see how much they valued the watch at. Unfortunately, my coworkers and friends know how much I make and what I can't afford. But I had a few interesting guesses. Most guessed the watch to be between $5000 – $10,000. Several asserted that I stole the watch and should return it to its Ferrari owner.
The Verdict
Era Timepieces aren't Swiss made, as a matter of fact, Prometheus' movement is from Hangzhou from China. But you wouldn't be able to tell by looking at it. The craftsmanship is top-notch and every piece is engineered precisely with purpose. Most surprisingly, the tourbillon movement works and works quite well.
Era Timepieces delivers on its promise of bringing a $100,000 tourbillon watch to consumers at an affordable price. The Prometheus at $1499 looks, feels and works like any other high-end luxury watch on the market. If you've always wanted to own a millionaire's watch consider your prayers answered.
Top 10 Best Noise-Cancelling Headphones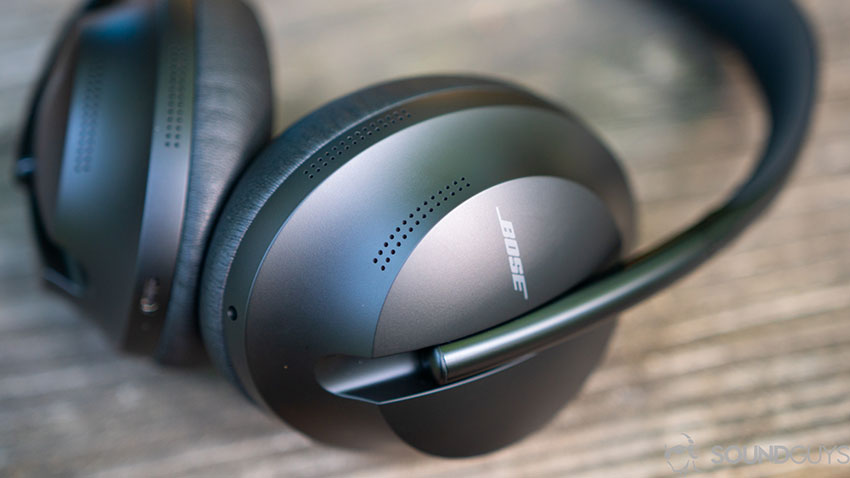 There's no shortage of options when it comes to noise-canceling headphones nowadays. Choosing the right one with the right features AND fits your budget can be a challenge. We've done the scouting for you and put together a list of the best noise-canceling headphones for every budget and needs.
Top 10 Noise-Cancelling Headphones
To make our list comprehensive, we chose noise-canceling headphones priced at least $100 and have all the necessary bells and whistles of a modern noise-canceling headphone. We won't be listing out all their features, as there are many overlaps, and if you're interested in a more in-depth review, check out our independent reviews of each one.
1. Sony WH-1000XM3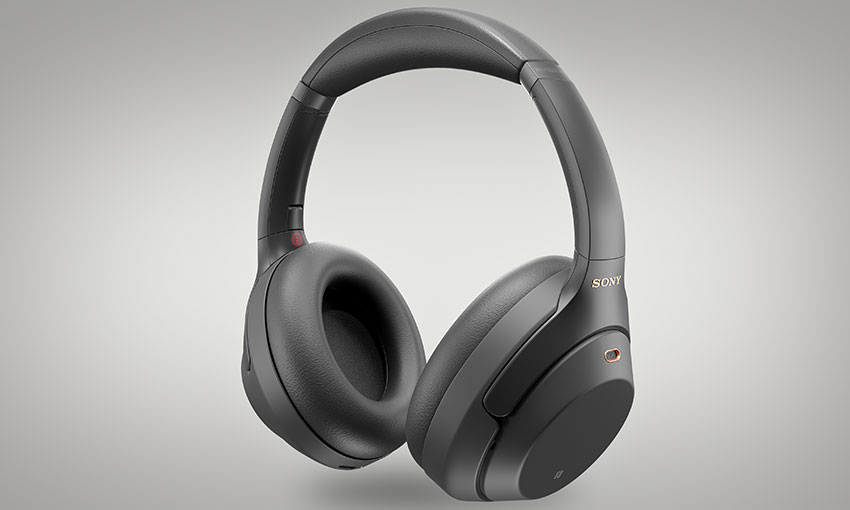 Sony needs no introductions. If you want outstanding noise-canceling headphones packed with features and versatile for both classroom and living room use, then the Sony WH-1000XM3 is a safe bet. Its active noise-cancellation technology is among the best in the industry.
The design is clean, minimalistic, and functional. The earcups are generously big and comfortable enough to use all day without feeling ear-fatigue. The headset offers a precise sound that's a step above anything you've ever used before. It also features touch controls on the side so you can swipe to skip songs.
The Sony WH-1000XM3 has a clever design that lets you listen to your surrounding just by covering one of the earcups with your hand. Gone are the days when you have to pause your music and take your head off to listen to oncoming traffic.
Battery life is also outstanding and manages to squeeze 36+ hours of use before needing to recharge. With that kind of battery life, you'll be able to sit through an entire trans-Atlantic flight without plugging in.
Price: $348 | BUY IT HERE
2. Bose 700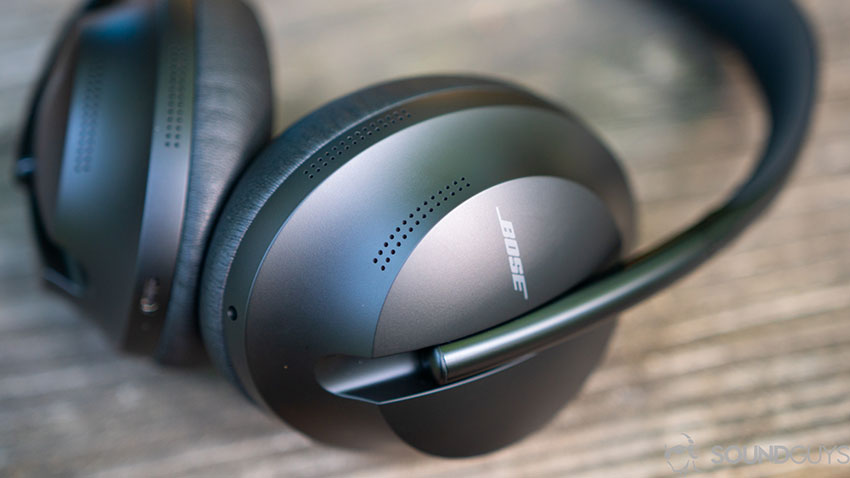 This list wouldn't be complete without at Bose headset would it? Some hail the Bose 700 as the perfect noise-canceling headphones. While I'm not bold enough to make that claim, I absolutely agree that it's one of the best noise-canceling headphones of 2020.
Similar to the Sony WH-1000XM3, the Bose 700 features intuitive touch controls, aluminum constructions, and a whole list of features to elevate your listening experience. What separates the Bose 700 from everything else on the list is its augmented reality audio technology that promises the best listening experience.
At $399, it's not an affordable option, however a worthwhile investment for enthusiasts and audiophiles.
Price: $399 | BUY IT HERE
3. Skullcandy Venue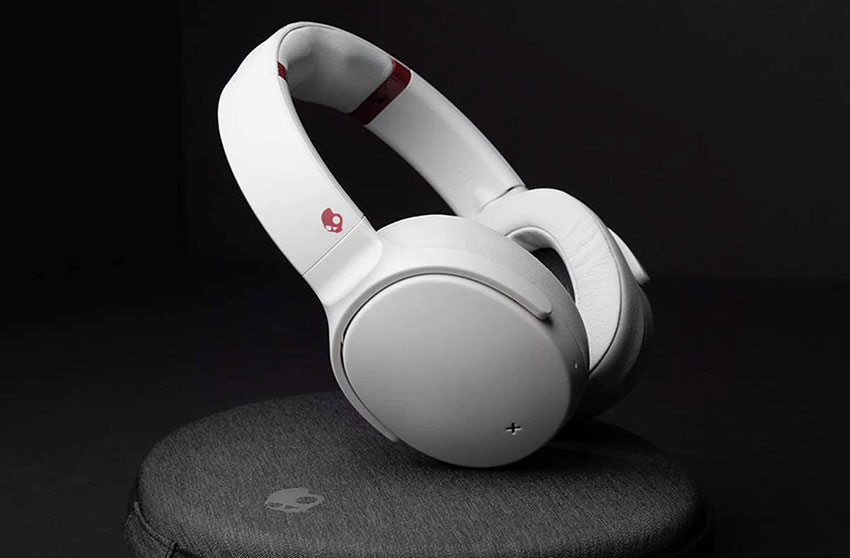 Marketed towards students and aspiring artists, the Skullcandy Venue gives you exceptional noise-canceling performance at less than half the cost of rivaling headphones on this list. The budget-friendly gadget features ANC (active noise cancellation) technology that works reasonably well for the price.
It can last up to 40 hours on a single charge and features quick-charge that can give you 2 hours of listening for every 10 minutes of charging. One of Skullcandy's best features is the Tile integration. Never worry about losing your headphones again with the integrated Tile chip. You'll need to download and install the Tile app separately, but it's a nifty little feature that gives added security.
Price: $129 | BUY IT HERE
4. Beats Solo Pro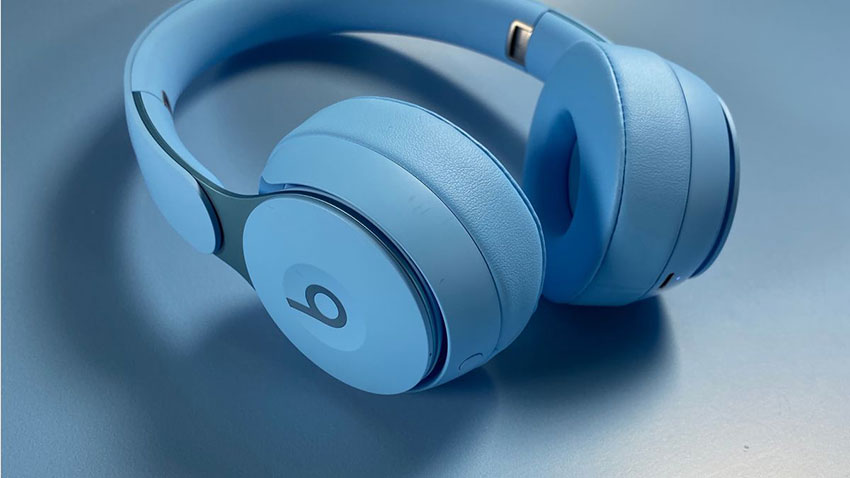 Beats Solo Pro is a headphone made for people who are always on the run. It offers exceptional ANC technology that's on par with more expensive headsets. The Beats Pro also comes with Bluetooth 5.0 built-in for fast and reliable connections.
The "Fast-fuel" charging also lets you enjoy 3 hours of music for just 10 minutes of charge, similar to the Skullcandy Venue. The sound quality is still heavy on bass. But that's already expected from a Beats product. The Beats Pro will play nicely with all your Apple devices if you're married to Apple's ecosystem. The downside is that it doesn't come with a Mic, so you won't be able to make any calls with this headset.
Price: $299 | BUY IT HERE
5. Bose SoundLink Around-Ear Wireless Headphones II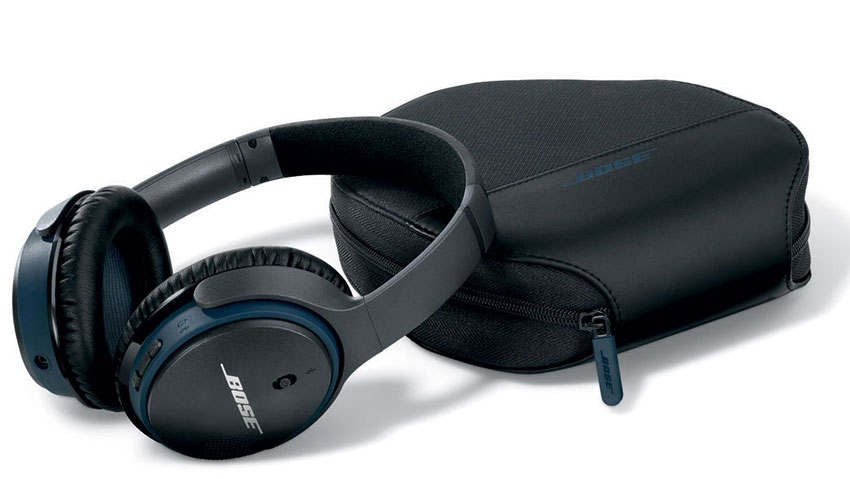 We did try to keep Bose from having more than one product on this list, but we couldn't help it. The Bose SoundLink is a fantastic value proposition from Bose. Think of this as their "budget" headphone.
The headphone offers bose-quality ANC and delivers crystal clear audio playback. The sound packs quite a bit of punch considering its size. It's perfect for smooth sounds but not the ideal for hip-hop or bass-intensive playlists.
Its battery life is recorded at only 15 hours, so it's nothing to write home about. It regularly charges via USB without any quick-charge tech. It can be used as a regular headphone if the batteries run out. However, the sound quality is greatly diminished, and ANC won't work as well running from 3.5mm jack.
Price: $229 | BUY IT HERE
6. Lindy BNX-60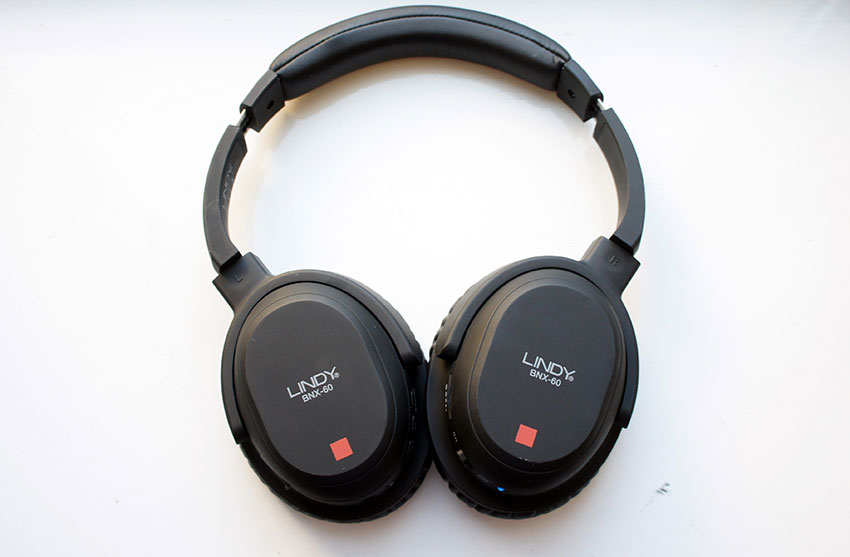 You've probably never heard of Lindy before, and that's for a good reason. The company doesn't have a strong presence in the United States, but they do make excellent quality ANC-enabled headphones at an affordable price. Probably one of the cheapest headphones you can get with a decent ANC.
Price: $59 | BUY IT HERE
7. AKG N700NC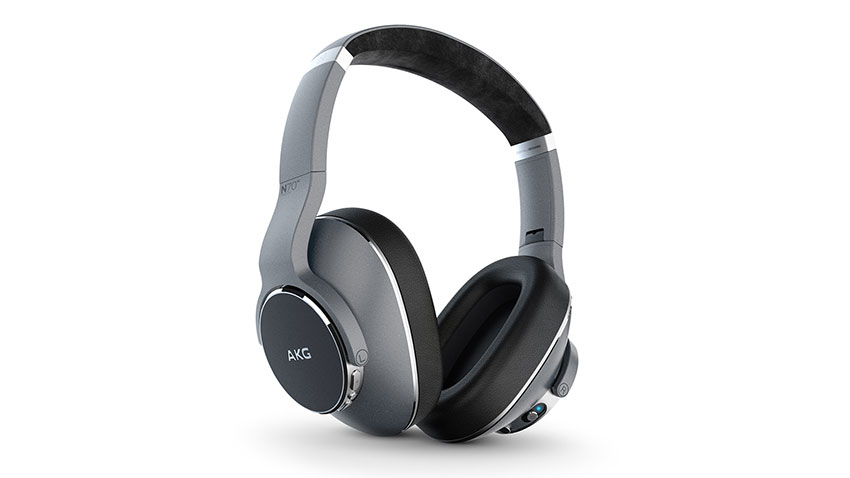 There is so much to love about AKG N700NC. It has a smart design that can fold completely flat for secure storage. Build quality is impressive, especially at this price range. The sound quality and ANC are also no slouch, either. And unlike some headphones twice its price, the AKG comes with a decent set of mics for you to make calls with if you ever need to.
Price: $99 | BUY IT HERE
8. JBL Live 650 BTNC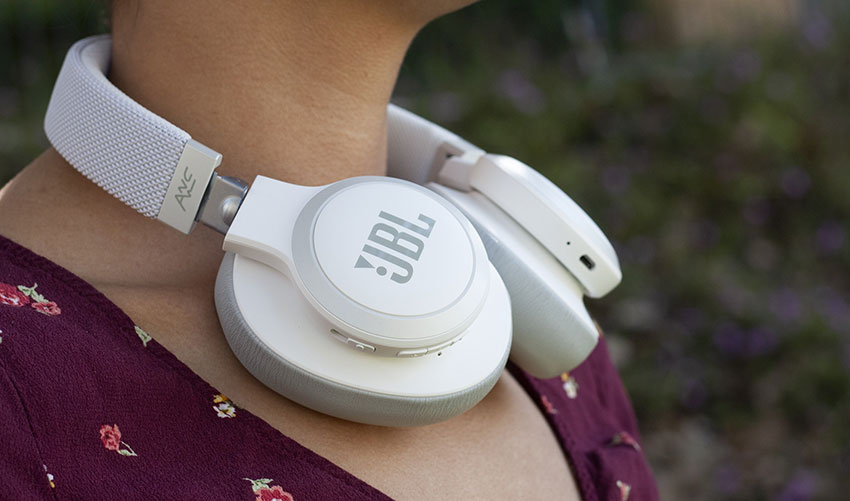 Looking for a quality pair of headphones that you can comfortably wear all day? The JBL Live 650 BTNC offers comfort, sound quality, features, AND build quality of premium headphones at half the price. It offers good ANC. The generously sized earcups deliver punchy and dynamic audio, perfect for tracks with a lot of bass.
It's also an excellent looking headphone that looks more expensive than it is. At $199, you're getting a lot more bang for your bucks than competing brands.
Price: $199 | BUY IT HERE
9. Bowers & Wilkins PX Active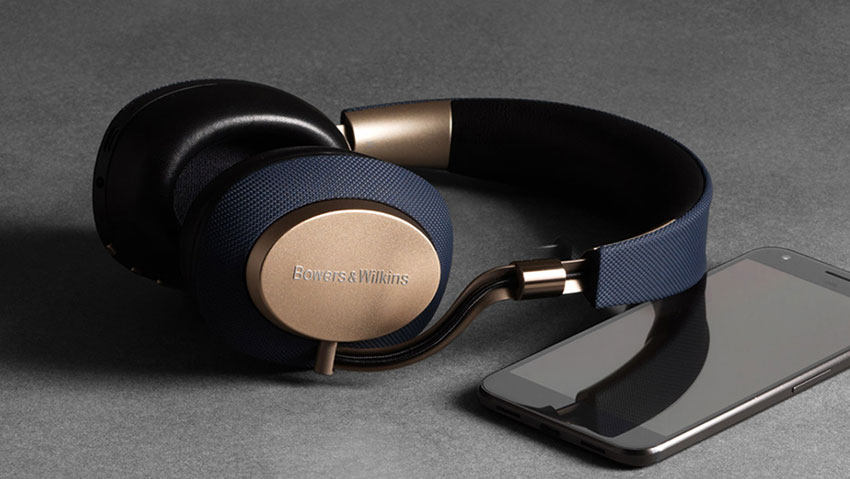 The Bowers & Wilkins PX Active is an expensive headphone that offers decent performance. It features adaptive noise cancelation instead of active and has a handful of useful features. If you lift the earcups up to listen to someone talk, the headphone will automatically pause your music and instantly resume when you put the earcup back.
What makes the Bowers & Wilkins PX Active stand out is its design. It's a gorgeous pair of headphone that looks and feels premium. Expect to turn heads when wearing this on your next trip.
Price: $219 | BUY IT HERE
10. Audio-Technica ATH-ANC9 QuietPoint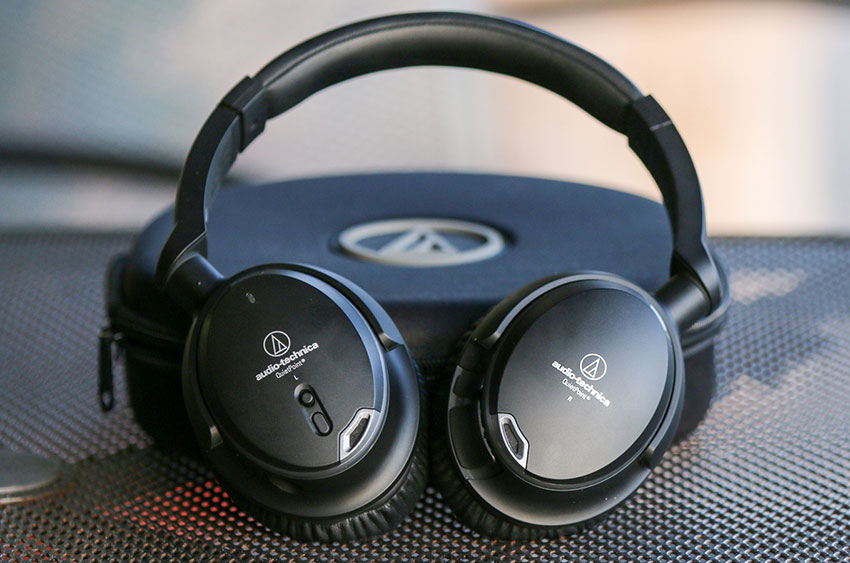 The Audio-Technica ATH-ANC9 has a ridiculous name that's impossible to remember. But it makes up for it by being comfortable, spacious, and well built. It's not the sexiest thing on the market, but it's a pair that will last you. It comes with every feature you'd expect, including a mic. The one function that's missing is a rechargeable battery. I'm not quite sure why the engineers at Audio-Technica opted for AAA batteries instead of lithium ions, but it's a technical choice that might not sit well with younger audiences.
Despite the flaw, it's still a solid set headphone that made the list because you can easily get this $199 headphone for about $70 – $100 on a sale.
Price: $199 | BUY IT HERE
Top 11 Best Gaming Laptops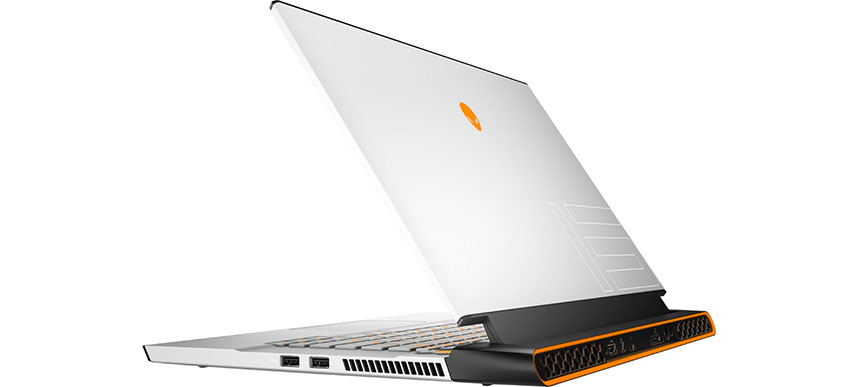 Tired of looking for the best gaming laptops?
If you want an amazing gaming experience, then we have here the best gaming laptops. But of course, your choice should depend on your gaming routines and budget. That's why we made our list as diverse as possible.
Best Gaming Laptops 2020
Take a look at our top gaming laptops for this year.
1. MSI GS65 Stealth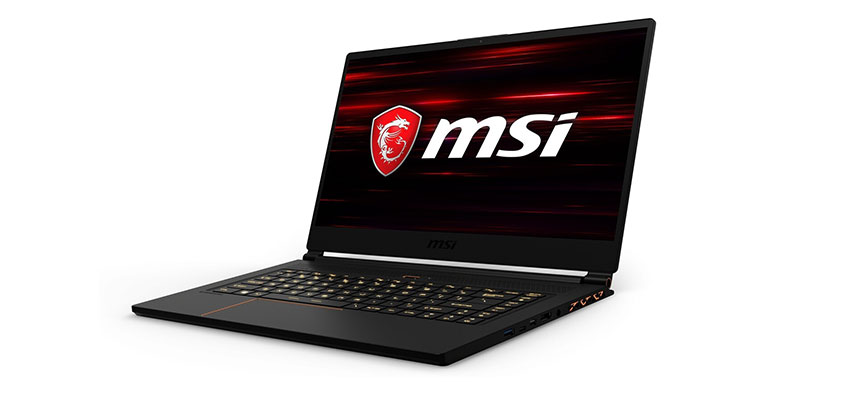 If you are searching for a manly-looking and handsome gaming laptop, then MSI GS65 Stealth is one of the best choices. It weighs 4.39 pounds which makes it travel-friendly. At least you don't have to carry a heavy device if you plan to take a vacation somewhere else. Its keyboard is outstanding and you can easily work on it.
You also get multiple port selections from this gaming laptop. On the left side are mic and headset jacks, an Ethernet jack, and two USB ports. On the right side, you will find a power connector, USB-A port, USB-C port, a mini DisplayPort output, and HDMI port.
Price: $1,799
2. Asus ROG Strix Scar III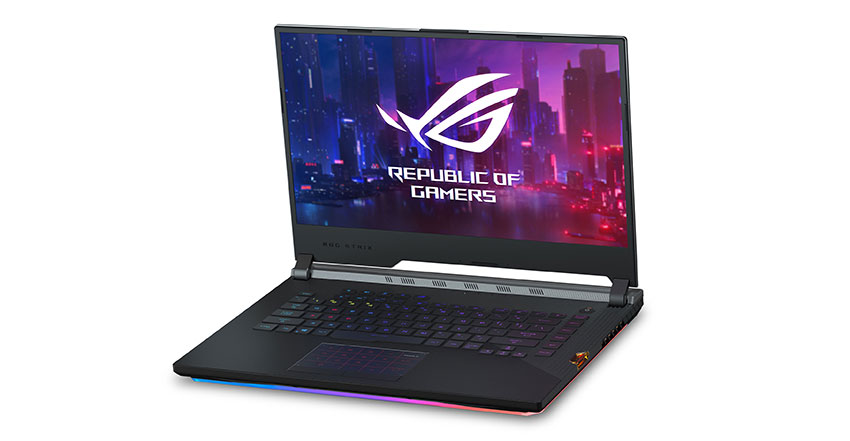 If we talking about performance, a great display, and decent battery life, you better get your hands on your own Asus ROG Strix Scar III. It has a smooth 240-Hz display, a comfortable keyboard that you can use for hours, and good speakers.
You can juggle 40 Google Chrome tabs with this device. In addition, the battery can last for more than five hours. The downside of getting this gaming laptop is that it doesn't have a webcam. But still, this one deserves to be on our 'best gaming laptops' list.
Price: $2,084
3. Gigabyte Aero 17 HD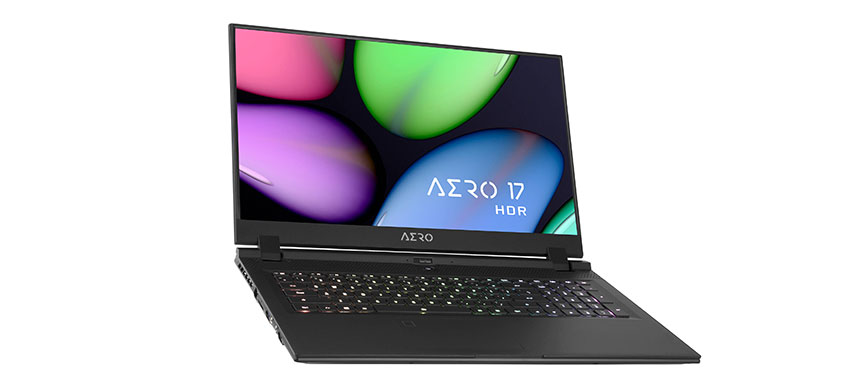 They say that this laptop can take gamers to heaven and we couldn't agree more. Gigabyte Aero 17 HDR is perfect for hardcore gamers. The speed is awesome and ideal for challenging games. It has a sleek design if you aim for a minimalist gaming laptop. But of course, this is not built for mobility. And most gamers using this laptop would rather just play at home.
You can also take advantage of the sliding lens cover for the webcam. After all, who doesn't value privacy? However, it is located below the monitor which can result in unflattering shots when you use it. It is a bit pricey but you'd get maximum enjoyment.
Price: $2,799
4. Razer Blade 15 Advanced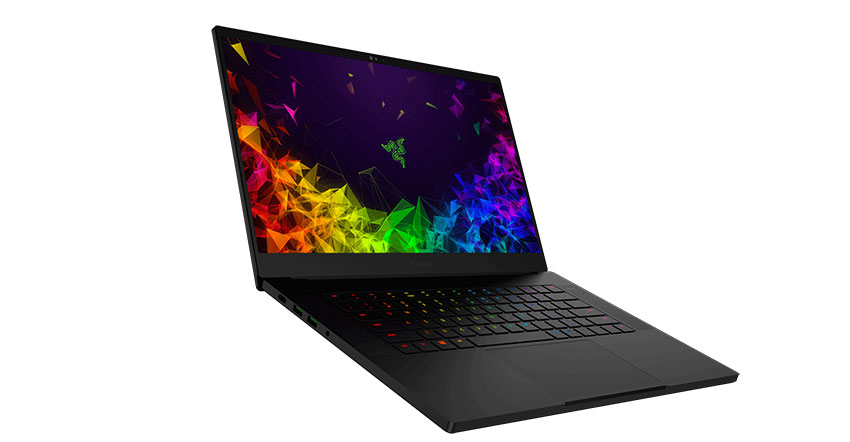 Razer Blade 15 Advanced is for gamers and creators. You get to enjoy full HD display and audio that is almost perfect. The performance is topnotch and the build is of high quality. What we don't like though is that the keyboard is below average. This could be a major point for improvement.
Its RAM options are fixed at 16GB. As for the battery, it's not the best in the market, but it should serve you well for your gaming needs. Simply put, the price fits it well.
Price: $2,349
5. Dell G3 15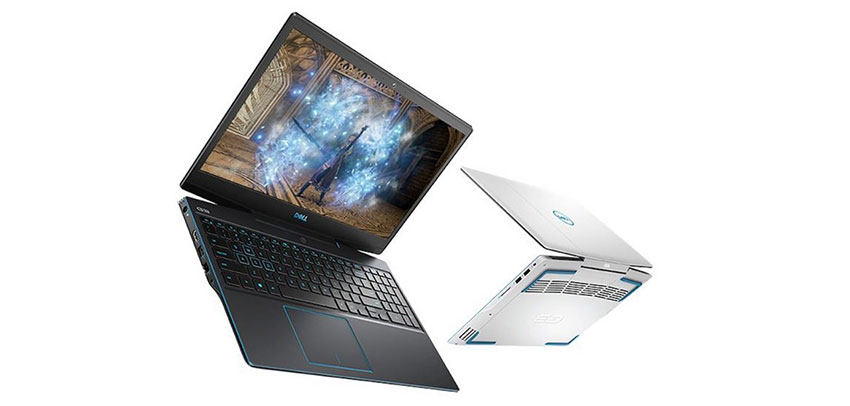 Are you looking for the best gaming laptops that are easy on the budget? Look no further and get Dell G3 15. But of course, you must manage your expectations as this couldn't be on par with the other gaming laptops on this list. If you must know, the display can be a bit dull. But the design itself is pretty neat.
You can also find multiple ports that are common for a gaming laptop. As for the keyboard, it might look cheap but you'd be surprised that it's comfortable to use. For the performance, we have to say that it's better than other affordable gaming laptops. If you are a newbie, we recommend that you get this.
Price: $799
6. Acer Predator Triton 500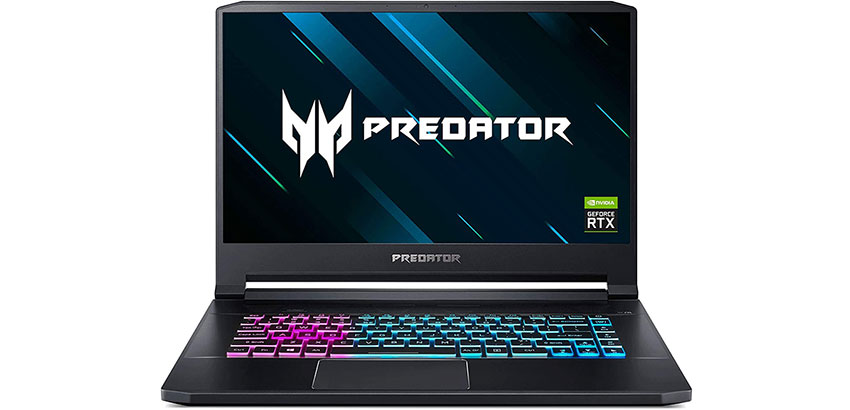 Acer Predator Triton 500 is a decently-priced gaming laptop. It's not too cheap nor too expensive. One of the things that we like about this particular gaming laptop is that it is easy to carry. It's perfect for a gamer who loves to travel a lot. It can also last for 6 hours.
This could go lower though if you use it to edit videos or even browse the internet. One of its cons is that it's hard to upgrade. Plus, Acer Predator Triton 500 doesn't feature per-key RGB lighting on its keyboard.
Price: $1,800
7. Alienware M15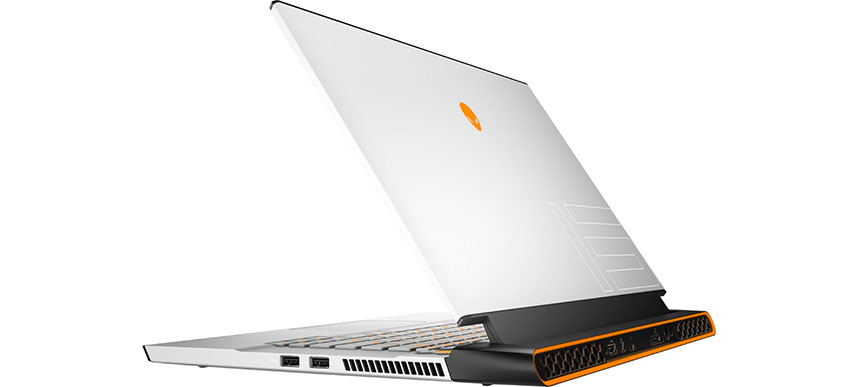 If there is a competition for gaming laptops in terms of being thin and light, Alienware M15 could probably win the category. In fact, the design keeps getting better. However, it might need to improve its speakers and trackpad. Nevertheless, it can bring your gaming experience to a whole new dimension.
Alienware is known as a powerful laptop and this model certainly meets the expectation. We have to say that this is reasonably priced too.
Price: $1,399
8. Lenovo Legion Y740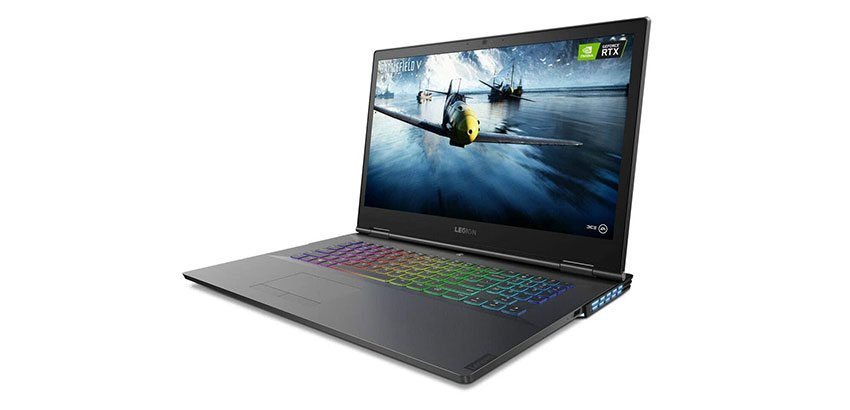 Lenovo Legion Y740 is on our 'best gaming laptops' list because of its performance and display. The well-lit keyboard is also a plus for us. What we don't like though is the battery life and the placement of its webcam. All things considered, this is still a great buy.
Price: $1,739
9. Asus ROG Zephyrus S GX502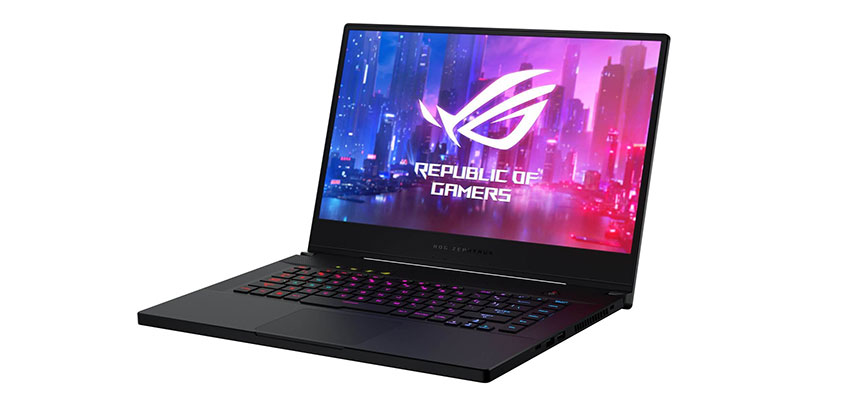 Asus ROG Zephyrus S GX502 is nothing short of outstanding. If you want to have an excellent gaming experience, investing in this laptop is a must. The keyboard is a good feature because it is spaced accordingly. That means it's easy to play and to even finish a simple typing job. Battery life is above average as well. If you don't mind a noisy gaming laptop, this could work for you.
Price: $2,099
10. HP Omen 15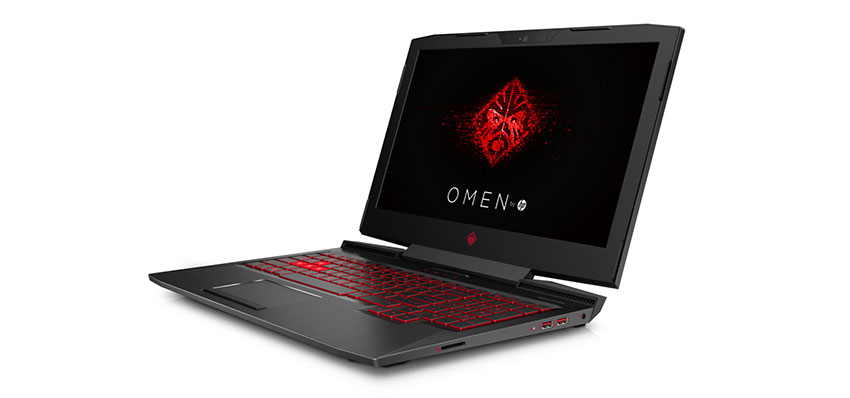 There is a base model that costs only $749. But for this review, we chose the higher-tiered model. HP Omen 15 is also a powerful gaming laptop. It has a lot of ports that can improve your overall gaming experience.
As for the display, we consider this outstanding. Even if you are playing or watching movies, you can expect superb quality. We were pretty surprised about the audio as well. Even if it is located at the bottom, the quality of sound is decent.
Price: $1,149
11. MSI GL63 8RC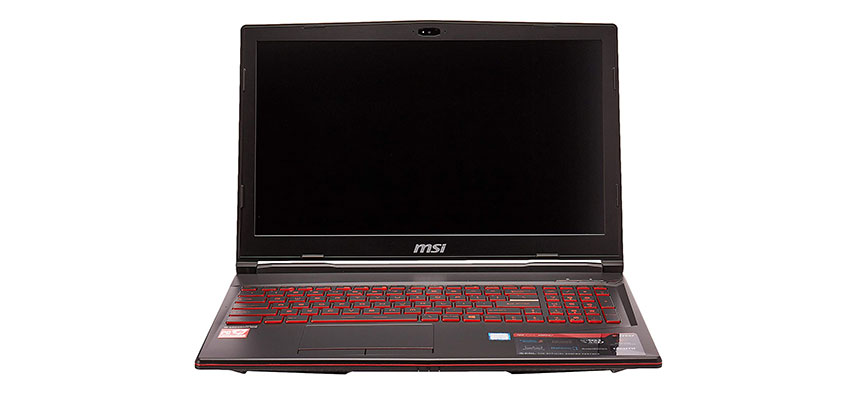 For those who are looking for an entry-level gaming laptop, MSI GL63 8RC is a good option. The keyboard though is just satisfactory and we believe it might need some tweaks in the future. As for the performance, do not expect that it can compete with the more expensive and other best gaming laptops. However, it can still give you that worthy gaming experience.
Price: $900
Conclusion
If you wish to splurge and get the best gaming laptop, consider Gigabyte Aero 17 HDR. Yet again, for those who are working on a tight budget, the gaming laptop from Dell should do the trick.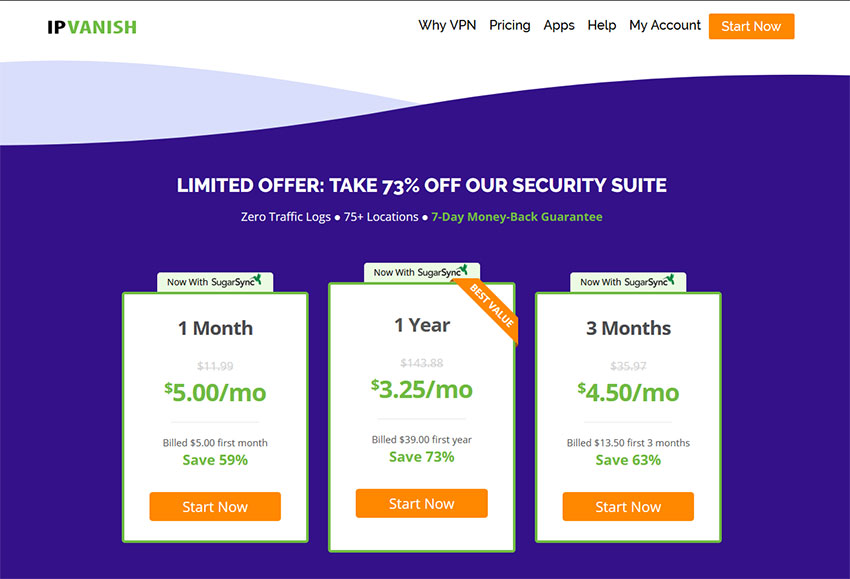 Internet security and privacy must be taken seriously now more than ever. With millions of people using the internet, wide-scale cybercrimes are also likely to happen. This includes fraud, hacking, identity theft, scams, and malware attacks, to name a few. And if you do not have an added protection over your internet usage, you could be the next victim. This is not to scare you but rather to emphasize how these cyber criminals work. They will use every opportunity and it doesn't matter who you are.
This is where a VPN can help you.
What is a VPN?
VPN stands for Virtual Private Network. It's an extra layer of protection that allows users to create a secure connection to a different network over the internet. This means that everything you do over the internet will be encrypted. No one (not even the government) could track your online activities. Additional benefits of a VPN is that you can access websites that are restricted in a particular region.
So the next question is: Who should get a VPN?
Everyone.
Back in the day, big companies are the common clientele of VPN providers. But as we've mentioned, the number of individual internet users surged over the years. It goes without saying that the rate of cybercrimes could go up too.
10 Best VPN for 2020
If you Google 'free VPN' right now, you will be overwhelmed with hundreds of providers to choose from. It is tempting, but we do not encourage free VPNs. Frankly speaking, these do not guarantee a high level of protection. Thus, our list only includes paid VPN providers that have passed our high standards.
1. NordVPN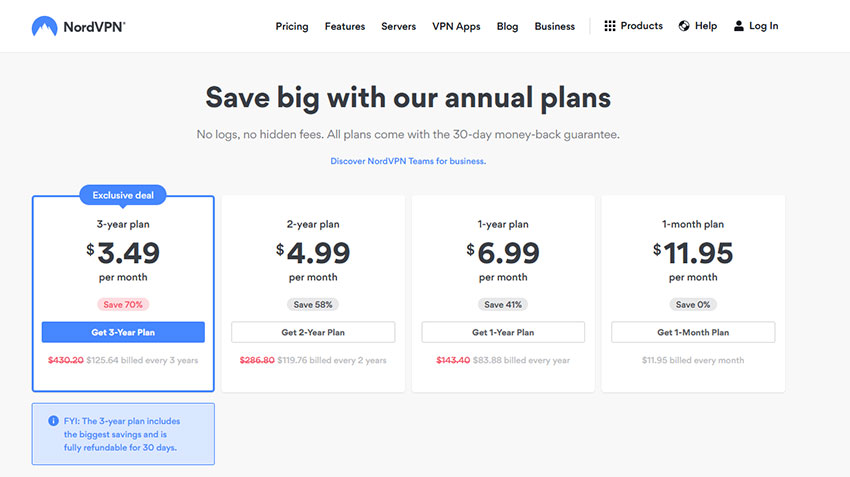 In the last 6 years, NordVPN's team of engineers, designers, and system administrators worked hard to create a tool that will bring them closer to their vision – Having a more open, yet private and secure internet.
With NordVPN, you can safely transact online even on unprotected Wi-Fi. Your online activities won't be tracked as well because basically, it's nobody's business. And since they have more than 5600 servers in 59 countries, you can access your favorite websites, streaming services, and messaging apps anywhere in the world. The best part is, it works on all devices.
We recommend that you take advantage of their 3-year plan where you get to enjoy the VPN services for only $3.49 per month. In our opinion, it's a cheap price given its features.
2. SurfShark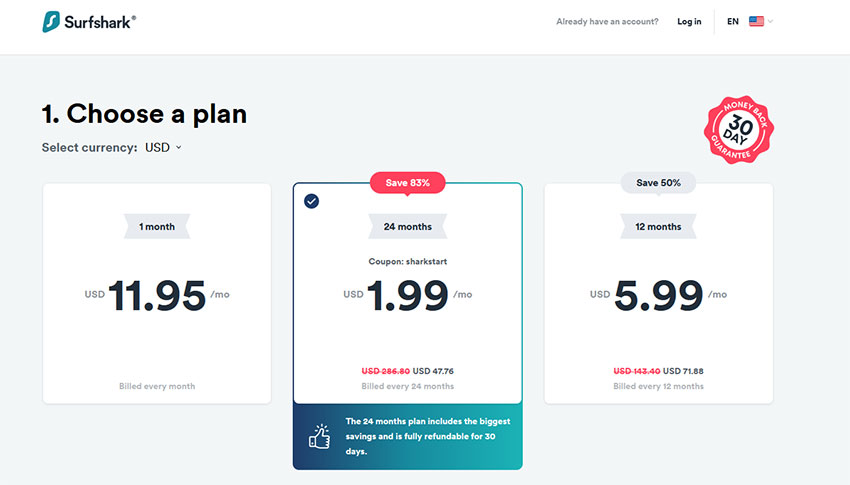 Aren't you interested to see Netflix libraries from other countries? SurfShark has 15 different libraries to choose from. But of course, there is more to love about SurfShark.
With them, just one subscription can cover unlimited gadgets in your home. They also have more than 1700 servers in 64 countries.
Let's not forget their Kill Switch option wherein your connection will be automatically disabled when your VPN drops. Talk about protection all the time.
They have a very affordable package for only $1.99 per month if you get their 24-month plan.
3. PrivateVPN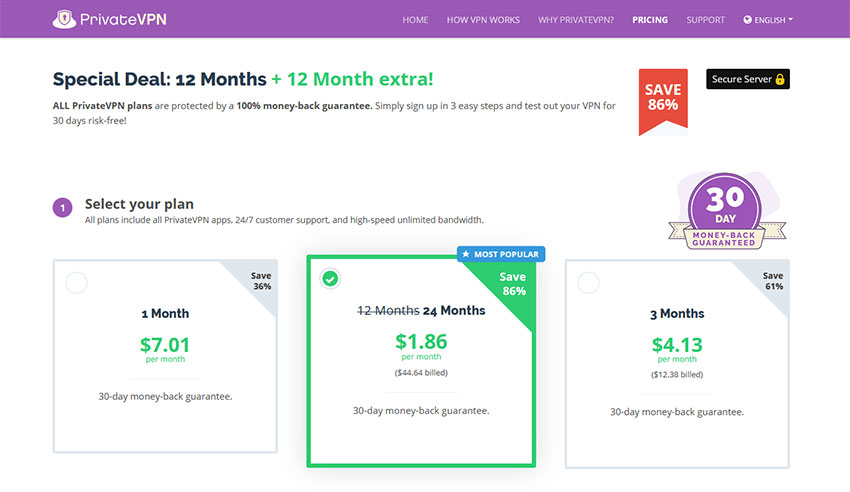 PrivateVPN allows their users to enjoy geo-restricted websites and it will only take you one minute to unleash the internet. With them, expect lightning-fast streaming services and excellent website experience.
The PrivateVPN's team is particular with their customer service. It's one of the things they are proud of. For issues, you can directly talk with their in-house developers and it will be resolved the fastest time possible.
To date, they have 100 servers in 60 different countries. You can get their services for $3.82 per month as long as you choose their 13-month plan.
4. ExpressVPN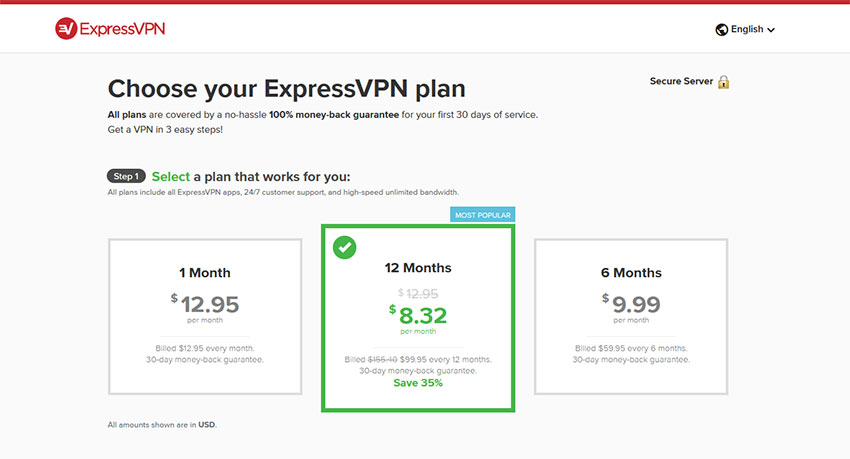 ExpressVPN is almost in every top VPN list. That's not surprising considering the quality of service you can get from the provider. They have a huge global network in 94 countries, and that means you can expect nothing less from them. You can even use the VPN in most devices and gadgets! It's pretty hard to pinpoint what's not to love about it.
What we personally like about ExpressVPN is their split tunneling where you can route some of your app traffic through the VPN while others can be directed to the internet.
Get their 1-year plan for $6.67 per month. This might be a bit steep but considering that ExpressVPN is one of the leading and most trusted providers, the price can be justified.
5. CyberGhost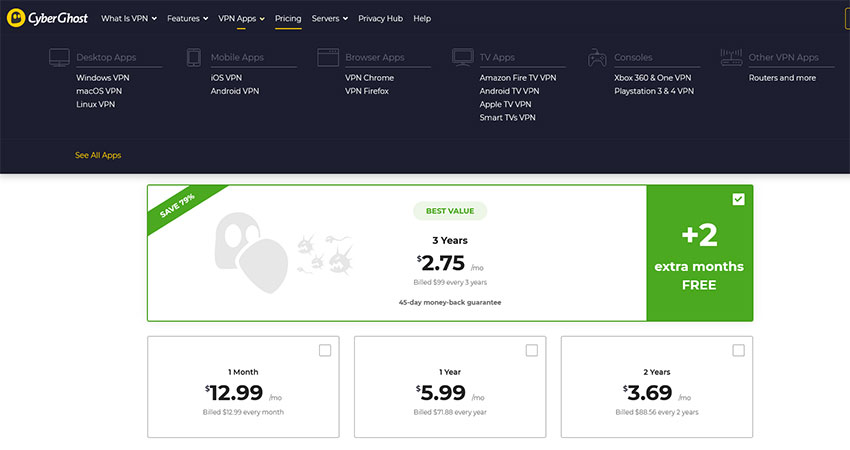 CyberGhost has 15 years of experience under its belt. We recommend this if your online activity involves heavy streaming and torrenting. With one subscription, you can cover and protect up to 7 devices. Their customer support is also available through chat and email.
As of the moment, they have 6400 servers in over 90 countries. In addition, CyberGhost uses 256-bit military-grade encryption which can protect your data all the time. Get their 18-month plan for only $3.15 per month.
6. IPVanish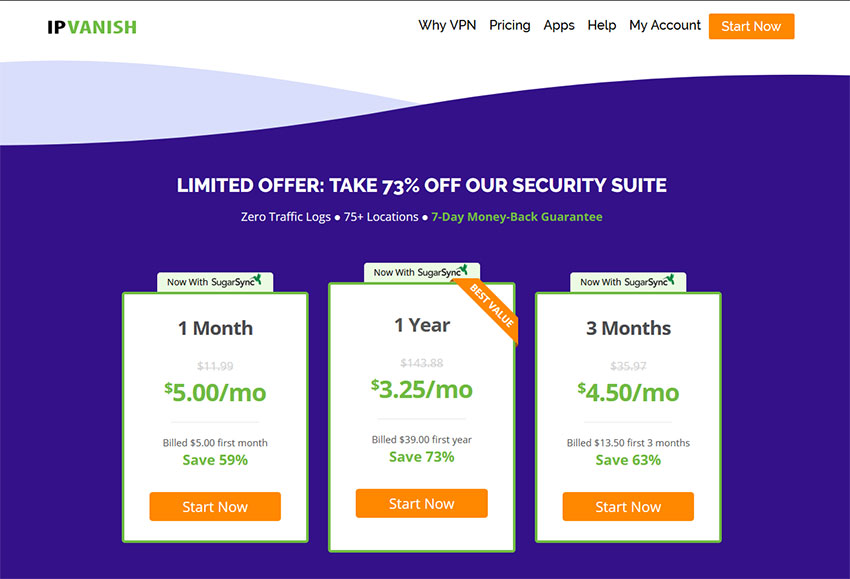 IPVanish provides its users access to over 1400 anonymous servers. You are guaranteed with fast and unrestricted internet access practically from every corner of the globe.
What's good about IPVanish is that all its services are managed internally and there is no middle man. Having said that, your information and data will be kept safe and confidential.
Lastly, they offer SugarSync which provides file management and encrypted data backup for various devices. It also has a wipeout feature in case your device gets stolen. For $3.25 a month, you can get all of these and more from IPVanish.
7. UltraVPN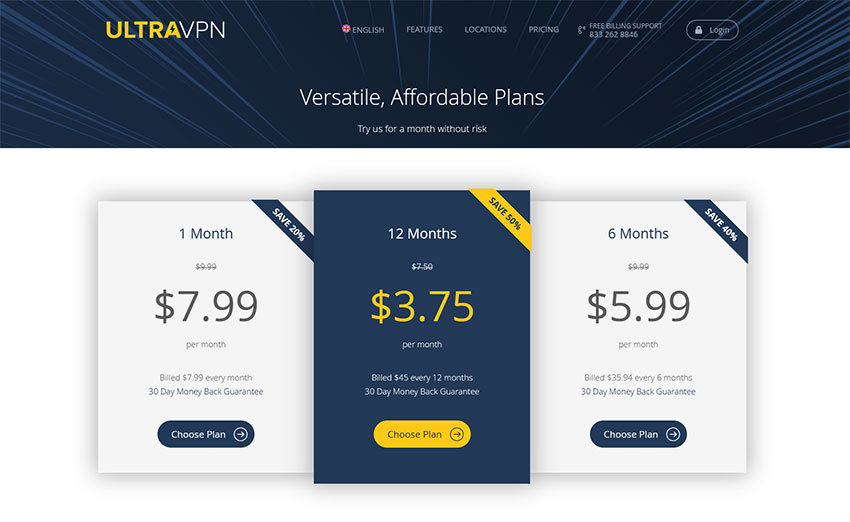 UltraVPN boasts its fast internet connection where you can watch continuous videos without the need to pause. Right now, they have more than 50 server locations across the globe.
UltraVPN gives you the access to unlock social media, watch sporting events that are restricted in your region, or check out videos that are only available in certain countries. UltraVPN can give you that power and limitless internet connection that we all deserve.
You can use the VPN for Windows, Mac, iOS, Android, and even for Fire TV. Get their 1-year plan for only $3.75 per month.
8. ZenMate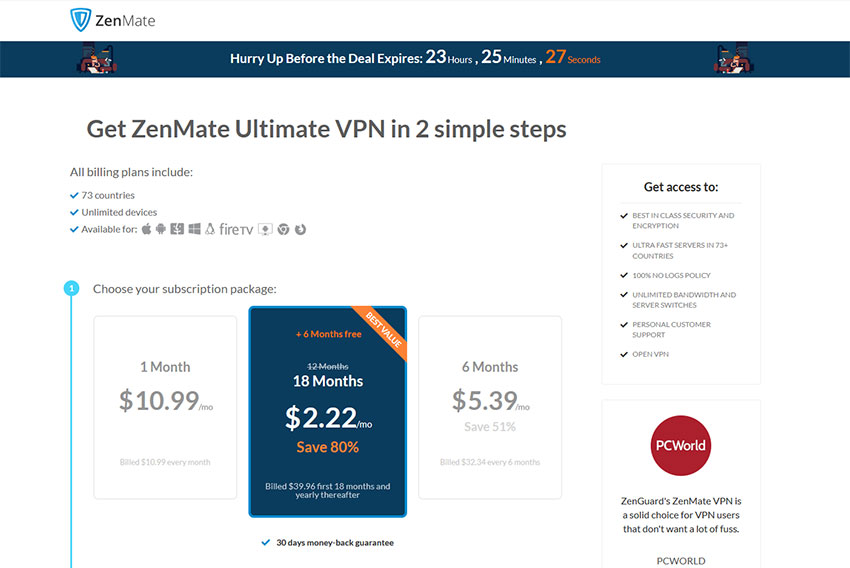 ZenMate is easy to use with its one-click connect feature. But even with its simplicity, it delivers an optimal experience to its users. With a rating of 4.7 out of 5 from more than 360 reviews on Trustpilot, it is beyond satisfactory. Currently, it has 3800 servers in more than 74 countries.
Affordable rates are also waiting for you. Their package starts at $2.22 every month under their 18-month plan.
9. Hotspot Shield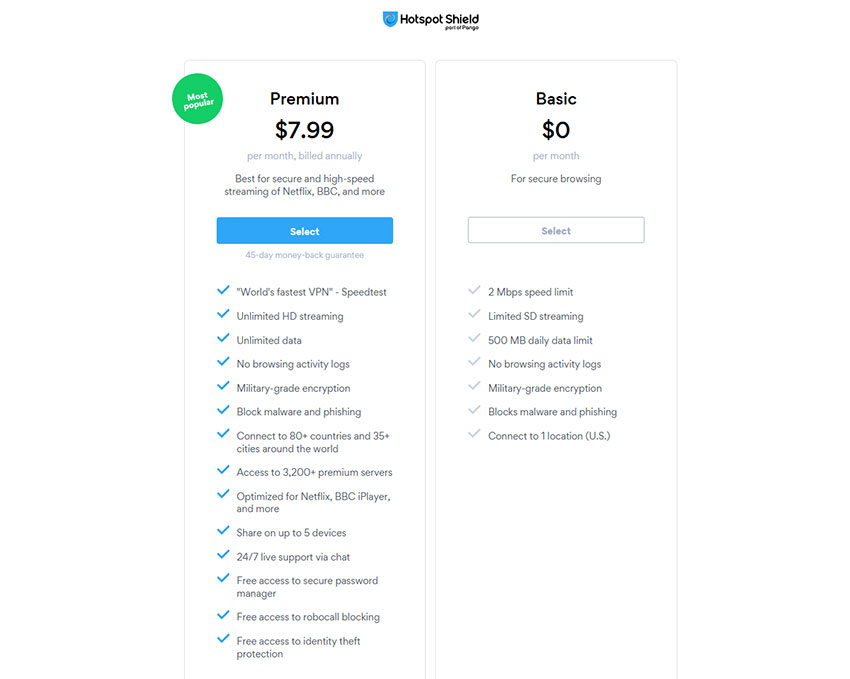 Hotspot Shield is known as the fastest VPN and this has been verified by experts. In fact, the company's outstanding services bagged them a number of recognitions including 'the 2019 Most Innovative Security Company'.
To date, they have more than 740M downloads and the number continues to grow. You can install Hotspot Shield in 5 devices, and it detects more than 3.5M malicious websites. For their 3-year plan, you just need to pay $2.99 every month.  
10. PrivateInternetAccess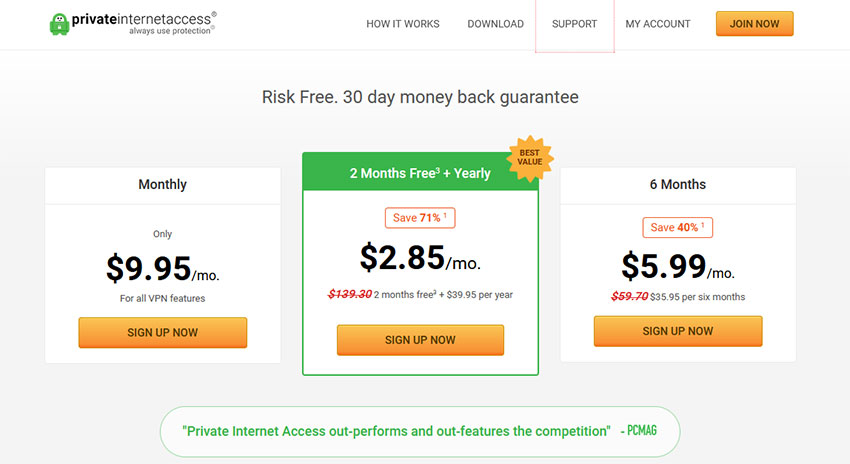 Last in our list is PrivateInternetAccess. It has more than 3300 servers in 45 countries. With their services, you can block unwanted connections – thanks to its advanced firewall and filtering features of the Netfilter Project. Without a doubt, it is one of the best VPN providers today.
Its layer of security includes IP cloaking, encryption, firewall, identity protection, and unblocking websites, to name a few. Choose their yearly subscription and only pay $3.33 per month.
Conclusion
If security and privacy matter to you, we encourage that you get the best VPN right now. Think about it. Most of us pay monthly subscriptions for Netflix, Spotify, and other online services. It seems logical that you pay for protection too. Most VPN providers we've included in the list offer a money-back guarantee. Use that lead time to decide before actually paying for the services. It's definitely a win-win if you ask us.