Doctor Performs Successful Transplant After Helicopter Carrying Donated Human Heart Crashes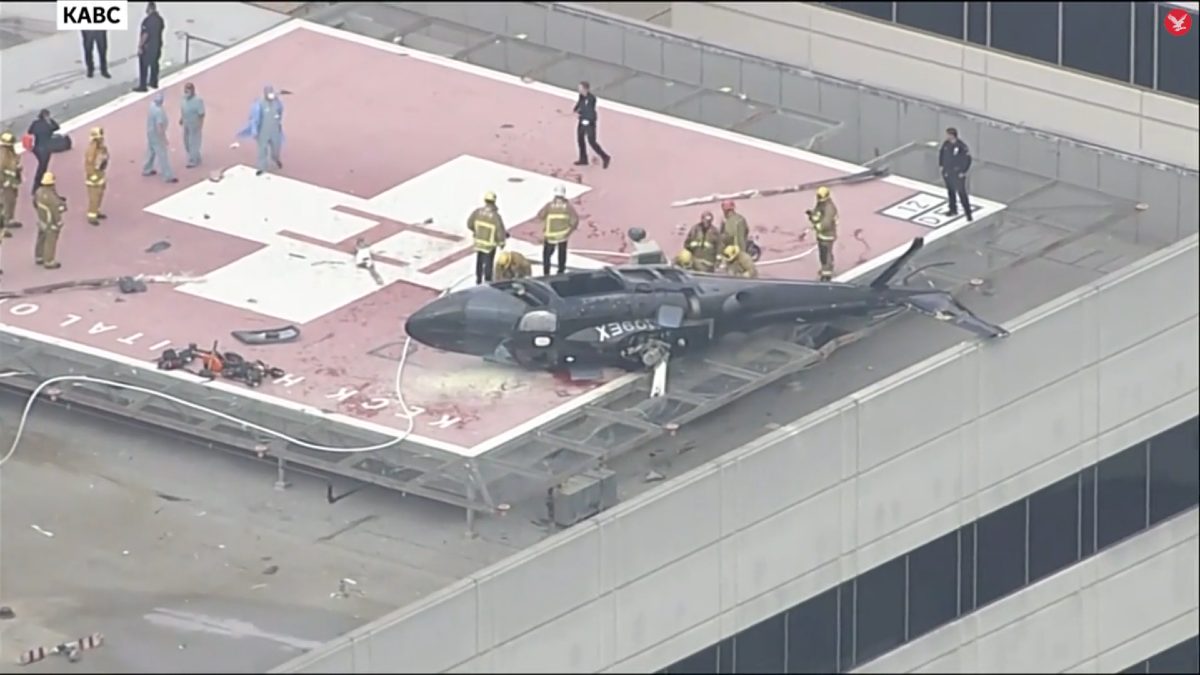 A helicopter with a donated organ crashes on the hospital's rooftop, the entire incident after the crash was captured on video.
A helicopter crash last November 2020 proved that nothing could stop a doctor from performing a heart transplant. The helicopter carried the donated organ from San Diego to East Los Angeles. It was supposed to land on Keck Hospital's rooftop at Boyle Heights.
As the pilot and three other people carrying the donated human heart inside the helicopter hurry to reach the hospital in time for the transplant, an unfortunate event happened. The eight-seater helicopter ambulance landed at the edge of the hospital's rooftop, crashing on its side.
Fortunately, all passengers survived without any major injuries. However, one patient was fighting for his life while waiting for the donated organ to be transplanted. The fast-thinking firefighters and medics of Keck Hospital had to do everything they can to save the organ and, eventually, save the donee patient.
Firefighters' Heroic Act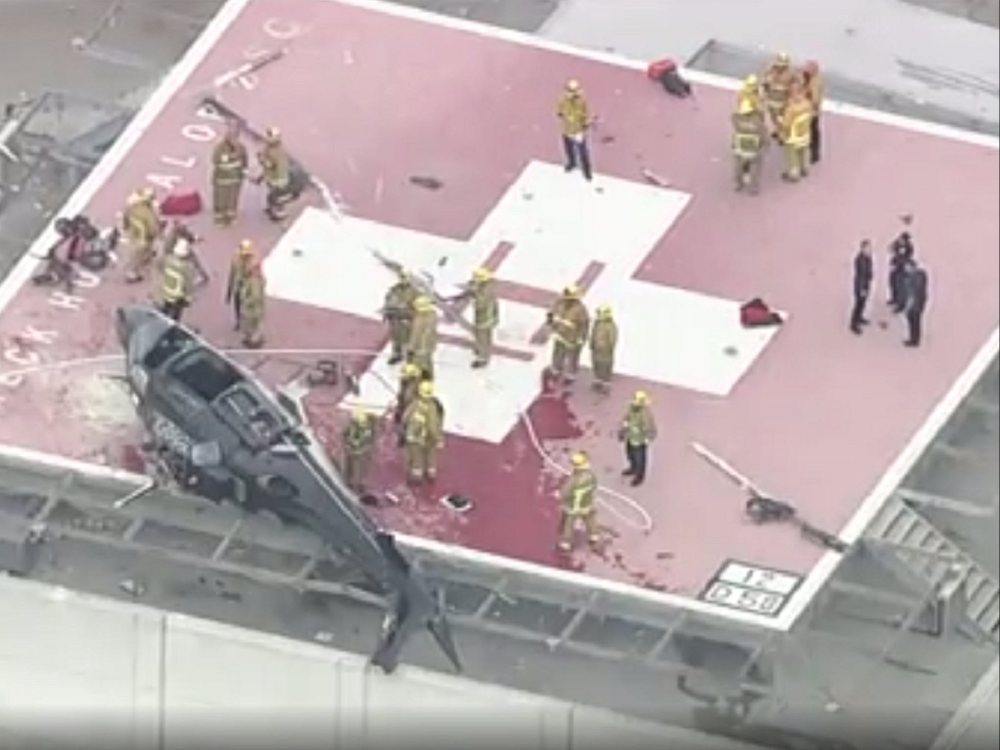 Video coverage of the occurrence after the crash captures the firefighters' nerve-wracking attempt to rescue the donated human heart while keeping it in usable condition.
The firefighters try to cut open the helicopter using hydraulic tools. Fortunately, they succeeded in retrieving the heart. However, the heart-stopping rescue continued after the donated organ was dropped to the floor.
As the medic tried to grab and deliver the donated human heart to the operating room, another accident happened, which shocked everyone present at the scene of the event. Due to the crash, there were piles of debris strewn on the hospital's rooftop. This caused the medic to step and trip on the debris, falling to the floor, with the donated organ in hand.
By now, the organ had been in a crash and had also been dropped to the floor. Firefighters rushed to help the medic recover the organ. The medic then hurried down the building to deliver the heart in time for the surgery. And he did.
Successful Surgery
It was all a matter of time to perform the heart transplant successfully. As doctors and other hospital staff do their best to save the heart, everyone waited in anticipation. Finally, a report from KTLA-TV confirmed that the heart surgery was a success. The donated human heart, despite its crash and fall, was still in an extremely usable condition. The donee patient survives, and firefighters, medics, and staff pat each other on the back for a team effort well done.
The incident is a dramatic rescue that made the rounds online. A Tweet from the Los Angeles Fire Department also relieved users following the story. The Tweet said, "the donated organ was safely retrieved by LAFD firefighters and handed over to [hospital] staff."
Accidents like this are inevitable. But through quick and fast response, people can prevent casualties of any kind. This is also all thanks to proper training and fast-thinking actions from our modern-day heroes, the firefighters, and the medical staff.
Elon Musk's Boring Company's proposed Fort Lauderdale transit loop receives mixed reactions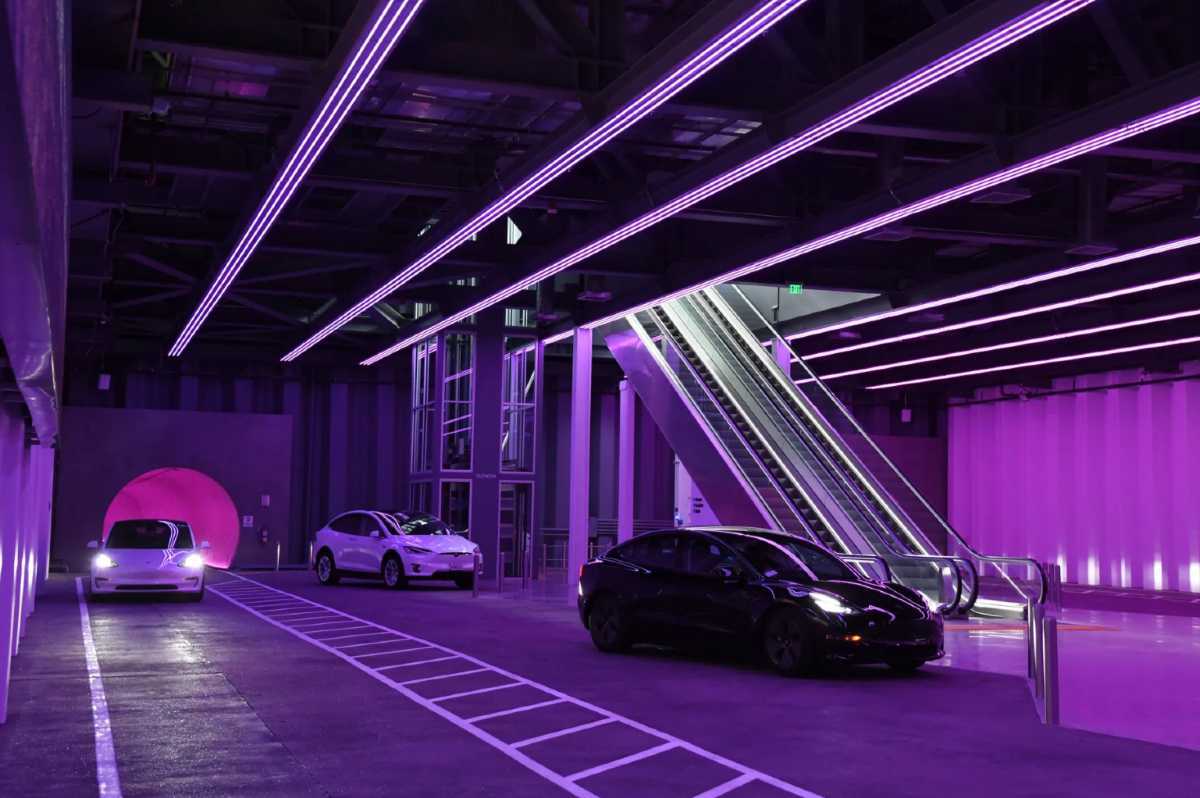 Elon Musk is the one guy you can turn to for the craziest ideas. But is his proposed transit loop in Fort Lauderdale really happening?
Boring Company, the brainchild of Elon Musk, provides low-cost transportation, fast-to-dig, freight, and utility tunnels. To date, the company has only dug three tunnels, one of which is the Los Angeles test tunnel. The other two are the underground 0.8-mile Las Vegas Convention Center tunnels. 
Now, Boring Company is looking into building another transit loop connecting Fort Lauderdale's downtown to its beach. Passengers will be brought from point A to B in standard Teslas. Although Fort Lauderdale Mayor Dean Trantalis said it's an "innovative and unprecedented" way of alleviating street-level traffic, many people are still skeptical about Musk's proposed transit loop.

It appears that this transit loop project called the "Las Ollas Loop" is just one out of the many proposed tunnels by Musk. The Boring Company had announced projects such as the Chicago loop system and the DC-to-Baltimore tunnel. However, both have seemingly been cancelled, with the latter eliminated from the company's website. 
This makes everyone wonder: Is the proposed transit loop hot air?
Transit loop drew flak
Although the Boring Company and Fort Lauderdale are in the works of materializing the said plan, engineers, experts, and people concerned are still dubious of the tunnel due to Florida rising sea levels. In addition, many people fear that due to the city's location, the "Loop" might cause flood risks.
Climate change might have a huge impact on the fulfillment of the transit loop. Some say if it indeed pushes through, then engineers would have to find a way to use technology and features that fight the impact of climate change. This would have to involve extensive investigation from an engineering and structural perspective.
Another concern is Florida's limestones, which make it hard to optimize tunnelling machines due to the natural holes. Moreover, the city dons many underground aquifers, which experts claim need to be protected as well. However, the Boring Company is open to studying the geological aspect on which path to dig that leads to the beach. It can avoid risks and drastic environmental impact.
But one of the valid concerns from transportation planners is why Fort Lauderdale would settle for standard Teslas? With that, they'll need to drive hundreds of passengers from downtown to the beach when a bus or train can accommodate more. 
Mayor Dean Transalis stays positive
Fort Lauderdale Mayor Dean Transalis is nothing but excited about Musk's proposed transit loop. Aside from solving traffic in the most congested streets in the city, this project will also relieve parking stress at Fort Lauderdale's beaches.
The city of Fort Lauderdale is now seeing an expected $30-million budget for this transit loop. This is despite the Boring Company's promise of faster construction times and lower costs. However, this promise received criticism from tunnel industry experts and engineers. They say the company doesn't have new technology for building tunnels. 
Talks from Fort Lauderdale Vice Mayor and Governor are now looking into opening the transit loop by the end of 2022.
Regardless of the skepticism from transportation and tunnel experts, the Boring Company remains optimistic about the project. They said a ride in standard Teslas that brings people from downtown Fort Lauderdale to the beach would cost each person $5 to $8. This is in comparison to a similar route with Uber, which will cost $10 per person. 
But Mayor Dean Transalis hasn't yet closed the deal on the Boring Company's proposal. Instead, he offered other tunnel-digging companies to submit better and more innovative tunnelling methods within 45 days.
Bird and Scootaround Team Up to Offer On-Demand e-Scooters in NYC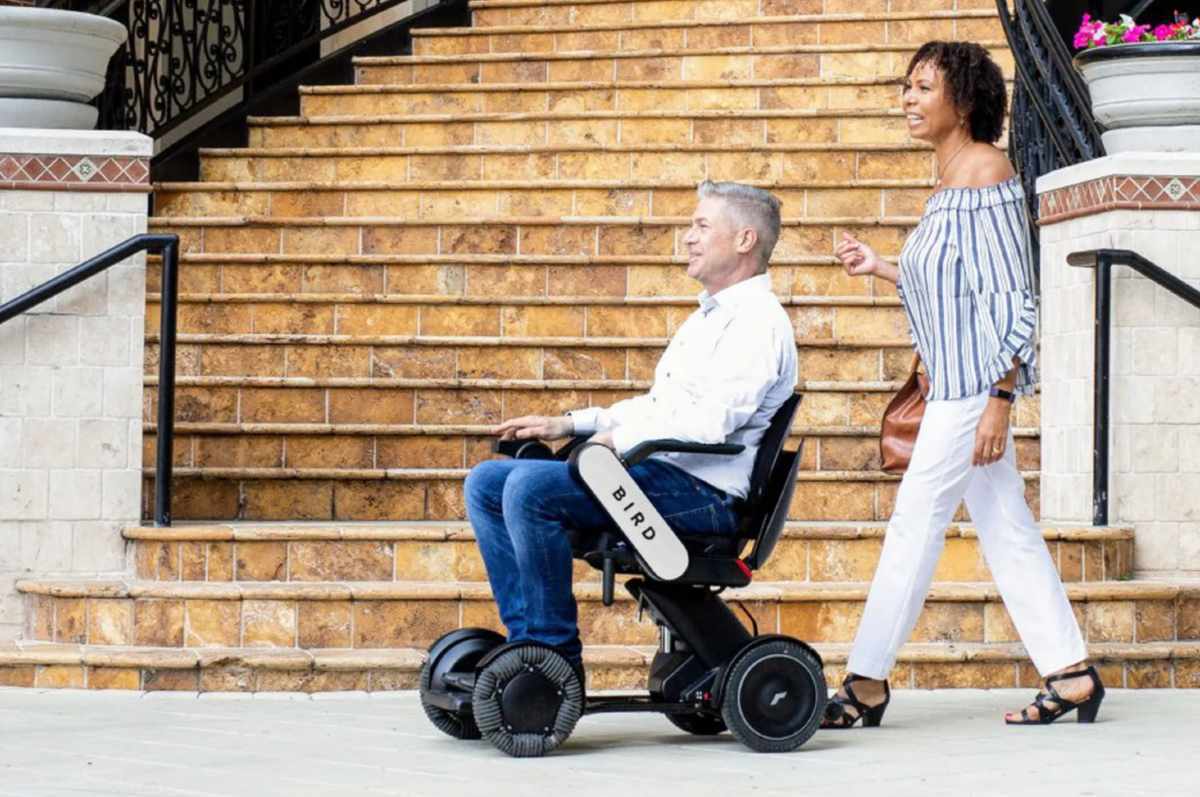 A gap in the electric wheelchair market was seen by vehicle company Scootaround over 22 years ago. While vacationing in Hawaii, the founder's family expressed their disappointment about the lack of mobility scooters for rent. This is how the big transportation solutions company Scootaround came to be. Now, scooter company Bird has seen the same opportunity, hence, partnering with the 20-year old transportation service Scootaround. 
Bird and Scootaround team up to offer on-demand electric wheelchair rental services to New York City this summer. Bird is on a mission to make vacationing, travelling, or going around NYC comfortable even for people with disabilities. 
Ban on e-scooters lifted
Electric scooters weren't always welcomed in NYC. Before November 2020, NYC civilians posed a concern about reckless two-wheeled or four-wheeled drivers. There was a surge of electric scooters in the streets of New York, and people have stated that they're a "nuisance." 
This concern prompted NYC lawmakers to ban the use of electric scooters. However, during the start of the pandemic, people realized how convenient e-scooters were for essential workers. This, again, prompted lawmakers to lift the ban on using throttle-controlled e-bikes and e-scooters altogether.
Of course, this comes with a few rules on riders. Only riders aged 16 up will be allowed to run on e-scooters and e-bikes. Moreover, riders below 18 must wear a helmet while on their electric scooters. Finally, some throttle-controlled bikes will require riders to wear helmets for safety as well.
Gov. Cuomo had approved a tentative budget legalizing any electric mobility device, including e-bikes and e-scooters. This was a year after he had vetoed a similar legalization bill passed in 2019. Thus, a decade of back-and-forth is now coming into place as the e-bike, or e-scooter budget is now approved. 
NYC is now one of the cities that allows electric scooters, along with Atlanta, Washington, and San Francisco.
Bird's pilot program
NYC will now be seeing more of Bird's electric scooters this summer. Bird has chosen the perfect trusted company for transportation services, Scootaround, for its pilot program built for sustainability.
Bird promises a better and more convenient way of moving around NYC for people with mobility issues. Both companies are now making mobility service transportations accessible by tapping a few buttons on the Bird mobile application.
Bird first announced Bird Zero in 2018, an electric scooter designed for ride sharing with longer battery life. Not long after, Bird created the Bird Platform to provide individual operators to use the platform for advertising their own shared, branded e-scooters. Bird reached over 10 million rides that year.
Now that two of the most reliable scooter companies have teamed up to provide better transportation services, people with mobility issues can now select, reserve, and pay for their chosen electric scooter, including the WHILL Model C. A design with a more excellent aesthetic, reliable wheel structure, and prompt joystick feature.
How to reserve
Bird boasts a user-friendly interface to conveniently reserve and pay for an electric scooter. Riders can go to the bottom button on the Bird app. Then, select among three available vehicle types.
They would have to input the rent duration, which is from one to 14 days, and preferred pick-up and drop-off locations.
Furthermore, riders will receive an in-person demo on using, storing, and charging the electric scooter. In addition to that, a toll-free number is also provided for any questions or concerns about the rental process or vehicle.
With the campaign rolling out in the summer, people with mobility issues will now be more confident in roaming around NYC. No more concerns about e-scooter rentals as Bird lets everyone travel comfortably, with a minimal carbon footprint.
Xbox Launches New Games and A Mini-Fridge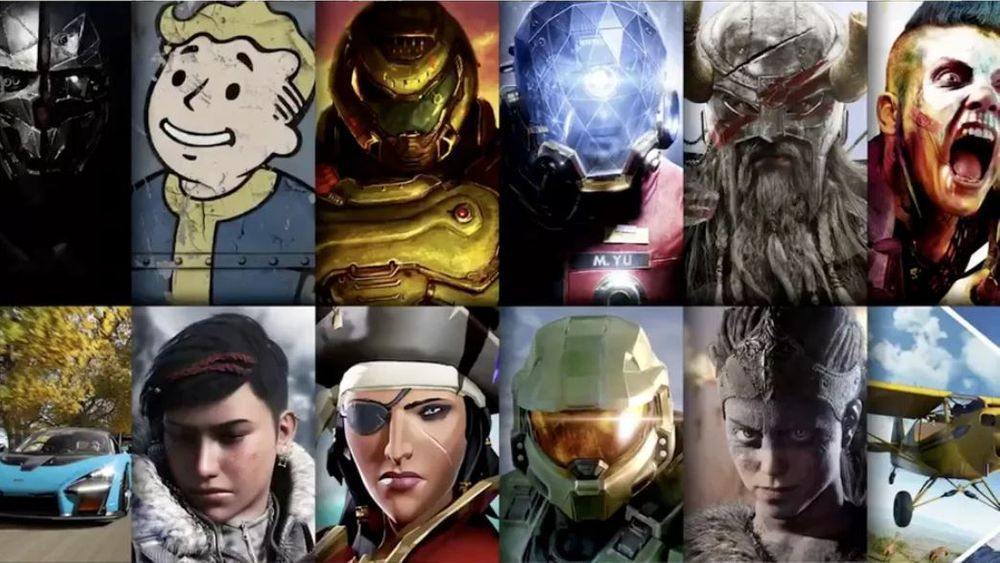 If you're an Xbox fan, then you're probably excited about the upcoming titles the gaming giant has recently announced. And what about the mini-fridge that it's introducing to users? But we'll get to that later.
Microsoft and Sony released three gaming consoles last year – Xbox Series S, Xbox Series X, and PlayStation. And this year, fans can't wait to get a load of new games. Not one to disappoint fans, Microsoft launched 30 never-before-played versions, including Halo Infinite.
If you want to try most of the new games, you'll be glad to know that 27 of them will be available for subscribers of Xbox Games Pass. But you already know that if you tuned in to the recent Electronic Entertainment Expo (E3) held remotely on a livestream.

Leaked Trailer
Even before the event, some fans were already talking about Starfield – an all-new space RPG made by Bethesda. The Washington Post leaked the trailer accidentally, and gamers aren't complaining.
Starfield was made by the game studio that Microsoft acquired for $7.5 billion, along with ZeniMax Media. For fans waiting for the game, you'll have to wait for a little longer – more than a year, to be exact. Starfield is due to be released on November 11, 2022.
According to Bethesda Game Studios, Starfield is a game they've always dreamed of playing. However, they had to wait until the hardware and tech were available. That said, they're certainly happy that innovations have made it possible to come up with such a product today. And they're surely hoping to earn fat revenues from the innovation.
Games to Watch Out For
Aside from Starfield, fans are also intrigued about Forza Horizon 5. After all, many are expecting it to take full advantage of the newest Xbox consoles' next-generation tech.
As mentioned, most of the games discussed will be available in the Xbox Games Pass service. For those not familiar, the monthly fee is $15 in exchange for access to the games. Added to that, subscribers can also access Xbox game streaming service, allowing them to stream games online. Think of it as a service somehow akin to Netflix.
Meanwhile, Halo players will be happy to get their hands on Halo Infinite. The newest version will launch this fall, so fans will surely be looking forward to pumpkin spice season.
Forza Horizon 5, on the other hand, is another title to check out. Set in Mexico, the version uses real-world videos and photos of Mexican places. Stalker 2 is also part of the roster of new Xbox games. This is based in Chernobyl with zombie elements. So, perhaps, you may expect radioactive zombies? The game is due for release on April 28, 2022.
If you're a Jack Sparrow fan, you might want to check out Sea of Thieves: A Pirate's Life. This online pirate game is launching a free update and with new characters to boot. With a storyline based on The Pirates of the Caribbean franchise, you can never go wrong.
For fans craving villain-focused games, Far Cry 6 is another one to watch out for. It's due October 7, so only a few more months before gamers see the rollout of this new title.
Xbox Mini-Fridge
Now, let's talk about the Xbox mini-fridge. It may have started as a meme, but the company turned it into reality. In fact, makers are planning to launch it later this year. Netflix and chill? Maybe Xbox and chill will be just as popular soon.
Microsoft already said the mini-fridge would be "the world's most powerful mini-fridge." The product will launch on holidays 2021.