Top 10 Conversational Marketing Software Businesses Can Use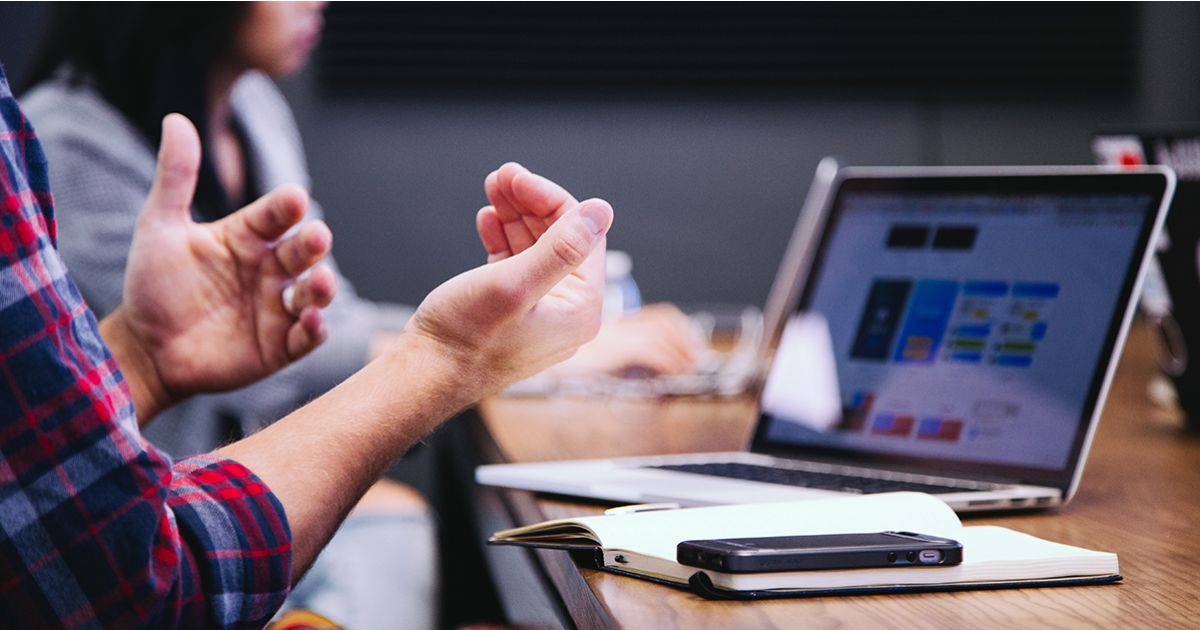 What do Hubspot, Intercom, and Terminus have in common? These are some of the developers of conversational marketing software. This technology allows businesses to support customers and send marketing information through live chat, chatbots, and other similar features. To learn more about the features of this innovative solution, here are the top ten conversational marketing software that B2B marketers use.
1. HubSpot Marketing Hub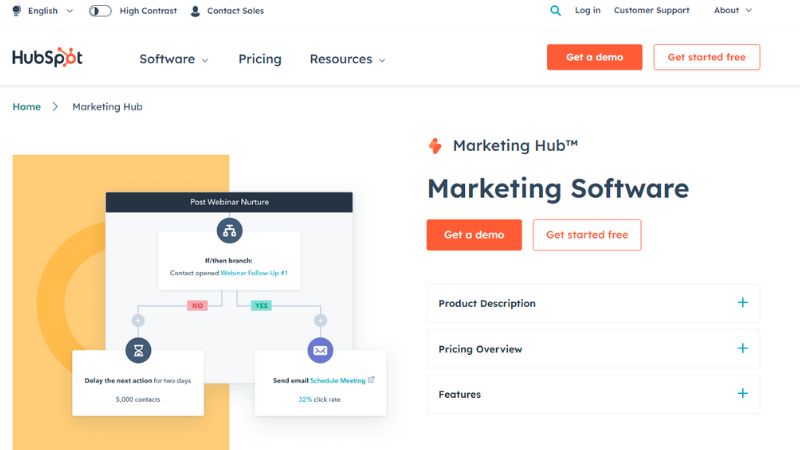 Modern marketers juggle various solutions to keep up with the tight competition. This conversational marketing software help businesses attract the right audience, convert more visitors to new customers, and implement complete inbound marketing at scale. In addition, marketers can track their data during the entire sales cycle because HubSpot Marketing Hub is built as part of the best startup software HubSpot CRM. That is why HubSpot provides everything you need to grow your brand. 
Key Features:
Track visitors through blogging, social media, and ads
Convert visitors into customers via landing pages, email, marketing automation, and more.
Track return on investment (ROI) through revenue attribution reporting.
The customer data in your CRM power all features to enable personalization at scale.
Pricing:
Free: $0/month
Starter: $45/month
Professional: $800/month
Enterprise: $3,600/month
2. Intercom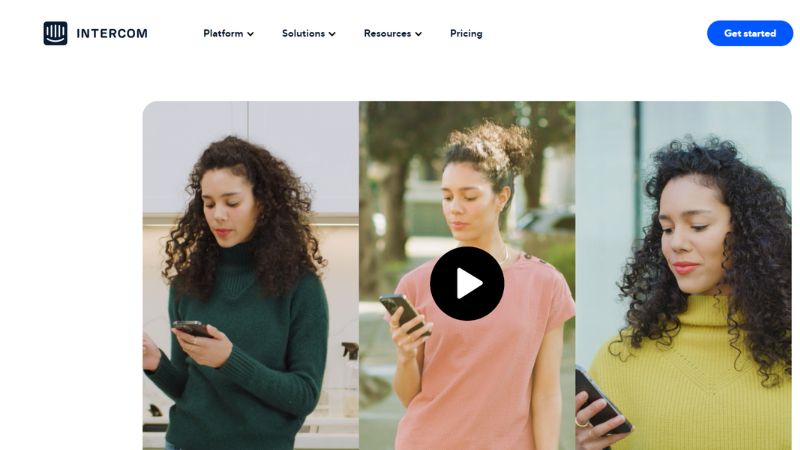 Intercom redefines how businesses serve customers through a robust messaging and automation solution. Customer services from over 25,000 global organizations trust Intercom because it delivers efficient and personalized customer experiences at scale. 
Key Features:
Fully-customizable Intercom Messenger
Next-Gen inbox to help your team resolve customer issues faster
Outbound messages
News and surveys
2-Way SMS to connect to your customers anytime, anywhere
Pricing:
Essential: from $38/month
Pro: from $75/month
Premium: custom pricing
3. Terminus ABM Platform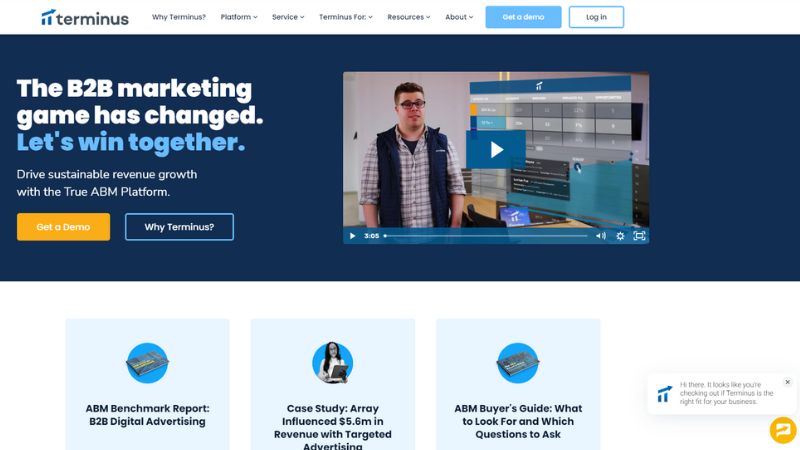 Terminus is an account-based marketing (ABM) platform that empowers marketers to attract ideal customers with multi-channel experiences. These experiences are built on first-party data, best-in-class advertising, and a scalable ABM strategy. As a result, marketing teams can accomplish a sustainable growth advantage with Terminus.
Key Features:
Lead intelligence
Lead management
Marketing campaigns
Platform additional functionality
Pricing:
Contact sales for a customized quote
4. Freshchat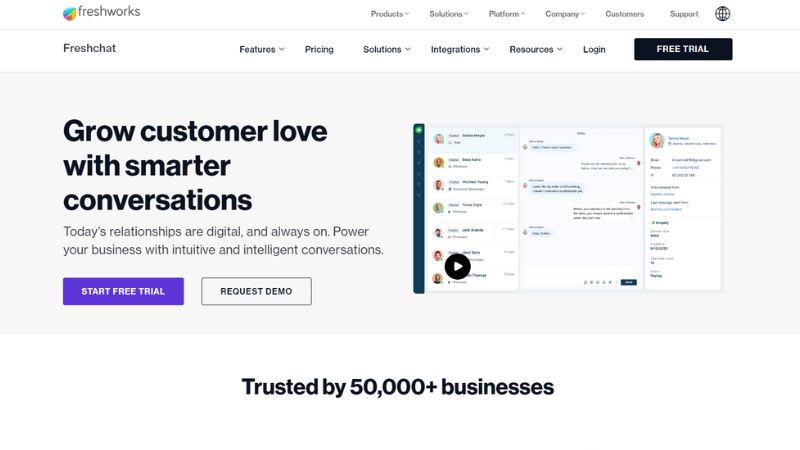 Freshchat is a live chat software that offers effortless customer support by integrating artificial and human intelligence across multiple messaging channels. This is Freshworks' move towards on-demand, personalized, and accessible customer support. 
Key Features:
Unified inbox experience to manage conversations across digital channels
Best-in-class AI chatbots that focus on intent and engagement
Proactive messaging using hyper-targeted rich media campaigns
Intelligent load balancing and auto-routing capabilities
Seamless integrations via a rapidly growing app marketplace and custom APIs
Highly resilient architecture built on AWS and certified with industry compliances
Pricing:
Free: $0
Growth: $15/agent/month
Pro: $39/agent/month
Enterprise: $69/agent/month
5. Qiscus
Qiscus is a conversational marketing software that assists businesses in managing customer data, leads, and multi-channel messaging. The platform aims to improve sales and enhance the customer loyalty of its clients. 
Key Features:
Multi-channel communication: engage with your customer from your app and more than 20 channels in one dashboard
Interaction tracking
Pricing:
Seed: $50/month
Startup: $115/month
Grow: $270/month
Enterprise: Contact the Qiscus sales team
6. Chekkit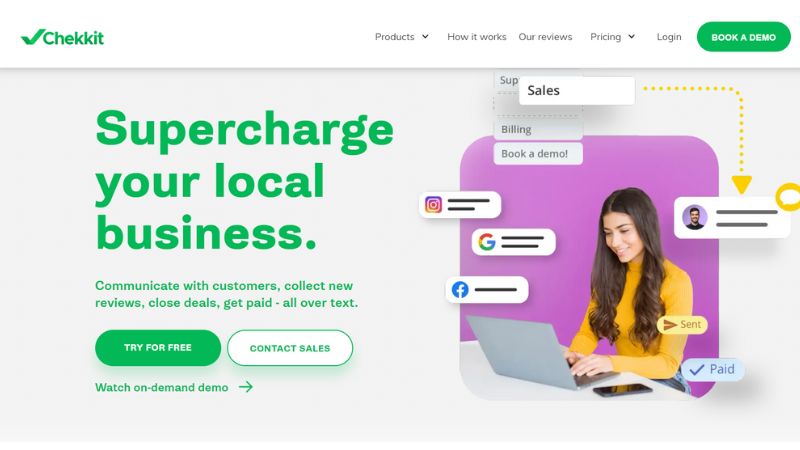 Our sixth conversational marketing software, Chekkit, is an integrated review, messaging, and lead inbox provider. Through Chekkit, marketers can communicate with customers, collect new thoughts, and get paid over a text message. 
Key Features:
Review Management
Business Text Messaging
Webchat
Centralized Inbox
Textable Landline
Customer Surveys
Competitive Benchmarking
Pricing:
Basic: $99/month, unlimited users
Premium: $199/month, unlimited users
7. Helpwise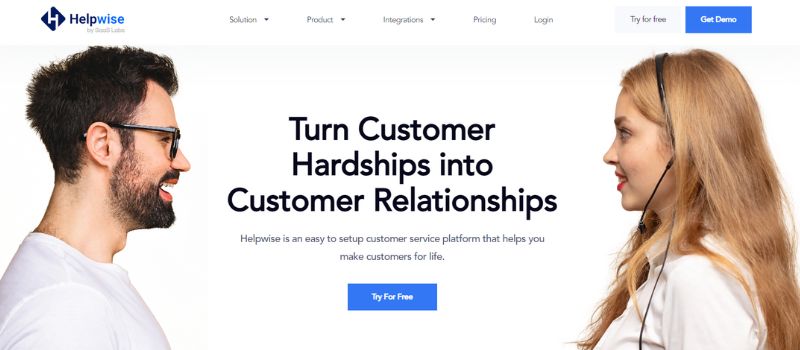 Helpwise handles customer queries across multiple channels. It also provides email, SMS, WhatsApp, Facebook, Twitter, and Live chat team inboxes. The platform integrates other business tools to help you complete information about your customers within the conversation. 
Key Features:
Productivity tools such as notes, internal discussion assignments and tasks, workflow templates, and tagging system
Analytics
Inbox Tools
Software Options
Pricing:
Free: $0/month, up to 3 users only
Basic: $12/month
Premium: $20/month
Advanced: $40/month
8. Zenvia Conversion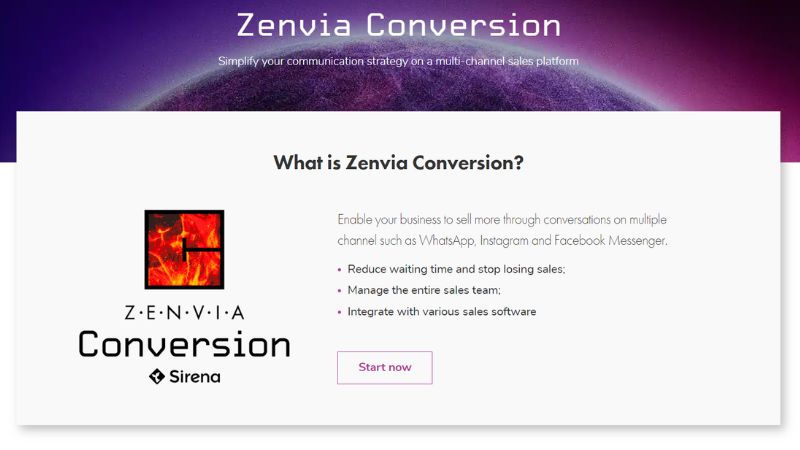 Zenvia Conversion helps businesses communicate and drive growth in this instant messaging era. It enables every department in a company to have a unique WhatsApp line to centralize communications and track their interactions with your business. Zenvia Conversion is ideal for SMBs who want to evaluate, optimize, and convert leads through multi-channel communication. 
Key Features:
Group Messaging
Lead Qualification
Appointment Scheduling
Lead Distribution
SMS Messaging
Multi-Channel Communication
Chatbot
Human Handover
Pricing:
Basic Plan: $99/month
Pro Plan: $299/month
9. Userlike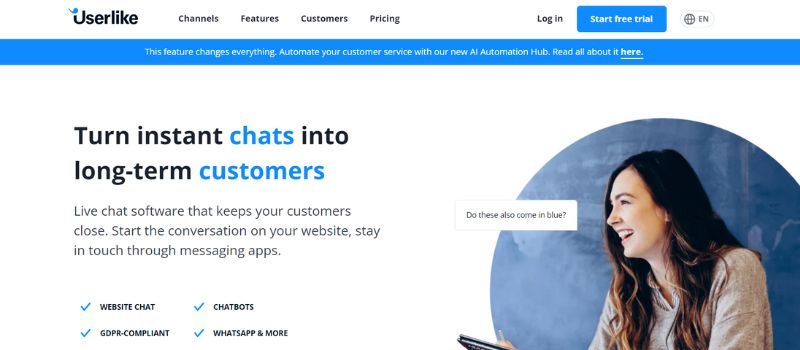 Userlike is Germany's leading software solution for live chat and customer messaging. Conversations from your website, WhatsApp, and other messaging apps go into one inbox – the Userlike's Message Center. Userlike's professional service features help businesses generate more leads. Marketers and customers can exchange PDFs and voice messages directly in the chat or switch to a video call with just one click. 
Key Features:
Message Center
Automation and chatbots
Video calls
Data Privacy and General Data Protection Regulation (GDPR)
Enterprise features
Pricing:
Free: $0/month
Team: $90/month
Corporate: $290/month
Flex: contact the sales team for a custom quote
10. Birdeye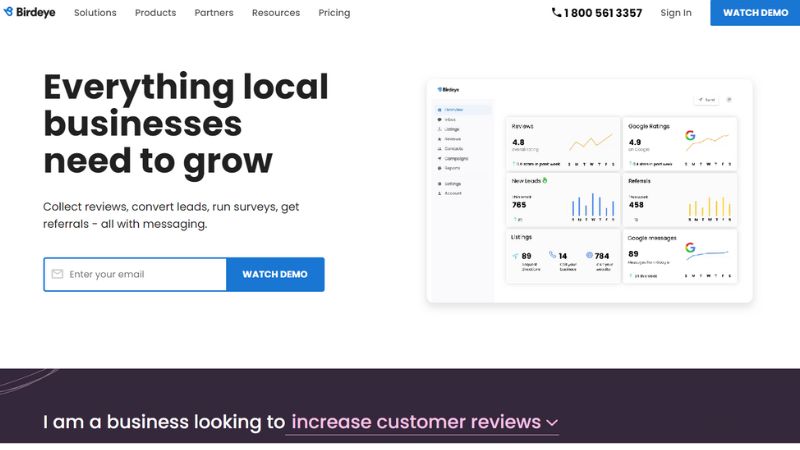 The Birdeye software lets you connect with leads and customers through texting, live chat, and bulk messaging. One messaging platform to enhance customer experience and engage with both customers and prospects through one-on-one conversations. Respond in real-time by mobile app, desktop application, or text message whether you or your customers are on the go.
Key Features:
Chatbot
Lead Qualification
SMS Messaging
Multi-Channel Communication
Pricing:
Talk to the Birdeye sales team for custom pricing
Conclusion
The reason why conversational marketing software is becoming more popular among marketing teams is simple. This technology, powered by AI or human intelligence, works like magic in increasing customer engagement. Rather than forcing leads through countless trial-and-error solutions, conversational marketing develops a connection right away. Successful use implementation of the platform can generate qualified leads and accelerate the overall sales process.
10 Best Affiliate Tracking Software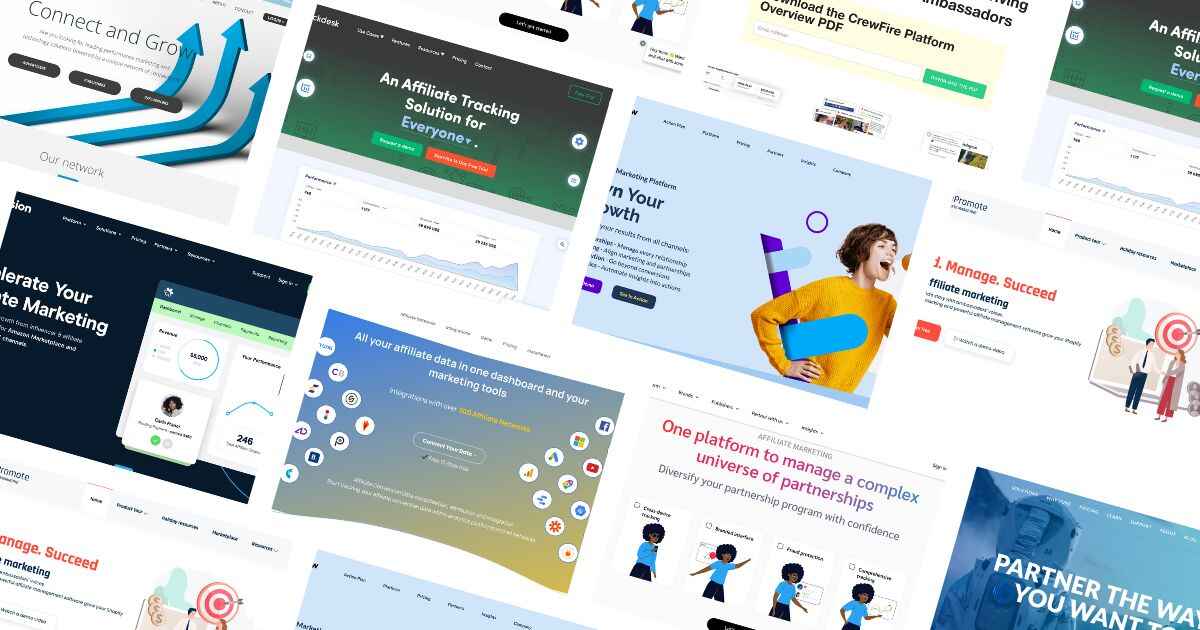 Affiliate tracking software is an essential tool for anyone who is looking to build an online income stream. It enables you to track sales and commissions, calculate payouts, and manage your affiliate program.
With so many available options, finding the best affiliate tracking software for your needs can be overwhelming. To help you make the right decision, we've compiled a list of the top ten best affiliate tracking software. Each of these programs is feature-rich, intuitive, and reliable, so you can be sure you're getting the most out of your affiliate program. Check out this list and take your pick.
1. CrewFire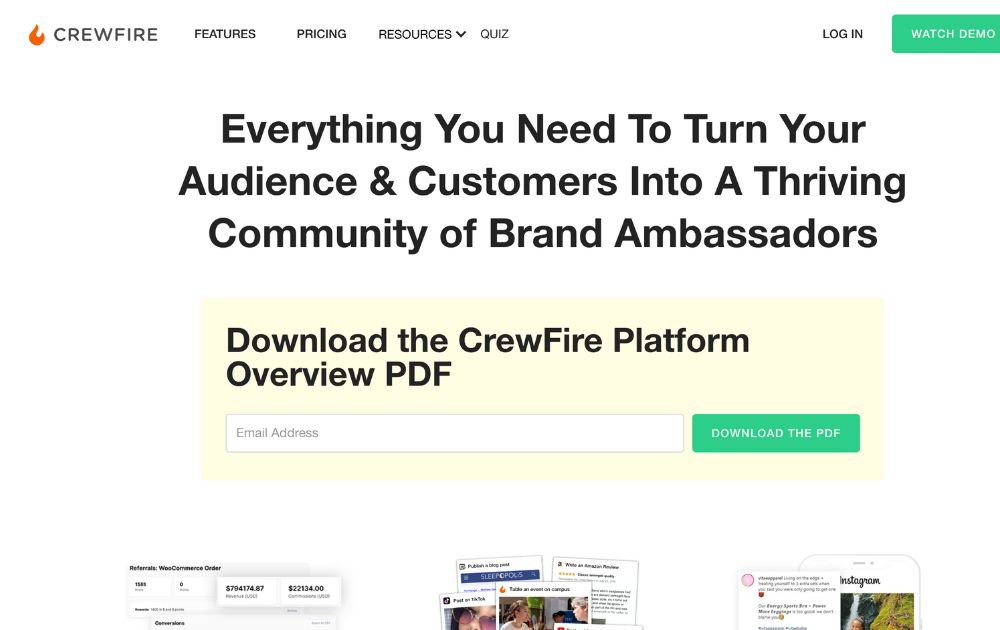 CrewFire is an affiliate software for small business firms and big companies alike. Since the app allows brand ambassadors to get rewarded for every transaction they make, using this software could motivate your content creator partners. In addition to that, this app also lets users track conversions to know who are the best ones bringing in traffic and making sales. 
Features:
Clean, user-friendly interface
Reward system with shop discount, profit split, and more
Direct payments through ACH and PayPal
Pricing:
The cheapest package is $1,000 per month, which allows up to 500 ambassadors and two admins.
2. Refersion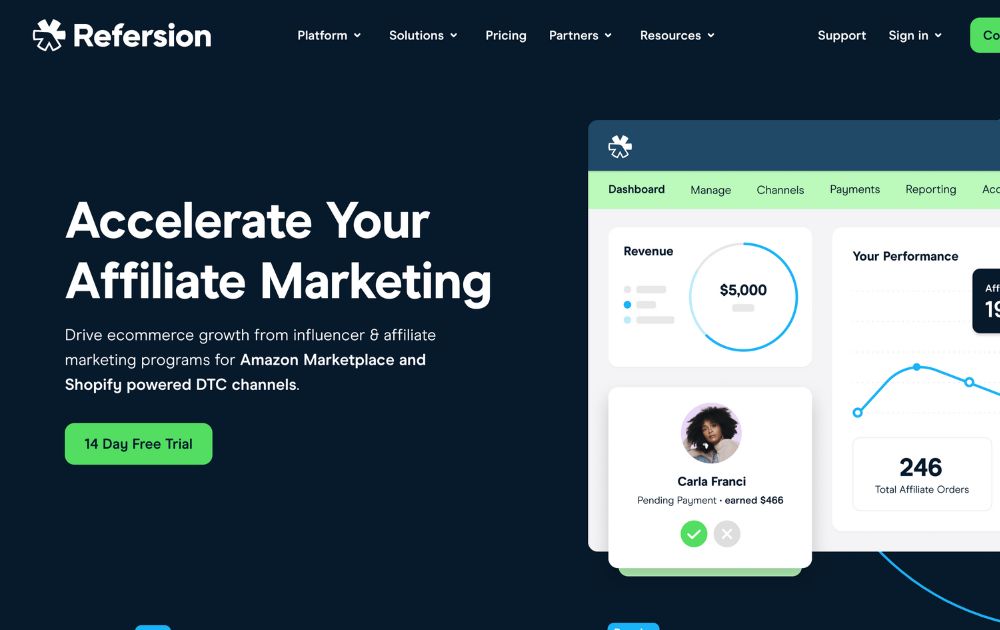 Next on our list of affiliate tracking software options is Refersion. This app allows for promo campaign management and allows the user to set customized commission amounts based on certain products. 
Features:
Mass payment options
Customized commission rates depending on the product
Pricing:
The cheapest plan is $99 per month for up to 50 monthly order conversions.
3. We Can Track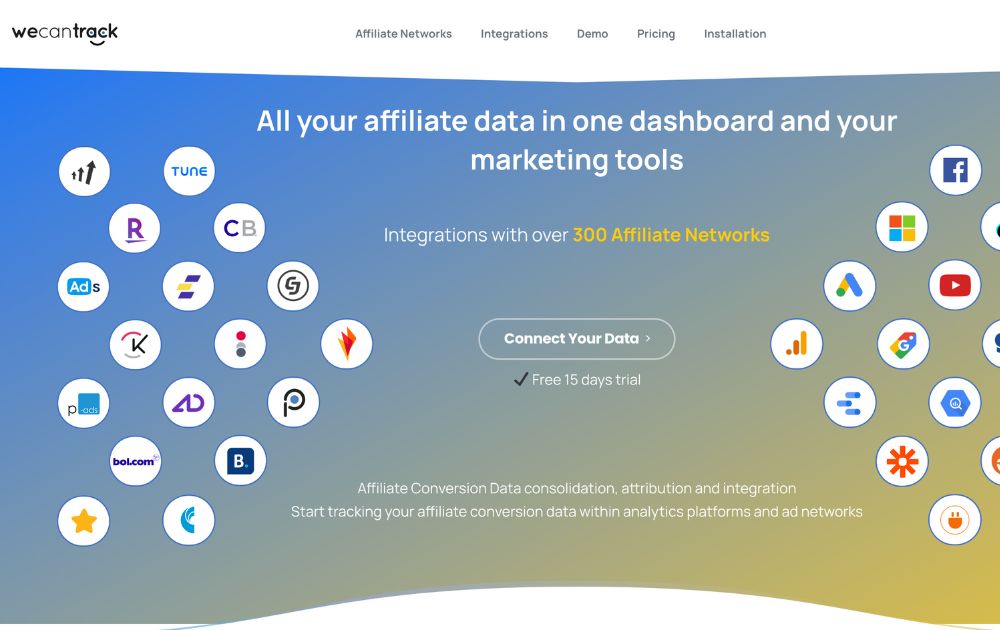 If you're looking for a top affiliate tracking software that offers a free trial, check out We Can Track. What makes this app unique are the actionable insights it provides by integrating various data into one material.
Features:
Integration with Google Ads, Google Analytics, and Facebook Ads
Easy-to-use affiliate dashboard
Pricing:
The cheapest plan is around $61 per month for 20 network accounts and 500 transactions.
4. Impact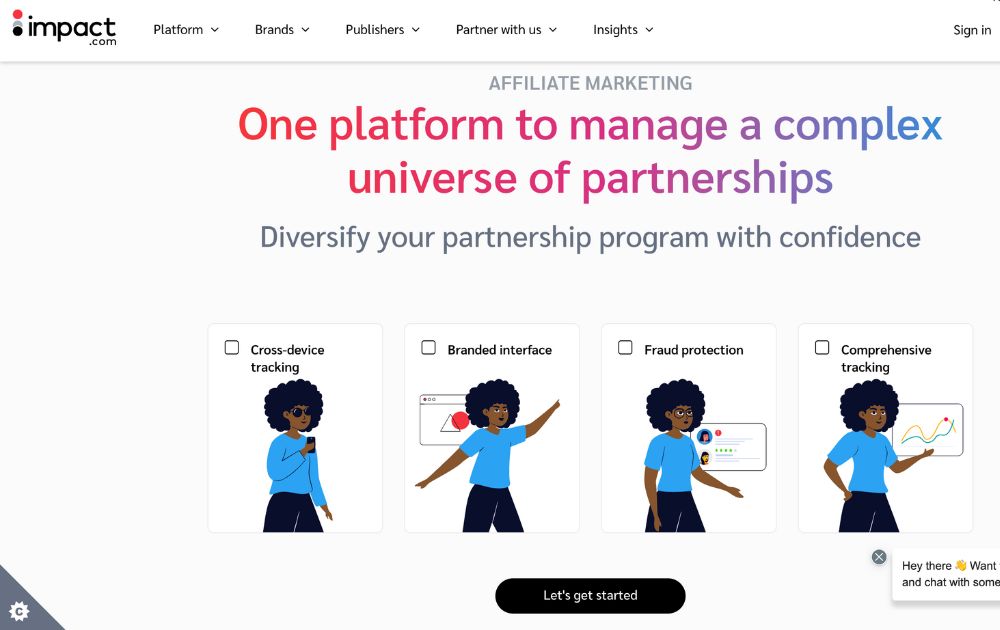 Impact is an affiliate marketing app that describes itself as "one platform to manage a complex universe of partnerships."
Features:
Data visualization and deferred deep linking
Marketplace to connect with and directly recruit media partners
Pricing:
Impact's rates aren't available on their website, but you can contact them to get their pricing details.
5. Peerclick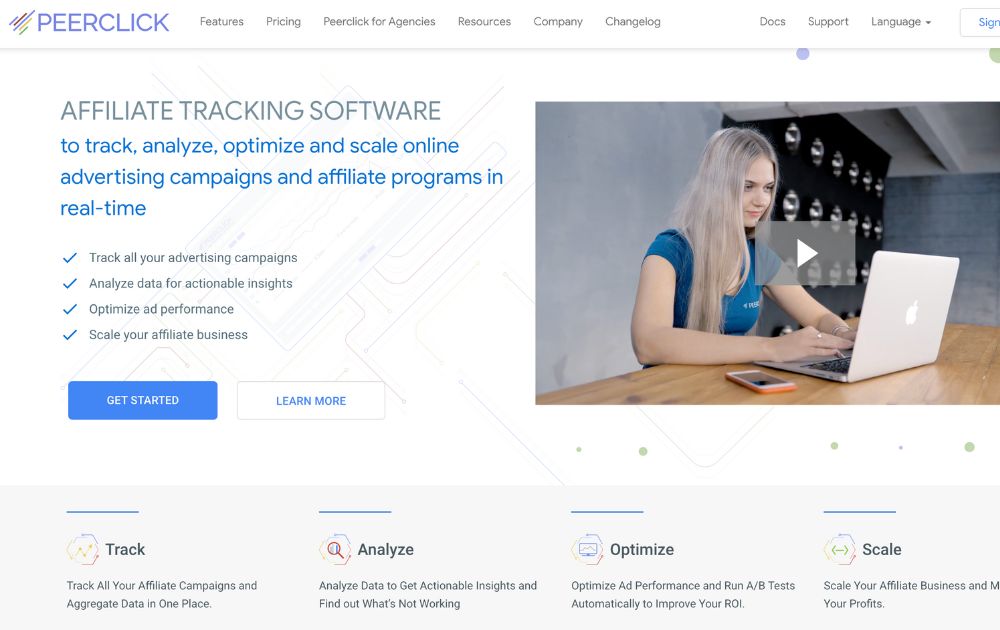 Peerclick is an affiliate tracking software open source version that allows users to track their campaigns. In addition to that, this app aggregates data in one place, offering summarized info for sound decision-making. 
Features:
Data that allows for optimized ads and A/B testing
Affiliate program scaling for maximum profits
Pricing:
The cheapest package is $99 per month.
6. Tune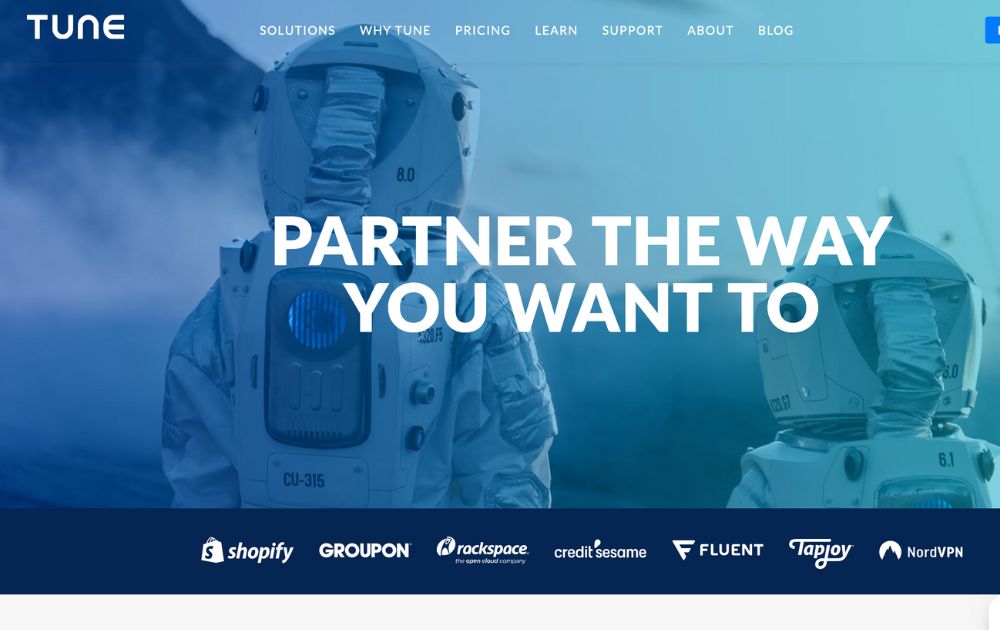 Tune offers affiliate marketing software built for individuals or firms who want to establish their affiliate network. 
Features:
Flexible SaaS platform to manage marketing partnerships
Mobile and web use
Pricing:
The cheapest package is Bootstrap, which costs $599 per month paid annually.
7. UpPromote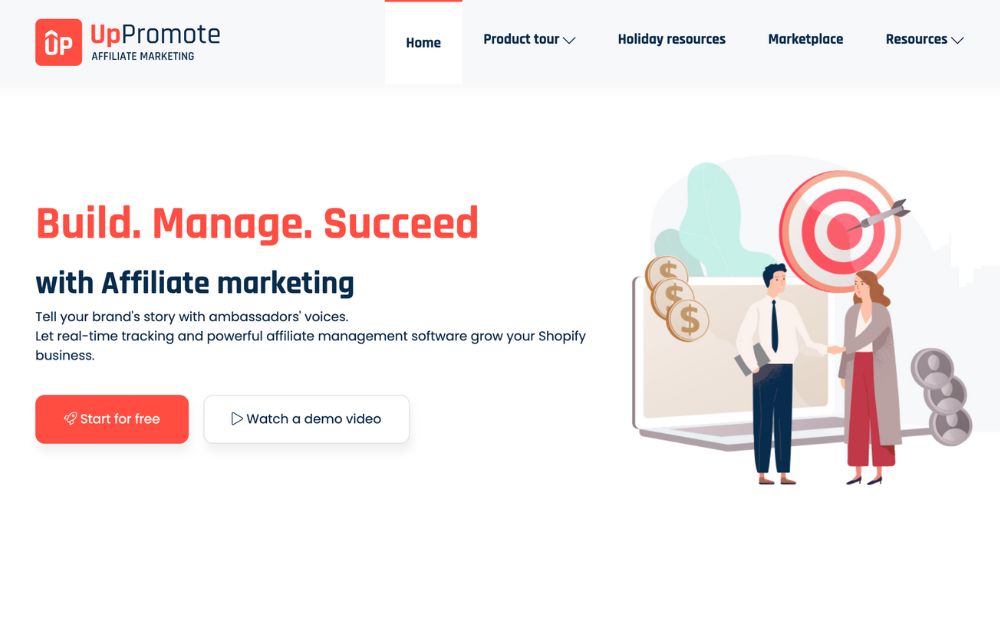 If you're looking for free affiliate tracking software, check out UpPromote. The free plan offers basic features, but you'll need to upgrade to paid packages to get upgraded features like access to an affiliate marketplace and running multiple programs. 
Features:
Customizable affiliate registration form
Tracking by coupons and affiliate links
Pricing:
They have a free plan that includes all the basics for starting an affiliate campaign.
8. Trackdesk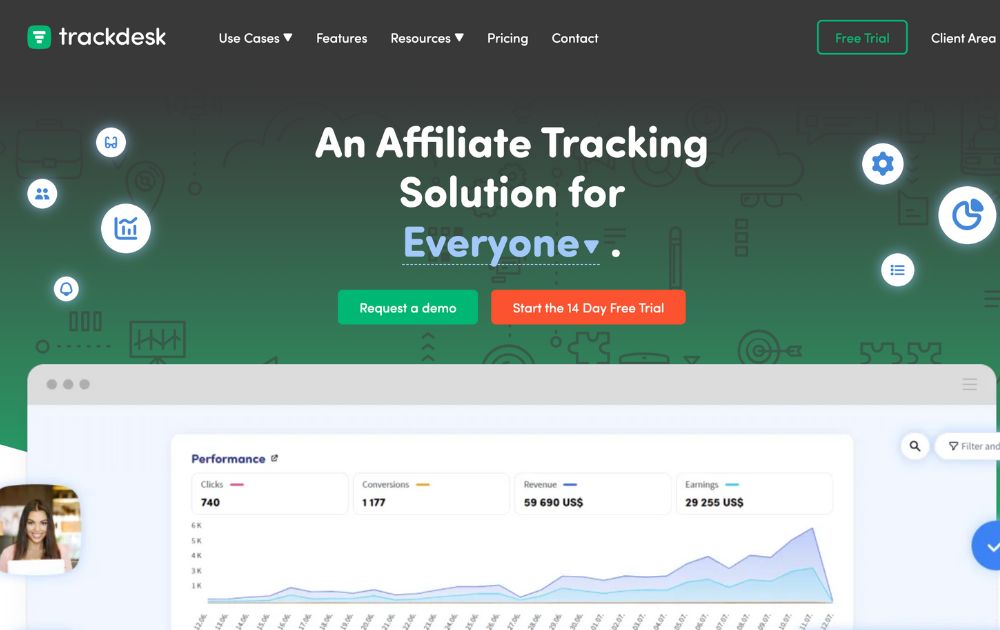 Next on our list of affiliate marketing platforms is Trackdesk. This app features superb UI/UX, making it a favorite software for SaaS, eCommerce, and Startups.
Features:
Automated procedure, including recruitment to sales conversions.
Real-time data on partners' performance and campaign progress
Pricing:
Subscription costs $149 per month with a 14-day free trial.
9. Everflow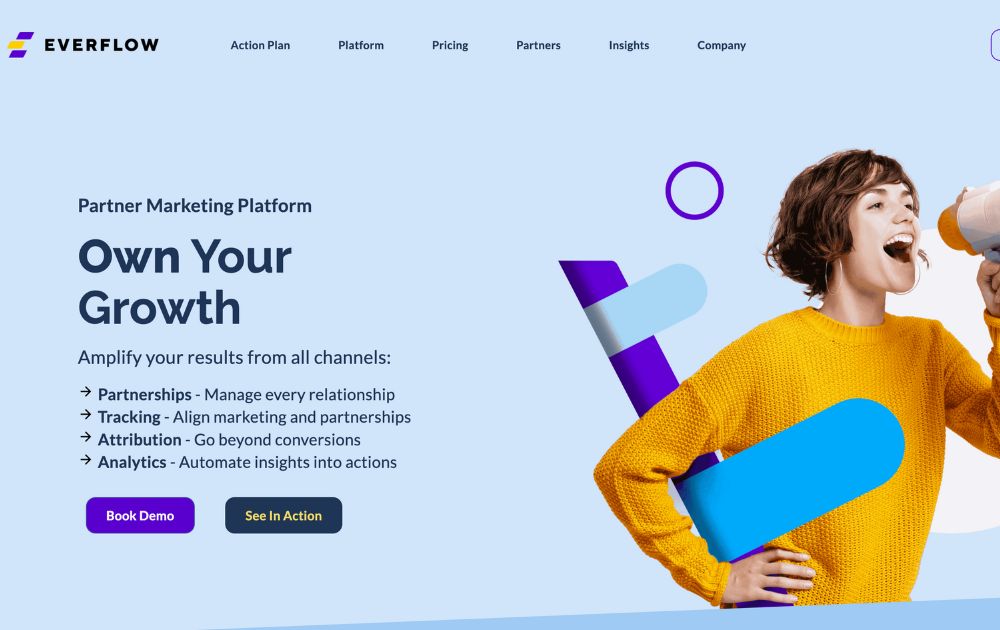 Though Everflow is not a free affiliate marketing software, it allows users to manage its partnerships and track progress all in one platform. The app's features make the investment worth it.
Features:
Consolidated reports on influencers, affiliates, and strategic partnerships
Integrations with Salesforce, Shopify, Facebook, and more
Pricing:
Everflow's Core plan costs $750 per month.
10. Tradedoubler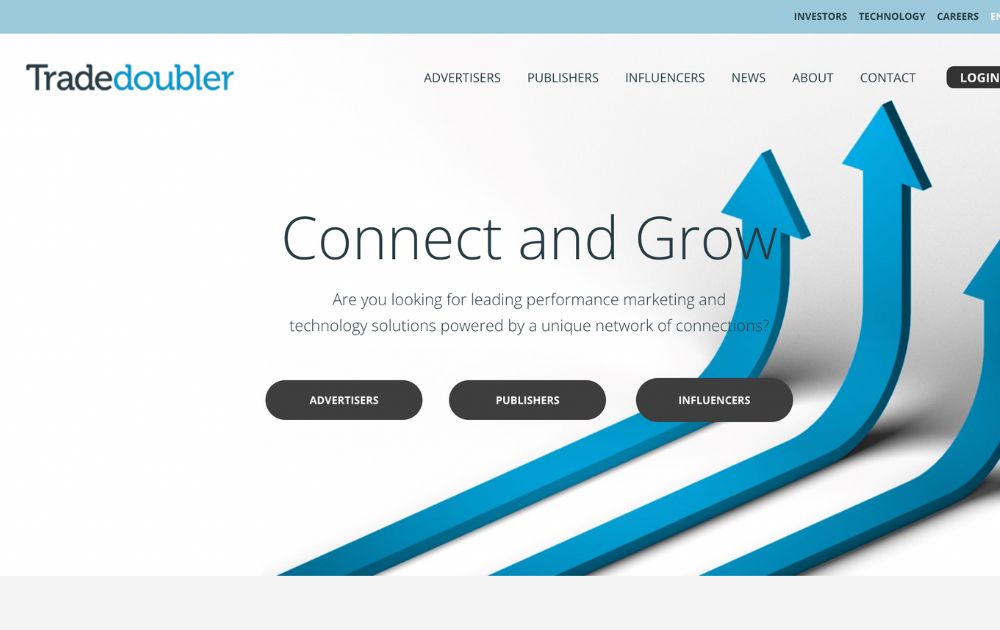 Last but not least on our affiliate software list is Tradedoubler. This app empowers advertisers and publishers alike to grow their business with tailored performance solutions based on specific needs.
Features:
Ability to create and run a user's own affiliate network
Control over each campaign
Pricing:
Tradedoubler's rates aren't available on their website. You'll need to get in touch with them to get their pricing.
FAQs about Affiliate Tracking Software
How do I keep track of my affiliate programs?
You can keep track of your affiliate program by using software that will monitor the conversions made by affiliates' audiences. These apps help content creators monetize and allow marketers to track conversions and commission pay-outs.
What is an affiliate tracking ID?
An affiliate tracking ID is a URL containing the username or ID of the partner. Brands use this to track affiliate performance as well as the traffic that the affiliate partner sends to the brand's site through the program.
How do you track the success of affiliate marketing?
There are various factors to consider to gauge the success of an affiliate program's success. These factors may include the number of clicks, conversion rate, return on ad spend, cost per sale, and more.
How to Pick the Best Affiliate Tracking Software
Dealing with a hundred affiliates would be quite tricky, if not impossible. That said, software made for that purpose will save you time and energy. Most of all, an app will help prevent mistakes such as paying the wrong partner or sending out the wrong amount.
So, how do you pick the right software? The best affiliate tracking software for you will depend on your individual needs and objectives. For example, if you're running a large-scale, multi-channel affiliate program, you'll need a program that can handle the extra volume. You'll also want to consider the following:
Type of program. There are two main types of affiliate tracking software: hosted and non-hosted. Hosted software is cloud-based, which means you don't need to install it on your computer. It's also crucial to note that non-hosted software requires installation and maintenance.
Ease of use. Affiliate tracking software is not one-size-fits-all. Choose a program that is easy to use, so you don't get overwhelmed.
Security. Make sure your affiliate tracking software is secure. Hackers can get access to your program and steal all of your data, including affiliate information and sales figures.
Whether you're just starting out or already have a successful affiliate program, a tracking app is surely one of the tools for entrepreneurs that will fit your needs and help you maximize profits.
10 Best White Label Marketing Tools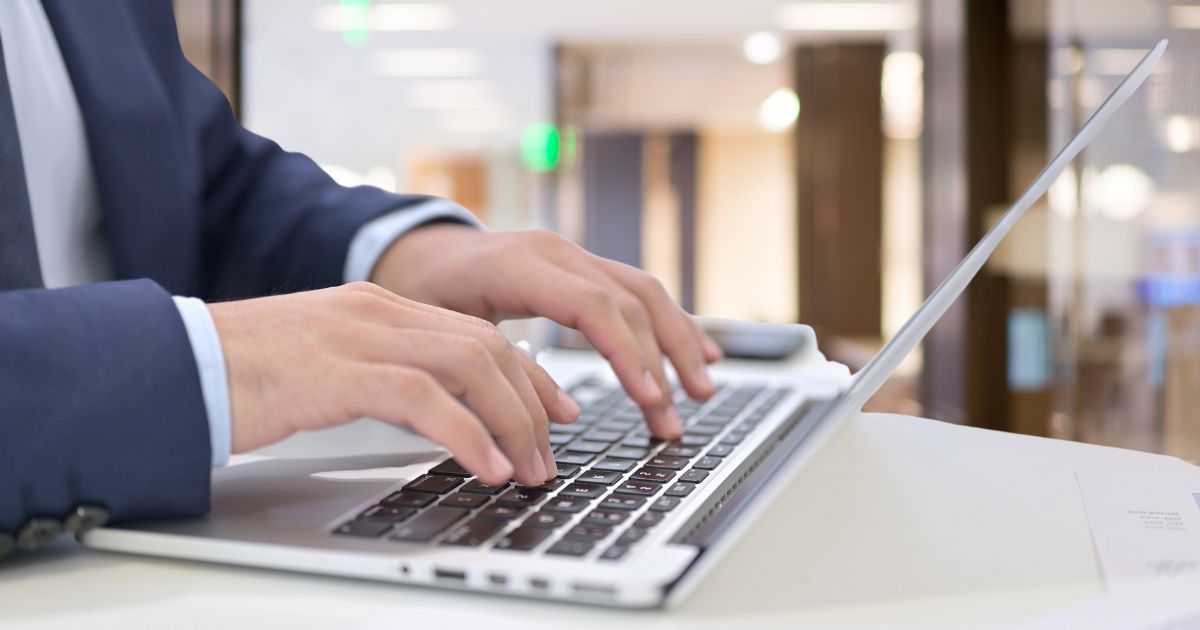 White labeling can be an invaluable asset to any modern business. It allows companies to save time and money while building their brand and increasing their reach. Finding the right tools to help manage your white-label marketing tasks is essential.
Whether a small business or a large enterprise, white-label marketing tools can help you make the most of your marketing initiatives. These tools are designed to help you maximize your ROI and streamline your marketing efforts, from creating custom landing pages and tracking analytics to automating email campaigns.
What is White Label Marketing?
White labeling is a marketing strategy that allows companies to rebrand and resell products created by other companies. These products could be software, SaaS solutions, or other digital products. White labeling is a great way to create additional revenue streams, but it can also be used to help build your brand.
Within the context of white labeling, a "white label" product or service has been created and branded by one company but then resold (usually in a slightly modified form) by another company to look as if it had created the product itself.
Now that we're all on the same page, here are ten white-label marketing tools you may want to explore as you build your brand.
1. Metrics Watch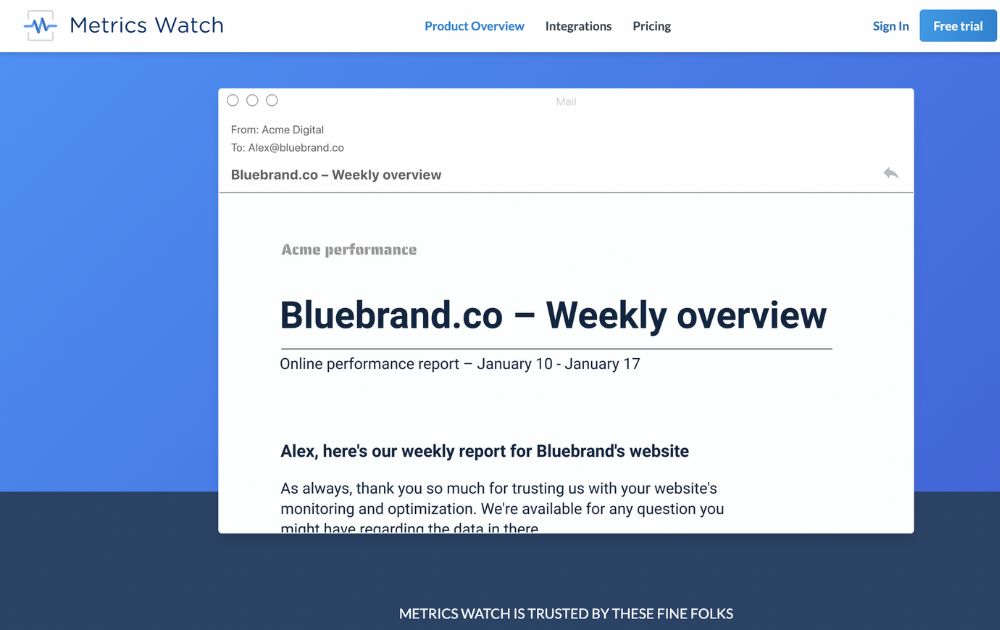 First on our list of tools is Metrics Watch. This tool allows you to create awesome marketing reports quickly without requiring your clients to download PDF files or log into a third-party dashboard to access data. So, how do they get their reports? Simple – they receive them by email, allowing them to view the info they need straight from the email body.
This tool can integrate data from Adwords, Google Analytics, Instagram, Facebook, and more, making it an efficient way to check comprehensive data.
Pricing: Their packages range from $29 to $100 per month, with a free trial included.
2. ActiveCampaign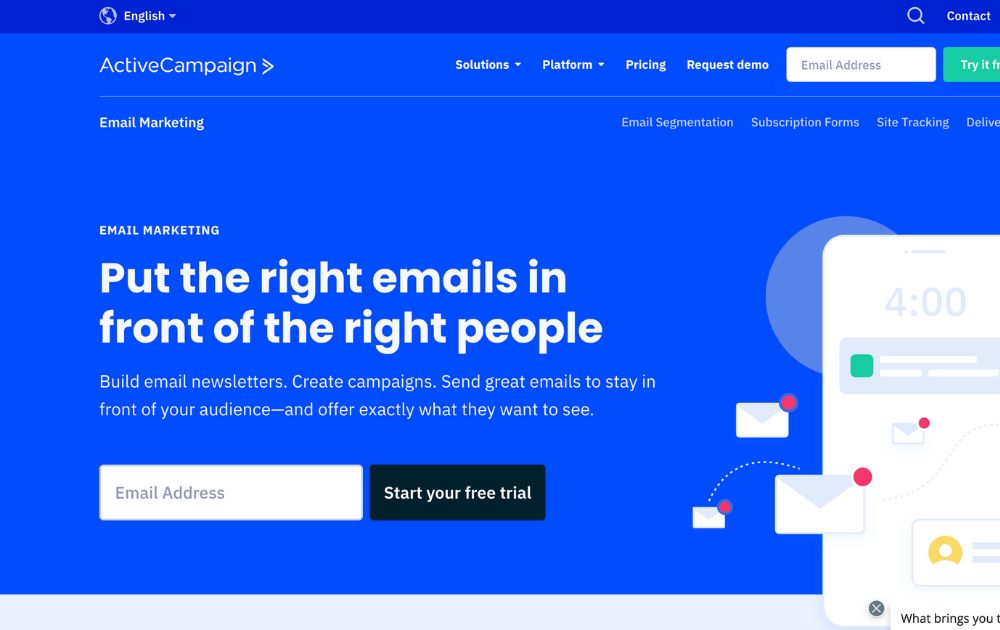 Next on our list is ActiveCampaign – a platform that offers customer experience automation. Active Campaign provides CRM and marketing tools that allow ventures to reach prospects, nurture audiences, convert leads, and grow their market. That said, their tools make it easier to run marketing campaigns, and the automation part allows clients to save money. 
Pricing: ActiveCampaign plans range from $29 to $149 per month.
3. DashThis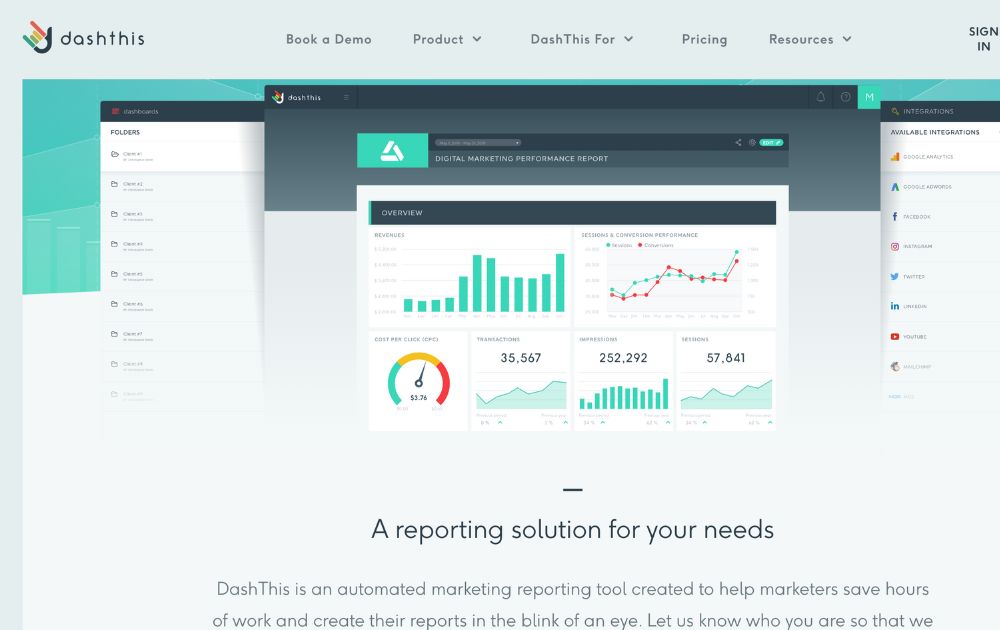 DashThis is one of the white-label marketing tools that offer automated marketing in the blink of an eye. This tool allows entrepreneurs, ventures, agencies, and freelancers to bring all the data they need into one dashboard. That said, you can connect the platform to over 34 integrations and have a custom data manager.
Pricing: The platform's plans range from $33 to $339 per month.
4. SEMrush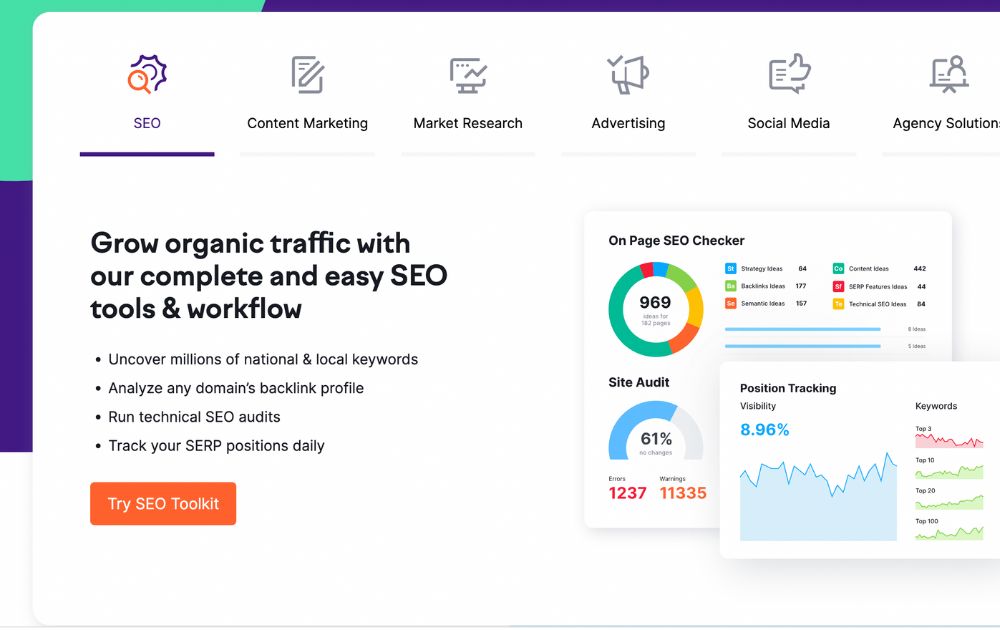 SEMrush is one of the white-label marketing tools that provide marketers with capabilities to improve off-site and on-site web optimization. In addition to that, they also help clients with competitor analysis and perform keyword research, which is crucial in SEO. Though learning how to navigate the platform can take some time, it provides detailed website audits and platform requires clients.
Pricing: A pro account costs $119.95 per month, which includes five projects, 500 keywords to track, and 10,000 results per report.
5. Whatagraph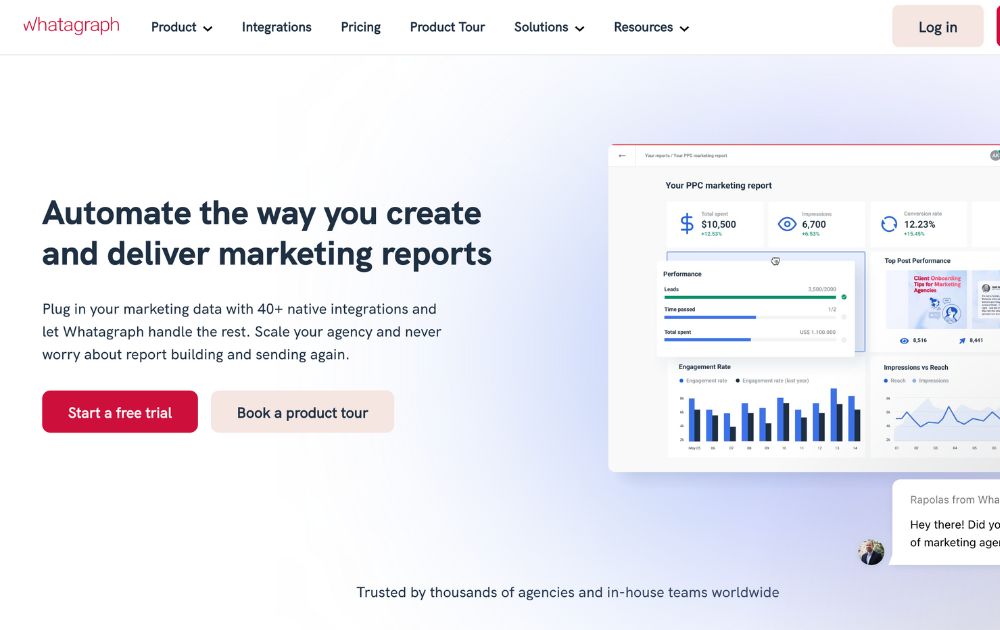 If you're looking for a tool to allow your marketing agency to create and send superb marketing reports in minutes, check out Whatagraph. This app builds reports from various platforms (such as Hubspot and Semrush), social networks (Facebook, Twitter, and Instagram), as well as Google services (Ads, Analytics, and Sheets. In addition, it allows users to plug in marketing data with over 40 native integrations.
Pricing: The app has a free trial, and their plans start at $139 per month.
6. Page One Power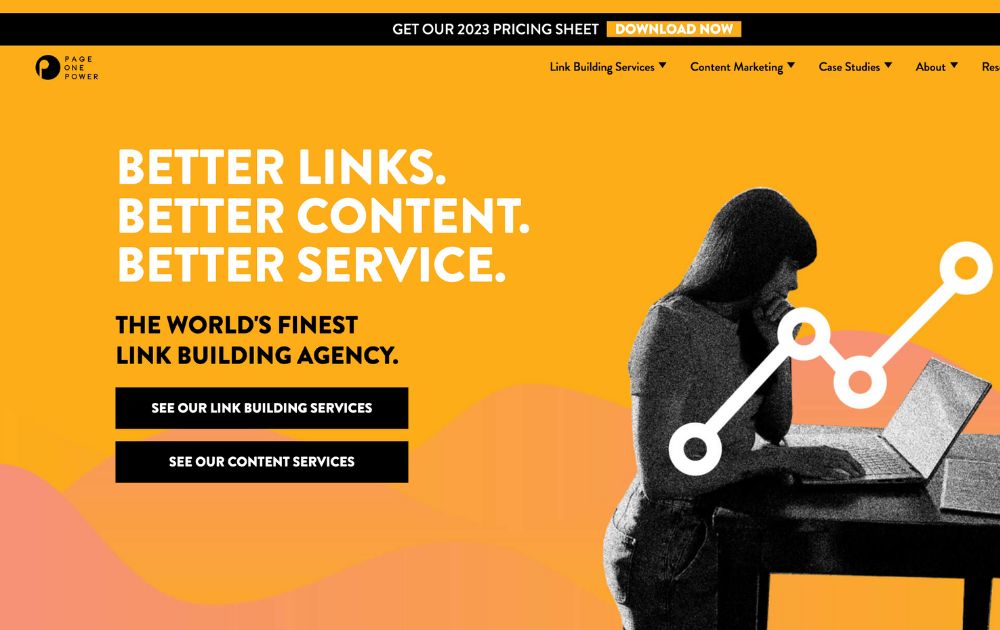 Page One Power is an awesome tool for firms looking for link-building and content services. They take pride in building links that drive search engine rankings and creating search-focused and strategic content to earn keyword rankings. In addition, clients get a project manager with whom they can consult.
Pricing: Rates for high-quality links can vary depending on the client's niche, needs, and time period. You can access up-to-date pricing from their website.
7. Awario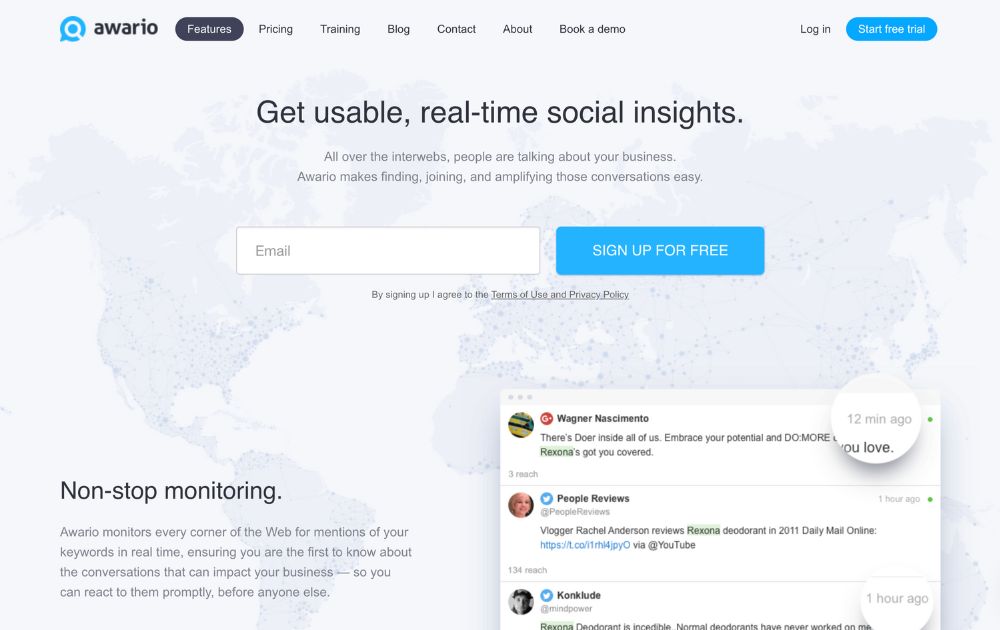 Wouldn't it be awesome to have a fly on the wall every time people talk about your business? Awario is a white-label marketing software and platform that allows clients to track the conversations about your venture. These convos include those from reviews, forums, blogs, news, videos, and of course – social media. This platform crawls more than 13 billion web pages every day, allowing you to keep track of what people are saying about your business.
Pricing: Awario's plans range from $24 to $249 per month.
8. OptinMonster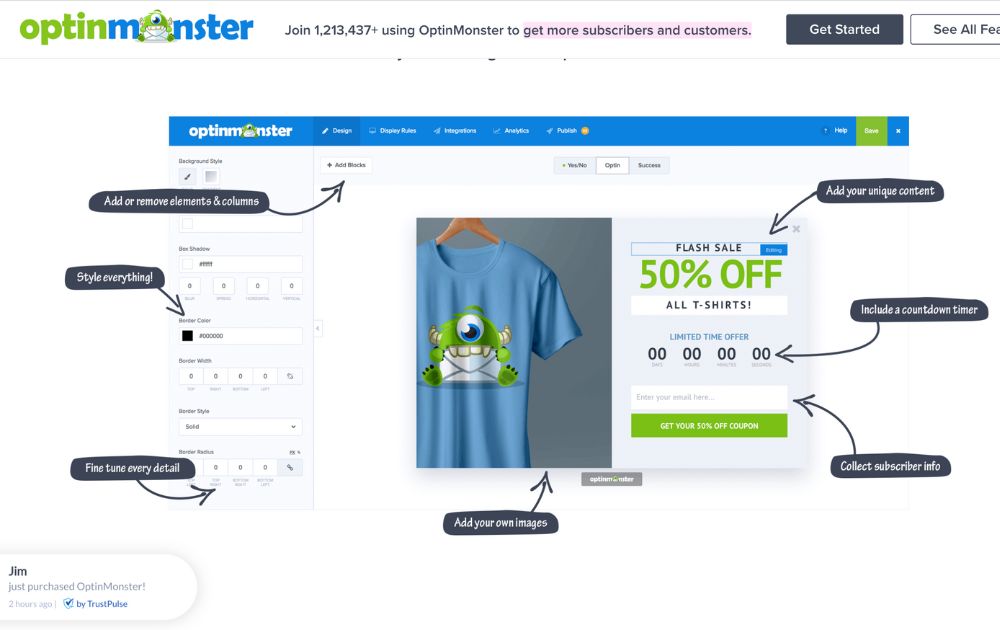 If you're looking for a platform that will allow you to convert and monetize website traffic, try OptinMonster. This powerful popup tool offers websites to display pops triggered by factors such as time spent on a page, inactivity, and even how far the visitor has scrolled through. They also offer visually-stunning offers that allow for customization.
Pricing: Plans range from $9 to $49 per month.
9. Mention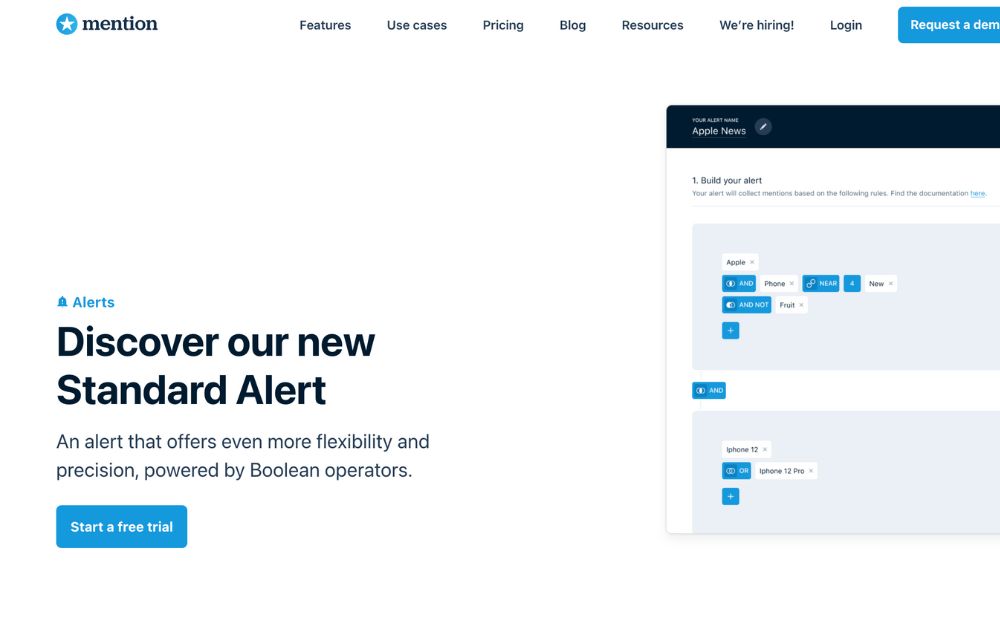 Mention allows clients to listen to their audience, monitor the web, and manage social media. With this platform, you can pinpoint important convos about your brand, including press articles, forums, review sites, and more. It also allows you to easily create, schedule, and publish social media posts in various channels.
Pricing: Plans range from $41 to $149 per month.
10. SEO PowerSuite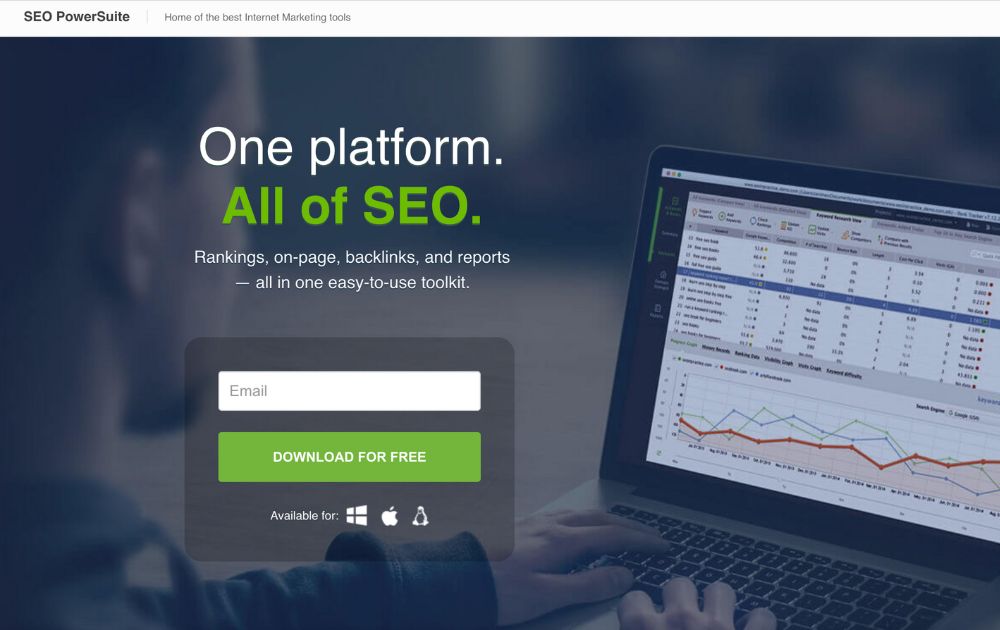 Last but not least on our list of white-label marketing tools is SEO PowerSuite. This is one of those tools for entrepreneurs that offers an all-in-one easy SEO toolkit that integrates backlinks, rankings, on-page SEO, and more. It also features tools for keyword research, content editing, PPC ads optimization, and backlink checkers. As a bonus, it also features an intuitive interface that's easy to navigate, even for newbies.
Pricing: SEO PowerSuite has a free version as well as paid packages ($299 per year for professionals and $499 per year for enterprises).
10 Audience Research Tools to Understand Them Better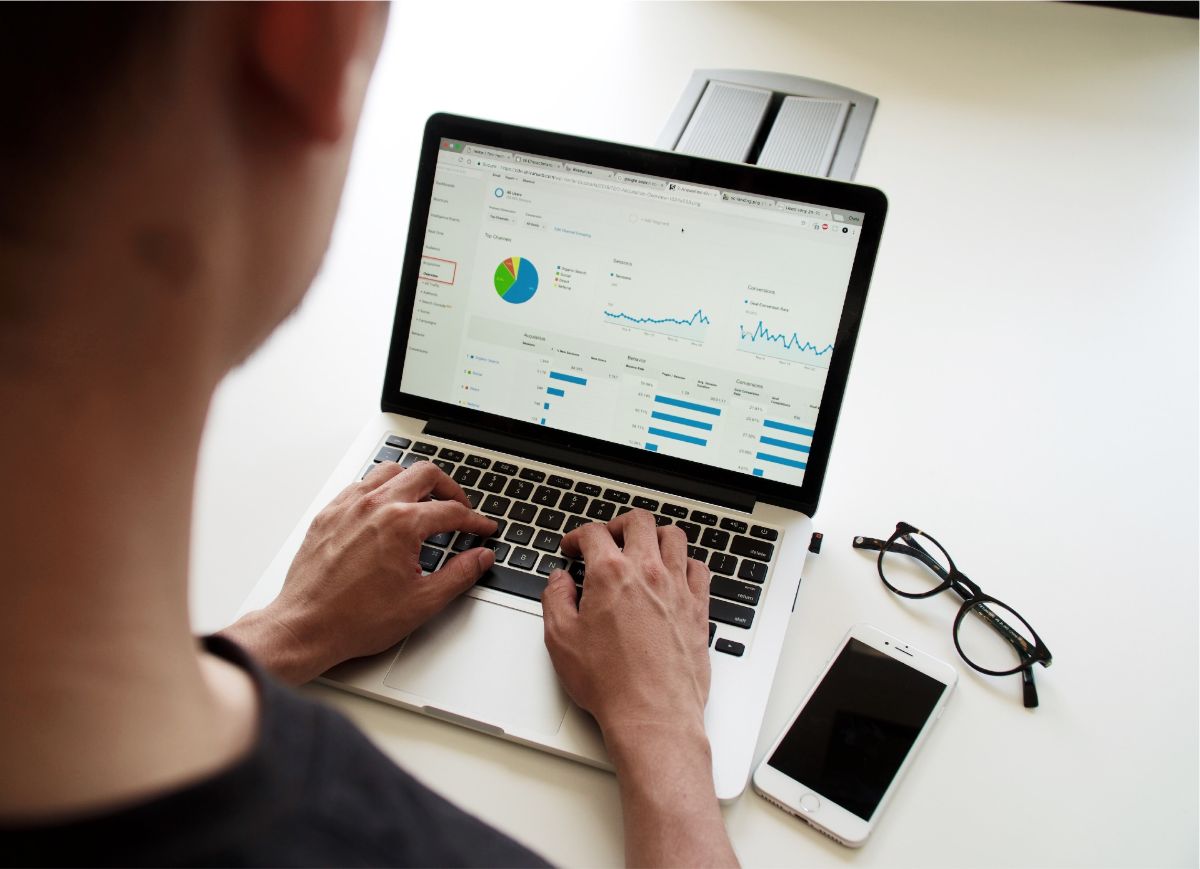 Marketing tools get the job done when reaching audiences, driving them to your site, and purchasing your product or services. However, many businesses take their marketing strategies to the next level with audience research. The insights offered by audience research tools are valuable. And it helps marketers create personalized campaigns to entice audiences to their products or services. But which tools should you use? We list the ten best ones!
Audience Research vs. Market Research: What's the Difference?
The terms audience research and market research are interchangeable. However, there's a stark difference between the two. Market research covers discussions or insights on market trends and various audiences. Meanwhile, audience research focuses on a specific demographic.
1. SparkToro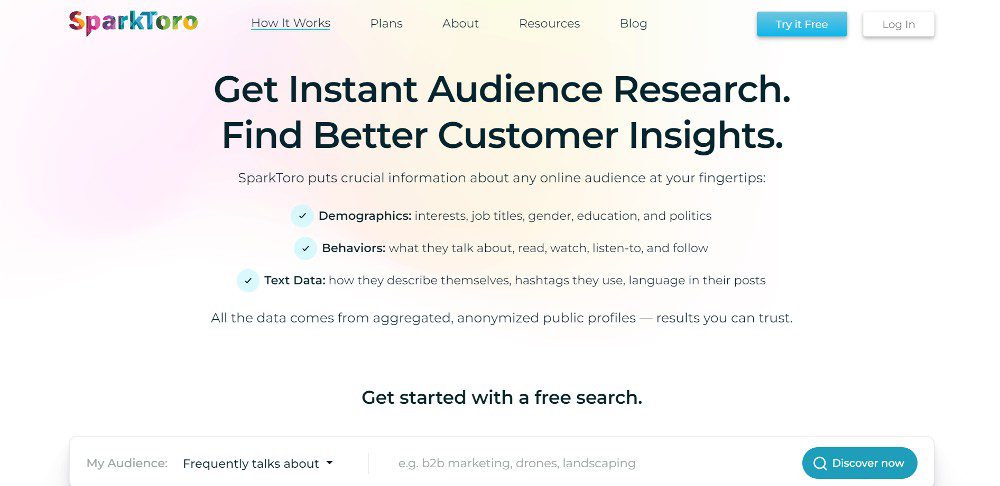 One of the leaders in audience research is SparkToro. You can rely on SparkToro to give pertinent information about your audiences, such as job titles, education, preferences, hashtags, and language. And they crawl over 80 million pages to get the information you need to understand your audience. They gather audience data from these platforms:
Twitter
LinkedIn
YouTube
Instagram
Facebook
Pinterest
Reddit
Apple
GitHub
Medium
Vimeo
Dribbble
Features:
Know your audience with actionable insights
Get contact info of potential leads or customers
Track metrics and improve marketing campaigns
Pricing:
Free
Basic – $50/mo
Standard – $150/mo
Agency – $300/mo
2. Ask Your Target Market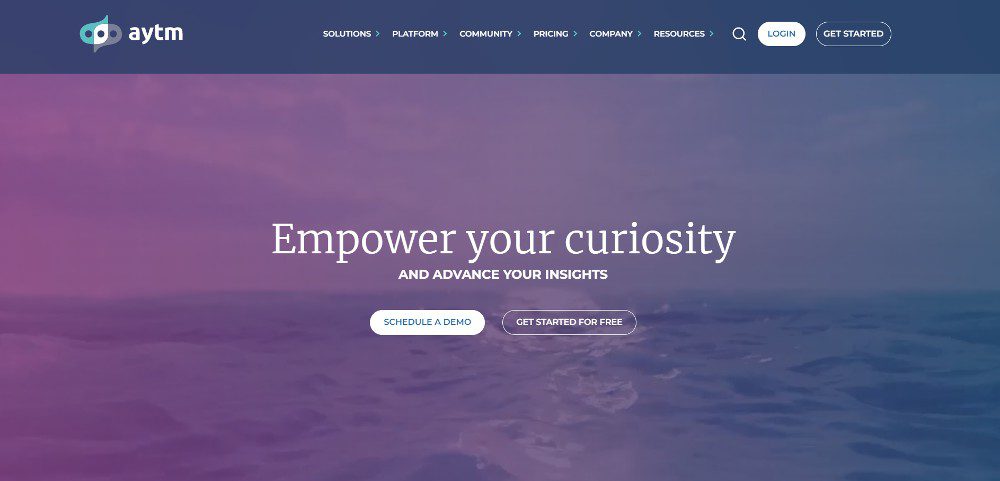 If you want another audience intelligence tool, Ask Your Target Market is one option to consider. They have an all-encompassing tool to understand your market, improve your brand and product, and craft better marketing campaigns. If you want to use this as your primary audience research tool, expect these features:
Features:
Know consumer decisions
Ask consumers with surveys
Learn more about consumer purchase behavior
Pricing:
Lite- Free
Plus – $150/mo
Max – Custom
3. Audiense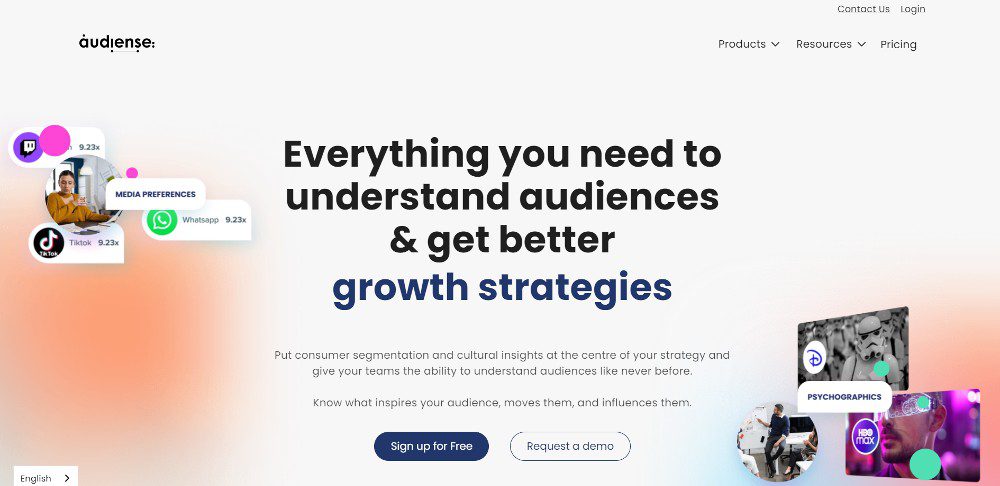 Get ahead of competitors with the help of Audiense. The UK-based audience research tool has two solutions to help brands optimize their marketing strategies: Audiense Insights and Audiense Connect. This tool is ideal for businesses learning more about their Twitter audience. But Audiense Insights provides a comprehensive overview of your audience.
Features:
Audience segmentation
Provides personality insights and recommendations on what content to reach your audiences
Benchmarking and reporting
Pricing:
Free
Audience Intelligence – £1199/mo (~US$1,500/mo)
Twitter Marketing – £39/mo (~US$50/mo)
4. SurveyMonkey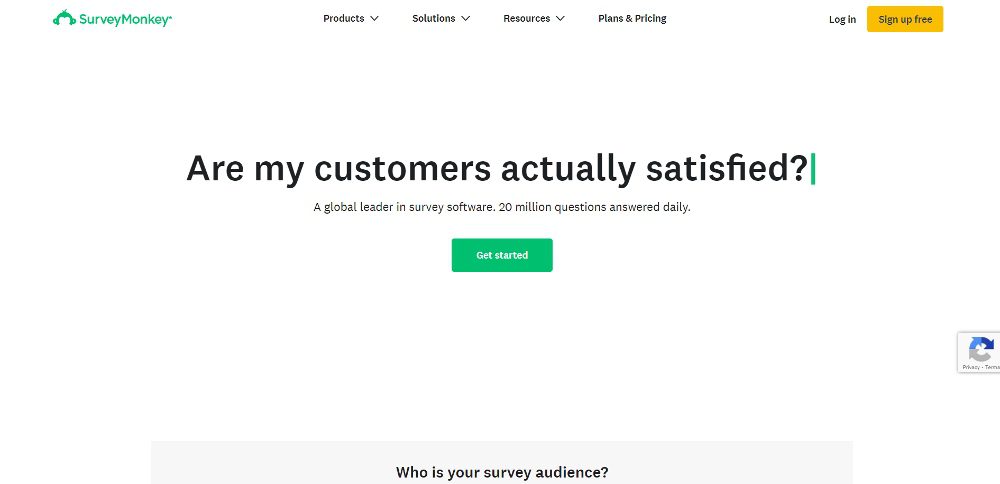 You can conduct audience research yourself by using a survey tool like SurveyMonkey. Using SurveyMonkey as an audience research tool is ideal if you have a huge customer base. If you have around 200+ customers, you can understand your customers better with a survey. Plus, you can use their responses to guide your marketing strategy.
Features:
Create branded surveys in minutes
Link the survey anywhere
Get insightful reports based on customer responses
Pricing (Team Plans):
Team Advantage – $25/user/mo
Team Premier – $75/user/mo
Enterprise – Custom
5. Typeform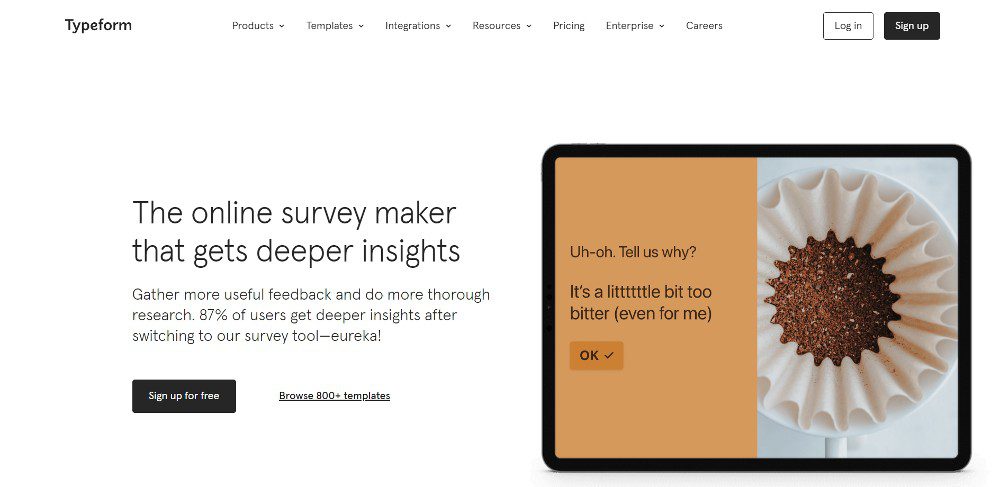 An alternative survey tool to SurveyMonkey is Typeform. With Typeform, you can get a pulse of your audience's behaviors and preferences through quantitative and qualitative data gathering. Like SurveyMonkey, you can customize your survey with branding colors or templates.
Features:
Sync tools such as Google Sheets and Slack
Generate more leads
Get unlimited responses with the Enterprise plan
Pricing:
Basic – $29/mo
Plus – $59/mo
Business – $99/mo
Enterprise – Contact sales
6. BrandMentions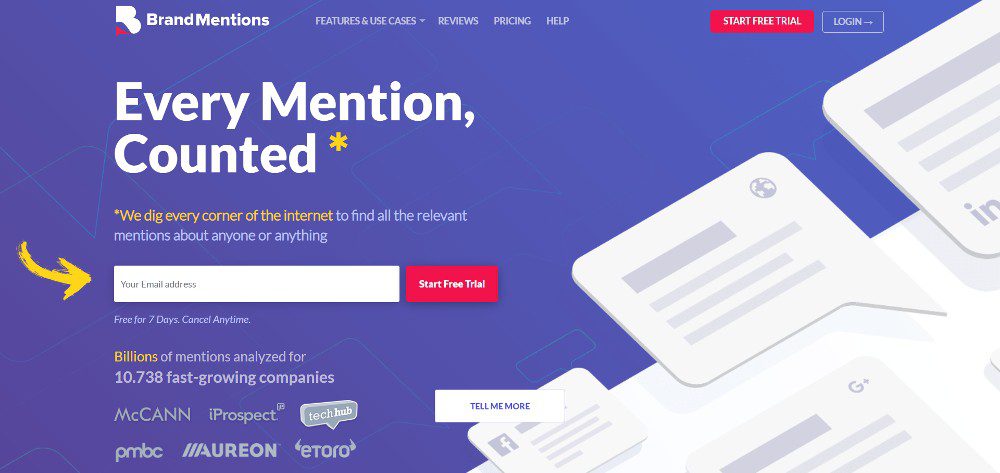 Social listening is another form of audience research. BrandMentions is one platform for that purpose. You can get ahead of competitors on the platform with the Business Intelligence solution. You can use amazing tools, such as:
Hashtag and brand trackers
Social mentions
Social media trackers
Features:
Connect with influencers
Reach out to and engage with consumers regularly
Supercharge your content marketing with article ideas and high-quality links
Pricing:
Growing Business – $99/mo
Company – $299/mo
Enterprise/Agency – $499/mo
7. AnswerThePublic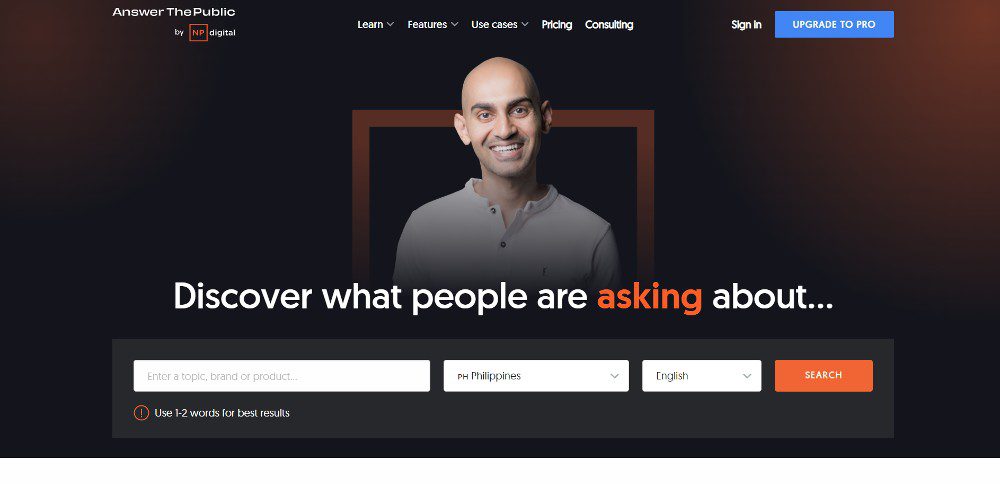 SEO platforms or tools can give you insight into your audience too. AnswerThePublic is one of the most popular audience research tools to understand your consumers. With AnswerThePublic, you can search for your keyword and get insights about your customers' searches, such as:
The 5Ws, How, Can, Are, Which
Keywords + Prepositions
Comparisons
Alphabetical list
Related searches
Aside from those, how can AnswerThePublic help you?
Features:
Unlimited daily searches (subscriber-exclusive)
Monitor suggestions
Organize your searches with folders
Pricing:
Free (Limited searches)
Monthly – $99/mo
Annual – $79/mo
Expert – $199/mo
8. Statista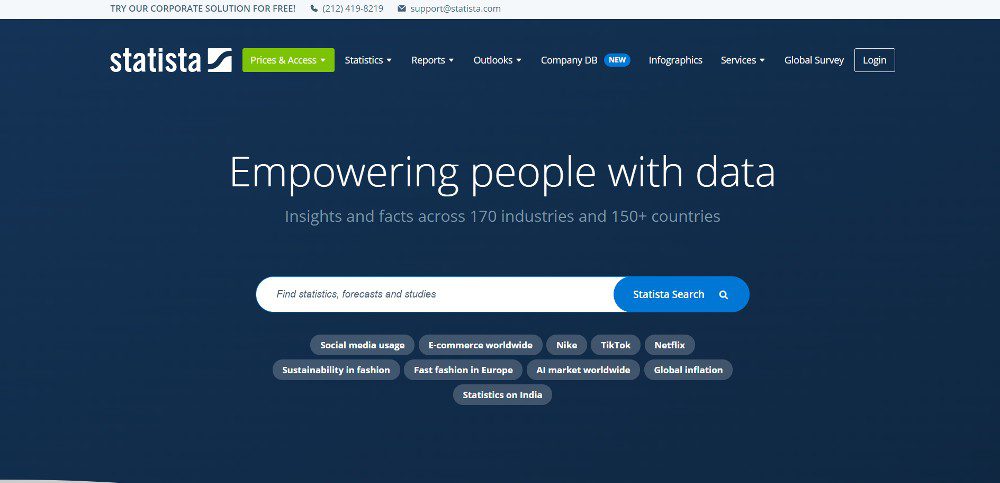 One underutilized audience research tool is statistics. And there's no better source for updated statistics than Statista. The market and consumer data website offer insights into any industry or demographic. You can find trends and consumer behavior patterns. But here are other services that Statista offers:
Features:
Customized reports and analysis
Use AskStatista for quick but comprehensive analyses
Access to eCommerceDB to get customer insights about consumers
Pricing (Single Accounts):
Free
Starter – $39/mo/billed annually
Project Account – $1950 (billed once)
9. SimilarWeb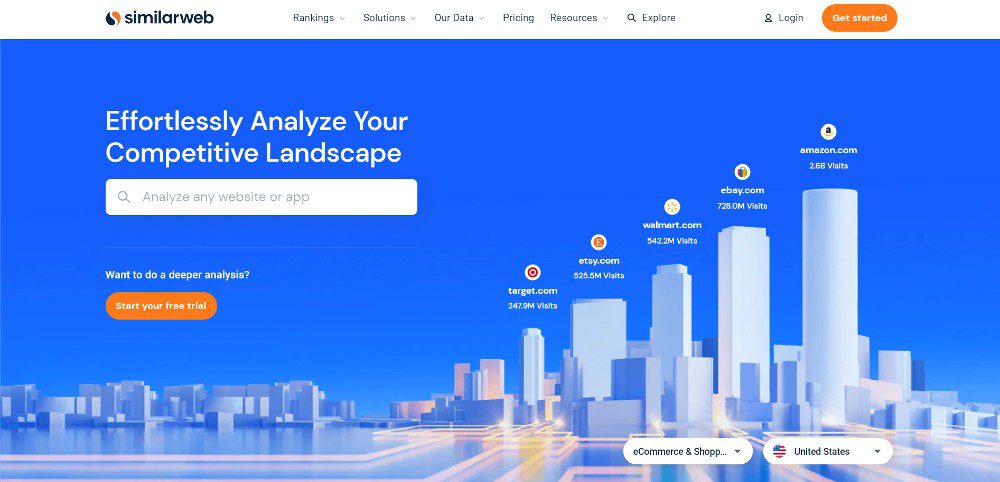 SimilarWeb is a comprehensive platform guaranteed to optimize your marketing and sales campaigns. One of its main features is the market intelligence tool, giving you an idea of your market and audience. 
With their Audience Analysis tool, you can build and segment audiences. Plus, get more insights through behavior and trends. In addition, they promise to help you get ahead of competitors with these other components.
Features:
Market analysis
Benchmarking
App intelligence
Pricing:
Free
Research Intelligence Premium – Talk to a product expert
10. Buzzsumo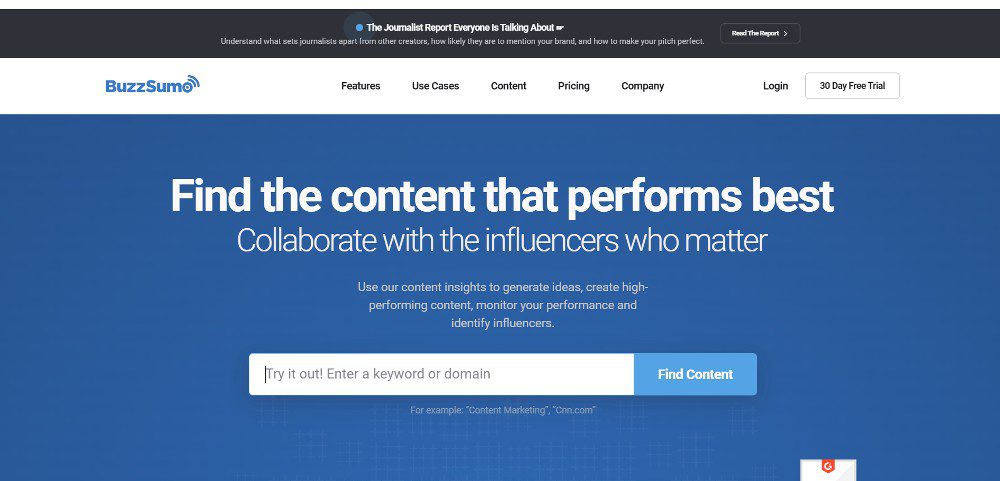 Although Buzzsumo is a content marketing tool, you can still learn more about your audience on their platform. You'll know more about trends and updates in their Monitoring solution. Plus, you can monitor who mentions your brand. This allows you to understand who's interested in your business. And those who you can still reach.
Features:
Track and get alerts for keywords
Get updates on new articles about your business
Monitor links
Pricing:
Free
Pro – $99/mo
Plus – $179/mo
Large – $299/mo
Final Thoughts
Many audience research tools have hefty price tags. But it's worth investing in considering the information you can obtain about your audiences. However, if those are too pricey for your taste, there are budget-friendly solutions that could help you better understand your audiences.