Bearaby Tree Napper Review: Is It Worth $299?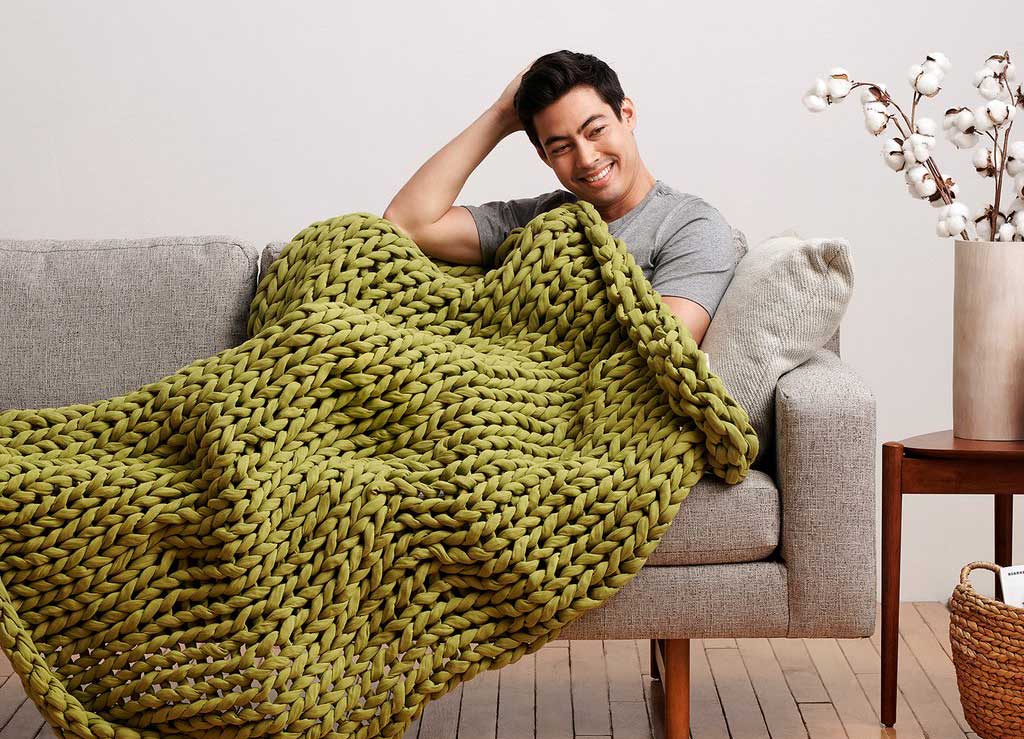 Weighted blankets have gained popularity in recent years for their therapeutic benefits. What used to be therapy for those with anxiety and autism has now become widely available. Weighted blankets come in all shapes, sizes, and price ranges. However, most are the same. They're simply blankets – weighted with a heavy material, typically beads.
Bearaby introduces an entirely new concept, the Bearaby Tree Napper, a weighted knitted from eucalyptus trees. Like Bearaby's other weighted blankets, the Tree Napper gets its weight completely from the construction materials instead of relying on beads. It's a unique concept that's both innovative and socially responsible. However, is it worth the asking price?
What's a weighted blanket?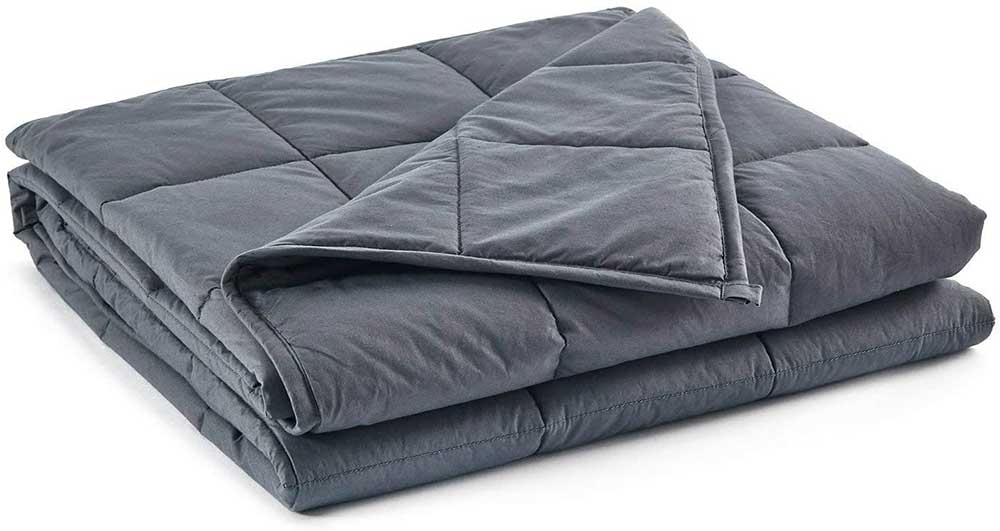 First, let's start by explaining what exactly a weighted blanket is. It's a blanket that uses either beads or dense materials to give it a weight between 15 – 30 lbs. The weight is often evenly distributed across the blanket, so the pressure is applied equally. Research has shown that deep pressure stimulation has shown to reduce anxiety and stress. Ever wonder why a massage feels so good afterward?
Weighted blankets offer similar therapeutic effects by wrapping you underneath a 15 – 30lbs blanket. Several studies have shown that frequent use of weighted blankets can also help with chronic pain, osteoarthritis, insomnia, and even ADHD.
What makes Bearaby unique?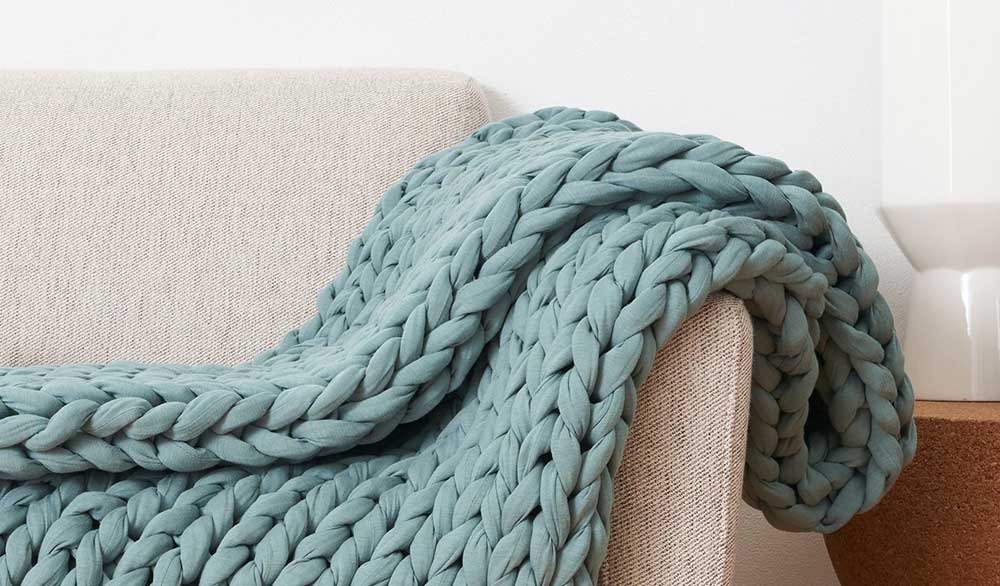 Most weighted blankets get their weight from tiny beads evenly quilted into the lining. This method certainly does work to give the blanket its weight, but you'll often feel like you're under a sandbag. The Bearaby Nappa is unlike any other weighted blanket. It gets its weight naturally from the dense cotton strands knitted together. This design choice gives the blanket a cohesive structure that's both flexible and durable. It can stretch and take a bit of abuse. However, it'll never lose its shape.
One significant advantage of Bearaby's unique design is that it doesn't sacrifice comfort for weight. Traditional weighted blankets rely on noisy beaded pockets, and that can often be uncomfortable. The Bearaby's soft tencel knits are comfortable, soft, and have a natural silk-like texture that makes them cool to the touch.
Are Bearaby Weighted Blankets Washable?
Yes, thanks to 100% of the weight coming from the fibers, all Bearaby blankets, including the Tree Napper, are machine washable. Traditional weighted blankets are much more complicated to wash due to the beads being interlocked in pockets. Machine washing and drying could cause damage to the covering or, worse, to the washing machine should the pockets rupture.
What is Bearaby made of?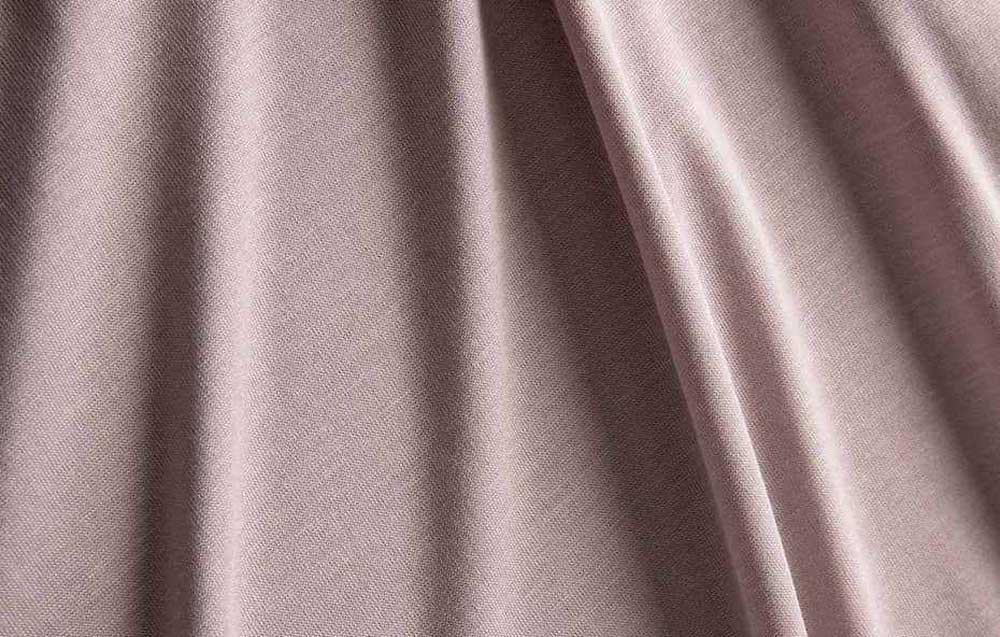 It never fails to draw attention. The Bearaby's unique look is both captivating and functional. Tencel is claimed to be softer than silk and more relaxed than linen. I can confirm its effectiveness by sleeping with the Bearaby for the past month in 80-90 degree weather. The knits allow me to sleep much cooler than a regular comforter.
Because 100% of the weight comes from the cotton itself, the distribution is more even across my body, giving me the feeling of being hugged rather than held down.
The look & feel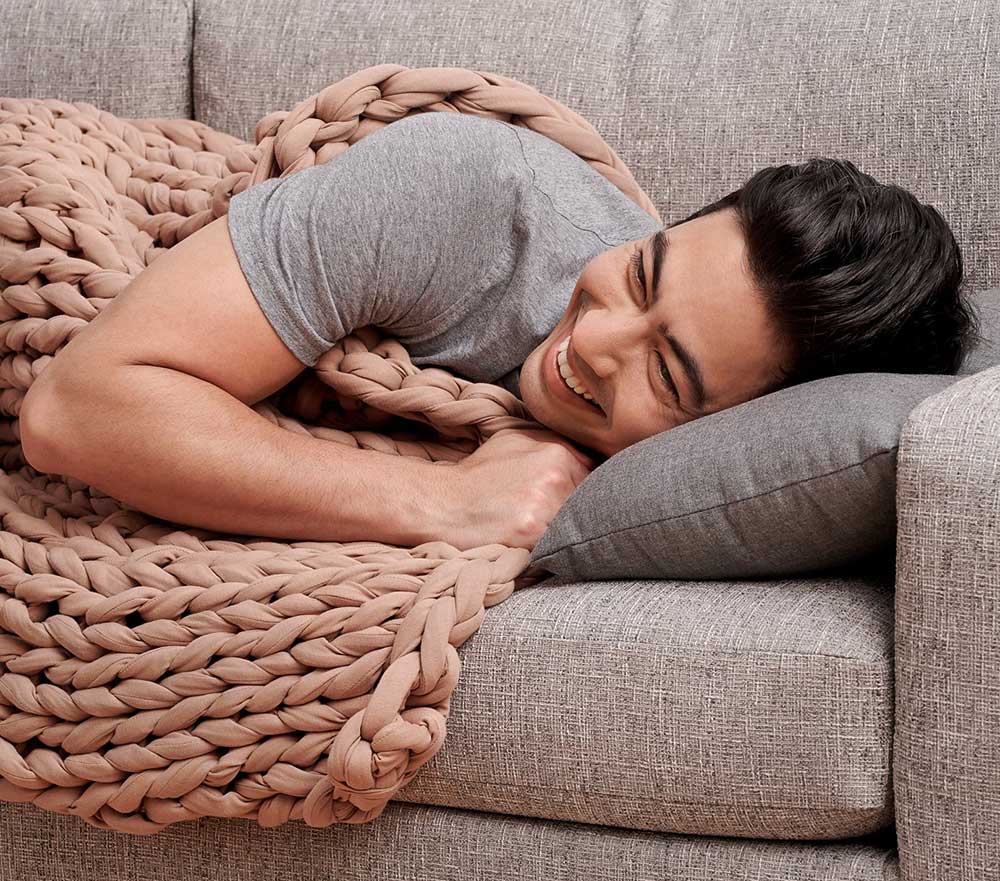 It never fails to draw attention. The Bearaby's unique look is both captivating and functional. Tencel is claimed to be softer than silk and cooler than linen. Sleeping with the Bearaby for the past month in 80-90 degree weather, I can confirm its effectiveness. The knits allow me to sleep much cooler than a regular comforter.
Because 100% of the weight comes from the cotton itself, the distribution is more even across my body, giving me the feeling of being hugged rather than being held down.
A socially responsible company
Bearaby promises all of its products are sourced responsibly in a closed-loop process that uses 90% less water than traditional fabrics. Their products, including the Tree Napper, are biodegradable and have received sustainability certifications to back up their claim.
It's easy for brands to claim their sustainability badge by promising to donate money for every purchase. Bearaby does something that few are willing to do – changing their manufacturing practice. It's not a flashy promise, but it's an expensive choice with the most significant impact on our environment. This practice alone more than justifies Bearaby's price tag.
Bearaby's price
We recommend any Bearaby weighted blankets because it's a fantastic health product that can add years to your life. Any benefits traditional weighted blankets offer, the Bearaby simply offers more.
The Bearaby Tree Napper starts at $269 for the 15lbs version and goes up to $299 for the 25lbs version. It's easily one of the most expensive weighted blankets on the market. However, considering the materials, sustainable practice, and fair wages they offer their staff, it's well worth the price. You're buying more than just a blanket. You're supporting a company that takes care of their people and environment.
How To Spot Financial Influencer Red Flags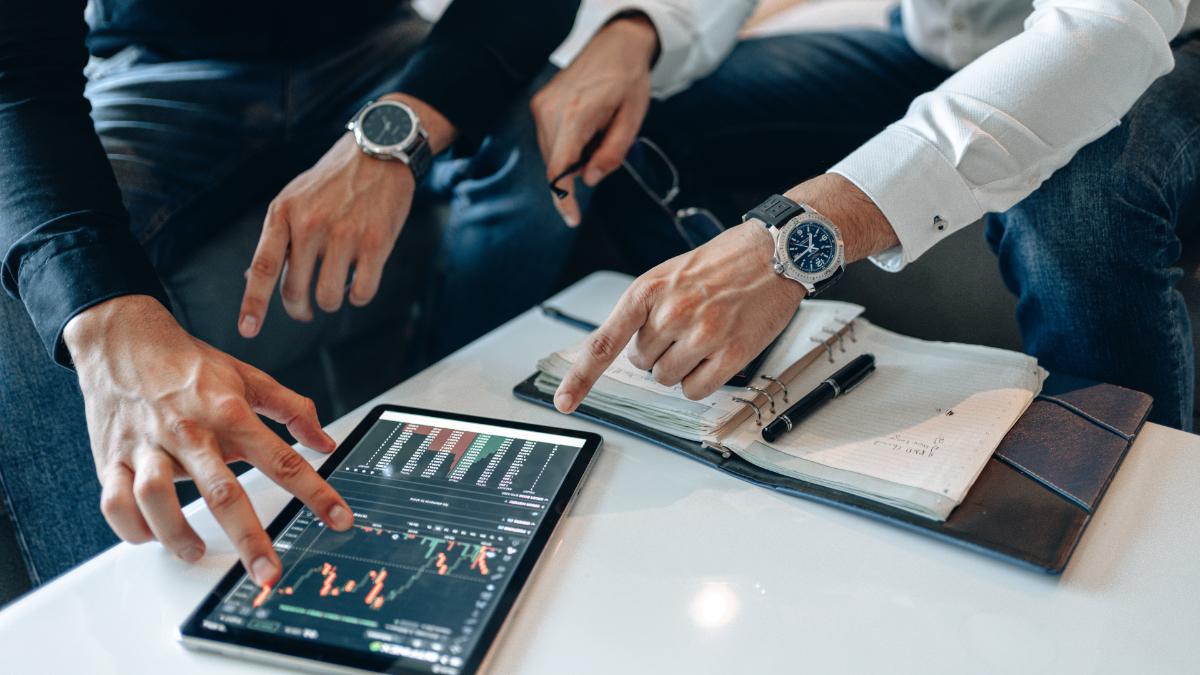 Nowadays, it's pretty easy to gather all types of information from the internet. One click and you can learn about almost anything online. That includes personal finance. And if people want to learn about personal finance, they look up to personal finance influencers.
Since personal finance is a serious and important issue, finding legitimate personal finance influencers is crucial so you don't fall prey to fake ones. So it's best to look out for financial influencer red flags. 
In this article, we'll dig deeper into what financial influencers do and the red flags to keep an eye on.
What do financial influencers do?
Financial influencers provide strategies and tips about how to handle money, investing, and other monetary-related topics. A financial influencer doesn't have to undertake official courses to become one. More often than not, they share tips and strategies based on the experiences they gain throughout the years of investing, trading, or dealing with finances.
A financial influencer may even share their personal experience in terms of growing their financial assets. As long as you have a proven track record of how you grew your finances, you can be classified as a financial influencer.
Financial influencers earn money in various ways. But to become an influencer, you have to earn considerable followership to attain trustworthiness. Moreover, credibility is also an essential aspect of being a financial influencer. So one has to accumulate social proof such as testimonials from the people they've helped, ratings from authoritative sites, and reviews from followers.
These influencers create a website where they can typically distribute content on anything finance. In most cases, influencers earn money from ads on their sites, sponsors, or affiliate marketing. Furthermore, financial influencers also offer their services by conducting one-on-one consultation sessions with clients for a fee.
Do financial influencers give tips for free?
Yes. Financial influencers start out by giving tips and strategies to grow your money for free. This way, they can gain followers, listeners, or subscribers. They distribute finance-related content such as blogs, podcasts, videos, ebooks, guides, whitepapers, PDF files, or even hold webinars.
The most common platforms to distribute financial-related content are:
Facebook
Instagram
YouTube
Reddit
TikTok
Twitter
LinkedIn
You may also find financial influencers in their element in various groups and forum websites such as Quora. And you can gain many tips and strategies from other people who pitch into the conversation.
5 Financial Influencer Red Flags to Watch Out For
As mentioned, it's essential to find legitimate financial influencers to learn valuable insight about money. So here are the top financial influencer red flags to watch out for.
1. Unproportioned number of followers and engagement
Buying Instagram followers is a huge thing on the platform nowadays. So before following a financial influencer, check out if there is an imbalance between the number of followers and quantitative amount of engagement. If the influencer has a million followers with only 1,000 or fewer likes on every post, that's a red flag.
2. No social proof
You should always consider credibility when selecting which financial influencers to follow. If you can't find social proof on any of their platforms, then it means the influencer hasn't lifted a finger to help anyone.
3. Hard selling
If you find that the influencer is always pushing for selling services or merch, consider it a red flag. A passionate financial influencer will prioritize helping others grow their money first before theirs.
4. Asking for upfront fees
As mentioned, when they're hard selling their services and asking for fees upfront, get one foot out the door immediately. These people want money from you above anything else.
5. Too-good-to-be-true promises
Sometimes, we fall prey to fake or too-good-to-be-true promises. Because of this, terms such as "guaranteed," "get rich quick," or "no fail" tend to spike up interest. However, there is no guarantee in the world of finance, so keep on searching for a legit influencer if you read terms like these.
Financial Guru Says Asking This One Question Will Help You Make Smart Financial Choices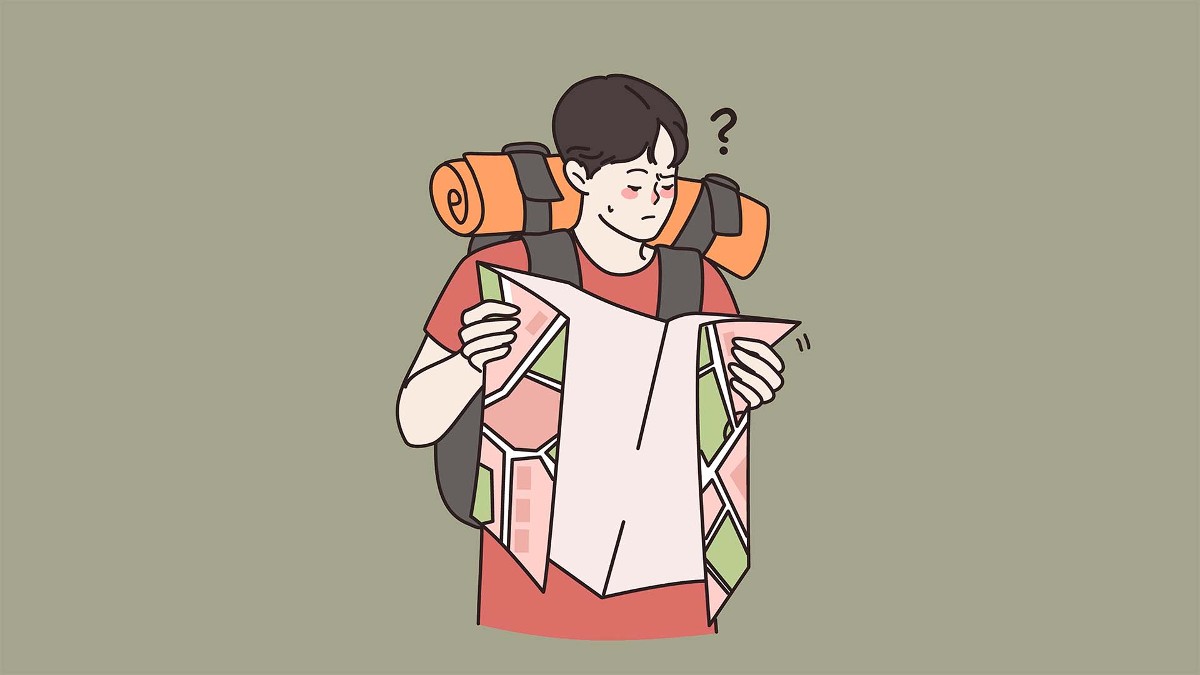 Financial guru Ramit Sethi explains doing this one essential thing before anything else to get your finances in check. He says you're not going anywhere if you don't map out and plan your journey. He teaches how to make smart financial choices that will keep your financial house in order. 
The era of technology has paved the way for fintech companies to help users transfer money conveniently and budget money properly. These days, there is no shortage of budgeting apps that range from free to premium services. Budgeting apps such as Mint, YNAB, PocketGuard, or Zeta could keep your finances in order.
Moreover, you can also find many resources about achieving long-term financial success and security. However, the author of I Will Teach You to Be Rich, Ramit Sethi, says that all these budget and financial apps won't work if you don't do one essential step. 
I Will Teach You to Be Rich explores the principles to manage your finances properly and gain control of your future. It details a six-week program that encourages people in their 20s and 30s to live a more fulfilling life with financial security. 
Getting your financial goals straight
The Cut's Charlotte Cowes interviews Ramit Sethi about financial planning. Sethi claims that people can get too confused about making money-related decisions. He says he gets more than 2,000 messages from people of various socioeconomic backgrounds and ages per day.
Most of these messages are queries about finances and how to gain control of it to live a comfortable life. Sethi says that most people don't know the definition of financial success. For example, when he asks clients what financial success is, they respond vaguely with no satisfying answers.
His clients' definition of financial success would often relate to being able to do whatever they want, getting out of debt, or having a million dollars. However, when pressed for reasons of how they came up with these, his clients couldn't answer.
More often than not, people think about taking control of their money after graduating from college, getting married, getting divorced, having children, or getting a new job. Sethi claims that this reckoning is due to external factors and never internal ones.
For instance, not many people wake up one day and say, "I want to regain control of my finances." Instead, it's always about these external events in one's life that pushes people to think about managing their money.
When this epiphany happens, most people who complain about personal finances probably have never read a book on personal finances. According to Sethi, the secret ingredient to achieving financial success is competence. You have to learn the ins and outs of the language of money. Unfortunately, money is talked about restrictively and unappealingly.
The ONLY one question to ask to improve personal finance
Sethi says that these vague answers might be for fear of not living a comfortable life or a sense of obligation. These answers don't motivate anyone from start to finish. But it's how you plan a creative vision that allows you to make smart financial choices. 
Let your dreams push you towards better money management. So before tackling the basics of financial planning, ask yourself this one question:
"What does the rich life look like to me?"
Sethi advises being more specific on your visions in life. The more detailed and sensory your responses are, the more precise the path to financial success.
Five Lessons Learned From A Financial Reporter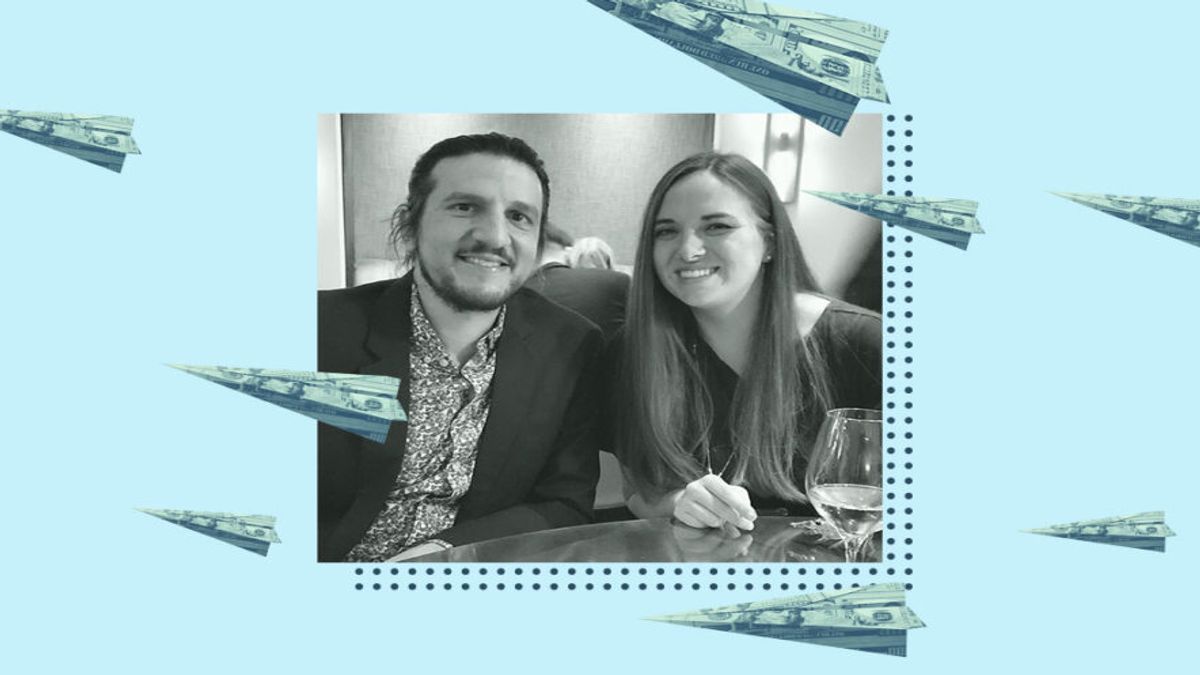 There is plenty of great personal advice out there. But how do you figure out whether or not it applies to you? Jason Stauffer, a NextAdvisor reporter, shares that there's no single tip or money hack that will instantly turn your life around. However, some principles can guide you towards achieving your goals. You will need to find a way to apply them to your unique status or situation. So, here are the best personal finance tips to use.
Five Best Personal Finance Tips By Jason Stauffer
1. Budgeting Is More Than Just Managing Money
Stauffer said that his budget was a personalized spreadsheet he constantly updated for many years. It was part of his dream of becoming a young Warren Buffet. However, that budget rarely helped him feel less stressed about money.
During his early stint at NextAdvisor, Stauffer discovered zero-based budgeting or ZBB. Once he and his wife started to apply the method, they started saving more and feeling less anxious about money. A reasonable budget should manage your expenses and your emotional relationship with money.
With ZBB, every money that comes in is assigned to a specific purpose. They allocated funds to pay for rent, cellphone, and other expenses. Aside from that, they also allot money for more than their current bills. This strategy helped them pay off student loans sooner than scheduled. 
ZBB also helped the couple build an emergency fund. For example, when their cat needed a $2,000 emergency surgery, they already have that amount available. Without sufficient emergency funds, it would have been a hindrance to their goals.
The zero-based budgeting app called You Need a Budget (YNAB) has effectively turned credit cards into debit cards.
If you want to explore ZBB, YNAB is a great place to start. But take note, the app is not free. There are lots of free or cheap ZBB templates available. And ZBB isn't the only budgeting approach that works. As you explore different budgeting methods, focus on why you want a budget.
2. Prioritize Income Over Expenses
Some people have paid off their mortgage in less than six years and settled six-figure sums of debt. One common factor for these success stories is they constantly find ways to make more money. They engage in side hustle businesses or find better-paying jobs. Still, having a budget that works is the first step towards achieving goals.
Stauffer also shared that they are expecting their first child, and it is as vital as ever to increase household income. His wife is considering a transition from freelance to a full-time world, which would provide a more stable income. From there, they might also explore other side hustle opportunities.
Starting a freelance or side hustle might not be as challenging as you perceive. Chances are you already have hobbies and talents you could utilize or develop to augment your income.
3. Learn To Negotiate
The idea of negotiating has always been overwhelming, but it's one of the best personal finance tips to use. In reality, dealing is usually as simple as asking for what you want. Thinking about a good offer sometimes includes offering something of value in return. 
Any method of negotiation is better than no negotiation at all. Find an approach that could assist you in doing it and become more comfortable. You could try making an indirect request and evaluate if it is easier for you.
4. Be Patient and Consistent
Transforming the status of your finances takes time. Almost all financial success stories are prefaced by a long learning period and establishing momentum. Whether learning to code before becoming a tech entrepreneur or saving up for a downpayment on a house or property, significant changes take time.
If you can only take small steps, focus on taking small steps. It can be not easy seeing how fast everyone else moves or progresses. What's not seen is how much time it took them to develop the speed you're seeing.
5. Future Homeowners: Ask About a Zero Mortgage
The most overlooked strategy Stauffer encountered for reducing your mortgage cost is to ask for lender credits instead of a higher interest rate. The credits would be used to settle the loan fee portion of your closing costs in this situation. With a zero-cost mortgage, you'd be paying a reduced amount every time you buy a home or refinance.
When researching lenders, always ask if they have a zero-cost loan option. Then, compare your options and see which one applies to you.