Comprehensive Thinkific Review for Online Coaches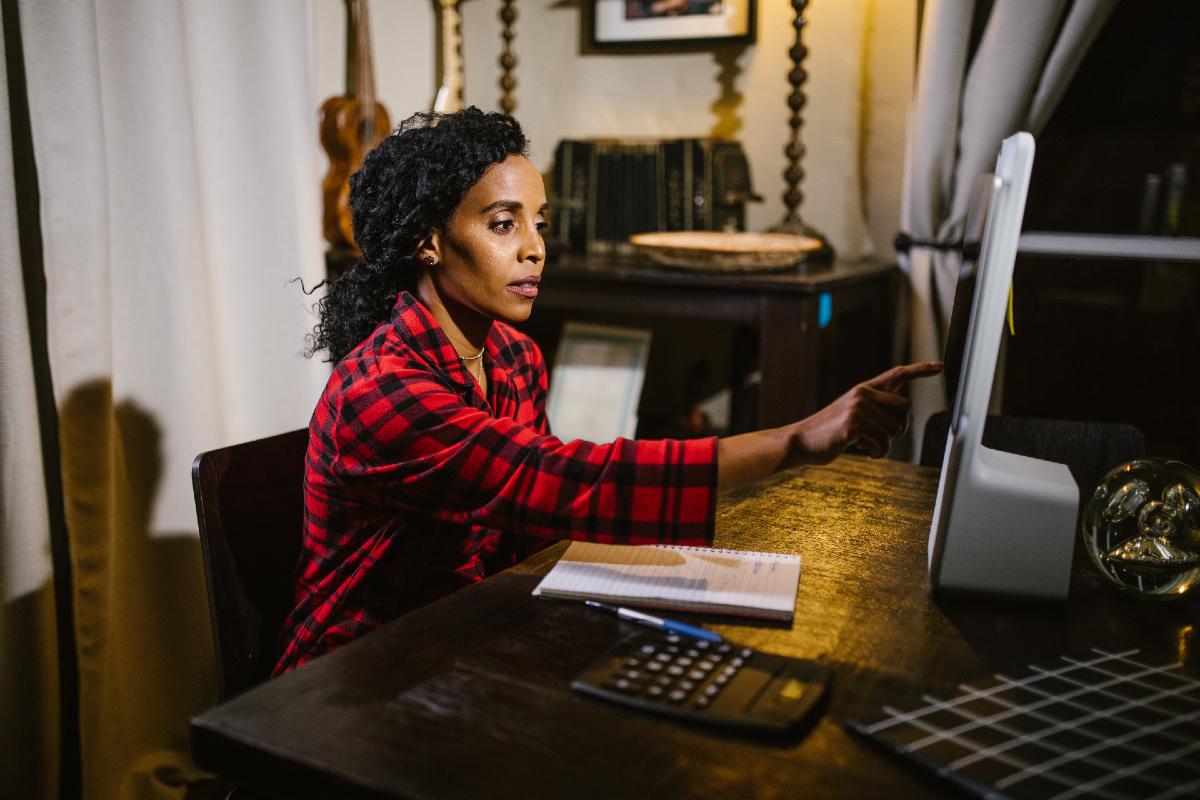 Used in over 165 countries, Thinkific is a leading-edge online course creator for passionate coaches. More than 50,000 course creators use Thinkific for course building and selling, and for good reasons. 
Thinkific boasts a total of over $650 million in course sales. This is due to the platform's easy-to-use system that lets course creators start their online teaching career — whether you're a newbie or experienced coach.
This Thinkific review lets you in on the platform's services, features, benefits, pricing, and some alternatives you can look into.
Thinkific Review: What is Thinkific?

Thinkific is an all-in-one platform that lets online coaches start their careers in creating and selling courses. And you'd be surprised as to how easy the platform is too!
Thinkific is rated as the number one service provider for course creation. Some of the reasons are responsive website and email, excellent phone support, comprehensive knowledge and training, and drop-in co-working sessions at their Vancouver site.
With Thinkific, you can create, advertise, and sell your online courses like a breeze. The powerful platform lets you scale your online teaching business with state-of-the-art technology and active peer support. Quickly upload videos, organize your content, and build quizzes with Thinkific's drag-and-drop editor. 
You can design your online course website without technical know-how. The website is also fully customizable, allowing you to convey your business' branding to your students. Moreover, Thinkific offers hundreds of beautiful themes to match your preference and course topics.
Thinkific also gives you full control over the pricing, lesson schedules, data, and more. Finally, the platform offers various tracking systems so you can help students monitor their progress and hone their skills.
Thinkific Review: Features and Benefits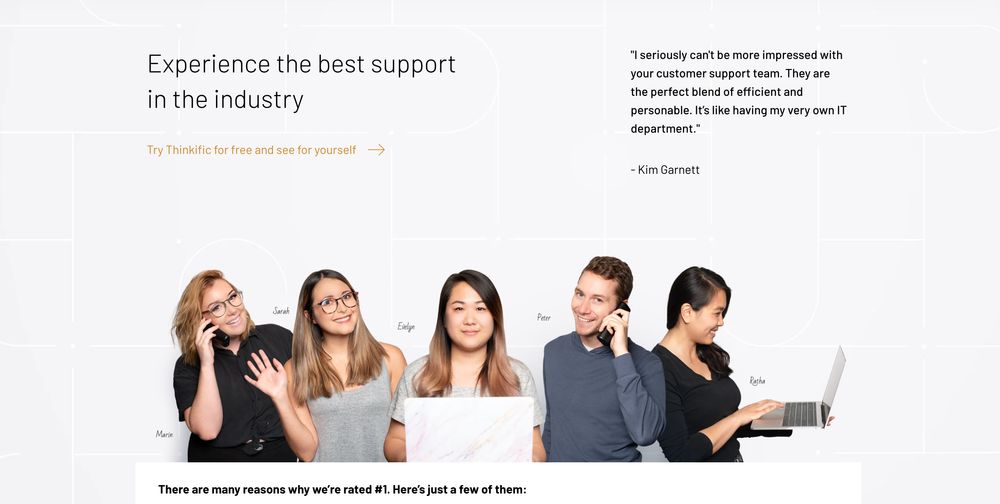 When choosing the best course builder, Thinkific comes out as one of the top choices. And here's why:
Powerful platform
Thinkific takes pride in an unparalleled learning experience for your students. You can diversify your content through live lessons, communities, assessments, unlimited videos, and more. Also, the platform offers a fully customizable sales page and eCommerce. Without a doubt, Thinkific is not only designed for massive enterprises but also individual instructors.
Full control
Other course creation platforms have limited features. However, Thinkific boasts total control over your content, data, pricing, and overall business operations. You can also control your website's design, student information, and more. Plus, you also own 100 percent of your data.
Seamless automation
One way to gain more student enrollments is when you have a seamless automation process. And Thinkific lets students enroll seamlessly. The onboarding process is quick and easy. Plus, the platform also offers student messaging features. Finally, the platform has over 1,000 business tools you can easily integrate.
Advanced support
One upper hand of choosing Thinkific is you'll get advanced support with over 12,000 Facebook groups and communities. Plus, you can get help from industry leaders. Moreover, Thinkific connects with 50,000 experts that share their knowledge, ideas, and expertise for inspiration.
Student tracking
Tracking the students' progress is vital in online courses. Thinkific offers assessments, certifications, communities, and memberships for more student engagement.
Thinkific Review: Pricing
The advantage of using Thinkific is that there are no transaction fees. Plus, they offer a 30-day money-back guarantee, which lets you try the service risk-free. Thinkific's rates are also affordable. Here are the rates and inclusions:
Free ($0)
Unlimited students
Quizzes and surveys
Content hosting
Instant fund access
Basic ($49/month)
Free features
Unlimited courses and students
Coupons
Email
Drip content
Affiliate reporting
Zapier triggers
Manual enrollment
Pro ($99/month)
Basic features
Unlimited courses and students
Two site admin accounts
Five course admins
Certificates
Memberships and bundles
Live lessons with Zoom and more!
Premier ($499/month)
Pro features
Unlimited courses and students
Five site admin accounts
15 group analysts
50 course admins
Single sign-on
Onboarding package
Conclusion
This Thinkific review should let you decide whether this platform fits your needs. If you're looking for other Thinkific alternatives, here are some sites you can check out:
LearnDash
LearnWorlds
Teachable
Lessonly
Udemy
Otherwise, sign up to Thinkific now and experience hassle-free course creation and selling.
Printify Review: Is Drop Shipping Right for Your Business?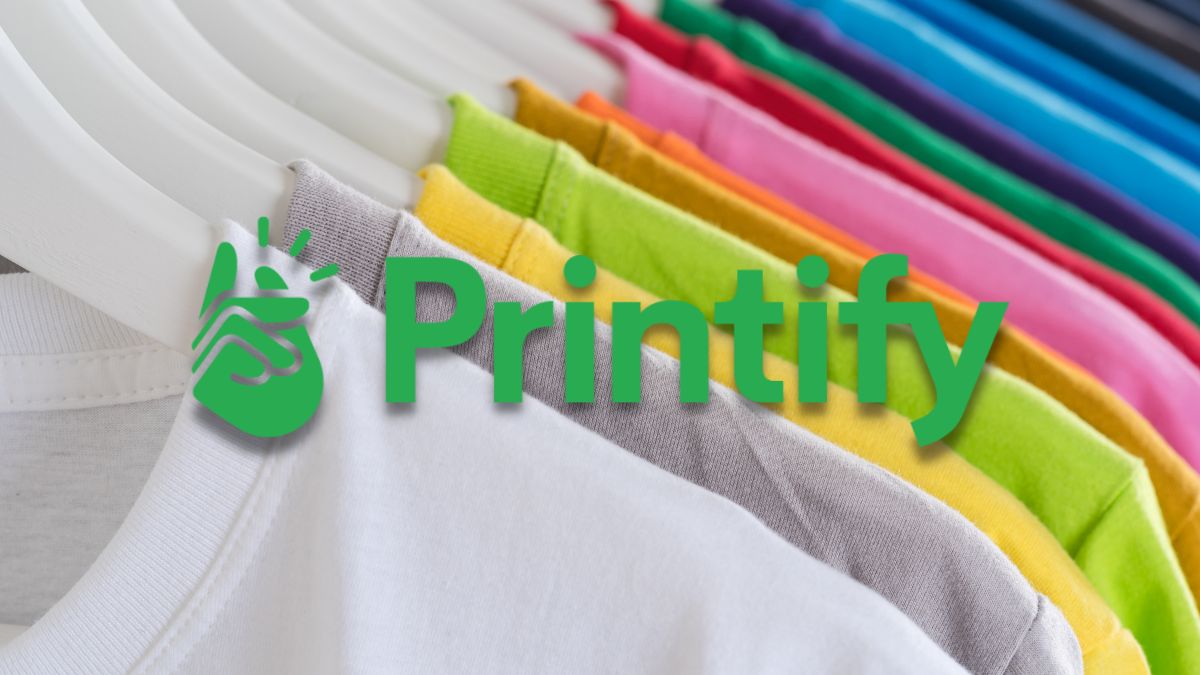 If you're interested in signing up for Printify, you can help us out by using this link.
If you've been involved in ecommerce in the past few years, you've undoubtedly heard about drop shipping.
As online retail expands, drop shipping services like Printify help keep supply flush with demand. Basically, they connect your store to outside suppliers and wholesalers. Customers still buy from your store, but the product is produced, stored, and/or shipped by a third party.
In Printify's case, apparel is their game. They're one of the more popular drop shipping suppliers, boasting dozens of products and integrations with Shopify, Wix, Etsy, and much more.
Drop shipping has its ups and downs. It's an easy, affordable solution for retail supply, but it takes inventory and quality control out of your hands. Is Printify right for you? Let's take a look.
How to start using Printify
You can get started with Printify using a simple sign-up. While it acts as an intermediary for your online store, you don't need to already have a store set up to get started.
Printify pricing
Right off the bat, I was pleasantly surprised by how much you can do with Printify without signing up for a premium service. In theory, small retailers can get by using Printify without ever paying for the service (they'll still have to pay for the products, of course).
Whether or not you choose to upgrade is really dependent on how many customers you have. Free users can run up to 5 stores and create unlimited designs, but the Premium tier comes with a discount on products and up to 10 stores.
If you're lucky enough to get really big (like, 10k orders a day big), you can upgrade even further with a custom Enterprise plan. These plans come with unlimited stores, API integrations, and early access to new features.
In sum, you don't really have to worry about paying for Printify itself. The real cost comes from the products themselves, which range from $5 sticker sheets to $70 comforters. Essentially, you don't have to start spending money until you start making money.
What does Printify do?
We've already touched on the basic features of a drop shipping service, but let's take a closer look at Printify's ecommerce solutions.
Dashboard
When you sign up for Printify, you're greeted with a checklist on your home dashboard to help you get started. The process is broken down into five steps:
Creating your account (already covered!)
Designing a product
Naming your store
Adding personal details
Connecting to your site/store
After that, you're golden!
Let's break down each of these steps (excluding creating an account, obvi).
Product catalog
Printify's catalog includes an impressive array of different products you can sell. You might expect the standard array of shirts: tees, tanks, hoodies, long-sleeve, sportswear, with sizing for men, women, and kids.
Beyond that, though, there are some unexpected picks. You can set your store apart with shoes, pants, backpacks, mylar balloons, blankets, bento boxes, and the list goes on.
Product design
All in all, Printify purports to sell over 600 different products. However, for the sake of this review, let's explore the design tools with a classic tank top.
How much you can customize your designs depends on which product you're designing and which supplier you use. Each product comes with a laundry list of suppliers who offer different prices, discounts, and colors.
In this case, tanks designed by Awkward Styles are over $1 cheaper than SwiftPod. However, SwiftPod comes in more colors, offers bulk discounts, and offers you more room to place designs on the shirts.
The actual design tool isn't much more impressive than your standard custom t-shirt site. You'll have to do your actual design work elsewhere and import your work here through Google Drive, Dropbox, or direct upload.
One neat feature is the ability to add images directly from Shutterstock. You'll have to pay for the use of these images, but only after you sell, and at a reasonable $0.99 per product.
Setting up your store
The process of setting up your store, from the Printify side of things, is fairly simple. Your storefront comes later, but all Printify needs to know is your store name and business information, such as your email and physical address.
In a way, the limitations of this setup can be compared to the limits of designing items with Printify. It may be the cheapest, most convenient way to get set up with an online store, but a lot of the actual work has to be done offsite. In this case…
Connecting to your store
Printify is something of a middleman between your store and their suppliers. As such, while it invites you to name and input details for your store, the store itself has to be set up somewhere else.
Printify offers easy integration with eight different ecommerce platforms. You can connect to Shopify, Etsy, Squarespace, Wix, WooCommerce, BigCommerce, PrestaShop, and eBay.
While this is a relatively small gallery, it does cover a lot of bases for ecommerce. Platforms like Shopify and WooCommerce are specifically geared towards ecommerce. Etsy and eBay appeal to newcomers, setting up mini-storefronts on a broader shopping platform. Wix and Squarespace let you build your site from scratch, offering fully custom options.
Conclusion: Should you be using Printify?
For what it is, Printify is a solid tool to connect your ecommerce site to merchandise. You should know what to expect going in so you don't wind up disappointed. It's mostly helpful for printing logos and small designs onto products to be sold.
I'd say Printify is most ideal for sites that produce branded merch. While their selection is wide, I found their tools somewhat limiting when it comes to designing products. Even if you just make silly t-shirts, you may find yourself stifled by Printify's custom options.
I was definitely impressed with Printify's array of products. On top of every standard merch item you could think of, they've got oddities like balloons, scented candles, and Christmas tree ornaments.
On the other hand, I could see the variety of suppliers presenting an issue for big stores. Competitors like Printful are pricier but more standardized. If you have different items shipping from different suppliers, it can create customer service issues.
Overall, Printify is a flawed but convenient option for ecommerce. Working with various vendors lets them bring you and your customers the best value. However, it results in hit-or-miss quality and somewhat limited design options.
Final rating: 6.8/10 👕
Ready to get started with Printify? Sign up here.
Prowly Review: The Best Way to Boost Your Media Relations Game?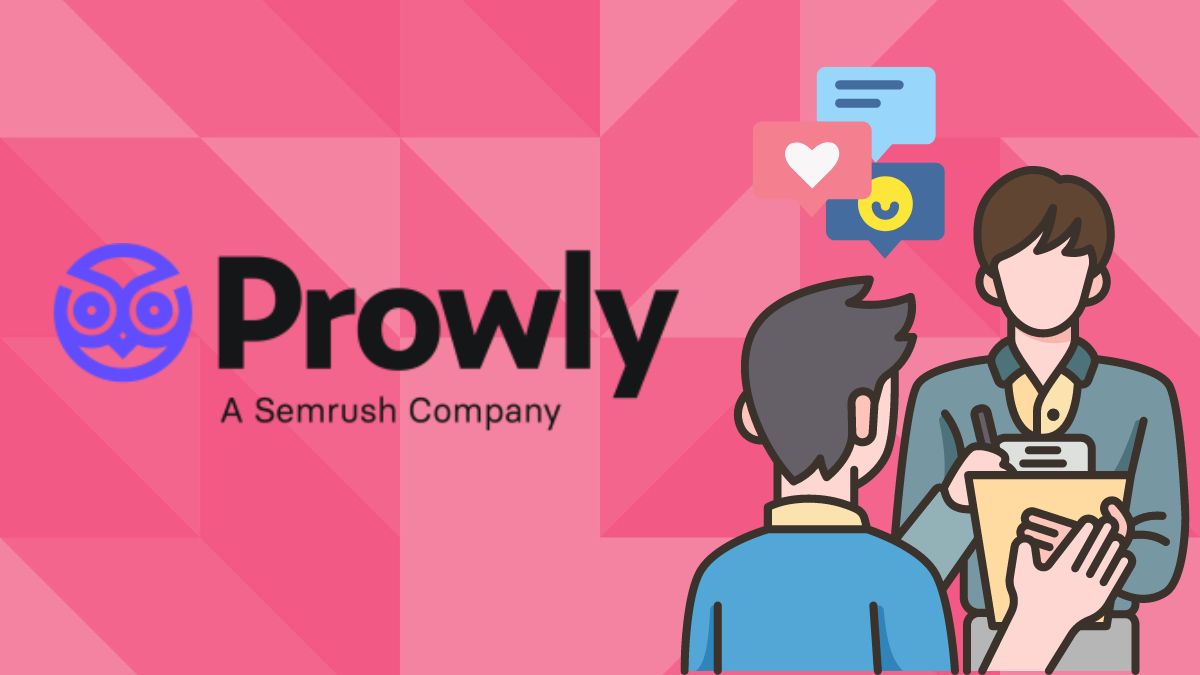 Looking to get a boost on PR? Help OM out by signing up for Prowly with this link.
Starting a business is only half the battle. The secret to success is reputation.
There are many ways to build your reputation. The first step is providing a great experience for your customers. Still, to build a high profile, you inevitably need to get into the social media game.
Prowly promises to help with that. This SaaS tool by SEMrush lets you manage media contacts, shape your narrative, and create winning press releases.
Is Prowly the real deal? Let's break it down.
Getting started with Prowly
As mentioned in my Demio review, the convenience of SaaS allows you to quickly use software through your browser. Signing up for Prowly is as simple as clicking the "Try it for free" button in the upper right corner of the site.
Prowly pricing
Prowly offers a 7-day free trial so users can try before they buy. Beyond that, they offer an Essential plan for smaller-scale users and a Professional plan for agencies.
The most basic form of the Essential plan starts at $119/mo, while the Professional plan starts at $189/mo. You can add features to your plan—including media monitoring and access to Prowly's media contact database—for an additional cost.
What can Prowly do?
Remember that thing I said about customer experience? Prowly clearly got the memo, because as soon as you sign up, they invite you to schedule a meeting with them. This shows a real dedication to customer support that you don't see every day. But since I'm only trying out the product for a review, I opted out.
Dashboard
Prowly's dashboard maintains a simple, inviting design. This is especially helpful since the choices you're presented with are a bit overwhelming. As someone with limited PR experience, the very idea of starting a press release feels daunting.
Still, front and center on your home page is a simple timeline you can use to wrap your head around Prowly. It breaks it down into four easy steps: creating press releases, finding media contacts, setting up a newsroom, and sending email pitches.
Let's take a look at each of those features.
Making press releases with Prowly
Prowly has a wide array of options for crafting press releases. You can upload a .docx file, start from scratch, or choose from various templates like event announcements and new hires.
These templates are designed to get your mind jogging, rather than filling in the blanks Mad Libs-style. The text editor is fairly simple with limited font and formatting options. Still, you generally don't want to get too wild with a press release.
Make sure not to hit "Publish" before it's fully done, as you can't go back and change it.
Finding media contacts
Like with the press release tool, there are a few ways to get started with finding media contacts. You can import or manually add your existing contact list, but you can also peruse Prowly's extensive database.
Media contacts range from entertainment to politics, business to beauty. They include some of the biggest names and publications in journalism. Just keep in mind, you'll have to buy an upgraded plan to get access to the contact database.
If you just want to get started, importing existing contacts makes for much less hassle. At the bare minimum, you can put in a few emails and move on to the next step…
Creating a Prowly newsroom
A Prowly newsroom is a custom webpage designed to compile your brand's content, press releases, and other news. While it's less customizable than your own website, it allows your media contacts to easily find all of your content in one place.
This can be a useful tool for shaping your narrative. You can organize your PR output into tabs and categories, and customize the design to suit your brand. Still, I'd argue you could probably do better making a media tab on your own website.
Sending an email pitch
Finally, the main event. You've made your press release, your newsroom, and compiled all your contacts. Time to pitch!
You can choose to select certain recipients or email your whole contact list. Prowly gives you the tools you need to create an engaging email, with a dozen professional fonts and a bevy of text options.
Where the newsroom layout is fairly one-size-fits-all, you have much more customization options with your pitches. This makes sense since the email pitch is the thing that gets your media contacts hooked.
You can add images, tables, files, and links to your pitch, as well as additional press releases and a call-to-action button.
Like many CRMs, Prowly includes personalization tokens. These are variable text elements that can be tailored to specific recipients. For example, you can add a Greeting token that inputs different greetings for different recipients. Then, by applying values to people in your contact list, you can ensure they each get a greeting that's specific to them.
After that, simply review your email and send it off! Prowly recommends you sort your emails into campaigns, which makes it easier to keep track of different releases and review their success.
Monitoring and reports
One of Prowly's more impressive features is its media monitoring dashboard. Above and beyond keyword research, this tool includes widgets to track sentiment, reach, domain authority, and much more.
While easily sending out and keeping track of pitches is great, this tool makes Prowly worth your while. Every tool at your disposal from WordPress to Google Ads has some flavor of monitoring, but this is the rare dashboard that synthesizes every metric a PR agency needs. Just as important, the custom widgets also let you exclude the data you don't need.
Prowly is teasing a forthcoming feature that lets you view stats on your campaigns through PR reports. As advertised, these reports go above and beyond, compiling data to show the complete picture of your PR work.
As it currently stands, the lack of specific stats on a campaign's success is one area where Prowly could improve. For PR workers, the ability to compile deliverables makes a big difference, so I hope this feature gets rolled out sooner rather than later.
Is Prowly worth it?
For companies, agencies, and entrepreneurs working in PR, Prowly (wait a sec… PR owly!) promises an easier way. It highlights the ability to easily create, release, and track press releases online.
Prowly's most impressive features are its media monitoring tools and contact database. I was somewhat less impressed with the press release tools themselves, but I acknowledge the utility of having a simple online dashboard to keep track of them.
Prowly is definitely a strong PR tool; the contacts and monitoring tools alone are enough to make it worthwhile. Still, it faces a common SaaS problem: how much ownership will you give up for convenience?
For that purpose, I like the fact that Prowly also lets you import releases, contact lists, and more. You can choose whether you want a convenient experience or a custom one, which is an attitude more SaaS programs should have.
Prowly is sort of the Canva of PR software. It's shiny, accessible, and gets the job done, with a few impressive tools that put it over the top. But if you want something fully custom, you'll still have to make it yourself.
Final rating: 7.9/10 ✅
Like what you see? Sign up for Prowly today.
Demio Review: Meet the Latest in Browser-Based Webinar Software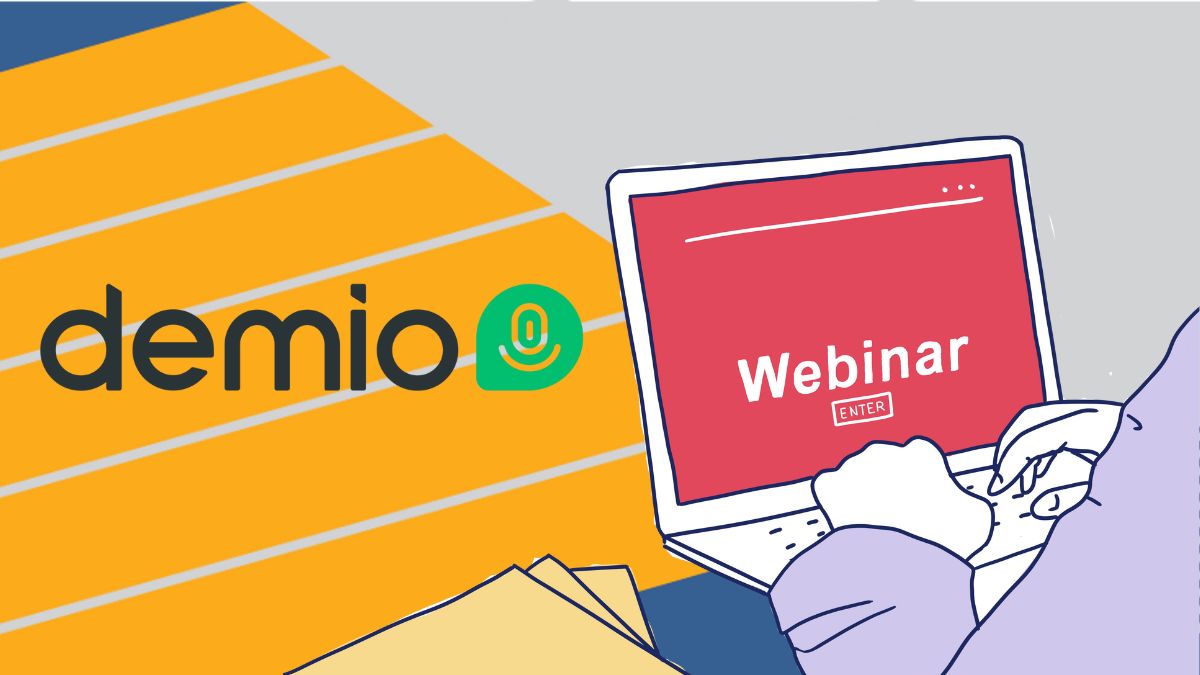 Interested in signing up for Demio? You can support us by getting started with this link.
I kind of hate the word "webinar."
I'm not alone, either. You can find it in several lists of the English language's biggest travesties. It's a holdover from the heyday of lame Web 2.0 portmanteaus, alongside "webisode," "netizen," and "listicle."
However you feel about the word, the webinar itself is anything but dated. The more work moves online, the more vital webinars become for drawing new clients (and keeping the old ones).
Despite this, it sometimes seems like no one's fully figured out how to properly support webinars. Some software is inaccessible, some is unreliable.
Can Demio, a browser-based webinar tool by Banzai, finally bring the best of both worlds? Let's take a look.
What is Demio?
Founded back in 2014, Demio promises a solution to the user-unfriendly world of webinar tech. There are definitely new developments in the webinar world, especially after the pandemic. Still, some of the features Demio intends to fight, like requiring guests to download software to join, are still par for the course.
Demio's solution: host webinars straight from your browser. In the age of SaaS dominance, you don't need an app taking up space on your computer to access the software tools you need. Demio offers webinar tools built for the SaaS marketplace, but with convenience and quality that anyone can appreciate.
Getting started with Demio: Free trial and pricing
Since Demio is a SaaS company, getting started is as simple as heading to their site. Not sure if it's right for you? They offer a 14-day free trial to get acquainted with Demio before you go all in.
Beyond that, they offer three tiers: Starter, Growth, and Premium.
The Starter tier is recommended for people and businesses just getting started with webinars. It allows for only one host and has a 3-hour, 50-attendee limit on sessions. $34/mo billed annually or $49/mo billed monthly.
The Growth tier caters to mid-sized and growing companies. On top of the Starter features, it allows for custom branding, automated events, and lets you keep track of registrations. You can have up to 5 hosts on your account, 150 attendees, and 8-hour sessions. $69/mo billed annually or $99/mo billed monthly.
Premium options for large companies and enterprises can be custom-built for your team's needs. They allow for unlimited hosts and sessions of up to 10 hours with as many as 1,000 participants.
Demio's free trial requires no commitment or credit card details. Just sign up, fill out a brief survey on how you plan to use the app, and you're golden.
Demio features
Dashboard
When you sign in to Demio, you're greeted with a friendly dashboard, complete with a list of all your scheduled sessions.
First nitpick: the dashboard has two tabs, Schedule and Events. I appreciate the ability to see a scroll of upcoming events right away, but you have to tab over to Events to create a new session. Can't these just exist in one tab?
Events
You can create three types of events: Standard, Series, and Automated.
Standard events are what you probably picture doing when you use a webinar service. You create a standalone webinar or series that people can sign up for and attend at a scheduled time.
Series events differ from Standard in that people are auto-registered for every session. With Standard events, people can choose which ones they'd like to attend. Series creates an ongoing list, making it perfect for internal conferences.
Automated events work the same way as standard events, with one key difference: sessions are pre-recorded and available on demand. This is one of Demio's more unique features. Uploading pre-recorded content and having it play passively is a great way to get more engagement.
Webinars
Before you get started, you can check out the Customize tab in your event editor to change details.
One of Demio's big advantages over tools like Zoom is the ability to customize your event in advance. You can add pre-made presentation materials and polls, as well as customize the registration process.
Once you're ready to get started, you can join your session in the Schedule tab. The layout is familiar, with speakers' video taking up the left and center while the chat tab takes up the right side.
Only one person can be "on stage" at a time, but you can also add and access materials like slides and videos with the middle button on the bottom toolbar. Meanwhile, the + icon next to the chat box lets users access polls, links, and handouts.
Reports
After you close your session, you're taken back to the event's settings. Tab over to Activity to view an attendance report for your session. The stats are fairly simple, but they give you an idea of how many people registered, how many attended, and how long they stuck around.
You can also view a list of participants along with their emails, including who registered, who showed up, and who missed it. Download the lists as CSV files and you can follow up with your audience.
Integrations
I'd honestly like to see a little more variety from Demio's integrations. On the one hand, their tilt towards martech integrations makes sense. Webinars are generally used for marketing, and being able to connect with Keap, Mailchimp, or your CRM of choice has obvious benefits.
Still, I think there's a lot more potential to be had with connecting different software to a video conferencing tool. Translators, editing tools, OBS… the sky's the limit.
Perhaps the most useful integration is with Zapier. Their micro-integrations let you connect to PayPal, Gmail, Slack, and more.
Conclusion: Is Demio worth it?
If you're seeking a platform to create engaging webinars, Demio is a great place to look. It's as intuitive as they come, with a number of unique features that set it apart from the competition. Even among browser-based video tools, the fact that it works on any browser puts it ahead.
As of now, Demio is completely focused on webinars. It's a leader in that market, so they're clearly doing something right. Where it disappoints, however, is where it feels too laser-guided towards marketing. By just slightly expanding a few features (integrations, reports, in-call elements), I think Demio's potential could be that much greater.
PROS
Quick, easy setup
Works in any browser
Custom branding options
Interactive elements
Unlimited sessions
Automated events
Good customer service
CONS
Few integrations
Limited reports
Lack of different event types
Overall rating: 8.9/10 🥳
Ready to give Demio a try? Sign up here.