Surface Book vs. MacBook Pro Laptop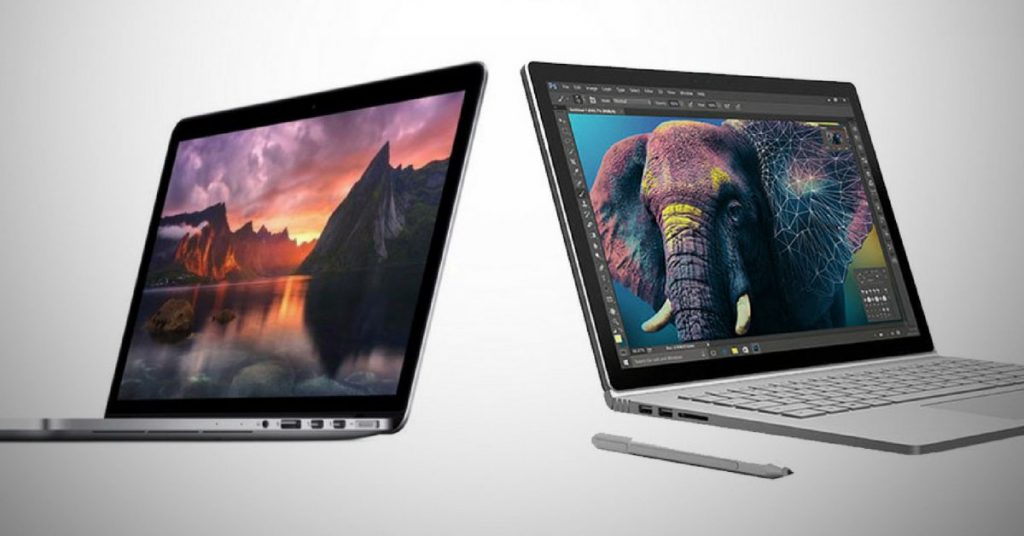 Microsoft and Apple unveiled computers in 2016 including new Macbook pro laptop. Microsoft targeted the creative professional while Apple is aimed squarely at the mainstream audience. Different visions but alas, whenever are more than one, comparisons will be made. Microsoft took direct aim at the MacBook Pro laptop with its revamped Surface Book so let's look at the differences. Since Apple did not update the iMac, I will leave off the Microsoft Surface Studio and just compare the MacBook Pro laptop and Surface Book.
Performance
Both the Surface Book and MacBook Pro (13") have options to choose. Either a 6th generation i5 or i7 processor. The MacBook Pro 15" only has the quad core i7 option. It is interesting that neither Microsoft nor Apple decided to put Intel's 7th generation Kaby Lake chips inside their respective laptops. On the graphics front, Microsoft decided to put an NVIDIA GTX 965M with 2GB of GDDR5 RAM. While not a slouch in performance, again, it's interesting that Microsoft decided not to put NVIDIA's new 10-series cards inside, likely to save costs. Apple went with AMD instead, opting for the AMD Radeon Pro 450 and 460 options. Both the NVIDIA and AMD cards are more than enough for heavy photo/video editing, 3D modeling, and engineering projects but don't expect to do much triple-A gaming on them…at least not on very high graphics settings. Light to moderate games such as CS:GO, DOTA 2, League of Legends, and even Overwatch are playable at medium settings but higher end games such Doom or Witcher 3 might require reduced graphics settings and resolution.
Display
Whether consumers decide to purchase the Surface Book or MacBook Pro laptop, they're in for a visual treat. Both computers sport beautiful high end, colorful, dense displays. The MacBook Pro 15 Retina Display has a 2880 x 1800 resolution and 220 pixels per inch (ppi), while the MacBook Pro  13 has 2560 x 1600 resolution and 227 ppi. Surface Book PixelSense display has a 3000 x 2000 resolution with 267 ppi which easily outclasses the MacBooks. However, despite that edge, most people would be hard pressed to see the difference between them. Apple claims the new MacBook Pro laptopscreens are 67% brighter and 25% more colors than previous MacBook Pros.
Design and Features
During Apple's event, they made a big deal about how much slimmer and lighter than the new MacBook Pros are compared to the previous generation. The new 2016 MacBook Pros are about 20-23% smaller than their previous incarnations while the new Surface Book is about the same as before.  The MacBook Pro 13 is slightly smaller than the Surface Pro but both are still slim and light laptops.
Feature wise, they couldn't be more different. Apple opted to "future proof" their machines and add four USB-C ports on the 15" model (two on the 13" model). These are the only ports on the entire machine (save for the 3.5mm headphone jack) so any external connectivity to HDMI or USB Type A will need a dongle. The Surface Book has two USB 3.0 ports (Type A), an SD card reader, headphone jack, and mini-DisplayPort. Curiously, Microsoft omitted any USB-C ports. All but the base model MacBook Pros sport the new Touch Bar which replaces the usual row of function keys. This enables the functionality to dynamically change depending on which apps the user is in. While Apple shies away from touchscreen on their Macs, Microsoft embraces it by having a touchscreen display that can detach from the keyboard. The included Surface Pen enables taking notes or drawing directly on the screen.
Price
Let's just say it. These laptops are super expensive. The Surface Book i7 starts at $2,400 and tops off at $3,300. The MacBook Pro starts at $1,500 for the Touch Bar-less 13" model and goes up to $2,900 fully loaded. The 15" model starts at $2,400 and tops off at $4,300 fully loaded. These laptops may be overpriced to some for what's essentially outdated CPUs and GPUs. Microsoft and Apple believe their products represent significant value for performance, features, and build quality. Regardless, any serious graphic designer or engineer interested in these products will have serious horsepower to work with. Price probably won't be a factor.
These Are All of the Industries Experiencing The Amazon Takeover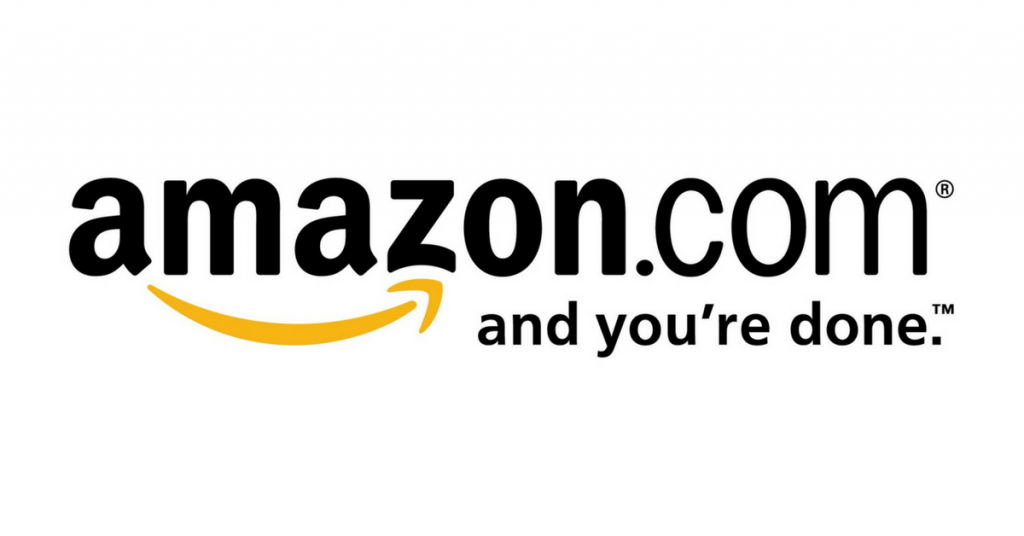 Amazon's continuous growth is prompting the company to expand into a variety of industries well beyond their initial scope of electronic commerce. Beginning as an online bookstore, Amazon now represents the most valuable United States retailer regarding market capitalization. Amazon founder Jeff Bezos is presently the world's richest person. A combination of success and drive for constant expansion is resulting in an Amazon takeover of several important industries. Amazon still reigns supreme as an online retailer, though clearly that title alone is not enough to satisfy Bezos. His areas of interest are vast, including the following.
Brick-and-Mortar Retail
Just last year, the Amazon takeover included Whole Foods, where they were acquired for $13.7 billion. The move continues Amazon's battle with Walmart to reign supreme in the retail space. On the other side, Walmart is continuing to refine their online space, while remaining America's top employer. The battle between these two giants will continue to wage on, with Amazon's interest in the brick-and-mortar space being no secret.
Even before the Whole Foods acquisition, Amazon's plans to build convenience stores and curbside pickup locations shows a deep infatuation with becoming a strong brick-and-mortar presence. Beyond a mere presence, Amazon is confident that consumers will continue embracing a model that allows them to order online and pick up in person.
Amazon's opening of the Amazon Go Store in Seattle in January marks an exciting time for these interests. Customers enter the store and scan their Amazon Go app as they do. Cameras and other sensors track customers' activity as their browse, registering an item into their virtual cart when they take it off the shelf. Customers are charged when they leave the store with their goods. Amazon terms the idea "Just Walk Out" shopping and hopes to attract customers who despise waiting in lines, as many do.
Amazon's reshaping of the typical brick-and-mortar presence is introducing consumers to new ideas like "Just Walk Out" shopping. Combined with the acquisition of Whole Foods, the company will without a doubt continue to redefine the brick-and-mortar shopping experience.
Delivery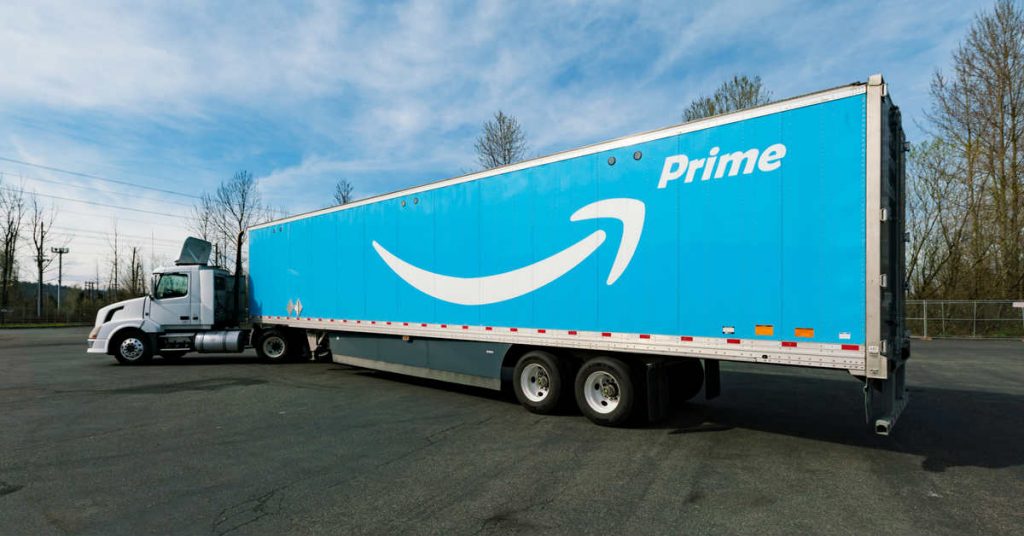 Amazon has been shaping the delivery industry for many years now, especially since Amazon Prime's introduction in 2005. The company's vow to deliver items to Prime customers in two days or less still presents a challenge to online retail competition, who are well aware that they must match these shipping expectations or compensate in some other way, like offering lower prices. Meeting Amazon's delivery promises and their costs is a major challenge, especially to new eCommerce businesses.
Beyond Amazon Prime's major influence on shipping expectations among online retailers, Amazon is redefining what the delivery space means through their utilization of drone technology. Specifically, Amazon Prime Air is introducing a new delivery system, where unmanned aerial vehicles can safely get packages to customers in 30 minutes or less.
Amazon, already familiar with quick parcel delivery, is upping the ante even more in the delivery industry with such lofty ambition. Still, with a private trial already underway in the UK, Amazon Prime Air and the use of drones in delivery is a very real aspect of the future. Upon receiving the regulatory support, we can anticipate Amazon Prime Air to be an option for many.
Technology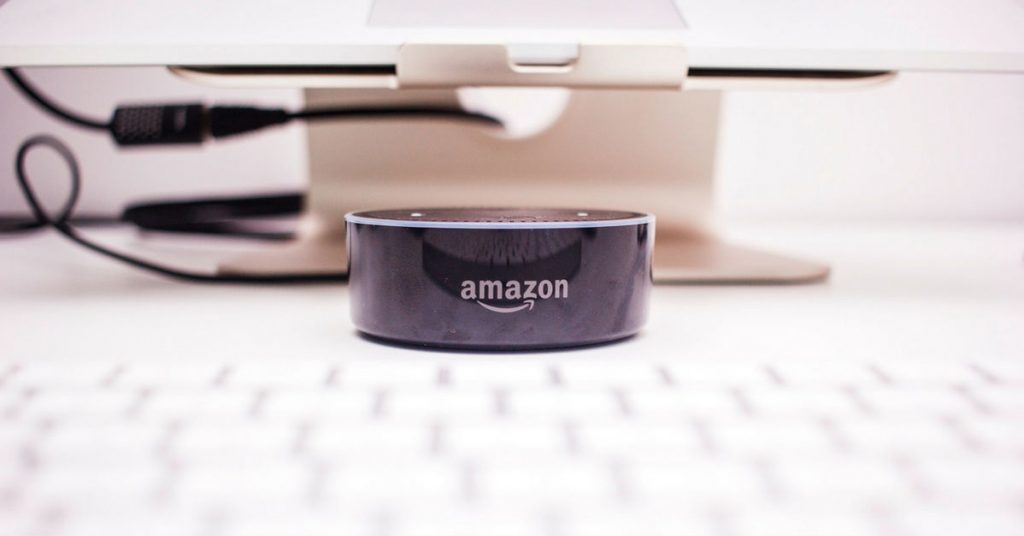 It makes sense that Amazon is continuing to make significant moves in the tech sphere. There's no doubt regarding the company's technical expertise and how technology can accommodate access to their variety of products.
Among their technological products is Amazon Fire TV, which streams live TV and enables users to watch hundreds of shows and movies. There's also the Amazon Kindle Fire, which capitalizes on Amazon's vast digital library in the form of a tablet computer with a seven-inch multi-touch display. Many still view Kindle Fire as a strong competitor to Apple's iPad.
Amazon's Dash buttons, while simple, are also an exciting addition to their array of tech. The Dash Button is a single-function controller that consumers can place around their house near items that need replenishing. Need a new order of Tide paper towels? Order a specific Dash button for Tide, put it near the towels and press the button when you notice them running low. They will then arrive on your doorstep in a couple of days.
Entertainment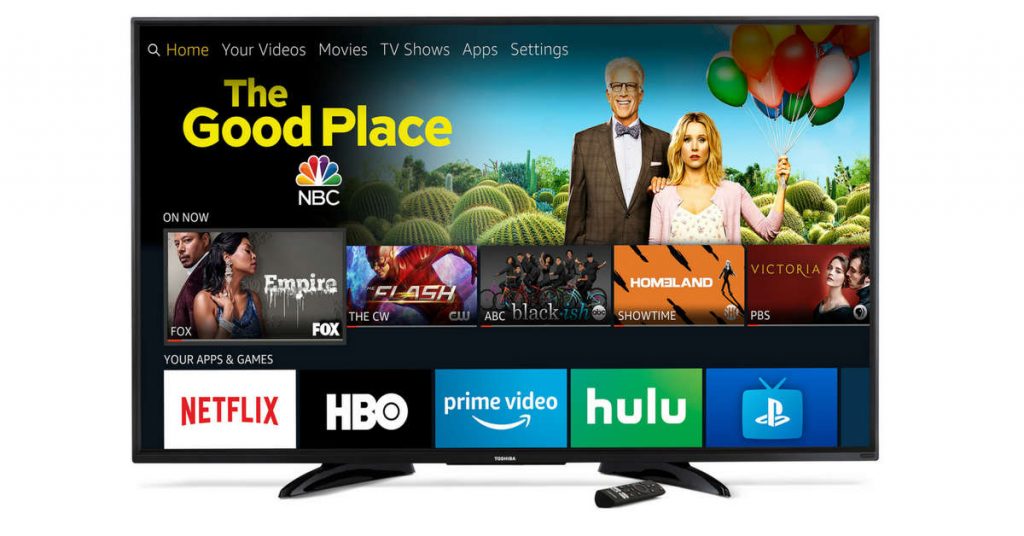 Amazon Prime offers much more than free two-day shipping. One of Prime's most notable benefits is the increasingly impressive Amazon Video platform. The Amazon Prime Video show Transparent won the Golden Globe Award for Best Television Series, Musical or Comedy in 2005, while 2017 Oscar Best Picture nominee Manchester by the Sea is also developed by Amazon Studios.
Amazon is increasing their influence in both TV and film by producing excellent content, including many notable releases in development. They're emerging as a viable competitor to cable, Netflix and Hulu.
Whether a consumer prefers reading a book or watching a movie, Amazon is seeking to have the entertainment niche covered.
Is This Amazon's Peak?
Amazon's firm grasp across multiple industries begs the question: Is this Amazon's peak? While it's impossible to tell definitively, stockholders should monitor the situation closely. Amazon has been a model of consistent growth since 2000. Presently, Amazon's stock trades for approximately 130 times the business's projected earnings for 2018 and almost four times its projected sales for 2018.
These growth prospects rely on revenue per customer growth. Although there will certainly be customers who increase their spending on Amazon, it's difficult to think of any huge breakthroughs or offerings that will prompt more revenue per customer, especially upon Prime's increase to $119 per year. Many customers may opt to spend that on a Costco membership instead.
Additionally, it's important to note that Amazon's acquisition of Whole Foods plays a significant role in the stock increases the past year for Amazon. The market seems to be operating under an assumption that Amazon will make a similarly buzzworthy acquisition this year, which is far from a given.
Still, even if market projections seem a bit optimistic at the moment for Amazon, there's no doubting that the company will continue playing a significant role in shifting expectations within several industries, from delivery and entertainment to the brick-and-mortar experience.
The Healthy Side of Video Games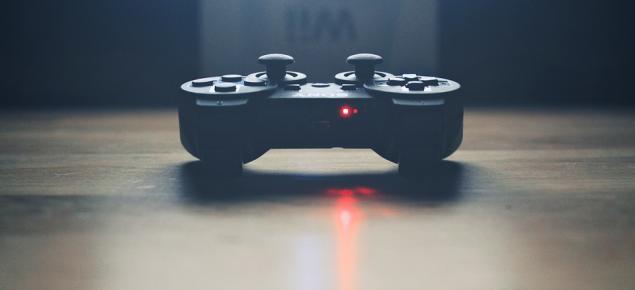 Like every stereotype, video games come with their own sets of preconceptions.  We've all heard parents rant about how games teach children violence.  Statements like, you'll rot your brain, go outside, and get a life are common parental reactions when their children spend too much time in front of the screen.   
Yet what happens when you look at this new genre of entertainment's possible benefits?  Many changes and evolutions in tech have caused a great divide between the generation of boomers and their millennial counterparts.  Video games are one of the subjects that causes much controversy.  To balance out the popular opinion that videogames are unhealthy, here are a few unique points to consider:
Cyber Social Structures are Still Social when Cyber
The most commonly held caricature of a gamer is a young person, introverted, nerdy, and possibly socially inept.  Perhaps this is the picture painted to those who don't play games themselves.  Ironically, many games do in fact have complex social networks.  Not only does a game allow someone to play with their friends, it provides opportunities to meet and play with new people, and keep in touch with people all over the world.  In fact, the majority of these game offers people access to social networks larger than most that exist in real life.  
Gamification
Gamification has made its way from games into numerous areas of life.  It's not uncommon to see incentive systems at work changed from policy to point system in efforts to add a game-like spin in hope to raise employee enthusiasm.  
Game based learning makes light of the learning process by incorporating within it the essence of 'play'.  Being able to play through complex scenarios offers the brain a healthy way to run through various simulations.  The real world is much less forgiving than a video game, which offers user a first, second, third, or infinite amount of chances to complete a goal.  
The Power of Strategy
One of the greatest benefits of gaming is the ability to strategize and strengthen problem solving skills. Games as simple as Tetris and as complex as Starcraft provide users with a creative ways to solve problems.  In order to solve a problem, it is often required to think both quickly and deeply about strategy.  
Being able to practice complex scenarios through games not only improves teamwork and group dynamic within teams, but also benefits each individual player mentally.  Studies have shown that games sharpen decisiveness, acuity, and many other mental attributes.  
A Game for Everything
One of the most fascinating aspects of video games is that as a genre, it has a ridiculous amount of diversity.  When you look at popular games they could be as different as Angry Birds on your mobile phone, or Brain Age on Nintendo Gameboy, or the Club Penguin social community, or as immense as the immersive World of Warcraft.  
Unlike TV shows, sports or any other form of entertainment, video games contain subject matter that is virtually limitless in its diversity.  Name any possible type of skill you may want to learn, and there is a game out there for it.  
Maybe the most popular examples of video game hits contain violence.  Maybe some people tend to spend unreasonable amounts of time in their basement playing.  Although these two facts do still stand true, video games remain an untapped source of creativity and endless utility.  What incredible  places and scenarios can these virtual portals take us?  How can they help to smear the line between imagination and reality?  And from all this, what can we learn?  Maybe now is the time to pay the vast world of gaming some due respect and admiration.  
Virtual Reality Journalism: a New Way to Experience Empathy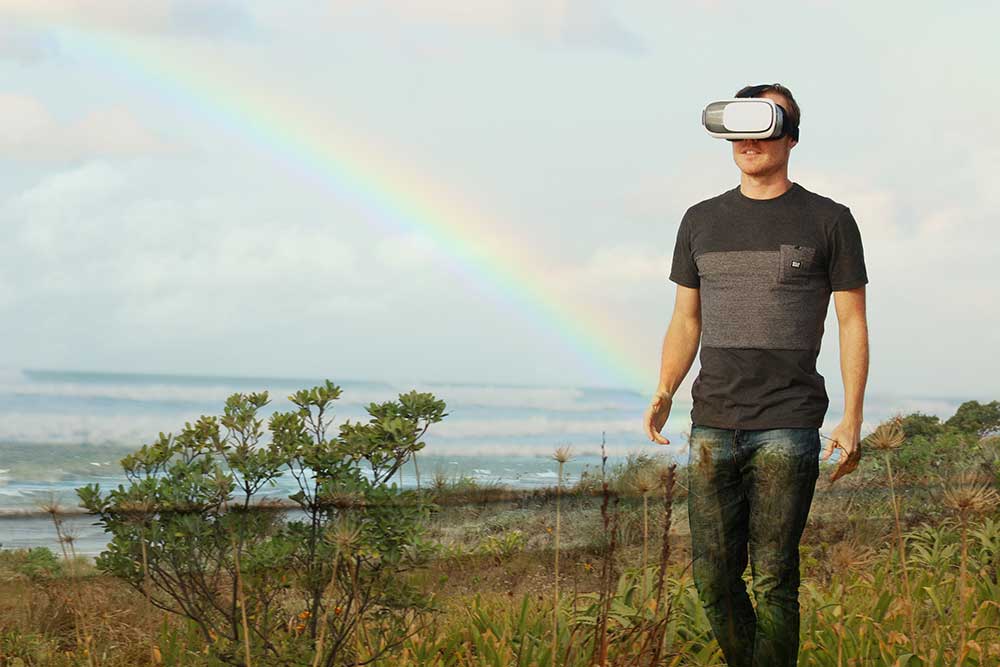 Until recently, 'to walk in someone else's shoes' was only a saying meant to help people gain perspective on the lives of others.  It was a statement of imagination.  However this is no longer true.  The days where thinking about the experiences of others have now evolved with the help of virtual reality.  Now we can literally 'walk in someone else's shoes'.  We can see what they see, interact with what they interact, and be given the freedom to roam and act within their environment and situation.
In an interesting talk during this year's New York Tech Crunch Disrupt Fred Wilson touched upon the topic of The Machine to be Another: an artistic project that put people in different and controversial situations they wouldn't be able to access through simply watching the news or a documentary.   Most of us haven't been soldiers on a battlefield, disabled, or elderly.  None of us have ever looked into the mirror and seen another face- except those using virtual reality to "be another".
Virtual reality gives us the option to remove what little distance there is that a camera and TV screen leaves us when we watch the news.  VR journalism is a term describing the new ways to put viewers directly in on the front lines in Syria or in blast radius of tear gas during a protest.  VR journalism removes us from our third party positions and turns us into participants.  Instead of watching journalists or narrative documentaries,  VR journalist allows views to hear a story by being in it instead of being told.
In situations such as violent crime, it has the power to make us not only feel what it feels like to be a victim, but also to feel what it feels like to be the assailant.  Take for example the report of an armed robbery.  It's easy to assume what it would be like to experience what the victim experiences: fear, anxiety, helplessness.  But to experience a burglary through the perspective of the burglar makes for an interesting spin on how we empathize.  What does a criminal experience while committing a crime?  Sometimes we forget that empathy is a two way street.  It's an emotion that can be experienced not only for those victimized but also for those who are creating victims.  
What implications does this have on our psychology?  In a world where we can (almost) physically occupy the situations of others, how does our deepened sense of empathy have an effect on our daily lives?  What's remarkable about virtual reality is that it's applications are proving to exceed merely areas of film and entertainment.  It's proving to be useful to society and to public psychology.
If VR journalism can put a Trump supporter in the shoes of an illegal immigrant, or a pro-life activist in the shoes of young woman getting an abortion, how will this affect common controversies in today's society?  How will it affect the way an individual draws their conclusion?  
Looking for a VR set?  Check out our reviews on the best VR set you can buy today.