Secret Lab Titan Series Review: A Gamer's Dream Chair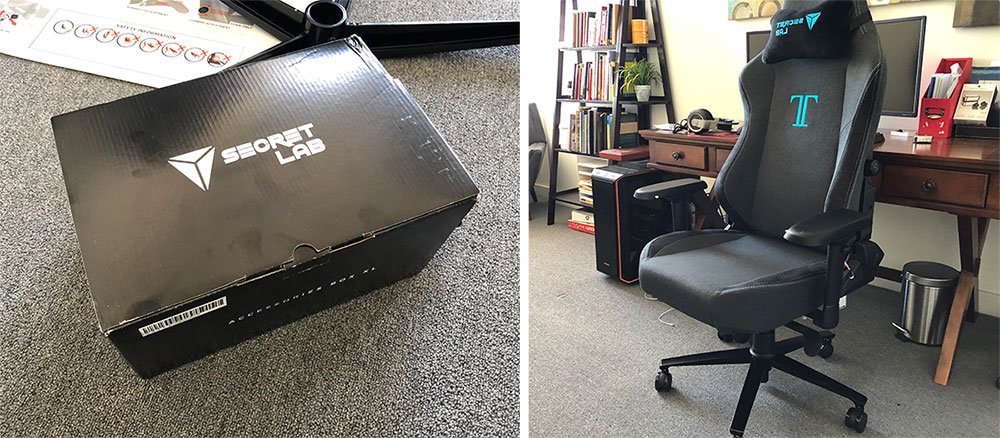 Secret Lab is a company that began in 2014 with a mission to build the best gaming chair in the industry. Despite the already saturated market and fierce competition, Secret Lab decided to launch their first line of gaming chairs in 2015. They're now distributing in over 40 countries giving gamers everywhere the competitive advantage of being able to stay in the game longer more comfortably. Their current product line consist of the THRONE, OMEGA, TITAN and Neue series.
We received the Secretlab Titan in Charcoal Blue Softwave Fabric for this review. The Titan is currently considered the largest chair available from Secret lab. It comes with a load of features you'd expect from a $400+ gaming chair in addition to being able to support up to 290lbs, which should be plenty for anyone between 6'0 – 6'4. The Titan comes with three different upholstery options, each at different prices. You can get the Pu leather at $399, Softwave fabric for $429, and premium Napa leather for $949. With the Pu leather option, you also get to choose between six different color options. With the Softweave fabric, you only get two color options. And the Napa leather only comes with one color scheme.
Assembly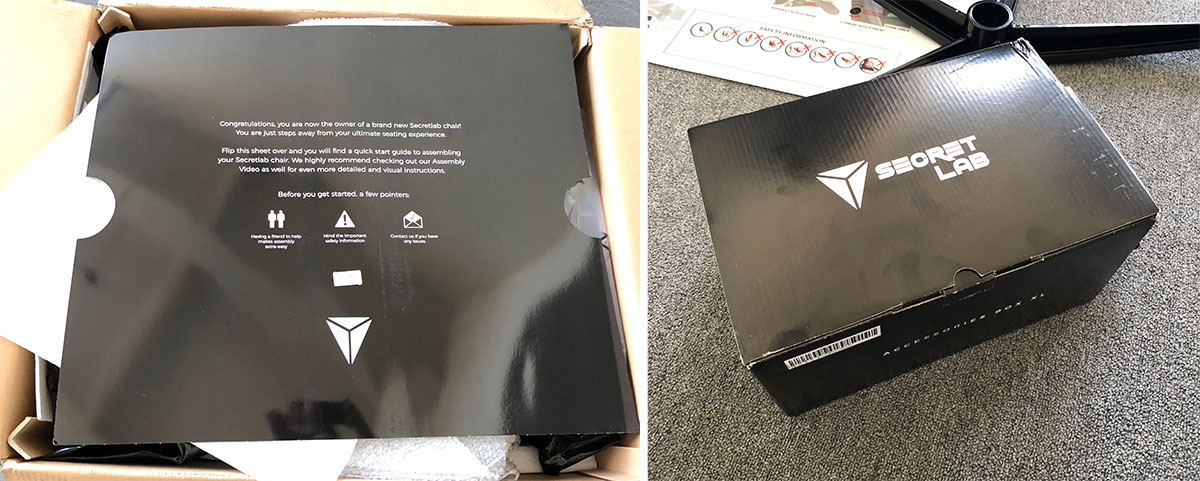 Branded packaging
The Titan comes in a large black box with their logos and branding on all sides. This was a surprise for me since a lot of other gaming chairs we have at the office typically comes in a cheap looking cardboard box deprived of any kind of branding or color. They could've easily gotten away with just a regular cheap cardboard box, but they chose not to go the frugal route, given you just paid $500 for it. Opening it for the first time, you definitely felt like you were opening something premium.

Clear instructions
Forget those generic thick manuals that contain 90 pages of instructions in every language known to man, and only one page of English instructions that you have to dig to find. Secret lab knew we hated that and decided to do things a little differently. As soon as you open the box, you're greeted with a large sheet with the assembly instructions and warranty information. The instructions are visually pleasing, easy to understand, and laid out in a way that you only need visual cues to put the whole thing together.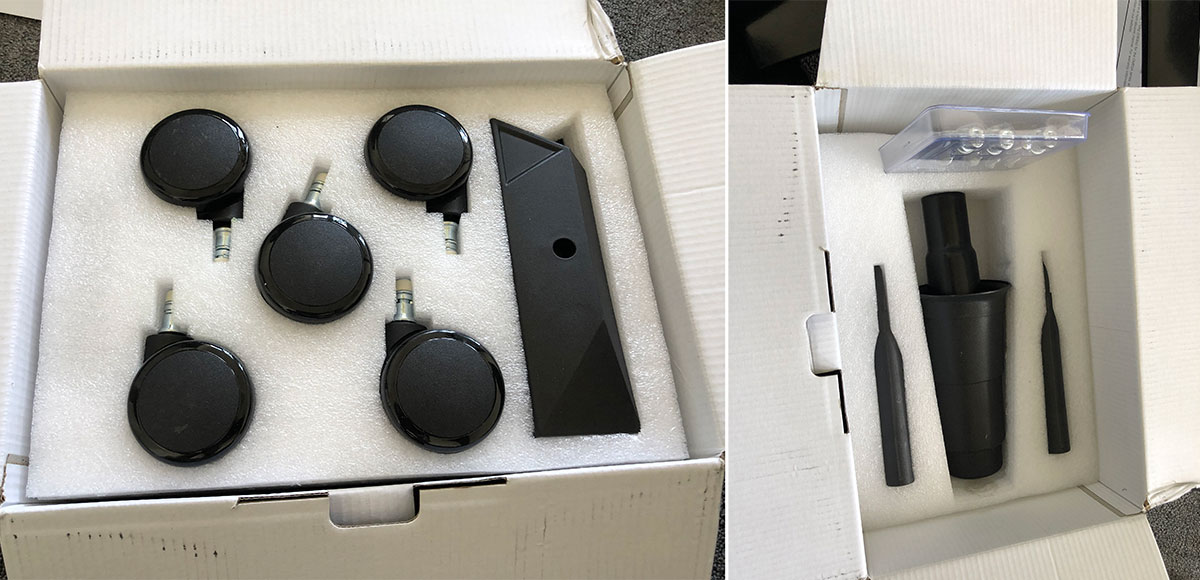 Intelligently packaged and systematically ordered
Everything was intelligently laid out layer by layer. You can tell a lot of thought went into organizing everything this way. The layers coincide with the instructions, so you don't need to lay everything out on the floor and then struggle to find any part. Secret lab definitely nails down the user experience right from the get-go. No one in our office has much experience putting chairs together, yet it only took one of our writer about 10 minutes to put the entire thing himself. The online video was a nice touch, however it wasn't needed in our build thanks to the clear instructions and intuitive layering system they have going on.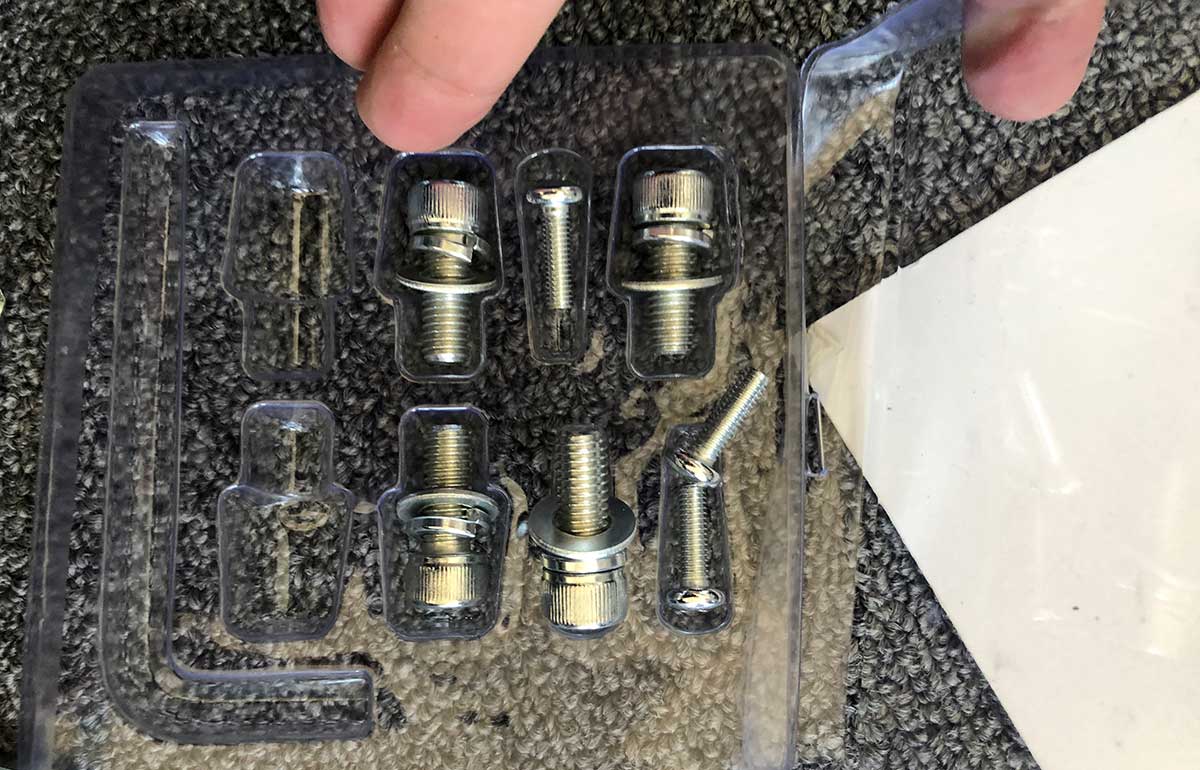 Pre-assembled nuts. Why isn't everyone doing this?!
All the tools are included in the box, so you don't need anything extra. They even went ahead and put all the rings and washers onto the nuts so you only need to screw them on. We wish more manufacturers would take the time to do these little things. Sometimes manufacturers forget no one wants to spent an hour struggling to put together a product they paid $500 for. They just want to assemble it as quickly as possible, and get back to gaming. Secret lab understands that.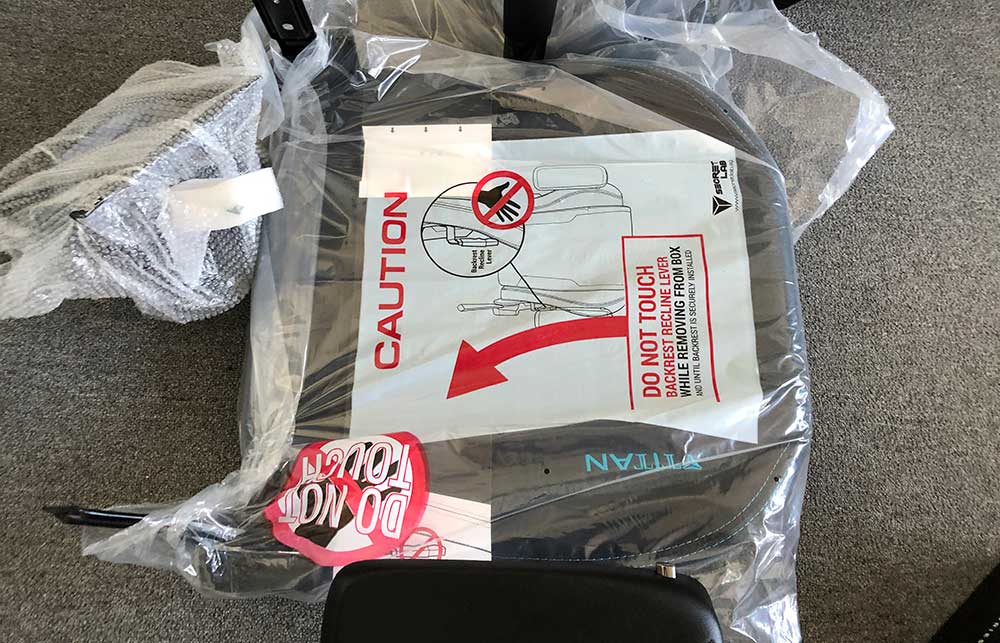 Complaints with assembly
As easy as everything was, there are a few small complaints that we had. The one thing you need to be careful of is the mechanical lever for releasing the backrest. There is an obvious warning tag that lets you know NOT to touch it until it's fully assembled. We pressed it by accident because the label was stuck between the cushion and it fired like a gun.
The second complaint is the side pieces. They're really just for aesthetic purposes, but they're ridiculously difficult to screw on because you have to "align" the holes while applying pressure.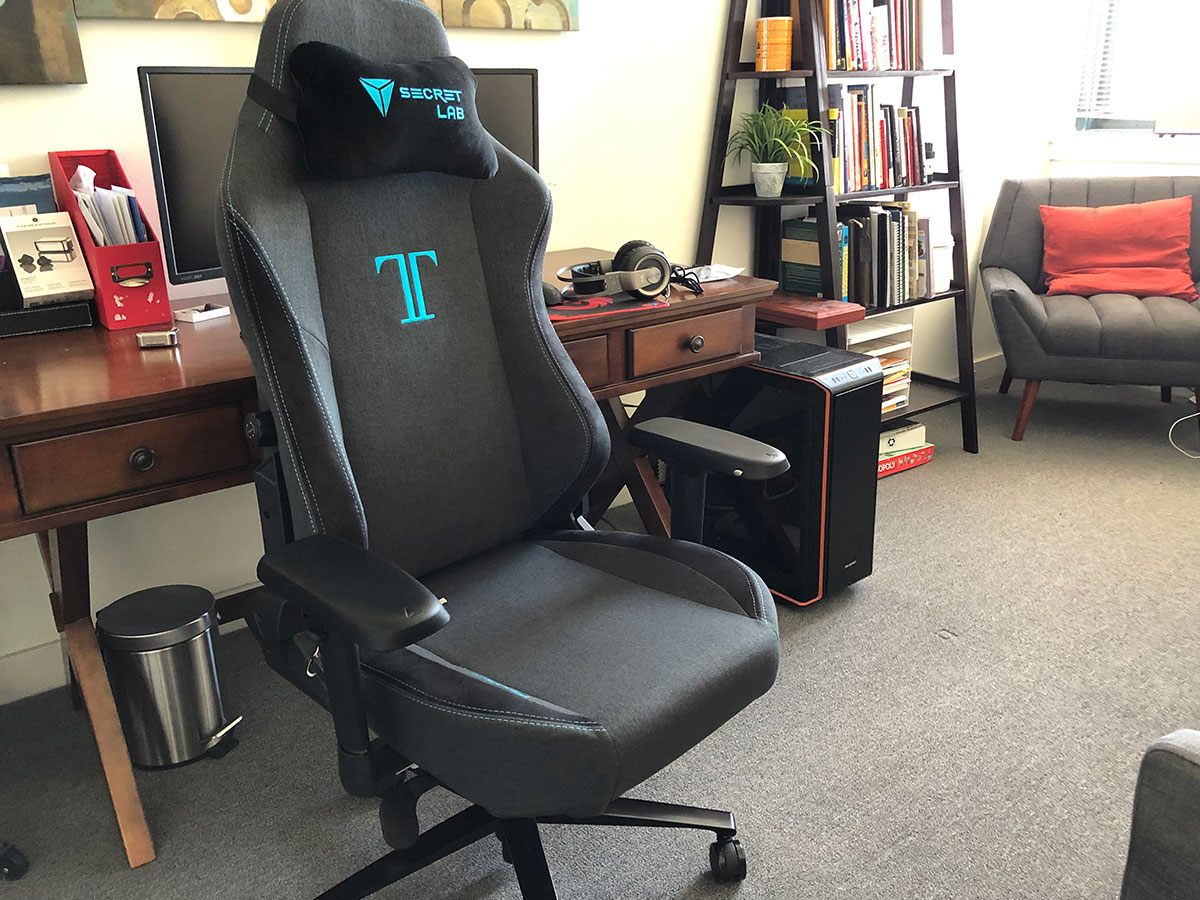 Fully assembled!
After 10 – 15 minutes, everything was fully assembled.
Looks And Feel
Aesthetically, it's one of the most well designed gaming chair money can buy right now. We appreciated the simple and elegant styling instead of the over-the-top RGB that some chairs come with. It definitely carries a more mature look, making it suitable for home or office use. This is a chair was built for hard-core gamers and it can also be put in an office without looking out of place.
The Cold Cure Foam is firm and supportive. It's not as cushiony or soft as you'd expect when you first sit on it. And that's because it's meant to provide the needed support and comfort without compromising your focus while gaming. The chair is big and hugs you as you sit in it. There's plenty of adjustments to play around here. The arm-rest can be adjusted up/down and forward/backward. There's a nice lumbar adjustment knob on the side. On the side, there's also a lever that enables you to recline the backrest as much as 165 degrees.
Build Quality & Adjustments
Sitting down in the Titan for the first time, you could easily tell it's a premium chair made of the highest quality parts. There's no squeaking or strange noises as you're adjusting and moving around. Everything just felt solid – the way it should be. The multi-functional tilt system works flawlessly as it should. The 4D arm-rest adjustments are easy to control. And the larger than normal XL wheels are silky smooth when attempting to roll around.
Real Life Performance Test
We put the Titan to the test by having our in-house writer, whom also happens to be a Fortnite/Apex gamer, test it out for a week. The typical gaming session is around 2-3 hours on a weekday. And on weekends, his gaming sessions on Apex hovers anywhere from 5 – 6 hours. After an entire week of shooting and looting on the Titan, our tester absolutely loved the chair. The firmness took a while to get used to, but it's only during the extended weekend sessions that you really notice the difference. The chair isn't noticeable. It provides support and keeps you in place. You don't slide around, it doesn't make a sound, it doesn't bother you, and there's nothing about it that would make you even think about it. And that's the hallmark of a great gaming chair. One that simply does it's job and keeps the gamer hyper focused and comfortable.
Verdict
It can be challenging to justify $500 on a gaming chair. It might just be one of the most, if not the most, expensive equipment besides your PC rig. But if you're a serious gamer who spends 20 – 30 hours a week gaming, having a chair that doesn't compromise your posture, health, and gaming experience can be invaluable. Overall, the Titan (any version) is one of the best gaming chair available today and at $500 ($429 if on sale) it's worth every penny.
Review: The Truth About 99Designs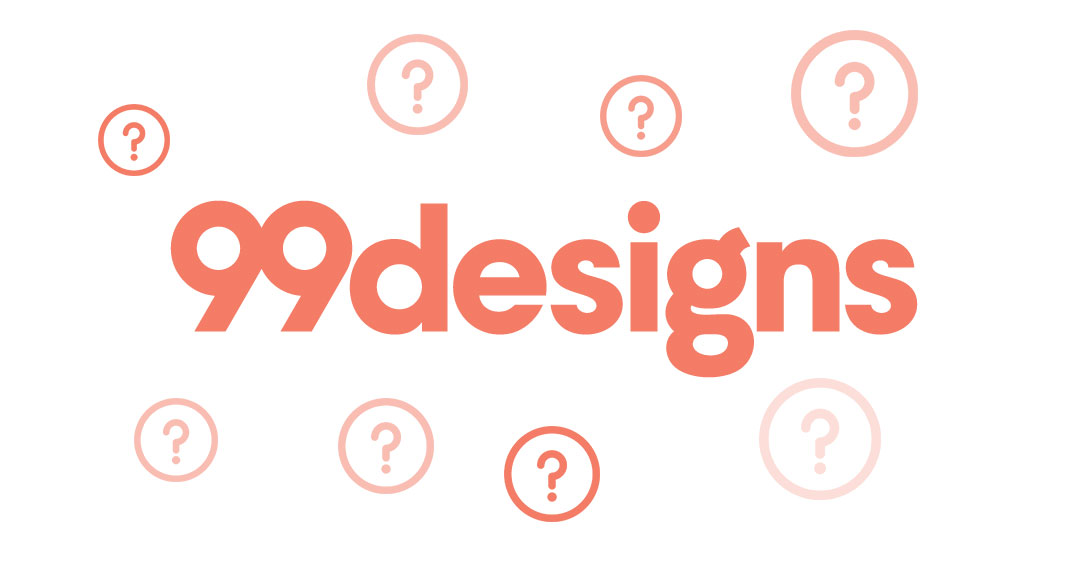 Getting graphic design work done can often be a challenge. Where do you even start? Hiring a full-time graphic designer is expensive and risky. Hiring a freelancer online can take a bit of time. And often times, your designer works in a completely different timezone, making collaboration near impossible.
That's where 99Designs come in. The company offers a talent-sourcing platform where you can create a design contest and have designers from all over the world submit their entry. You pay 1 flat fee for the contest and guaranteed many drafts. Sounds too good to be true? Let's find out!
99designs Review

In order to review 99designs accurately, we prepared several projects to submit on the platform. These projects are things that we actually have a need for and may use if the design results returned are good enough.
We'll go through the entire process that 99designs laid out and follow all rules and instructions given to us. Upon receiving the design work, we'll pass it around internally to 10 people in our office and simply give a yay or nay. Whatever the results are, will be the numerical grade given. Let's begin!
What 99designs can do?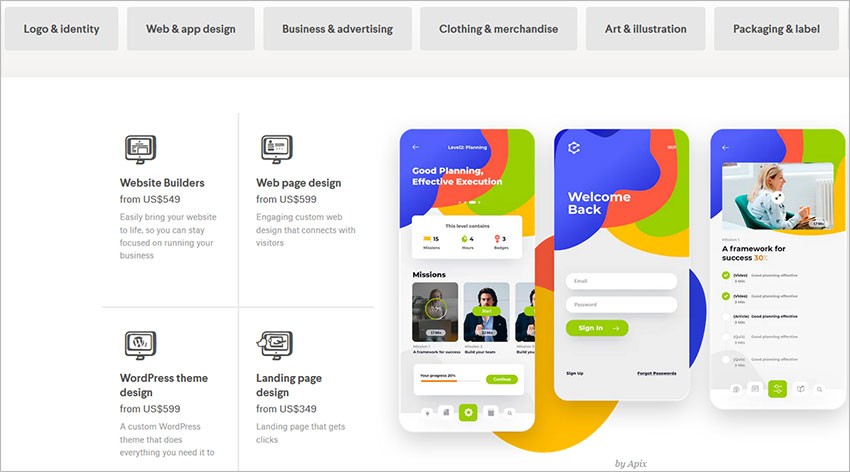 In short, just about anything but they're limited to just graphic design. In our quick 99designs analysis, they offer the following design services:
Logo & identity
Web & app design
Business & advertising
Clothing/Merch
Illustrations
Packaging
Books & magazines
And more…(the remaining categories are a bit obscured or too niche to list)
It's a fairly extensive list and seems like if you're a new startup or business, they'll cover most of your initial design needs.
What 99designs CANNOT do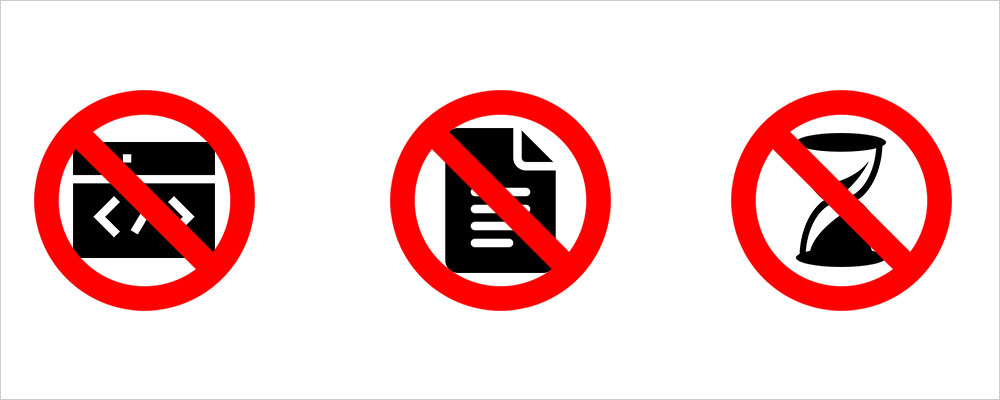 As the name implied, 99designs only offers graphic design. They can design a website or app for you, but you will need an independent development team to code it. 99designs also currently don't offer content support, which isn't that unusual. Whatever you want designed, you'll need to provide all of the content before hand.
And that also means you need to do all the proofreading as well. Whatever you submit to be designed, will be designed. The designers usually won't comment or question your grammar mistakes. So be sure to double and triple check all your content before submitting it to be designed.
Another thing to note, 99designs cannot deliver on time. The delivery runs on a rather flexible schedule that can take up to 2 weeks or longer. So if you need something done fast, 99designs may not be the best solution, even with the expedited delivery add-on purchase.
99designs' ACTUAL pricing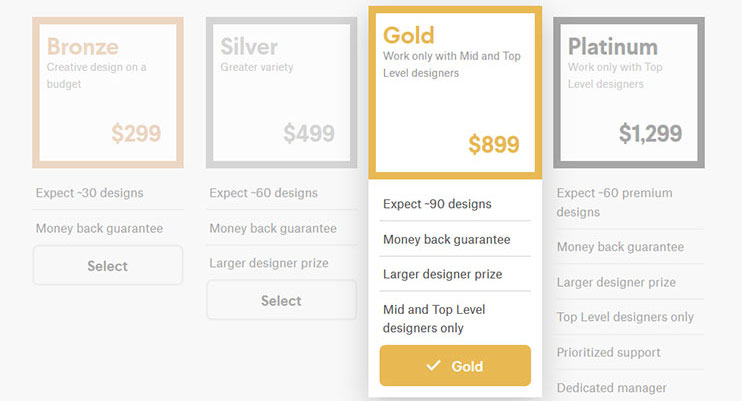 When we audit 99designs' pricing structure, we found a few of their categories to be confusing. Categories such as Logos, Web & app design, and Business Advertising can be misleading or vague. For example, when choosing a logo design, you might think you have to buy one of their packages that starts at $349. But with a bit of patience and knowing where to navigate, you can actually just buy a single logo design without any add-ons.
To avoid confusion, I'm going to break down a few of the categories below just so you know exactly how things are priced.
4 Different Tiers
After you fill out the first page of the project brief, 99designs will ask you to pick a tier. The lowest tier will give you the fewest number of design submissions and will usually be assigned to junior artists. Meanwhile the more expensive tiers get more design submissions and often given to more experienced designers.
The price breakdown below assumes you're going with the lower price tiers, since that's what most people tend to choose.
Logo & identity prices
Logo alone: $299
Packages: 5 packages offered between $349 – $599
Web design, Website Re-design, and WordPress Theme design prices
The $599 promotional price is NOT for an entire website design or re-design. This is just for ONE page. If you want multiple pages to be designed, 99designs will charge you PER PAGE. The more pages you want designed, the most it will cost. However, you'll get a steeper discount per page if you request multiple pages at once.
As of now, 99designs only offer up to 5 pages designed initially. If you need more than 5 pages designed, you'll likely need to hire a designer from 99designs afterward to continue working on the project.

1 page = $599.
2 pages = $749.
3 pages = $899.
4 pages = $1049
5 pages = $1199
Landing page design prices
Landing pages are charged at a flat rate of $349 since it's just 1 page. There are no options for multiple pages. If you want additional pages to be designed afterward, you'll have to create another $349 landing page contest, and that's not cost-effective. If you have a landing page with multiple pages, you'll have to cough $599 for the web design package.
App design prices
For the advertised price of $599, you are NOT getting an entire app designed. You're paying PER page of the app to be designed. The more pages you want done, the more it'll cost. But it's the initial page design that will cost the most. The more pages you need done, the cheaper it is per page to be designed.

1 screen = $599
2 screens = $699
3 screens = $799
4 screens = $899
5 screens = $999
Business & advertising
The prices for Business & advertising are all over the place and might not make any sense. For example, why does it cost $299 for an Album cover design…when it costs only $199 for a Podcast cover? They're both square dimension graphics with basically the same requirements. If you need an Album cover design, you can just request a "Podcast cover" to save money.
Anyway, here's a breakdown of what you can get at each different price points.
Starting at $149: Billboard, Tradeshow banner, Banner,
Starting at $199: Postcard, Flyer, Leaflet, Direct Mail, Poster, Podcast cover, Signage, Menu, Website header, Resume, Word Template, Tradeshow Booth, Other business advertising
Starting at $299: Album cover, Brochure, Booklet, Pamphlet, Email, Email newsletter, Powerpoint template,
Starting at $349: Car/truck/van wrap
Starting at $599: Infographic
Extra Add-ons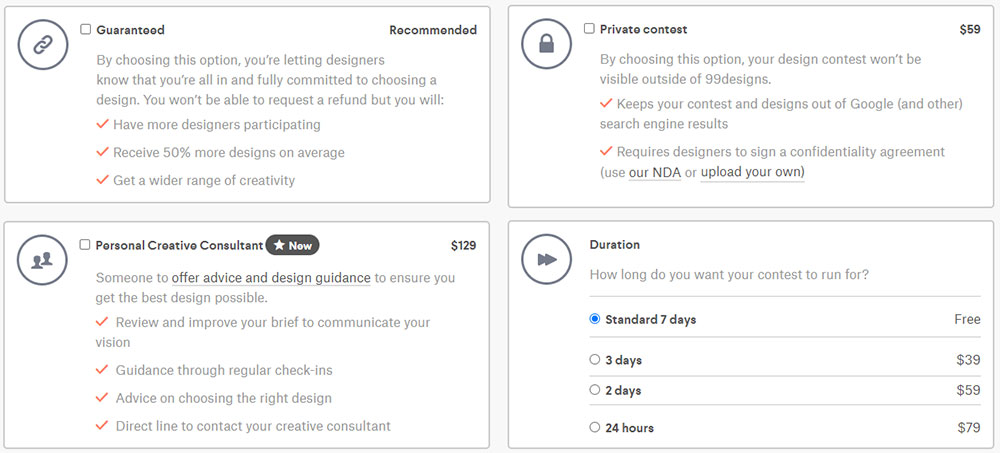 In addition to the base cost of the project, you can pay for additional add-ons.
Dedicated support: For a price of $129 extra, you can have access to dedicated customer support should you run into any problems.
Guaranteed: This doesn't cost anything, but it basically negates your 100% money-back guarantee with 99designs. The reason they offer this is because how designers are paid. Often times, they're paid pennies for participating in your design contest. Out of possible 20 – 30 design submissions, they will only get paid a reasonable fee IF you choose their design.
If you request a refund, no one gets paid. Therefore, if you choose this option, designers have more confidence that there's a stronger chance you'll commit.
Here's what 99designs promises if you choose to negate your guarantee.
Have more designers participating
Receive 50% more designs on average
Get a wider range of creativity
Private contest: This $59 add-on gives you the assurance that your design/intellectual property won't be leaked onto Google or used by designer. Designer will sign an NDA to ensure they protect your privacy. You can even use your own NDA.
Duration: Typical turnaround for 1st draft is 4 days. Need the design in a hurry? Pay a small fee for expedited delivery.
99designs pricing review
Overall, the prices can fluctuate quite a bit depending on which tier you select and how many add-ons you buy. I wouldn't say 99designs prices are cheap, because they're fairly expensive for just 1 design. They are cheaper than hiring an in-house designer or a design agency, but there are definitely much cheaper options. The one benefit of 99designs' model is that you get a lot of drafts for that price, so you have much more to choose from during each round of revisions.
How long it REALLY takes to get your designs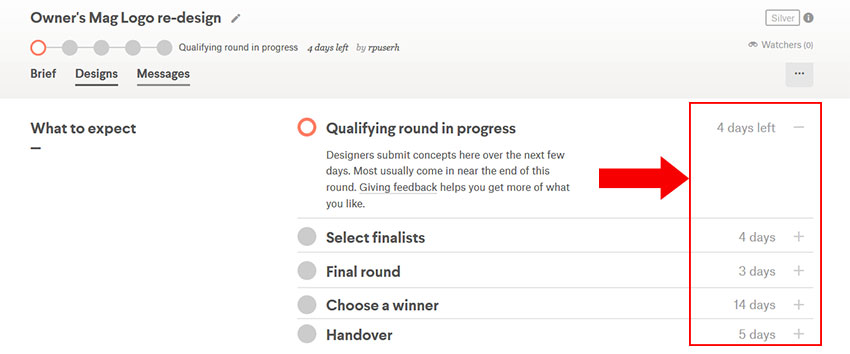 There's 5 rounds total that you need to go through before you can get your design files. Each round can take anywhere from 1-2 days up to 14 days to complete. Most of that does depend on you. If you give feedback quickly, you'll get your design files much faster. Here's a breakdown of the 5 rounds.
Round 1: Qualifying round (4-5 days)
In this round, 99design sends your project out to all qualified designers in their talent pool. Designers can choose to accept or ignore your contest. Once enough designers have accepted your contest and submitted their design work, you move onto Round 2.
Round 2: Select finalists (4 days)
It's probably 4-5 days now since you started the contest and your designs are finally in. You'll have a lot of designs to choose from. Now you have 4 days to review the designs and select up to 6 designs that you like. Any designs you don't select will be rejected. Designs you select gets to move onto the next round.
During this round, there's a 99designs review feature that lets you share the submissions with others via a shareable link. You have 4 days to select your finalists! Once chosen, the contest will be moved to the 3rd round.
Round 3: Final round (3 days)
In this round, you'll need to leave revisions for the selected finalists. Your finalists will work on as much revisions as you give them in this round. If you don't like something, you can request more revisions and they'll keep submitting. Keep in mind you only have 3 days for this round.
Round 4: Choose a winner
Contest is now officially over and a winner must be selected. In this round, you can create and send a poll to everyone you want feedback from to see which design is the best. You can only select 1 winner.
Round 5: Handover (5 days?!)
Your designer now has up to 5 days to hand over all of the design files and any copyright materials to you. Yes, you read that right. 5 days.
So…how long does it really take?
Let's assume that you're super responsive and you complete YOUR part the same day 99designs notify you…
Round 1: 4 days for all initial designs to come in
Round 2: 1 day to select finalists (because you're responsive)
Round 3: 3 days for final round of revisions
Round 4: 1 day to pick a winner (because you want the files fast!)
Round 5: 1-5 days to get files
So you're looking at between 10 – 14 days to complete a single design project. If you're a new startup or business that doesn't have strict deadlines to meet, this delivery window is perfectly fine. If you're more established and looking for someone to help you meet an aggressive marketing schedule, 99designs may not work for you.
How to get QUALITY designs from 99designs?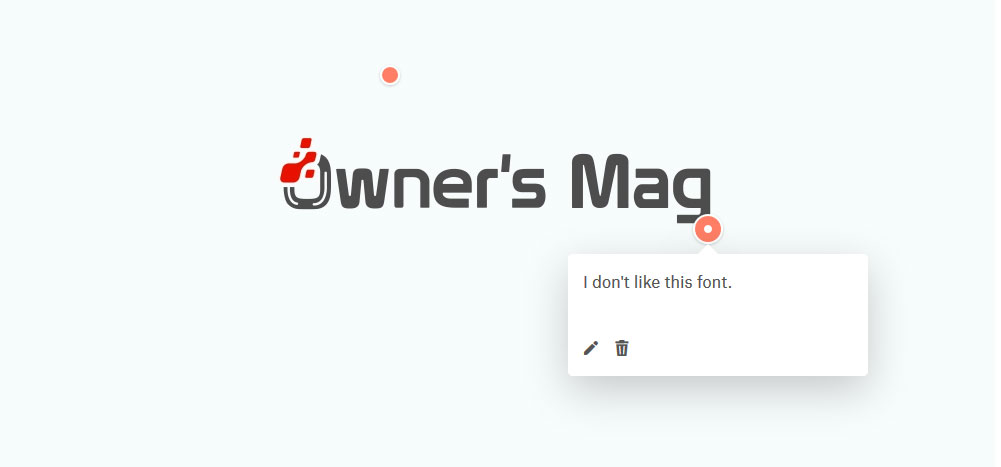 If you're coming to 99designs with a limited budget for graphic design, then chances are your results will vary. From my experience, the lower tier designers often just use templated graphics from Freepik or Envato.
If you want high quality designs from 99designs, here's what you'll need to do.
Sign up for higher tier: Choose Gold or Platinum plans. They're significantly more expensive, but that's what you need to get experienced designer's attention.
Fill EVERYTHING out: When creating your project brief, do not skip any steps. Fill out as much information as you can and spend time creating a solid brief.
Give additional examples: The last field on most form will ask "Is there anything else you would like to communicate to the designers?". Use this opportunity to give more information. Also include even more examples of what you like and don't like. This helps the designer narrow down your preferences.
Pros & Cons of 99designs
We'll start with the PROS
Affordable compared to hiring an inhouse designer
No hiring or managing of designers. They do all of that for you.
Lots of designs to choose from for each round
One platform can cover most of your design needs
Easy to use platform
Clear indicator of how far along your design is
Offers a 100% money back guarantee
Now for the CONS
Who is 99designs really for?
99designs is best suited for startups, small businesses, entrepreneurs, and anyone just starting out. The prices are affordable and you get a lot of selections. Having 20+ drafts submitted to you is a great benefit, especially if you're starting out and have no idea exactly how you want to brand yourself.
For larger businesses, marketing teams, and agencies, 99designs may not be the best fit given how expensive the bill will eventually be if you need 10+ designs per month. The 10 – 14 day delivery window can also be a major setback if you're trying to meet deadlines.
Can get expensive if you have consistent design needs
10 – 14 day delivery
Design quality is mediocre unless you're willing to pay a premium
No real way to interact with designer except through feedback
Customer support is a paid add-on
Top 10 Shared Hosting Companies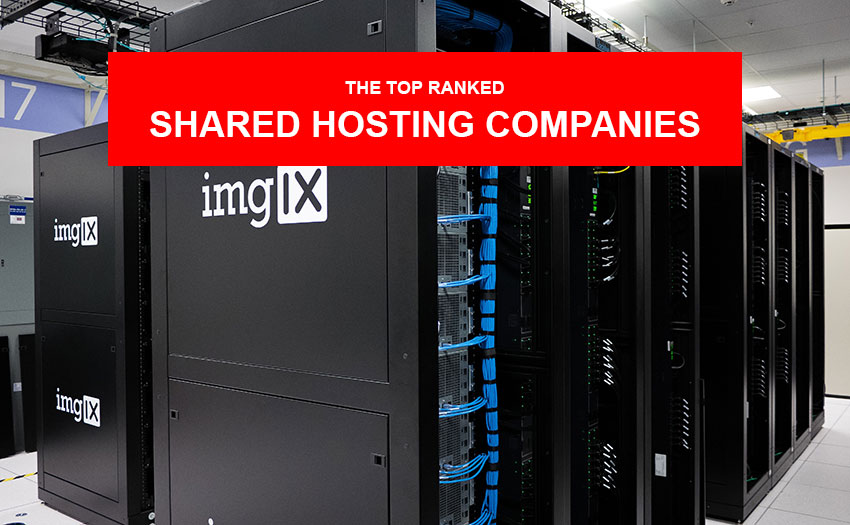 According to Google, if your website takes more than 10 seconds to load, people are 123% inclined to leave your site. That's why you need excellent hosting service to prevent that.
Dedicated hosting services can help ease that pain, but it can break your bank. So, it's best to go for an affordable option so you can save up on the things that matter. That's why you should consider going for a shared hosting service to keep your site running smoothly.
Let's take a look at the top 10 shared hosting companies on the internet.
1. FastComet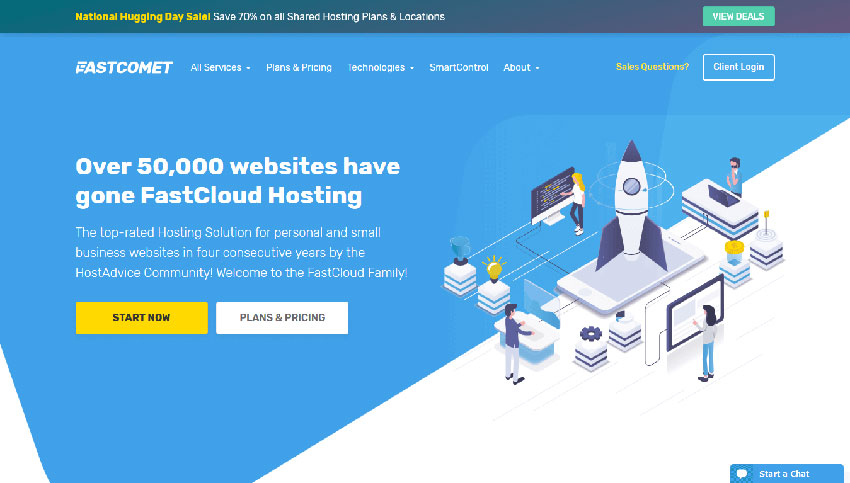 FastComet renamed its shared hosting services to FastCloud plans. Previously, FastComet named it StartSmart, ScaleRight, and SpeedUp.
Features include the following:
cPanel
SSD Space
Free Domain Transfer
Free Website Transfer
Unlimited bandwidth
The regular price for their FastCloud plans starts at $9.95/mo, while the most expensive one, FastCloud Extra, is $19.95/mo. At the time of writing, all plans are 70% off with FastCloud at $2.95, FastCloud Plus at $4.45, and FastCloud Extra at $5.95.
FastComet users may experience faster loading times boasting speeds at 200 milliseconds. Not only that, but users get a 99.99% uptime. So, website visitors don't encounter any site downtime. Plus, according to Website Host Rating, their shared server is secure for all users, which is why it's one of the top 10 shared hosting companies on the net.
According to Blogger Sneed, there's no dedicated IP address for the shared hosting server. While FastComet has better loading times and even performance than its competitors, the FastCloud plan may not load faster than usual. So, it's a much better option to upgrade to the higher plans.
2. ChemiCloud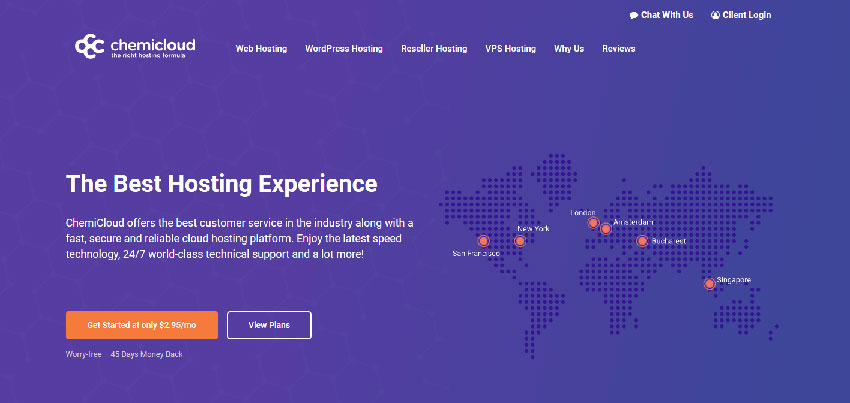 Potential customers of ChemiCloud can choose among three plans on the site. It's on sale at the time of writing, so the most affordable plan is the Web Hosting Starter for 3.95/mo for three years. ChemiCloud priced it originally for $7.90/mo. Their most expensive plan, the Web Hosting Turbo, is for $7.66/mo for three years. It's 10x faster than its two other plans.
Some features of the ChemiCloud plans:
Free Let's Encrypt SSL
Different server locations
Free migrations
For some experts, uptime is one of the many pros of the ChemiCloud hosting service. Rare are downtimes with using ChemiCloud, and there's a 99.98% of uptime most of the time. Another thing is you can migrate your site for free within 24 hours, WP Glossy says.
According to Host Review Now, ChemiCloud can be difficult to navigate since there's no FAQ or guides. Billing may become an issue for many users due to its billing cycles.
3. iPage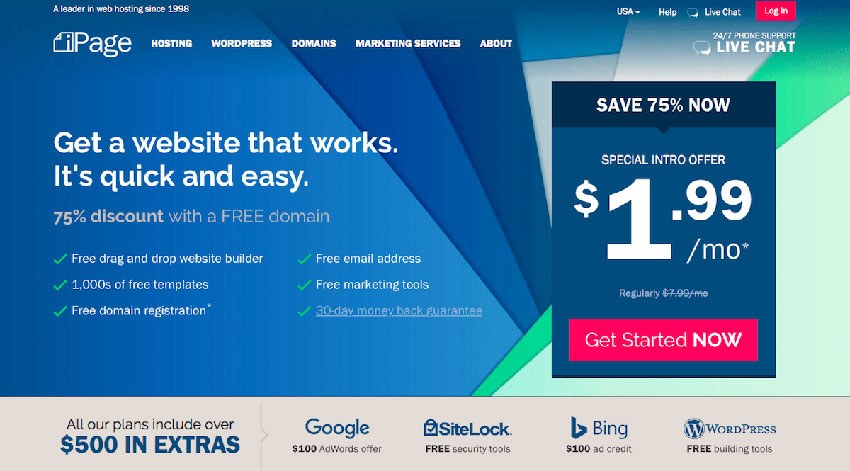 For many users, iPage is one of the top 10 shared hosting companies. The cost for an iPage shared hosting service is $1.99/mo (regularly $7.99/mo) for the first term of service. Users get some of the following features:
Free SSL certificate
Unlimited disk space
Shopping cart integration
One pro of the iPage hosting service is its user-friendly cPanel that even beginners can use easily. It's great for small business owners that need a domain quickly. TechRadar also noted that it has incredible performance even during the testing period.
Even if the starter price is lower than most hosting services, iPage tends to upsell to their customers. Another con for using the iPage shared hosting service is there's no cPanel. Besides, users have mixed reviews over their support. Also, if you'll have to migrate a site, you'll need to pay $150.
4. Hostpapa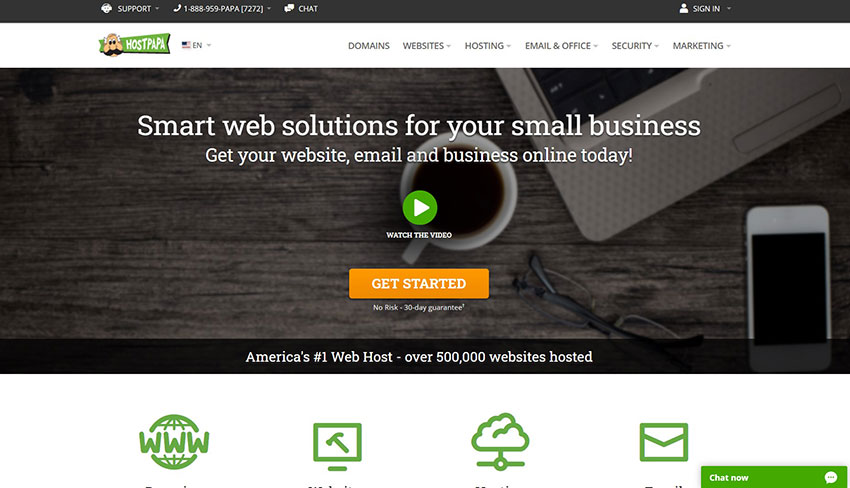 Hostpapa offers three shared hosting plans for potential customers: Starter, Business, and Business Pro. The hosting site recommends that its customers go for a Business plan. Its regular price is $12.99/mo, but they have a deal that is $3.95/mo for three years. The most expensive subscription is $19.99/mo (regular price), and their most affordable is $7.99/mo.
You can get the following features in all plans:
SSD Storage
Unmetered bandwidth
Free domain registration
Choose between a Canada or US server
Hosting Facts says that small businesses can get a bang for their buck on the Starter Plan. They offer essential features even on the plan, so it's good value for money. Another reason why small businesses could go for Hostpapa is because of the performance and speed it gives to their sites.
According to Hosting Facts, additional fees can become a deal-breaker for some potential customers. Service can be a hit or a miss from users who left reviews in TrustPilot and Host Advice.
5. Arvixe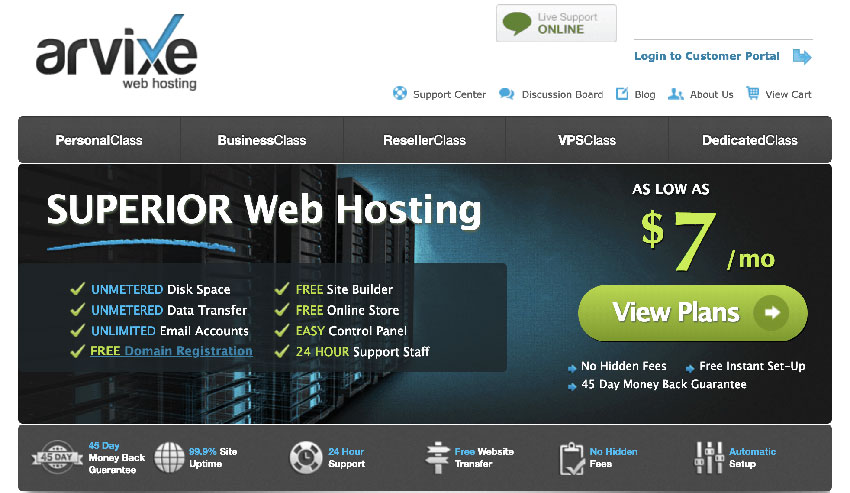 Arvixe has two plans with two categories for its shared hosting service. You can choose between a personal or business plan and a Linux or Windows shared hosting one.
Their most affordable shared hosting service is the PersonalClass Linux shared hosting service that starts at $7.70/mo. You can get a PersonalClass Pro starting at $11.00/mo. You can upgrade to more features for $20/mo.
Some features of the PersonalClass plan are:
Unlimited disk space
Free domain name
Use of cPanel
Arvixe isn't just a website hosting site. You can build a site and get excellent uptime during the testing period, according to PCMag. Plus, you may get a 60-day money-back guarantee if you want to try out Arvixe for a while.
One disadvantage of using Arvixe is that you'll need to buy an SSL certificate for $25.00 a year. You might want to consider other hosting sites if you need support often since many users across different review sites aren't pleased with them.
6. Namecheap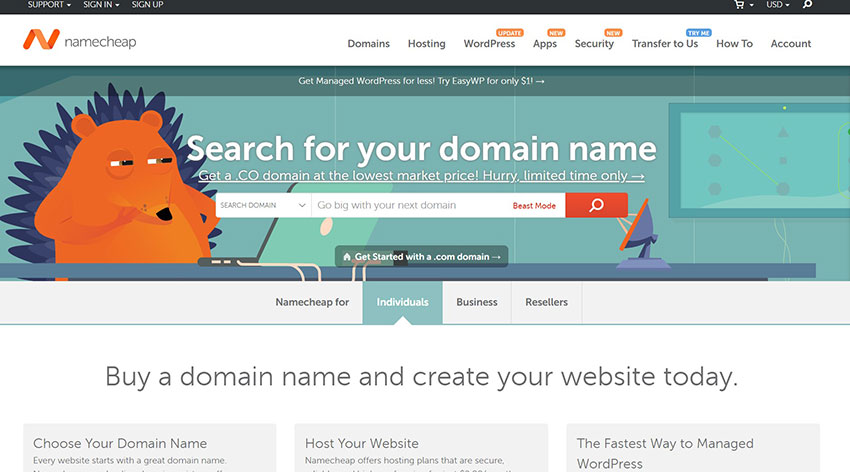 If you want to avail of a Namecheap shared hosting server, you've got three options and two servers to pick from before you purchase a plan. You can opt for a Stellar, Stellar Plus, or Stellar Business plan. Meanwhile, the two data center locations available are US and UK.
Small businesses can get more out of a yearly subscription on a US server since it also includes cloud storage. The price is $52.88 for the 1st year and $104.88 a year ($8.88/mo). They do recommend availing of the Stellar Plus subscription. You'll pay $29.28/yr for the first year, and it renews at $57.88/yr ($4.88/mo).
Some features you get on the Stellar plans are:
50GB SSD
Unlimited websites
Free one domain name
According to WhoIs Hosting This, your account and data are secure on Namecheap because they enable two-factor authentication. The cPanel is also something many find an advantage against its competitors. It's because of the ease of use and design.
Some experts note they face issues over uptime. They found that it has less than 99.99% uptime, which isn't a good thing. Plus, not many are satisfied with the support given by Namecheap.
7. Hostinger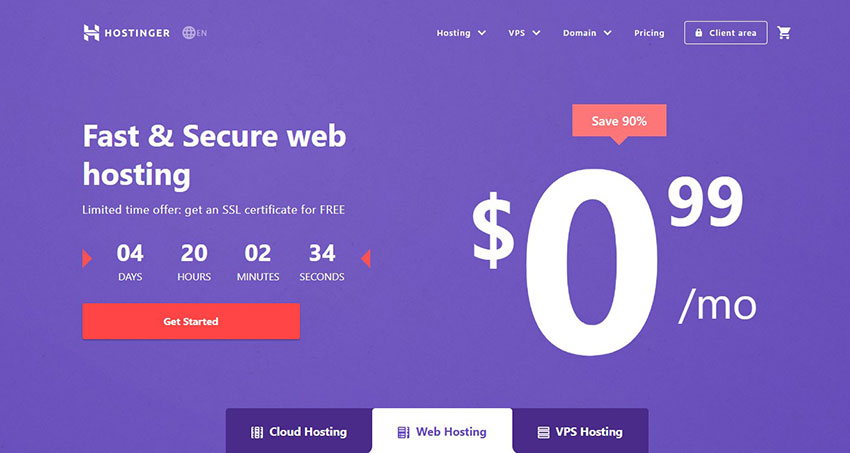 Hostinger recommends that small businesses go for Business Shared Hosting for $3.99/mo for four years. It will renew to its regular rate of $15.99 after that period. Its most affordable plan, the Single Shared Hosting Plan, is at $0.99/mo for four years. The Single Shared Hosting plan is limited, so it's best to opt for a Premium Shared Hosting plan or higher to get more features.
Here are some features you get if you choose a Premium Shared Hosting plan and above:
Free SSL certificate
Free domain
Unlimited bandwidth
Unlimited number of websites
If you want to save money, you'll need to avail of a 1, 2, or 4-year plan.
Experts notice that support is one of its main issues because you can't call their support. Otherwise, many do like that support is responsive online, so that's a plus. That's why users do find that Hostinger is one of the top 10 shared hosting companies.
8. KnownHost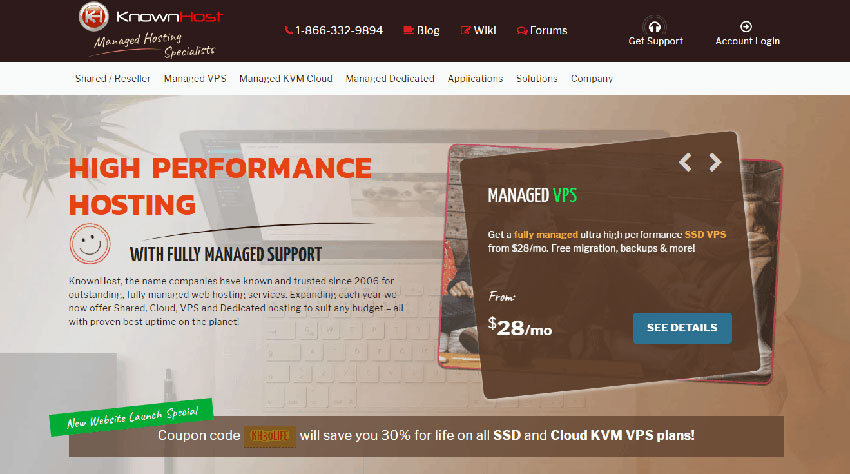 For KnownHost, they present you with three options (prices discounted for three years only):
Basic ($3.47/mo)
Standard ($6.47/mo)
Professional ($9.97/mo)
KnownHost promises unlimited bandwidth for all tiers and free SSL certificates.
Experts and users alike report that uptimes are as advertised. It seems many find satisfaction with support also. One downside about using KnownHost is that it hosts using Linux only. Otherwise, it's an excellent service overall.
9. Hostens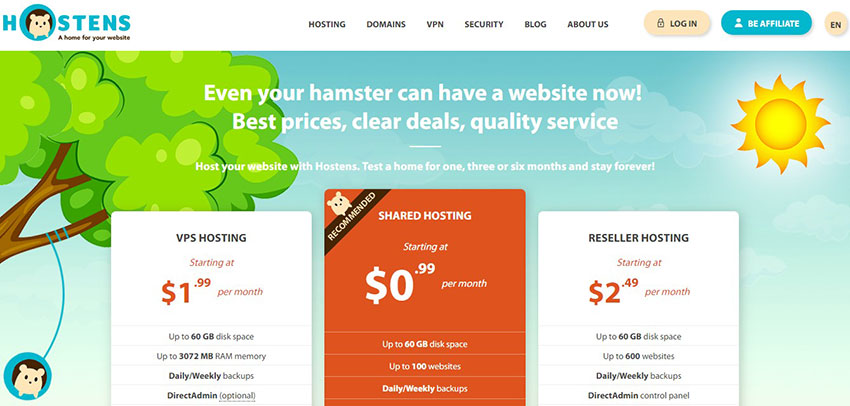 Like most of the shared hosting companies on this list, they also offer a 1, 2, or 3-year subscription. But if you just want to test the waters on Hostens, you're free to opt for a monthly subscription paying their regular price.
Their most affordable plan is the S10 plan for only $0.99/mo for three years. They do suggest you avail of their S20 plan for $1.80/mo for three years. Their most expensive shared hosting plan is $3.60/mo for three years.
Common features of the three plans:
cPanel
Free website builder
Different server locations
Aside from its affordability, Website Planet finds that there's the ease of use and the one-click installer for programs. One main disadvantage of using Hostens, though, is it doesn't offer DDoS, and it could affect your website. Despite such, it's one of the top 10 shared hosting companies on the list.
10. TMDHosting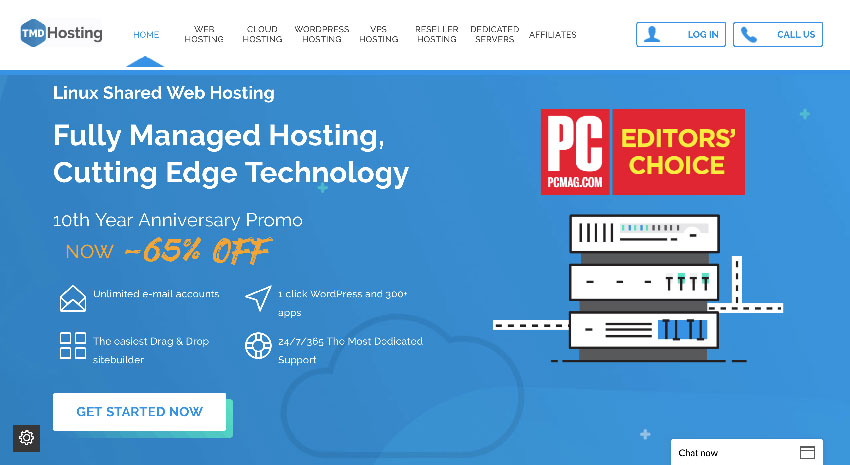 Similar to other hosting companies, you have three plan options that would best suit your small business. Their recommendation is the Business Plan priced $4.95/mo, while the regular price is $7.95/mo.
You can get the following perks when you use TMD Hosting:
Unlimited SSD space
Unlimited bandwidth
Let's Encrypt SSL
Plesk Control Panel
Website Planet finds that free daily backups are helpful. Another point goes to TMDHosting because they have servers in different locations. However, there are frequent complaints about billing from users. Other than that, TMDHosting is one of the top 10 shared hosting services for some users.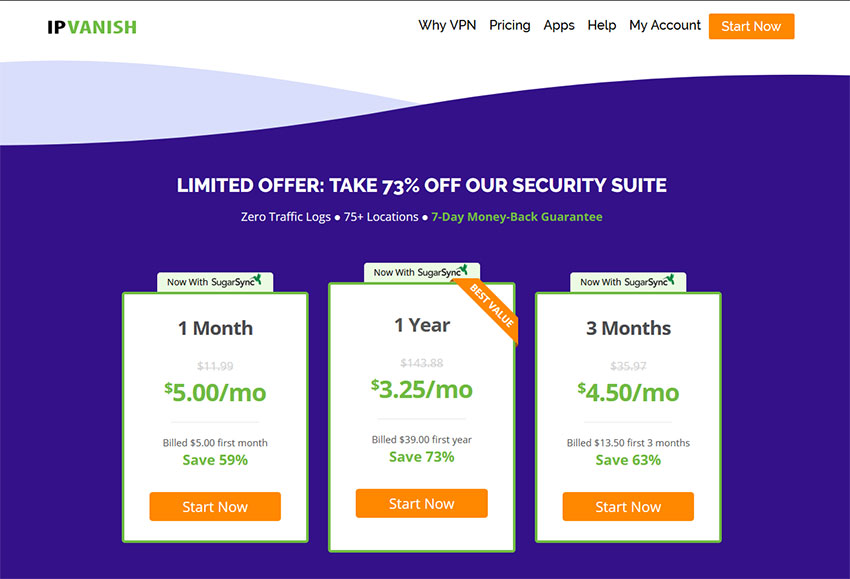 Internet security and privacy must be taken seriously now more than ever. With millions of people using the internet, wide-scale cybercrimes are also likely to happen. This includes fraud, hacking, identity theft, scams, and malware attacks, to name a few. And if you do not have an added protection over your internet usage, you could be the next victim. This is not to scare you but rather to emphasize how these cyber criminals work. They will use every opportunity and it doesn't matter who you are.
This is where a VPN can help you.
What is a VPN?
VPN stands for Virtual Private Network. It's an extra layer of protection that allows users to create a secure connection to a different network over the internet. This means that everything you do over the internet will be encrypted. No one (not even the government) could track your online activities. Additional benefits of a VPN is that you can access websites that are restricted in a particular region.
So the next question is: Who should get a VPN?
Everyone.
Back in the day, big companies are the common clientele of VPN providers. But as we've mentioned, the number of individual internet users surged over the years. It goes without saying that the rate of cybercrimes could go up too.
10 Best VPN for 2020
If you Google 'free VPN' right now, you will be overwhelmed with hundreds of providers to choose from. It is tempting, but we do not encourage free VPNs. Frankly speaking, these do not guarantee a high level of protection. Thus, our list only includes paid VPN providers that have passed our high standards.
1. NordVPN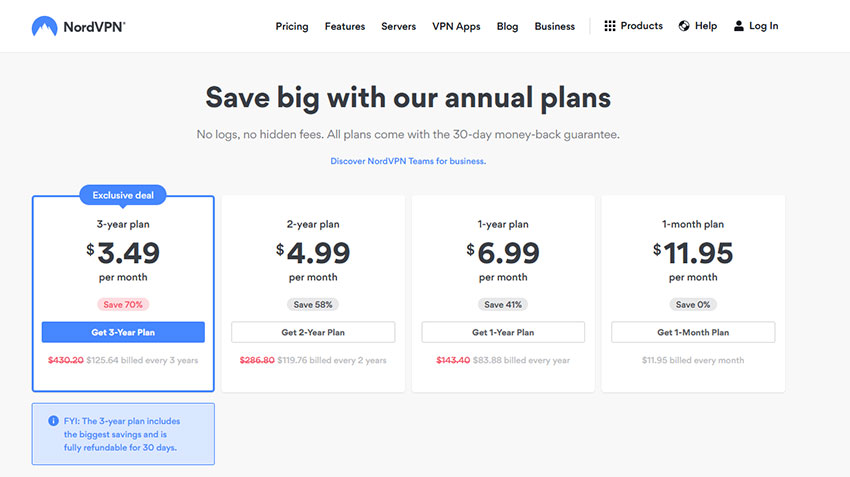 In the last 6 years, NordVPN's team of engineers, designers, and system administrators worked hard to create a tool that will bring them closer to their vision – Having a more open, yet private and secure internet.
With NordVPN, you can safely transact online even on unprotected Wi-Fi. Your online activities won't be tracked as well because basically, it's nobody's business. And since they have more than 5600 servers in 59 countries, you can access your favorite websites, streaming services, and messaging apps anywhere in the world. The best part is, it works on all devices.
We recommend that you take advantage of their 3-year plan where you get to enjoy the VPN services for only $3.49 per month. In our opinion, it's a cheap price given its features.
2. SurfShark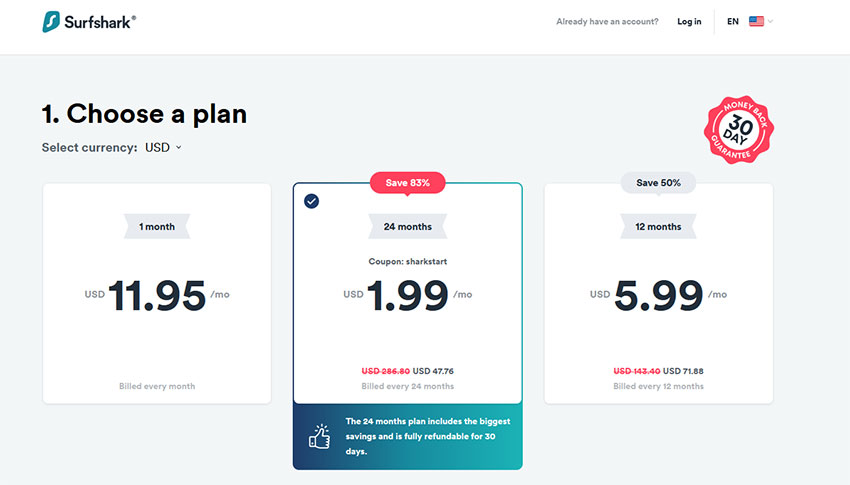 Aren't you interested to see Netflix libraries from other countries? SurfShark has 15 different libraries to choose from. But of course, there is more to love about SurfShark.
With them, just one subscription can cover unlimited gadgets in your home. They also have more than 1700 servers in 64 countries.
Let's not forget their Kill Switch option wherein your connection will be automatically disabled when your VPN drops. Talk about protection all the time.
They have a very affordable package for only $1.99 per month if you get their 24-month plan.
3. PrivateVPN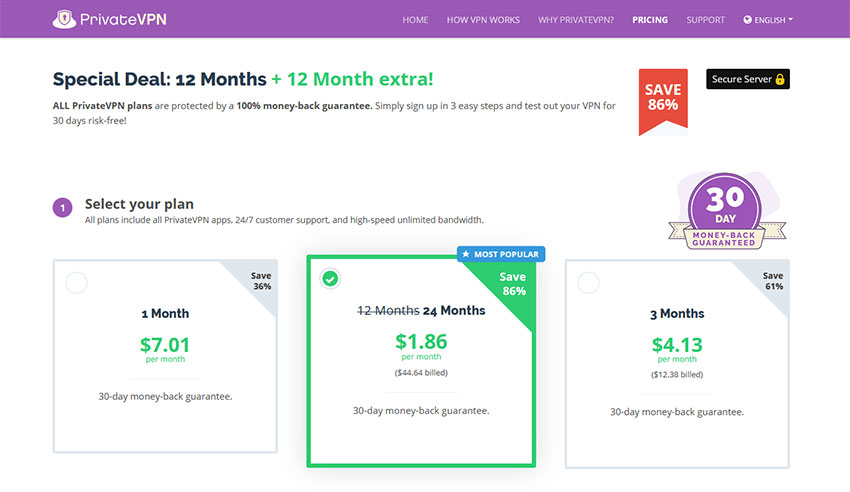 PrivateVPN allows their users to enjoy geo-restricted websites and it will only take you one minute to unleash the internet. With them, expect lightning-fast streaming services and excellent website experience.
The PrivateVPN's team is particular with their customer service. It's one of the things they are proud of. For issues, you can directly talk with their in-house developers and it will be resolved the fastest time possible.
To date, they have 100 servers in 60 different countries. You can get their services for $3.82 per month as long as you choose their 13-month plan.
4. ExpressVPN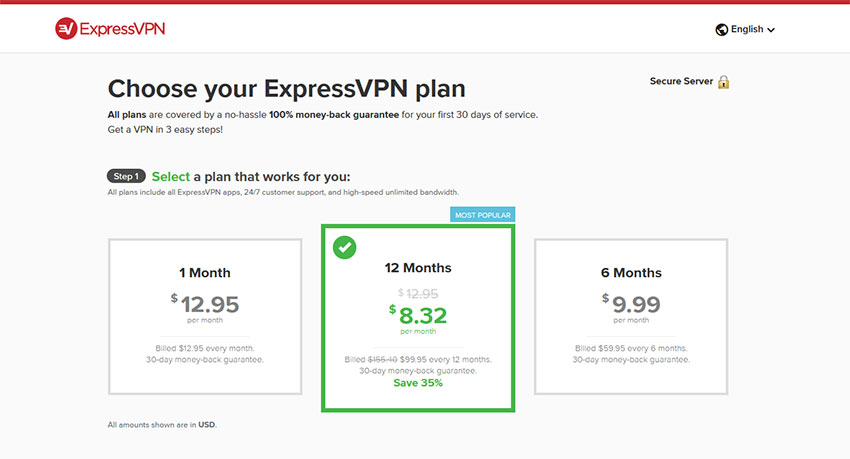 ExpressVPN is almost in every top VPN list. That's not surprising considering the quality of service you can get from the provider. They have a huge global network in 94 countries, and that means you can expect nothing less from them. You can even use the VPN in most devices and gadgets! It's pretty hard to pinpoint what's not to love about it.
What we personally like about ExpressVPN is their split tunneling where you can route some of your app traffic through the VPN while others can be directed to the internet.
Get their 1-year plan for $6.67 per month. This might be a bit steep but considering that ExpressVPN is one of the leading and most trusted providers, the price can be justified.
5. CyberGhost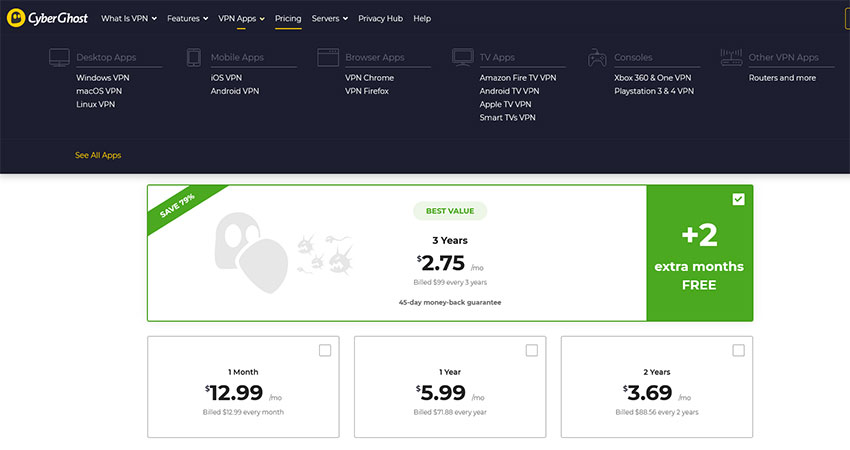 CyberGhost has 15 years of experience under its belt. We recommend this if your online activity involves heavy streaming and torrenting. With one subscription, you can cover and protect up to 7 devices. Their customer support is also available through chat and email.
As of the moment, they have 6400 servers in over 90 countries. In addition, CyberGhost uses 256-bit military-grade encryption which can protect your data all the time. Get their 18-month plan for only $3.15 per month.
6. IPVanish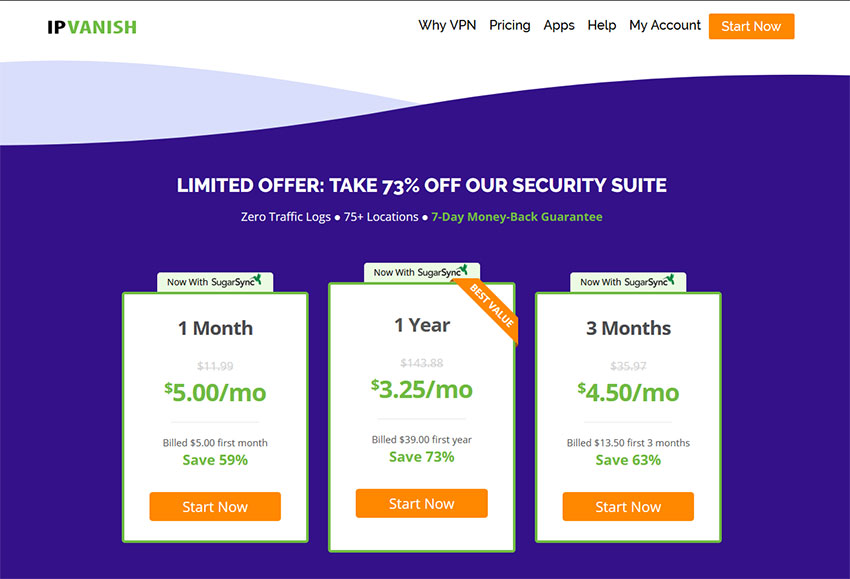 IPVanish provides its users access to over 1400 anonymous servers. You are guaranteed with fast and unrestricted internet access practically from every corner of the globe.
What's good about IPVanish is that all its services are managed internally and there is no middle man. Having said that, your information and data will be kept safe and confidential.
Lastly, they offer SugarSync which provides file management and encrypted data backup for various devices. It also has a wipeout feature in case your device gets stolen. For $3.25 a month, you can get all of these and more from IPVanish.
7. UltraVPN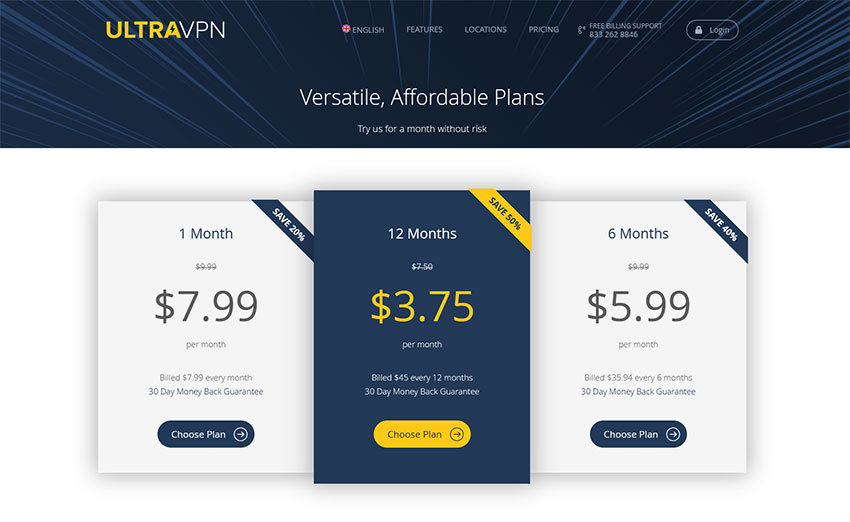 UltraVPN boasts its fast internet connection where you can watch continuous videos without the need to pause. Right now, they have more than 50 server locations across the globe.
UltraVPN gives you the access to unlock social media, watch sporting events that are restricted in your region, or check out videos that are only available in certain countries. UltraVPN can give you that power and limitless internet connection that we all deserve.
You can use the VPN for Windows, Mac, iOS, Android, and even for Fire TV. Get their 1-year plan for only $3.75 per month.
8. ZenMate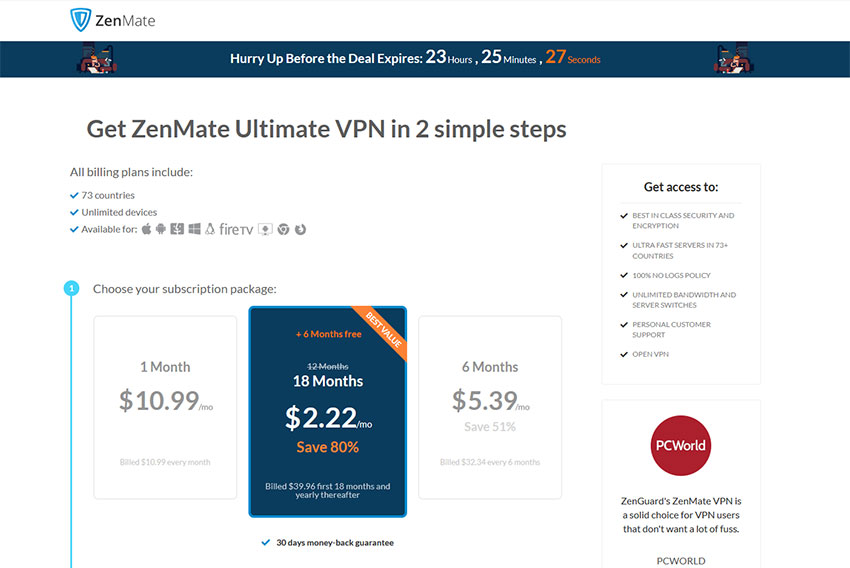 ZenMate is easy to use with its one-click connect feature. But even with its simplicity, it delivers an optimal experience to its users. With a rating of 4.7 out of 5 from more than 360 reviews on Trustpilot, it is beyond satisfactory. Currently, it has 3800 servers in more than 74 countries.
Affordable rates are also waiting for you. Their package starts at $2.22 every month under their 18-month plan.
9. Hotspot Shield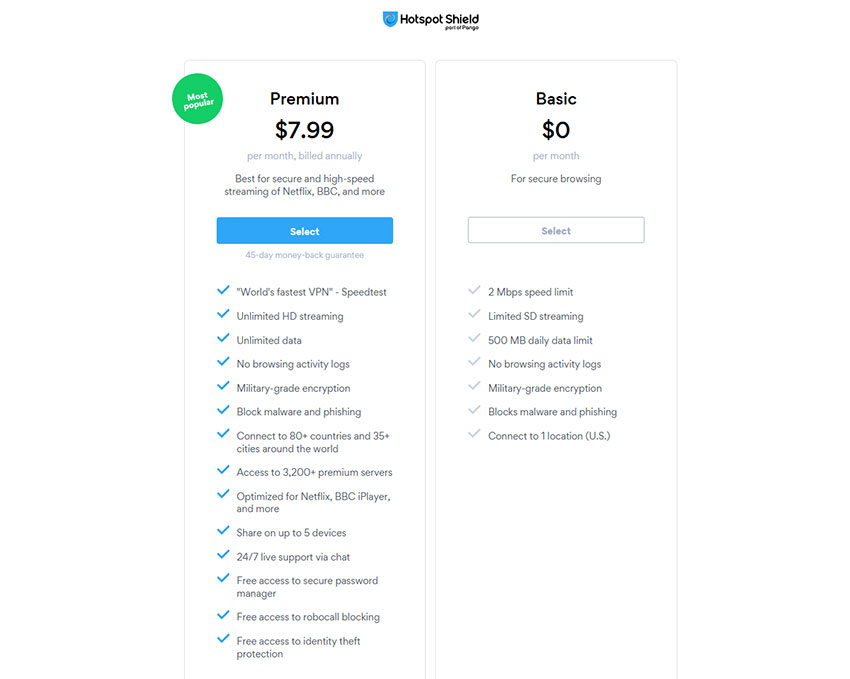 Hotspot Shield is known as the fastest VPN and this has been verified by experts. In fact, the company's outstanding services bagged them a number of recognitions including 'the 2019 Most Innovative Security Company'.
To date, they have more than 740M downloads and the number continues to grow. You can install Hotspot Shield in 5 devices, and it detects more than 3.5M malicious websites. For their 3-year plan, you just need to pay $2.99 every month.  
10. PrivateInternetAccess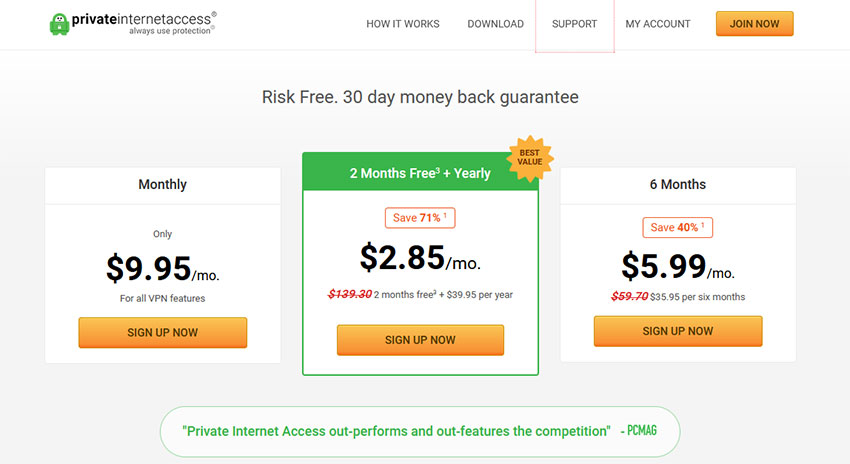 Last in our list is PrivateInternetAccess. It has more than 3300 servers in 45 countries. With their services, you can block unwanted connections – thanks to its advanced firewall and filtering features of the Netfilter Project. Without a doubt, it is one of the best VPN providers today.
Its layer of security includes IP cloaking, encryption, firewall, identity protection, and unblocking websites, to name a few. Choose their yearly subscription and only pay $3.33 per month.
Conclusion
If security and privacy matter to you, we encourage that you get the best VPN right now. Think about it. Most of us pay monthly subscriptions for Netflix, Spotify, and other online services. It seems logical that you pay for protection too. Most VPN providers we've included in the list offer a money-back guarantee. Use that lead time to decide before actually paying for the services. It's definitely a win-win if you ask us.