Secret Lab Titan Series Review: A Gamer's Dream Chair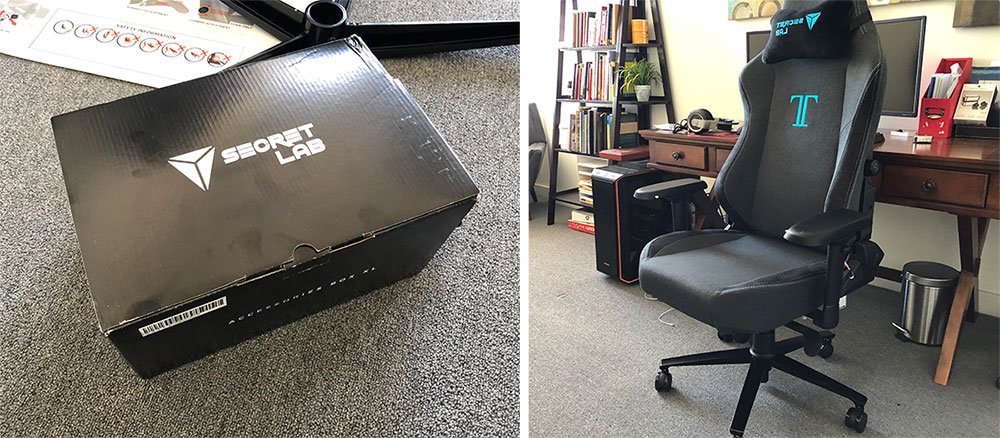 Secret Lab is a company that began in 2014 with a mission to build the best gaming chair in the industry. Despite the already saturated market and fierce competition, Secret Lab decided to launch their first line of gaming chairs in 2015. They're now distributing in over 40 countries giving gamers everywhere the competitive advantage of being able to stay in the game longer more comfortably. Their current product line consist of the THRONE, OMEGA, TITAN and Neue series.
We received the Secretlab Titan in Charcoal Blue Softwave Fabric for this review. The Titan is currently considered the largest chair available from Secret lab. It comes with a load of features you'd expect from a $400+ gaming chair in addition to being able to support up to 290lbs, which should be plenty for anyone between 6'0 – 6'4. The Titan comes with three different upholstery options, each at different prices. You can get the Pu leather at $399, Softwave fabric for $429, and premium Napa leather for $949. With the Pu leather option, you also get to choose between six different color options. With the Softweave fabric, you only get two color options. And the Napa leather only comes with one color scheme.
Assembly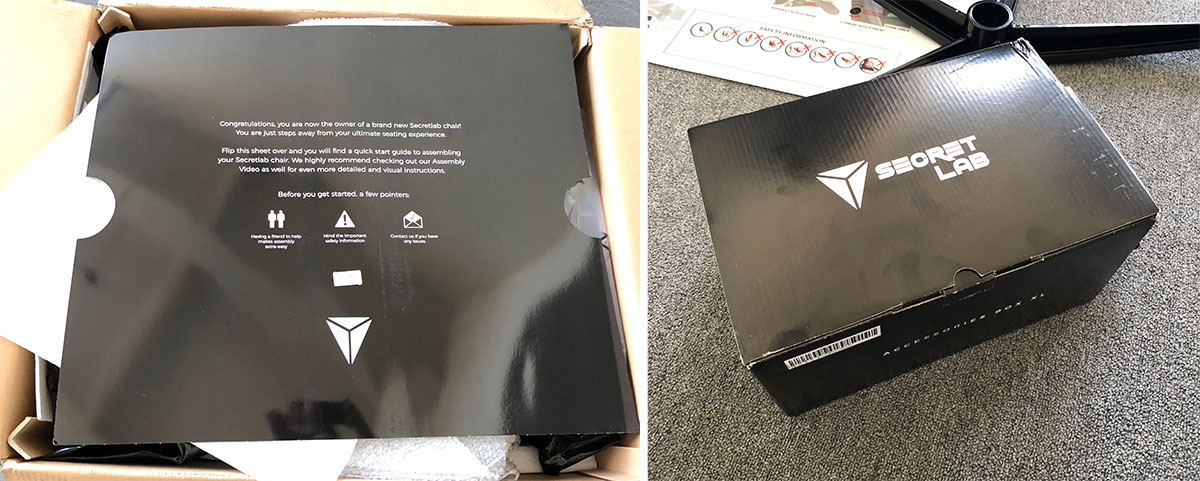 Branded packaging
The Titan comes in a large black box with their logos and branding on all sides. This was a surprise for me since a lot of other gaming chairs we have at the office typically comes in a cheap looking cardboard box deprived of any kind of branding or color. They could've easily gotten away with just a regular cheap cardboard box, but they chose not to go the frugal route, given you just paid $500 for it. Opening it for the first time, you definitely felt like you were opening something premium.

Clear instructions
Forget those generic thick manuals that contain 90 pages of instructions in every language known to man, and only one page of English instructions that you have to dig to find. Secret lab knew we hated that and decided to do things a little differently. As soon as you open the box, you're greeted with a large sheet with the assembly instructions and warranty information. The instructions are visually pleasing, easy to understand, and laid out in a way that you only need visual cues to put the whole thing together.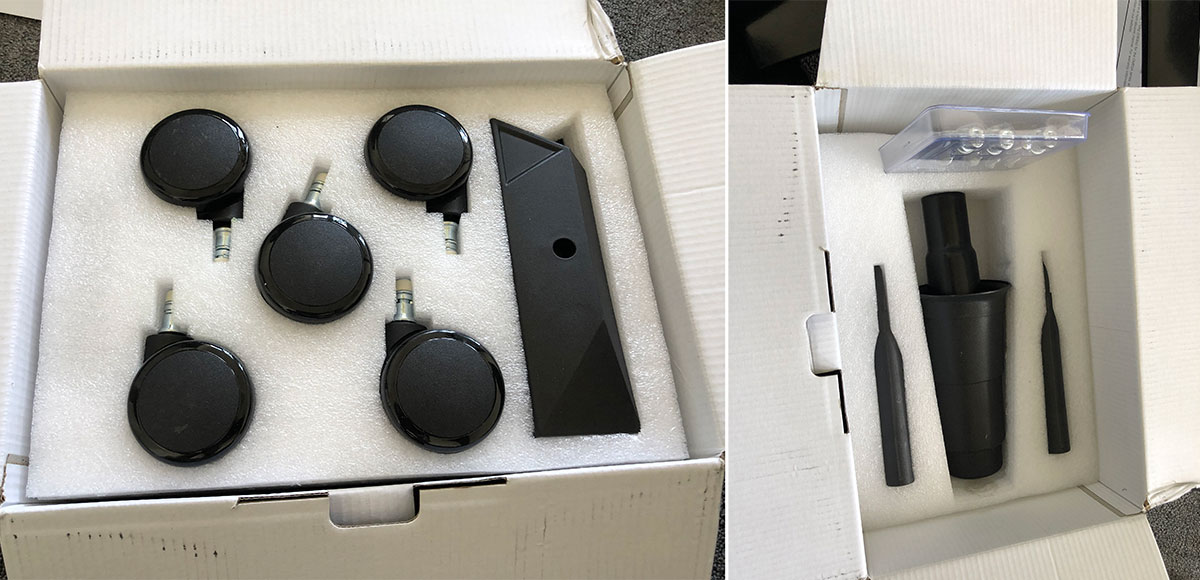 Intelligently packaged and systematically ordered
Everything was intelligently laid out layer by layer. You can tell a lot of thought went into organizing everything this way. The layers coincide with the instructions, so you don't need to lay everything out on the floor and then struggle to find any part. Secret lab definitely nails down the user experience right from the get-go. No one in our office has much experience putting chairs together, yet it only took one of our writer about 10 minutes to put the entire thing himself. The online video was a nice touch, however it wasn't needed in our build thanks to the clear instructions and intuitive layering system they have going on.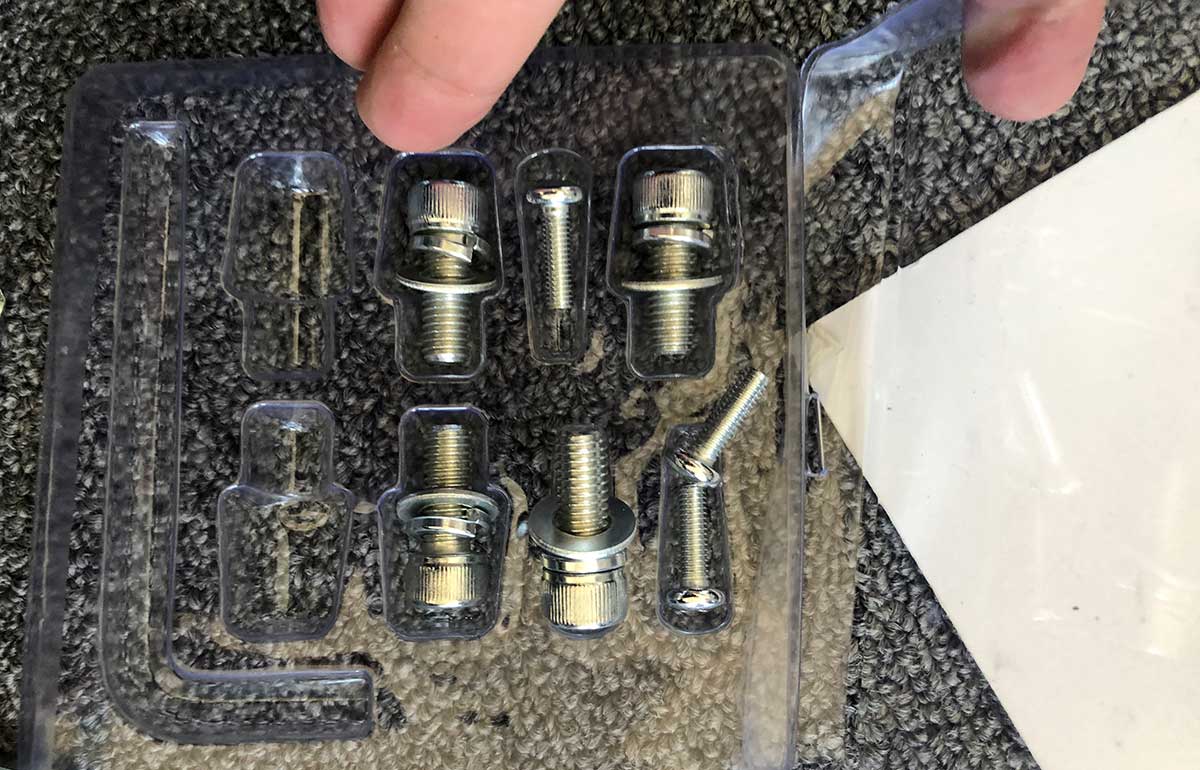 Pre-assembled nuts. Why isn't everyone doing this?!
All the tools are included in the box, so you don't need anything extra. They even went ahead and put all the rings and washers onto the nuts so you only need to screw them on. We wish more manufacturers would take the time to do these little things. Sometimes manufacturers forget no one wants to spent an hour struggling to put together a product they paid $500 for. They just want to assemble it as quickly as possible, and get back to gaming. Secret lab understands that.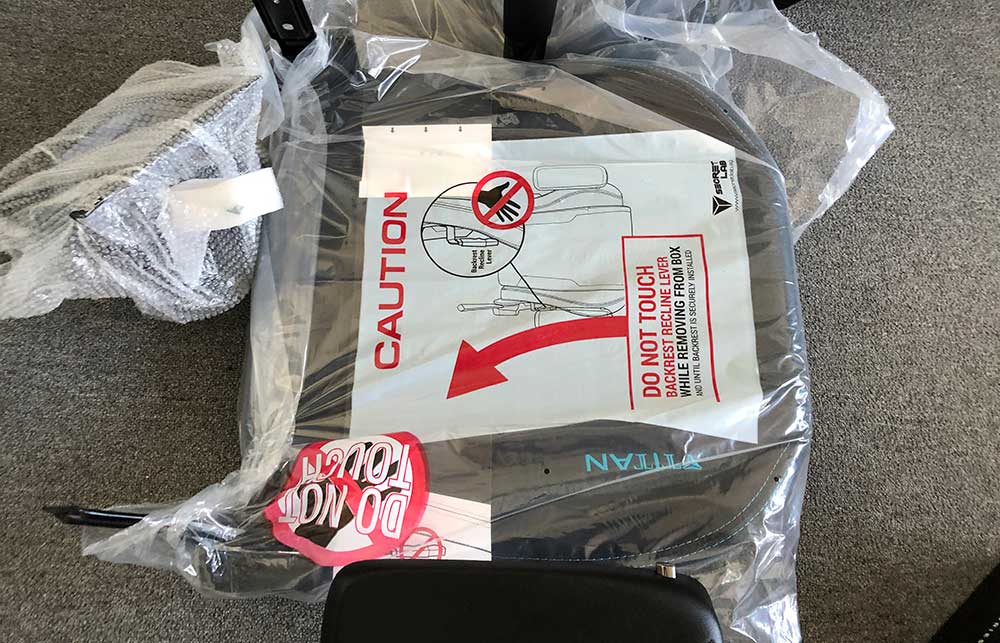 Complaints with assembly
As easy as everything was, there are a few small complaints that we had. The one thing you need to be careful of is the mechanical lever for releasing the backrest. There is an obvious warning tag that lets you know NOT to touch it until it's fully assembled. We pressed it by accident because the label was stuck between the cushion and it fired like a gun.
The second complaint is the side pieces. They're really just for aesthetic purposes, but they're ridiculously difficult to screw on because you have to "align" the holes while applying pressure.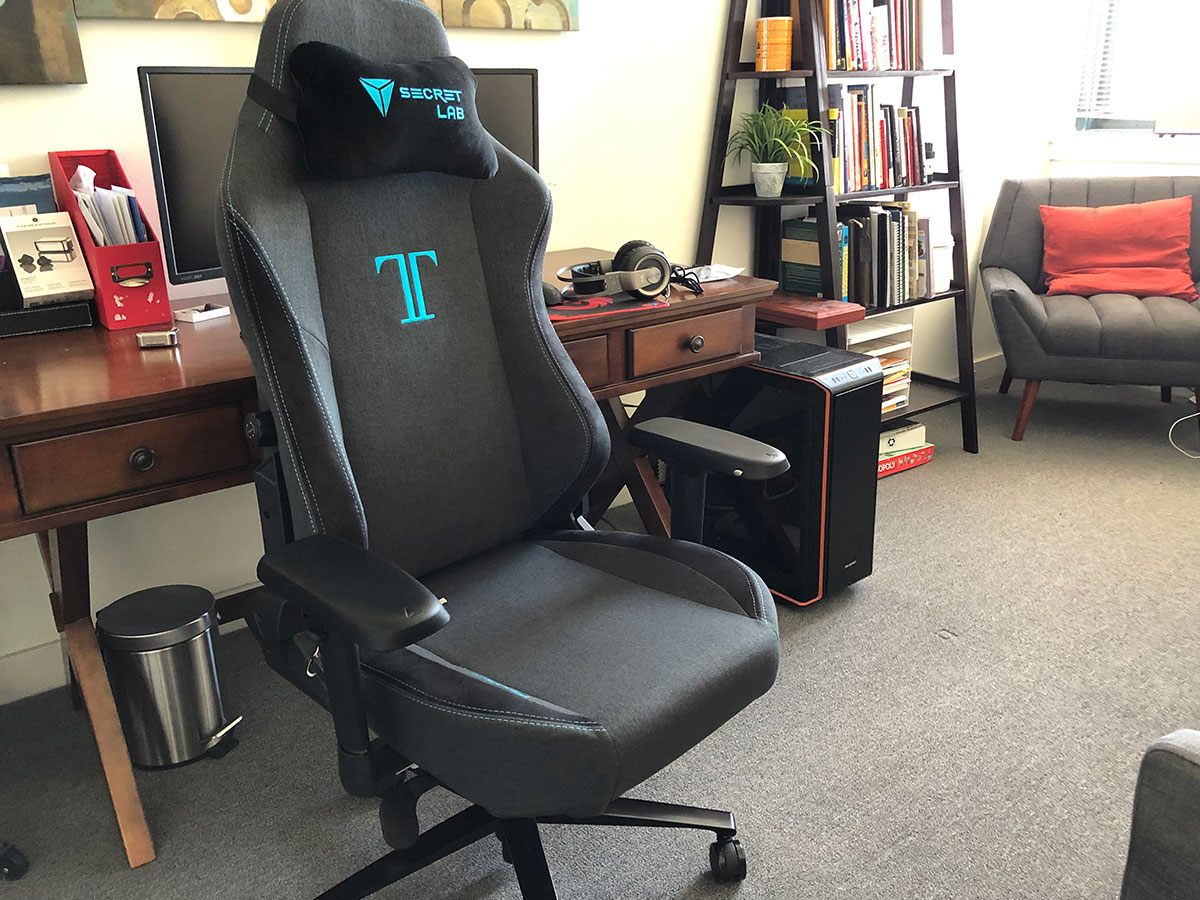 Fully assembled!
After 10 – 15 minutes, everything was fully assembled.
Looks And Feel
Aesthetically, it's one of the most well designed gaming chair money can buy right now. We appreciated the simple and elegant styling instead of the over-the-top RGB that some chairs come with. It definitely carries a more mature look, making it suitable for home or office use. This is a chair was built for hard-core gamers and it can also be put in an office without looking out of place.
The Cold Cure Foam is firm and supportive. It's not as cushiony or soft as you'd expect when you first sit on it. And that's because it's meant to provide the needed support and comfort without compromising your focus while gaming. The chair is big and hugs you as you sit in it. There's plenty of adjustments to play around here. The arm-rest can be adjusted up/down and forward/backward. There's a nice lumbar adjustment knob on the side. On the side, there's also a lever that enables you to recline the backrest as much as 165 degrees.
Build Quality & Adjustments
Sitting down in the Titan for the first time, you could easily tell it's a premium chair made of the highest quality parts. There's no squeaking or strange noises as you're adjusting and moving around. Everything just felt solid – the way it should be. The multi-functional tilt system works flawlessly as it should. The 4D arm-rest adjustments are easy to control. And the larger than normal XL wheels are silky smooth when attempting to roll around.
Real Life Performance Test
We put the Titan to the test by having our in-house writer, whom also happens to be a Fortnite/Apex gamer, test it out for a week. The typical gaming session is around 2-3 hours on a weekday. And on weekends, his gaming sessions on Apex hovers anywhere from 5 – 6 hours. After an entire week of shooting and looting on the Titan, our tester absolutely loved the chair. The firmness took a while to get used to, but it's only during the extended weekend sessions that you really notice the difference. The chair isn't noticeable. It provides support and keeps you in place. You don't slide around, it doesn't make a sound, it doesn't bother you, and there's nothing about it that would make you even think about it. And that's the hallmark of a great gaming chair. One that simply does it's job and keeps the gamer hyper focused and comfortable.
Verdict
It can be challenging to justify $500 on a gaming chair. It might just be one of the most, if not the most, expensive equipment besides your PC rig. But if you're a serious gamer who spends 20 – 30 hours a week gaming, having a chair that doesn't compromise your posture, health, and gaming experience can be invaluable. Overall, the Titan (any version) is one of the best gaming chair available today and at $500 ($429 if on sale) it's worth every penny.
Penji Review: Unlimited Graphic Design Service (w/25% Promo code)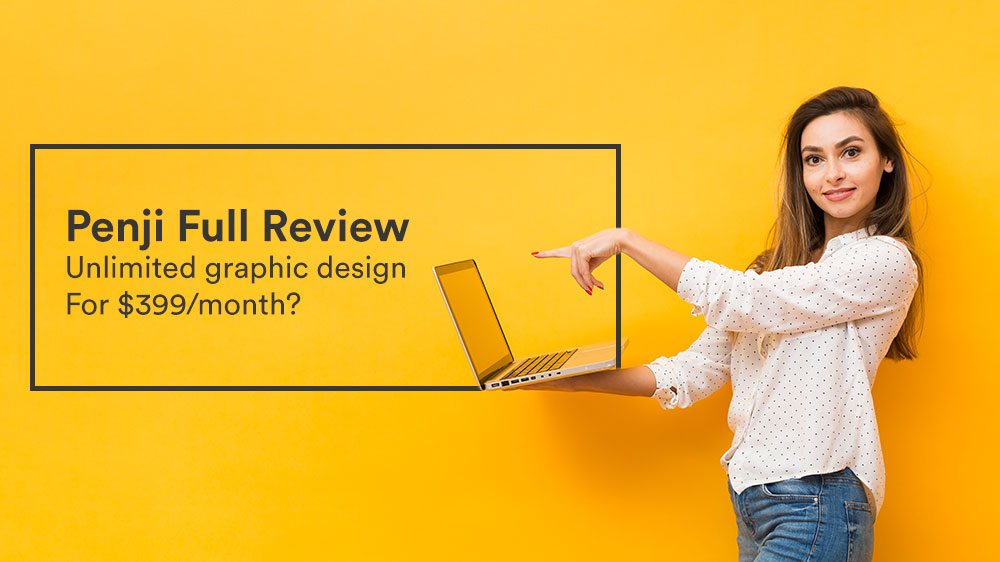 Penji is a relatively new startup based in Philadelphia, PA offering a unique business model. They offer unlimited graphic design services for a flat monthly rate. You can submit as many design projects as you want via their online portal, and they'll complete your requests one at a time until your queue is complete.
This type of service promises to be a great added resource for teams to improve productivity. Sounds too good to be true? We thought so too, that's why we decided to sign up and see if the promise is real.
Quick Summary
Don't feel like reading? Here's a quick summary of our review with Penji's unlimited graphic design service.
Pros
Easy and quick to create design projects
VERY fast turnaround on most projects. I expected just 1 draft in 24 hours but instead received 3 drafts. Revisions were sometimes completed the same day I submitted them.
A lot of features such as Revision tool, Invite team members, Brand profile, and more.
Upbeat communication from everyone I interact with.
Dedicated and responsive account manager that replies within a few hours.
Cons
Can't call or talk to designers
Final Verdict
Penji's "unlimited" design model turned out to be an amazingly high-quality service at an affordable price that's backed by a great team. But you need to have the right expectations going in. The experience is entirely online and you won't get any face-time with your designer.
Compared to designing yourself, hiring freelancers, or using Fiverr, Penji is a much better service and value by a long shot. Their team of designers lived up to the promise and exceeded my expectations.
Penji Promo Code
If you want to give them a try, use this Penji promo code "OWNER25" to get 25% off your 1st month. Full disclaimer, we receive a commission when you use the code.
---
PENJI FULL REVIEW

Signing Up For Penji
Signing up for Penji was a relatively quick and painless process. Overall, took about 5 minutes to get all of my questions answered by their customer support via Intercom and another 2 minutes to complete the checkout process.
1. Support Chat
This is something I personally test every company for – how fast and reliable their support is. If they're unresponsive now, it will only get worse once I'm a customer. I hit up Penji's customer support team via their Intercom chat popup and got a response within 30 seconds, which is pretty good. I asked basic questions and the agent seemed knowledgable
2. Choosing a plan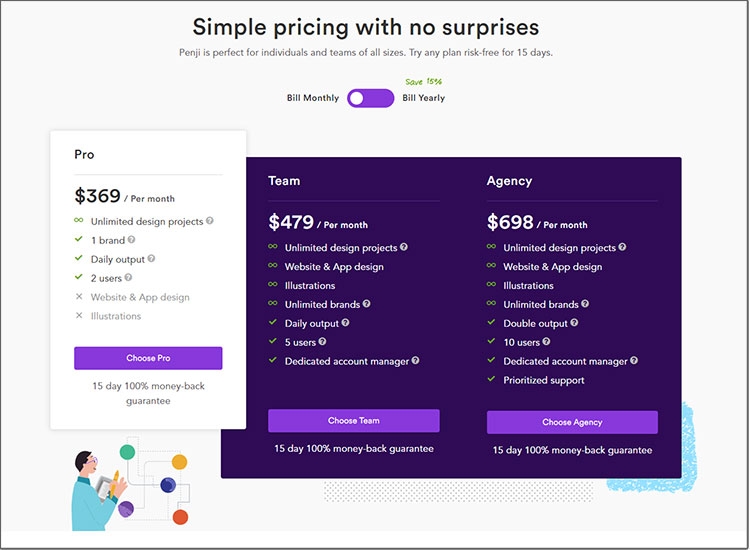 Clear and easy to understand. All the packages are laid out with monthly, quarterly, and yearly pricing. Each of the features also has a little information icon that explains what it is.
3. Checking out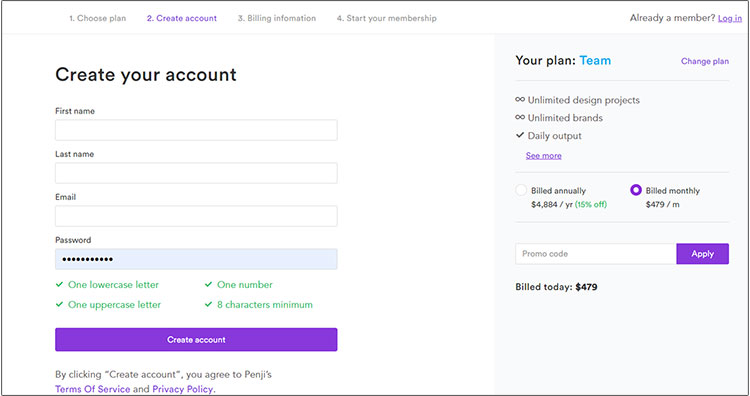 The multi-step process was easy to follow, and what you pay is clearly displayed. Checking out was also a breeze and took about 2 minutes for us.
---
Submitting Design Projects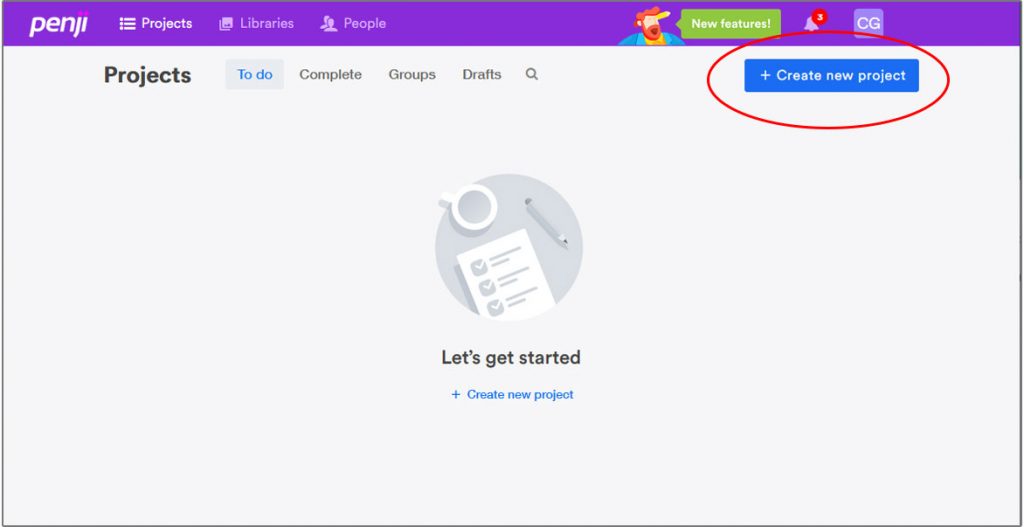 Now it's time to create my first project. Clicking on the "Create new project" button, I'm presented with a visual chart of all the designs they offer. I personally prefer this, because I can see what the designs look like. They offer a lot more categories than I thought and the list is extensive.
Filling out the form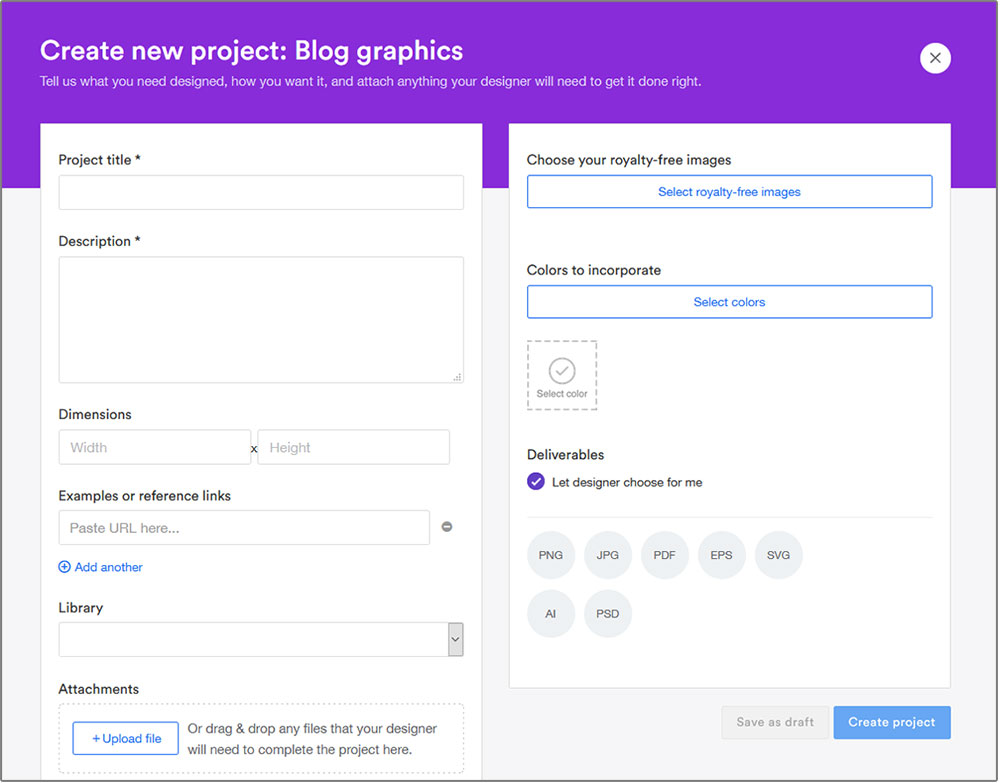 Similar to most other online design services, I have to fill out a form explaining what I want. The form is intuitive, easy to follow, and doesn't ask that many questions. Most of the questions are optional.
My test projects
As a digital publisher, we produce content on a daily basis and always have a need for on-brand graphic design. I created several diverse types of projects to test how well rounded Penji is and how they handle both simple and complex projects. A simple banner should be difficult, but can they handle a complex infographic with lots of texts and imagery? Here are my test projects.
Blog Graphic: Best DSLR Camera Equipment For Beginners
Custom Illustration: Best Vacuum Cleaner Money Can Buy
Facebook Post: Isometric Tech Gadget Graphic
Magazine Print Cover (Owner's Magazine's 2020 May Edition
Despite creating four projects, the entire process was quick and smooth. I didn't feel like I spent too much time creating them and their internal platform was lightning fast. At this pace, I can see myself submitting a ton of projects on their platform with ease.
These four projects range in difficulty and should be enough for me to evaluate Penji's competency. Now that the projects have been created, I'll wait and see if Penji can deliver on the promise of these being turned around within 24 hours.
---
Turnaround Time
I expect at least one draft the next day. What I didn't expect were three projects to have drafts. That's absurdly fast by any standards. Most freelancers and design firms we've hired take at least several days to turn around just one draft.
After reviewing the designs, which were surprisingly good considering it's the first draft AND were turnaround within 24 hours, I realized how they did it. Every project had a different designer. I wasn't assigned just one designer. That explains how they get things done so quickly.
Revision Turnaround Time
Revisions were turned around pretty fast. Their support agent actually told me it will take 24 hours to turn around revisions. I found that its a same-day turnaround most of the time. The revisions that took 24 hours were typically much more involved.
Overall, I never felt like revisions took too long. Most came back within a few hours after I submitted them.
---
Leaving Revisions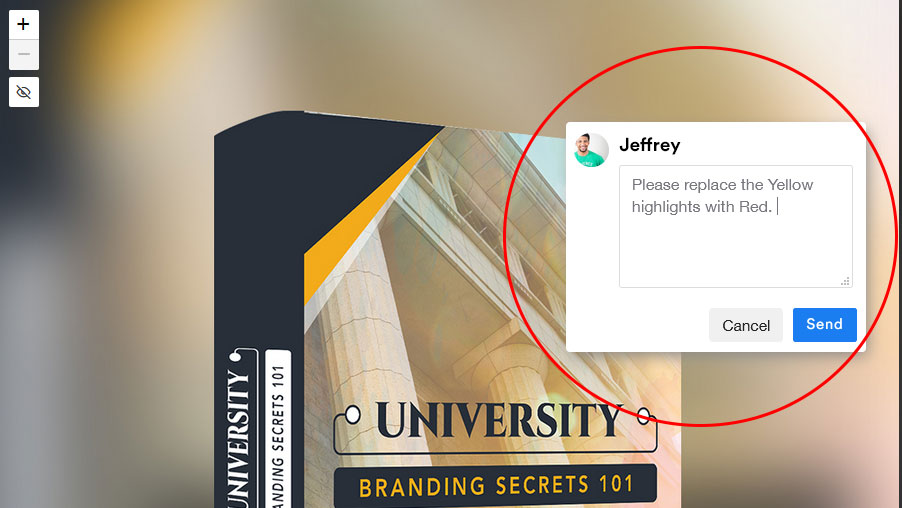 Everything is done online so I can't just call my designer and tell them what I want to change. My one gripe would be that I prefer to have some sort of real-time chat with my designer or at least have a skype call. That's one thing I like working with my freelancers, is that whenever they were online, we could just have a back and forth conversation to get the revisions across. I can't do that with Penji.
Built-in Revision Tool (see image above)
Penji has a built-in revision tool that lets me click anywhere on the design to leave a revision. I found this incredibly useful and enables me to pin-point what I want to change.
---
The Results
It took about 1 week to go back and forth with revisions and edits for all 3 design projects. At the end of the week, I received the final drafts for all three. Here are the results of the three test projects.
1. Blog Graphic: Best DSLR Camera Equipment For Beginners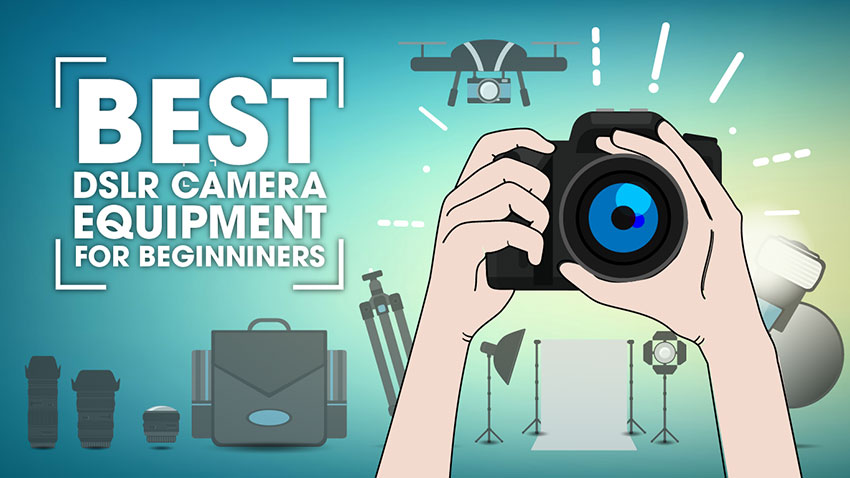 This far exceeded my expectations and will more than do for the blog I'm writing about DSLR camera equipment. I think most designers would probably just stop with 1-2 icons and graphics for this design. My designer decided to add the tripod, three lenses, drone, backpack, and a whole entire stage lighting kit.
I didn't ask for those, but I'm impressed with the quality of the design. No revisions needed. I approved this project 1st try.
2. Custom Illustration: Best Vacuum Cleaner Money Can Buy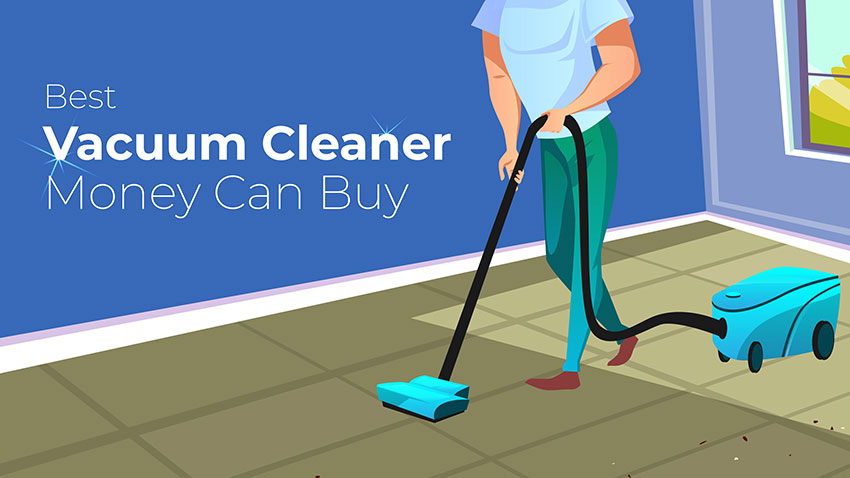 For this project, I asked my designer (Kei) to do a custom illustration of a man vacuuming his floor. He actually drew it up and then send me a rough sketch first before he started coloring it in. That was an extra layer of care and attention to detail I wasn't expecting. Needless to say, I approved of his drawing and then he delivered this draft the next day.
Revisions
Everything in this graphic was hand-drawn and then colored. That's impressive. Like the first project, I couldn't think of any revisions except asking him to put the texts "Best Vacuum Cleaner Money Can Buy" in. Just when I thought Kei couldn't outdo himself…
He went the extra mile and designed the text to fit the graphics. See for yourself above. Details like these I would have had to harass my freelancer and he would try to nickel and dime me for every revision. Great work Kei!
3. Facebook Post: Isometric Tech Gadget Graphic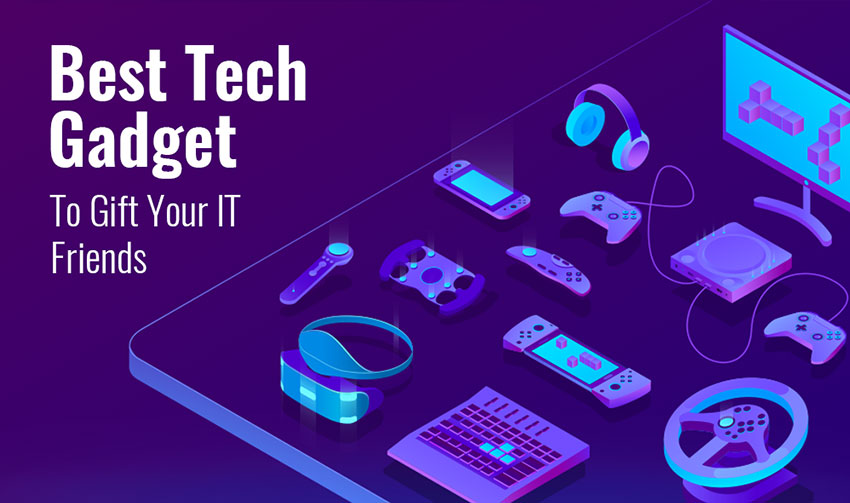 My designer Jave's 1st draft amazed me because of how many icons and details he put into this graphic. I had asked for an isometric graphic with various tech products laid out on an isometric glass plane. I honestly thought my description may have been a bit too vague, but somehow he understood my vision better than me and made it work.
I left one comment for this project, "Wow." and marked it as complete.
4. Magazine Print Cover (Owner's Magazine's 2020 May Edition)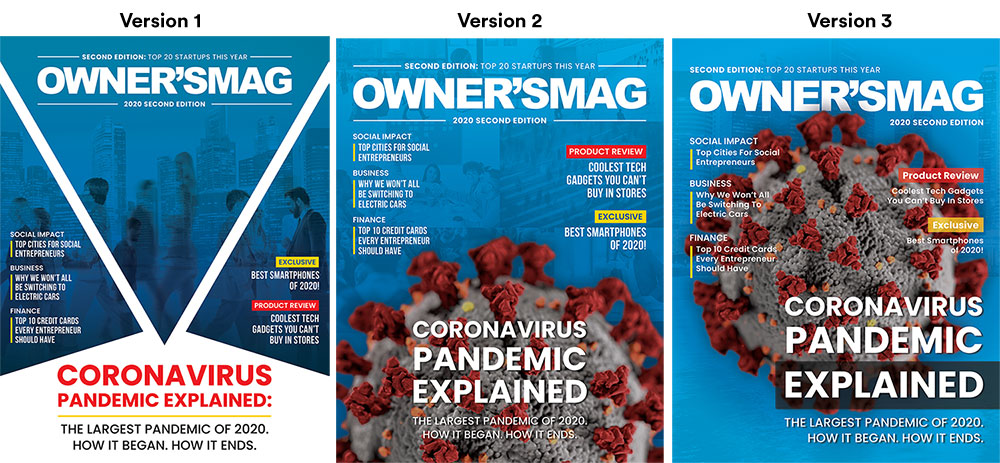 My designer Billie gave me 3 versions of the magazine cover. I don't like Version 1 at all, it seems too templated. I personally like Version 2 and 3 and left revisions accordingly. The Corona Virus image was entirely her idea, and I love it.
Revisions
This project took a bit longer than the others because my designer Billie had a lot of questions and we had a lot of back and forth. I didn't mind at all since she was asking good questions that I should've clarified in the first place. Overall, I appreciated the extra time she took to understand me and the project better.
About three days later I got another draft and this one blew everything before it out of the water.
Communication
All communication is done online through Penji's proprietary online portal. That includes revisions, feedback, and answering any questions my designers may have.
Communication With Designer
I was assigned 1 designer and communication Billie was great. Billie was responsive, attentive, and always seem to have a positive attitude no matter how demand I came off. She had a lot of questions for some of the projects, and the back and forth took longer than I wanted, but I realized she's just being thorough and wants to get the design done right, which I appreciate.
Communication With Account Manager
I was also assigned an account manager who emailed me the first day. Charmaine was very quick whenever I needed something. It usually takes just a few hours for me to get a reply via email from her. When I had an issue with one of the projects, she quickly stepped in and helped resolve the situation.
---
Final Verdict
All four projects were completed within two weeks and I was impressed with how they all turned out. See for yourself below. If I had paid hourly or per project, these would've easily cost me well above $1200+ to get done, and probably taken weeks.
With Penji, it took less than a week and I paid a fraction of what they should've been worth. Definitely impressed with both the turnaround, quality, communication, and value this startup has to offer.
But Penji isn't without its flaws. The service definitely isn't for everybody. Their service is more catered to business owners, marketers, agencies, and creatives with consistent design needs. They'll take all the heavy lifting off of your shoulder. If you don't have a consistent need, the bill will start racking up after a couple of months and you won't see the value in the membership.
However, if you do happen to fit their target demographic, then there's no better replacement out there. The speed and quality of their work easily rivals of not exceed any other services I'd ever used. For $399/month, this is an absolute steal and I can't recommend them enough.
Popping the Bubble: How to Escape the Social Media Echo Chamber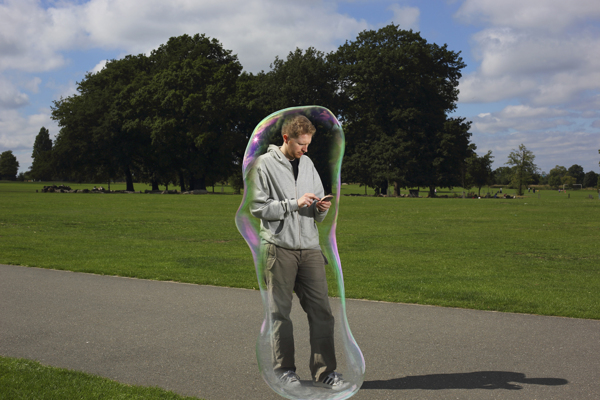 This past election has left most millennials in a cloud of surprise. I know that on my own Facebook news feed there was a very anti-Trump/pro-Bernie vibe. In the months prior to the election, my outlets for social media were bombarded by very specific opinions against the reality TV billionaire. All I heard were calls to "feel the Bern". To me, and I think to most people my age, it appeared unanimous that Trump would lose. However this was not the case. So what happened?
One issue with social media is that it's prone to creating echo chambers: places where our ideas are reaffirmed by the consensus of our networks. Don't like one particular friend's libertarian view? Easy. Unfollow them. This ability to unfollow, paired with algorithms that curate content towards to your taste depending on what you like/react to, creates the walls that seal us into comfort zones with like-minded people. It traps us into a biased reality; a bubble that prevents us from ideas different than our own. Here are three simple ways to combat the bubble, and allow for the diffusion of ideas. No one's saying it's easy, but those who do are the guardians who keep the dialogue open during difficult times and with controversial ideas.
Actively like and react to diverse new sources and pages
Much of the power and control that users have over their social media is in curation. Your feed is curated according to the content you interact with. Simply being aware of this fact can make help make you more conscious about how and what appears in your feed. If you're not seeing a lot of diversity in content, maybe try interacting with new stuff.
Watch out for confirmation bias
Does it always sound like you're right? When you log onto your Facebook, does every status update and shared article resonate with your own beliefs? It's easy to be drawn by the gravity of people who support your ideas, but to keep an honest perspective on the state of the world, you need to balance out what you expose yourself to.
A wise person once said to me "you like that author's opinion? Then try reading their opposer's book."
Never Unfollow
The "unfollow" feature is meant to be used in times of dire offense. It's understandable that a person be unfollowed because they are insulting or harassing. The problem is that in some subjects like politics and religion, people can resort to both of these behaviors. Because people tend to hold political and religious beliefs close to their hearts, opposing views often respond with even more hostility. Usually in these cases people unfollow not because of the idea itself but because of the primitive and often negative ways people try to convey them.
What makes unfollowing such a bad option is that it closes the dialogue between big contrasting ideas. If you unfollow a friend who disagrees with you, you're basically choosing not to hear their side. Does doing this really make you the bigger person? When we choose to stop the flow of information, we are also choosing to remain within the bubble. Break free by practicing these three simple guidelines. Humans aren't always the best at communicating, but at least keeping an open ear and an open heart leaves the door open to a more harmonious reality, one that actually reflects the ideas of the world, and the people who hold them.
Working With An Agency? They're Probably Outsourcing To These Startups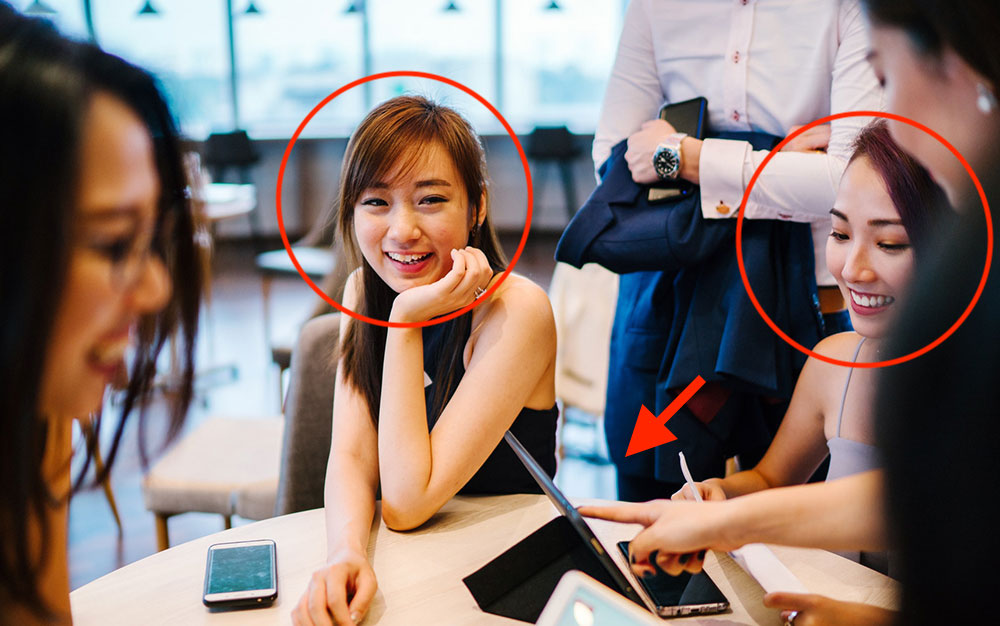 Have you ever wondered if the agency you hired is secretly outsourcing the work?
As a digital publication, we've hired countless agencies to help code, design, market, and launch products for us. We usually have a Project Manager from their head office as our point of contact. But we're never sure who is completing the work. Where are they outsourcing them to?
As curious journalists, we decided to find out. For an entire month, we created a fake agency called Flower Pot Media LLC. Then we joined various Facebook groups, forums, private Google groups, and subreddits to chat with fellow agencies. We also interviewed a handful of employees and subcontractors who frequently work with creative firms to learn more about how agencies operate. It wasn't easy to get people to cough up where they're outsourcing to, but we eventually got a list of names. And to our surprise, the same few companies keep popping up.
Our goal isn't to expose agencies or reveal how they make money. If you don't have the organization or leadership required to manage a campaign, then you're better off hiring an agency. But if you want to save some money AND are willing to put in the time/energy to coordinate, manage, and execute a campaign yourself, then this list is for you.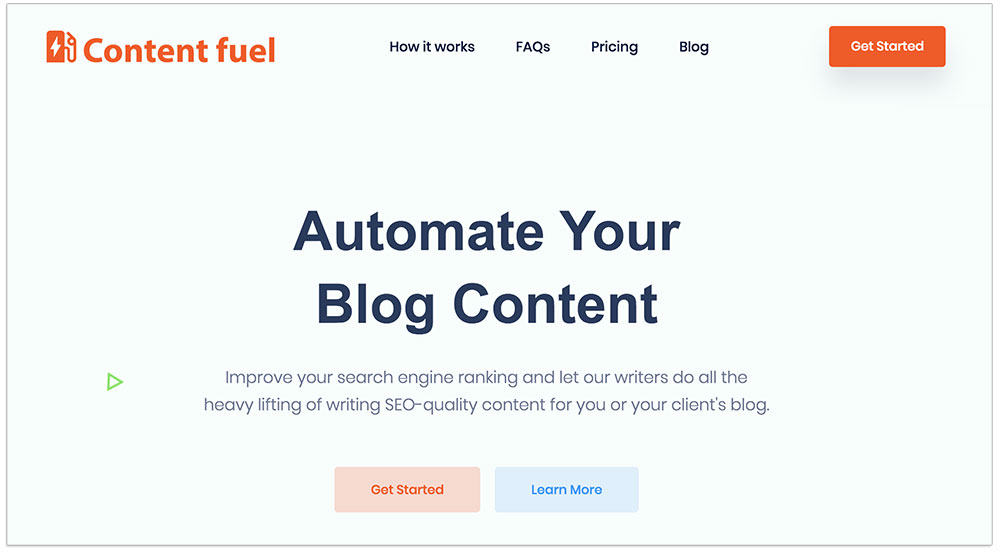 As a writer myself, I know how tricky it is to hire GOOD writers. There are plenty of writers who will produce junk or just "spin" content for $5/hr or $10 – $25 per article for you. None are agency-quality or anything you'd want on your website.
After a bit of digging and asking around in the forums, many of our friends say they've either used or are currently using Content Fuel and have a great experience, mainly with the quality of their writers.
Content Fuel is a startup that provides unlimited content writing at a flat monthly rate. The main selling point is that their writers are damn good writers. From my experience, their level of writing qualifies for anywhere from $25 – $50/hr or $500 for a 1000 word article. For the price, I'm not entirely sure how they're able to afford that kind of talent.
Another nice perk of Content Fuel is that you don't need to manage the writers. If a writer doesn't work out, you can instantly request for another writer to be assigned. This saves time, as Agencies often have to manage freelance writers, and that can be time consuming and exhausting.
Penji (Graphic design, Illustrations, Ads, Web/App designs)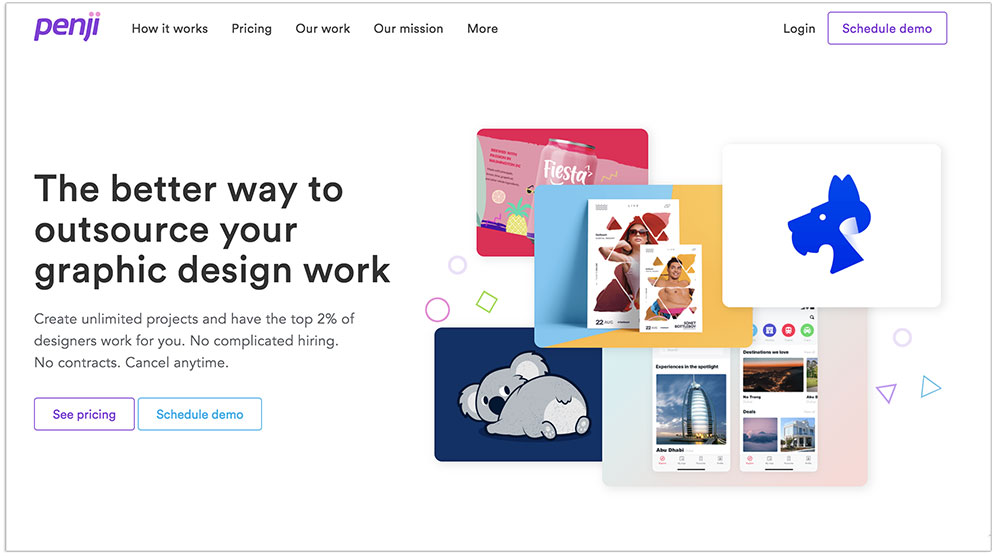 We found Penji because their salespeople are constantly writing in all of the forums and private groups. But they weren't there to sell. Instead, they just help answer everyone's questions, which we thought was a very smart sales tactic.
Penji uses an on-demand and unlimited service model that agencies often take full advantage of. Similar to Content Fuel, you can submit as many design projects as you want for your clients. Their team of on-demand designers gets to work. And instead of getting billed per project ($300-$500/project adds up), Penji charges a flat monthly rate every month regardless of usage.
We used to hire a local design agency to handle all of our design tasks. We were billed for every project, every revision, and paid an hourly rate of $75/hr. Our monthly invoice was anywhere from $4000 – $6000.
Curious to see if the rumors were true, we signed up. In the first month, they produced 33 completed designs for our team ranging from banners, infographics, and social media posts. We paid $698 for what could've easily been an $8000 invoice from a local agency or freelancer. True to their promise, they didn't charge us extras for revisions or any overage.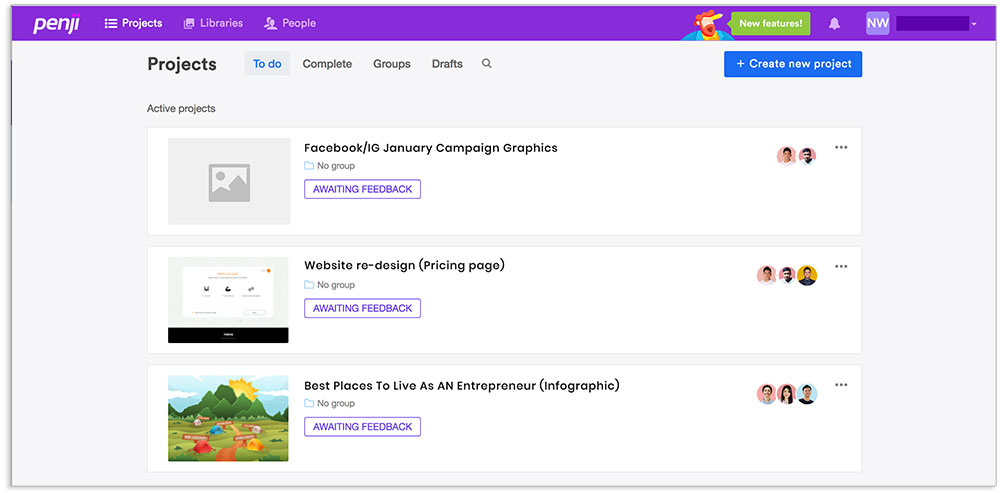 We especially like their dashboard. It's easy for agencies to manage their client's projects. You can create a brand profile for each client and upload all their logos and brand materials. And any time you need a design job done for that client, just select the brand profile and Penji's designers will have everything they need to get to work. They were lightning fast. Everything we submitted, they turned around in less than 48 hours. Quality was either the same if not sometimes even better than the agency we hired. Overall, we can see why agencies outsource to Penji.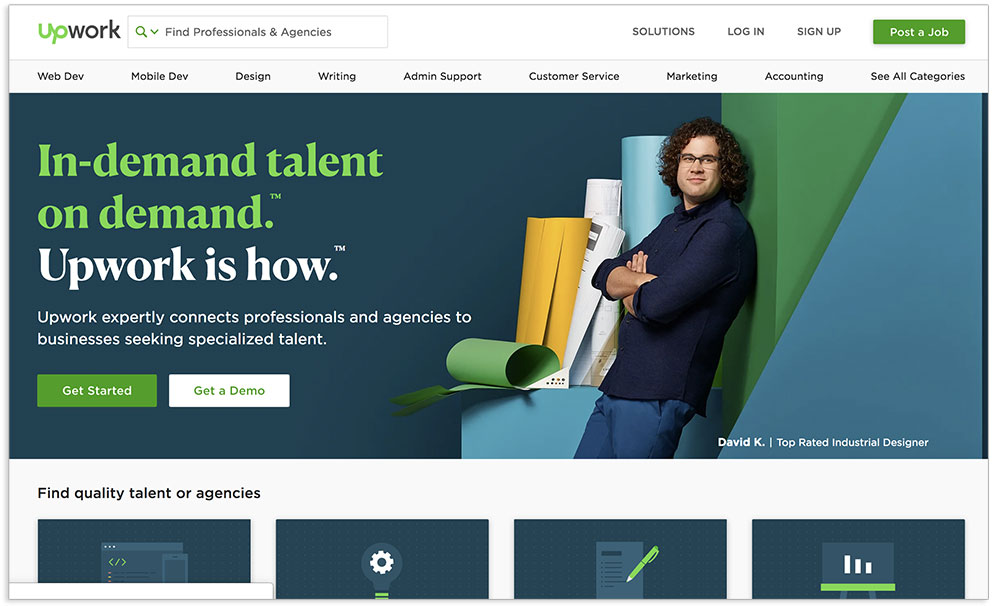 Upwork is a great place to outsource programming and coding work to. You'll find developers from India, Pakistan, Ukraine, and many other countries from around the world. Rates are relatively cheap, from $5/hr for entry-level developers to $35+/hr for more advanced talents. You can also hire a group of developers/agencies directly from Upwork.
We hired a local agency to code our website (ownersmag.com), however, at times it felt like we were actually communicating with someone from India. It wasn't a problem for us, because the communication and work were good. But we did wonder how much we would've actually paid if we were to go directly to the source.
One caveat you should note is that, unlike Content Fuel and Penji, you're doing the hiring and managing on Upwork yourselves. Content Fuel and Penji does all the hiring, managing, and finding the talent for you, so it's pretty hands-off. Meanwhile, on Upwork, you need to post a job, interview the candidates, pay them yourself, and also be up at night to collaborate with them. Keep that in mind, as that level of management alone can be worth hiring an agency for.
The Hoth (SEO)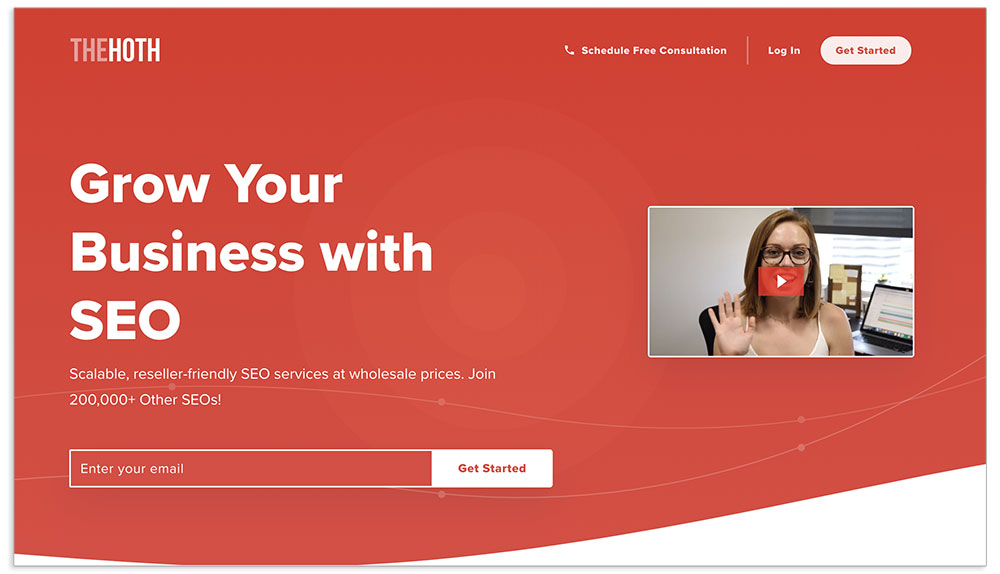 As a publication, we don't need to hire an SEO agency to help us rank. However, many of our sponsors and advertisers do. The Hoth is a one-stop-shop for white-labeling SEO services. They offer an internal platform for agencies to keep track of and manage the client's SEO progress. They handle white-labeled reporting too, so you can send branded reports for an added touch.
Many agencies we spoke to use The Hoth as a reliable 3rd party service to help their clients' SEO campaign succeed. They've been around for a while and although the SEO white-labeling space is fairly competitive, they stand out as one of the more reliable services.
Conclusion
Don't go firing your agency and try to do things yourself just yet, that might not be a good idea. The real value of an agency is its ability to coordinate, communicate, manage, plan, and execute a successful campaign for you. And that often requires many hours, phone calls, and meetings, which is exactly what you're paying for.
Agencies outsourcing the workload is completely normal. As a matter of fact, it would be unusual for an agency to do everything inhouse themselves. So before attempting to take over the work yourself, make sure you have the capacity and coordination to manage everything.