Secret Lab Titan Series Review: A Gamer's Dream Chair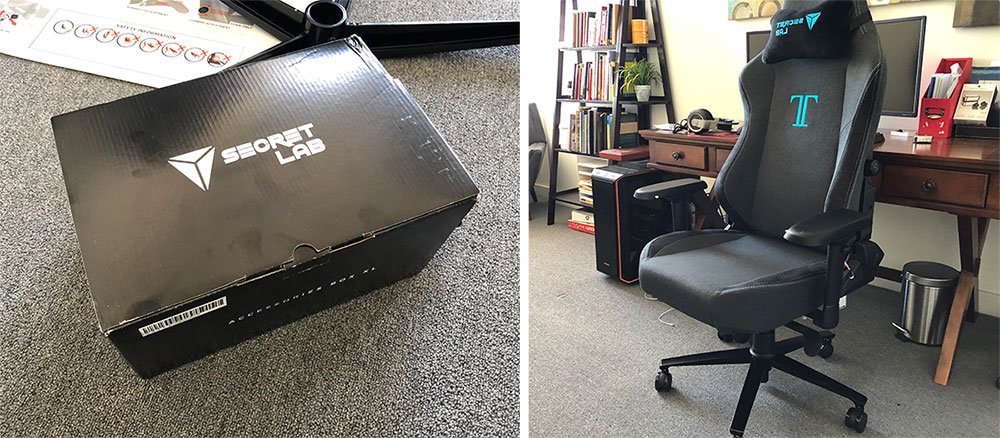 Secret Lab is a company that began in 2014 with a mission to build the best gaming chair in the industry. Despite the already saturated market and fierce competition, Secret Lab decided to launch their first line of gaming chairs in 2015. They're now distributing in over 40 countries giving gamers everywhere the competitive advantage of being able to stay in the game longer more comfortably. Their current product line consist of the THRONE, OMEGA, TITAN and Neue series.
We received the Secretlab Titan in Charcoal Blue Softwave Fabric for this review. The Titan is currently considered the largest chair available from Secret lab. It comes with a load of features you'd expect from a $400+ gaming chair in addition to being able to support up to 290lbs, which should be plenty for anyone between 6'0 – 6'4. The Titan comes with three different upholstery options, each at different prices. You can get the Pu leather at $399, Softwave fabric for $429, and premium Napa leather for $949. With the Pu leather option, you also get to choose between six different color options. With the Softweave fabric, you only get two color options. And the Napa leather only comes with one color scheme.
Assembly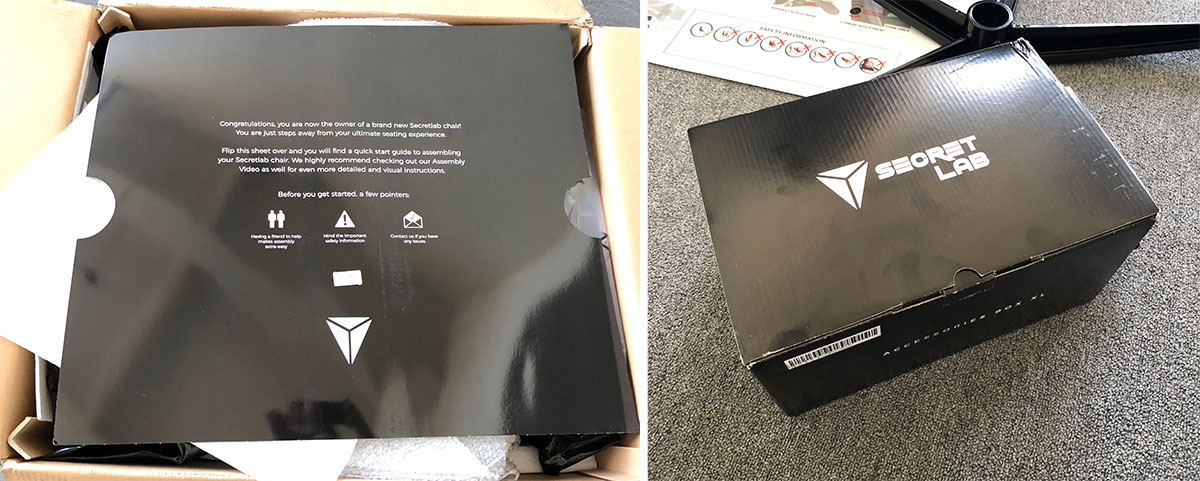 Branded packaging
The Titan comes in a large black box with their logos and branding on all sides. This was a surprise for me since a lot of other gaming chairs we have at the office typically comes in a cheap looking cardboard box deprived of any kind of branding or color. They could've easily gotten away with just a regular cheap cardboard box, but they chose not to go the frugal route, given you just paid $500 for it. Opening it for the first time, you definitely felt like you were opening something premium.

Clear instructions
Forget those generic thick manuals that contain 90 pages of instructions in every language known to man, and only one page of English instructions that you have to dig to find. Secret lab knew we hated that and decided to do things a little differently. As soon as you open the box, you're greeted with a large sheet with the assembly instructions and warranty information. The instructions are visually pleasing, easy to understand, and laid out in a way that you only need visual cues to put the whole thing together.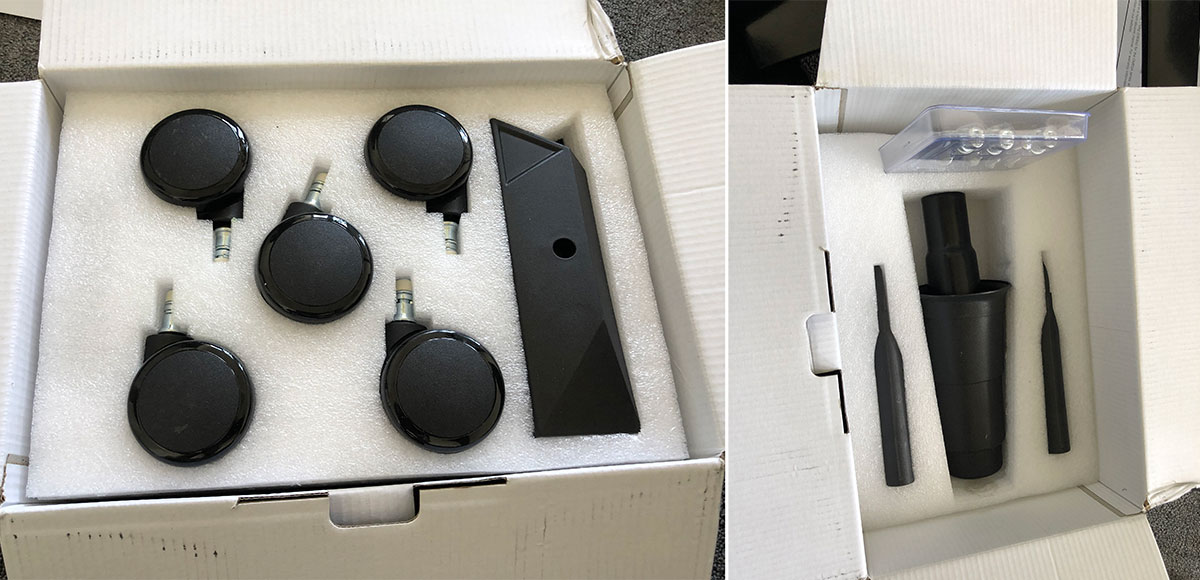 Intelligently packaged and systematically ordered
Everything was intelligently laid out layer by layer. You can tell a lot of thought went into organizing everything this way. The layers coincide with the instructions, so you don't need to lay everything out on the floor and then struggle to find any part. Secret lab definitely nails down the user experience right from the get-go. No one in our office has much experience putting chairs together, yet it only took one of our writer about 10 minutes to put the entire thing himself. The online video was a nice touch, however it wasn't needed in our build thanks to the clear instructions and intuitive layering system they have going on.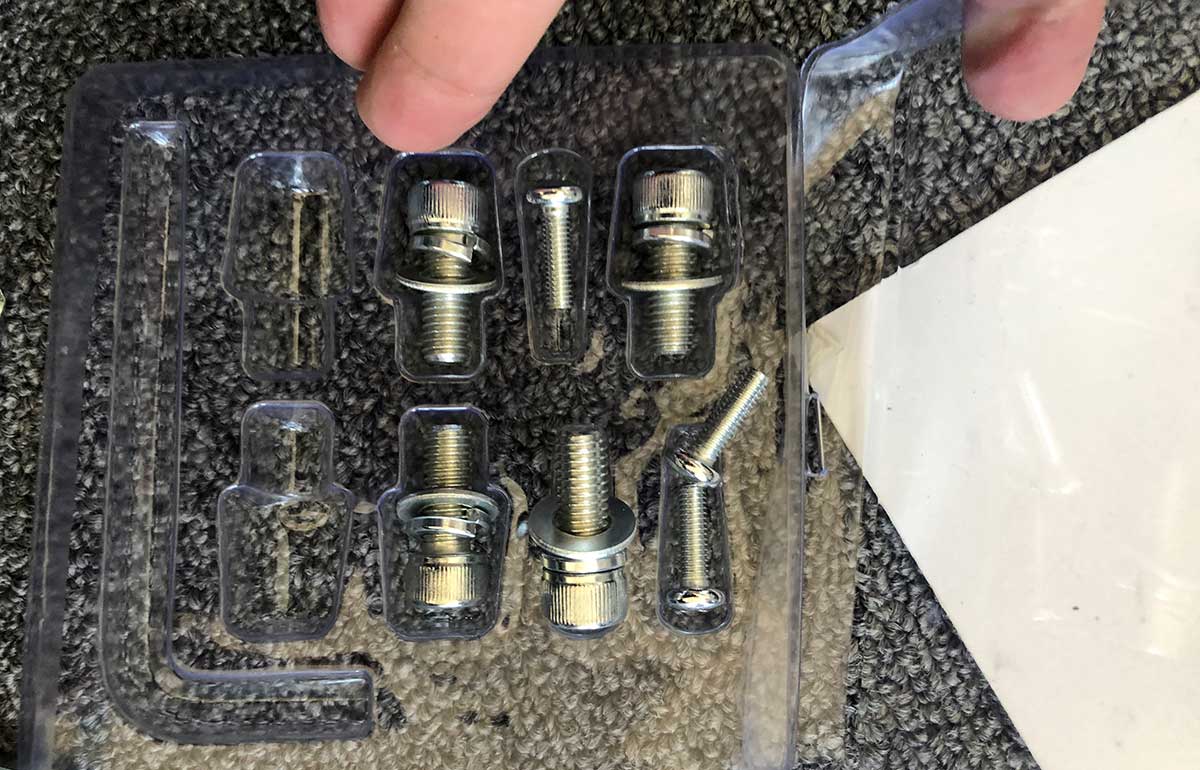 Pre-assembled nuts. Why isn't everyone doing this?!
All the tools are included in the box, so you don't need anything extra. They even went ahead and put all the rings and washers onto the nuts so you only need to screw them on. We wish more manufacturers would take the time to do these little things. Sometimes manufacturers forget no one wants to spent an hour struggling to put together a product they paid $500 for. They just want to assemble it as quickly as possible, and get back to gaming. Secret lab understands that.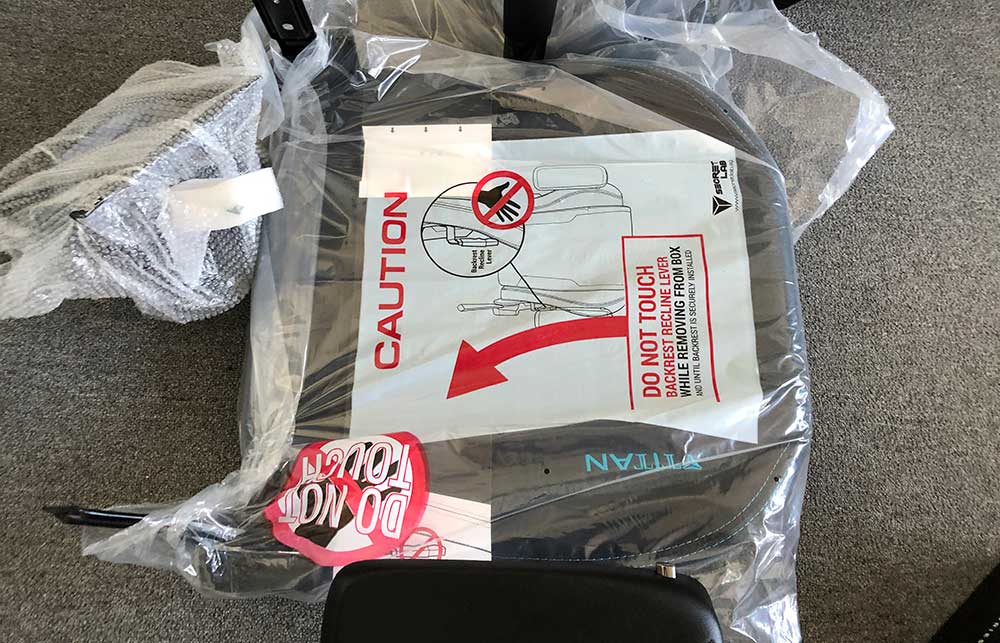 Complaints with assembly
As easy as everything was, there are a few small complaints that we had. The one thing you need to be careful of is the mechanical lever for releasing the backrest. There is an obvious warning tag that lets you know NOT to touch it until it's fully assembled. We pressed it by accident because the label was stuck between the cushion and it fired like a gun.
The second complaint is the side pieces. They're really just for aesthetic purposes, but they're ridiculously difficult to screw on because you have to "align" the holes while applying pressure.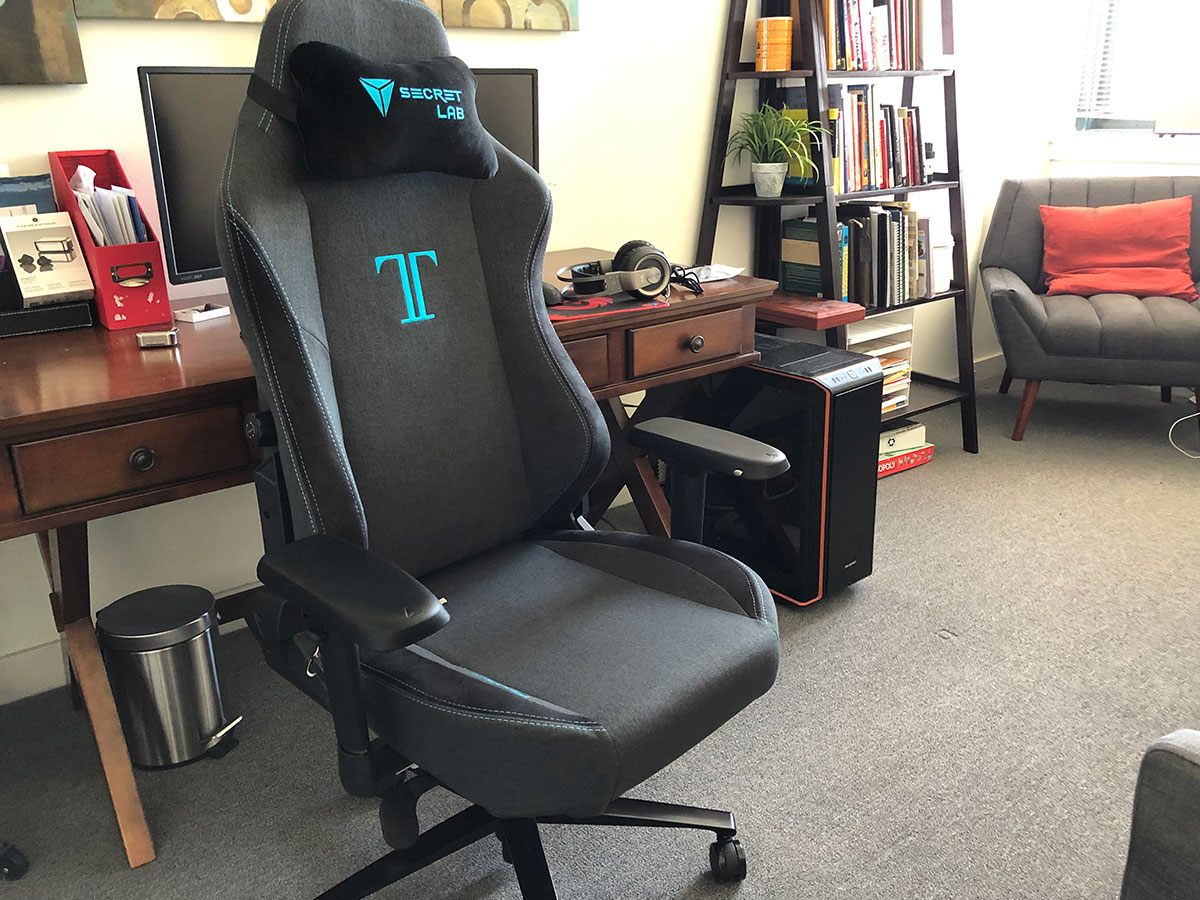 Fully assembled!
After 10 – 15 minutes, everything was fully assembled.
Looks And Feel
Aesthetically, it's one of the most well designed gaming chair money can buy right now. We appreciated the simple and elegant styling instead of the over-the-top RGB that some chairs come with. It definitely carries a more mature look, making it suitable for home or office use. This is a chair was built for hard-core gamers and it can also be put in an office without looking out of place.
The Cold Cure Foam is firm and supportive. It's not as cushiony or soft as you'd expect when you first sit on it. And that's because it's meant to provide the needed support and comfort without compromising your focus while gaming. The chair is big and hugs you as you sit in it. There's plenty of adjustments to play around here. The arm-rest can be adjusted up/down and forward/backward. There's a nice lumbar adjustment knob on the side. On the side, there's also a lever that enables you to recline the backrest as much as 165 degrees.
Build Quality & Adjustments
Sitting down in the Titan for the first time, you could easily tell it's a premium chair made of the highest quality parts. There's no squeaking or strange noises as you're adjusting and moving around. Everything just felt solid – the way it should be. The multi-functional tilt system works flawlessly as it should. The 4D arm-rest adjustments are easy to control. And the larger than normal XL wheels are silky smooth when attempting to roll around.
Real Life Performance Test
We put the Titan to the test by having our in-house writer, whom also happens to be a Fortnite/Apex gamer, test it out for a week. The typical gaming session is around 2-3 hours on a weekday. And on weekends, his gaming sessions on Apex hovers anywhere from 5 – 6 hours. After an entire week of shooting and looting on the Titan, our tester absolutely loved the chair. The firmness took a while to get used to, but it's only during the extended weekend sessions that you really notice the difference. The chair isn't noticeable. It provides support and keeps you in place. You don't slide around, it doesn't make a sound, it doesn't bother you, and there's nothing about it that would make you even think about it. And that's the hallmark of a great gaming chair. One that simply does it's job and keeps the gamer hyper focused and comfortable.
Verdict
It can be challenging to justify $500 on a gaming chair. It might just be one of the most, if not the most, expensive equipment besides your PC rig. But if you're a serious gamer who spends 20 – 30 hours a week gaming, having a chair that doesn't compromise your posture, health, and gaming experience can be invaluable. Overall, the Titan (any version) is one of the best gaming chair available today and at $500 ($429 if on sale) it's worth every penny.
Secrets to Getting Consistent Sales For Your Startup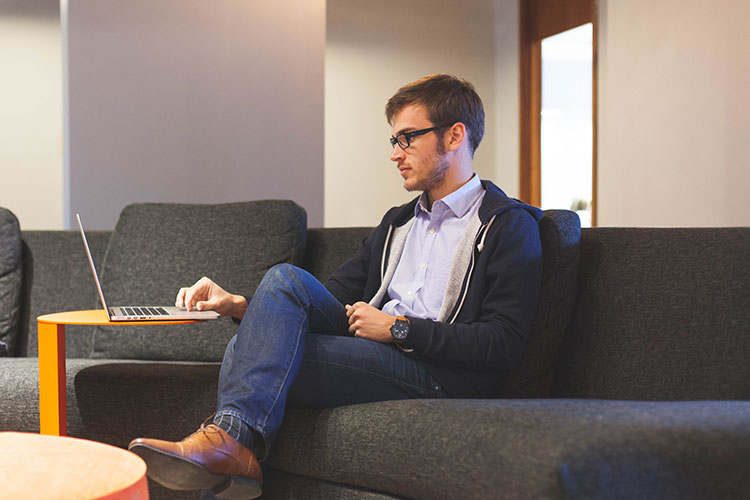 No matter what industry you're in, sales is your oxygen.  Without consistent sales, most startups simply can't function. Unfortunately most startup companies don't invest enough in their sales process until it's too late. Here are the strategies successful startups have adopted to consistently meet their sales goals.
Building a Stronger Network
Consistent sales doesn't happen automatically.  For larger accounts, it's often best to start with referrals and be introduced organically to your prospect instead of cold calling.  And having a well connected network of friends and peers willing to help support you is the key to getting more organic referrals.  Meeting someone and getting their business card is easy. Maintaining your relationship and keeping yourself relevant is the real challenge. If you're not already using LinkedIn, now's a good time to start.
Focusing on Weekly Results
Without setting weekly goals, your team may believe staying busy and filling their calendar translates to sales success. Unfortunately activity doesn't convert into sales unless it's focused. Get into the habit of setting achievable weekly goals for your team. Weekly goals provide your team a compass to follow and keeps their attention laser focused on just a few important items. Try to make your goals specific, realistic, and achievable. Ambitious vague goals are often demoralizing instead of empowering.
Do The Unnatural/Uncomfortable
It's our natural tendency to avoiding people and things that make us uncomfortable. Success is usually found outside our comfort zone, not within it's confined walls. Having the courage to withstand natural discomfort will allow your team to reach more daring goals and achieve results outside their normal capabilities. Get your team into the habit of doing ONE thing each day that they're normally uncomfortable with.  Just make sure they're staying well within the confines of your state and federal laws.
Under-promise Over Deliver
No one likes to be lied to.  And no one likes to be promised something and have it delivered sub-par.  It's often easy to over promise a customer just to get the sales in and be overly enthusiastic about it.  Be honest with your customer and lay out all the unknowns and what they're REALLY going to get.  They will trust you more and can feel your sincerity.  Now after that's done, make sure your team over deliver.  Your client will be 10x happier and be more likely to refer you.
Ask Directly
Ask your client "Are you ready to begin today?  I can have the paperwork ready in 30 mins".  Don't be shy or give your client too much time to think over everything.  It may be uncomfortable at first, but asking directly can help you seal the majority of deals that otherwise would've been lost. Even the most secure and sure deals can often fall in between the cracks if we missed the opportunity to strike while the iron is hot.
Any startup can learn and adopt many of the strategies above. Despite their simplicity and low financial investment, the strategies above have only yielded success when they're consistently followed and built into the work culture. As with any sales or marketing strategies, consistency is key to achieving desirable results.
7 Known Brands that Bootstrapped to Success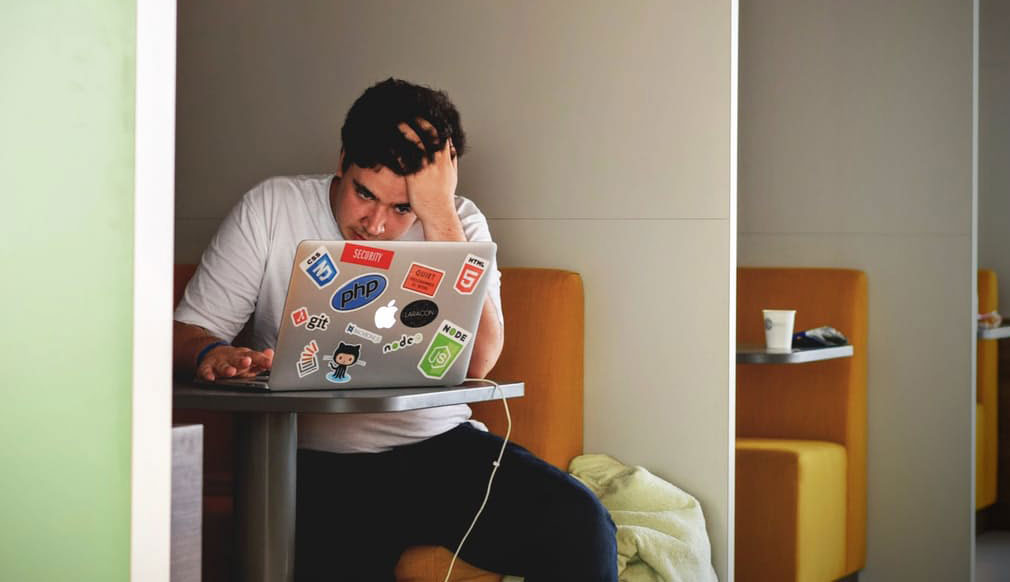 Today's entrepreneurs have a misconception that in order to succeed, you need outside money, and you need others to validate and invest in your idea. Below are 5 major companies to prove that theory wrong. You'll probably recognize these 5 successes below and you'll be more impressed with the fact that they didn't receive any funding to become successful.
1 – SPANX
Sarah Blakely started her $400M company with about $5000 in her bank. At the mere age of 27, the wild idea of her new to be found startup came while she was getting dressed for a party. At the time, she even researched and wrote the patent herself in order to save money on hiring an attorney. Fast forward to 2016, her company reportedly worth $400 million and she owns 100% of her company.
Moose Knuckles Stirling Parka Review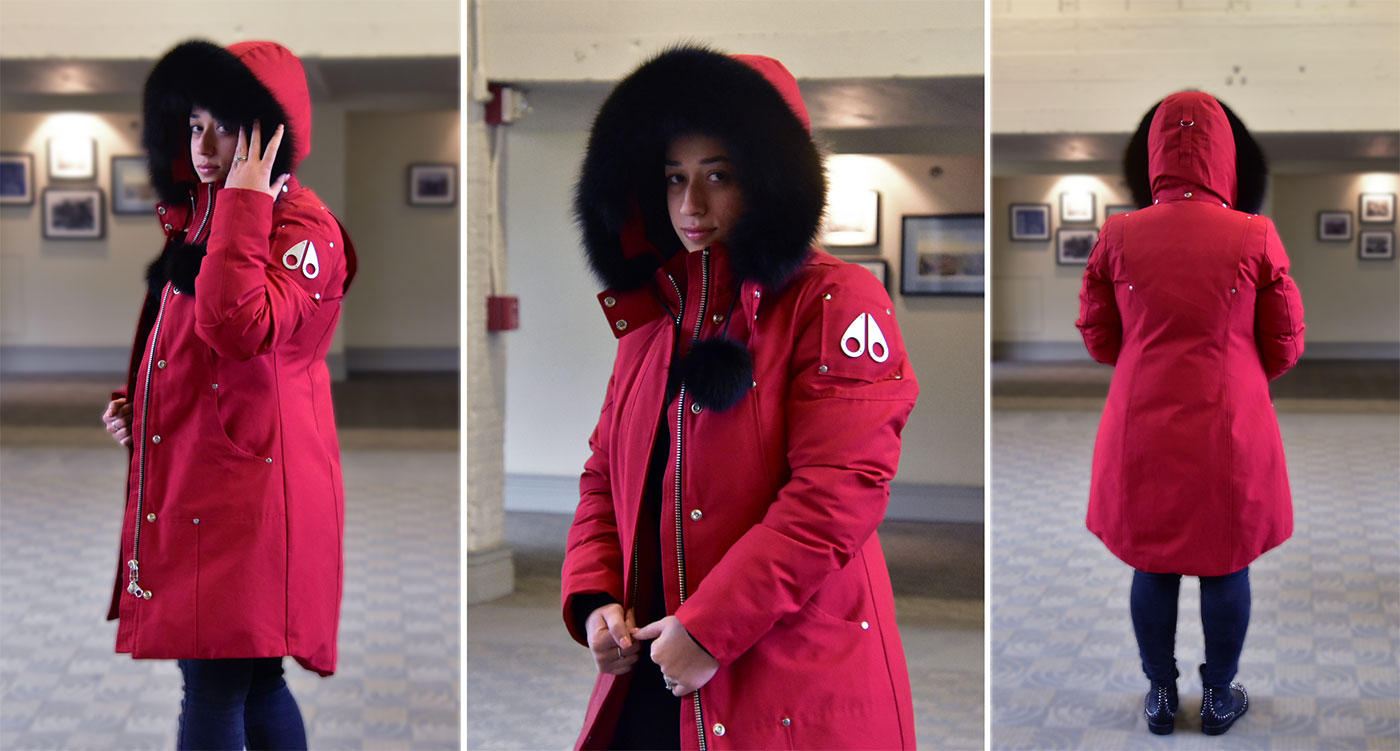 The popular Canadian outerwear brand Moose Knuckles is continuing to expand its name across the nation and into America. Moose Knuckles is a relatively new brand founded in 2009 by Will Poho and Mark Peros. Most of its manufacturing is done in Winnipeg. The brand is dominating the winter fashion scene through bomber jackets and parkas. Moose Knuckles are created from quality materials and are sweatshop free. The company also uses Canadian-origin gray duck down and farmed fox fur from Finland in order to ensure the materials are able to combat Canada's harsh winters. Here is the Moose Knuckles Stirling Parka review:
How It Looks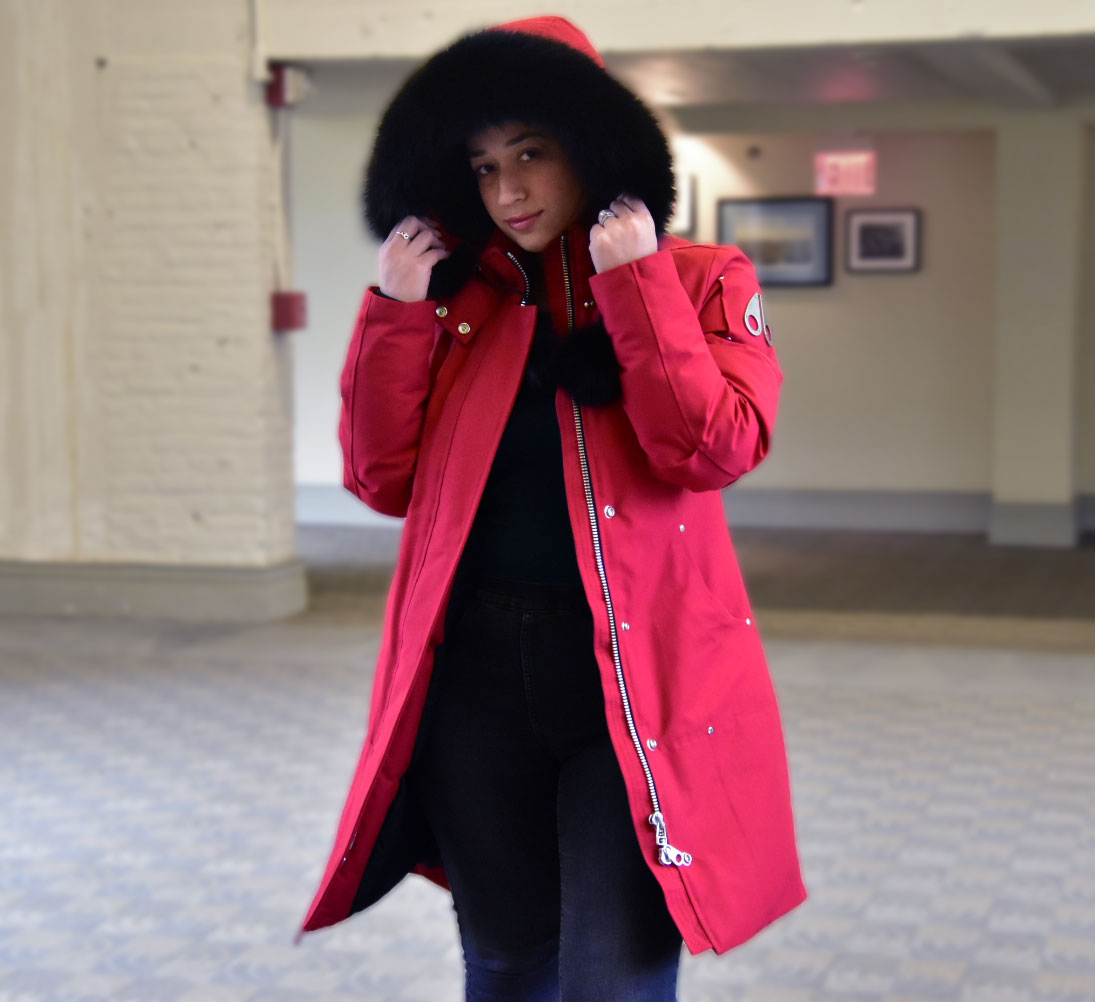 "Wearing a Moose Knuckles Stirling is like driving a red Ferrari. You will be noticed." 
The Stirling comes in at least 9 different shades of color. We reviewed the red model with black fur trim. Photos on the website convinced me the garment will provide a cinched waist, however I didn't feel restricted. The fur trim and goose down insulation allows you to be all bundled up and warm. Noticeably, the jacket has a Moose Knuckles signature metal detail on the upper arm of the garment. The signature catches the eyes in an instant, due to its unique look and new brand.
The pom-poms add a nice touch to the parka, adding a more feminine touch to the style. The double stitched durable canvas, luxurious fur, YKK zippers, and soft interior lining came together wonderfully upon putting it on for the first time. It was heavier than I thought, but the fitting was perfect. It was comfortable to wear and provided a more urban and versatile look. I took the Stirling out on a 9 degree day to see how it holds up. Wearing just a t-shirt inside, I never once felt the cold. Walking the streets of Philadelphia where every other person is wearing a Canada Goose or Montcler, I stood out like a sore thumb as people are trying to figure out what brand I'm wearing. A couple of girls even stopped and asked me what brand it is and where I purchased it. Wearing a Moose Knuckles Stirling is like driving a red Ferrari. You will be noticed.
Specialty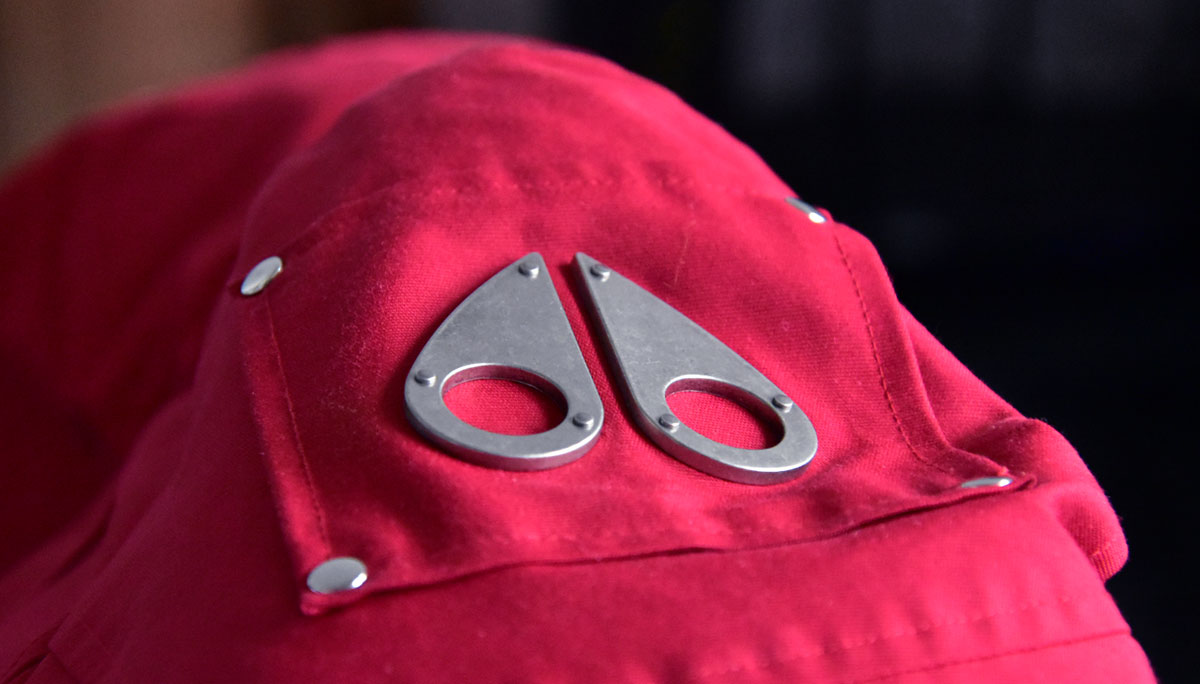 Moose Knuckles is ranked as the top parka brand for having the highest thermal insulation value. The Moose Knuckles parka came out with the result of a thermal insulation value of 2.11 clo. Thermal Insulation is the measure of resistance to dry heat transfer from a heated thermal manikin to a more cool environment. Thermal insulation is used to prevent excessive heat loss, which is the entire framework of an effective jacket. Moose Knuckles provide an amazing dependability on warmth and comfort due to their thermal insulation value. And wearing the Stirling for an entire day in single-digit weather, I can confidently say their research paid off.
Features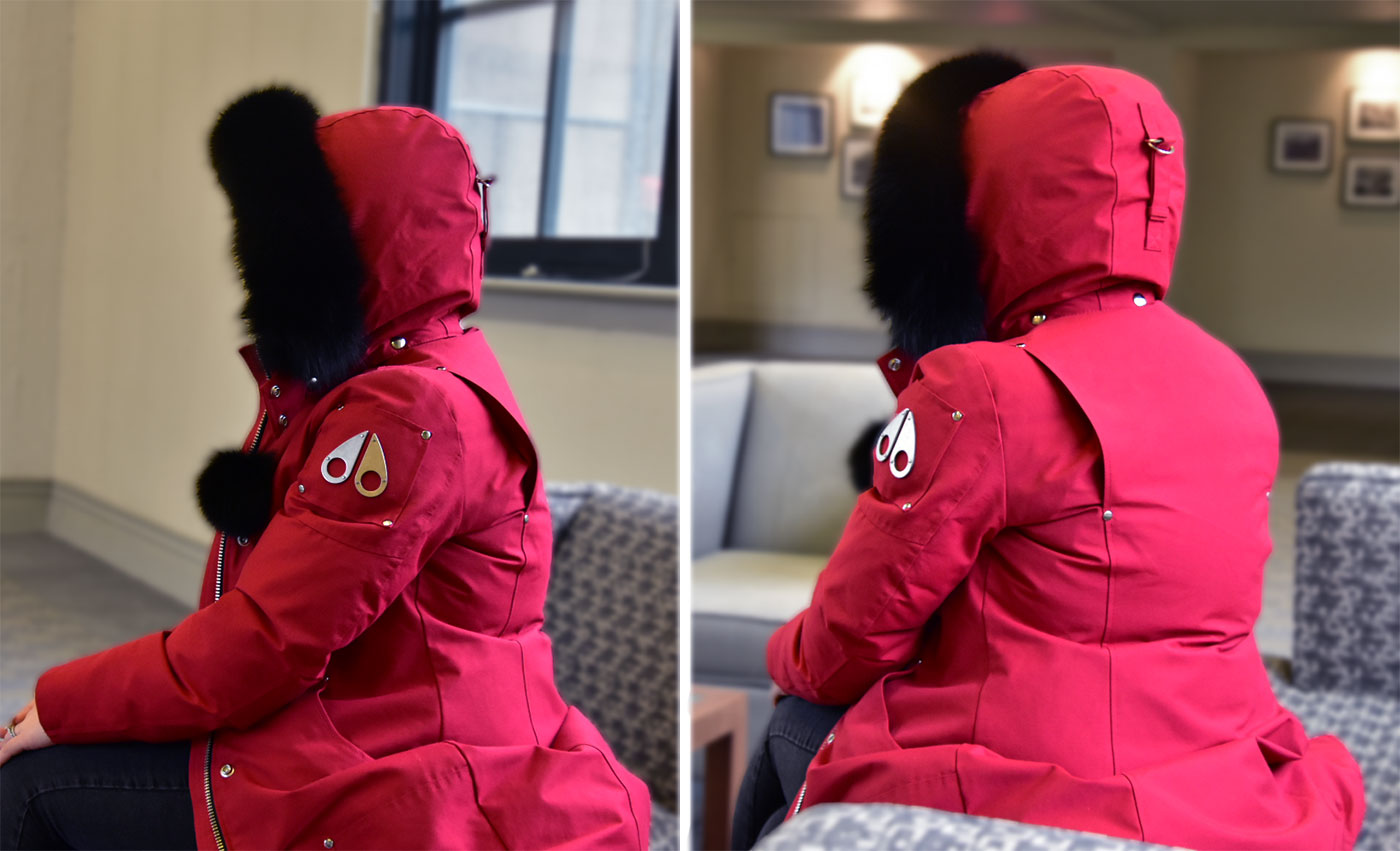 In addition to looking fabulous and keeping you warm the Stirling also comes equipped with features to appreciate. Most of which you'll have to see in person or experience first hand to appreciate.
Form fitting
This matters a lot to women and young girls. The Stirling looks great and even though it's fitting, it doesn't feel restricting.
Spacious hood
The fur lined hood is cavernous but fits comfortable thanks to adjustable straps on the back.
Quality fox trim fur
Moose Knuckles didn't cheap out on the fur. You will get plenty of high quality fur with the Stirling. Some parka offers low-grade synthetic fur purely for aesthetics. The fur on the Stirling is genuine, feels incredibly soft to the touch, and doesn't shed like many other brands.
Durable & Water resistant
The canvas material combined with double stitching are durable and made to last. It's also water resistant!
Quality zipper
The front zipper is heavy gauge YKK zippers and won't break on you anytime soon.
Plenty of pockets
Girls will understand the excitement of having pockets in just about anything. Four pockets on the outside and two on the inside of the jacket.
The Verdict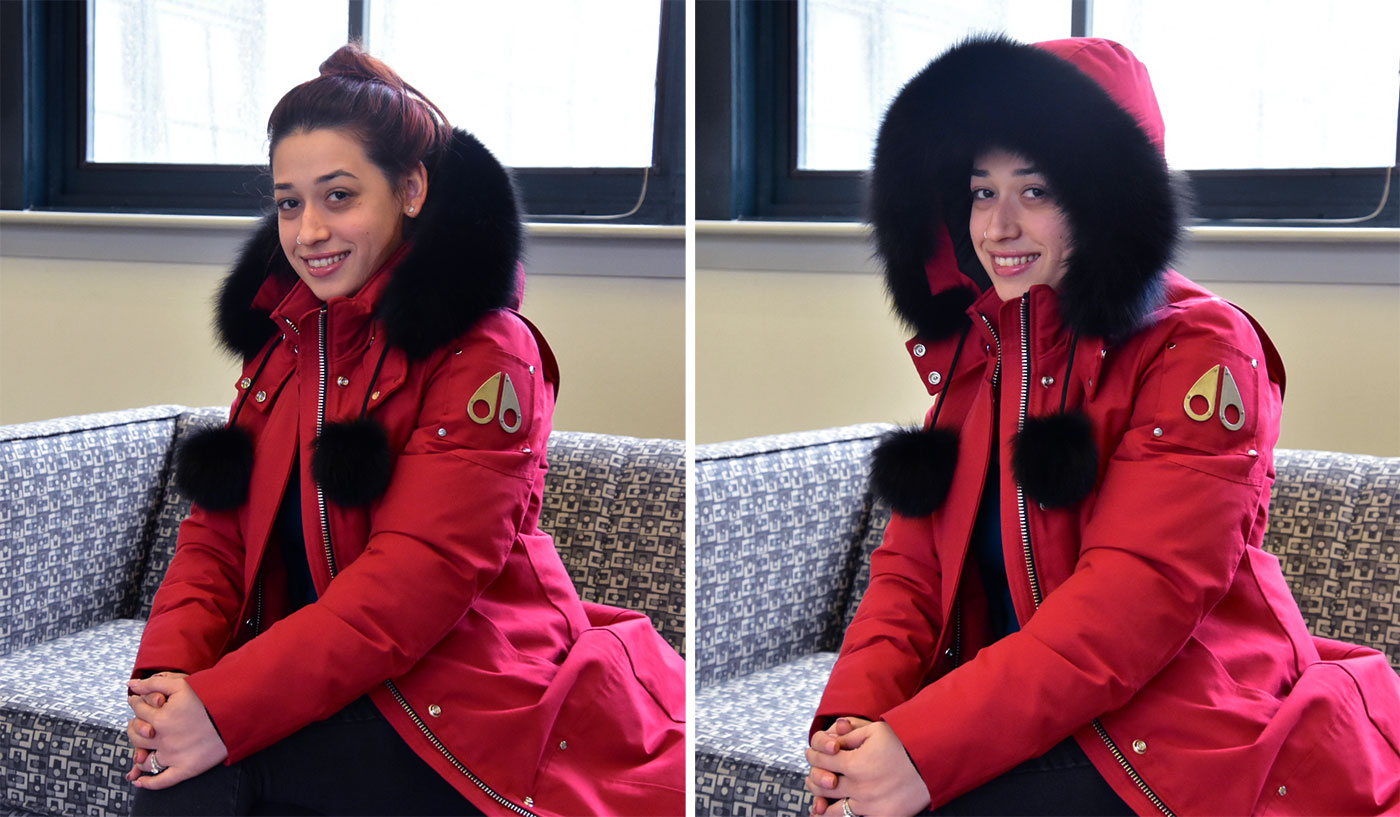 Many brands fail to understand what quality means in a jacket. Winters in Canada are harsh, it's windy, cold, and downright undesirable. Comfort and style is a rare combination when you're trying to make a parka that can withstand Canada winters. The Moose Knuckles Stirling parka is able to give you the swag look and still keep you toasty warm. Despite having plenty to love, we managed to find a few flaws.
Pros
You look unquestionably rich
Fashionable
Attention to detail styling
Plenty of pockets
Warm. Sourced from Canadian-origin gray duck
Quality fox fur from Finland
Durable construction that will last
Value doesn't depreciate as much
Cons
Heavy when compared to similar parkas
Canvas material despite being durable, can feel rigid
Outside breast pockets are too small
If you're looking for something discreet and low-key, look elsewhere. Moose Knuckles never intended the Stirling to be subtle. Make no mistake, you will stand out. For those living in harsh, cold conditions, investing in a reliable winter outer garment is a must. We highly recommend the Moose Knuckles Stirling because it's incredibly well made, warm without the bulk, fashionable, and will likely be the last winter coat you'll ever buy.
At $950, it's certainly not cheap but you get more than what you pay for. Despite being the new kid on the block, Moose Knuckles' unique line of products rival Canada Goose and Montcler in terms of quality, value, and appeal. The next time you're out shopping for a winter coat, put Moose Knuckles near the top of your list.