Scooterboard By InMotion Adds An Edge To Rideables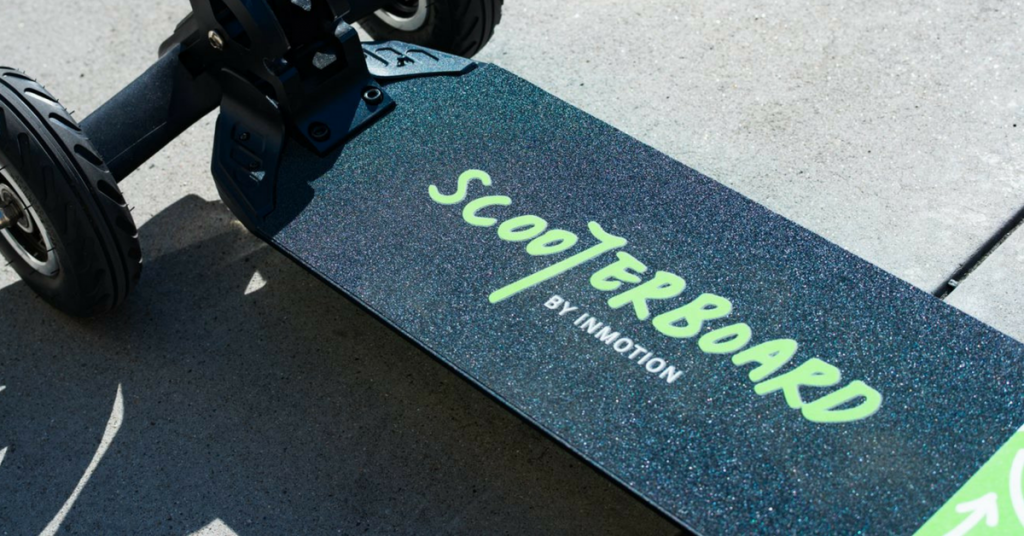 After almost 3 years of product development and testing, the Scooterboard by InMotion has entered production, thanks to an impressive

Kickstarter

campaign where they were able to reach their funding goal in a mere 48 hours. The Scooterboard is a cross between a scooter and a skateboard, and the resulting product is a lightweight, front-axle steering rideable that is both easy to learn, is safe, and is sporty. Here is everything you need to know about Scooterboard.
The Scoop on InMotion:
The Scooterboard is the brain child of CEO Rose Wang, founder of InMotion, a company based out of San Diego, CA (You can read her full interview with Owner's Magazine

here

). Formed in 2014, InMotion has been testing multiple prototypes and gathering user info from people all over the country, using that to tweak each iteration into what is being produced today. Thus, the Scooterboard is a product that is based solely on user feedback, merged into the creative idea that InMotion had. After three years of testing and re-testing, the final result is this unique rideable that caters to just about everyone.
Specifications
The Scooterboard weighs about 22 lbs, can carry up to 264.55 lbs, and has a top speed of 15.5 MPH, which it accomplishes through its 250w electric motorized rear wheel. It runs on a rechargeable, interchangeable lithium battery mounted on the undercarriage of the Scooterboard's rider platform. Charging time is around 2.5 hours, which will grant its user about 7.5 miles of driving range. The included charger is equipped with an intelligent over-discharging system, which will cut off the power supply once the battery is full. The Scooterboard also has regenerative braking, a useful feature that pioneered the way for Hybrid Technology to be successful and gain traction (get it) in the motorized vehicle industry. How it works is that braking will generate kinetic energy, which will then be stored and reused as battery life.There are two driving modes for the Scooterboard: Casual, and Power each of which changes riding experience drastically. Casual Mode keeps the motor quiet, the speeds smooth climbing and the brakes soft. It's a mode for the leisurely rider to cruise easily. Power Mode is a different beast: Engine noise is heightened, acceleration is faster, and the brakes are firmer. Late to work? For a date? Want to feel more wind under the raw open-air of electric rideables? Use Power Mode.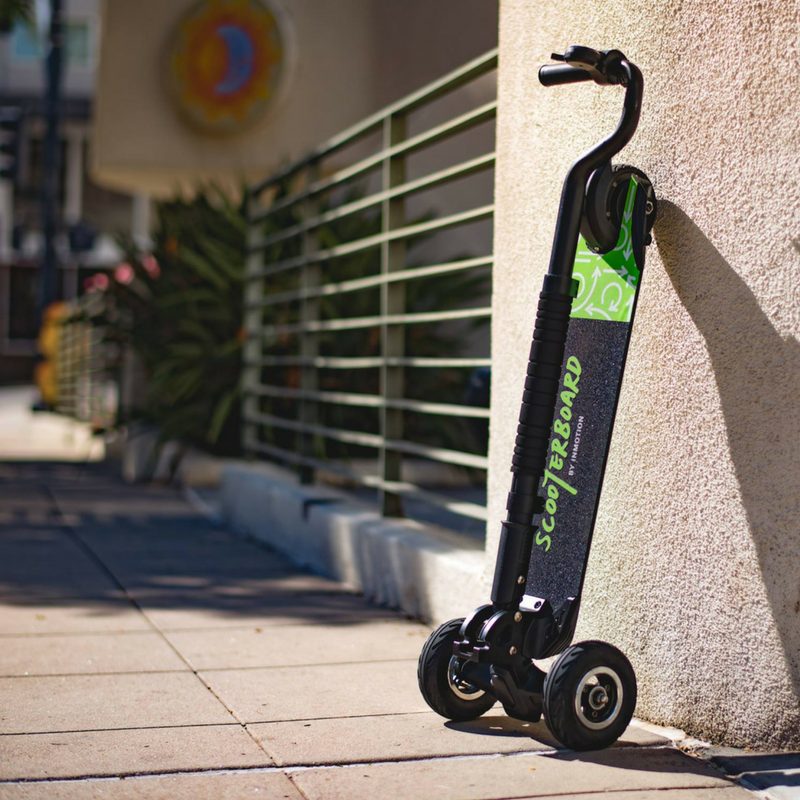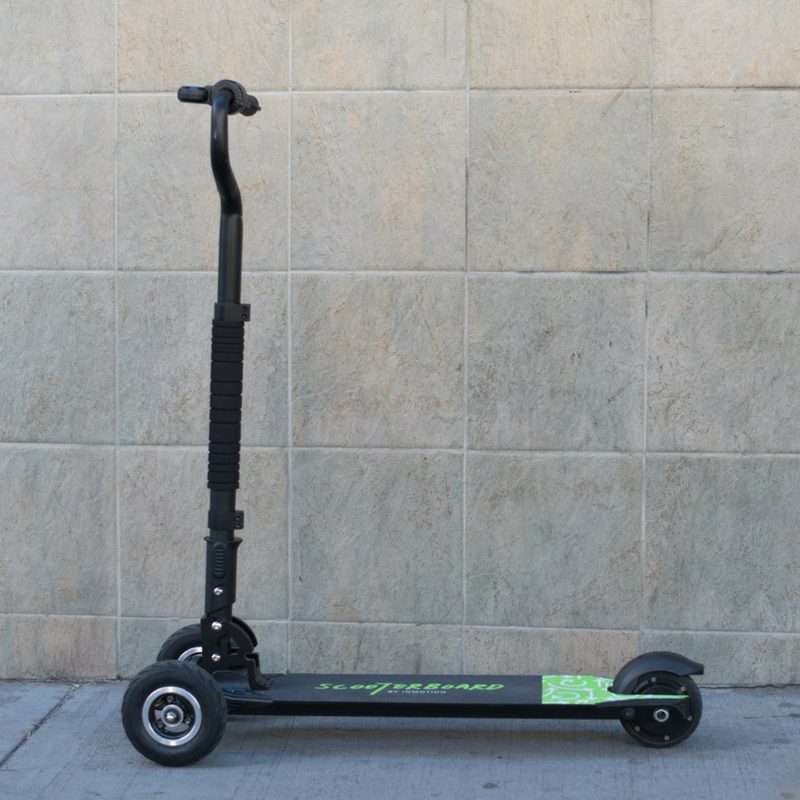 Ergonomics
At first glance, the Scooterboard looks exactly like a spruced up, aggressive scooter, but that's exactly what it isn't. The Scooterboard sports three wheels instead of two, thanks to a front-axle, fork mounted steering system. The standing platform is sandpaper textured to avoid slipping in dry and wet weather, and gives the user a firm, planted feel when riding. On the single, ergonomic handlebar, there are two switches for acceleration and braking. Both are conveniently located right next to each other, but are situated where the thumb controls the brake, whereas the index finger controls the acceleration. Both are pressure sensitive, similar to the pedals on a car, or the handlebars on a motorcycle. There is also a mechanical brake in the rear wheel. Step on the rear wheel cover plate to brake via a small hidden brake pad. At 22 lbs, the Scooterboard is easily transportable, and the front handlebar folds down, allowing the user to carry it like a suitcase, or pull it along like a carry-on.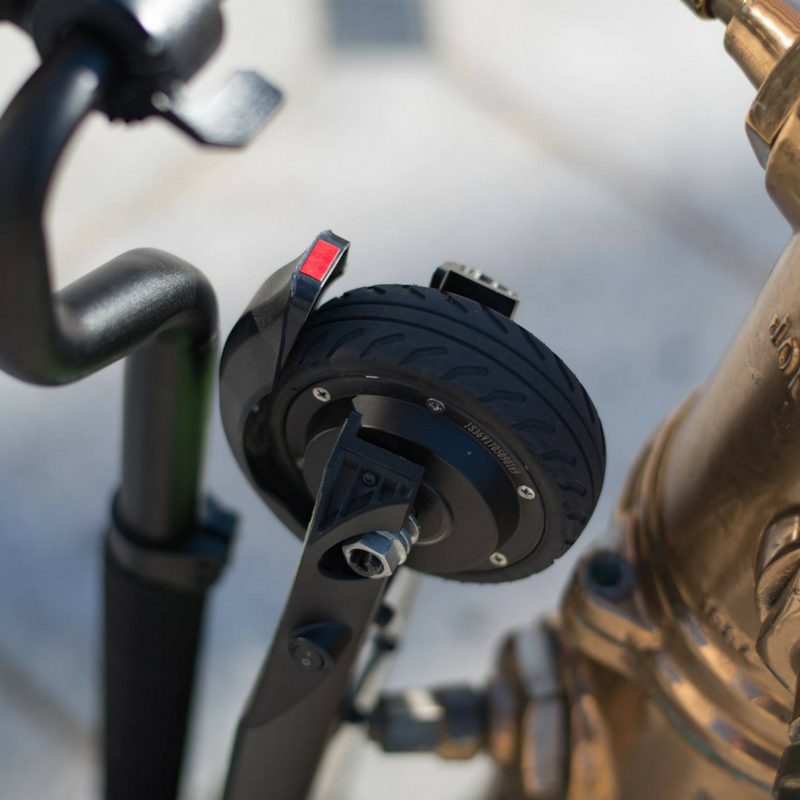 Rideability
With the unique concept of such a vehicle, rideability should be at the forefront of priorities. After all, being unique means it hasn't been done. For a product such as the Scooterboard, rideability should be a special experience, but it should also be attractive and intuitive. The Scooterboard does just this by combining the best qualities of two popular terrains, the scooter, and the skateboard to allow its rider a fun, sporty platform that is also easy to learn (users claim it can be learned in a single session), practical, and convenient. To do this they crafted a single handle that curves like a cane right under the single handlebar. That allows for a perfectly balanced center of gravity. No other rideable on the market has employed this design, yet it works brilliantly with the Scooterboard's ergonomics. The feet are planted sideways like a skateboard, or a snowboard (for the snowboarders, with the fork-mounted steering system, carving is possible, and encouraged), and steering is done in one of two possible ways: tilting the handlebar left or right, or by leaning the body. Leaning allows for sharp turns, and even full U-turns in small spaces, a useful feature not found in many other electric rideables. For novices, leaning to steer is a skill that takes some practice, but once attained is immeasurably helpful. For those wanting to get on the road right away, the handlebar exists to easily compensate. It is easy to use, and the mastery is almost immediate. Together, the handlebar and the lean to steer system combine to create a useful method of steering that is as useful as carving on a snowboard, without the months of learning associated with carving. It can be employed to take quick, sharp angled turns, and control speed which, on the Scooterboard, is surprisingly sharp. On a flat, level plain, the Scooterboard can hit top speed in about 4 seconds.With the motor turned off, it can be kicked off manually. Conveniently, there is no resistance from the motor when it's off, so users can kick off and enjoy a manually powered vehicle post shut-off.
Learnability
InMotion prides itself in the fact that its product has a very low learning curve. Users agree that through intuitive adaptation, riders can be comfortable on a Scooterboard by the end of a first session. There are a few things to get used to, however. 15.5 MPH may be drab in a car, but on a vehicle as small as a Scooterboard, the speed can be intimidating, especially for beginners. The lean-to-steer system has the biggest learning curve, there is a feeling associated with the vertigo of being close to falling that users have to overcome to fully utilize this method. But regardless, the Scooterboard can be driven any which way, however the user is most comfortable. CEO Rose Wang said herself that during conceptualization, she wanted to: "create a unique and accessible vehicle that is easy to learn and more affordable. With Scooterboard, we want to make the e-board culture more inclusive so that more people can participate in the electric vehicle movement. We want to challenge the e-board industry to innovate with inclusion in mind so it's not just a cliché. E-boarding is a fun and awesome experience that's good for the environment – why wouldn't we want to get more people involved?"The Scooterboard by InMotion is now available for

pre-ordering here

for $649.00 (early bird pre-orders currently receive $50 off the full retail price of $699.00). Because InMotion wanted to keep prices low, they will be working closely with distributors and retailers. There are currently two colorways available: the one found on the final tested prototype of a sleek black and blue, or the more enigmatic, bold black and green.
Q&A with Tobias Peggs: CEO of Square Roots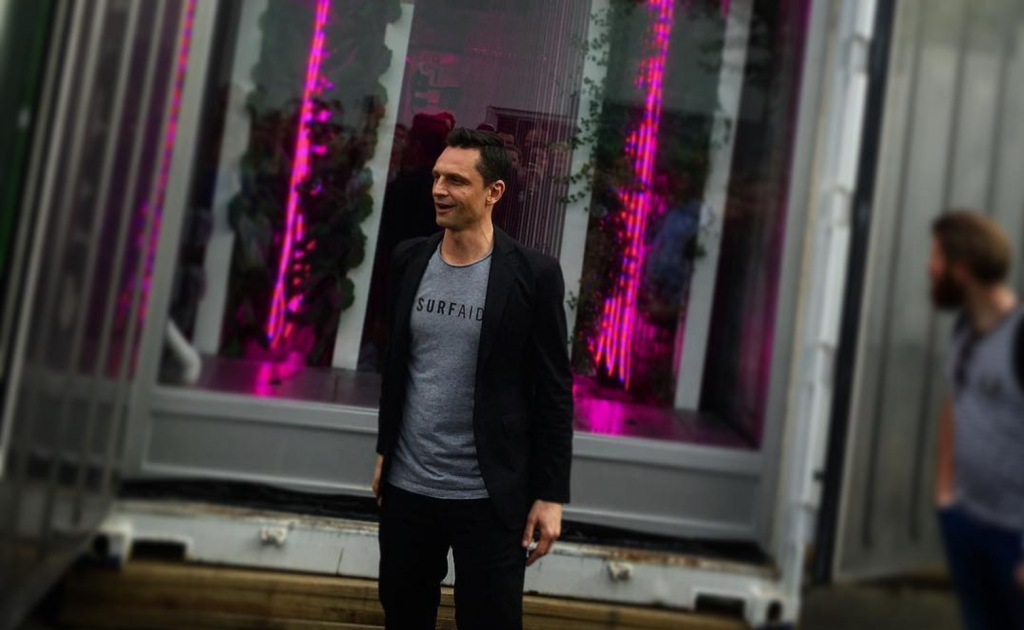 When you think of farming, wide sprawling hills with rows of stalks and veggies comes to mind.  You probably imagine a farmer as a dude with a plow with denim overalls, not necessarily as an entrepreneur.
Square Roots
is a startup that is changing the way we think of farming.  Cofounded by Elon Musk's brother, Kimbal Musk, this company is disrupting the industrial food complex by closing the gap between the food that farmer's grow and the consumers who buy them.In the heart of Brooklyn in a old industrial parking lot sits a bunch of unassuming shipping containers.  The last thing you'd expect them to contain would be two acres worth of growing produce, but alas, that is exactly what's inside of them.Your typical apple travels a huge distance from where it was picked to the grocery store shelf.  In the process it looses the vast majority of it's nutrition.  Square Roots attempts to resolve this inefficiency by providing a place for produce to be grown in an urban setting.  It does this by growing produce in shipping containers hydroponically (a method of growing without soil).  Each shipping container is manned by a farming entrepreneur who is responsible for creating their own business plan, marketing and distribution logistics.  Once the produce is ready for harvest, farmers deliver the fresh goods directly to your office/home, connecting the farmer with the consumer in a more intimate and conscious way.A couple weeks ago I took a tour of the urban farm led by of Square Root's CEO Tobias Peggs.  Here's a look at some of the things I learned along the way:
How much produce can one shipping container yield on average?
One shipping container can produce about 50lbs of leafy greens.
How long does it take a plant to get from seed to harvest?
This varies depending on what type of vegetable is being grown but take for example a head of lettuce: it takes about 2-3 weeks for the plant to go from seed to harvest.
Tell me more about the tech that goes into growing food in shipping containers.
To replace sunlight, we use red and blue LEDs, which are really the only two types of light plants need for photosynthesis.  Each shipping container is modular with a controlled climate.  My background is in artificial intelligence, so every aspect of the conditions in each shipping container is controlled by AI.  Say we had an heirloom seed that grew in southern Italy in the 1800's.  We can look to see what the climate was at that time and replicate it's environment within the container.   This way, instead of literally shipping food from southern Italy, we just ship the data about that environment and use it to grow exotic foods locally.
What control do farmers have over what they grow?
Our farmers are 100% entrepreneurs.  They decide which seeds to use.  They also are responsible for their own branding and marketing and how to distribute their goods.  This is our first cohort of farmers, they don't have to use the Square Roots name, but most choose to.
Is there anything like this currently being attempted?
There's one in particular being attempted in Japan.  A large portion of farmland was rendered unusable after the meltdown in Fukushima.  Because of this Japanese consumers now have stamps on the food which literally says "Proud to be grown indoors".  So people are attempting it, all of them in different methods. I would say we were the most modular.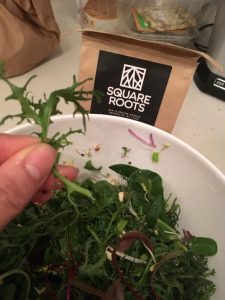 After the tour I got to sample some of the shipping container-grown produce.  The picture above is from a mustard green.  Believe it or not it was really spicy!  I never thought of leafy greens as spicy, but regardless it was bomb as hell in my salad.As populations rapidly grow and change in cities, so must the way we produce and distribute food.  Not only does the current method of industrialized farming diminish the quality of our food, but it also disconnects the farmer from the consumer.  Square Roots presents us with a wildly innovative solution to these issues.  Where does your salad come from?  Mine came from a badass shipping container in Brooklyn.
How this successful entrepreneur spent his 35th birthday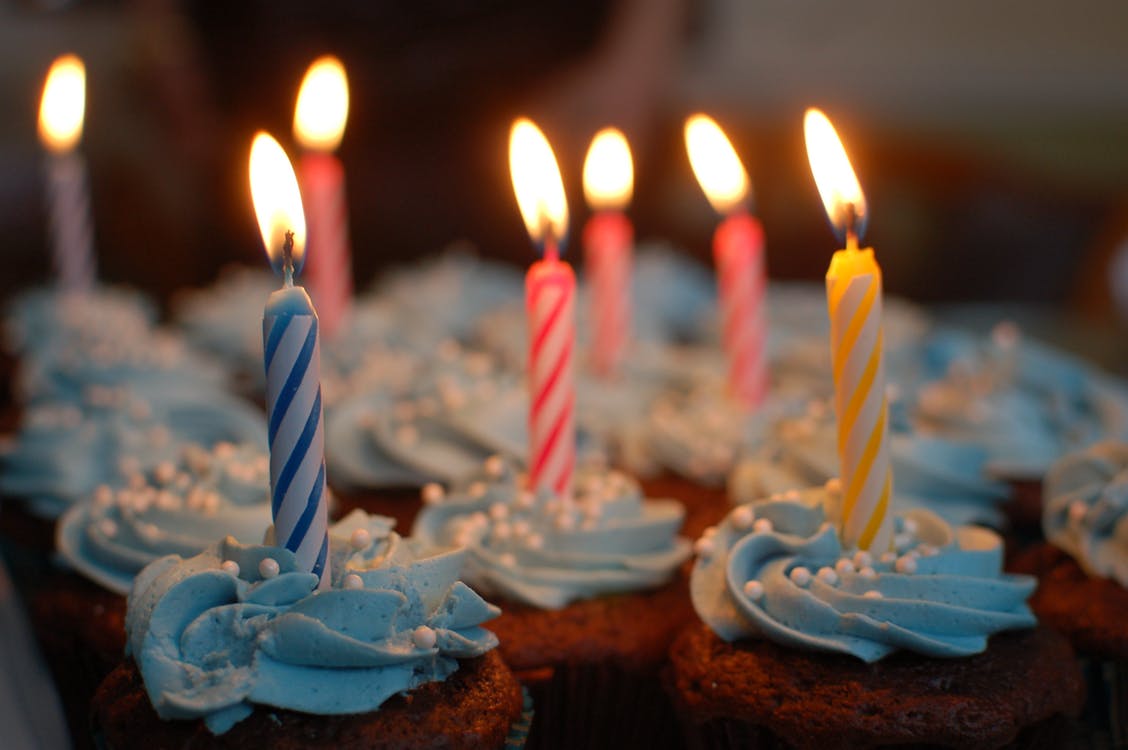 Over the weekend I was going through my Twitter feed. Rather than seeing a ton of political "artistry" and random gifs, I stumbled across this incredible set of non-obvious business strategies (or better known as tweets) that may be some of the largest pieces of gold someone can read when they want to start a business.Twitter has received it's fair share of opinions within the past year, but it's safe to say that if used correctly; it's the most powerful social network on the planet.
Scott Gerber
, a New York based entrepreneur, best selling author, father, and straight up bad ass, celebrated his birthday in an unconventional way. The "
Super Connector
" took to Twitter to grace us with 35 "non-obvious business strategies and lessons" that he has learned over the past decade in business. Below are his tweets directly quoted from his Twitter feed. If you care to follow Scott, you can do so at
@scottgerber.
Lessons From Scott Gerber
1. Beware of "boss metrics"
Macro trends are great IF they are based on the right micro trends. Macro trends can easily be manipulated to show a rosy picture while making major micro issues seem smaller or irrelevant. Ensure your KPIs align with your true performance.
2. Optionality is your life blood
Your job is to maximize optionality everyday in everything you do. There should never only be one path. In fact, try never to only have two potential paths. Always have a variety of obvious and non-obvious traditional and non-traditional options.
3. Bad Decisions
Bad decisions are due to failures to ask the right people the right questions. Don't be "surface level". Ask follow up questions. Don't mistakenly believe what you want to hear. Instead probe deeper on what you actually hear.
4. Two rules
Two rules if your goal is to one day sell your business. 1) Be a revenue multiple company. 2) If you aren't a revenue multiple company, see rule #1.
5. Anecdotal evidence
Never allow your team to use "anecdotal evidence". First, anecdotes are not evidence of anything nor are they based in facts, science or statistical relevance. It's simply opinions on top of gut feelings and emotions. Poor decisions come from this sort of "evidence".
6. Train with fake fires.
Train with fake fires. Your company needs a good fire drill once in a while. What happens if you don't raise money? What happens if your biggest client fires you? Get smart people in the room. Figure out how you would disrupt your own business and solve the issue.
7. Never give a "definitive yes"...
Never give a "definitive yes" to a contractual term without reviewing it in its proper context. A one line term can easily become 100 lines or be defined by 100 terms that you never agreed to. It can also mess up other terms if everything is not contemplated as a whole
8. Don't just listen
Don't just listen to what's being said--listen to what is not being said. More importantly, listen to what's not being said on purpose. People that try to sell you something are often expert in the art of mindful editing.
9. Automating
Automating humans out of a process still takes lots of humans. Don't be fooled by the concept of "automating a system". It often takes more man-hours, money, time and technologies than the task itself is worth. Look at the full picture before you invest time or treasure.
10. Follow the bonus.
Follow the bonus. If you help others hit their financial goals, they are more likely to become an ambassador of your BD efforts with their colleagues. Building a partnership with someone who is top line revenue based versus quota based is different. Align incentives.
11. Never partner with adulterers or known cheaters.
11. Never partner with adulterers or known cheaters. If they are willing to screw over their spouse, they will have no problem screwing you ten fold if it suits their needs.
12. Sell with a "2-for-1" mentality.
Sell with a "2-for-1" mentality. Many companies get one big client name and are happy with that. BUT they forget the big client has dozens of divisions. One client could actually become 2 or 3 clients once you open the right doors. Don't stop after the hardest one!
13. The 3rd party
Don't let a 3rd party control your destiny, cash flow or your decisions. Whether you need an investment, a platform or a vendor, if a 3rd party becomes a vital piece of your plan you are taking a bet. Calculated bets can be smart, but don't kid yourself. You're making a bet.
14. Don't be a conventional scheduler.
Don't be a conventional scheduler. We've been taught to think in blocks of time (ie 30 minutes). Why have a 12 minute meeting, then burn 18? Think in smaller chucks like 2 or 5 minutes. When you adapt to this, you're capacity and efficiency will dramatically increase.
15. The Final Offer
Know the final offer you'd take before the first offer. Before you do any deal, know your absolute last stand deal--the absolute worst terms you are willing to accept. Having that thought out beforehand will stop you from making bad deals that aren't in your best interests.
16. About Acceptance
Don't ram your model into new industries and assume the other side will understand it (or accept it). Engineer your model to adapt to the lingo, structures and terms of the industry. Make the numbers work using the financial standards of that industry.
17. Always be the first salesperson.
Always be the first salesperson. If you don't know how to sell your product, no one will! Even if you aren't a professionally trained salesperson—or the tech guy!!—you need to learn to articulate your value proposition and see what people really need.
18. About Department Heads
Have your department heads always do every task in their department before they are allowed to assign it to anyone else. This will ensure that they know what success and failure look like beforehand.
19. About Sales Meetings
In sales meetings, always ask more questions than you answer. Answer questions with follow up questions until you have the most amount of detail possible before you fully answer. Most prospects will TELL YOU what they need and how they want it. You just need to ask and listen
20. Know your team's real capacity.
Know your team's real capacity. Break down your staff's tasks into units and total task costs. You would be shocked to see how "busyness" and real time communication gives the false impression of full capacity.
21. "Layer"
"Layer" your business over time, not all at once. Layering new revenue centers is certainly smart, just don't try to do it all today.
22. Buying into passion and enthusiasm can be a disaster.
Buying into passion and enthusiasm can be a disaster. Don't get caught up in hype and sexiness (or a good salesperson's spin!). Never make instant yes decisions no matter how good you feel. Even if they feel right, you should still do your diligence.
23. Train your brain
Train your brain to think about what is wrong, not right. What could go badly, not well. And why something won't work, not will. Your love for your idea, your process or your product can be your worst enemies.
24. Invest in the right systems BEFORE you scale.
Invest in the right systems BEFORE you scale. Failing to create the processes and systems needed when things are manageable will become incredibly costly longer term—and more time consuming and tedious.
25. Rules of the DM
Expect that anything you send via email or send via DM to anyone about anything will get out there and will be made public at some point. It will. Don't be an idiot.
26. Surprise Yourself
No matter how "conservative" you believe your internal projections or goals are—LOWER THEM AGAIN. Surprise yourself, don't be surprised.
27. Sell your way out of financial trouble
Sell your way out of financial trouble. The idea of "raising money" or "raising debt" is not a good mindset to be in if you find your company in a cash crunched position. You might end up getting financing, but relying on it is a fool's errand. Sell! Sell! Sell!
28. Are your customers asking the same question twice?
If customers ask you the same question twice, you've failed them. When customers ask a new question, write it down, formalize an answer, and find ways to promote that answer (eg FAQs, call center scripts, website, etc.) so that another customer will never need to ask again.
29. Never blindly listen
Never blindly listen to someone who doesn't have to live with the consequences of the decision. Advisors are great but you must make final decisions. Getting an "I'm sorry it didn't work out" from an advisor without any downside won't won't make you feel better in the end.
30. Unlock your entrepreneurial mind.
Unlock your entrepreneurial mind With everything that happens around you, go beyond the surface and ask "why", "how", "is it the best", "what's better", and "how would I do it." Feed on curiosity and your ability to ask great questions will be sharp when you need it.
31. User adoption isn't simple or guaranteed.
User adoption isn't simple or guaranteed. Changing user behavior is not easy. Remember: everyone is busy (life, family, work) and you want to add yet another thing. Remove as much friction as you can. Save as much time as you can.
32. Shut up after yes
Once you've got a 'yes' shut up and stop trying to further sell. You can't go further than a win, so shut up. I've met more than my fair share of people that lost deals because they kept selling past the 'yes'.
33. Everyone always has an angle.
Everyone always has an angle. Know the angle before you react to the situation. Don't end up a pawn on someone else's chess board.
34. Community is crucial.
Community is crucial. The power of association and coalition is more powerful than being a lone wolf. Build one. Be a big part of many. Give more than you take (and don't be a taker or a sleepy networker!).
35. A Quote to End Them All
Live by this quote from one of my mentors and you'll be better for it: "You can't cheat real time. And real relationships take real time." With my addition: "But your job is to find ways to cheat your time to create more real time."Here's to liven out that last quote. Thanks for the free advice Scott and Happy Birthday.
Costume Designer Janelle Nicole Carothers Interview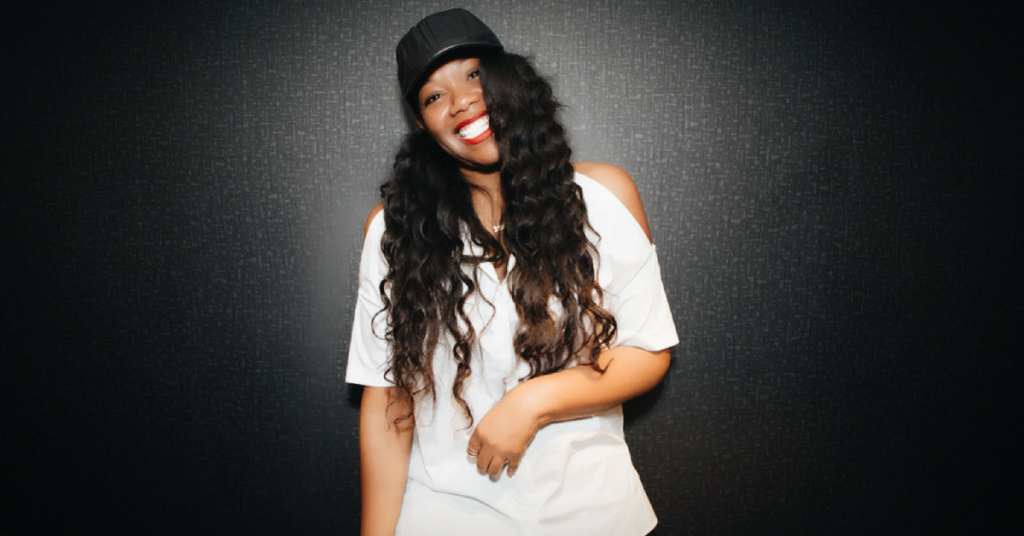 Inside The World Of Costume Designer Janelle Carothers
Being the costume designer for some of the most beautiful women and biggest names in entertainment sounds like a dream job, and Janelle Carothers does just that. Dressing big names like Cassie, Ne-Yo, and Chris Brown, she is no stranger to getting up close and personal with celebrities. Janelle's role in film greatly impacts the characters wearing her clothes. She looks into the finest details to create the perfect look, whether it's for print, live performances, or commercials.

It comes to no surprise that she was born fashion savvy. Her personal style is self-described as "tomboy-chic," with pieces that we can find in our very own closets. "So my day-to-day fashion consist of layers to pop on and off as I go in and out of meetings, in and out of malls, on and off sets, in and out of fittings. My fashion staples are, leather jacket, white T, great fitting jeans, boyfriend blazer, long scarf, big shades, shirt dress - I can get a million looks out of those 7 items. My personal go to brands are Celine, Madewell, Rick Owens, Adidas, Acne, Alexander Wang and of course I love piling on my SLATE accessories. I love to be comfortable and look effortless." Versatility is key when it comes to picking out pieces for herself.An outfit tells a story about the person wearing it, and Janelle keeps that in mind each time she is on set. By studying the characters, she figures out their personality, their occupation, and so on, so she can style them accordingly. "It's more about How can I help the actor and the director tell this character's story without saying a word. Does she make a lot of money? Is she happy? Is she insecure? What does she do for a living? All those things have a "look". What is that look? That look may or may not be "fashion". But, my job is to keep you entertained. Executing the vision of the powers that be into making you believe this character is who they say they are." Her passion stems from the ability to tell a story through clothes, not just for fashion's sake alone.Though her livelihood is her dream, it did not come without obstacles along the way. "The challenging part was all the different catch 22's. Get a job to get experience, no one will hire you until you have experience. Get into the union. Can't get in the union unless you find a union job. Can't get on a union job because you're not in the union. It's almost like it's designed to make you quit, but you can't. But, every obstacle you overcome bears a new obstacle. This is life. I look back and see how far I've come, I look ahead and see that there's still so much more to do." Janelle has faced what many millennials are also facing today. Finding a career proves to be difficult, no matter the industry.As an entrepreneur, she has worked tirelessly to get to where she is today, each day to improve the next, setting up her future with each move. Creativity and entrepreneurship comes hand in hand, especially in the costume design industry. "This is something that you have to choose over again, almost everyday. So many things are going to come along (bigger, better, prettier, EASIER), don't jump ship, stay the course. Know that all days on this journey are not created equal. You got to take good with the bad. Keep going. Don't give up." She began her career assistant a stylist for Chris Brown before he was a big name. When he blew up, she followed him on tour for three years. Her perseverance paid off, time and time again, as she has elevated her portfolio with television, music videos, working with Director John Singleton, and much more.One of her most popular projects was working on the movie

The Perfect Match

, starring Paula Patton, Terrence J, and Cassie Ventura. Watching the film, you can tell that each piece was meticulously thought out and chosen according to the personalities of each character. "Great and talented crew. I'm grateful the director, Bille Woodruff, entrusted me with his vision. And, I mean Cassie, Lauren London, and Dascha Polanco are too gorgeous and you can't make them look bad even if you tried. So all in all, when projects like that come around you just say yes one thousand times."While there is no such thing as a typical day for Janelle Carothers, she stays humble and expresses her gratitude for being able to work in the competitive and demanding industry that is costume design and styling. She stays grounded by her son, who motivates her to continue chasing her goals. " Knowing that God chose me to take of him. Knowing that I'm his sole emotional, physical and financial support. Knowing that God allows me the opportunity to feed us and provide us a great life by doing something that I love so much. That alone is worth its weight in gold. The least I can do to show God my ENTER all gratitude, is to stay motivated and keep going." She has many more surprises in store, and whether we realize it or not, we'll be seeing her work everywhere we go.