I Played Pokémon Snap All Weekend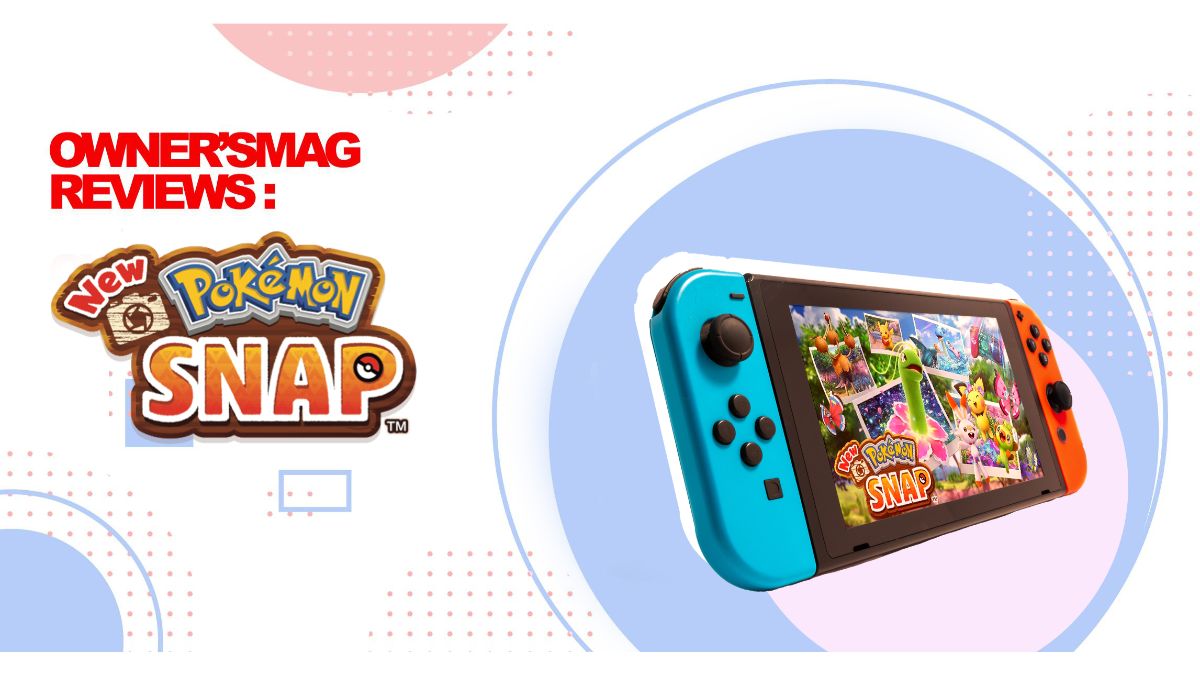 Fans of the Pokémon franchise have eagerly awaited the release of Pokémon Snap since it was announced last year. The reboot was among a whole list of additions to the franchise during their 25th anniversary year. Finally, the game arrived this past Friday (or Thursday night for the real gamers), and the wait is over. After spending the weekend playing Pokémon Snap, here's my review.
Nostalgia with an Upgrade
Pokémon Snap is a remake of the 1999 Nintendo 64 game. When I learned we were getting an update to the game over 20 years later, all I could think about was the visual improvement. One of my favorite games of all time is Mario Kart. I can't tell you how many hours I've lost playing that game growing up. But try playing that game after playing Mario Kart 8 on the Nintendo Switch – it's impossible. The eye strain from the terrible graphics is enough to give you a migraine. The same goes for Pokémon Snap.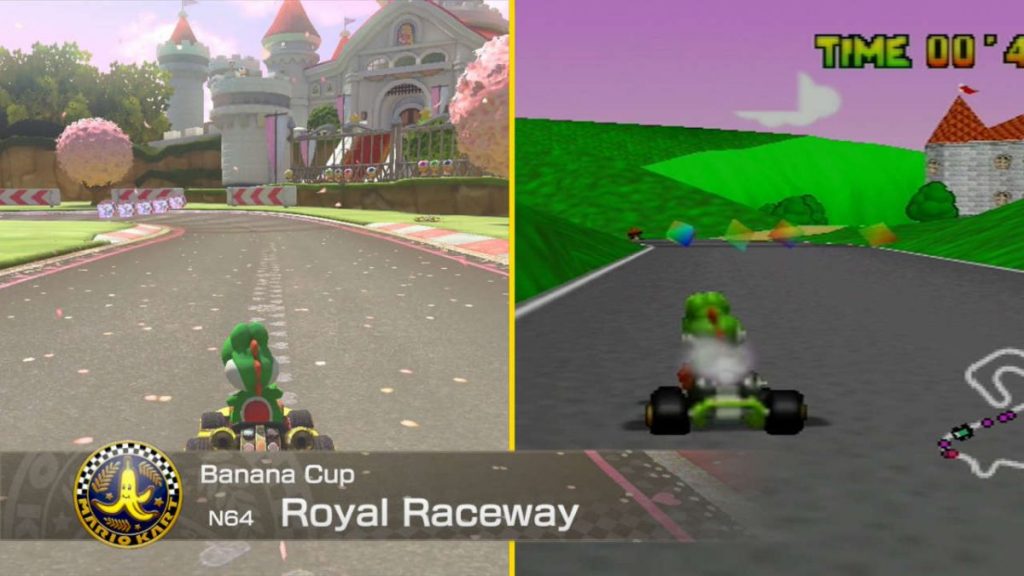 Cruising around, taking pictures of my favorite Pokémon has been a nostalgia-fueled hoot(hoot). The mechanics are virtually the same as the original game but with two notable improvements: amazing graphics and many more generations of Pokémon to pull from.
Gameplay
The premise of Pokémon Snap is pretty simple. You are a young child tasked with snapping pictures of Pokémon in the wild to help Professor Mirror with his research. You are in the new Lental Region, which is comprised of different islands. Each island has a different climate and ecosystem. Professor Mirror hooks you up with a cool camera and puts you on the NEO-ONE, a hovercraft that steadily pushes you through the different habitats. As a player, you don't control the NEO-ONE, so all you have to worry about is snapping pictures. Once you get through the trail, you report back to Professor Mirror, and he grades your pictures. Mirror grades your pictures between 1 and 4 stars as well as awards points for them. It does get a little more involved but more on that later.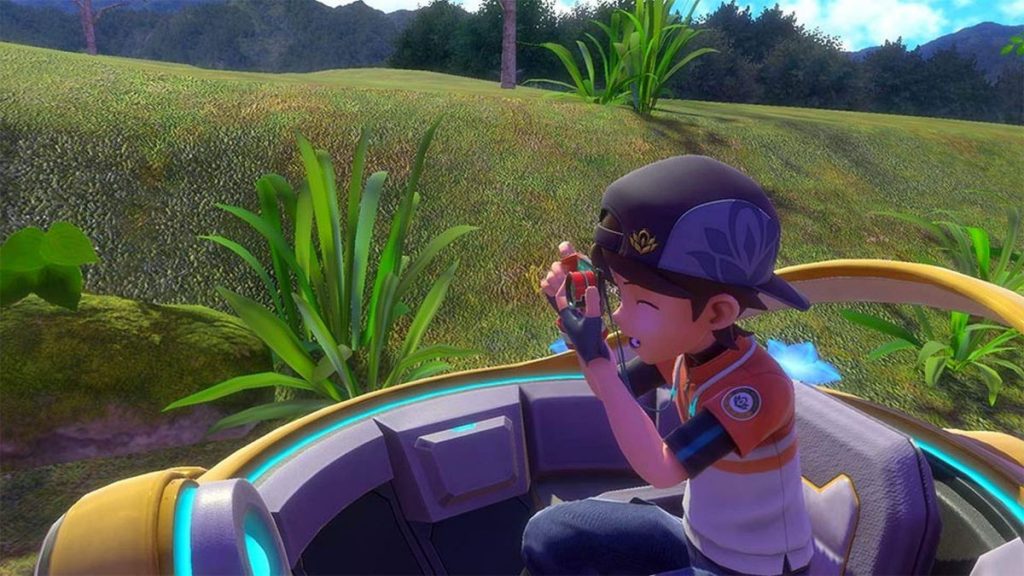 Not Your Average Pokémon Game
Pokémon Snap plays very differently than other Pokémon games. In fact, it plays very differently from most other video games. The gameplay is all turn-based and strategy with the flagship games that started with Red and Blue (or Green overseas). The goal is, of course, to Catch 'em All, but even for an avid fan like myself, I'll admit that the monotony sets in fairly quickly. I still have PTSD when I think about Zubats in the Rock Tunnel. But while the other games are all about filling up your PokeDex as quickly as you can, Pokémon Snap is about taking in the sights. And it's a relief.
Skip through the intro and tutorials and get to the meat of the game, where you snap pictures of Pokémon in the wild. I was immediately blown away by the visual masterpiece that is Pokémon Snap. On each trail, you see a variety of different Pokémon. And they're not just running or grazing or sleeping. They're interacting with each other. A little Grookey and Pichu are chasing each other around like two kittens. A Scorbunny is sleeping with its paws behind its head on top of a Torterra. They had personality.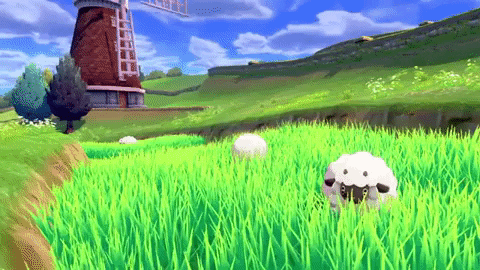 When Sword and Shield came out in 2019, the big talk was about the addition of the Wild Areas. Players could walk or ride around in this giant open map, see Pokémon in the grass, and interact with them. But it was still very mechanical. The Pokémon sprites walked and turned like they were wind-up dolls. They moved in a tiny, predictable loop. But in Pokémon Snap, these animals come to life.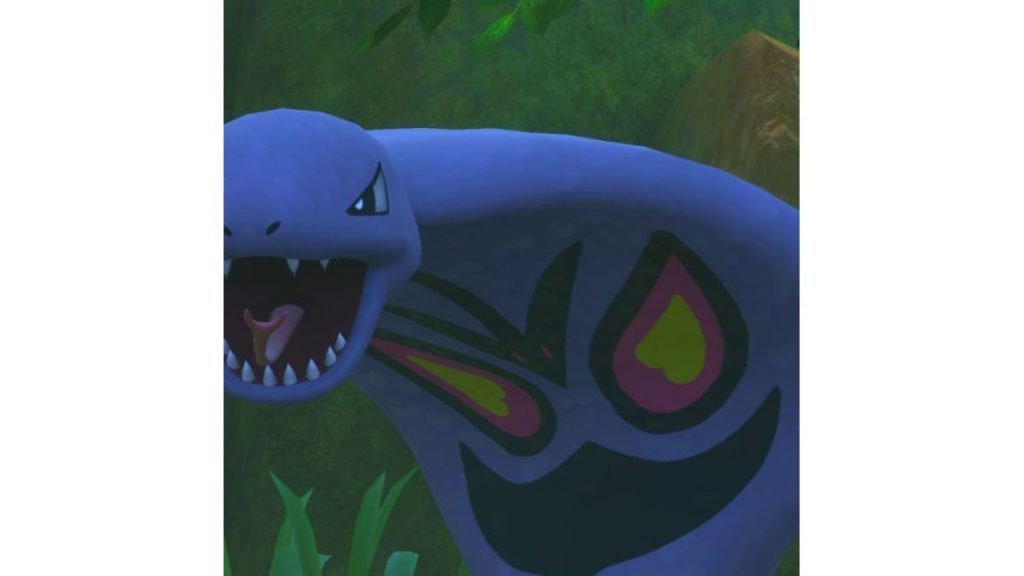 It gave me a whole new appreciation for the Pokémon. Arbok, for example, was never anything special to me. I dismissed him long ago as that stupid snake that Jesse from Team Rocket used. But in one of the early maps in Pokémon Snap, you see him in the wild, and he's huge and kind of intimidating. And if you've never thought much of Meganium, wait until you see him in all her majestic beauty in Snap.
A Camera that Feels like a Camera
The whole game hinges on the quality of the camera feature. I was worried that the photos were going to be lame. They weren't all that impressive 20 years ago, and I was curious about whether it would feel like just a fancy way to take a screenshot. But the camera functionality is very intuitive and life-like. The zooming and focusing are quick and adaptable, and no two pictures are exactly alike. Here are some of the pictures I snapped.
A Game of Easter Eggs
If you like to fly through games and be the first to beat them, you're missing the point of this game. Pokémon Snap is a slow-paced, leisurely pursuit. Think Apple TV screensaver meets Pikachu. But that's not to say there's not plenty to do. Your main objective is to get the best 1-star, 2-star, 3-star, and 4-star snaps of each Pokémon. The stars depend on what the Pokémon is doing in the picture. For a 1-star picture, the Pokémon is basically just standing there. Whereas a Pokémon doing something magnificent gets you a 4-star picture. Sometimes, getting a perfect picture means being in the right place at the right time. Other times it means interacting with the Pokémon just so.
You can interact with the Pokémon by scanning the surroundings, which Professor Mirror calls an 'accidental say cheese.' You can also throw Illumina Orbs that light up the Pokémon like they're going to a rave or throwing fluffruit (which are just apples). Interacting with the Pokémon can set off a chain of events that make your trip through the habitat different from the last. For example, if you throw a fluffruit at a Pidgeot in one part of the map, he will fly to a tree in another where he stalks a Magikarp before swooping down and grabbing it. I don't think I've ever seen one Pokémon prey on another before. It was awesome!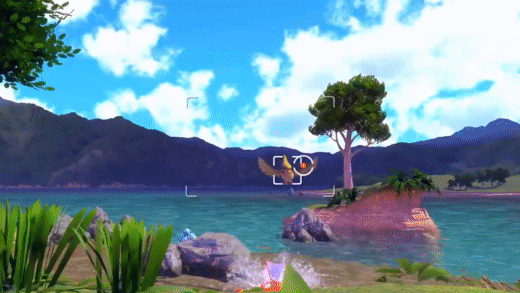 Fluffruit is Dumb and Perfect
The whole concept of the fluffruit is ridiculous and stupid… and I love it. If you've ever been to the zoo or a safari, what do they tell you? Don't feed the animals! Imagine going to the zoo, and they hand you a sack of apples at the entrance and tell you to go crazy. The whole game, I'm just chucking apples at Pokémons' heads, trying to get them to do something. Heracross was particularly annoyed. And then you go back to base camp, and Professor Mirror tells you how the Pokémon must really like you.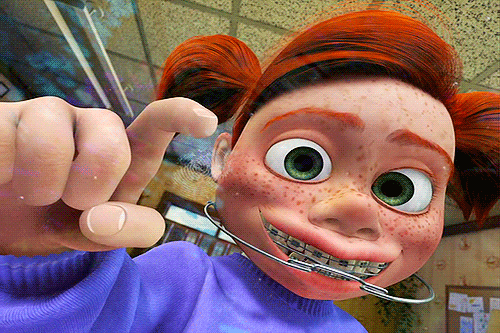 Redundant
The natural downside of the game is that it eventually gets a little redundant. After the fourth or fifth ride through each trail, the original awe of the landscape wears off, and you start to feel like you've seen it all. The developers do their best to combat this. At first, you are only permitted on the first trail, and then you can go there at night and see different Pokémon doing different things. But right when I was starting to grow tired of that, they open up another trail. And then they opened two at once. And you can hop from one trail to another whenever you want. I found it best to switch trails after every few trips to keep it fresh and change it up.
Still, going after those 4-star pictures, I found myself having to quit and restart over and over again because I didn't throw the fluff fruit at just the right time or wasn't facing the right way. But whenever I got frustrated, I reminded myself to stop and smell the roses. That's the whole point, afterall.
Overall
The biggest reason I like Snap is the same reason I enjoyed the Detective Pikachu movie. It's a different spin on an old-school game. The makers of Pokémon have built this giant universe with 100s of lovable character, but it has always suffered in terms of scope. It all came down to catching, battling, and leveling up. I always felt like the world around the game was under-utilized. Pokémon Snap rights that wrong.
If you are considering getting Pokémon Snap, I absolutely recommend it. Even if you're not a Pokémon fan, this game feels like it's good for the soul. The slow, easy pace is soothing and practically rage-quit-proof. The Pokémon in their natural habitats is really a sight to behold. Check out Pokémon Snap for a refreshing take on a gaming legacy.
The All-Time Greatest Video Game Movies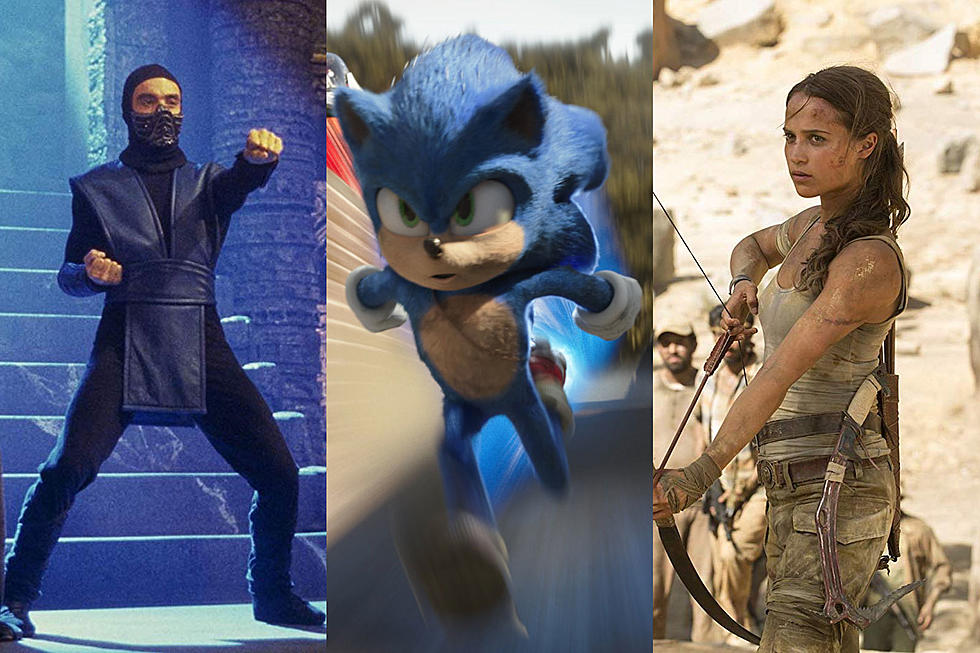 Most video game enthusiasts would agree on one thing. Video games should stay on consoles and not as TV or movie adaptations. Given Hollywood's track record of adapting video games, it's difficult to capture the essence of a beloved video game and make a two-hour movie about it. Let's be real here, not all video game movies suck. You would have to look past some plot holes or bad characterizations to realize it wasn't a bad movie after all. But which ones are worth watching? Here's a list of the best video game movies of all time.
Warning: Potential spoilers ahead
1. Mortal Kombat (1995)
Any movie critic or gamer agrees that the 1995 Mortal Kombat movie is one of the best video game movies ever.
The story follows Liu Kang (Robin Shou) as he tries to defend the earth from being invaded by the Outerworld. Not only that, he seeks to avenge his brother after being killed by Shang Tsung (Cary-Hiroyuki Tagawa).
As you watch the movie, it looks like a video game because the audience will see fight scenes from different "arenas." And if we're to look at this in the video game context, there are "cutscenes" for the audience to understand the story better. If we look past the cheesy dialogue and the visuals (okay, fine, it was released in the '90s), it's a good movie based on the plot. Plus, it stays true to the video game's story. Even non-players of the game will see how the story goes.
While the scenes with Liu Kang vs. his enemies are considered the best, we have to give Johnny Cage (Linden Ashby) credit for fighting Goro, a Shokan. It proves that he's a real martial artist, but it doesn't discount him being "the funny guy" in the movie since he kicks Shokan in the nuts in this fight scene.
Here's a clip of Johnny vs. Goro in Mortal Kombat 1995.
The 1995 movie did have a sequel, but it had negative reviews from critics and the audience. There is a new Mortal Kombat movie, available for streaming on HBO Max. Mortal Kombat (2021) does have some significant changes and much better special effects. But, the original adaptation remains a fan favorite.
2. Resident Evil
Okay, there are six movies in this series, but the entire Resident Evil movie franchise delivers in action and horror as a whole.
The movie franchise's main protagonist, Alice (Milla Jovovich), teams up with beloved characters from the game, such as the Redfield siblings (Claire and Chris), Jill Valentine, and Leon S. Kennedy. They're up against countless zombies and the well-known video game villain, Albert Wesker.
Among the six movies in the franchise, the first movie takes the cake as the best Resident Evil movie of all time. If you plan on starting the franchise, get hyped by watching the trailer of the first movie:
3. Sonic The Hedgehog
Before its release, Sonic the Hedgehog was met with backlash over Sonic's original design.
Sonic's original design and Twitter reactions:
But the designers changed it and made it look like the game's version, earning praise from the general public. Without the change, it would not have been the hit it was at the box office and the audience.
The movie follows the speedy hedgehog, Sonic (voiced by Ben Schwartz), as he loses rings and evades Robotnik (Jim Carrey) from eventual capture. He also gets Tom's (James Mardsen) help to retrieve the rings and forges a close friendship with the human.
It's a hilarious movie with excellent visual effects that will keep your eyes glued to the screen. It even imitates Quicksilver's speed-up/slow-mo scenes, allowing us to witness Sonic's super-speed in action. Plus, it also incorporates other pop culture references that will make you chuckle.
See Sonic in full speed and power in this clip:
4. The Angry Birds Movie
Who would've thought that the viral mobile game app, Angry Birds, would get a movie adaptation? Of course, your first thought could be, how on earth would birds getting thrown at green pigs become a movie?
The writers were able to flesh out a plot with birds dealing with anger management issues, and greedy pigs aim to steal and eat their eggs. But the main trio, Red, Chuck, and Bomb, are determined to stop these hungry pigs from eating their hatchlings and recover them to their parents.
It's not until the end you'll see how the gameplay was incorporated on the big screen. It was a nice take on how they wanted to defeat the evil pigs for stealing their eggs.
The voice cast includes Jason Sudeikis as Red, Josh Gad as Chuck, and Danny McBride as Bomb.
The sequel, Angry Birds Movie 2, was much more well-received than its predecessor. That's a rarity in Hollywood. It's one (well, two) of the best video game movies you'll ever watch, even if you haven't played the game.
Check out the trailer for The first Angry Birds Movie here:
5. Detective Pikachu
Even if you didn't play Detective Pikachu on the Nintendo DS, you will still appreciate the storyline and characters in the movie adaptation.
It's a whole new story, as it deals with Tim (Justice Smith) trying to uncover the mystery of his father's disappearance. He's joined by Detective Pikachu (voiced by Ryan Reynolds), who is Tim's father's Pokemon.
Even if Pokemon wasn't a part of your childhood, the movie does a great job introducing characters and their powers. Aside from that, it has stunning visual effects that will leave you breathless. Not only that, you'll laugh or chuckle because of Ryan Reynolds' one-liners and shed a tear because of some heartwarming or sad moments. That's why it's one of the best video game movies of all time.
It isn't easy to pinpoint a good scene in the movie, but here's one that will make you laugh:
6. Tomb Raider (2018)
Angelina Jolie's Tomb Raider movies weren't up to par as a video game movie adaptation. But Alicia Vikander's take on the English archaeologist had a much better reception.
It's an action-packed movie that highlights Lara Croft's strengths. Some scenes will put you at the edge of your seat and will leave you wondering how Lara could survive this trial. It's an enjoyable and fun adventure movie that has some levels of predictability. Nevertheless, it leaves you wanting more and gets you excited about what's to come.
Watch Lara Croft solve a puzzle as they get closer to knowing the mystery behind a historical figure:
7. Warcraft
The PC-based strategy game had its video game movie adaptation in 2016.
It tells the story of humans and orcs fighting against one another. The humans are defending their land, while orcs aim to invade and colonize their world. But behind all the fighting, the characters are left wondering if war should be their only way to solve their problems.
The game's lore is integrated into the movie and gives its audience a reason to explore it. Plus, despite some narrative concerns, the acting of the main characters is superb.
The cast includes Travis Fimmel, Paula Patton, Toby Kebbell, and Dominic Cooper.
Explore the World of Warcraft (pun intended) here with an official compilation clip of all the Orc Battles:
8. Rampage
If you've heard about the arcade game Rampage, you would know that you play as the monsters as you try to avoid getting killed by the military. But the movie adaption puts a human element with the monsters.
When three animals are exposed to manipulated pathogens, Davis Okoye (Dwayne Johnson) is enlisted by Dr. Kate Caldwell (Naomi Harris) to prevent something catastrophic from happening. However, Okoye has a close bond with one of the three animals (a gorilla). So, it's up to them to help stop the other animals from wreaking havoc.
You might have to watch it mindlessly to enjoy it. Even so, it makes you want to root for Davis Okoye and his gorilla, hoping that they can stop the other animals from destroying their city. While the dialogue could have been refined, it is still a video game movie worth checking out in your spare time.
Check out this clip to get a preview of the movie:
9. Silent Hill
Get the heebie-jeebies by watching the Silent Hill movie adaptation. The story revolves around Rose, a mother desperate to help her adopted daughter be healed. In pursuit of healing, Rose (Radha Mitchell) ends up in a car accident with a police officer, and they get stuck in Silent Hill, where they aim to find Sharon (Jodelle Ferland). There, they discover some mysterious and disturbing occurrences.
Story-wise it doesn't capture the depth that video games have. However, it makes up for the creepy vibe and gore and includes characters in the games. Plus, the visual effects aren't that bad considering that it was released in the late '00s. Overall, many Silent Hill gamers think this is one of the best video game movies. However, even without the gaming experience, horror fans may still find this worth watching.
Watch the trailer for the psychological horror movie here:
10. Monster Hunter
Here we have another Milla Jovovich and Paul W.S. Anderson team-up of another popular video game. Although it may not follow the gameplay of the Monster Hunter games, it's still a video game movie that you could consider watching.
The story follows Lt. Artemis (Jovovich) and her band of soldiers. They get transported to another land where monsters reign. Their attempts to fight the new enemy seem futile with their weapons, but they encounter a Hunter (Tony Jaa) that could help them defeat these monsters.
Overall, the movie doesn't break the stereotypes about video game movies. However, this isn't a bad adaptation if you're looking for a fun film to stream. Unfortunately, you may have to overlook some elements in the story. But in the end, it also delivers in the special effects and casting department.
If you're interested in watching Monster Hunter, here's a nine-minute preview provided by Entertainment Access:
Check us out for more on the world of gaming
Why You Still Can't Get a PS5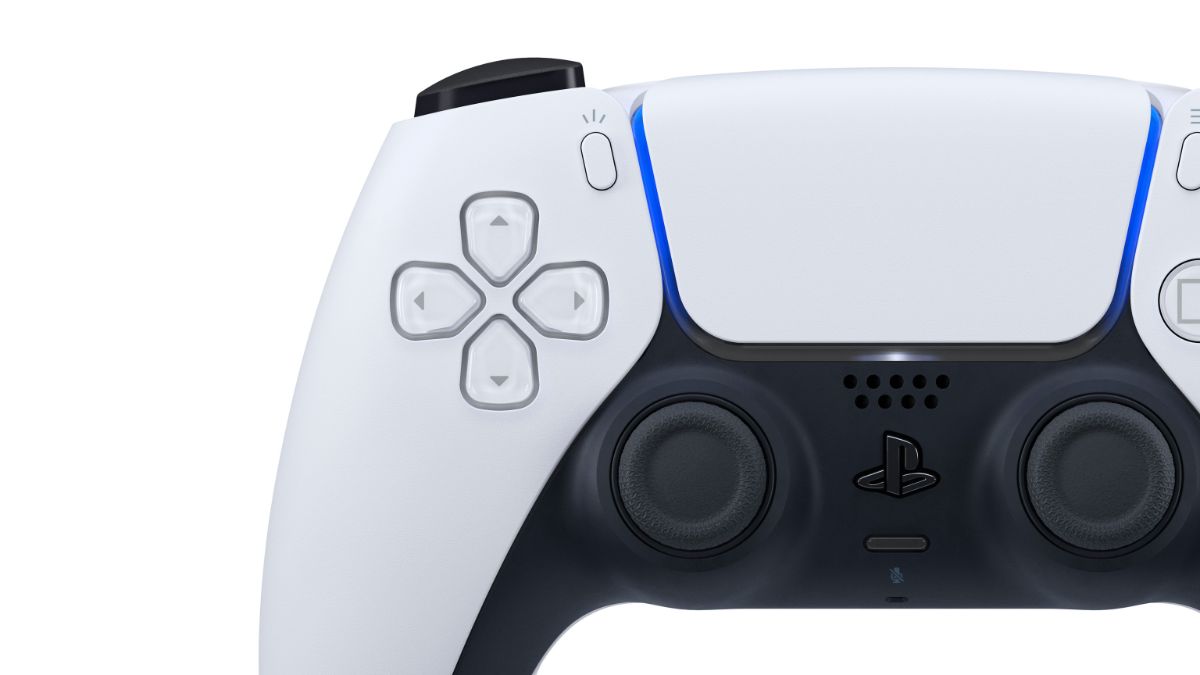 Released in November of 2020, Sony's PlayStation 5 sales hit past the 6 million units mark at the start of March 2021. Despite this, many fans are still dismayed as getting their hands on one is next to impossible. Target, Best Buy, and Walmart have sold out their stocks, and the outlook of a restock isn't as promising.
Target Restocks PS5
However, Matt Swider of TechRadar, along with YouTuber Jake Randall, regularly confirms restocks. The most recent was at Target on April 28th.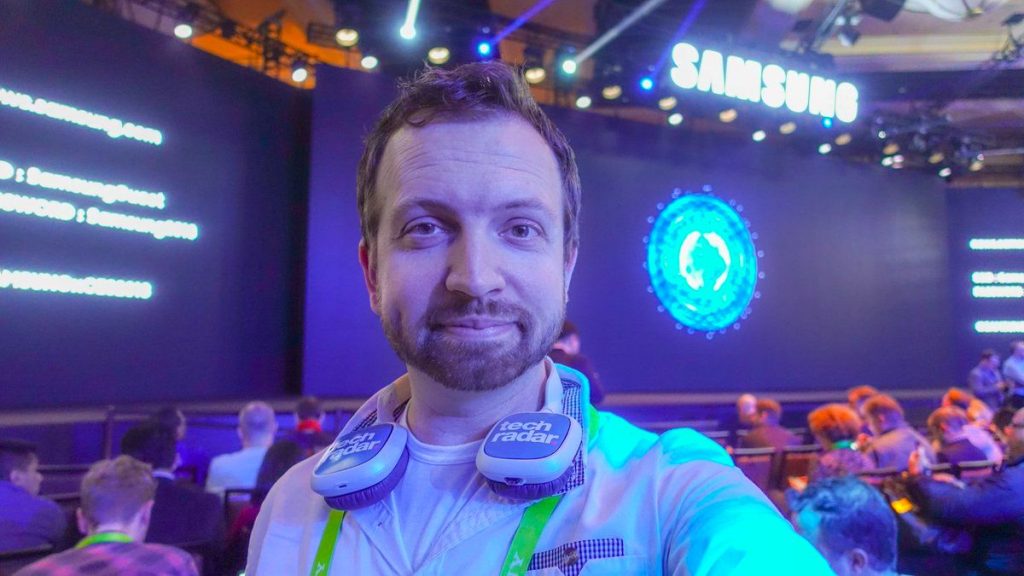 The two have Twitter accounts that are currently used primarily as restock trackers. Citing corporate emails from his Target sources and inventory numbers sent by Target employees, Swider announced an online-only purchase on the morning of the 28th.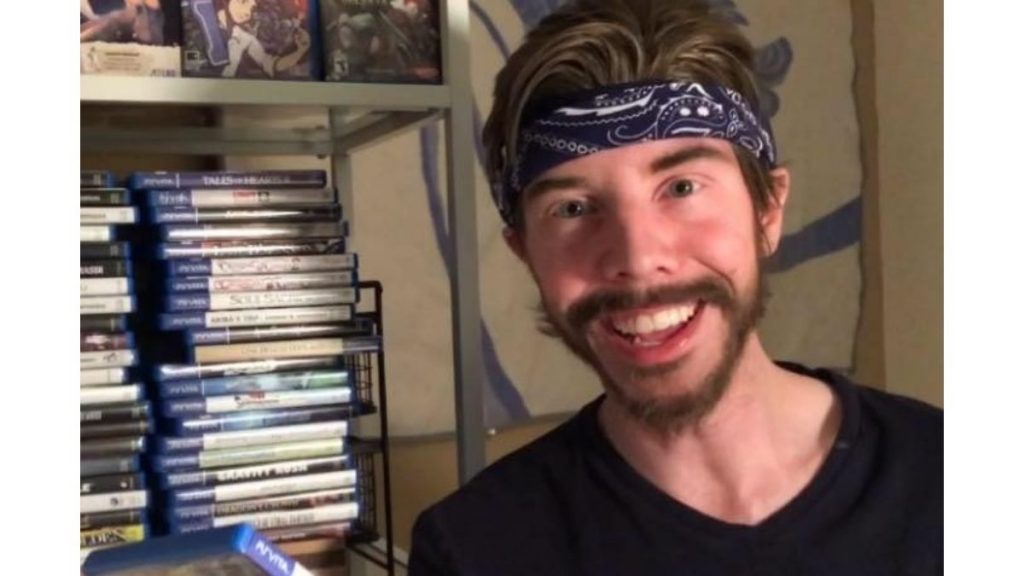 As of this writing, it's still all wait-and-see as they announce Walmart and Best Buy restock dates and time, too. In the meantime, here are the reasons why people are having a hard time securing a New Xbox vs. PlayStation:
Global Electronic Chip Shortage
One of the culprits is the shortage of semiconductor chip supplies worldwide. Advanced Micro Devices (AMD), makers of the chips that PS5 and the new Xbox operate on, outsource these chips' manufacturing to Taiwan.
Taiwan Semiconductor Manufacturing Company (TSMC) apparently can't keep up with the unprecedented demand. What with Microsoft also competing with Sony, and many other tech companies, for the parts.
PS5 and the Pandemic
The strain on global trade brought about by the pandemic also caused the PS5 shortage. The delays in factory production and, more importantly, the shipping crisis impacted the supply chains. With people having to stay at home, the demand for goods increased while the capacity to transport from one country to another lessened.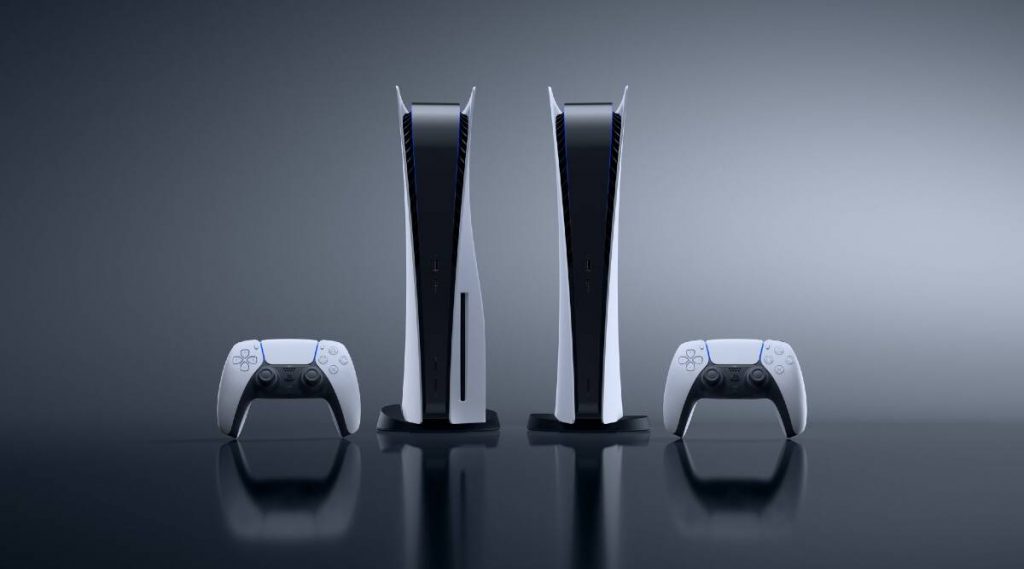 Adding insult to injury is the recent blocking of the Suez Canal, a crucial shipping lane, by the ship Ever Given. However, it may or may not have directly affected the PS5 supply chain. We know that approximately $10 billion worth of goods were blocked each day the ship got grounded. It's sure to have affected it. 
Internet Bots, Scalpers, and Scammers
Other culprits include internet bots and scalpers that can wipe out PS5 stocks faster than any human can. Some e-commerce sites placed cybersecurity measures to stop retail bots from scooping all the units. But, sadly, the evil-doers still found ways to work around them.
The stocks these bots and scalpers get are then resold for as much as three times the regular price. Death threats and an unscrupulous image aside, scalpers still make big bucks from this strategy.
But the worst culprits are the scammers. First, they put up for sale the very few units they can get their hands on. Then, once they receive the online payment, they ghost their buyers. 
The Cryptocurrency Craze
The recent dip in crypto prices didn't stop enterprising people from mining their own open-source blockchain currencies instead of just buying them. Thus, the need for powerful graphics cards such as the ones made by AMD. And with the shortage of parts, it's not a surprise that PS5 and Xbox are scarce as they use GPUs from AMD.
Check us out for more gaming news and reviews.
Is The Uplift Desk V2 Worth It? (Review)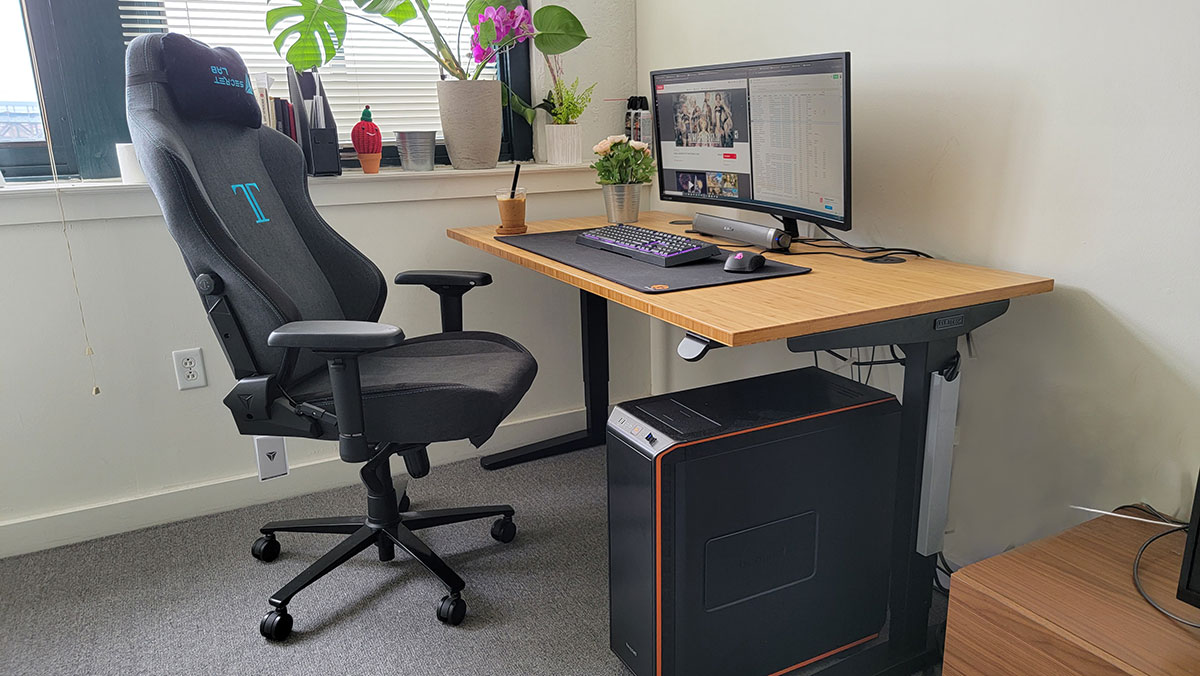 Standing desks are all the rage nowadays ever since we're all forced to work from home. Sitting at a desk all day for both work and pleasure can be unhealthy. Having a motorized standing desk is gives your productivity a new level of verticality you didn't know you needed. If you're on the market for a new standing desk, chances are you've run into Uplift. They're one of the more premium standing desk manufacturers that's known for quality and customizability. If you're curious if they're the right fit for your work style, read on to find out.
Our Standing Desk Spec
60 x 30 +$110
Bamboo +$40
V2 C frame
One power Grommet Cover +$39
Advanced Paddle Keypad +$59
Total: $816
Add-on
Magnetic cable channel +$19 (for cable management)
Coming in multiple pieces
One thing to note is that your packages will come in multiple pieces and may not all arrive simultaneously. This is important for city dwellers who live in tight apartments and have to schedule their deliveries to be picked up at a local UPS or USPS store.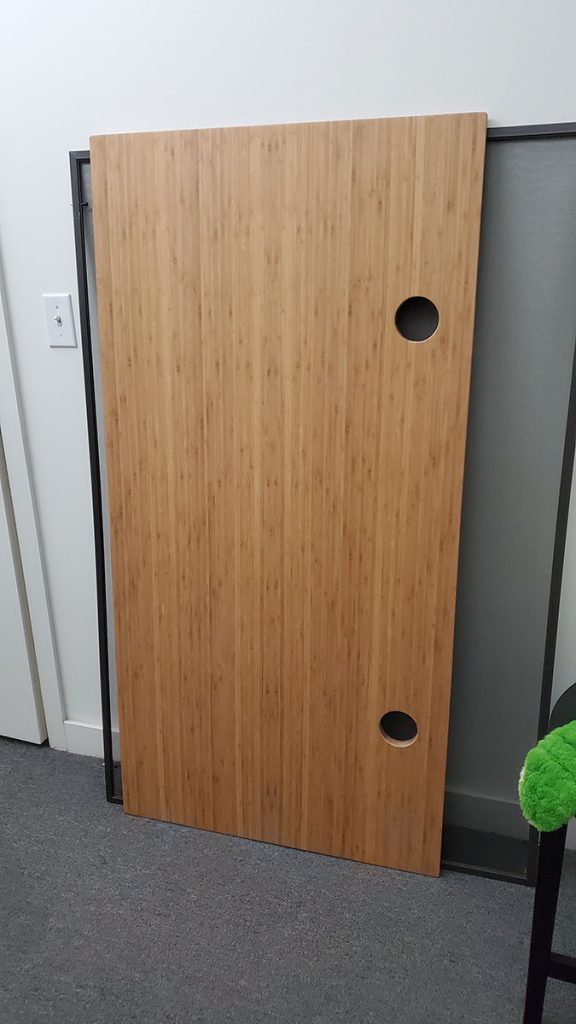 Also, when ordering, pay close attention to the availability of the different types of tabletops. Some of the more exclusive wood will have significantly longer preparation time. In our case, the 60″x30″ bamboo tabletop could ship out the next day and didn't have to wait long.
Assembly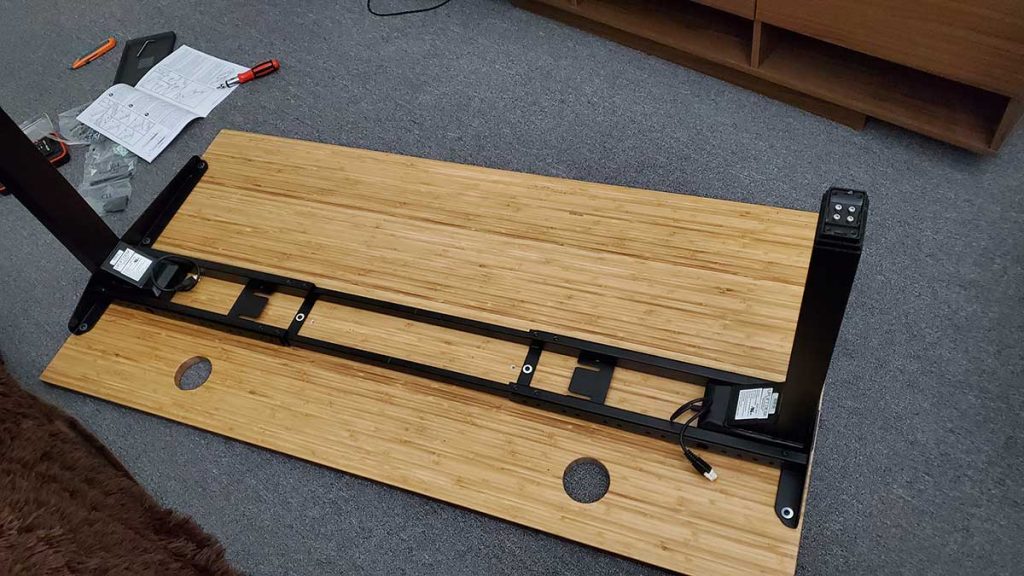 If you're worried that assembly will be complicated, fear not – it's not. The Uplift team did a great job with their simplified instruction manual and neat packaging. All the nuts, bolts, and washers are clearly labeled. I recommend having a bowl or tray to keep everything organized during assembly.
When assembling the legs into the center frame piece, make sure you have the middle frame RIGHT side up. The manual didn't indicate which side is up/down, but the pictures are accurate. So be sure to follow the diagram and make sure that the center frame is orientated correctly. I had to redo the leg assembly because I was careless.
Complete assembly of the standing desk took about 1 hour with just one person. You can easily do this alone, and honestly, I don't think having a partner helping will expedite the process much. You definitely will need someone's help to flip the desk over once the assembly is complete.
Quality Craftsmanship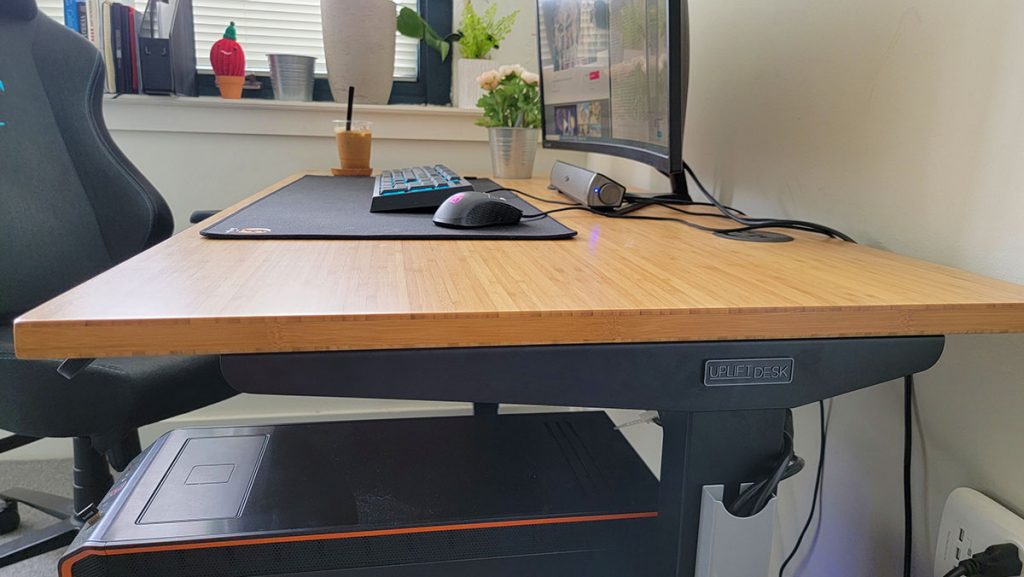 Every single piece we held up had a sizable heft to them. We spent a lot of time admiring the craftsmanship of the desk during assembly. Although there aren't that many pieces to put together, each one was thoughtfully engineered. Making the assembly process simple, painless, and intuitive is an art that's often under-appreciated.
Cable Management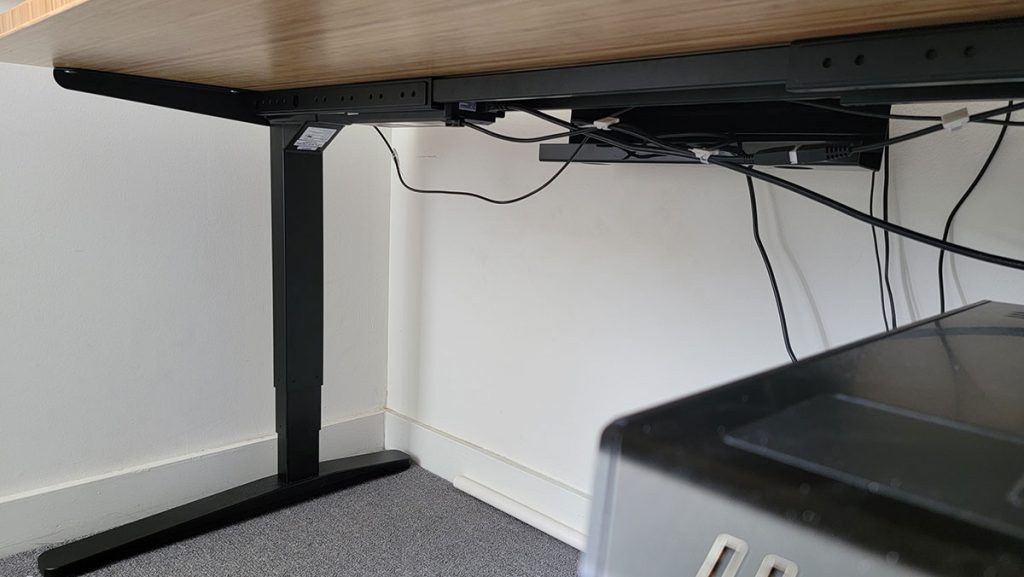 I'm glad Uplift provided a cable management kit. My advice would be to do all of your cable management BEFORE flipping the desk over. Once you flip it over, it's going to be a painful process. My one complaint is that the double-sided tape is too weak to hold up the thicker cables. The smaller wires held up just fine, but the thick power cables proved to be too heavy.
Responsiveness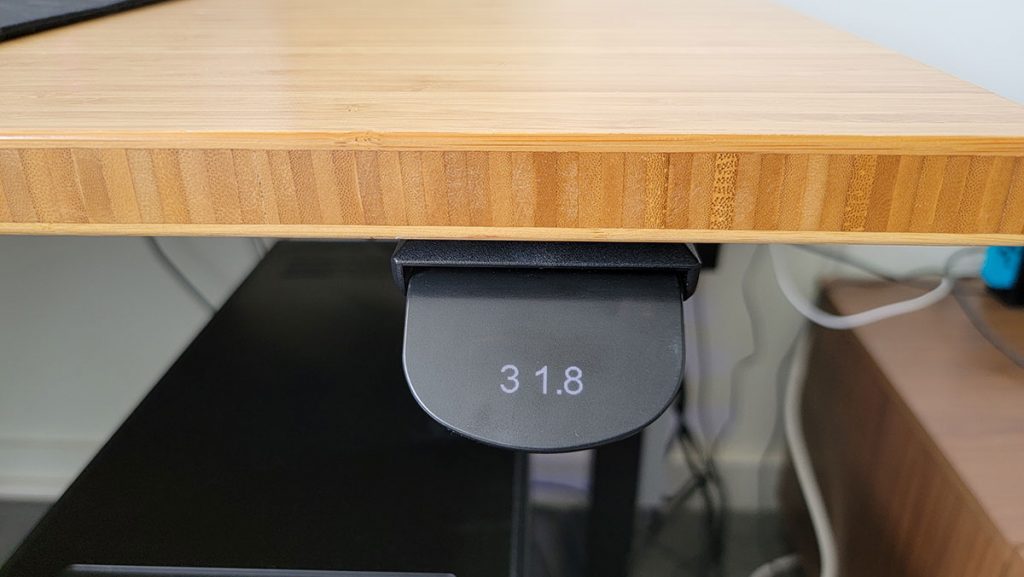 The paddle controller is well worth the extra $59. Adjusting the desk's height was as simple as lightly tapping up or down on the paddle. There's a 1-second delay between the click and the desk lifting, which is excellent. That 1-second of lag input between hearing the click and the desk moving gave me more precise control. I've reviewed other desks that were either too delayed or too responsive, making the exact height adjustment nearly impossible. The motor doesn't move too quickly or too slow—just the perfect speed to gauge precisely when to stop.
Stability
The desk is stable regardless of the height setting. That should come as no surprise given the weight of the desk. Most standing desks are sturdy below 35″. However, the desk loses that rigidity when fully extended. I didn't experience that issue with the Uplift desk. Even fully extended, the desk remained stable and wobble-free, making it suitable for most of my work and gaming needs.
Noise Level
It certainly is noticeable when the motors are moving, but nothing major. Overall, it's reasonably quiet and shouldn't be a significant concern. The motor humming is unlikely to wake up a baby or annoy your neighbor.
Aesthetic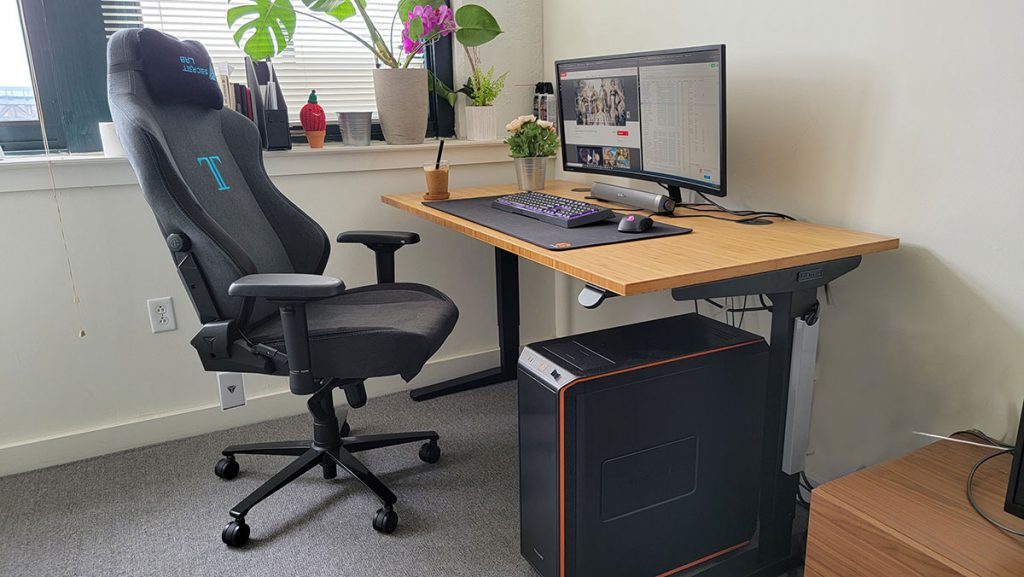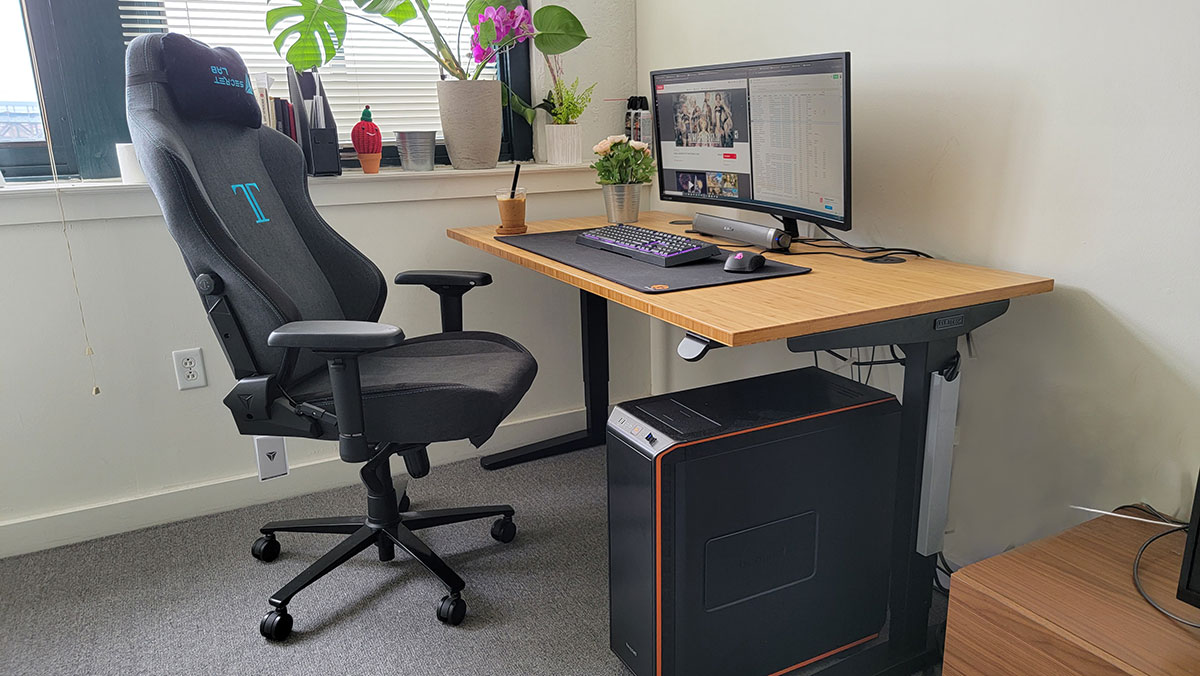 Now let's get to the real reason why you're picking this up over a cheap Ikea or Amazon Basic standing desk. It looks expensive and gorgeous in any room. Uplift didn't skimp on where it matters the most – the tabletop. You'll notice right away is how thick and generous the tabletop is. I got the 60″ bamboo finish with a black base, and it looks even better in person. Almost everyone who's stepped foot into my home office has asked about the desk.
The aesthetic appeal of a 60″ bamboo finish standing desk was an unexpected and welcomed surprise. I knew that it would look professional for the price; I didn't think it would be a centerpiece.
Extremely Well Built
Depending on the tabletop, options, and accessories you select, your Uplift desk could easily be $1000+. What may seem costly at first will eventually feel like an excellent investment. After I started using the Uplift desk daily, I noticed just how much I enjoy being at my desk. Switching from sitting to standing was a breeze with the paddle switch. It takes less than seconds for me to adjust the desk to my desired height fully.
A good working environment can significantly affect our productivity. And the best tool we can invest in is a quality desk – particularly a standing desk. One of the best things about the Uplift desk that makes it such a joy to use is that it's well built. I've mentioned the craftsmanship at least three times in this review because that's the thing you'll likely notice and appreciate the most.
Final Verdict
Uplift makes one of the most premium standing desks on the market today. The prices aren't cheap; however, they're well worth the investment. Our 60″ bamboo finish with all the added accessories came out to just over $800. It certainly is an investment. If you're looking for a desk that can accommodate both your work/life productivity needs, the Uplift desk is well worth the investment.