Pixio PX347c Prime Review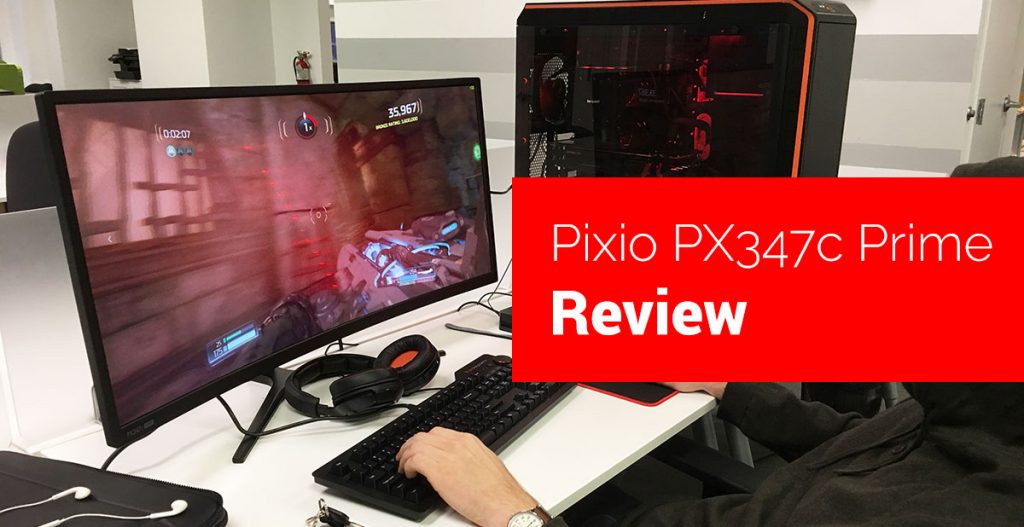 Today we're reviewing
Pixio's
latest Gaming Monitor the
Pixio PX347c Prime
. Pixio was generous enough to provide us with the monitor for this review. When we review products we try to pair the product with the correct demographic that would actually buy and use the product to ensure the review is accurate. Our Gaming Unit, which specifically write and review gaming products, were tasked to review the Pixio PX347c Prime and test it in real-life gamer-appropriate settings.Our gaming unit built a custom
PC for hardcore gaming
and we decided to use
Pixio PX347c Prime
as our monitor of choice due to it's 21:9 ultrawide screen format and the promised 100hz at a ridiculous price of $599. Our gaming unit review team comprised of hardcore competitive E-sports level gamers, your typical noobs, and technical savvy hardware geeks.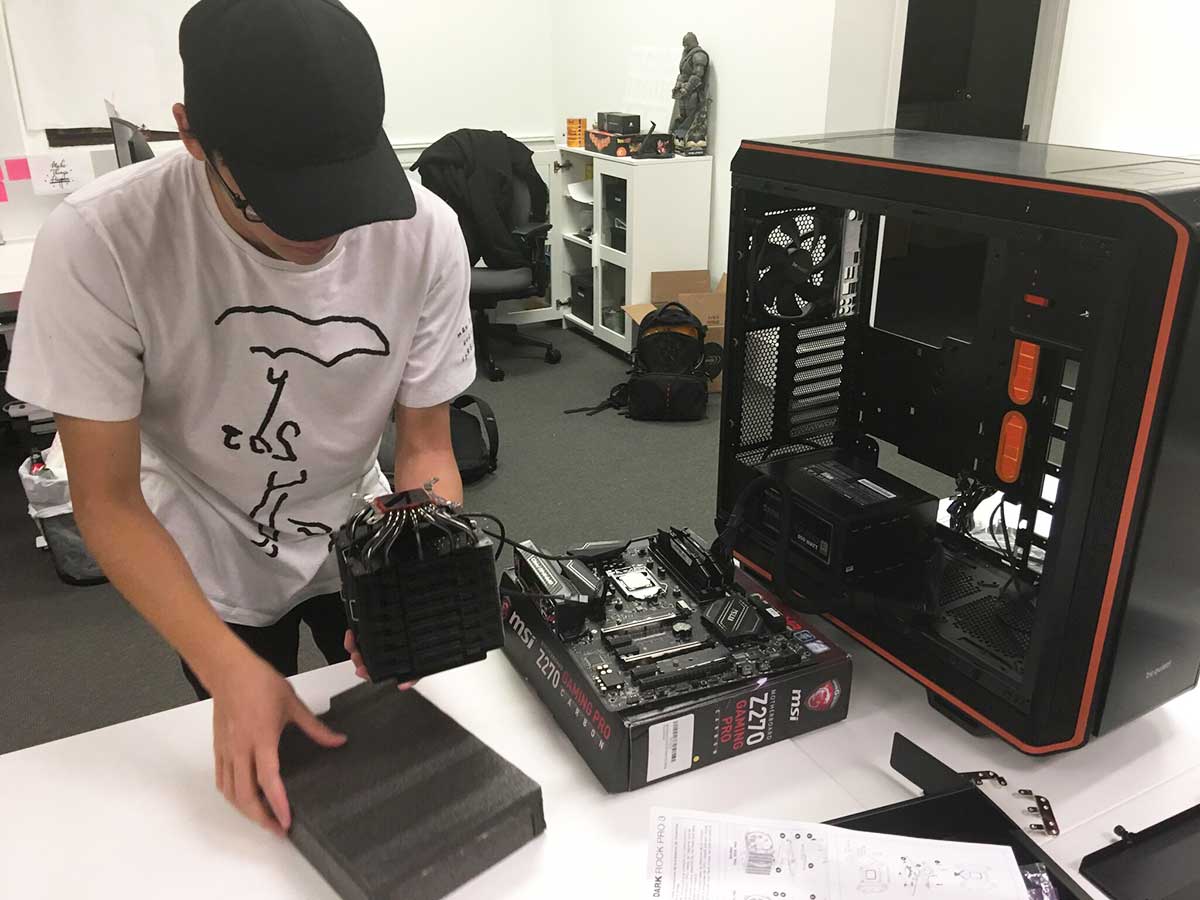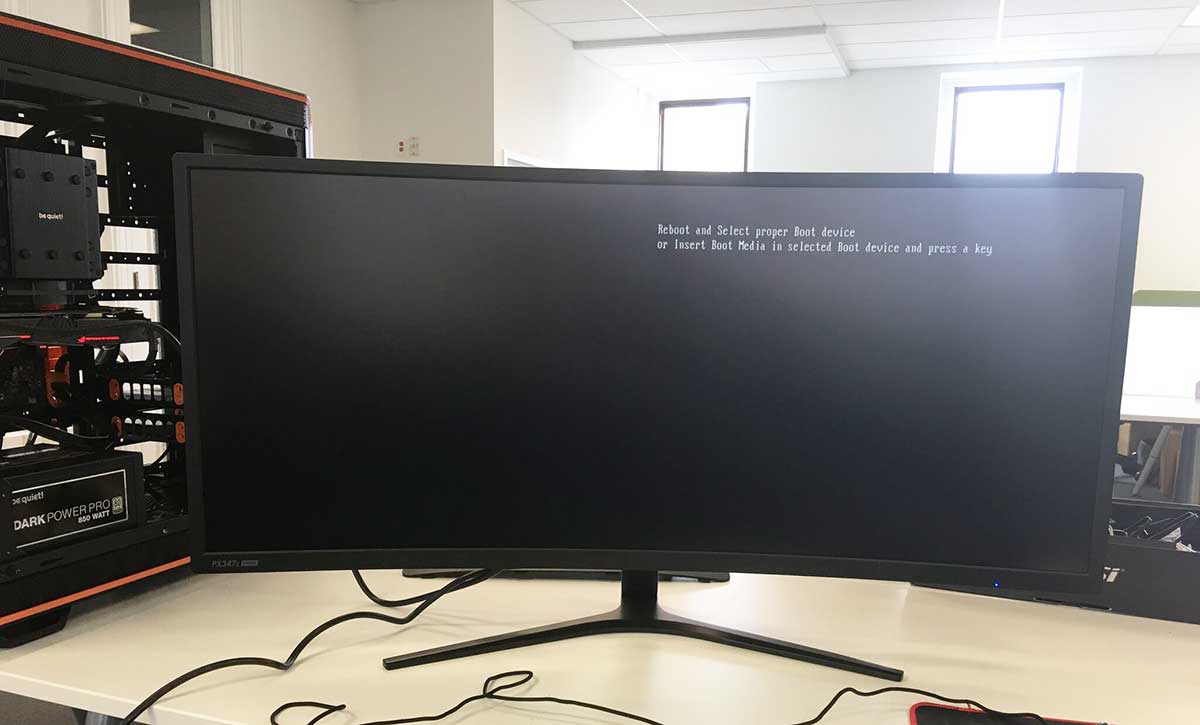 The Specs:
-34 inch WQHD (Wide Quad High Definition) 3440 x 1440 pixels-100Hz liquid smooth, blur-free Refresh Rate-Flicker Free, Low Blue Light-Adaptive-Sync (80-100hz)-178˚ Viewing Angle-Anti-glare screen-3000:1 Contrast Ratio, 50000:1 Dynamic Contrast Ratio-1x HDMI, 1x DVI, 1x DP connection-21:9 or 4:3 Aspect Ratio-PIP, PIPPOS, PBP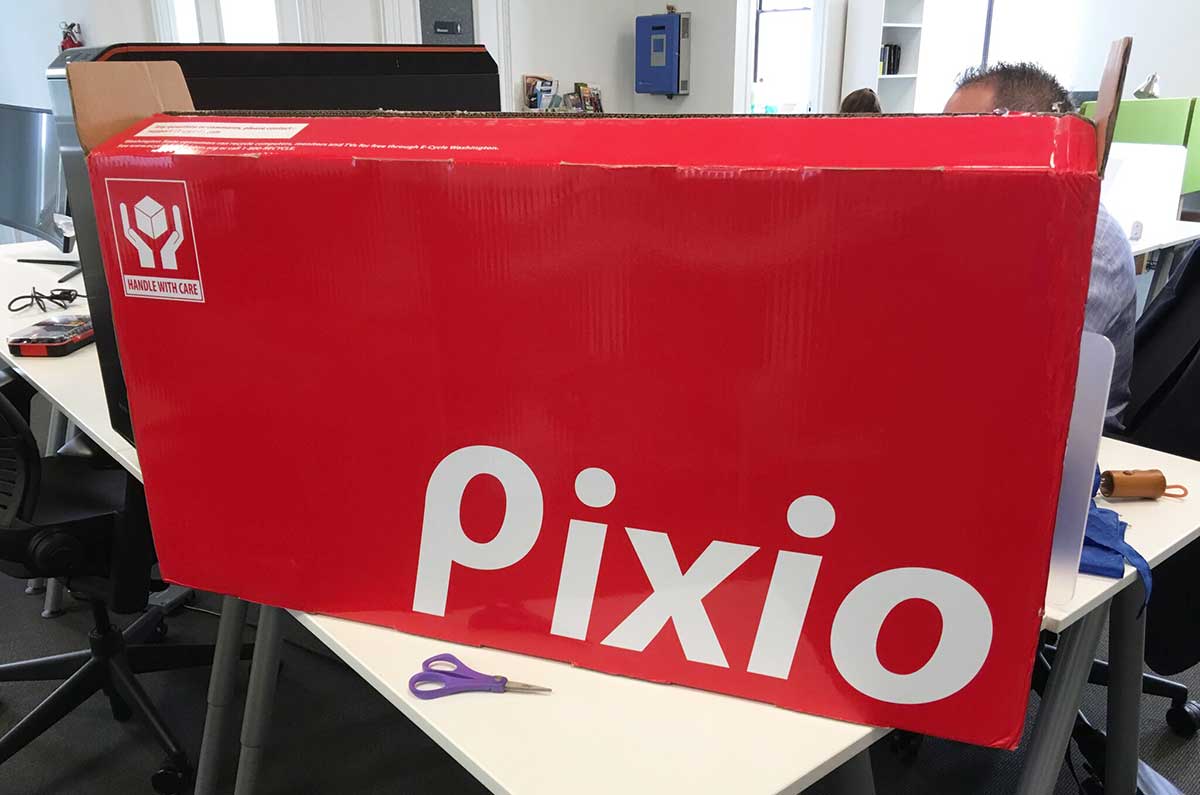 Price:
$599 MSRPIf you're looking at the list of features the Pixio PX347c Prime comes with and then look at the price, you'll be hard press to not think it's either a cheap Chinese knockoff or low-quality reproduction of an
Acer Predator
or BenQ monitor. Our doubts were put to rest upon opening the monitor. The monitor is definitely on the heavier side (never a bad thing) weighing in at easily 15-17 lbs.
Build quality & design
The Pixio PX347c Prime offers an elegant and simplistic design. Despite being a gamer-centic monitor targeting serious e-sports crowd, it doesn't come with the angles, flares, and accents other gamer gear sports. Instead, it features an edge-to-edge curved monitor with a luxury matted black that's fingerprint proof. It's a heavy monitor, may require 2 people to assemble (to be safe), and it's weight is reassuring of the build quality. The overall construction of the PX347c Prime is sturdy and feels reliable.
Navigation & Menu
Buttons to navigate the menu are hidden underneath the display panel and they're embossed to give your fingers tactile clues to their function. Menu is fairly easy to navigate and Pixio added FPS gaming mode for their first person shooter gamers to enhance titles such as Call of Duty, Battlefront, Wolfenstein etc.  And there's also RTS gaming mode for their real time strategy fans playing titles such as Starcraft II.There's also your basic functions to change various settings such as brightness, contrast, and other essentials. The menu was intuitive and easy enough to navigate without referring to the manual. It's also responsive with very little delay time between inputs. Due to the size of the monitor, Pixio included PIP (picture in picture) feature in case you want to utilize the screen's real estate to it's fullest potential.There's also an added feature call Low Blue Light to protect your eyes from straining during long hours of work or using the monitor. These are well thought out features and their enhancement is highly noticeable, especially RTS mode.
Connectivity
Pixio went with the bare essentials and provided Dual link DVI, HDMI, and Display Port options. HDMI works, however Display Port is recommended to achieve consistent 100hz performance. Pixio included a beefy Display Port connector with the monitor.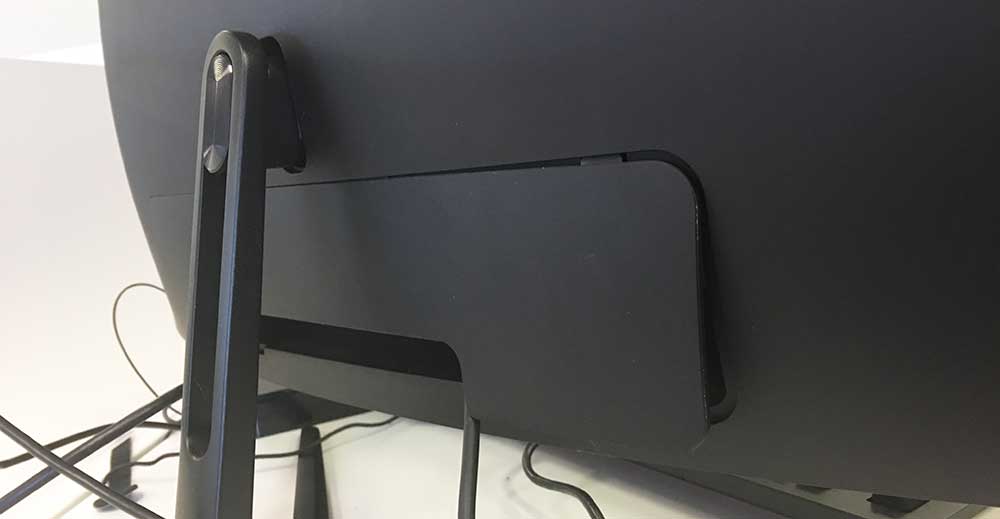 The back panel where the ports are located has an annoying cover that's difficult to take on and off.  Removal of the cover requires unnecessary and strenuous effort. Our gaming unit left the cover off after several attempts to put it back on.
"Removal of the cover requires unnecessary and strenuous effort."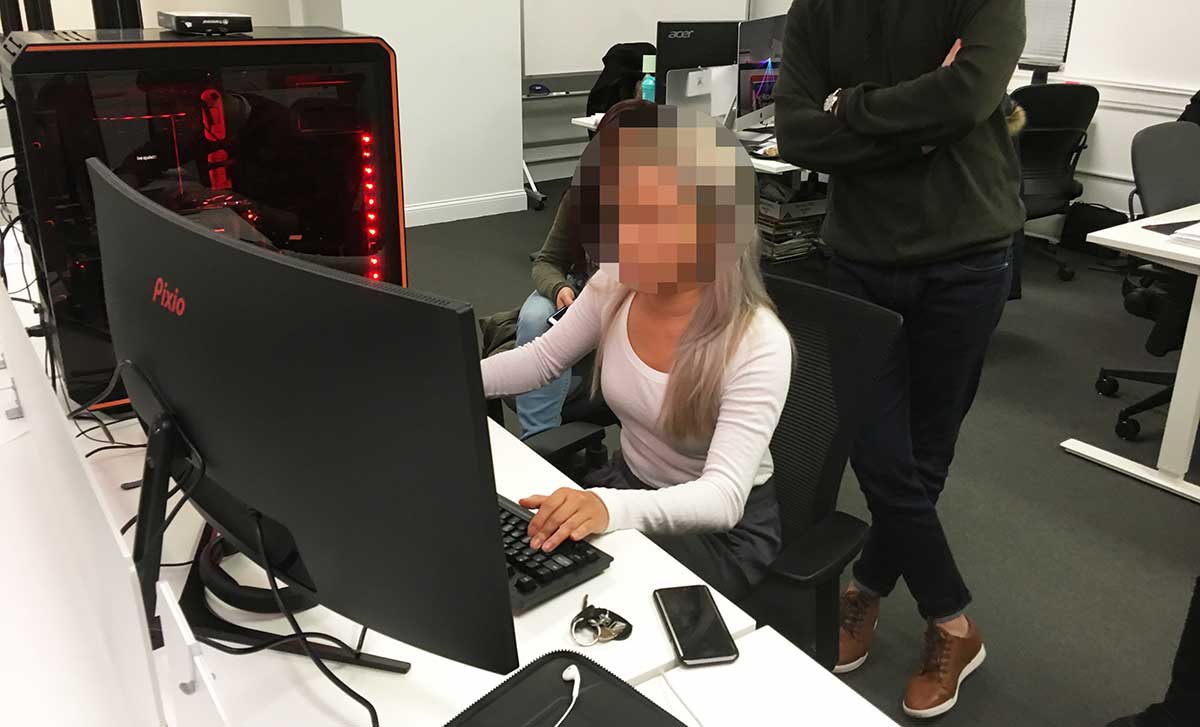 The Stand
The stand is an obtuse angled V-shaped base made from a solid piece of metal. It's a no-frills stand with limited tilt adjustability and easily screws onto the back of the monitor via a few small allen screws.It's not pretty but it feels strong enough to securely hold up the monitor.
No Vesa Mount?
This was a bit of a surprise, given how well the build quality is and also the fact that Pixio sells their own custom Vesa mount. However, it's a large enough monitor that you'd want to keep it at a distance rather than up close as you would with a 16:9 ratio monitor. For us, the monitor's exceptional viewing angles and tilt adjustability was more than sufficient and didn't seem to bother our gaming unit.
Screen Quality
We appreciated Pixio for not cheapening out on the screen. They could've used a cheaper alternative to meet this price point, but they opted to use a Samsung SVA screen panel with Adaptive-Sync support to produce the beautiful 34" display at 3440x1440 resolution. This resulted in higher image quality, incredible blacks, great consistent whites, and vibrant range of colors. The viewing angle was good and didn't suffer from any color shifting.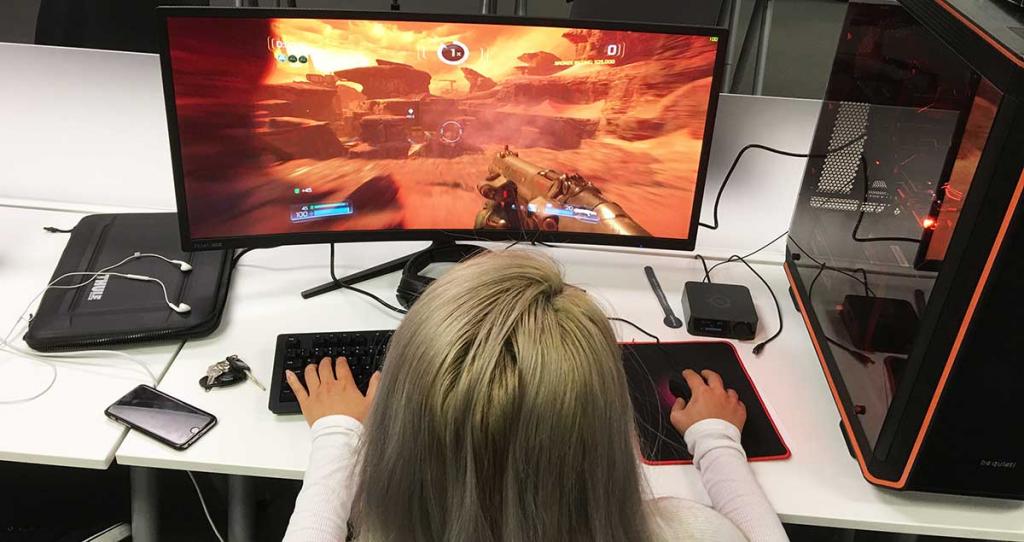 "The screen delivers incredible blacks,  great uniformity on whites, and vibrant colors."
Pixio PX347c Prime's Refresh Rate
100hz at 3440 x 1440 resolution typically are found between the $700 - $1200 range of monitors. The Acer Predator X34 offers 60/100hz ultrawide at $999, AOC AG352UCG runs similar specs at $952, and Samsung C34H890 will cost you $1139. So you can see why the $599 price tag is literally one of the best selling proposition Pixio has to offer. But does the refresh rate truly hold up or is this just a diluted promise that's only applicable under specific settings/configurations?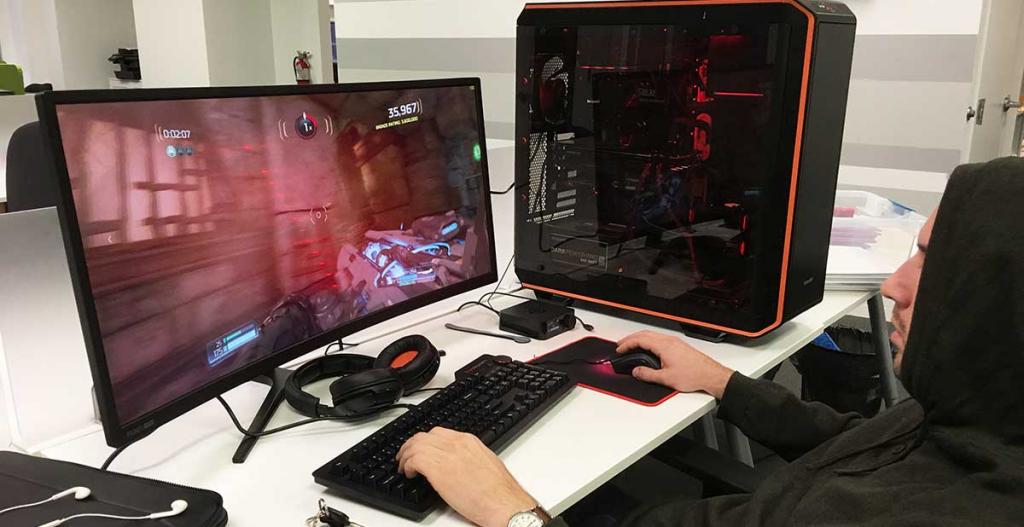 In order to get the best performance and crank out consistent tear-free 100hz gaming, you'll need to use Display Port. This monitor supports Adaptive-Sync and will boost performance if you're using an AMD setup that supports it. If you're using an Nvidia graphics card, you can disable Adaptive-Sync and still get rock solid performance if you're running a higher powered graphics card (1070+).From our test, the monitor was able to deliver great performance at 60 - 80hz in 60hz mode.  Built-in Adaptive-Sync range goes up to 100hz and provides tear-free rendering of games. However the benefits of the 100hz is only good if you're running over 60+ FPS. Anything lower than 60FPS, you'll notice significant performance drop and tearing.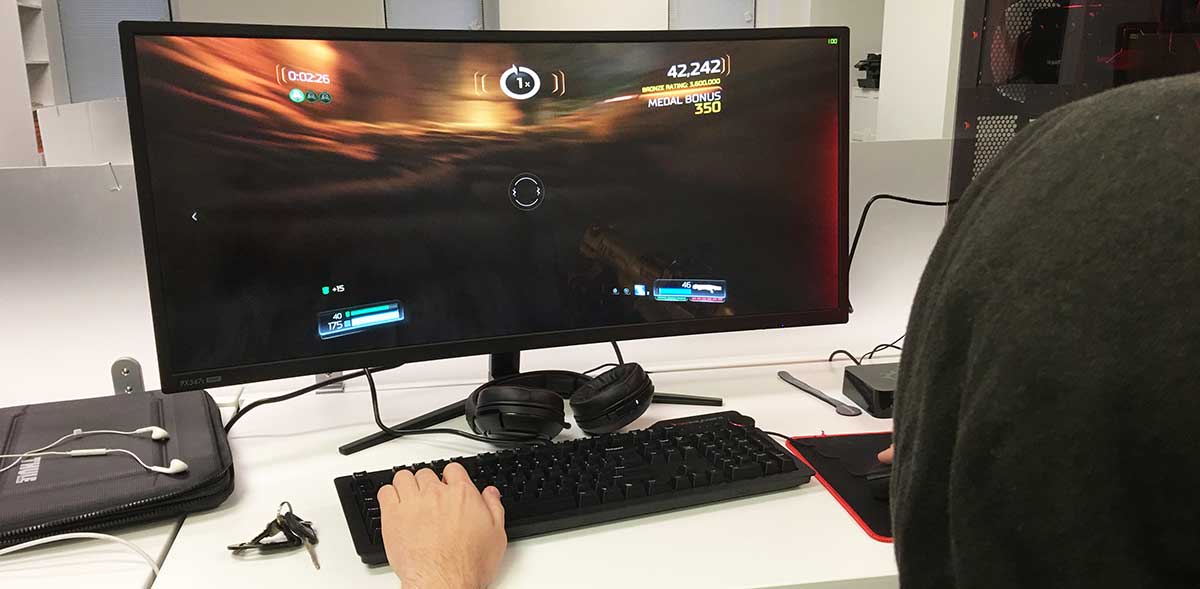 The Pixio PX347c Prime delivered exceptional tear-free silky smooth gaming experience when we played Doom on ultra setting using an Asus Strix 1080Ti outputting over 100FPS. There were no screen tears, monitor delays, or even a single skipped frame when running at 100hz. Pixio lived up to their "liquid smooth, blur-free Refresh Rate" promised under our tests.On the other hand, when using a lower-end graphics card that couldn't muster even 60FPS, we were better off turning Adaptive Sync off. Once we turned Adaptive Sync off, performance was fine.
"Pixio lived up to their "liquid smooth, blur-free Refresh Rate"

promised"
Gaming Experience
The spacious digital real estate of the
Pixio PX347c Prime's
gorgeous 34" WQHD 3440 x 1440 pixels screen provided a whole new experience for many of our testers. The sheer amount of visibly you gain can provide a competitive edge in shooting and rts games because you can see at least 35% more of the map.We tested titles such as Battlefield 1, Dishonored 2, Witcher 3, and Doom. The overall gaming experience on the 347c is mesmerizing and once you've experienced it, you can't go back to a regular 16:9 aspect ratio monitor without feeling the loss.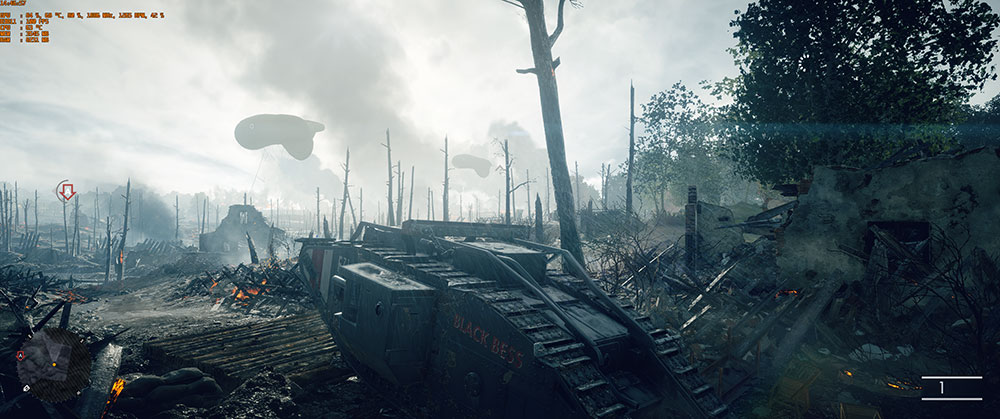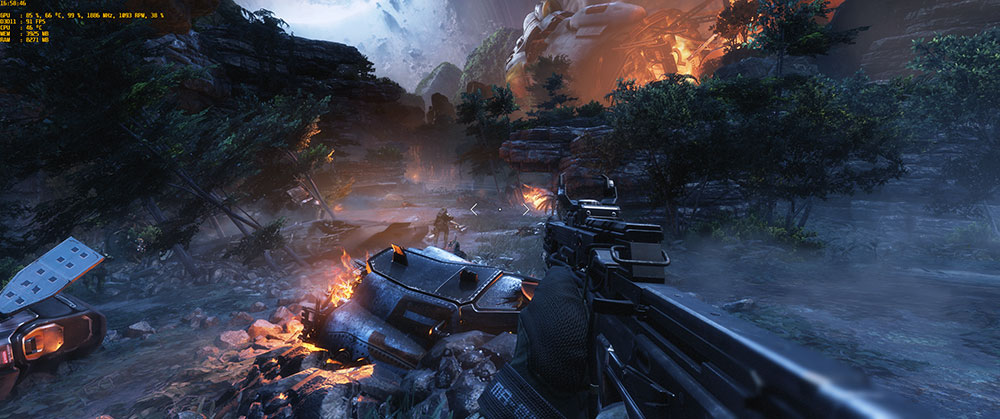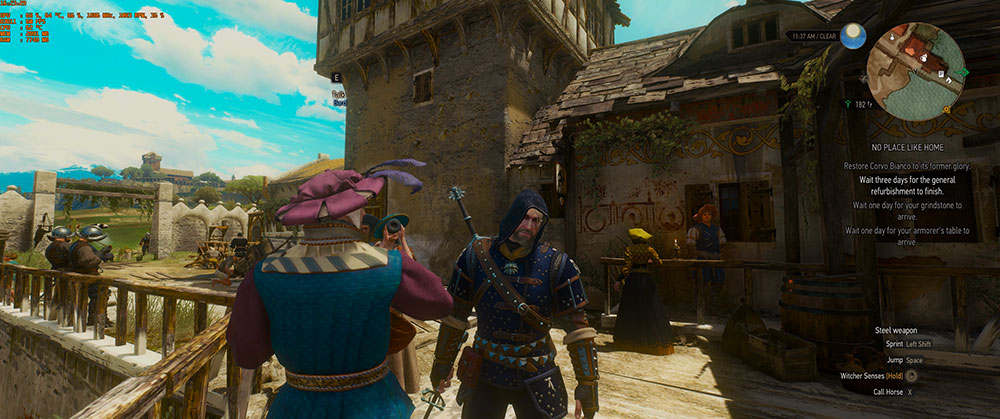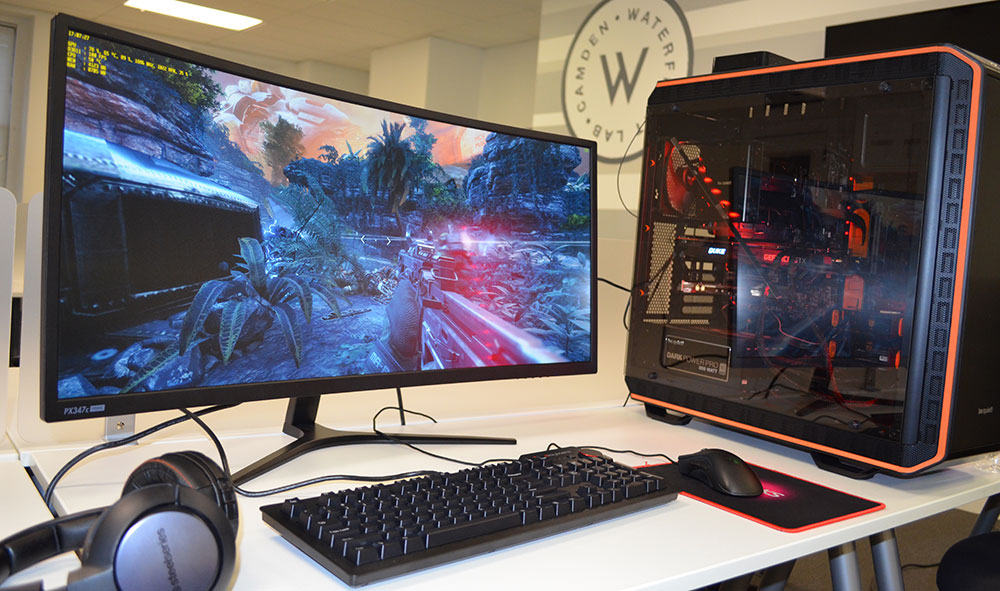 Response time 
The Pixio 347c Prime's response time was around 8ms, which isn't terrible, but higher than we'd preferred.
Verdict - A Definite Buy
It's clear that Pixio knew who their customers were, what their customers wanted, and engineered a monitor to fit exactly that. The
Pixio PX347c Prime
is an absolute beast when it comes to gaming performance. It packs silk smooth performance at 100hz, Adaptive-Sync, stunningly beautiful monitor that displays beautiful colors & rich black, and comes in at 34" with 3440 x 1440 pixels...for $599. Like every monitor on the market the
Pixio PX347c Prime
certainly has a few cons, however we'd hardly call it "cons" since they weren't building a monitor for everybody. They built a gaming monitor for gamers, and the gamers that tested the monitor only cared about one thing - performance. And the one thing that gamers cared about was the one thing that Pixio delivered with flying colors.Interested in buying the
Pixio PX347c Prime
?
Get it for $599 on Amazon. 
SNES Classic Edition Review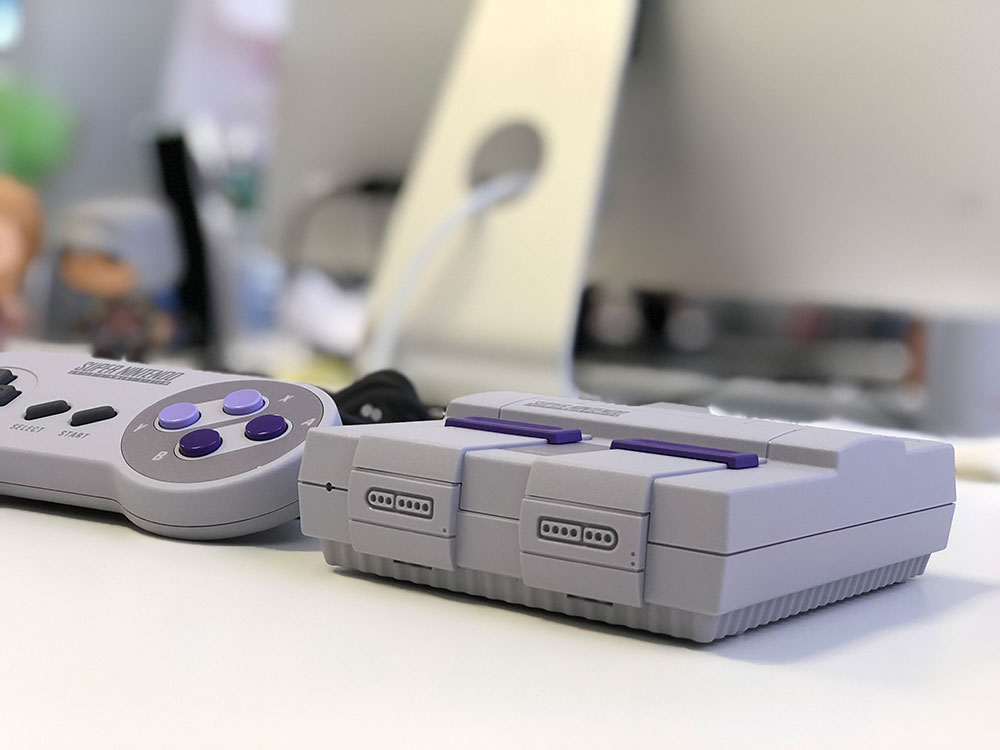 The second iteration of Nintendo's blast from the past: SNES Classic Edition. As a millennial, I am particularly excited to not only unbox, but relive my childhood. For me in particular, the Super Nintendo was my first entry into the world of gaming. I remember a particular period of time in my childhood when my grandmother babysat me and my brother. We were dancing in the middle of the room like the princesses we are, and my younger brother decided to do a cartwheel, completely shattering my toe bone, leaving me in a cast for 6 months.During that time, the casts were not as cool as they are today. This was a full cast! Disgusting, smelly, sweaty, and gross. But the one benefit that came out of all of this was that I found a love for video games. Growing up, I was always that kid that would go outside and play until the sun came down, but without the ability to run or walk, I would sit home and play Super Nintendo. I remember the first game I played, Super Mario World. That one game led to others. My favorite game of all time (besides modern era Kingdom Hearts) was Super Mario RPG.The SNES Classic Edition is an incredible display of engineering. They were able to take the classic elements of the original and morph them into a modern twist. With the addition of the HDMI cable you can play the games on your television. No more cubed TV's! I know you can buy these games on the 3DS, WiiU, and I am sure the
Nintendo Switch
at one point and time, but the this whole series from Nintendo has been a marketers dream. I absolutely love everything that Nintendo is doing here and I hope they continue this trend.Now, it's time to
DO A BARREL ROLL! 
In The Box
SNES Classic Edition Console
Two Controllers
AC Adapter
HDMI Cables
Games Featured
Contra IIIThe Alien Wars
Donkey Kong Country
EarthBound
Final Fantasy III
F-Zero
Kirby's Dream Course
Mega Man X
Secret of Mana
Star Fox
Star Fox 2 (Unlock-able)
Street Fighter II Turbo: Hyper Fighting
Super Series: Castlevania IV, Ghouls'n Ghosts, Mario Kart, Mario RPG: Legend of the Seven Stars, Mario World, Metroid, and Punch Out
The Legend of Zelda: A Link To The Past
Yoshi's Island
Games I am personally most excited for are ranked top 5 in order.
Mega ManOut of all the games included, I played this game the most. The storyline was captivating, the levels were difficult, the anxiety and stress (and sweat) levels were over 9000!
Super Mario RPG
This was truly the first game that "started it all". I'm not a gamer as much as I once was, nor am I programer, but I am a story teller. This for me was the first true story in gaming. The game was nearly impossible to beat. It was complex for a game of its time.
Donkey Kong Country
You get to ride on animals, the graphics were simple and awesome, and Diddy Kong makes it worth it.
Street Fighter
Fighting games are awesome, but has there been a better fighting game since? Also, who else doesn't like punching the crap out of cars!
Zelda
This is so obvious on so many levels, but Zelda and Link has a special place in my heart. My favorite Zelda game in the franchise was Wind Waker. I can confidently say that I am the anomaly on this one, because the game itself had harsh criticism due to cell shaded graphics and lack of storyline. A link to the past is the summarization of this article and also the feeling that I received when I turned on the console for the first time.Watch this awesome review from FUgameCrue.
Subscribe to his channel.
He has some awesome reviews and a great sense of humor.
The Best Competitive Gaming Chairs of 2019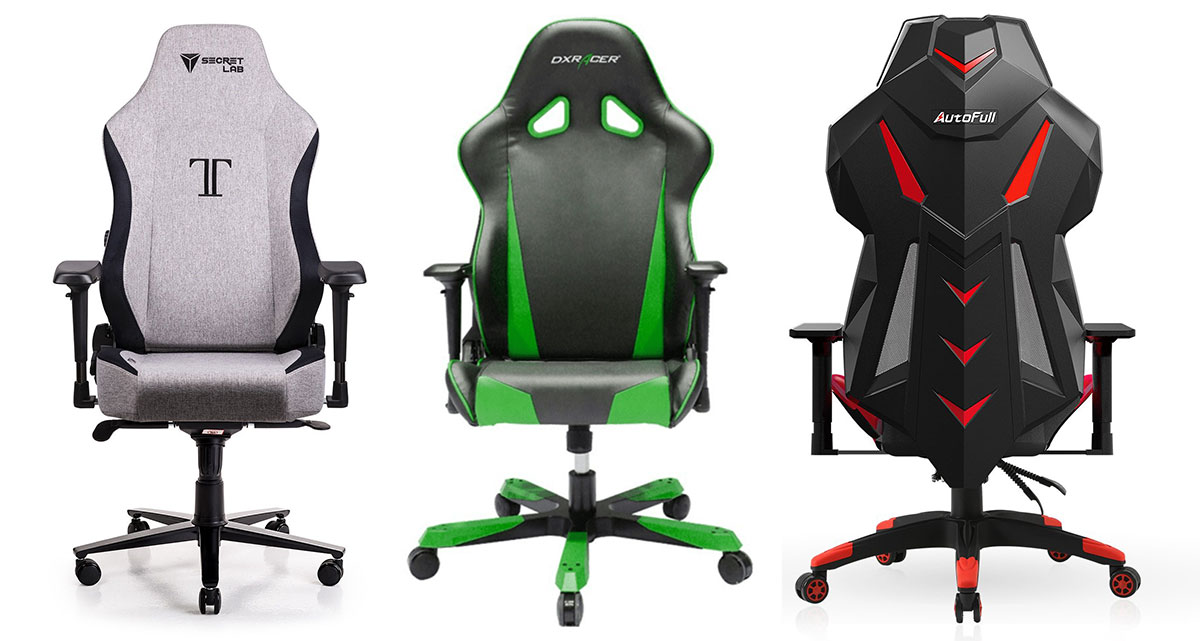 Competitive gaming is still a relatively new phenomenon. And with it comes the development of all sorts of peripherals and gadgets to give players in the competitive space an edge. Gaming used to be much simpler back when I was in grade school. I used to bike over my friend's house after school. My friends and I would finish an episode of Dragon Ball Z, and then head into his basement where he'd  turn on his Nintendo 64 and we'd go four-player split screen death match in Golden Eye. And back then, we didn't need much other than a decent controller. We'd all sit on the floor backs hunched over waiting for scoliosis to kick in as we waste one another.Those days are long gone, and nowadays competitive gaming has evolved greatly. And along with it, the need for better support equipment, mainly back support. In recently years, there's been a lot of new companies entering the e-sport market, especially the gaming-chair category. Gaming chairs have become an essential gaming equipment that professional players can't go without. If you watch either Fortnite or Apex streamers on Twitch, you'll notice just about everyone sits in a professional gaming chair. And there's a good reason for that. A player with better support equipment will outlast and outperform a player. And that's why nowadays, everyone is investing in a good gaming chair. But not all gaming chairs are created equal. Which chair should you invest in?
Having only been founded in 2014 and launching their line of products in 2015, Secret Lab is a fairly new company. But being the new kid on the black doesn't mean their products aren't among the best in class. We review and test the Secret Lab Titan Series, and so far, it's one of the most comfortable, versatile, adjustable, and well balanced chair we've ever tested.At $429, it's certainly not among the cheapest or affordable equipment. But there's a reason why we chose the Secret Lab as first on the list. The build quality, features, and premium materials they used for this chair is unrivaled, even by others on the list. Additionally, we like the clean look of Secretlab chairs. They opted for a more elegant and premium look. And looking at it, it really does look like an expensive chair. When we put it to the test, it performed as expected. Even after six hours of non-stop Apex domination, our reviewer felt the Secret Lab Titan Series provided exceptional support and comfort, especially in long sessions.
BUY IT HERE
More petite gamers often have a difficult time finding a chair that fits them just right. Often times they're stuck with a chair that's too large for them, and they have to sit leaning forward because the backrest is too far away. Prolong exposure to sitting in a chair made too large for you can result in discomfort and lack of focus. And that's where the Arozzi Verona Junior shines. As the name implies, the Arozzi Verona Junior is a chair that's made for gamers under 5'2. It's well structured and molds to a smaller frame, giving unequivocal comfort.
BUY IT HERE
DXRacer
is an old and respected company that pre-dates a lot of companies on this list. And with that, at least one of their chairs are expected to make the list. The DXRacer Tank's is unique in that it can support a gamer up to 450lbs and it's back support is large enough to accommodate a 6'7 giant. It's a sturdy chair that's made for a specific audience and also comes at a fairly steeper price tag of $600.
BUY IT HERE
Autofull is a great value chair. It's not cheaply made, and it's price certainly doesn't reflect that. But it's also not overly expensive with quirks and features you'll never need. Autofull made a chair that's just perfect for the middle market. Someone who has a little bit of budget, wants to invest, and only invest in a chair that can deliver the essential comfort and features they need. And with that, Autofull absolutely delivers. Being at $200, it's price point is just right. And even at that price point, they still managed to squeeze in features you'll be surprise to find.
BUY IT HERE
Vertagear is popular among Twitch streamers and many Youtubers. It's a highly adjustable and ergonomic gaming chair with all your essential features in addition to the memory foam being on the firm side. The back can actually be adjusted. You can lift it up or down to adjust accordingly to your height, a feature not found on many chairs. Veragear also lets you choose from a wide variety of colors to ensure the chair fits your setup/colorscheme.
Secret Lab Titan Series Review: A Gamer's Dream Chair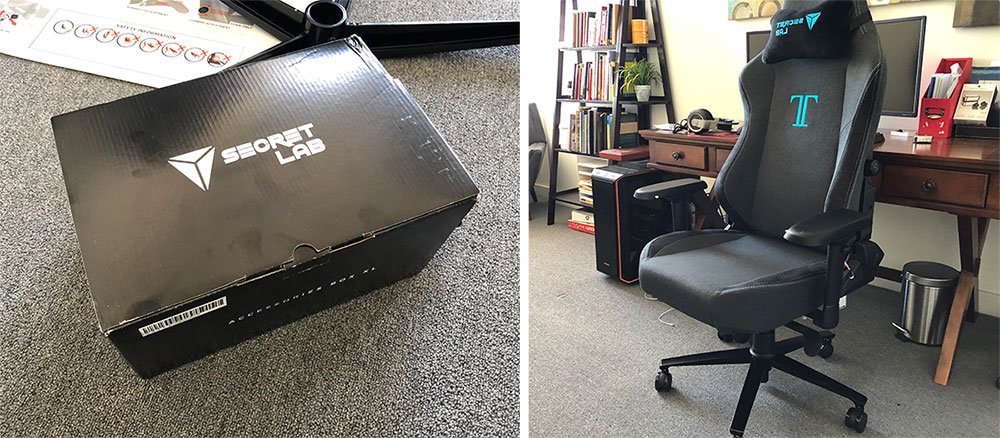 Secret Lab
is a company that began in 2014 with a mission to build the best gaming chair in the industry. Despite the already saturated market and fierce competition, Secret Lab decided to launch their first line of gaming chairs in 2015. They're now distributing in over 40 countries giving gamers everywhere the competitive advantage of being able to stay in the game longer more comfortably. Their current product line consist of the
THRONE
,
OMEGA
,
TITAN
and Neue series.We received the
Secretlab Titan in Charcoal Blue Softwave Fabric
for this review. The Titan is currently considered the largest chair available from Secret lab. It comes with a load of features you'd expect from a $400+ gaming chair in addition to being able to support up to 290lbs, which should be plenty for anyone between 6'0 - 6'4. The Titan comes with three different upholstery options, each at different prices. You can get the Pu leather at $399, Softwave fabric for $429, and premium Napa leather for $949. With the Pu leather option, you also get to choose between six different color options. With the Softweave fabric, you only get two color options. And the Napa leather only comes with one color scheme.
Assembly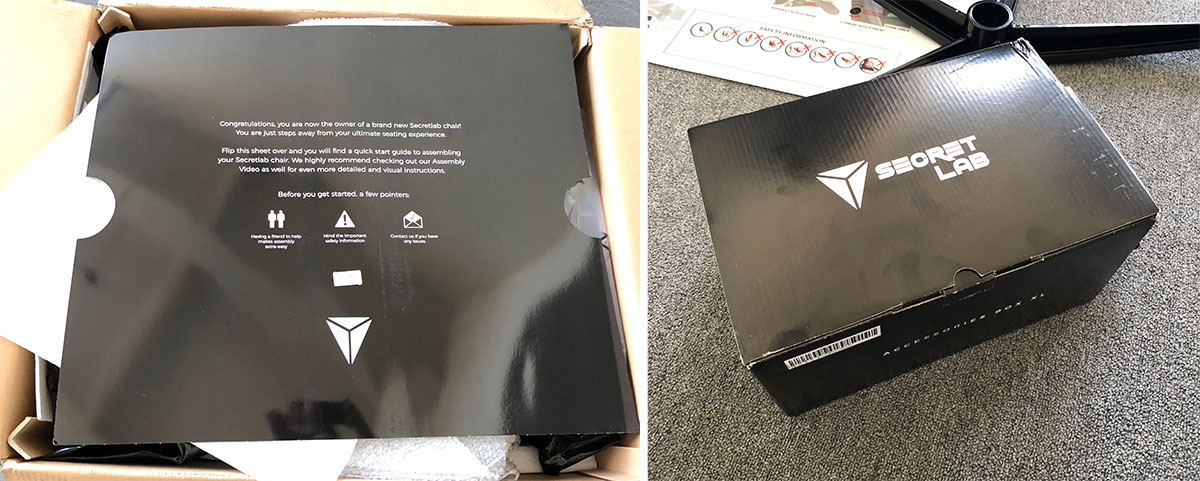 Branded packaging
The Titan comes in a large black box with their logos and branding on all sides. This was a surprise for me since a lot of other gaming chairs we have at the office typically comes in a cheap looking cardboard box deprived of any kind of branding or color. They could've easily gotten away with just a regular cheap cardboard box, but they chose not to go the frugal route, given you just paid $500 for it. Opening it for the first time, you definitely felt like you were opening something premium.

Clear instructions
Forget those generic thick manuals that contain 90 pages of instructions in every language known to man, and only one page of English instructions that you have to dig to find. Secret lab knew we hated that and decided to do things a little differently. As soon as you open the box, you're greeted with a large sheet with the assembly instructions and warranty information. The instructions are visually pleasing, easy to understand, and laid out in a way that you only need visual cues to put the whole thing together.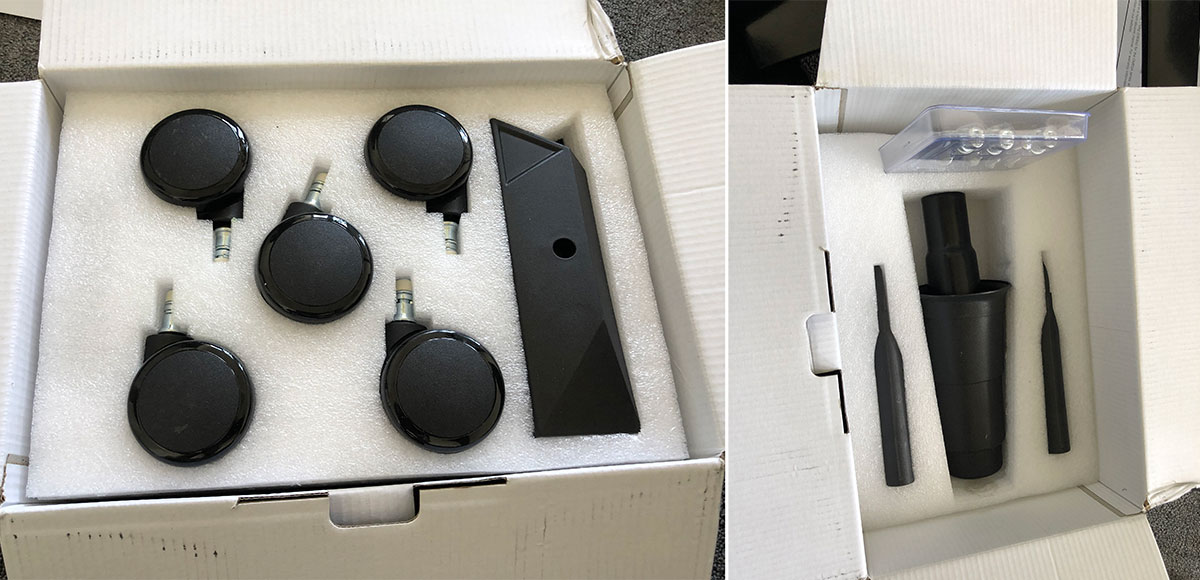 Intelligently packaged and systematically ordered
Everything was intelligently laid out layer by layer. You can tell a lot of thought went into organizing everything this way. The layers coincide with the instructions, so you don't need to lay everything out on the floor and then struggle to find any part. Secret lab definitely nails down the user experience right from the get-go. No one in our office has much experience putting chairs together, yet it only took one of our writer about 10 minutes to put the entire thing himself. The online video was a nice touch, however it wasn't needed in our build thanks to the clear instructions and intuitive layering system they have going on.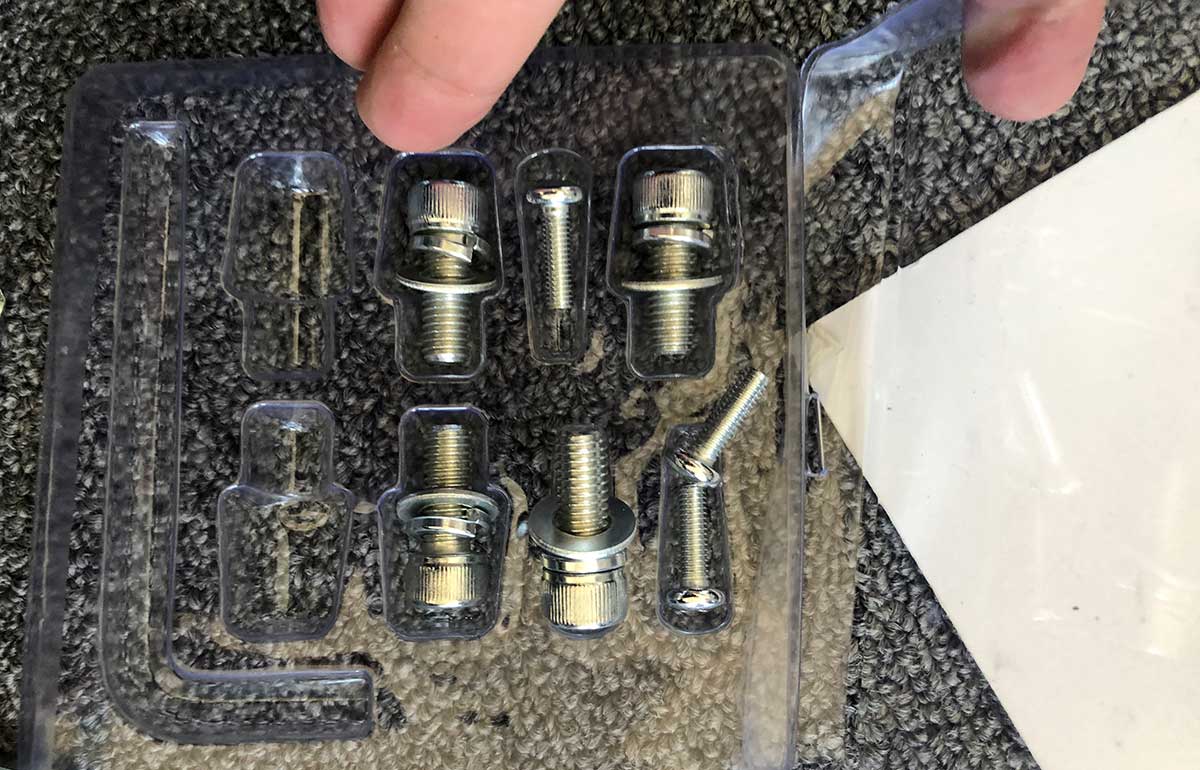 Pre-assembled nuts. Why isn't everyone doing this?!
All the tools are included in the box, so you don't need anything extra. They even went ahead and put all the rings and washers onto the nuts so you only need to screw them on. We wish more manufacturers would take the time to do these little things. Sometimes manufacturers forget no one wants to spent an hour struggling to put together a product they paid $500 for. They just want to assemble it as quickly as possible, and get back to gaming. Secret lab understands that.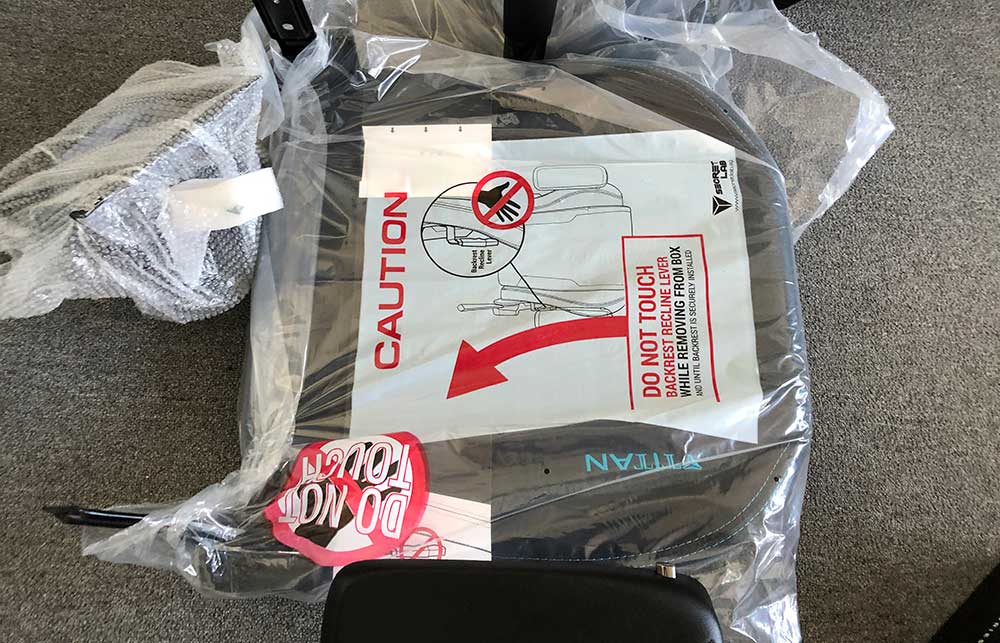 Complaints with assembly
As easy as everything was, there are a few small complaints that we had. The one thing you need to be careful of is the mechanical lever for releasing the backrest. There is an obvious warning tag that lets you know NOT to touch it until it's fully assembled. We pressed it by accident because the label was stuck between the cushion and it fired like a gun.The second complaint is the side pieces. They're really just for aesthetic purposes, but they're ridiculously difficult to screw on because you have to "align" the holes while applying pressure.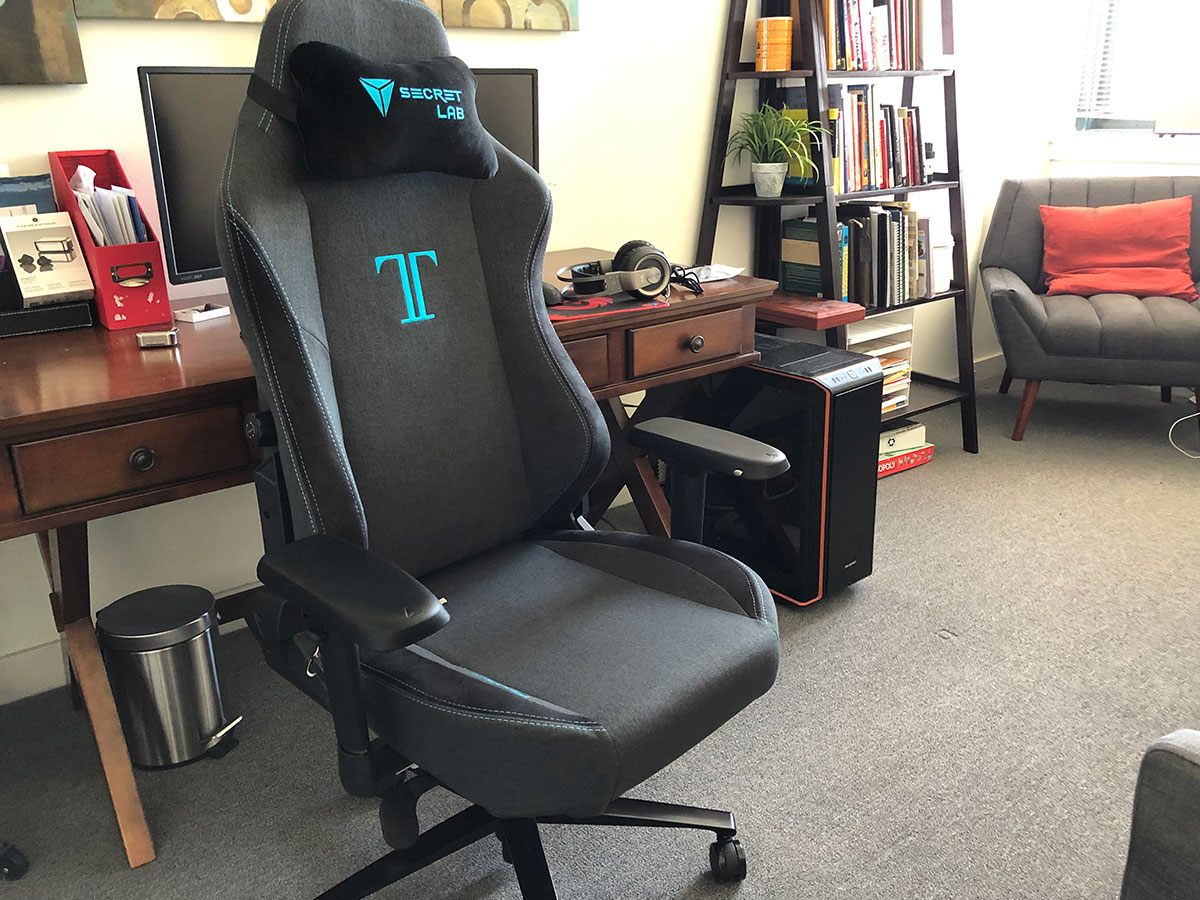 Fully assembled!
After 10 - 15 minutes, everything was fully assembled.
Looks And Feel
Aesthetically, it's one of the most well designed gaming chair money can buy right now. We appreciated the simple and elegant styling instead of the over-the-top RGB that some chairs come with. It definitely carries a more mature look, making it suitable for home or office use. This is a chair was built for hard-core gamers and it can also be put in an office without looking out of place.The Cold Cure Foam is firm and supportive. It's not as cushiony or soft as you'd expect when you first sit on it. And that's because it's meant to provide the needed support and comfort without compromising your focus while gaming. The chair is big and hugs you as you sit in it. There's plenty of adjustments to play around here. The arm-rest can be adjusted up/down and forward/backward. There's a nice lumbar adjustment knob on the side. On the side, there's also a lever that enables you to recline the backrest as much as 165 degrees.
Build Quality & Adjustments
Sitting down in the Titan for the first time, you could easily tell it's a premium chair made of the highest quality parts. There's no squeaking or strange noises as you're adjusting and moving around. Everything just felt solid - the way it should be. The multi-functional tilt system works flawlessly as it should. The 4D arm-rest adjustments are easy to control. And the larger than normal XL wheels are silky smooth when attempting to roll around.
Real Life Performance Test
We put the Titan to the test by having our in-house writer, whom also happens to be a Fortnite/Apex gamer, test it out for a week. The typical gaming session is around 2-3 hours on a weekday. And on weekends, his gaming sessions on Apex hovers anywhere from 5 - 6 hours. After an entire week of shooting and looting on the Titan, our tester absolutely loved the chair. The firmness took a while to get used to, but it's only during the extended weekend sessions that you really notice the difference. The chair isn't noticeable. It provides support and keeps you in place. You don't slide around, it doesn't make a sound, it doesn't bother you, and there's nothing about it that would make you even think about it. And that's the hallmark of a great gaming chair. One that simply does it's job and keeps the gamer hyper focused and comfortable.
Verdict
It can be challenging to justify $500 on a gaming chair. It might just be one of the most, if not the most, expensive equipment besides your PC rig. But if you're a serious gamer who spends 20 - 30 hours a week gaming, having a chair that doesn't compromise your posture, health, and gaming experience can be invaluable. Overall, the Titan (any version) is one of the best gaming chair available today and at $500 ($429 if on sale) it's worth every penny.