Pixio PX347c Prime Review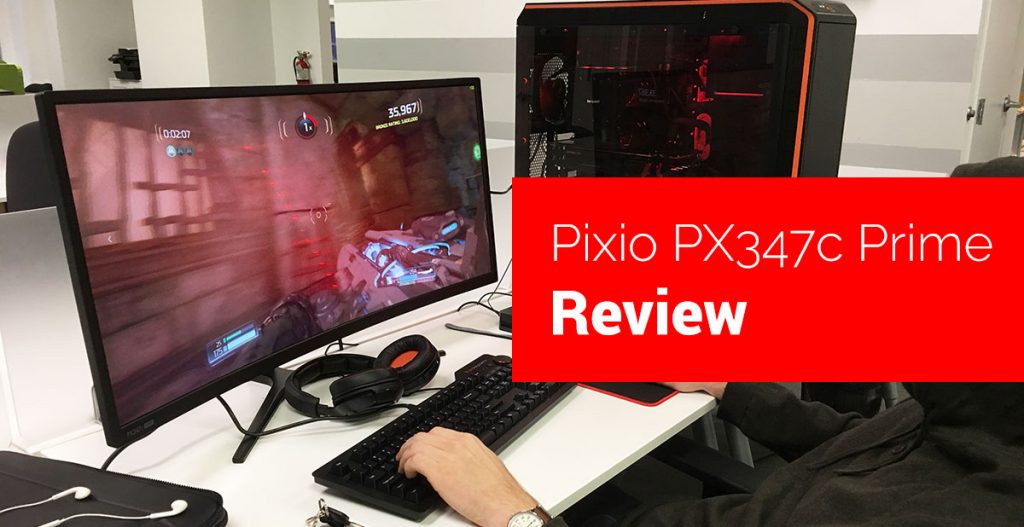 Today we're reviewing Pixio's latest Gaming Monitor the Pixio PX347c Prime. Pixio was generous enough to provide us with the monitor for this review. When we review products we try to pair the product with the correct demographic that would actually buy and use the product to ensure the review is accurate. Our Gaming Unit, which specifically write and review gaming products, were tasked to review the Pixio PX347c Prime and test it in real-life gamer-appropriate settings.
Our gaming unit built a custom PC for hardcore gaming and we decided to use Pixio PX347c Prime as our monitor of choice due to it's 21:9 ultrawide screen format and the promised 100hz at a ridiculous price of $599. Our gaming unit review team comprised of hardcore competitive E-sports level gamers, your typical noobs, and technical savvy hardware geeks.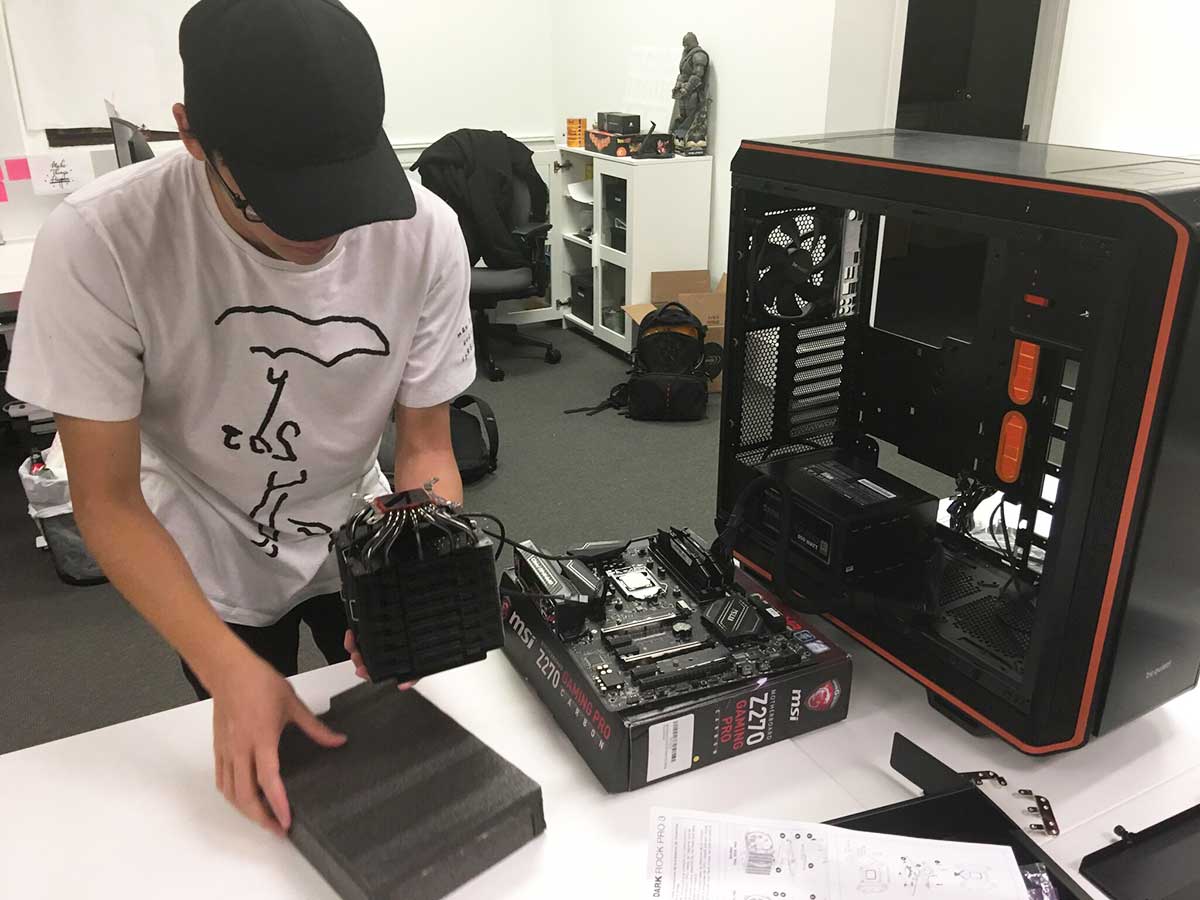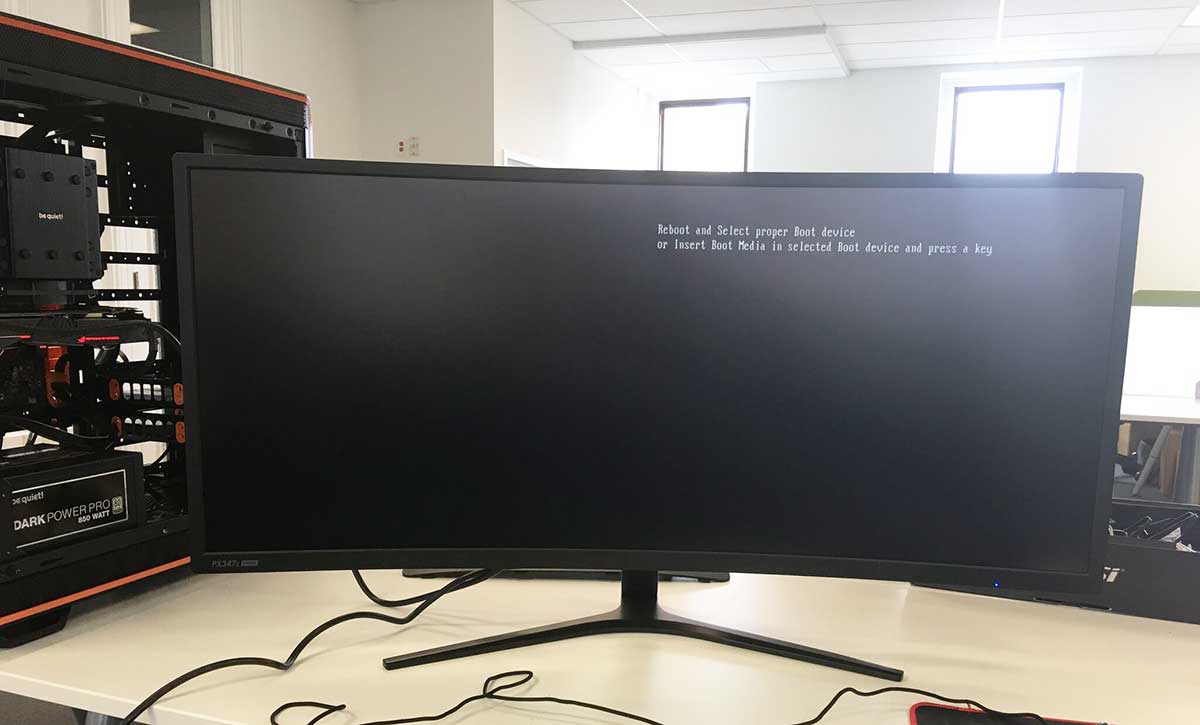 The Specs:
-34 inch WQHD (Wide Quad High Definition) 3440 x 1440 pixels
-100Hz liquid smooth, blur-free Refresh Rate
-Flicker Free, Low Blue Light
-Adaptive-Sync (80-100hz)
-178˚ Viewing Angle
-Anti-glare screen
-3000:1 Contrast Ratio, 50000:1 Dynamic Contrast Ratio
-1x HDMI, 1x DVI, 1x DP connection
-21:9 or 4:3 Aspect Ratio
-PIP, PIPPOS, PBP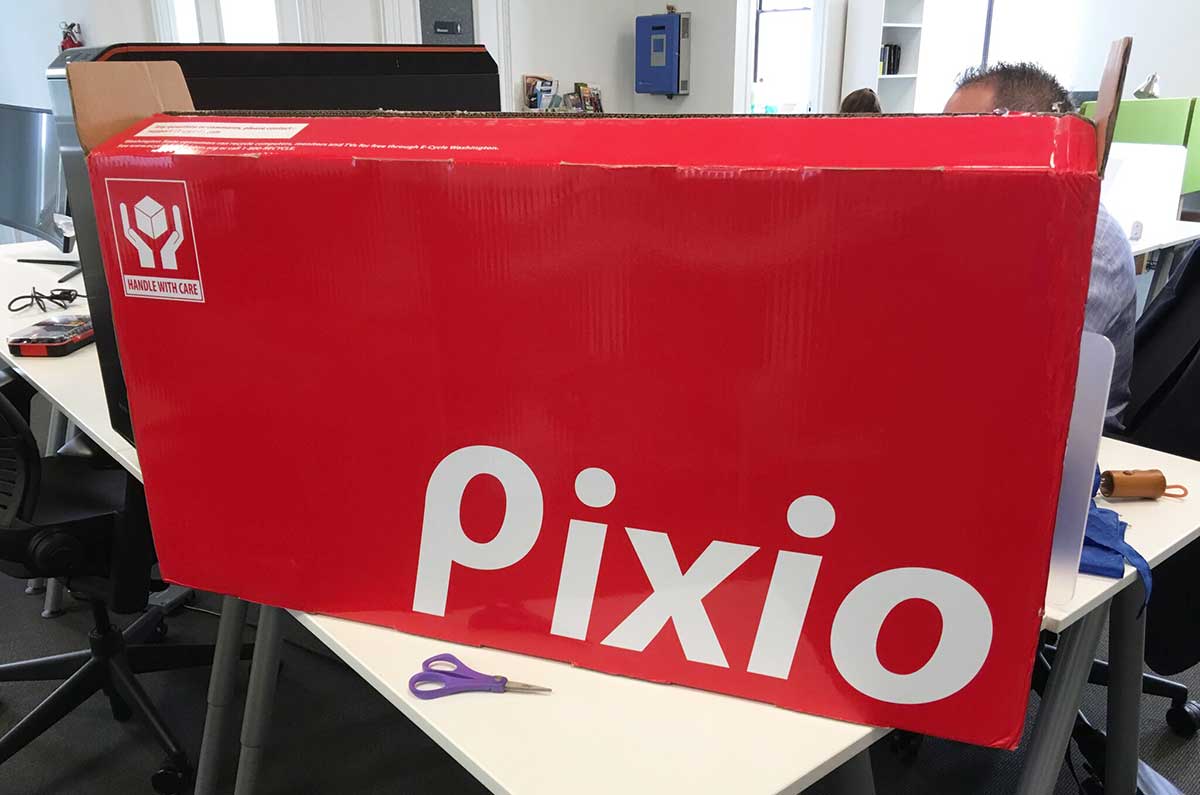 Price: $599 MSRP
If you're looking at the list of features the Pixio PX347c Prime comes with and then look at the price, you'll be hard press to not think it's either a cheap Chinese knockoff or low-quality reproduction of an Acer Predator or BenQ monitor. Our doubts were put to rest upon opening the monitor. The monitor is definitely on the heavier side (never a bad thing) weighing in at easily 15-17 lbs.
Build quality & design
The Pixio PX347c Prime offers an elegant and simplistic design. Despite being a gamer-centic monitor targeting serious e-sports crowd, it doesn't come with the angles, flares, and accents other gamer gear sports. Instead, it features an edge-to-edge curved monitor with a luxury matted black that's fingerprint proof. It's a heavy monitor, may require 2 people to assemble (to be safe), and it's weight is reassuring of the build quality. The overall construction of the PX347c Prime is sturdy and feels reliable.
Navigation & Menu
Buttons to navigate the menu are hidden underneath the display panel and they're embossed to give your fingers tactile clues to their function. Menu is fairly easy to navigate and Pixio added FPS gaming mode for their first person shooter gamers to enhance titles such as Call of Duty, Battlefront, Wolfenstein etc.  And there's also RTS gaming mode for their real time strategy fans playing titles such as Starcraft II.
There's also your basic functions to change various settings such as brightness, contrast, and other essentials. The menu was intuitive and easy enough to navigate without referring to the manual. It's also responsive with very little delay time between inputs. Due to the size of the monitor, Pixio included PIP (picture in picture) feature in case you want to utilize the screen's real estate to it's fullest potential.
There's also an added feature call Low Blue Light to protect your eyes from straining during long hours of work or using the monitor. These are well thought out features and their enhancement is highly noticeable, especially RTS mode.
Connectivity
Pixio went with the bare essentials and provided Dual link DVI, HDMI, and Display Port options. HDMI works, however Display Port is recommended to achieve consistent 100hz performance. Pixio included a beefy Display Port connector with the monitor.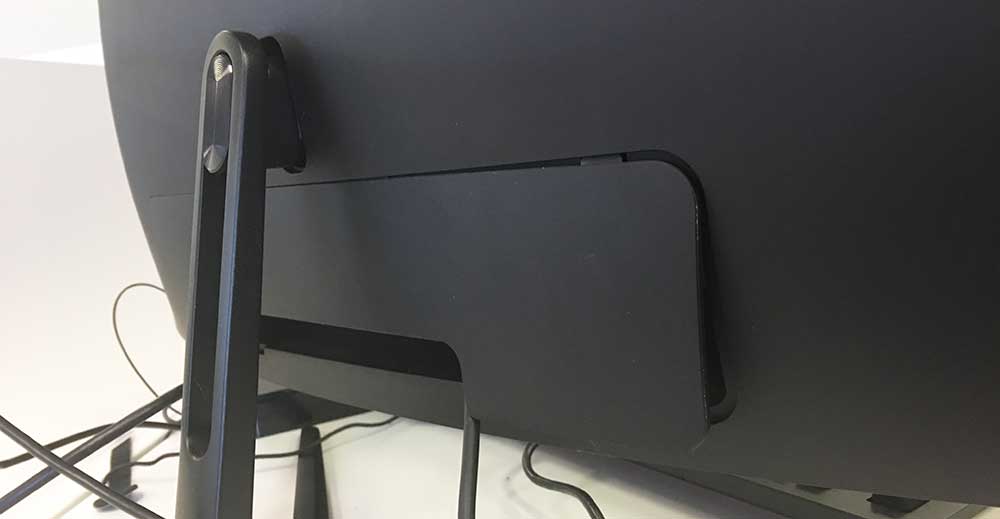 The back panel where the ports are located has an annoying cover that's difficult to take on and off.  Removal of the cover requires unnecessary and strenuous effort. Our gaming unit left the cover off after several attempts to put it back on.
"Removal of the cover requires unnecessary and strenuous effort."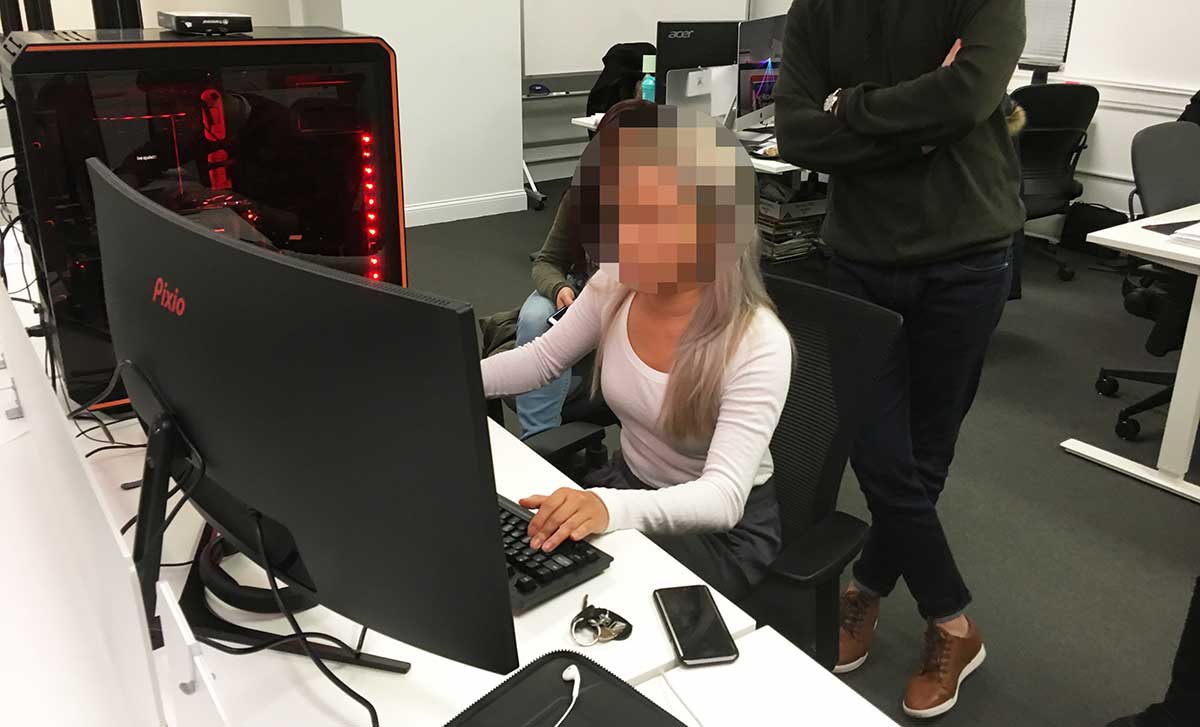 The Stand
The stand is an obtuse angled V-shaped base made from a solid piece of metal. It's a no-frills stand with limited tilt adjustability and easily screws onto the back of the monitor via a few small allen screws.It's not pretty but it feels strong enough to securely hold up the monitor.
No Vesa Mount?
This was a bit of a surprise, given how well the build quality is and also the fact that Pixio sells their own custom Vesa mount. However, it's a large enough monitor that you'd want to keep it at a distance rather than up close as you would with a 16:9 ratio monitor. For us, the monitor's exceptional viewing angles and tilt adjustability was more than sufficient and didn't seem to bother our gaming unit.
Screen Quality
We appreciated Pixio for not cheapening out on the screen. They could've used a cheaper alternative to meet this price point, but they opted to use a Samsung SVA screen panel with Adaptive-Sync support to produce the beautiful 34″ display at 3440×1440 resolution. This resulted in higher image quality, incredible blacks, great consistent whites, and vibrant range of colors. The viewing angle was good and didn't suffer from any color shifting.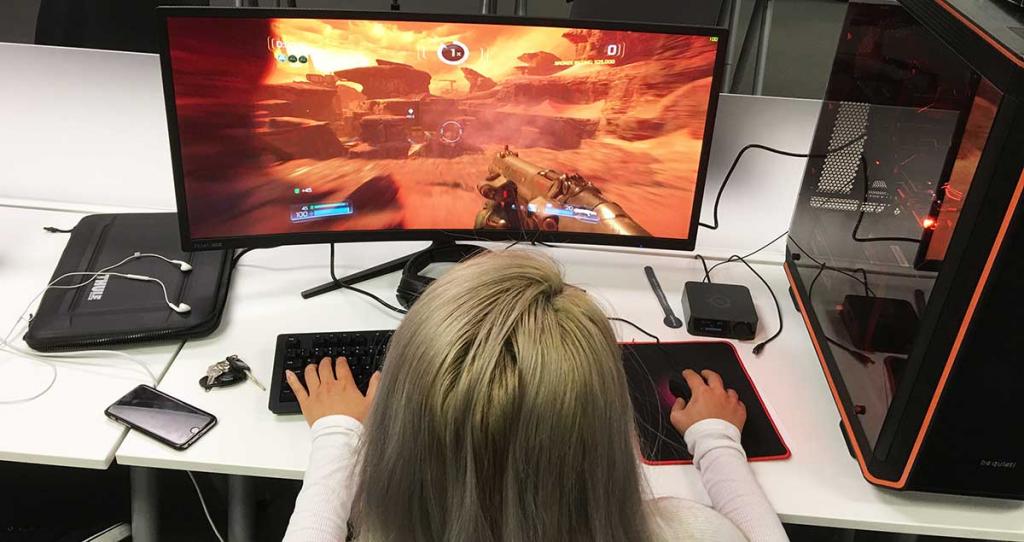 "The screen delivers incredible blacks,  great uniformity on whites, and vibrant colors."
Pixio PX347c Prime's Refresh Rate
100hz at 3440 x 1440 resolution typically are found between the $700 – $1200 range of monitors. The Acer Predator X34 offers 60/100hz ultrawide at $999, AOC AG352UCG runs similar specs at $952, and Samsung C34H890 will cost you $1139. So you can see why the $599 price tag is literally one of the best selling proposition Pixio has to offer. But does the refresh rate truly hold up or is this just a diluted promise that's only applicable under specific settings/configurations?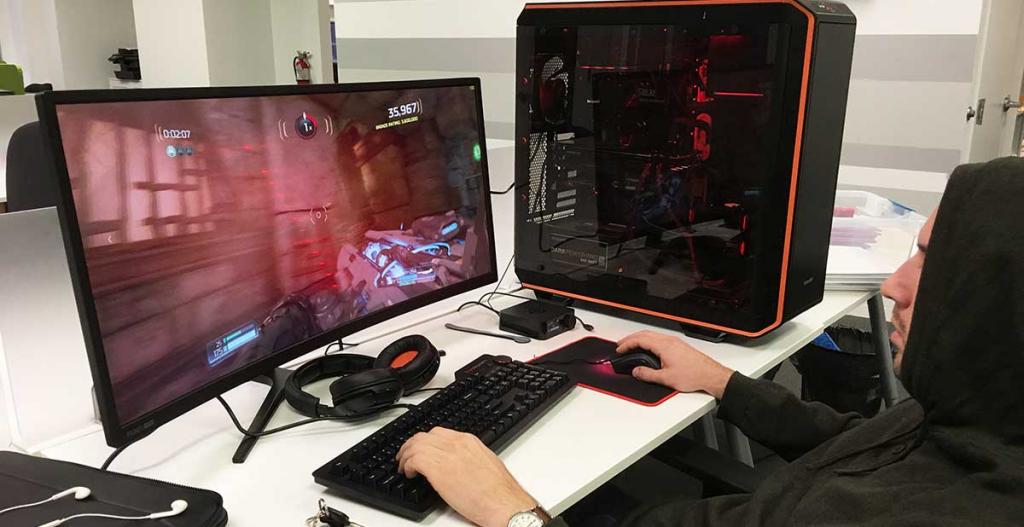 In order to get the best performance and crank out consistent tear-free 100hz gaming, you'll need to use Display Port. This monitor supports Adaptive-Sync and will boost performance if you're using an AMD setup that supports it. If you're using an Nvidia graphics card, you can disable Adaptive-Sync and still get rock solid performance if you're running a higher powered graphics card (1070+).
From our test, the monitor was able to deliver great performance at 60 – 80hz in 60hz mode.  Built-in Adaptive-Sync range goes up to 100hz and provides tear-free rendering of games. However the benefits of the 100hz is only good if you're running over 60+ FPS. Anything lower than 60FPS, you'll notice significant performance drop and tearing.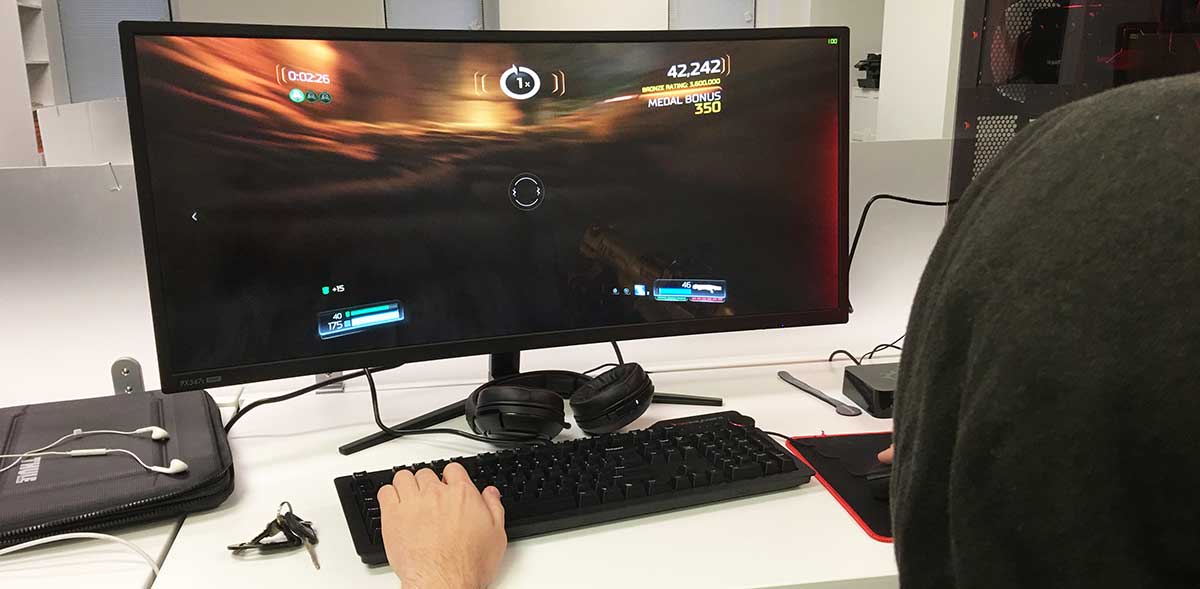 The Pixio PX347c Prime delivered exceptional tear-free silky smooth gaming experience when we played Doom on ultra setting using an Asus Strix 1080Ti outputting over 100FPS. There were no screen tears, monitor delays, or even a single skipped frame when running at 100hz. Pixio lived up to their "liquid smooth, blur-free Refresh Rate" promised under our tests.
On the other hand, when using a lower-end graphics card that couldn't muster even 60FPS, we were better off turning Adaptive Sync off. Once we turned Adaptive Sync off, performance was fine.
"Pixio lived up to their "liquid smooth, blur-free Refresh Rate" promised"
Gaming Experience
The spacious digital real estate of the Pixio PX347c Prime's gorgeous 34″ WQHD 3440 x 1440 pixels screen provided a whole new experience for many of our testers. The sheer amount of visibly you gain can provide a competitive edge in shooting and rts games because you can see at least 35% more of the map.
We tested titles such as Battlefield 1, Dishonored 2, Witcher 3, and Doom. The overall gaming experience on the 347c is mesmerizing and once you've experienced it, you can't go back to a regular 16:9 aspect ratio monitor without feeling the loss.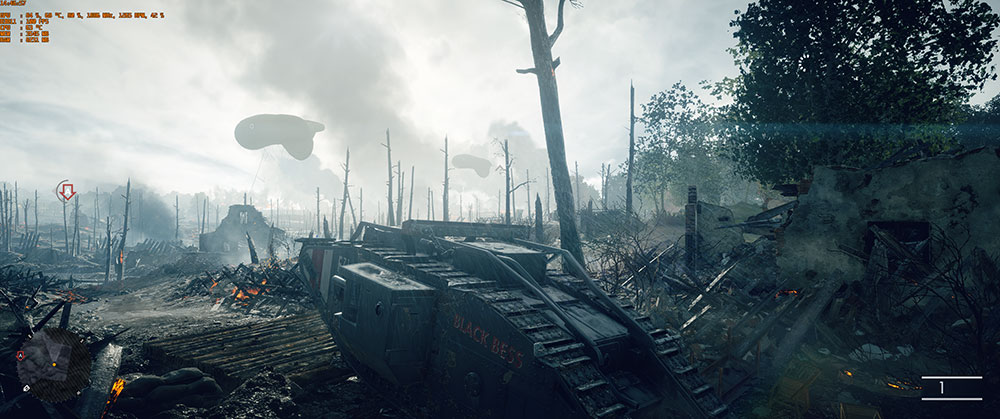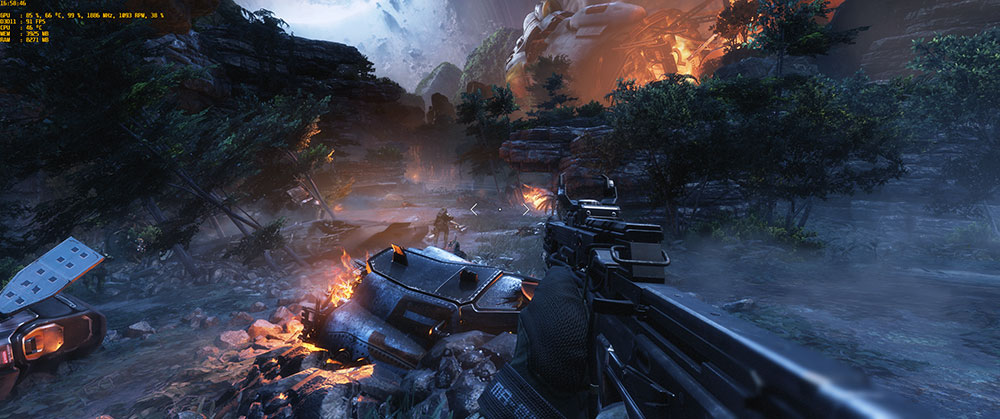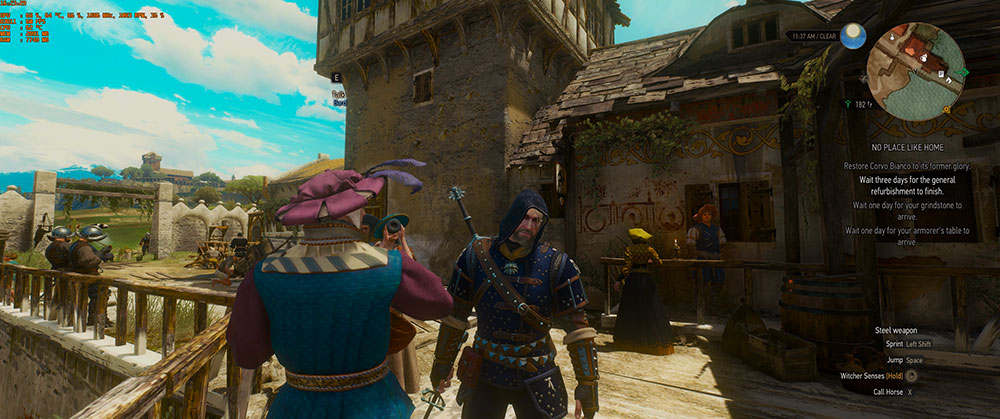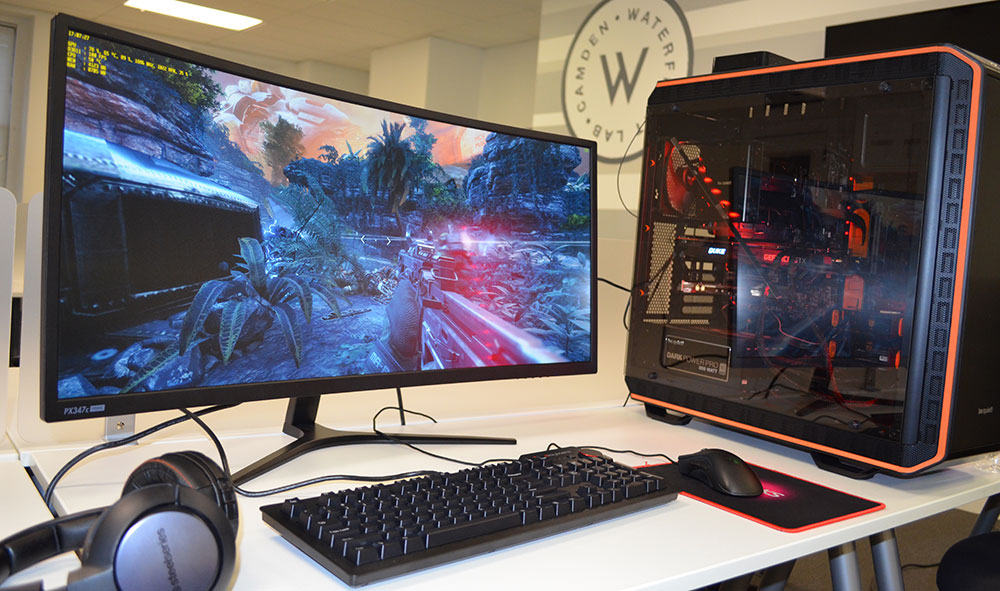 Response time 
The Pixio 347c Prime's response time was around 8ms, which isn't terrible, but higher than we'd preferred.

Verdict – A Definite Buy
It's clear that Pixio knew who their customers were, what their customers wanted, and engineered a monitor to fit exactly that. The Pixio PX347c Prime is an absolute beast when it comes to gaming performance. It packs silk smooth performance at 100hz, Adaptive-Sync, stunningly beautiful monitor that displays beautiful colors & rich black, and comes in at 34″ with 3440 x 1440 pixels…for $599. Like every monitor on the market the Pixio PX347c Prime certainly has a few cons, however we'd hardly call it "cons" since they weren't building a monitor for everybody. They built a gaming monitor for gamers, and the gamers that tested the monitor only cared about one thing – performance. And the one thing that gamers cared about was the one thing that Pixio delivered with flying colors.
Interested in buying the Pixio PX347c Prime? Get it for $599 on Amazon. 
Top 10 Handheld Gaming Devices Under $300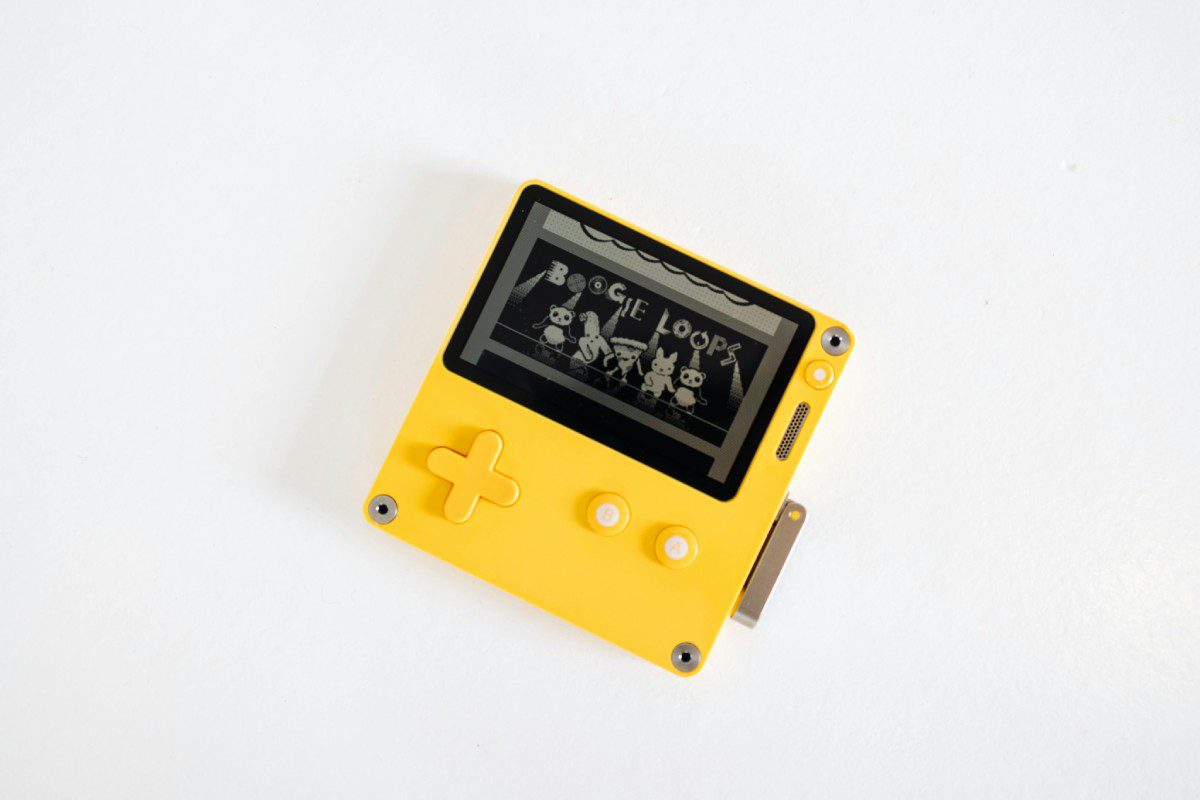 Handheld gaming devices are all the rage for online gamers. Some want to recapture the magic of the old days, where you could play a game anytime anywhere. However, some want to experience the portability of playing PC or desktop games without losing significant game progress. Whatever your reason for buying a handheld gaming device, we've narrowed down your options in buying the best handheld gaming devices under $300!
1. Retroid Pocket Flip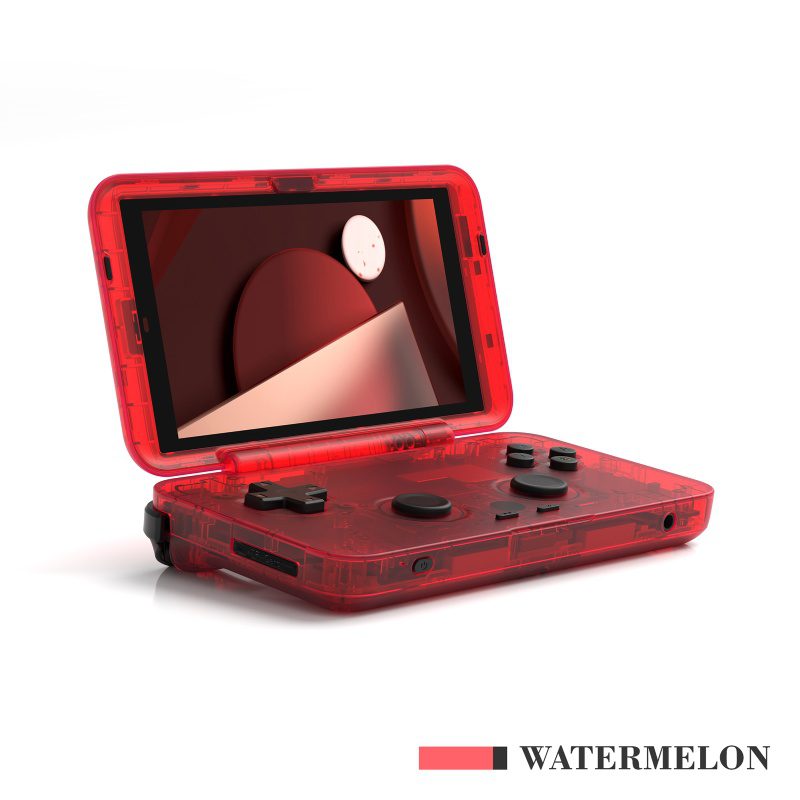 If you're looking for a handheld gaming device that's light on your pocket, literally and figuratively, why not go for Retroid? The Android-powered gaming device lets you play your favorite games anytime or launch an emulator, too! But you can dock the Retroid to your TV or PC to play your game on a bigger screen! The Retroid company offers three devices:
2S Handheld
Pocket 3+
Flip
However, the best option for any gamer is the Flip. Its active cooling system lets you play games for a long time. It has 128GB of storage, allowing you to store all your favorite games on one device. Plus, it has a touchscreen and customizable buttons!
Pricing: $164.00
2. Retroid Pocket 3+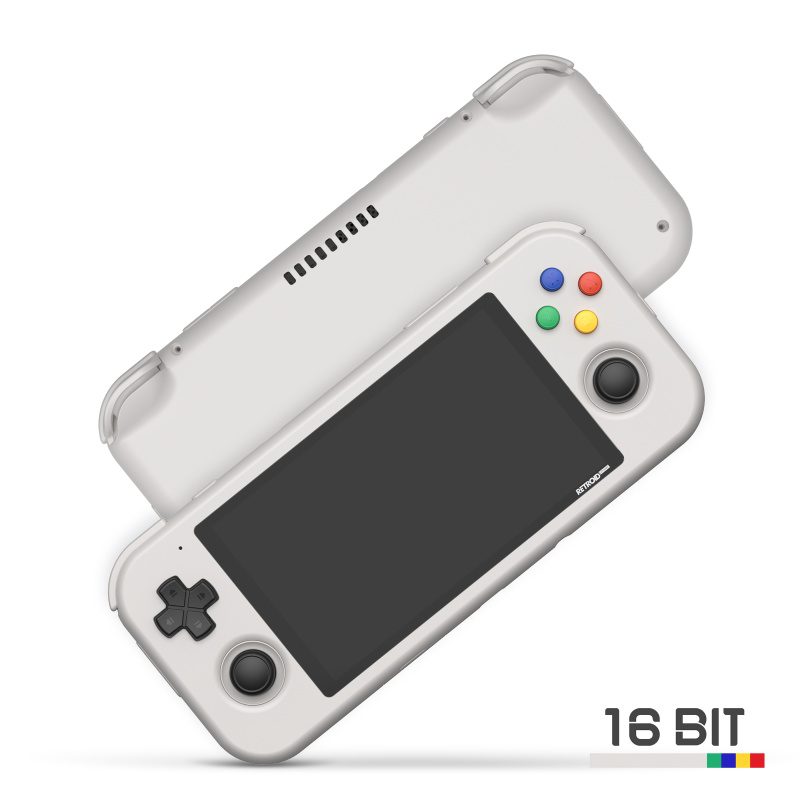 The Retroid Pocket 3+ is another handheld gaming device under $300 to consider. Like the flip, it also has a touchscreen and a game launcher with emulator. Unlike the Pocket Flip, this one has passive heat dissipation, which doesn't fully cool your device. However, it's still worth a try since it's slightly more affordable than the Flip. Plus, with the Retroid Pocket 3+, you have color variants to choose from!
Pricing: $149
3. Playdate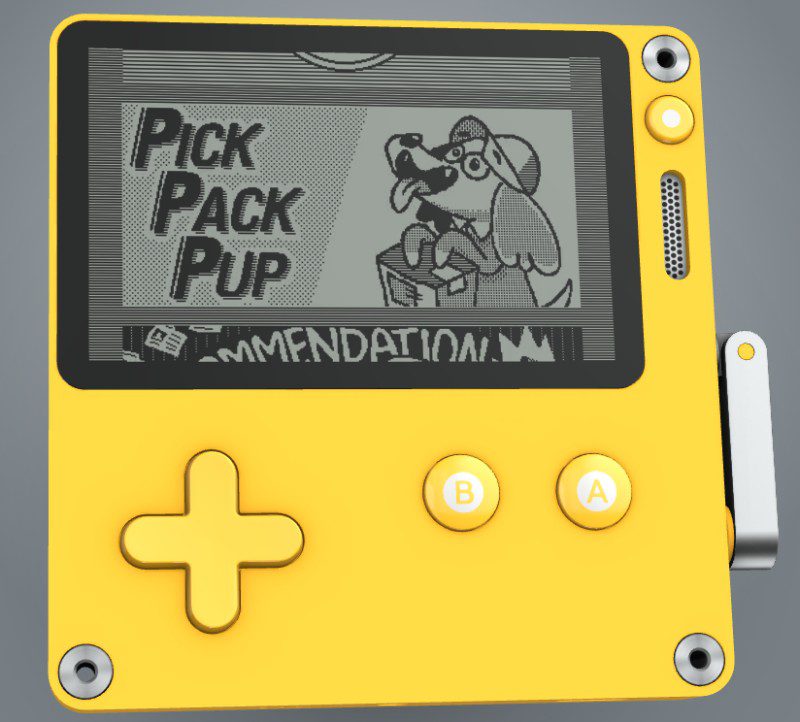 If you want an old-school gaming experience, check out Playdate! It's reminiscent of the old Nintendo Gameboy devices. You can only play 8-bit games, but it's still enjoyable! So far, you can play up to 24 games, which you can purchase on the official store. One advantage of this handheld device is storing it in your pocket! Plus, it has a pull-out analog controller from the side to help characters move and do other actions on selected games!
Pricing: $199
4. Anbernic RG552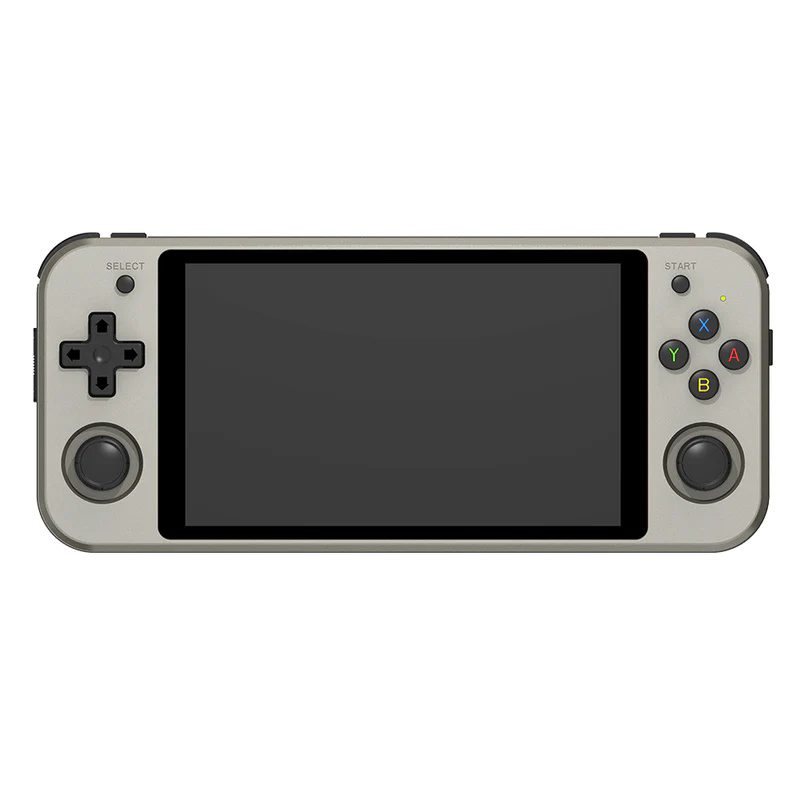 Here's another option to consider if you want old-school-style gaming devices. Anbernic has various models and gaming models to choose from! Most devices are compatible with emulators, allowing you to play games from the past.
But if you want their state-of-the-art device under $300, you can buy the Anbernic RG552. This device has Linux and Android systems, allowing you to play simulators, Android games, and other simulators! Plus, you can expand the storage to play more games.
Pricing: $226.99
5. Analogue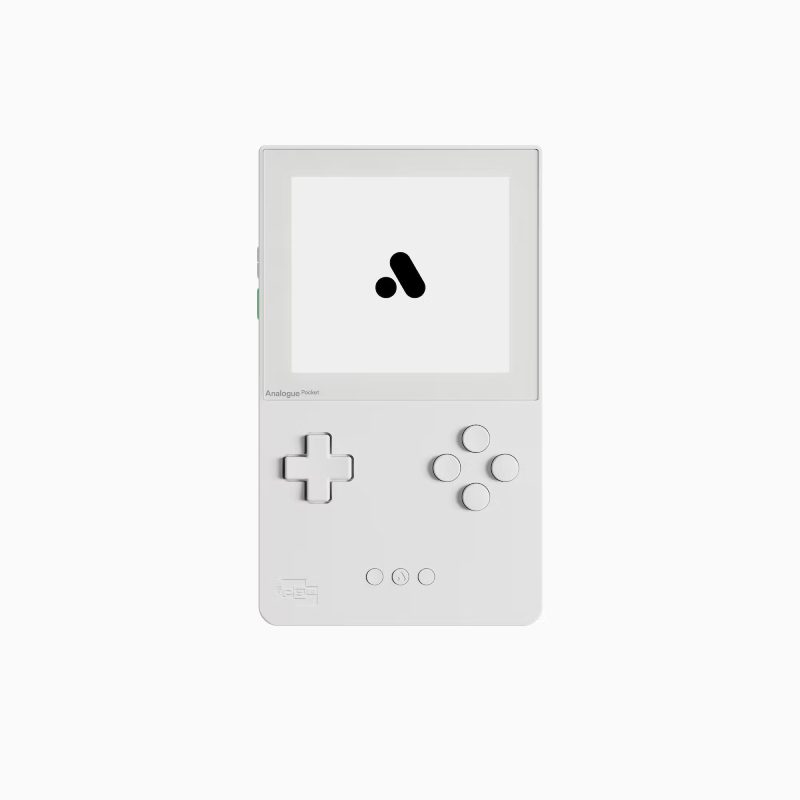 Here's another device paying homage to the old Game Boy models. Their Analogue Pocket model is compatible with your beloved Game Boy games! You can stick a cartridge and play like the old days. Unlike other devices on this list, they don't have emulators.
Despite the 8-bit gaming style, it boasts a high-res screen (1600×1440). Plus, the Pocket is protected by Gorilla Glass, too! However, Analogue isn't just a gaming system. You can also create music and connect it to your other devices! Additionally, they have a multi-player option, letting you play with your friends!
Pricing: $249.99
6. Powkiddy Max2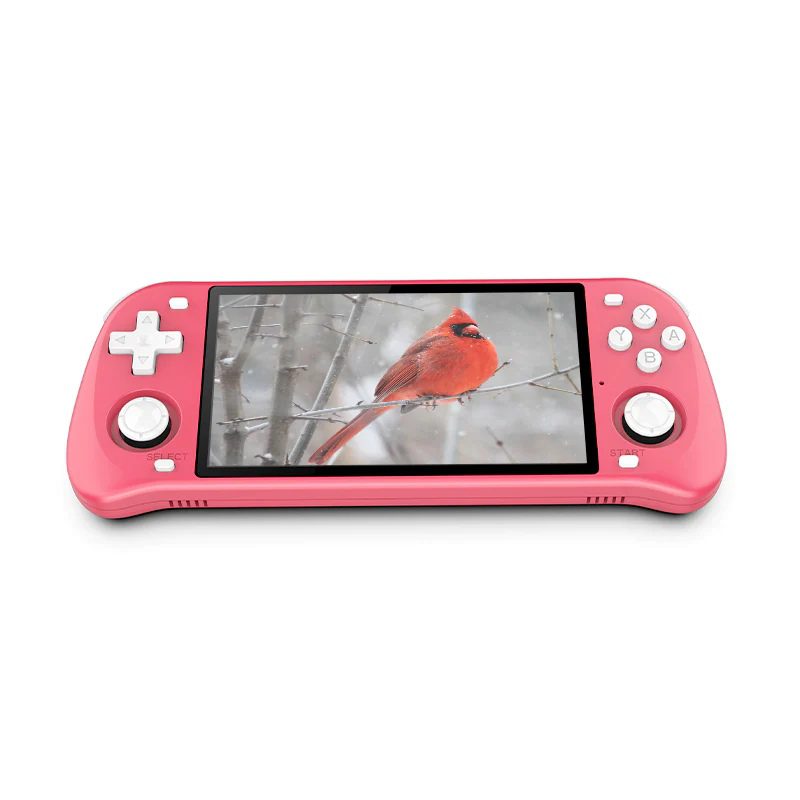 If you also want to select from various models, Powkiddy also offers them to avid gamers like you! Powkiddy has designs that will remind older gamers of their child. Meanwhile, their devices could also be great to let kids know about handheld gaming devices.
Most of their handheld gaming designs have smaller screens but can accommodate simulators. Additionally, some of their handheld devices have a fast-charging option, allowing you to play games for four hours, even on an hour's charge. But you have to go with one of their bestsellers, the Max 2.
It has an ergonomic grip, providing comfort when you play for long. It's compatible with various simulators. Plus, it's expandable to 128 GB.
Pricing: starts at $154.99
7. Ayn Odin Lite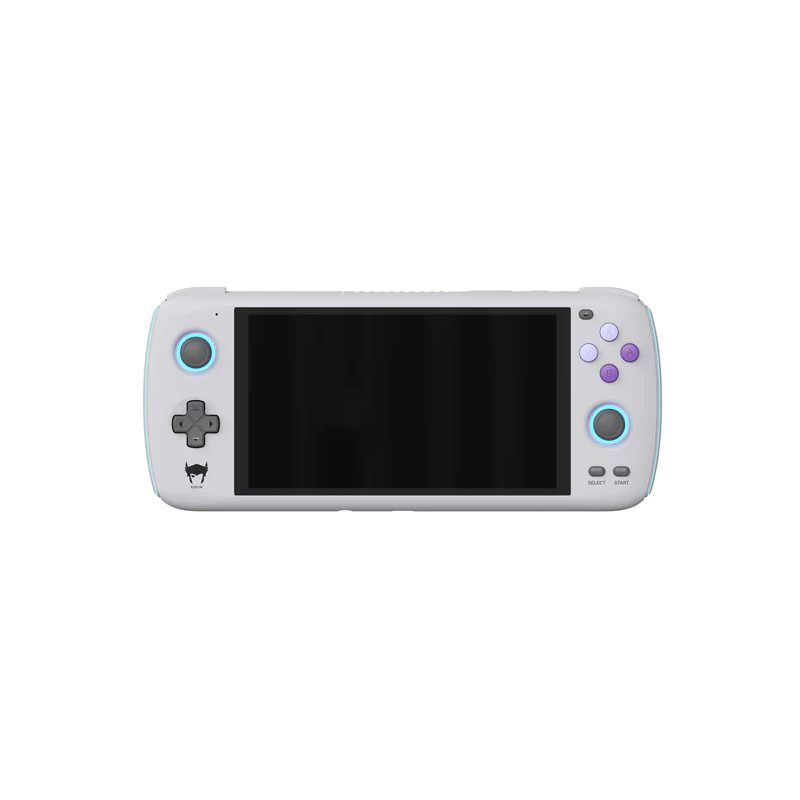 The Odin Lite is the affordable option of their flagship, Odin. However, it's still a powerful handheld gaming device. You can customize the game launcher and set the screen mapping. Additionally, you can have fun playing your favorite online games from the Xbox and PS5 with integrated gaming apps to bring them anywhere. Finally, you have two options when buying the Odin Lite: the 4+64GB model or the 6+128GB version.
Pricing: starts at $237
8. Nintendo Switch Lite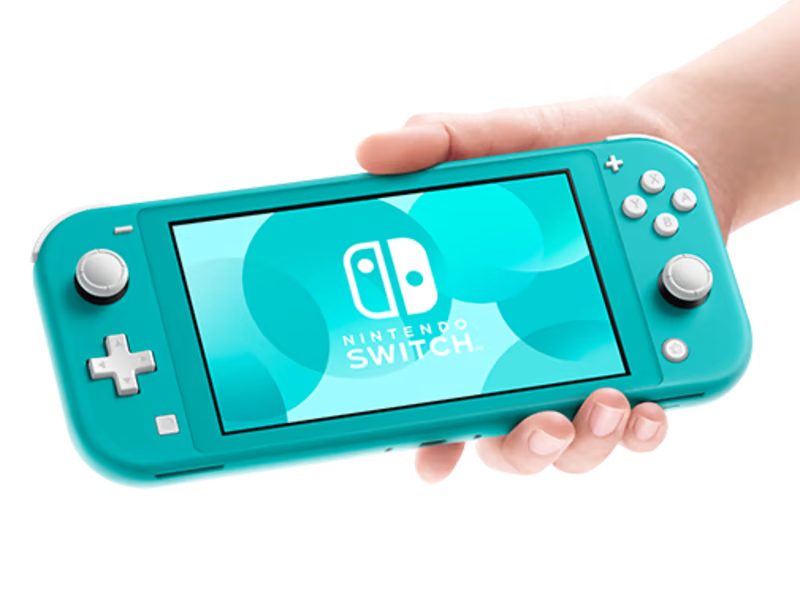 Nintendo Switch Lite is a must-have for gamers who grew up playing the Nintendo consoles. Even if you didn't play the original Nintendo games as a child, it's also one of the best handheld gaming devices under $300, especially if you want to play various games with friends. You can browse their library with thousands of games compatible with the Switch Lite. Moreover, you can get the latest updates and store screenshots to share with friends.
Pricing: $199
9. Portal Retro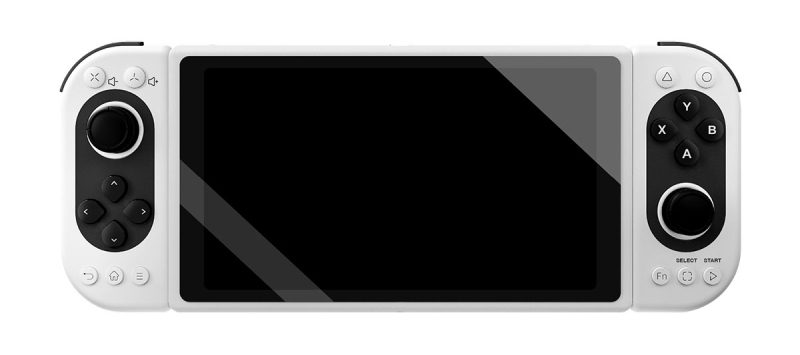 Pimax also has a handheld gaming device under $300. They specialize in VR gaming, but if you don't need it, the Portal Retro is the best device. It's decent with an LCD 2K screen and is lightweight, weighing around 306 grams. Plus, it has a storage capacity of 128 GB with 8GB memory.
Pricing: $299
10. Evercade EXP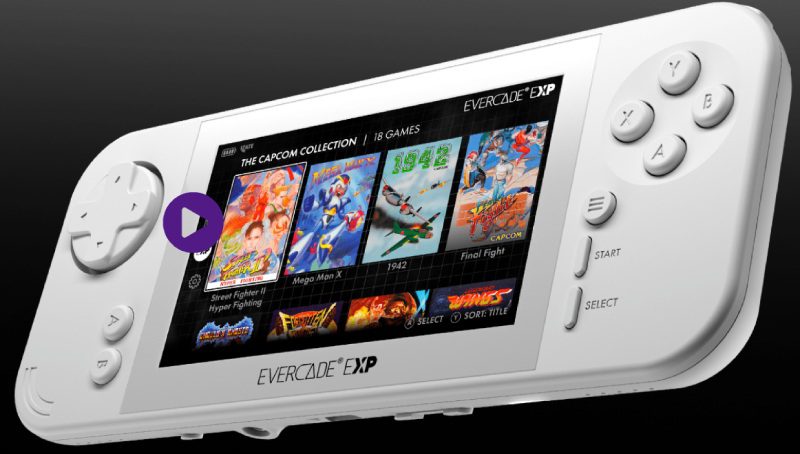 The Evercade EXP is another handheld gaming device to consider, especially if you're a fan of cartridge-based gaming systems. This is the best gaming console for Capcom fans since it has 18 built-in games from the video game company. However, it's not only 8-bit games you can play. In fact, you can also play 3D games with this device! Plus, you can turn it vertically for games meant for vertical gaming. Finally, you can play for up to 5 hours and have 4GB built-in RAM.
Pricing: $149
Final Thoughts
Nintendo's handheld gaming consoles aren't the only ones dominating the market. Your gaming experience can still be exciting when choosing any of these handheld gaming devices under $300. They provide value for money. Plus, some devices make you look back with nostalgia. Nevertheless, you have various options to choose from, considering some have 8-bit capabilities while others have RGB and 3D options!
Top 10 Handheld Gaming Devices in 2023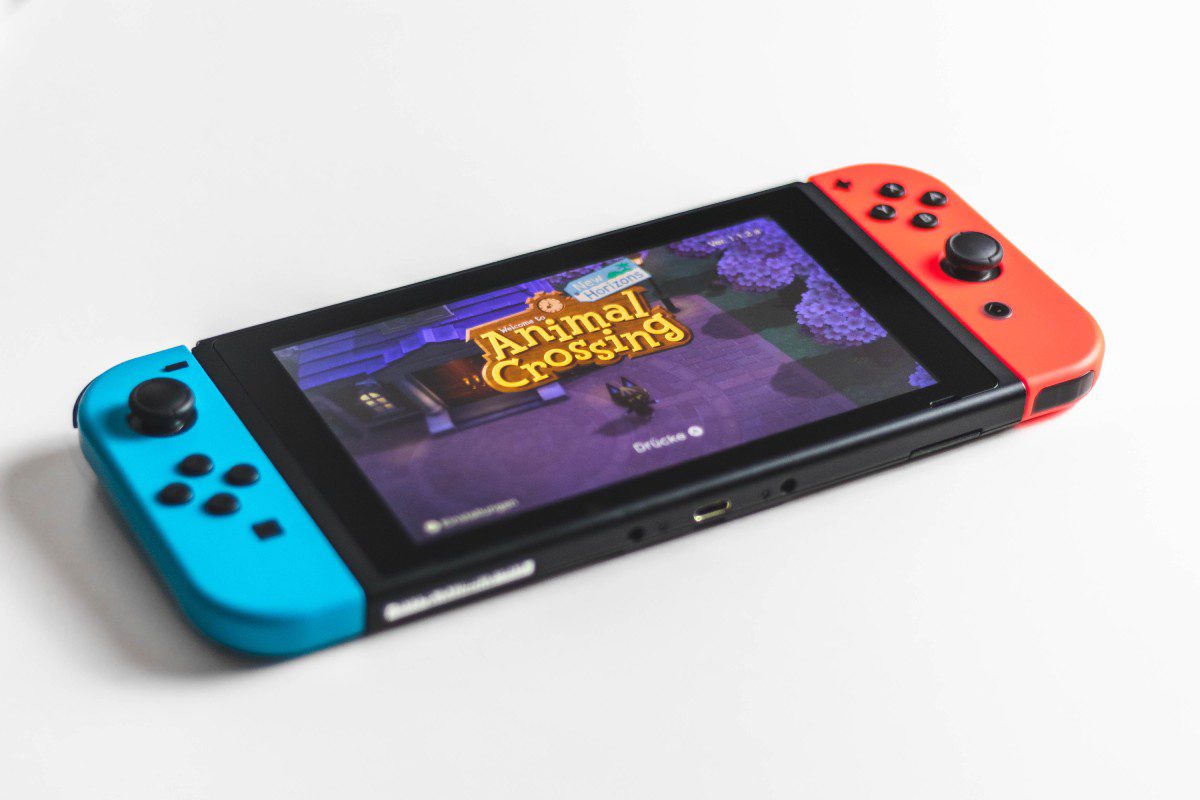 Don't lose your gaming progress when you're out and about or nowhere near your PC. Use a handheld gaming device to play anytime and anywhere. Check out selections for the best handheld gaming devices in 2023!
1. Nintendo Switch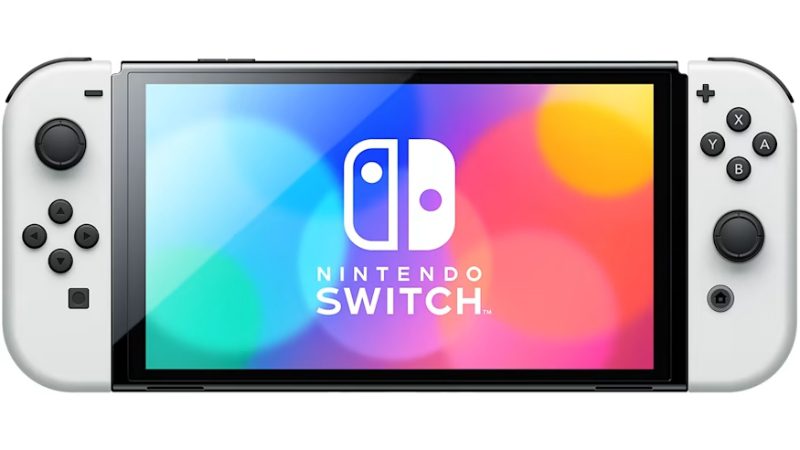 Nothing beats the good ol' reliable Nintendo Switch. It's one of the best handheld gaming devices in 2023 and beyond! You can choose from three models and gaming modes when playing.
The original Nintendo Switch and the OLED models have the following features:
Play modes – TV, Tabletop, and Handheld
Joy-con controllers available
Handheld device size
Battery life is 4.5 to 9 hours
However, the OLED model has a leg up over the original model since it has a LAN port and a bigger storage space (64GB).
Meanwhile, the Nintendo Switch Lite is available handheld only with a 7-hour battery life.
If you're buying the Nintendo Switch Lite, it doesn't come with the Joy-con controllers. However, if you decide to buy the original or OLED models, you can customize your Joy-con controllers and bring them along with you.
As for buying games, you can buy a physical copy or buy online in the Nintendo store. However, not all games are compatible with the Nintendo Switch Lite.
2. Steam Deck

The online game distribution service has also released its handheld gaming device, so you don't have to stay on your PC all day.
The Steam Deck has three storage options with two screen types, two being OLED (512GB and 1TB) and the other one being LCD (256GB). It comes with an advanced AMD chip, allowing you to enjoy performance on the best online games on the market. 
The service guarantees faster downloads on your handheld gaming device, so there are fewer wait times! Plus, you don't have to worry about overheating it since it has a fan to cool the device during gameplay. Finally, the trackpads provide comfort, so your hands don't strain all day long!
3. Logitech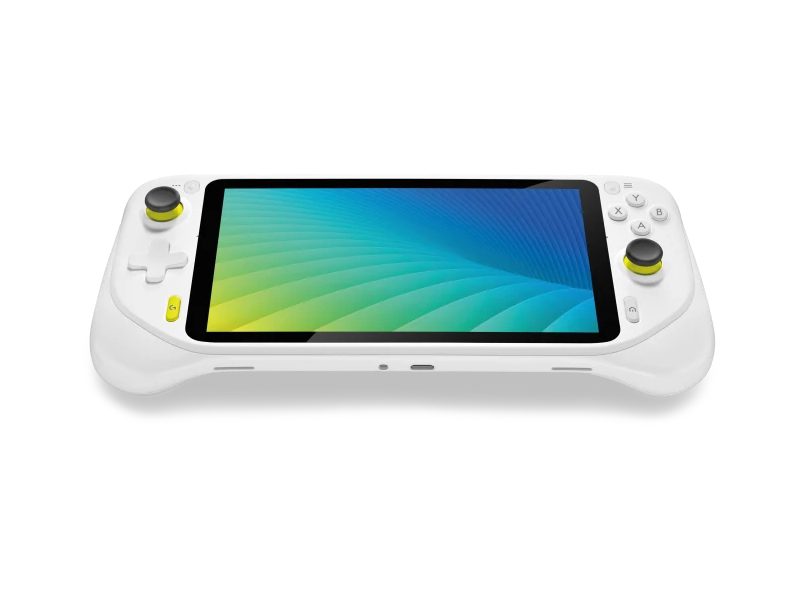 Logitech is no longer just a computer peripherals company. It has also tapped the gaming market with the Cloud Handheld Gaming device. This is ideal for multi-console gamers since they integrate the Xbox and Steam Link apps without losing gameplay on any consoles. 
Like other handheld gaming devices on the list, you can play AAA games without fail or delay. Play anytime, anywhere, without losing progress! You could also play it for up to 12 hours if you keep it under optimal conditions (50% battery and brightness). It has an internal 64 GB storage, but you can expand it to add more games! Plus, it comes with the state-of-the-art Quantum Snapdragon 720G chip and boasts an Octa-core CPU!
4. ONEXPLAYER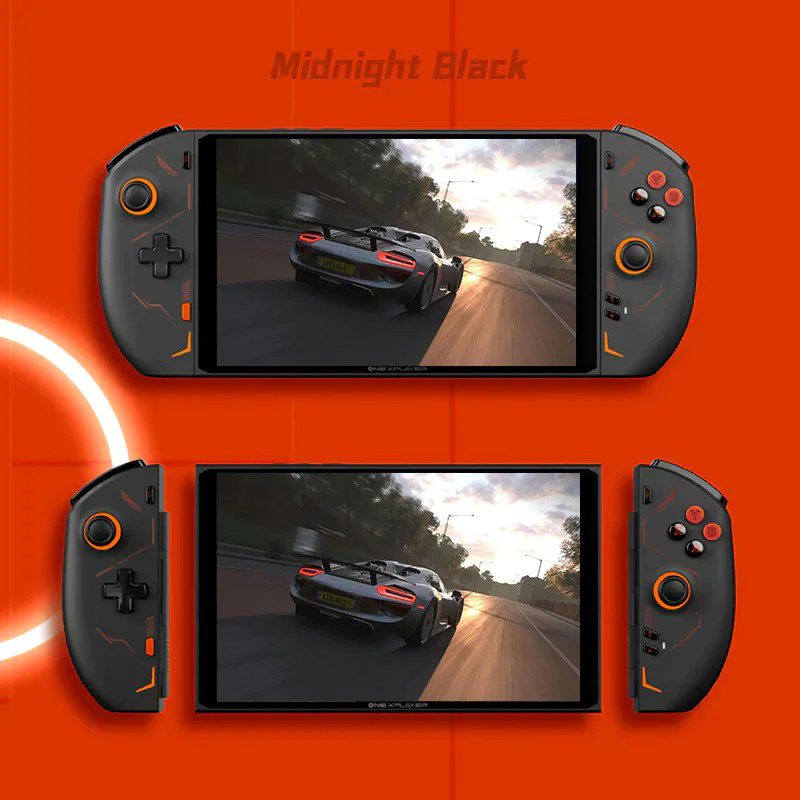 If you're looking for a Windows-operated handheld gaming device, ONEXPLAYER is one of the best options for avid gamers. ONEXPLAYER offers three different devices:
ONEXPLAYER 2 Pro
ONEXPLAYER MINI PRO
ONEXFly
The MINI PRO comes in three models with the processor being different. This model offers affordable options among the others. However, if you want more than just a gaming device, The 2 Pro model will also help you get work done! Finally, the ONEXFly promises performance and personalization to help you get the most out of this device.
It's one of the most expensive handheld gaming devices on this list, but if you want a supercharged gaming experience, investing in this isn't a bad idea.
5. GPD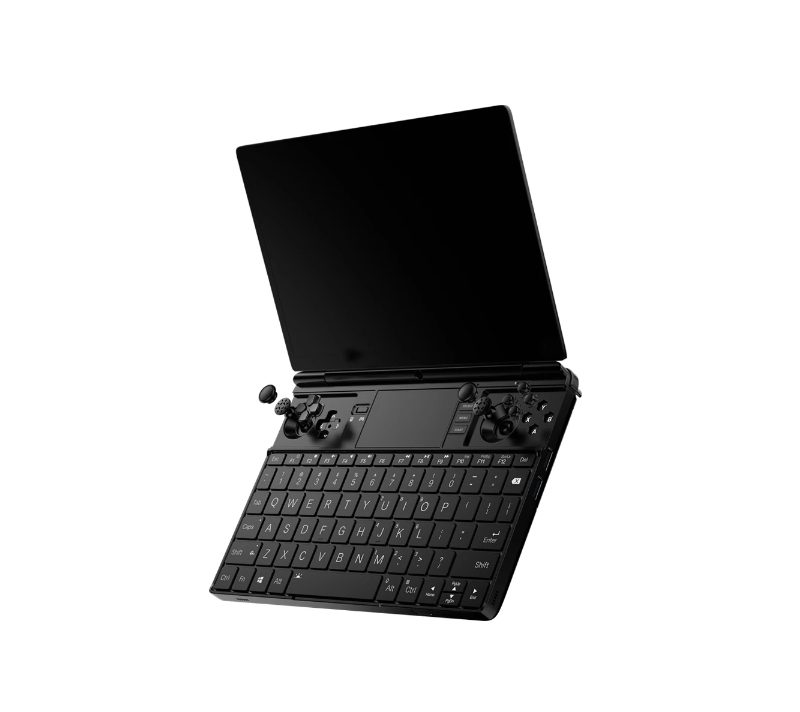 If you want various gaming device options from one company, GPD should be on your radar. One notable feature of this device and its models is the attached keypad. This allows you to browse the internet and play games without switching devices. Additionally, you can dock your GPD device to a computer for enhanced gameplay.
Like ONEXPLAYER, GPD is on the expensive side. However, you can opt for the Android-powered modular device to play your favorite games anywhere for a cheaper price.
6. Pimax Portal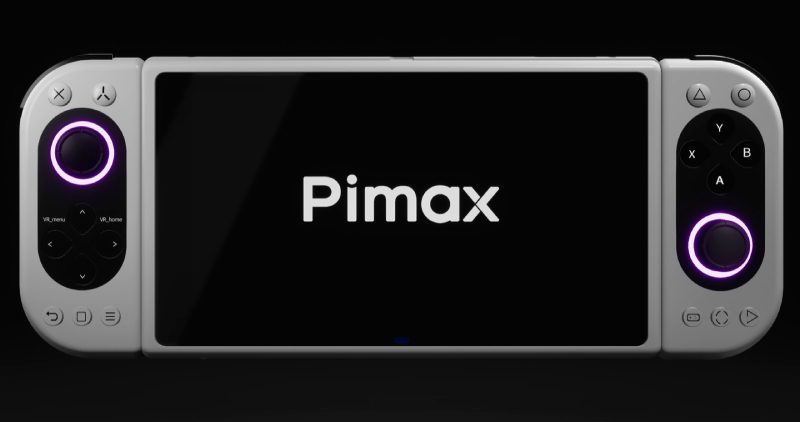 Are you looking for an all-in-one 4K and VR handheld device? Pimax Portal devices should be on your list! The Portal boasts 4K LCD screens on two devices. On the other hand, the QLED has additional MiniLED lighting, providing better contrast and color to your gaming experience. The storage space is at a maximum of 256GB for the Portal and Portal QLED devices.
You can play games supported by cloud, Android, and VR games. Plus, go back to your childhood to play retro games!
7. Ayn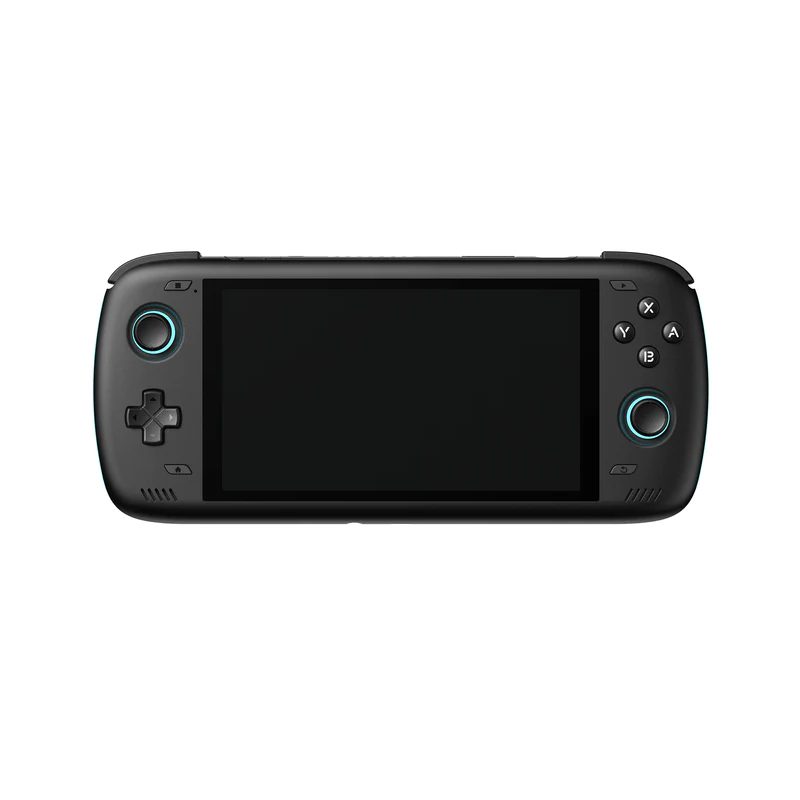 Ayn is a gaming device that resembles other handhelds on this list. However, it packs a punch with the processor and the operating system. One advantage of Ayn over some devices listed here is customization. Plus, their flagship, Loki MAX, can store up to 512GB worth of games, making it the most expensive device in their catalog. 
However, there are cheaper Loki models. Plus, you can also consider the Odin models with the same capabilities as the Loki MAX, but the processor makes it two distinct models.
8. Ayaneo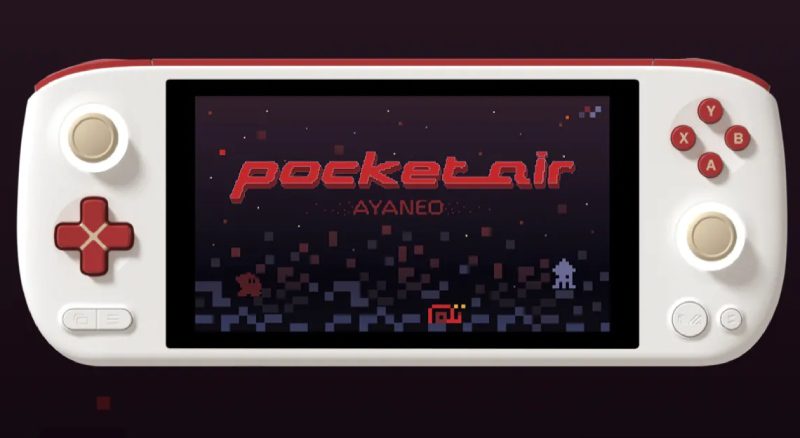 Do you want diverse options on how you want your handheld gaming device to appear? Ayaneo has you covered with various models. They have five models, with some having variations.
All Ayaneo models are powered by AMD Ryzen, the best of the best in gaming processors, except for the Pocket AIR. You can check out the various models and see for yourself which is the best handheld device that fits your needs.
9. Evercade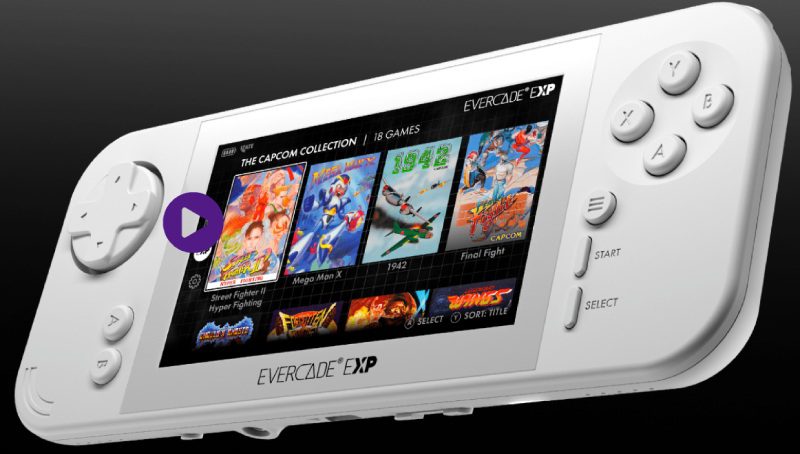 Evercade will take you down memory lane because this is a nostalgic handheld gaming device on this list. You insert cartridges, similar to old Gameboy models. It doesn't have high-resolution screens, but it's an ideal device for those who want to relive their childhood by playing games. You can play over 300+ games that will transport you back in time.
10. ASUS ROG Ally

The ASUS ROG Ally is another Windows-operated handheld gaming device that will enhance your gaming experience and let you play all day long. Additionally, you don't have to worry about playing hours, considering they have an ergonomic playing set-up. 
One advantage of ASUS ROG Ally over other handhelds on this list is you can connect it to your TV and play multiplayer games with friends and loved ones! Or, you can even plug it into your computer for an even better experience. Finally, you can play games from Epic, Xbox, Steam, GOG, and other major publishers to get updated with the latest games.
Venture Capitalists Still Pursuing Gaming Companies for Funding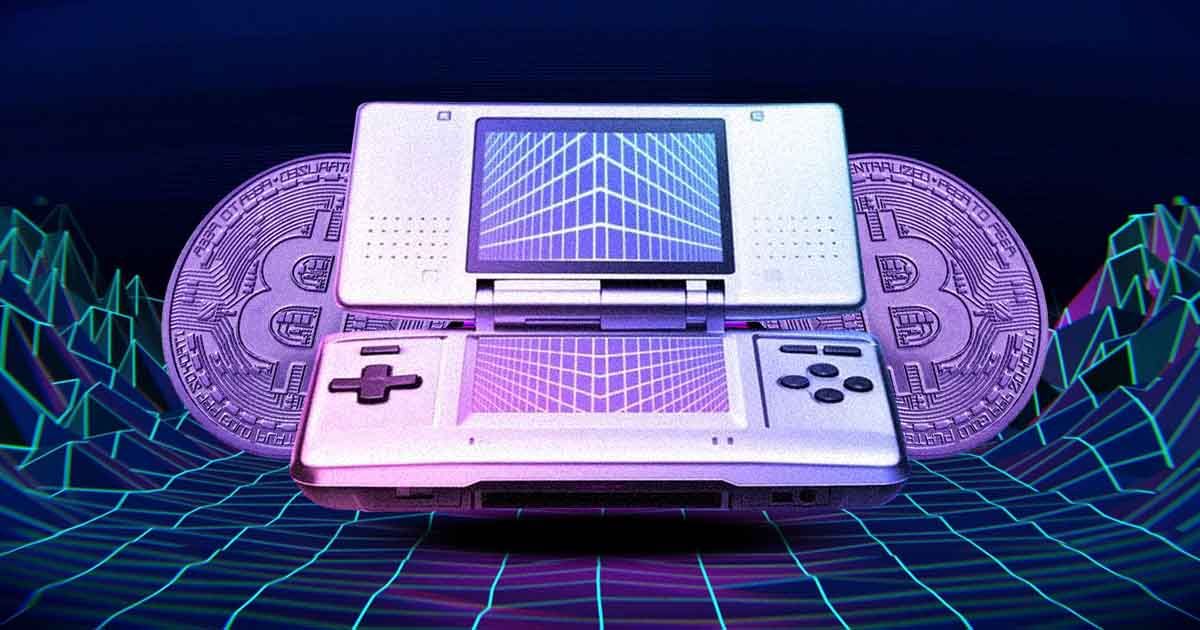 Investors are rushing in to put their money into the crypto landscape. Proof of this is the popularity of play-to-earn gaming companies to these venture capitalists. Making news recently was private Silicon Valley venture firm Andreesen Horowitz (a16z).
The private company dedicated $600 million in funding to gaming startups to level up its stake in Web3 technology, $6 million of it went to startup Halliday. This lets its gaming patrons buy and use digital assets in the metaverse. Andreesen Horowitz wasn't alone as Hashed, a_capital, and SV Angel also joined in on the funding.
Halliday and Other Gaming Companies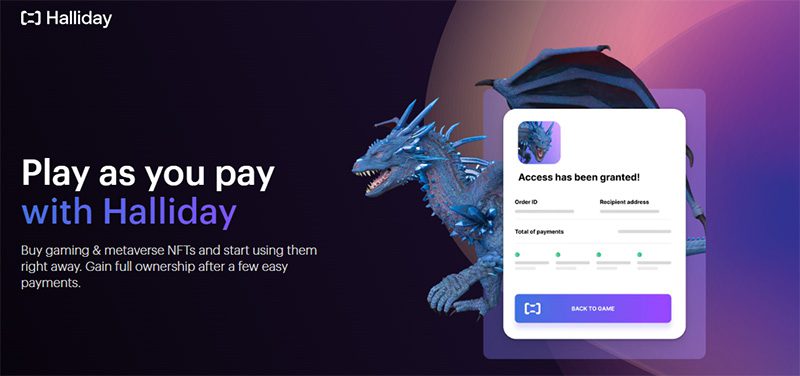 In a Halliday blog post, co-founders Akshay Malhotra and Griffin Dunaif expressed their gratitude to their new backers. They announced the upcoming launch of the first-ever solution that lets people have ownership of blockchain games and other metaverse assets using later payments.
From this, Halliday will be able to empower gamers by giving them access to ownership of game NFTs. Players will now be able to have a new gaming experience by letting them have a virtual avatar. They can also get distinctive skins as a way to express themselves or a great sword to finally beat the last enemy.
The founders also explained how Halliday would integrate with games and marketplaces as the alternative payment option at checkout. This will offer players a seamless method of securing ownership and paying for their NFT purchases over time.
They also mentioned how their solution would be easy and transparent with no surprises or hidden fees. This way, the players can start playing with their NFTs instantly. This will significantly cut down the players' waiting time.
In an interview, Framework Ventures co-founder Vance Spencer said that gaming companies and startups are still a popular investment for many investors. He stated the reason for this is the three billion gamers in the world. In addition, the half-billion who earn less than $5 a day and have access to the internet.
Outside the Gaming Sphere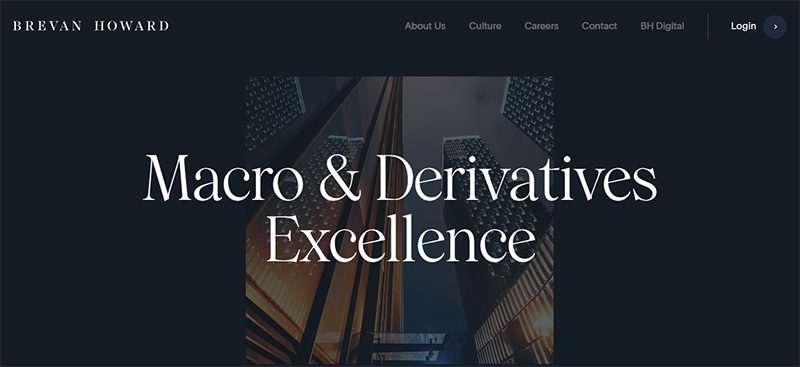 There wasn't much commotion in the crypto industry outside the gaming sphere the past week. Notably, many investors are still seen committing to startups building their bases in the industry. Special mention is Brevan Howard Asset Management which raised more than a billion from institutional investors. This allowed them to launch the most prominent crypto hedge fund ever.
This, from a company that's previously skeptical of the crypto industry. This latest development has implied that the European hedge fund will soon throw in more substantial support for the advancement and improvement of cryptocurrency startups.
In other news, decentralized BNB and Gnosis chain farming protocol, XION Finance also gave its statement. It announced the $50 million investment commitment it secured from GEM Digital Limited. The latter is a digital asset investment company based in the Bahamas. It claims to have investments in more than 30 utility tokens worldwide. 
They are now planning to use the funds to offer everyday users the power to earn high yields. They will also give them the ability to trade assets between multiple chains. They will also be giving them the chance to invest in tier one projects, according to Ron Quarmby, founder and CEO of XION Finance and XION Global.
In addition, GEM Digital committed $25 million in funding to the multi-blockchain platform Geeq. This is the platform that uses a patent-pending blockchain consensus mechanism. Its CEO Ric Asselstine said that with the commitment, they would be ready to bring enterprises and individuals into the metaverse and Web3.
Its parent company, GEM Capital, says it is a $3.4 billion alternative investment group. It manages a diverse set of investment vehicles that have its focus on up-and-coming markets all over the globe.