Katsucon: The People Behind The Masks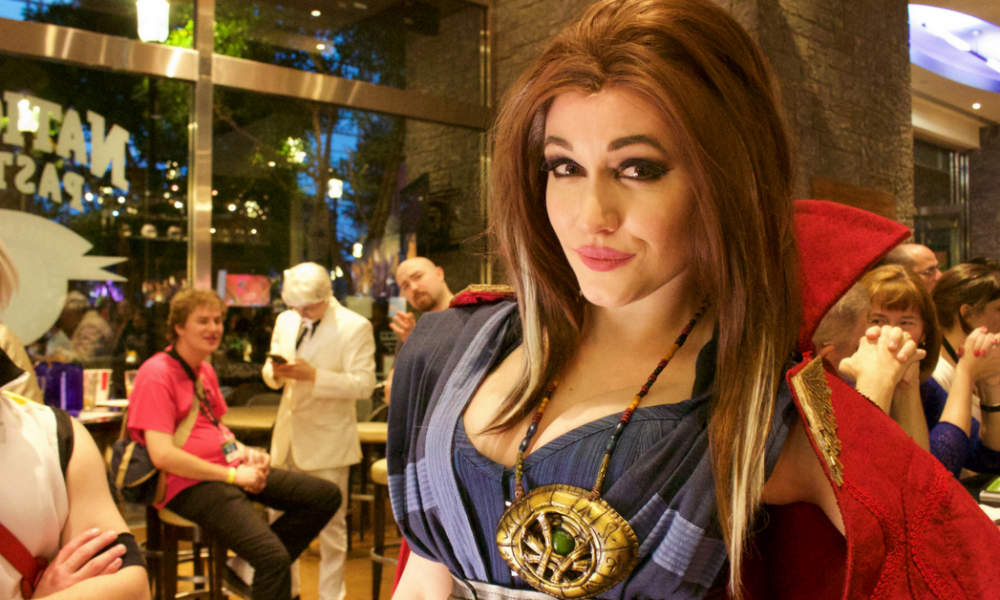 The comic, anime, and video game community is growing at an extraordinary pace, with fans going to conventions across the country. Katsucon is one of those conventions, and takes place every year at The Gaylord Hotel at the National Harbor in Maryland. They bring in thousands of fans and the number of attendees grows every year. The question is - who are these people? This fandom has brought together people from all parts of the world with various backgrounds into one place, creating an amazingly diverse community. The rest of the country may be buzzing about politics, environmental change, etc, but at Katsucon, the focus is on what's going on within those walls - the fandom.

Going to one of these conventions can open up your eyes to the inclusiveness of the culture without social and occupational barriers. The attendees are especially friendly, sharing news about their favorite fandom with people who would have been complete strangers otherwise. The excitement and openness is unparalleled. Because of this, businesses like Filthy Casual has been able to tap into the audience and further promote the love for the culture through niche apparel, accessories, art, and various other products.What makes a convention like Katsucon so special is the community. People come for the panels and guests like the CEO of Rogue Studio, Lee Malone and Voice Actress Cherami Leigh, but they stay for the friendships that they make throughout the 4 day event. As for the crowd, there were people of all ages, ethnicities, backgrounds, and careers. Katsucon was flooded with cosplayers. They dressed up in costumes as their favorite characters from comics, anime, and video games, often beautifully handmade. We explored who the people were behind the masks. What we found was extraordinary. Their occupations vary from business executives to college students and most travel by car, bus, plane, or whatever it takes just to attend.
Burger King
Audio Engineer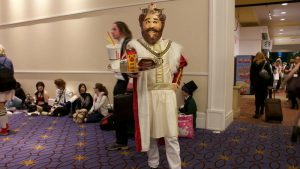 "I got into cosplay from my sister actually. She had been going to Katsucon for a long time and it always sounded like fun. My first Katsucon was 5 years ago I think and I love it every year!"
Mokujin, Tekken
Store Manager at Game Stop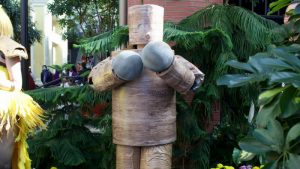 Tristana, League of Legends
Aspiring Prop Maker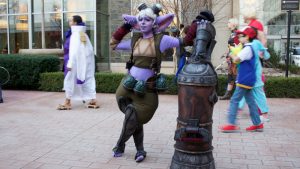 "My dream is to be a prop maker and cosplay is helping me achieve that dream. 🙂 I started cosplaying in 2010 when I realized it was a thing to dress up as your favorite characters and go to conventions where others do the same, since I always loved dressing up as a child. Though I didn't realize how much I loved making props until the last year or so! Being able to make something physical from scratch is truly an amazing feeling."
Elsa, Frozen
Teacher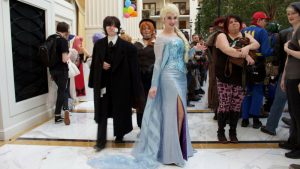 "I got into cosplay because I like sewing. I went to my first convention in 2013, and was so excited to see all the costumes around. I put together a casual TARDIS cosplay for my next con, and things have just escalated from there."
Crown Prince Arthas, Heroes Of The Storm
Analytical Manager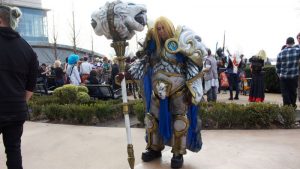 Ms. Frizzle, The Magic School Bus
Graphic Designer For Rowman and Littlefield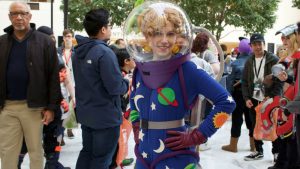 "I've always loved dressing up, Halloween, renaissance festivals etc. I chose to do the Frizz at Otakon 2010 and the response was overwhelmingly positive. And so I did another costume...and another. I love the community and to be totally honest I love the attention too. It's a fun hobby and I feel accomplished and proud when I complete a project."
Dr. Strange
Business Development Executive at NNDATA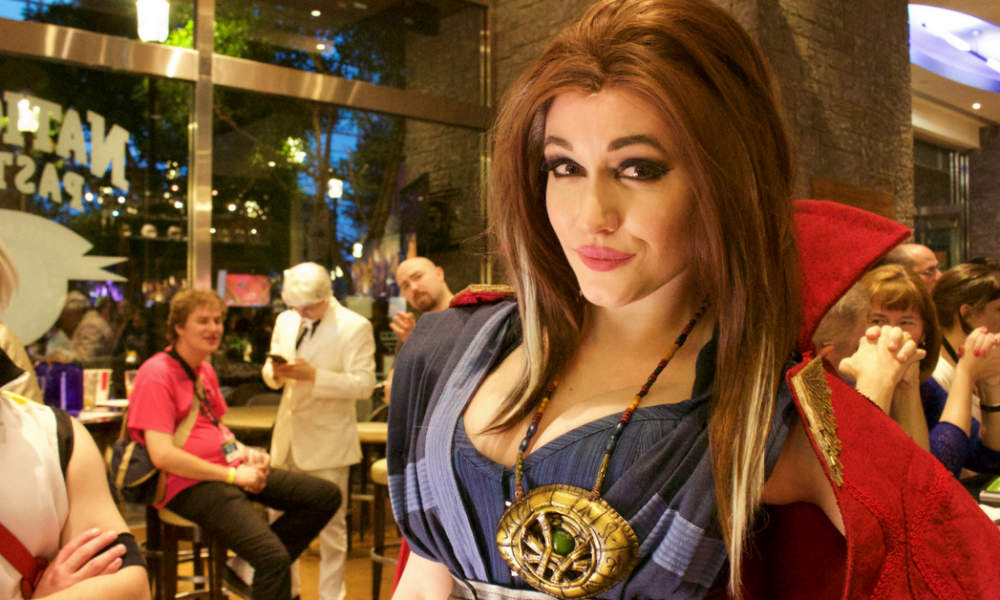 "I've always been a nerd, but it took me until a friend from my welding class suggested AwesomeCon would be a great outing for our nerd friends and we decided to go as a zombie bridal party using the dress from my first wedding. We showed up on Easter Sunday as church was letting out across the street - shouting Happy Resurrection Day - and I realized I would never have more fun than being a giant nerd in public. My Instagram has a picture of the dress!"
Reinhardt, Overwatch
Design Drafter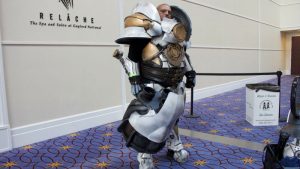 Cinderella
Student and Cashier at a supermarket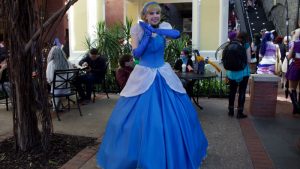 "Cosplay for me started when I saw a group of lolitas at a fancy castle I used to live near, I saw them and thought to myself that I wanted to look like that too. And after research I found out about cosplay"
Final Fantasy XV Nissin Cup Noodle
Student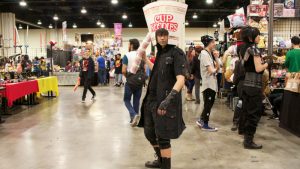 Guts, Bersek
Insurance Agent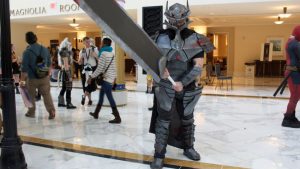 "I got into cosplay because I've always been a do it yourself kind of guy. I wanted to be a Saiyan so I made Saiyan armor and people really liked it, so I felt confident to try making a lot of other things too
More from Katsucon
Supercharge Your Online Business With Offline Meetups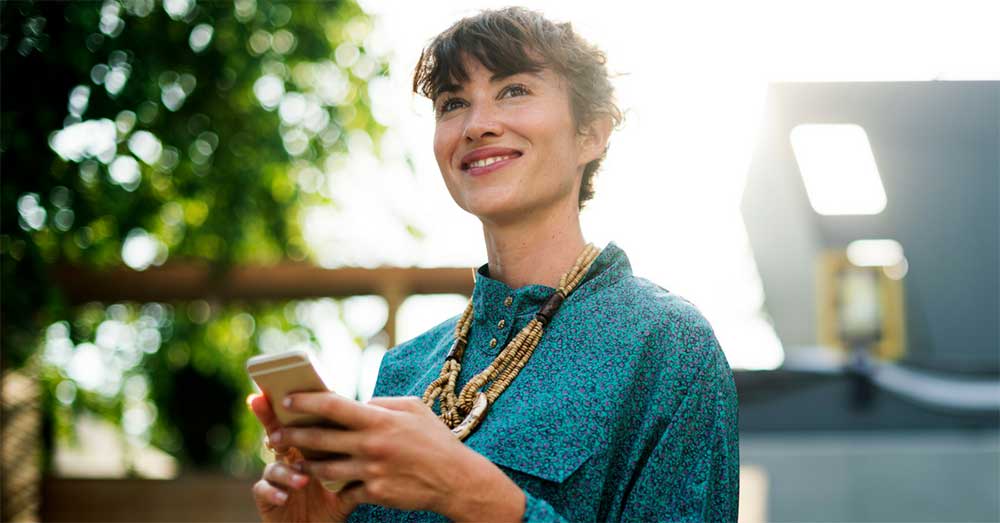 Online entrepreneurs forget about the importance of connecting with other people locally. These types of relationships are still one of the best ways to get the word out about your online business to supercharge your opportunities to the sky. Although online businesses run 100% in the digital world and can operate from anywhere in the world, building face to face relationships is still one the best techniques for business development and to get the word out about your brand.

Although online businesses need many factors in place for them to succeed, offline meetups has been one of my secret weapons through my journey. Small live events can turn any business around, especially when you're starting out! Whether you have a B2C or a B2B, meeting people in an offline atmosphere will get you much farther than cold calling or cold emailing.In 2015 I used local meetup events to turn my side-business doing web design and SEO services into a team making 6 figures in the first 12 months. I also used these same tactics to turn my side-business selling matcha green tea into a 6 figure brand with a physical location inside a mall. Now, keep in mind I don't live in Silicon Valley or any sophisticated city, but this applies to really anywhere in the world where there's more businesses around you!As crazy as this story sounds (it was in fact a crazy ride), local offline meetups play a big role on many success stories out there. These types of events allow you to connect not only with potential clients, but also with local media celebrities or can open the door to connect with somebody else that can give your online business a huge boost.
Go out and meet people
Although social media makes it easy to meet new people, it takes a long time to build trust with somebody you met online. It's much more effective to connect off-line on small live gatherings than it is to spam or stalk somebody online.Most offline meetups are between 50-100 people sharing a meal or a cup of coffee. Not only are they useful, but they are so much fun! Is not necessary to introduce yourself to every single attendee; you only need to connect with key people on that event.For example, introducing yourself to a few attendees will give you a generic idea of what type of people are standing around you. Most times, when you share more about your story and your online business, people will guide you in the right direction on who you should be talking to. You never know who you might run into on the next meetup event. It's common to run into local PR and media people that are looking for stories like yours which could get you featured on a local magazine or TV show. It's also easy to run into that one person who can help you get into the next retail store or simply connect you with one of the biggest players in town that might need your services too.
Find local meetups in your area
As you know, thanks to all the majestic tools we have on the internet, we're only a few clicks away from finding what we need. The best tools to find a local meetup gather is meetup.com, or you can also look them up on Facebook Groups or LinkedIn Groups. Start by looking for groups that are in your niche. If you're into fitness, it's very easy to find fitness gatherings or classes that you can attend. On the other side, if you're looking to connect with other entrepreneurs, type in "business" or "entrepreneurs" + your city and I promise you will find at least 1 group close enough to you to attend this week. After you have found that perfect meetup gather that you want to attend, these are some of the tips and tricks you need to know to get the most out of your first (and every other) meetup events.
Find more about the organizer of the offline meetups and reach out to them. Organizers are passionate about meeting people, so they will be thrilled to hear from you!

Shoot the organizers a message in a non-salesy way and offer value to them by offering some of your tips or knowledge on an upcoming event. Ask them if there's anything you can do to help them solve any of their problems.

Assist the next meetup event they have without making it a sales tactic. Make sure you introduce yourself to the organizers in person as well. Ask the organizers if they know anybody in the room that you should be talking to about your online business. They will be happy to introduce you to the next contact that can open a new door for you.

The key to this technique is to focus on building strong relationships and to create opportunities, without selling anything! The moment you start selling your products, people will start stepping away from you. Focus on building strong relationships by offering value to everyone you meet and when the moment is right, you will be able to pitch to them if they're ready for it.
Most online entrepreneurs are afraid to go to offline meetups and meet people and for that reason they're missing out on huge opportunities. For this same reason, you need to go out and meet as many people as you can.
Otakon Welcomes Writers Roland Kelts And Frederik L. Schodt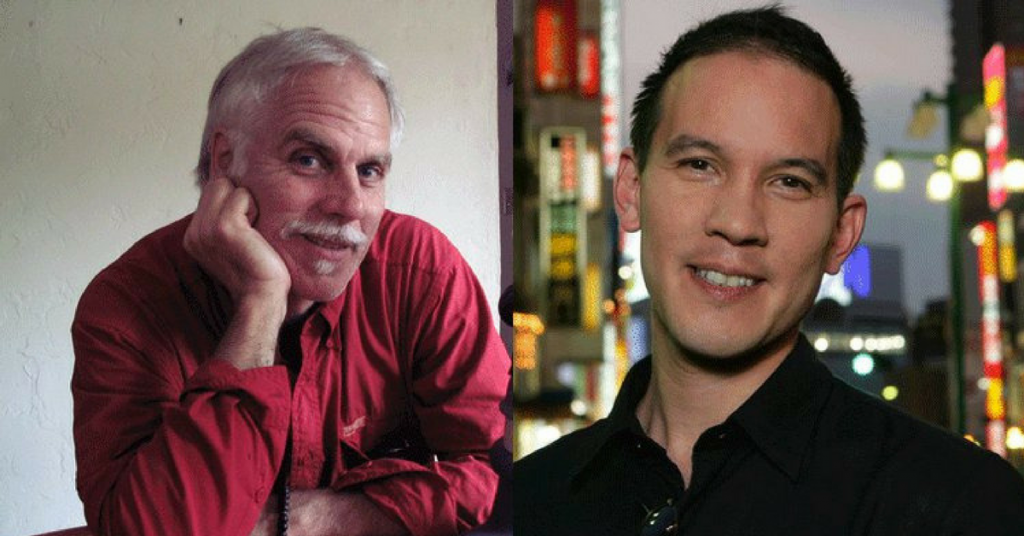 Roland Kelts, author of Japanamerica: How Japanese pop culture has invaded us, and writer, translator, and conference interpreter, Frederik L. Schodt have both joined as guests for Otakon 2017. Fans of the writers were thrilled for their appearance at the convention, as they share their most popular and influential works. Frederik writes exclusively on pop culture, technology, and history, while Roland is currently a 2017 Nieman Fellow in Journalism at Harvard University, where he is currently working on a new book. Both Frederik and Roland are devoted writers, with similarities in expressing Japanese culture in their writings.

While living in Tokyo and New York City, Roland writes for a variety of well known publications that includes, "The New Yorker, Time," "The New York Times," "Harper's Magazine," "The Christian Science Monitor," "Newsweek Japan," "The Los Angeles Times," "The Yomiuri" and "The Japan Times," and is an authority on modern Japanese culture and media. His writings are spread throughout, though his recognition are from Japanese fans especially. Likewise, he is a frequent commentator on CNN, NPR, NHK and the BBC. With additional lectures for TED Talks in Tokyo and The World Economic Forum in Tianjin, Roland is looking for various opportunities to share his work, in order to spread awareness to the Japanese culture.Otakon is an annual celebration of Japanese and East Asian popular culture, with a title of holding in one of the largest gatherings of fans in the United States. In the celebration of anime, manga, video games, and especially music from the Far East, Otakon attracts like minded fans. Created from devoted fans for fans, the staff is directed by an all-volunteer, unpaid staff. The conventions are solely for the purpose of celebrating and sharing Japanese and East Asian cultures.Frederik is best known for his many works on manga that includes, "Manga! Manga! The World of Japanese Comics" (1983), "Dreamland Japan: Writings on Modern Manga" (1996), and "The Astro Boy Essays: Osamu Tezuka, Mighty Atom, and the Manga/Anime Revolution" (2007). He has won numerous awards for his talent in the past as a result. In 2009 especially, the emperor of Japan awarded him the Order of the Rising Sun, Gold Rays with Rosette, for his success in introducing Japanese popular culture to North America. His most influential work gave recognition to both him and to what Japan has to offer. As of recently in 2013, his book, "Professor Risley and the Imperial Japanese Troupe: How an American Acrobat Introduced Circus to Japan—And Japan to the West," won the Circus Historical Society's Stuart Thayer Prize. Doing so, for the last three years, he has served on the executive committee of the Japan International Manga Award. Additionally, he is an active translator and has worked on many well-known manga series, as well as novels including Yoshiyuki Tomino's "Mobile Suit Gundam" trilogy. Frederik has been involved in spreading Japanese culture and will continue as he attends Otakon 2017. The convention holds determined fans who wish to express their culture with other similar people. In Otakon 2017, writers Roland Kelts and Frederik L. Schodt are invited to continue the tradition. All while cementing their writings and work to Japanese culture, the awareness can now be shared in North America.

Otakon will be continuing their gatherings next year on August 10-12 at the Walter E. Washington Convention Center, Washington D.C.
Interview with a Street Artist: Joe Mangrum, the Sand Painter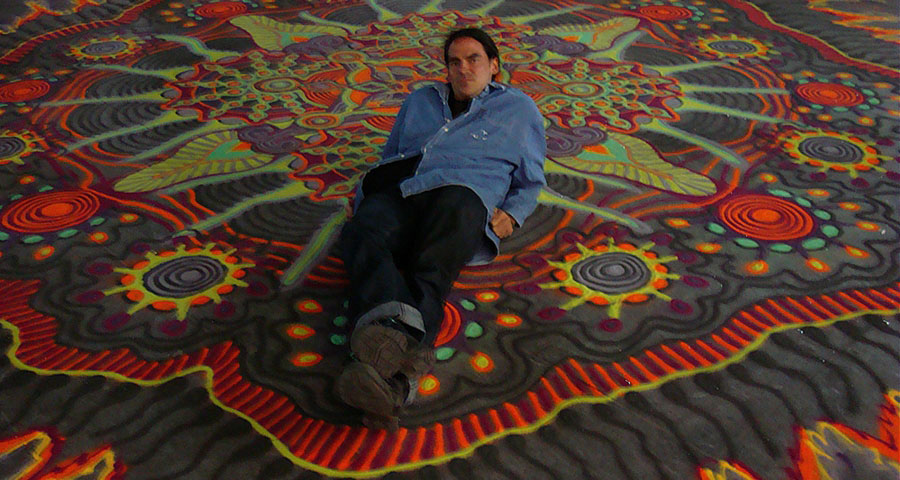 While walking through any given park in New York, what type of creative would you expect to encounter?  There are all the predictable performers such as guitarists, perhaps a living statue, and of course the young break dancers bouncing around the halls of subway cars or gathering crowds in the park before jumping over some poor tourist's kid.  No one would be surprised to see these type of performers in any given city in America. What about someone who pours sand on the ground? No... not a sandcastle.  What if you walked down the street and saw something like this: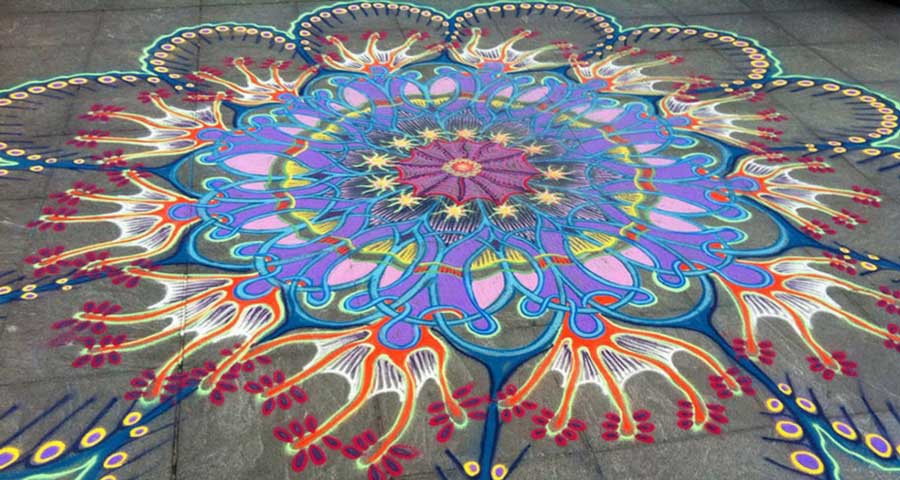 This insane and psychedelic pattern is what I saw one day walking through Washington Square Park while looking for the world's largest Corgi Meetup (that's a story for another day).  Above the geometrically complex shape growing on the ground, I saw a man hunched over his hands dusty with grains of many colors, adding more orbiting patterns to the piece. His name was Joe Mangrum. Joe makes some badass pieces of temporary art, fragile patterns that most often take the form of intricate mandalas.  Here's what he had to say about his experiences as a street artist:
1.  When we met you mentioned you've been doing this for 6 years now.  What were you doing before and at what moment did you decide you would do this full time?
I've been making art pretty much all my life and found my signature style about 1994, art has never really been a choice but a necessity and I worked various gigs in between art projects up until 2009 after I had moved to New York, determined to make it work.  It was then I started colored sand paintings in public and that gave me the bread and butter token making art on a daily basis without taking outside work.  Full time has always been the goal, and now its just managing bigger projects within that framework.
2.  Which do you like better and why: creating art in a studio or creating art in public spaces like Washington Square Park?
I like both for very different reasons. The public space allows for an interaction in real time with people who are not necessarily the type that go to art galleries, they have spontaneous reactions that are real insightful in ways, they inform me and feed me with lively discussion, on the flip-side there are plenty of people that are just walking on their phone and not paying attention that can be destructive to such a delicate work.  The studio offers the freedom of time.I can spend as long asI want on a single piece of work...  you just can't go that deep and make changes with the limited time set by the sun wind and weather in the public space. Its gotta be swept away when I leave for the day.
3.  While working in public spaces, what was your best/most surprising experience?
I have had some people get emotional over the years but one time went furthering a person came up and said that I had saved their life?  Upon further inquiry they said they were suicidal and for six months had come out to see my work before working up the courage to speak to me, it gave them hope, and it hit me in a profound way, that my work over so many years may have that sort of impact on so many unknown people, its a little scary and at the same time humbling.
I can't say any one instance is the worst, but being in public a lot you are vulnerable to whatever comes your way on any given day.  People can be rude and entitled or just plain oblivious, the cumulation can get you down at times.  Occasionally there is a mental unstable person you have to deal with and I just do my best to use non-violent communication to defuse and deescalate any potentially crazy situation, its sad, but it makes me feel good that I've honed these skills enough handle some potentially violent people over the years who just don't have their world in the place they want it.
5.  How much would you say you earn from tips on average while working in public? 
Its really irrelevant,  I survive in NYC.
6.  Tell me about a time when your work was destroyed
 Its usually by a strong wind as the rain is much more predictable, the worst is when you are working on a very hot day its relatively calm but no-one is out as its just too hot... then as the people emerge out of the air conditioning in the early evening, a huge wind will sometimes gust up and destroy the work, leaving little opportunity to make the daily bread. 
7.  Tell me why you feel compelled to create
I create because it teaches me something new about myself about the world on a daily basis…   there is a lot of knowledge to be gained by my process still.