Half a million dollar Playstation 5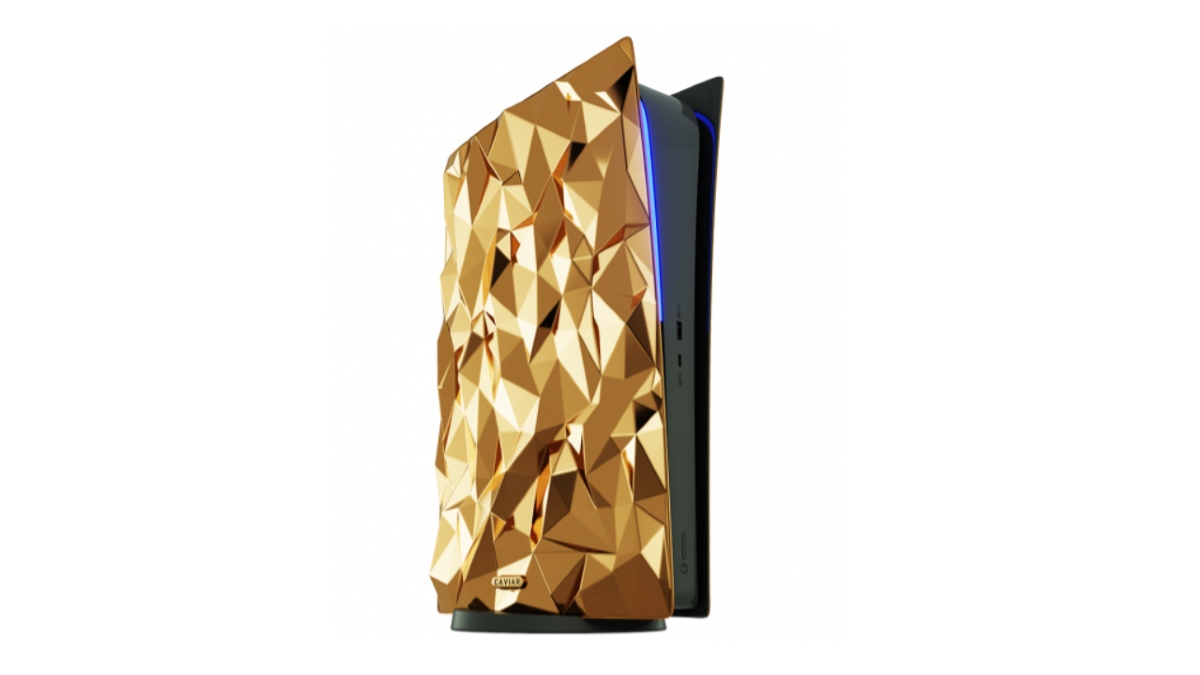 A solid gold-plated PlayStation 5? Wow, that sure sounds expensive. Caviar, the same company that released a pure gold iPhone, extended its 'Midas' touch to the world of gaming. According to Caviar jewelers, they can't pass the opportunity to give the most advanced PlayStation a luxurious makeover.
Golden Rock
Caviar's console has an embossed, playful geometric design as if cut from a boulder of gold. It makes perfect sense to call the PS5 collection "Golden Rock."
At first, Caviar's website did not announce a price list for the 18-karat solid gold-plated console.
It certainly builds anticipation, as the price itself deserves a grand reveal. However, no one expected the price to be as high as $499,999. Yikes, that's a hefty amount for a shiny game console.
Currently, the golden console is available on Caviar's website. But unless you have half a million on your account, you probably don't want to add this PlayStation 5 to cart.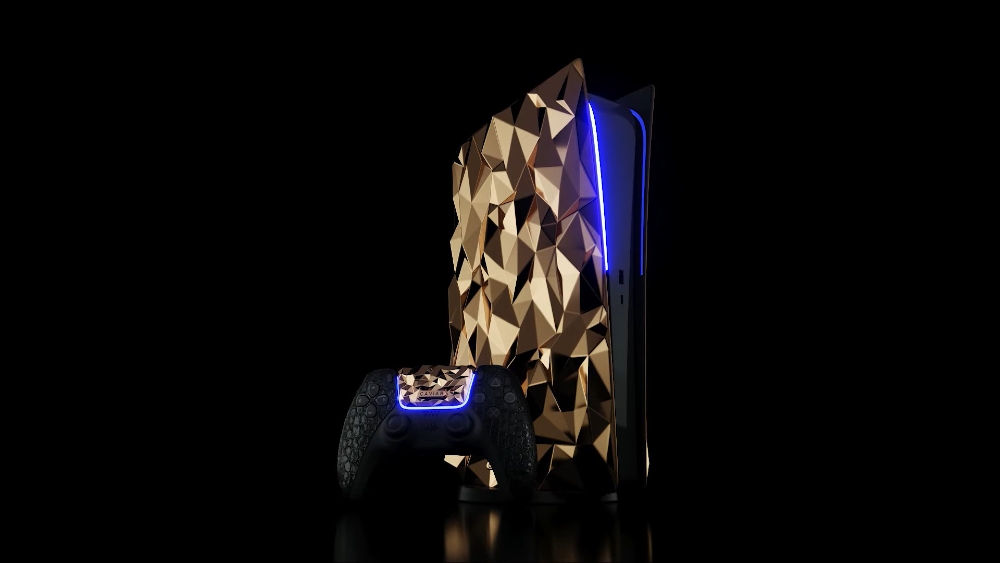 Console Specifications
Overall, the solid gold plate's total weight around the console and gamepad weighs about 3.8 kilograms. The designer paid close attention to details by applying an original technique to add volume and texture to the console. Aside from mimicking the outlines of a rock, the designer wanted buyers to experience a "real tactile pleasure" using the gamepad. Caviar's designer used genuine crocodile leather to clad the controller set included in the Golden Rock collection.
According to Caviar's press release, each console takes at least four months to create. Also, the company announced their collaboration with a contractor specializing in gold jewelry to develop a test sample. The brand stressed that this collection is a limited edition and will only release nine Golden Rock PS5.
Meanwhile, if a luxurious console sounds overwhelming, a non-gold PS5 that's worth $499 presumably functions just the same. Of course, minus the golden Midas touch.
Public's Reaction
Sure, "Golden Rock" is probably the last thing our world needs now, but there's anticipation for some. Ever since the announcement last December 28, the company has received more than 1,300 applications for the new product. According to Caviar's Youtube channel, famous basketball player LeBron James is one of those who showed interest as a buyer.
Other interested buyers are well-known Russian businessmen and equally famous American businessmen in the IT field. However, the names of the potential buyers are not disclosed for privacy reasons.
Due to the high demand, the brand decided to release a single piece but decided on a small series. After seeing the positive response, Caviar announced that it would release nine sets of Golden Rock. However, that's still not enough to satiate more than a thousand interested buyers. Now, I'm wondering who's on the very top list of the buyers.
Other than a solid gold console, the luxurious gadget customization company offers other editions for Sony PlayStation 5.
Conclusion
In the end, Golden Rock is the most expensive PlayStation 5 customization in the market to date. If you're interested in buying the gold console, Golden Rock is still available on Caviar's website.
For other gaming and technology-related articles, you can read more here at Owner's Mag!
The Ariana Grande Fortnite Concert: A Magical Musical Gaming Experience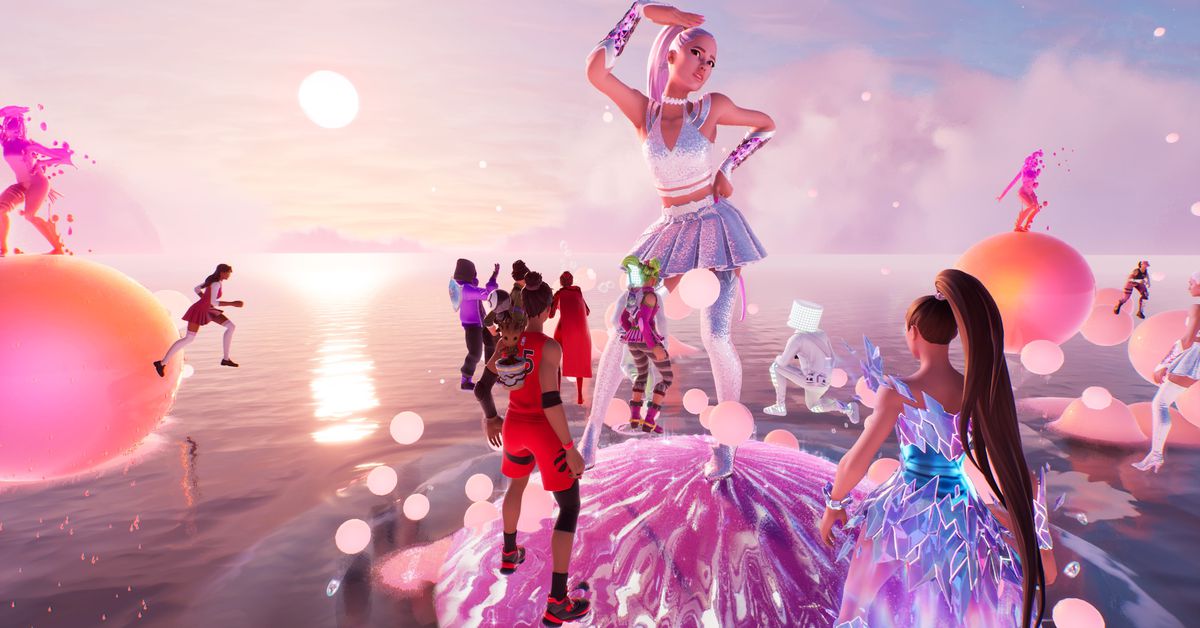 Many fans of Fortnite would agree that it's no longer just a game; it's an experience. The developer of the popular game, Epic Games is known to release new maps or experiments to keep players on it. Two of which are the mystery cube and a black hole that created a new map. But their latest release is the Ariana Grande Fortnite concert treating millions of fans to the Princess of Pop's hits as they explore a magical pastel map.
Let's take a look at how players enjoyed the Ariana Grande Fortnite concert in all of its pastel glory.
Rift Tour: Ariana Grande Fortnite Concert
The concert was live from August 6 to 8. Before players can witness the Ariana Grande Fortnite concert live, they can complete quests and win rewards, such as a Cosmic Cuddles loading screen, kitty emoticon, and spray. Those who played any of the five live games received an umbrella.
In the Rift Tour video, players wait in a lobby or space under an unknown flying object in the sky. There, they run towards a rectangular portal where they float towards an animated Fortnite-version of Ariana Grande, hand holding out, welcoming them on a new experience.
Before they get treated to the Ariana Grande musical journey, they can rack up points by sliding across a track and fighting a giant boss, Storm King. Players can hear music from Travis Scott and Marshmello before they meet the Princess of Pop and enjoy dancing and floating to her tunes.
Gaming and Music Come Together
Fortnite isn't only famous for battle-royale and team battles. Players can bust out dance moves like The Dab. And anyone online for the live concert danced along to Grande's catchy tunes.
Grande sings the following hits as players traverse through different courses in the game:
Raindrops
7 Rings
Be Alright
R.E.M.
The Way
Positions
Players are treated to different experiences during the musical journey, giving fans an unforgettable audiovisual treat. Ariana Grande starts with a brief Raindrops performance, with players helping each other up. Then, an orb of light appears and lands on a circular stage where she finally emerges to sing 7 Rings. It transitions to a beach where players can dance along to one of her famous hits.
During her Be Alright number, players float inside a bubble while Grande flies through the air thanks to her winged glass shards costume. And for her R.E.M. performance, players ride on flying unicorns while the singer sits on a giant swing.
She then sings her next song, The Way, where players can move up the stairs where they teleport to another flight of stairs until they reach the top. Finally, Positions plays where players can jump and dance along to the beat.
The whole musical journey ends with the singer breaking the glassy exterior of the map with a hammer. Then, the players are sucked back into the portal they entered and to the lobby.
Post-Concert Quests, Rewards, and Items
Although the live concert is no longer available, Fortnite players can download the content for free on Fortnite's site. As reported by Ginx.tv, there are four quests available to play. One of them is meant for solo players, and the three require a team. The rewards you'll receive are experience points, and an XOXO emote.
The post-concert rewards include Skye Up High Loading Screen, an umbrella, and a Rift-Tour banner. Only those with a Fortnite Crew subscription are entitled to these awards. Also, die-hard Arianators and Fortnite fans can buy the Ariana Grande skin and play as the pop star.
However, the quests are only available until August 23, 10 AM EST.
For other gaming and entertainment news, read more stories here at Owner's Mag!
17 Games Coming Out This Fall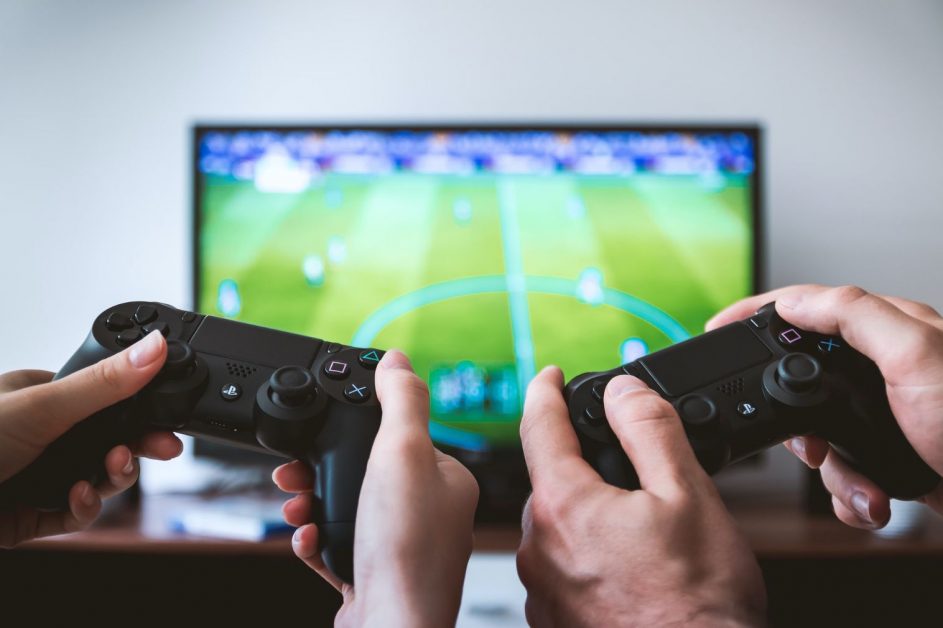 Fall is coming. You all know what that means. The leaves begin to turn. The air becomes crisp. The smell of cider lingers in the air. Idiots scramble for Pumpkin Spice Lattes. And, most importantly, new video games will be released.
We demand the release of new games! They're crucial to our health! Considering just how many games are being released. How do you know which to pay attention to?
Here are 17 games coming out this fall that you simply must obtain.
1. Life Is Strange – True Colors (September 10)
The third entry in the Life is Strange franchise is developed by Deck Nine and published by Square Enix. You play Alex Chen, a young woman who experiences the emotions of others as she tries to solve her brother's mysterious death. This third-person graphic adventure will be available for Microsoft Windows, PS4, PS5, Xbox One, and XBox Series X/S.
2. Deathloop (September 14)
You play Colt, an assassin stuck in a time loop in this new game developed by Arkane Studios and published by Bethesda Softworks. Colt, an assassin, is tasked with taking out eight targets before midnight. If he leaves any alive, or if he dies, Colt starts the loop from the beginning. You can find this action-adventure game for Windows and PS5.
3. Lost Judgment (September 21)
Time to solve another bloody crime. Once again, players will settle into the mind of private detective Takayuki Yagami as he investigates another crime in this sequel to 2018's Judgment. The action-adventure game is for PS4, PS5, Xbox One, and Xbox Series X/S. 
Far Cry 6 (October 7)
Developed and published by Ubisoft, the sixth entry in the first-person shooter franchise has Revolution in the air. Players become Dani Rojas, a former soldier turned freedom fighter against Giancarlo Esposito's "El Presidente." Dive into the action for Amazon Luna, PS4, PS5, XBox One, Xbox Series X/S, and Stadia.
5. Metroid Dread (October 8)
Developed by MecurySteam and Nintendo EPD, the bounty hunter Samus Aran returns in this sequel to 2002's Metroid Fusion. Set after the events in Fusion, Samus faces a nefarious robotic enemy on the planet ZDR. Only available on Nintendo Switch.
6. Back 4 Blood (October 12)
This is the spiritual successor to Left 4 Dead, developed by Turtle Rock Studios and published by Warner Bros. Interactive Entertainment. Players will jump into a post-apocalyptic world overrun by infected humans known as "the Ridden." You play as a member of "the Cleaners," soldiers teaming up to fight zombies in this multiplayer first-person shooter.
7. Battlefield 2042 (October 22)
The seventeenth installment in the Battlefield series, developed by DICE and published by Electronic Arts, is the successor to 2018's Battlefield V. The multiplayer-only first-person shooter has brand new features to make for more immersive gameplay. To be released for Windows, PS4, PS5, Xbox One, and Xbox Series X/S.
8. Marvel's Guardians of the Galaxy (October 26)
Developed by Eidos-Montreal and published by Square Enix, Guardians of the Galaxy is a third-person action-adventure game where you play as Peter Quill/Star-Lord. Filled with crazy fights, snarky dialogue, and motivational speeches that affect the other members in combat, Guardians of the Galaxy is available for Windows, Nintendo Switch, PS4, PS5, Xbox One, and Xbox Series X/S.
Forza Horizon 5 (November 9)
Developed by Turn 10 Studios and published by Microsoft Studios, this racing game is set in an open world map based in Mexico. Players can explore this map freely by completing the campaign or competing in multiplayer races. This game will be available for Windows, Xbox One, and Xbox Series X/S.
Shin Megami Tensei 5 (November 11)
This post-apocalyptic RPG by Atlus has players assume the role of a high school student in modern-day Tokyo. They are unexpectedly drawn into an alternate version of Tokyo that has been overrun by demons and must fight to restore order. Available for only Nintendo Switch.
11. Dying Light 2 (December 7)
Set 20 years after the original game, this open-world first-person action RPG. Developed and produced by Techland, players assume the role of Aiden Caldwell, who can perform over 3000 parkour animations, giving the game a more fluid-free running experience. Available for Windows, PS4, PS5, Xbox One, and Xbox Series X/S.
12. Horizon Forbidden West (TBA)
The breathy, distressed character that we know to be Aloy has quickly joined the ranks of other Playstation mascots like God of War's Kratos. And now, she's back to kick robot dinosaur ass in the sequel to the blockbuster hit Horizon Zero Dawn. Developed by Guerilla Games and published by Sony Interactive Entertainment, this open-world, post-apocalyptic game is set in a new region known as the Forbidden West. Available for PS4 and PS5.
Ghostwire – Tokyo (October)
13. Ghostwire – Tokyo (October)
Described as "karate meets magic," this first-person action-adventure game allows players to use various psychic and paranormal abilities to defeat the ghosts and spirits haunting Tokyo. Developed by Tango Gameworks and published by Bethesda Softworks, this game is available for PS5 and Windows.
14. SABLE (September)
This stripped-down game developed by Shedworks and published by Raw Fury places the player in the role of a young girl named Sable. Featuring no combat or set storyline, SABLE emphasizes gameplay on simple puzzle-solving and discovery as Sable traverses sand dunes and ruins. Available for macOS, Windows, and Xbox Series X/S.
15. FIFA '22 (October 1)
Pretty straightforward release. Developed and released annually by Electronic Arts, the latest game features cover athlete Kylian Mbappe and is available for Windows, PS4, PS5, Xbox One, Xbox Series X/S, and Stadia.
16. Solar Ash (TBA)
An adventure platforming game with an emphasis on movement over combat, Solar Ash has players traversing through a bright-neon colored, three-dimensional landscape. Developed by Heart Machine and published by Annapurna Interactive, the game is available for Windows, PS4, and PS5.
17. Halo Infinite (TBA)
Buckle up, buckaroos. Get ready for the next installation of the iconic Halo series. Developed by 343 Industries and published by Xbox Game Studios, the sixth entry in the series continues the story of the Master Chief. What more is there to say?
Well, what are you waiting for? The air is getting chillier! Time to get inside and glue yourselves to the next big blockbuster game of the fall!
Xbox Launches New Games and A Mini-Fridge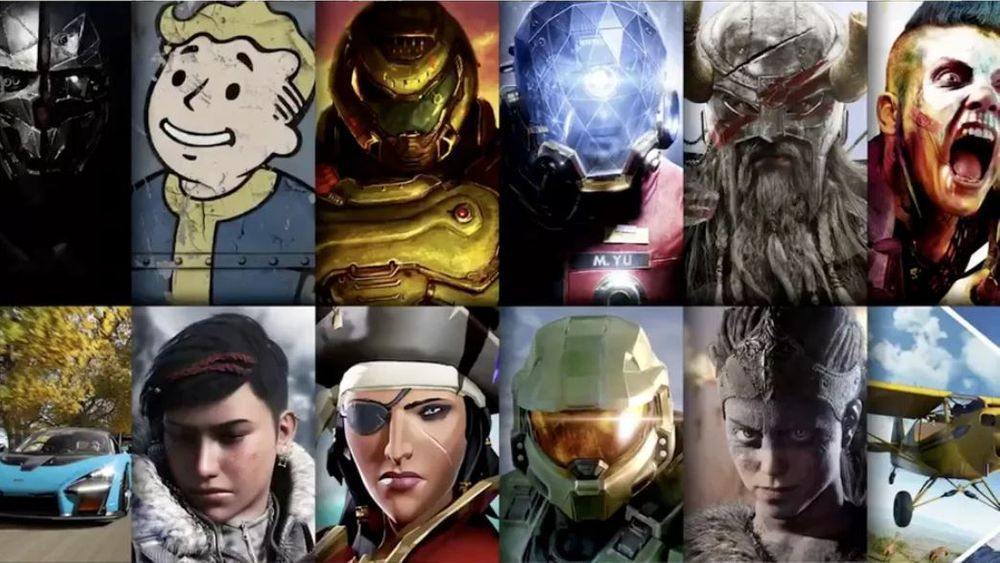 If you're an Xbox fan, then you're probably excited about the upcoming titles the gaming giant has recently announced. And what about the mini-fridge that it's introducing to users? But we'll get to that later.
Microsoft and Sony released three gaming consoles last year – Xbox Series S, Xbox Series X, and PlayStation. And this year, fans can't wait to get a load of new games. Not one to disappoint fans, Microsoft launched 30 never-before-played versions, including Halo Infinite.
If you want to try most of the new games, you'll be glad to know that 27 of them will be available for subscribers of Xbox Games Pass. But you already know that if you tuned in to the recent Electronic Entertainment Expo (E3) held remotely on a livestream.

Leaked Trailer
Even before the event, some fans were already talking about Starfield – an all-new space RPG made by Bethesda. The Washington Post leaked the trailer accidentally, and gamers aren't complaining.
Starfield was made by the game studio that Microsoft acquired for $7.5 billion, along with ZeniMax Media. For fans waiting for the game, you'll have to wait for a little longer – more than a year, to be exact. Starfield is due to be released on November 11, 2022.
According to Bethesda Game Studios, Starfield is a game they've always dreamed of playing. However, they had to wait until the hardware and tech were available. That said, they're certainly happy that innovations have made it possible to come up with such a product today. And they're surely hoping to earn fat revenues from the innovation.
Games to Watch Out For
Aside from Starfield, fans are also intrigued about Forza Horizon 5. After all, many are expecting it to take full advantage of the newest Xbox consoles' next-generation tech.
As mentioned, most of the games discussed will be available in the Xbox Games Pass service. For those not familiar, the monthly fee is $15 in exchange for access to the games. Added to that, subscribers can also access Xbox game streaming service, allowing them to stream games online. Think of it as a service somehow akin to Netflix.
Meanwhile, Halo players will be happy to get their hands on Halo Infinite. The newest version will launch this fall, so fans will surely be looking forward to pumpkin spice season.
Forza Horizon 5, on the other hand, is another title to check out. Set in Mexico, the version uses real-world videos and photos of Mexican places. Stalker 2 is also part of the roster of new Xbox games. This is based in Chernobyl with zombie elements. So, perhaps, you may expect radioactive zombies? The game is due for release on April 28, 2022.
If you're a Jack Sparrow fan, you might want to check out Sea of Thieves: A Pirate's Life. This online pirate game is launching a free update and with new characters to boot. With a storyline based on The Pirates of the Caribbean franchise, you can never go wrong.
For fans craving villain-focused games, Far Cry 6 is another one to watch out for. It's due October 7, so only a few more months before gamers see the rollout of this new title.
Xbox Mini-Fridge
Now, let's talk about the Xbox mini-fridge. It may have started as a meme, but the company turned it into reality. In fact, makers are planning to launch it later this year. Netflix and chill? Maybe Xbox and chill will be just as popular soon.
Microsoft already said the mini-fridge would be "the world's most powerful mini-fridge." The product will launch on holidays 2021.