Design Pickle Vs Penji: Which Is The Best Unlimited Graphic Design Service? (w/Promo codes)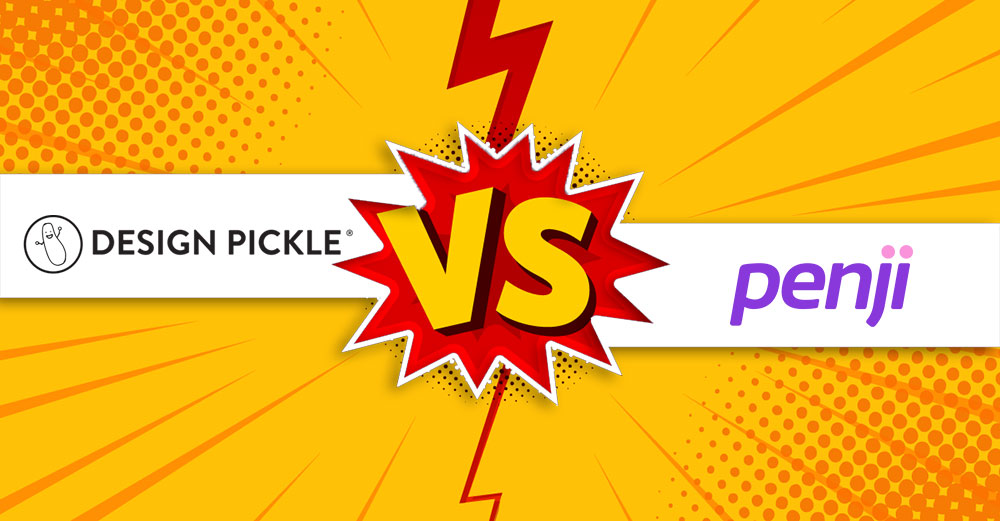 Two names dominate the unlimited graphic design space – Penji and Design Pickle. Design Pickle vs Penji, which is the better service for you? We signed up for both companies and see who offers a better service, so you don't have to.
Unlimited graphic design companies are a new breed of services that are gaining popularity in the last few years (see the complete list of unlimited graphic design companies). Their promise is simple, you pay a flat monthly rate and get unlimited design projects for the month.
No hiring, no HR, no interviews, and absolutely no managing on your part. Just submit the designs, and the company will find the best designer for you and take care of the rest. Sounds too good to be true? We did an in-depth review of Penji and Design Pickle (coming soon) to see if the promise is real, and the promise holds up.
Today, we'll see which of these two unlimited graphic design service providers offer the best value for your money. For our comparison review, we're going to be comparing these two companies based on the following criteria: Speed, Quality, Communications, Ease of use, and Value.
DESIGN PICKLE VS PENJI – QUICK SUMMARY
This is a rather long and extensive review. So if you don't want to go through everything, here's a quick 2-minute summary of everything.
We signed up for both Penji and Design Pickle's $399 plan to see which company provided a better service and experience.
Pricing differences: Penji's pricing included more design types. Design Pickle didn't include Logos, complex infographics, and presentations.
Custom Illustrations: Included with Penji's Team ($499) and Agency ($899) plan. Design Pickle charges $499 add-on on top of your existing plan.
Design quality test: Both companies received the same four projects with the same exact wording, attachments, etc.
Design Pickle won "Versus" blog Featured Image
Penji won Facebook Cover Image For Digital Pub, Print Magazine Cover Re-Design, and Content Infographic Re-Design.
Creativity & details: Penji's designs were more creative and got the small details
Customer support: Design Pickle had more responsive support and online knowledgebase. Penji's account manager was more responsive and proactive emailed us.
Turnaround: Both companies delivered 2-3 drafts within 24 hours. Revisions were also speedy. Design Pickle took 12 – 24 hours for revisions, while Penji usually turnaround revisions the same day.
Platform & Integrations: Both had intuitive and easy to use platforms. Design Pickle had more integrations. Penji's slack integration was difficult to use and requires dev help.
Final verdict
Design Pickle vs Penji, the winner is Penji in several categories. Design Pickle did win in a few categories. However, Penji won in the major categories that mattered. Penji's design quality, attention to detail, and creativeness tends to be superior.
Penji offers better value as covering more design categories. Penjis' team also was more responsive and felt like working with people instead of processes and canned responses.
Design Pickle was excellent in terms of their processes and operations. However, that shows in the design output and communication. Everything felt more mechanical, robotic, and templated.
Penji promo code

If you want to give them a try, use this Penji promo code "OMDVP25" to get 25% off your 1st month. Full disclaimer, we receive a commission when you use the code.
Design Pickle's promo code
---
DESIGN PICKLE VS PENJI FULL REVIEW
Although both companies offer the same services, their pricing model is very different. Design Pickle separates their plans into Pro and Standard. Standard starts at $399/month and you'll be working with a Philippine designer for next-day turnaround.
Meanwhile, the $995 lets you work with the designer via Slack for real-time communication and same-day delivery. You also get advanced infographics, animated GIFS, and Powerpoint designs for the Pro plan.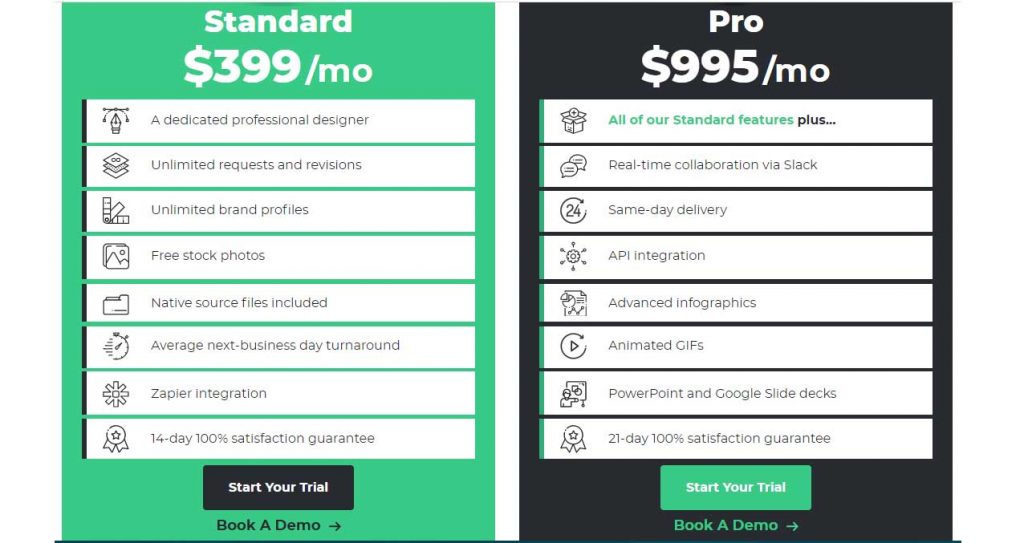 Penji's pricing, on the other hand, has three tiers. Penji's low plan is ironically called its "Pro" plan. At $399/mo it costs the same as Design Pickle's Standard plan and appears to offer the same level of design service. Design Pickle offers Zapier integrations. Although Penji doesn't offer Zapier integrations, they have an Invite feature that lets you add more than one user to the account. I personally find that very useful.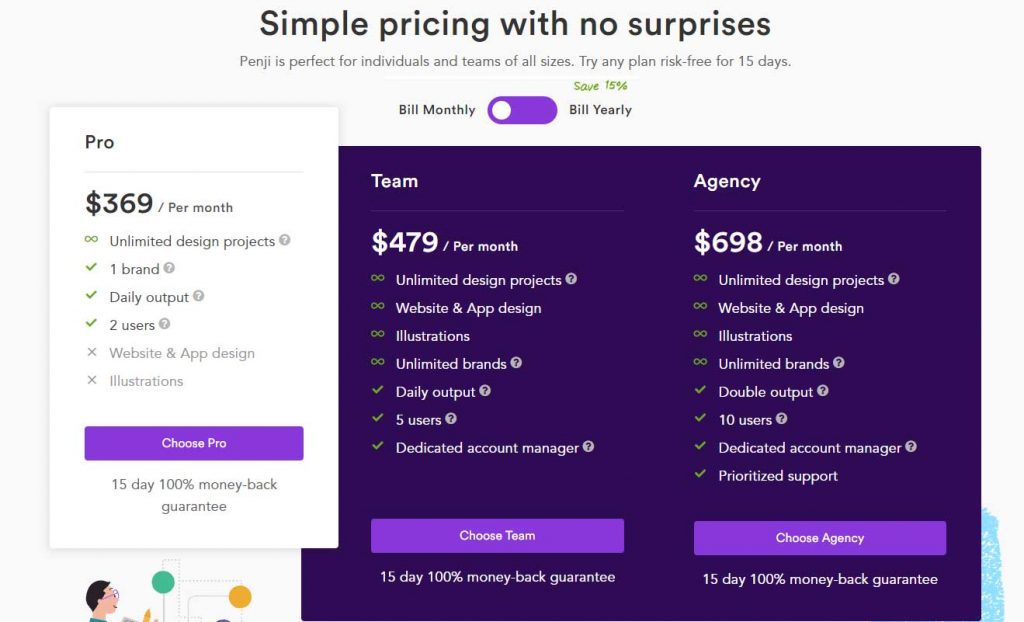 For this review, we chose to sign up for the $399 Standard plan from Design Pickle vs $399 Pro plan from Penji. Here's a chart to compare the two plans side by side.
DESIGN PICKLE VS PENJI $399 PLAN COMPARISON
The pricing page alone doesn't tell the whole story. We want to know exactly what each plan offers and what you get in terms of design offerings for $399/month. After digging around their websites and asking their support chat, we uncovered more details each plan has to offer. Here's a chart we made to showcase all of the hidden features and important benefits included with the $399 plan from each company.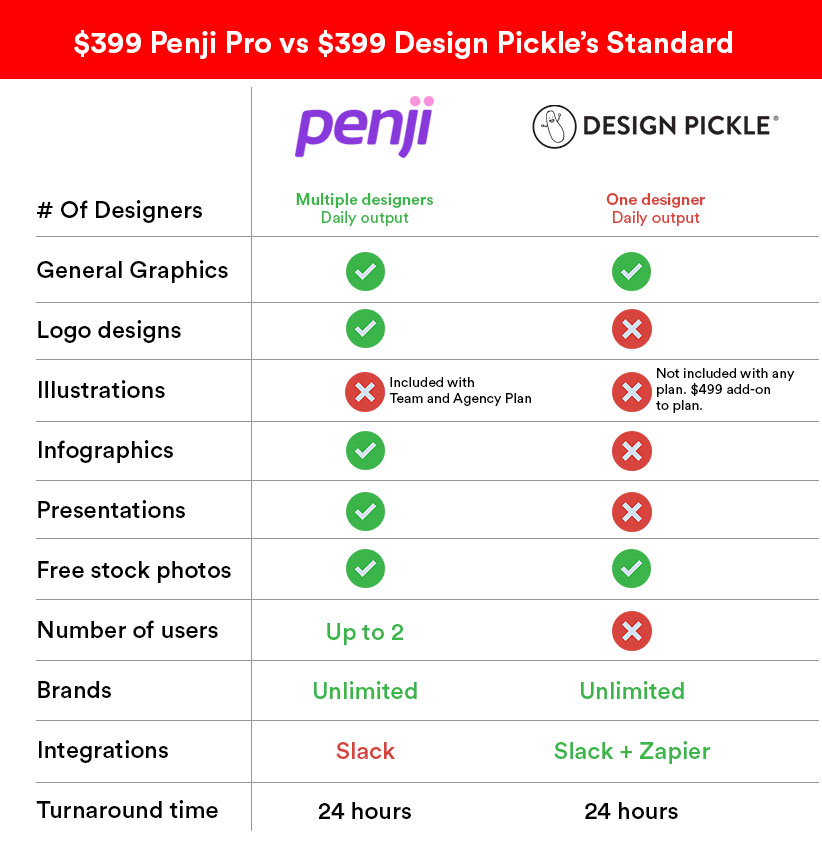 There's a number of differences between the two Company's offerings for their base $399 plans that you need to be aware of.
# Of Designers
This is how many designers you'll be working with essentially. Design Pickle's pricing plans indicate that you'll be assigned to 1 designer and be working with just that designer. Meanwhile, Penji doesn't assign you to any designer until you actually create a project. When you create a project, they will assign you to the best available designer for that type of project.
Penji's support team told me they utilize this method of assigning to make sure we only work with designers who are actually good at the type of design we're requesting. I'll have to give a point to Penji for this one.
Logo Designs
Design Pickle explicitly stated that they only offer Logo design for their Pro plan ($995/m). It's not explicitly stated on Penji's pricing page, but their customer support confirmed logo design is included for all plans.
Illustrations
Neither company offers custom illustrations as a part of their $399 plan. However how they incorporate it is uniquely different. Penji packaged Custom Illustration in their Team ($499) and Agency ($899) plans.
Design Pickle doesn't include Custom Illustration in their Pro plan ($995). To get Custom Illustrations, you will need to pay an extra $499 add-on every month that you need an illustrator.
Design Pickle vs Penji: Here's what it will cost you to get custom illustrations with each company.
Penji: Team plan $499 / month (includes Custom Illustrations)
Design Pickle: Pro plan $399 + $499 Custom Illustration add-on = $898 / month
It costs quite a bit more to get custom illustration with Design Pickle. If you rarely need custom illustrations, this won't be an issue. But if custom illustration is a big part of your design needs, you might need to look closely at this.
1. REGISTRATION AND ONBOARDING
Design Pickle vs Penji's registration process was both smooth and efficient. I didn't feel either one asked too many questions or was complicated. Penji allows you to sign up for any plan you want right away. Meanwhile, Design Pickle only lets you sign up for the Standard plan. To register for the Pro ($995) plan, you need to schedule a demo
Design Pickle versus Penji's Onboarding
After I signed up for their services, both led me straight into their online portal right away. I was able to create my first project almost immediately. I didn't actually get a "Welcome" email with Design Pickle, which was strange, I figured they'd send me something. I did get a handful of emails, one of which was a brilliantly created video that showed me how to write a better project description. The video was quite long, but it was polished, well written, and hilarious. I love that about their company.
Penji was very conservative with their onboarding. I received an official "Welcome to Penji" email with essential information, which was nice. Then the next day I received an email from someone named Charmaine from their company. It wasn't a templated or auto-responder email, it was my account manager emailing asking how I was doing. I liked that.
2. CREATING DESIGN PROJECTS
Now for the real question – who provides better quality designs? All the features, bells, and whistles are pointless if the company can't turnaround quality designs for you.
We created three test projects and posted them to Penji and Design Pickle. To make sure everything was fair, all projects have the exact same description and attachments. We even went as far as giving them the same exact feedback on each of the drafts.
Here are the test projects:
Facebook Cover Image For Digital Pub
Print Magazine Cover Re-Design
Content Infographic Re-Design
"Versus" blog Featured Image
As a digital publication, we work with design agencies and freelancers to get our design work done. These projects are taken directly from our queue. We chose these projects specifically because they all require different skills to complete and will give us an idea of how versatile each company is.
3. TURNAROUND TIME
We submitted the four projects to both Penji and Design Pickle respectively. Both the drafts and revisions were quick by both companies.
Design Pickle
We received drafts for 2 out of 4 projects back the next day. This was very fast, much faster than any of the freelancers we've hired. One of the projects didn't receive submissions because my designer had a question that needed a response, which was understandable.
Upon submitting revisions, I started to see delays. Even when I submitted simple revisions, it seems to always take 24 hours no matter how small or big the revisions were.
Penji
We received drafts for 3 out of the 4 projects back from Penji within 24 hours. Just as fast as Design Pickle. My designer also asked a question about one of the projects, but she skipped that one and worked on the 4th project instead of waiting for my response.
Revisions were usually done the same day. And I noticed that if my designer isn't online, my account manager would assign another designer to quickly jump in and make the revisions.
Turnaround Winner…Penji
Design Pickle vs Penji in terms of turnaround time, Penji is the faster company. Both companies were fantastically speedy with delivery and I can't say I was disappointed with either company. However, Penji was able to deliver fast revisions, especially simple ones much quicker. And that's important because waiting 24 hours for a fix on a small grammatical error is frustrating.
4. DESIGN QUALITY
Now for the ultimate reveal. Design Pickle vs Penji, which company produced better quality design? See for yourself.
"Versus" blog Featured Image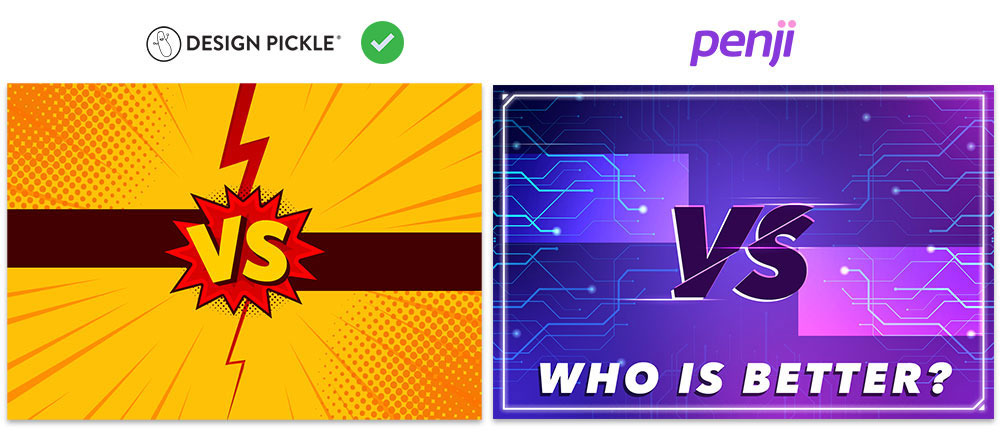 View DP's design | View Penji's Design
This was a fairly simple blog graphic request. We write a lot of comparison articles and wanted a featured image that we can use as a template and swap out names of products or companies we're comparing.
Design Pickle: My designer was Arvin. It took us several revisions to get to the final product, and overall it's very close to what I had envisioned. 8/10
Penji: My designer was Kenny. It also took several revisions, however, I can't say I was pleased with the final product. It felt like Kenny was just following literal instructions and nothing more after the 2nd revisions. I give this project 5/10.
---
Facebook Cover Image For Digital Pub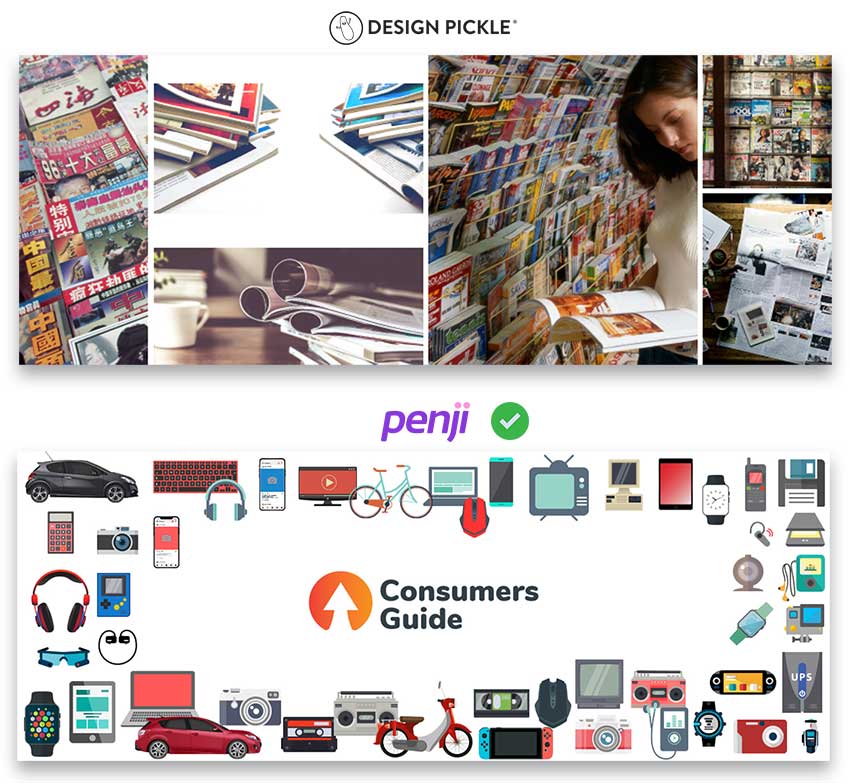 View DP's design | View Penji's Design
One of our publishing partner Consumer's Guide needed a new Facebook cover photo. This was a fairly simple design request, with the exception that you have to check out the website and understand what the company does in order to create a banner. I gave special instructions such as …use the Logo in the design and showcase what the publication does on the cover image.
Design Pickle: Given I was impressed with Arvin on the 1st project, I was thoroughly disappointed with this one. I don't think the designer ever went to the website to review the publication at all. Just a glance would've helped. This looks like 6 random images from Pexel or Unsplash stitched together. 3/10
Penji: Rowell (a different designer) was assigned to this project, and it seemed like he took the time to review the website before designing. I didn't even know, but apparently there was a new logo on the website that I wasn't aware of. Rowell took the time to ask for the new logo. The end result was beautiful and our friends over at Consumer's Guide loved it. 9/10
---
Print Magazine Cover Re-Design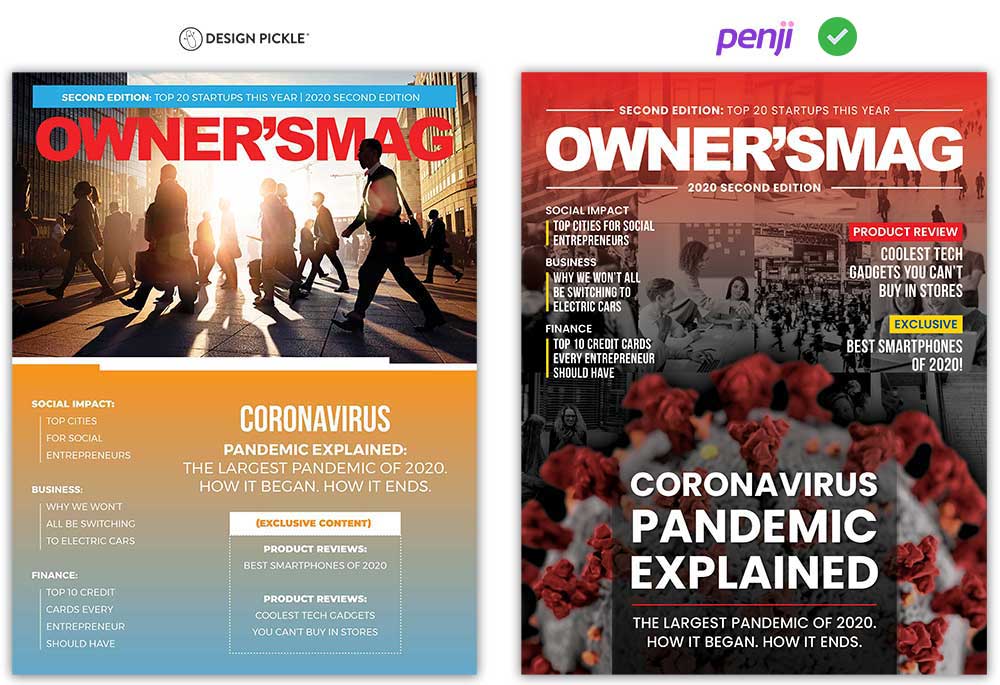 View DP's design | View Penji's Design
By far one of the most important projects for us. We're both a digital and a print publication and this spring we're releasing another edition of Owner's Mag. The designers are tasked to design the actual cover for Owner's Mag second edition print magazine. All instructions, copy, and even past designs were given. The cover needed to look professional, refined, and most importantly highlight the Coronavirus Pandemic. I also asked for this to design in Photoshop.
Design Pickle: I was assigned to Alyssa randomly, and wasn't sure why. The first draft was atrociously bad and she gave me Adobe Illustrator files instead of Photoshop like I had requested. Arvin (my main designer) was quickly re-assigned to fix the design. Several drafts later, it's just nowhere near the level of polish and professionalism that we needed. I gave instructions to "Highlight the Coronavirus" section. My designer proceeded to make the texts CORONAVIRUS texts bigger. Quality rating: 3/10.
Penji: Billie was assigned to this project. The first several drafts were simply amazing. It was clear to me that Billie has designed plenty of magazine covers before as she knew where to place things and how to organize content blocks on a cover. It took a few revisions to be perfect, but I was happy from the beginning.
What I was most impressed with was how she clever highlighted the "Coronavirus" section. I was speechless at the final product. I showed the design to my editor and they couldn't believe it didn't come from one of the design agencies we hired. Of all the designs we submitted, the quality and level of creativity in this design far exceeded our expectations. And this is the design we will likely be going with for our print edition. Quality rating: 10/10
---
Content Infographic Re-Design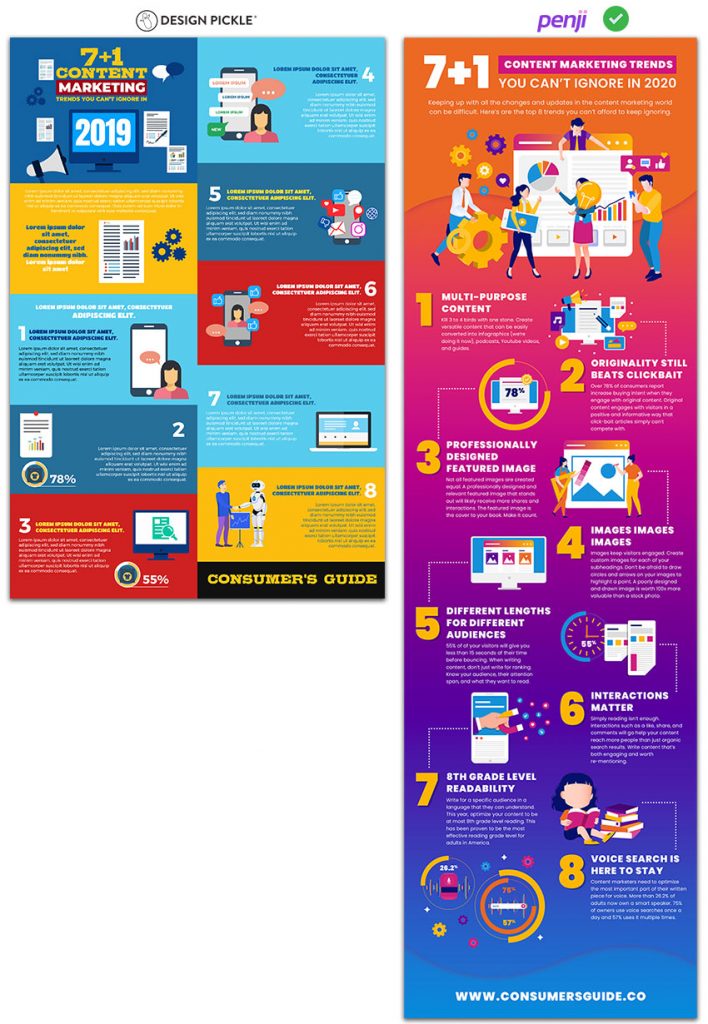 View DP's design | View Penji's Design
Infographics are some of the most challenging and difficult designs to get right. We've hired a lot of people to design infographics for us, and it's hard to find someone good who understands how to design infographics. Infographics need to be entertaining to look at. And they also need to present statistics and numbers in a creative and meaningful way that's easy to read and digest. We weren't sure how either Design Pickle or Penji would fare in this. If anything, we expected both companies to do poorly.
Design Pickle: Arvin did follow instructions, however, there was no creativity in the design. It's just left and right blocks of texts and icons. The icons were all of the different stylings, clearly from different designers on Freepik or another free resource site. And there's just no creativity in this design. It looks boring, bland, and the numbers are just displayed. It's hard looking at this design and imagining a lot of thought went into it.
I have to be fair and say that it's not a bad design, but it's not an infographic. Not even close. And this isn't something we can use to publish for our audience. Design quality: 4/10
Penji: I was assigned another designer from the beginning, but requested for Billie given how impressive her Magazine cover design was. The result – absolutely breath-taking. The gradient is beautiful and easy to look at. Each item from 1 – 8 was organized and flow gracefully down the page.
Each icon makes sense with its content block. And the way the 55%, and 78% statistic was intelligent and meaningful. All of the content seems like they fit and flow together. This infographic design is on the same level of professionalism and detail that we're used to from working with design agencies in our city. Design quality: 10/10
5. ATTENTION TO DETAILS

Both designers from Penji and Design Pickle were fantastic individuals to work with and we don't have complaints with either Arvin or Billie. However, designers from Penji seem to pay more close attention to the details of the designs. In several designs, if you inspect closely, you can see how much attention Penji designers put into all the little details.
There was a lot of little errors from Design Pickle's submission. The woman in the pink shirt icon is duplicated in two of the graphics. The 78% graphic didn't make any sense and you can't see the tiny icons inside of the icon.
The other thing that bothered us was the use of colors. The design on the left had poor color choices for the background colors. The light-blue is used twice, and they connect and bleed into each other (1 and 7). Penji's design on the right had colors that complement one another and just overall looks more professional.
6. CREATIVITY

Creativity is a difficult thing to measure and ask for. It's easy to tell your designer to "be creative" with the design, but it's almost impossible to pinpoint. Creativity is one of those things where you just have to trust that your designer has.
My experience working with Design Pickle vs working with Penji was polarizing. Despite giving the same instructions and feedback word for word, the outcome was completely different. Design Pickle's designers were great at following detailed instructions and almost too good to the point where they didn't put in their own creativity.

For the Magazine cover design, I gave the following instructions
Have stock images of people moving and working in the background to show movement
Make Product Review and Exclusive sections stand out
The major headline is "Coronavirus Pandemic Explained". Make this the most prominent element on the page
As you can see from the image above, the two designers both had a different creative vision for how to make the Coronavirus section stand out. To us, Penji's vision was more creative and impactful.
ONLINE PLATFORM
Both Design Pickle and Penji have their own dedicated platform, which is both a good and a bad thing. We personally prefer if their designer just joins our platform and works with our team on Asana or Trello. But we understand their business model can't allow for that kind of personalization.
Both platforms were super easy to use and I have very little complaints. They're not complex platforms and are both seamless enough that you won't need any complicated tutorials or share-screen walk-through to get the hang of.
I didn't like how Design Pickle's platform constantly tries to sell me their CEO's content. The platform tries too hard to get me to click on links to his podcasts, webinars, etc. and I was more annoyed than appreciative.
Penji's platform is cleaner, less bulky, and didn't try to sell me anything. And that, I appreciated. I get that Design Pickle wants to get more clicks and signups for their CEO's webinars, but there are better ways to do that.
INTEGRATIONS
One of the things I love about Design Pickle is its abundance of integrations thanks to Zapier. Although I haven't used it myself, my co-workers swear by it and have used Zapier integrations with other software. I don't know how their Slack integration works because we signed up for the Standard plan, but I have a feeling it's not actually an integration, but more so someone joining our slack team and working with us. And that's a great thing.
Penji didn't have Zapier integration, instead, they have Slack Integration API. It was a bit complicated and required our developer to actually setup with our Slack. Definitely not user-friendly or intuitive. This point goes to Design Pickle.
COMMUNICATIONS
Communication is VERY important in graphic design. Both companies did an exceptional job communicating within all of the design projects. Despite not being able to meet or talk to any of the designers and having everything be done online, communication always felt responsive and tight with both companies.
The one thing I like about Penji was that my account manager was very active in communicating with me. I believe I also had an account manager for Design Pickle, but I can't even remember their name since they rarely contacted me except when I wanted to cancel.
My account manager, Charmaine, emailed me right after I signed up and personally contacted me when she saw that I wasn't happy with some of the revisions. That's an extra layer of care that Penji gave that was missing from Design Pickle. And to me, it made a huge difference in my overall satisfaction.
CUSTOMER SUPPORT
Design Pickle vs Penji's customer support. Both companies provided top-notch customer support and both were very responsive to my needs.
Design Pickle shined in two major areas when it comes to their support. They use Intercom for live chat and during most day-time hours someone was available to answer me. They also have a knowledge base where you can look up commonly asked questions, although I'm not sure how useful this would be since this is a service and not a complex SaaS software. Regardless, it was a nice thing to have just in case.
Penji's customer support was also excellent as my account manager was a real person who constantly checks on my projects and contacts me proactively whenever there was an issue. I really liked the human element that Penji always seems to provide. The downside is that there's no live chat. And whenever I needed help, the chat interface of Penji just sends an email out to my account manager.
Overall, both companies were great. Design Pickle responds faster and has more online help resources. Penji, on the other hand, has a very active account manager who proactively emails me.
OUR FINAL VERDICT
Choosing a winner is difficult as both companies are great in their own respective ways. Both have been around for several years, however, I believe Design Pickle has been around longer. Both provide a great experience and I can't say I'm upset or disappointed with either service. But there are many areas where one outshines the other.
Design quality – Penji
Of the four projects, Design Pickle won 1/4. Penji won the remaining 3/4. The clear winner in terms of design quality goes to Penji. From our experience, the design quality, creativity, and attention to detail were better with Penji than with Design Pickle.
Turnaround time – Tie
Design Pickle vs Penji in turnaround is a complete tie. Both were exceptionally fast with their initial drafts and also revisions. Design Pickle lagged a bit and usually took 12 – 24 hours to complete revisions, but my designer turned around more drafts than Penji.
Penji even though turned over fewer initial drafts, the designs were higher quality and revisions were usually the same day. Both providers were incredibly fast by any standards, therefore we call this one a tie.
Attention to detail – Penji
Penji outright wins in this category. In just about every design submission we received, our designer from Penji seems to pay closer attention to the little details than their counterpart at Design Pickle.
Creativity – Penji
Design Pickle vs Penji's creative output is actually a close one. Arvin from Design Pickle was great at the Versus blog graphics. It was so creative that we're using it for this specific review. However, Arvin and the other designers assigned to me seemed to stumble at more complex projects such as the infographic and Magazine cover.
Penji designers tend to ask me more questions and submit more drafts for me to choose from. You can see from the designs above, submissions from Penji generally appear more refined, creative, and artistic.
Overall, Penji wins at the creative output.
The winner…
Design Pickle vs Penji – the winner has been decided. It's Penji. Both companies are exceptional, however, we chose Penji for the following reasons:
Penji offered more value for the same price
Better quality design, attention to detail, and creativity
Felt like I was working with real people more than processes and automation
This certainly doesn't mean that Design Pickle doesn't have good designers. We acknowledge that luck could play a role. Perhaps Arvin from Design Pickle wasn't the best pick for us. And perhaps we got paired with the best designer on Penji. Who knows. But factoring in multiple criteria and testing various types of design projects, we concluded that Penji gave us a better experience and proved to be a better value.
Businesses To Start Post COVID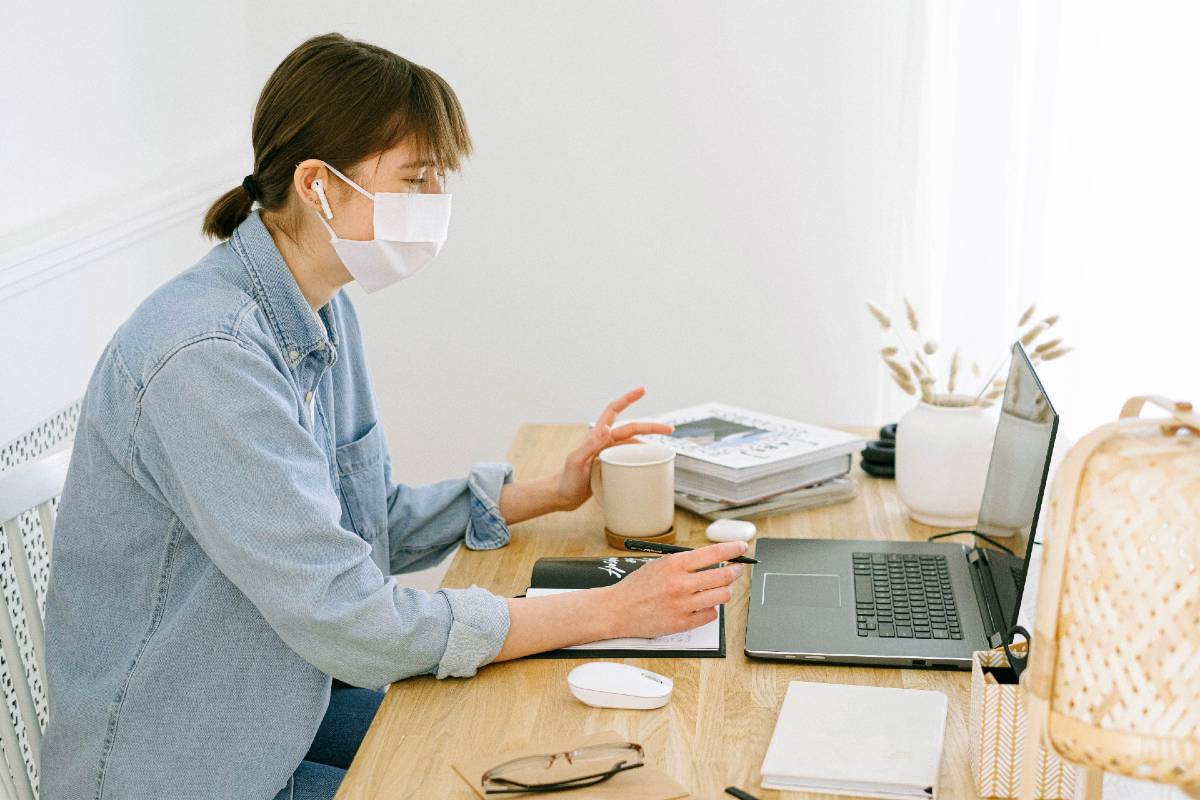 Coronavirus disease (COVID-19) has forever changed our lives, including how we do business. Despite the temporary halt during the pandemic's onset, more and more ventures have been bouncing back strong.
That said, it's a good time as any to seize the opportunity to offer products or services people need under the new normal. And if you're thinking of starting a business to start post covid, you certainly won't run out of excellent ideas.
If you're wondering what industries are projected to reign supreme in a post-pandemic world, here are a few options you might want to consider.
1. Online Merchandise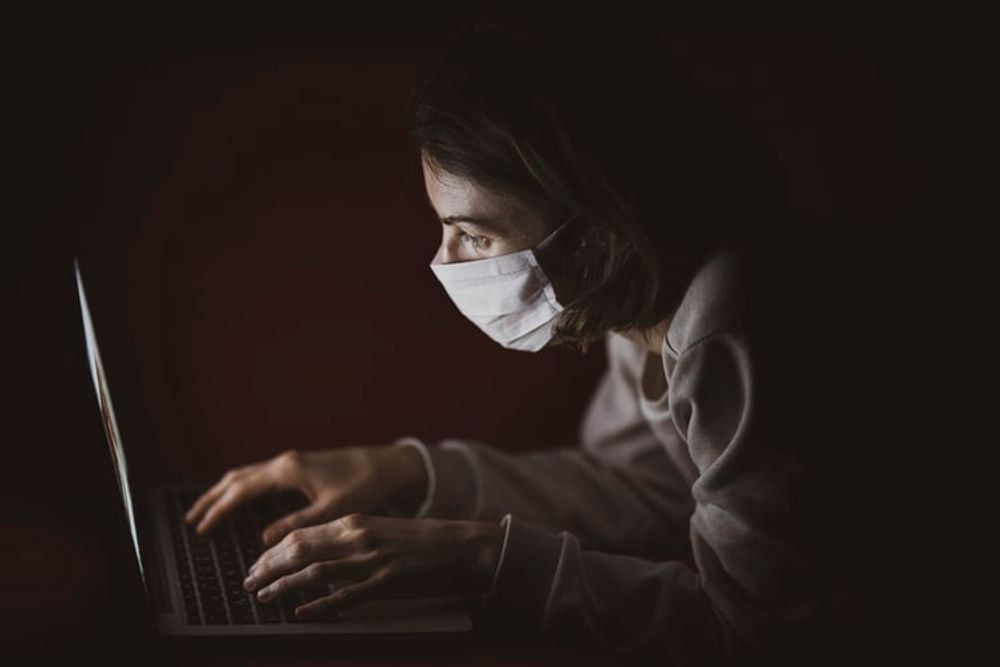 Online shopping might have been popular even before the pandemic. However, the threat of catching the virus has made eCommerce all the more relevant. In fact, a survey by the United Nations Conference on Trade and Development (UNCTAD), online purchases rose throughout the pandemic.
That said, if you're looking for a business to start post covid, an eCommerce venture has never been as attractive as it is now.
According to a report, items that have been selling out from online shops during the pandemic include cleaning materials, thermometers, board games, baking supplies, fitness equipment, and home office supplies.
Whether you're offering essential needs like food and toiletries or miscellaneous items like gifts and hobby-related items, eCommerce is the way to go.
2. Local Delivery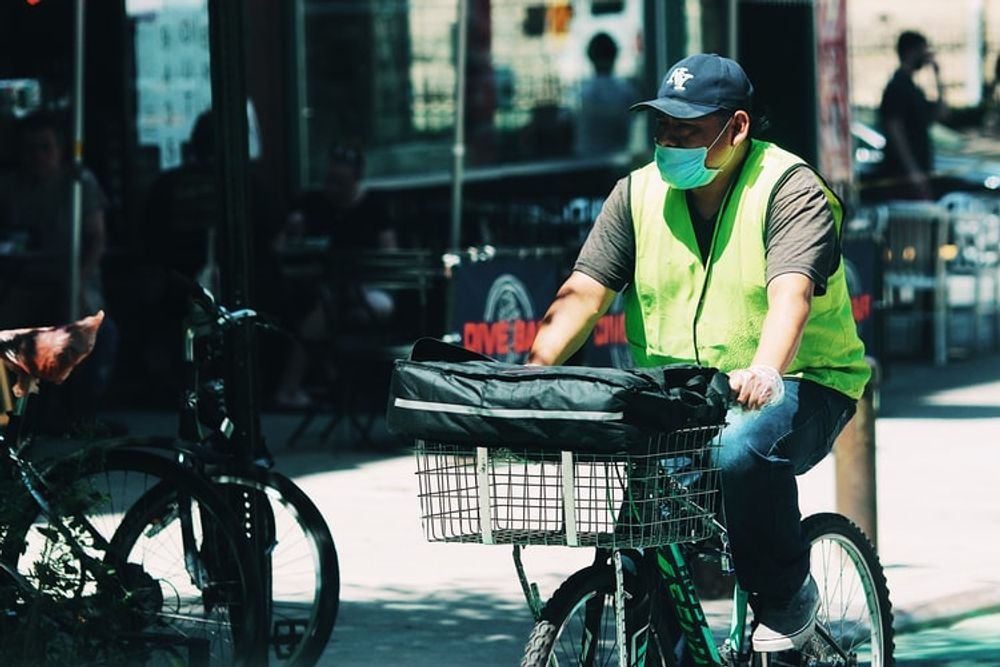 When the pandemic first broke out, people relied on deliveries for their needs. And now that they've come to appreciate the convenience of effortless shopping, the delivery industry will only flourish even more.
Many are exploring the idea of offering "hyperlocal" delivery or catering to a certain niche. For instance, focusing on a specific service such as beauty products, pet supplies, or medical needs. This narrows your services to a specific product set, making you a go-to venture for things related to your brand focus.
3. Home Improvement
It may be cabin fever at work, but being stuck at home can push people to think of ways to improve their living space. A survey by Bank of America says over 7 out of 10 Americans tacked home improvement projects during the pandemic.
The good news is, more projects are scheduled in 2021, so surely won't be late to the party. Some of the products and services to consider are home office space and children's playroom solutions. Many homeowners are also looking to extend their living space through outdoor amenities like patios. These projects allow them to enjoy the outdoors without having to brave crowded parks or public places.
4. Home Workout and Health Tools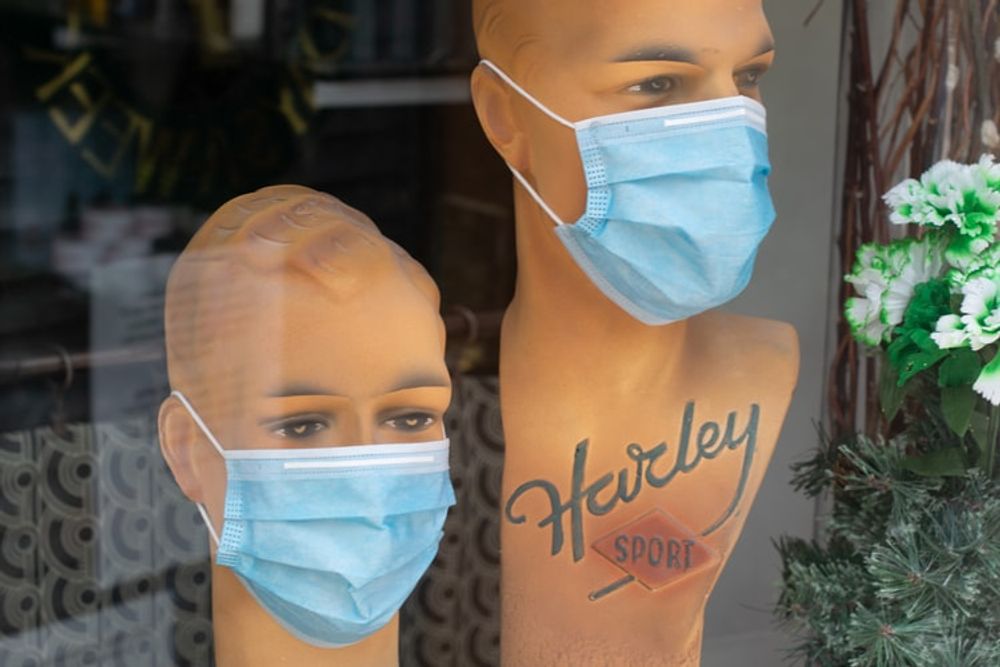 As mentioned from the UNCTAD survey above, fitness equipment was one of the best-selling items during the pandemic. Added to that, a survey says almost 6 out of 10 Americans aren't leaning to renew their gym membership after the crisis.
For one, some aren't comfy using the same gym equipment as other members with a virus going around.
With more people trying to avoid outdoor exercise and fitness gyms, focusing on home workout is a good business to start post covid. Whether you're leaning towards workout apps, gym equipment, or health products like meal plans, it's best to strike while the iron is hot.
5. Online Teaching
With face-to-face classes discouraged to prevent the spread of COVID, many people are turning to the internet for instruction. This presents a great opportunity for entrepreneurs in the education and instruction sector.
A report tells us that enrollment at Coursera swelled up to 640% higher from mid-March to mid-April compared to the same period in 2019. This only goes to show that massive open online classes or MOOCs will surely enjoy more prominence from hereon.
But online business opportunities aren't limited to MOOCs. Learners are just as keen to attend webinars and online workshops just as long as they won't have to step outdoors to learn.
The Takeaway
Here are the key factors to remember when brainstorming for a business to start post covid:
Less to no contact. With social distancing at the front and center of policies implemented to curb the virus's spread, it's best to focus on ventures that offer products and services without requiring physical contact.
Convenience. Even without state-mandated lockdowns in place, many people choose to limit going out to avoid exposure to the virus. That said, people now put a premium on products and services they can get right at their doorstep.
Agility. The COVID-19 crisis taught us that the world could change without warning. In one snap, restaurant dine-ins became curbside pickups, and gym classes were held online. Even babysitters turned to Zoom to entertain kids! Your business model must be able to adapt to societal changes.
Without a doubt, the pandemic has caused a huge economic setback this year. But more than anything, it has pushed entrepreneurs to stretch their creativity and become more flexible to adapt to changing times.
My Honest Review of Flocksy's Unlimited Creative Services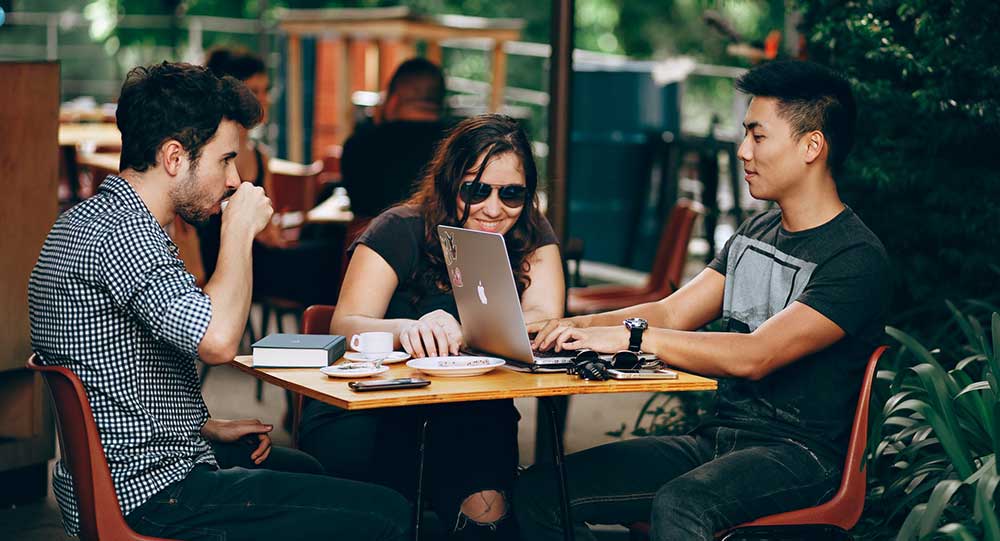 There are more unlimited graphic design services emerging every day. Flocksy stands out as one of the top competitors in the space. After this review, you'll have a better understanding of whether Flocksy is the best design option for your business.
Flocksy Overview
Flocksy works on an unlimited number of designs and revisions for a flat monthly fee. Unlike many of the other unlimited graphic design services, they also offer copywriting and web development.

How does Flocksy / unlimited graphic design work?
Unlimited graphic design services are an alternative solution for those who need design help but do not need a full design team. They all have similar promises:
24-48 turnaround time
Flat monthly rate
Dedicated designers
Money back guarantee
Lower cost than hiring an in-house designer
Who is Flocksy good for?
The unlimited creative business model that Flocksy provides is good for both big and small businesses. Some of these include:
Corporations in need of consistent blog content
Influencers and bloggers in need of social media design, thumbnails, and descriptions
Marketers who need press releases written
Entrepreneurs in need of a new website
Small businesses in need of advertising designs
Brands that use Flocksy
On Flocksy's website, they mention that they've worked with over 1000 brands including Harley Davidson, State Farm, and Forbes.

Their portfolio also shows projects that they've completed for other clients. There are t-shirt designs, marketing materials, copywriting examples, videos, and web development done for both large and small organizations.
Flocksy pricing
Flocksy has two options for pricing. $995/month for the All Access Plan and $420/month for the Team Plan.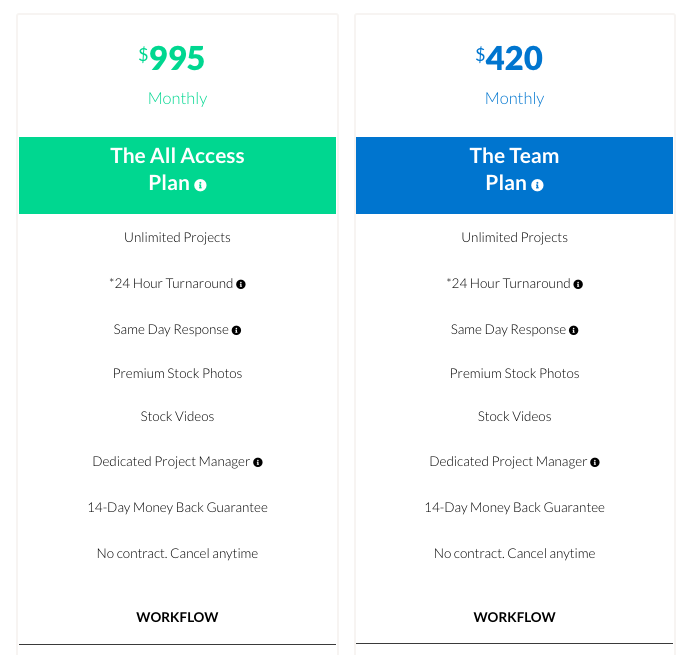 Flocksy review
What I like about Flocksy:
Manage your projects on their Project Management board
They have a custom team created for you on your dashboard
Project manager who manages all my projects
Image tagging to give revision notes
All services included in pricing
Support through email, chat, and phone
What I don't like about Flocksy:
Offshore team may be difficult to communicate with without the project manager
Adjusting to designer and writer skillsets
Flocksy alternatives
Penji (Read our full review + special promo code!)
Kimp
Design Pickle
Kappa99
GraphicsZoo
Are Standing Desks Worth It?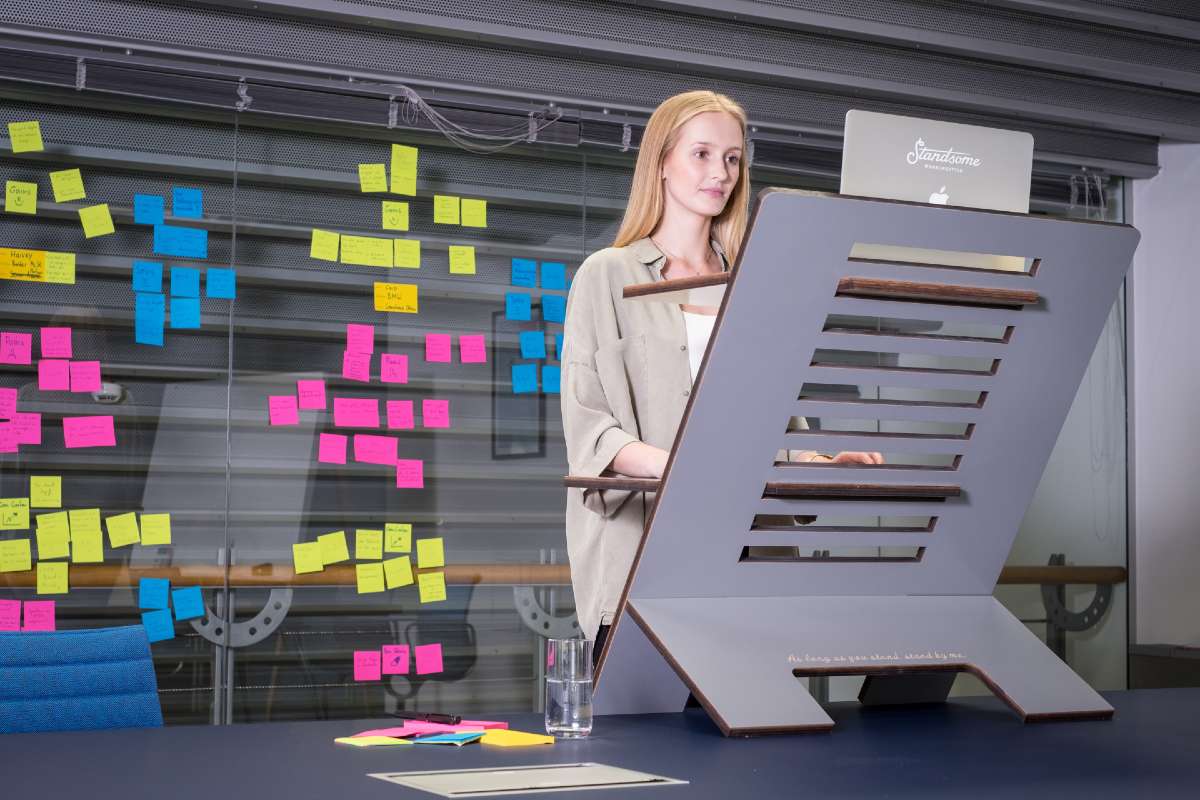 For most working adults, being strapped to a desk for hours every day means dealing with back pains and other ailments like high blood pressure and excess body fat.
To save our lower back (and most likely, to introduce a new product in the market), furniture makers have come up with a solution – standing desks.
With all the hype built around the table that allows us to work on our feet, the question remains – are standing desks worth it? Let's examine the advantages and disadvantages to help us make a stand.
Pros and Cons: Are Standing Desks Worth It?
We often hear the adage, "Sitting is the new smoking." According to experts, sitting for long periods can be associated with health issues, such as obesity, diabetes, heart disease, and even cancer.
With that in mind, it's no wonder that standing desks are making the rounds these days. In fact, it's seen as a healthier alternative to the traditional version linked to ailments mentioned above.
Despite the perceived novelty of a desk that lets you stand while working, the idea behind the product isn't as new as it seems. For instance, some claim that Leonardo da Vinci used a standing desk while painting. There are also accounts saying that this type of furniture was common among wealthy English households during the 18th century.
If these anecdotes were real, our forefathers must have also explored the idea of avoiding extended periods of sitting down. Which leads us back to the questions: are standing desks worth it, or are they overrated?
Pros
Here are some benefits of a standing desk:
Improves energy
Helps improve posture
Makes it easier to move, thereby keeping you on the go
Helps avoid health issues linked to sitting for extended periods
Cons
Below are some disadvantages of a standing desk:
Can be hard on your legs and feet, especially if you're wearing high heels
Reduces privacy if used in traditional offices
Can be more tiring if used for longer periods
So, are standing desks worth it? It depends on which of the pros and cons above are the most important to you.
For instance, a standing desk might be an excellent choice for your home office since you'll be wearing comfy slippers while working. However, it may be a different story if you're acquiring furniture for an actual office where users wear less uncomfortable footwear.
On another note, a standing desk can be well worth it if you want to move more for health reasons. Standing encourages you to move now and then, avoiding a long period of being in the same position.
Those who find it impractical to buy a new desk choose to get a desk converter instead. It's a small table placed on top of an existing desk, allowing one to stand while working.
5 Standing Desks to Consider
If you're looking for the best standing desk in the market, here are five fantastic options to consider:
1. iMovR Lander Desk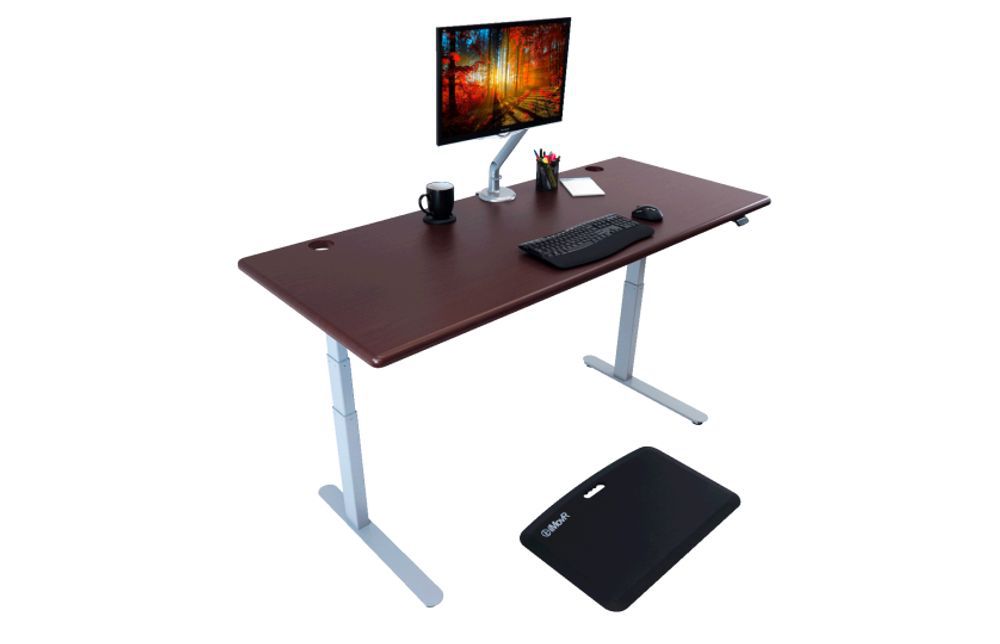 The people who designed Lander Desk from iMovR put a premium on ease-of-use. For one, it's delivered to users "98% factory pre-assembled." This means you won't need tools to assemble the desk. Added to that, you can sync the hand controller to your smartphone for touchless controls.
Price: iMovR Lander Desk costs $1,049 on iMovR's website.
2. UPLIFT V2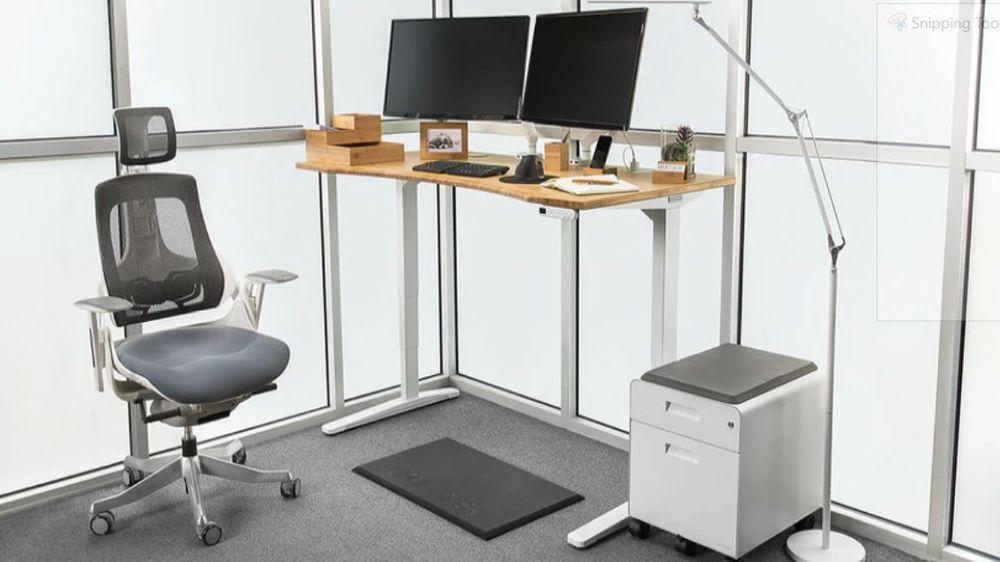 This product was chosen "Best Standing Desk" by Wirecutter twice in a row. A Certified Professional Ergonomist, this desk features a vertical height adjustment range, making it a good fit for users of all heights. It's also quite sturdy, with a 355 lb lifting capacity. You can choose from more than a dozen variants – from walnut and rubberwood to ash gray and whiteboard.
Price: UPLIFT V2 sells for $599.00 from their website.
3. Ikea IDÅSEN Standing Desk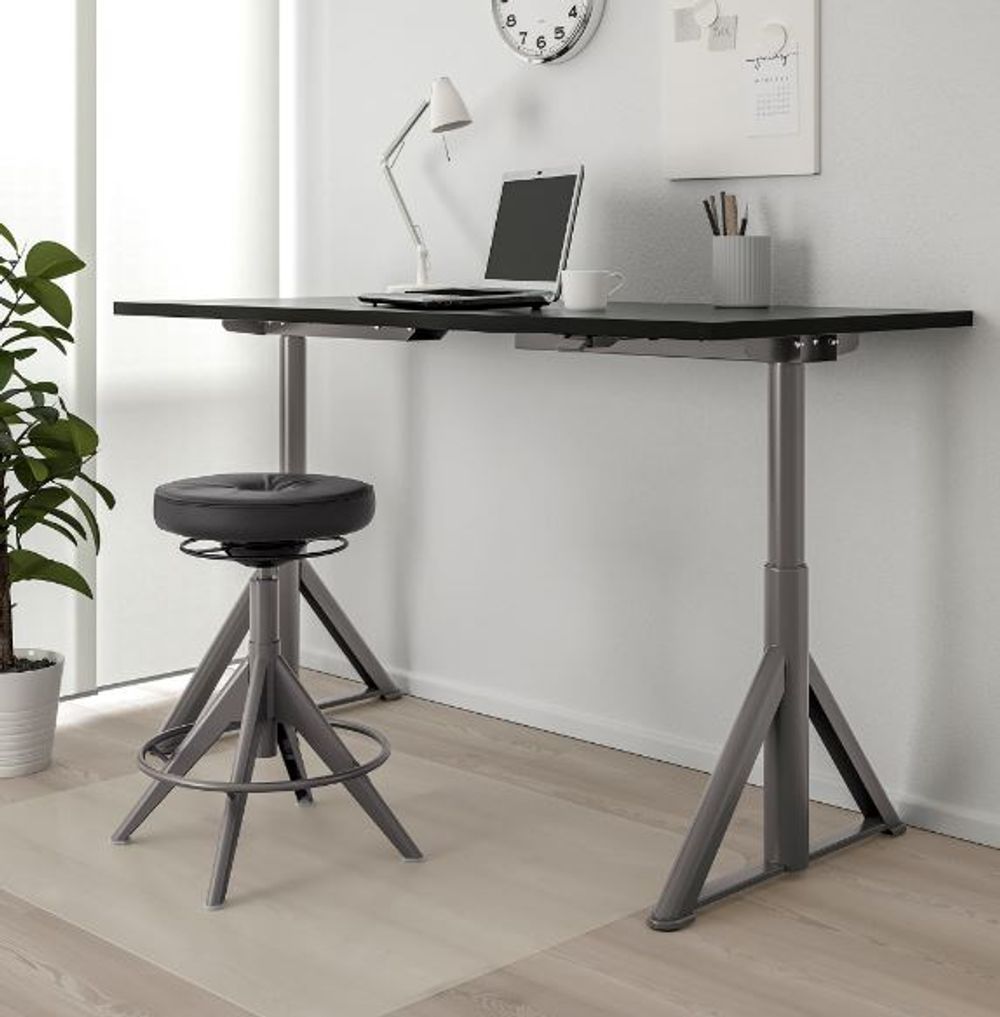 If you're looking for an Ikea standing desk, IDÅSEN variant is a good option to look at. It's a simple but reliable desk that's designed to "outlast years of coffee and hard work." Besides giving the user ample space to work on, it also features a solution to keep cords neat and organized underneath.
Price: IDÅSEN Standing Desk sells for $599 on Ikea's website.
4. Fully Jarvis Bamboo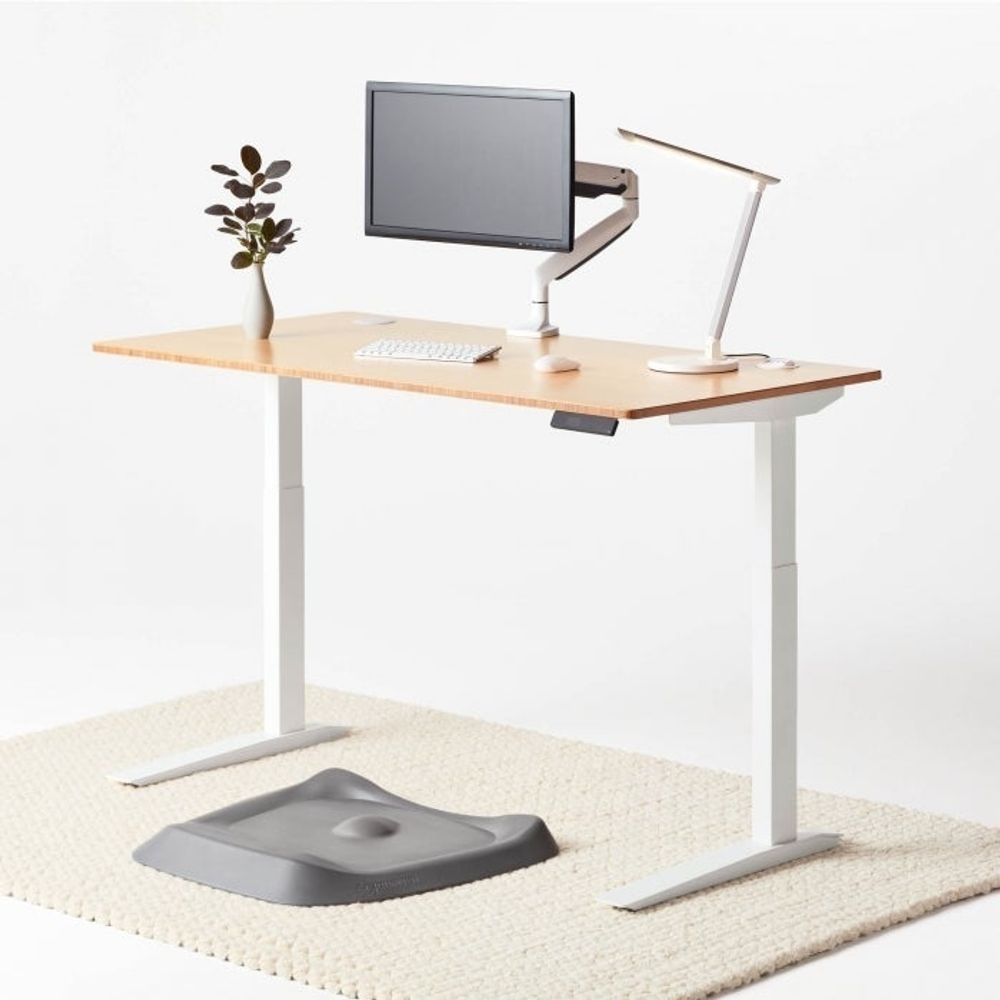 If you're a conscious shopper looking for a desk made from sustainable materials, Jarvis Standing Desk is worth considering. The sleek and elegant standing desk is made from eco-friendly bamboo, coupled with the brand's award-winning frame. It also has an LED-programmable handset you can use to adjust the height of the desk.
Price: Jarvis Standing Desk costs €579.00 or around $680 available on Fully's website.
5. Varidesk Electric Standing Desk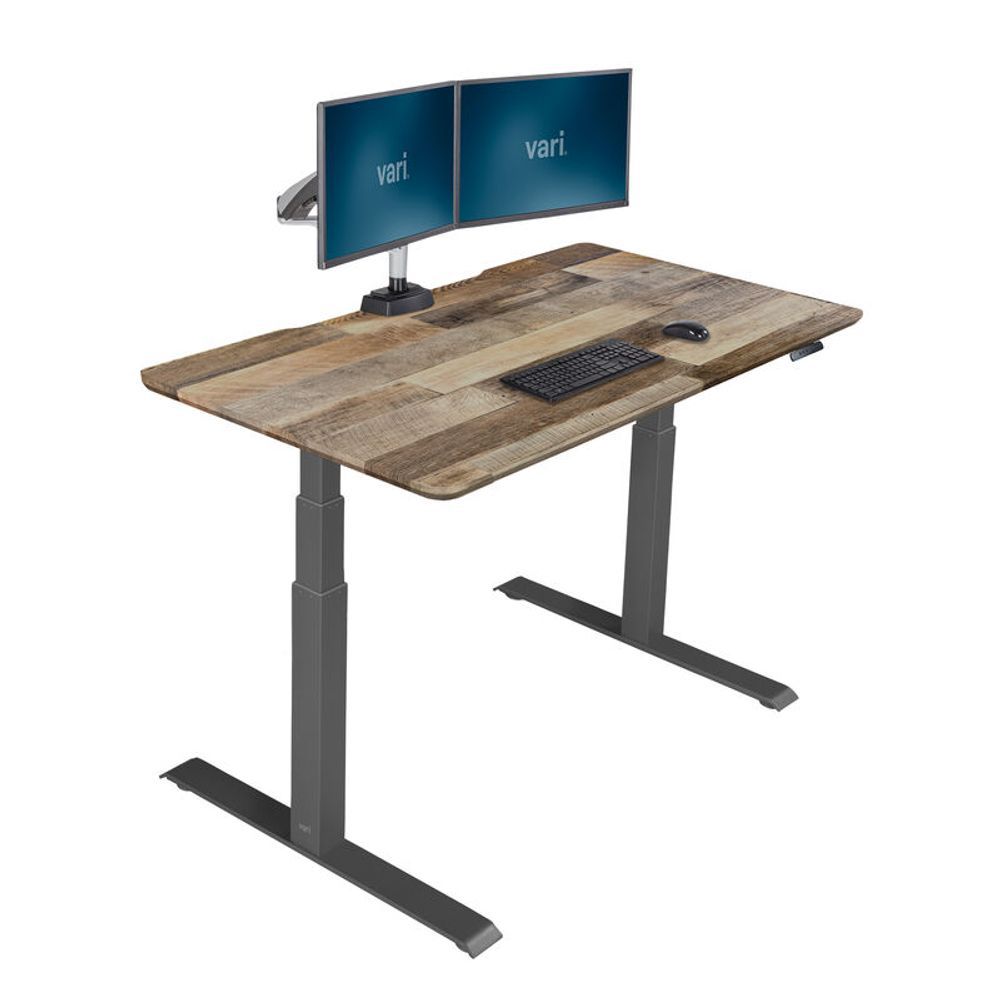 Varidesk Electric Standing Desk features a quiet but powerful electric motor and four programmable memory settings. The heavy-duty frame pairs well with T-Style legs and a durable laminate finish. It comes in five variants: white, black, butcher block, reclaimed wood, and dark wood. The desk comes with easy-to-use tools allowing you to set it up in minutes.
Price: Varidesk Electric Standing Desk 60×30 comes at $650 on their website.