Design Pickle Vs Penji: Which Is The Best Unlimited Graphic Design Service? (w/Promo codes)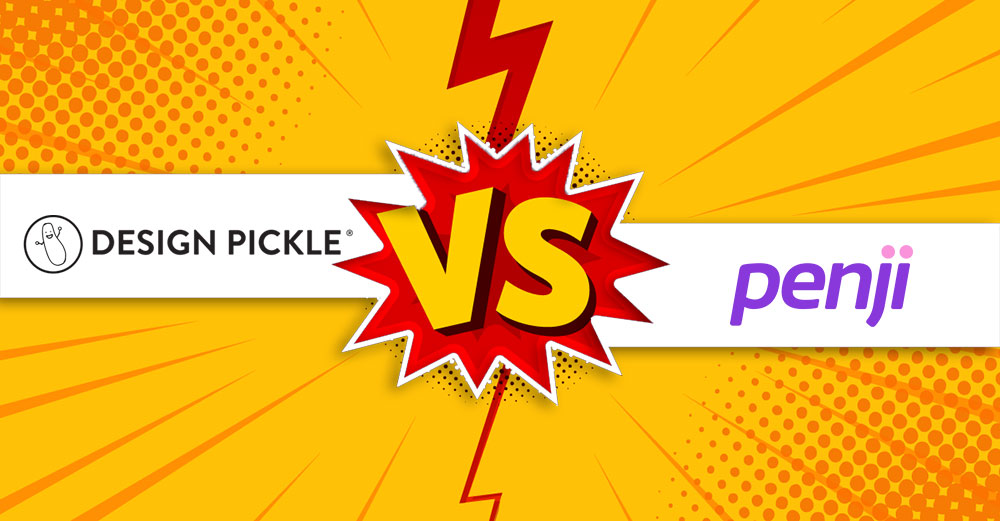 Two names dominate the unlimited graphic design space – Penji and Design Pickle. Design Pickle vs Penji, which is the better service for you? We signed up for both companies and see who offers a better service, so you don't have to.
Unlimited graphic design companies are a new breed of services that are gaining popularity in the last few years (see the complete list of unlimited graphic design companies). Their promise is simple, you pay a flat monthly rate and get unlimited design projects for the month.
No hiring, no HR, no interviews, and absolutely no managing on your part. Just submit the designs, and the company will find the best designer for you and take care of the rest. Sounds too good to be true? We did an in-depth review of Penji and Design Pickle (coming soon) to see if the promise is real, and the promise holds up.
Today, we'll see which of these two unlimited graphic design service providers offer the best value for your money. For our comparison review, we're going to be comparing these two companies based on the following criteria: Speed, Quality, Communications, Ease of use, and Value.
DESIGN PICKLE VS PENJI – QUICK SUMMARY
This is a rather long and extensive review. So if you don't want to go through everything, here's a quick 2-minute summary of everything.
We signed up for both Penji and Design Pickle's $399 plan to see which company provided a better service and experience.
Pricing differences: Penji's pricing included more design types. Design Pickle didn't include Logos, complex infographics, and presentations.
Custom Illustrations: Included with Penji's Team ($499) and Agency ($899) plan. Design Pickle charges $499 add-on on top of your existing plan.
Design quality test: Both companies received the same four projects with the same exact wording, attachments, etc.
Design Pickle won "Versus" blog Featured Image
Penji won Facebook Cover Image For Digital Pub, Print Magazine Cover Re-Design, and Content Infographic Re-Design.
Creativity & details: Penji's designs were more creative and got the small details
Customer support: Design Pickle had more responsive support and online knowledgebase. Penji's account manager was more responsive and proactive emailed us.
Turnaround: Both companies delivered 2-3 drafts within 24 hours. Revisions were also speedy. Design Pickle took 12 – 24 hours for revisions, while Penji usually turnaround revisions the same day.
Platform & Integrations: Both had intuitive and easy to use platforms. Design Pickle had more integrations. Penji's slack integration was difficult to use and requires dev help.
Final verdict
Design Pickle vs Penji, the winner is Penji in several categories. Design Pickle did win in a few categories. However, Penji won in the major categories that mattered. Penji's design quality, attention to detail, and creativeness tends to be superior.
Penji offers better value as covering more design categories. Penjis' team also was more responsive and felt like working with people instead of processes and canned responses.
Design Pickle was excellent in terms of their processes and operations. However, that shows in the design output and communication. Everything felt more mechanical, robotic, and templated.
Penji promo code

If you want to give them a try, use this Penji promo code "OMDVP25" to get 25% off your 1st month. Full disclaimer, we receive a commission when you use the code.
Design Pickle's promo code
---
DESIGN PICKLE VS PENJI FULL REVIEW
Although both companies offer the same services, their pricing model is very different. Design Pickle separates their plans into Pro and Standard. Standard starts at $399/month and you'll be working with a Philippine designer for next-day turnaround.
Meanwhile, the $995 lets you work with the designer via Slack for real-time communication and same-day delivery. You also get advanced infographics, animated GIFS, and Powerpoint designs for the Pro plan.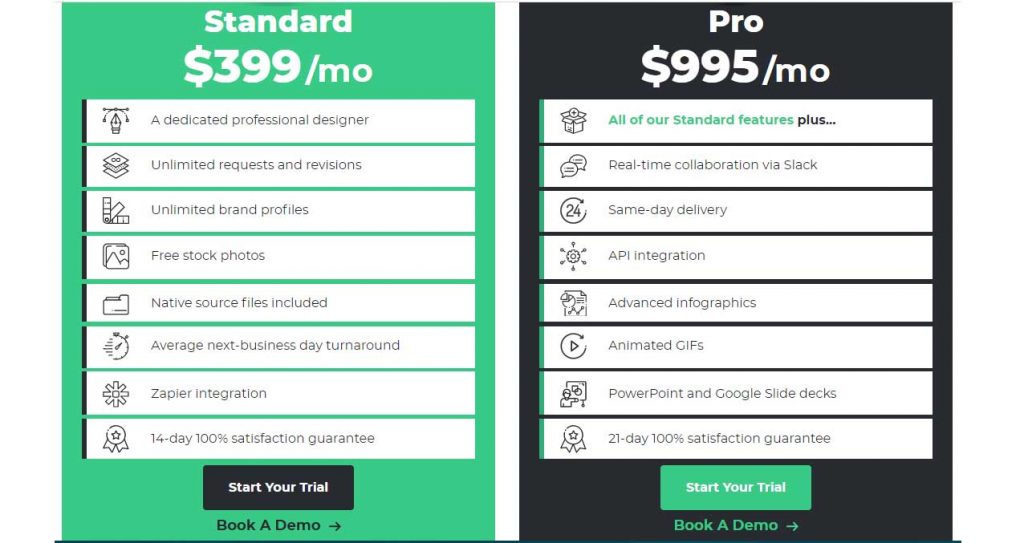 Penji's pricing, on the other hand, has three tiers. Penji's low plan is ironically called its "Pro" plan. At $399/mo it costs the same as Design Pickle's Standard plan and appears to offer the same level of design service. Design Pickle offers Zapier integrations. Although Penji doesn't offer Zapier integrations, they have an Invite feature that lets you add more than one user to the account. I personally find that very useful.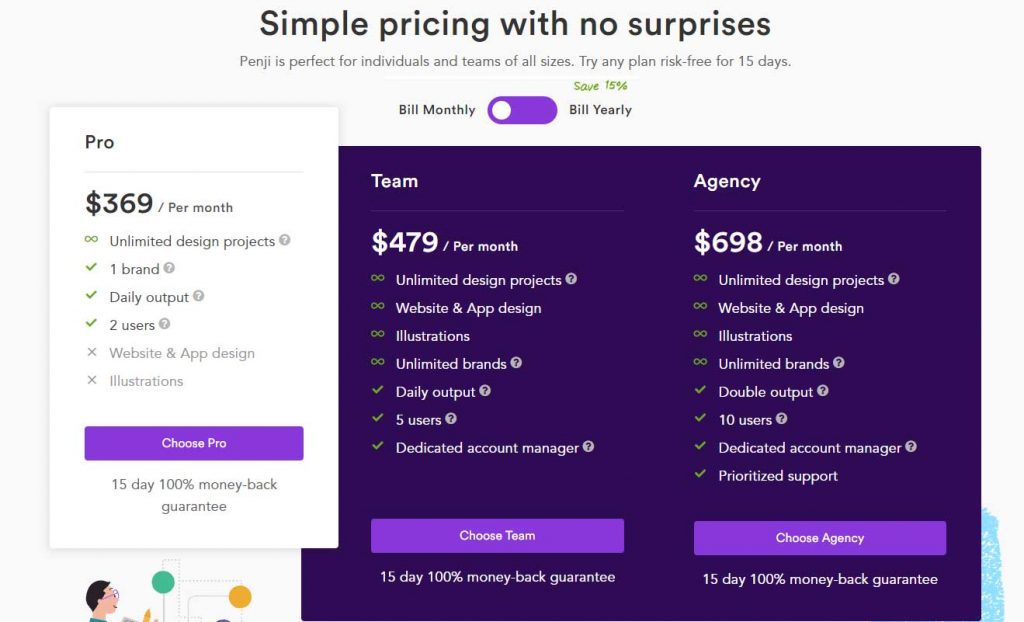 For this review, we chose to sign up for the $399 Standard plan from Design Pickle vs $399 Pro plan from Penji. Here's a chart to compare the two plans side by side.
DESIGN PICKLE VS PENJI $399 PLAN COMPARISON
The pricing page alone doesn't tell the whole story. We want to know exactly what each plan offers and what you get in terms of design offerings for $399/month. After digging around their websites and asking their support chat, we uncovered more details each plan has to offer. Here's a chart we made to showcase all of the hidden features and important benefits included with the $399 plan from each company.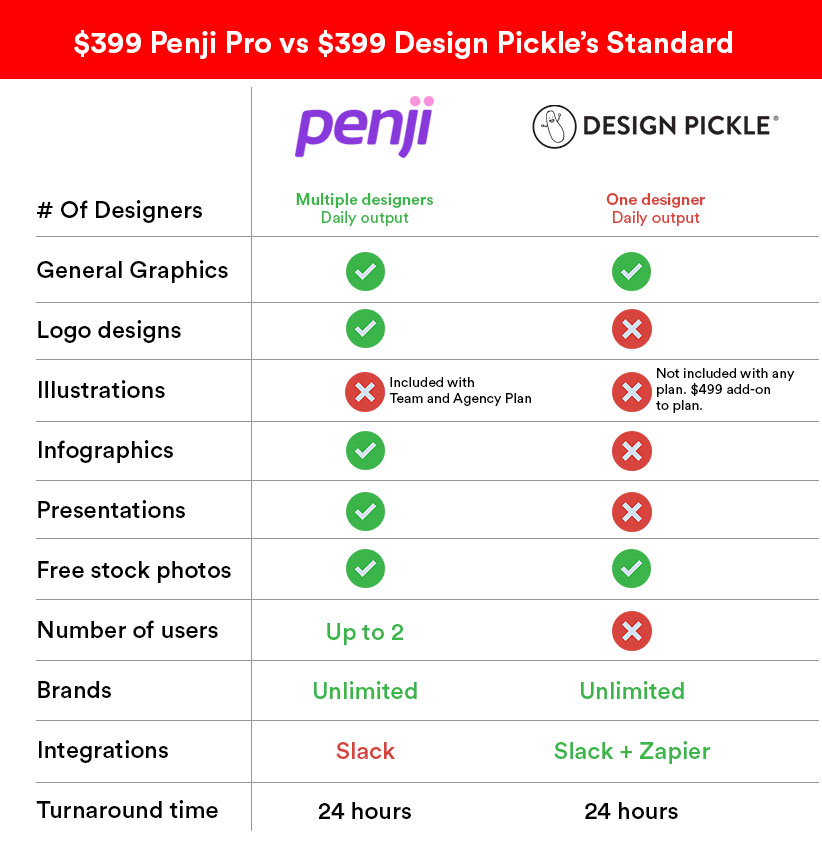 There's a number of differences between the two Company's offerings for their base $399 plans that you need to be aware of.
# Of Designers
This is how many designers you'll be working with essentially. Design Pickle's pricing plans indicate that you'll be assigned to 1 designer and be working with just that designer. Meanwhile, Penji doesn't assign you to any designer until you actually create a project. When you create a project, they will assign you to the best available designer for that type of project.
Penji's support team told me they utilize this method of assigning to make sure we only work with designers who are actually good at the type of design we're requesting. I'll have to give a point to Penji for this one.
Logo Designs
Design Pickle explicitly stated that they only offer Logo design for their Pro plan ($995/m). It's not explicitly stated on Penji's pricing page, but their customer support confirmed logo design is included for all plans.
Illustrations
Neither company offers custom illustrations as a part of their $399 plan. However how they incorporate it is uniquely different. Penji packaged Custom Illustration in their Team ($499) and Agency ($899) plans.
Design Pickle doesn't include Custom Illustration in their Pro plan ($995). To get Custom Illustrations, you will need to pay an extra $499 add-on every month that you need an illustrator.
Design Pickle vs Penji: Here's what it will cost you to get custom illustrations with each company.
Penji: Team plan $499 / month (includes Custom Illustrations)
Design Pickle: Pro plan $399 + $499 Custom Illustration add-on = $898 / month
It costs quite a bit more to get custom illustration with Design Pickle. If you rarely need custom illustrations, this won't be an issue. But if custom illustration is a big part of your design needs, you might need to look closely at this.
1. REGISTRATION AND ONBOARDING
Design Pickle vs Penji's registration process was both smooth and efficient. I didn't feel either one asked too many questions or was complicated. Penji allows you to sign up for any plan you want right away. Meanwhile, Design Pickle only lets you sign up for the Standard plan. To register for the Pro ($995) plan, you need to schedule a demo
Design Pickle versus Penji's Onboarding
After I signed up for their services, both led me straight into their online portal right away. I was able to create my first project almost immediately. I didn't actually get a "Welcome" email with Design Pickle, which was strange, I figured they'd send me something. I did get a handful of emails, one of which was a brilliantly created video that showed me how to write a better project description. The video was quite long, but it was polished, well written, and hilarious. I love that about their company.
Penji was very conservative with their onboarding. I received an official "Welcome to Penji" email with essential information, which was nice. Then the next day I received an email from someone named Charmaine from their company. It wasn't a templated or auto-responder email, it was my account manager emailing asking how I was doing. I liked that.
2. CREATING DESIGN PROJECTS
Now for the real question – who provides better quality designs? All the features, bells, and whistles are pointless if the company can't turnaround quality designs for you.
We created three test projects and posted them to Penji and Design Pickle. To make sure everything was fair, all projects have the exact same description and attachments. We even went as far as giving them the same exact feedback on each of the drafts.
Here are the test projects:
Facebook Cover Image For Digital Pub
Print Magazine Cover Re-Design
Content Infographic Re-Design
"Versus" blog Featured Image
As a digital publication, we work with design agencies and freelancers to get our design work done. These projects are taken directly from our queue. We chose these projects specifically because they all require different skills to complete and will give us an idea of how versatile each company is.
3. TURNAROUND TIME
We submitted the four projects to both Penji and Design Pickle respectively. Both the drafts and revisions were quick by both companies.
Design Pickle
We received drafts for 2 out of 4 projects back the next day. This was very fast, much faster than any of the freelancers we've hired. One of the projects didn't receive submissions because my designer had a question that needed a response, which was understandable.
Upon submitting revisions, I started to see delays. Even when I submitted simple revisions, it seems to always take 24 hours no matter how small or big the revisions were.
Penji
We received drafts for 3 out of the 4 projects back from Penji within 24 hours. Just as fast as Design Pickle. My designer also asked a question about one of the projects, but she skipped that one and worked on the 4th project instead of waiting for my response.
Revisions were usually done the same day. And I noticed that if my designer isn't online, my account manager would assign another designer to quickly jump in and make the revisions.
Turnaround Winner…Penji
Design Pickle vs Penji in terms of turnaround time, Penji is the faster company. Both companies were fantastically speedy with delivery and I can't say I was disappointed with either company. However, Penji was able to deliver fast revisions, especially simple ones much quicker. And that's important because waiting 24 hours for a fix on a small grammatical error is frustrating.
4. DESIGN QUALITY
Now for the ultimate reveal. Design Pickle vs Penji, which company produced better quality design? See for yourself.
"Versus" blog Featured Image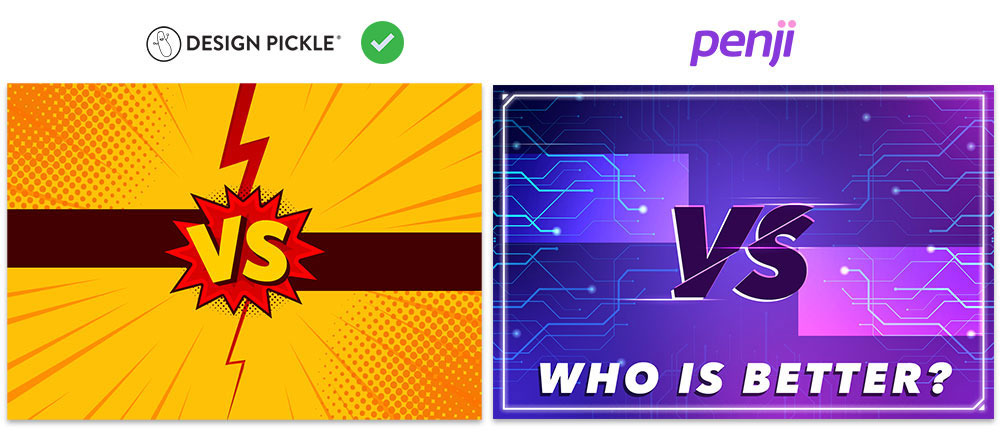 View DP's design | View Penji's Design
This was a fairly simple blog graphic request. We write a lot of comparison articles and wanted a featured image that we can use as a template and swap out names of products or companies we're comparing.
Design Pickle: My designer was Arvin. It took us several revisions to get to the final product, and overall it's very close to what I had envisioned. 8/10
Penji: My designer was Kenny. It also took several revisions, however, I can't say I was pleased with the final product. It felt like Kenny was just following literal instructions and nothing more after the 2nd revisions. I give this project 5/10.
---
Facebook Cover Image For Digital Pub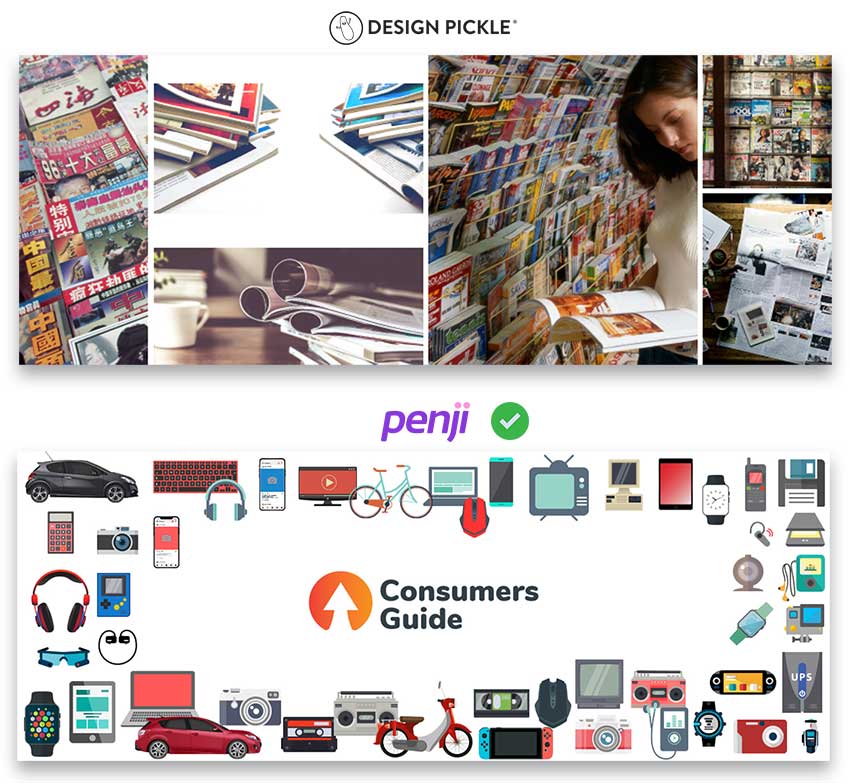 View DP's design | View Penji's Design
One of our publishing partner Consumer's Guide needed a new Facebook cover photo. This was a fairly simple design request, with the exception that you have to check out the website and understand what the company does in order to create a banner. I gave special instructions such as …use the Logo in the design and showcase what the publication does on the cover image.
Design Pickle: Given I was impressed with Arvin on the 1st project, I was thoroughly disappointed with this one. I don't think the designer ever went to the website to review the publication at all. Just a glance would've helped. This looks like 6 random images from Pexel or Unsplash stitched together. 3/10
Penji: Rowell (a different designer) was assigned to this project, and it seemed like he took the time to review the website before designing. I didn't even know, but apparently there was a new logo on the website that I wasn't aware of. Rowell took the time to ask for the new logo. The end result was beautiful and our friends over at Consumer's Guide loved it. 9/10
---
Print Magazine Cover Re-Design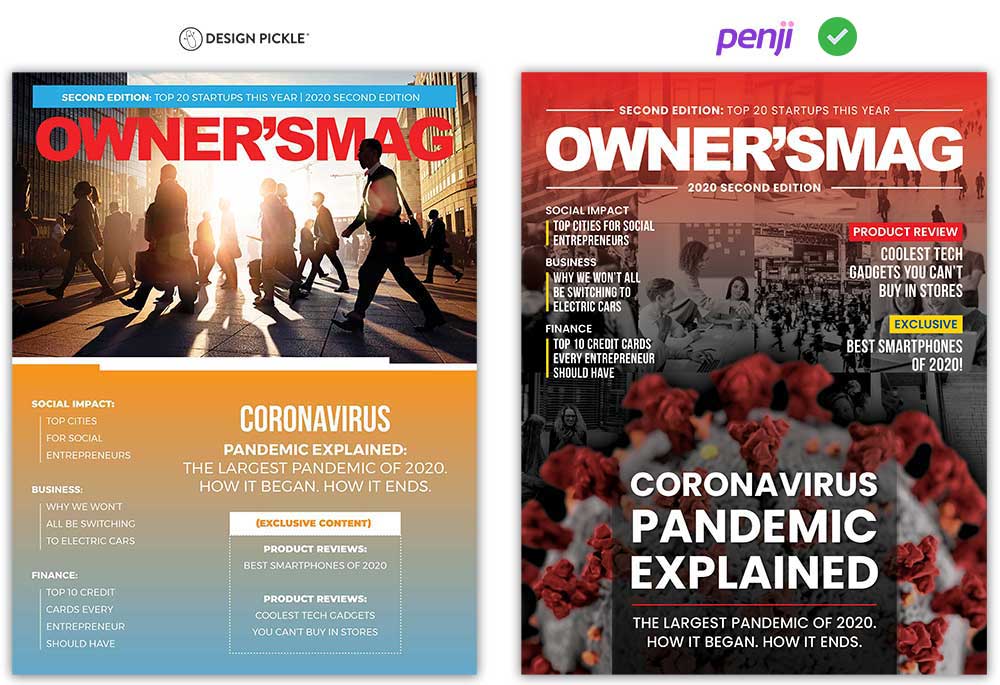 View DP's design | View Penji's Design
By far one of the most important projects for us. We're both a digital and a print publication and this spring we're releasing another edition of Owner's Mag. The designers are tasked to design the actual cover for Owner's Mag second edition print magazine. All instructions, copy, and even past designs were given. The cover needed to look professional, refined, and most importantly highlight the Coronavirus Pandemic. I also asked for this to design in Photoshop.
Design Pickle: I was assigned to Alyssa randomly, and wasn't sure why. The first draft was atrociously bad and she gave me Adobe Illustrator files instead of Photoshop like I had requested. Arvin (my main designer) was quickly re-assigned to fix the design. Several drafts later, it's just nowhere near the level of polish and professionalism that we needed. I gave instructions to "Highlight the Coronavirus" section. My designer proceeded to make the texts CORONAVIRUS texts bigger. Quality rating: 3/10.
Penji: Billie was assigned to this project. The first several drafts were simply amazing. It was clear to me that Billie has designed plenty of magazine covers before as she knew where to place things and how to organize content blocks on a cover. It took a few revisions to be perfect, but I was happy from the beginning.
What I was most impressed with was how she clever highlighted the "Coronavirus" section. I was speechless at the final product. I showed the design to my editor and they couldn't believe it didn't come from one of the design agencies we hired. Of all the designs we submitted, the quality and level of creativity in this design far exceeded our expectations. And this is the design we will likely be going with for our print edition. Quality rating: 10/10
---
Content Infographic Re-Design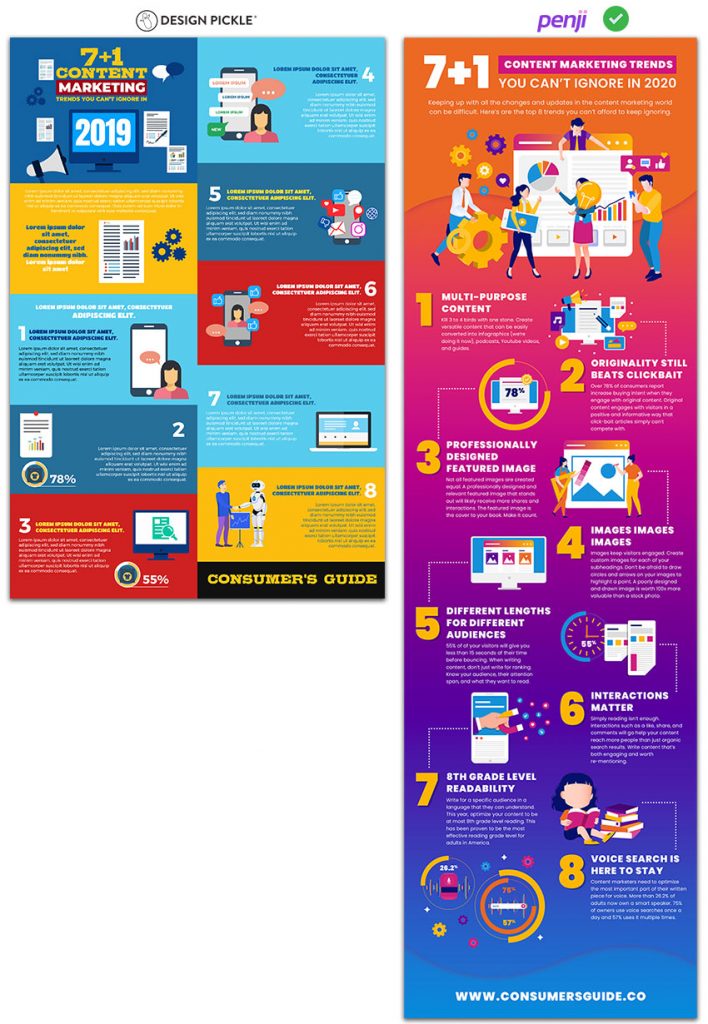 View DP's design | View Penji's Design
Infographics are some of the most challenging and difficult designs to get right. We've hired a lot of people to design infographics for us, and it's hard to find someone good who understands how to design infographics. Infographics need to be entertaining to look at. And they also need to present statistics and numbers in a creative and meaningful way that's easy to read and digest. We weren't sure how either Design Pickle or Penji would fare in this. If anything, we expected both companies to do poorly.
Design Pickle: Arvin did follow instructions, however, there was no creativity in the design. It's just left and right blocks of texts and icons. The icons were all of the different stylings, clearly from different designers on Freepik or another free resource site. And there's just no creativity in this design. It looks boring, bland, and the numbers are just displayed. It's hard looking at this design and imagining a lot of thought went into it.
I have to be fair and say that it's not a bad design, but it's not an infographic. Not even close. And this isn't something we can use to publish for our audience. Design quality: 4/10
Penji: I was assigned another designer from the beginning, but requested for Billie given how impressive her Magazine cover design was. The result – absolutely breath-taking. The gradient is beautiful and easy to look at. Each item from 1 – 8 was organized and flow gracefully down the page.
Each icon makes sense with its content block. And the way the 55%, and 78% statistic was intelligent and meaningful. All of the content seems like they fit and flow together. This infographic design is on the same level of professionalism and detail that we're used to from working with design agencies in our city. Design quality: 10/10
5. ATTENTION TO DETAILS

Both designers from Penji and Design Pickle were fantastic individuals to work with and we don't have complaints with either Arvin or Billie. However, designers from Penji seem to pay more close attention to the details of the designs. In several designs, if you inspect closely, you can see how much attention Penji designers put into all the little details.
There was a lot of little errors from Design Pickle's submission. The woman in the pink shirt icon is duplicated in two of the graphics. The 78% graphic didn't make any sense and you can't see the tiny icons inside of the icon.
The other thing that bothered us was the use of colors. The design on the left had poor color choices for the background colors. The light-blue is used twice, and they connect and bleed into each other (1 and 7). Penji's design on the right had colors that complement one another and just overall looks more professional.
6. CREATIVITY

Creativity is a difficult thing to measure and ask for. It's easy to tell your designer to "be creative" with the design, but it's almost impossible to pinpoint. Creativity is one of those things where you just have to trust that your designer has.
My experience working with Design Pickle vs working with Penji was polarizing. Despite giving the same instructions and feedback word for word, the outcome was completely different. Design Pickle's designers were great at following detailed instructions and almost too good to the point where they didn't put in their own creativity.

For the Magazine cover design, I gave the following instructions
Have stock images of people moving and working in the background to show movement
Make Product Review and Exclusive sections stand out
The major headline is "Coronavirus Pandemic Explained". Make this the most prominent element on the page
As you can see from the image above, the two designers both had a different creative vision for how to make the Coronavirus section stand out. To us, Penji's vision was more creative and impactful.
ONLINE PLATFORM
Both Design Pickle and Penji have their own dedicated platform, which is both a good and a bad thing. We personally prefer if their designer just joins our platform and works with our team on Asana or Trello. But we understand their business model can't allow for that kind of personalization.
Both platforms were super easy to use and I have very little complaints. They're not complex platforms and are both seamless enough that you won't need any complicated tutorials or share-screen walk-through to get the hang of.
I didn't like how Design Pickle's platform constantly tries to sell me their CEO's content. The platform tries too hard to get me to click on links to his podcasts, webinars, etc. and I was more annoyed than appreciative.
Penji's platform is cleaner, less bulky, and didn't try to sell me anything. And that, I appreciated. I get that Design Pickle wants to get more clicks and signups for their CEO's webinars, but there are better ways to do that.
INTEGRATIONS
One of the things I love about Design Pickle is its abundance of integrations thanks to Zapier. Although I haven't used it myself, my co-workers swear by it and have used Zapier integrations with other software. I don't know how their Slack integration works because we signed up for the Standard plan, but I have a feeling it's not actually an integration, but more so someone joining our slack team and working with us. And that's a great thing.
Penji didn't have Zapier integration, instead, they have Slack Integration API. It was a bit complicated and required our developer to actually setup with our Slack. Definitely not user-friendly or intuitive. This point goes to Design Pickle.
COMMUNICATIONS
Communication is VERY important in graphic design. Both companies did an exceptional job communicating within all of the design projects. Despite not being able to meet or talk to any of the designers and having everything be done online, communication always felt responsive and tight with both companies.
The one thing I like about Penji was that my account manager was very active in communicating with me. I believe I also had an account manager for Design Pickle, but I can't even remember their name since they rarely contacted me except when I wanted to cancel.
My account manager, Charmaine, emailed me right after I signed up and personally contacted me when she saw that I wasn't happy with some of the revisions. That's an extra layer of care that Penji gave that was missing from Design Pickle. And to me, it made a huge difference in my overall satisfaction.
CUSTOMER SUPPORT
Design Pickle vs Penji's customer support. Both companies provided top-notch customer support and both were very responsive to my needs.
Design Pickle shined in two major areas when it comes to their support. They use Intercom for live chat and during most day-time hours someone was available to answer me. They also have a knowledge base where you can look up commonly asked questions, although I'm not sure how useful this would be since this is a service and not a complex SaaS software. Regardless, it was a nice thing to have just in case.
Penji's customer support was also excellent as my account manager was a real person who constantly checks on my projects and contacts me proactively whenever there was an issue. I really liked the human element that Penji always seems to provide. The downside is that there's no live chat. And whenever I needed help, the chat interface of Penji just sends an email out to my account manager.
Overall, both companies were great. Design Pickle responds faster and has more online help resources. Penji, on the other hand, has a very active account manager who proactively emails me.
OUR FINAL VERDICT
Choosing a winner is difficult as both companies are great in their own respective ways. Both have been around for several years, however, I believe Design Pickle has been around longer. Both provide a great experience and I can't say I'm upset or disappointed with either service. But there are many areas where one outshines the other.
Design quality – Penji
Of the four projects, Design Pickle won 1/4. Penji won the remaining 3/4. The clear winner in terms of design quality goes to Penji. From our experience, the design quality, creativity, and attention to detail were better with Penji than with Design Pickle.
Turnaround time – Tie
Design Pickle vs Penji in turnaround is a complete tie. Both were exceptionally fast with their initial drafts and also revisions. Design Pickle lagged a bit and usually took 12 – 24 hours to complete revisions, but my designer turned around more drafts than Penji.
Penji even though turned over fewer initial drafts, the designs were higher quality and revisions were usually the same day. Both providers were incredibly fast by any standards, therefore we call this one a tie.
Attention to detail – Penji
Penji outright wins in this category. In just about every design submission we received, our designer from Penji seems to pay closer attention to the little details than their counterpart at Design Pickle.
Creativity – Penji
Design Pickle vs Penji's creative output is actually a close one. Arvin from Design Pickle was great at the Versus blog graphics. It was so creative that we're using it for this specific review. However, Arvin and the other designers assigned to me seemed to stumble at more complex projects such as the infographic and Magazine cover.
Penji designers tend to ask me more questions and submit more drafts for me to choose from. You can see from the designs above, submissions from Penji generally appear more refined, creative, and artistic.
Overall, Penji wins at the creative output.
The winner…
Design Pickle vs Penji – the winner has been decided. It's Penji. Both companies are exceptional, however, we chose Penji for the following reasons:
Penji offered more value for the same price
Better quality design, attention to detail, and creativity
Felt like I was working with real people more than processes and automation
This certainly doesn't mean that Design Pickle doesn't have good designers. We acknowledge that luck could play a role. Perhaps Arvin from Design Pickle wasn't the best pick for us. And perhaps we got paired with the best designer on Penji. Who knows. But factoring in multiple criteria and testing various types of design projects, we concluded that Penji gave us a better experience and proved to be a better value.
NEW YEAR'S RESOLUTIONS FOR THE ENTREPRENEUR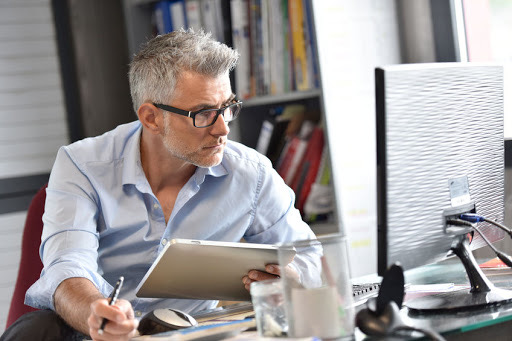 Last year put entrepreneurs and business owners through the ringer. Those with small businesses were faced with a whole new set of unique challenges. Many people were forced into a career change and some elected to go into business for themselves. If you're a business owner or entrepreneur: Congratulations! You made it through last year. Whether your business spent 2020 playing defense or you were able to thrive, the new year is a great excuse to take a look at your business and see where you can improve. Here are the top ten New Year's Resolutions for entrepreneurs and small business owners.
1. Mondays are for Planning
When you are in business for yourself, there is always the feeling that you could be doing something more. Perhaps, you could be optimizing your time better. Make Monday mornings your time to map out your work week. Give yourself 1-2 hours with your planner. Schedule your meetings, work time, and account for travel and lunch breaks. Having your schedule written down makes it easier to adhere to it and you won't have that feeling that you forgot something.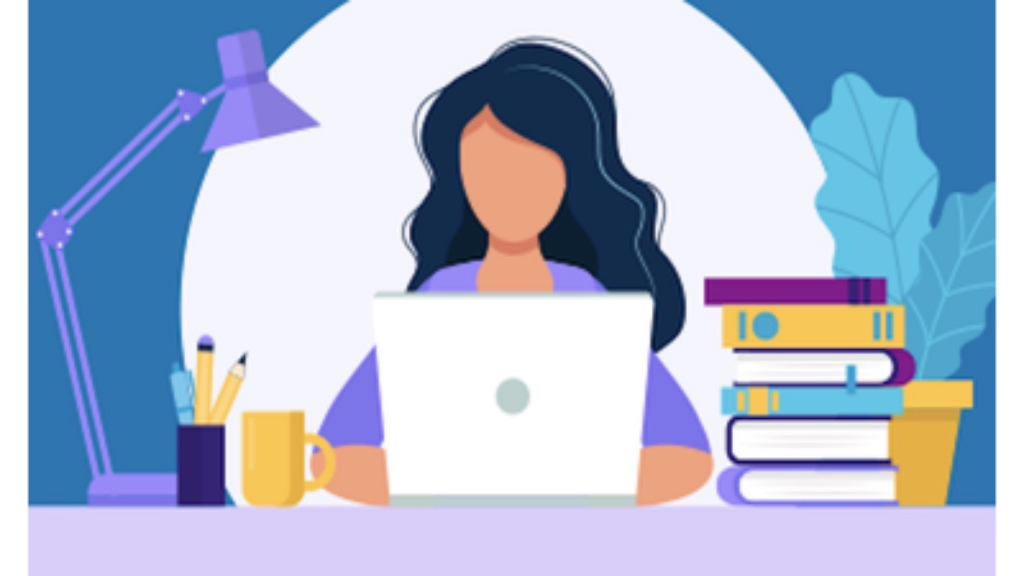 2.    Keep Your Workspace Organized
Whether your workspace is an office in your home or a storefront, you can always benefit from organization. A clutter free desk is optimal for productivity. Invest in a filing cabinet. Vacuuming and sweeping are often overlooked. Organize the wires that run off your desk from your laptop, monitor, charger, lamp, and tools.
3. Keep Business Hours
Yes, there is always more work to be done. But at the same time, there is always tomorrow. Resolve to assign business hours and stick to them. You will find that when you allow yourself the time to fully clock off, you will be more productive when you clock in.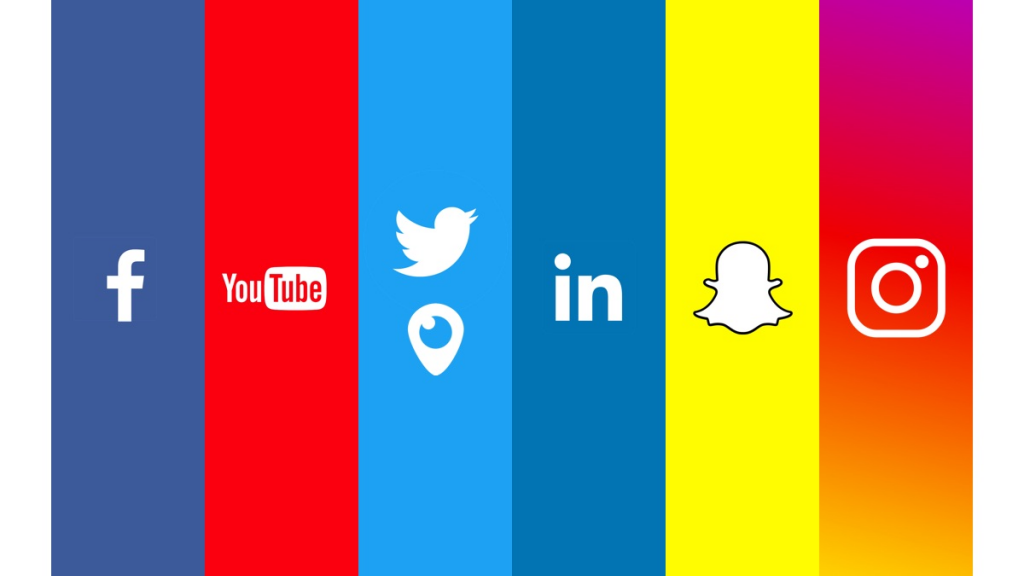 4. Improve Your Social Media Game
It can seem trivial to post and share on Facebook and other social media, but this could not be further from the truth. Engaging in your community through the internet is the biggest way to get your business out there. You don't necessarily have to hire a social media manager. Programs like HootSuite help you manage your posts across all platforms. Just engage more. Try and post something once a day whether it's a picture of your latest project or a special. Like and follow your competitors. Like and follow people who follow them.
5. Tighten Your Spending
The beginning of the year is a great chance to look at the books. The budget is often something we consider when we make a purchase, but don't often look back on the macro level. Do you subscribe to a graphic design agency? Perhaps a cheaper alternative has come along. Have your vendors slowly been increasing their prices? Take the time to look under the hood.
6. Learn Something New
You have spent some time minimizing your steps and running your business the most efficient way you know how. Now it's time to learn about other ways to improve your business. Take a field trip to the competitor's store down the road. Look on their website. What's a good business magazine to subscribe to? Look up your local community college's class catalog.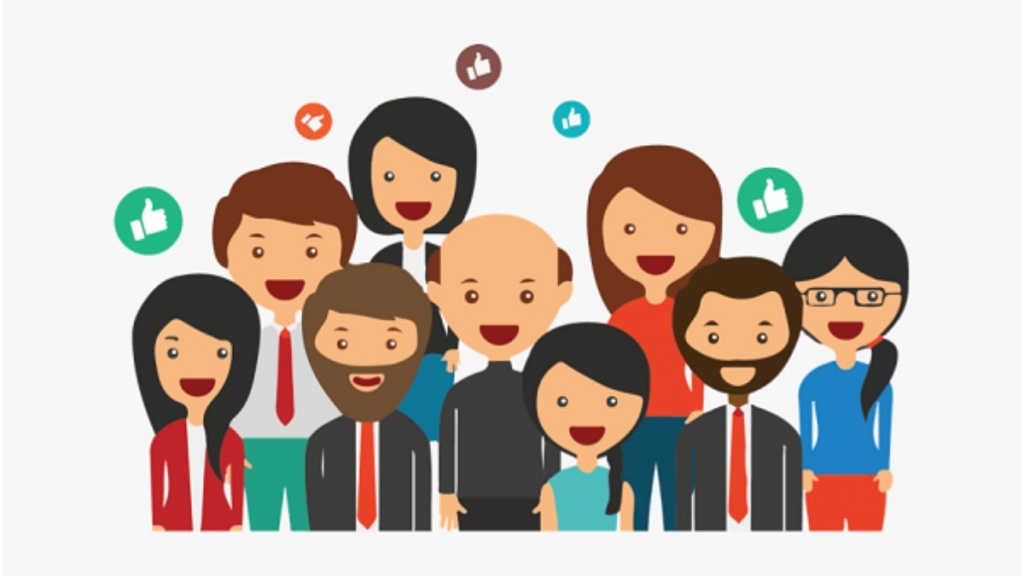 7. Check in with Your Customers
Customers rule your business. Not only are they your source of income, but they also hold the keys to how you can improve your business. Check in with past customers to see how they enjoyed your services. There may be opportunities for repeat business. Perhaps, they were unsatisfied by something, but haven't spoken up. Constructive criticism is… well, constructive.
8. Read Your Mission Statement
You don't have a mission statement? Make one. Your mission statement is your north star. It helps keep you on track with your goals. If you do have one, take the time to meditate on it. Has your business strayed from what you set out to be? Perhaps you have evolved beyond it. Take the time to realign and adjust either your work or your goals.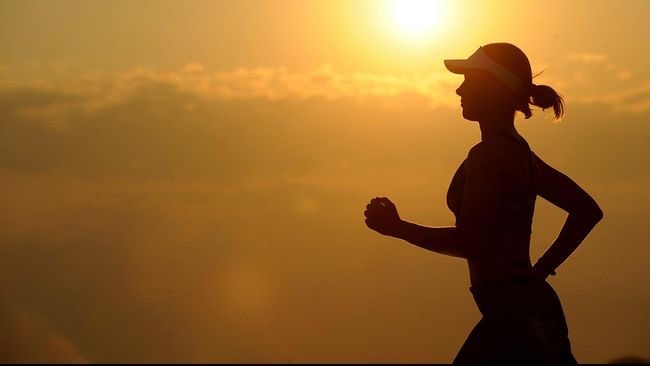 9. Exercise
For the truly dedicated, work can take precedence over everything else. If you're deadline driven, nothing will get in your way. This attitude is essential in the short run but can be problematic in the long term. Make a point to take care of yourself outside of your business. Eat right, go for a run or walk. Clear your mind. Afterall, you are the head of your company. You want to be firing on all cylinders.
10. Journal
Just as important as organizing your days in the beginning, you should also keep a journal at the end of the day. Set aside time to record the things you accomplished, and things you are hoping to accomplish. What did you learn today? Did you come across any problems? How did you resolve them? Journaling gives us the chance to reflect on the things that we ignored or overlooked.
Stocks and 2020: A Love Story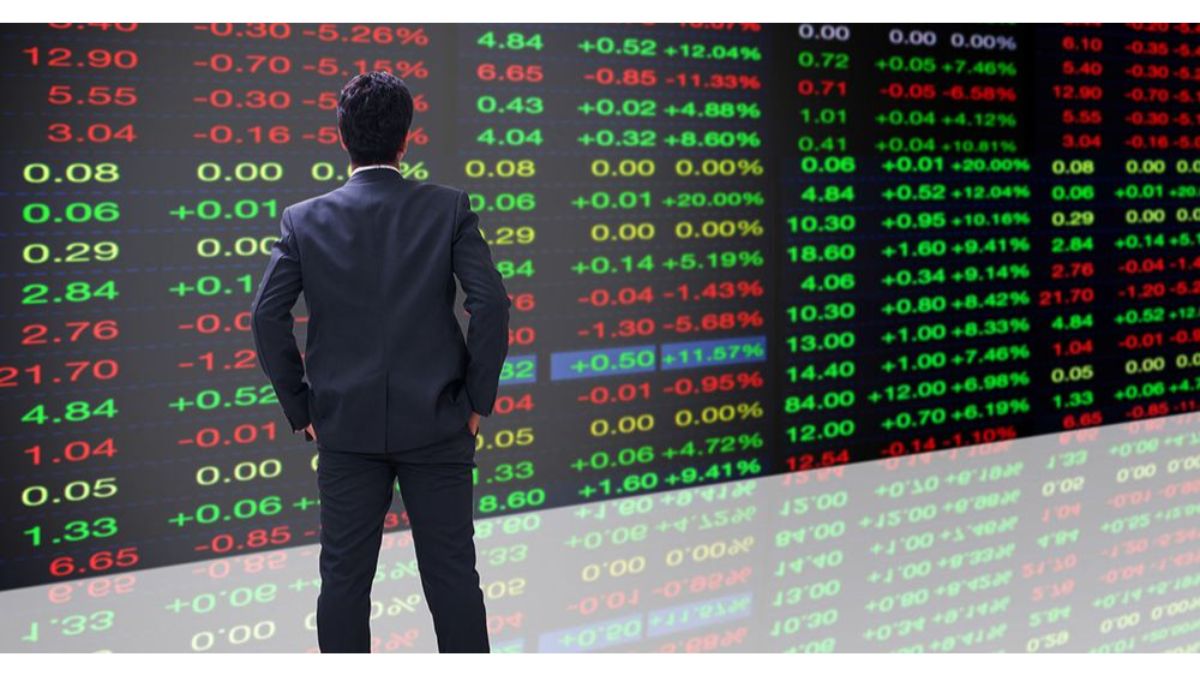 With 2020 finally in our rearview mirror, some investors in the stock market are licking their wounds – hoping that 2021 offers some relief. Many business owners are now watching from the sidelines as their companies did not make it through the year. The pandemic and subsequent lockdowns have radically affected our economy and how the world does business. While industries like travel and entertainment have taking a beating on the market, some companies have been able to thrive. Here are some of 2020's most successful businesses on the stock market.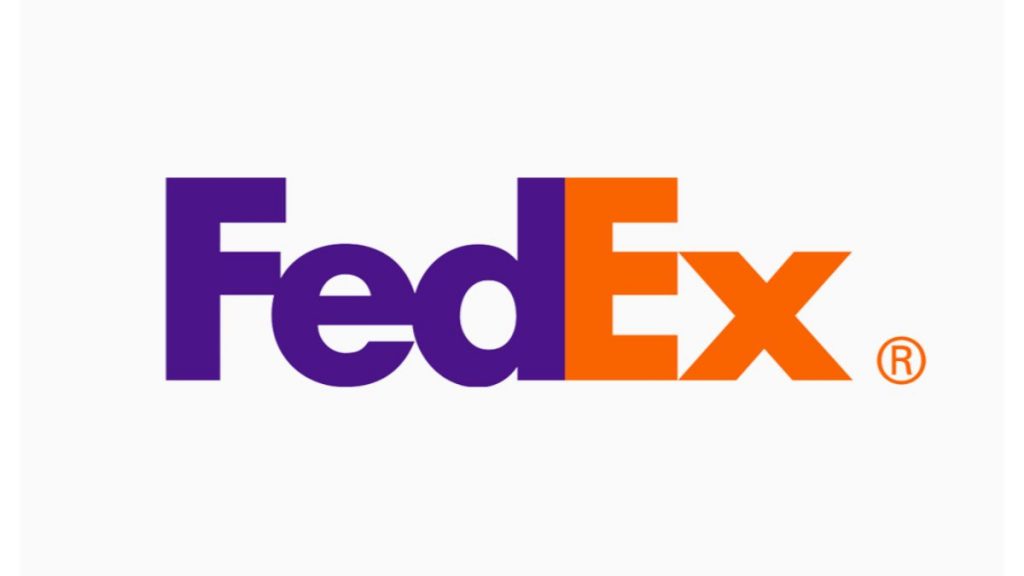 FedEx (FDX)
Unsurprisingly, the dramatic lifestyle changes that the world faced last year has paved the way for a successful FedEx in 2020. While foot traffic at storefronts went down, people took to the internet to do their shopping, and FedEx was there to deliver.
Stock at start of 2020: $152.42
March 2020: $90.39
Stock at end of 2020: $262.20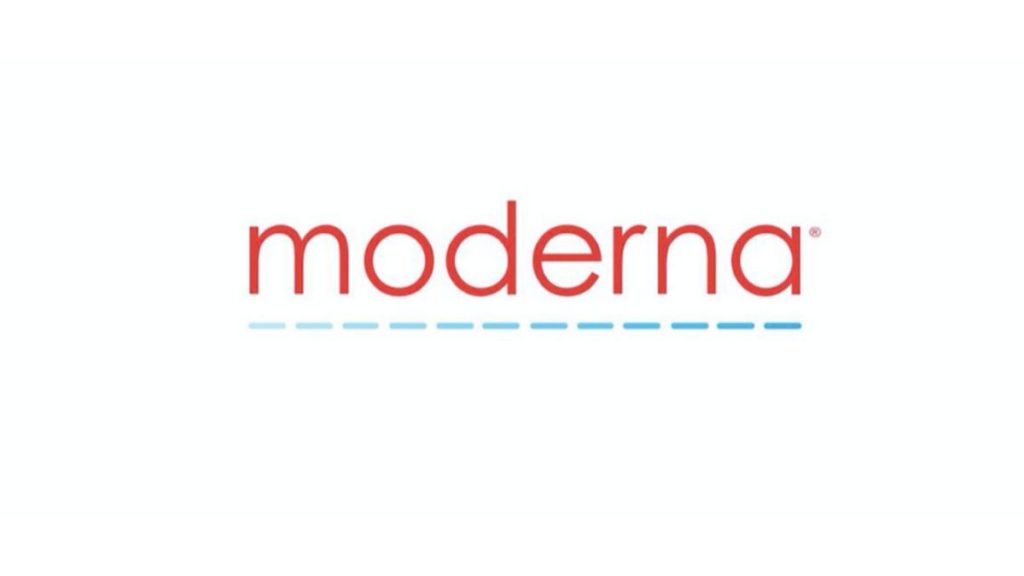 Moderna (MRNA)
Moderna is one of the drug development companies to create a vaccine for COVID-19. Developing a vaccine in a fraction of the time it would normally take, the company has seen success in both development and value. It saw nearly 600% growth.
Stock at start of 2020: $18.70
March 2020: $21.30
Stock at end of 2020: $104.77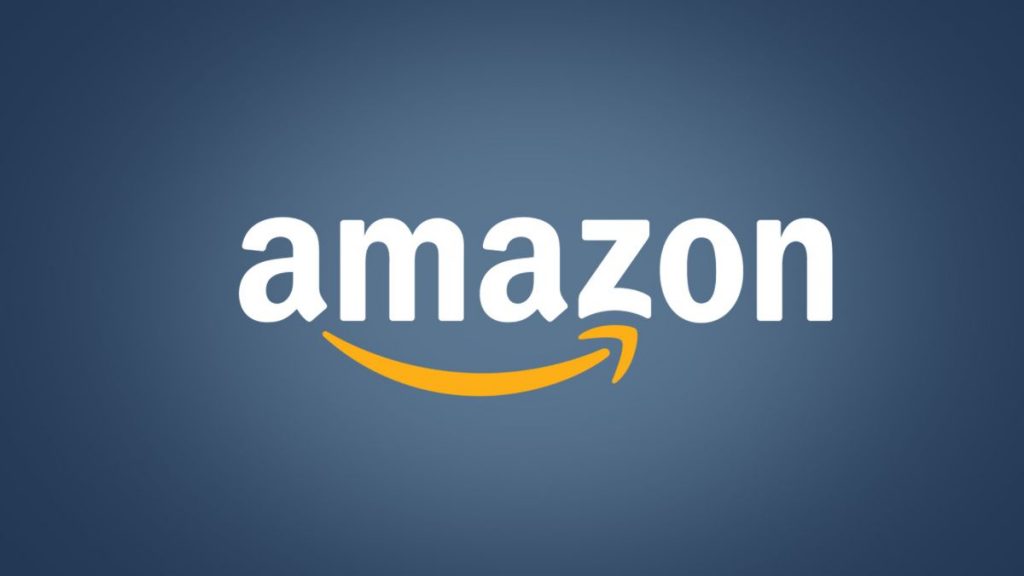 Amazon (AMZN)
Amazon is another business that is seemingly pandemic proof. The lockdowns were devastating for the mom-and-pop shops, but Jeff Bezos only small more success for his online shopping juggernaut.
Stock at start of 2020: $1,874.97
March 2020: $1,874
Stock at end of 2020: $3,259.93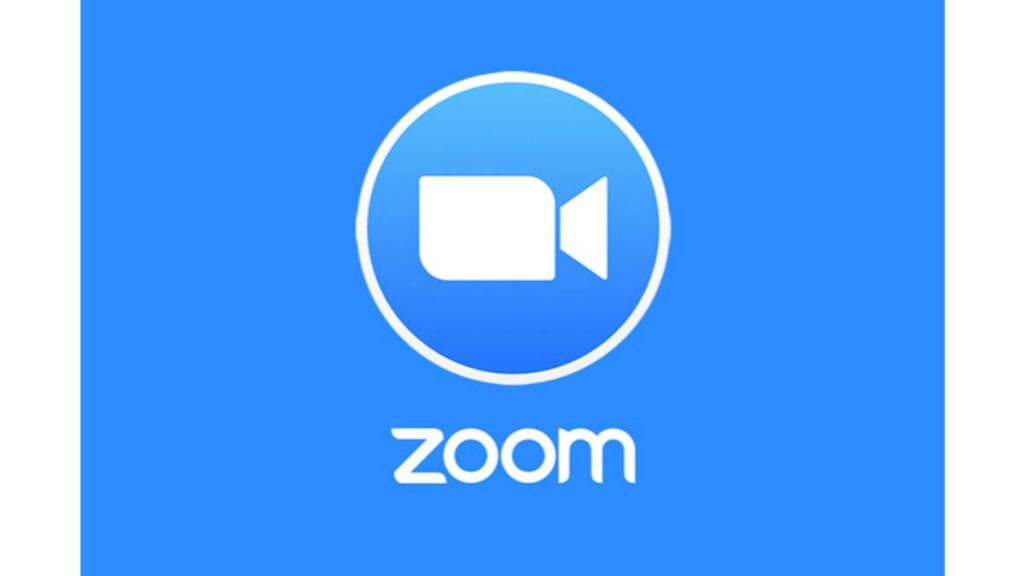 Zoom (ZM)
As millions across the world adapted to working at home, Zoom became a household name. Companies used Zoom to conference with their employees and clients. Friends and families used Zoom to stay in touch when they weren't allowed to leave the house.
Stock at start of 2020: $67.28
March 2020: $107.47
Stock at end of 2020: $337.32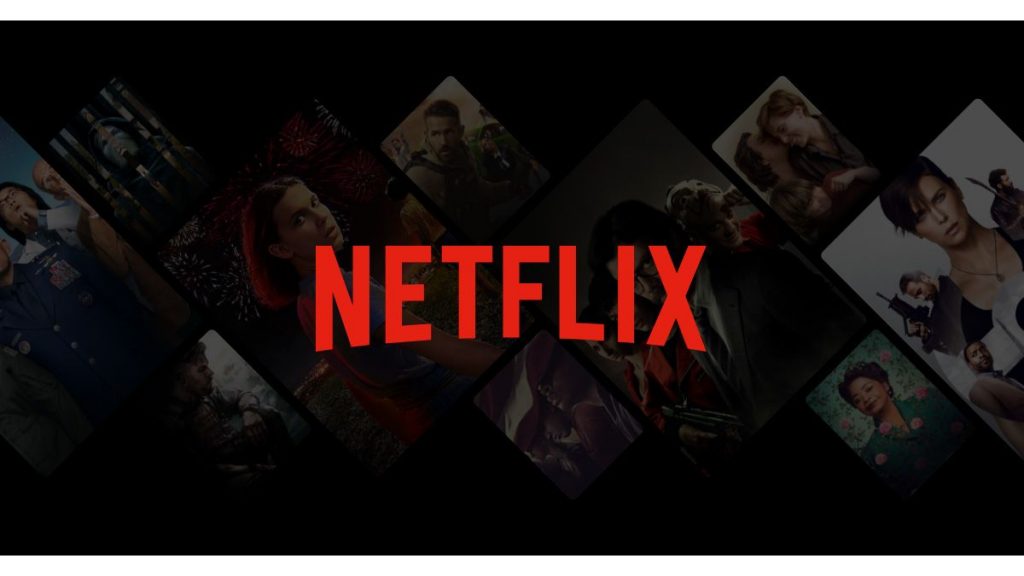 Netflix (NFLX)
Last year, movie theaters and gyms were closed. Sporting events and concerts were cancelled. In some places, it was even prohibited to go for a walk in the park. When looking for some entertainment and a break from the doom and gloom of the news, households all around turned to Netflix.
Stock at start of 2020: $325.90
March 2020: $332.83
Stock at end of 2020: $540.73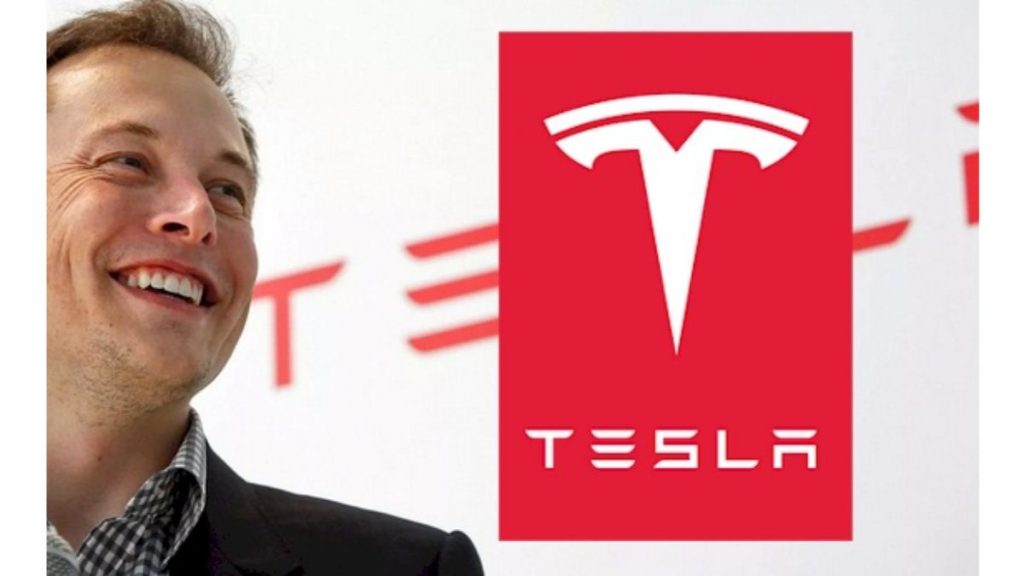 Tesla (TSLA)
Elon Musk's electric vehicle company, Tesla has seen amazing success in 2020. With 830% growth from the beginning of the year, Tesla became one of the top ten most valuable businesses in the world.
Stock at start of 2020: $84.90
March 2020: $72.24
Stock at end of 2020: $705.67
Even with vaccine distribution well underway, the world is not out of the woods yet. COVID-19 and the lockdowns will leave a lasting impression. And the market will adapt. With businesses adjusting to incorporate a permanent work-from-home model, some think Zoom maybe worth a long-term investment. But what will Netflix and FedEx look like as the world opens up again?
7 Crucial Trends in Graphic Design Technology You Should Know About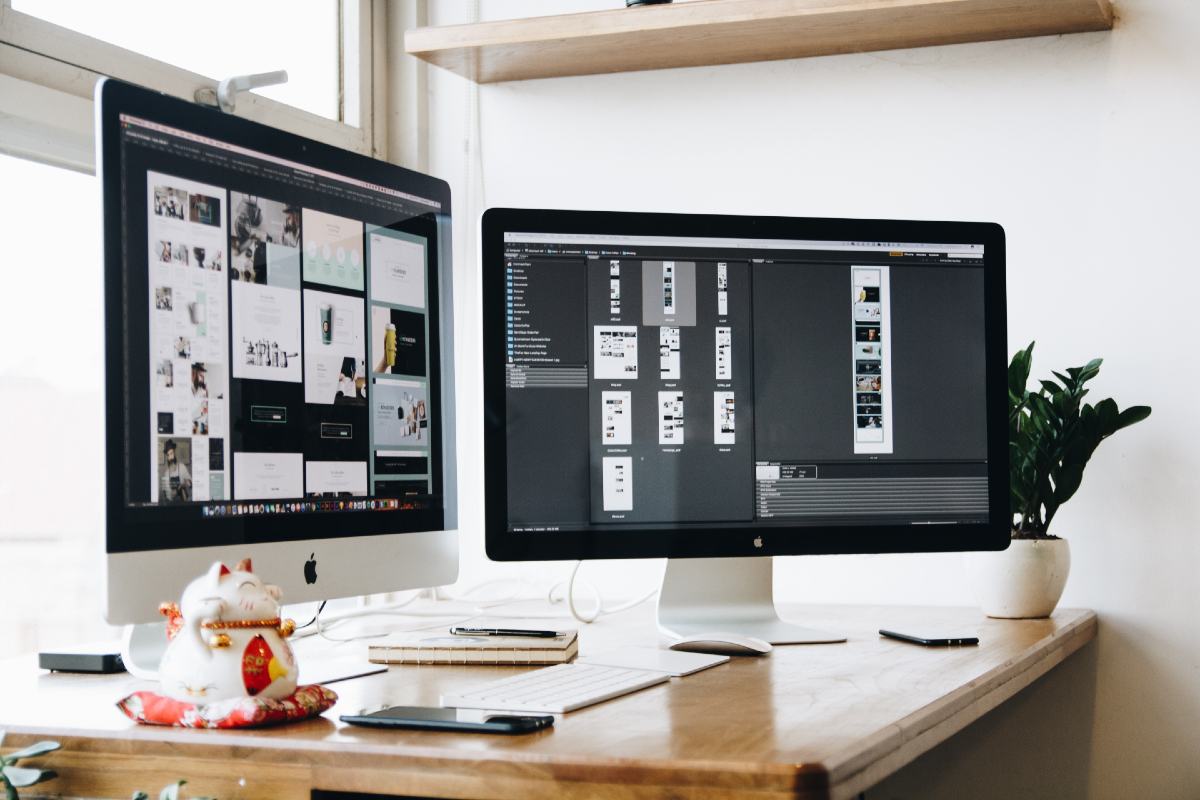 The value and need for the services of graphic designers are of pressing importance nowadays. Any business or company will know how crucial great graphic design work is to its brand and marketing strategies. And it's no secret that technology geared towards improving the graphic design process has risen in the past few years. With emerging technologies in graphic design and a whole global talent pool at anyone's disposal, there is absolutely no excuse for a company not to get a graphic designer.
As trends change and industries adapt to the ever-changing atmosphere of creative work, one must know where graphic design is going in the next few years. Whether you're a graphic designer yourself or you hire graphic designers, it's important to put one's ear on the ground and listen to the rumbles of the digital industry and marketing world.
Here are some seven crucial trends that graphic designers, marketers, and business owners should get a vibe of in 2021 and beyond.
1. Artificial Intelligence in Graphic Design
Artificial intelligence is on an inevitable rise and is changing the way we do business. In 2015, only 10% of businesses used some form of artificial intelligence in their operations. Only four years later, that number rose to 37%, a 270% jump in such a short amount of time.
New technology in graphic design is moving towards making use of artificial intelligence in the design process. AI companies are venturing towards developing systems that use the massive online repositories of fonts, icons, and colors to develop algorithms that will produce sleek design work for companies.
But for graphic designers afraid of the day that robots will take over their jobs, there is little to worry about as artificial intelligence in graphic design looks to augment and not replace human designers.
2. The Rise of Non-Adobe Graphic Design Software
It's hard to imagine that there was once a time that Adobe held a near-monopoly on the graphic design software industry. Tools like Adobe Photoshop, Lightroom, InDesign, and Illustrator seemed to be the only viable options for editing graphics and making various collaterals and materials. But today, there are more options available to designers.
Tools like Sketchapp, Pixlr, and Vectr are great alternatives to Adobe Suite products. Designers can also now use cloud-based design software Canva, which starts with a free plan. To check out all the available graphic design software available, check out this graphic design software guide by CompareCamp.
3. Increased Demand for Landing Page Design Software
Nowadays, people who run online businesses will have some form of landing or sales page to promote their products. A landing page is one long-form web page that sells one or a few products with a compelling storyline or sales script.
Building websites previously needed fluency in HTML and CSS to happen. But today, various landing page design services are available online.
Services like Leadpages, Convertkit, Instapage, Shogun, and Kajabi allow people to create websites with a drag and drop interface and practically zero code work. These services also provide various landing page layouts that have proven conversion history with other users.
4. On-Demand Graphic Design Services
Another rising trend in the field of graphic design is the surge of on-demand graphic design services, a business model that gives customers access to a team of graphic designers whenever they need them. This model contrasts with the more traditional method of hiring a freelance graphic designer.
With on-demand graphic design companies, clients get a hold of a graphic design agency and ask the company to link them with a designer when needed. Compared to hiring a freelance designer, getting an on-demand graphic design service can provide certain benefits, including instant availability and a wider variation of styles. Of course, there is still a place for freelance graphic designers, but on-demand graphic services prove to be a good alternative to companies who don't need a high volume of graphics for their business.
One good example of a company that provides on-demand design services is Penji, which offers entrepreneurs and small businesses access to a graphic designer who can create unlimited designs for as low as $399 a month.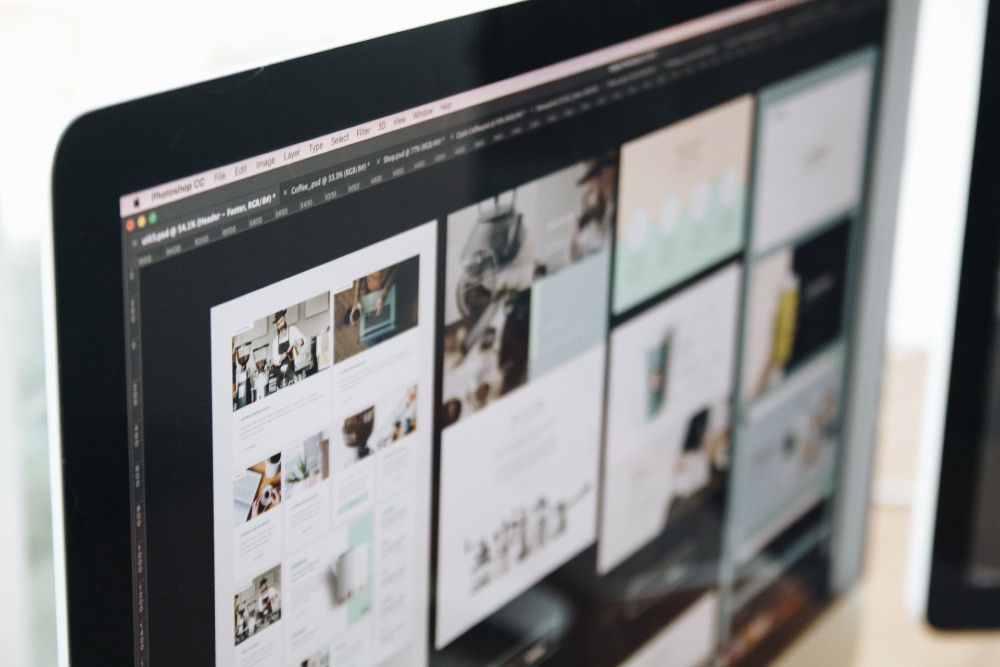 5. Infographics Templates and Builders
In the last few years, infographics have taken the internet by storm. Nowadays, even B2B marketing places a big premium on infographics, with 65% of B2B marketers using some form of an infographic to promote a product or service.
But anyone who wants to keep up with graphic design trends should know that there is now an extensive collection of infographics templates and infographic-generating online services available online. Now, graphic designers don't have to start from scratch when making infographics, saving a lot of time and resources. Online tools like Piktochart and Venngage are great examples of such services.
6. Computer Systems Design
As high as the demand for graphic designers is today, the industry is hitting a tipping point. Experts say that the number of available graphic design jobs will decrease by 4% in the next few years. But even as the overall market for designers falls, there's a subset of graphic designers that disproportionately goes against the flow.
As the number of needed designers in print and traditional media poises itself for a drop, there will be an increase in needed graphic designers in computer systems design. In fact, a report shows that there will be a 20% increase in computer systems graphic designers from 2016 to 2026.
7. Smarter Revision Software
One of the most tedious parts of the graphic design workflow is dealing with revisions. Designers have dealt with the seemingly never-ending back and forth of revisions and comments. A good chunk of the refurbishing of designs often happens because of a lack of communication between clients and designers, especially when communicating online.
As innovators look to address that need, some have become better at improving the revision process with graphic design technologies. A good example of such tools includes Wipster, Filestage, Usersnap, and Skitch.
Where Graphic Design is Heading Towards in 2021
The year is coming to a close pretty soon, and we'll be welcoming another new year before we know it. As 2020 comes to a close, it's time professionals in the creative space and business, in general, should start looking towards graphic design trends 2021 predictions. Like every other year, graphic design trends have changed immensely as people seek more novel ways to communicate messages.
But just as important for graphic designers and clients to know are the various technology trends shaping the way designers operate and work. Much has changed in little time as more services that help with the creative process pop out. Yet even as more and more softwares becomes available, creatives will be happy to know that the future looks bright for graphic designers everywhere as many of today's tools look to streamline the creation process and allow artists to work smarter and more effectively.
Of course, that is if graphic designers stay with the times and continue watching over the horizon for the next tool that will provide them with hacks to improve their design processes. For anyone ready to adapt to the latest trend in graphic design and try new tools and processes, there can be a whole new world of possibilities and growth in the field of creative work.