Camden Catalyst – $25,000 Pitch Competition Recap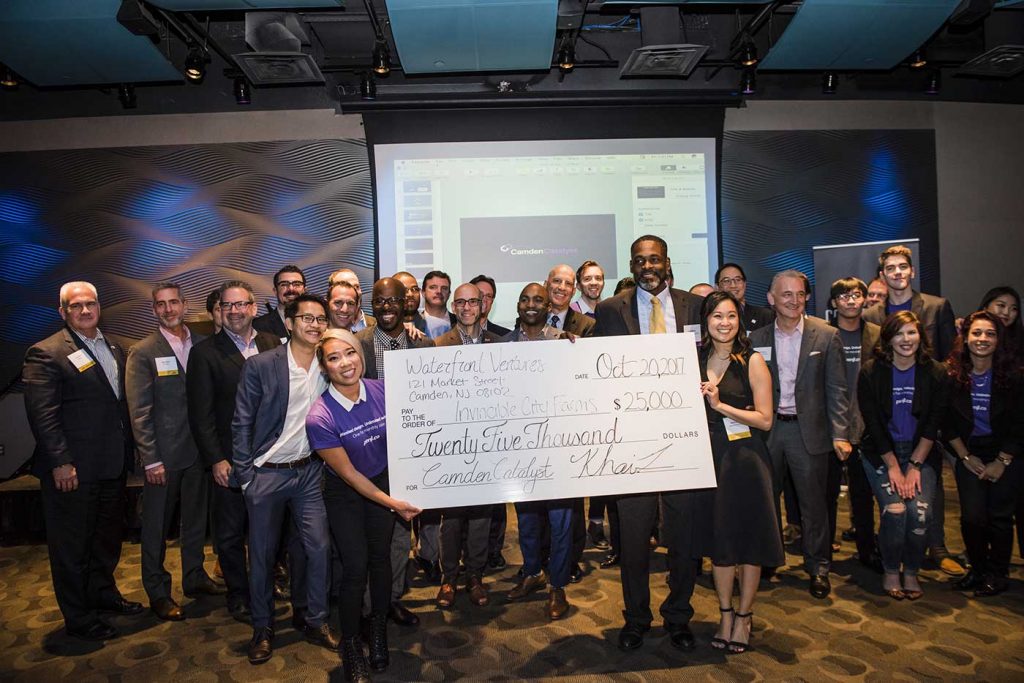 Camden Catalyst was a $25,000 pitch competition hosted in Camden NJ with the goal of attracting Tech Startups to the city of Camden. The first annual Camden Catalyst was hosted on October 20th 2017 featuring a judging panel consisting of leads, innovators, and people that are shaping Camden.
Camden has been an active community within the last several years due to nearly $2.5 Billion (that's with a capital B) in tax credits given to Fortune 500 companies to move to Camden. The incentive drew many companies to the city including Holtec, Subaru, 76ers Innovation Lab, and American Water to name a few. The last several years Camden has been busy with many of its major construction along the Camden Waterfront done by Liberty Property Trust and also development of Knights Crossing overseen by Brandywine Realty Trust. The process has garnered attention from businesses and startups from the surrounding region.
Waterfront Ventures
In 2016, Waterfront Ventures, an economic development organization, joined Camden with a mission – to bring 100 startups to the city of Camden to kickstart the startup community and provide jobs/opportunities for Camden students and residents. If Waterfront Ventures is successful, they promise Camden will be a vibrant community with an abundance of jobs/opportunities with a similar ecosystem like Philadelphia. They've since hosted several conferences in the city including Startup Conference on May 25th of 2016, UP Conference on January 14th of 2017, and also hosted a plethora of events and programs such as Breakfast with Titans, Camden Tech Meetup, and Lighthouse Mentorship.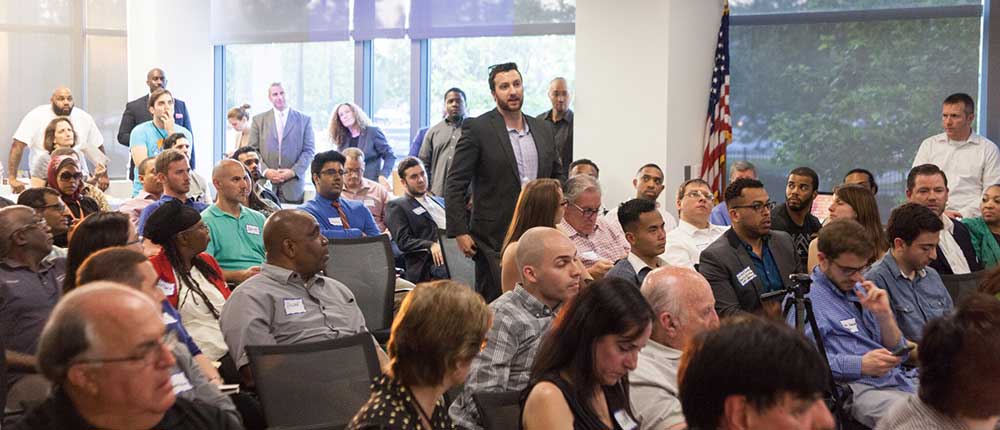 Birth of Camden Catalyst 3/24/17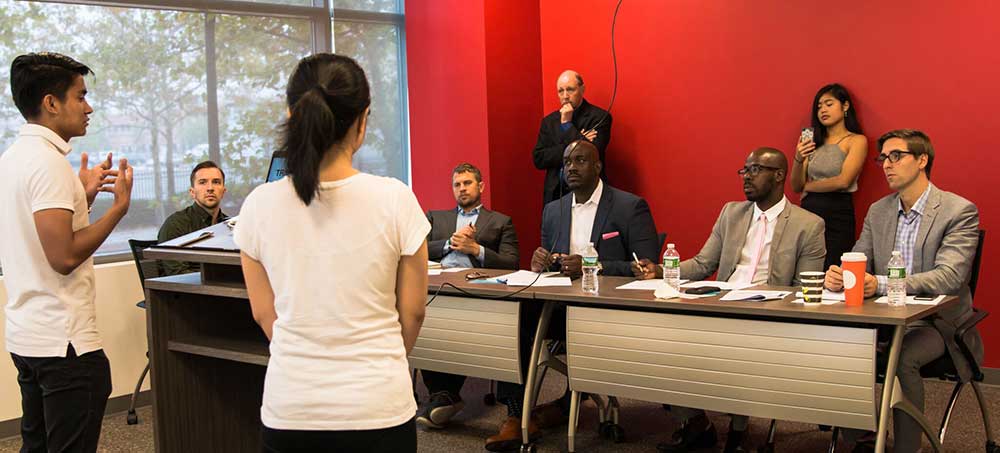 Given their growth and development in the city, a pitch competition was inevitable. On March 24th, Bob Moul CEO of Cloudamize, Dan Rhoton CEO of Hopeworks N' Camden, and the Waterfront Ventures team got together and created a pitch competition with a prize pool of $25,000. The plan was to have a high enough prize pool to generate buzz for Camden and also provide incentives for a startup to consider building their HQ in the city. The winning startup would have to build their HQ in the city of Camden, hire their first employee in the city, and 50% of their workforce must be Camden students or residents. With the plan in place, the team set out and created Camden Catalyst and announced it to the world.
The Practice Pitch 8/17/17
Hundreds of startups signed up within weeks of Camden Catalyst going live.  The Waterfront Ventures team's first challenge is to call and vet each and every single startup to ensure that they meet the requirement and qualify. 102 startups qualified through the screening process. On August 17th the team created a practice pitch to help first time entrepreneurs prepare for the big day.
Camden Catalyst Pitch Competition – 10/14/17

The big day took place on October 14th 2017 at the Waterfront Technology Center. Of the 102 startups that passed screening, 40 made it to the big day to pitch. The pitch competition's format required 2 groups of judges in order to accommodate 40 startups. The judges from these 2 groups were community leaders in Camden, non-profit organization leaders in Camden, business owners, investors, and innovators both in Camden and Philadelphia. The first round was a 90-second elevator pitch. The startup had to sell to the panel of judges in 90 seconds to move onto the round of 16. This was challenging since most of the startups have planned for a 10-minute pitch, but few were ready for a 90-second elevator pitch.
From the 40 startups that came, 16 moved onto Round 1 of Camden Catalyst.
Round 1 of Camden Catalyst
The Waterfront Ventures team opened up Camden Catalyst by sharing the mission and vision of the organization and what their hopes were for all the startups in attendance. 16 Startups will enter Round 1, and 8 Startups will move onto Round 2 of Camden Catalyst. The startups and judges divided into 2 separate rooms and Camden Catalyst officially commenced.
Round 1 Judges
Brett Buterick, Associate at Hill Wallack LLP
Shahid Rana, V.P. of Business Development at Cooper's Ferry
Rashaan Hornsby, President at Education Over Everything Foundation, Inc.
Sean M Brown, Chief Operations Officer at DuBois Douglass Strategies
Sean O'Donnell, Partner at BALLAST IP LAW, LLP
Ryan Wertman, Co-Founder and Business Lawyer at Growth Counsel
Damon Pennington, President & CEO at ATS Group, LLC
Startups that pitched in Round 1
Rezzio (Jessica Sarkisian)
Eoko (Jeremiah De Leon)
Rising Leaders (Jamia Santiago)
Frostheave Fantasy Esports (Kyle Hampton)
Networked (Roger Chinchilla)
Unishare (Stephanie Huang)
Engageathon (Veniece Newton)
First Responders Live (James Corbett)
Tribes (Liwen Ma)
Nuj Health (Deboleena Dutta)
Higher Hospitality (Yaz Barqawi)
Round 2 of Camden Catalyst
The success of Round 1 brought 8 semi-finalists to round 2 where they competed again for a seat to pitch at the Camden Catalyst Awards Ceremony & Final Round on October 20th 2017.
Judges for Round 2
Chris Kohl, Vice President & CIO at Vertex Inc.
Chuck Sacco, Assistant Dean of Strategic Initiatives & Director of the Baiada Institute at Drexel U. Close School of Entrepreneurship
Johnathan Grzybowski, Co-founder of Penji
Startups that pitched in Round 2
The 8 startups pitched their ideas to the panel of experienced judges in round 2 and the finalists were determined at the conclusion of the 6 hour Camden Catalyst Pitch Competition. The 4 finalists will now have time to recuperate and plan their strategies for the final round on October 20th.
Camden Catalyst Award Ceremony & Final Round 10/20/17

This is the biggest startup event ever held in the city of Camden. Over 470 attendees came to the award ceremony to witness the very first winner of Camden Catalyst and to celebrate the birth of an emerging tech community in Camden. Attendees ranged from CEOs and executives from the major fortune 500 companies in Camden, city officials from City Hall, freeholders of Camden, Rutgers/Rowan/Camden County College representatives, to startup founders, community leaders, investors, from both sides of the bridge.
The event was a huge success and brought everyone who shares a common dream together under one roof. Camden Catalyst was the historic day where all the business owners, executives, founders, and investors who believe in Camden came together to support a new startup coming into the city. It was a day of celebration, joy, excitement, and love.
Opening Ceremony
The event opened up with Congressman Donald Norcross sharing his hope for the city and excitement for a new age of technology. Freeholder Director Lou Cappelli followed up with a talk about his efforts to bring safety and security to Camden and elaborating on the police department's great work in the city to lower crime rates and increase public safety.
Let the final round begin!
Katrina Naidas, CEO of Linked Noodle kicked off Camden Catalyst with her 10 minute pitch about her tech startup. Her startup Linked Noodle connect students and local instructors. Instructors aren't limited to teaching boring education-based classes. Linked Noodle is a platform for creatives to teach what they know and love best. And allow others to join in on the fun. Prospective teachers and students meet online and end with a tangible offline connection.
Robert Rupp, CEO of Denial Flow pitched second and presented his idea on solving a $250 Billion dollar health insurance issue. The mission of Denial Flow is to bring a lean and agile software to enterprise revenue cycle management while providing clean, practical solutions at a reasonable price.
Veniece Newton, CEO of Engageathon pitched third and presented her idea of providing an incentive empowerment software for students and community. Engageathon is a software platform that provides tools for school districts, nonprofits, and corporations to improve community engagement. They will use Engageathon to promote, track, and reward student engagement, outreach, and social impact.
And finally Fredric Byarm, CEO of Invincible City Farms presented his idea of building a sustainable farm in Camden to solve the food desert problem and also provide jobs for residents in Camden.
The Winner is announced!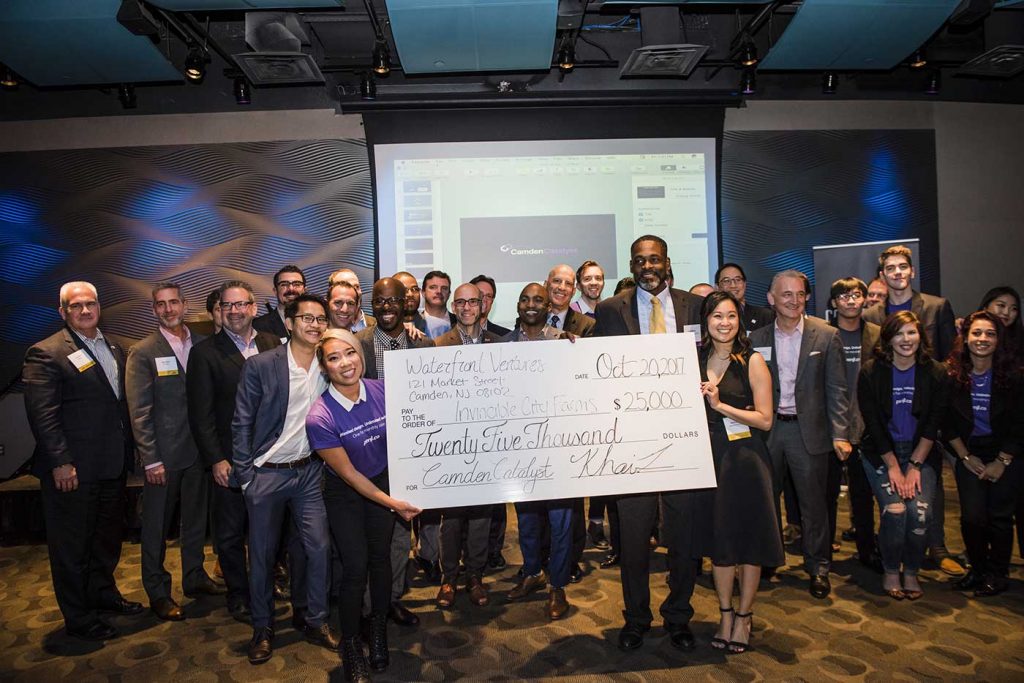 With much excitement and anticipation in the room, the winner of the first annual Camden Catalyst Pitch Competition is announced…Invincible City Farms! The room exploded with applause while the startups all congratulate one another and come together for a group celebration.
Camden Catalyst was an exciting event to witness and brings a different kind of energy and enthusiasm to the city. It's a much needed energy, the kind that sparks innovation, ideas, and the kind that drives people. Now the rest of Camden will have to wait and see if Invincible City Farms can live up to the hopes and expectation that was set out for the startup.
Waterfront Ventures also announced they are currently working to put together the second Camden Catalyst for 2018.
Why The Second Amazon Headquarters Should Choose Raleigh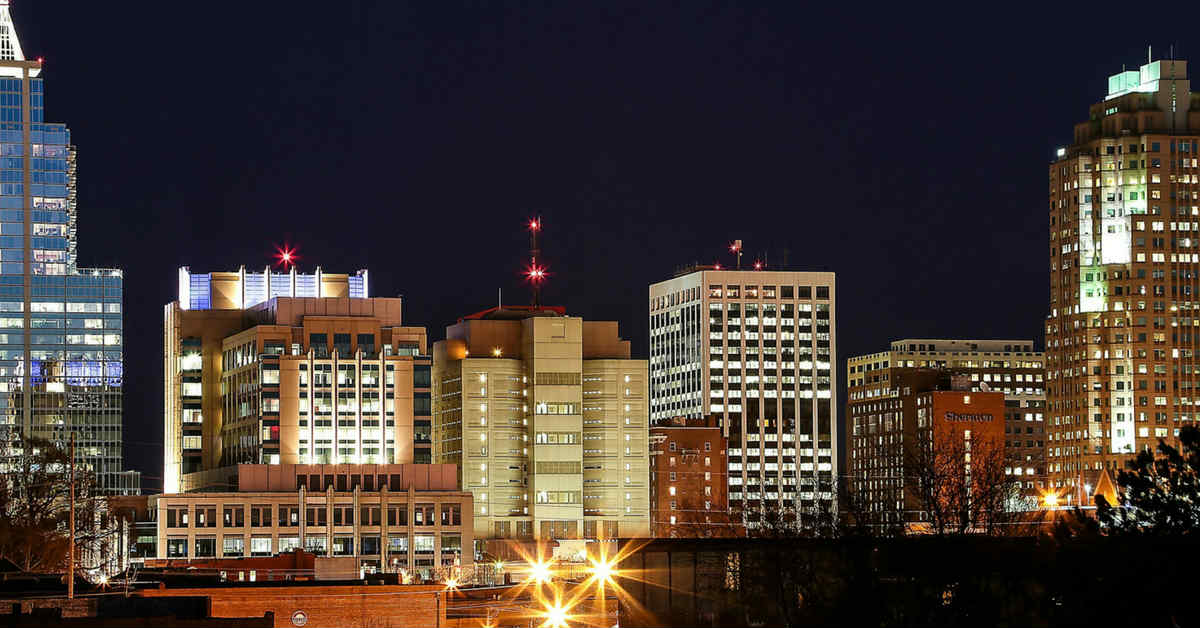 Raleigh, North Carolina has been in the spotlight ever since they were listed on the top 20 short-list for the second Amazon headquarters. North Carolina's capital city is currently competing against 19 other cities for HQ2. Although this was an unexpected city to reach the list, Raleigh is one of the few that makes sense. Raleigh is also definitely the city that Amazon should choose.
The bid for the second Amazon headquarters from Raleigh, North Carolina have been kept private currently, while other cities have publicly announced the billion dollar tax break to Amazon if they were picked. Raleigh is the only city that does not need to buy their way to Amazon's heart like Newark's $7 billion financial incentives. 
Raleigh is often scored first for best quality of life due to the thriving tech community. The monthly median house price is $1,051 with an average commute time of 26 minutes. This offer is not detected anywhere in New York, New York. Additionally, the weather of North Carolina is the ideal condition for transportation and living. Traffic is often not heavy, as compared to other cities on the top 20 shortlist. The area is simply a comfortable region to expand and conduct business nationally.
The city already accommodates tech companies like Citrix and Red Hat. The region is not new to working with tech, even to one as massive as Amazon. Possible sites include the Wake, Durham, and Chatham counties for the second Amazon headquarters if they are chosen.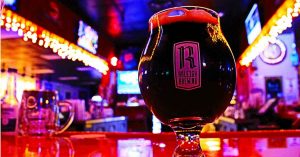 Amazon's arrival will grow the job market and expand the city's economy through technology advancement. Even if Amazon does not pick Raleigh, the city is rapidly expanding already. "Raleigh is a thriving community that would be attractive for any business, large or small," Mayor Nancy McFarlane said. "We are proud of the investments and partnerships we've made that enhance our many attributes, such as our world-class university system, well-trained workforce, diverse economy, strong infrastructure and emerging entrepreneurial spirit."
The absolute advantage that Amazon has is the potential tax reimbursement for up to 100% of the new jobs created for the next 25 years. The second Amazon headquarters would be given about $50 million for infrastructure in rail access, water, and more. Additionally, the tech company could be qualified for another program called the One North Carolina Fund for $5,000 per year in the next 5 years.
Small businesses and agencies within Raleigh are able share their professional insight to Amazon now as well. Many advocate for Amazon to choose Raleigh and they even share what the community has to offer. 
"The thought of Amazon potentially bringing 50,000 new jobs to The Triangle excites me. The Triangle is always on the US best places to live list. It has a wealth of restaurants, great schools including three colleges, and great accessibility from all of the US. I think the installation of this type of business would have an even greater effect across the community as other companies would then also be attracted by the area". -Neil Boyd of Neil Boyd Photography INC.  This is why Amazon HQ2 Should Choose Raleigh.
If you are an agency from Raleigh, and wish to contribute, please fill out this form here: https://ownersmag.com/need-talk-marketing-pr-agencies-amazon/
*Sponsored by Penji* 
Superbowl 2018 Results – Eagles Won!

Superbowl 2018 Results – Eagles Won! It was an incredible game played by both the Patriots and the Eagles. With a final score of 41 Eagles to 33 Patriots, the Eagles won their first ever Super Bowl bringing the championship home.
A genius offensive play
The Eagle's play tonight was purely offensive – and they had to win at all costs. LeGarret Blount rushed for 90 yards and scored a touchdown. Corey Clement could be seen throughout the game rushing for the 108 total yards of offense. And Nelson Agholor's perfect synchronization with Foles was able to catch 9 passes for a total of 84 yards throughout the game. And we can't forget Zach Ertz, who scored the final touchdown in the 4th quarter after diving over Devin McCourty. It was a tense moment as everyone in the stadium and at home watching held their breath while waiting for the verdict. Ertz made a brilliant leap of faith and landed just over the end zone, but the ball bounced. Did it hit the ground before bouncing? Were his feet both in the end zone at the time of landing? Was he in possession of the ball in the final seconds of the landing in the end zone? The crowd went wild and Philadelphia has never been more lit when the referees announced it was a touchdown.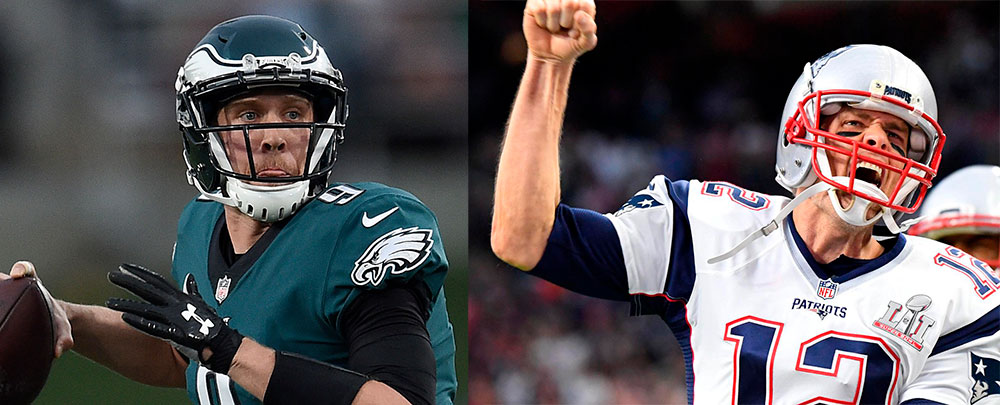 Rushing for the win
The Eagles were still behind. The Eagles kept pushing through yard by yard. Nick Foles made a daring move on 3rd-and-7 that ended with Foles completed a phenomenal 11 yard pass to Zach Ertz. Ertz made an olympic worthy leap over Devin McCourty and into the end zone. Ertz narrowly landed both feet in the end zone, but the ball bounced, and was caught again mid-air by Ertz. It was unclear if the ball made contact with the ground which caused the bouncing. It was a tense moment as everyone awaited the referees to review the footage to make the final call. It was determined that Ertz was in possession of the ball before landing on the ground and the touchdown ruling was upheld.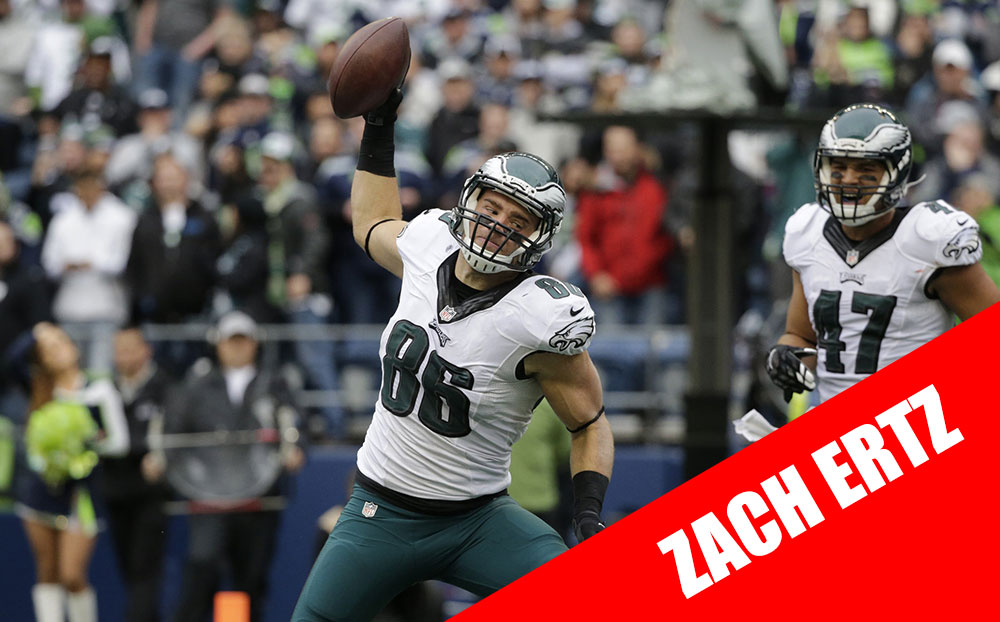 Brandon Graham and Derek Barnett – turning the tides
With 2 minutes and 21 seconds left on the timer and one timeout left, the Patriots were ahead and had everything lined up for the win. And that was when Brandon Graham decided to reveal himself. He's been hiding from the camera all game and decided it's now or never. Brandon Graham sacked Brady forcing a fumble which was picked up by Derek Barnett that decided the fate of the game. If it weren't for Brandon Graham's bravery and Derek Barnett's keen reflexes, the game could have been very different. Tom  Brady could be seen on TV sitting on the field not getting up. He knew it was over at that moment. The Eagles had won decisively.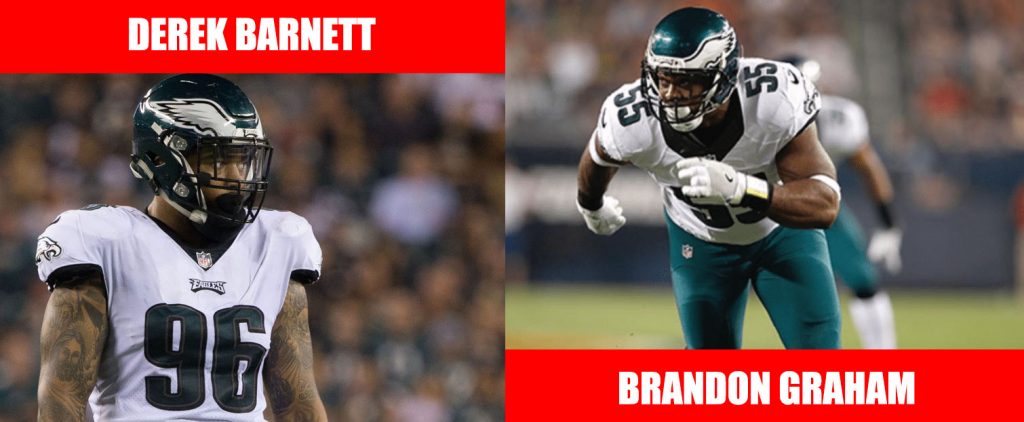 The underdogs and their Foles
Who would ever thought that the backup quarterback for the Philadelphia Eagles only took on the role of starting quarterback after Carson Wentz got injured on week 14 of the season. Foles completed 28 of 43 passes with a total 373 yards and scored 3 touchdowns. Foles even CAUGHT a touchdown in a last minute offensive play where Brady actually failed to catch the ball when attempting a similar play.
Foles was able to consistently convert those 3rd and 4th downs into game changing opportunities the entire game. If you doubted Foles before, he's proven you and everybody wrong. If you've doubted the Eagles before, after tonight's game, there's not a doubt in anyone's mind that these underdogs played their heart out and earned their world title as the winner of the 52nd Super Bowl Championship.
First Tech Startup to join Camden NJ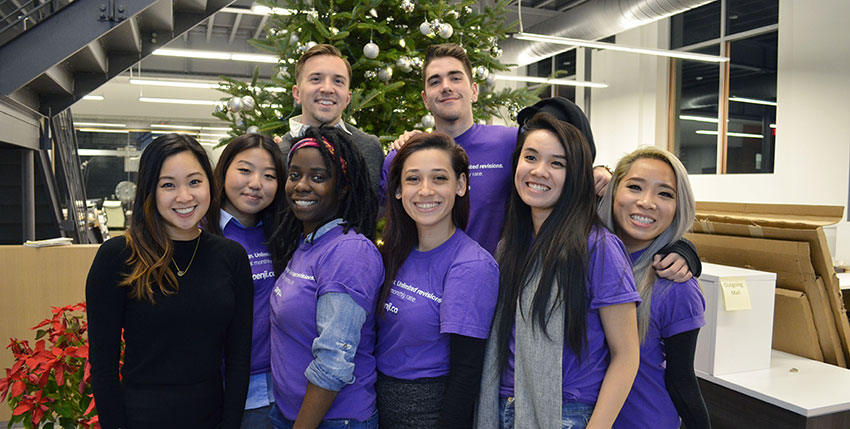 First Tech Startup to join Camden NJ
Penji is a new tech startup who recently launched in Camden NJ. Instead of having costly all-inclusive packages that design agencies typically offer, Penji offers unlimited graphic design, unlimited revisions, at a flat monthly rate. The startup launched on October 21st 2017, a day after Camden Catalyst, a startup pitch competition hosted by Waterfront Ventures to bring startups into the city.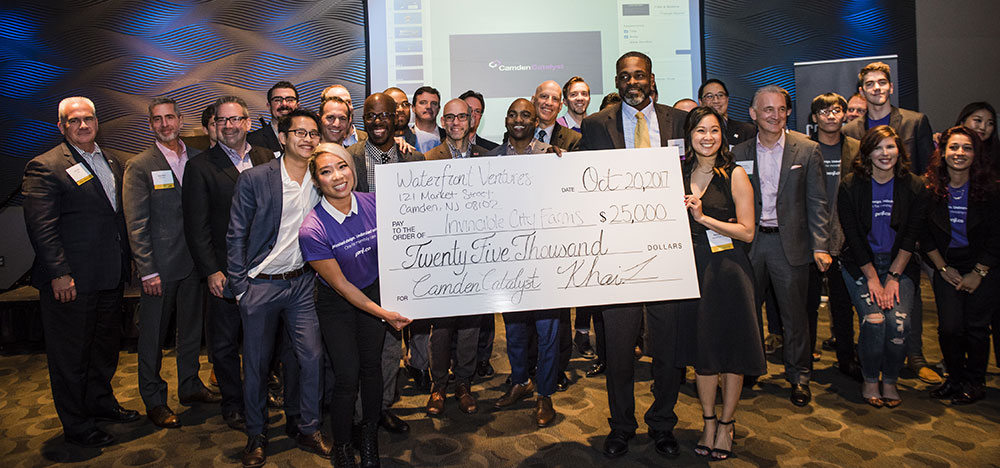 Penji solves a unique problem that startups, small businesses, and agencies tend to have. According to Penji, startups and small business owners spend too much of their time attempting to design their own marketing materials, logos, business cards, etc. And even if they hire a company or a freelancer to help them, it often costs quite a bit more than they originally thought. 
" It's a huge time waster. And that's why we created Penji, to solve that graphic design problem for startups and small businesses." – Johnathan Grzybowski (Cofounder)
Penji's unique mission
Penji also has a unique mission. The startup plans to be one of the first community conscious startups to plant their flag in Camden NJ. For Penji, being a community conscious startup means giving back to their community on a consistent basis and in ways that truly helps their community. The startup plans to offer jobs and opportunities specifically for students and residents in Camden. Their goal is to hire as many talents as they can from the city with the hope of keeping those talents in Camden. Camden is home to major school institutions such as Rutgers, Rowan, Camden County, and Cooper. Despite having these big names investing in the city, few job opportunities currently exist for students graduating from any of these 4 colleges.
"The only way to successfully revitalize Camden sustainably is if our students are willing to stay in the city and invest in the city themselves. And they can only do that if there are good paying jobs available in Camden. Currently there aren't many available, and we plan to change that."- Khai Tran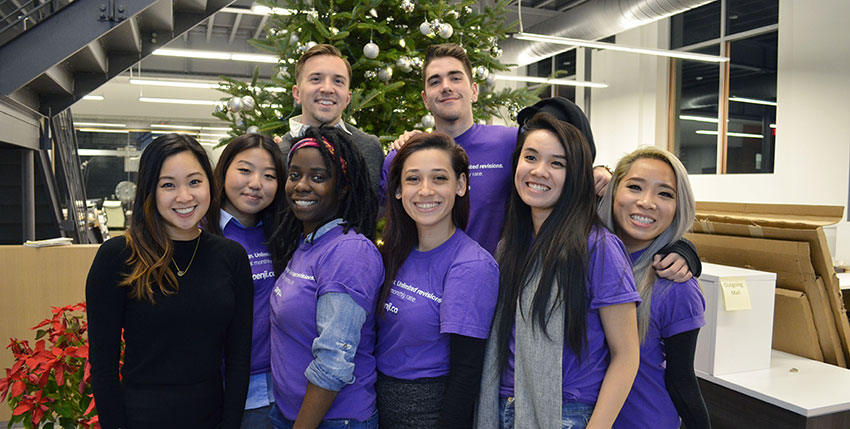 The startup already hired 4 students from Camden and have plans to hire more as they grow in Camden. Things are definitely looking up for Camden NJ as the interests for startups are growing from surrounding cities. The Camden city has been struggling with bringing in new businesses for the past few decades and many efforts have been put forth to revitalize the city. Things may be different this time around if enough startup companies join Penji in Camden and invest in the city.
Melissa Le (office manager of Waterfront Lab, Camden's very own co-working space) is optimistic that Camden will be revitalized this time around.
"We're feeling good about Camden's revitalization and we know it will be successful if enough key industries get involved. Having major companies such as American Water, Holtec, and Subaru is a great start, however we need more interests from startups and small businesses to make Camden's growth sustainable."