Best Places To Travel During The Holidays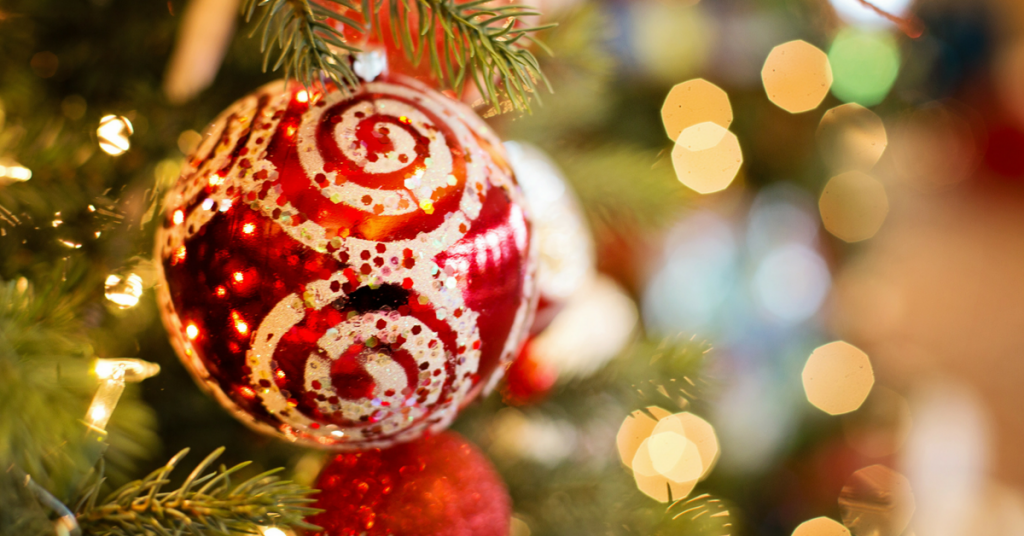 St. Augustine of Hippo said "The world is a book and those who do not travel read only one page". Even if you can't afford to travel the whole globe, exploring a new place a couple of hours from where you live can be a thrilling experience. The holidays are a great time to travel and explore new places. Here are some of the best places to see during the holidays.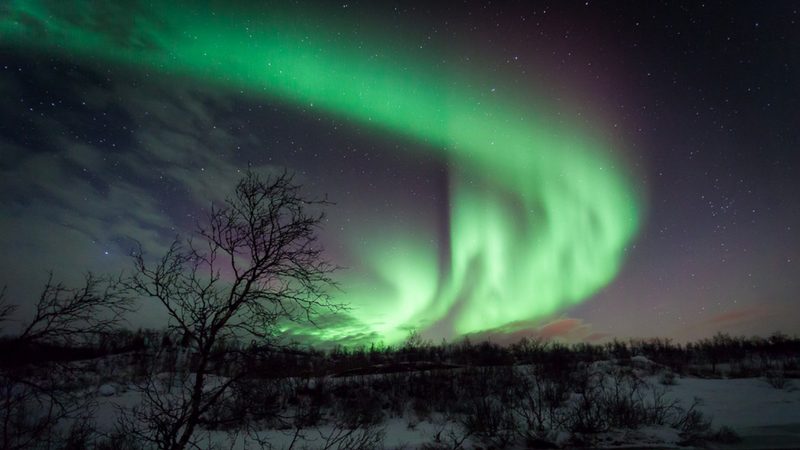 Tromso, Norway
The Northern Lights are very beautiful and Tromso in Norway is one of the best places on the planet to see them. Look to the sky between 6pm till midnight. Aside from the Auroras, you can also go dog sledding, ride the mountain top cable car, and say that you've been to the North Pole (it's actually the Arctic Circle) for Christmas.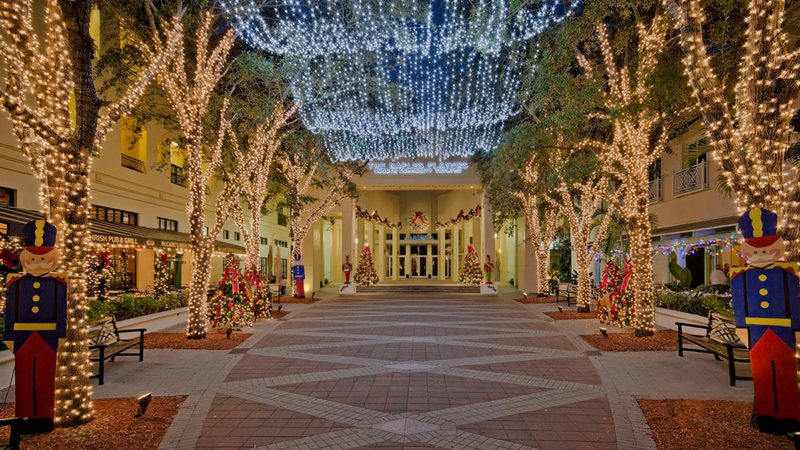 Naples, Florida
You can't build a snowman here, but the snow bird style winter in the city attracts many tourists during the holidays. The luxury stores, boutiques, and festive ambiance also does a good job of attracting visitors. If you've never been, head down to Third Street South for the traditional Christmas tree. There are also very beautiful window displays like the one at Marissa Collections, a department store located in the Old Naples Historic District. More shops can be found at Fifth Avenue South. When you get tired of shopping, don't forget to check out Naples' TUBA Christmas, a concert on Fifth Avenue South's Sugden Plaza that features brass tubas, euphoniums, and baritones.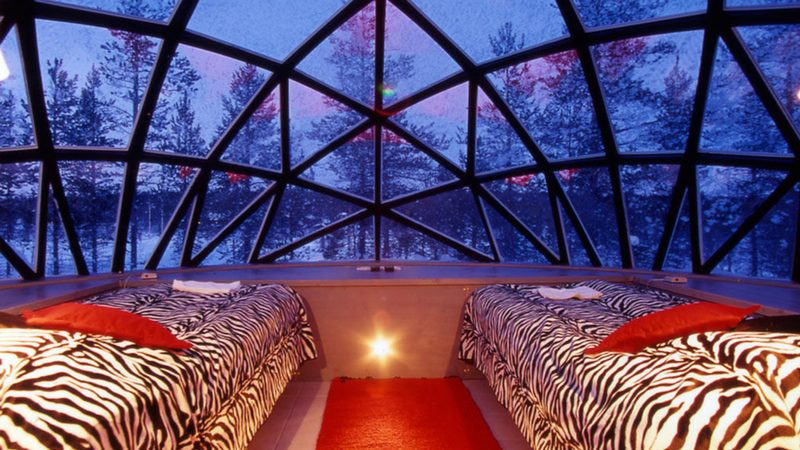 Lapland, Finland
For a truly winter wonderland go to Lapland in Finland. The Urho Kekkonen National Park is just a 90-minute drive away from Helsinki and is a great place to visit. Experience a sleigh ride pulled by reindeer just like Santa, or you can go cross country skiing at the Saariselkä trails. For a unique experience, stay at the igloos at Hotel Kakslauttanen that are made from thermal glass so you can stay warm all night while watching the Northern Lights. You can also take 4-hour cruise on the Sampo, which served 26 years as an icebreaker.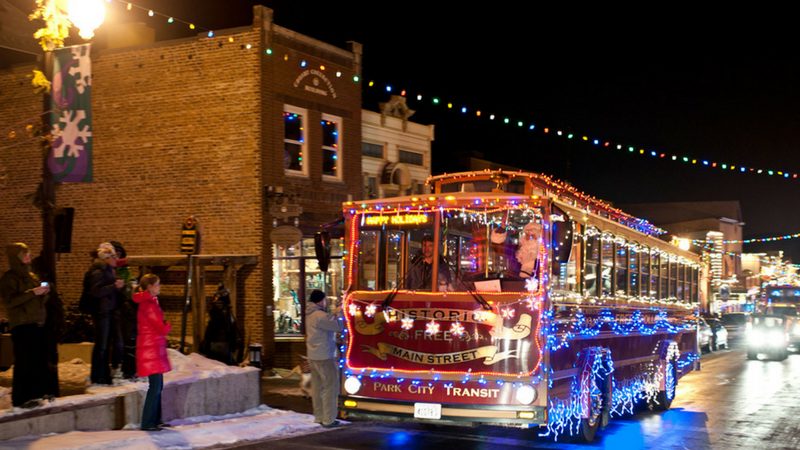 Park City, Utah
If you want to see serious bling during the holidays, Park City in Utah is the place to go. The city holds the annual Electric Parade late November and locals light up their cars, bikes, trucks and crank up the holiday tunes as they parade down Main Street. Come during Christmas Eve to see St. Nick ski down the slopes to lead the torchlight parade. Check out the life sized gingerbread houses at Montage Deer Valley. January at Park City is the Sundance Festival which attracts the Hollywood crowd.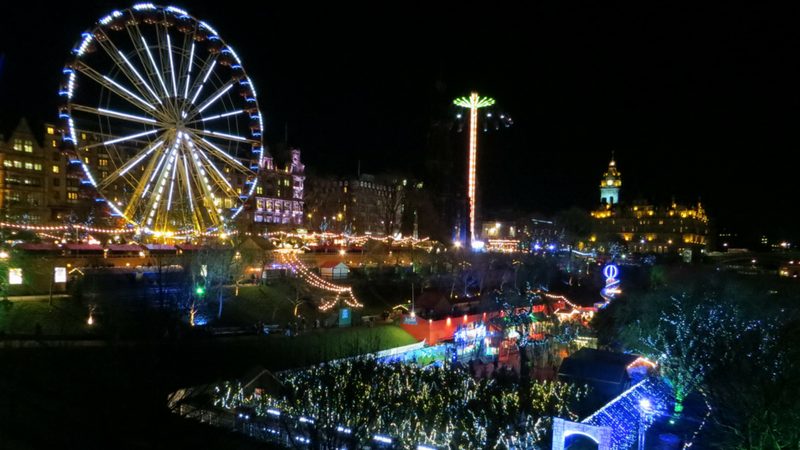 Edinburgh, Scotland
Listen to the bagpipes play Amazing Grace, watch fireworks illuminate the Palace of Holyroodhouse and take in a light show when you visit Edinburgh in Scotland during the holidays. If you can, stay at the Caledonian Hilton Edinburgh, which is Edinburgh's answer to New York's Times Square. For deliciously bewitching food, grab a bite at Witchery by the Castle and order the Loch Duart salmon and Gartmorn Farm duck – you won't regret it.
Adventure Assist Travel Journal Is A Must Have For Trips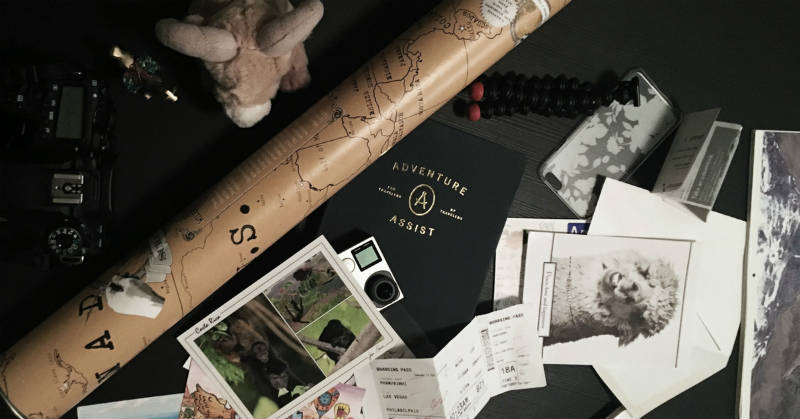 A twist to the classic notebook, Adventure Assist is a modern travel journal perfect for the before and afters of your trip. Mapping out your trip and keeping memories the old school way. Jot down the most important details of the trip as you are planning so you are ready once the time comes. Create a list of things to remember or missions to complete. Be ready for the accomplished feeling you get when you physically cross these things off your list. Keep quotes of silly things that happened along the way. Relive doodles of the funny dog you saw or the breathtaking view from the end of your hike.
The notebook was created by two adventure seekers, Jake Pritchard and April Onebane. Both studied abroad and have a passion for traveling with a purpose. Their mission is to " better connect travelers to their destinations by inspiring authentic and purposeful travel experiences through streamlining planning and organization." With that mission in mind, the Adventure Assist notebook was created. A heavy duty notebook with strong covers and thick sheets made to withstand the suitcases, backpacks and adventures it will be a part of.
Broken down into seven section, the notebook helps travelers organize and keep track of the basic necessities when traveling. The sections starts with "packing" and moves onto "to-do", "transportation", "accommodations", "calendar", "contacts" and "journal" with journal being the largest section. Each section is divided as an easily identifiable tab to quickly navigate to the section.
Packing
The first tab in Adventure Assist, Packing, tells you to "list adventure gear, regional specific clothing, travel documents and entertainment essentials for your journey." With four pages to list what you are packing, you definitely won't miss a thing or over pack. A couple of things we would recommend: S-hooks, ziplock bags, mini-tripod.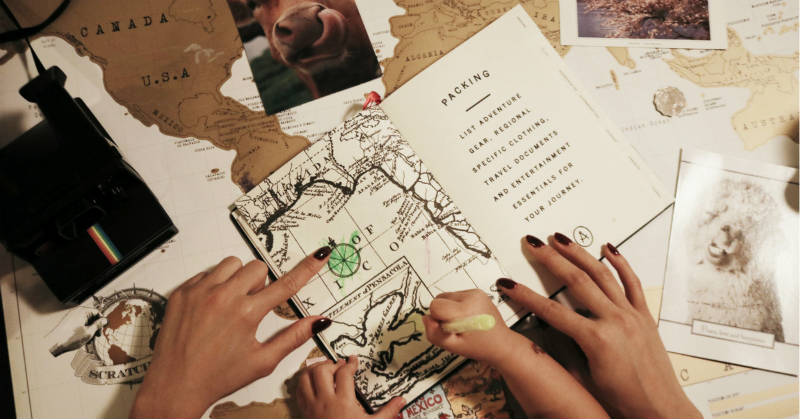 To-Do
Next, To-Do, is 10 pages, each page broken down into two sections. Each section is broken down into boxes: destination, attractions, activities, food and drinks. What are some things you want to do, see and eat at the destination? You will have an endless list of things you want to do on your next adventure but writing down the top 10 will help you keep track of the most important. Keep a smaller list for a higher chance of accomplishment while pulling from your bigger list when you run out. Nothing digital will ever replace the satisfying feeling of physically crossing something off of your Do-To list.
Transportation and Accomodations
Where are you staying each night? When time do you have to get there, get out and who do contact if you have a question. Necessary, if not the most important, information of every trip. Now that you know where you are staying, how are you getting there? Getting around in big cities is easy if the language is one you speak and the technology available is similar back home. The difficult but somewhat exciting times when you are visiting somewhere completely different than what you are used to, transportation will not be so easy. You may need to catch a ferry, jitney…donkey?! Keep track of what time departure and arrival is and any additional notes like how many stops until your destination.
Calendar and Contacts
The calendar section provides blank monthly calendar views for you to see your month at a glance. There is a column for notes where you could draw a map key, like emojis, and add the keys to your calendar. Contacts – great for noting who the people from each destination to call in case of emergencies. We have so many contacts in our phones we don't remember. When a panic situation happens, you have the information you need. In a more likely situation, you lose your phone or it runs out of battery. Now you have the contact information and can borrow someone's phone.
Journal
This is where you log your memories and experiences. The reason you are traveling in the first place. Write, draw, sketch, whatever you want in this section. Anything that will bring back the best memories from your journey when you discover this notebook on your shelf when you are 80. Instax or Polaroid would be perfect for this section. The two envelopes on each end of the notebook are great for storing tickets, airport stamp tickets, napkins with doodles on them or anything else relatively flat.
We will have our digital photos, videos, social media accounts to look back at. But the feeling from something handwritten or hand drawn is much more powerful and memory provoking than anything digital. Adventure Assist is personal and once you start writing, you won't want to stop.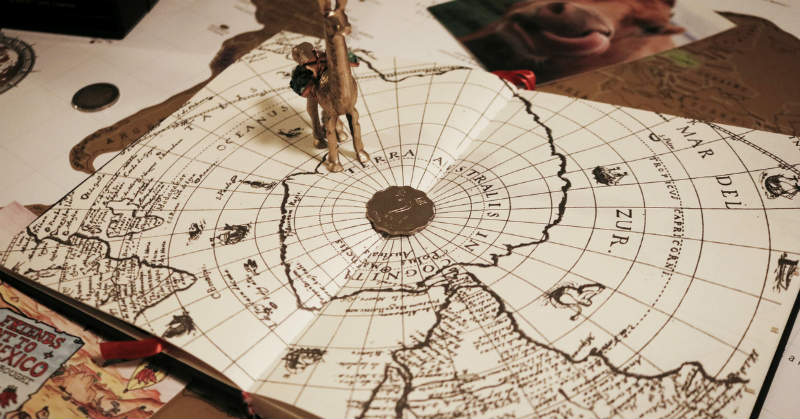 Moose Knuckles Stirling Parka Review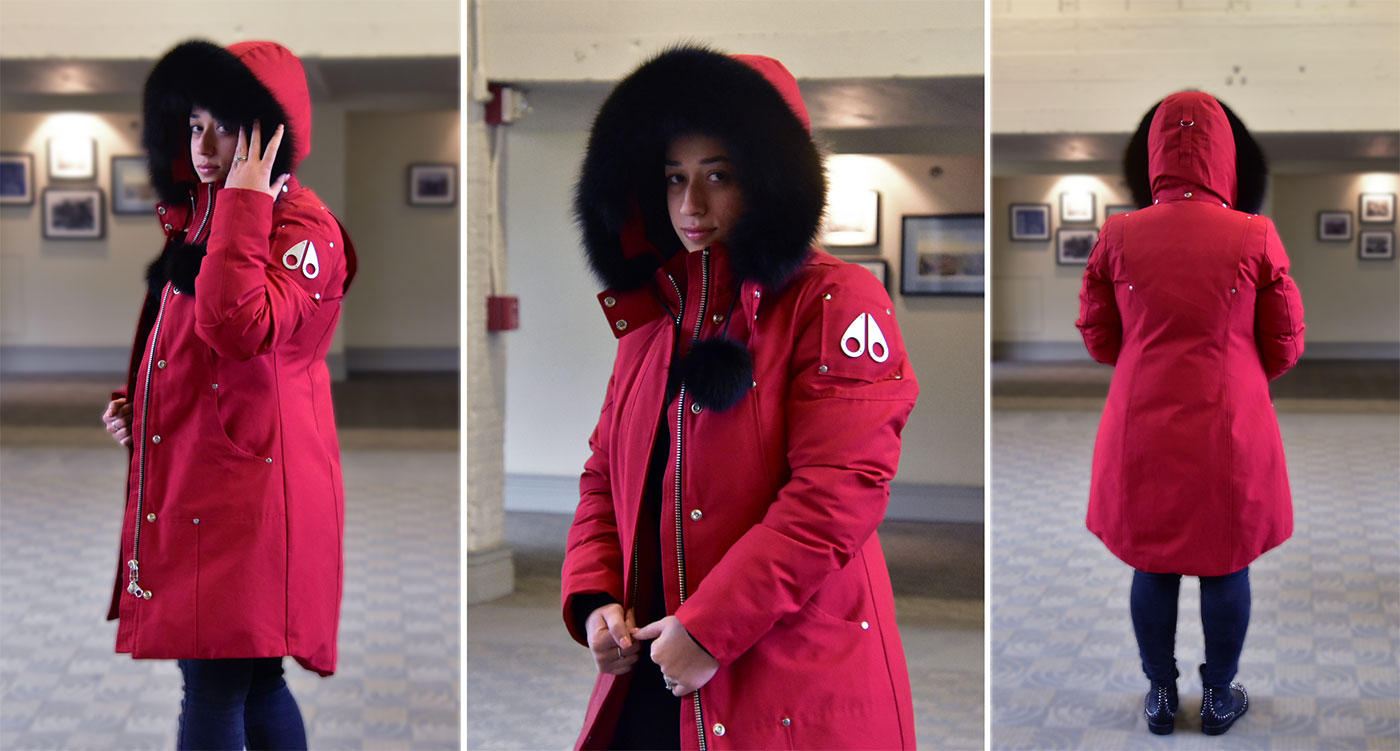 The popular Canadian outerwear brand Moose Knuckles is continuing to expand its name across the nation and into America. Moose Knuckles is a relatively new brand founded in 2009 by Will Poho and Mark Peros. Most of its manufacturing is done in Winnipeg. The brand is dominating the winter fashion scene through bomber jackets and parkas. Moose Knuckles are created from quality materials and are sweatshop free. The company also uses Canadian-origin gray duck down and farmed fox fur from Finland in order to ensure the materials are able to combat Canada's harsh winters. Here is the Moose Knuckles Stirling Parka review:
How It Looks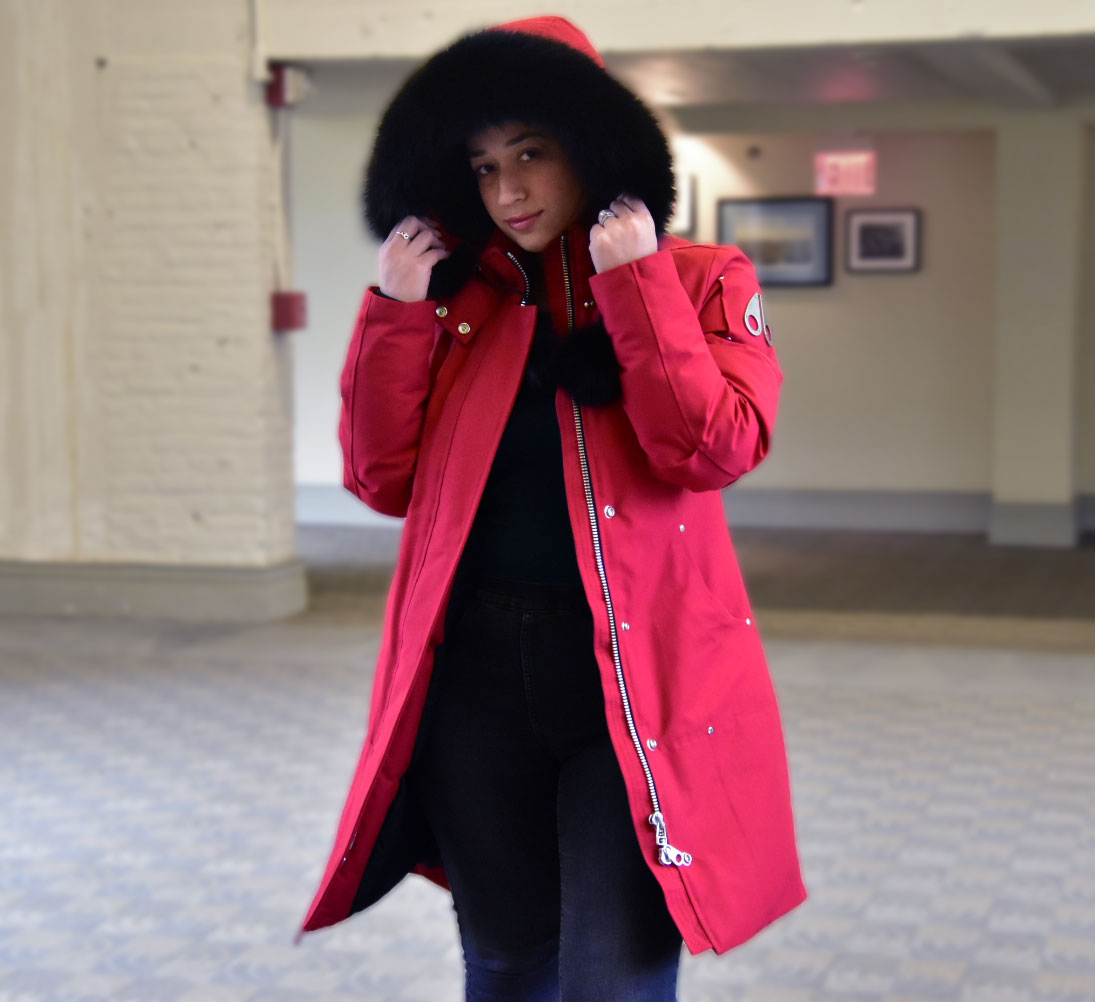 "Wearing a Moose Knuckles Stirling is like driving a red Ferrari. You will be noticed."  
The Stirling comes in at least 9 different shades of color. We reviewed the red model with black fur trim. Photos on the website convinced me the garment will provide a cinched waist, however I didn't feel restricted. The fur trim and goose down insulation allows you to be all bundled up and warm. Noticeably, the jacket has a Moose Knuckles signature metal detail on the upper arm of the garment. The signature catches the eyes in an instant, due to its unique look and new brand.
The pom-poms add a nice touch to the parka, adding a more feminine touch to the style. The double stitched durable canvas, luxurious fur, YKK zippers, and soft interior lining came together wonderfully upon putting it on for the first time. It was heavier than I thought, but the fitting was perfect. It was comfortable to wear and provided a more urban and versatile look. I took the Stirling out on a 9 degree day to see how it holds up. Wearing just a t-shirt inside, I never once felt the cold. Walking the streets of Philadelphia where every other person is wearing a Canada Goose or Montcler, I stood out like a sore thumb as people are trying to figure out what brand I'm wearing. A couple of girls even stopped and asked me what brand it is and where I purchased it. Wearing a Moose Knuckles Stirling is like driving a red Ferrari. You will be noticed.  
Specialty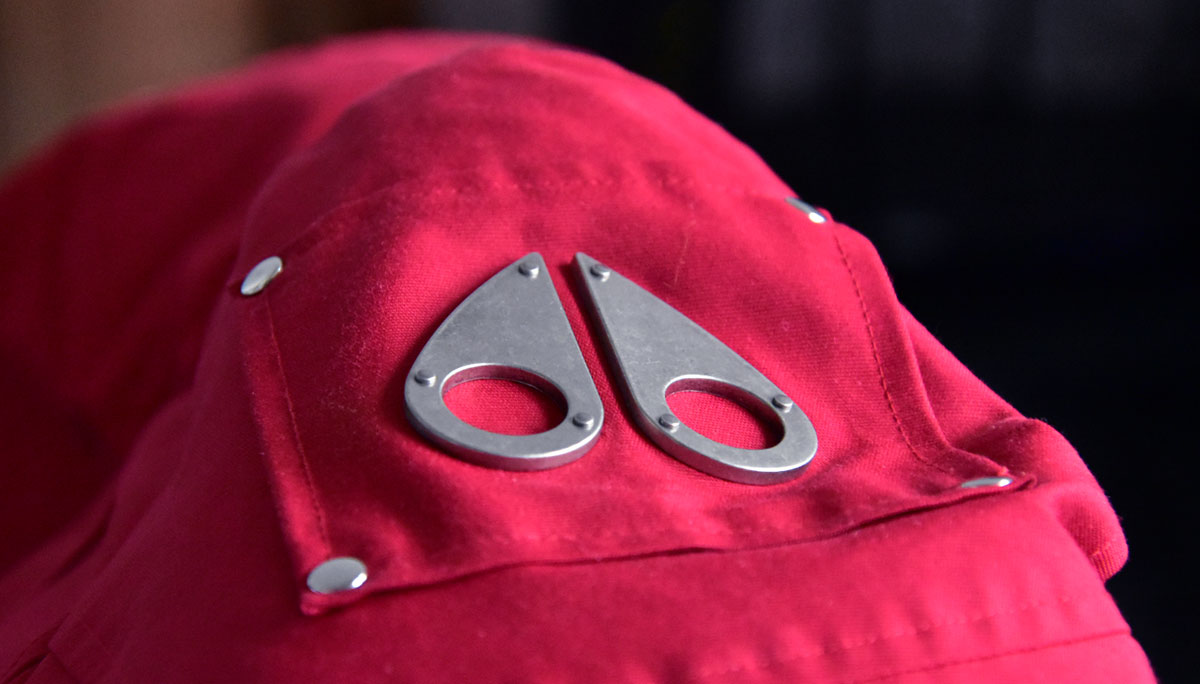 Moose Knuckles is ranked as the top parka brand for having the highest thermal insulation value. The Moose Knuckles parka came out with the result of a thermal insulation value of 2.11 clo. Thermal Insulation is the measure of resistance to dry heat transfer from a heated thermal manikin to a more cool environment. Thermal insulation is used to prevent excessive heat loss, which is the entire framework of an effective jacket. Moose Knuckles provide an amazing dependability on warmth and comfort due to their thermal insulation value. And wearing the Stirling for an entire day in single-digit weather, I can confidently say their research paid off. 
Features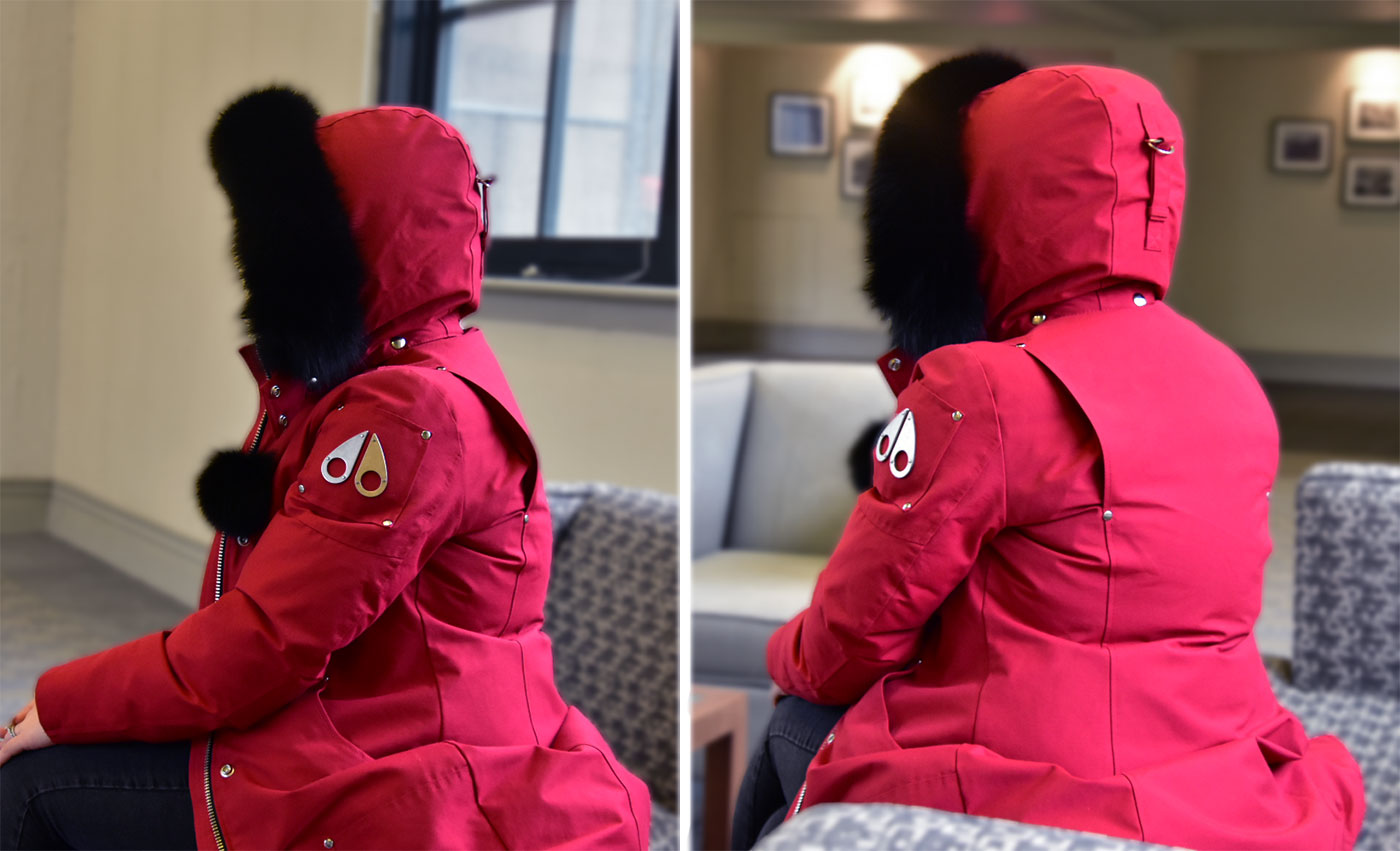 In addition to looking fabulous and keeping you warm the Stirling also comes equipped with features to appreciate. Most of which you'll have to see in person or experience first hand to appreciate. 
Form fitting
This matters a lot to women and young girls. The Stirling looks great and even though it's fitting, it doesn't feel restricting. 
Spacious hood
The fur lined hood is cavernous but fits comfortable thanks to adjustable straps on the back. 
Quality fox trim fur
Moose Knuckles didn't cheap out on the fur. You will get plenty of high quality fur with the Stirling. Some parka offers low-grade synthetic fur purely for aesthetics. The fur on the Stirling is genuine, feels incredibly soft to the touch, and doesn't shed like many other brands. 
Durable & Water resistant
The canvas material combined with double stitching are durable and made to last. It's also water resistant!
Quality zipper
The front zipper is heavy gauge YKK zippers and won't break on you anytime soon. 
Plenty of pockets
Girls will understand the excitement of having pockets in just about anything. Four pockets on the outside and two on the inside of the jacket. 
The Verdict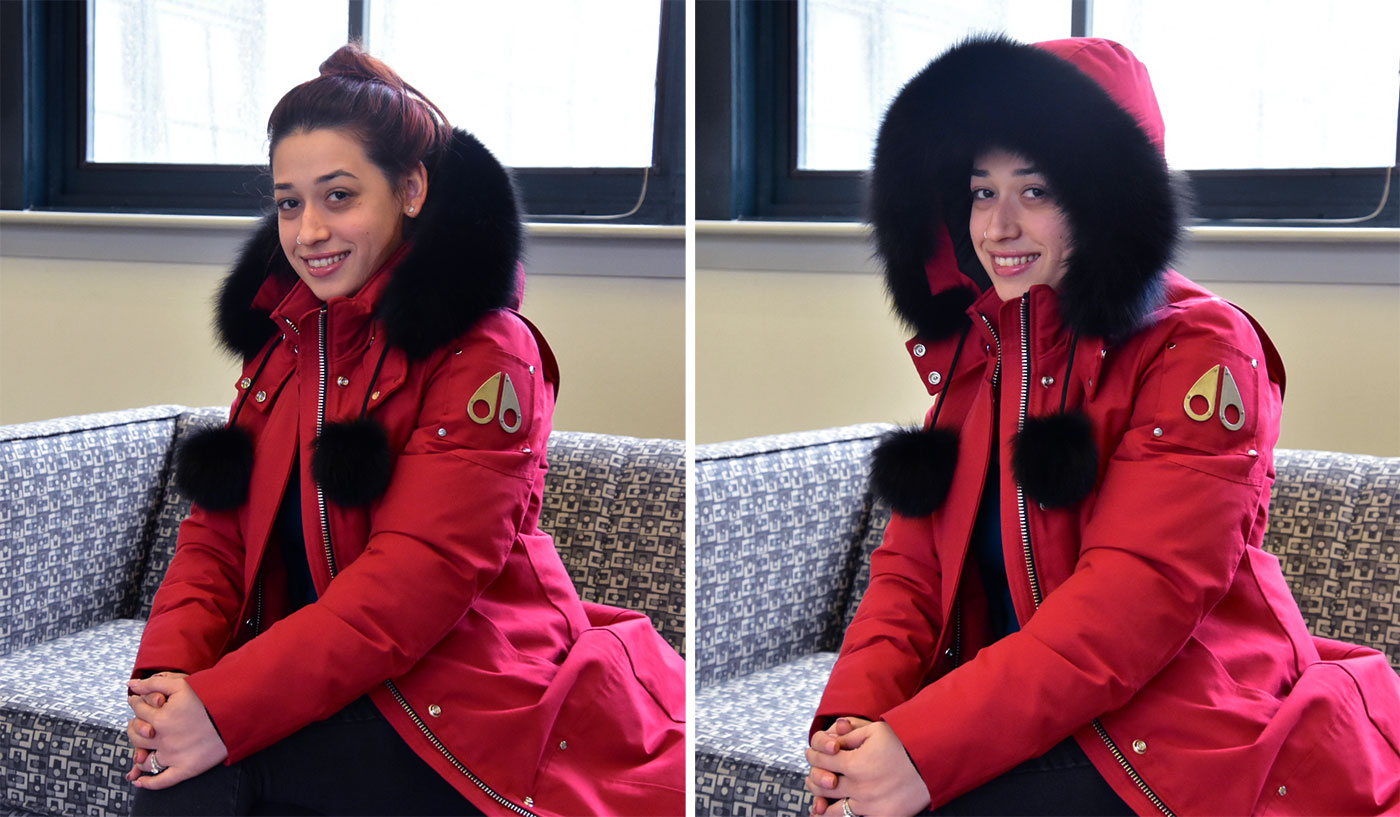 Many brands fail to understand what quality means in a jacket. Winters in Canada are harsh, it's windy, cold, and downright undesirable. Comfort and style is a rare combination when you're trying to make a parka that can withstand Canada winters. The Moose Knuckles Stirling parka is able to give you the swag look and still keep you toasty warm. Despite having plenty to love, we managed to find a few flaws. 
Pros
You look unquestionably rich
Fashionable
Attention to detail styling
Plenty of pockets
Warm. Sourced from Canadian-origin gray duck
Quality fox fur from Finland
Durable construction that will last
Value doesn't depreciate as much
Cons
Heavy when compared to similar parkas
Canvas material despite being durable, can feel rigid
Outside breast pockets are too small
If you're looking for something discreet and low-key, look elsewhere. Moose Knuckles never intended the Stirling to be subtle. Make no mistake, you will stand out. For those living in harsh, cold conditions, investing in a reliable winter outer garment is a must. We highly recommend the Moose Knuckles Stirling because it's incredibly well made, warm without the bulk, fashionable, and will likely be the last winter coat you'll ever buy.
At $950, it's certainly not cheap but you get more than what you pay for. Despite being the new kid on the block, Moose Knuckles' unique line of products rival Canada Goose and Montcler in terms of quality, value, and appeal. The next time you're out shopping for a winter coat, put Moose Knuckles near the top of your list. 
How To Network When You Travel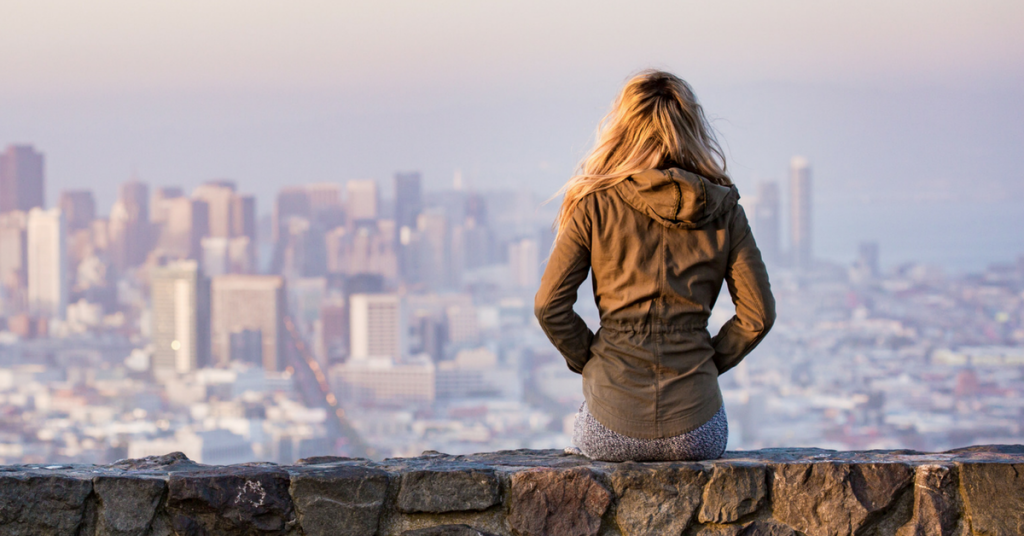 As a traveler, it is essential to network in the places you travel to. It helps in expanding business and growing a network of friends and colleagues. Networking is important for personal and professional growth and adds a pinch of multiculturalism.
Here are a few simple steps you can take in order to enhance your networking experience in any city you travel.
Spreading the word about your trip.
Let people know that you are travelling somewhere on Facebook, Twitter and other social media sites. They are the easiest ways of announcing your travel plans. These announcements help you receive a response from people staying in that place on the same dates as you.
Take help from the social media network and communities.
There are communities and groups on various social networking sites. Use these groups to learn about the people residing in the city, and invite like-minded people to meet you and socialize. Be specific with your travel dates, and if possible, tag someone who can be helpful in extending your network.
Get in touch with native hubs.
Most of the cities have central co-working cosmos, where people are welcome to connect with local entrepreneurs. Take a step forward and visit such hubs to meet people. These cosmos are generally open for all and are a very good choice to establish a good network in a foreign place.
Research about upcoming events in the city you are traveling.
It is always advisable to plan and prepare yourself for your upcoming trip. Do a little research and find out about upcoming networking events during your stay in the city. Plan your trip in a way to spare some time to visit these events. Meet with various people there, and share your business card.
Inquire your friends.
Use your contacts who have already visited the place before. Ask them about friends who can lend you a helping hand in a foreign city.
Consolidate your schedule.
Prepare a consolidated schedule and meet your existing contacts in the first couple of days of your trip. Then, take referrals to introduce yourself to more people and expand your network in the city.
Take out some time to play a sport or to indulge yourself in some group activities.
Playing a sport together or indulging in some group activities opens the door for enhancing your network. Sports is a great way to bring people together. There is a high probability that you may be invited back.
In your spare time, visit a coffee shop.
People around the world are generally curious about foreigners. They generally approach tourists to know more about them. A local coffee shop is one place where people are more likely to approach you and boost your network.
Socializing and networking is very important in today's world. People have an affinity to do business with people whom they can trust. Having good relationship with people opens up a world of opportunities.