6 Awesome Indie Games to Watch for in 2021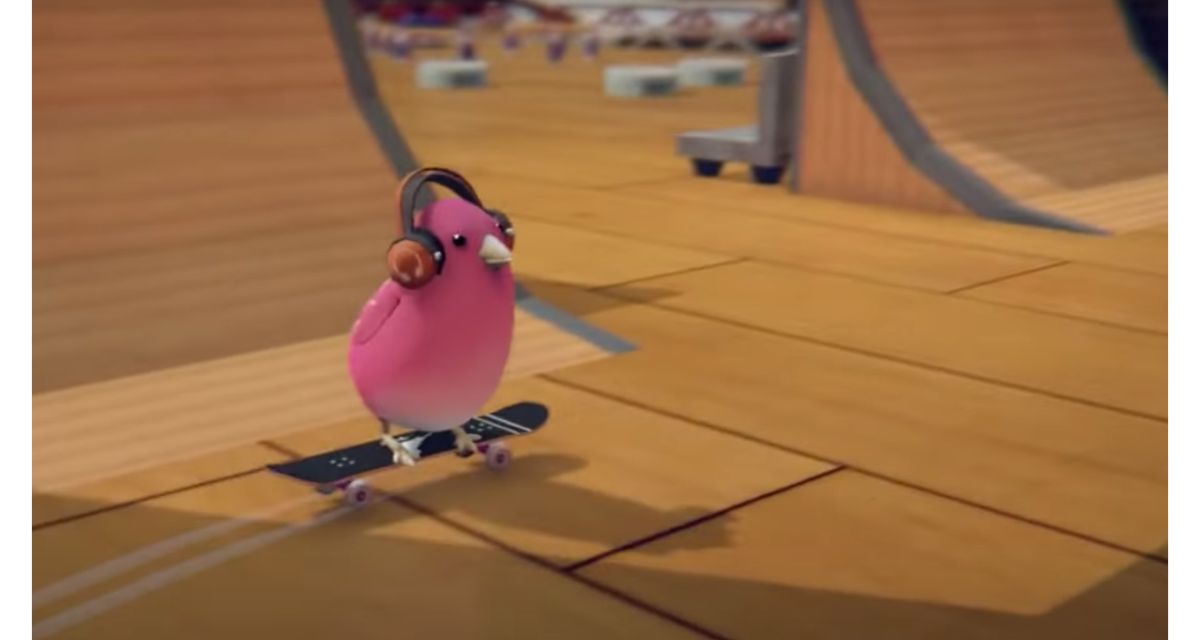 Gaming is truly at its peak in 2021. PlayStation 5 and Xbox Series X released late last year, and presumably they will stop selling out long enough for more people to be able to buy them at a reasonable price. Nintendo will be upgrading to the Nintendo Switch Pro soon. Competitive gaming is booming in cities like Las Vegas and Philadelphia. While it's fun to to think about rumored for a new Pokémon remake and Halo sequels, lets not forget all the awesome indie games that are due out this year.
1. 12 Minutes
12 Minutes is a single-player mystery game centered around a 12-minute loop of time. As the story goes, the protagonist's wife announces that she is pregnant. Shortly after, a police officer shows up and accuses the wife of murdering his father. After a scuffle, the officer knocks out the protagonist and kills the expecting wife. You then rewind 12 minutes and are tasked with trying to alter the events ahead. The gameplay is a top-down adventure style taking place in a small apartment.
12 Minutes is set to release on PC, Xbox Series X, and Xbox One.
2. Stray
In this open world game, you play as a stray cat. That's right, not a super hero, not an black ops soldier, or an electric mouse – just an ordinary stray cat. In this futuristic cyberpunk city, you can roam the alleyways, making friends and solving puzzles. The imagery is beautiful and intricate, especially for an indie game.
Stray will release in October and will be available on PC, PlayStation 4, and PlayStation 5.
3. The Medium
Video games of the honor genre need to be unsettling to pay off. The Medium certainly delivers on this front. The main character, Marianne, is a pregnant medium who can exist in both the real world and the spirit world at the same time. Players must use this dual-reality system to solve puzzles and forge ahead. Gaming is breathtaking with hyper-realistic graphics and a suspenseful score that will give you goosebumps.
The Medium released on January 28th and is available on PC, Xbox Series X, and Xbox One.
4. Sable
Sable is a third person open world game. Play as the titular character Sable, as you travel through a desert wasteland, scavenging and meeting new characters. Sable gets around on her glider which looks like a lot of fun. The graphic novel-like design looks like an early-gen Borderlands, and is very pleasing.
Sable will release later this year on Mac, PC, and Xbox Series X.
5. 30XX
This old school platform game has all the 32-bit look and sound of your favorite SEGA game. This sequel to 20XX has everything you want in a visually nostalgic game. The pixels are purposely reminiscent of Mega Man. Be patient, though. One death, and your character goes all the way back to the beginning of the game.
30XX is available now on PC, Nintendo Switch, Playstation 4 and Xbox One.
6. Skatebird
Skatebird brings you the money thing missing from all the Tony Hawk Proskater video games: a bird that rides. Simply put, play as a bird on a skateboard as you kick flip and ollie off skate ramps. The game shares many of the mechanics of the Tony Hawk games as you play from a 3rd person angle. As you can imagine, gameplay isn't heavily grounded in reality. This just means that more trick combinations lead to wilder stunts.
Skatebird will release later this year on PC, Nintendo Switch, and Xbox One.
Pokémon Celebrates Its 25th Anniversary!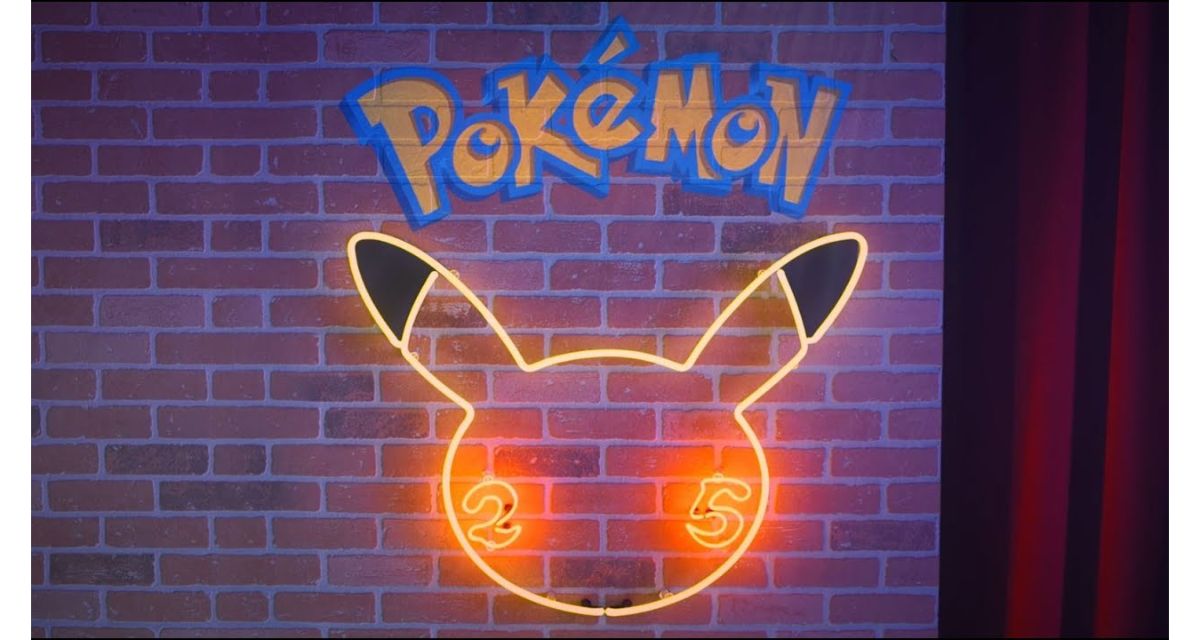 Pokémon, the worldwide phenomenon, turns 25 this year. Feeling old yet? For some, the thought of Pokémon conjures up some nostalgia as they think back to their childhood. For many others, the thought has them reaching for their phone to play the mobile game. To celebrate its birthday, the Pokémon company promises all kinds of fun for 2021. From the trading cards to Pokémon GO, let's unpack the pocket monster craze and see what's in store for the birthday celebration.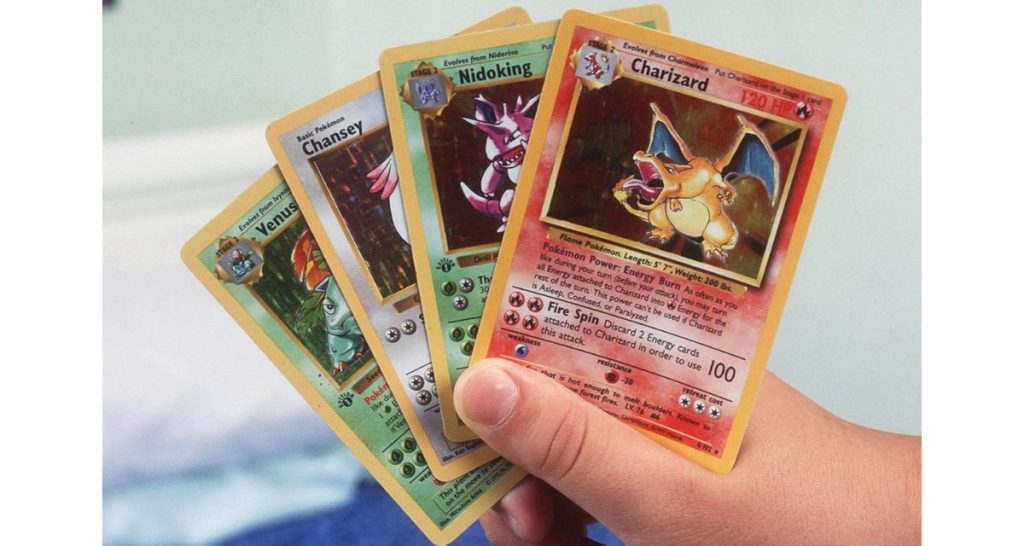 Pokémon Trading Cards
Pokémon hit America by storm in '96 and kids everywhere couldn't get enough. Forget about Pogs, no one cared about Beanie Babies anymore. Everyone wanted Pokémon cards. Like Magic the Gathering, Pokémon TCG is a turn-based game where you stacked your monsters up against the other players. For many, it was much more about collecting than actually playing. The crown jewel of the Pokémon TCG was the First Edition holographic Charizard. Stories of people selling their holo Charizard today for thousands of dollars have collectors calling their mom to dig through the attic.
TV Show
If you were a fan of Pokémon in the 90s, you are no doubt singing the theme song in your head. The anime followed young Ash Ketchum and his Pokémon, Pikachu as they travelled across the land, making friends, catching Pokémon, and battling trainers – trying to become the very best like no one ever was. The show introduced fans to Team Rocket, the regular villains of the series who wanted to use Pokémon for nefarious purposes.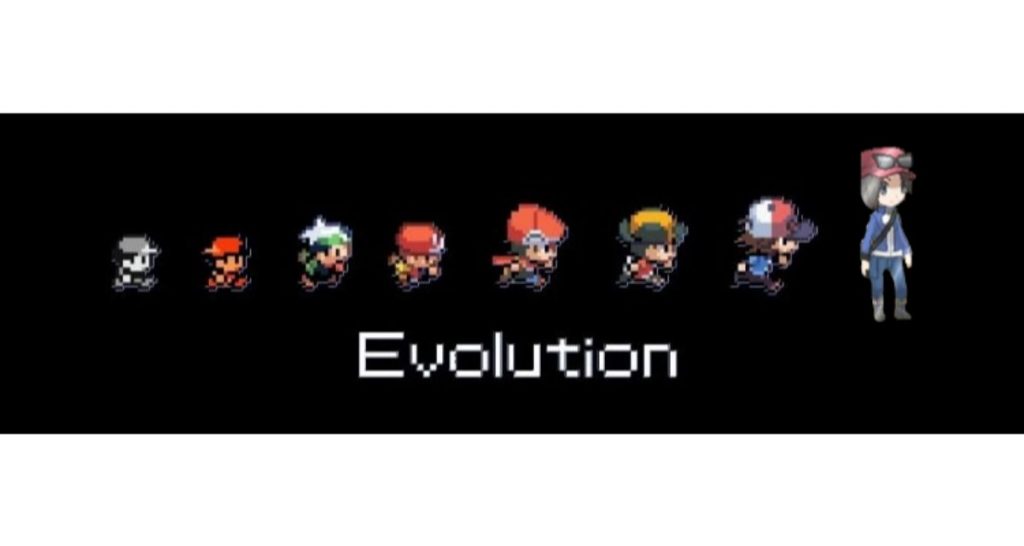 Pokémon on Gameboy
How far games have come since the original Pokémon video games were released. Pokémon Red and Blue released in tandem for the Gameboy in 1996. A brilliant marketing ploy – Game freak released two nearly identical games to the public. The gameplay was the same, except that players needed to play both games to get all 150 original Pokémon. Sure, you could trade with your friends to complete your PokéDex, but most kids just begged mom for both. Remember Mew? Mew was the legendary 151st Pokémon. Game freak built-in code for this Pokémon, but never gave fans an official way to see or catch it. There were rumors that Mew was hidden under a truck by the SS. Anne, but that was bogus. Bust out your Gameshark and enter the cheat code if you wanted a full PokéDex.
Red and Blue have seen many sequels, and the franchise has evolved (no pun intended) with better graphics and more Pokémon. There are now over 800 unique Pokémon that you can catch in the latest games: Pokémon Sword and Shield.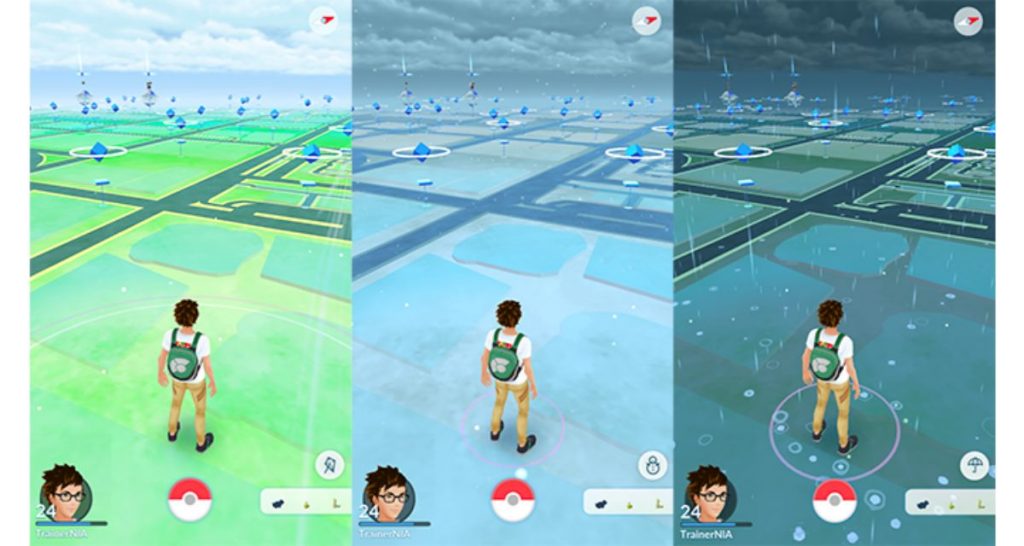 Pokémon Go
In 2016, Pokémon got an adrenaline shot and thrusted back into the mainstream with Pokémon Go. The mobile game lets players use the real-world GPS on their phone to walk around and catch Pokémon using augmented reality technology. Just like the card game or Gameboy, the goal is of course to Catch 'Em All. Players can team up to take down strong monsters or trade to get what they need. The game is regularly changing and adding new features. Various events like Community Days encourage players to meet up and play together. The game is made so that kids (and adults) can go outside and get some exercise – you have to walk around to find Pokémon, but with COVID-19, adjustments were made so that people can play safely from home.
What's in Store for 2021
Katy Perry
Pokémon announced that they will be releasing Pokémon themed music throughout the year. Their first collaborator: Katy Perry! More artists are lined up to be announced throughout the year.
Merch
Pokémon promises a rollout of cool merchandise. They teamed up with Bear Walker to release Pokémon skateboards. McDonalds will have Pokémon toys in their Happy Meals. New Trading Cards will be available all year. Build-A-Bear will have your favorite Pokémon available to build and take home.
Games
Another favorite game, Pokémon Snap is getting an overhaul. The reboot displays shiny new graphics and will be released in April of this year.
Pokémon Go is celebrating the original 151 Pokémon with their Kanto Event. The mobile game will highlight the original characters from the red and blue Gameboy games.
Diamond and Pearl?
Rumors are flying around about an announcement that will be made later this month. Fans are speculating that it will be a reboot of the Diamond and Pearl installments of the Gameboy games. Nothing has been confirmed yet.
Pokémon promises all this and more for their 25th anniversary. Whether you haven't played Pokémon since middle school, or you have kids that play – or you haven't stopped playing all this time, 2021 is sure to be a nostalgia packed year for fans all over.
Gamers Hopeless as PlayStation Store Pulls Cyberpunk 2077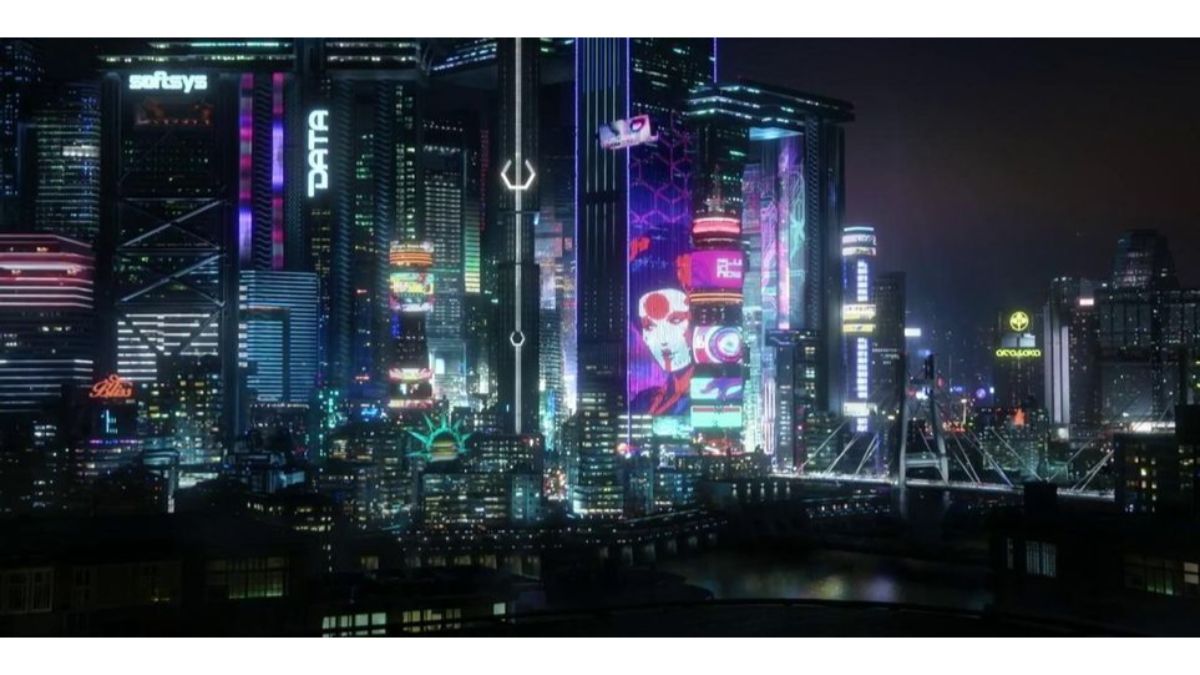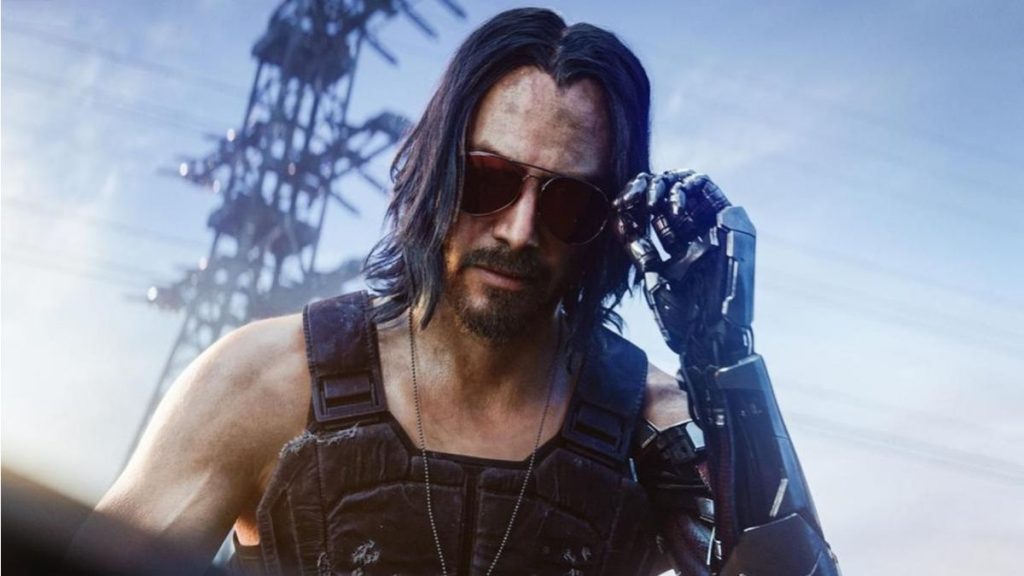 The long-awaited arrival of the futuristic RPG, Cyberpunk 2077 is finally here. And just like that – it was gone. Execs at Sony pulled the game from the PlayStation Digital store amidst complaints about quality. Gamers wonder when the game will return to the store.
It all started in 2013. Gaming studio, CD Projekt Red, creators of the Witcher game series announced they were developing a new game: Cyberpunk 2077. Cut to the 2019 Electronic Entertainment Expo in June 2019. The trailer for Cyberpunk 2077 was presented to an excited crowd. The presenter? Keanu Reeves. Reeves explained that he partnered with CD Projekt Red to deliver the game. There is a character in the game named Johnny Silverhand. The character is in the likeness of Reeves.
With movies like the John Wick series, Reeves' career has seen a strong resurgence. The actor too has enjoyed a cult following. His 'awesomeness' has dedicated Reddit and Twitter pages. The partnership between Reeves and the gaming studio was enough to send fans into a frenzy. The trailer with hyper-realistic graphics only added to the excitement. The trailer promised a release date in April of 2020
As April 2020 neared, CD Projekt Red pushed the release back to September, stating they wanted to perfect the game. And then they pushed it back further to November, citing delays due to the COVID-19 restricitons.
The game finally released on December 10th for excited fans everywhere. Those who had preordered the game were able to play instantly. And that's where it all went wrong. Immediately after launch, gamers experienced a bevy of performance issues. Gamers reported heavy glitches and bugs that made the game impossible to enjoy.
Despite the release of a software patch the following day, gamers still had issues with gameplay. This led to PlayStation pulling the game from their digital store. They offered this statement on Twitter:
"SIE (Sony Interactive Entertainment) strives to ensure a high level of customer satisfaction, and we will begin to offer a full refund for all gamers who have purchased Cyberpunk 2077 via PlayStation store and want a refund."
CD Projekt followed suit by tweeting:
"Following our discussion with PlayStation, a decision was made to temporarily suspend digital distribution of Cyberpunk 2077 on the PlayStation Store"
This was a tweet from the official Cyberpunk 2077 Twitter account posted Friday.
"You can still buy physical versions of the game in brick and mortar stores and online."
Despite the well documented issues, Cyberpunk 2077 has still seen high sales. The game sold 13 million units in the first 10 days since its release. Reports have claimed that while gameplay on PlayStation and Xbox have been riddled with issues, PC gamers are not having nearly as many issues.
PlayStation has not given any updates as to when gamers can expect Cyberpunk 2077 to come back to the digital store.
Arctis Pro + Gamedac Review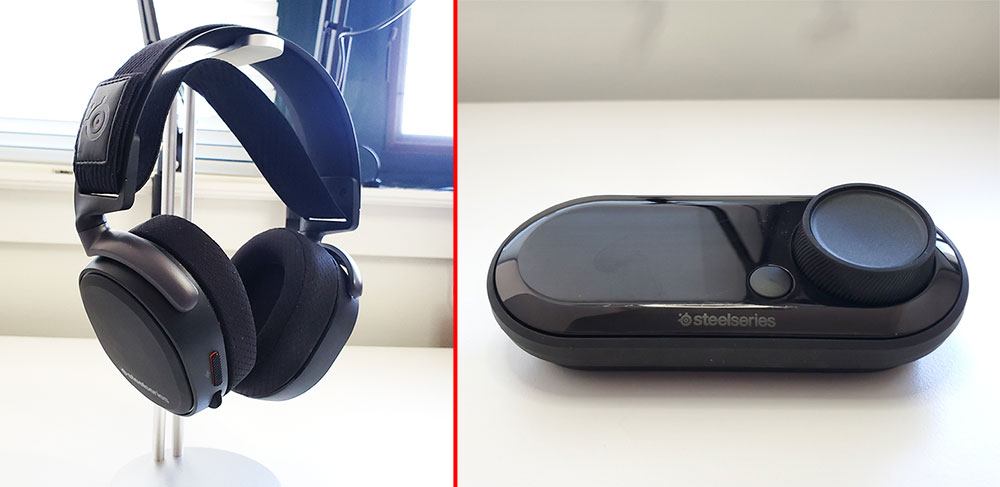 E-sports is taking over the world and have gained even more momentum due to stay-at-home orders. This year, the competitive landscape has heated up with games like Apex Legends, Fortnite, Valorant, and League taking the helm.
If you've ever played competitive FPS, you'll know just how important high fidelity audio is. The ability to hear which direction your enemy is approaching from is often key to winning the battle.
Nowadays, you can settle for a wide array of gaming headphones at just about any budget. However, for those who serious about keeping their KD ratio high and absolutely need every last bit of advantage, Steelseries has the answer for you.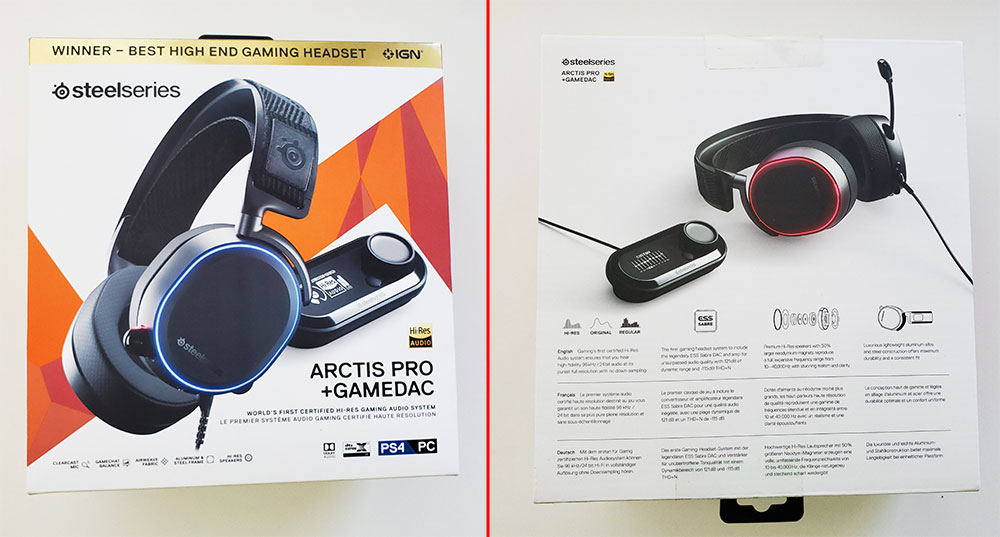 The Arctis Pro with Gamedac is a wired gaming headset that offers high-resolution audio through a digital-to-analog converter. The headset works with PlayStation, Xbox, and PC and comes equipped with all the wires you need to get set up.
The Gamedac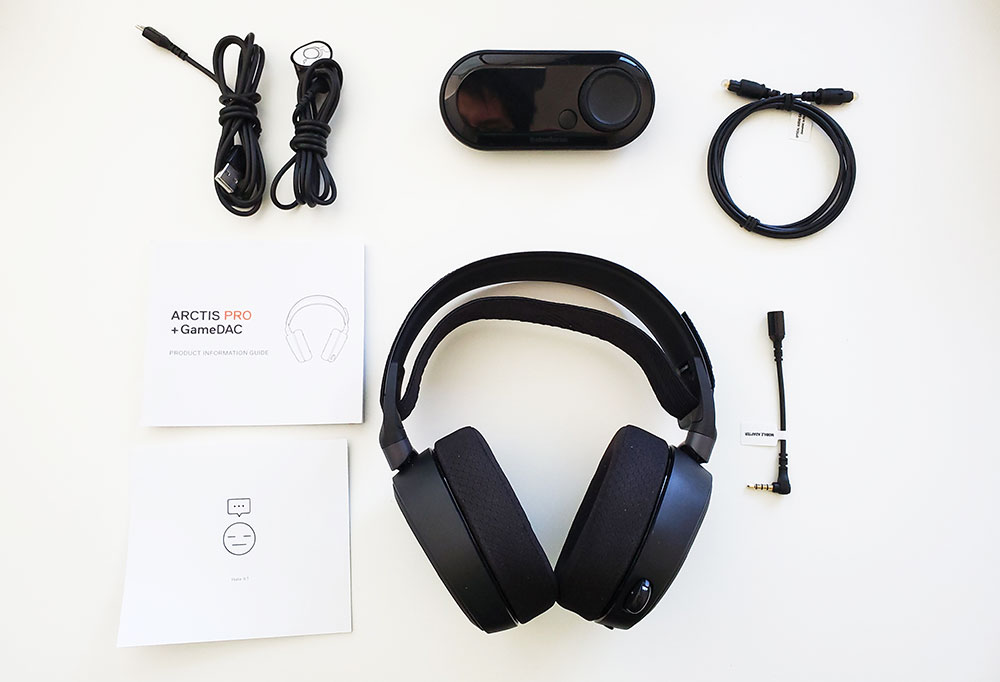 Steelseries have upgraded their Gamedac significantly since the last iteration. Connectivity is seamless and instructions are easy to follow. Unlike traditional headsets where you can just plug directly to your PC to get rolling, the Steelseries Arctis requires an extra step.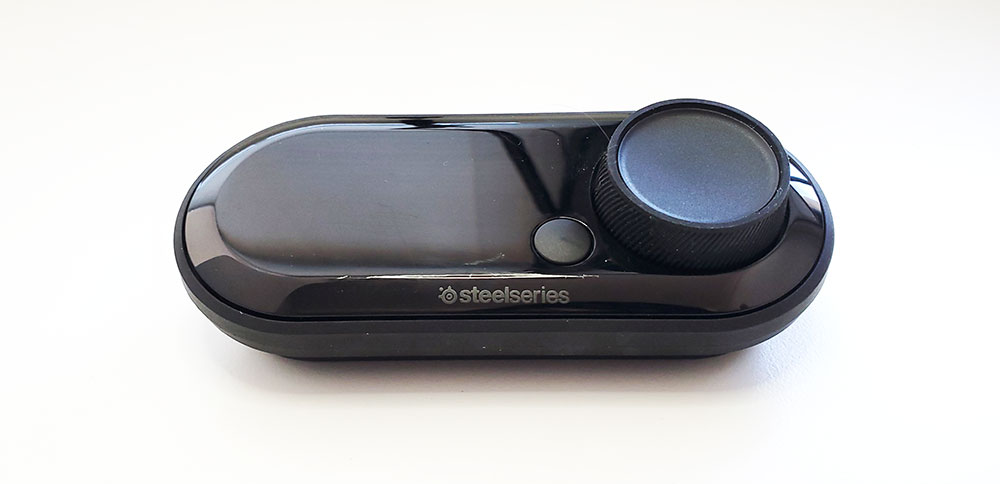 You can't just plug directly via USB. Instead, the headset connects to the Gamedac via an unusual micro USB port, and the Gamedac connects to your PC via USB. Once plugged in, the unit powers up instantly and you're greeted with an intuitive 19-steps tutorial onboard the Gamedac's built-in LCD screen. This is one of the most intuitive and clever tutorial/instructions I'd ever seen on a gaming headset. No confusing manuals, no complicated wired setups, just plug and play.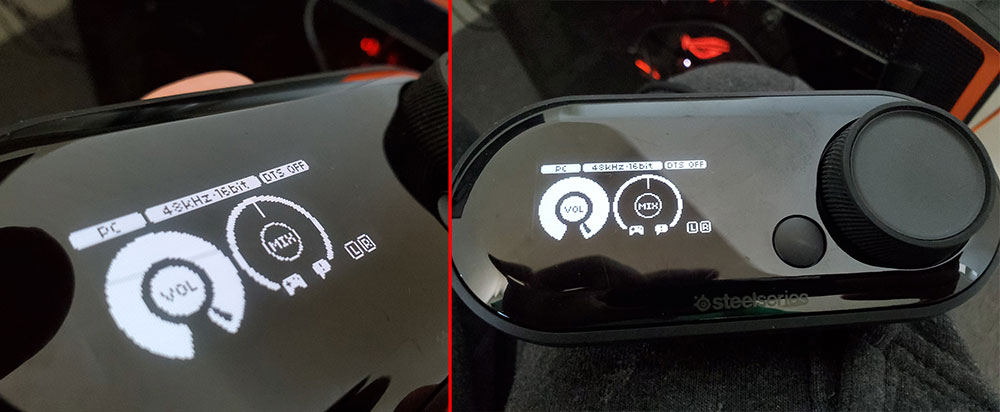 The Gamedac is super simplified with just a dial knob and a back button to control everything from volume, mixer, EQ, to various other display settings. Use the dial to navigate left and right. Press to select. And hold down for menu options. It's so simple, I didn't even crack open the manual.
The headset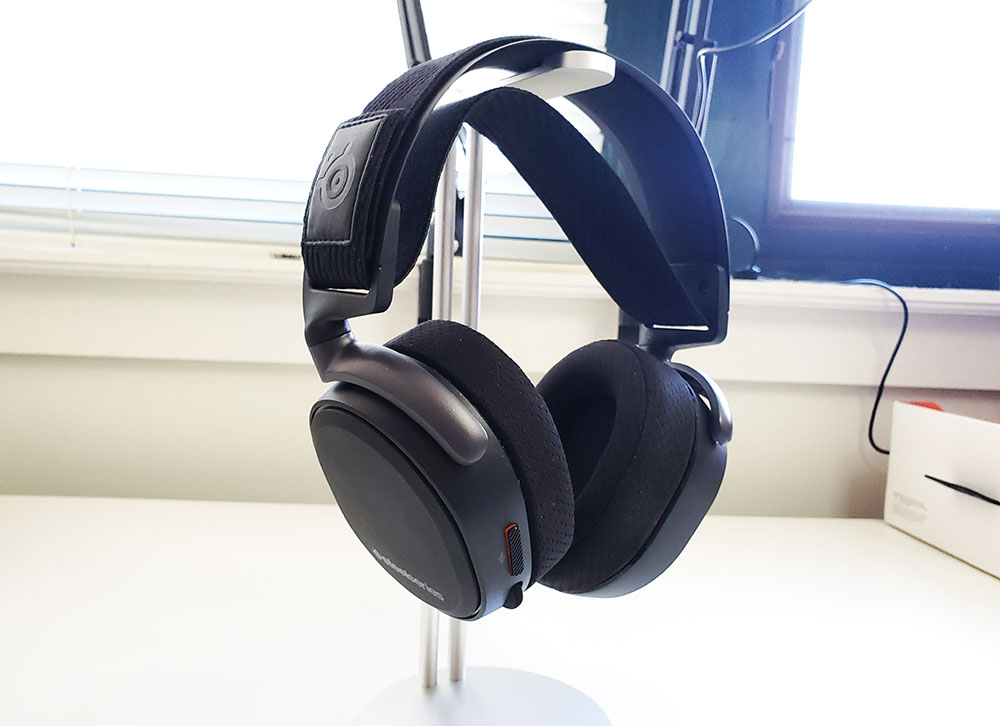 One word I would use to describe Steelseries Arctis – elegant. The design choice here is simplicity, sophistication, yet functional. It's not edgy, angular, or futuristic like most gaming headsets on the market. It's design language reminds me of Sennheiser or Bose.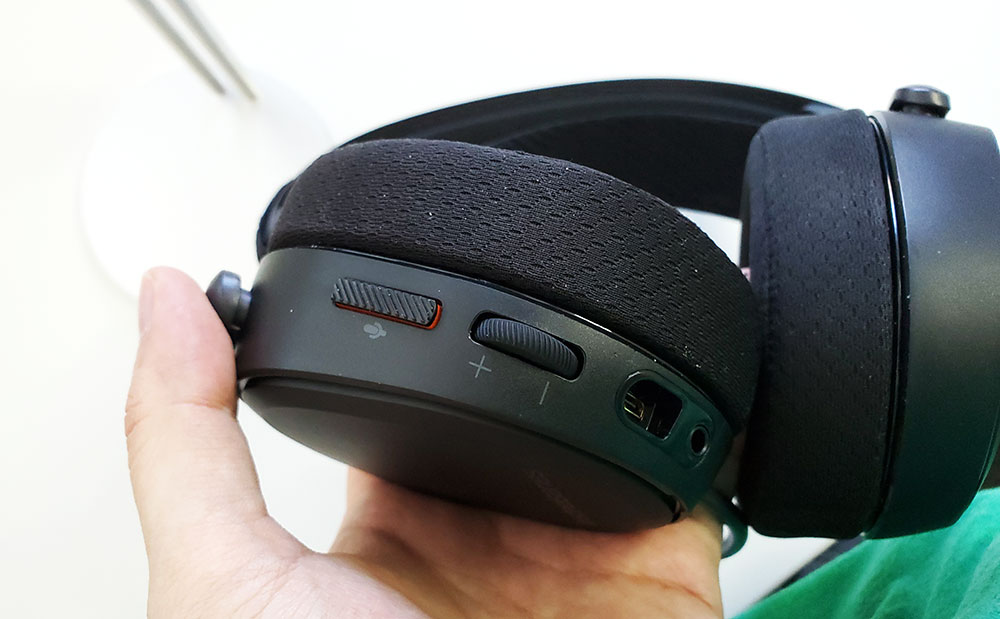 The earcups are spacious and the foam is soft to the touch. The RGB lighting surrounding the earcup is subtle. Unfortunately the RGB simply cycles through the color wheel and the Gamedac doesn't give any lighting options. It's also always on and can't be disabled.
Build quality

Build quality is what you'd expect from a $250 headset. The Gamedac is small and will fit just about anywhere without getting in the way. The headset is sturdy and has a solid feel to it. It's not heavy, but feels dense. Unlike cheaper headsets where you can feel the empty space inside, the Arctis feels like every Milli-cubic of space is put to good use.
Headband adjustment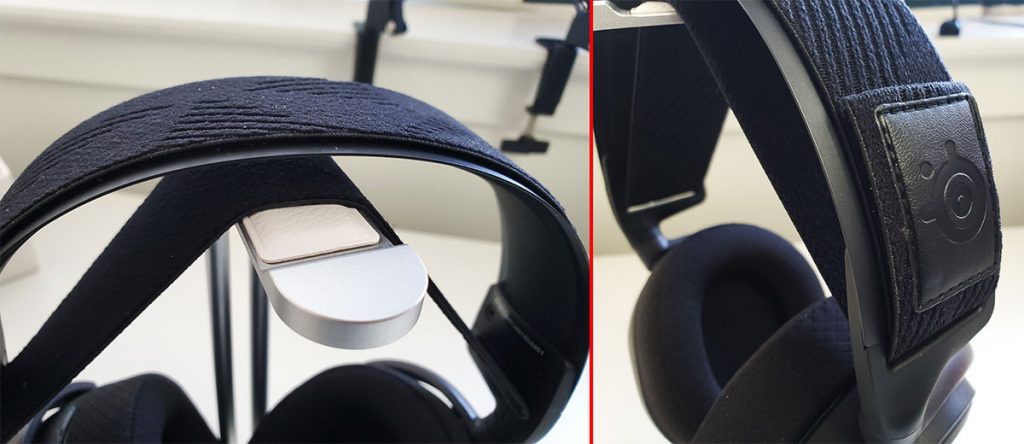 I like Steelseries' unique approach to head adjustment. Instead of the usual telescopic design that lets you adjust the height of each earcup individually, the Arctis' headband is adjusted via a velcro strap. It's hard to describe, but the picture above will give you an idea. The tension of the adjusted band creates the cushion for your head. It's a clever way of providing cranial cushion without a foam padding on the band. The result is a design that's both simple, functional, and comfortable for hours of gaming.
High Resolution Audio Performance
We decided to put the high-resolution certification to the test. Luckily one of the writers in our office happens to play competitive first person shooters. We tested the Steelseries with Call of Duty Warzone and Apex Legends. Both games are first person shooter where the ability to the direction of footsteps and gunshot is pivotal.
The Arctis outperforms just about any other headset on the market today in terms of audio quality. Everything sounds crystal clear. Explosions sounds like explosions. The surround sound easily identified the direction of gunshots and footsteps. The Gamedac's ability to easily adjust between voice audio and game audio on the fly greatly enhanced our gaming experience.
Overall, there's not a doubt in our mind why the Steelseries Arctis is High-resolution audio certified.
Final Verdict
The Steelseries Arctis + Gamedac is a high performance gaming headset for all games, not just the purists. At $250, it's definitely an investment but definitely one that's worthwhile. It's an easy choice to recommend to gamer given the build quality, comfort, high-resolution audio, and crystal clear microphone output. You don't need to play competitive to get your money's worth. The high-res audio can heighten immersion in any single-player games.